"Yea, you could feel before the game that we understood we had another opportunity to maybe climb back into this thing. The Islander loss kind of turned into two losses, with the second one being the first Philly game and guys getting deflated; but we win the second Philly game and Boston loses and there is hope. We can't control what is going on around the league. Obviously we follow and pay attention, for sure. I'd be lying if I said we didn't, but we just have to keep taking each game as it is and keep playing meaningful hockey until someone tells us that these games aren't meaningful." – Rangers head coach David Quinn, on 4/25/21, moments after the Rangers 6-3 clubbing of the Sabres. As I'll soon get into, Sunday was a big day for the Rangers and their slim playoff chances.
---
"People go through stretches in their career where things may not be going their way and all great players go through it. This is a unique year, as we all touched on, with Covid and him getting Covid and people react differently to it. I know what it has done to me, I know you continue to feel some type of effect by it, some people feel it longer than others. I'm not saying that was the only reason, but you just never know. We knew it was a matter of time before he was going to find his game and he certainly has done that." – DQ, again on 4/25/21, while talking about Mika's battle with COVID-19. In addition, DQ also said that he thought COVID-19 effected Kakko this season too. For what it's worth, I believe DQ here, because why else would he say this stuff?
---
Greetings and salutations everyone and welcome to another blog here on BlueCollarBlueShirts.com. Keep on truckin'.
On Sunday night, the Rangers made short work out of the Buffalo Sabres, where despite some hairiness in the final seconds of regulation, this game was pretty much a cakewalk for the Blueshirts. In a game that featured Mika Zibanejad picking up his third hat trick of the season, and in a game where Kaapo Kakko was one goal shy of a hat trick himself too; the Rangers beat the Sabres by a field goal, winning the contest by a final score of 6-3.
At one point prior to tonight's game, the Rangers were a -375 favorite. For those who don't understand gambling lines, this means that if you wanted to win $100 on this game, you had to bet $375 in order to do so. In other words, the Rangers were heavy favorites going into this game.
In addition, these gambling lines were the highest of the season, as the Rangers have never been more favored this season than they were tonight. In turn, the Rangers pretty much had this game wrapped up by the time the first period had concluded. And lastly while on this topic, even with the Rangers all season long inconsistency issues, you never felt that the final result of this game was in jeopardy. This was just a full-blown Rangers win, and really, from wire-to-wire, despite a brief time where the scoreboard read 1-1.
While this Rangers victory is obviously a story; prior to puck drop, the big story was that the Boston Bruins lost on Sunday. As you can tell by tonight's blog header photo, with the Bruins losing on Sunday and the Rangers winning on Sunday, this is also the top story in my eyes as well.
In fact, let's jump ahead a bit here and take a look at the updated "Mass Mutual, Cross Your Fingers, Kiss Your Lucky Rabbit Foot and Pray for a Miracle" East Division Standings:
With seven games remaining on this magic carpet ride that is this 2021 NHL season; the Rangers are now four points back of a playoff spot, as they continue their chase of the Boston Bruins. Of course, and as you probably know by now, the Bruins also have two games in-hand over the Rangers.
As has been the case ever since Tuesday night's loss to the Islanders, the Rangers will need a miracle to make the playoffs. Not only do they have to do their job, they will need Boston to lose a few more. Even in the unlikely event that the Rangers win out, the Rangers will still need the Bruins to lose two more games. It's something we're all rooting for and heck – crazier things have happened throughout the 100+ years of NHL history.
I know I've talked a lot about the standings and the playoff push for the last month or so, so I won't rehash everything here. All I'll say is this, and I'll duck in advance before you start throwing objects at me – wouldn't it be the most "Rangery" thing ever, for the Rangers to sweep the Bruins, tie them in the standings and then in Boston's last game of the season, they lose an overtime game to a Washington Capitals team that sits most of their starters?
As you know, I've been hoping for the playoffs all season and thought the Rangers would make the playoffs going into this season. While I know those were big hopes, I don't think my prediction was that far off, because after all, there are so many "what if's" and cases of woulda, coulda, shoulda, including the Rangers 4-15 record in one-goal games. And of course, there's everything else, such as Missing Mika, Kreider's streaky play, a cold power-play, the Panarin situation, the DeAngelo exile, Trouba's two injuries and everything else.
All over Rangerstown, USA, when people talk about tonight's win, they will talk about how Mika Zibanejad picked up his third hat trick of the season. What they won't talk about are these stats, stats which don't include Mika's hat trick from Sunday night:
From the "REAL STATS" department, Mika's line against the Sabres should now read as 7 games played, 4 goals and 2 assists. While I'm not trying to take the piss out of Mika Zibanejad here, I'm just here to give you the cold hard facts. His three hat tricks this season came against the last place Sabres and the bottomed out Philadelphia Flyers. In other words, Mika's best games of the season came against doormats and not against any of the upper-echelon teams of the division.
Furthermore, and this is telling, are these following stats:
— Mika Zibanejad, against the top four teams in the division, in Pittsburgh, Washington, NYI and Boston, has played in 26 games. In those 26 games, Mika has 5 goals and 7 assists – good for a grand total of 12 points.
— Mika Zibanejad, against the bottom three teams of the division, in Philadelphia, New Jersey and Buffalo, has played in 23 games. In those 23 games, Mika has 14 goals and 19 assists – good for a grand total of 33 points. (All of this which equates to nearly triple the production against bad teams, than the numbers he has against playoff teams.)
What am I getting at here? Mika's total numbers are inflated due to bad competition. In games where you need him (and the other fat cats) to show up, he's been a ghost and hardly ever a factor.
Yes, it's great that Mika has three hat tricks this season, including the one he scored tonight; but if the Rangers are to have any shot of making things interesting, with six games remaining, and with two-game sets against the Islanders, the Capitals and the Bruins – Mika needs to prove that he's not just a player that beats up on bad teams.
And hey, I'm just giving you the black and white numbers here. How can anyone argue differently when I say this – Mika's numbers from this season doesn't tell the whole story.
---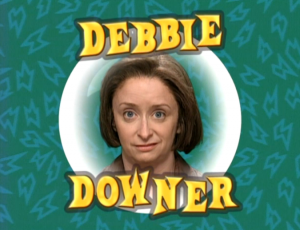 I hate to come off as so negative, because one, that's not why I started this fan blog/site, two it's no fun and three, I really want to see this team go all the way. However, despite wanting to be optimistic, I also have to be realistic here as well. I'm a die-hard fan, but I'm also not going to sell you a crock of BS, as if I were John Giannone shallowly plugging 678678786786796 sponsors per broadcast.
Truth be told, I'm not impressed by tonight's 6-3 win at all. While it was nice to see Mika and Kakko have great games; giving up three goals to the Sabres is not a great thing either. Against a better team, the Rangers would've lost this game. A lot of the bad stuff that has plagued the Rangers as of late were all apparent tonight; even if some of that stuff will get swept under the rug, due to this win.
Let's face it, the Sabres suck, no matter what the two bozos in the booth were trying to sell to you tonight. In net for Buffalo tonight, was a third string goalie, a third string goalie, which prior to this season, was also a rarely used goaltender. Even with the Rangers six goals for, (one was an empty-netter) the Rangers could've easily had ten goals tonight. Due to fancy passing and Chytil, Buchnevich and Strome all missing empty/vacated nets; the Rangers didn't earn their first ten-goal game of the season tonight. Defensively, the Rangers had more errors than usual – errors which keep increasing ever since DQ broke up the Fox/Lindgren tandem.
I'll say this – while I understand what DQ is doing, by giving Hajek and Jones a strong defensive partner; I don't see how this will work against the Isles, Caps and B's. I think you need to put your ace pairing on the ice, and for as long as possible in those games, in order to win them. Making matters worse, and as previously talked about on this site, is that K'Andre Miller has hit a rookie wall. While he wasn't too bad tonight, he did have another yo-yo up-and-down game. And you can't blame the lack of Trouba for Miller's recent funk, as Miller was trending downwards before Trouba's injury. (And this isn't a knock on Miller, because after all, he is a rookie. He just came out of the gate so impressively, that I feel that many, including myself at times, now have high expectations for him.)
---
Let's get out of the negative waters and go back to the sunny blue skies of positivity.
Adam Fox had another monster night, picking up three assists in this game, which boosted his apples number to 41 assists on the season. He's growing into an everyday point-per-game player. What's most impressive to me, and as I've been hammering home all season on this site, is that due to his prolific offensive numbers, what he does on defense often gets lost too. Thankfully, and for as much as I can't stand him, Vally would later say this on the broadcast tonight too, as Sam and Joe just zoned in on the offensive stats.
I know people do the EXPECTED STATS shit, which is stuff that I hate; but really, I wonder how many "EXPECTED" goals Fox has prevented this season? Whether he's breaking up odd-man rushes, blocking shots (team leader) or clearing pucks on the PK – Fox does it all. While I think that the Rangers will need to make the playoffs, in order for Fox to win the Norris; it will be an out-right disgrace if Fox isn't one of the three nominees for the award.
Again, and as stated in the past, Adam Fox isn't Brian Leetch, but he's the most complete player the Rangers have ever had since Leetch. And if Fox can win a Norris, a Cup and a Conn Smythe one day? Then we can do the Leetch comparisons. In either event, the Rangers and Jeff Gorton are extremely lucky that Fox didn't want to play anywhere else, as he told both the Flames and Hurricanes that he had no interest in playing for them. One day, when you look back at that Fox for two second round picks trade with Carolina; that trade may very well be the best trade in all of New York Rangers history.
(As of now, the greatest trade in Rangers history is the trade for Messier, and if Fox can win a Cup one day, that's the way his trade can top the Messier trade. Of course, this is all subject for a civilized bar-room debate.)
---
At this time, let's get into the news segment, the game recap/review and everything else.
However, up first, and of course – the PLUGS segment.
Here are my last few blogs in case you missed them:
---
---
---
With no practice on Saturday, due to the back-to-back games on Thursday and Friday night; David Quinn met with the media on Sunday morning, prior to tonight's game, where we received some light news and notes.
In what was to be expected, David Quinn announced that CZAR IGOR would be taking the net for tonight's game. I saw no fault in this, even if I do believe that Georgiev had earned another start after the win from Friday. That said, Igor is the starter and DQ is using Georgiev as a back-up, rather than as an equal partner. In addition, David Quinn said that Jacob Trouba was still "day-to-day", which as you know by now, could mean anything.
If there was anything that was truly "newsworthy" from DQ's pregame comments, David Quinn also commented on Julien Gauthier, as DQ said the following:
"He hasn't played in a long time. There are only so many times that you can talk to him about the situation we are in and we do look at our lineup and try to decide who can come in and who can come out. He's worked really hard and there has been talk about getting him in.

At the end of the day he has to keep being the professional that he's been and work as hard as he has off the ice. Listen, I'm sure he doesn't like it, why would a player like sitting as long as he has? But as we just touched on, with all the young players we have and the way some of the veterans are playing, guys that you could target as guys who could come out of the lineup or should come out of the lineup; we just don't think that is the thing to do right now. It's not easy for him, but he's handled it well and I've got a lot of respect for the way that he's handled it. It's a tough situation but he's done a good job managing it."
This pretty much goes along with what I've been saying on this site – it's a numbers game, and when you can only dress 12 forwards (unless DQ wants to only dress 5 defensemen, which would be ill-advised) someone has to sit. In this case, it's Julien Gauthier. To a lesser extent, it's also Phillip Di Giuseppe, but as talked about ad-nauseam on this site already, when it comes to Gauthier vs PDG, Gauthier is and should be the priority.
I know what the Howden Haters will say – BRETT HOWDEN SUCKS, BRETT HOWDEN HAS NO FUTURE, BRETT HOWDEN NEEDS TO SIT and blah blah blah. However, at the end of the day, like it or not, Brett Howden brings more "roster stew" to this team, and at the present time, than Gauthier brings.
For whatever you want to say about Howden, Howden does draw penalties, he's been part of a decent fourth line and he's part of the penalty kill. Does Gauthier possess more offensive skills than Howden? Of course, I don't think you'll find many arguing otherwise. That said, for a team that has many guys with the same skill sets, Howden brings a more defensive edge and that's what's needed.
And while maybe Gauthier will get another game or two, in the event that the Rangers are officially eliminated from the playoffs; he may still continue to be the odd-man out, if you're to assume that Morgan Barron and Mason Geersten will get a chance during the final games of this season.
It's just a tough time for Gauthier right now, but at the same time, it's hard to find fault with DQ's logic here.
---
Gambling segment time.
Here's what I said before the game:
Season over-under record: 20-26-2

Weird game, since you can shop three different lines. You have to think that D will be stressed tonight.

I'm going to take the UNDER on the -6.5 and this – an Igor shutout. #nyr pic.twitter.com/o09MSCHQez

— BlueCollarBlueShirts (@NYCTheMiC) April 25, 2021
At least I was correct about the Rangers winning tonight! However my grandstand prediction of CZAR IGOR recording a shut-out and my over-under bet were not. As a result, I now drop to 20-27-2 on the season, where I now have to hit on every game remaining in this 2021 season, in order to finish with a .500 record. In other words, I am accepting of my fate – my first losing season in the four seasons that I've been doing this bit. All good things come to an end!
BOX SCORE time.
The following information and graphics come from the new world-wide leader in NHL coverage, in ESPN.com.
SCORING:
PENALTIES: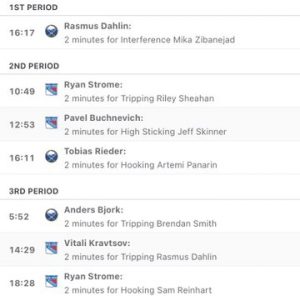 GOALIES:
| | | | | | | | | | | |
| --- | --- | --- | --- | --- | --- | --- | --- | --- | --- | --- |
| SA | GA | SV | SV% | ESSV | PPSV | SHSV | SOSA | SOS | TOI | PIM |
| 34 | 3 | 31 | .912 | 25 | 0 | 6 | 0 | 0 | 59:56 | 0 |
| | | | | | | | | | | |
| --- | --- | --- | --- | --- | --- | --- | --- | --- | --- | --- |
| SA | GA | SV | SV% | ESSV | PPSV | SHSV | SOSA | SOS | TOI | PIM |
| 28 | 5 | 23 | .821 | 13 | 2 | 8 | 0 | 0 | 58:23 | 0 |
TEAM STATS: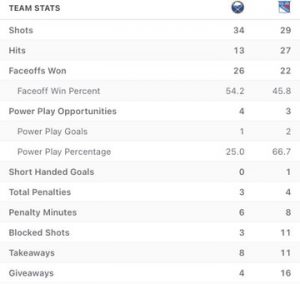 ---
The second worst pregame show/studio show in the business (Islander broadcasts are worse) continued their horrible ways today.
When it comes to the horrible Rangers pregame show on the M$GN; the biggest pet peeve of mine is when they talk about everything else, including nonsense that has nothing to do with the game, and then avoid talking about the line-up at all.
For what it's worth, David Quinn did use the same line-up today as he did on Friday. However, going into the game, DQ talked about COVID-19, where you were led to believe that maybe there was something up. However, there wasn't, and maybe DQ-19 just had the virus on his brain – as DQ-19 brought up COVID-19 a few more times during his post-game interview.
I just don't understand why these morons have to talk about all this fake news garbage, such as "GRADE A", "HIGH DANGER" and "EXPECTED" stats; but can't tell us real information, you know, such as the line-up. Heck, these walking disasters couldn't even tell us who the Sabres goaltender would be either.
Just as silly, especially after watching that UFC PPV from last night, where 20,000 maskless fans sold out an arena in Jacksonville, Florida; was seeing the returning Michelle Gingras. As talked about last blog, Gingras missed Friday's game with an illness. In her first game back today, Gingras had a mask on that was the size of a heavy-duty Hefty bag, where even Bane from the "Batman" movies would laugh at it.
I know this has been a topic in the past, so real quick here – I don't care about anyone's personal choices. You want to wear a mask, go for it. If you don't, that's your decision too. However, when it comes to television, especially on a broadcast where no one else wears a mask; it just looks so out of place when your lead interviewer has 50 pounds of rubber on her face. I am not exaggerating here either – the mask of Gingras tonight looked like the mask of "Scuba Steve". (Yes, that's a "BIG DADDY" reference!)
If Gingras wants to wear a mask, that is okay. I am not debating her personal choices. She is entitled to do whatever she wants. That said, it just looks stupid when she has this apparatus on her face, an apparatus that looks like the world's biggest sleep apnea machine, especially when she's all by herself and interviewing some player. Everything she says comes off as mumbled, and as blitzed as her predecessor in Al Trautwig; an Al Trautwig who of anyone, should've been wearing a mask, in order not to frighten little kids by the sight of his George Washington influenced brand of teeth.
Lastly, before getting into the game recap and review, Sam and Joe put on another epic performance, where they ranted and raved about the other team. At one point, Sam and Joe just stopped talking about the game all together, as Joe talked about the Sabres head coach, all these different relations that no one cares about and everything else that nobody cared about. His partner, in Sam Rosen, spent time reciting the jersey numbers of the opposition and at one point, just started randomly blurting out the entire Sabres roster, as if he were reading from a phone book.
And of course, as is often the case, Sam was incorrect on a goal call in this game, where when you listen to other broadcasts around the league, especially Kenny Albert on Sunday, who called the Bruins loss to the Penguins – it just looks really bad.
Finally while on this topic, and as I'll get into later on, when Sam Reinhart scored in this game, Sam Rosen was full of joy, where it sounded like he was doing naked back-flips while hopped up on Molly. Seriously, go listen to another team's broadcast. You will never hear a hometown announcer that gets as excited about the other team scoring goals in the same way that Rosen always does.
Let's get into the game!
---
Ryan Strome, who has not been great at the dot this season, actually finished this game with a winning face-off percentage tonight, as a result of his eight wins and five losses. That said, Strome lost all three opening face-offs of a period in this game, where I truly believe he must lead the league in this statistic, should the league track it.
As the game began, you were left to figure out the Rangers line-up by yourself, that is, until the "VERIZON 5G" line-up aired on the upper third of your screen, while the game was in action. This broadcast sucks, and that statement has nothing to do with the two temporary black-outs that occurred during this particular broadcast.
In something that you liked to see, early into the game, Lafreniere ripped a shot at Tokarski, which Tokarski saved and gave up a hearty rebound on. While Lafreniere didn't score here, you just like to see him shoot the puck, as he did here.
As Sam and Joe gave viewers the impression that only offensive stats matter for Norris contenders, (which sadly, is correct these days) it was Ryan Lindgren, and not his usual partner in Adam Fox, setting up the Rangers offense early. On the third line's first shift, Lindgren found Filip Chytil, all alone in the slot, where Chytil just shot the puck wide. This has been a problem for Chytil all season, as he missed out on another chance to put goals next to his name in the box score.
While Sam and Joe would later talk about relationships, family trees and kissing cousins, I am sad to report that Rosen didn't let us know that Colin Miller and K'Andre Miller aren't brothers. As I was thinking about Rosen's previous bouts with lunacy, at the 4:49 mark of the period, this happened:
Laffy and Zibby, a perfect pair for a perfect goal pic.twitter.com/OwdrBFYdtN

— Rangers on MSG (@RangersMSGN) April 25, 2021
1-0, GOOD GUYS!
On this goal, Lafreniere made a perfect cross ice pass to Mika, where Mika then ripped the puck right past Tokarski. I was happy to see Lafreniere get this primary assist, just as I was happy to see Lindgren get an assist here too – especially after Chytil took an assist away from Lindgren previously.
While this was a nice goal, I was wondering what DQ thought, as he always preaches the north-south stuff. This assist was the result of a backwards east-west pass, a pass which turned into a goal; where really, was most likely the result of a crappy goaltender and a bad defense. I don't think this play would've worked against a top four team, but at the end of the day, who cares? 1-0, as the Rangers took the early lead.
One problem the Rangers have had all season, is that after scoring a goal, they either take a penalty or give up a goal within 90 seconds after scoring. That would be the case here, as 87 seconds after Mika's goal, Jeff Skinner backhanded an innocent looking puck past CZAR IGOR. So much for that shut-out I predicted. 1-1.
Seriously, I don't know if the NHL tracks this or not, but the Rangers have to lead the league in taking penalties or giving up goals within a 2:00 time-span after scoring. I feel like we see this stuff all the time.
As the Sabres picked up some momentum after this goal and after Rosen started reciting the last names of the Sabres, as if he was an elementary school child learning the alphabet; CZAR IGOR would make a few saves, where he kind of looked jumpy when making them. What I mean here, is that Igor was giving up rebounds he usually doesn't give up and was looking behind his net after making saves or as shots went wide.
While Micheletti was rambling on about the Sabres organization, at the 12:02 mark of the period, Kaapo Kakko regained the lead for the Rangers:
Kome onnnn.
Kaapo Kakko is inKredible #NYR pic.twitter.com/pqL0KGFVun

— Rangers on MSG (@RangersMSGN) April 25, 2021
2-1, GOOD GUYS!
This goal was pretty and not gritty, as Kakko swooped around the net with the puck, dished it to Fox near the blue line, and after more pretty passing, Fox fed Kakko for the one-timer and boom, good goal, just like that.
Again, not to take anything away from anyone here, but I was wondering what DQ was thinking about this, as this is stuff in the past he has preached out against. But hey, when it works it works, and by "it", I mean "fancy and over passing." And really, when you have someone like Adam Fox, who possesses an insane amount of puck vision and a high hockey IQ, you're fine with it!
Aside from Fox, who continues to make laser tape-to-tape passes, this was a great goal for Kakko, who didn't hesitate and who had a shoot-first mentality.
After Tokarski stopped Jones, Fox would then make a perfect pass to Buchnevich, but Buchnevich, unlike Kakko, couldn't "Finnish". Following this, Kreider and Chytil almost had a goal, as Chytil shot wide again at an empty net. Incredible.
With 3:43 remaining in the period, and as Sam and Joe were laughing about Chytil missing two open nets already; Dahlin tripped Mika, thus giving the Rangers their first power-play of the game. In turn, Mika made Tokarski and the Sabres pay:
"It's a power play goal" = Music 🎶@MikaZibanejad pic.twitter.com/AsCGYXoAMq

— Rangers on MSG (@RangersMSGN) April 25, 2021
This was a great and skillful goal, and unlike the other two goals, this is a goal and a play that DQ must've loved. Panarin made a heavy pass to Mika and Mika, who fought for position right in the slot, deftly and expertly targeted the puck high and into the net. 3-1, GOOD GUYS.
With 43 seconds remaining in the period, Buchnevich flubbed an easy two-on-one chance, keeping the Rangers lead at two.
After twenty minutes, we remained 3-1, in a period that the Rangers really could've had six goals in. I am not exaggerating here at all.
---
After our regular comment of "SECOND PERIOD, WHAT DO YOU LOOK FOR HERE JOE?" <an eight game winning streak, ya bastard!>, Strome lost the opening face-off.
In a great defensive play out of Miller, plays that seemed to be the norm in the first half of the season, Miller shut down Cozens. This kept the Rangers two-goal lead alive, a lead that would increase to three and just 2:05 into the period:
I don't even know how this went in but it's Mika so i'm not even slightly shocked 🎩🎩🎩🎩🎩🎩🎩🎩🎩 pic.twitter.com/Jzfd68vNlt

— Rangers on MSG (@RangersMSGN) April 25, 2021
4-1, GOOD GUYS, and a hat trick for Mika Zibanejad, in only 22:05 of game time.
Of all the goals Tokarski allowed tonight, this is the one he'd want back the most, as Mika kind of harmlessly shot a puck at Tokarski from a bad angle, and somehow, the puck squirted in. When you're hot, you're hot.
Fortunately, unlike previous games, Micheletti bagged the "dreaded three-goal lead" talk for one game.
With the Rangers feeling good about themselves, Tokarski would then make tough stops on Lafreniere and Jones.
Igor, who as mentioned, didn't have a night we're used to seeing out of him, would then make his best and most confident save of the game, with a quick flash of the glove, denying Dahlin.
Under 13 minutes to go in this period, Sam and Joe did their usual Jack Eichel spiel, while Igor made another save.
As we got past the half-way mark of the period/game, Fox set Buchnevich up perfectly, but Buchnevich embraced his "Anti-Kobe" style of thinking, and refused to shoot.
With 9:11 remaining in the period, Ryan Strome was boxed for tripping Sheahan. The Rangers PK looked great here, especially Zibanejad, who has been great on the PK all season. Of note, Buchnevich loused up another odd-man rush opportunity here. Then, right after the Rangers got their kill, Buchnevich took a penalty himself, after high-sticking Skinner. This time, the Sabres would cash in.
After Lindgren nearly deposited Thompson into the lap of the Sabres back-up goaltender; the Sabres entered the Rangers zone, where Olofsson, who was just above the slot, ripped a puck from Sam Reinhart and put it right into the net. 4-2, and with 4:13 remaining in the period.
With 3:39 to go, the Rangers would get another power-play, after Reider hooked Panarin. The Rangers had chances here, but could never find a way. Also hurting the Rangers on this power-play, is in Lafreniere's only gaffe of the game, he kind of brain-farted after finding himself alone with the puck. I think he may have just been surprised.
In the final seconds of the period, Kravtsov put a puck off of the side of the net, after playing aggressively.
As the horn went off, to signal the end of the second period, the Rangers had the Sabres doubled-up, 4-2. All that was left to do was to find that "Mortal Kombat" killer instinct and FINISH THEM. (Of note, I just watched that new MK movie on HBO Max last night. I thought it was pretty good, especially as a teenager in the 1990's who grew up with Mortal Kombat. The more you know!)
---
Despite Strome losing one more face-off here, the Rangers did exhibit some sort of a killer instinct, where for the first ten minutes of the period or so, they really thwarted and held off the Sabres. On the Rangers first shift of the period, they had the puck for 50 or so seconds in the Sabres d-zone. It would eventually take five minutes or so to pass, for the Sabres to get off their first SOG on CZAR IGOR of this period, which really, was a meek attempt.
However, as we eclipsed the five minute mark, the Sabres mustered up an attack, an attack they broke up themselves, when at the 5:52 mark, Bjork tripped Smith in the Rangers d-zone. Brutal penalty for Bjork the Dork to take here, but I don't think Kaapo Kakko cared!
At the 7:06 mark of the period, Kakko picked up his 8th goal of the season. 5-2, GOOD GUYS, and some breathing room.
On this goal, after Buchnevich took a pass from Jones; Buchnevich fired a puck at Tokarski, where the puck jumped up and to the right side of Tokarski. With the puck in the air, both Kakko and Lafreniere, who were about a foot apart, took whacks at the puck, with Kakko getting there first. Rosen called this a goal for Lafreniere, but I can't really jump on Rosen's case too bad here, as both Kakko and Lafreniere were right there to cash in. My biggest takeaway here on this power-play goal, was that not only was this a PP2 PPG, but you had both Kakko and Lafreniere crashing the net. This is a goal that EVERYONE wants to see.
And oh, this guy got his first NHL point too:
Three minutes after Kakko's PPG, after hitting a post, Reinhart then beat Igor. 5-3. As mentioned earlier, Rosen celebrated this goal like a crazed "Price is Right" contestant being told to "come on down."
With the Sabres waking up a bit here, Rosen praised the Rangers "Winter Classic" rivals. With 5:31 to go, Kravtsov was boxed for tripping Dahlin. The Sabres PP was absolutely horrendous here, as they had the puck in the Rangers zone for 1:10, but much to Rosen's dismay, didn't get a SOG off.
After the kill, and with 2:30 remaining, Tokarski was pulled. With 92 seconds remaining, it was Strome's turn to take a seat in the sin bin, as he hooked Rosen's favorite player in Reinhart.
The Sabres, after a timeout, now had a 6 x 4 attack, where the Rangers could ice the puck all they wanted and to their heart's content. In addition, while this meant that Kakko wouldn't get a hat trick, as he's not a PKer, it meant that CZAR IGOR could start bombing pucks deep. However, neither Kakko or Igor would score here, as with 54.4 seconds left, and after a face-off win from Brett Howden, Rooney fired a puck from 150 feet away, and a puck that traveled into the lonely empty net. 6-3, GOOD GUYS, 6-3 YOUR FINAL!
Of note, it was mentioned that the Rangers now lead the league in short-handed goals, which tells me that this stat doesn't tell the whole story, as I believe the Rangers now have 3 or 4 of these "SHENG" goals, aka short-handed empty net goals.
---
For the Rangers, they took care of business tonight, moving to 5-2 in this season series with the Sabres. To keep the playoff dream alive, especially since it's still mathematically alive, the Rangers need to take care of business again on Tuesday night, and finish up this season series 6-2. For the Bruins, they will rematch with the Penguins on Tuesday too, and if the Rangers can have another "four-point" night in the standings, and to paraphrase the legendary Gorilla Monsoon here – "business will pick up."
I know that I previously wrote off the Rangers playoff hopes after that loss to the Islanders, but I'm hoping to be dead wrong with that assessment and take. While I'm not a Mets fan, Ranger fans must live by the Mets old motto of "You Gotta Believe."
Programming note/quick plug. I believe our buddies at "The Blueshirt Underground Show" will return on Monday night, live and in living color on YouTube. Follow @BSUSHOWJIM on Twitter for details or just search "The Blueshirt Underground Show" on YouTube at 7PM on 4/26. As mentioned numerous times on this site, it's the only Rangers podcast/web show/YouTube show/whatever other description you want to use here, that's live and interactive. I never BS you on this site and only plug the stuff that I like and they do a great job.
If you haven't already, subscribe to this blog for the next update:
---
To update you on stuff I talked about in this same space during my last blog on this site, both of my nieces looked great during their soccer games. Perhaps the incentive of a pizza party willed them to the Pele levels that they exhibited on Saturday morning.
And I know I said this on social media, but my hats off to you parents. I don't know how you do that job 24/7. I'm more than satisfied with just being an uncle!
Lastly, as I ramble on and go home here, the UFC picks I gave you last blog? I went 4-1 on Saturday night, as the only fight I was wrong on was the Chris Weidman fight, a fight that was stopped after one of the most graphic and disgusting injuries in all of sports history. My best wishes to him, as I don't know if he'll be able to continue his career after breaking his leg in half – literally.
And when it comes to the sports world, the UFC held a PPV in front of 20,000 unmasked fans, and there hasn't been one issue, despite some deranged people hoping for a "super spreader event". Hopefully this event springboards other arenas and leagues to open up at a 100% capacity.
One last note – I had one of you readers tell me that I talk too much about UFC on Twitter. One, it's my personal account and I'll talk about what I want to talk about. Two, as it's been for some time now, hockey and MMA are my two favorite sports. Third, as someone who has been watching the UFC since 1997, here in 2021, no league has done a better job against COVID-19 than the UFC. And finally, THUG ROSE VACCINATED WEILI WITH THAT HEAD KICK. USA! USA! USA!
Stay FABULOUS my friends. Back at it on Tuesday night.
Until then, and as always here, thanks for reading and…
LET'S GO RANGERS!
Sean McCaffrey
BULLSMC@aol.com
@NYCTHEMIC on Tweeter