"It's just disappointing overall. They get the first goal and when that team gets the lead they do a really good job. I know it's early and only 1-0, but you just didn't love the feel after that and then they made it 2-0 and they did everything they needed to do. They stayed on top of us, took away time and space, made it difficult to get inside and just made for a long night for us, as they were the better team, clearly." – David Quinn, on 4/29/21, moments after the Rangers brutal 4-0 loss to the Islanders. During this quote, DQ was talking about his "fat cats" (my phrase, not his) and their putrid performance in this contest.
---
"Just the way the game unfolded. Just disappointed because it's not what we envisioned, it's not what we expected and it was just something we have to learn from. In a game of this magnitude, we've gotta learn how to win games like this." – DQ, again on 4/29/21, when talking about what a failure his team has been during big games against the Islanders this season.
---
"I thought Shesty played very well tonight and I haven't thought much about Saturday." – DQ, one last time on 4/29/21, when talking about CZAR IGOR's performance from this game. Prior to the game, DQ said choosing his goaltender for this game was the toughest decision he's had to face this season. I would expect Georgiev to go on Saturday, but I also expected Georgiev to go tonight, so what do I know? More on this to come.
---
Greetings and salutations everyone and welcome to another blog here on BlueCollarBlueShirts.com. Despicable. Inexcusable. Embarrassing. And let me get this out of my system – some will say this was a "learning experience type of loss", but really, what was learned here? Don't get your ass handed to you?
On Thursday night, and with the Rangers riding high after their three consecutive wins over the Flyers and Sabres; just as they did a week ago, after beating the terrible Devils in four straight games, the Rangers came out like dog shit again in a big game against the Islanders. This time, the Islanders won by a final score of 4-0, where this loss definitely was more crushing than the 6-1 loss, and in a game where the Rangers exhibited no signs of life in.
In other words, just a week ago, the Rangers had a four game winning streak, a streak that was snapped after getting their asses kicked by the Islanders and by a final score of 6-1. Nine days later, and this time on a three game winning streak, the Rangers found a more painstaking way to lose, as they got blanked by the Islanders. Both of these winning streaks were "fake news", as all of that winning came over the Flyers, Sabres and the Devils. Against a playoff contender, the Rangers had their lights knocked out again.
If there's anything you can take out of these two recent losses to the Isles, it's this – the Rangers are their record and they are a fifth place team. They are good enough to beat up the bad teams, but not good enough in the games that matter the most. SAD!
For all of the impressive numbers that both Steve Valiquette on the M$GN and Mollie Walker tossed out on "Up in the Blue Seats" today, numbers which covered the time period of 3/17/21 through today; none of that junk mattered. After all, the Rangers played many games against the bottom three teams of the division during that time, where the Rangers beefed up against the Flyers, Sabres and Devils.
In the Rangers two "biggest" games of the season, and in back-to-weeks, the Islanders blew the doors off of the Rangers. Not only did the Isles blow the doors off of the Rangers – they also took the wooden door shards and shoved it right up the five-hole of the Blueshirts. That will create hemorrhoids.
When I really think about each recent loss to the Isles, gun to my head, I'd say this loss was definitely worse. After all, had the Rangers won this game, they'd still be alive in the playoff chase. After tonight, it's only a matter of time. And let's face it, once again, with the Isles reeling and on a downswing, the Rangers gave the Isles the bounce back win they were looking for and desperately needed.
If you're looking for any shred of positivity here, here you go – the Rangers haven't been mathematically eliminated from the playoffs, at least not yet. However, with this loss tonight, the Rangers "tragic number" is now down to five points.
For those who don't understand what that means, it means that any combination of five lost points from the Rangers (as in the two points they lost in the standings tonight) or points that the Bruins pick up, and then that will be it for the Rangers.
To show you how drastic this "tragic number" really is, if the Rangers lose again on Saturday, while the Bruins handle the Sabres again; then the "tragic number" will be down to the loneliest number, in one. For those looking for a sliver of hope or postivity here – at least you can enjoy the weekend, as the Rangers playoff hopes will survive this upcoming "Kentucky Derby" weekend. After the weekend, then you can send the Rangers fat cats, or should I say horses here, to the glue factory. And how ironic, as the Rangers looked like they were skating in super glue all game tonight.
After an epic loss like this one, there will be a lot of the "blame game" going around, as fans, the media and everyone else does the finger-pointing act. Some fans may blame David Quinn, as once again, DQ's team came out flatter than a 30 year old bottle of Crystal Pepsi tonight. Some fans may blame DQ's decision of going with Shestyorkin instead of Alexandar Georgiev. Some fans may blame the team's lack of toughness and lack of versatility. While all of those opinions are valid, at least to some percentage; to me, once again, my eyes are focused on Mika Zibanejad and the rest of the fat cats, where this time, Chris Kreider can not be blamed, as he missed this game due to an injury.
I hate to beat this dead horse again, (last horse reference, I promise) but let's take a look at Mika's stats from this season, prior to puck drop tonight:
After tonight, Mika's line against the Islanders now reads as 7 games played, 1 goal and two assists. Sorry, but elite centers show up against their biggest rival. And oh – Mika's one goal against the Islanders this season? It was an empty-netter. Elite empty net goal!
I know I did this rant a few blogs ago, but really, and as has been the case all season, against top competition, this time in the Islanders – Mika's game was as strong as a wet piece of paper.
Whether Mika was turning over the puck left and right, avoided physical activities, lost nearly every puck battle, shot wide or lost every special teams face-off imaginable; Mika was horrid tonight. There's five games left and really, if you want a takeaway from Mika's 2021 season it's this – he beasted and feasted on bad teams all season and turned into Meekly Mika against the good teams. And that's not hating – that's stating. The black and white stats don't lie.
And let me be clear here, for you new readers and old readers alike. I take no joy in this. After all, I really thought the Rangers would win tonight. In fact – I thought the Rangers would blow the Isles out tonight, hence this foolish prediction:
Someone who also deserves to hang on the hook tonight is Artemi Panarin, who once again, couldn't bake any bread or points against the Islanders. I know how great Panarin has been this season and I realize he's a point-per-game player; but in a game where the Rangers needed him the most, he was invisible. He may as well have joined Kreider and Trouba in the press box tonight, especially after finishing this game with zero shots on goal and +/- stat of negative 2.
Yes, the Rangers, and as mentioned, were without Trouba and Kreider tonight. However, their heralded 1-2 punch, in Mika and Panarin, did absolutely nothing in this game. This game was "Boyz II Men", as Mika and Panarin were manhandled and disciplined by the elder statesmen on the Islanders. Elite Mika? "Hartemi Panarin"? Hardly.
Similar to the last game between these two rivals, the best players on the ice for the Rangers were their fourth line, Vitali Kravtsov and Brendan Smith. And that's why I'm hard on Mika and Panarin tonight. The lesser paid players came to play and didn't give up. I can't say the same about Mika and Panarin, who were once again frustrated, clueless and flabbergasted by the Islanders. It's seven games now against the residents from the Porto Potty in Uniondale – wake up. Rather than showing up and trying to put the team on their backs, Mika and Panarin basically had an "oral sex" type of game, which is a nice way of saying they "sucked you know what."
No joke, and you know this already if you follow me on social media, I really thought the Rangers would show up tonight. I don't know why I thought this, but I really felt the Rangers would return the favor and get some vengeance in this game. I couldn't have been more wrong.
Want to hear something sick and delusional? Prior to this game, and with the opinion that the Rangers would win these two games with the Islanders; my buddy BORGATA RAY and I were making travel plans to go to Boston and watch the final two games of the season. I think that's now off.
While I've been wrong before on my predictions, (and I am used to that & I will always tell you when I'm wrong), this one stings like salty sweat in your eyes during a hot summer day. It's not that the Rangers lost, it's just the way they lost. Seriously speaking, there's not one Rangers highlight from this game.
I'll get more into this during the game recap/review portion of the blog, but let me just bullet-point some of the misery:
— Leo Komarov, who has been waived twice by the Islanders this season, scored his first goal of the season tonight. Of course.
— Oliver Wahlstrom, who many projected to be better than Vitali Kravtsov in the 2018 NHL Draft, also scored in this game, while Kravtsov, who did play well, was held off of the board.
— Seymon Varlamov, who has turned into Jaroslav Halak against the Rangers, which means that he's now a "Rangers Killer"; picked up his THIRD SHUTOUT over the Rangers this season and all at M$G. Of note, the Rangers weren't shut-out once last season.
— Another "Rangers Killer", in Anthony Beauvillier, put this game out of reach just a minute and change into the second period. And really, that tells the story right there. Down 3-0, and after 21:03 of game time, the Rangers accepted their fate and let the Islanders impose their will on them.
— Mat Barzal, who hadn't scored a goal in something like 13 games, scored his first empty net goal of the season, snapping two negative streaks.
— The Rangers came out of this game as the "black and blue Blueshirts", and not in a good way. Not only was Ryan Lindgren lost in this game, but Chytil and Kravtsov ate big hits as well.
— Igor Shestyorkin continues to get terrorized by the Islanders, at least statistically, as Igor is now 0-5 against the Islanders this season. Conversely, Georgiev has a career 7-2 record against the Isles, which also includes a .944 save percentage, a 1.70 GAA and multiple shutouts.
— And for the cherry on top, Adam Fox, who as predicted, did win the Steven McDonald Extra Effort Award and is currently in the hunt for the Norris Trophy; finished with no points and a +/- of negative two. The Isles took all the wind out of his sails tonight. What should've been a celebration turned into a funeral.
---
As I wrap-up this way too long and negative intro; I do want to say here that I really thought this would be a positive blog tonight, at least that was my thinking prior to puck drop. Going into this game, I was hoping to share the great news about Fox winning the S.M.E.E.A., give you a Ron Duguay "Up in the Blue Seats" podcast, talk Stan Fischler and oh yeah – talk about how the Rangers kicked the shit out of the Islanders and were narrowing the gap in the standings. Instead, the Rangers kicked everyone in the balls tonight and in turn, there's a black cloud over everything.
As I write these words, I'm trying to delay the game review/recap portion of the blog for as long as possible. I'm going to need more booze for that. In other words, I'll kick off with the podcast recap, the latest news, the Steven McDonald Extra Effort Award and then get into this horror show.
However, up first, and of course – the PLUGS segment.
Here are my last few blogs in case you missed them:
---
---
---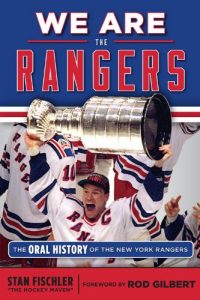 Into the wee hours of Thursday 4/29, and about eighteen hours prior to tonight's Rangers vs Islanders game; "Up in the Blue Seats" returned with their latest weekly episode. After hearing last week's episode, I was very interested in what everyone would have to say, especially from Ron Duguay himself. (Check the archives of this site for the full recap of that episode.)
To listen to the show yourself, click the link below:
Up "early" for us night owls #nyr https://t.co/Luu346wC7r

— BlueCollarBlueShirts (@NYCTheMiC) April 29, 2021
Let's get right into the recap/review.
---
Mollie Walker kicks off the show, by saying, "The Rangers playoff hopes are hanging by a thread, but their grip is tight." Walker then previews everything we'll hear on today's episode.
After an ad read, we get the familiar introductory music, followed by producer Jake Brown. Brown, like Walker, then previews today's episode as well. And of course, and as usual, Brown asks us to rate and review the show. Done and done.
Duguay opens up the show in a more cheery tone than last episode and says he's excited about having "The Maven" Stan Fischler on again. (This is Fischler's second time on the show, where his first interview was one of the better interviews that the podcast has ever done.) Duguay says "we're back on the wagon" and recaps what happened on last week's episode. Duguay says he's still believing in a Rangers playoff bid and like every other Rangers fan, is rooting for a two-game sweep of the Islanders.
Duguay tells Walker that they may have egg on their face now. Walker laughs and talks about how both of them were down in the dumps last week. Walker recaps the Rangers recent winning ways, talking about the Rangers three game winning streak in their last three wins over the Flyers and Sabres.
Walker then runs down some stats and talks about the Rangers record, goal differential and goals per game since March 17th, which has the Rangers near or at the top of the league. Of course, all of this stuff doesn't really tell the whole story, as most of these wins and the high goal differential stats are all due to the Rangers playing the Flyers, Sabres and Devils so much during this time-span. After all, the Rangers had 17 goals in just two games against the Flyers alone. (And the reason Walker and Vally use the 3/17 date? Easy – that's when the Rangers beat the Flyers 9-0, thus artificially inflating these stats.)
Walker says she may have to eat her words and will just have to wait to see what comes next. (Again, this was recorded before tonight's Rangers/Islanders game.) Duguay talks about the Trouba injury, where he, like everyone else, assumes is concussion related. Duguay then brings up the addition of Zac Jones to the roster and, yes, mentions the Walker/Jones UMASS connection.
When it comes to Jones, who you know Walker is going to be high on regardless, Walker says she's liked what she's seen from him so far. Walker likes that Jones is on the PP2 unit. Walker also thinks it's big that Jones got first NHL point out of the way, which he recorded in his third ever NHL game played. Walker then brings up what I've been saying here, that it's interesting that with Jones now here, how DQ has broken up the Lindgren/Fox pairing and how sometimes, they double-shift.
Walker brings up how she asked DQ if he was concerned that he may burn out Fox and Lindgren, where DQ replied to her with a simple "yes". Walker says how Jones is drawing Fox comparisons, which to me, seems silly, especially when Fox is always compared to Leetch all the time. I just think that's a lot of pressure to put on these kids whenever you make these comparisons; at the very least in the case of Jones, who hasn't even had two full weeks in the NHL yet.
Duguay says when it comes to evaluating players, he judges them based on how they handle pressure. Duguay says he sees a level in calmness in what Jones does. Duguay thinks Jones makes good decisions and how Fox is a great player to learn from. Duguay says he doesn't think all the added ice time will hurt Fox and Lindgren, as most defensemen enjoy all the extra minutes. Duguay says if you watch the shifts these d-men take, they usually take shorter shifts, rather than taking long ones, thus in turn, keeping them fresher throughout the game. Duguay says he's never seen Fox look tired on the ice.
Duguay says he's optimistic about the Rangers chances going into the Islander series, as Duguay recaps all the current Islander struggles, with scoring being a main issue for them right now. Duguay says the Rangers must have a hot start in these games and get the first goal. Duguay says he's out of the hole of negativity, where Walker laughs at and takes some of the blame for. After all, she did urge Duguay to tee off last episode!
When it comes to the two games with the Isles, Walker says the Rangers have never had a better chance than right now and like all of us, says the obvious – it has to happen now if the Rangers want to make the playoffs. Walker then recaps all of the recent Islander losses, which does feel like a "reverse jinx", should you believe in that stuff. Walker then adds, that since the trade for Palmieri and Zajac, the Isles have sort of lost their touch and questions the chemistry of the Islanders right now.
Jake Brown then chimes in, mentioning how he was cheerleading the Rangers on last week and how he didn't lose hope. Brown states the obvious and says that Ranger fans will now have to start rooting for the Devils, and hope that the Devils can play the spoiler role against Boston. Brown says it's all about scoreboard watching right now. After Brown lays out the cards, we then go to Stan Fischler.
Mollie Walker intros Stan Fischler, where she mentions that Fischler gave Walker her first internship while she was a sophomore in college. Walker's intro was great here, and really, you could go on and on about Fischler's accomplishments in the hockey world. Fischler is impressed by Walker's intro too, and thanks his former student.
Walker asks Fischler if he can remember another Rangers/Islanders series that carried as much weight as these two upcoming games carry. Fischler says the obvious, and how the playoff games mattered more, and talks about the Isles dynasty from the 1980's. Fischler recaps the four series from that time and mentions how great Billy Smith was during that era. Fischler also brings up how he wrote a whole book on the Rangers vs Islanders rivalry, which I have a review of and which you can find by clicking the BOOK REVIEW tab of this website.
Walker asks Fischler for his thoughts on the current Islander woes. Fischler thinks it takes time for guys to fit into the system, and mentions how Jean Gabriel Pageau had some issues when he first joined the Islanders. Fischler says what happened to JGP is similar to what Zajac and Palmieri are going through right now. Fischler says the Rangers are on a hot streak right now and they shouldn't be ruled out. Fischler then talks about some epic comebacks in sports history, where an underdog got hot late into a season and then made the playoffs.
Fischler says what everyone said after the Rangers 6-1 loss to the Islanders and how that loss seemed like it was the final nail in the coffin for the 2021 Rangers. Fischler says the Rangers have been resilient and talks about how he's excited about the Rangers chances.
Duguay brings up his history with Fischler and how he always enjoys listening to Fischler speak. That would make two of us. Duguay asks Fischler what he thinks about this season's scheduling format and if this format should continue into next season. Fischler says he'll never tell anyone what to do, and brings up how this is all unique. Fischler says this season reminds him of the World War II era of the NHL. Fischler says it's been tough for some teams, mentioning the battles both Dallas and Vancouver have had with COVID-19.
Fischler says in Canada, many fans would love to see the All Canada division continue. Fischler says all these rivalries make things tough for the players and how they are all looking for a rest once this season is over.
Duguay asks Fischler for his thoughts on the current Rangers. Fischler says the Rangers biggest strength is their young players, mentioning Adam Fox and his bid for the Norris Trophy. Fischler thinks the Rangers are gelling right now. Fischler thinks the Rangers biggest weakness is just inexperience, especially on defense. Fischler also praises David Quinn and calls him a good coach. Fischler says the Rangers are dynamic and fun to watch.
Walker brings up the "FIRE DQ" crew and how Fischler praising DQ may upset some Ranger fans. Fischler mentions his first meeting with DQ and how he thought DQ had a great personality. Fischler says he doesn't understand the gripe against DQ and mentions that DQ has a hard job, especially during this season. Fischler then adds, how can he knock a guy who likes his corny jokes? That was pretty funny. Even funnier is when Fischler said the only thing that bothers him about DQ, is that he laughs with a Boston accent. I cracked up listening to this.
Duguay asks Fischler for his Stanley Cup Final prediction. Fischler says he likes Vegas vs Tampa, which according to Vegas bookmakers, are the two favorites to win the Stanley Cup too. Fischler says he likes Jon Cooper. Fischler then says he thinks Carolina is an interesting dark horse team as well.
Brown jumps in and asks Fischler for some stories about Mollie Walker as his intern. Fischler says Walker was very quiet, which shocks Jake Brown, as he remarks – "now she's a chatter-mouth!" It's brought up that Walker also cleaned and dusted Fischler's Emmy's too. Fischler then tells a Neil Smith, Mike Keenan and Alexei Kovalev story and relates this story to Walker, by saying that "Walker got it."
Fischler, in wrapping up, gives us one of his patented corny jokes. This is a long joke, so listen to the show for yourself to hear this one! Speaking of jokes, (I kid, I kid!) up next is Larry Brooks, as Brooks returns to the main event segment of the podcast.
Walker mentions how this episode is being recorded before Thursday night's game and how this episode is being recorded prior to DQ making his decision on who to put in net. In turn, Walker asks Brooks for his opinion on who he thinks should get the first start against the Islanders. Brooks mentions DQ's decisions with the goaltenders and how previously, DQ hasn't announced his goaltender until the last minute. Brooks feels this is an act of gamesmanship, since Barry Trotz never announces his starting goaltender until the last minute either. (Of course, this is why the NHL and gambling marriage will never realize its maximum potential, but I've done this rant so many times already that I'll save you from another one here.)
Brooks says he'd start Georgiev. Wow, I've been saying this for weeks! Brooks says all of my obvious talking points, and probably your talking points too, mentioning Georgiev's record and history against the Islanders. Brooks says if Igor starts and wins, then it's a crisis averted. However, if Igor starts and the Rangers lose, then DQ will be second-guessed. That's the life of a head coach. Brooks also mentions how Igor doesn't have a favorable history with the Islanders during his limited appearances against them and how well Georgiev does.
Duguay tells Brooks that they just had Fischler on, prior to calling Larry. Duguay asks Brooks a question everyone wants the answer to – "how come Stan Fischler hasn't been inducted into the Hockey Hall of Fame?" Brooks says he can't answer the question, and how it bothers and angers him that Fischler isn't in there. Brooks says he thinks some people just think that Fischler is a TV guy and forget/ignore all of Fischler's books and articles. Brooks also brings up that Shirley Fischler, Stan's deceased wife, also belongs in the HHOF. (She was really the first female hockey reporter ever and broke the news about Terry Sawchuk's health prior to his passing in 1970.)
Walker brings up the name of Brendan Smith to Brooks and praises the work Smith has been doing this season. Walker then asks Brooks about bringing Smith back for next season. Brooks thinks the Rangers will offer Smith a one-year deal during the off-season. Brooks then recaps the Rangers defensemen and their prospects. This is all stuff I've talked about in the past, and Brooks says what I've been saying – while the Rangers may want Smith back on a one-year/cheap veteran deal, other teams most likely will give Smith bigger offers and more playing time. At the end of the day, it's up to Smith to decide what he wants to do here. Brooks also mentions that Smith could be a great signing for Seattle as well.
Duguay then asks Brooks about K'Andre Miller and says that Miller reminds him of Victor Hedman. Duguay says while he likes Miller's style of play, he never sees Miller involved in a scrum, a shoving contest or a fight. Brooks says this is a good point and says he never thought about this. Duguay thinks Miller needs to use his size more and wonders if Miller can take it to another level or not. Brooks counters, and says do you ever see Adam Fox ever engaging in a physical confrontation? Brooks says he's not comfortable questioning Miller's compete and confidence levels. I wonder why, as Brooks does seem comfortable slamming everyone else on the team.
While on Fox, Brooks thinks Fox won't win the Norris, but thinks Fox is right there. Brooks thinks Hedman will ultimately win it. And Brooks then says what I've been saying – it's Fox, and not Panarin, who is the team's MVP this season. Brooks says the Norris race will be interesting, especially if Fox finishes the season with the most points among all NHL defensemen. Brooks thinks missing the playoffs will hurt Fox's chances, which is pretty accurate, based on how all of these individual awards have been decided in recent years.
(Again, my number 1 example while on this topic of year-end awards – Taylor Hall as MVP from a few years back, only because Hall and the Devils made the playoffs, while Connor McDavid, who should've been the MVP that year, didn't make the playoffs with the Oilers. In turn, McDavid won the Ted Lindsay Award over Hall.)
Duguay asks Brooks for his thoughts on the two games with the Isles. Brooks says Saturday's game will be influenced by the first game. Again, more obvious stuff here, but Brooks is also correct. Brooks says it's on the team to illustrate that they can perform against top opponents and not just against the Sabres, Flyers and Devils. Brooks thinks the Rangers will show up against the Isles, unlike the last game. Brooks then recaps the schedules that the Rangers, Bruins and Islanders have and how the Rangers have the hardest path to the playoffs right now.
This then wraps up the Brooks segment, and the show.
---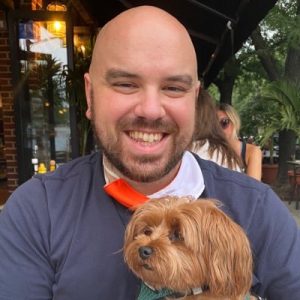 All in all, another enjoyable episode of "Up in the Blue Seats". My only criticism is the same stuff I've been saying for a while – I wish the interviews were longer. Of course, I say that as being a fan of Fischler!
In addition, I thought Fischler's first interview was better than this one, just because as a history buff, Fischler and Duguay really went into a lot of Rangers history during Fischler's first appearance, which is stuff that I really enjoyed. That said, I get it, because Rangers vs Islanders is the talk of the town right now and because Fischler has strong associations with both franchises. (Of note, Fischler's first interview took place during the early days of the pandemic, when there was no hockey in season, thus giving Duguay and Fischler time to talk about history rather than current events.)
Speaking of Fischler, on Twitter and after the show had been available for a few hours; it was nice to see many people stand up and show their support for a Fischler Hall of Fame bid. Really, what's the hold-up? Is the HHOF waiting to do a posthumous induction? Honor Fischler while he's alive, able to travel and can celebrate it with his family. It would be a TRAVESTY if Fischler, who as you know, is up there in age, is only honored after his eventual passing.
I also thought Duguay's opinions on Miller were interesting, because my buddy Ricky O. has been saying this stuff for a while too. While no one is questioning Miller's style or level of play, at his size, you'd like to see him get into the rough stuff when it's needed.
In any event, this podcast is worth your time. If it wasn't, I wouldn't spend an hour of my time recapping it for you every week. When it comes to Ranger podcasts, "Up in the Blue Seats" and "The Blueshirt Underground Show" are the best, at least in my humble opinion!
Moving on!
---
As far as any pregame news and notes, the biggest thing was that CZAR IGOR was announced as the starting goaltender. I won't go too crazy about this, because I've talked about this already in the past and during this blog already. In short, I would've went with Georgiev, but I understand why DQ went with Igor. Georgiev has the favorable history against the Islanders, but while in a game that was "must-win" – it's easy to understand why DQ went with his starter. I can't knock DQ for this at all, even if I don't agree with it.
In addition, just as DQ said the last time these two teams played; DQ said this decision about what goaltender to start was his toughest decision of the season. I thought he told the truth when he said that!
You know what, I have to say this again and get it out of my system! I need to vent! This is also my way of shouting out reader Barbara S.!
Of course, just as I said nine nights ago after the Islanders kicked the shit out of the Rangers, I would've went with Georgiev then and I would've went with Georgiev tonight. While I don't think goaltending was the issue tonight, and really, how can it be, especially when you don't score any goals; I just think that Georgiev gives the Rangers a psychological/mental edge over the Islanders. Similar to Varlamov and Halak before him, the Islanders know when to go to their back-up goalie. DQ should've done the same thing in my opinion and this isn't a case of 20/20 hindsight here either, as I've been saying this the whole way.
Do the Rangers win this game with Georgiev? Probably not. However, while I understand DQ doing the "do-or-die" thing with his starter, which was the "safe" move, it didn't work out.
Lastly on this topic, as was the case nine nights ago and is the case today; goaltending was never the issue. The Rangers skaters were.
Let's get into the second part of the Rangers tweet, which included information on Kreider.
---
Let's get the easy thing out of the way first. There's no update on Trouba and even if he does return this season, it won't make a difference now.
At the end of Tuesday's game with the Sabres, Kreider landed on the ice in a tough way. It didn't seem like anything to be concerned about at the time, but whatever happened, Kreider dinged himself up bad enough, as he wasn't unable to play tonight.
Replacing Kreider in the line-up tonight was Phillip Di Giuseppe. I saw many Ranger fans going ballistic about this, as they thought Julien Gauthier, who has been called a "poor man's Chris Kreider", should've replaced Kreider. In my eyes, I think DQ wanted a more physical and defensive edge in his line-up for the Islanders; which goes hand-in-hand with DQ's decision to start Bitetto over Hajek, during the Rangers last tilt with the Isles.
I'm fair and try to keep both my ears and eyes open. Similar to Georgiev vs Shestyorkin, I see the cases for both PDG and Gauthier. If you think Gauthier should've played, that's fine. If you think DQ was right with PDG, that's fine too. However, what's really important here is that neither one of these guys would've effected the final outcome. I mean really, do you think had Gauthier played, he would've put the Rangers on his back and propelled them to victory? I highly doubt it.
And as I always say during these scenarios – I'm not there with the team. I don't know what goes on day in and day out at practice, nor am I in the locker room. I just have to trust that DQ does and believe that he put forth the best line-up possible for this game. To go bonkers over the Rangers 12th forward tonight is silly.
Speaking of silly, how about the following?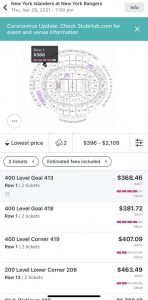 Imagine spending nearly four one hundred dollar bills for this game? And that doesn't even include the travel expenses, food, drinks & everything else! To quote my buddy TEN O'CLOCK TOMMY and my dad – "Minga!"
Gambling segment time. Here were my dead wrong predictions:
Season over-under record: 20-28-2 (personal low)

Igor v Varlamov (not confirmed.)

-5.5 is the right line. I'll go with the over. Kind of surprised #nyr are a favorite but I believe McDonald's legacy will motivate these guys to a 6-1 vengeance victory! pic.twitter.com/eMijM4oI0H

— BlueCollarBlueShirts (@NYCTheMiC) April 29, 2021
What a naive idiot I was. I'm now 20-29-2 on the season and cold as ice with my picks. A big thanks to the Rangers inconsistency issues for that!
BOX SCORE time.
The following information and graphics come from the new world-wide leader in NHL coverage, in ESPN.com.
SCORING:
PENALTIES:
GOALIES:
| | | | | | | | | | | |
| --- | --- | --- | --- | --- | --- | --- | --- | --- | --- | --- |
| SA | GA | SV | SV% | ESSV | PPSV | SHSV | SOSA | SOS | TOI | PIM |
| 26 | 3 | 23 | .885 | 20 | 1 | 2 | 0 | 0 | 58:37 | 0 |
| | | | | | | | | | | |
| --- | --- | --- | --- | --- | --- | --- | --- | --- | --- | --- |
| SA | GA | SV | SV% | ESSV | PPSV | SHSV | SOSA | SOS | TOI | PIM |
| 25 | 0 | 25 | 1.000 | 24 | 0 | 1 | 0 | 0 | 59:25 | 0 |
TEAM STATS:
---
The M$GN show remains terrible, where at least you can say that they are consistent.
After Vally rattled off all of the fake news stats from March 17th to today, where NO JOKE, he said "Since St. Patty's Day" no less than seven times; Vally then said stats don't matter. That's rich from him! What he was saying here was the obvious – the Rangers had to win this game and show up. Still, you never hear that out of him, but at least he got this right. Of course, the Rangers wouldn't do any of this, as they came out like limp-wristed losers, where after this game, they had anal bleeding and seepage; which quite frankly, pretty much sums up Vally's contributions to the broadcast all season.
In more mind-numbing nonsense out of Vally, Vally did a whole segment about guys going down to their knees. I'm not making this up. I'll let you write your own punchline here before I get accused of hate speech, due to my Artie Lange style of jokes! Ironically, it was also mentioned that LGBTQ PRIDE NIGHT will be held on 5/3. Why is this ironic? Easy – the Rangers showed no PRIDE at all in this game.
And while speaking of people who have no sense of humor and people looking to cancel everyone – remember when a large section of Ranger fans, and some in the NYR media too, wanted the Steven McDonald Extra Effort Award canceled last summer? You see, according to these assholes, the NYPD are these big evil boogeymen, and how dare the NYR support the NYPD! I'm glad that never happened and it was nice to see the broadcast speak highly of McDonald and about the prestige of his award.
Of note, while I don't like to enter the political realm during these blogs, I have no problem saying this – I have, and will always, support the NYPD. After all, many of my friends are in the NYPD and they have the most unenviable job in the world today.
In your Michelle Gingras mask update, she was wearing her patented leopard mask, as it looks like the hefty bag mask, which she previously wore, has been ditched.
And lastly, while Vally talked mostly about his legendary 46 game career during the post-game show, Vally did work in a mention of this historic career, when talking about the McDonald Award. That said, I give him a pass here, because he talked about how important that award was for every player during his days with the Rangers.
After a pregame show that wasn't as horrific as the game itself, we then went to the Steven McDonald Extra Effort Award ceremony.
---
I hate to say this, but due to the pandemic, this was the absolute worst Steven McDonald Extra Effort Award presentation ever.
The McDonald family weren't allowed on the ice, as Connor McDonald, the son of Steven McDonald, gave a speech from the 100's section. For some reason, he had to do his speech while wearing a mask, but you heard most of what he was saying. I thought he gave a great speech, where not only did he praise the Blueshirts, he also praised his brothers in blue. McDonald also talked about the loss of Officer Tsakos, who was murdered by a drunk driver.
What was just painful, especially with hindsight; was that Fox skated to the award after being named as the winner, where the award was placed right in front of the Islanders tunnel. In turn, you had these jokes, jokes which you can find in the replies to this following tweet:
Absolutely ruthless pic.twitter.com/HDiJ639djl

— Spittin' Chiclets (@spittinchiclets) April 29, 2021
So not only did we not get a photo/celebration with Fox and the McDonald family; you also had the Islanders standing there like a pack of wolves, a rabid pack of animals who would then tear the flesh right off of the bones of the Rangers.
In any event, congrats to Adam Fox. Well deserved. I know some people wanted Ryan Lindgren to win this, and I would've been fine with that, but I didn't see how anyone deserved this more than Fox. At least one of my predictions were right.
After a prerecorded national anthem, we went to puck drop, where I'm still fueled up by rage as I now enter the game recap/review segment of tonight's manifesto.
---
I don't even know how I want to do this recap right now. I could shorten it by doing "The Good, The Bad, and The Ugly" stuff; but I think saying the same thing over and over would get repetitive. So let me say the following and get it out of the way, and then breeze through the normal period-by-period recap:
The Rangers, in one word, were DOMINATED tonight. That's it. This was pure DOMINATION for the Islanders. The Rangers top six did nothing. The Rangers special teams were atrocious. The Rangers couldn't connect three passes in a row in this game. The Rangers got manhandled after big hits. And in something that Vally wouldn't talk about, since he's previously said that face-offs aren't important; by the time the first period was over, the Islanders led the Rangers in face-off wins, by a tally of 17-5. SEVENTEEN TO FIVE!!!!! MORE THAN TRIPLE! To Micheletti's credit, he at least brought up this disgusting stat at the start of the second period.
Do you want to know how bad this game was? The @RangersMSGN twitter account didn't post one video clip/gif of this game, BECAUSE THERE WAS NOT ONE POSITIVE PLAY OUT OF THE RANGERS TONIGHT! PATHETIC!
Even worse, once the Islanders scored, which made the game 1-0, and with the Isles leading the SOG department by a tally of 6-1; you had the sinking feeling that it was over. 6:27 of game time and you knew it was a wrap.
Once it was 2-0, your feelings were confirmed. In short – THERE WAS NEVER ONE SECOND IN THIS GAME, THAT YOU THOUGHT THE RANGERS WOULD WIN IT. This game was the equivalent of watching a glass vase fall from 50 feet away, and while you could see it coming the whole way, you could never prevent it from happening. This game was just a massacre.
<Deep breath> Okay, let's try to recap this game now.
---
After Fox won the McDonald Award and with good vibes in the air, DQ countered Trotz's fourth line of lunch-pail players with his fourth line of PDG/Rooney/Howden. In other words, PDG, who hasn't played in a month, started this game. I thought DQ overthought this decision, but really, I guess you can't criticize him, since his fourth line was the best line of this miserable affair.
With the Islanders winning the first face-off of the game, on the Rangers first possession, Brock Nelson lost his stick. Instead of putting a shot on goal, the Rangers passed themselves out of a shot on goal and kicked the puck out of the zone for the Islanders. As usual, another scoring chance blown.
Immediately following this, Fox found Mika in the slot and Mika choked as usual during a game against a top flight opponent. Buchnevich, not to be upstaged, would then go on a two vs one odd-man rush with Lafreniere, but waited too long to pass to Lafreniere, thus turning over the puck and blowing a scoring chance himself.
In the first three minutes of this game, we had five icing calls, and really, the Isles pretty much iced the puck to their heart's content all game. After all, it's not like the Rangers were going to win a face-off.
2:56 into the game, Panarin took an offensive zone penalty, after a careless trip on Dobson. In a rare good showing out of the Rangers, Igor would make a save in Eberle, but the puck squirted past him. However, Fox was right there, and from the paint, put the puck right into the pads of Igor. Of note, and as he has done in previous games where he struggles, Igor gave up more rebounds than usual tonight.
During this Rangers PK, Mika would go on a mini breakaway, but the Isles caught up to him, thus thwarting Mika of a shot that he probably would've shot at the boards anyway.
In some "calm before the storm" type of play, Igor would make two great saves on Beauvillier. After these two saves, Leo Komarov scored. This was a pathetic goal to allow.
On this play, Nick Leddy split Kravtsov and Kakko at center ice, as neither of these kids attempted to play any sort of defense here. After getting the puck, Eberle dished the puck to "Uncle Leo" and Komarov finished off Igor, as Miller did the "El Matador" defense. 1-0 bad guys, and that's the game winning goal to boot. It was also at this point in the game where the Rangers threw in the towel. As they often do, the Rangers love to talk the talk, but they don't walk the walk against good teams.
Ten minutes into the period, it was obvious – another slow and shit start out of the Rangers, and in another game they had to win.
With 9:04 to go in this first period, and not to be outmatched by his follow comrade; it was Buchnevich's turn to take an offensive zone penalty, as Buchnevich tripped Barzal. With 7:21 to go, Wahlstom beat Igor. 2-0 bad guys and that was that. Of note, the Rangers PK, which was at the top of the league for most of this season, has given up a lot of goals during these past three weeks.
As we got under five minutes to go, Brendan Smith, one of the few Rangers with a pulse tonight, floored Beauvillier. This then turned into a fourth line rush, where Rooney put two shots on goal.
After Cizkias just missed out on making this game 3-0, Filip Chytil, as he often does, couldn't finish a goaltender despite being a foot away from the net. Another scoring chance blown.
As the horn went off, signaling the end of the first period, the score remained 2-0, and in favor of the Isles. We also had a mini scrum here, as Blackwell hit JGP into the boards, but nothing of consequence happened afterwards.
---
After our regular comment of "SECOND PERIOD, WHAT DO YOU LOOK FOR HERE JOE?" <a sign of life Sam>, 63 seconds into the period, Beauvillier one-timed a shot past Igor. 3-0. After the goal, and at the 2:39 mark of the period, we had a scrum, which Zac Jones skated away from. In turn, both Buchnevich and Wahlstrom were sent to the sin bin for roughing.
During a break during the four vs four foreplay, M$G played "Lithium" by Nirvana. I found this ironic because the Rangers looked like they had ingested lithium and the Rangers would go on to commit suicide on their playoff dreams.
As Barzal came close at making this 4-0 at the nine minute mark of the period; the Rangers continued to struggle to get offensive zone time, where it felt like they had 38 seconds of "OZT" at this point in the game.
Of note, Micheletti didn't give us any of the "dreaded three goal lead" talk tonight. He only does that when the Rangers have a three goal lead. That said, I don't even think "Jinxin' Joe" could've pulled off his magic tonight.
At the half-way mark of the period/game, the Isles were 22-8 at the dot, as we all waited for Mr. Mika and Mr. Breadman to be paged and start playing in this game. It's here where Panarin drew Beauvillier for a hook, so if there's anything nice to say about Panarin tonight, it's that he drew a penalty. Of course, the Rangers wouldn't get one SOG during this power-play. Pathetic.
As Kevin Rooney remained the most prolific shooter of the Rangers, and as every Rangers center got pummeled at the dot; Clutterbuck hit the post. In total, the Isles hit iron four times tonight. So yeah, this wasn't Igor's best game.
After 40 minutes, we remained 3-0, in favor of the Isles, as the Isles treated the Rangers like the Rangers treat a bottom three team. For the Isles, the Rangers are a bottom four team.
---
The third period just added to the malaise. Nothing positive happened here at all.
I'm not even going to waste my time here, here's the quick and dirty:
— Kravtsov got hit hard but seemed okay. Ditto Chytil.
— Ryan Lindgren got hit, where he went shell first into the glass near the Rangers bench near the half-way mark of the period. He wouldn't return to the game and now his status for the rest of the season remains in question.
— The Isles continued to hit the post over and over again, while the Rangers struggled to get a SOG.
— At the 12:19 mark of the period, Smith, who leads the league among all defensemen in penalties drawn; drew another penalty, after Barzal boarded him. During this Rangers power-play, DQ pulled Igor for an extra skater. After all, down 3-0 in a lifeless game that even Terry Schiavo would laugh at, it's not like giving up an empty net goal here would've effected the final result. In turn, after the Rangers did nothing on this power-play, once leaving the box, Barzal immediately scored the ENG. 4-0 bad guys.
4-0 bad guys, your final from Masked $quare Garden. Gross.
---
Many people are doing their year-end wrap-ups now, looking ahead, talking trades, the off-season and everything else. I'll save all of that stuff for when the season is over. After all, in just over a week's time, we'll have five months of no Rangers hockey. I'll need something to talk about on this site.
If you haven't already, subscribe to this blog for the next update:
---
Season over. See ya Saturday night as we finish out the string.
Stay FABULOUS my friends.
Until then, and as always here, thanks for reading and…
LET'S GO RANGERS!
Sean McCaffrey
BULLSMC@aol.com
@NYCTHEMIC on Tweeter