"Smitty has meant a lot to us for a long time. I thought that might have been his best game of the year. I thought he did so many things for us at key times. Obviously the goal is huge, he draws a penalty, but just his overall game, I just really liked. He means so much to us on and off the ice – he's a personality, a leader, and just really happy for him the way things went for him." – Rangers head coach David Quinn, on 4/27/21, moments after the Rangers 3-1 victory over the lowly Buffalo Sabres. Without question, Brendan Smith was the best Rangers skater on the ice in this one and with Alexis Lafreniere right there beside him.
---
"With the crowd situation, it's a little different, but I don't want to be redundant and boring with my answers – we just have to be ready to go against the Islanders on Thursday and be ready to win a hockey game and do the things we need to do to be successful against them. They are a really good team, well-coached, we have great games with them, other than the last one we played and we've gotta be ready to go." – DQ, one more time on 4/27/21, a DQ who can now officially look ahead to this important two-game set with the Islanders.
---
Greetings and salutations everyone and welcome to another blog here on BlueCollarBlueShirts.com. Aren't you glad that's over?
On Tuesday night, at the World's Most Famous Masked Arena, and with the Rangers still clawing onto their playoff hopes; the Rangers handled business and beat the Buffalo Sabres by a final score of 3-1. With the win, the Rangers also finish their season-series with the Sabres as well, going 6-2 in the eight games played among the "WINTER CLASSIC" rivals.
There's no way to spin this one. The Rangers got very lucky tonight and if their playoff dreams weren't already up in smoke; a loss tonight would've created more billowy smoke than the announcement of a new Pope.
In a game that would even have the most straight edge and most sober Rangers fan chain-smoking a pack of Marlboro Reds, while chugging down handles of Jack Daniels; it would take a goal at the 9:49 mark of the third period, a goal which was scored by Alexis Lafreniere, to give the Rangers a 2-1 lead. With CZAR IGOR already having a beast of a game, Igor would protect the lead, and with a late insurance goal scored by Mika Zibanejad, as the end result of a Rangers 5 x 3 power-play; the Rangers would go on to play another meaningful game. And yes, I'm talking Thursday night, when the Rangers host the Islanders.
Of course, while there were 99 problems in this game (and the fat cats are one); all that matters is that the Rangers won. It's much better to be the "It's-Never-Easy" Rangers than to be the "Find-A-New-Way-To-Lose" Rangers, with the latter explaining why the Rangers do not have a playoff berth at the present moment.
Speaking of the current playoff picture, let's press the fast-forward button and take a look at the updated "Mass Mutual, throw your loose change into a water fountain, count your lucky stars and cross your toes" East Division Standings:
As this 2021 season continues to provide as many twists and turns & ups and downs as the world's biggest and greatest roller-coaster; similar to this same exact time from a week ago, the Rangers best chance at the playoffs might be with an Islanders collapse, rather than with a Bruins collapse. Of course, the Rangers now have a pair of two-game sets remaining with both of these teams, where chasing the Islanders will be the path of least resistance, due to the Bruins two games in-hand over the Rangers; as opposed to the one game in-hand that the Islanders currently have over the Rangers.
Prior to last Tuesday's game with the Islanders, that 6-1 mess from the Porto-Potty in Uniondale; the Rangers were still alive in the playoff hunt. After the game, the Rangers playoff chances took a huge hit, with their playoff chances taking an even bigger hit, after Thursday night's loss to the Flyers.
A week later, the Rangers are now still in the thick of it, although with less time and chances remaining.
Simply put, the Rangers, and for as many times as yours truly and others have etched out the epitaph on the tombstone of this 2021 season; the Rangers aren't dead yet, as they continue to fight the battle of having their coffin lowered into the ground. The Rangers may not qualify for the playoffs this season, but they will go out kicking and screaming, rather than going out limply. Kudos to them.
The Rangers mission to make the playoffs, should they choose to accept it, is very easy – win out. Along the way, they will need either the Islanders or Boston to start dropping games too, as we approach the final week of the season.
What we do know for a fact is this – the Rangers must sweep this upcoming two-game set with the Islanders, in order to have any chance of making these playoffs. Two losses or even a split won't do them any good, especially with the Bruins having a light schedule. (Devils & Sabres are up next for the Bruins.)
At the very least, with six games remaining, the Rangers are still fighting, rather than sadly playing out the string, as teams like the Flyers, Sabres and Devils are currently doing.
---
Aside from chasing the playoffs and playing games that matter; another result of the Rangers still being alive is this – with each passing day, that means you're very unlikely to see Morgan Barron, Mason Geersten or whatever other prospect/player in Hartford that you like, receiving any playing time this season with the Rangers. DQ alluded to this prior to this game on Tuesday morning, and really, you can't blame him. It would be a disservice to every player on this current roster, to pump the brakes and just start debuting all of these rookies. As long as the team is alive, it's up to DQ to continue to field the most competitive roster possible.
As far as tonight's game goes, needless to say, I'm happy that the Rangers did what they should've done – win it. While I'm not happy with how they won it, as the old cliche goes, you don't get style points for how you win. All that matters is that you win. That said, this effort tonight was very reminiscent of the 6-1 loss to the Islanders, and if Buffalo was actually a decent team and wasn't starting a goalie making his second career start, who knows how this game would've turned up?
All I'm trying to say here is this – if the Rangers come out like this against the Islanders on Thursday, they're toast. They must find a way to have a hot start. Another 55 minute malaise won't get it done in any of their next six remaining games.
And in another example of me saying the following this season, and from the broken record department – while it's good for Brendan Smith when he's the best skater for the Rangers, that's not great for the Rangers. If your top players can't show up in a "must-win" game against Buffalo, what's going to happen against the Isles, Caps and Bruins?
---
There's a lot to get into tonight, including the game review/recap. Elsewhere in tonight's manifesto, I have all the latest Rangers news and notes for you. In addition, I also have all the information regarding the NHL's new television deals, which begin with the 2021-2022 season.
However, up first, and of course – the PLUGS segment.
Here are my last few blogs in case you missed them:
---
---
---
I'm assuming by now, that you've heard this news already – come next season, NBC is out, ESPN and TNT are in.
I don't want to get too deep into these television contract talk waters, because I've already done so previously on this site. After all, the only thing that matters for us, as fans, is just finding a channel to turn on or an app to open. To get specific for fellow Ranger fans, outside of a few games on ESPN and/or TNT, just as it's always been, the bulk of Rangers games from next season will continue to air on the M$G Networks.
Over the past several seasons, a handful of Ranger games have aired on NBC or NBCSN. I'm assuming that if you have the M$GN and the NBCSN with your cable package, or however else you access these networks, then you also have ESPN and TNT. As fans, we won't have to pay anything extra next season, when it comes to the Rangers.
If you follow the rest of the league, if you don't have the NHL Network (which is usually in premium cable packages) you may have to get ESPN+, which is $4.99 a month. Personally, since the UFC/MMA is my second favorite sport, and ESPN+ already has that UFC contract already, I have ESPN+. Getting NHL games is just a nice bonus for my ESPN+ subscription. And when it comes to ESPN+, that's the wave of the future, as ESPN tries to get their audience to pay for their subscription service, thus undercutting the cable companies for people who have cut the cord already or are looking to cut the cord.
As far as TNT outbidding both Fox and NBC, it's going to be interesting, since TNT already has the NBA TV deal. While TNT has other networks in their family, like TBS or TruTV, who knows, this could lead to TNT eventually trying to gain traction for their own streaming service.
When it comes to the NHL's official press release on this news, they posted a lengthy statement on their website, which you can read here: https://www.nhl.com/news/nhl-turner-sports-reach-tv-deal-for-games-on-tnt-tbs/c-324075352
And oh, on a slight aside here, also on NHL.com is the NHL's current plans for this season's Stanley Cup Playoffs. Of note, everything still remains in limbo, where nothing will be determined until we get there. (If you want the full 411, visit: https://www.nhl.com/news/nhl-to-explore-all-of-our-options-for-playoffs/c-324085302 )
With all of this new found money coming in, it should be mentioned that previously, after signing the mega-deal with ESPN; NHL commissioner Gary Bettman said these TV deals wouldn't effect the salary cap, a cap that will remain flat for at least the next two seasons. While I'm sure all of this is always subject to change, as noted previously, the NHLPA is the weakest union in sports and the NHL will use this TV money to help recoup losses from both the 2019-2020 and 2021 seasons.
If there's one thing that I saw in the press release that I liked, it's that TNT said they plan on taking the same approach with the NHL, as they do with the NBA. I take that to mean that we'll get some colorful characters and banter in-studio, similar to the stuff out of Shaq and Charles Barkley. Unlike NBC, TNT hasn't played the political correctness game too much, where maybe guys like Mike Milbury and Jeremy Roenick could get a second chance here. The same would also apply to Ron Duguay, who does have a great relationship with Linda Cohn of ESPN. Who knows? I will say this, if the Oscar Award TV ratings tell you anything, it's this – American TV viewers want politics separated from sports and entertainment.
Again, while as fans these TV deals won't effect us, for people in the business, it will. Where Kenny Albert winds up is a big talking point, as he's considered to be the best play-by-play man in the game today.
Lastly while on this, if there's anything I'm rooting for, it's this – either TNT or ESPN hires Steve Valiquette, thus ending Vally's term with the M$GN! (ESPN might suit Vally best, as he lives in Connecticut, where ESPN has studios.)
---
Going into tonight's game, the only things worth noting were that Jacob Trouba remains "day-to-day" and that Colin Blackwell missed practice on Monday, after taking a nasty spill in Sunday night's win over Buffalo. However, Blackwell's status for this game was really never in any sort of jeopardy, and as expected, he was in tonight's line-up.
While on the line-up, once again in this game, DQ tinkered with his roster, due to the sluggish and crappy style of hockey the Rangers were playing. Kravtsov and Blackwell would flip-flop spots, and about 3-4 times. DQ also fooled around with his defense, where at one point, DQ did go back to Fox and Lindgren as his top pair. As mentioned last blog, while I understand why DQ has split them up, in order to help out Hajek and Jones, come Thursday, I think DQ is going to need to rely on his top pair, rather than having three haphazard pairs.
Of course, a best case scenario would see the return of Jacob Trouba on Thursday night, but as mentioned, there isn't any update on his condition.
GAMBLING segment time. Here's what I said before the game:
Season over-under record: 20-7-2 (worst record ever, partly due to #nyr inconsistency issues.)

Igor vs UPL. Of note, NYR aren't as favored as heavily as they were on Sunday.

I'm taking the over on the 6 & a NYR win parlay to boot.

It's all about Thursday, but tonight is big. pic.twitter.com/3JlDoaWHzN

— BlueCollarBlueShirts (@NYCTheMiC) April 27, 2021
With the loss tonight, my record moves to a career low of 20-8-2, which is eight games under .500. In addition, I'm now guaranteed my first losing season in four years since starting this bit. Again, the Rangers inconsistency issues have plagued me all year! Of course, that's my problem, because the only thing that matters here is that the Rangers won.
BOX SCORE time.
The following information and graphics come from the new world-wide leader in NHL coverage, in ESPN.com.
SCORING:
PENALTIES:
GOALIES:
| | | | | | | | | | | |
| --- | --- | --- | --- | --- | --- | --- | --- | --- | --- | --- |
| SA | GA | SV | SV% | ESSV | PPSV | SHSV | SOSA | SOS | TOI | PIM |
| 37 | 1 | 36 | .973 | 34 | 0 | 2 | 0 | 0 | 59:32 | 0 |
| | | | | | | | | | | |
| --- | --- | --- | --- | --- | --- | --- | --- | --- | --- | --- |
| SA | GA | SV | SV% | ESSV | PPSV | SHSV | SOSA | SOS | TOI | PIM |
| 41 | 3 | 38 | .927 | 31 | 0 | 7 | 0 | 0 | 57:47 | 0 |
TEAM STATS:
---
Tonight's M$GN pregame show remained terrible. No joke, when you include the intermission segments and the post-game show, Steve Vagistat brought up his legendary 46 NHL game career no less than six times. I've never heard someone, who accomplished so little, talk about themselves so much. I really hope TNT or ESPN frees us from this jackal.
If Vagistat talking about his Ken Drydenesque career wasn't enough for you, Vagistat started rambling on about how he hangs out with young kids and "floor cheese". I'm not making this up, as "Mr. Dick Cheese" actually said this.
For good measure, Vally also relayed how it's Georgiev's job as a back-up goaltender to win games and earn at least 24 points for his team a season. Another example of "do what I say, and not what I did", out of Mr. Cheese. And of course, Georgiev wasn't playing tonight either.
If there's anything I agreed with Vally on, it was that I thought the Rangers would show up and blow out the Sabres tonight. Vally predicted the Rangers to score 5+ goals. By intermission, he was singing a different tune, where he gave the impression that he predicted this potential letdown.
In other news, Michelle Gingras ditched the 50 pound rubber mask that she had on during Sunday's game, and went back to her leopard mask. Again, I don't know why she's wearing a mask on these broadcasts and I'll leave it at that, as I've done these rants before.
In what I found funny, honest and truthful, during their much heralded "TACO BELL TAKE" segment and during the opening seconds of the game; Sam and Joe agreed that they much rather say "UPL", rather than saying and trying to pronounce the name of Ukko Pekka Luukkonen, who was in net for the Sabres in this game. Of note, since I don't want to give my spell-check an aneurysm tonight, from this point forward, I will be using the abbreviated "UPL", whenever referring to Ukko Pekka Luukkonen.
In some serious news, prior to puck-drop, the Rangers paid their respects to Officer Tsakos, the NYPD officer who was killed by a drunk driver on Tuesday morning. My condolences to his family and friends. Just a horrible story, where there is no silver lining to be found.
Somewhat related to the Tsakos murder, (that's what an intoxicated driver is, whenever someone dies as a result of their foolishness – a murderer) the Rangers announced that they will be naming the Steven McDonald Extra Effort Award winner on Thursday night, prior to the Isles/Rangers game. As noted, Adam Fox has my vote. With this now being an award that fans vote on, based on social media, this seems to be a neck-and-neck race between Fox and his defensive partner, in Ryan Lindgren. I'm fine with either.
---
The first period of this game was a complete shit-show. While it wasn't the worst period of the Rangers season, it's up there in the Top 10. The only reason I can't really go too nuts about how bad this period was, was because at the end of it, the scoreboard was still 0-0.
As they say, "time is precious" and you only have a finite amount of time in this life. In other words, I'm not going to break down every minute of this period, because after all, if the Rangers aren't going to show up for it, why should I?
Here are the "highlights", or should I say "lowlights", of this period:
— The Rangers offense couldn't do anything.
— After one period, the Sabres were up in the SOG statistic, by a tally of 16-6. In addition, ten minutes or so in, the Sabres were out-shooting the Rangers 9-1.
— Of the Rangers six shots, Miller had three, Chytil had two and Kravtsov had one. In other words, nothing out of the top six or fat cats.
— The Rangers defense just allowed the Sabres to do whatever they wanted.
— Artemi Panarin was in pass-first mode all period. This was a rare game for him, where he finished without a point. Overall, Panarin finished with 5 SOG, but he probably had 10 more shot attempts, attempts that he fired at the boards, as if the boards owed him money.
— Buchnevich, as he often does, fumbled a puck while all alone in front of UPL, thus blowing another scoring chance.
— Despite UPL giving up a rebound on the 5/6 shots he faced, no Ranger was ever there to cash in on this loose change, especially after a great initial shot out of Lafreniere, in the final minute of the period.
— Again, UPL was making his second career start tonight, yet the Rangers only put six SOG on him in this period.
If there was anything good about this period, it was CZAR IGOR, who made 16 saves in all, including many saves after broken plays and odd-man rushes. He was easily the best Ranger in this game, with Smith as a close second.
When this boring and excruciating period mercifully ended, not only did I want to see Rangers trainer Jim Ramsay pass out the smelling salts – I wanted to see Ramsay inject these guys with bath salts as well.
Had the Rangers lost this game, everyone would be going nuts about this period. Instead, we can blow it off, but without question, the Rangers can't come out the gate like this again, unless they want to play golf on May 9th.
This was just an inexcusable first period, where really, it did set the tone of the game for the Rangers, even with the win.
0-0 after twenty minutes.
---
Before getting into this second period, let me be clear with you. While I'm not thrilled about the way this game was won, I am thrilled that the Rangers won it. After all, this isn't a junior high math problem, where you have to show your work. The only thing that matters here is the final answer and the Rangers would eventually come up with the answer, behind the play of both Brendan Smith and CZAR IGOR. Conversely, and sticking with the junior high stuff, if anyone deserved detention after this game, it was Filip Chytil, as I'll soon get into.
After our regular comment of "SECOND PERIOD, WHAT DO YOU LOOK FOR HERE JOE?" <a mother Father Finkin' goal, ya prick bastard!>, Strome actually won the first face-off of a period. With his line starting all three periods, this would be the only first face-off a period that he won tonight, which sad to say, is a huge improvement for him. Overall, Strome won six out of thirteen face-offs, which again, sad to say, is a good night for him. Like all of these Ranger centers, they all need a face-off coach during the off-season and into the 2021-2022 regular season.
The start of the second period was much like the first, as Igor would have to stop Skinner from the slot. On the Sabres next possession, they went on a 3 x 1, where Igor got a break, as rather than passing to either one of his two open teammates, Olofsson shot at Igor and Igor, as he did all game, made the save. As I'll get into, this game very easily could've been a shut-out for Igor, who made 36 saves in all.
In a play that was great for the Rangers, but took some piss out of the Sabres, 2:22 into the period, this happened:
It doesn't happen often, but when Brendan Smith scores he makes it count 🚀🚀🚀 #NYR pic.twitter.com/H4deadqeRl

— Rangers on MSG (@RangersMSGN) April 28, 2021
Of note here, I think the RangersMSGN Twitter account should be backhanded for that uncomplimentary compliment! In either event, 1-0, GOOD GUYS, as team leader Brendan Smith stuck with a play and just rocketed one here. UPL never had a chance.
While talking Smith here, previously on this site, I have said that I thought Ryan Strome would win the old Jesper Fast award, in the "Players' Player Award", an award which is voted on by the Rangers themselves. Now, I'm not so sure, as I think Smith deserves it more. I'd be okay with either one of these guys winning it, but I think Smith means more to the young players than Strome does. Again, both of these guys are good candidates for this award, but with Strome's role and playing time more defined, I think Smith has done more with less. He's earned it.
As UPL continued his "Dennis Rodman Act", which means being a rebound machine; this was when DQ first started to flip-flop Blackwell and Kravtsov.
For the rest of this period, the fat cats basically took a nap in the sun. While Mika Zibanejad, Chris Kreider and Artemi Panarin all pulled a "Houdini", it was CZAR IGOR providing all of the magic.
As Igor continued to say "NYET NYET" to every Sabre, including both Thompson and Skinner, who seemed to average a SOG on every shift they played; the Rangers would come close to making it 2-0. With about ten minutes remaining in the period, Fox blasted a puck into a net that was left largely open by UPL, but UPL managed to make a head save, as the puck slightly deflected off of his mask and towards the corner boards. This was a break for UPL and the Sabres.
After this near-miss, Panarin went on a breakaway, only for Samuelsson to catch up to Panarin and deny the attempt. This was a tough game for Panarin tonight, as he had a bunch of scoring opportunities, but just couldn't get anything going, which is just a rarity. That said, and in an attempt to find a silver lining here, maybe this will motivate him to blow out the filthy Islanders on Thursday.
With under five minutes to go, CZAR IGOR was finally able to take a breath, as the Rangers third line and the reunited Fox/Lindgren pairing, had a near two minute shift in the Sabres d-zone. The only thing the Rangers didn't do here was score, but the M$G crowd showed their appreciation for all of this hard work. Even without the goal, this was perhaps the best offensive shift out of the Rangers all game.
As Sam and Joe waxed poetically about Sidney Crosby for some reason, and as Beavis and Micheletti-head did all of their relations and family tree nonsense, UPL made one of his best saves of the game, a confidence booster at that, with a quick flash of the leather on Lafreniere. However, Lafreniere would have the last laugh.
As we hit the two minute warning, Filip Chytil just had a disaster of a shift.
After a turnover, Igor would be forced to stop Sheahan from six inches away. Chytil would then get the puck and race down to UPL, where despite being untouched, Chytil put a puck wide at an open net. This has been a common occurrence lately. To make matters worse, with just 32.2 seconds remaining in the period, Chytil took a lazy tripping call, when he tripped up Sam Rosen's favorite player, in Sam Reinhart.
With just three seconds remaining in the period, Reinhart scored the power-play goal. 1-1, thus ruining Igor's bid at his third shutout of the season.
Yes you can blame the Rangers PK and their inability to win a face-off, and yes, Reinhart was all alone in the slot; but this goal never happens if one, Chytil finishes a nobody goalie and two, if Chytil doesn't take a dumb penalty. Either way, Chytil loused up here and he knows it, DQ knows it and anyone watching this game knows it. While you don't want to beat up Chytil too bad, if he continues to pull this crap against teams who aren't the Sabres, Flyers and Devils – the Rangers can kiss their frayed playoff hopes goodbye.
Instead of going into the second intermission up 1-0, CZAR IGOR pitching a shut-out and having some good feelings; at the end of forty minutes, we were now tied 1-1, in a game where if you didn't have heartburn already, your chest was blazing as if you were suffering from the worst case of sunburn ever.
---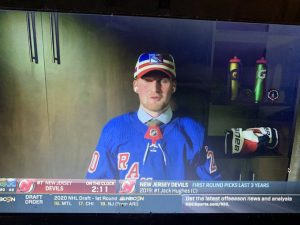 After Micheletti told us how worthless some of these stats are, due to roster changes, coaching changes and the ilk; Sam Rosen started off the third period by reading a laundry list of third period stats, such as goal differential.
Tied at 1-1, I'll be honest with you – I thought the Rangers were going to blow this, especially since the fat cats were doing absolutely nothing.
Brendan Smith would continue his strong play, as during his first shift of the period, he blasted a puck at UPL, only for Mika to do nothing with the afforded rebound. Right after, Buchnevich shot the puck so hard at the boards, that I thought it was going to go through the boards and hit the ball bag of some poor fan.
With 16:48 remaining, the Rangers received their first power-play of the game, as Skinner held Hajek. The Rangers PP1 unit would spend the entire two minutes in the Sabres d-zone, but like a bad porn star, couldn't finish. Even worse, Panarin set-up Kreider perfectly at UPL's doorstep, but somehow, Kreider shot wide. Inexcusable.
As we hit 13:03 remaining in this tied game, Rooney boarded Caggiula. Cozens took exception to this hit and fought with Rooney. In turn, Cozens and Rooney received five minute majors and the Sabres now had a power-play opportunity, in their quest to win this game.
The Rangers PK held on during this PK, as Igor made a few saves. If there was anything appalling about this PK, it was that after getting the puck out of the zone, rather than streaking to UPL and putting a SOG, Blackwell slowed down, looked backwards twice and then meekly dumped the puck. There was no aggression here and looking backwards stunted a scoring chance.
As you continued to chomp your fingernails, with 10:11 remaining in regulation, Lafreniere allowed you to breathe a little:
Laf gets the lead!!! pic.twitter.com/1hNDNfIiXN

— Rangers on MSG (@RangersMSGN) April 28, 2021
2-1, GOOD GUYS, and this would be another game winning goal for Lafreniere this season, a Lafreniere who picked up his first GWG of the season against these very swordsmen of Buffalo.
On this goal, Ryan Strome, from behind the goal line, made a great pass to Lafreniere in the slot, and as we've been seeing lately, Lafreniere executed and finished. The best is yet to come my friends, the best is yet to come!
Less than a minute later, Smith, who in addition to helping Kakko is also helping Lafreniere adjust to the NHL; laid a big and clean hit on Thompson. Thompson then retaliated, thus giving the Rangers another power-play. Of note, Smith leads all NHL defensemen for penalties drawn.
And I know I've done this rant before, so I won't rehash everything here again; but if Smith is willing to take less money and playing time next season, then I'm all for re-signing him. As mentioned, while it would be good for the Rangers to have Smith return, Smith may find more playing time and more money elsewhere, during this upcoming off-season.
After UPL denied Panarin twice on this power-play, with 7:36 to go in regulation and with 44 seconds of power-play time remaining, Caggiula put a puck over the glass. I think the Rangers got a break/fortunate call here, as it looked like Buchnevich may have slightly deflected this puck. Oh well, that's Buffalo's problem and not mine. In any event, the Rangers now had 44 seconds of 5×3 power-play time. And need I remind you of the adage I always say on this site during these situations – if you can't score a PPG with a 5×3 power-play, you don't deserve to win.
The Sabres would kill the 5×3 portion of this power-play, but not before Panarin went wide and after both Mika and Strome hit a post each. Now down to the traditional 5 x 4 power-play, with 6:11 remaining in regulation, Kreider deftly fed Mika and Mika scored the easy PPG. 3-1, GOOD GUYS, and really, where you now felt relaxed, especially with how dominant Igor was playing.
Also of note – isn't it amazing Suzyn, how Kreider can miss a wide-open net from six inches away, but was able to make this no-look pass with ease?
After Mika's goal, which was his 20th of the season, Sam and Joe gave Mika a hero's welcome, omitting the fact that of these 20 goals, only five of them were scored against the top four teams of the division. Not hating, just stating!
With 2:52 to go, Chytil shat (past tense of "shit", look it up!) the bed again, as he failed to score on a good chance.
With 2:13 to go, and a face-off in the Rangers d-zone, UPL went to the bench. During this Sabres 6×5 attack, only K'Andre Miller would get a real scoring chance, as he shot a puck wide, just as he crossed the Sabres blue line. With the Rangers mostly playing defense, rather than scoring one of those long range empty netter goals that we've now grown accustomed to; the Rangers held on and the score remained 3-1, GOOD GUYS, as the final horn went off. Whew.
---
At the end of the day – the Rangers got the job done. Up next, and has been the case during this final stretch of the season – another "must-win" environment at M$G and another "biggest game of the season", as the Rangers host the Islanders on Thursday night. I don't have to sell you on how big that game is.
Programming note. Our friends at "The Blueshirt Underground Show" returned on Monday night. Due to some technical difficulties, (I think Sam Rosen may have farted and blown out their signal, just as either Sam or Joe farted on the air tonight and I'm not making this up) their latest episode is broken up in two parts. You can watch the entire show by clicking the two play buttons below:
If you haven't already, subscribe to this blog for the next update:
---
Do or Die time, this Thursday night at M$G. Let's see the fat cats earn their money. If the Rangers replicate their performance from their last game with the Isles, I will Father Finkin' lose it.
Stay FABULOUS my friends.
Until then, and as always here, thanks for reading and…
LET'S GO RANGERS!
Sean McCaffrey
BULLSMC@aol.com
@NYCTHEMIC on Tweeter