"It certainly is something that wasn't expected, because usually when we've had games like we did against the Islanders, we've responded. This is the first time all year that this happened. I don't know if the realization of the situation we are in took the wind out of our sails after the Isles game, but you just can't take the amount of penalties we did in the second period and then take a four-minute penalty in the third. We've been a resilient group all year and we certainly weren't tonight." – David Quinn, on 4/22/21, moments after the Rangers 3-2 loss to the Philadelphia Flyers. Prior to tonight's game, the Rangers had won their last 7 of 8 games, following a loss. As a result of tonight's game, the Rangers are now 7 of their last 9, during these situations.
---
"I think that from night to night, there are different reasons why we lose these tight games, whether it be too many penalties or the young guys being a little bit off or the older guys being a little bit off or the d-corps being a little bit off. I think it's been a variety of reasons from night to night, I don't think it's just one thing." – David Quinn, one more time on 4/22/21, when talking about the team's horrendous record in one-goal games, a record that is now 4-15. In addition, the Rangers, who are now 3-4 against the Flyers this season, have lost all four of their games to the Flyers by one goal.
---
Greetings and salutations everyone and welcome to another blog here on BlueCollarBlueShirts.com. Send in the clowns. And in the event that the Rangers don't want to add clowns to their salary cap, they could always fix up some red noses for Sam "Is that a goal?" Rosen, "The Fabulous" Joe Micheletti and Steve "Face-Offs Don't Matter" Valiquette.
LET ME PUT THIS IN CAPS LOCK AND IN BOLD PRINT – THE RANGERS ARE 4-15 IN ONE GOAL GAMES THIS SEASON. IF THE RANGERS JUST WON THREE MORE OF THESE GAMES, WHERE THEIR RECORD WOULD THEN STILL BE A PATHETIC 7-12 IN THESE TYPES OF GAMES, THE RANGERS WOULD STILL BE ITCHING FOR THE PLAYOFFS. INSTEAD, THE TEAM JUST HAS A RASH. BLAME THE FAT CATS!
In a game that confirmed that the Rangers won't be making the playoffs this season; the Rangers dropped another game that they should've won tonight, losing at home to the Philadelphia Flyers, and by a final score of 3-2.
Truthfully, I can't feign rage, anger or utter disappointment right now. While I'm not happy about this game at all, once the Rangers got the shit kicked out of them by the Islanders on Tuesday, that was it. This loss was just the final coat of paint on that "House of Cards" sweep of the Devils.
Everything that has plagued the Rangers all season came together, and all at once, during this pathetic loss. Here's the quick shopping list of Rangers failure:
— Missing Mika? Check.
— Kreider on a cold streak? Check.
— Getting dominated on special teams? Check.
— Losing every face-off imaginable? Check. And even better, after the Rangers won the battle at the dot 17-8 in the first period, the Rangers got brutalized at the circle in the final forty minutes of the game, getting walloped by a tally of 27-16, with nearly 90% of these face-off losses occurring in the offensive and defensive zones.
— Fat cats going ghost? Check, even with Panarin's goal scored with two minutes remaining.
— Turning a goaltender into the second coming of Patrick Roy? Check, as the struggling Brian Elliott had one of his best games of his season tonight, while making 33 saves.
— Shooting wide? Check. If there's one thing the Rangers do consistent, it's shooting wide.
— Missing 3-4 sure-fire goals on wide-open nets? Check, with Brett Howden, Pavel Buchnevich and Kaapo Kakko being the biggest offenders tonight.
— The best Ranger on the ice (besides the goaltender) being a bottom six defenseman or a fourth line player? Check, with Brendan Smith taking top honors tonight.
And oh, if that wasn't enough for you, in a new twist, the Rangers defense, which has been pretty solid this season, was pretty much non-existent tonight; with Ryan Lindgren's game regressing almost as much as K'Andre Miller's game has regressed over the past 4-6 weeks.
---
For 60 minutes, the Rangers, defensively, played a game that was just as spaghetti-legged as Jacob Trouba was on Tuesday night. If it weren't for CZAR IGOR, the Flyers would've hit the over-under of -6.5 all by themselves. Conversely, the Rangers played an offensive game that rivaled a bad pornographic movie – they couldn't finish.
With CZAR IGOR basically keeping the Rangers alive all game, the Rangers once again stunk on their power-play. The Rangers would also blow nearly every chance imaginable in this game, whether it was shooting wide, passing backwards while wide-open, missing vacated nets and yes, this is true too – Brian Elliott was just as good as CZAR IGOR was tonight, if not better.
In what was truly a goaltenders duel, as these two teams chucked the idea of defense into the waste-basket; the Flyers wound up winning this game behind special teams and face-offs. As I'll get into during the game recap/review of the blog, it's a shame that Igor gets the loss pinned to his record tonight, because he did everything he could, in order to keep the Rangers alive as a contender in this one. When a goaltender's shut-out is ruined by a puck that went off of the face of a player, it's just that kind of night. That said, the Rangers didn't give their goaltender any help tonight either.
---
There's a lot to get into tonight. Aside from the game recap/review, I also have a full and detailed in-depth recap of the latest "Up in the Blue Seats" podcast for you. I thought this episode of "Up in the Blue Seats" was pretty much "must-listen to" material; because not only do you get an out-of-character Ron Duguay and an interview with Brad Park, but you also heard Larry Brooks let out the loudest belly-laughter of all-time, after being asked – "can the Rangers make the playoffs?"
Elsewhere tonight, I have all the latest on Jacob Trouba, the debut of Zac Jones, the new line-up, the Kreider demotion and everything else covered for you. And here's your silver lining, or at least for me – my prediction on this new M$GN gambling app rang true. Ugh, I'm trying here to find something positive to talk about!
However, before rocking and rolling, and as usual – the PLUGS segment.
Here are my last few manifestos, in case you missed them:
---
---
---
On Thursday morning, prior to tonight's game, Ron Duguay's "Up in the Blue Seats" podcast returned with a new episode, talking all the latest in Rangerstown, USA. To listen to the show, click the link below:
Up In The Blue Seats podcast: Are the Rangers Finished? https://t.co/1ROBTurxtf

— Ron Duguay (@RonDuguay10) April 22, 2021
Let's get right into the recap.
---
Mollie Walker kicks off the show by saying, "the Rangers playoff hopes and Jacob Trouba took a nasty hit on Tuesday night." She's not wrong, but ugh. Walker then previews everything we'll hear on this episode.
After the show's introductory music, producer Jake Brown welcomes us to the show, where he asks us to rate and review the show. Done and done. Brown, as Walker just did, then previews this episode as well.
Duguay welcomes us to the show and talks about the Rangers sweep of the Devils. Duguay then brings up his previous high hopes of the Rangers making the playoffs, hopes which are now diminished after the loss to the Islanders. Duguay says he wants to keep the show positive, which is why he asked his buddy Brad Park to do the show today. As Duguay has said previously on this podcast and as he says again here, Duguay considers Park to be one of the smartest players he's ever played with. (Despite Duguay and Park being huge NYR fan favorites in the 1970's, the two only played with each other in Detroit during the early 1980's.)
Duguay says, that despite wanting to maintain a positive outlook, he's still trying to figure out what the heck happened against the Islanders. Duguay says he knows that the Islanders are good, but he doesn't know why the Rangers failed to come out for that game. Walker feels that after the Rangers finished beating up on a bad team in the Devils, that the Rangers just got humbled by the Islanders. Walker talks about how the fat cats (my words, not hers) did nothing against the Islanders, except for Brendan Smith.
Walker says what I said after that game, saying the equivalent of, "while it's good for Brendan Smith when he carries the Rangers, it's not good for everyone else and the team." Walker then brings up the Trouba injury as well. Walker is like many of us, and believes that Trouba suffered a concussion after the hit from Matt Martin. (She's not confirming this, she's just of this thinking.)
Walker says losing Trouba is a big blow for the Rangers and explains why. Walker then recites the team's speak of how Trouba is a leader for the Rangers. Walker says while Trouba may have had a slow start, he's really picked up his game as of late. Walker thinks the Rangers will miss Trouba down the stretch. Walker and Duguay talk about their preseason predictions, where Duguay concedes and says that Walker is right – as Walker didn't think the Rangers would make the playoffs this season while Duguay did.
Duguay said he enjoyed the Rangers physical play as of late, that is, until the Islanders game. Duguay wonders, who is to blame for the Rangers getting away from their physical style of game against the Isles? Duguay said he was surprised with the egg the Rangers laid on Tuesday night. Duguay says the Isles are a well coached team. Duguay says moving forward, you have to wonder what the Rangers goal is here, outside of winning games.
Duguay and Walker talk about Zac Jones, and how they expect him to be in the line-up against Philly. (Again, this was recorded prior to DQ making this line-up change/the debut of Jones becoming official.) Walker predicted that Jones would be in the line-up, saying what I said on social media and what I'll later talk about in the NEWS segment of tonight's blog. (The fact that the Rangers made Jones available to the media on Wednesday pretty much told us what we needed to know.)
Walker says that without Trouba, it gives Quinn a chance to shake-up his defensive pairings, mentioning the Rangers recent defensive woes as of late. Walker then brings up the name of Anthony Bitetto. Walker says she wants to be nice here, but says that it was obvious that re-inserting Bitetto back into the line-up was an "ill-advised decision." Walker says Bitetto is a great "home-grown" story and tries to pump up his tires a bit before slamming him, where really, Walker isn't "slamming" Bitetto – she's stating the truth.
Walker brings up that DQ doesn't like to tinker with a winning line-up. Walker says that's why Zac Jones didn't play in these games with the Devils and the Islanders. Walker feels that Hajek should be playing over Bitetto.
Duguay says coaches can blame players, but coaches also need to be held accountable.  Duguay says it's the job of a head coach to get his team ready and to make sure bad starts don't happen. (In the past, Duguay has also said that these players are millionaires and should be ready to play too.) Duguay feels that DQ and his coaching staff messed up against the Islanders and they can't make the same mistake against Philadelphia. Duguay feels the first ten minutes of Thursday night's game will be telling. Duguay says that while he thinks DQ is doing a good job, his team wasn't ready for the most important game of the season, which Tuesday night's game against the Islanders most certainly was.
Duguay says the loss against the Islanders was embarrassing, while mentioning that he doesn't want to go on a negative rant here either. Walker says, "HIT IT RON", as she's enjoying Duguay teeing off a bit. Duguay then uses the word that I hammered home last blog, while describing that loss – "disappointing".
Duguay says the Rangers don't have any guys on the roster that provide spark and energy during the onset of a game. Duguay says the Rangers don't have a Matt Martin type on the team either. Brown is also enjoying Duguay going off, chanting, "WE WANT A RANT!" That was pretty funny, or at least got a laugh out of me during this dark time.
Duguay wonders if the Rangers will play angry against Philly, or will they continue to play pond hockey? Ouch.
Brown talks about the upcoming Rangers schedule, including the two final games of the season against the Bruins. Brown wonders if the Rangers still have a chance. Walker flat-out says no. Duguay, who is always Captain Optimism/Glass Half-Full, says no as well, based on what he saw on Tuesday night. Duguay thinks Boston is the hottest team in the NHL right now. Duguay says once Taylor Hall got out of a losing environment, it invigorated him. Duguay says he thought the Rangers could've caught the Islanders, but that idea is now up in smoke. (As you can tell, Duguay shares a lot of the same opinions as I do, which is why I enjoy this show in the first place. And I'm not suggesting anything other that we both think alike here.)
Walker piles on, mentioning how Boston has an easy schedule to close out the season, thus thwarting any chance of the Rangers making the playoffs. Brown says he might go to a Rangers game, enjoy a prime-rib, and will allow people to rub his cocoa-butter shaved head for luck. (This was a callback to previous episodes.) Brown then bites off Craig Carton here, and says, "Ranger Fans for Sabre Fans".
This then leads us to the Larry Brooks segment, as if the tone in Rangerstown, USA wasn't negative enough!
Walker welcomes Larry Brooks to the show. Walker recaps the current Ranger woes. Walker asks Brooks about the Rangers slim playoff chances and if the Rangers can make the playoffs, which Brooks just laughs at the idea of. Seriously speaking here, I've never heard Brooks laugh harder. Brooks then controls his laughter, and says the Rangers need to win every game of their final ten games remaining. Seems like a tall order! Brooks, still holding back his laughter, says the Rangers need to finish strong. Brooks thinks the loss against the Islanders is very telling and how some players will now be playing for a job next season. (Of note, Smith has aced his test and should receive several offers around the league.)
Brooks thinks the Islanders are a very good team, but is not sure about them winning the Stanley Cup this season. Brooks thinks the Islanders can win the division, but doesn't know how they match-up against Tampa or Carolina. Brooks says the key for the Islanders, is if they can score goals in the third period and when the game is on the line. This talk is even more disgusting to listen to for me, as Brooks talks about what the Islanders must do to win the Cup.
Duguay recaps the sweep of the Devils and then asks Brooks, "what are the Rangers missing right now?", when talking about Tuesday's loss. Brooks says the Islanders game reinforced his previous thoughts, saying that the Rangers are a "homogenous group", as they have too many guys who bring the same thing to the table. Brooks says the Rangers don't have enough grit in their line-up. Brooks also agrees with previous thoughts from Duguay, saying how the Rangers just don't come out with energy during some games. Brooks says the Rangers need an "energy-type" player in their top two lines, rather than with their bottom six. Brooks says if teams game-plan against Mika and Panarin, the Rangers are just unable to adapt.
Brooks feels the Rangers are too one-track minded and are easy to beat. Brooks thinks the Rangers need a "re-imagination." Brooks thinks the roster needs work. Duguay says what he said earlier, saying how the coaches need to instill strong starts into this team. Duguay talks about the recent Hajek benching, where Brooks says he was "baffled" by Hajek becoming a healthy scratch. Brooks talks about Bitetto's struggles and didn't understand why Bitetto played against the Islanders, outside of the fact that Bitetto brought a more veteran and physical presence than Hajek. Brooks thinks DQ over-thought his decision by using Bitetto over Hajek against the Islanders.
Walker then switches gears, and brings up Robin Lehner's recent comments, where Lehner slammed the NHL for forcing players into getting the vaccine. Walker ties Lehner's comments into the recent situation with the Vancouver Canucks. Brooks said all of this caught him off-guard, as prior to Lehner's comments, he was of the belief that the NHL was NOT offering incentives for players to get the vaccine. (Of note, most of the media agrees with Brooks here, with the thinking that Lehner misinterpreted the league's comments on this.) Brooks says he doesn't know what Lehner is talking about here at all.
This then wraps up the Larry Brooks segment.
Up next is one of the greatest Rangers defensemen of all-time, in #2, Brad Park.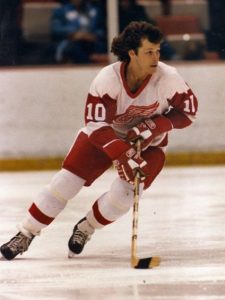 Walker gives Park a great introduction and mentions Park's new company, which is called "Graphic Candles". Park talks about his new company, mentioning how he's semi-retired and how his family got him into this new venture. Park talks about how his new company makes all different scents and the process of candle-making. This is stuff you probably didn't expect to hear here.
Duguay mentions his history with Park and how he values Park's opinions. Duguay mentions the "FIRE DQ" crew (my phrase, not his) and asks Park about his thoughts on coaching. Park thinks today's coaches are good at telling players what to do, but are poor on explaining to players how to achieve these goals. Park says you can tell someone to do something, but you have to show these players how to do it and why it works.
Walker talks about the legendary days of Orr vs Park. Park said he had great offensive skills, and how Emile Francis allowed Park to join the rush. Park brings up those great Francis teams and how it helped him. Park talks about when to play offense and when to sit back and play defense. Walker mentions how Park played for Team Canada in the 1972 Summit Series, after Orr was injured. Park says he learned a lot from just watching Orr. Park then talks about the ten games he played with Orr in Boston, and how their power-play rate was over 50%. (This was when Orr was at the end of his career.)
Duguay talks about how Park is a Hall of Famer and won the Bill Masterton Trophy. (Orr routinely beat Park out of the Norris Trophy, as to this date, Park has more second place finishes for the Norris Trophy than any other NHL player. Had Orr not been around, Park may have had 6-7 Norris Trophies under his belt.) Park said he was happy to win the Masterton Trophy in Detroit, as Detroit was a struggling franchise at that time. Park said winning the Masterton was a "topper" for him.
Walker brings up how Park played with and then coached Duguay in Detroit, and asks about what that was like. Park said Duguay wasn't difficult to deal with, and brings up a story with Duguay and Jean Ratelle. Park said Duguay was always self-critical and was always open and honest when things were going bad.
Duguay talks about analytics and how that stuff wasn't around in their day. Park says he never cared about plus/minus stats in his days of coaching and scouting. Park pretty much says he was an "eye-test" guy (again, my phrase, not his) mentioning that he'd really focus in on what guys did in the corners and during puck battles. Park said he was more interested in "recognition" and decision skills.
This then wraps up a short interview with Brad Park, where really, the interview came off as being cut-short, as Park was starting to get into it before getting the go-home signal.
After some ads, we're told that this show is a wrap.
---
All in all, this was another solid episode of "Up in the Blue Seats", where really, for the first time since this podcast's inception, we heard Ron Duguay coming from a different angle. As mentioned, Duguay is a positive guy and always tries to find the good side during bad times, but you could hear it in his voice – he was just as fed-up as any other Ranger fan, after that loss to the Islanders. I don't blame him, and it was refreshing to hear him speak honestly, rather than trying to put a positive spin on something that you just couldn't shine up.
If there's any critique I have about this particular episode, it was that I wish the Brad Park interview was longer. I was hoping to hear Park's current thoughts on the Rangers as well. Aside from that, another fine showing from "Up in the Blue Seats".
Let's now get into all of the pregame news.
---
The "saga" of Jones making his NHL debut is a two-day story. On Wednesday, the team's off-day, the team tweeted out the following:
Fifteen hours after the Rangers disappointing 6-1 loss to the Islanders; on Wednesday 4/21, David Quinn met with the media, in what felt like a "let's get this over with" type of zoom call.
During DQ's meeting with the media, DQ announced that CZAR IGOR would be right back in net for tonight's game with Philadelphia. When it came to an update on Jacob Trouba, DQ said Trouba would not be playing against Philly and that Trouba was "day-to-day". As you know, "day-to-day" can mean anything. After all, CZAR IGOR nearly missed a month after originally being listed as "day-to-day", after Igor's groin injury from earlier in this season.
The topic of a concussion was not broached here. In other words, we don't know when Trouba will return or how serious his injuries are.
The last piece of news from DQ's meeting with the media from Wednesday was that it was highly likely that Zac Jones would make his NHL debut on Thursday night against Philly. Between Trouba's injury, Bitetto's poor showings and the fact that the Rangers made Zac Jones available to the media on Wednesday too – all of this pretty much suggested that Jones would go on Thursday and as he did.
On Thursday, after the team's pregame skate, DQ confirmed that Jones would be making his NHL debut: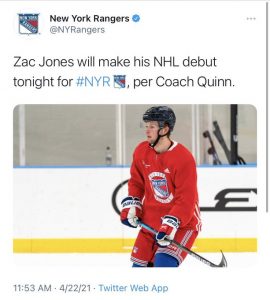 During DQ's pregame press conference, not only did he give us all of his line-up information, but DQ confirmed that Jones would be playing on the third pair with Libor Hajek. In addition, DQ, who was honest here rather than coming off as "lost", said he didn't know what to expect out of his defense. DQ said if things got hairy, he'd shake things up in-game, with the exception being the Fox/Lindgren pairing and as expected. Of course, not even five minutes into tonight's game, DQ would break up the Fox/Lindgren pairing, in exhibit #7867878686899 of DQ saying one thing, and then doing the complete opposite with his actions.
In other line-up news, where DQ once again said he might change things in-game; DQ announced that he was promoting Alexis Lafreniere and demoting Chris Kreider. This was interesting to me, because I thought Vitali Kravtsov deserved this promotion more than Lafreniere, but maybe DQ didn't want to break up a fourth line, a fourth line coming off of their best game of the season.
In turn, here was your line-up for tonight's affair:
FIRST LINE: Lafreniere/Mika/Buchnevich
SECOND LINE: Panarin/Strome/Blackwell
THIRD LINE: Kreider/Chytil/Kakko
FOURTH LINE: Kravtsov/Rooney/Howden
Defensively, we had this:
FIRST PAIR: Fox/Lindgren
SECOND PAIR: Smith/Miller
THIRD PAIR: Jones/Hajek
And as mentioned, in net, #31, in CZAR IGOR.
---
Gambling segment time!
Here's what I said before the game:
Season over-under record: 19-25-2

Igor v Elliot. Flyers goaltending is suspect & #nyr usually rebound well after losses. Rangers also have done well against the Flyers.

-6.5 is the right line, but it feels high. Still taking the OVER anyway, in what I feel is a 5-2 Rangers win. pic.twitter.com/CmDe4fOOyX

— BlueCollarBlueShirts (@NYCTheMiC) April 22, 2021
Wrong, wrong and wrong again. With the loss, I'm now 19-26-2, an all-time low of seven games under .500. You guys should be fading me this season!
BOX SCORE time.
The following information and graphics come from the new world-wide leader in NHL coverage, in ESPN.com.
SCORING:
PENALTIES:
GOALIES:
| | | | | | | | | | | |
| --- | --- | --- | --- | --- | --- | --- | --- | --- | --- | --- |
| SA | GA | SV | SV% | ESSV | PPSV | SHSV | SOSA | SOS | TOI | PIM |
| 35 | 2 | 33 | .943 | 27 | 1 | 5 | 0 | 0 | 59:58 | 0 |
| | | | | | | | | | | |
| --- | --- | --- | --- | --- | --- | --- | --- | --- | --- | --- |
| SA | GA | SV | SV% | ESSV | PPSV | SHSV | SOSA | SOS | TOI | PIM |
| 36 | 3 | 33 | .917 | 24 | 2 | 7 | 0 | 0 | 58:16 | 0 |
TEAM STATS:
---
I have to admit, after that loss to the Islanders, and to quote "Still Game" here, "the pish has been taken out of me."
I usually enjoy laughing at the unintentional comedy on the M$GN pregame show, but knowing that this season is now over, it's just not the same.
As far as the M$GN pregame show, it was the same old shit – Michelle Gingras wearing a mask with no one around her in a 1000 mile radius, Steve Vagistat talking about his legendary 46 NHL game career, Giannone plugging 78678686896 different sponsors, and all the other routine nonsense.
And bless their hearts, all of these guys, including Sam and Joe, talked about the standings, as if the Rangers still had a chance. Deep down, all of these guys know the inevitable.
If there's anything of note here, and keep this in mind for a minute, during the M$GN gambling app segment, Vagistat picked Lafreniere to score the first goal, while Giannone selected Chytil. Neither would be correct.
And this is a public service announcement for Ranger fans. When it comes to the newest New York Ranger, his name is spelt as "ZAC JONES". Not Zach, not Zack, not Zacharia, or anything else that you can mangle. Let's put a pin in this and get this right, before we get all the Staal/Stahl/Stall or Lundqvist/Lundquiss/Lundquist stuff from seasons ago. After all, it's only three letters, Z-A-C. Come on Ranger fans, I know you can do it!
---
After Micheletti said the word "FABULOUS" a few times, talked about Mika's recent dominance over the Flyers and reminded us that the Rangers needed a winning streak; we had puck drop, where the new Lafreniere/Mika/Buchnevich line took the ice. No one asked DQ about this after the game, but with how horrible Ryan Strome has been at the dot as of late, I assume that's why the Mika line kicked off tonight's game, rather than the Strome line, a line that's been starting most of these games.
And since I bring this up every blog, Mika finished with a face-off win percentage of 46.4%, while Strome finished with a 36.8% percentage. As said 785679575675 times on this site, the Rangers will need a face-off coach next season, because these numbers have been horrible all season. I believe the Rangers are the second worst face-off team in the league right now.
21 seconds into the game, Igor would be forced to make a save on JVR. JVR would eventually get the last laugh – twice.
In what's been consistent for the Rangers, the Rangers blew their first scoring chance of the game, after Panarin fed Blackwell down low. While one-on-one with Elliott, Blackwell would be stopped by the 75 year old Elliott.
As Sam and Joe talked about the Trouba injury, and without using the vulgar "c-word", as in concussion; Zac Jones made his NHL debut 90 seconds into the game. Jones played a team-low of 9:45 and I don't see how anyone could have a problem with that. To sum up Jones entire debut, I thought he was a mixed bag. Igor had to cover up for him a few times, but since Jones does look like he's "seven years old", and that's a direct quote from Micheletti; I thought DQ did a good job in regards to getting the feet wet of the newest Rangers D-man.
In a sentence that I've probably written 897678686967896 times this year, "on Mika's next shift, he shot wide."
After Igor bailed out Jones, DQ started shaking up his defensive pairings. Honestly, I couldn't keep track of all the pairings tonight. DQ did wind up breaking up the Fox/Lindgren pair, as Lindgren played with Jones, Fox played with Hajek, Smith played with both Fox and Lindgren and really, this all felt like a Mormon marriage.
In Lafreniere's only shot of the game, he'd be denied early, after a one-timer in the slot. Later on in the third period, Micheletti raved about Lafreniere's shooting, despite only having one SOG in the contest.
In more Micheletti Madness and Rosen Raving, the two jackals not only worked in some praise for Ilya Sorokin of the Islanders, but the two bozos started to will the Flyers into scoring goals, namely in Kevin Hayes and Scott Laughton. As if any Ranger fan wanted to hear any of this junk.
At the 7:50 mark of the period, and as Kakko opted not to shoot, as he skated around the net; Philippe Meyers slashed Kakko. In turn, the Rangers got their first power-play of the game and a chance to take the lead. The latter would not happen, at least not yet.
While this Rangers power-play wasn't completely miserable, as Lafreniere got to the net and the Rangers, despite Elliott being grounded, hit a post; the Flyers ultimately cleared the puck six times and got their kill.
Remember how earlier, I told you about the M$GN gambling app predictions? Well here was mine:
Vally going with Lafreniere, Giannone going with Chytil as your first goal scorers. I'll go with Brendan Smith. #NYR

— BlueCollarBlueShirts (@NYCTheMiC) April 22, 2021
Right after the Rangers power-play had concluded, this happened:
BRENDAN SMITH AND IT'S 1-0 @NYRangers pic.twitter.com/1qmHCrrH9X

— Rangers on MSG (@RangersMSGN) April 22, 2021
1-0, GOOD GUYS, after a rip from Brendan Smith. Booya!
This goal was huge at the time and for several reasons:
— It erased the bad vibes of a failed power-play.
— The Rangers took a lead in a game they needed to win.
— Smith continues to play well.
— You'd hope the scoring would be contagious.
Unfortunately, the scoring wouldn't be contagious, as the Rangers wouldn't score again for the rest of the game, that is, until the two minute warning mark of the third period.
And oh, no analytics needed with my Brendan Smith scoring prediction. Eye Test all the way!
Whether it's senility, being lazy, not seeing things or what; after this goal, which was clear as day assisted by Miller and Chytil, Rosen said Kreider got the assist. Kreider wasn't anywhere near this play. Sam then said he was just reading off of the scoreboard, a scoreboard that tells you what players are on the ice. Rosen's follies would continue later on during the game, as for the 76786867868968th time this season, he couldn't tell the difference between a sure-fire goal and a save. This is getting tough to watch/listen to, as a once great institution of Rangers broadcasting has turned into a parody of himself. <Ding> SAVE BY IGOR!
Right after the goal, Chytil, after some Harlem Globetrotter moves, hit the post. Rosen – "shot goes wide."
With 6:13 remaining in the period, Smith was boxed for interfering with Claude Giroux. This would be the first of six minors assessed to the Rangers in this game.
After Rooney and Howden missed a wide-open net while short-handed, on the other end of the ice, this happened:
IGOR SHESTERKIN.

WOW. pic.twitter.com/JcWMhbvsb2

— Rangers on MSG (@RangersMSGN) April 22, 2021
ROBBERY!
Of note, this Flyers rookie right winger named Wade Allison, who prior to tonight, I never heard of; (this was his fourth NHL game) was a stud during this contest. Similar to the games Kravtsov has had this season, you noticed Allison on every shift. If he continues to play like this every night, the Flyers will have something with this kid.
During this Flyers power-play, the Rangers would get another two vs one odd-man rush, where this time, instead of passing to Brett "Stone Hands" Howden, Fox took the shot himself. While shooting, Fox drew Voracek for tripping.
After 19 seconds of four vs four foreplay, the Rangers would go on the power-play, where this time, the Rangers power-play was just awful. In fact, Igor almost got caught out of net while playing a puck, only for the Flyers PK to fail in their attempt of scoring a SHG.
Back to five vs five, Buchnevich would have two mighty chances to extend the Rangers lead, only for Elliott to pull off some heroics himself. While that's great for Elliott, this wasn't great for Buchnevich, who needed to bury a puck here.
As the horn sounded to signal the end of the first period, Rangers 1, Scum 0. The Rangers played a decent period here, but it would all unravel. And of course, it should also be mentioned that the Rangers very easily could've had a multi-goal lead at this point in the game.
---
After our regular comment of, "SECOND PERIOD, WHAT DO YOU LOOK FOR HERE JOE?" <How about some pucks in net, ya blind-as-a-bat daft prick? (That's another "Still Game" reference)>, Mika won the opening face-off. After getting into the Flyers zone, Mika shot wide. Of note, on my iPhone, whenever I type "Mika", the phrase "shot wide" immediately pops up.
On the second line's first shift of the period, Colin Blackwell, perhaps stunned that he was wide-open and left all alone, would get the puck. He'd hesitate before shooting, allowing Elliott to get into position and make the save.
As the Rangers continued to shoot away, with Elliott, and to his credit, coming up with save-after-save; Igor, on the other end, would make a timely big stop on Giroux. Then, with the Rangers stuck in their defensive zone, Igor would then make a clean save on Myers, thus getting the Rangers a change they needed.
With 12:48 to go in the period, Chris Kreider was nabbed for hooking Aube-Kubel. Poor Kreider, he must've thought Governor Cuomo had another scandal today, which in turn, made "hooking" and prostitution legal. After all, with every accuser and allegation, Cuomo continues to legalize new things in New York, such as sports gambling and marijuana. At this rate, heroin and crack will be legal by July 4th. (Okay, no more political commentary tonight – truth be told, I just wanted to get my bad comedy in!)
Just like the first Flyers power-play, with minimal time remaining, the Flyers negated their own power-play by taking a penalty, where this time, Konecny hooked Smith. In turn, the Rangers would get their third power-play of the game.
As we got to the halfway mark of the period and game, Kreider, while wide open and streaking to the net, made a disjointed backwards pass. Fortunately, the Rangers kept the puck in the zone. Unfortunately, Brian Elliott, matching the save that CZAR IGOR made earlier in the game on Allison, pulled off an absolute robbery himself, with a MASSIVE glove save on Panarin. 999 out of 1000 times, this puck goes in, but that's just the Rangers luck these days. On the Rangers next possession and after the power-play had concluded, Kakko "pulled a Howden" (joke/truth statement credited to Mike S.) as he just went wide on an open net. When it rains it pours.
With 8:15 remaining in the period, Smith returned the favor, and hooked Konecny himself. Miller would stay on the ice for over two minutes while on this PK, and the Rangers escaped without giving up a goal. The Rangers PK were now 3-3 at this point in the game, after giving up 2+ PPG's per game in three earlier games with the Flyers. The Flyers would eventually get their two power-play goals in this game, and both Flyer PPG's were scored as the end result of some questionable circumstances.
With 4:17 remaining in the period, Fox was boxed for high-sticking Voracek, a Voracek who put on an Emmy award winning performance with his sell. Many Ranger fans will say this penalty shouldn't have been called, but truth be told, Fox did hit Voracek in the neck, rather than the face, where you normally see this penalty called. Either way, in the rule book, a stick to the neck is as good as a stick to the face and Fox was correctly boxed.
What happened next could only happen to the Rangers.
On the Flyers power-play, and after another defensive zone face-off loss from the Rangers; Provorov shot a puck from deep, the puck deflected off of the stick of K'Andre Miller and the puck deflected one more time – off of the face of JVR. The puck then went into Igor's net.
This was a nasty play, as JVR crumpled to the ground as the puck crossed the goal line. JVR would leave the game, but would return 2-3 minutes into the third period. HOCKEY PLAYER.
Of course, only the Rangers could give up a goal in this fashion. To JVR's credit, he was correctly positioned, but to have a shut-out ruined like this; well that is pretty much the worst "puck-luck" imaginable. 1-1, and with 4:04 remaining in the period.
As the Rangers continued to avoid blocking shots, which was kind of crazy, considering all the blocked shots they had against the Devils; Igor would rack up a few more saves, of his 33 saves in total. In addition, the top six of the Rangers were invisible.
With 54.2 seconds remaining, the returning Libor Hajek hooked Joel Farabee, while Farabee went on a breakaway. In turn, we had a penalty shot here. On the penalty shot, CZAR IGOR swallowed up and owned Farabee here. Farabee never had a chance. Of note, this was the first penalty shot CZAR IGOR had ever faced, so he now has a 1.000 save percentage in these situations.
In a second period mostly dominated by the Flyers, we remained 1-1 after forty minutes of action. CZAR IGOR was the best Ranger on the ice. And yes, while I know that Panarin was robbed by Elliott, this fact remained the same – the top six continued their anemic production.
---
Of note, during the intermission, Valiquette, who previously has said "face-offs aren't important", ignored how the Rangers got dominated at the dot during the second period. Instead, it was plugged that Vally would talk about all the Rangers missed chances in this game, which really, was fake news – after all, for Vally to talk about every Rangers missed chance in this game, he would need to have as much air-time as the running time of "The Godfather Coda".
While a Rangers win tonight wouldn't have changed their tee-times once this regular season is over, you would've at least liked to see them show up and instill positive vibes. Instead, they took an explosive White Castle meets Taco Bell Take shit.
After Buchnevich couldn't connect on a pass to Mika, Miller would be caught watching a puck sail right by him, as Farabee, who just failed on a penalty shot, went on a breakaway. Igor would stop Farabee again. On the next Rangers possession, despite Elliott being out of position, Strome couldn't finish. We remained 1-1.
As the Flyers continued to win face-offs, Lindgren would stop a Flyers 3×2 odd-man rush. Then, as we got under 12 minutes remaining in regulation, the Rangers second line would be caught during a loooooooong shift in their d-zone. With the Flyers teeing off and hellbent on scoring, Miller high-sticked Couturier. While we didn't see it on TV, since M$GN raced to their never-ending pile of gambling commercials, apparently, Miller drew blood here. In turn, the Flyers got a four minute double minor power-play here, and this would change the game.
The Rangers PK held up their end during the first half of this double minor, with CZAR IGOR making a huge glove save with exactly two minutes remaining on the Rangers PK. However, with 9:31 to go, and after another Rangers d-zone face-off loss, JVR scored after a deflection – this time off of his stick. 2-1 bad guys. Special teams and face-offs, special teams and face-offs.
And as talked about earlier, the Flyers now had their 2 PPG's and the Flyers had a one-goal lead.
Also, I have to credit Micheletti here, who talked about the value of face-off's, after Vally has repeatedly diminished the topic of face-offs during these broadcasts.
After another turnover from Kreider, Sam and Joe, once again, started praising the Flyers, where they tried to will Hayes and Laughton into scoring. Instead, with 5:53 remaining, Voracek scored while on a rush. Despite the puck clearly going into the net, Sam called this a save. It's time to hand over the reigns to Kenny Albert.
3-1, bad guys, and pretty much game, set and match.
With 2:09 to go, Igor was sent to the bench. Five seconds later, and after a stoppage, DQ took a time-out. Of note, prior to this point in the game, the Rangers hadn't scored one 6×5/extra attacker goal this season. That would change with two minutes remaining, as after a face-off win in the Flyers zone, Panarin took a puck from Mika and blasted it. 3-2, bad guys.
With two minutes remaining, you had some hope that the Rangers would strike lightening twice, but for a team that's consistently found new ways to lose this season, they did it again. Even at this point in the game, and as I said on social media at the time, this was "too little too late" and I had no faith in a miracle here.
The Rangers, after regaining the puck and with 1:33 to go, saw Igor return to the bench for the extra attacker. Defensively, the Flyers decided to go into "ice the puck mode", with two icings after face-off wins in their own zone.
The Rangers, needing a goal, during the final 30 seconds of regulation, opted not to shoot. Incredible.
3-2 Flyers, your final. What a mess.
---
The Rangers now have nine games remaining, and are 8 points back of a Bruins team that not only has two games in hand over the Rangers, but five games left with the Sabres and Devils. In other words, "see ya playoffs."
I'll do all the "What If" stuff during the Final Report Card blog, which will happen once this Rangers regular season is over.
While I'm disappointed that this season is coming to an end, I'll still be here through thick and thin.
If you haven't already, subscribe to this blog for the next update:
---
Back at it in 24 hours, where I'll recap the 8th and final meeting of these two struggling teams.
Stay FABULOUS my friends.
Until then, and as always here, thanks for reading and…
LET'S GO RANGERS!
Sean McCaffrey
BULLSMC@aol.com
@NYCTHEMIC on Tweeter