Greetings and salutations everyone and welcome to another blog here on BlueCollarBlueShirts.com. Let the 2022 Stanley Cup Playoffs commence. And oh yeah – BRING ON THE PENGUINS!
On Friday night, at "The World's Most Expensive Arena," the Rangers capped off their 2021-22 regular season with a big home win, where they defeated the Washington Capitals by a final score of 3-2. As a result, the Rangers will host the Pittsburgh Penguins during the first round of the 2022 Stanley Cup Playoffs.
While Friday's finale was meaningless from a standings/seeding perspective for the Blueshirts; it wasn't meaningless for the Capitals.
With their loss to the Rangers; the Capitals draw the red-hot Florida Panthers in the first-round, a team from Sunrise, Florida that won the Presidents' Trophy this season as the league's best team.
When it comes to the Rangers' Game 82 victory – it's a nice cherry on top of a magical season.
Not only did many individual Rangers set career-highs in the goals, assists and point categories this season; but as a group, Gallant's Gang finished with 52 wins – one win short of the franchise record. These 2021-22 Rangers also fell three points shy of the team's franchise record of 113 points, where both of these records were set by the 2014-15 Presidents' Trophy winning Rangers.
Not too shabby for a team that once was falsely accused of "NOT KNOWING WHAT THEY ARE DOING" by the ANALytical community. However, I've spoken my piece about these clowns many times before, and I don't think I need to do so again!
What I will say is this – these 2021-22 New York Rangers are for real. The Penguins will soon find out all about it!
---
The lede story tonight is not about the Rangers' defeat of the Capitals. It's obviously about what's next – the Pittsburgh Penguins in a seven-game first-round series.
However, since I like to give every contest of this 82-game campaign equal attention and coverage; I'm going to save the playoff preview for a blog this weekend.
Furthermore, and time permitting (I have to watch all of Ozark season four this weekend!), I'll try to post a 2021-22 New York Rangers Final Report Card too.
I do want to say this – the last time I was this excited about the Rangers, it was in 2015. Let's hope for a better outcome in 2022!
For new readers, just check the archives of this site for what I'm about to say next. For regular readers, you know this already – I've been predicting that this team would be really good this season, ever since Chris Drury was first handed the reins by team owner James Dolan.
This team is everything that I've been wanting to see for years.
Whether it was CZAR IGOR finally being handed the keys or Drury toughening up the team with veterans – this is the "roster stew" that I've been craving for a long time.
In a way, I also feel "vindicated" in all of my preseason and early season writings/predictions/prognostications.
While I can't say that I expected the team to flirt with first-place during the final stretch of the season – I did think that the Rangers would open up the 2022 Stanley Cup Playoffs on home ice.
If you know me, regularly read these blogs or follow my social media, then you know this – I just want to see one Rangers Stanley Cup victory as an adult. (My birthday is June 13th, 1982, and I turned twelve years old a day prior to the 1994 Game 7 win. I thought more would soon come, but that's a prediction I bombed on!)
As John Trusler first said in 1790 (when paraphrasing Benjamin Franklin) – "there's no time like the present."
---
There's a lot to get into tonight, so at this time, let's get into the news, interviews and everything else; and then march our way into the GAME REVIEW.
---
At 10:00AM Friday morning and just minutes before the Rangers' pregame skate, the team wrapped up "award week." Only the NHL year-end awards remain, where as noted around 675866786786787857 times before – CZAR IGOR will be handed the Vezina Trophy.
Just last week, I wrote a blog with all of my predictions for the Rangers' team-specific awards, where outside of the John Halligan "Good Guy" award – I nailed all of it.
Here's the Rangers' press release from their official website, where they announced the "Players' Player," "Team MVP," and the "Good Guy" awards:
The New York Rangers announced their team award winners for the 2021-22 season today. Igor Shesterkin was named the Rangers' Most Valuable Player, Barclay Goodrow and Jacob Trouba were named co-recipients of the Players' Player Award, and Ryan Strome was named the winner of the John Halligan Good Guy Award.

The Most Valuable Player Award was voted on by members of the New York Rangers media and has been given annually since the conclusion of the 1941-42 season. Shesterkin is the first Rangers goaltender since Henrik Lundqvist in 2017-18 to win the award.

Heading into the final game of the season, Shesterkin has posted a 36-13-4 record to go along with his .935 save percentage and 2.07 goals against average. In addition, Shesterkin has recorded six shutouts. Shesterkin is the fourth goalie in team history (Lundqvist, Richter, Giacomin) to win 36 or more games in a season. He currently leads the NHL in both save percentage and goals against average.
The Players' Player Award has been given annually since the conclusion of the 1958-59 season and recognizes the Ranger who, as selected by his teammates, "best exemplifies what it means to be a team player." It is the first time the award has been shared since Chris Drury and Blair Betts earned the honors in 2008-09.

In his first season with New York, Goodrow has tallied career highs in goals (13), assists (20) and points (33). Goodrow leads the Blueshirts in shorthanded time on ice (180:16), shorthanded shots (14), has one shorthanded goal and four shorthanded points. On April 7 against Pittsburgh, Goodrow played in his 400th career game.

Trouba has notched 11 goals, a career-high, 28 assists for 39 points and a plus-25 rating in 80 games for the Blueshirts. Trouba ranks first on New York in blocked shots (172) and second on the team in hits (207). Trouba is the only player in the NHL with 200 or more hits and 170 or more blocked shots. On March 20, Trouba recorded his 250th career NHL point.

The John Halligan Good Guy Award recognizes a player for their cooperation with the media throughout the season. The award has been presented annually since the 1974-75 season and was renamed in 2009-10 to honor the team's late public relations director. The award recipient is chosen by members of the media who cover the Rangers throughout the season.

Strome has scored a career-high 21 goals in 73 games and has added 32 assists for 53 points. His point total is the second most of his career (59 in 2019-20). Strome has recorded career highs in power play goals (5) and game-winning goals (5) in 2021-22. On April 9, Strome tallied his 350th career point and on March 8 in Minnesota, he played in his 600th career game.

---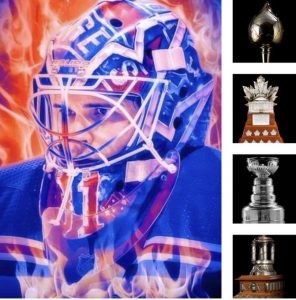 As a quick recap, here are all of the winners of this 2022 Ranger Awards Season:
Steven McDonald Extra Effort Award – Chris Kreider.
Mr. Ranger Trophy/Award – Chris Kreider.
Frank Boucher Fan Trophy – Chris Kreider and Igor Shestyorkin.
Team MVP – Igor Shestyorkin.
Good Guy Award – Ryan Strome. (I thought Ryan Reaves was going to win this, but Strome is certainly deserving too.)
Players' Player Award – Barclay Goodrow and Jacob Trouba. (For the sixth time in franchise history, we had co-winners of this award, an award that goes back to the 1958-59 season.)
Designated Driver Award – Julien Gauthier – because he can't finish a shot! (Okay, I made this up!)
If you notice, outside of CZAR IGOR, who by NHL rules, can't wear a letter on his jersey – the alternate captains did well during award season.
I think it also tells you how strong this team is, when previous winners (including the Team MVP award), such as Mika Zibanejad, Artemi Panarin and Adam Fox, didn't win anything.
That's not to slight those three players – that's just to make mention of how deep and successful this team is.
---
Once announcing the awards, the Rangers held a pregame skate, where the demotion of Zac Jones to Hartford raised some eyebrows. This roster transaction also seemed to indicate that head coach Gerard Gallant would be playing his regular six of defensemen; which includes the Nemeth and Braun rotation.
It was later reported by Larry Brooks, the only member of the Rangers' beat that breaks real news, that Zac Jones, Nils Lundkvist, Matthew Robertson, Jarred Tinordi, Lauri Pajuniemi, Timothy Gettinger and Keith Kinkaid would be compromising this year's rendition of "The Black Aces."
---
Following the Rangers' pregame skate, we found out a few things.
First off, Alexandar Georgiev was announced as the starting goalie. This told us that Rangers' goaltending coach, Benoit Allaire, must feel fine about giving CZAR IGOR a week off. It also told us that CZAR IGOR would finish this 2021-22 season as the league-leader in both the save percentage and goals allowed average statistics. Vezina!
Both Artemi Panarin and Andrew Copp were withheld from practice.
As Gallant has been saying since Tuesday night – both players will be fine for the playoffs. And as I have said – even if these players were 99.99999999999% healthy, there was no reason to take any chances with either one of them.
Gallant also said that he wanted to go with his regulars who were 100%, as he didn't want them going into the playoffs cold – which is why I said that the coaching staff must feel fine about having Igor sit out a week. (Of course, skaters and goaltenders are treated/handled differently.)
In a funny quote, Gallant said that "I told them," in regards to sitting his regulars on Wednesday night. Gallant added that his guys wanted to play, but he made the call to rest everyone.
Gallant also made mention of Tyler Motte, where the head coach said that the winger still isn't skating and most likely won't be available for round one of the playoffs.
Here's The Turk:
---
The Players' Players, Trouba and Goodrow, also met with the media on Friday. Here's their dual interview:
---
Here's the "Good Guy," Ryan Strome, from Friday morning:
---
Here's what "The Turk" went with for this "Bobby Carpenter Tribute" game:
FIRST LINE: Kreider/Zibanejad/Vatrano
SECOND LINE: Goodrow/Strome/Brodzinski
THIRD LINE: Lafreniere/Chytil/Kakko
FOURTH LINE: Hunt/Rooney/Reaves
Defensively, we had this:
FIRST D-PAIR: Lindgren/Fox
SECOND D-PAIR: Miller/Trouba
THIRD D-PAIR: Nemeth/Schneider
And in net, Alexandar Georgiev
---
BOX SCORE time.
The following information and graphics come from the new world-wide leader in NHL coverage, ESPN.com:
SCORING:
PENALTIES: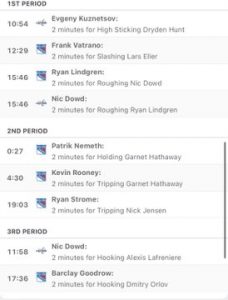 TEAM STATS:
GOALIES:
| | | | | | | | | | | |
| --- | --- | --- | --- | --- | --- | --- | --- | --- | --- | --- |
| SA | GA | SV | SV% | ESSV | PPSV | SHSV | SOSA | SOS | TOI | PIM |
| 33 | 3 | 30 | .909 | 26 | 2 | 2 | 0 | 0 | 57:38 | 0 |
| | | | | | | | | | | |
| --- | --- | --- | --- | --- | --- | --- | --- | --- | --- | --- |
| SA | GA | SV | SV% | ESSV | PPSV | SHSV | SOSA | SOS | TOI | PIM |
| 36 | 2 | 34 | .944 | 29 | 1 | 4 | 0 | 0 | 60:00 | 0 |
---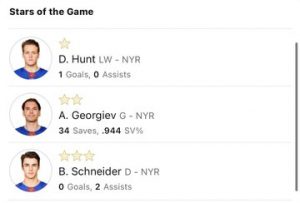 The M$GN pregame panel was sans Henrik Lundqvist tonight, as the man known as "The King" took in tonight's game from the lower bowl, rather than having to deal with "The Amazing Chartboy" by his side. Wise decision!
Do you know what? I'm riding such a Rangers' high right now, that I don't want to waste time burying the useless Sieve Vagistat tonight. I think I've made my feelings known all season anyway – M$GN can do better.
As far as what I liked during the pregame show, it was when we saw Ryan Strome by the glass, who at the time, was playing with his daughter.
It's the little moments like these that makes everything feel real. A moment like this also "humanizes" these players, rather than them being part of some chart or a "capologist's" breakdown.
And yep – I also liked that we saw little kids at the glass getting free swag, as opposed to these adult mutants begging for a $10 puck.
Dave Maloney had a long segment tonight, where during it, he raved about Chris Kreider. Maloney said that "CK52's" historic season was the best story of the season. It's definitely one of them, one of many to boot.
Maloney, the former captain, then told a funny story from two seasons ago, when he ran into Artemi Panarin in the mean streets of Calgary, Alberta – where the broadcaster thought that Panarin was a homeless guy when looking for coffee. (This was funnier on-air than how I'm describing it.)
Once the clock struck 7PM, we then went to Sam Rosen and Joe Micheletti, who on this night, had one of their most unintentional comedy-filled broadcasts of the season – including another display of Rosen doing his best Joe Biden impression. (I'll have that clip for you shortly.)
After Micheletti named Ryan Strome as his "TACO BELL TAKE" player; we were then given the stats of tonight's starting goalies, Alexandar Georgiev and Ilya Samsonov.
GAME REVIEW time.
---
While I wouldn't say that this game was as bad as the game that the Rangers played on Wednesday night against Montreal; there were a lot of "preseason-ish vibes" during this finale, where this feeling really hit you during the first period.
Both teams were cautious early, but the hitting and physicality would pick up during the latter stages of the game. That was kind of unexpected, because not even ten minutes into this game, the Pittsburgh Penguins were up 3-0 on the Columbus Blue Jackets.
If you don't know already, all the Penguins had to do was win tonight in order to clinch third-place in the division – a win that also meant that they'd avoid the first-place Panthers during the first-round of the playoffs.
During the two intermissions, it was obvious that the Penguins were going to steam-roll the Blue Jackets. That's why it felt so odd that the intensity level between the Rangers and Capitals rose as the game went on – as this game was soon rendered pretty much meaningless. (The Penguins ultimately defeated the Blue Jackets 5-3.)
Another reason why it felt so STRANGE (hi Derek, Mike and Linda) that the hitting and battling picked up? Both teams entered this game banged-up a bit and obviously – didn't want to risk further injury.
While the Rangers were missing Panarin and Copp; the Capitals were also missing Alex Ovechkin and Nicklas Backstrom. And of course, while this doesn't matter – this also meant that we were denied of another OVI vs BREADMAN PUTIN CUP battle. You may have heard about all of that drama before, a political situation which I don't wish to delve into tonight.
(I will say, had the Capitals won and the Penguins lost tonight – outside of the Tom Wilson stuff; Putin's name would've been splashed all over every single preview of such a Rangers/Caps first-round series. I'm glad we won't have to deal with that!)
---
Gallant, who started the game with his fourth line, saw Nic Dowd win the first draw of the game against Kevin Rooney.
The Rangers, who were absolutely dominated at the dot during their past two games with their regular line-up on the ice; did much better tonight.
After two poor showings at the faceoff circle against Boston and Carolina, the Rangers won 39 of the game's 64 faceoffs – good for a successful winning percentage of 60.9%. Keep it up!
Right away, Sam Rosen told us that Gerard Gallant wants to win every game. I'd like to know which NHL head coach wants to lose every game.
The Rangers were the better team early on, as Samsonov denied Miller at the 1:17 mark. After that, Goodrow set up JOHNNY HOCKEY, but #76 went wide.
With not much action taking place, and a ton of whistles for various infractions such as icing, offside and pucks going out of play; Sam and Joe raved about both Goodrow and Lindgren. Their high praise of these two players was most certainly warranted.
At the 5:30 mark, and with both teams avoiding contact; Sam Rosen said: "OH JOE, THE PLAYOFFS START TUESDAY JOE. PARDON ME JOE, THEY MIGHT START ON MONDAY JOE!"
At the 8:10 mark, Washington pest Garnet Hathaway prevented Mika from going to the hopper. Thirty seconds later, Georgiev made a good save on John Carlson.
Once crossing the mid-mark of the period, in a game that at the time had a snail's pace; Georgiev came up with another top-notch save, this time on Tom Wilson.
With 9:06 remaining, Dryden Hunt, the top star of the game on this night because of his game-winning goal; the Rangers' fourth-line winger drew Kuznetsov for a high-sticking penalty. Of note, Kuznetsov was a huge agitator tonight.
Following a tremendous save out of Samsonov, where the Caps' goalie stopped Lafreniere from point-blank range; Trouba made a bad turnover at the blue line, which then sent Lars Eller on a breakaway.
While breakaways have been Georgiev's kryptonite in the past, the BULGARIAN BEAST made a huge stop here.
Unfortunately, Vatrano slashed Ellers during the process, which also meant that we now had 25 seconds worth of a 4 x 4 foreplay, followed by a 1:35 power-play for the road team.
Goodrow was the Rangers' best penalty killer during this sequence, a Capitals power-play that was also stunted by Georgiev; especially when #40 made one of the best saves on the game on Marcus Johansson, and with one second remaining on the man-advantage.
Now back to full-strength; with 4:14 remaining, Dowd boarded Lindgren and #55 bounced right back up and sought revenge. Both men were tossed to the sin bin, which resulted in off-setting penalties and another stretch of 4 x 4 foreplay.
During these two minutes, each goalie came up with two saves a piece. Once returned to full-strength again, Georgiev made a killer of a save on TJ Oshie with 1:41 remaining.
Following a Georgiev freeze with under a minute to go; Ryan Reaves and Tom Wilson had a few words and mean mugged each other, but nothing ever came out of it – and as expected. (There was no reason to fight and risk injury and/or suspension.)
After a scoreless first period, it were the two goalies that stood out, as Georgiev had twelve saves, and his peer on the other end of the ice had ten saves.
---
During the first intermission, Goodrow was interviewed by Dave Maloney, and said the following about his "Players' Player" award:
"It means a lot. These guys are the only people whose opinions matter. We have a lot of selfless guys, character guys, unbelievable teammates. They make it fun every day and that's why we're successful."
Gotta say – I loved this, especially the part about the opinions of his teammates carrying the most weight.
---
Just 27 seconds into the middle frame, and following another big save out of #40; Patrik Nemeth was boxed after holding Hathaway.
The Rangers' penalty kill barely broke a sweat here, as they had the best scoring chance during these two minutes – a Samonsov save on Kreider.
And if you believe that successful penalty kills change the momentum of a game – we saw another example of that theory at the 3:26 mark of the period, when this happened:
another look at Chytil's 8th pic.twitter.com/BOfR8vsymh

— x – Rangers on MSG (@RangersMSGN) April 30, 2022
---
1-0, GOOD GUYS, after Filip Chytil capitalized on a turnover and dipsy-doodled his way into a goal. Chytil needed a good game to get himself going for the playoffs and I thought he succeeded in doing so tonight.
It should be mentioned here that Braden Schneider kicked this whole scoring play off and that Kakko was able to get his center the puck.
Also worth mentioning? Two of the "YOUNG GUNS" on this team, both Schneider and Kakko, would finish this game with two assists each. They have to be feeling good about that.
Something that didn't feel good? Just 35 seconds later and after some sloppiness, when Justin Schultz scored on a shot that Georgiev had no chance on. 1-1.
And don't you hate whenever the opposing team scores before the Rangers goal can be read off to the crowd inside of M$G?
29 seconds after Schultz's equalizer, Rooney tripped Hathaway. You just knew the Capitals were going to take the lead here, especially after Sam and Joe went into their "reverse curse"/mush/jinx act.
The Rangers penalty kill, which did look good here; then saw Georgiev give up a goal to John Carlson, as the Caps' d-man blasted one from deep. 2-1, bad guys, with 14:47 remaining.
Of the two goals Georgiev gave up tonight, this one probably should've been stopped, but at the same time – it was a PPG allowed. Otherwise, Georgiev was solid.
And yep – this would be the last goal afforded to the Caps tonight too.
As the game returned to a pace that rivaled molasses; Sam and Joe spent time thanking everybody they could think of, where it sounded like they were reading names out of the Yellow Pages.
It was at this time where we heard Rosen do his Biden act:
God I love Sam Rosen. Doesn't take himself too seriously like SOME. pic.twitter.com/Htv3nwQEoY

— M.D. Esq. (@Noles212) April 30, 2022
---
I'm telling you, if the Rangers could ever get Joe Biden to attend a game (former President Donald Trump used to attend Ranger games from time-to-time, although he attended these games prior to his Presidency), I'd pay real money to hear Rosen and Biden call a game together. That would be the ultimate "OH JOE!"
I am also hoping that someone takes that Rosen clip, and puts it to "Sussudio" by Phil Collins! OH JOE!
Following the comedy, and after the goalies exchanged a few more easy saves; with 4:16 to go, we saw this:
#19 on the year for Laffy 🙌 pic.twitter.com/ZfGv0vDp7q

— x – Rangers on MSG (@RangersMSGN) April 30, 2022
---
2-2, as the first overall pick buried his 19th puck of the season!
I had my buddy over my house for this game, my pal "TEN O'CLOCK TOMMY," so I'm not exactly sure when Gallant tinkered around with his lines.
This was either Lafreniere's first or second shift with Strome and Goodrow, and once again, Gallant made another successful line-up change in-game. (This is also why I don't go bat shit over Ranger lines like other fans do – because as we've seen throughout the course of hockey history – head coaches can always change them in-game.)
With Strome now as his center, the GOOD GUY, and the hopeful future face of the franchise, connected on this give-and-go play.
Also of note – with Lafreniere promoted to the second line, JOHNNY HOCKEY was sent to the fourth line, while Dryden Hunt was bumped up to the third line. And if you don't know already, Hunt would soon make Gallant look like a genius during the third period.
Following Lafreniere's tally; Georgiev soon made a save. However, the officials allowed the Caps to hack and whack away at the Rangers net-minder and waited a bit to blow a whistle. Keep that in mind for later.
With 57 seconds remaining, Strome blatantly tripped Jensen, which as a result, gave the Caps their fourth power-play of the game.
During this wrap-around power-play, Johnansson had a wide-open shot, but whiffed while a few feet away.
After two periods, we remained at 2-2, in what was an evenly matched game.
---
The final period of the regular season was the most intense twenty minutes of this game, where once again – the Rangers provided the drama. How fitting!
After killing off the remainder of the Strome penalty, Samsonov then denied #16 on his jack-in-the-box try.
With 16:46 to go, Samsonov stopped Brodzinski, but the puck was still loose. However, unlike their actions from earlier – the officials immediately blew their whistle, while Kevin Rooney was right there for a rebound.
As the Penguins were well on their way of closing out the Blue Jackets; Rosen and Micheletti went into "BRING ON PITTSBURGH" mode, and how can you blame them?
With 13:18 to go, this happened:
WHAT A GOAL FROM HUNTSY pic.twitter.com/5v4MXMe6NC

— x – Rangers on MSG (@RangersMSGN) April 30, 2022
---
3-2, GOOD GUYS! WHAT MOVES FROM HUNT!
Prior to this goal, Filip Chytil led a 3 x 2 odd-man rush, but put too much on a pass – no SOG.
However, the Rangers stuck with the play, won a puck battle, and just seconds later – there was Hunt scoring his best looking goal of the season.
Now up by one, this is when things started to heat up.
As Georgiev continued to make plays; with 12:34 remaining, Reaves swatted a loose puck away from his goalie before a Capital could bury home the vulcanized rubber.
As we hit 8:34 remaining, Georgiev came up with his best save yet – a stone job on Wilson, as the Caps' tough guy fell short on his mini-breakaway attempt.
It was also around this time where it was announced that Lundqvist was in the building, who was met with the familiar chants of "HEN-RIK!" Of note, no "VAGI-STAT" chants tonight!
With 8:02 to go, Lafreniere was hooked by Dowd. It really felt like the Rangers' PP1 unit were trying to set up Kreider here, rather than going for a goal.
Once the PP2 unit came on, Samsonov made one of his best stops of the game, when he denied a Trouba bomb while being screened by Goodrow.
Once back to full strength, and with 6:02 remaining; Georgiev came up with a right shoulder save on Dowd. Following the save, Samsonov held off JONNY HOCKEY. Right after that, Nemeth broke up a Caps' two on one odd-man rush.
As we saw the game reach its most chippiest; Samsonov kept the Caps alive with a big save on Miller with 3:56 remaining. Just 56 seconds following that save, Samsonov took a seat on the bench for the extra attacker.
During the Caps 6 x 5 attack, Lindgren came up hobbled and was limping on the ice. He would leave the ice with 2:24 remaining, following a Goodrow hook on Orlov.
Lindgren looks to be okay, as rather than going to the tunnel, he went to the bench and shook it off. Outside of a gun shot or something else as serious – he's never going to leave the ice.
Caps bench boss Peter Laviolette opted to return Samsonov to net, but with 1:45 to go, the head coach pulled his goalie again, now in favor of a 6 x 4 attack.
As the Caps did everything but score here; with 41 seconds to go, Kuznetsov tried to get cute with Georgiev. Immediately afterwards, both Kevin Rooney and Alexis Lafreniere charged the Cap.
Laviolette used his timeout following this stop, where once returning to play, a Mika backhanded try from his own zone hit the post, thus denying him of his 30th goal of the season.
Once the Caps' power-play expired, Trouba tried to seal the deal with an empty netter but went wide. Rangers icing with 15 ticks to go.
Once the Rangers' lost the d-zone draw, Georgiev came up with another timely save, another save on Wilson to boot. Wilson tried to get funny here, but Lafreniere, Nemeth and Goodrow weren't having it. TEAM CHEMISTRY!
With three ticks to go, and in what is most likely his final game as a Ranger (at least a regular season game); Georgiev made his 34th and final save of the game, which protected the Rangers' 3-2 lead.
3-2, GOOD GUYS, your final!
---
As talked about many times before – this was a historic season for the Rangers, both as a team and for individual milestones. It was also a hell of a season for both team president/general manager, Chris Drury, and head coach Gerard Gallant too.
Heck, it was a great season for yours truly too – as prior to the first puck drop of the season, I released a book on the Rangers that sold well, so well that I was able to attend fifteen games this season. I'm just hoping that my upcoming volume set (a set that will cover every Ranger trade in franchise history) does just as well, so I can attend a bunch of road games next season too!
(And should the Rangers win the Stanley Cup in 2022 – I'm going to have a field day writing a championship book – a personal bucket list item!)
Of course – another thank you to all of you guys and gals who bought the book.
---
While players come-and-go every year, this was probably the last game for the third-longest tenure Ranger on this team (Kreider first, Zibanejad second), the back-up goaltender Alexandar Georgiev. At least his final game in blue ends with a win.
However, and as also talked about recently – I'll wait to talk about the off-season once we get there.
For now, I want to enjoy the moment and this Stanley Cup playoff run. I can't waste my time right now worrying about the 2022-23 salary cap. I rather enjoy the present!
Here's Gallant after the game, where as you may suspect – he's happy that the regular season is over, and he's even happier that he got out of this game with no injuries:
---
Gallant didn't say anything about the Rangers' upcoming practice schedule, but I suspect that the team will be off on Saturday.
The head coach, a former player, knows how important this game was.
While a loss wouldn't have meant much in the grand scheme of things – obviously, it's better to close out the season with a win and not limp into the playoffs.
With hopefully a grueling playoff grind ahead – the Rangers should enjoy Friday night before gearing up for the long road that awaits them.
As of this writing, the NHL playoff schedule hasn't been announced. We'll find out everything on Saturday. That's also when I hope to have a playoff preview blog up on this site.
What we do know for a fact is that the Rangers will either open up on Monday or Tuesday night. I'm hoping that they start on Tuesday, just for the extra day of rest.
It's been a hell of a regular season. Now the real fun begins.
LGR!
PLUGS TIME!
---
My first plug of tonight's blog – the mandatory plug for my book, "The New York Rangers Rink of Honor and the Rafters of Madison Square Garden".
As mentioned previously, the book is now available in hardcover, in paperback and in Kindle formats. To purchase a copy of the book, visit this link:
https://www.amazon.com/Rangers-Rafters-Madison-Square-Garden-ebook/dp/B09CM5N2WD
For those still looking for signed paperback versions of the book, I have re-ordered more copies. I now have a few signed copies for sale at $25 a pop (includes shipping price) through me directly. Here is all the information on that:
---
Here are my last few blogs, in case you missed them:
---
---
---
---
If you haven't already, subscribe to this blog for the next update:
---
Up next: Playoff Hockey! BEAT THE PENS!
As always here, thanks for reading and…
LET'S GO RANGERS!
Sean McCaffrey
BULLSMC@aol.com