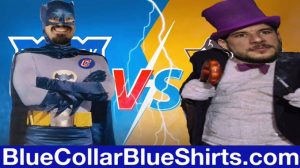 Greetings and salutations everyone and welcome to another blog here on BlueCollarBlueShirts.com. Believe it or not, the NHL just completed an 82-game schedule for the first time in three seasons and the 2022 Stanley Cup Playoffs are here. What a ride it's been – assuming you don't root for a horse-crap team that plays at Belmont!
And yep – I'm extremely excited to talk about RANGER PLAYOFF HOCKEY today, rather than I was during the past few years, when I was talking about ping-pong balls! I'll take pucks and sticks over paddles and balls any day of the week – twice on Sunday's too!
Let's roll, as this will be a long one.
---
The NHL, just like every other business, entity and human being, has had trying times ever since the coronavirus pandemic began in March of 2020.
Of note: it's only my intention to talk hockey here, and not get into the seriousness of the pandemic and the losses suffered during it.
Just over two years ago, the NHL had their 2019-20 season cut short by the pandemic, only to return later in the summer for "bubble" hockey. In front of no fans in-attendance, the Tampa Bay Lightning not only won the most unique version of a playoff hockey tournament – but perhaps the toughest rendition too.
(And how about Kenny Albert during that time, who called three playoff games in one day, and two games on most nights? What a trooper!)
Unlike others, who believe that the 2020 Stanley Cup Champions deserve an asterisk next to their name, and as a slight – I'm on the other side of the spectrum. If you're going to put an asterisk next to their accomplishment, in my opinion, it should only be with the intention of praising them. No one else has done what they did during those uncertain times.
Fast-forward a year later, the Tampa Bay Lightning did it again and became back-to-back Stanley Cup champions. While there was more normalcy during this go-around, the NHL still wasn't back to 100%.
To give us hockey, the NHL presented a truncated 56-game schedule for the 2020-21 season, where you can throw "2020" out of the mix, as every game was played in 2021.
The NHL began their 2021 season with no fans inside of their arenas, but by the time the playoffs hit, American markets had opened up their arenas to their fans. Of course, the key word in that sentence is "American," as things weren't the same north of the border (Canada). Need more? Just ask fans of the Montreal Canadiens – and they most certainly can tell you all about it.
Today, as the calendar now flips to May of 2022 – it looks like we're pretty much back to the life we once knew.
While the 2021-22 NHL schedule was impacted by the pandemic, including make-up games, man-power lost, vaccines, and everything else along the way; today, there are no more pandemic-related obstacles.
For the first time in three years, we'll have a full slate of NHL Stanley Cup Playoff games, where every arena, on both U.S. and Canadian soil, should be at 100% capacity.
While there are still mask mandates around (at least for the media, who have to wear a mask when interviewing players, and a hockey media who still aren't allowed in locker rooms – which is something that the players enjoy); for the most part, we're back to normal.
Let the greatest playoffs in all of sports commence!
---
The New York Rangers, as talked about day-in and day-out on this website, are fresh off of one of their best turnarounds in all of franchise history.
In a season full of personal milestones and career-highs; and as the best team to not qualify for the playoffs last season – these 2021-22 Rangers flirted with first-place in one of the toughest divisions in hockey this season.
As noted repeatedly on this site (I'll try to limit myself from rewriting what I've written in the past), these Rangers not only had one hell of a turnaround – but they also came very close of setting franchise records in both the wins and points categories too.
Following the most drama-filled season ever in all of franchise history, the 2021 season, where the pandemic stuff was the least of the team's concerns; there has been NO DRAMA for the 2021-22 team. That starts at the top.
After dealing with a player exile, over-anxious bloggers making up lies that a team president had to publicly refute, Russian politics (can you believe that was a major story last season? Me neither), the Tom Wilson fiasco, and everything else – all of that stuff now feels like a distant memory. Thank the hockey gods!
However, in a way, all of the drama that the team experienced last season set them up for this season.
---
After watching his team being bullied and smacked around by both the New York Islanders and Washington Capitals at the end of the 2021 season; team owner James Dolan decided that change was needed – and with just two games remaining on the 2021 schedule.
(In case you forgot, Dolan told Larry Brooks, of the New York Post, that he wanted Drury to handle all player exit interviews, which is why the owner didn't wait until the end of the season when firing the old brain-trust.)
Whether Dolan's decision to shake up his front office was financially driven or not (no playoff gates don't make owners happy, unless you get used to it as if you were the Buffalo Sabres); what many once deemed as a "hasty decision" – today, this decision now looks akin to a move made by King Midas.
Sure, it was tough to say goodbye to former team president John Davidson, a man simply known by his "JD" initials; but at the same time – there was a reason why then assistant general manager Chris Drury was highly coveted around the league.
And if you watched the Stanley Cup Playoffs last year – even with the Rangers as the top team outside-looking-in – it looked like they would've been steamrolled during the first round had the made it, in games that featured hard-hitting and physical clashes.
After firing his friend David Quinn, fairly or not (former general manager Jeff Gorton assembled DQ's roster – and not DQ himself); Chris Drury hired "The Turk," Gerard Gallant, the former bench boss over in Vegas and who was just coming off of winning the 2021 IIHF Worlds Tournament.
Immediately, the culture had changed.
DQ, who began his NHL head coaching career with the Rangers; following his firing, he has admitted during interviews that he would've done things differently. The biggest knock on him was that he was too hands-on – and as most college coaches usually are. In a league of men, DQ handled his team as if they were boys.
Gerard Gallant, a veteran of ten seasons in the NHL as a player, and many more in various coaching roles, including at both the assistant and head coach positions; the man known as "TURK" was a complete 180 of David Quinn.
If you recall, when DQ was first hired, he traveled all over the globe, where he met his international players face-to-face in their home countries. Gallant did no such thing, and first met with his players during the first day of Rangers' training camp.
Heck, even to this day, when Gallant does media interviews – he admits that he doesn't really know his players on a personal level, nor does he talk to them much neither.
Conversely, David Quinn was in Kevin Shattenkirk's wedding party and frequently had players in his office – something that even current Rangers' alternate captain, Ryan Strome, said felt "different."
---
Former general manager Jeff Gorton, the successor of the Senile Sather era, and who was forced to clean up Sather's mess after the crushing 2015 loss to the Lightning; and today, who is now the team president of the Montreal Canadiens – Gorton was the architect of the recent Rangers' rebuild, where truth be told – that rebuild is now complete.
(For a complete look at the Jeff Gorton era, check out: https://bluecollarblueshirts.com/4621/ )
While one can argue that a lot of things fell into Gorton's lap during his time with the Rangers (Panarin wanting to play in New York, Adam Fox growing up a Rangers fan and spurning two other franchises in the process, his luck during the draft lotteries, etc); a lot of the players thriving for the Rangers during this 2021-22 season were brought here because of Jeff Gorton.
Those players would include Mika Zibanejad, Ryan Strome, CZAR IGOR, Ryan Lindgren, Jacob Trouba, K'Andre Miller and others.
However, it were the new faces, NORTH AMERICAN (this is important) role-players, that Drury first sought once being handed the keys.
To bolster up a team that was thought to be "soft," Drury brought in Barclay Goodrow, Ryan Reaves, Sammy Blais, Patrik Nemeth, Jarred Tinordi, Dryden Hunt and others.
Goodrow, who is currently looking for his own personal "Patrick Maroon Hat Trick," a new NHL phrase meaning his third consecutive Stanley Cup; had the best individual season of his career. Ryan Reaves, a former Gallant solider in Vegas, had one of his own best seasons in some time too.
Unlike his predecessor Jeff Gorton, Chris Drury had no "emotional" attachments to players and draft picks, because after all – he wasn't the general manager who brought these players in.
Vitali Kravtsov wants to cry and go back to Russia again? Fine. See ya.
Pavel Buchnevich wants too much money? Hello St. Louis.
Nils Lundkvist, this formerly alleged "Swedish Superman" of the blue line? Thanks, but you're not ready yet.
Zac Jones, who said himself that he wasn't ready for the NHL last season? Get some seasoning and experience in Hartford.
Rather than trying to force the issue – Drury focused on what's best for the team as his main priority, rather than what's best for an individual.
In turn? This:
Hello Braden Schneider – a now signature cog of the Rangers' blue line.
---
Come March 21st, 2022, the date of the 2022 NHL Trade Deadline – Chris Drury knew he had something special on his hands.
As predicted on this site in the weeks leading up to the deadline (blogs don't lie), I thought that Drury would land an established winger, a depth defenseman, a player that we weren't thinking about, and then make a small AHL transaction.
Once the deadline came and went, Drury pulled off the biggest deadline moves in franchise history, since the days of Neil Smith in 1994. I just hope that Drury, like Smith before him, also gets to enjoy a parade this summer!
Enter Frank Vatrano, who no one had linked to the Rangers. Vatrano, somewhat falling to the wayside in Florida, due to all of their depth, is now on the first line with Mika Zibanejad and Chris Kreider.
Enter Andrew Copp, who joined the team and fit like a glove (just not OJ's glove!) He's averaging over a point-per-game and is now a significant piece of the Rangers' second line.
Enter Justin Braun, whose role should grow with the team with the playoffs now here. Currently, he's rotating in-and-out on the Rangers' third pair.
Enter Tyler Motte, who in nine games, was a reliable fire-plug on the fourth line, the check line, only to have his season ruined by what could be a season-ending injury.
Collectively, Drury has assembled a winning roster, a roster that Gerard Gallant will now try to take to the Holy Grail. I think he will.
Let's talk Rangers vs Penguins.
---
As I was writing this blog, I was checking my social media pages and stuff that others were saying. As you might expect – every Ranger fan has the Rangers trouncing the Penguins in the first round. Needless to say – Penguin fans don't exactly share the same sentiment.
During many of these predictions and prognostications, it's brought up that the Rangers won the four-game season-series over the black-and-yellow 3-1, and outscored Crosby's men by a cumulative total of 11-4. And the one loss? A 1-0 shutout, in a game marred by terrible officiating.
In case you forgot about these four games, here are my reviews/recaps of every single one of them:
Game 1, from 2/26, a 1-0 Penguin victory: https://bluecollarblueshirts.com/22622/
Game 2, from 3/25, a 5-1 Rangers' shellacking: https://bluecollarblueshirts.com/32522/
Game 3, from 3/29, a 3-2 Ranger victory: https://bluecollarblueshirts.com/32922/
Game 4, from 4/7, a 3-0 Ranger shutout: https://bluecollarblueshirts.com/4722/
---
As one of the oldest cliches/quotes at this time of the year goes – "It's a fresh slate for everyone. Every team now has a record of 0-0."
More times than not, I tend to agree with that cliche.
While I'll get into the seven other series' in just a bit; when you look at the other first-round match-ups across the league, you'll see that some of these teams played each other in October and November, where really, I think you can throw all of that stuff out the window.
When it comes to Rangers vs Penguins, they played each other three times in a short time-span, and played three of these four games AFTER the NHL Trade Deadline.
In other words, when you look at every first-round series, the history between the Rangers and Penguins is most recent. And fingers-crossed, hopefully it's the most telling too!
---
When you break these two teams down, the Rangers pretty much have the advantage across the board, except for experience – something that no chart geek can track and graph.
If you're rooting for the Penguins, you're hoping that the ice birds can rely on their experience and knock off a team that doesn't have as many playoff experienced players as the Pens do.
On the other hand, the Penguins, who haven't moved past the first-round in three years – may be at the end of the line. However, that fact may just give them extra motivation to do so in this go-around.
As it always goes in sports – defense wins championships.
In hockey, the biggest defensive position is the goaltending position, where the Rangers will have a significant advantage in net over the team from Pittsburgh.
Not only is CZAR IGOR a lock to win the Vezina Trophy, but Penguins' goaltender Tristan Jarry is out with injury (broken foot).
And even if Jarry returns at some point in the series (currently, Casey DeSmith is the expected game one starter – a goaltender who puts the fear of god into no one), he was a nightmare at this time last year; where truth be told – if he had played half-way decent, then the Penguins most likely would've defeated the Islanders during their 2021 first-round series.
For the Rangers, obviously, they'll have to shut down the big three in Pittsburgh – Sidney Crosby, Evgeni Malkin and Kris Letang. Then they'll have to worry about Jake Guentzel, a Guentzel who first made his name during the playoffs.
However, the Penguins will have to worry about two Ranger lines who can score at a moments notice.
When it comes to the top six forwards on each team, while the Penguins may have two future Hall of Famers as part of their group – their best days are behind them. While Crosby and Malkin are no slouches, they aren't at the peak of their powers anymore – as Panarin, Kreider and Zibanejad are.
When it comes to each team's top trade deadline acquisition; "Rakell, Rakell The Musical" didn't even come close to sniffing the success that Andrew Copp achieved with his new team.
While this isn't a knock on Rakell, who the Rangers could've traded for – obviously, Drury knew what he was doing by beefing up his locker room with buddies of team-leader Jacob Trouba.
Without question – all of Drury's adds at the deadline had no chemistry issues whatsoever. There was no "transitioning period" at all. Sure, they may have lost their first game together to the Devils, but after that, it was smooth sailing.
And when you look at Copp vs Rakell head-to-head in the three games that they played against each other – it was Copp who easily out-performed Rakell.
---
As I know, as you know, and as everyone and their mother knows – playoff hockey IS NOT regular season hockey.
One of the biggest differences between the two is officiating – and I'll save you from another rant about how these officials usually tend to favor the Penguins. You can read the four blogs linked above for more on that.
What I'm specifically talking about right now, in regards to the officials, are the amount of penalties called during a playoff game. Power-plays become even more of a premium during the post-season.
The Rangers' power-play, perhaps their second biggest strength (goaltending being the biggest strength), is fourth-best in the league. The Penguins' penalty kill ranks third-best. This special team game may become a battle of the "immovable force versus the unstoppable object."
Conversely, the Penguins' power-play ranks only nineteenth best in the league (or thirteenth worst), while the Rangers' penalty kill ranks seventh-best.
Should this series come down to man-advantages – the Rangers will have the edge here too.
---
While I don't want to kick the ANALytical community for the 78967867868968796th this season, it should also be mentioned that ANALYTICS MEAN NOTHING – especially during playoff time.
I can give you every stat in the world here, but there are no stats for human emotion, the will to win, puck luck, heart, experience, the grind, toughness and about 786786786786 other things that a successful hockey team needs.
And oh yeah, and one more time on this site for good measure – I've never seen a player, head coach and/or general manager, thank their analytical department after a Stanley Cup win.
When it comes to these intangibles that ANALytics can't track; I think it all boils down to the Rangers wanting to continue this ride and seeing where it takes them, while the Penguins are grasping for one more run.
While not a "house money" type of a series for the Rangers or anything like that at all – there will be more disappointment in Pittsburgh, than there would be in New York, should the Penguins lose.
Of course, wanting to jump out early and taking control is obvious stuff, but while the Rangers were one of the best teams of the league in comeback wins; I think it's very important for them to get the first goal of these games. (Duh!)
The power-play, a strength, should receive more time should the Rangers go-ahead early. And if you force Pittsburgh to play aggressive, the Rangers' skilled forwards (and defensemen too), should be able to make Pittsburgh pay – especially with DeSmith in net.
---
In my eyes, outside of CZAR IGOR, who I have no concerns about; the Rangers' biggest "X-factor" is the team's highest-paid player, #10 himself, Artemi Panarin.
I think it's imperative that he gets off to a good start. He must become what Crosby once was (and maybe still is) for the Penguins during the playoffs. And based on how Panarin finished his season prior to his two games off – I think he will. He's been given more freedom to do whatever he wants to do with the puck, and we're now seeing the Panarin from the 2019-20 season all over again.
For the Rangers, this is their newest test in a season full of them. While they enter the playoffs inexperienced, all they have to do is listen to the head coach's mantras of "one game at a time," and "taking care of business."
And should they win this series, they will then have a taste of playoff hockey together as a group and should be able to use that for whatever comes next. And don't forget the importance and experience of Barclay Goodrow either.
The Rangers and Penguins, heated playoff rivals during previous eras, will renew their rivalry again on Tuesday night. In what I see to be a "changing of the guard" series, I see the new looking Rangers taking down the perennial playoff veterans.
And yep, I'm being hypocritical here, since I just slammed Vagistat for being so smarmy and obnoxious about begging for the Penguins in the first round, but I'm going with a Rangers 4-0 sweep of the Penguins.
(Plus, I'm saying this AFTER this series was announced, and not during the past three weeks!)
Why am I being so bold and cocky in my prediction? I just think that CZAR IGOR is the ultimate game changer.
I also think that the Penguins have been done for some time now and that they've been clinging on to the same core that's no longer what it once was. (And you can't knock that core either – they won their fair share of Stanley Cups.)
What can't be lost in everything is this: CZAR IGOR started every game against the Penguins this season and dominated them in each game.
He's seen them. He knows what to expect. And while I'm sure that the Rangers will have a few defensive miscues along the way (all teams do – after all, the other team is paid to play hockey too) – I can't think of a better goalie in the league to clean up these mistakes.
I can't wait for Tuesday night!
At this time, let's take a look at the rest of the first round.
---
A few thoughts before getting into the seven other first-round pairings.
When it comes to predicting the playoffs – it's a crap-shoot. No one can predict injuries, who gets hot, who goes cold, puck luck, bad bounces, terrible officiating, and about a dozen other things that can swing a series. This is all for fun.
In addition, more times than not, there is usually one major upset during the first round, if not more.
In the East, all eight teams finished with 100+ points. There will be four great teams bowing out during the first-round.
In the West, only five teams finished with 100+ points. There is less parity in the West than there is in the East.
Put it this way – if Florida or Carolina, the top two seeds of the East, were upset – would you be that shocked? Conversely, should Colorado or Calgary find their hopes dashed in the first-round – that would be a shocker.
Lastly, before rapid-firing through every first-round series, I'm pretty much sticking to what I said on this site and during my appearances on Stan Fischler's website and columns, stuff I first wrote way back when in October of 2021 – I see history repeating itself, as I don't see the Leafs getting out of the first, nor do I see the heavily-favored Avalanche advancing to a Conference Final.
---
EASTERN CONFERENCE
Boston Bruins vs Carolina Hurricanes
This series really intrigues me. There is a lot of history between these two teams, where yep, as a caveat – faces change all the time, and you can't look at history as the end-all, be-all.
When the Canes first became "Jerks," they Cinderella'd themselves to the 2019 Eastern Conference Final, where the Bruins bounced them in five games. A year later, the Bruins disposed of the Canes in five games during the first round of the 2020 Stanley Cup Playoffs. (The Canes lost another five-game series in 2021, when the Bolts eliminated them during the second-round.)
In the 2021-22 season series between the B's and C's, the team from Raleigh clobbered the Original Six team, winning all three games by a whopping cumulative score of 16-1. While you can't take anything away from Carolina; it should be mentioned that Brad Marchand and Patrice Bergeron missed one of these games, while another game featured Tuukaa Rask in net, during his failed comeback. (He gave up five goals during a first period.)
Similar to the Rangers/Penguins series – a goaltending injury may be the difference here.
Frederik Andersen still remains out, and for how long is anyone's guess. Antti Raanta, serviceable in his own right, tailed off as the season progressed. That said, new rookie goaltender, Pyotr Kochetkov, has looked REALLY good, although in his three games played, two of them took place against bottom-feeders (Islanders and Devils).
In his third victory, Kotchetkov gave up a "career-high" (he's only played three games) three goals to the Rangers, in a 4-3 Canes' victory where the Rangers were without Panarin and Copp for more than half of the game.
I feel like for the last few years, including 2019, when Boston went all the way to a Game 7 of a Stanley Cup Final; that I'm just waiting for the hammer to drop on Beantown. While they've lost huge pieces over the years (Chara, Krejci, Rask, etc), I now think they have one more run left in them.
There's something about Carolina that I can't put my finger on, but I don't think they are as good as their record says they are. They beat up a lot of bad teams late, and never felt dominant during the final stretch. Maybe I have an anti-Carolina bias in me, and I won't argue against that.
I think goaltending swings this series – even if Carolina is the favorite. Plus, there are always upsets too!
Bruins in 7.
---
Tampa Bay Lightning vs Toronto Maple Leafs
Similar to Rangers/Penguins, it looked very likely that this series would take place a month ago too.
I've written a lot about these two teams before, where nothing has changed – Leafs will choke and the Bolts will win their ninth playoff series in a row.
I might sound like a broken record with the goaltending stuff – but I'll take Andrei Vasilevskiy over any goalie that Toronto can suit up.
I think this is the worst possible match-up for the Leafs. Anyone else, maybe they get out of the first round for the first time in twenty years.
Yeah, the Lightning had a rough patch during the final stretch, and the roster isn't quite the same from their last two successful runs – but they are still built for the playoffs.
Toronto's greatest strength is their forward group – a group that Tampa can match. Defensively, Hedman is one of the best in the game, and a player that the Leafs don't have an answer for.
And when it comes to the head coaches? Jon Cooper is one of the best in the game, if not the best. Sheldon Keefe? Far from it.
Bolts in six.
---
Florida Panthers vs Washington Capitals
For the fourth consecutive postseason, the Capitals enter the playoffs with injury issues. That will doom them again.
Following their Stanley Cup victory in 2018, the Caps have been bounced out in the first round ever since. I don't see that changing against these Presidents' Trophy winning Panthers.
The Capitals, one of the oldest teams in the league, will hope to get Ovechkin and Backstrom back into their line-up – but even at full-strength, the Panthers are far superior.
While I think that the Cats make short work of the Caps; I do wonder how the team from Sunrise, a team that puts an emphasis on offense over defense, will do during their later rounds. I also wonder how goaltender Sergei Bobrovsky will hold up, as the playoffs become more intense.
However, for this series, I'm taking the Panthers in five games. The Caps have no answers for the highly-heralded stars in Florida. Hopefully, fans from the sunshine state will show some support for their team.
---
WESTERN CONFERENCE
Minnesota Wild vs St. Louis Blues
I think this match-up, between the second and third best teams of the Central Division, could be the best first-round series of the playoffs.
There are many similarities between these two teams, right down to the goaltending position, as both teams have a #1 and a #1A. Plus, both Fleury and Binnington have Cup winning experience.
Away from the goaltending, each team also experienced their own off-season dramas, where both teams got out of it for the better.
For the Wild, they bid adieu to long-time veterans Ryan Suter and Zach Parise. In St. Louis, Vladimir Tarasenko wanted out, only to remain and who then turned in a strong campaign.
You also have up-and-coming superstars on each team, in the Blues' Jordan Kyrou and the Wild's Kirill Kaprizov.
If that's not enough, you have a pair of former Rangers on each side, two guys who are enjoying career-best years, in Minnesota's Mats Zuccarello and St. Louis' Pavel Buchnevich.
Head-to-head, the Blues won the series 3-0, but two of those games were overtime victories. The one regulation win took place during an outdoor game, where more times than not, those games can go either way and aren't a true testament of what a team is.
To me, this is a coin-flip series, as I see it going seven games either way.
I think Marc-Andre Fleury, the greatest goalie of his generation, has rejuvenated the Wild a bit. He chose them. That's why I'm going Wild in 7.
---
Edmonton Oilers vs LA Kings
For the first time since 2017, this has to be the year where the Oilers return to the second round. Right?
Everyone knows all about the Oilers and their golden 1-2 punch of Connor McDavid and Leon Draisaitl, two players who have dominated Hart Trophy voting ever since their respective NHL arrivals.
Everyone also knows about the Oilers' biggest weakness too – goaltending, where admittedly, the goaltending has been better. I don't think goaltending will be an issue in this series – but I do think the Koskinen/Smith combination will be exposed as the playoffs move into the later rounds.
While you can't say that any team is "just happy to be there," as every team wants to win; the LA Kings, who are experiencing a mini-rebuild themselves, but still have a few holdovers from their glory years – have over-achieved.
Even if the Kings should be swept, no one in LA will be upset. They've smashed all expectations.
Ever since firing former head coach Dave Tippett, the Oilers, now under Jay Woodcroft, have turned it around. At one point, and prior to the coaching change, the Oilers were teetering with playoff contention. Now, they are an overwhelming favorite to win this series.
The Oilers, who were embarrassed during the first round of the playoffs last season (Jets swept them 4-0), will try to take that experience and use it as motivation.
While the Kings have the edge in net with a rejuvenated Jonathan Quick – the Kings don't have an answer for the Oilers' big two, a McDavid and Draisaitl combination that have really turned it on once Evander Kane arrived.
An Oiler loss here would be catastrophic, especially after last year. I don't envision that happening here.
Oilers in six.
---
Dallas Stars vs Calgary Flames
I am tempted to go with an upset here, and pick the Stars, but the Flames, and pardon the pun – are red-hot.
That said, I think this series between the two seed and the first wild card goes to seven games.
The Stars, who are trying to get back to the Stanley Cup Final after their 2020 loss to the Bolts, know how to win playoff games. However, these 2021-22 Flames are one of the best teams in all of franchise history.
The Flames can do it all. They have Jacob Markstrom in net, who is having one of the best seasons of his career. They have a crippling defense. They can score at will, including Johnny Gaudreau, who just finished this season with 115 points. They also have a head coach that's won before, in bench boss Darryl Sutter. If that's not enough, they can roll out four successful lines, which will just create chaos for Dallas.
I do think that the Stars can fight valiantly, but they're also over-matched.
Their core, with Jamie Benn, Tyler Seguin, Alex Radulov, etc, bolstered with former Shark Joe Pavelski and up-and-comer Jason Robertson, is strong. However, with the Flames having career-years from most of their roster, in addition to Calgary loading up on playoff veterans (Tyler Toffoli, Blake Coleman, etc) – it's very hard to see them losing this, even if it might be tougher than what they expect.
Flames in 7.
---
Colorado Avalanche vs Nashville Predators
The Colorado Avalanche, who began the season as the favorites to win the Stanley Cup and who remain as favorites, received two breaks for their first-round series.
One break, at least in my eyes, is that they drew the Predators – and not the Stars. The Stars have beaten the Avalanche recently during the playoffs and are more battle-tested than the 2022 version of the Predators.
The second break, is the status of Preds' goalie Juuse Saros, who currently has an ankle injury.
Some are reporting that he can miss the entire first round, while others are saying maybe he can get back to the ice by Games 3 and 4. Either way, he's not starting the first two on the road, where by then, the Avalanche, thought to be this year's "team of destiny," should be up 2-0 in the series.
If the Avalanche lose this series, it would rival the Columbus Blue Jackets upset of the Tampa Bay Lightning in 2019. However, I just can't see the Avalanche, who have been primed for the Stanley Cup for some time now, losing this one. I can see them losing again in the second round though!
The Predators are a weird team, meaning that they have flip-flopped on rebuilding. Too good to be bad and not good enough to go all the way – the team from Nashville is the least-best of the current sixteen teams in the playoffs.
While a draft lottery pick wouldn't have been the worst thing in the world for the Predators; you play to win the game. To their credit, they have, but at the same time – they've drawn the worst possible match-up available.
Maybe Nashville can steal a game or two. In fact, that's what I originally thought before writing this blog. (My brackets above tell you as much.)
However, after really thinking about it, and with the Saros injury – anything less than a sweep would be a disappointment for Colorado.
Avalanche in four. They are just too dominant to lose to this Nashville team.
---
I know I went on way too long for a weekend blog, but heck – I'm excited! Plus, the writing comes easy for me – it's everything else that's a pain in the ass, such as editing, proof-reading, formatting, etc.
I think I'll have time to pump out a Rangers 2021-22 Final Report Card blog prior to the playoffs.
The Rangers, who were off on Saturday, will reconvene on Sunday for practice.
Hopefully, it will be a busy next few months for the boys in Blueshirts, so if you desire, feel free to subscribe to this site for all the latest. (Subscribe button featured below.)
LGR!
PLUGS TIME!
---
My first plug of tonight's blog – the mandatory plug for my book, "The New York Rangers Rink of Honor and the Rafters of Madison Square Garden".
As mentioned previously, the book is now available in hardcover, in paperback and in Kindle formats. To purchase a copy of the book, visit this link:
https://www.amazon.com/Rangers-Rafters-Madison-Square-Garden-ebook/dp/B09CM5N2WD
For those still looking for signed paperback versions of the book, I have re-ordered more copies. I now have a few signed copies for sale at $25 a pop (includes shipping price) through me directly. Here is all the information on that:
---
Here are my last few blogs, in case you missed them:
---
---
---
---
If you haven't already, subscribe to this blog for the next update:
---
Up next: Playoff Hockey! BEAT THE PENS!
As always here, thanks for reading and…
LET'S GO RANGERS!
Sean McCaffrey
BULLSMC@aol.com