Greetings and salutations everyone and welcome to another blog here on BlueCollarBlueShirts.com. No excuses tonight – that sucked.
For regular readers of this website, and for the new ones just joining the ride – I've been extremely positive about this team all season.
In addition, I've been so positive throughout this 2021-22 campaign, that my overwhelming optimism is usually mocked! I want you to be aware of that before continuing on!
I won't go into my "Greatest Hits" again, but just check the archives of this site if you need the proof – I've been saying that this team would be a Stanley Cup contender from day one – even going all the way back to when Chris Drury first took over the big chair at 33rd and 7th.
Despite these last two affairs – my opinions remain the same. That said, this loss to the last place (now second-to-last place, as a result of this game) Philadelphia Flyers was 100% inexcusable.
All season long, some of you have joked about my never-ending positivity, where one loyal reader told me – "you've changed since your book came out!" You know me, I don't care about that. Everyone is entitled to their own opinions. And it's all in good fun anyway.
However, even as the biggest "glass half-full" fan out there – the silver lining (which we'll soon get into) isn't the lede story tonight. You can't sugarcoat this turd.
No matter what spices, sugars, ingredients, or whatever else you want to use in order to enhance a shit sandwich – at the end of the day, you're still eating shit. And the Rangers, who head coach Gerard Gallant called "horseshit" last game, looked even worse tonight – especially considering the circumstances.
One bad game to the Islanders is one thing. Two bad games in a row to two non-playoff teams is another.
And before you chastise me – I understand that the Rangers out-shot the Flyers 46-26, and how the Blueshirts hit the iron five times tonight too; but at the end of the day, a loss to a garbage team like the Flyers is a disgrace.
Plus, while CZAR IGOR gave up two questionable goals tonight, he also made 10-12 saves that allowed the Rangers to even get a point tonight. Don't forget that, nor let the SOG stat fool you.
In what should've been a white-wash, we saw the Rangers soil themselves instead.
---
Regular readers of this blog may be surprised to hear me sound so down. After all, this is the first time this season where I am really pissed off and disappointed following a loss.
Sure, the Rangers got a point in the standings tonight. That was good, as both the Rangers and Penguins have played 70 games each, and with twelve games remaining for each squad battling for second place – the Rangers (94 points) have a two-point advantage over the black-and-yellow squad (92 points) from Pittsburgh.
And if you want to be really optimistic, the Rangers three-goal third period from tonight's game also helped the Rangers gain a point in their chase of first place too. (The Carolina Hurricanes have 98 points in 69 games played.)
That said, this should've been a cakewalk, and I'll explain why in-detail below. That said, for your consideration:
— The Rangers have responded well to losses all season. This game wasn't that at all.
— The Flyers played the night before and were crushed. There is also a morale issue for the team that has already been mathematically eliminated from the playoffs.
— The Flyers started their struggling back-up goalie, the former San Jose Shark Martin Jones; who on this night, turned into the Martin that we used to see in New Jersey from so many years ago.
— The Rangers, whose power-play couldn't get going last game, went 0-3 tonight. Just one PPG would've given the Rangers the decision.
— For a head coach and team that were embarrassed last time out, they did nothing to alleviate that in this game – their third period comeback be damned.
---
If it weren't for the last five minutes or so of regulation, this game would've been 786786866969679 times worse.
The point in the standings was nice – but against this bad Flyers team, a playoff-bound Rangers team shouldn't have needed a comeback to tie it. It should've been the Rangers giving the Flyers their fifth loss in a row.
Yeah, we're getting to the end of the season. Yeah, the Rangers are without some of their regulars. And yeah too, the Rangers have exceeded all expectations this season. That said, this should've been a wire-to-wire blowout win for the Rangers. They shouldn't have had their backs against the wall – especially after Friday's fiasco.
It's an "Any Given Sunday" league; but sometimes, a good team should do their job, and handle business against a bad team. The Rangers didn't.
And while this game will have no impact on what the Rangers do come playoff time – it's not like this loss helped either.
And oh yeah – for all of the Ryan Strome haters – do you miss #16 yet? The Rangers sure do.
Say what you want about "The Stromer," but you can never question his compete level, his leadership and his chemistry with his teammates. Losing him effects the rest of the line-up. Need proof? Second-liner Jonny Brodzinksi. Third-liner Julien Gauthier.
You might not think that Strome is a power-play dynamo, but since going down, the Rangers power-play, one of the best in the league, has struggled big-time.
---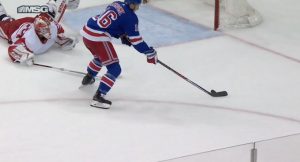 If there's one point that I do want to get across before continuing, it's this – my faith remains unchanged. Don't forget that!
However, just like a little kid who does something wrong, rather than being balls-to-the-wall irate – I'm disappointed in them tonight.
This team is much better than what they displayed on Sunday night. These weren't the Rangers that we've seen all season. These last two games have been like something out of "The Twilight Zone."
At this time, let's get into the news, interviews, and of course, the main event – the GAME REVIEW.
---
Following one of the worst losses of the season, where Gallant referred to Friday night's defeat to the Islanders as "horseshit;" the team reconvened for practice on Saturday morning.
During the practice, Gallant shuffled around his lines and defensive pairings, in a move which foreshadowed what we'd see on Sunday night. (The line-up segment of tonight's blog reflects these moves.)
"The Turk" also spoke to the media after the skate. Here's the head coach's press conference:
---
Gallant opened up the press conference by saying that he was over Friday night's loss. He told the media that he didn't want to talk about it – but he did admit that he sent a message to his team at the practice, a message that he wasn't going to publicly reveal.
"The Turk" also implied that Ryan Strome could return on Sunday night against the Flyers. (Spoiler, and as you already know – he didn't.)
While not confirming any specific line-up changes; Gallant, as expected (and as predicted on this site too), pretty much confirmed that Justin Braun would be playing against his former club.
For some reason, once again, the idea of CZAR IGOR struggling was suggested to the Rangers' bench boss. You could hear Gallant roll his eyes when asked about his goaltender. Gallant then responded with:
"Everything is great [with Igor]. I don't go back eight games, I still think he's been the best goalie in the league all season long. Last night [Friday vs NYI], I couldn't fault him on any of those goals. We didn't score a goal to win. There is nothing wrong with Shesky."
Gallant, as he usually does, then preached the importance of one game at a time, and how any team (bad or good) could beat any team in the league on any given night.
In a way (he didn't say this verbatim), Gallant said that Friday night's game was a wake-up call, and how the team needs to approach every game like they did during their big win over Pittsburgh from a few games back.
---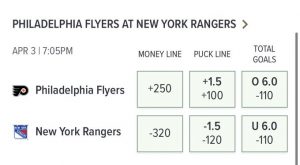 On Sunday morning, the Vegas sports books heavily favored the Rangers over the Flyers. In fact, the Rangers were listed as a -320 favorite (risk $320 to only win $100) – the highest number of the season. In addition, these were the numbers BEFORE Gallant announced CZAR IGOR as his starter.
(And by starting CZAR IGOR – it told you that Gallant wasn't playing around, a head coach, who prior to the game, said "I WANT TO WIN." And once CZAR IGOR was announced as the starter at 5PM? The line jumped twenty points, to -340.)
There were multiple reasons why the Rangers were considered as a "lock" to win this game.
On the Rangers side of things, and in something I've been preaching all season – they always rebound after bad losses.
In something that should be celebrated, and which is also a testament to the team too – the Rangers haven't lost three consecutive games in regulation this season. I know I've mentioned this once or ten times this season already!
And if you watched Gallant's interview that was posted above – you expected that his team were going to come out firing for him. Not only was Gallant going to be a motivator, but obviously, the team were upset with themselves too.
Unlike the Islanders and Devils (two of the Rangers' biggest rivals); their third-biggest rival (at least from a geographical perspective), the Flyers, haven't really played the Rangers tough during their recent meetings.
Heck, just last season, the Flyers were the Rangers biggest "feel good opponent," as the Blueshirts crushed the Broad Street Bullies multiple times over, including that 9-0 win which took place on St. Patrick's Day of 2021.
The Flyers are an absolute mess this season, and a team that also fired their head coach, Alain Vigneault, early into this 2021-22 campaign.
Compounding matters was Mike Yeo's decision to snap the "Iron Man" streak that Keith Yandle had put together.
---
In what was considered the top NHL story of Saturday (unless you were more concerned about the Jay Beagle vs Troy Terry fight, in a game between the Arizona Coyotes and Anaheim Ducks); it was announced that Mike Yeo was going to make Keith Yandle a healthy scratch for the Flyers' evening tilt with the Toronto Maple Leafs.
Yeo, true to his word, did scratch Yandle on Saturday night. The Flyers then went on to lose the game 6-3.
By now, you all know that I'm a fan of history. I also appreciate milestones too. That's why I didn't like Yeo's decision – even if I somewhat understood it.
As a result of Keith Yandle spending Saturday night in the Flyers' press box, rather than on the ice – his Iron Man streak of 989 consecutive games played was snapped.
In other words, Yandle was just eleven games away from a nice clean round number of 1,000 consecutive games played – a number that the Flyers sure took notice of before trading away their now former captain, Claude Giroux.
(Everyone knew that Giroux was going to be moved prior to the NHL Tradeline, but the Flyers waited until Giroux played game number 1,000 with the organization before trading him. By waiting so long, the Flyers perhaps received a lesser of a return. Had they made the deal earlier, they could've received a better package – at least in theory.)
While not exactly the same situation as Ben McAdoo's HORRENDOUS decision to bench Eli Manning for Geno Smith a few NFL seasons back, as Manning was a life-long Hall of Fame New York Giant, while this is Yandle's first (and probably last) season in the city of brotherly love; there are some similarities.
Yes, Ben McAdoo was a failure as a head coach. You can't say the same thing about Mike Yeo, as he's had some spurts of success elsewhere, primarily in Minnesota and in St. Louis. However, Yeo, like McAdoo, is a lame duck in Philly and just finishing the string out. It's hard to envision Yeo returning to the Flyers next season.
When you boil it all down, here's a lame duck head coach, with no shot at the playoffs in sight, snapping Yandle's historic streak of 989 consecutive games played – where Yandle set the record for most consecutive games played earlier this season, when he surpassed Doug Jarvis (964 consecutive games played) to become the NHL's all-time Iron Man.
Of note, Phil Kessel, who as of this writing, has played in 969 consecutive games; the hot dog man can now overtake Yandle's record next season, providing some team gives him a chance to play.
For what it's worth, it took 34 years for Jarvis' record to fall. If things go right for Kessel, Yandle's status as the all-time Iron Man will only last a few months.
While I thought Yeo's decision to end Yandle's streak was stupid and disrespectful, I do understand it too.
The Flyers stink. They need to see what they have in their system. And when it comes to #93 himself, a player that doesn't have ties to the organization like Giroux did; he hasn't been that hot this season either.
Considered to be a power-play quarterback (just like he once was with the Rangers), Yandle only has one goal and fourteen assists this season. Worse than that? His plus/minus stat of minus 39 – a stat that has him at the rock-bottom of the league.
I think this benching would've been easier to accept for Yandle (and his teammates too), if it came from a head coach with more respect. Whether it was John Tortorella, Jon Cooper, Bruce Boudreau, Barry Trotz, Gerard Gallant or someone of that ilk who made this decision – then you could've said at least the head coach has a great track record.
Anyway, to go back to why the Rangers were so favored; following the Leafs' drubbing of the Flyers on Saturday night, players of the orange-and-black, including ex-Ranger Kevin Hayes himself, all expressed their disdain and disagreement with their head coach's decision.
Jeremy Roenick, an ex-Flyer himself, also went on social media to express his disgust with this decision, even going as far to say that Yeo had lost the locker room. Roenick also added that a decision like this will be off-putting in the future, should Yeo remain with the Flyers beyond this season.
So, when you take all of this into account, this is why the Rangers had these favorable odds.
Of course, Vegas odds don't mean anything either, but this was just my way of working in the Keith Yandle story into this blog!
And yep – the Rangers lost.
---
Here's what "The Turk" went with for this "Keith Yandle Tribute" game:
FIRST LINE: Kreider/Zibanejad/Vatrano
SECOND LINE: Panarin/Copp/Brodzinski
THIRD LINE: Lafreniere/Chytil/Gauthier
FOURTH LINE: Motte/Goodrow/Reaves
Defensively, we had this:
FIRST D-PAIR: Lindgren/Fox
SECOND D-PAIR: Miller/Trouba
THIRD D-PAIR: Nemeth/Braun
And in net, CZAR IGOR
---
BOX SCORE time.
The following information and graphics come from the new world-wide leader in NHL coverage, ESPN.com:
SCORING:
SHOOTOUT:
PENALTIES: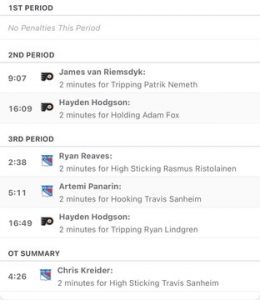 TEAM STATS:
GOALIES:
| | | | | | | | | | | |
| --- | --- | --- | --- | --- | --- | --- | --- | --- | --- | --- |
| SA | GA | SV | SV% | ESSV | PPSV | SHSV | SOSA | SOS | TOI | PIM |
| 46 | 3 | 43 | .935 | 36 | 1 | 6 | 0 | 0 | 65:00 | 0 |
| | | | | | | | | | | |
| --- | --- | --- | --- | --- | --- | --- | --- | --- | --- | --- |
| SA | GA | SV | SV% | ESSV | PPSV | SHSV | SOSA | SOS | TOI | PIM |
| 26 | 3 | 23 | .885 | 18 | 0 | 5 | 0 | 0 | 64:33 | 0 |
---
Unlike last game, I can't take my anger, frustration and disappointment out on the broadcast tonight. Sure, Sieve Vagistat was once again unbearable; but this broadcast wasn't as bad as it was last time, when the Rangers were shut-out by the Islanders.
To open up the broadcast, and in what I thought was a belated "April Fool's Day" joke; Sieve Vagistat said that he wasn't going to look at the analytics tonight, and instead, like a normal human being, was going to use his own two eyes.
Not even a minute after saying that; we were then bombarded and harassed by charts made by Vagistat's fake news numbers company.
After listening to more war stories about Vally's epic career of 46 games; we then saw a good camera shot of little kids on the glass, as they looked for interaction from their favorite players. This was much better than watching those adult cretins who make signs and who beg for free shit.
Dave Maloney, the only thing decent on this broadcast, then brought up the Rangers track record after losses, where the team is currently third-best in the league in preventing two-game losing streaks. Only Boston and Colorado are better than New York in this department.
When it comes to the Yandle story, the former captain of the Rangers said that he thought it was just "sports talk radio fodder," and not much else. Obviously, Jeremy Roenick disagrees!
Once Maloney was finished, John Giannone interviewed Jacob Trouba. Trouba raved about his teammates, where he primarily sung the praises of his partner, K'Andre Miller. Trouba also said how it's tough to play in New York and then added that he had his own adaption/acclimation process.
As the 7PM hour hit, and as we went to Sam and Joe, I was this-close of muting these two tonight, in favor of the "Wrestlemania" broadcast that I had going on my other television. Too bad Stone Cold couldn't stun Gritty tonight.
No joke, the two started lamenting about the Flyers' loss of Claude Giroux and how great Joel Farabee was. I couldn't deal with another three hours of Sam and Micheletti-head raving about a hated-rival. Thankfully, the two toned it down after Micheletti's "TACO BELL TAKE."
Let's get into the GAME REVIEW and get this over with.
---
In a game where you thought the Rangers would have more pop in, and just barrage the Flyers; the Rangers did out-shoot the Flyers 13-8 in the first period. They also hit the iron three times too. However, most of the Rangers attack came from outside the circles, rather than between them.
I bring this up, because all game long, the M$GN crew kept talking about the SOG statistic. While it's a valid thing to talk about, the only stats that matter are goals for and goals against – and for over fifty-five minutes, the Rangers trailed badly in these two most pertinent stats.
In a contest featuring the most likely winner of the 2022 Vezina Trophy going against a back-up goalie long past his prime; it was CZAR IGOR who gave up two bad goals early, while Martin Jones had a vintage throwback game from his glory years in San Jose.
After Jones stopped Vatrano and Mika in the early goings of the first period, Igor then made his first save at the 1:40 mark. A minute later, Jones stopped Lafreniere, in one of his 43 saves of the night.
(Of note, the Rangers 46 SOG tonight were a season-high, but it wasn't until the second period where the Rangers really started to challenge Jones.)
Four minutes in, Lindgren made a brutal turnover, but as Kevin Hayes was about to make it 1-0, Fox broke it up and bailed out his partner.
In a game that featured many broken passes, sticks, chances, and everything else under the sun that you could imagine, as the Flyers clogged lanes like rush-hour traffic; Panarin fed Copp for a GOOD LOOK, but the pass was immediately broken up.
On the other end, Justin Braun, facing his former team, was then stopped by Jones at the 5:30 mark.
The Rangers, who had trouble with face-offs during the majority of the game (at one point during the third period, the Rangers had only won 33% of their draws); iced the puck.
With a faceoff in the Rangers' d-zone, Nate Thompson won the draw, and just nanoseconds later, Cam York scored. 1-0 bad guys, at only the 5:54 mark of the period.
A few things about this goal:
— This was York's third goal of the season. Of course.
— This was Thompson's first assist of the season. Of course.
— This was a soft goal allowed by CZAR IGOR, as this goal allowed was definitely out of the realm of normalcy.
To show you how bad this goal allowed was; following a commercial, John Giannone, reporting from between the benches, said that Igor was looking at his glove and was in utter shock/disbelief.
If you don't know this by now, no one is a bigger fan of CZAR IGOR than me. However, I have to call this goal what it was – a bad one.
Fifty seconds later, Owen Tippett made it 2-0, bad guys.
The Flyers received some good puck-luck here, but the Rangers, as we've seen a lot of recently, couldn't get a puck out of the zone and the unfortunate bounce came back to bite them.
I also thought this was a goal that Igor could've stopped, only because we've seen him stop these types of shots hundreds of times before.
Plus, with the game that CZAR IGOR would play the rest of the way (where he stopped five breakaways and even more shots during Flyer odd-man rushes) – it's a shame that it were these two shots which were the ones that beat him.
And yep – this was Tippett's first goal as a Flyer – as assisted by Kevin Hayes.
Down 2-0 and a faceoff at center ice; the Flyers won the draw, where right away, CZAR IGOR was tested again and then made a stop on the opponent's breakaway opportunity.
As Jones piled up a few saves, Julien "No Hands" Gauthier had a great chance to get the goose egg off of the board. Of course, he didn't, as he whiffed on a puck following a juicy rebound that Jones gave up to Trouba.
Tippett, who could've had a double hat-trick tonight; saw a great opportunity denied by CZAR IGOR with 7:42 to go.
While the third line youngins', Lafreniere and Chytil played well tonight; Gauthier did not.
Chytil, after another save from Igor, put forth a great backhanded shot of his own towards Jones, but the puck clanked off of the iron so loud that even Sam Rosen heard it.
With 6:32 to go, and the Rangers threatening a bit; Adam Fox carried a puck offside to thwart the attack.
As Sam and Joe continued their jovial act, where both praised the opponent; the two then started talking about the 1994 Stanley Cup team, where Sam mentioned that Alexei Kovalev plays instruments.
"OH JOE, HE PLAYS A MEAN SKIN FLUTE JOE!"
With (Austin) 3:16 remaining, Trouba was denied by Jones.
A minute later, Igor made two phenomenal saves on Hayes, which kept this Rangers deficit to two.
Igor also bailed out K'Andre Miller here, a #79 who did the worst snow angel that you'll ever see. Had Hayes scored here, the Miller haters would've had a field day.
Lindgren, who shot the puck like a madman on this night; with 1:39 to go, shot extremely wide on one try and then had another blocked.
2-0, bad guys, after twenty, in a period where the Rangers let the other team race out to a quick two-goal lead.
Sure the Rangers hit some iron, but most of their SOG were from far away. They never dictated the pace, nor played angry – which you thought would've happened after that horrific affair with the Isles.
---
The second period was much better than the first, but by the end of it – the score remained the same.
Thirteen seconds in, Jones stopped Kreider. After that, and within a span of ten seconds; Lindgren shot wide, had a shot stopped, and then broke his stick on the rebound. You can't make this up.
Just four minutes in, the Rangers were out-shooting the Flyers 6-0 in the period, where this time, the shots on goal weren't from 6796796 feet away.
After some suspect positioning from Miller and Trouba, where both got caught off-guard; Igor stopped Tippett on a breakaway. Including the shootout – Igor stopped Tippett on four separate breakaways tonight.
Seven minutes and change in, Panarin, right in front of Jones, was stopped by the back-up. Ugh.
As we neared ten minutes remaining, Igor stopped several high quality shots. Then, with 10:53 to go, the Rangers finally got a break when JVR was boxed for tripping Patrik Nemeth – you know, the same Patrik Nemeth, where according to these analytical chart humpers on social media, had he not played, the Rangers then would've won this game 72-0.
In all, the Rangers put four shots on Jones during these two minutes, while Panarin hit a post on another try. Jones survived it all and the Rangers power-play was now 0-1.
With 7:15 to go, Igor stopped Tippett on a breakaway. Again, Igor made a ton of fantastic saves in this game, which made that first goal allowed so terrible looking.
A minute later, Trouba then hit the post – the fifth time that the Rangers had hit iron. Yep, these are bad bounces, but still, it means that you're missing your target. It's not horseshoes.
Also missing his target around this time was Julien Gauthier, who sent a puck into the Long Island Sound.
I rarely question Gallant but I have no clue what Gauthier was doing in this line-up tonight. I would've rather seen one of the Junior Rangers, who play during intermission at M$G, at the third right wing position.
In a "Murphy's Law" night, the drama continued, as Jones kept making save-after-save, including one on a Reaves deflection, a deflection so hard that #75 broke his stick in the process. That meant he couldn't score on a rebound.
With 3:51 to go, Hayden Hodgson held Adam Fox. The end result? The power-play was now 0-2. Also during this, Jones stopped a Fox-to-Copp connection/deflection play, DESPITE being screened by Chris Kreider. Murphy's Law, Murphy's Law.
At the end of forty minutes, we remained 2-0 bad guys – even with the Rangers doubling-up the Flyers in the SOG statistic, by a tally of 32-16. Jones was in the zone.
---
As I hoped that the M$G ice crew would move the Flyers' net one inch to the left, in order to make-up for all of these clangs off of the iron; it were the Flyers who struck first, following the zamboni leaving the ice.
With Gallant changing his lines a bit (Goodrow/Copp/Kreider and Panarin/Mika/Vatrano); Travis Sanheim found Joel Farabee, all alone in the paint, just 44 seconds into the final frame to make the score 3-0, and in favor of the bad guys. This was a 2 v 0 opportunity for the Flyers, and the one goal that you couldn't blame Igor for.
Thankfully, just 38 seconds later, this happened:
Bread with the deflection in front, cuts the lead to 2! pic.twitter.com/GZd5CD5cwd

— Rangers on MSG (@RangersMSGN) April 4, 2022
---
3-1, bad guys, as Panarin got a piece of Trouba blast for the goal.
Also of note, with this goal, the Rangers snapped their 101:22 goal scoring drought.
Following the goal, the Rangers stalled their own momentum with a pair of penalties.
At the 2:38 mark, Reaves was boxed for high-sticking Rasmus Ristolainen. Following the kill, and Igor doing his thing too; at the 5:11 mark, Panarin was boxed for hooking Sanheim.
The Reaves penalty was legit and clear as day. The Panarin penalty was as phantom as the Rangers power-play production tonight.
During the second kill, the Rangers had two chances to strike within one. Goodrow was denied on one chance, while Mika turned over the puck during a two vs one with Kreider flanking him.
As the Rangers continued to pepper Jones to no success, we rapidly hit the FOXWOODS mark of the game.
As you were just groaning and moaning about this two-goal deficit and most likely loss; the Rangers scored two goals within twelve seconds, with Zibanejad scoring the first goal with 4:32 left in regulation:
that's why you go to the net!!! pic.twitter.com/eX7nNiJh7Z

— Rangers on MSG (@RangersMSGN) April 4, 2022
---
3-2, bad guys.
I know it sounds stupid to be "upset" after a goal, but this scoring play was something that we should've seen all game.
Rather than making 87678967896879678969 cross ice passes to nowhere, Vatrano slammed a puck violently at Jones, the puck then bounced to Mika, and #93 scored one of the easiest goals of this season.
Twelve seconds later, Andrew Copp joined his fellow friend and newest Ranger, Frank Vatrano, and picked up a point himself:
again, that is why you go to the net!! pic.twitter.com/POmdEcKBxV

— Rangers on MSG (@RangersMSGN) April 4, 2022
---
3-3, as the Rangers had erased the three-goal deficit! Flyers coach Mike Yeo used his timeout after the goal to settle things down.
I won't lie – after this goal, I thought there was no way in hell that the Rangers would lose this game, especially with just 3:11 remaining, when Hodgson tripped Lindgren.
Following a Gallant timeout, as the head coach often uses his timeout in these situations; I thought the third Rangers' power-play of the game was going to be a charm. It wasn't. In fact, the Rangers didn't even register a SOG during this power-play.
In what could've been the game winner; with 16.6 to go, Jones made a great stop on Jonny Hockey.
As we hit triple zeroes, the Rangers had marched back to gain a point in the standings. That was good, but still, I don't think that the Rangers should've ever been in this position to begin with.
---
The three vs three overtime was a wild one, but despite multiple chances – the Rangers could never put the biscuit in the basket.
With just 33.3 seconds remaining of the five minute extra period, Kreider high-sticked Sanheim. This was accidental, but a penalty in either event.
After the Rangers lost another faceoff, Igor made a huge stop on Farabee. As the Flyers looked for the walk-off goal, Trouba blocked a Flyers' blast and then Lindgren cleared the puck. Shootout time.
In the first round of the shootout, Igor made a glove save look easy, when he stopped Cam Atkinson. With the chance to put the Rangers ahead, Mika did his patented move and was stopped.
In the second round, Tippett was once again denied on a one-on-one opportunity with Igor. Panarin then somewhat lost a puck as he approached Jones, allowing the back-up to make the easy save.
In the third and final round, Kevin Hayes (who else?) fooled Igor with a floater. Filip Chytil then fooled himself, as he deked one time too many and Jones made an even easier save to close the game.
1-0 Flyers in the shootout.
4-3 win for the bad guys.
---
I know – I'm surprised that I wasn't able to polish-up this game. However, to do so would be lying.
One last time – yes, the comeback, yes, the never give up mentality, and yes, a point in the standings too – but when you consider all of the pregame circumstances, and the game the Rangers just played 48 hours before – this was a disappointing and disgusting letdown.
And even had the Rangers won this game, I'd be doing a sigh of relief – while still pointing out the issues.
I know that anyone can beat anyone in this league, but tonight wasn't the night for that.
The Rangers allowed one of the worst teams in the league, a team that had played 24 hours prior, and a team full of strife and drama too; beat them on home ice.
At least the Islanders and Devils usually play the Rangers tough. This was a rare instance where the Flyers did so and the Rangers should be pissed off about that.
I'm aware that I'm putting too much into one loss tonight, but to be in "rah-rah" mode would be disrespectful to you, the reader.
This should've been an easy win. It wasn't. The Rangers now have twelve games to remedy these issues.
PLUGS time!
---
My first plug of tonight's blog – the mandatory plug for my book, "The New York Rangers Rink of Honor and the Rafters of Madison Square Garden".
As mentioned previously, the book is now available in hardcover, in paperback and in Kindle formats. To purchase a copy of the book, visit this link:
https://www.amazon.com/Rangers-Rafters-Madison-Square-Garden-ebook/dp/B09CM5N2WD
For those still looking for signed paperback versions of the book, I have re-ordered more copies. I now have a few signed copies for sale at $25 a pop (includes shipping price) through me directly. Here is all the information on that:
---
Here are my last few blogs, in case you missed them:
---
---
---
If you haven't already, subscribe to this blog for the next update:
---
Up next: Rangers vs Devils this Tuesday night at "The Pebble" in Newark. Maybe they can handle a non-playoff team for once.
As always here, thanks for reading and…
LET'S GO RANGERS!
Sean McCaffrey
BULLSMC@aol.com