"We just looked like a different team tonight, we played with a lot more energy, and pace to our game. I thought it was a true team effort from our goalie to our D to our forwards. Everybody did what they needed to do and obviously this was a huge win for us." – Rangers head coach David Quinn, on 4/9/21, when comparing tonight's 4-1 win over the Islanders to Thursday night's 5-2 loss to the Penguins.
---
"Maybe that could be it, but to me, it's not just the young players when we are inconsistent, it's everybody. I think it's more of a group thing than a young guy thing." – DQ, once again on 4/9/21, when talking about the inconsistency issues surrounding his group.
---
"I do not care to tell you that. [Regarding on who will take the net on Sunday.] I liked a lot about his [Georgiev's] game tonight. I thought Georgie was sharp, like he usually is against the Islanders. It's not easy to sit as long as he has and come out and play the way he did. I really liked his game." – DQ, one more time on 4/9/21, as DQ wouldn't tip his hand on who would be the Rangers starting goaltender on Sunday night. For my money, and as I'll explain later on during this blog, I'd go right back to Georgiev. Igor is the starter, but Georgiev just has the number of these greasy Islander Father Finks!
---
Greetings and salutations everyone and welcome to another blog here on BlueCollarBlueShirts.com. The Rangers took one step forward tonight, but what direction will they go in on Sunday night?
Sorry if I so sound so jaded while beginning tonight's manifesto, because after all, a win over the Islanders is always a great cause for celebration. However, with the way this Rangers season has gone, will it shock anyone if the Rangers lose on Sunday night and then split their upcoming four-game set with the stripped down New Jersey Devils? Sadly, I somewhat expect that to happen.
For now, you can only take one game at a time and live in the moment, and a 4-1 victory over the division leading New York Islanders is as good of a win as any. That said, I'd be lying to you if I said this victory wasn't frustrating.
As the Rangers have done multiple times throughout the course of this season, on Friday night, the Rangers defeated another top team in the division, where after the game, you're left wondering – "why can't these guys play like this all the time?" And replying with "it's the kids" isn't the right answer, because more times than not, it are the fat cats that are not performing to expectations.
While it's impossible to go undefeated during a season, what is possible is to be somewhat consistent. The Rangers have been anything but, as they are one of the most inconsistent teams in all of the NHL, if not the most inconsistent.
With tonight's win, the Rangers jump back into fifth place in the division, but still remain five points away from a playoff berth and with 16 games remaining in this 2021 season. The fourth seed in the division, in the Boston Bruins, still have three games in hand over the Rangers. Even worse, the Bruins still have six games remaining with the Buffalo Sabres. For the Rangers, whose playoff hopes may have already been dashed long ago, they'll need to keep winning in order to have any chance at the playoffs. They can no longer afford to alternate wins and losses with each game played. If there was ever a time for a major winning streak, it's right now.
I don't want to sound like I'm complaining or that I am sore after a loss. Far from it. However, I just want to see this team make it interesting, as we hit these last "Sweet Sixteen" of games here. This "wax on, wax off" Rangers, where they win one and then lose one, needs to come to an end.
There's a lot of good stuff to talk about tonight, away from Alexandar Georgiev. There's also some bad stuff to talk about too. Despite Mika Zibanejad scoring a late empty net goal in this game, once again, he was horrid. You know it's bad when HEEL MICHELETTI has his fangs and claws out right away at the top of a broadcast, as Micheletti did tonight. Even in the final seconds of this game, Micheletti was trashing the Rangers first line of Kreider/Mika/Buchnevich for having another poor showing.
Fortunately, the Rangers didn't need anything out of their first line tonight. Colin Blackwell, for the third time in as many games, which coincides with his promotion to the Rangers second line where he now plays with Ryan Strome and Artemi Panarin; scored again tonight. In fact, Blackwell had the game winning goal tonight.
In something that sent off fireworks around Rangerstown, USA, the reunited Kids Line had another strong game, where after 3-4 whacks at a loose puck in front of Isles goaltender Seymon Varlamov, Alexis Lafreniere cashed in, which put the Rangers on the board first. With Chytil and Kakko assisting on this Lafreniere goal, this was a pure line-wide goal for the Rangers third line.
Vitali Kravtsov, who is still looking for his first NHL point, had another "FABULOUS" game, where you really noticed him on every shift. For a young player that's new to this league, Kravtsov is not shy of contact, getting into dirty areas and even better – he isn't scared of shooting the puck either, which is a problem for a bunch of these Rangers.
"The Praying Mantis" K'Andre Miller had another strong game, as he continued his strong rookie campaign, where he gave the Rangers a huge insurance goal, late in the third period, after a "DOWNTOWN JULIE BROWN" goal.
Jacob Trouba, who hasn't been exactly inspiring this season, picked up an assist on the Miller goal and also finished tonight's affair with a plus/minus stat of +3, which I believe is a season high for him.
If there was anything truly "unfortunate" about tonight's game, even if it's trivial, it's the fact that Fox had his point/assist streak of twelve straight games snapped tonight. However, and really, more importantly, and as you know; not only did the Rangers win this game, but Fox continued to impress behind his own blue-line, as Fox broke up numerous Islander chances throughout this sixty minute contest. Fox may have not logged a point tonight, but he prevented several Islanders of recording points. And really, that's the job of any elite NHL defenseman, which Fox most certainly is.
Last night's blog covered a wide array of topics and news items. In turn, there's not any real news to get into tonight, outside of the line-up. I'll cover the line-up on the other side of this PLUGS segment.
Here are my last few blogs, in case you missed them:
---
---
---
I will say, I was shocked that DQ didn't tinker with his line-up tonight, as DQ usually alters something in his line-up after a loss. With the lines and defensive pairings staying the same, the only thing to note about tonight's lines, was that Kravtsov and Blackwell didn't flip-flop from the second-to-fourth lines as they did on Thursday. And really, this was the right decision. Not only did Blackwell score in this game, but you could see the patch-work Rangers fourth line having a little more pep in their step with Kratvsov there. While Rooney and Howden are usually pretty solid defensively and at the dot too; with Kravtsov on this line, Kravtsov gave this line more offensive zone time. Kravtsov on this line seems to be more valuable than someone like a Phillip Di Giuseppe.
It should also be mentioned, that it looks like Julien Gauthier's minutes and games have been slashed now as well, with the arrival of Kravtsov. It's a tricky slope for DQ to navigate. For as much as people bellyache about Brett Howden, you need Howden and/or Rooney out there, for the PK and to take face-offs. With this roster, where Gauthier should really be on the third line, it's just hard to break through. The career season out of Colin Blackwell just complicates matters, especially since Blackwell is more versatile than Gauthier.
And since it was a topic of discussion last night, the Rangers looked much better tonight than they did on Thursday, that is, except for Mika Zibanejad. As mentioned last night, there's no way of knowing how the vaccine effected these guys. In addition, we don't know who was vaccinated and who wasn't vaccinated. However, if you believed that Mika had a "Corona Hangover" in the first half of the season, then you have to believe that the vaccine has now effected him a bit too. There's just no other explanation to explain his poor play, unless he's on the take and trying to throw games – a scenario that no one would ever buy and nor should they. These refs on the take though? That's a different story!
---
Before jumping into the game recap and review, I have to bring up the ticketing situation for tonight's game. This game wound up selling out and it was a great night for the scalpers. While I understand that the Islanders are good, the rivalry, only 10% capacity and everything else, I was shocked to see a walk-in/get-in price of $200:
If you don't get the porto potty reference, check out my previous blogs about the Nassau Coliseum. In short, due to a tight and lone rotunda, the Coliseum encourages male fans to go outside in-between periods, in order to drain the main vein. In addition, nothing says pure class, then taking a dump, at a dump, inside of a shit and flea infested porto potty! That's the Islander way! It will get even better next season, when you will have the sweet aroma of horse shit lingering in the Belmont air.
GAMBLING segment time.
Here's what I said before the game:
Season over-under record: 17-20-2

Georgiev vs Varly tonight. #nyr usually bounce back after bad games, but I'm still leery about the post vaccine effects.

-5.5 is a perfect line for what feels like a 3-2 game on paper. However I'll go w/the ENG for a 4-2 final & take the OVER. pic.twitter.com/VD4etjMJiO

— BlueCollarBlueShirts (@NYCTheMiC) April 9, 2021
Ugh, I should've trusted my initial instinct and took the under! However, as I always say here, as long as the Rangers win, I don't care if I'm wrong on the over-under! And really if it weren't for the Islanders hitting three posts in this game and Mika absolutely choking on a breakaway, the over would've hit! Coulda, woulda, shoulda! (And yes, that's way too many exclamation points in one paragraph!)
My over-under record now drops to 17-21-2 on the season.
BOX SCORE time.
The following information and graphics come from the new world-wide leader in NHL coverage, in ESPN.com.
SCORING:
PENALTIES: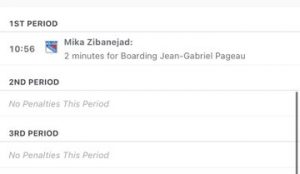 GOALIES:
| | | | | | | | | | | |
| --- | --- | --- | --- | --- | --- | --- | --- | --- | --- | --- |
| SA | GA | SV | SV% | ESSV | PPSV | SHSV | SOSA | SOS | TOI | PIM |
| 35 | 3 | 32 | .914 | 32 | 0 | 0 | 0 | 0 | 56:44 | 0 |
| | | | | | | | | | | |
| --- | --- | --- | --- | --- | --- | --- | --- | --- | --- | --- |
| SA | GA | SV | SV% | ESSV | PPSV | SHSV | SOSA | SOS | TOI | PIM |
| 32 | 1 | 31 | .969 | 31 | 0 | 0 | 0 | 0 | 60:00 | 0 |
TEAM STATS:
---
While there have been many bad MSGN pregame shows this season, tonight's pregame show was easily the worst. If you don't agree with that statement, then at the very least, this one was the strangest.
Where to begin? How about from the start?
After using clips from Ranger/Islander games from three months ago (DeAngelo was playing for the Rangers at that time!) to predict what was going to happen in this game, Vally then explained that Fox is a good hockey player. This was inoffensive, but pedestrian stuff here.
I know I've explained this stuff in-depth in the past before, but this blog/site consistently gets new readers. I just want to say and reiterate here, that I don't care what you do, who you do it with and how you do it. I don't care what you stick into what, what you do in your personal life or anything else. What you do is what you do and no one should ever interfere with that. Whatever you do sexually is none of my business, and as long as it's legal, that doesn't make you lesser than anyone else. Gay, straight, bi, whatever; everyone is all the same and should always be able to do whatever comes natural to them.
That being said, Vally was really pushing the homoerotic overtones on the broadcast, where I wondered if this was a "Pride Night" game. And if you don't find this stuff funny and/or questionable, then you just don't have the same sense of humor as me. As my buddy Danielle aka YELLS would say – "YOUR LOSS!" (And to be clear, I'm not assuming anything about Valiquette, I'm just having fun here and talking about what he said. Feel free to relax and laugh!)
No joke, Vally said Kakko had a "nice trunk" and a "great backside." WTF is this guy talking about? He was talking here, as if he was enjoying a few "Bahama Mama's" at the "Ramrod". After saying these eyebrow raising comments, Vally said he was "checking out Mat Barzal all day." Again, I don't care what anyone does and who they do it with, but all of this commentary just seemed bizarre. I've never heard any broadcaster, analyst or ex-player ever talk about the "trunk" of a player, outside of the Sean Avery book, where Avery commented on Lundqvist's manhood.
I know I've always asked Vally to stop with the ANALytic charts and try to do the eye-test stuff, but if his eye-test leads him to talking about the "trunks" of the players, maybe he should just go back to the charts, graphs and hieroglyphics. I care about what goes down on the ice and not the trunks or the butts of the players. I don't know, maybe Vally is trying to entice more female and male homosexual viewers to watch these games. Again, I have never heard any hockey person on TV talk about the trunk sizes of players before.
Vally's comments were just odd, even odd for him. What happened next was just disgusting.
For some reason, Steve Valiquette was tasked by John Giannone to break down the historic New York Rangers vs New York Islanders rivalry. Out of anyone you could get to talk about this rivalry, including Ryan Callahan, MSGN went to the legendary goalie with the 46 game career. This would be like asking the popcorn vendor at Yankee Stadium to break down the Yankees vs Red Sox rivalry. At least the popcorn vendor was on his feet for those games, rather than sitting on his ass! I'm not making this up – Vally's greatest memory of this feud was watching a fight from the bench.
If anything, if you were going to get a back-up goalie to talk about the Rangers vs Islanders feud, M$GN should've placed a call to Dan Cloutier. At least he's a figure that had a prominent moment in this near 50 year rivalry!
But wait, it gets worse.
I don't want to post a picture of this girl or even use her name, but for Islander and Ranger fans, both fan bases are probably aware of the die-hard Islander fan with the orange and blue lipstick. (Not Valiquette.) In the past, on her Twitter account, she released a video where she was cursing out Sam Rosen and made fun of the CZAR IGOR/Buchnevich car accident.
Listen, I'm no saint, and I get being over-the-top and trying to get a reaction with opinions rooted in the hatred of a rival. After all, I always go over-the-top on this site for laughs. (Need evidence, just read the previous bit!) That said, I doubt the Islanders broadcasters are going to be giving my phone a ring anytime soon either. (And to be clear here, I'm not using this female's name or picture, because it wouldn't be fair to her and she's really not the story here either. And from what I know, she's never said anything negative about me, and I try to treat everyone as how they treat me. Additionally, despite this on-camera appearance, she's not really a public figure.)
In MSGN's never-ending love affair with a Rangers opponent, the final half of this broadcast was pro-Islanders. It was downright hideous and treacherous.
In one SEGMENT (not a commercial) MSGN had a piece on that girl with the orange and blue lipstick and her boyfriend, who is a Rangers fan. No mention of this girl cursing out Rosen or her comments on the car accident from last season. (Again I'm not faulting her for actions/comments, I'm just saying she doesn't belong on a Rangers broadcast. After all, I doubt she pleaded with MSGN to be featured on a Rangers broadcast.)
During this segment, MSGN focused on the cuck boyfriend of this girl. (I keep saying girl because she looks young, but I guess she is a woman. Based on this segment, she looks anywhere from 21-25 years old.) This woman's boyfriend was then shown wearing an Islander jersey, in an attempt to get a slice at the pie. I'm sorry, but a Ranger fan wearing an Islanders jersey? That's sacrilege! That's blasphemous! That's a one-way ticket out of Rangerstown! Even this girl wouldn't dare be caught in Rangers blue!
To add salt in the wound, the MSGN broadcast would feature this couple watching the game from her Islander fan's "woman cave". Put this shit on the Islanders broadcast! Why is this on the Rangers broadcast? And really, if you're over the age of 30, you probably didn't give one damn about any of this, just like the segment from a few games ago, where Vally and Giannone broke down and painstakingly deciphered Keith Kinkaid's emojis. (Of note and even worse – when the Rangers won this game, we didn't get her reaction, after having to suffer through three different segments with her rooting on the Islanders. We didn't get the "happy ending" here!)
To recap, during the official broadcast of the New York Rangers, the Rangers showed some cuck boyfriend tossing away his Rangers jersey, in favor of an Islanders jersey. Ten minutes later, on the same broadcast, as MSGN were showing B-roll of some Ranger and Islander fans going to the Coliseum, Micheletti wondered out loud – "Do you think they get along?" You just Father Finking showed us some traitor giving up his Rangers jersey for an Islanders jersey!
Maybe I'm making too much of this, but this all felt slimy and unwarranted.
To close out the pregame show, John Giannone said Chris Kreider scoring a goal in this game would be "an off the board pick", during the new MSGN gambling segment. That tells you how Kreider's season is going. Right after, Giannone and Vally were pondering about which Islanders would beat Georgiev tonight. So much for Vally giving Georgiev some fraternal love here, and predicting a shut-out.
I HAVE NEVER SEEN A HOMETOWN BROADCAST NOT ONLY ROOT FOR THE OTHER TEAM, BUT SHIT ON THEIR OWN TEAM. I get that not everything is rainbows and lollipops here, but all of this Islander love displayed tonight should've got everyone involved a jail sentence.
Anyway, how about I get into this game now?
---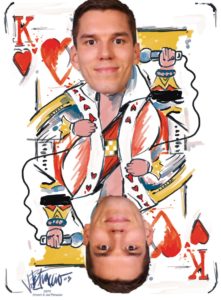 After Micheletti said FABULOUS four times before the puck was even dropped, (I'm not making this up) the Strome line, as opposed to the Mika line, started the game, where Strome promptly lost the opening face-off. This was another bad night for the top two centers of this team at the dot tonight, as Strome won 8 out of 18 face-offs, while Mika won only 5 out of 13 face-offs. It's probably too late in the season now, but it might be a good idea next season to bring in a face-off specialist for these guys.
In the Rangers first possession of the game, Strome and Blackwell went on a two-on-one odd-man rush. Rather than shooting the puck, Strome passed backwards to the trailing Panarin, where the puck was promptly turned over. Micheletti nearly blew a gasket, as like many of us were saying after this play; Micheletti said that Strome should've shot the puck. This would be a common theme for the majority of this game, as the Rangers just kept over-passing themselves to nowhere, rather than putting pucks on net.
I should also note here, that unlike M$G, it looks like the Nassau Coliseum has the entire lower bowl curtained/tarped off. Hell, the old SUV from the Barclay's wasn't even in the lower bowl either. I don't know why M$G and the Coliseum have different approaches here, but it was noticeable.
The Isles had control of this game early, and in turn, Georgiev was tested and aced each test. While the Islanders only had six SOG in this period, each shot was point blank or from Georgiev's paint. In his first test, Georgiev made a save on new Islander Travis Zajac, while screened. Speaking of Zajac and Kyle Palmieri, the two latest ex-Devils to join the Islanders, Sam and Joe must've brought this trade up about ten times tonight. I don't know what was mentioned more during this broadcast – the trade, the fact that Adam Fox grew up in Jericho or the word "FABULOUS".
Adam Fox, who as mentioned, was great defensively tonight, would force a turnover about four minutes into this period, which in turn, he followed up on by logging the first Rangers SOG of the game. With the jerk-off known as Wes McCauley calling this game, a McCauley who took off his Penguins jersey for this game, McCauley ignored a blatant Islander trip on Kevin Rooney. In fact, the Rangers didn't get one power-play in this game. I'd love to see the stats of calls from McCauley during Ranger games.
Vitali Kravtsov, in his first shift, and really, as he's been doing ever since he joined the team; was noticeable right away in this game, as he was putting pucks on net and fighting for pucks on the boards. Kravtsov really is living up to the hype, where you know the goals and points will eventually come. Put it this way, Kravtsov has had a better start to his Rangers career than both Kakko and Lafreniere. That's not a shot at those two, it's just a fact. Kravtsov has also looked better than Lias Andersson, but the less said about Andersson the better.
After Varly made a great stop on Strome, after a pass from Panarin; Georgiev would make two huge saves, including a save on Brock Nelson after a Rangers turnover. This may have been the save of the game, as Nelson was all alone in the slot, ripped a shot and Georgiev smothered it. Not bad for a goalie who hadn't played during the last three weeks.
With the Rangers doing the pass-pass-pass-pass-puck goes to the blue line act, Trouba turned over the puck. Then, at the 9:04 mark of the period, Zibanejad was boxed for boarding the Henrik Lundqvist killer, in a one Jean-Gabriel Pageau. That 2017 second round playoff series still irks me! Of note, this would be the only power-play of the game for either team.
As Sam and Joe did their verbal fellatio act on an opponent, with Brock Nelson having the apple of their eye here, Georgiev and the Rangers got a break when Nick Leddy rang a puck off of the iron, hitting the spot where the post connects with the crossbar. This would be the lone threat of the Islanders power-play.
With Mika now out of the box, this happened:
Mika Zibanejad 😬 pic.twitter.com/RrwI1iS7Tr

— Rob Taub (@RTaub_) April 9, 2021
You can't make this shit up. After missing a wide open net last night, Mika followed up his terrible performance from Thursday by losing the puck on a crystal clear breakaway. First half of the season Mika has returned. Too bad he can't play the Flyers every night of the season. Instead of going up 1-0 after killing an Islander power-play, Mika is now on all the highlight shows for this gaffe. It's been a rough season for Mika, despite the several good games he's had. No joke, with all the chances he's had, Mika could've had a 40 goal season this year.
After Mika's misery, Fox would force another great turnover, breaking up what could've been an Islander odd-man rush.
Chris Kreider, who also received disdain out of HEEL MICHELETTI tonight, would have a chance to score, but crapped out on a rebound. These last two games will soon earn Kreider the nickname of "NO HANDS".
After Sam Rosen plugged the girl who cursed him out on Twitter, Varly made two saves on Panarin. Ultimately, Panarin finished with two assists tonight, but Varly denied all four of Panarin's SOG in this game.
As the horn went off to signal the end of the period, we remained scoreless. In what didn't exactly tell the whole story, the SOG stat read NYR 13 – NYI 6. To me, Georgiev's saves were much more difficult than the workload Varly was tasked with.
---
After our regular comment of "SECOND PERIOD, WHAT DO YOU LOOK FOR HERE JOE?" <A breath mint for you Sam!>, as he did at the top of this game, Strome lost the opening face-off of this period. In perhaps in what was the best scoring chance for the Rangers first line in this game, Kreider put too much on a pass to Buchnevich, but Buchnevich handled it and put a one-handed shot on Varly. This puck almost went in and it would've been something had it went in. Good save for Varly.
In the other end, Brendan Smith made a bad pass for a turnover, which led to a point blank shot for Andy Greene. Georgiev stoned Greene, as he also bailed out Smith here too. You could also see Georgiev's confidence level rising a bit too, as he started coming out of his net more and more to play pucks, which during previous games this season, has come back to bite him in the ass. Georgiev would then stop Barzal on a big one-timer attempt.
In a game where you felt had the Islanders scored first, the Rangers would be doomed, 6:05 into the period, Lafreniere broke the nil-nil tie:
LAFREN1ERE!!!!

First goal of the game goes to Laffy! #NYR pic.twitter.com/VzcCcvWB2V

— Rangers on MSG2 Tonight (@RangersMSGN) April 10, 2021
1-0, GOOD GUYS!
This was a true blue collar/lunch pail/hard-working goal here, as all three members of the Kids Line made a mad dash to Varlamov. At the end of it, Lafreniere cashed in the loose change for a goal. This is what you love to see.
After Georgiev made a clean "child please" glove save on JGP, at the 10:01 mark of the period, Blackwell fought his way to Varly's net, got a puck from Panarin, shook off a defender and buried the puck. 2-0, GOOD GUYS! WOW!
Here's what's great about these two goals, and in no order of importance:
— DQ's line changes worked out, as Blackwell continues to score on the second line.
— The Kid Line scored too, so they are starting to get some momentum.
— After allowing the Penguins to score four goals within two minutes of the Rangers scoring, the Rangers continued to play tight and didn't give up an equalizer immediately after scoring.
With 5:53 to go, Pelech took a shot from the blue line near the side-boards to the right of Georgiev. The puck deflected off of Brock Nelson's stick and went into the net. However, Nelson's stick was above the cross-bar, so NO GOAL! We did have a brief pause for a replay here, but Toronto got this call correct within seconds, allegedly to the chagrin of McCauley.
However, just 46 seconds later, Andy Greene bombed a shot from the blue line, where the puck deflected off of Kravtsov. Despite the deflection taking place from nearly 50 feet out, the puck found a way to make it behind Georgiev. 2-1, good guys. Ass-clenching time again. (And there was plenty of traffic in front of Georgiev here, so I don't think he even saw the puck coming.)
The final minutes of this period was whistle after whistle. It felt like the end of an NBA game here, as you had non-stop whistles and stoppages for icings, offside calls, hand-passes and other slight infractions.
Once we finally got to the end of the period, the Rangers maintained their razor-thin one-goal lead. It was now up to the Rangers to do something that they've had a lot of trouble with this season – "MORTAL KOMBAT" the opposition in a one-goal game and FINISH THEM.
---
Until K'Andre Miller scored at the 11:48 mark of the period, which gave the Rangers their insurance goal, most of this period was nail-biting time.
Just 20 seconds into the period, Clutterbuck hit a post. On the next Isles possession, Lindgren would break up another Isles odd-man rush. Crisis averted.
With the Rangers looking for another goal, Panarin fell down, but still dished the puck to Strome, where Varly then denied Strome. Back on the other end, the Isles made a mad dash to Georgiev's net, similar to the Lafreniere goal, and Georgiev coughed up a rebound. Thankfully, the Rangers got some puck luck here and were able to get the puck out, thus denying the Islanders of tying the game.
As Rangers and Islanders were slipping and sliding all over the place, as a result of the bad ice at the Coliseum, Leo Komarov blatantly tripped Georgiev. No call here. More bad officiating out of McCauley and his crew. Put it this way, if Sam Rosen can see something than these referees should see it too.
With 8:40 left in the period, both Varly and Georgiev continued to rack up saves. Then, with 8:12 remaining, Miller scored:
K'Andre Miller just rocketed this puck.
Wow, just wow 😱🚀 pic.twitter.com/bfD48JAHUb

— Rangers on MSG2 Tonight (@RangersMSGN) April 10, 2021
3-1, GOOD GUYS!
I was waiting for Sam Rosen to say, "OH JOE, I HAVEN'T SEEN A BOMB LIKE THAT SINCE HIROSHIMA!" "WORLD WAR II WAS FABULOUS SAM! DESTROYING THE NAZIS WAS ABSOLUTELY FABULOUS!"
No joke, this rip from K'Andre Miller was powerfully ripped like a booming drunken White Castle fart, and as @njtiob on Twitter said, this shot was just as nasty as that White Castle fart!

Not only did Miller one-time this puck from Trouba with precision and power, Varly didn't have a shot in hell of making the save here. As Micheletti says, no joke, this was FABULOUS!
Up 3-1 and now with under seven minutes to go, Mika had a chance to make this game 4-1, but you know the rest. Really, outside of the Rangers protecting the lead, I was hoping for a point for Fox, but it wasn't meant to be. Leetch's record remains safe for the time being.
The Rangers, to their credit, didn't sit back on this lead either. As we approached the FOXWOODS part of the game, Kravtsov made a great pass to Rooney, but Varly made a good save here to keep the Isles alive.
With 4:33 to go, Lafreniere almost had goal number two, but his goal here was quickly waved off for a high stick. It was the right call. A minute later, the Islanders hit iron again, for the third time in this game. For Georgiev, he may owe his iron a steak dinner, as he got three helpers from the iron tonight. That said, these shots hit iron because Georgiev was in the right position and the Islanders were forced to try to pick corners.
With 3:14 to go, Isles coach Barry Trotz pulled Varlamov for the extra attacker. The Isles pressed the issue for about two minutes here, with Mika Zibanejad of all people, getting the empty net goal as the result of flipping the puck up from behind the Rangers blue line and with the puck somehow finding the empty net. 4-1, good guys.
I mean go figure, Mika couldn't hit an empty net from two feet away last night and lost the puck on a breakaway tonight. In turn, Mika scores a near 180′ goal off of a simple flip/clear. That's hockey Suzyn.
As the final horn went off, we remained 4-1, GOOD GUYS, and a big win for the Rangers. Now follow up on it.
---