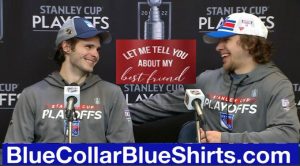 Greetings and salutations everyone and welcome to another blog here on BlueCollarBlueShirts.com. A quick off-day blog, as the Rangers get set to do battle in Pittsburgh on Saturday night.
On Friday morning, and prior to the Rangers' mid-afternoon flight to the Steel City; the team reconvened at the team's practice facility. While some of the regulars took the day off for rest (with Chris Kreider, Adam Fox and Ryan Strome being the most notable names), we did receive some good news – CZAR IGOR, and as both he and the head coach expected, was 100% fine and healthy.
(The quick and dirty on CZAR IGOR? He'll be in net on Saturday night. Amen.)
The same can't be said about the current state of the Penguin goaltenders, something I'll get into soon enough tonight, as I just want to stay on the Rangers for now.
As it's always going to be at this time of the year; the Rangers, just like any other playoff team, also have their fair share of injuries. Currently, the latest big injury is the one that Barclay Goodrow received during Game One.
Gallant, nor the team, will officially comment on the injury outside of saying the three often used words of "lower body injury." However, it's being reported that Goodrow broke his left ankle while blocking a shot during the second period of Game One.
It should be reiterated here – while it's suspected that Goodrow broke his ankle, that news isn't 100% confirmed either – at least not yet at the time of this writing.
As talked about last night, it's also thought that Goodrow just played through the pain, but once taking his foot out of his skate after playing on it for four more periods, the ankle blew up as a result of swelling. HOCKEY PLAYER.
---
After the practice, Gerard Gallant spoke to the media where he addressed several topics.
(Of note: I usually share Gallant's full press conferences with you here, but the team's official YouTube account uploaded the wrong video, and has yet to rectify their error. However, SNY did upload a few clips of the presser.)
When it comes to Goodrow, while Gallant wouldn't talk specifically about what the injury was, the head coach repeated what he said after Game Two – Goodrow is now "week-to-week."
"The Turk" also added that Goodrow isn't expected back for this series, but didn't rule him out should when the Rangers continue into the latter rounds.
Without knowing what Goodrow's injury is with 100% certainty; it's tough to speculate on how long he will be out for. For what it's worth, we've seen Ryan McDonagh play in the past with an injury similar to this one (should these reports about a broken ankle be true).
In addition, Goodrow is a tough guy, so for anyone trying to sell you the "HE'S DONE FOR THE SEASON, OMG" stuff –  I wouldn't put my eggs in that basket.
Obviously, losing Goodrow is a big loss for the Rangers. There's no way to sugar coat this, outside of saying that the team has done a tremendous job embracing their "NEXT MAN UP" mentality throughout this 2021-22 campaign. For Dryden Hunt, it's now his time to shine.
(And for general manager Chris Drury? This is why he loaded up on depth players, for situations just like these.)
As perhaps the most versatile player on the team, and Gallant's favorite "Swiss Army Knife" too – #21 is the only player on the team that has won a Stanley Cup. His experience is invaluable.
For what it's worth, Goodrow remains with the team and was at the practice facility on Friday. (I can't confirm, nor have I seen any reports if Goodrow flew to Pittsburgh on Friday – but if he's able, I suspect that he would, just for morale support.)
Jacob Trouba, another alternate captain just like Goodrow, talked about his teammate after his light skate:
---
Trouba, while understanding what the loss of Goodrow means for his team, said what the Rangers and Gallant have been saying all season whenever an injury pops up – "NEXT MAN UP."
When it comes to the other injuries surrounding the team, Ryan Lindgren didn't skate on Friday. He still remains "day-to-day" and will be a game-time decision on Saturday.
In brighter news, Tyler Motte is back on the ice, as he is currently skating and working on his conditioning.
Gallant, as he's now recently said twice before, teased the possibility of Motte re-joining the line-up during this first round series with Pittsburgh.
While Motte's return remains to be seen; needless to say – his return will help the Rangers, especially with Goodrow now out for a period of time.
As far as anything else from the world of Rangerstown, USA – it's what you'd expect.
Gallant (and just like his players), knows that the team has to be better in containing the Rust/Crosby/Guentzel line, where that line, the Penguins' top line, has provided nearly 100% of all Pittsburgh goals scored during these first two games.
(Evgeni Malkin is the only non-first line Penguin to score a goal in these two games between these rivals; but the less said about that triple overtime deflection goal the better!)
The relationship between Gallant and Alexis Lafreniere, which is a topic that the NYR beat reporters have had a torrid love affair with all season long, was brought up for the 78966787896879678968th time this season, where the head coach stated that he talked to the 2020 first overall pick and praised him for the way he's been playing.
So much for all of the silly "GALLANT HATES LAFRENIERE" nonsense!
As stated during last night's blog (linked below), for the Rangers, they just have to keep on doing what they've been doing, while also trying to limit the production out of the Pens' top line.
And perhaps for as dramatic as this may seem – the Rangers have NO EXCUSES come Saturday night. Let me explain.
---
Let me repeat what I said earlier – EVERY team has injury issues at this time of the year.
While the Rangers have their own issues with Goodrow, Motte and Lindgren; their issues don't compare to what's currently going on in Pittsburgh.
Here's Pens' bench boss, Mike Sullivan, talking about his wounded ice birds, during a press conference conducted on Friday morning:
You've heard the news about Casey DeSmith's core muscle surgery, here's everything Coach Sullivan had to say ahead of Game 3 ⬇️ pic.twitter.com/feFb0zM7kO

— Pittsburgh Penguins (@penguins) May 6, 2022
---
For new readers, let me be clear before continuing – you can't root for injuries – but you can take advantage of them.
Going into this series, the biggest advantage the Rangers had/have over the Penguins was at the goaltending position.
With Pens' starter Tristan Jarry out with a broken foot, the Rangers' advantage in this area widened. Now, the disparity at this position has grown even more so.
M$GN resident ANALyst, Sieve Vagistat, who mocked Game One starter Craig DeSmith for cramping up on Tuesday night – the man of the most legendary career of 46 games ever played now owes DeSmith an apology.
Turns out, DeSmith required core muscle surgery. He's now received it. His season is now done.
In other words, Louie Domingue will return to the Penguins' net on Saturday. Worse than that for the black-and-yellow? Tristan Jarry is still rehabbing and hasn't skated since going down.
In other words, the Penguins are now down to their third and fourth string goalies for the immediate future.
The Rangers must make the Penguins pay. They can't allow Domingue, despite what his box score from Thursday night may read, to have another strong game in net.
If that wasn't enough bad news for Pittsburgh, they may still be without "Rakell, Rakell The Musical," Doumolin and Zucker for Game Three.
On Friday, Sullivan said all three were questionable and would be game-time decisions. And even if they should return – they won't be at 100% health.
---
Every Stanley Cup champion receives luck and a few breaks along the way. The Penguins got their breaks during Game One,  when they "allegedly" paid off the officials. And yes I'm joking about the payoff, but the fact remains – the officials tilted that game.
For the Rangers, they can't squander this opportunity afforded to them during Game Three. They have the best goalie in the league going head-to-head with an AHL starter; but at the same time – you don't want to see CZAR IGOR maintain his 59 saves per game average either. The Rangers have to make it a bit easier on their Vezina winner.
Just like the Penguins' top stars, it's up to the Rangers' stars to shine too.
While Panarin is putting up the points, he will also need to limit his turnovers, turnovers that have turned into Penguin goals.
You'd also like to see Mika Zibanejad get going too. If Zibanejad can match Crosby's production, the series should be a cakewalk for the Rangers. And yep – that's much easier said than done.
And wow, we're done! I told you this would be short tonight! LGR!
PLUGS TIME!
---
My first plug of tonight's blog – the mandatory plug for my book, "The New York Rangers Rink of Honor and the Rafters of Madison Square Garden".
As mentioned previously, the book is now available in hardcover, in paperback and in Kindle formats. To purchase a copy of the book, visit this link:
https://www.amazon.com/Rangers-Rafters-Madison-Square-Garden-ebook/dp/B09CM5N2WD
For those still looking for signed paperback versions of the book, I have re-ordered more copies. I now have a few signed copies for sale at $25 a pop (includes shipping price) through me directly. Here is all the information on that:
---
Here are my last few blogs, in case you missed them:
---
---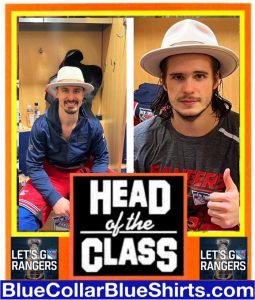 ---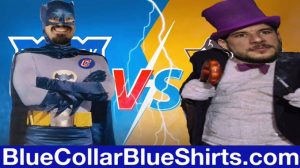 ---
If you haven't already, subscribe to this blog for the next update:
---
Up next: Saturday night, Rangers vs Penguins Game 3.
I may go out for this game, which for the people who follow my "live tweeting" of these games – there may not be any of that if I do go out. I'll still get a blog up though – even if I have to write it with one eye open!
As always here, thanks for reading and…
LET'S GO RANGERS!
Sean McCaffrey
BULLSMC@aol.com