Greetings and salutations everyone and welcome to another blog here on BlueCollarBlueShirts.com. After writing my longest blog ever, which was the last time I wrote to you, I promise this blog will be much shorter. With my last blog being mostly about the history and the alumni of the New York Rangers; in tonight's blog, we'll be looking at everything going on currently, with both the NHL and the New York Rangers.
Speaking of my last blog (what a segue way!) here's that blog, and my most recent writings, linked below:
---
---
---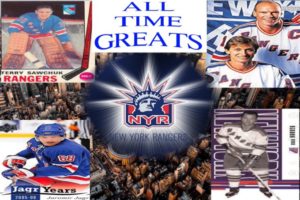 ---
---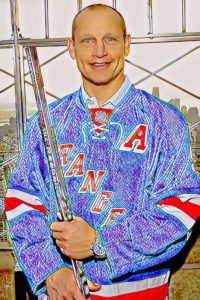 ---
Before getting into the longer press release that the Rangers sent out, in regards to signing Tyler Wall, here's a picture of the Rangers sixth round draft pick, of the 2016 NHL Draft:
I have to say this – unless something major happens to CZAR IGOR or Alexandar Georgiev, I don't see Tyler Wall playing a regular season game at Madison $quare Garden. After all, in a "everything-goes-right" world, CZAR IGOR should dominate the pipes for the Rangers in the years to come. If Georgiev continues to play well, perhaps he might want to branch out from his back-up role and chase a starter's job elsewhere in the league. In that scenario, maybe that's how Wall gets to wear his #33 jersey inside of M$G. Of course, this is all hypothetical stuff, including the assumption of Tyler Wall flourishing for the Hartford Wolfpack.
While I'm rooting for CZAR IGOR & "The King of Kings" Alexandar Georgiev to continue to exceed expectations, let's face it – Tyler Wall has the best name in the history of goaltenders. Just think of all the marketing you could do with Wall's name. After that, think about all the cha-ching you can make if Wall actually plays great. Whether it's the stupid Pink Floyd knockoff picture I used in tonight's blog or about 78967869789 other ideas you can come up with Wall's surname; for a marketing department, an All-Star Tyler Wall is a dream project.
This all said, if Wall should play well, I have another marketing idea for Wall, which has nothing to do with his last name. That nickname? How about "MMMSTOP"!?!?
Have no clue what I'm talking about here, in regards to "MMMSTOP"? I'm referring to the creepy trio of brothers named "Hanson" and their "MMMBOP" single, which was all the rage of the pop music charts in the year 1997. Need a reminder or a clue of what I'm talking about? I'm talking about these guys:
I must mention, as I write these words, we're in week nine of the quarantine and I may be a little stir-crazy.
My idiotic tangent on the brothers Hanson aside, here's the full press release that the Rangers posted on their NYRangers.com website, after making the Wall signing official:
The New York Rangers announced today that the team has agreed to terms with goaltender Tyler Wall on an entry-level contract. Wall's contract begins at the start of the 2020-21 season.

Wall, 22, appeared in 32 games with UMass Lowell this season, posting an 18-8-6 record, along with a 2.10 GAA, a .931 SV%, and two shutouts. He was named to the Hockey East Third All-Star Team this season. Wall appeared/started in 32 of UMass Lowell's 34 games in 2019-20, and he earned all of the team's wins during the season. He established a collegiate career-best in SV% this season, and he was tied for ninth in the NCAA in SV% in 2019-20. In addition, Wall ranked eighth in the NCAA in saves in 2019-20 (924), and his 336 saves in either the third period or overtime were the third-most in the NCAA during the season. Wall allowed two goals or fewer in 22 of his 32 appearances this season, including one goal or fewer in eight different appearances. He was named the Hockey East Defensive Player of the Week on six different occasions this season. Wall also served as an alternate captain in 2019-20, becoming the first UMass Lowell goaltender to wear either a 'C' or an 'A' on his jersey since Dwayne Roloson in 1993-94.
The 6-3, 214-pounder appeared in 103 career collegiate games over four seasons (2016-17 – 2019-20) with UMass Lowell, posting a 58-34-10 record, along with a 2.28 GAA, a .918 SV%, and nine shutouts. Wall's 58 career wins with UMass Lowell are the most by a goaltender since the school began playing in Division 1, and he broke Dwayne Roloson's record of 51 wins during the 2019-20 season. He established collegiate career-bests in appearances (37), wins (26), and GAA (2.06) as a freshman in 2016-17, and he established a UMass Lowell record for wins by a rookie goaltender (he broke the record previously held by Connor Hellebuyck). Wall also helped UMass Lowell win the Hockey East Championship in 2016-17, and he was named to the Hockey East All-Tournament Team. He posted a 2.10 GAA or better in three of his four collegiate seasons.

The Leamington, Ontario native was selected by the Rangers in the sixth round, 174th overall, of the 2016 NHL Entry Draft.
---
As far as Tyler Wall goes, you have to look at this whole corona virus thing first. As mentioned 767867896 times last blog, NO ONE KNOWS what will happen with the remainder of this 2019-2020 season, the 2020 playoffs and when the 2020-2021 season will begin. Obviously, the NHL would like to have their 2020 playoffs and have a complete 2020-2021 season. However, that might not be reality. If the NHL is to have their playoffs this year, even with games going into the summer time, that may delay the start of the 2020-2021 season and how teams conduct business.
One thing that may be lost as a direct result of the corona virus, is the Traverse City Tournament, a tournament where teams feature their prospects, recent signings and players about to embark on their rookie season. Just last year, we saw guys like Kaapo Kakko, Igor Shestyorkin, Adam Fox, Adam Huska & others all compete. (Check the archives of this blog, located on the right hand side of this side, for my game recaps from that time.)
In an ideal world, where everything is normal again, you'd have to figure Tyler Wall would get his feet wet at the Traverse City Tournament. From there, and assuming the Rangers move on from Henrik Lundqvist, with a rumored amnesty buy-out, that would leave the Rangers with CZAR IGOR & Georgiev as their top goaltender duo for the 2020-2021 season. That would also leave the Rangers with Tyler Wall and Adam Huska, as their goaltender duo for their AHL affiliate in Hartford.
The wild card in all of this, would be J.F. Berube, who the Rangers acquired in February of 2020. Berube will be an unrestricted free agent, whenever this 2019-2020 season concludes. However, at a cheap salary cap hit (Berube is making $700,000 this season and it's not like teams are knocking down his door right now) it would be in the Rangers best interest to retain Berube.
If the Rangers are able to retain Berube, you could start Wall in the Rangers ECHL affiliate, in the Maine Mariners. You could even put Huska there, as the Rangers did this season for stints at a time. You could also put Berube there as well.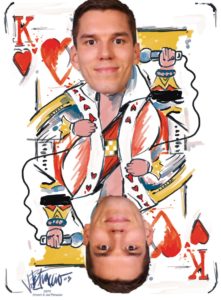 I'll get into Henrik Lundqvist in a little bit, but in no way, shape or form, do I see Henrik Lundqvist as a New York Ranger during the 2020-2021 season. He will either be an amnesty buy-out or a full buy-out. In my opinion, I think the Rangers have finally accepted it's time to move on from Henrik Lundqvist, even if their decision comes five years too late. (Again, in my opinion.)
Going into next season, the 2020-2021 season, that leaves CZAR IGOR, Georgiev, Huska and Wall, as your goalies who are currently signed by the organization. As mentioned, the Rangers should retain Berube and do whatever they have to do to fill out the Maine Mariners. (Tom McCollum is currently there.)
If the Traverse City Tournament is to be played, that is where you'll see Wall as a Rangers property for the first time. If he doesn't play there, and the NHL does host preseason games for the 2020-2021 season, that is where you're most likely to see Wall play for the first time. Again, I'm speculating with all of this, but using history as a guide here, I'd imagine you'd see Georgiev & Shestyorkin play 30 minutes or so, in their first preseason games. In the final thirty minutes of those games, that's where you'll see Huska and Wall.
Of course, I must mention that Georgiev will be a restricted free agent, come the conclusion of this 2019-2020 season. However, I see the Rangers easily qualifying him, thus retaining Georgiev. After all, the Rangers could've traded Georgiev for a return this year and didn't. And of course, you had the never ending circus show around Henrik Lundqvist this season. The Rangers didn't endure all of that, just to move on from Georgiev this summer. Could Georgiev be traded down the line, especially if Georgiev wants a starter's job one day? Sure, that's an option, but as far as the immediate future goes, I see the Rangers and Georgiev coming together quickly on a new contract, come this summer.
With Igor & Georgiev as your 1-2 of goaltending, that leaves Wall competing for the starters job in Hartford, a job where Huska will look to fight for as well. If Berube is retained, he will be fighting for that job. However, at the end of the day, the Rangers should go with the young homegrown talent as the starter, and with Berube backing up. With Wall being the youngest of the three, he may get the short end of the stick, and start off in Maine, in the ECHL. One more time, I'm just speculating and giving my opinion here. This is all hypothetical and not concrete facts.
Wherever Wall goes, his signing will not effect the upcoming Seattle expansion draft, not one iota. In case you've been living under a rock, what I'm referring to here is what goaltender the Rangers expose to Seattle, come 2021.
Let's now talk about that, as I've seen people go insanely bat-shit wrong, in regards to this topic.
I feel like I've talked about this topic to death on these blogs, and to be fair, I've seen other bloggers and podcasters do the same. However, for whatever reason, these blogs and podcasts fall on deaf ears and blind eyes, as most Ranger fans enjoy subscribing to the "SKY IS FALLING OMG AAAAAAAAAH!" way of life.
Let's get this out in the open first, in regards to the NHL 2021 Seattle Expansion Draft – IGOR SHESTYORKIN IS EXEMPT FROM THIS DRAFT. Ditto Wall, ditto Huska.
While it is my opinion that the Rangers move on from Henrik Lundqvist, prior to the 2020-2021 season, in the event the Rangers allow Lundqvist to play out the final year of his contract in New York, whatever happens, the bottom line is this – Henrik Lundqvist's contract expires before the Seattle expansion draft takes place. In other words, Lundqvist is a non-factor for that expansion draft. He will no longer be Rangers property and for these delusional fools who think the Rangers may re-sign him, the Rangers aren't going to re-sign him, just to leave him unprotected in that expansion draft.
As it stands right now, Alexandar Georgiev is the only Rangers goalie eligible to be exposed. However, if the Rangers are to retain Berube, or go out and sign another cheap veteran, the Rangers would then be able to protect Georgiev and expose Berube or whoever that veteran may be.
In other words, this is all common sense. Igor and the rest of these new faces in net, in Tyler Wall & Adam Huska, are exempt. They have no bearing on the expansion draft.
The only goalie the Rangers have to worry about here is Alexandar Georgiev. However, as just outlined, once the Rangers re-sign Berube or sign another veteran at a low-level cost, the Rangers could then protect Georgiev. This is easy as 1-2-3, which is why it baffles me, when Ranger fans think that Igor or Georgiev's future will be effected by the Seattle expansion draft.
And to break this down even more, this also means that this Tyler Wall signing, doesn't mean one thing, in regards to the expansion draft.
Whew! Let me get off my soap box here and go on to the next topic of tonight's blog!
---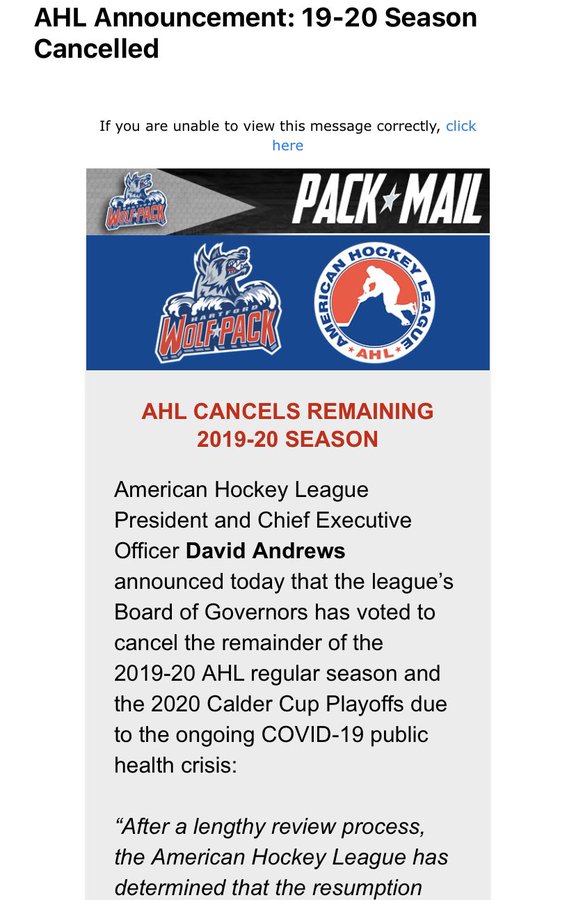 On May 11th, the AHL finally confirmed the rumors that were swirling around for the last two weeks – they are now officially closing up shop on the 2019-2020 season. Furthermore, there will be no Calder Cup playoffs this year. For the first time since 1937, the Calder Cup won't be awarded. Kind of makes you think. For as advanced as we think we are as a society, a pandemic is becoming a streak-killer, not only in life, but in the wide-world of sports. 100 years from now, people will be laughing about a silly virus knocking the entire world for a loop.
For the sake of posterity, here's what the AHL wrote on the website, courtesy of: https://theahl.com/ahl-cancels-remainder-of-season
SPRINGFIELD, Mass. … American Hockey League President and Chief Executive Officer David Andrews announced today that the league's Board of Governors has voted to cancel the remainder of the 2019-20 AHL regular season and the 2020 Calder Cup Playoffs due to the ongoing COVID-19 public health crisis:

"After a lengthy review process, the American Hockey League has determined that the resumption and completion of the 2019-20 season is not feasible in light of current conditions.

The League's operational focus has turned toward actively preparing for the 2020-21 season.

We are very grateful to the National Hockey League and its teams for their support and leadership in navigating through the challenges faced over the past two months.

The AHL continues to place paramount importance on the health and safety of our players, officials, staff and fans and all of their families, and we all look forward to returning to our arenas in 2020-21."

The AHL's standings – sorted by points percentage – and statistics as of March 12, 2020, are considered final and official, and will serve as the basis for determining league awards for the 2019-20 season.
Following this announcement, AHL President Dave Andrews tweeted out the following:
A letter from AHL President and CEO Dave Andrews to our fans. pic.twitter.com/2iYmlD2icU

— AHL (@TheAHL) May 11, 2020
When it comes to the AHL canceling their season, I pretty much figured this had to happen. Similar to what I've been writing all along, in regards to the corona virus and the NHL, it makes no sense to increase the amount of hockey games that need to be played.
As I've said, even as recent as last blog, it makes no sense for the NHL bottom feeder teams of the 2019-2020 season, such as the Red Wings, the Devils, the Senators, the Kings and whoever else, to play games. Why risk the health of these players, the staffs, the building people and anyone else associated with these franchises, to just play meaningless or "spoiler" games? As outlined last blog, it's also why I don't have a problem with the NHL draft occurring before the NHL playoffs, should the NHL playoffs be played.
That all said, I do see a reason for the NHL to have their playoffs, under an expanded format. Whether these games will be played in front of no fans or not, it doesn't matter to me. Like every other business impacted by "this shit", aka the corona virus, the NHL is a business. While the NHL relies on gate receipts/live attendance for the bulk of their profits, to a lesser extent, they also rely on television and advertising money. (Unfortunately for the NHL, they rely on live attendance money more than any of the other sports leagues & UFC in America today. That is why they need to have the Stanley Cup playoffs, only if to recoup some of their losses from this season.)
Unlike the NHL, the AHL doesn't have major TV contracts. Running AHL games or having a Calder Cup Tournament would be a money loser. Right there, that is your number 1 reason on why the AHL won't crown a Calder Cup champion this season – all of those games would put the AHL into a bigger financial hole than they already are in.  Yes, there is the health risk to consider too, but at the end of the day, each Calder Cup Tournament game would dig a deeper hole for the league, financially. With no real TV or streaming money coming in, economically, it makes no sense for the AHL to continue, hence why they ceased operations on their 2019-2020 season.
While there is no TV, streaming or big advertising money coming from AHL games, for the NHL, despite their ratio not being as big as the other leagues across North America, the NHL does have money coming in from TV, streaming and advertisers. Of course, while playing games in front of empty arenas isn't ideal, it would allow money to trickle into the league. I think there is also a sense of pride to consider here too.
Just over 100 years ago, in 1919, the Stanley Cup playoffs were halted and eventually canceled, due to the Spanish Flu. Say what you want here, but it would kind of make us, and the NHL, all look primitive, in the event that the NHL couldn't host their Stanley Cup playoffs, here in 2020. (Again, I wonder how historians, in a 100 years from now, will look at all of this?)
Without question, Gary Bettman is the worst commissioner in all of sports history. He has seen three lockouts under his reign, with one of the lockouts suspending a complete season of play, with no Stanley Cup champion awarded in 2005. Of course, Major League Baseball had a similar incident in 1994, but does Bettman want to be known as the only commissioner in sports history, to not have a champion crowned in two different seasons?
While you couldn't blame Bettman if a Stanley Cup Champion isn't awarded in 2020, you have to think, that financially, his legacy and for the league as a whole, he wants to have a Stanley Cup awarded in 2020, no matter how it gets done.
Whereas it would hurt the AHL's finances to run Calder Cup games, it wouldn't hurt the NHL to have a Stanley Cup tournament in 2020. If we learned anything from this past weekend's "UFC 249" event or "The Last Dance" Michael Jordan documentary on ESPN right now, Americans want their sports. Both "UFC 249" and "The Last Dance" have pulled in record ratings for ESPN. If hockey is able to return, people would want it to come back and who knows, may watch the Stanley Cup playoffs in record numbers.
Again, this is all business. Canceling the 2020 Stanley Cup tournament would wreak havoc on the NHL's finances. By having the playoffs, the NHL can make some money back. Not only would they get their TV money and advertising bucks, it would also open the NHL up to other revenue streams, such as merchandising (Fanatics deal), gambling (Fan Duel/Draft King sponsorships) and other sources of money trickling in.
Long story short here, that is why I believe, and not to be a braggard here, but KNOW, that this AHL cancellation has nothing to do with whatever the NHL chooses to do.
---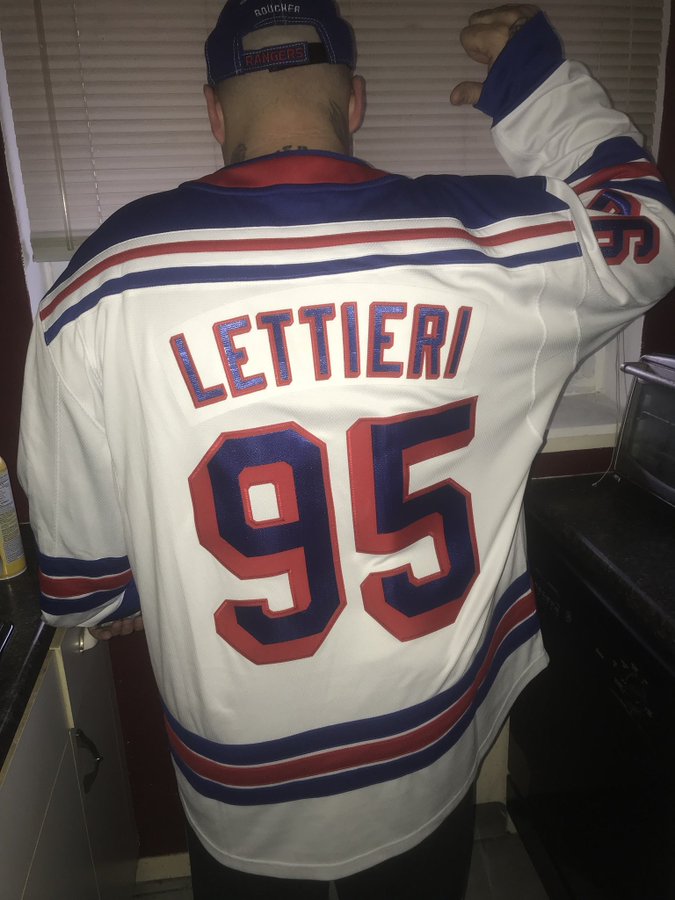 Just one more thing, in regards to the AHL shutting down. This obviously sucks for AHL players, especially players looking to make a mark in the Calder Cup playoffs, in an attempt to increase their worth with their respective franchises.
That said, and again, this is all speculation here, if the NHL is to have their Stanley Cup playoffs, maybe the NHL would increase the playoff rosters of each team. While I don't have a hypothetical number to throw out at you here, say the NHL allows teams to carry ten extra players. That would allow playoff teams to carry several of their AHLers, for a proposed mini-training camp and for practice. It would also allow these teams to have players ready to play, in the event someone gets hurt in the playoffs.
Of course, this would suck for AHL players who play for non-NHL playoff teams, especially AHL players who would've qualified for the AHL Calder Cup. However, this would benefit AHL players, part of NHL playoff teams. And I'm not worried about salary cap implications here, because I think both the NHL & the NHLPA will come to a quick agreement, about player contracts here. Both sides want to play.
Switching gears here, but in related news, the NHL also announced this week that they are canceling all international games. You can find the full story here: https://www.nhl.com/news/nhl-postpones-2020-international-games/c-316857610
Here's the quick story, courtesy of NHL.com:
NEW YORK/TORONTO — The National Hockey League and National Hockey League Players' Association today announced the postponement of its 2020 international games.
The NHLPA and the NHL remain committed to maintaining and growing our international presence. We hope that our fans overseas understand the need to postpone the 2020 games, but we look forward to being back with them in 2021.
Fans can sign up for the latest updates including future ticket details at NHL.com/Events.
I don't think this news will surprise anyone. After all, the IIHF already canceled their annual Worlds' Tournament. I have nothing to really add here, aside that it just sucks for the players looking to gain experience or add a gold medal to their resume. However, in the grand scheme of things, this is truly a minor acceptance of what's going on right now.
---
On Monday May 11th, the Rangers, following what other NHL teams have already done, (the Devils being one of the first teams to do this) finally started offering ticket refunds, for the remaining games left at M$G, during the 2019-2020 NHL season. In the case of the Rangers, they had five regular season games remaining at M$G, prior to the corona virus bullshit.
Each NY Ranger season ticket subscriber got a personal email, outlining their situation, in terms of a dollar amount, in regards to their refund.
Furthermore, in that same email, if season ticket subscribers renewed for the 2020-2021 season, they were offered three different "prizes". Those prizes are, in no particular order, a $150 food & beverage credit (in other words, a pretzel and half a beer at M$G), a $150 M$G Store Gift Card (a t-shirt and a puck with Kevin Shattenkirk's face on it) or an autographed stick, a stick most likely to be signed by EMERSON "FATHER FINKIN'" ETEM.
Not for nothing, for what the Rangers charge for season tickets, these gifts are pretty underwhelming, especially compared to what other franchises give/are giving to their season ticket holders. The Rangers should be throwing a party for these people who pay insane prices, for 44 games, with three preseason games being included into the season ticket subscriber package. For what the Rangers charge, they should roll out the 1994 team out for their season ticket holders, in a meet & greet session, allow these fans to walk Panarin's dog and be allowed to kick Glen Sather in his ballbag. These fans should also be allowed to fire Steve Valiquette and bring Ron Duguay back!
Moving forward here, I wonder how much Ranger season tickets will really be worth, moving forward? As mentioned a few blogs ago, I think the NHL's biggest problem during this corona virus, isn't the status of the 2020 playoffs; it's about the 2020-2021 season.
Again, I've talked about this stuff in-detail already, but whenever the 2020-2021 season begins, that season will most likely start in the aftermath or in the final embers of the corona virus. We already have something like 5 million people in NY, DOCUMENTED, that are receiving unemployment benefits right now.
While the topic of unemployment is something for someone else to write, in short, many NYers are having trouble filing unemployment and for the people who work off the books, such as bartenders, waiters, day-laborers, etc; they are ineligible to file for unemployment anyway. In other words, there are easily more than 5 million New Yorkers unemployed right now.
Obviously, people are having their bank accounts drained right now. Another thing to look at, is  that while some people will be right out the door, the second all of these quarantine & lockdowns mandates are lifted, there will be a large majority of the North American population, that won't be so quick to return to mass public gatherings. The NHL can do whatever they want, say whatever they want and test people at the door, but at the same time, there will be a ton of people who will stay in and watch the games at home.
And let's face it – before the corona virus horseshit, the Rangers had already ran off a large percentage of their hardcore fans. For a family of four, a night at M$G is a $1000+ a night experience. Someone like me, a single guy with no kids, it still runs me $200+ to attend a Rangers game, between the ticket, the LIRR and my self-indulgence via my penchant and enjoyment of alcohol consumption, which occurs prior, during and after the game! Fortunately for me, I have disposable income dedicated to attending Ranger games, where many others, such as parents, do not.
In the last two years, M$G has not been sold out, which yes, is partly due to the team not being good and in a rebuilding phase. However, even prior to "THE LETTER", the Rangers were already running "All For One" ticket deals. As mentioned in my "Stubhub Trick" blog, it's much easier and more affordable to attend games by sniping tickets at the last second, rather than paying full face value for games.
While we can't 100% know what will happen until it happens, it is my belief, that come next season, even if the Rangers are a playoff team (as they should be) it will be easier to get Ranger tickets than years before. I don't think the pool of people interested in tickets will be as big. I know just from talking to people, whether it be family, people on social media or you, my readers, that some of you are 100% out, in regards to attending a Rangers game next season.
When you factor in the trends, prior to the corona virus and what will be the aftermath of the corona virus, I can't see any value of being a season ticket holder right now, unless you're my good buddy @FIXXSER aka Greg R., who already has a sweet grandfather deal. While I can see fans like Greg, who have grandfather deals/price caps on their tickets, I don't see a huge uptick in new season ticket subscribers, come 2020-2021. Just my two cents here.
---
If you google "Sweden and corona virus", there are a ton of articles out there, from both left wing, neutral and right wing news organizations, all condemning Sweden for their loose regulations on the corona virus. As an example, here's one of them: https://www.newsweek.com/sweden-coronavirus-deaths-children-lockdown-1502548
In short, the country of Sweden hasn't really given a flying Father Fink about the corona virus. This has been a topic around NHL circles, as while American, Canadian, Russian and other players haven't been able to practice/get rink time during all of this, Swedish players, including Henrik Lundqvist himself, is on the ice. It is the belief of the NHL and prominent NHL reporters, that while you can't criticize Swedish players during this time; you have to acknowledge that they are getting a leg-up on their non-Swedish counterparts.
In fact, the Frolunda Indians, Lundqvist's home team in Sweden and the team where his brother Joel is the captain of, tweeted this out, on Monday, May 11th:
Åtminstone ett… pic.twitter.com/cdZMHBzioU

— Frölunda Indians (@frolunda_hc) May 11, 2020
Of note, it's hilarious that Frolunda posted a video of Lundqvist getting beat one-on-one! He didn't have to leave America to do that!
While non-Swedish NHLer's are chomping at the bit to get on the ice, it is Henrik Lundqvist and other Swedish players, who are getting their reps and ice time in. In fact, the Frolunda Indians don't give a crap about this corona virus at all, posting multiple pictures of Henrik Lundqvist on their ice:
Gästspel av @HLundqvist30 på dagens isträning! Alltid lika trevligt.

— Frölunda Indians (@frolunda_hc) May 11, 2020
I will say this – I don't blame Lundqvist here. With the way he's been playing, he needs all the practice he can get. However, I do understand the NHL's concern, about Swedish players having an advantage here. However, that's not the fault of these Swedish players. What do you want them to do? Play X-Box tournaments? Do the Tik-Tok thing?
Over the weekend, the Swedish website, AftonBladet.se had a Lundqvist story up. You can read the story, in Swedish, here:
https://www.aftonbladet.se/sportbladet/hockey/a/0ndOGE/det-ar-ovisst-pa-sa-manga-plan-for-tillfallet
In short, in the interview, it was made known that Lundqvist is practicing, with his brother Joel and the rest of the Frolunda Indians.
Lundqvist also reiterated two things he's said in previous interviews, with both the Swedish and American press. Lundqvist wants to "live in the present" and will eventually discuss his future with the Rangers, once the 2019-2020 season concludes.
Lundqvist also added, that he hasn't closed any doors about ever playing again in Sweden, but did mention that he's still under contract with the New York Rangers. As far as his future and perhaps playing in Sweden again, Lundqvist said he plans on honoring his contract with the Rangers and that is his immediate plan for the future.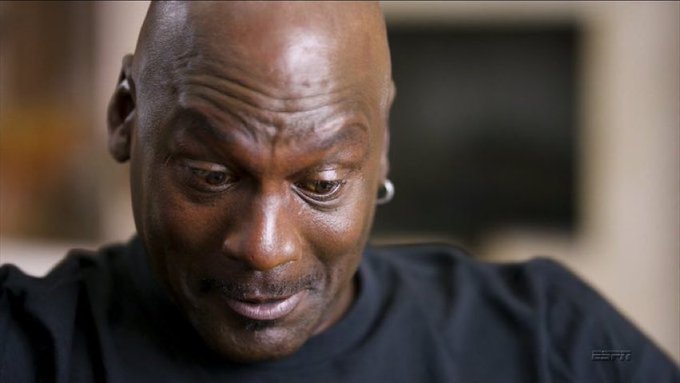 A lot of the stuff Lundqvist said in his interview with AftonBladet.se , is stuff I've been talking about for a while.
I don't care how much of a diehard fan you are for Lundqvist, how weathered your "Cult of Lundswiss" fan club card is, or however else you feel about Lundqvist, you can't ignore this – if the Rangers can get a "Get Out of Jail Free" card with Lundqvist's contract, in regards to the rumored amnesty clause buy-out (which would off-set the NHL salary cap staying flat in 2020-2021, rather than increasing by $3M, which is what was rumored before the corona virus), the Rangers have to take it.
I don't think I need to go through my double CD "Greatest Hits on Henrik Lundqvist" here, but when it comes to the Rangers, the Lundqvist contract is the worst contract they have on the books. They didn't need a $8.5M goalie five years ago; and they don't need a $8.5M third string goalie in the present. I know people want to talk shit about Marc Staal, but he is still an asset to this team. Furthermore, it's easier to limit Staal's ice time than it is to bench Lundqvist. And really, Staal is more productive on the Rangers than Lundqvist is now.
(I will say, as I've said in the past too, that if the Rangers get two amnesties, I wouldn't buy out Staal. I would see if they could get the Kevin Shattenkirk buy-out deal off the books.)
One idea I've explored in the past, is that if the Rangers do buy-out Lundqvist, whether it's an amnesty buy-out or a regular buy-out, where would Lundqvist go? He doesn't really fit on an NHL roster anymore, even if he was getting shitty money for him. Most playoff teams, which would be a situation that would fit Lundqvist best, have their goalie rotations set.
It is probably time for Lundqvist to accept that Stanley Cup is not in the cards for him. However, if Lundqvist wants to extend his playing career, and perhaps a better quality of life for his family and himself, his best bet is probably in Sweden, with those Indians of Frolunda. While winning a third rate championship isn't as sweet as it would've been to win a Stanley Cup, it would be something.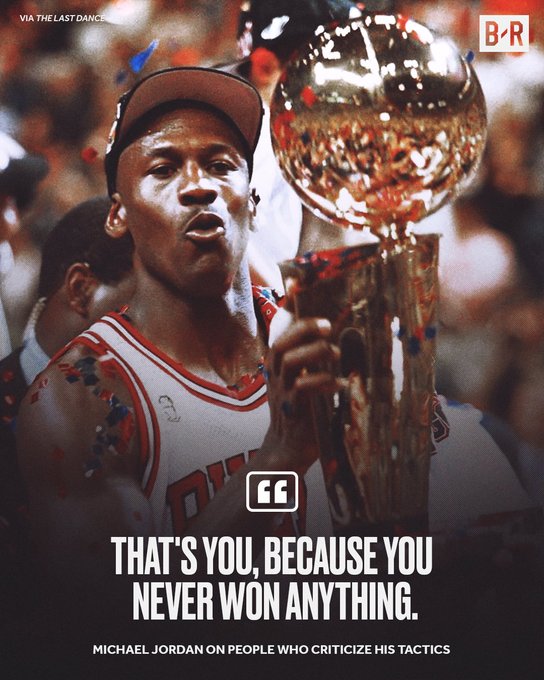 If the NHL does return, barring both Georgiev and Shestyorkin getting into car accidents, it's highly unlikely that Lundqvist even plays. In fact, CZAR IGOR is probably the x-factor, in an argument why the Rangers could make a deep run in a potential 2020 playoffs.
While I've been beating the drum of moving on from Lundqvist for years; I think all parties now know that it's time to move on. Sadly for Lundqvist, while he will most likely never get his name on the Stanley Cup, he could extend his playing days and have a stress-free life, playing in his home country. And think about it, if the Rangers buy him out, he could be banking $8.5M, and help his boyhood team, in the Frolunda Indians, win the "Le Mat Trophy", the SHL equivalent of the NHL Stanley Cup.
And yes, for the 76478265784265789426578946th time, I see a Don Mattingly situation for Lundqvist, with the Rangers winning the Stanley Cup, in the first season after the Rangers move on from Lundqvist.
---
Only 7000 words tonight! A short blog!
Subscribe to this blog by clicking the button below, so you don't miss the next update: