---
---
Greetings and salutations everyone and welcome to another blog here on BlueCollarBlueShirts.com. Besides September of 2001, we are now out of the worst month ever in our lives, for many of us, in regards to April of 2020. The corona virus and all the havoc & death it has caused these past six weeks, will be something future historians will be talking about for many years to come. For adults of today, down the line, this period of time will be something you will discuss with a younger generation. All you can do right now is make the best of it.
I mean, just think about it. If you're 25+ and have kids, what will you tell your grown up kids in the future about this time? For me personally, when I think about my very young nieces, I already have my story straight, come the time when they ask me about this in the Summer of 2045. – "I finished Season 3 of "Ozark" in one day and never ran out of toilet paper!"
And while I'm using "Ozark" season 3 as an example here, I have watched a disgusting amount of television during these past six weeks. If staying inside and staying away from everyone makes you a hero these days, it's only a matter of time before I get fitted for my golden cape. (And yes, I'm aware that essential workers are the real heroes here! Just go with what I said for the laugh! In no way, shape or form, am I trying to equate myself with the people on the front lines of this massive pandemic.)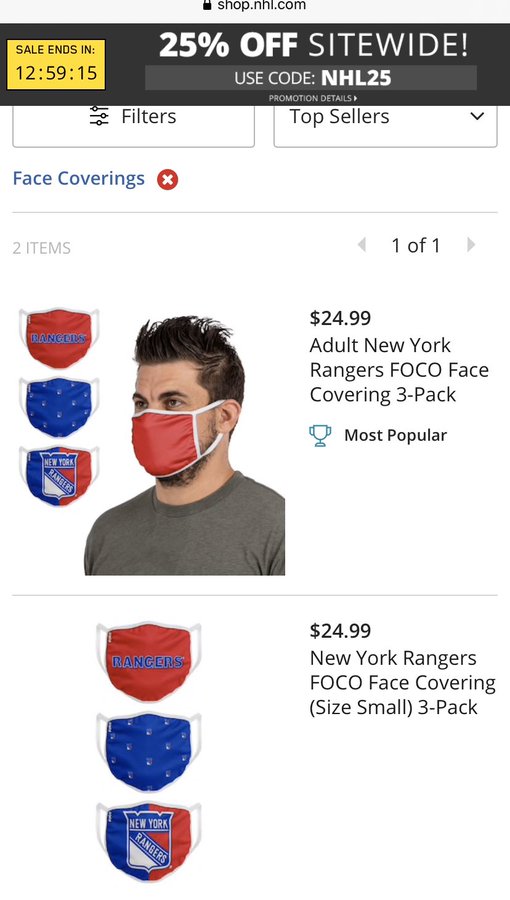 During my last few blogs, I talked about how Fanatics, which handles the official online store of the NHL, has flooded my email account. Every day, I get 7877896789678969786 emails, pushing a standard sale of 30% off. On Wednesday, April 29th, I got several emails from Fanatics and the NHL alike, both pushing their 30% off sales again. I also was told that Fanatics and the NHL are now selling protective masks, where you can get three masks for $25.
To me, that's pretty shitty. These masks are ten cents to make and are essential items. Never one to walk away from a potential profit, the NHL has price gauged these masks at an insane mark-up. Furthermore, as you'd expect from these greedy pigs at Fanatics, these masks are excluded from their daily 30% off sales.
In other words, the MOST ESSENTIAL item that Fanatics and the NHL is currently offering to fans, is excluded from sales and has the biggest mark-up. Talk about pure greed. If Fanatics and the NHL really gave a damn, rather than pushing their "pat-on-the-back" or "self high-five", "All in Challenge", where celebrities are donating their time and wares to raise money; Fanatics would sell these protective masks at cost.
For what it's worth, Fanatics claims the profits from these protective masks will go towards various charities. Whether that goes to the administrative fees of a charity or not, I don't know. What I do know, is that rather than directly sending out masks to fans or people in need, Fanatics has jacked up the prices for these decorative protective masks.
Aside from my rant on Fanatics, in tonight's blog, I'll be looking at the Most Hated Opponents/Individuals in NY Rangers history. I'll also look at the latest NHL corona virus update and the NY Ranger podcast scene. In addition, I'll also throw in a Gordie Howe story that a reader shared with me. However, before getting into all of that, I'd like to thank everyone who reached out, whether it was on social media or email, about my buddy Sabrina: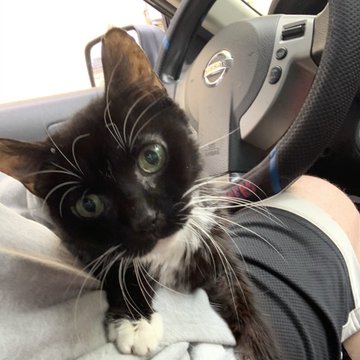 I know many of you guys have pets and/or are animal lovers. I'm one of those people too. During the course of this site's history, I've included stories and anecdotes about my pets. I just want to share this story real quick, just in case anyone else ever has a similar incident with one of their pets in the future.
Not to bore you with a long story full of misery, as I already talked about this on my social media accounts, but on Tuesday, my cat Sabrina started shaking, as if she had Parkinson's disease. She also couldn't walk, as she was flopping around. Previously, two weeks ago, I took her to a vet in town, to figure out why she lost two pounds in six weeks. The vet did blood work and said everything was fine. The vet's diagnosis – sprinkle some enzyme powder into her food, to help her retain weight.
At the time, I thought this was a stupid and incomplete solution and didn't solve anything. After all, an animal doesn't lose 20% of their body weight without an issue. However, I did what the vet said, since all of the blood work came back fine. Less than two weeks later, I found Sabrina in peril, looking sickly and moving as if she was going through a seizure.
Due to the corona virus, not many vets are open. Fortunately, I got a good recommendation about another vet near me, which also has a 24/7 hospital. I called them and they immediately took Sabrina in. Within minutes, the doctor figured out that Sabrina had a crippling ear infection, an infection that caused her to lose weight, undergo temporary blindness, give her the shakes and destroying all of her motor skills. Had the vet I took Sabrina to two weeks ago noticed an infection, I could've saved Sabrina from undergoing the worst day of her life.
No joke, I thought I would have to put her down, and at 11 years old, to me, it would've been a tragedy. (And this would've been brutal personally, as I had to put a 17 year old cat down two years ago, and a 19 year old cat down last year. At least they had long lives, as they easily surpassed the average lifespan of a cat. And for those wondering, I also have another cat, who is 16 years old. I've been very lucky to have my pets live long lives.)
After some touch and go, the vet gave Sabrina a heavy dose of antibiotics and fentanyl. That's how bad her pain was – the stuff that junkies use when they run out of heroin. I felt horrible for her and I still don't know how she got an ear infection, as she's an indoor cat.
After two days in the hospital, I'm happy to report that Sabrina is back at home, recuperating: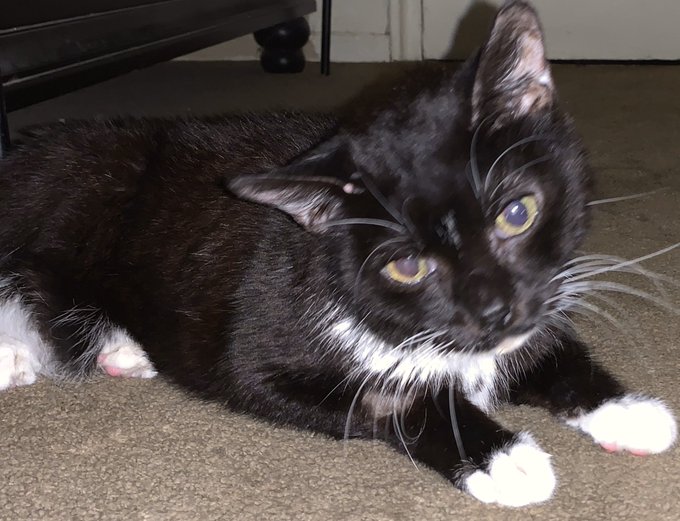 As it stands, for the next two weeks, I have to give Sabrina antibiotics three times a day, ear drops twice a day and a pain killer once a day. Fortunately, due to this corona virus, I'm home and can play Florence Nightingale here. Everyone with a pet knows that giving medication to an animal is no walk in the park. However, we all will do it when needed.
The hardest part about watching Sabrina right now, is she still can't walk right and is constantly flopping down. It is the vet's hope, that with the medicine, within two weeks, she'll make a 100% recovery. However, as it stands right now, I have to hold her upright to eat, drink and go to the litter box. It sounds sick and brutal to say, but it's true – she's walking around as if someone kicked her in the head. It's tough to watch, but I hope I see the brightest of lights at the end of the tunnel.
Unlike dogs, cats are independent. That's what makes watching her trying to do normal things so tough. Fingers crossed, I hope to share a video of her jumping around in the future.
If you get anything out of this story, if you see your pet not acting normal, ask your vet if it could be an ear infection. As mentioned, the first vet I took Sabrina to had no effing clue and it almost cost Sabrina her life. While this worry is only secondary, had this been diagnosed when I first bought her in, it would've saved me a bunch of money too. Instead, I had to pay a hefty sum and Sabrina still isn't 100% yet. Of course, with our pets, the vets can charge us anything, as you can't fight it, but I paid a clueless vet $500, and in turn, I saw my cat look like she was on death's door.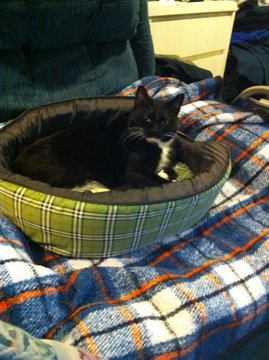 In conclusion on this non hockey topic of pets, once again, I'd like to thank everyone who reached out. While I wouldn't wish this on anyone, I also hope that in the event that your animal ever gets sick, and you can't figure out why, my story can help the health of your pet out. I never knew an ear infection could be fatal, and fortunately, my new vet was able to save Sabrina's life.
And now, the reason you're here – hockey. However, as usual, before diving into everything, here are my last few blogs, in case you missed them:
---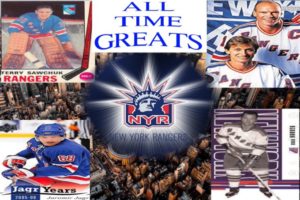 ---
---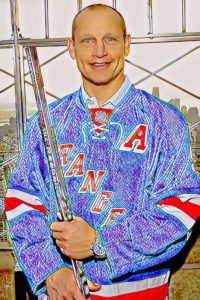 ---
---
---
---
If you're a fan of the art of gambling, the odds of the NHL crowning a Stanley Cup Champion are increasing. In fact, if you take a look at Sports Betting Dime, that website has plenty of articles and features about the future of the NHL and about the season potentially resuming. In fact, in one of the articles at there are already lines about the season resuming. As it stands right now, here on May 1st, 2020, the line is -200, in regards to the NHL resuming play before August 1st.
---
During this past week, NHL.com has ran two more stories about the future of the league. Both articles are encouraging, but like everything else that I've posted/commented on during "this shit", aka the corona virus, nothing is concrete yet.
On Wednesday, April 29th, the following article was posted on NHL.com. You can find the story directly by clicking this link: https://www.nhl.com/news/nhl-nhlpa-statement-about-pause-in-season/c-316776026
Here's the story, in regards to the NHL and the NHLPA:
NEW YORK/TORONTO – Following the NHL/NHLPA Return to Play Committee's meeting today, and in line with guidance provided by medical experts and national and local authorities, the NHLPA and the NHL issued the following statement regarding the continuing pause in the 2019-20 season:
Despite numerous reports and speculation over the last several days, the NHL and the NHLPA have not made any decisions or set a timeline for possible return to play scenarios.

Given recent developments in some NHL Clubs' local communities, we are now looking ahead to a Phase 2 of the transition period that would follow the currently recommended Phase 1 period of "self-quarantine" by Players and Hockey Staff.

The precise date of transition to Phase 2, during which Players might return to small group activities in NHL Club training facilities, remains undetermined. However, provided that conditions continue to trend favorably – and, subject to potential competitive concerns as between disparately situated markets – we believe we may be able to move to Phase 2 at some point in the mid-to-later portion of May. Specific guidelines governing Player and Hockey Staff activity would be provided at that time. In the meantime, we expect Players and Hockey Staff to continue to adhere to the recommended guidelines put in place when the season was paused on March 12.

The Return to Play Committee will continue to meet regularly.
---
As you can tell, the NHL and the NHLPA do have a working plan, including "phases", during this "pause". Of course, a million different theories about what the NHL should do and what people think will happen, are all out there.
One of the biggest things to come out of the story above, was when prominent NHL reporter Darren Dreger talked about, if the league is to resume, how players would potentially & probably have to pretty much quarantine themselves off from their family for an extended amount of time. No one knows how long this could/would be, but based on how far a team would go in the playoffs, should the NHL hold their playoffs, this could mean that some players would be cut-off from their families for two months. Again, none of this is etched in stone; it's just one of the more popular theories/ideas out there.
Here's what Dreger said on Twitter about this:
"NHL and NHLPA have a scheduled call today. Self quarantine extension and hopeful initiation of phase 2 likely discussed. Can't see the players agreeing to any restart plan that doesn't include family time. All of the above governed by health authorities."
Ron Duguay quickly responded to Dreger, saying:
You can't see them agreeing because you have no idea what it's like to be a professional hockey player! @NHL @NHLAlumni https://t.co/y1LTfaFAz8

— Ron Duguay (@RonDuguay10) April 29, 2020
As Ron Duguay has made evident, just like Dreger, obviously – I am not, or never was, a professional hockey player. That said, I did have a mean Nok Hockey game back in the 1980's. I also kicked ass, while playing "Blades of Steel", on Nintendo!
As far as the NHL and the NHLPA goes, I see both sides of the argument here. If you have a pregnant wife or a major family event upcoming, you might want your family time. On the other hand, single guys, guys who don't have to worry about being the head of a family, don't and wouldn't have the same concerns.
This is all a slippery slope here, but I truly believe, that at the end of the day, whether it's a matter about money, contract extensions past July 1st, expanded rosters, or in this case, family time, I do believe that the NHL and NHLPA will come together quickly on an agreement. After all, it's in the best interest of both parties to get hockey up and running again, and I don't see either side trying to roadblock the other.
---
After the NHL & NHLPA article ran on NHL.com, the following day, on Thursday, April 30th, Gary Bettman did an interview with the NHL Network. You can watch the video of the interview here:
NHL Commissioner Gary Bettman provides us with the latest news on #NHLTonight. @ChipotleTweets pic.twitter.com/LeJCPx8y9q

— NHL Network (@NHLNetwork) April 30, 2020
If you don't have seven minutes to watch the video, NHL.com recapped Bettman's interview here: https://www.nhl.com/news/gary-bettman-says-nhl-pleased-with-talks-about-season-restart-scenarios/c-316783264
In case you're too lazy to click the link, here's the story that ran on NHL.com:
The NHL and the NHL Players' Association have been in constant communication as they consider scenarios for resuming the season, which was paused March 12 due to concerns surrounding the coronavirus.
NHL Commissioner Gary Bettman speaks to NHLPA executive director Don Fehr regularly. The League and the Players' Association have formed a Return to Play Committee that includes executives and players.

"Having the committee that's been put together with the players is important so that we can get the feedback on the issues that are important to them and how to resolve them, and that we can be communicating how we're focusing on the things we think that need to be done," Commissioner Bettman told NHL Network on Thursday. "It's been extraordinarily collaborative, constructive and cooperative, and I couldn't be more pleased with the interaction that we're having."

Following a virtual committee meeting Wednesday, the NHL and the NHLPA released a joint statement saying they had not made any decisions or set a timeline regarding possible return-to-play scenarios.

"I don't think anybody knows for certain," the Commissioner said Thursday when asked how close the NHL was to resuming the season. "We're going to have to take things one step at a time, because the health and well-being of our players is paramount to anything we're focused on."

The joint statement said that if conditions continue to trend favorably — subject to potential competitive concerns between disparately situated markets — the NHL and the NHLPA believe they might be able to allow small group activities in NHL training facilities at some point in the mid-to-later portion of May.

But it said the precise date remained undetermined, and in the meantime, players and staff are expected to continue following the recommendation to self-quarantine that has been in place since the pause began.

"We'd like to be able to get our training facilities open," Commissioner Bettman said Thursday. "We'd like our guys to be able to work themselves back into shape. But this is something we're going to continue to evaluate on a day-to-day basis.

"Our health concerns for the players really fit into two categories: One is obviously COVID-19, and two, whatever we're going to do, we don't want them playing games until they're back in game shape. 

"So we're going to continue to monitor things, and when the guidance from the medical people is right and the governmental authorities are comfortable, then we'll take step one, which is reopening our training facilities."

The Commissioner said the NHL and the NHLPA would remain patient not only about resuming this season but starting next season.

"We have a great deal of flexibility in terms of when we can start," Commissioner Bettman said. "There's no magic for next season of starting in October as we traditionally do. If we have to start in November or December, that's something that will be under consideration.

"We're going to try and make good, prudent, careful judgments. This isn't a race to be first back. When we come back, we want it to be at the right time, for the right reasons, under the right circumstances."

Commissioner Bettman said the pandemic dwarfs everything the NHL and the NHLPA are considering.

"We miss the game," the Commissioner said. "We miss our fans. We miss watching our players play every night. We'd be in the middle of the [Stanley Cup Playoffs] right now. We're focused on trying to do the right things for the good of the game, so we can get back and connect with our great fans as soon as possible.

"But as soon as possible means under the right circumstances, and for that we're going to take our guidance from the governments at all levels and from the medical people."

---
As talked about in past blogs, like us, President Donald Trump wants sports to return as soon as possible. However, what we want and what will happen can be two different things.
On Wednesday, April 29th, Dr. Anthony Fauci, who has somewhat become the face and public figure of this whole corona virus bullshit, gave an interview to the NY Times. You can read that interview here: https://www.nytimes.com/2020/04/28/sports/fauci-sports-reopening-pandemic.html
As the story goes, and as the headline reads, Fauci says, "Some sports may have to skip this year." In other words, the NHL, and other leagues, could have every contingency plan in the world ready to go, but if Fauci and the CDC don't give it the A-OK, then all these plans will be for naught.
In regards to the NHL, of the four major sports leagues in America, they face the most obstacles and hurdles. For starters, they play ice hockey, a sport not designed for the dog days of summer. Of all the preparation and proposed training camps, NHL players will have the hardest road back, as basketball players can still shoot hoops and run around, baseball players can still toss the ball and football players can still work out. For hockey players, every rink in North America is closed right now.
Compounding issues for the NHL, is the fact that of the four major sports leagues, they feature the most international players. The majority of NFL and NBA players live in America. While baseball features many people from South/Latin America, for the most part, most of their players live in North America. When it comes to the NHL, you have a ton of players that call Russia, Sweden, Finland and other Eastern Hemisphere countries as their home.
As it stands right now, the majority of NHL players are Canadian. Currently, citizens of America and Canada are not allowed to cross the border. While President Trump may allow exceptions here, there may be the issue of quarantine. However, the real issue will be with the European players, who right now, can't get into the country, unless an exception is made. Even then, you would have to assume a 14 day quarantine for each of these athletes.
After all, President Trump tweeted out the following on Thursday, April 30th: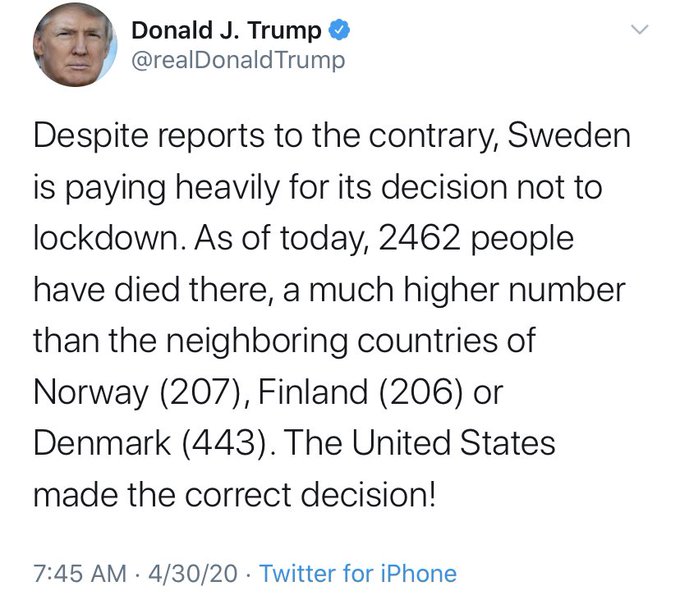 If there is anything you got out of this long-winded segment, it is the fact, that just like the last time I talked about the NHL and the corona virus, we still don't know anything and we don't know if the NHL will return. However, talks are optimistic, but there will be a few hoops to jump through.
Moving along. After talking about Gordie Howe on a recent blog, I was sent a personal Gordie Howe story from a BlueCollarBlueShirts.com reader. Let's take a gander!
---
The following comes from reader @JBHawkey , who originally wrote the following after the passing of Gordie Howe in 2016:
This is a short but true story I wrote just after we lost the greatest Hockey Player that ever lived. I am from Binghamton NY and coached the Broome Community College of NY State Varsity Hockey Team 5 years as Asst Coach and Head coach in 1989. I skated every year in the Coaches vs Cancer celebrity Hockey game and this particular year Gordie Howe agreed to be our guest….
Here's my story:
We lost the Best hockey player in the World yesterday. Gordie Howe left us after a long life and an unbelievable Hockey career. I wanted to share this quick story with all my friends especially my hockey friends.
At the time I was the Head Varsity Hockey Coach of Broome Comm College of NY. I was playing in the Coaches vs Cancer hockey charity game in the Broome County Veterans Memorial Arena back in the day. We all were fortunate to have had the privilege to have Gordie there as a guest skater and Hockey celebrity. He was so friendly and talked to all of us in the locker room or anytime.
I remember game time …It was around the middle of the game when there was a fast..(lol) line change..It was time for my line to jump over the boards…(ok some climbed very slowly…it took a minute)..I remember Roger Neel was on my line..We didn't want Roger to climb over anything on skates…we just opened the door and he weebled on out…I kind of guided him before seeing the puck shot down into the far corner.
Anyway, I took off for the puck…there I was heading for the puck and I see this blur shoot by me at around 100mph….I see this rugged figure grab the puck turn around and face me as I headed straight for him…Of course it was Mr. Howe.
I slowed up (obviously there is no checking and I would be insane to even think about it with this guy)….There he stood..with the puck waiting to see which way I was going to play him…Well I took a bee-line for the puck on his stick thinking this could be the day I took the puck away from Gordie Howe. Leave it to me, as I drew closer and closer to him, my skate hit something that was on the ice, a penny or piece of stick.
I fell to the ice spinning out of control heading right for the greatest hockey player on the planet…I thought…Oh My God I am going to break his leg and 2 things are going to happen….1..I will be forever known as the guy who broke Gordie Howe's leg in a charity hockey game and 2. I will probably (even with a broken leg) get the stuffing pounded out of me and be known as the only guy who Gordie Howe beat to a pulp in a charity hockey game!
Well as I approached the Greatest Player of all time…I closed my eyes and prepared for the worse. I was told after my body crashed hard into the boards: "Oh yeah..He just jumped over you!"
God, what a relief!
I just laid there against the boards thankful that I would still get another chance to take that puck away without suffering the consequences. And ah no, I didn't – I didn't even come close to hitting him.
After the game, I shook his hand and apologized. He said to me, "oh yeah I remember that…are you ok?"
Can you imagine Gordie Howe asked me if I'm ok? Hell yeah! Mr. Howe, I thought to myself with a grin that would stretch from Binghamton to Australia, and thank you for jumping over me. I also added, the biggest thanks for all you have done for the sport on and off the ice. We will miss you greatly.
Thanks for sharing JB!
Moving along, one last segment before getting into the main event of tonight's manifesto – the NY Ranger podcast report!
---
As I've been doing ever since "this shit" started, I've been recapping the latest Ranger themed podcasts that I like. Up first here, the reigning and defending champions, Jim & Eddie of "The Blueshirt Underground Show". You can listen to their latest episode, which dropped this past Tuesday, here:
As mentioned in the past, the best thing about the BSU Show is the live experience. I missed this episode live, as I was dealing with Sabrina on Tuesday night. However, before doing this blog, I watched/listened to the new episode. On the episode, Jim & Eddie debut their 64 item bracket of Rangers misery. It's pretty comical. Again, you can listen by clicking the video above.
On the morning of April 30th, Ron Duguay released his longest podcast yet, with a great feature on Mark Pavelich and a tremendous interview with former Ranger goalie Ed Mio. You can listen to the show by clicking the link below:
— Ron Duguay (@RonDuguay10) April 30, 2020
This is perhaps one of Duguay's best episodes yet. Duguay, who is employed by the NY Post to host the podcast, had NY Post reporter Brett Crygalis on, to discuss his new article on Mark Pavelich. If you haven't read this article, you can find it here: https://nypost.com/2020/04/30/mark-pavelichs-tragic-journey-from-1980-olympic-hero-to-a-mental-facility-40-years-later/
I don't think I have to run down my credentials or site history here, but in case you don't know, not only do I follow everything Rangers related, I try to read and listen to everything, hence this podcast wrap-up update to begin with!
I've read every Rangers article filed by Brett Crygalis, ever since he started with the NY Post, and I can 100% unequivocally say – this is his best article yet. Instead of reporting silly rumors, holding a torch for a washed-up goalie or playing second fiddle to Larry Brooks, Crygalis wrote a real masterpiece here, uncovering never-heard-of stories about Mark Pavelich. I don't want to steal Brett's thunder here, so just check out the article yourself. That said, I had no clue about all the tragedies and trials Pavelich went through, such as shooting & killing someone, the death of his wife and other life-altering events.
Duguay has Crygalis on the show to talk Pavelich. Then, after the Crygalis segment, Duguay interviews another one of his teammates, in Ed Mio. For those who don't know, both Mio & Duguay played with Pavelich while with the Rangers. They both talk about their time with Pavelich, talking about how Pavelich was a loner, and would only ask the guys to hang out with him when they were in his native Minnesota. In fact, Mio said Pavelich was such a loner, the complete opposite of Mio, that Mio, who once roomed with Pavelich, had to ask then head coach, Herb Brooks, for a new roommate.
After talking Pavelich, Mio, who was Wayne Gretzky's best man at the wedding of "The Great One", a wedding that rivaled, if not surpassed the attention that a royal wedding in England receives, talks everything Wayne Gretzky.
There's a ton of material in the 45+ minutes and Ranger fans will enjoy it.
After a two month layoff, Cam Connor, one of the first NHL alumni to host a podcast, returned with his latest episode of "View From the Penalty Box". You can catch the new episode here:
Check out our latest View From the Penalty Box podcast episode where I discuss the scariest stick fight I've ever seen; hockey in July; fans throwing beer bottles at the Montreal Canadiens and I pay tribute to Tom Webster and John Hughes. https://t.co/IIOyNrfUZa

— Cam Connor (@CamConnorNHL) April 28, 2020
I've covered a ton of Connor's episodes on this site. In short, what makes his podcast fun to listen to, is that he's intelligent and that his podcast feels like you're shooting the shit with him at a bar. Plus, as a former NHL tough guy, Connor never speaks down to you, as he is very humble. In my life experience, I've found that the toughest of men usually are this way. Other people talk about their reputations, as these tough guys don't need to toot their own horn.
Connor, who does his show with his son Kris, as a father/son bonding thing, took two months off, as Kris was ill. Kris did mention that his ailment wasn't corona virus related.
Anyway, in his return episode, Connor talks the current state of the NHL, a stick fight, crazy fans and ex-Rangers coach Tom Webster. Elsewhere on the show, Connor talks about his upcoming retirement from his current job, reconnecting with an old friend and how much he's looking forward to returning to the golf course.
If you haven't already, give Connor a listen, and personally, congratulations to Cam on his retirement. Enjoy life! (And from what we can hear, Cam is very close with his son and grandkids, so I'm sure that will occupy his upcoming free time.)
---
In the biggest news, in regards to the Rangers of today, Dan Girardi did his "exit interview" from his former podcast, "The Block Party". You can listen to the show here:
LISTEN🎧: as @boltsalumni Dan Girardi talks about Thomas Brady stalkers on Davis Islands and G money makes a plea for @RobGronkowski to buy his house! #GoBolts @Buccaneers ⚡️

Watch🎥 FULL PODCAST: https://t.co/afDTKeZWdz pic.twitter.com/52TZH0Iga4

— Seth (@SethKush) April 29, 2020
As mentioned previously on this site, Dan Girardi has moved on from the podcast, as he is leaving Tampa, and returning to his native Canada. This major life decision is corona virus related, as Girardi feels safer back in Canada. Keep in mind here, Girardi is also relocating his kids, so this isn't an easy decision, especially since Girardi is one of the coaches on his son's traveling hockey team.
Due to host Seth Kush having ties with the Lightning, the biggest bombshell that Girardi dropped here wasn't followed up on. The bombshell? Dan Girardi talked about, how after doing his NY Rangers twitter chat last week, how the Rangers/MSG Networks, asked him about joining the squad, come next season. Kush left it at that, rather than asking Girardi if this would be a full-time or part-time position.
As covered about 78678967896876 billion times on these blogs, the current M$G Networks set-up sucks. Steve Vagistat can't hold it down solo, and he's gone so far off the deep end this season, that he is easily the worst studio analyst in all of NY sports. Second worst isn't even close. Put it this way, much to the disdain of my buddy Jim S. of BSU, Valiquette has been so bad, that Vally has turned me into a Joe Micheletti fan boy!
Ever since M$G Networks decided to move on from Ron Duguay, the broadcast and the product has suffered. Ranger fans are now denied the best broadcast possible. With M$G Networks unlikely to bring back Duguay, as that would mean they'd have to admit fault in their original decision, Dan Girardi would be a perfect candidate to either replace or carry Vally. After all, Girardi is known to make goalies look good.
If you've listened to Girardi's podcasts or if you go by the opinions of former and current NHLer's, all of them talk about Girardi's entertaining personality. By adding an ex-defenseman to the crew, it would force Vally to man-up, and not blame the defense every time Henrik Lundqvist gives up a goal from the blue line.
While it's unknown if Girardi will accept the job, and if his potential role will be full-time or part-time, just hearing the two sides are talking is a good thing.
And now finally, your main event of this 10,000+ word NYR Magna Carta!
---
As mentioned, in my last blog, I looked at ten names, all with NY Ranger affiliation, that Ranger fans have despised over the years. You can find that blog here: https://bluecollarblueshirts.com/42620/
On that list, a list that included names such as "Senile" Glen Sather, Scott Gomez, Kenny Hodge, Wade Redden, Bobby Holik and others, every single one of those men once played for the Rangers, with Hugh Jessiman being the lone exception.
For the purpose of tonight's "Top 10 Most Hated Opponents in NYR History", I'll be looking at the other side of things, as I'll be looking at the most despised opponents during the Rangers 93+ year history.
Not that I feel like I have to mention this for the 67867867896th time, but I never know what new reader will find this blog – as usual, this list is solely my own opinion. During this down time in the sports world, I 100% admit that doing these lists fills up white space on a monitor. Lists like these are used to drive debate and have fun with. What you're about to read next isn't the end-all, be-all. It's just a fun, or perhaps heated way, to look at villains from the Rangers past.
I do want to preface this list by saying the following – as you'd expect, in the history of the Rangers, their most hated opponents are the Islanders, the Flyers and the Devils. While players from other franchises, such as the Pittsburgh Penguins, Chicago Blackhawks and the LA Kings make the list, for the most part, this list, as you'd expect, is dominated by Islander, Flyer and Devil alumni.
Without further ado and because there is no reason to make this intro drawn out, let's get right into it!
THE TOP TEN MOST HATED OPPONENTS IN NY RANGERS HISTORY
10. WAYNE SIMMONDS (Flyers)
Coming in at number 10 on this list is former Flyer Wayne Simmonds. Simmonds, during his days with the orange and black, was a known Ranger agitator. Even worse for the Rangers & their fans, was the fact that Simmonds had the ability to back-up all of his trash talk and hard hits.
Simmonds also stepped it up a notch against the Rangers as well, as it felt like he had a "Gordie Howe Hat Trick" in most games against the Rangers. Simmonds, similar to other pests around the league, was one of those players that you would've loved to have on your team, but hated if he was on the opposing team.
In his most nefarious act, in 2016, Simmonds sucker-punched then Rangers captain, Ryan McDonagh. The punch would put McDonagh on the shelf. Just a week's time later, in a Valentine's Day rematch, Dylan McIlrath quickly challenged Simmonds to a fight. To Simmonds credit, and adhering to the adage of "Old Time Hockey", Simmonds accepted the fight like a man. Regardless, Simmonds was a Rangers killer and someone the Rangers always had to keep an eye on, whenever #17 was on ice for the Flyers.
---
9. ALEC MARTINEZ (LA Kings)
Depending on your age and length of fandom, you may have Alec Martinez as one of your most hated Ranger rivals. For newer and younger Ranger fans, Alec Martinez will always be etched in their minds, for his Game 5 double overtime Stanley Cup clinching goal. Regardless of your age or length of fandom, this goal will always go down as a goal that should've been waved off for goalie interference.
After ruining the Rangers Cinderella run of 2014, Martinez continued to punish the Rangers, lighting up Lundqvist in games after that infamous goal, including scoring game winning goals against Lundqvist & the Rangers in the regular season.
Martinez, post-expansion, is the lone Western Conference player to make this list. That's how devastating that goal was in 2014. To this day, the mention of Martinez's name will illicit major groans from Ranger fans.
---
8. BRAD MARCHAND (Boston Bruins)
Truth be told, I felt an obligation to add Marchand's name to this list. After all, in polls conducted among NHL players, year-in and year-out, Marchand is voted as the dirtiest player in the game, a role which he finds much chagrin in.
Marchand, a future Hall of Famer in his own right, has been a Rangers killer over the years, with seemingly no end in sight. Even as recent as February 17th of this season, Marchand found himself in feud with Ryan Lindgren. Much to the delight of Ranger fans, Pavel Buchnevich would knock "the rat" into next week, later on, in that same game.
Like many rivals, no matter the teams, the most hated rivals are players who find success against their opponent. Marchand has had no issues with the Rangers, even picking up a five point game against the residents of M$G.
---
7. ADAM HENRIQUE (NJ Devils)
May 25th, 2012 is another day in Rangers infamy. After leading the 2012 Eastern Conference Final 2-1, the Rangers quickly found themselves down 3-2 in the series. In the series clinching Game 6 goal of that ECF, Adam Henrique would beat Henrik Lundqvist, just 1:03 into overtime, to seal the deal, thus eliminating the Rangers from the 2012 playoffs.
While the Rangers would eventually feature better clubs during the Henrik Lundqvist Era, (2014, 2015) this was their first real chance to win the Stanley Cup during this period of time. Instead of Lundqvist making the save on Henrique, and hoping for a potential Rangers goal to push to a Game 7, ala the 1994 ECF, Henrique would become another prominent figure, ala Stephane Matteau, of the Battle of Hudson rivalry.
Just like Alec Martinez, who also scored a series clinching goal against Lundqvist in the playoffs, Henrique would also score a game winning goal against the Rangers & Lundqvist during the regular season. While certainly, there have been much more talented Devils in NJ; it is Adam Henrique who sunk the hearts of Ranger fans.
---
6. BOBBY HULL (Chicago Blackhawks)
In what may surprise you, especially for younger fans, Bobby Hull enters this list at the sixth slot.
Prior to Bobby Hull jumping to the WHA in the fall of 1972, Bobby Hull was part of two Blackhawk teams that ousted the Rangers from a Stanley Cup bid. In the most infamous series, during the Emile Francis years with the Rangers, during the 1971 playoffs, Bobby Hull scored two game winning goals in a semifinal series, thus eliminating the Rangers and their chances at the Cup. After the emotional Pete Stemkowski triple overtime goal in Game 6 of that 1971 semifinal series, it would be Bobby Hull scoring the Game 7 game winning goal. While the Rangers would make the Stanley Cup Final in 1972, this was the year that many thought the Rangers had their best kick at the can.
In an era which would later be known as, "We Did Everything But Win", Bobby Hull was a major thorn in the Rangers side.
Additionally, making Hull a major villain in later years, were all the documented reports of Hull's penchant for beating women. Despite Hull being a known woman beater, the NHL still celebrates "The Golden Jet" to this very day, as the league continues to bury their head in the sand about Hull's sordid past. And because there is no shame in their game, the Rangers tried to get Hull to return to the game after retiring, in 1981. After several exhibition games, both sides felt that Hull was better off retired, much to the dismay of the women in Hull's life.
---
5. MARTIN BRODEUR (NJ Devils)
In the history of the NY Rangers, no other goalie was more detested than the Hall of Fame black and red goalie of New Jersey, in Marty Brodeur.
Brodeur's history with the Rangers is well known. After losing in the 1994 Eastern Conference Final against NYR (you may have head about that game) Ranger fans had to watch one of their most hated rivals win three Stanley Cups and qualify for several more.
While Mike Richter and the 1994 Rangers were able to handle Brodeur and his all-star Hall of Fame defensemen, in Brodeur's later years, the Henrik Lundqvist Rangers struggled against the Devils, most notably in the heart-sinking 2012 Eastern Conference Final.
As you may have heard, due to his personal life, Ranger fans often serenaded Brodeur with "Uncle Marty" chants. There was also the feud between Brodeur and Rangers fan favorite Sean Avery, where Avery famously called Brodeur "fatso". That said, the fatty uncle daddy is in the Hall of Fame. In the present day, Avery makes videos on his bike, harassing people who dare to clog up his bike lane.
While no Ranger fan can ever deny Brodeur's legendary career, Ranger fans can still hate the bastard, a hatred that burns deep to this very day!
---
4. THE BROAD STREET BULLIES (PHILADELPHIA FLYERS OF THE MID 1970's)
Up front here, I openly admit – I'm cheating a bit by listing the Broad Street Bullies as one individual here. However, that shows you how hated his team truly was.
Obviously, for fans who lived it or know their history, Bobby Clarke (Wayne Gretzky's favorite player) and Dave "The Hammer" Schultz, are the two biggest faces of this franchise at this time, a franchise which just completely owned the NHL and also changed the course of the league.
In the decade of the 1970's, the Flyers were the team that broke up the success that the Bruins and Canadiens enjoyed. As the first team after the Great Expansion of 1967 to win the Stanley Cup (twice), these Flyers forced teams around the league to not only adjust their strategy, but to adjust their rosters. During the heyday of the Broad Street Bullies, Cups were won by being physical, and not by scoring pretty goals.
In hindsight, it was the Rangers loss, to the Flyers, in the 1974 playoffs, that became the beginning of the end for the Emile Francis Rangers. A season later, after the Rangers embarrassing first round exit, courtesy of the Islanders, the Rangers would blow it all up, waiving and trading away many fan favorites of that era.
Similar to Brad Marchand of today, who is universally hated around the league, the Flyers, as a collective unit, had the same reputation during this run. However, while Brad Marchand is more of a pest and known to lick people, the Flyers would get their licks in, courtesy of a five knuckle shuffle.
---
3. SIDNEY CROSBY (Pittsburgh Penguins)
As mentioned before, with Brodeur, when it comes to rivals, the players that have the most success are the most hated. The same principle applies to Crosby here, who is a future Hall of Famer.
When it comes to Crosby, while his exploits against the Rangers are widely known, when it comes to his career and comparisons, he's more associated with Alex Ovechkin of the Washington Capitals, rather than being known as a true Rangers rival. When it comes to the Rangers and their rivals, Crosby is without doubt, more hated than Ovechkin. While both players have been Ranger killers over the years, I find most Ranger fans to have the same mind-set as me – they respect "The Great 8". And hell, truth be told, and I think other Ranger fans will admit this too – I was happy for Ovi when he won the Cup in 2018.
In the Crosby years, while Crosby has had no problem shining against the Rangers in the regular season, after the 2008 playoffs, the Rangers usually fared well against the Penguins in the Stanley Cup tournament. However, an embarrassing loss in the 2016 playoffs, pretty much unofficially signaled the end Lundqvist's chances at a Cup, in addition to ushering in the eventual Rangers rebuild.
Crosby has been in the middle of many controversies with the Rangers over the years. Whether it's all his Olympic diving, the water bottle incident or making a fool of Lundqvist by scoring goals off the back of Lundqvist's head, #87 in the yellow and black has usually held his own against the Blueshirts.
---
2. MIKE MILBURY (Bruins, Islanders)
Mike Milbury has the distinction of being the lone individual on this list, to not only be hated as a member of two different franchises, and not only hated by NYR fans of two different eras, but to be universally hated by Ranger fans as a player, a coach, a general manager and as a broadcaster. Congrats Milbury!
When it comes to Mike Milbury, where do you begin? Of course, the shoe incident of 12/23/1979 is Milbury's biggest claim to fame, as a Rangers hated opponent. Many words have been written about that game. If there is anything to be taken out of the game, in regards to NHL history, it was Milbury's role in this incident that led to the NHL to installing higher boards between the fans and the players on the bench.
After being a scumbag against the Rangers as a Boston Bruin, Milbury, with the despised NY Islanders, would either hold a head coach or front office role, and sometimes both at the same time, from the mid 1990's, all the way until 2007. During this period of time, Milbury had many derogatory things to say about the Rangers, a trend that continues to this very day, in Milbury's current role as a studio analyst and commentator for the NBC Network.
If there is anything yours truly can appreciate about Milbury, it is that he's been true to his heart and has never steered off-course with his hatred of the Rangers. The feeling is mutual, not only from this blogger, but by everyone in Rangerstown alike.
As you read this list, it is no wonder that two people with Islander affiliation claim the top two spots. While Milbury is severely hated by Ranger fans, the next person on this list tops the cake.
---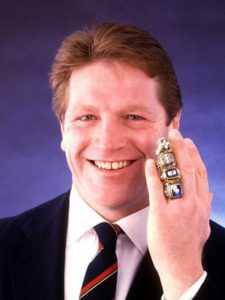 1. DENIS POTVIN (Islanders)
I mean, who else?
Denis Potvin, the third captain of the Rangers biggest enemy, in the NY Islanders, not only won four Stanley Cups as the leader of the blue and orange; he was also the reason for multiple NY Ranger playoff eliminations.
Ever since February 25th, 1979, Potvin has remained the biggest heel in NY Rangers history. To this very day, after crushing Ulf Nilsson in a Ranger/Islander game, which led to Nilsson breaking his ankle and missing the rest of the season (many feel that this injury cost the Rangers the Cup in 1979, which is a topic of debate for another day) Potvin has been Public Enemy Number 1, in the annals of NY Ranger history.
To this very day, over 40 years after the original incident, during every Rangers game ever played since that game, Ranger fans do the "Potvin Whistle", which leads to the infamous "POTVIN SUCKS" chants. Just think about it. It is my belief, substantiated by talking to people and from what I know, that at least 90% of Ranger fans, if not more, not only don't know the origin of the "POTVIN SUCKS" chant; but couldn't even pick Potvin's face out of a police line-up.
When it comes to goof or custom made jerseys, the biggest non-Ranger player jersey you'll see at M$G – "POTVIN SUCKS!"
Like Brodeur, like Crosby; Potvin was a major Ranger killer, who not only is hated because of his hit on Nilsson (a hit that was actually clean when you really look at it) but because of his Hall of Fame career. Unfortunately, Povtin had many HOF moments against the Blueshirts.
When making this list, I debated in my head about many spots. One spot I didn't debate about was this one. Without a shadow of a doubt, Denis Potvin is the most hated individual in NY Rangers history. He may even be more hated than Glen Sather and James Dolan combined!
---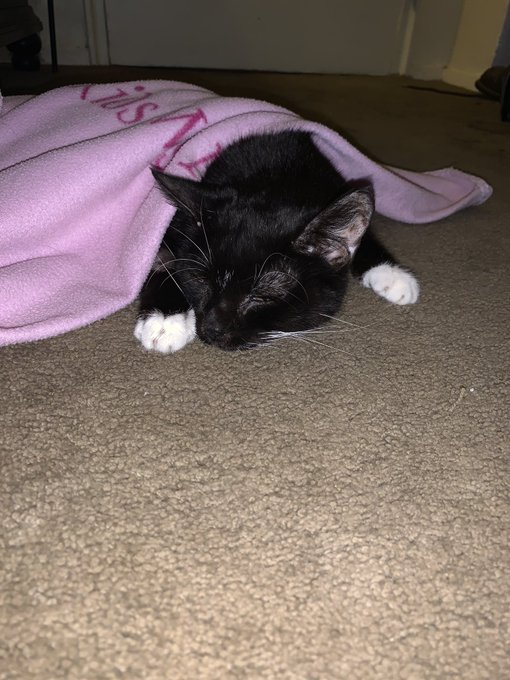 No joke – as I wrote the caption for the picture shown above, Sabrina, despite everything she's gone through, worked her way to the litter box and took a "Potvin". And people say dogs are smarter than cats! Despite not being 100%, and still far from it, this cat has dignity and wants to put her waste in the litter box, rather than just "Milburying" and "Crosbying", where ever she pleases. What a trooper.
This was a long one tonight. Thanks for your patronage, especially you non-pet having folk, who had to read all my cat stuff!
Subscribe to this blog by clicking the button below, so you don't miss the next update: