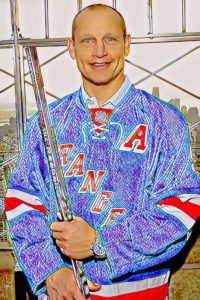 Greetings and salutations everyone and welcome to another blog here on BlueCollarBlueShirts.com. Will this quarantine and social distancing stuff ever end? Truth be told, just like the post 9/11 world, especially here in New York, I think once we get past all of this corona virus stuff, we will enter a new world of "normalcy". What I mean by that, is that once this corona virus stuff ends, I think items such as hand sanitizer, rubber gloves and face masks will still be seen everywhere. While you won't see these items all the time, I think it will be normal just to see some people wearing gloves and masks in public. And you can't blame those people of the future.
I kind of touched about this stuff in my last blog. When it comes to the topic of professional sporting events, I think it's going to take some time for things to ever get back to the world we once knew. I don't see arenas selling out immediately. After all, many people are going through economic hardships right now. In addition, some people will will try to avoid unnecessary or disposable income activities.
Speaking of my last blog, just to get you up-to-date here, in case you've been isolating yourself from the internet too (we all know about the computer viruses that are are out there!) here are my last few blogs, in case you missed them:
---
---
---
---
---
When I look at what the Rangers themselves, and what other Ranger bloggers are talking about right now, the majority of the talk is either about the 2014 New York Rangers or the current Rangers of today. As mentioned on past blogs, I don't know how many times you can write "Artemi Panarin is great." I've also seen stuff about the future of Henrik Lundqvist, but that's a topic I've talked about to death. In short, we've probably seen Lundqvist's last game as a Ranger. I'll wait until that news is official, before doing a full-length blog on that.
However, and real quick here, as said on past blogs, I envision the NHL allowing an amnesty clause, in an effort to offset the harm done to the salary cap for the 2020-2021 season. From there, I see the Rangers buying out Lundqvist, with no cap penalty. It's the right move. It's the best business/salary cap move the team can make. From there, I don't know what happens. I don't see what NHL team would benefit from having Lundqvist on their roster, during the 2020-2021 season.
Additionally, with this corona virus and whatever the aftermath will be, perhaps Lundqvist shelters himself and his family from America, and finishes out his career with his home team of the Frolunda Indians. With his brother Joel a captain there, it could be the perfect bow for his career.
I bring all this stuff up, because I see people who do blogs/articles/podcasts, like these blogs here, struggling to find material to talk about. That's never an issue on this site here though! That said, I did "restrain" myself, from doing another "Report Card" blog. As I'll get into, and as I've been saying for a while on these blogs, I think the 2019-2020 NHL regular season is over. If the NHL is to come back, I see them going right to the playoffs.
What prevented me from doing a 2019-2020 Regular Season Final Report Card blog, is the fact that I did a mid-season report card, back on January 6th. While the Rangers did go on from that date, to play their best hockey of the season, it's not like the grades would've changed that much. You can find that Mid-Season Report Card blog here: https://bluecollarblueshirts.com/1619/
As I've been doing on these blogs since the NHL "pause", I'll give you all the news stuff first, then the feature story/op-ed piece. However, since I've been talking about the NHL's future already, let's take a look at a story that broke on Sportsnet.ca yesterday, a story written by NHL insider Elliotte Friedman.
If you haven't seen the news already, check out the following link: https://www.sportsnet.ca/hockey/nhl/north-dakota-nhl-location-2019-20-season-resumes/
The above article followed the news from this past Friday, where President Donald Trump held a conference call with all of the big-wigs/commissioners of various sports leagues across America, including the NHL. (Gary Bettman.)
Trump, who said he wants sports back "as soon as possible", would also say this to the various people in power:
(The following quote comes from the Associated Press.)
"I want fans back in the arenas. I think it's … whenever we're ready. As soon as we can, obviously. And the fans want to be back, too. They want to see basketball and baseball and football and hockey. They want to see their sports. They want to go out onto the golf courses and breathe nice, clean, beautiful fresh air."
However you feel about Trump, I think we can all agree that we want sports back. However, and I know this is redundant, no one knows when that date will be.
As far as the immediate future of sports, different scenarios have been discussed, such as playing games in front of empty arenas and in a new idea, in front of half the capacity an arena holds. Of course, the latter brings up a whole slew of questions, such as fans standing in line to get into the building, bathroom lines, food lines, and anything else imaginable. And really, I can't see that idea happening, because if someone is to get sick at one of these arenas, that could bring all sorts of lawsuits to these teams – something no one wants to see or tangle up the courts with.
If anything is "scary" about the state of sports in America, it's the fact that there's already talk about Major League Baseball canceling their 2020 season. With talk like that, it doesn't bode well for the NBA or the NHL.
While I'm about to take a look at the North Dakota idea in a second, I just don't envision a scenario where the NHL resumes play and the NBA does not. Bettman, whose roots are from the basketball world, will most likely follow whatever the NBA does. Of course, the NBA has the luxury of being able to play their games in gyms in the summer; while the NHL would have to worry about ice issues. And as noted on previous blogs, financially, it's much easier for the NBA to shut down than the NHL. Of all the major sports in America, it's the NHL that relies on live gate receipts the most.
If there is anything else that was telling about Trump's meeting with the sports commissioners, it was the following paragraph from the Associated Press:
A second person with knowledge of the call said some commissioners, Silver among them, stressed to Trump that they are working on multiple plans to resume their seasons but cautioned none of those plans can be enacted without clearance from public health officials. The people spoke to AP on condition of anonymity because no discussion from the call was to be revealed publicly.
So really, what do we know here? Pretty much the same from last week – we don't know what is going to happen. Everything is contingent on the CDC, and even then I go back to the question of – "who is going to risk going to these games right away?"
After Trump's conference call with the top suits in sports, Elliotte Friedman reported, in the link posted above, about the possibility of the NHL resuming in North Dakota. Apparently, North Dakota is one of the states with the least amount of corona virus reports, which is why this state, as a potential future home of the NHL, has been discussed. (In reports following Freidman's, the state of New Hampshire was also discussed, as a future site of the NHL playoffs.)
To me, as I just said, I don't see the NHL resuming on their own. I think the NHL looks to the NBA as a big brother league, and if the NBA is shut down, the NHL will remain shut down too. Remember, when this all started, it was the NBA who shut down first, with the NHL responding 24 hours later.
However, in the event that both the NBA and the NHL try to resume games, and in the NHL's case, possibly in North Dakota; I just don't know how that can work logistically. If anything, you're setting yourself up for something catastrophic. All it takes is one person to be or get sick, and the corona virus spreading among everyone in the NHL. What decision maker wants to face that proverbial firing squad?
Of course, there would be a ton of other questions too, with one of the biggest being, "how do you get the Russians & Europeans back to America?" If you've been following the UFC, and the news surrounding Khabib Nurmagomedov, Russians aren't allowed out of the country right now. While yes, this is all "what-if" stuff, it's all stuff that would have to be hammered out.
This all said, I still hope we get some version of the Stanley Cup playoffs. However, with the way things are looking and with reports that we haven't even hit the apex of this corona virus stuff just yet, the chances of a Cup Champion in 2020 is looking worse and worse.
And I want to add this too. While I know many people are seriously effected by this pandemic, because as you know, people are dying from this; this corona virus also sucks for long-time NHL veterans, who are trying to chase their first Cup (Patrick Marleau) or trying to win one more Cup before retirement (Zdeno Chara). While I didn't see the Rangers winning the Cup this year, players & fans of the Bruins, the Bolts, the Capitals, the Blues and other top NHL teams, have to be frustrated as well.
In conclusion on all of this – Father Fink the Corona Virus!
---
As I was 101 proof-reading this blog, the following story was broken on TMZ: https://www.tmz.com/2020/04/06/dana-white-ufc-249-private-island-fights-joe-rogan/
I don't want to get into everything UFC & MMA (I've been watching/a fan of this stuff since the late 1990's) but UFC head-honcho Dana White, who has been somewhat pig-headed and callous about this corona virus news ever since it broke, is now looking to secure a private island to hold UFC events. If the island is isolated, this would allow UFC to test and control who steps foot on the island. In response, I ask this – got rink?
Moving along. Let's hit the major Ranger news items.
---
During these times of self-isolation, quarantines and the corona virus, the Rangers have filled up their days by signing multiple kids out of the college ranks. The latest addition? Justin Richards.
The following press release comes from NYRangers.com:
The New York Rangers announced today that the team has agreed to terms with free agent forward Justin Richards on an entry-level contract. Richards' contract begins at the start of the 2020-21 season.

Richards, 22, skated in 34 games with the University of Minnesota Duluth this season, registering 14 goals and 11 assists for 25 points, along with a plus-14 rating and 14 penalty minutes. He was selected as the National Collegiate Hockey Conference's (NCHC) Best Defensive Forward in 2019-20. Richards ranked fifth among all players in the NCAA in faceoff wins this season (434), and he posted a 59.0% faceoff win percentage during the season. He was also tied for first in the NCAA in shorthanded goals in 2019-20 (three). Richards established a career-high in goals this season and was tied for second on the team in goals in 2019-20. Minnesota Duluth posted a 15-3-1 record in games which he notched a point this season, including a 10-2-1 record in games which he registered a goal. Richards recorded 10 points (six goals, four assists) over the final seven games of the season, and he tallied two goals, including the game-winning goal, in his final career collegiate game on Mar. 7 against St. Cloud State. Richards served as one of the team's alternate captains during the 2019-20 season.
The 5-11, 190-pounder skated in 120 career collegiate games over three seasons (2017-18 – 2019-20) with the University of Minnesota Duluth, registering 26 goals and 40 assists for 66 points, along with a plus-40 rating and 38 penalty minutes. Richards helped the University of Minnesota Duluth win the National Championship in each of his first two seasons, and he was named to the Frozen Four All-Tournament Team in 2019. Richards was named the NCHC's Best Defensive Forward in each of the last two seasons (2018-19 and 2019-20), and he was also named to the NCHC's Second All-Star Team in 2018-19, as he established collegiate career-highs in points (32), assists (20), and plus/minus rating (plus-20) during the season. Richards skated in each of Minnesota Duluth's 120 games over his three seasons at the school. He posted a plus/minus rating of plus-six or better in each of his three seasons, and he registered 57 points (26 goals, 31 assists) and a plus-34 rating in 76 games over his final two seasons.

Richards, who was born in Orlando, Florida and grew up in Columbus, Ohio, played one season with the Lincoln Stars of the United States Hockey League (USHL) prior to beginning his collegiate career. He registered 30 points (10 goals, 20 assists) and a plus-two rating in 59 games with Lincoln during his only season in the USHL in 2016-17.

---
As I've been saying after all of these NCAA signings, I don't really watch college hockey. All I can say is all the best to Justin Richards.  And hell, it's nice to see the Rangers being so aggressive and impressive with signing players from the college ranks. What was also aggressive, and certainly not impressive, was what happened during a recent K'Andre Miller ZOOM session.
---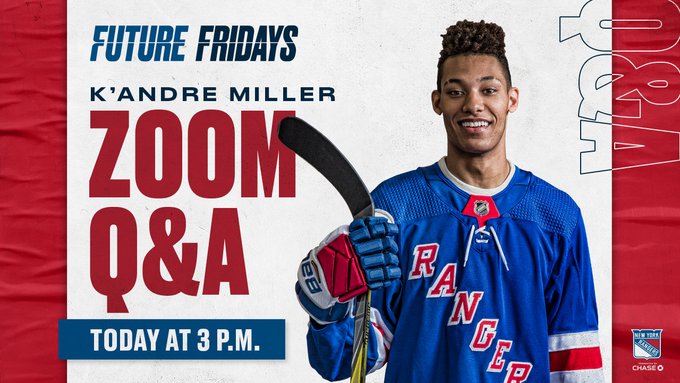 To preface this next segment, prior to this story occurring, I had no clue what ZOOM is or was. I don't work in an office, so I don't have conference calls. Apparently, for people who like me who don't know what ZOOM is, it's an app/program, that allows people to interface all at once. It's kind of like FaceTime, but on steroids.
The Rangers, who earlier banned Tony DeAngelo from doing his own personal question & answer series last week, hosted their own team-branded Q&A with TDA. Of course, because TDA supports Donald Trump, every -ism or -ist in the world was thrown at him, by you know, the "tolerant" left. I've talked about all this crap before with DeAngelo. It's always amazing how these social justice jerkoff warriors preach one thing, but will attack anyone who disagrees with them. To them, in their warped, demented and fragile little minds, they think this: "DeAngelo supports the President! Let's slander and libel him! Let's call him a racist, xenophobic, homophobic and let's try to get the Rangers to fire him! We'll show him for not supporting Sleepy Joe or Batshit Bernie!"
(Furthermore, these same fans, who want more interaction with the players, especially during these slow times, have no one to blame but themselves. The most vocal Rangers on Twitter get attacked by half the fan base on a daily basis. Why should any of these guys interact with these basement bozos?)
For whatever reason, despite Ranger fans trolling DeAngelo a day prior, (and it's always the same handful of losers) the Rangers decided to host a LIVE question and answer thing, with K'Andre Miller, for 500 fans on this ZOOM call. Rather than being able to monitor the responses, by just filtering out tweets and emails to DeAngelo, via a Twitter Q&A; under this ZOOM format, everything was live and Miller (and everyone else) was able to see all the comments.
As you may have heard by now, someone trolled the ZOOM session with the n-word, posting the word in the chat about 1000 times repeatedly.
I have to stop and mention this. I didn't see any of this go down live. I didn't even know the Rangers were holding this event. (I was off social media, watching "The Pharmacist", another great documentary on Netflix.) When I checked social media, I saw many of these social justice warriors and self-righteous assholes, screaming at the top of their lungs about how bad this was. Of course, as they were on their soapboxes, they were sharing live videos of the chat, where you could see the n-word written out, about 786786789678967896 times. In other words, these people were so offended by the n-word, that they had to share that word in big bold font! Repeatedly!
I guess if you're offended by a racial slur, you must share videos of that slur in a grandiose fashion. Rather than not sharing the word and not giving the word attention, you must take out a Times Square sized billboard, featuring that word. Then after that, you have to blame other Rangers and other Ranger fans, for allowing such a thing to happen.
I'm not even kidding here either. All this crap happened last Friday afternoon. I signed on to social media around 8PM, after the story had been over for a few hours. The only people I saw using the n-word on Twitter, were the people pretending to be the most offended by it. After playing the offended game, those people immediately blamed others.
To be clear, you had these high and mighty social justice warrior dickheads, using the n-word and then slandering others by accusing them of doing it. Sounds right and liberal to me.
Anyway, apparently several hours after this incident on Zoom, the Rangers sent out the following: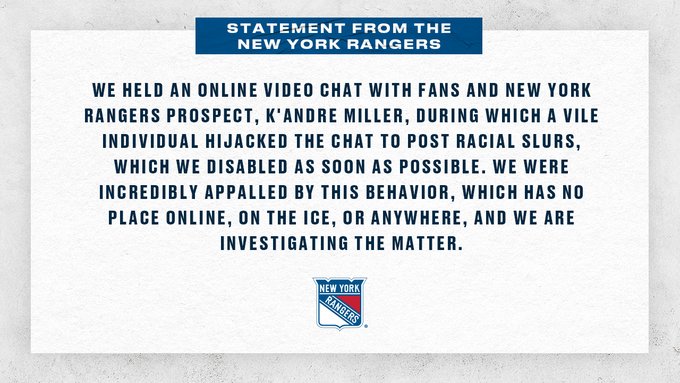 Again, I never heard of this Zoom stuff until after this incident. Upon my research and talking to people who use Zoom, apparently there are bots programmed to spam these live Zoom chats with racial slurs, death threats and other stupid things. While a person did design one of these bots, the reports are is that this happens with most of these Zoom chats. It's like the old AOL chatrooms from a yesteryear ago.
Whether it's a classroom, an office or in this case, a Rangers Q&A, there have been tons of reports about bots spamming these chats with all of this stupidity. In other words, it's not just one person sitting at a keyboard doing this. It's someone who programmed a bot to spam these chats with all of this nonsense.
Of course, as mentioned, that didn't stop Ranger fans from blaming RANGER PLAYERS and RANGERS FANS for doing this. Even if you're going to blame someone, because you know, these social justice warrior twunts have to blame someone, these people didn't even entertain the idea that you know, it could've been an Islander, a Devil or a Flyer fan trolling. No, of course, it was TONY DEANGELO! He likes Trump! IT MUST BE HIM!
I'm interested to see where this Rangers investigation goes. Truth be told, I see it going NOWHERE. I don't know how all this crap works, with IP addresses, VPN's and bots; but from what I'm reading from people who do know how this stuff works, it's nearly impossible to trace the source of these online antics. For what it's worth, Zoom is now working with the FBI, in order to pinpoint where this stuff is coming from. That said, I doubt what went on with the Rangers is the FBI's priority.
Oh, and screenshot and print this following prediction, from yours truly:
Come next season, you can 100% bank on David Quinn being called a racist from these same moronic Ranger fans, described above. The second K'Andre Miller struggles and/or plays in Hartford, David Quinn, who has roots to Boston, a city which historically has been linked to some racist incidents, will be accused of racism by these progressive social justice warrior losers. If Quinn benches Miller, takes time from Miller or whatever, these pitchfork putzes will slander Quinn's name, faster than you can say – "maybe he's not ready."
And to double-down on this, should Miller struggle, and you're a fan who suggests that maybe he gets time in Hartford, be prepared to be labeled as a racist too. You know this will happen!
After this stuff with K'Andre Miller, you had these super liberal assholes, like Sean Hacknett (whose press pass was revoked and who has been proven of plagiarism) chastising fans and reporters, such as Vince Mercogliano, for not being "woke" enough. It's not even worth covering here, but watching morons such as Sean Hacknett, attacking people for not being "apologetic enough", was hysterical and ironic. "YOU DON'T LIKE RACISM! HOWEVER, YOUR ANTI-RACISM THOUGHTS WEREN'T GOOD ENOUGH FOR ME!" Hacknett is an asshole, plain and simple.
In the effort of full disclosure, some jerkoff on Twitter even accused me of being behind this. I don't want to give this moron any attention by plugging his account here, but he blamed me based off these two things:
— I am not a fan of Henrik Lundqvist, which means I must be the leader of the KKK and the Aryan Brotherhood.
— I once tweeted and wrote on this blog that K'Andre Miller has an NBA player sounding name. THE HORROR. Of course, that same person didn't care when I said, "Kristaps Porzingis sounds like a player an NHL team would draft." Of course, both comments are jokes. However, because I make jokes and have a sense of humor, that means that Hitler and I go golfing every Saturday morning. Our favorite hole? NEIN! (I don't care if you don't laugh, I chuckled writing that!)
Obviously, since many Ranger fans may be mildly-to-deeply retarded, a large portion of fans started pointing fingers at players on the Rangers themselves, for this Zoom crap. The people getting the brunt of the accusations behind this K'Andre Miller Q&A incident, were Tony DeAngelo, Ryan Strome and Brendan Lemieux.
As said, while it seems that 99.9% of these Zoom incidents are the results of online bots, that didn't stop this woke, liberal and progressive crowd from slandering and libeling Miller's future teammates. You see, in the minds of these walking and talking anal seepages, while racism is bad, using McCarthyism to accuse anyone and everyone of being a racist, is A-Okay.
Ironically, do you know who were the only Rangers to speak out and prop up Miller during all of this? Jacob Trouba, Ryan Strome and Tony DeAngelo – the latter two, while being accused by these liberal fleabags, of being the perpetrators behind this incident.
Here are a few of the tweets from last Friday:
Well said by both Stromer and Troubs. We are really happy to have @kandre_miller as part of the ranger family. some idiot on social media wont make a difference! https://t.co/r8SdeWyZb6

— Tony DeAngelo (@TonyDee07) April 4, 2020
Guys I'm a bad guy for retwetting mike lindell of my pillow…. but I have a great option for this person! He has a brain as you can see below so he should be able to figure out how to unfollow! https://t.co/N7OAJaF5Y7 pic.twitter.com/kyGGyZnYuH

— Tony DeAngelo (@TonyDee07) April 6, 2020
Couldn't of said it better. This team and this organization sticks together. You are one of us and we have your back! https://t.co/xvRjkYVxPY

— Ryan Strome (@strome18) April 4, 2020
---
In conclusion on this story, during a slow period of time in the sports world, obviously what happened with Miller sucked. It was uncalled for. That said, it seems like a bot was behind it. I can 100% tell you, that it wasn't a Ranger who did this. What I can't 100% tell you for fact, but I 100% believe, is that no Ranger fan did this either. Truth be told, I doubt a hockey fan was behind this either.
That all said, keep my Quinn prediction in the back of your mind. These self-righteous people won't be able to help themselves. Like the Men's Wearhouse, "I guarantee it."
And now, let's talk about something positive. This blog has already covered a potential NHL shutdown and a bad online incident. It's now time for our feature story of the night, and that's my proposal for the Rangers to make history, and build the first ever statue of a New York Ranger. Of course, the person I'm nominating here for such immortalization (is that even a word?) is none other than #9, in a one Adam Graves.
---
Previously on these blogs, while discussing such topics such as the greatest Ranger of all time, the Mount Rushmore of NYR, potential jersey retirement ceremonies and other such things where history is the focus, I've brought up the idea of the Rangers honoring Adam Graves with the ultimate honor – a full life sized statue.
Two things real quick here, before continuing:
— I know I've lightly touched on this subject before. I just wanted to write a full-length piece here, for the sake of posterity.
— While I'm aware that many people know about Adam Graves and his role with the "Garden of Dreams", I think many people take the hard work he does for granted. I wanted to shed some spotlight on someone doing great things during these bad times. And really, like other high profile people, such as a John Cena or a Shaquille O'Neal, Graves keeps most of his work hidden from the public. He's not in it for the recognition. He's in it for the cause.
Truth be told, I never really gave the topic of statues much thought. That is, until I sold my wrestling business and used my time from traveling to cities across the east coast every weekend, where I hosted/promoted wrestling shows and began using my free time and disposable income on attending Ranger road games.
As I traveled to NHL city to NHL city, I saw statues of players (and front office people) of guys like Phil Esposito in Tampa, Wayne Gretzky in Edmonton and even Martin Brodeur in New Jersey. Those are just some examples. My point here, is that even in non-traditional hockey markets, these teams have built life-sized statues, in an effort to honor someone significant to that particular franchise.
When you look at the NHL as a whole, everyone knows about the Original Six. For those who need a refresher, those teams are the Boston Bruins, Montreal Canadiens, Toronto Maple Leafs, Chicago Blackhawks, Detroit Red Wings, and of course, the New York Rangers.
While I don't want to go off on too many tangents here, and recap the entire history of the foundation of the NHL, the Original Six era covers the years of 1942-1967. However, Original Six teams were founded way before 1942, with the Montreal Canadiens being first founded in 1909. By 1926, the Blackhawks, the Red Wings and the Rangers, would join the Canadiens, Bruins and Maple Leafs into the NHL.
Due to issues such as finances and World War II, many teams would operate and fold, with the NY/Brooklyn Americans being the last to fold, in 1942, as a direct result of both the aforementioned WWII and poor finances. From there, the Original Six era would be ushered in, lasting until the Great Expansion of 1967, when the NHL doubled-up in size.
So many times, and very often on these blogs, I've moaned and groaned, like a liberal whining about Tony DeAngelo, about how the Rangers do NOTHING with their great history. Listen, I get it. Four Cups in 93+ seasons is a rough hand. It's not like the Rangers have the history that the Yankees do. However, many great Hall of Famers, career Rangers at that, have skated on M$G ice, no matter what incarnation of M$G it was. Whether it was MSG III or MSG IV, MSG & the Rangers have seen legendary figures on their ice, such as Frank Boucher, Bill Cook, Bryan Hextall, Chuck Rayner, Edgar LaPrade, Harry Howell, Andy Bathgate, the GAG line, Eddie Giacomin, Brian Leetch, Mark Messier and in this case, Adam Graves.
While non-Original Six teams have statues honoring someone (and most of these franchises do), EVERY Original Six team, sans the Rangers, has a statue of a legendary player. Why is it, that once again, that the Rangers ignore their history and can't do what nearly every team in the league has done, and bronzed someone; thus giving that individual "hero status"? You got all these "B" market teams with statues? You're telling me that the richest franchise in the league, in the NY Rangers, can't pony up a few bucks and prop up a statue in front or inside of M$G?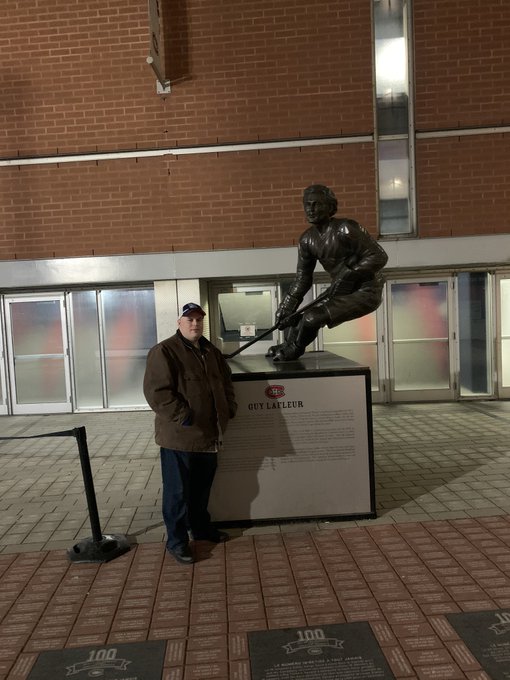 Just to give you all the information here, when it comes to the Original Six teams, here are the players honored by their respective franchises, with statues:
Montreal Canadiens: Maurice "Rocket" Richard, Howie Morenz, Jean Beliveau, and Guy LaFleur.
Toronto Maple Leafs: Darryl Sittler, Dave Keon, Johnny Bower, Ted 'Teeder' Kennedy, Borje Salming, George Armstrong, Syl Apps, Mats Sundin, Tim Horton, Turk Broda, Frank Mahovlich, Red Kelly, and Charles Conacher.
Boston Bruins: Bobby Orr.
Chicago Blackhawks: Stan Mikita and Bobby Hull.
Detroit Red Wings: Gordie Howe, Ted Lindsay, and Alex Delvecchio.
New York Rangers: NOBODY!
While perhaps happy hockey Toronto went a bit OD on the statue making, every other Original Six team has bronzed someone into immortality. (That's a word!) And let's not get started on another one of my "every other team honors EVERYONE from their 90+ year history, besides the Rangers, in their rafters" rants!)
When it comes to the New York Rangers, it's long overdue that the Rangers give someone the statue treatment. Obviously, that person to me, should be Frank Boucher. If you want to do what Toronto did, I could give you a slew of names here. Trust me! However, for the sake of this blog, I'll only push for one candidate!
When you look up and down the list of great New York Rangers, just like Frank Boucher or his teammate, the first ever captain of the Rangers, in fellow HOFer Bill Cook, you can also make cases for guys like Harry Howell, Rod Gilbert, Eddie Giacomin, Brian Leetch and Mark Messier.
However, if there's anyone that personifies the Rangers and the good of humanity in general, to me, that person is Adam Graves. And let's face it, if the Rangers were going to give this treatment to anyone, it's going be someone who is still alive and active with the organization today.
For fans my age or older than me, I don't have to explain what Adam Graves meant to the Rangers. For younger fans, and I'm encountering a lot of them during these times of social distancing (I feel like I should social media distance myself from these people too!) take what you think about Henrik Lundqvist, look at Adam Graves and apply that feeling ten times over.
Adam Graves path to the Rangers was a curious one. Originally drafted by another Original Six team, in the Detroit Red Wings, after spending parts of three seasons with Detroit, very early into the 1989-1990 season, Graves was dealt to the Edmonton Oilers. Graves, along with Mark Messier, would go on to win the Cup with Edmonton that season, in the season known as the year where Messier, and not Gretzky (who was long gone and in LA at the time) was the face of the franchise.
After the 1990-1991 season, and one year removed from his first Stanley Cup win, Graves would sign an offer-sheet with the Rangers. He would be the first "big name" Oiler to jump to NY, where he would eventually be joined with other ex-Oilers, such as Mark Messier, Jeff Beukeboom, Glenn Anderson, Craig MacTavish, Kevin Lowe, Esa Tikanen, and to a lesser extent, Mike Hudson, enroute to winning the fourth and final, as of press time, Stanley Cup, for the New York Rangers.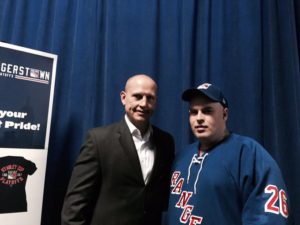 On these blogs, I don't hide my personal biases. I tell you what and who I like, and what and who I dislike. When it comes to Graves, he is one of the most universally beloved Rangers of them all. He joins rare air, with guys like Eddie Giacomin and Brian Leetch.
In a personal story I've told 767667969678 times on these blogs, as a teenager, I was an autograph seeker. It's just a shame I can't find my old disposable camera photos from that era!
In the 1990's, my buddies from high school and I would go for autographs, before and after games. This was when the Rangers were really good, and had a whose who of names, such as the "Core 4 of '94", Gretzky, Fleury and others.
Of all the big Ranger names from that era, while I appreciate it more now than I did at the time, Adam Graves, no matter if the Rangers won by five goals or lost by five goals, would SIGN for everyone. He even signed everything for the 50 year old creeps, who were obviously profiting off of his signature, with their 78067867896789 different items.
Not only did Adam Graves sign for everyone, he let you into his world. He made small talk with you. It wasn't just "let me grab a sharpie and shut your punk ass up"; he tried to learn about the people he was signing for during those days, the peak of his career.
In the decade's worth of service that Graves had with the Rangers, his name appears in many top ten categories. Upon his retirement, he broke Vic Hadfield's 22 year old record, of most goals in a season by a Ranger, with 52 goals, eclipsing Hadfield's record of 50 goals. Jagr would later break the record set by Graves, with 54 goals. And for the sake of argument, who knows if Graves would've scored more goals that season, had the league not had the tie. I'm sure Graves, under today's rules, would've at least picked up one three vs three overtime goal!
To this day, in franchise history, Graves is third all time in goals scored for the Rangers, with 280 goals, tenth all time in points with 507 points, fourth all time in power-play goals with 100 PPG's, and first all time in power-play playoff goals, with 13 tallies. And while all these stats are nice, being first in playoff PPG's speaks volumes. It's one of the reasons why the Rangers won the Cup in 1994. It speaks to how big Graves was in big games.
In an era where Mark Messier, despite his allegiance and time with Edmonton, becoming one of the greatest and most beloved Rangers of all time, the Rangers watching the greatest defenseman in team history do his thing, in Brian Leetch, and having the greatest Rangers goalie of all-time in his prime, in Mike Richter; it was Adam Graves who was the heart and soul of those mid-to-late 1990's NYR teams, a team that won a Cup in 1994. (I'm sure you may have heard about that win!)
Graves, who proudly wore the "A" on his jersey for those New York Ranger clubs, had his best season in 1993-1994. Obviously, his 52 goals, his All-Star nomination and the Stanley Cup victory, are the big trifecta of stories from that season. What's lost from that year, with all the accolades, is the fact that Adam Graves won the "King Clancy Memorial Trophy" that season, an award that honors "the player who best exemplifies leadership qualities on and off the ice and who has made a significant humanitarian contribution to his community."
While Graves would only win one of these "King Clancy's", during his Rangers career, Graves never stopped being a humanitarian, a philanthropist and a man of the people during this time. In fact, Graves would go on to win the Bill Masterton Trophy in his final year with the Rangers, in 2001. For those who don't know, the Bill Masterton Trophy honors "the player who best exemplifies the qualities of perseverance, sportsmanship, and dedication to hockey."
In Ranger team awards, during the career of Adam Graves, he would win multiple Frank Boucher Fan Trophies, Steve McDonald Extra Effort Awards, Player's Players Awards and oh yeah – Team MVP.
From day one in New York, Adam Graves quickly used his fame and celebrity and integrated himself into charitable efforts. After his retirement, upon the foundation of the "Garden of Dreams" charity in 2006, Graves became perhaps the face of the charity, where he has since donated thousands upon thousands of hours to, thus enriching the lives of thousands upon thousands of people.
To this day, Adam Graves is not in the Hockey Hall of Fame, despite perhaps being one of the Top 10 or Top 15 Rangers of All-Time. That said, as a human being, Graves is easily one of the greatest Rangers in Rangers history, as no one, and this isn't a knock on anyone else, has done more to help others, than Adam Graves. (Other honorable mentions here, includes guys like Ron Duguay, Gilles Villemure, Rod Gilbert, etc.)
While the association Graves has with the Garden of Dreams is pretty much well known at this point, what's not known, is all the countless of stories upon stories, of Adam Graves helping out people less fortunate than him. Graves isn't Henrik Lundqvist or a politician, smiling whenever the red light is on. Graves is there for everyone. In fact, and I've been told this by someone within the Rangers, that Graves prefers not to be on camera, while doing his charitable work. However, what happens, is that the during Garden of Dreams fundraisers, in an effort to secure donors, Graves allows the charity to use his face and work, to promote the charity. In the perfect world of Graves, he'd rather be unseen, and do his charity work.
And just to hammer this point home – Graves didn't become Mr. Charity after his playing days. He was doing all of this stuff while an All-Star and Cup Champion in this league. I don't know what the family life is for Mr. Graves, but I would imagine he's sacrificed quality time with his family, while trying to help others. What I'm about to say here isn't hyperbole either – he's the freaking Mother Theresa of the New York Rangers.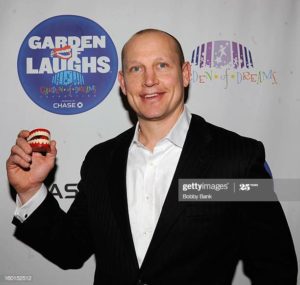 To this day, Graves is a day one and an elder statesman of the Garden of Dreams charity. That said, just because it wasn't reported, it wouldn't shock me if Graves was behind some fundraiser, in an effort to raise monies for corona virus victims. And that's what makes me appreciate Graves – the guy has a big heart and will do what he can for anyone, red-light on him or not. Graves isn't looking for a pat on the back. He's truly looking out for his fellow man.
I don't lie to you on these blogs. Is Adam Graves the greatest on-ice Ranger of all-time? Of course not. Truth be told, if I was making a Top Ten List, he may land in the tenth slot, if I listed him at all.
However, when I look at the Rangers career of Adam Graves, coupled in with the charity work he's done, on behalf of the Rangers? There's no one better.
If you are a religious reader of this blog or know me, you know my passion about the New York Rangers and their history. It's time for the Rangers to join their Original 6 brethren, and other teams across the league, and dole out the statue treatment for a legend. M$G is now a dark, cold and corporate place, devoid of promoting the great history to Ranger fans of any age. It's time for the Rangers to correct a major wrong, pony up the bucks and allow fans to pay their respects to an all-time Rangers great and an overall great human being, in #9 himself, in a one Adam Graves.
And really, this would be one hell of an attraction and ceremony, once this corona virus ends, to get new and old Ranger fans alike, to come back to M$G again. No one deserves this honor more.
That wraps up this latest manifesto here on BlueCollarBlueShirts.com.
If you're looking for more Rangers content to consume, once again, I turn to the reigning and defending audio/video champions, in the Blueshirt Underground guys, who did their latest podcast today:
As far as the next blog on this site, I don't know when it will happen, but I'll come up with something good. Subscribe to this blog by clicking the button below, so you don't miss the next update: