Greetings and salutations everyone and welcome to another blog here on BlueCollarBlueShirts.com.
It's been a while since I've done something on this site. As always on this site, I hate to bother you with 767696796976786 different three paragraph blogs. I rather save everything for one shot. Read it all at your own pace! Plus, I'm an "opinionist", not a news reporter. I don't need to do a news/blog update every time Mika Zibanejad farts or if Artemi Panarin trolls the imp reporters.
That all said, not much has really changed since the last time I chatted with you. The sports world remains in a state of "pause" and no one knows what will happen in the future. The same rumors and rumblings that were around when this corona virus first started still remain – the league may play in empty arenas, the season may be canceled, the season may resume with the playoffs, the season may pick up with the entire league playing in one location and so on and so forth.
I'll cover all the latest news in tonight's blog. After that, I'll have news and notes about several Rangers and several members of the Rangers alumni. Tonight's "Main Event" will feature my look at the Top Five Captains in New York Rangers History. Yes, another list. However, just like anyone else (at least I'll admit it here!) by doing lists, you're just creating debate during a slow time.
For this blog, I'm looking at the Captains in NYR history, as I haven't seen anyone else do that yet. After all, after I did a monster blog on Adam Graves last time, I saw 6677634763764 other people, bloggers and/or podcasters, writing/talking about Graves after I posted mine, including Rick Carpiniello of "The Athletic." (Imagine paying for sports opinions, minga!) While I'm sure that's all coincidence (wink-wink) at the end of the day, I'm all for more positivity and more promotion of Adam Graves. He deserves a statue more than anyone, at least in my opinion.
To catch up where we left off, in case you missed them or forgot, here are my last few blogs, including the Adam Graves one, from this site: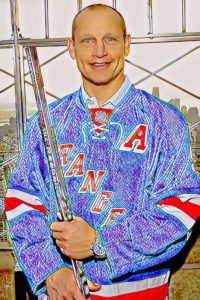 ---
---
---
---
---
---
As I've been doing since this corona virus crap started, let's take a look at the real news first, before moving on to everything else.
When it comes to an official league news update, the NHL released their latest statement on April 14th. The following comes from https://www.nhl.com/news/commissioner-gary-bettman-options-to-resume-nhl-season/c-316609674:
The NHL continues to explore all options for resuming the season while waiting for clearance from authorities, after pausing the season March 12 due to concerns surrounding the coronavirus.
"When we'll have an opportunity to return depends on things that we have absolutely no control over, because it all starts with everybody's health and well-being," NHL Commissioner Gary Bettman told CNN on Monday.

"And until there's a sense that people can get together, not just to fill our arenas but even our players to get together to work out, we don't know when we can come back.

"But it's something we're monitoring on a daily basis."

The NHL had asked players to self-quarantine through Wednesday, but on Tuesday that was extended through April 30.

Commissioner Bettman told CNN the NHL and the NHL Players' Association have discussed how long players would need to prepare for the resumption of the season.

"As much as you may try to stay in shape with a home gym, our guys haven't been on the ice now for a month, and they're going to need 2-3 weeks to get back into playing shape," he said.

"So as much as we may worry about keeping everybody, not just our players or the NHL family, but everybody, safe from the coronavirus, we also want to make sure that our players don't jeopardize their health by coming back too soon and not being in game shape."

Asked about playing games without fans or at neutral sites, Commissioner Bettman said the NHL had to be ready for anything, even if some scenarios ultimately turned out to be unrealistic.

"We're exploring and want to be prepared for every option whenever the circumstances present themselves," he said. "So we haven't ruled anything in, we haven't ruled anything out, and we'll be prepared to go in whatever direction makes sense at the time."

Commissioner Bettman said the call President Donald Trump held with sports leaders April 4 was very constructive.

"We all expressed a desire to get sports back," the Commissioner said. "It's something that for the psyche of the American, and in my case the Canadian, public is very important. Sports can be part of bringing people together, can be part of healing.

"But we all agreed that until it's the right time, there are other more pressing issues than when we come back, and again, everything starts with people's health and well-being."

---
I don't want to get too political here, but no matter how you feel about Donald Trump, one thing that everyone can agree to, as a fact, is that Donald Trump is a fan of sports. Even better, the President is a fan of the New York Rangers, as he's been spotted at numerous games over the years at M$G, before being elected President of these United States.
Hell, and in a FUTURE BLOG SPOILER alert, I plan on doing a Delorean blog on the Rangers vs Kings game from February 27th, 1989. I'm just waiting for things to get somewhat back to normal, or at least safe enough, for my buddy Mike J. to send me a DVD of this game for this blog. The significance of that game? Guy LaFleur's hat trick against the Wayne Gretzky led LA Kings. If that's not enough for you, it's also a look at Ron Duguay in a LA King's jersey.
I know I'm going off on a tangent a bit here (that's my style) but if you're a regular reader of these blogs, I try to talk about stuff no one else is really talking about. As mentioned up top, during these times, you have to find new angles/stuff to talk about. One person that you don't see much talk about, in regards to his Rangers career, is Guy LaFleur. When I do the review of that game, we'll take a close look at LaFleur's time with the Rangers.
And to tie this all back to my original point, about Trump being a sports fan, look at Donald Trump and Ron Greschner's then-wife, Carol Alt, attending this Rangers/Kings game from 2/27/89:
As mentioned on a previous blog, Trump recently held a conference call with all the major heads of professional sports, as Trump wants to get pro sports back in action. To follow up that story, where that original conference call was held on April 4th; ten days later, on April 14th, Trump announced he was creating a committee of advisors, with the aim of getting sports rolling again. You can read the full story of Trump putting this committee together here:
https://www.washingtonpost.com/politics/new-trump-advisory-groups-to-consult-on-reopening-us-economy/2020/04/14/2955e940-7eb0-11ea-84c2-0792d8591911_story.html
I don't want to go down every rabbit hole of this story, as currently, of all the major sports, only the WWE is running shows right now (and that's a story in itself, in regards to Florida ruling pro wrestling as "essential"), but in my opinion, while it's nice Trump wants to get sports up and running again, even going as far as putting this committee together; at the end of the day, these professional sports leagues won't do boo, until the CDC gives them the okay to.
As talked about in recent previous blogs, there are so many twists, turns and uncertainty during these unprecedented times. I read the New York Post every day. On Friday, April 17th, the NYP was reporting that all NYC city pools and beaches may be closed this summer. Then, in Jacksonville, Florida, all of their beaches re-opened today. Adding to the craziness on 4/17, you have Donald Trump asking states to "liberate" themselves, while state governors & the CDC are saying to do the exact opposite.
I will say this – if you know anything about the news and the country, one thing is always true – Florida is always wacky and Father Fink'd up. Anytime you hear about some crazy crime, like a drunk meth dealer, swallowing fire while driving his lawnmower down the wrong way of a one-way street, 99% of the time, that crime occurred in Florida. Must be the sun!
I bring up Florida, because they are the first state to rule pro sports as "essential". If the NHL is to return, while minor league & college rinks in North Dakota and New Hampshire have been discussed as potential locations to resume the NHL season, there is an outside chance that the NHL could resume in Tampa and in Sunrise. I don't know how all the logistics would work out, especially when it comes to having good ice in the Florida heat, the same Florida heat that causes people to take weed whackers to alligators, (true story) but it could be an option.
Another option? And this is me putting this out there, and not anything that has been discussed, at least not publicly – rent or buy one of those huge cruise ships, build a rink, test everyone before boarding and as the great Wayne Campbell once said, – "GAME ON!"
To wrap this all up, while Trump has his committee, and the leagues across America continue to issue press releases, the theme remains the same – no one knows when the league will resume. Hell, away from the NHL, sports reporters are even talking about canceling baseball and playing NFL games in front of empty stadiums too.
---
In other news from April 17th, the biggest news item was this:
As reporter Andy Strickland, and many others reported, the NHL salary cap, for the 2020-2021 season, which once had the potential to reach anywhere from $84M to $88.2M, prior to this corona virus pandemic, will remain at $81.5M next season. There's a couple of things to take out of this news.
For starters, it's been rumored that teams will get amnesty buy-out clauses for the 2020-2021 season. Again, this is rumored, NOT confirmed. I've seen rumors of anywhere from 1-3 amnesty buy-out's per club. Again, RUMORS. However, if you're a betting person, I think it's a safe bet, that with the cap remaining flat, that the league will at least allow one amnesty buy-out per team, if not more. As discussed previously, this would be a godsend for the Rangers, as they could get Lundqvist's contract off the books scot-free.
Of course, to be fair, if the league does allow amnesty clauses, this would favor the rich and big money clubs. The Rangers could afford to buy out Lundqvist. They could afford to buy out Brendan Smith. And while this is all rumored stuff and I don't know if this would be part of such a deal, the Rangers could also afford to buy out the dead-cap space that Kevin Shattenkirk's deal is currently taking up.
And let me add this too. Say what you want about James Dolan, and we all know I have on this blog, one thing you can't accuse him of is being cheap. If he has to spend $10M+ buying out contracts, in an effort to make the Rangers better, he will. While his ways haven't produced a championship, the man will spend money. The problem during Dolan's tenure as owner of NYR, is spending that money correctly. As Ranger fans, we can never say Dolan didn't want to spend the cash.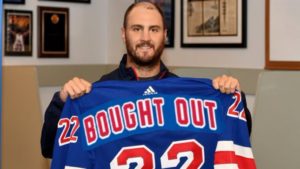 Conversely, while the Rangers could pay their way out of mistakes, which in turn, would accelerate their rebuild even further, small market teams and teams strapped for cash, would not have the same luxury. However, if you're the league, there's nothing wrong with your big market teams having an advantage. They draw the most eyeballs. They draw the most money. They draw the most attention. For all the talk about Toronto and 1967, the last year the Leafs won the Cup, if you're the NHL, don't you want Toronto to win the Cup? It would bring in a ton of dough.
While many big market teams would salivate over potential amnesty deals, the people who will get screwed the most with this salary cap news, are the pending unrestricted free agents around the league.
This is a Rangers blog, so let's look at someone who I've talked a lot about on this site, in a one Tony DeAngelo.
When it comes to the Rangers UFA's, come this off-season, Tony DeAngelo is obviously the biggest name that has to be locked up. Again, I covered his entire situation in the link above. In short, if Brady Skjei was worth $5M+ a year, DeAngelo is worth much more than that. That said, prior to this corona virus, if TDA shopped around (it is my belief he wants to stay in New York and would take a little less money to remain a Ranger) he may have fetched a contract worth $6M per year. Again, refer to the link above for the entire breakdown and league-wide comparisons.
With the salary cap now remaining at $81.5M, rather than getting the boost that would've happened if a Chinaman didn't eat a Father Finkin' bat, guys like DeAngelo may not draw the salaries they once would've. Sure, amnesty buy-outs will help teams, if amnesty buy-outs become an option, but for the unrestricted free agents, aside from the aftermath of lockout seasons, this is the worst time to be a free agent.
Again, I go back to the deal the Rangers gave Skjei, when the salary cap wasn't as high as it is today. If Skjei was worth $5.25M, DeAngelo easily should've got the same money during this upcoming off-season. Now, maybe he gets something like $4.5M. If anything helps DeAngelo, in the event the season is canceled, he left on a high note. His stock is high.
(And to be clear here, when I say I feel TDA wants to stay in NY, I'm basing that on interviews he's done and just his overall chemistry with his teammates. I'm not saying he will sign a discounted deal, but I could see him leaving $100,000-$300,000 on the table, to stay with NYR. Just my beer gut feeling here. In addition, as a player, why would you want to leave a situation where you're reveling in?)
When you look at the biggest prize of this upcoming class of unrestricted free agents, you look at Taylor Hall, currently of the Arizona Coyotes. While he will still command and perhaps get the most money out of any UFA of this summer, his stock has dropped a bit. Hall needed more games (and a playoff run) to get max value, come contract negotiation time. Instead, if the season is canceled, he won't get the money he would've, had he had a decent end of the season and a playoff run.
And of course, with everything up in the air, we do know this – whatever happens with this 2019-2020 season, this upcoming free agency period will be the shortest in NHL history. Then again, truth be told, most of the big free agent fish, are usually signed in the first two days of free agency anyway.
In best case scenarios, on the topic of the league resuming, I've seen stuff about the Stanley Cup Final being played into August. Again, rumors. I've also seen players like Brendan Lemieux and others, say that they don't think the league will resume the season at all. Again, no one knows. What we do know is this – this is a bad time to be a free agent.
With that all said, that concludes the latest news update. Let's now take a look at the Rangers, their players and their alumni. And hell, while on Tony DeAngelo, let's stick with him for our next segment.
---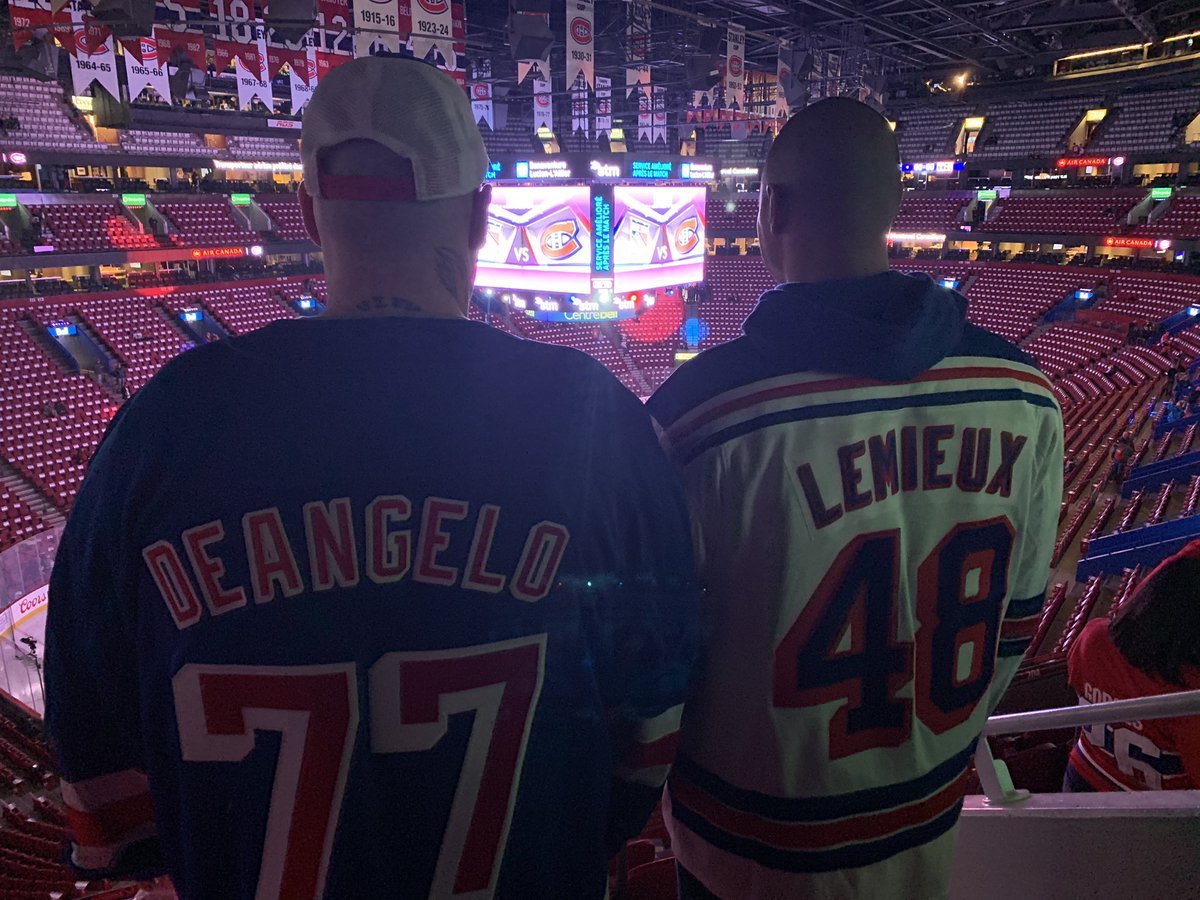 On April 15th, Tony DeAngelo's sister Vienna, tweeted out the following: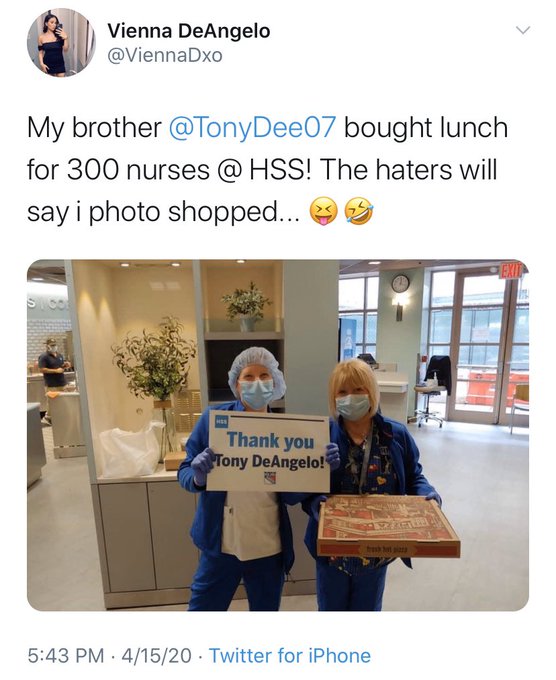 As someone who is blue collar, (hence the name of this blog) and has basically worked in labor jobs for my entire adult life (I've been a store manager of a Genovese, a delivery man for a stationary store, a custodian, a security guard, ran a pro wrestling company, a power-washer and in construction) I can tell you this – every worker enjoys free food. It doesn't matter if it's shit on toast or a Filet Mignon with lobster tails on the side – a free lunch is a free lunch.
Previously on this blog, I talked about Drew Brees and his super extraordinary donation of $5M to New Orleans during this corona virus. Just as the logo on his jersey suggests, Brees is a Saint. However, and please, don't take this as me detracting from what Brees did at all, because that is not what I'm saying here, it's nice to see real people benefit from donations.
I just think back to Hurricane Sandy, and all the donations, the Red Cross and the concerts – I still don't know anyone who got any of the billions of dollars raised. (I don't want to get too off-topic here, but in the case of the Red Cross, it was reported that many of the monies donated during Hurricane Sandy, went to administrative fees, rather than going to people in need.)
When I see real essential workers getting a donation, to me, it's a great story. You can put faces and people with the donations. While what Brees did is simply amazing, it's tough to find people who were directly benefited. (And that's not to say that those people don't exist. With donations like his, sometimes there is red tape and politics behind it. Again, look at the Red Cross scandal after Hurricane Sandy.)
While obviously, DeAngelo's free lunch for 300 nurses doesn't compare to the donation Brees made (and again, facts here, Brees makes about 100 times more than DeAngelo makes) it is a gesture that goes a long way. It's a token of appreciation. I don't know what DeAngelo spent here, nor do I care to find out, but just doing something is a great-hearted act of philanthropy.
I don't want to get too deep into this, because it takes away from what DeAngelo did, but of course, whenever DeAngelo does something, even if it's BUYING LUNCH FOR 300 ESSENTIAL WORKERS, you will always have these social media cretins, who have to find fault in every thing TDA does. That said, I'm glad to see these basement bozos are becoming the minority these days. I mean, look at what some of these assholes say: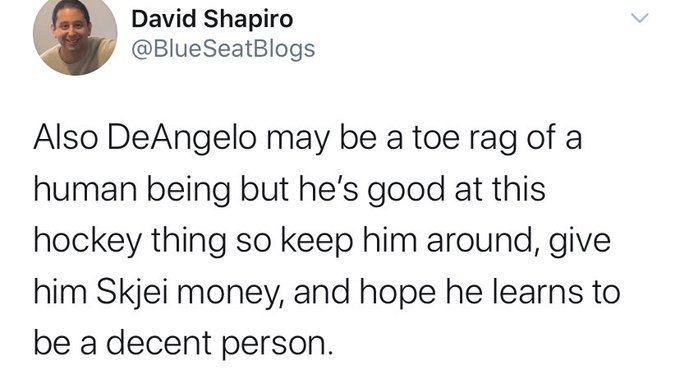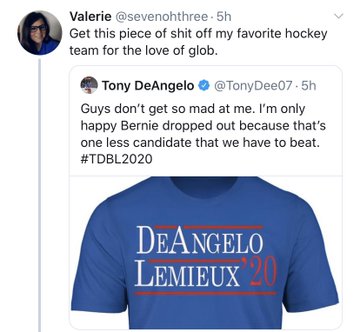 While these two morons featured above, are only a small part of a rubber room full of rejects, there were plenty of great comments from Ranger fans too:
300 nurses. Wow that's great. How many pizzas did that take?
Great job 77

— AV (@11AV31) April 16, 2020
Great gesture from Tony. Maybe his best assist all year.

— Danny Mack Sports (@DannyMackSport1) April 15, 2020
In my next life I want a big brother just like Tony!

— Jennifer Eberhart (@sinbin_36) April 16, 2020
As an #isles fan, @TonyDee07 is someone I love to hate on the ice but I've really enjoyed seeing these kind acts show up in my timeline. Way to represent the league.

— Lester Freamon 🦞 (@Coolestersmooth) April 16, 2020
Here was my comment:
Anyone with a brain knows Tony is a classy and upstanding citizen. What a great gesture. (And you publicized it, not him. Says a lot about his character that he's not looking for a red camera light.)

— BlueCollarBlueShirts (@NYCTheMiC) April 15, 2020
If you look at Vienna's original tweet, she said, "the haters will say I photoshopped." I've talked about DeAngelo and these people with TDS (Tony Derangement Syndrome) so many times on this blog, so I won't repeat my "Greatest Hits" here. Just check the archives of this blog. That said, it shows you that even DeAngelo's sister, knew people couldn't take a kind act from her brother at face value. She knew that some people would spin this story into something negative. And Vienna was correct. After all, look at this loony sack of excrement:
We have a "thank you Tony DeAngelo" sign laying around work too, ….you know just in case,
Nothing looks fishy here

— Subterranean (@JohnJrNY) April 16, 2020
I reached out to Vienna on the Twitter machine, and according to her, Tony DeAngelo did NOT want this story publicized. As of this writing, TDA, who is very active on social media, hasn't said one word about this. To me, and based on my conversation with Vienna, this is family sticking up for family.
I've talked about this topic before – it doesn't matter if you have 0 followers or 1,000,000 followers on social media, most of these guys, and especially their families, see what's written about them. ESPECIALLY NOW, with everyone cooped up at home. I'm sure Vienna sees all this TDA trash talk, from these mentally ill liberals, who can't separate sports from state. That said, let's troll them a bit, shall we: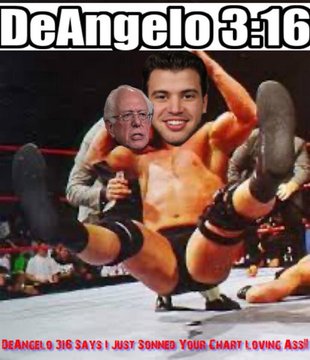 Anyway, not that it matters, but I was told by Danny M., that HSS Hospital is located on 73rd Street, off the FDR. I don't know if TDA has any association with that hospital or what, but I found this to be a great gesture. Put it this way, he's a Philadelphia sports fan & a resident of South New Jersey. He could've donated money in the Philly area. (And that's not to say he didn't, I just don't know if he did.) Instead, he donated money in the city where he makes his money in. How can anyone be upset about that?
Of course, I got to "get my stuff in" too here!
When Lundqvist's foundation donated $100,000 (or $100.00, as he tweeted) I saw these same fans, who are trashing TDA right now, ONLY BECAUSE TDA HAS DIFFERENT POLITICAL BELIEFS THAN THEM, do back-flips for Lundqvist's donation. Listen, all this philanthropy is great stuff. However, let's talk facts a second here. I don't know what TDA's financial donation was here. A couple of thousand maybe? It doesn't matter. That said, that came out of his own pocket. Lundqvist's donation came from a foundation, a foundation that FANS DONATE money too. In other words, it's not like Lundqvist's donation was coming out of his own pockets. Of course, these facts are ignored by the people who are stark raving mad about TDA giving out a pizza party to essential workers.
This world today – PEOPLE ARE MAD THAT A HOCKEY PLAYER ON THEIR OWN TEAM IS BENEFITING THE COMMUNITY. Even worse, the sister (and most likely TDA himself) knew that a charitable act of kindness would be met with backlash. To quote the great Donald Trump here, "SAD!"
In any event, as I wrap this segment of the blog up, great job TDA. I totally understand why a sister would want to highlight her brother. Blood is thicker than Twitter!
---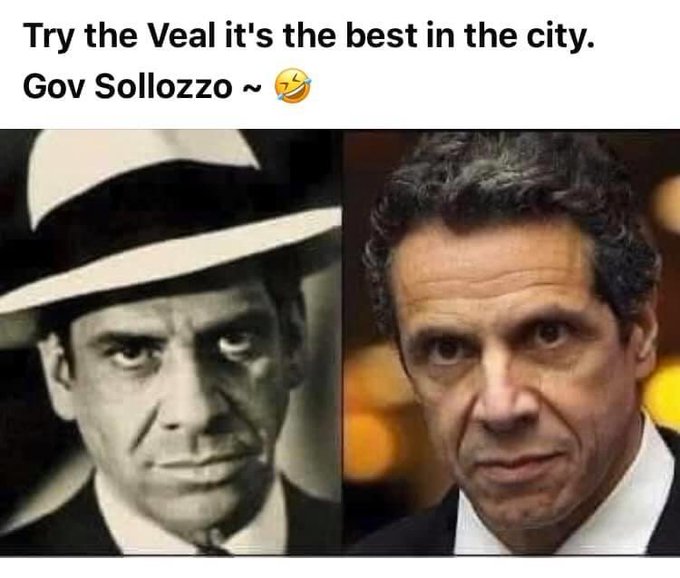 Before getting into my next diatribe, as I've been doing since this corona virus stuff started, let's now take a look at the podcast scene. If you don't know already, I really try to listen to every Rangers themed podcast out there. I can tell you this – I've listened to all of them, but there are only so many hours in a day to actively follow every single one of them. Truth be told, I think 75% of them are horse crap and repetitive anyway. Many of them lack originality, knowledge and in what's important to me – personality/sense of humor.
One podcast/show that has originality, on-going bits, knowledge and a sense of humor, are the BSU guys. And I don't want to seem like I'm "white-knighting" for them, but really, their live shows and their fan base is always entertaining. Due to that, I try to never miss an episode. Most of the BSU shows feel like you're in a bar, swash-buckling beers along with them. You can check out their latest "Jeff Gorton" episode here:
In other podcast news, the Dan Girardi Tampa Bay Lightning themed "Block Party" podcast is no more. I don't have the full story, but from what I've been told, Girardi has relocated from Tampa back to his native Canada. I don't know this 100% and perhaps Girardi's now ex-producer Seth Kush can tell me more, but I believe Girardi's relocation is a direct result of the corona virus.
Speaking of Girardi, with Girardi now moving on from his Tampa Bay Bolts association, Girardi did a live twitter chat on the Rangers account this past week. The highlights: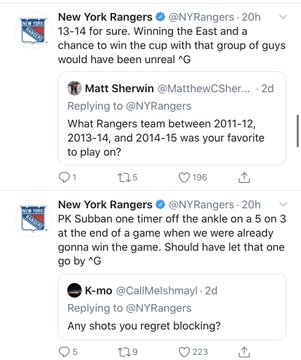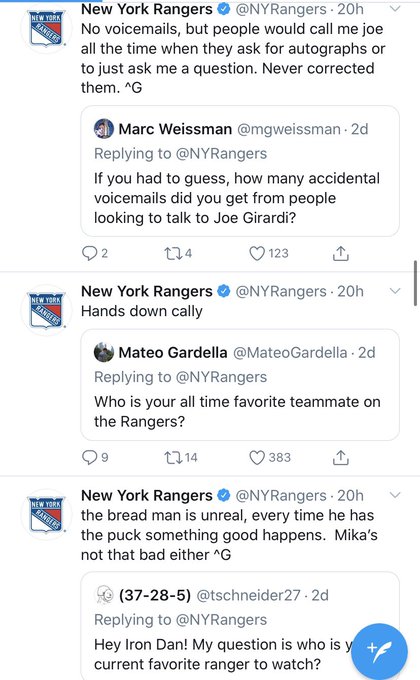 The Joe Girardi stuff had me cracking up. I always wondered that too.
In other podcast news, Ron Duguay, who in my opinion, has the best and most consistent player podcast out there today, released his new episode, featuring an interview with former Rangers GM Neil Smith. You can listen by clicking the link below:
— Ron Duguay (@RonDuguay10) April 15, 2020
While some of the stories Neil Smith told to Duguay and Larry Brooks have been told before, it was cool to hear Smith talk about his recent reconciliation with the powers-to-be at M$G. If you recall, Smith was left out of the 90 Year Anniversary ceremony several years ago, but did return for the 25th anniversary of the 1994 Stanley Cup victory last season.
On the podcast, Smith talks about his best and worst trades, discovering talent and the differences between his time as GM and the GM's of today. It's a nice 30+ minute interview and worth going out of your way to listen to.
While plugging things here, I got one last thing to promote: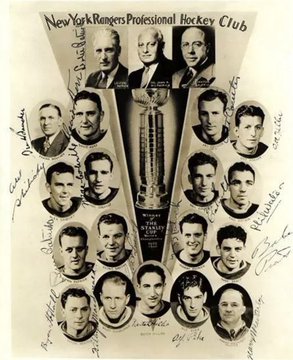 April 14th marked the 80th anniversary of the 1940 New York Rangers Stanley Cup victory. Last year, I wrote a lengthy blog recapping that entire season and that team. In short, I think this team is very under-appreciated. After all, what once was a great moment in Rangers history, quickly became a painful reminder of Rangers futility over the years, due to the 54 year gap in between Stanley Cup victories. Everyone can remember the mocking "19-40" chants, prior to the 1993-1994 Rangers.
Anyway, if you haven't read it, looking for knowledge and/or have some down-time, here is that blog on those 1940 Ranger Stanley Cup champions: https://bluecollarblueshirts.com/1940/
Time for the next segment, on this lengthy magic carpet ride of a blog!
---
As I've been saying during this entire quarantine/corona virus stuff, people are going to make lists to occupy time and to spark debate. I'm one of them. After all, we'll eventually get into the Captain stuff on this blog, and previous to this blog, I did a Top 10 Rangers Defensemen List. (Linked at the top of this blog.)
For whatever reason, NHL.com released their latest and 76346364763376568th version of the greatest goalies of all time list. However, in a new twist, this list only included goalies starting from the Expansion of '67, meaning guys from the Golden Age of Goaltending, such as Sawchuk, Plante, Bower, Worsley and others, were all excluded.
Here's the list: https://www.nhl.com/news/super-16-nhl-power-rankings-top-goaltenders/c-316623678?tid=278386388
If there was anything besides Hank vs Marty that got a ton of talk; at least from Ranger fans, it was Hasek not being number one. To me, I don't really care. When it comes to a Mount Rushmore of Goalies, you're looking at Hasek, Roy, Brodeur and Sawchuk. As far as who was the best of the lot, it really is in the eye of the beholder and what criteria you find most pertinent. I can see the argument for any of the four. Each of these men have a claim to the throne. And really, when you look at these goalies from the 80's-00's and try to to compare them to Sawchuk, it's tough. Anyone who ever saw Sawchuk play will tell you he was the greatest of all-time. People who didn't see Sawchuk play, will argue for one of the other three. Again, it's all personal opinion, your age and preference, as most lists are.
If there was anything I found ridiculous about this list, it was the fact that Jonathan Quick (2 Cups, and a carry job in 2012) was omitted and how Lundqvist finished ahead of Tim Thomas (two Vezina's, a Conn Smythe and a Cup) and Marc-Andre Fleury (3 Cups, 2 SCF losses.) If anything, Lundqvist, like CuJo (who isn't a Hall of Famer) is just on this list due to duration, not because of any hardware success. After all, in Lundqvist's 16+ year career, he only has one Vezina, a Vezina that was due to Torts and a shot-blocking system. Put Lundqvist in the Roy/Hasek/Brodeur era, and Lundqvist wouldn't even have that to his name. And unlike most of these names, I don't see Lundqvist as a Hall of Famer. I explained why in-detail, here: https://bluecollarblueshirts.com/12920/
(Long story short on why Lundqvist isn't a HHOFer to me – look at the people who aren't in. In addition, only 35 NHL goalies are in the HOF.)
Due to NHL.com releasing this list, the Brodeur vs Lundqvist nonsense started up again. I feel like I've talked about this topic to death on these blogs. Every time I see one of these Ranger fans living in a bubble, trying to push that Lundqvist is/was better than Brodeur, until they are as blue in the face as the blue that Lundqvist wears in M$G, it's always the same shit:
— LUNDQVIST DIDN'T HAVE MARTY'S DEFENSE!
— LOOK AT THE EXPECTED STATS!
— LUNDQVIST NEVER HAD ANYONE TO PLAY WITH!
Of course, omitted/ignored by these yokels, are these facts:
— Brodeur actually won Stanley Cups.
— Brodeur changed the game.
— Brodeur could actually, <GASP> stick handle, play defense and create offense, hence changing the game when the trapezoid was invented.
— Brodeur was a big game goalie and came up big when it mattered.
And let's not forget this, for these momos who think Lundqvist is better than Richter too. Richter beat Brodeur in 1994, when Brodeur was coming into his own and about to enter his prime. (Brodeur won his first Cup a year later.) 18 years after Richter beat Brodeur and the Devils, Lundqvist choked, as usual, to the Devils in the same situation in 2012. And for all the people who go on and on about the defense Brodeur had, he didn't have that defense when he beat Lundqvist and the Rangers.
Simply said here, if you think Lundqvist had a better career than Brodeur, you're an idiot. That's all. By making up excuses and hypotheticals, in an attempt to sell Lundqvist as better than Brodeur, you're grasping at straws. Facts are facts. Brodeur had the better career and is one of the greatest goalies of all-time. Lundqvist is just the best contract negotiator of all-time.
I've had enough talking Lundswiss (and I can't wait for that amnesty buy-out, that will be a fun blog one day!) NEXT!
How about a little levity?
I preface the following with this – this bit will either land or will be a major swing and a miss. You decide.
On Friday April 17th, the following news was reported: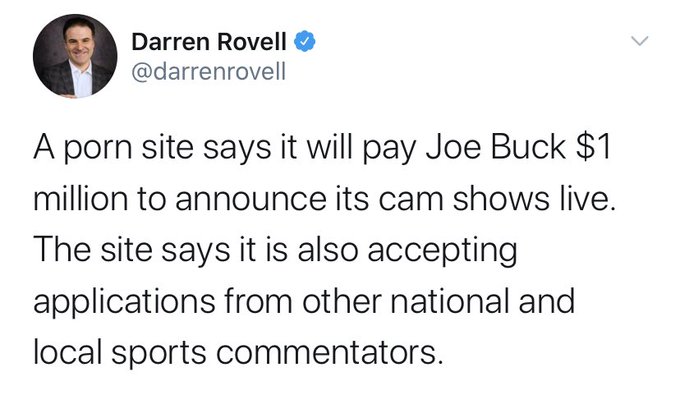 I know there are people who hate Joe Buck for no reason, but ever since his stuff with Artie Lange, I've become a fan of his. On the down-low, Buck has a great sense of humor, even if that's not what he gives off on television. Here's Joe Buck's comments, on this sensual offer:
Depending on the site they could just be handing some of my money back to me. So I'll hold out for a better offer and try to hold on to my day job. But I have to say I'm flattered. https://t.co/wBgkwnHyrA

— Joe Buck (@Buck) April 17, 2020
Joe Buck, and his wife Michelle Beisner, would have more fun with this story. Of course, the NY Post has this story covered in full, and you can read it here: https://nypost.com/2020/04/17/joe-buck-rejects-imlives-1-million-offer-to-announce-porn/
Once again, Joe Buck showed off his sense of humor and created some laughs for us. That said, Buck has declined the offer. However, according to the original story, a porn site is offering money to "local sports commentators", to commentate pornographic videos.
Of course, this leads me to thinking, WHAT IF Sam Rosen and Joe Micheletti accepted an offer?
Can you imagine if Sam Rosen and Joe Micheletti would accept this quick cash offer to commentate porn videos? I can see the exchange already:
SR: HE SHOOTS, HE SCORES!
JM: Pardon me Sam, but that didn't go five-hole, it hit the post.
SR: OH JOE! It's a power-play load from Dirk Diggler, I mean Ron Jeremy!
JM: That backdoor shot was simply FABULOUS Sam.
SR: And with that third money shot of the game, fans get 50% off of Papa Johns!
JM: Did you know that Lisa Ann is only 47 years old Sam?
SR: Just imagine if Lisa Ann had a sister in Carolina!
JM: I believe she lost 15 pounds in the off-season.
SR: She actually lost 200+ pounds, when she dropped that stalker Michael Del Zotto like a bad habit!
JM: FABULOUS!
SR: Second scene, what do you look for here Joe?
JM: Well if this girl can… OH WOW SAM, ANOTHER SCORE! I THINK THAT ERECTION WAS DEFLECTED IN!
SR: LOOK AT THE MATZAH'S ON THIS TROLLOP! OH BABY!
JM: Simply Fabulous Sam!
SR: What a close shave here Joe. Oh Joe, it's getting rough and there's BLOOD!
JM: Did you know that this teenager is only 18 years old? She's barely legal! FABULOUS!
SR: AND IT'S A POWER-PLAY LOAD!
JM: Pardon me Sam, but the shot hit off the far wall.
SR: My apologies Joe. This upcoming Mia Khalifia scene is brought to you by Delta, which is presented by the Bud Light Seltzer Bar, which is co-sponsored by Lexus.
JM: Speaking of Lexus, what a drive into the zone!
SR: SPINORAMA JOE!
JM: It's the Foxwood's Final Five, can this guy keep it up for five more minutes?
SR: Oy vey Joe, this bit is going too long.
JM: I think it's absolutely fabulous.
STEVE VALIQUETTE: SORRY GUYS, HAVE I MENTIONED MY CAREER AS LUNDQVIST'S FLUFFER YET? AND DID I MENTION THAT IN MY CAREER, I HAD AN EXPECTED SHOTS ON ASS SAVE PERCENTAGE OF 0.00?

SR: Vally is into BUTT STUFF Joe!
JM: Pardon me Sam, but I think it's time to take it home here.
SR: THE WAITING IS OVER, THIS GANG BANG WILL LAST A LIFE TIME!
I'm nearly 38 years old folks, and this is what I wrote on a late Friday night/early Saturday morning! One more news item until the main event of this blog!
---
In the last news story of Friday, April 17th, Cam Talbot expressed his desire to be a starting goalie again, even if it means leaving the Flames of Calgary. The following story comes from https://www.nhl.com/news/flames-talbot-will-look-for-chance-to-be-starter/c-316657652
Cam Talbot said he believes he has proven he can be a No. 1 goalie for an NHL team again and will look for that opportunity when he becomes a free agent.
Talbot has been the backup to David Rittich with the Calgary Flames this season.

"I wouldn't rule out coming back, but, obviously, my goal coming here was to show the rest of the League that I still have it in me to be a starting goalie and I think I accomplished that," Talbot told Sportsnet in an interview published Friday.

Talbot signed a one-year contract with Calgary this offseason after winning 11 of 35 games last season for the Edmonton Oilers and Philadelphia Flyers. He won 73 games for Edmonton the prior two seasons, tied for fourth in the NHL.

"That's why I wanted the one-year deal, I wanted a redemption year," the 32-year-old said. "I knew that if I came to camp healthy and in the right situation, I was confident I was going to be able to get back to that form. I think I played through some stuff that maybe I shouldn't have played through the year before, and toward the end of the year before that, so that had a lot of mitigating factors behind my declining play those years. But I think my record shows that when I'm healthy and on top of my game I can be one of the best in the League."

Talbot is 12-10-1 for Calgary this season but was 9-3-1 with a 2.55 goals-against average and .923 save percentage from Jan. 1 until the NHL season was paused March 12 due to concerns surrounding the coronavirus. In that same time, Rittich was 7-7-1 with a 3.36 GAA and .895 save percentage.

Talbot started 10 of 42 games prior to Jan. 1, 12 of 28 after, raising the possibility the unrestricted free agent could stay with Calgary.

"I think as long as I would get a fair chance off the bat (to be the starter); I don't know if this year I really got that," Talbot said. "I know that they kind of wanted to see what was going on with [Rittich], but I kind of knew that coming in. I think that once I got my opportunity to come in and show what I can do that I still would be able to carry the mail. Obviously, I'd like to play more than 50-50, but 50-50 would be, you know, another step up from what I got this year, so I'll take it."

Talbot, an undrafted free agent who made his NHL debut Oct. 24, 2013, is 150-122-25 with a 2.61 GAA and .915 save percentage in 314 games for the New York Rangers, Oilers, Flyers and Flames.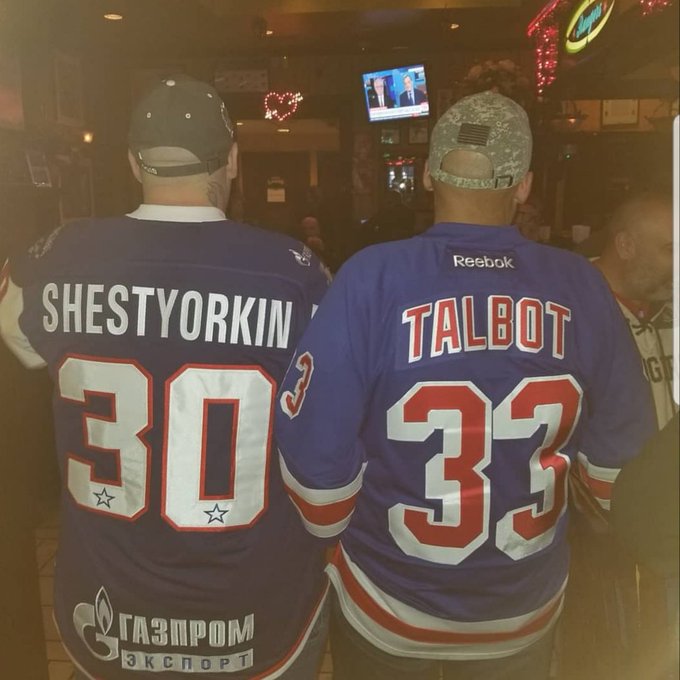 Obviously, for long time readers of this site, or if you know me personally, you know that I was and still am, a huge fan of Cam Talbot.
As far as Talbot's future, the same Talbot who will be 33 years old come the start of the 2020-2021 season, he most likely has one last chance at regaining his status as number one goalie again. Where that opportunity will be, I do not know, as many teams around the league already have their number 1 goalie or their number 1 goalie waiting in the wings. Perhaps his best crack at it, is in Calgary, which is probably a situation he would prefer. (His family lives in Edmonton, which is a two hour or so drive from Calgary.) Quite frankly, a return to Edmonton shouldn't be ruled out either, especially if he's willing to accept another short-term deal.
In the case of Talbot, who wants that number 1 job again, outside of the Alberta teams, if Talbot really wants a number 1 job, it probably will limit his chances at a Stanley Cup. Who knows what happens with Detroit or Ottawa, but those are teams that might consider Talbot on the cheap, as they rebuild. However, Father Time is undefeated, and if you're Talbot, do you want to waste a year on a team that has no chance at the Cup? Obviously, the best situation is in Calgary, who has a good of a shot at the Cup as anyone. Then again, Carolina could be a destination too…
In any event, good luck to Talbot in the future. As I've been saying for six plus years now, IN CAM WE TRUST!
7500 words in. Finally, the feature story of this blog. However I told you and you know the deal here – read at your own pace. I won't jam up your social media feeds or emails, with 786786786789696 three paragraph blogs. You know the drill and motto here – "one click, 10K+ words and no ads!" I don't artificially boost site traffic here!
---
One topic that has been frequently discussed, ever since the trade of Ryan McDonagh and up until today, is who the next Rangers captain should be. Of course, being deemed the captain of a team is an honor of the most prestige. While not confirmed, based on interviews that Jeff Gorton, John Davidson and David Quinn have recently given, it seems that the Rangers will finally have a captain again, come the 2020-2021 season. As far as who that person will be, it's most likely a two horse race between Mika Zibanejad and the recently re-signed Chris Kreider, with Zibanejad as the odds-on favorite for the job. (As mentioned previously on this site, I rule Artemi Panarin out of this discussion, since he doesn't speak fluent English, the language that the referees speak.)
The role of a team captain is an important one. He's the go-between with the head coach and management. He's the locker room and on-ice leader. He's the focus of all attention. And when it comes to the NHL, no team has a won Cup without a captain, since the Bruins of 1972. (FWIW: Bucyk previously was the captain of the Bruins at the start of the expansion era, gave up the "C", due to an abundance of talent on the team, the Bruins remained captain-less for the next six years (won two Cups in this time) and then Bucyk officially reclaimed the captaincy for four years, starting in the 1973-1974 season.)
When it comes to the Rangers, the Rangers have had plenty of Hall of Famers wear the "C" for the team. (As mentioned at the top of this blog, I say this both literally and figuratively, as in the early days of the league, the "C" wasn't sewn on to the sweater.)
For the purpose of this "Top Five Captains in Rangers History" list, while the Rangers have had many Hall of Famers & Rangers legends as captains, such as Harry Howell, Brad Park, Ron Greschner, Brian Leetch, Jaromir Jagr, Phil Esposito, Andy Bathgate and others; I'm solely looking at players during their stint as captain. For example, while Leetch is one of the greatest Rangers of all-time, his run as Captain wasn't that hot. Some would say the captaincy actually stunted Leetch's career. Other great Rangers & Hall of Famers, such as Howell, Park and Jagr, didn't wear the "C" long enough.
When you try to put together a list of the Top 5 Captains in Rangers history, in my opinion, the top two names are Mark Messier and Bill Cook. I will even extend further and say, no matter how you rank them, Messier & Cook are the top 2 captains in Rangers history. No one else can be considered for the top two spots. From there, when it comes to spots 3-5, and anything beyond that, it's a very debatable subject.
In this list I'm about to share with you, I don't have Art Coulter, Bob Nevin or Kelly Kisio ranked, despite their solid runs as captains and varying levels of playoff success. (Coulter, the second captain in team history, was the captain of the 1940 Rangers, a team that Frank Boucher said was the greatest Rangers team of all-time, prior to his death in 1977. Also of note, Boucher also said that Cook was the greatest winger of all-time, and that included guys like Rocket Richard and Gordie Howe, when making that statement.)
When it comes to the parameters of this list, I looked at the following factors, and in no particular order:
— Length of service
— Team success
— Clutchness
— Leadership
— Personal stats
— Worth to the franchise
— Playoff runs
— Ability to communicate with both referees and coaches
And as usual, because I feel like I have to say this – the following is all my opinion and not the end all, be all. Honestly, you could probably flip-flop the guys I have in the number 4 and number 5 slots. Hell, you could argue that I should've put Coulter on the list too, and perhaps even Jagr. Again, these lists are all designed to drive debate and to keep some names from the past alive, which is always my goal here.
Without further ado, let's get into it!
---
THE TOP FIVE CAPTAINS IN NY RANGERS HISTORY
5. Ryan Callahan (2011-2014)
I previously recapped Cally's career and worth with the Rangers when Callahan announced his retirement. You can read that blog here: https://bluecollarblueshirts.com/cally/
When it comes to Ryan Callahan, he may be the "Last of the Mohicans", when it comes to Rangers captains of the future. Callahan's tenure as captain was defined by pure grit and sacrifice, two things which unfortunately, in his case, made him trade-able in 2014. His best years came with the Rangers, no doubt. Even to this day, it's odd to see Kaapo Kakko wearing the #24, a jersey that Cally once wore. Even sadder, it's sick to think that guys like Ryan Malone, Oscar Lindberg and Boo Nieves were allowed to wear that number too.
Ryan Callahan's term as captain can be defined with one word – "warrior". Was Ryan Callahan the most talented Ranger in club history? Of course not. He perhaps wasn't even the most talented Ranger during his time as captain. However, outside of perhaps Dan Girardi, who matched Cally stride-for-stride, no Ranger during Cally's run showed as much heart and determination as Captain Cally. Cally was a leader and no one could ever question his passion.
---
4. Barry Beck (1981-1986)
To many fans, Barry Beck will always be remembered as "SHOOT THE PUCK BARRY". However, that's only a small footnote of his time as a New York Ranger, a time where he spent the majority of his Broadway career as team captain. A shoulder injury would lead to a retirement, a retirement which was ended after three years. (Beck would return for 52 games with LA, in what many considered to be a disappointing return. Beck would then retire after his lone season in La-La land.)
Unlike Callahan, Beck was a defenseman. However, like Callahan, Beck was known for his bruising style and his hunger to win. And just like Callahan, Beck's run as captain featured many deep Ranger playoff runs. Unfortunately for both of these esteemed captains, none of these runs led to a Stanley Cup victory. In Beck's case, his run as captain saw the Islanders win multiple Stanley Cups.
When the Rangers acquired Beck after their 1979 Stanley Cup Final appearance, during the 1979-1980 season, a season which was chronicled in the book "Thin Ice", the Rangers gave up a lot to get Beck, giving up Pat Hickey, Mike McEwen and three other players. At the time, many thought the Rangers gave up a lot to get Beck, but in the long run, Beck quickly became captain of the team, after the retirement due to an eye injury, suffered by Big Walt Tkaczuk. Beck was a fan favorite as a Blue Shirt, and his run as captain may have lasted longer, if it wasn't for the aforementioned shoulder injury.
---
3. Vic Hadfield (1971-1974)
Hadfield, who spent parts of 13 seasons with the Rangers, assumed the captaincy from Bob Nevin, after the Rangers traded Nevin to the Minnesota North Stars. Hadfield would remain captain of the club, until his trade to Pittsburgh, in 1974.
In Rangers history, there are two lines like no other. The Bread Line, of the Cook brothers and Frank Boucher, would create team records and win two Stanley Cups together. The more famous line, due to playing in the TV era and being more recent of the two lines, in the Goal-A-Game line (GAG line), consisted of Rod Gilbert, Jean Ratelle and Vic Hadfield. While the Rangers continue to ignore any of their history, pre-1950, the Rangers recently righted a wrong, and added the jerseys of Ratelle and Hadfield, to their rafters. (That said, the Cook's and Boucher deserved this honor first, something I will keep on hammering on these blogs, until it happens.)
During Hadfield's time as Captain, and as the featured goal scorer of the GAG line, the Rangers made one SCF appearance in 1972, the season where Ratelle's season was cut short due to injury. (Ratelle would return for the SCF, but was no where near 100%.)
When Hadfield was traded, he was top 10 in nearly every pertinent scoring category. His 50 goals in the 1971-1972 season was a team record, until Adam Graves scored 52 goals in the 1993-1994 season. However, it must be noted, that Hadfield played in a 78 game season, where Graves played in an 84 game season. (Jagr would eventually score 54 goals in the 2005-2006 season, a 82 game season.)
Due to their Hall of Fame status and having their numbers retired first, both Jean Ratelle & Rod Gilbert garner most GAG line headlines. However, it was Hadfield that was the leader, and scored the most amount of goals.
---
2. Bill Cook (1926-1937)
When it comes to the greatest Rangers captains of all-time, it's either Bill Cook or Mark Messier. What gives Messier the edge here, is that there is no one around today to talk about how great Bill Cook was. And while I give Messier the nod at number 1 on this list, perhaps fans of 80-90 years ago, would say anyone but Cook at number 1 would be blasphemous.
Cook, while the first captain in Rangers history, is also the only player in Rangers history to be captain during the entire duration of his career.
What makes Cook's HOF career more impressive, and the records he once set for the Rangers, is that Cook didn't start his NHL career until the age of 26. Prior to the inception of the NHL, Cook spent time in various non-NHA (yes, NHA, look it up or check the archives of this site) leagues around Canada.
When Conn Smythe, the first GM of NYR, before being dumped for Lester Patrick, was assembling the original Rangers for the inaugural 1926-1927 season, Bill Cook was the first person he signed. From there, Bill brought along Bun Cook and suggested Frank Boucher. The Bread Line would be born, with Bill Cook, one of the greatest wingers of all-time, bringing home two Cups for the New York Rangers, in an era where the Rangers had every disadvantage in the world against them. (The circus, last team to get draft rights, selling hockey in a new city, etc.)
In Cook's day with the Rangers and even in later years after retirement, he was viewed as an icon. For whatever reason, the low-life schmucks at M$G refuse to honor him to this very day. Frank Boucher, who I consider to be the greatest and most influential person in Rangers history, called Cook "the greatest winger I've ever seen."
Due to seasons of 44 and 48 games per season, and starting at the age of 26, Cook's numbers don't rank favorably with other NYR legends. However, if you prorated his numbers, Cook would be Top 5 in every pertinent stat. And oh yeah, Cook captained half of the Stanley Cup winning teams in NYR history. Cook also has the distinction of scoring the first goal and the first game winning goal, in franchise history, a feat that was replicated in a pregame ceremony, when MSG IV opened in 1968.
---
1. Mark Messier (1991-1997, 2000-2004)
Aside from Bill Cook, no other man has spent more time as captain of the New York Rangers than Mark Messier. To this very day, and in my opinion included, Mark Messier is the greatest captain in all of professional sports.
When it comes to Messier vs Cook, I was very conflicted. After all, Messier is more known for his days with the Oilers. While I am deeply aware of Bill Cook and have watched clips of Cook, I'm obviously more aware and have seen Messier. If anyone besides Matteau is an embodiment of a legacy one can achieve by winning in New York, it's Mark Messier.
In something that made me give the nod to Messier here, when Cook was captain of the Rangers under Lester Patrick, there wasn't much conflict. For the most part, every one got along in Cook's day. There was no beef between Cook and Patrick. In Messier's run to the Cup in 1994, there was tons of conflict between the team and head coach Mike Keenan, including Brian Leetch, who was actually benched at times in the 1994 playoffs. Keenan, who respected Messier due to his past, had a good relationship with #11. Messier would serve as the conduit between the team and the coach during some rocky times.
It's hard to say what was Messier's best feat in his career. There are tons of accolades to talk about. If anything is for sure, the 1989-1990 season was the season where Messier proved he could be the man, when he captained an Oilers team, sans Wayne Gretzky, to the Stanley Cup. However, winning in NY will always be magnified more than anything else. To this day, Messier could get a DWI, run over three kids and a nun, get caught in a sex scandal and proclaim his love for scientology, and Ranger fans would still give him a pass. As brought up before, those pesky "19-40" chants, are chants that Messier erased.
If it wasn't for the Rangers attempt to woo Joe Sakic into town (a move that would've happened if it wasn't for the success of the movie "Air Force One", a topic for another time; in the meantime, do your own research) Messier perhaps would've never went to Vancouver. Who knows, maybe the Rangers get one more Cup with him? And how ironic is it, that in league where there was no salary cap, the Rangers didn't want to pay Messier, but continually overpay Henrik Lundqvist for nothing, to this very day?!?!? What a turn of events.
"My jersey hanging from the ceiling is a symbol of the hard work of the people I played with." – Mark Messier.
Known as "Moose", there has never been a more beloved captain in Rangers history, than a one Mark Douglas Messier.
---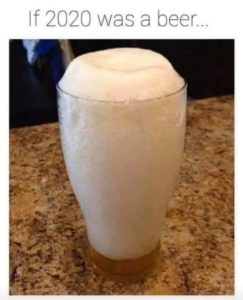 I think going over 10K words is enough for one blog, wouldn't you say? Talk about a wide array of topics tonight!
As far as the next blog on this site, I don't know when it will happen, but I'll come up with something good. Once I get that Guy LaFleur hat trick game DVD, I'll review it here. I just can't get into the 1994 or 2014 stuff on the M$G Networks right now, or the 1980's stuff where the Isles win the Cup.
Subscribe to this blog by clicking the button below, so you don't miss the next update: