Greetings and salutations everyone and welcome to another blog here on BlueCollarBlueShirts.com. And we're back.
In case you missed it earlier, I wrote a short teaser following the Rangers' announcement of their hiring of Peter Laviolette as the franchise's 37th head coach of franchise history. You can read that blog here: https://bluecollarblueshirts.com/lavy/
When I wrote that piece earlier on Tuesday afternoon (and with no whisky in my household at the time!), I didn't want to go full-boar, and for two reasons:
One, I wanted to see if some of my questions would later be answered on Tuesday evening – just so none of my stuff would be dated by the time that I published it.
And that's what eventually happened, as I originally thought that Knoblauch had a chance of being promoted to assistant head coach of the varsity club; but it's now being reported (by Arthur Staple of "The Athletic" – who is out-scooping the rest of the Rangers' beat these days) that Double K will remain in Hartford.
Furthermore, I fully expect Knoblauch to bolt from the 'Pack at the first opportunity afforded to him.
Simply stated – No aspiring NHL head coach wants to remain in the AHL forever.
Two, I wanted to watch Game 5 of the 2023 Stanley Cup Final – where going into it – I was fully expecting the Vegas Golden Knights to close-out – especially with Florida's Matt Tkachuk ruled-out with injury.
We'll talk about the new champions following my thoughts on Laviolette and the Rangers – but for now – congratulations to Sin City. I'm not a "hater" – and I truly mean this – they deserved it.
If you've never attended a Knights game at their barn (one of the best in the NHL – and I've been to 27 of the 32 in the league); then it's very easy to dismiss them and complain how "they needed to suffer longer."
To me, that's antiquated thinking – and that fan base has already become one of the most passionate in all of the NHL.
Yeah, it was only six-years of "waiting;" but what do you want that franchise and their fans to do? Ask them to only win four Stanley Cups in a century's worth of time?
Heck – maybe they should have a circus (or in 2023, a "Cirque du Solei") derail them of having playoff games held in their own arena too!
Again, kudos.
Let's talk Lavy.
---
When I first heard the news, expected news at that, and courtesy of Elliotte Friedman (and later – the Ranger beat reporters who copy-and-paste whatever he says), that the Rangers had hired Laterallette – I admit it – I was disappointed – but not shocked.
Following Friedman's report – we all knew it was coming.
But still, when I think of Lateralette as HC of NYR – I can't get this out of my mind at all – four Stanley Cup victories in nearly one-hundred years.
In other words, why should anyone expect this franchise to make the right moves, especially when you have a senile old man, now collecting a paycheck in his 23rd consecutive year, Glen Sather, as the top advisor to Rangers' owner James Dolan?
Even Vladimir Putin has a better "brain-trust" to rely on than Dolan does.
Since this site's readership continues to expand day-to-day and week-to-week; I guess I should preface what I'm about to say next with a disclaimer/qualifying statement for the people who aren't familiar with my stuff – and stuff that regular readers of this site are already all-too-familiar with.
I'm not one of these people who clamor for head coaches to be fired; nor have I ever been "negative" once a new head coach has been announced.
As mentioned many times in my writings before; the last time I ever wanted a Rangers' head coach to be shown the door was in 2002 – immediately after Senile Sather had hired the legendary Islander, Bryan Trottier.
Trottier lasted for all of 54-games, the Rangers' bloated payroll didn't qualify for the playoffs and Senile Sather, now 21-years removed from that awful, awful, awful hiring, still has Dolan wrapped around his finger to this very day.
The second head-coach that I ever wanted fired? Trottier's replacement. Sather himself!
Once the Rangers and the NHL left the no-cap era, which followed the events of the 2004-05 lockout; ever since the installation of the hard-salary cap system – I have had no problem with the head coaches that the Rangers have employed.
Whether it was Tom Renney, John Tortorella, Alain Vigneault, David Quinn or Gerard Gallant – I was fine with all of these hires – and defended each of these men when they were fired too. (The archives of this site don't lie!)
However, I don't feel the same about Peter Lateralette – an anomaly for yours truly!
To me, and as I've been saying for a long time (I saw Larry Brooks, of the NY Post, finally echo this sentiment today in his latest column) – while a head coach is important – at the end of the day – it all comes down to the players.
In the same vein; while I would've preferred literally anyone else other than Laviolette (with the exception of "Count" John Hynes) – if these overpaid divas, posing as qualified NHLers, continue to go ghost during the playoffs – then no matter who the Blueshirts' bench boss is – it won't mean a thing.
You could have an in-his-prime Scotty Bowman behind that bench – but if Zibanejad and Panarin continue to play meek-and-feeble when it matters the most – then nothing will ever change.
Coaches coach. Players play. Simple as that.
It's never the fault of a head coach when your top-two forwards, who eat up 26.1% of the team's salary cap, can't score when the regular season turns into the postseason.
It's not like the men with the whistles and clipboards can put the puck on net for these players – and as we saw during the first-round of the 2023 Stanley Cup Playoffs – in the Rangers' humiliating seven-game series loss to the putrid Devils.
However, and needless to say – whatever the Rangers do during the regular season won't matter.
Maybe that's part of my disappointment and negative reaction to this Lateralette hiring. We have to wait for the Spring months of 2024 to truly assess the result of this move.
This team, and this new head coach, will only be judged by what happens during the playoffs – and where assuming that they even reach the postseason may be a generous line of thinking too.
As you already know – nothing is guaranteed in life, nor in the NHL.
---
As noted – and outside of Hynes – I would've preferred anyone else besides Lateralette – and for the reasons as previously discussed on this site – and for the reasons I'll soon discuss too.
While there have been worse head coaching searches and hires of franchise history; this employment of Lateralette is right up there – and just behind men such as Phil Watson (who you could understand at the time), John Ferguson Sr. (who you couldn't understand at the time), Tom Webster (who could never stay healthy), and of course, Trottier.
And the way the Rangers' beat covered this whole six-week process?
Flat-out embarrassing – as the worst crop of beat reporters continue to make a mockery of the profession.
In a way, these bozos of the beat made this whole process even worse – and where Ranger fans may be better off if the whole beat is exterminated like the clickbait cockroaches they are – and in favor of just letting the Canadian reporters cover the team from 1,000 miles away.
After all, the most frequent sentence from the Blueshirts' beat during the past six-weeks? This one:
"According to Elliotte Friedman…"
But I've already ranted on this subject before, so I'll limit the redundancy and cut-off myself here!
Moving forward!
---
As mentioned numerous times before, and as we all know – Lateralette was the safest choice imaginable for Drury.
Rather than making the bold move (cotton!); the Rangers' team-president/general manager opted to play it safe.
To equate Lateralette's hiring in sports terms – Drury, the Little League World Series champion, went for a sacrifice fly rather than swinging for the fences.
Another analogy?
Like an NFL team protecting a lead in the fourth quarter – Drury went into PREVENT defense mode – and you know how that usually works out.
Put it this way: Even if you are one of the most adamant Peter Laviolette fans in the world, and worship the ground that he walks on (and that's fine if you are of these fans – we are all entitled to our own opinions – and at the end of the day – we all want the same thing – a Rangers' Stanley Cup victory) – there's just no way that you can be happy about the way that this all went down – even though you can be ecstatic that you got the final result that you so desired.
(Holy Dashes Batman! But bear with me – it's my birthday and I may have indulged in a few alcoholic beverages!)
Similar to the last blog that was posted on this site (https://bluecollarblueshirts.com/61223/); let's just talk about the facts – and with some minor speculation sprinkled in-between:
FACT: Drury did not conduct a complete coaching search. Potential candidates were never even considered, while two retreads who haven't sniffed the playoffs, nor made it past the first-round in recent years, were.
---
FACT: Patrick Roy, fresh off of his Memorial Cup victory, and who stepped away from the Quebec Remparts on Tuesday (this was always his plan, as he had announced that he was going to do so at the start of the season), was never interviewed. (Roy, on Tuesday, also announced that no NHL team talked to him during this latest coaching carousel.)
---
FACT: Similar to Mark Messier, who was never considered either (but you can understand why), Roy's personality would've overshadowed Drury.
---
SPECULATION: Had Drury hired Messier or Roy, then most likely, once shit hit the fan – Drury would be made out to look like the bad guy. Messier and Roy are pair of Hall of Famers and have ten Stanley Cup victories between them – and with resumes that dominate and dwarf Drury's.
In other words, it was in Drury's best interest to hire someone on an equal or less than equal footing as him.
---
FACT: Drury never rocked the boat and ever considered the idea of hiring Joel Quenneville.
I'm not going to get into all of the pros and cons about Coach Q on this site, as you can check the archives/previous blogs for all of that; but Drury, especially since he's waited this long – he could've waited to see how Don Bettman was going to rule on the future of the three-time Cup champion – and one who had past success with his highest-paid star of today, Aturnover Panarin.
---
FACT: Drury, and in perhaps the most shocking bit of news; announced Lateralette's hiring just hours prior to the start of Game 5 of the Stanley Cup Final – a move that takes away from the league's championship – and one that Bettman disapproves of too.
As a result, Drury did not interview one of the assistant head coaches from either Vegas or Florida, thus weakening his already shallow candidate pool.
---
FACT: Prior to hiring Lateralette, Drury had all of the leverage in the world – and could've waited a few more days and weeks to announce a head coach. He was the last general manager without a head coach, and in turn, could've waited for every scenario to play out. He didn't take advantage of this fortunate opportunity.
---
FACT: Lateralette was one of the first candidates interviewed – yet it took Drury six-weeks to finally "settle" and hire him. In other words, Drury wasn't blown away by Lateralette – or else he would've immediately hired him.
---
FACT AND SPECULATION: Drury caved to his players and fired one of the most successful coaches in all of Rangers' regular season history (despite his short sample size), "The Turk," Gerard Gallant.
In other words, Drury never had a true plan following his knee-jerk decision – and now – should things repeat itself – the players will soon cry again – and after those crocodile tears – then what?
The "what" could be a new and thirteenth general manager of club history.
---
FACT AND SPECULATION: Drury could be fighting for his job here.
Just put this into perspective for a second – Stan Kroenke, 75-years-old, has won a Super Bowl (LA Rams), a Stanley Cup (Colorado Avalanche) and an NBA championship (Denver Nuggets) during the past sixteen-months – and when it comes to the latter two franchises that he owns – both teams won championships in a time-span of one-year.
Conversely, James Dolan, one of the longest-tenured owners in all of sports today, will turn 69-years-old next year (nice) – and during his sixty combined seasons of owning both the Knicks and the Rangers – has never won a championship.
For Dolan, the clock is ticking.
Do I have to spell it out?
He's closer to the grave than he is to the cradle – and do you really think that he wants his legacy to be known as one of the longest-tenured owners in all of sports to have never won a championship?
Dolan, who has been mired and waded deep into controversy ever since taking over M$G & its properties – and controversies that still continue to this very day – should no championship ever be won under his watch – then his tenure will always be remembered in a negative fashion.
As we all know, ever since Dolan's family, father Chuck, and later Guitar Jimmy himself, took over MSG, the Knicks and the Rangers in the Fall of 1994 – Dolan has treated his hockey team as if they were an impulse purchase buy at the cash register checkout line – akin to buying one of those old 25-cent packs of Winterfresh or Juicy Fruit gum.
While Dolan has repeatedly meddled and interfered with his Knicks; at the same time, he has allowed other men to run the Rangers for him – and with a "laissez-faire" attitude that really began once hiring Senile Sather in June of 2000.
It wasn't until recently, and with Sather now six-years removed from the general manager position (while serving the club as both Dolan's advisor and the team's Alternate Governor), that Dolan first started making waves in Rangerstown, USA.
As we saw in 2021; Dolan fired Team President John Davidson just two-years into his tenure, while also giving a pink-slip to the team's general manager of the time, Jeff Gorton.
Whether Sather was directly involved in these decisions or not we can't confirm – but that's what has been alleged.
However, and most importantly – ultimately, it was Dolan's call – and once firing JD and JG – Dolan then promoted Chris Drury to the dual-role of team president/general manager – and where you have to wonder how underhanded and sneaky Drury was during this process too.
Dolan is getting antsy. He knows what's at stake, especially as he creeps closer-and-closer to 70-years-old.
How much more patience will Dolan have with Drury – a general manager who won't have the same luxury as Sather – and in turn – have multiple, upon multiple, chances to hire head coaches?
If Lateralette doesn't work out, then Drury could join him out the door; as Dolan, in a desperate state, does anything possible to get the franchise their fifth Stanley Cup.
(Hypothetical? I wonder if Dolan would've continued to sit back with the Rangers had the Knicks ever won a championship under his watch.)
For Drury, and outside of the names that we've previously mentioned; he could've went the copy-cat route – a route that's always traveled by NHL franchises.
What I mean here, is that Drury could've went with a new-generation coach, as that what has worked with recent Stanley Cup champions, such as the Tampa Bay Lightning (Jon Cooper) and the Avalanche (Jared Bednar) – and where today – both of these coaches are now the longest-tenured in the league.
Whether it was Kris Knoblauch, a rising assistant from another club, or somebody else that's off-of-the-radar; Drury could've gambled and went down that path.
By hiring Lateralette, Drury went with the "safest" (and where you'll see that word all over Rangerstown, USA during the entire off-season) candidate.
Unlike the other veteran head coaches and big names available – Lateralette carries no off-ice baggage – and does have a resume – although a resume that hasn't exactly been flattering in recent years.
In a way, Drury's hiring of Laterallete is his fail-safe life-preserver.
While Dolan may fire him should this not work out anyway; at the very least, Drury can plead his case and state that he hired the best candidate available – even if that statement isn't exactly 100% true – but it's close enough.
But still – Drury waited six-weeks to make this hire – while also exploring other candidates.
He also perhaps pulled a "Shallow Hal" move (previously explained on this site) with his flirtation of John Hynes – a flirtation that he leaked himself.
At this time, I want to revisit the Rangers' press release on this hiring from Tuesday afternoon.
---
Here's what the Rangers said on Tuesday:
New York Rangers President and General Manager Chris Drury announced today that the team has named Peter Laviolette the 37th Head Coach in team history.

"We are thrilled that Peter will be the next Head Coach of the New York Rangers," Drury said. "With Peter's extensive experience as a Head Coach in the National Hockey League, as well as the success his teams have had at several levels throughout his career, we are excited about what the future holds with him leading our team."
"I would like to welcome Peter to the New York Rangers," said James Dolan, Executive Chairman, Madison Square Garden Sports Corp. "Peter's impressive resumé, which includes winning a Stanley Cup and advancing to the Final with three different teams, has made him one of the most respected coaches in the league. As we move forward in our goal to consistently contend for the Stanley Cup, I am confident that Peter is the right head coach to lead our team."

Laviolette has notched a 752-503-25-150 (W-L-T-OTL) record in 1,430 games as head coach between the New York Islanders (2001-02 – 2002-03), Carolina Hurricanes (2003-04 – 2008-09), Philadelphia Flyers (2009-10 – 2013-14), Nashville Predators (2014-15 – 2019-20) and Washington Capitals (2020-21 – 2022-23). He ranks eighth all-time in NHL history in wins, first among US-born head coaches, and 11th all-time in games coached.

The Franklin, Massachusetts native has led 12 teams to postseason appearances in his career and has an overall record of 76-72 in the playoffs. Laviolette has guided three teams to a Stanley Cup Final, winning it with Carolina in 2006. Laviolette is the fourth coach in NHL history to lead three different teams to the Stanley Cup Final (Carolina: 2006; Philadelphia: 2010; Nashville: 2017), joining Dick Irvin, Scotty Bowman and Mike Keenan.

Internationally, Laviolette has coached Team USA at the World Championship in 2004, 2005 and 2014. He has also represented his country in four Olympic Games, first as a player (1988, 1994), then as a head coach at the 2006 Torino Games, and as an assistant at the 2014 Sochi Games.

Laviolette played 12 career NHL games, with the Rangers, during the 1988-89 season, but spent most of his playing career in the American and International hockey leagues.

---
At this time, let's have a little fun here, while giving you the other side – as I present to you my own PETER LATERALETTE Rangers' press release!
---
(Of Note: This following bit will either bomb or hit – you be the judge – but everything written below is factual. In addition, all quotes from Laviolette's former employers are real and not made-up. The other quotes? I may have taken some "creative liberty!")
From the Desk of Rangers' Team President Chris Drury:
New York Rangers President and General Manager Chris Drury announced today that the team has named Peter Laviolette the 37th Head Coach in team history, after firing the 36th head coach of franchise history, Gerard Gallant – following complaints from his top stars who did jack-shit during the 2023 Stanley Cup Playoffs.

The Rangers will continue to pay Gallant $3,000,000 to sit at home next season, but the less we say about ticket price increases for next season, the better.
Please note: We still have $68 playoff t-shirts and $50 playoff hats for sale.
"We are thrilled that Peter will be the next Head Coach of the New York Rangers," Drury said. "With Peter's extensive experience as a Head Coach in the National Hockey League, as well as the success his teams have had at several levels throughout his career, we are excited about what the future holds with him leading our team.
"But I beg of you, please ignore Laviolette's entire three-year stint with the Washington Capitals and how he incited the 2021 Tom Wilson attack on both Pavel Buchnevich and Aturnover Panarin. We'd also prefer if you omitted the fact that he hasn't made it out of the first-round since 2019 and that he missed the playoffs last year. Thank you.

"And Larry B. – thanks for not mentioning my firing of Jim Ramsay. The check is in the mail."
"I would like to welcome Peter to the New York Rangers," said James Dolan, Executive Chairman, Madison Square Garden Sports Corp. "I didn't know who he was prior to today, but I am confident that Peter is the right head coach to lead our team because Glen Sather told me so – although he has said the same thing to me eight times before during the past 23-years."
Laviolette has notched a 752-503-25-150 (W-L-T-OTL) record in 1,430 games as head coach between the New York Islanders (2001-02 – 2002-03), Carolina Hurricanes (2003-04 – 2008-09), Philadelphia Flyers (2009-10 – 2013-14), Nashville Predators (2014-15 – 2019-20) and Washington Capitals (2020-21 – 2022-23). He ranks eighth all-time in NHL history in wins, first among US-born head coaches, and 11th all-time in games coached.
Mike Milbury, the first general manager to have ever fired Laviolette (2003), once stated about our new head coach, "Peter came up short in the end. While we accomplished some significant things in the last two years, in the end I thought we were backtracking.
"There's a lot of good things about Peter to believe in, but the one thing that kept coming back to haunt me is when a coach and a team part company, it's not very often that they reconnect successfully," Milbury later said.
"Ultimately this decision was made because the line of communication between the players and the coach snapped," Milbury continued. "When that line of communication is snapped, it is impossible to secure it again."
Laviolette, who will become the first man to coach both the Islanders and the Rangers, became the bench boss of the Carolina Hurricanes mid-way through the 2003-04 season. Following the 2004-05 lockout, Laviolette's Hurricanes, in a fluke, won the Stanley Cup in 2006, during one of the most chaotic and uninspiring seasons of NHL history.
When the league returned to a new state of normal during the 2006-07 season; Laviolette's Hurricanes never reached the playoffs again.
On December 3rd, 2008, Laviolette was fired for the second time in his career, and crazier than that – was then replaced by his predecessor, the man who he originally replaced in Raleigh, NC, Paul Maurice.
Canes' general manager, Jim Rutherford, stated at the time, "We have a team that right now that, in my opinion, is not playing with the kind of confidence it needs, We've lost that confidence."
The Hurricanes – the only team in the league's modern history to miss the playoffs two straight years after winning it all – got blown out during four of five games played during the past two-weeks prior to Laviolette's firing.
"It's really not about the last four or five games," Rutherford said. "It's about changing to get the chemistry back on our team, to get the confidence back on our team and make what I would say minor adjustments in a system that really worked in the Stanley Cup year. But teams have adjusted to it, and our team hasn't adjusted over the last couple of years."
Laviolette, who coached the disgusting team known as the Islanders for two seasons, was 167-130-30 in his fifth season with Carolina. He had 2½ years left on the five-year contract that he signed in June of 2006.
On December 4th, 2009, the Philadelphia Flyers hired Laviolette, as they became the third NHL franchise that the head coached had served.
Looking to rekindle the magic that he once had in Carolina; Laviolette's teams then failed during the playoffs on three occasions and then, and for good measure, missed the playoffs during the 2012-13 season. Just three games into the 2013-14 campaign, Laviolette was out on his ass again.
"I thought our training camp, quite frankly, was one of the worst training camps I've ever seen," Flyers' owner and chairman Ed Snider said at the time. "I'm not talking about wins or losses. There was nothing exciting. Nobody shined. Nobody looked good. I couldn't point to one thing that I thought was a positive.
"Unfortunately, my worries were realized."
Laviolette's firing in Philadelphia was the earliest to start an NHL season since the 1971-72 campaign, when Fred Glover was fired after three games with the California Golden Seals, according to ESPN Stats & Information.
"I think some of the additions that we made this summer were good additions," Flyers' general manager Paul Holmgren said. "I think there was some excitement about our team going into training camp. Right from Day 1 of training camp, I was concerned.
"But it was more about how we played, and it was unacceptable. We don't look like a team at all."
On May 6th, 2014, and for the first time in his career – Laviolette traveled to the Western Conference – now as the head coach of the Nashville Predators.
In 2017, and after being eliminated in the playoffs in 2015 and 2016; the Predators reached the Stanley Cup Final – the end result of a weak Western Conference bracket.
Once in the Final, and now competing against a legit contender, the Pittsburgh Penguins – the Predators dropped a six-game series to the defending champions – and where Nashville was blown-out in all four of their losses, by scores of 5-3, 4-1, 6-0 and 2-0.
On January 6th, 2020, the Predators became the fourth NHL franchise to fire Laviolette and then replaced him with one-time Rangers' head coach candidate, the soulless and pale-as-Dracula, John Hynes.
Predators' general manager, David Poile, following his team blowing a 2-0 lead to the Dallas Stars during that year's Winter Classic said, "The result of the game, and the game, looked like several other of our losses this year. Games where it looked like we had a chance to win … only to lose the game. We really have some soul searching to do right now."
Following his Nashville firing, Laviolette was admitted entry into the "old boys club," now having earned his "retread" status.
On September 15th, 2020, the Washington Capitals became the fifth NHL franchise, and the fourth of the Metropolitan Division, to hire the coach still resting on his laurels from his 2006 Stanley Cup win.
Following two embarrassing first-round exits with the club that won the Stanley Cup in 2018; the D.C. franchise then missed the playoffs in the 2022-23 season.
Despite receiving his "Green Jacket" as a former Cup champion in Carolina; Laviolette was unable to find success in Washington, even with such future Hall of Fame and All-Star talent under his watch, including Alex Ovechkin, Nicklas Backstrom, John Carlson, Tom Wilson, T.J. Oshie and Evgeni Kuznetzov.
The Capitals, who hadn't missed the playoffs since 2014, agreed to "mutually part ways" with Laviolette, as the head coach's contract was set to expire on June 30th, 2023.
"We are grateful for Peter's leadership and dedication to our organization for the last three seasons," Washington general manager Brian MacLellan said in a meaningless statement. "Peter is a first-class individual who has represented our club with integrity and guided our team through many difficult circumstances in his tenure as our head coach. We wish him all the best moving forward."
Despite these glowing words; MacLellan had no problems moving on from Laviolette, nor seeing his former head coach wind up with a divisional opponent in New York.
"We have only won four Stanley Cups during the past 97-years," said Chris Drury. "I'm trying to save my job here. Who better than another retread, especially since that's an easy-sell to my owner."
Laviolette, despite coaching during the no-tie era, ranks 14th all-time with most losses (503).
Lateralette, who will be formally introduced on June 20th, 2023, said, "Should I lose 32-games next season, then I'll rank 9th all-time in career losses. And with this roster, I should hit that mark by the New Year!"
"I still can't believe that these idiots hired me," continued Lateralette. "But I guess like Glen Sather – as long as you have one Stanley Cup win on your resume – that's all that matters."
"It's good work if you get it," said Lateralette, who will be paid $5,000,000 per season under his new three-year contract. "I haven't won a Stanley Cup in seventeen-years and even then – it was a fluke. Hell, come the Spring of 2024, I'll be celebrating my fifth-anniversary of not making it past the first-round, but I am nervous that my general manager fired a head coach just one-year after reaching an Eastern Conference Final. But hey, I'm still guaranteed my $15,000,000, so that's all I care about!"
Lateralette also added, "I look forward to becoming the head coach of the New Jersey Devils in 2025."
---
I think I've went on long enough about this hiring.
I'm not a fan of it – but there's nothing I can do about it.
All the best of luck to Lateralette – who in my eyes – brings nothing to the table that Gallant didn't have, aside from the fluke Stanley Cup win in 2006.
(And as said on this site before; had the Rangers won the Stanley Cup in 2006 – then I'd be singing a whole new tune – and at least I admit it!)
But as repeatedly said – Lateralette, who now has all of the buzzwords attached to him from the clueless Rangers' beat, including "structure," "accountability" and "x's-and-o's" – it won't mean a damn thing if he can't get this sorry bunch to the Stanley Cup Final.
One player that Lateralette needs to reach the most?
The soft Aturnover Panarin.
---
On Monday, Panarin took to social media to share pictures of his recently shaved head, where it looks like he's on the set of "American History X: Part II."
Hopefully "The Breadman" will continue to shoot wide in that movie – and as he does on the ice:
My horrible, horrible and did I say horrible, photoshop aside – I do wonder how Panarin is receiving the news of Lateralette's hiring.
After all, it was Lateralette, who took that timeout and then talked up Tom Wilson, on that fateful night of May 3rd, 2021.
Unlike my made-up Drury quotes, here's what Laterallete said following the incident:
"I thought it was just a scrum. Some physical play … it happens a lot."
Both Pavel Buchnevich and Aturnover Panarin were nearly murdered that night; so the fact that "it was just a scrum" in Lateralette's eyes should sit well with the player that always turtles during the playoffs.
Some quick closing thoughts on the Stanley Cup Final as we head home here.
---
Let's just bullet-point my thoughts on the Knights' 2023 Stanley Cup Final victory – as I do understand that this blog has gone on for a while (but hey, no ads!):
— While I was rooting for the Florida Panthers to win the series (largely due to Marc Staal and with a tip-of-the-cap to Matt Tkachuk – my favorite non-Ranger to watch today); I have no problem with the Knights winning the silver.
— I know that the Knights' victory bucks all tradition and how many people want them to suffer first, then enjoy a win later – but I don't subscribe to that.
— I've been to Sin City, twice at that, to see the Rangers play. Again, unless you see it first-hand and with your own two-eyes – then you really can't appreciate how big the Knights have become.
— Sure, the Knights haven't had a bad season yet, and it remains to be seen what happens once they hit NHL purgatory – but it's my belief that their fans will still be there – win-or-lose – and especially after this.
— I know that the 2017 shooting/tragedy perhaps bolstered fan support on "The Strip;" but even so, those fans were more than ready to call a major sports franchise as their own.
— One more time – talk to any Vegas resident – and not a tourist – and you'll soon find out that they all wanted this – and wanted this badly.
— Gary Bettman, who I've discussed about a million times on this site and in my books, including my next one where he's a featured member of "The Top 100 Villains of New York Rangers History;" doesn't have a long list of accomplishments. In fact, most of his nauseating tenure has been negative. However, one of the positives on his ledger is allowing the Vegas expansion.
— It just baffles me – in just Year One – the Knights were already a hit. They are now Cup champions in Year Six. In other words, Vegas and hockey have gone together like peanut butter and jelly. However, over in Arizona, Bettman's prized project – hockey and the Coyotes have gone together like the KKK and the Black Panthers.
— 27-years in the Arizona desert – and hockey hasn't worked – yet Bettman still won't admit defeat. It only took one-year for hockey to work in Vegas.
— Another feather in Bettman's cap? He was the first major sports executive to envision a successful sports franchise in Sin City. Today, not only are the NFL Las Vegas Raiders there – but the Oakland A's will soon be there too. And it's only a matter of time before the NBA enters town.
— Long story short – Bettman, and Vegas fans, the loyal residents of the city – have debunked the now antiquated thinking that a pro team wouldn't work in a tourist town. Of course, sports gambling becoming legal in most states has helped too.
— As of this writing – Jack Eichel > Connor McDavid. Yeah, McDavid has had the better career during the regular season; but in just his first NHL postseason, the former Sabre absolutely dominated – and better than that – hoisted the silver at the end of his run. Trust me – #97 in Edmonton would throw away all of his regular season feats to win the Cup as #9 in the black-and-gold jersey did on Tuesday night.
— And just to think – the Rangers thought that Mika Zibanejad, Vitali Kravtsov and Zac Jones weren't worth trading to Buffalo in exchange for Eichel – but I've talked about this before and won't bore you again with such talk!
— Brett "The Golden Knight Jet" Howden is now a Stanley Cup champion. While there are many Blueshirt backers going down the revisionist history route right now; I'm not one of them.
— Truth be told (blogs don't lie) – I never had a beef against Howden like how many Ranger fans did. However, I also didn't have a beef when the Rangers moved on from him, in favor of Barclay Goodrow. Long-story short? Congratulations to the former Blueshirt on his Cup victory.
— For the second-time in nine-years on my birthday; both Alec Martinez and Jonathan Quick won the Stanley Cup on June 13th. Watching both of these "Ranger Killers" (and now I'll have to update their profiles in my upcoming book) hoisting the Cup was the hardest thing for yours truly to endure! Worse than that? TNT, which did a fantastic job of broadcasting the Stanley Cup Final, had to remind us of what Martinez did on June 13th, 2014.
— A huge congratulations to Jonathan Marchessault, an "Original Vegas Misfit," who scored 13 goals and picked up 12 assists in his 22-games played this postseason, en route to his 2023 Conn Smythe Trophy victory. No one deserved it more than him.
— Prediction: #81 and #29 (Marc-Andre Fleury) will be the first two numbers retired in Vegas.
— It was a damn shame that Matt Tkachuk was playing with a fractured sternum, an injury that kept him out of Game 5. As Ranger fans know – you don't get many kicks at the can. Hopefully, he'll be back one day – but only after the Rangers win their fifth Cup!
— Similar to Eichel; I think Tkachuk's stock increased with his playoff performance – and greatly at that. I figure one of them, if not both players, will be featured on this year's NHL EA Sports video game.
— Congratulations are also in store for my buddy, Jon Taffer of "Bar Rescue." He's one of the few celebrities that's a true die-hard fan – and has had Knights' season tickets since their inception.
— While the Knights somewhat "cake-walked" the Panthers; I also don't think that the Cats have anything to be ashamed about. However, what concerns me the most about them is the usual talking point – will their arena continue to feature empty seats throughout the 2023-24 season?
— Yes, and as someone who likes drinking and gambling – I am extremely jealous of Vegas fans right now!
— Due to the Vegas Stanley Cup win in just six-seasons; would it surprise anyone, if team #33, the Utah Mormons, wins the silver before the Rangers do?
— Mark Stone scored a hat trick in the Knights' 9-3 Game 5 clincher. What a memory for his future grand-kids.
— Robin Lehner who? It's my opinion that Adin Hill has "Wally Pipp'd" the goaltender who should've never replaced Marc-Andre Fleury in the first place.
— How about Phil Kessel, now a three-time Cup champ? While he was reserved for the press box; he took his playoff benching in stride – and despite playing in all 82-regular season games. Maybe his pride was hurt during the playoffs – but he'll take the ring.
— If you're an NHL general manager, then you'd have to be an idiot to not go all-in on Patrick Kane next season – and that includes Drury too.
— Just like Tampa did in 2021 with Nikita Kucherov; Vegas was able to exploit the easiest cap loophole today – the NHL's Long-Term-Injured-Reserve (LTIR) policy – and as they did with Stone.
— My opinion – if the Rangers don't do the same thing with Patrick Kane, then they have lost the plot. "SHOWTIME" just had his hip "resurfaced," as if it were a driveway, and may not play until 2024.
— For a franchise that will pay $8,000,000 in coaching salaries next season; what's the harm in giving #88 a one- or two-year deal?
— By stashing away the greatest American-born NHLer of all-time in the "LTIR Cupboard;" by the time Kane is healthy – he'll then become a "free" trade-deadline acquisition for the Rangers – or for any team that signs him.
— And in case you need this written out for you in black-and-white; the salary cap accrues as the season moseys along. In other words, the Rangers can build up cap-dollars as Kane heals – and perhaps make a play at the deadline too.
— But since this idea makes sense (and cents too) – I don't expect Drury to do it! Ugh!
— 2024 Stanley Cup Prediction: Kraken over the Blue Jackets.
Let's now go to the finish!
---
Four blogs in four days for your truly – and time spent away from the book that I'm trying to complete!
I'm hoping that the news will be slow for the remainder of the week, prior to Lateralette's press conference scheduled for next week.
And really – once Lateralette is officially installed – then all of the news will rev up again, including the 2023 NHL Entry Draft, free agency, the futures of both Alexis Lafreniere and K'Andre Miller, etc.
But fingers-crossed – I'll complete my rough draft of "The Top 100 Villains of New York Rangers History" over the weekend!
After that, it's up to my editors, Rob S. and Diane E., to do the rest!
One last time as we head home here:
Congratulations to both the Vegas Golden Knights and their fans.
Good luck to Peter Laviolette and Chris Drury. They're going to need it.
PLUGS TIME! (Buy a book and support my Rangers' induced therapy bills. After all, I don't run ads on this site!)
---
On Tuesday night, our pals over at "The Blueshirt Underground Show" returned with a new episode, where they discussed the hiring of Laviolette. You can watch the show by clicking the play button below:
---
Our other chums, the fine folks of "2 Guys 1 Cup;" will return on Thursday night (June 15th) at 8PM EST with their own take on the Laviolette hiring.
Ricky Milliner, a Hartford Wolfpack correspondent, will also appear on the program.
The show, which streams live on Facebook (you can interact with the hosts as they record), can be found at: https://www.facebook.com/groups/228102235825482
---
My first plug of tonight's blog – the mandatory plug for my book, "The New York Rangers Rink of Honor and the Rafters of Madison Square Garden."
As mentioned previously, the book is now available in hardcover, in paperback and in Kindle formats. To purchase a copy of the book, visit this link:
https://www.amazon.com/Rangers-Rafters-Madison-Square-Garden-ebook/dp/B09CM5N2WD
For those still looking for signed paperback versions of the book, I have re-ordered more copies. I now have a few signed copies for sale at $25 a pop (includes shipping price) through me directly. Here is all the information on that:
---
My four-volume set of books, "One Game at a Time – A Season to Remember," is a game-by-game recount of the Rangers 2021-22 campaign.
My second title as an author, "One Game at a Time – A Season to Remember," is now available in eBook, paperback and hardcover formats.
To obtain signed copies, visit: https://bluecollarblueshirts.com/onegamebook/
To purchase all four volumes on Amazon, visit: Amazon.com – "One Game at a Time."
---
The greatest volume-set of books on Rangers' history today!
"Tricks of the Trade – A Century-Long Journey Through Every Trade Made In New York Rangers' History," a four-volume set of books that meticulously covers every trade made in franchise history, is now on sale.
All four volumes of the title can be purchased on Amazon.com and are presented in three different formats – eBook, paperback and hardcover.
To purchase Volume I: Conn Smythe (1926) – Craig Patrick (1986), visit Amazon.com
To purchase Volume II: Phil Esposito (1986) – Neil Smith (2000), visit Amazon.com
To purchase Volume III: Glen Sather (2000-2015), visit Amazon.com
To purchase Volume IV: Jeff Gorton (2015) – Chris Drury (2022), visit Amazon.com
To purchase signed copies of all four volumes, visit https://bluecollarblueshirts.com/tricksofthetrade/
---
Here are my last few blogs, in case you missed them:
---
---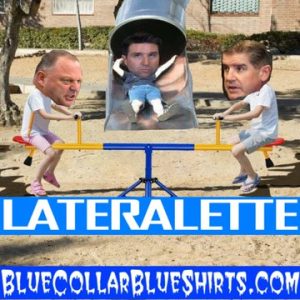 ---
If you haven't already, subscribe to this blog for the next update:
---
Don't forget to order my recently released four-volume set of books, "Tricks of the Trade!"
If you don't order through me, all four volumes are now available on Amazon.com
For more details, check out: https://bluecollarblueshirts.com/tricksofthetrade/
Thanks for reading.
LET'S GO RANGERS!
Sean McCaffrey
BULLSMC@aol.com
@NYCTHEMIC on the Tweeter machine