Greetings and salutations everyone and welcome to another blog here on BlueCollarBlueShirts.com. Well, I've had worse birthdays – but the less said about Alec Martinez the better.
At 1:11PM on June 13th, 2023, Rangers' general manager Chris Drury ended his six-week head coaching search and finally announced Peter Laviolette as the successor to Gerard Gallant.
For the sake of posterity, and because I'll be back later tonight – here's the official press release that the Rangers sent out about the hire:
New York Rangers President and General Manager Chris Drury announced today that the team has named Peter Laviolette the 37th Head Coach in team history.

"We are thrilled that Peter will be the next Head Coach of the New York Rangers," Drury said. "With Peter's extensive experience as a Head Coach in the National Hockey League, as well as the success his teams have had at several levels throughout his career, we are excited about what the future holds with him leading our team."
"I would like to welcome Peter to the New York Rangers," said James Dolan, Executive Chairman, Madison Square Garden Sports Corp. "Peter's impressive resumé, which includes winning a Stanley Cup and advancing to the Final with three different teams, has made him one of the most respected coaches in the league. As we move forward in our goal to consistently contend for the Stanley Cup, I am confident that Peter is the right head coach to lead our team."

Laviolette has notched a 752-503-25-150 (W-L-T-OTL) record in 1,430 games as head coach between the New York Islanders (2001-02 – 2002-03), Carolina Hurricanes (2003-04 – 2008-09), Philadelphia Flyers (2009-10 – 2013-14), Nashville Predators (2014-15 – 2019-20) and Washington Capitals (2020-21 – 2022-23). He ranks eighth all-time in NHL history in wins, first among US-born head coaches, and 11th all-time in games coached.

The Franklin, Massachusetts native has led 12 teams to postseason appearances in his career and has an overall record of 76-72 in the playoffs. Laviolette has guided three teams to a Stanley Cup Final, winning it with Carolina in 2006. Laviolette is the fourth coach in NHL history to lead three different teams to the Stanley Cup Final (Carolina: 2006; Philadelphia: 2010; Nashville: 2017), joining Dick Irvin, Scotty Bowman and Mike Keenan.

Internationally, Laviolette has coached Team USA at the World Championship in 2004, 2005 and 2014. He has also represented his country in four Olympic Games, first as a player (1988, 1994), then as a head coach at the 2006 Torino Games, and as an assistant at the 2014 Sochi Games.

Laviolette played 12 career NHL games, with the Rangers, during the 1988-89 season, but spent most of his playing career in the American and International hockey leagues.
---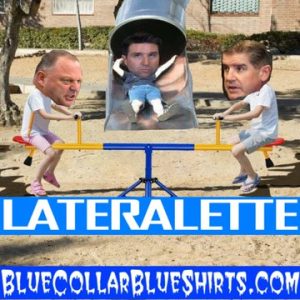 Following the press release, the Rangers announced that Laviolette will be properly introduced on June 20th at 11AM.
Whether or not the Blueshirts actually use their M$GN to air the press conference is currently unknown, as Chris "ZOOM ZOOM" Drury must have stock in that company. However, one would have to think that this press conference will be shown to the fans, due to its importance.
In something the Rangers haven't announced yet themselves, and just like their firing of trainer Jim Ramsay; Arthur Staple of "The Athletic" is reporting that assistant head coach Gord Murphy won't be brought back for the 2023-24 season.
In other words, outside of the goaltending guru coach, Benoit Allaire – Laviolette will put together his own staff.
It also remains to be seen what happens next with Kris Knoblauch, head coach of the Hartford Wolfpack. Perhaps he could become one of Lateralette's assistants – as it does feel like he's stuck in no-man's land when it comes to his own career's progression.
As they say – time will tell.
Since I don't have enough whisky in my household right now, I'll return later tonight – when I'll then look at every angle of this story.
Spoiler: I'm not a fan of this hiring at all – but there's nothing I can do now but to support it.
Prediction: We'll be talking about who will become the 38th head coach of franchise history two-years from now – and who will become the "Lucky 13th" general manager of franchise history too.
Spoiler, Prediction and Bet your life savings on it: Two-years from now, on June 13th, 2025 – Glen Sather will celebrate his 25th anniversary as Jim Dolan's longest-tenured employee – and with not one Rangers' Stanley Cup ring on his decrepit hands.
See you later tonight.
PLUGS TIME! (Buy a book and support my Rangers' induced therapy bills. After all, I don't run ads on this site!)
---
My first plug of tonight's blog – the mandatory plug for my book, "The New York Rangers Rink of Honor and the Rafters of Madison Square Garden."
As mentioned previously, the book is now available in hardcover, in paperback and in Kindle formats. To purchase a copy of the book, visit this link:
https://www.amazon.com/Rangers-Rafters-Madison-Square-Garden-ebook/dp/B09CM5N2WD
For those still looking for signed paperback versions of the book, I have re-ordered more copies. I now have a few signed copies for sale at $25 a pop (includes shipping price) through me directly. Here is all the information on that:
---
My four-volume set of books, "One Game at a Time – A Season to Remember," is a game-by-game recount of the Rangers 2021-22 campaign.
My second title as an author, "One Game at a Time – A Season to Remember," is now available in eBook, paperback and hardcover formats.
To obtain signed copies, visit: https://bluecollarblueshirts.com/onegamebook/
To purchase all four volumes on Amazon, visit: Amazon.com – "One Game at a Time."
---
The greatest volume-set of books on Rangers' history today!
"Tricks of the Trade – A Century-Long Journey Through Every Trade Made In New York Rangers' History," a four-volume set of books that meticulously covers every trade made in franchise history, is now on sale.
All four volumes of the title can be purchased on Amazon.com and are presented in three different formats – eBook, paperback and hardcover.
To purchase Volume I: Conn Smythe (1926) – Craig Patrick (1986), visit Amazon.com
To purchase Volume II: Phil Esposito (1986) – Neil Smith (2000), visit Amazon.com
To purchase Volume III: Glen Sather (2000-2015), visit Amazon.com
To purchase Volume IV: Jeff Gorton (2015) – Chris Drury (2022), visit Amazon.com
To purchase signed copies of all four volumes, visit https://bluecollarblueshirts.com/tricksofthetrade/
---
Here are my last few blogs, in case you missed them:
---
---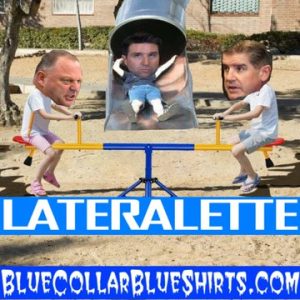 ---
If you haven't already, subscribe to this blog for the next update:
---
Don't forget to order my recently released four-volume set of books, "Tricks of the Trade!"
If you don't order through me, all four volumes are now available on Amazon.com
For more details, check out: https://bluecollarblueshirts.com/tricksofthetrade/
Thanks for reading.
LET'S GO RANGERS!
Sean McCaffrey
BULLSMC@aol.com
@NYCTHEMIC on the Tweeter machine