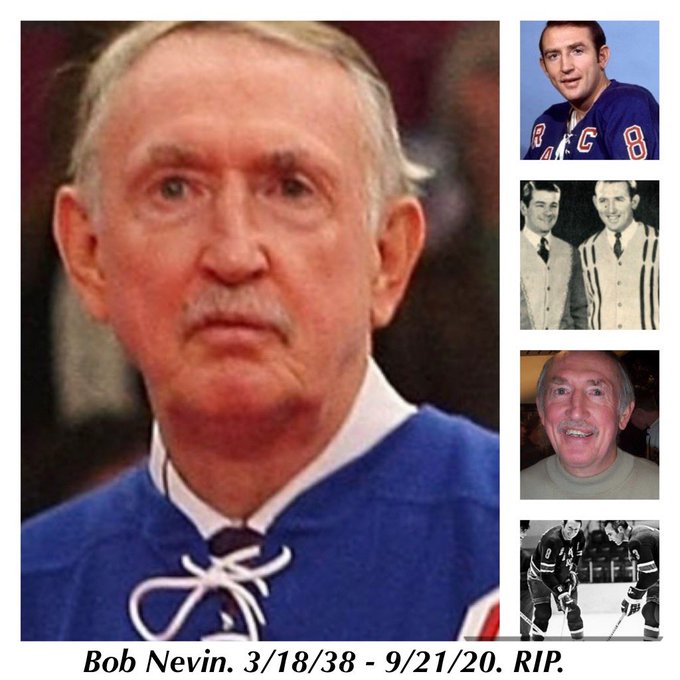 Greetings and salutations everyone and welcome to another blog here on BlueCollarBlueShirts.com.
If you're a regular reader of these blogs, you know about my affinity for history, whether it be sports, American or world history. I think this fact is pretty evident, based on all of the material I've given you on Frank Boucher on this site. (Check out https://bluecollarblueshirts.com/retire-frank-bouchers-7/ for all of my stuff on Frank Boucher, including a blog on the time where after years of going back and forth on email, I finally met the granddaughter of Frank Boucher.)
It's always been my goal on this site to give you something that you can't get anywhere else. When I look around at the other Rangers blogs or podcasts that are out there, not many of them ever talk about the history of the Rangers. In addition, I don't see any of these outlets ever talking about how the Rangers do a horrible job of promoting, explaining and celebrating their own history. Even today, I saw more people talking about Vitali Kravtsov than Bob Nevin.
(And to be clear here, don't take that above paragraph as a knock on anyone. Everyone should write about what interests them the most. For me, it's history. For others, it's something else, like pie charts and hieroglyphics! As I always say here, read everything and anything you want. Everyone has different takes and approaches.)
While I know that only four Stanley Cup victories, in a 94 year time-span, isn't much cause for celebration, when you dive into the history of the Rangers, it's easy to see why their Stanley Cup success rate has been so futile.
Whether it was the circus forcing Ranger playoff games (including Stanley Cup Final games) to be played on the road or at a neutral site, the way player rights were determined prior to the NHL Draft, (the Rangers had the biggest disadvantage of acquiring talent, since each franchise got automatic rights to players, based on where a player lived) injuries, owners who only saw the team as a way to make money, Glen Sather as GM or whatever other reason you want to use, when you look at the history of the Rangers, they never had the same advantages as a team like Toronto or Montreal ever had. (At least not during the Original 6 era.) Am I making excuses here? Perhaps. However, I'm just telling you the way things were.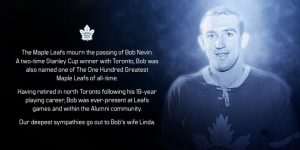 When you look at Bob Nevin, the local kid from a suburb of Toronto, Onatrio, who made it big and started his career with the Toronto Maple Leafs, while Nevin will always be remembered as Leaf (prior to his passing, he was one of the biggest members of the Leafs alumni) Nevin actually spent the bulk of his playing days with the New York Rangers. In fact, the prime of Nevin's career was on Broadway, where Nevin served as the Rangers team captain for six consecutive seasons.
To show you how impactful Nevin was as a captain of the Rangers, after Nevin's run with the Rangers was over, the only player to spend more time as captain of the Rangers than Nevin was the legendary Hall of Famer Bill Cook. Bill Cook was the Rangers first captain in team history, a position he held for his entire career with the club. (11 seasons.) After Nevin was dealt to the Minnesota North Stars, after the Rangers playoff run of 1971, the only two other men to serve as Rangers team captain for a time period of six years or longer, were Barry Beck & Mark Messier. That's pretty good company for Bob Nevin.
I know I've said this in the past on these blogs, but it's worth repeating again. When you look at the history of the New York Rangers and their captains, for whatever reason, Bob Nevin seems to be the most forgotten captain in team history. When you try to explain this reason, there are two schools of thought here.
For starters, the Rangers traded away the very popular Andy Bathgate to acquire Bob Nevin. This trade was absolutely HATED by Ranger fans at the time, hated so much, that fans booed the innocent Nevin upon his arrival. Nevin irrationally became a villain to some Ranger fans. After all, it's not like Nevin traded himself to the Rangers!
The other theory, in explaining Nevin's lack of popularity among Ranger fans back then, and now even to the current day, is that Nevin was part of the Emile Francis Era of Rangers.
The Emile Francis Era of Rangers have recently been celebrated by the Rangers organization during the past few years, through the jersey retirements of both Vic Hadfield & Jean Ratelle. During these ceremonies, and in some of the media released after these events, the Rangers put on their rosy glasses when talking about the Emile Francis Era. However, during all of these celebrations, the Rangers only talked about four players only, and somewhat swept everyone else under the rug.
Whenever the Rangers, as an organization, talk about the Emile Francis Era, the franchise only talks about four players – the Goal-A-Game line (Rod Gilbert, Vic Hadfield and Jean Ratelle) and goaltender Eddie Giacomin. Outside of those four names, the only other name that gets some press from that time is defenseman Brad Park, a Brad Park who spent the majority of his career elsewhere from the Rangers.
Like the greatest third line in New York Rangers history (for my full breakdown and thoughts on this line, check out this blog: https://bluecollarblueshirts.com/5820/) in Teddy Irvine, Pete Stemkowski and Bruce MacGregor; Bob Nevin is also often swept under the rug a bit, whenever people bring up the Emile Francis Era of Rangers. (Gilles Villemure is often ignored too, the same Villemure that won a Vezina with Eddie Giacomin.)
As noted repeatedly throughout the course of this site's history, the Emile Francis Era of Rangers are known as the greatest team to have never won the Stanley Cup. Had these Rangers been able to win the Cup during the late 1960's-early 1970's; while the GAG line & Giacomin would still be celebrated, more fans would be aware of Bob Nevin being the captain of those teams. Instead, in the present day, Nevin seems like an afterthought from that era.
This past Sunday night, about 12 hours or so before the news of Nevin's passing was made available to the public, I was just thinking of him.
As mentioned on my last blog, once the 2020 Stanley Cup Final is complete, I'm going to do my first "DeLorean" blog of 2020. For those who don't know, my DeLorean blogs are when I watch a game from the past, and pretend that the game just happened in real-time. You can read all twelve of my DeLorean blogs here: https://bluecollarblueshirts.com/delorean-blogs/
Since I haven't done one of these DeLorean blogs in some time, I went back and re-read several of them, just to give myself a reminder on how I formatted those blogs. One of those DeLorean blogs covered the April 15th, 1971 Game 6 playoff match between the Rangers and the Maple Leafs. In that series clinching win for the Rangers, Bob Nevin would score both Rangers goals in the contest. Nevin would score in the second period of the game and would then later go on to beat Jacques Plante in overtime, for the game winning goal. You can read that specific blog here: http://bluecollarblueshirts.com/1971nyr/
(Of note about that 1971 blog – I wrote that blog over three years ago, before I upgraded my server. Some of the media in that blog may not show up as it originally did.)
At around 10:30AM or so Monday morning, Bob Nevin's nephew, in Ryan Ehrenworth, tweeted out the following:
I'm so sad to say that my uncle bob Nevin passed away today. He was a good man, a helluva hockey player and a great story teller. He will be missed so much pic.twitter.com/8IEHTXoaKz

— Ry Ehrenworth (@ryanehrenworth) September 21, 2020
Dave Stubb, over at NHL.com, wrote the following obituary of Nevin, an obituary you can read from its original source by visiting https://www.nhl.com/news/stanley-cup-champion-bob-nevin-dies-82/c-319124162
Bob Nevin, a two-way forward who played 18 seasons in the NHL and won Stanley Cup championships with the Toronto Maple Leafs in 1962 and 1963, died Monday. He was 82.
In 1,128 NHL games, Nevin scored 726 points (307 goals, 419 assists) and had 34 points (16 goals, 18 assists) in 84 Stanley Cup Playoff games. 

The native of South Porcupine, Ontario excelled in junior hockey with the Toronto Marlboros and was 19 when he made his NHL debut with the Maple Leafs against the New York Rangers on Dec. 8, 1957. Nevin played four games with the Maple Leafs in 1957-58 and two the following season before making the team for good in 1960-61, scoring 21 goals and 58 points. He finished second to Maple Leafs forward Dave Keon in voting for the Calder Trophy as the top rookie in the NHL.

Keon got to know Nevin when they played against each other in major-junior, Nevin with the Marlboros, Keon with Toronto St. Michael's, before becoming teammates with the Maple Leafs.

"[Nevin] was a 200-foot player," Keon said. "When Frank Mahovlich scored 48 goals (in 1960-61), Nevy was the right winger on his line. He was very creative as a winger who made great plays to Frank and he was very responsible in his own end."

Keon remembers Game 6 of the 1962 Stanley Cup Final against the Chicago Black Hawks with the Maple Leafs one win from the Stanley Cup.

"We were leading 2-1 when (defenseman) Tim Horton took a penalty with a minute or so to go and (coach) Punch Imlach sent out [Nevin] and me and Bobby Baun and Carl Brewer on defense, with Don Simmons in goal. That's the way the game ended. And I think that now only two of those five (Baun and himself) are still alive."

From 21 goals in his rookie season, Nevin dropped to 15 in 1961-62 and 12 in 1962-63 but was a key part of those back-to-back Maple Leafs championships. Toronto made it three in a row in 1964, but Nevin was part of a seven-player trade on Feb. 22, 1964 that saw him dealt to the Rangers with forwards Dick Duff and Bill Collins, and defensemen Rod Seiling and Arnie Brown, for forwards Andy Bathgate and Don McKenney.

"I was shocked by that trade," Keon said. "It was the beginning of the end of the Leafs dynasty, if you want to call it that. They left, the next year Brewer retired, and we were never able to replace them."

Nevin was crushed by the trade, leaving a top team and heading to one that had qualified for the Stanley Cup playoffs only once in the previous six seasons. He moved into the two-bedroom midtown New York apartment of Rangers forward Rod Gilbert.

"He was only 25, living in New York, but he really upset about the move," said Gilbert, who was 23. "I had to inspire him to play. But here were two single guys living together, and to Bob living was just as important as hockey. We had the best time you can imagine."

Nevin was given more offensive freedom, serving as captain from 1965-71 after replacing one-season captain Camille Henry upon Bathgate's departure.

"If Jean Ratelle wasn't going to be captain after Bathgate, I didn't want to be," Gilbert said. "So I told the Cat (Rangers coach Emile Francis) to give my roommate some inspiration to lead us."

As captain, Nevin scored 29 goals in 1965-66, 20 in 1966-67 (when the Rangers returned to the playoffs for the first time since 1962) and 31 in 1968-69. In the 1971 playoffs, his overtime goal in Game 6 of the quarterfinals against Toronto at Maple Leaf Gardens gave the Rangers their first playoff series victory since 1950.

"Bob was a player like Bob Gainey," Gilbert said, comparing Nevin to the great Montreal Canadiens checking forward. "He could score and he could play defense. He always checked (Chicago's) Bobby Hull and the top players on every team. Bob and Donnie Marshall and Phil Goyette had a great line. He's one of the reasons the Rangers became respectable."

The Rangers traded Nevin, then 33, to the Minnesota North Stars on June 8, 1971 for future considerations, ultimately forward Bobby Rousseau. After scoring 21 goals for New York in 1970-71, Nevin scored 20 in two seasons in Minnesota, who lost him to the Los Angeles Kings in the Reverse Draft during the summer of 1973.

Bob Pulford, a former teammate of Nevin's in Toronto, was coaching the Kings and believed the versatile forward still had something left. Nevin proved him right, scoring 20 goals and 50 points in 1973-74 before matching his NHL career high with 31 goals and finishing with a career-best 72 points in 1974-75, helping the Kings set a team record with 105 points. 

Nevin had 13 goals and 55 points in 1975-76, then played 13 games with the Edmonton Oilers of the World Hockey Association in 1976-77 before retiring.

In recent years, Keon and his wife, Jane, would meet Nevin and his wife, Linda, for a wintertime lunch in Florida. They last met this past March shortly before the latter couple returned to Toronto, Nevin taking ill in recent months.

"We would catch up on our lives, thinking back on what we'd done together in Toronto and Bob's success in New York," Keon said of their conversations. "It was a really good ride and a lot of fun. He was a great player, a great teammate and a great friend."

---
Here's what the Rangers had to say about Nevin:
While it's nice that the Rangers put out one of their flowery tweets about Nevin, whenever I see the Rangers send out these tweets, it's just a reminder to me that Emile Francis is 94 years old and is not honored by the organization at all. However, once Francis passes, all the tributes will come. While I'm not saying Nevin's name should be in the rafters of M$G or anything like that, (it's always been my idea that the Rangers should create a "Rink of Honor", where they honor players) The Cat certainly deserves to be honored in the rafters. Why not honor Francis while he's still alive?
As far as Nevin and the Rangers go in recent years, Nevin did attend Ratelle's jersey retirement ceremony in 2018:
Rod Gilbert, most likely the catalyst in getting Nevin to appear at Jean Ratelle night, said the following about his friend's passing:
It's with a heavy heart that I inform the hockey family and especially the ranger family of the the passing of my very close friend ,roommate and Rangers ' captain Bob Nevin. Rest In Peace Nevy (pokey) you were loved and appreciated by so many.🙏🙏🙏.

— Rod Gilbert (@rodgilbert7) September 21, 2020
While obviously life took Nevin & Gilbert into different directions after their hockey careers had ended, Gilbert maintained his friendship with Nevin. As it was known, and as Stubb said in his NHL.com article, it was Gilbert who suggested that the Rangers make Bob Nevin the team's captain, after the trade of Andy Bathgate.
---
When it comes to the career of Bob Nevin, Nevin made his childhood dream come true, when he was signed by the Leafs in the late 1950's. Several years later, Nevin would have two Cups to his name with the Leafs, winning the Stanley Cup in both 1962 and in 1963. However, Nevin's world would be rocked on February 22nd, 1964, when the Leafs traded Bob Nevin, Dick Duff, Rod Seiling, Arnie Brown and Bill Collins to the Rangers for Andy Bathgate and Don McKenny.
For Bob Nevin, a local Ontario kid, playing in New York was night and day from what he was used to. Not only would he be switching teams, and leaving his beloved Maple Leafs, he'd also be moving to a new country too. And it's not like Nevin was just moving anywhere – he was moving to New York City, the biggest city in America.
As far as why this trade went down, this trade was initiated by the Rangers. At the time, Bathgate had been with the Rangers for over a decade, during the dark ages that followed World War II. In those times, those Ranger teams would frequently miss the playoffs. When they did make the playoffs, the Rangers would find themselves bounced out with ease, during the first round.
Prior to the trade with Toronto, the Rangers were shopping Bathgate around. In December of 1963, NYR Team President, in William Jennings, admitted to talking to Toronto, Chicago and Detroit about a possible Bathgate trade. Jennings, at this time, also said they'd only trade Bathgate if the return was significant and if the Rangers got NHL ready players in return.
Right before the trade deadline of the 1963-1964 season, then Rangers General Manager, in Muzz Patrick, in one of his final moves as GM of the Rangers, made the deal. While Jennings approved of the trade, Ranger fans of that time did not. The Rangers were moving on from one of the greatest players of that era. Making the trade easier, at least from the perspective of the Rangers front office, was the fact that Bathgate had a nagging knee injury. While it would be Emile Francis who ultimately would shape the Rangers rebuild & provide several deep playoff runs, it was Muzz Patrick that kicked things off a bit, with this trade.
While no one will ever know if the Leafs would've pulled off their three-peat of Cups had they not made this trade, for the Leafs, they added a former league MVP in Andy Bathgate. Bathgate, who already was sick of all the losing in NY, would come to the Leafs with a mission and a chip on his shoulder. The Leafs, who admittedly gave up a lot to land Bathgate, were excited to add a superstar to their team. At the end of the day, for the Leafs & Bathgate, they'd win the Stanley Cup in 1964. In the short term of things, there is no reason to second-guess this trade. Ultimately, Bathgate would last two seasons in Toronto, before moving on to Detroit. However, upon leaving Toronto, Bathgate left with what he came for – the Stanley Cup.
When it comes to Bob Nevin, who was the biggest Leafs name going to the Rangers in this trade, he was crushed. While Nevin accepted his new fate, he was in complete shock when he heard the news. However, Nevin made the best of his situation, playing the best hockey of his career with the Rangers. Unfortunately for Nevin, he would never sniff the Stanley Cup again, despite being on some pretty loaded NY Ranger teams at the time.
While Nevin did win two Stanley Cups with Toronto, his time with the Rangers also provided some cruel irony. In the year that Nevin was traded to the Rangers, the Leafs would go on to win the Stanley Cup. When the Rangers traded Nevin to the Minnesota North Stars after the 1971 playoffs, just less than a year later, the Rangers would find themselves in the 1972 Stanley Cup Final. Who knows, had Nevin never been traded by Toronto in the first place or had Nevin not been traded by the Rangers in 1971, maybe Nevin would've had more Cups to his name. I'm sure this is something Nevin thought about, especially after seeing the Leafs win the Cup in 1964.
---
When it comes to Bob Nevin's biggest highlight as a Ranger, he may have saved his best for last. As talked about earlier on this blog, Nevin picked up both goals in the Rangers 2-1 Game 6 win over the Leafs during the first round of the 1971 playoffs. You can watch that game here:
Without question, Nevin had many great games during parts of seven years with the Rangers. However, these two goals, including the game winning goal in overtime, gave the Rangers their first playoff series win since 1950. 1950! As in 21 years prior!
At the top of this blog, I told you all about how the league was weighted against the Rangers a bit. That said, you also have to remember that from 1950-1967, this was a six team league. That's 17 years. In the fourth year since the Great Expansion of 1967, where the league doubled-up in size from six teams to twelve teams, the Rangers would finally win their first playoff series in 21 years. That's a long stretch of losing, which in told, tells you where Bathgate's head was at when he wanted out.
After beating the Leafs in the first round of the 1971 playoffs, the Rangers would then drop a seven game set to the Chicago Blackhawks. From there, just three weeks later, the Rangers traded Nevin to Minnesota, for Bobby Rousseau.
After two years with the Minnesota North Stars, Nevin finished up his NHL career, playing the final three years of his NHL career with the LA Kings. Nevin would then wrap up his hockey playing days with the Edmonton Oilers, of the then WHA, skating in 13 games with the club. A broken collarbone, while playing with the Oilers, ended any chance of Nevin trying to return to the ice as a player.
---
When doing research for this blog, and trying to find out what Nevin's life was like in his later years, it seemed like Nevin led a charmed life. Nevin remained an active member of both the Leafs & Original Six alumni groups. Nevin was a frequent attendee at Leaf home games, where he was featured on the scoreboard. Unlike the Rangers, the Leafs have always done a great job in appreciating and promoting their alumni.
If you use the Google or Twitter machine, there are countless stories about fan interactions with Nevin, with all of the stories being positive. There are a ton of stories about fans bumping into Bob Nevin at a local Tim Horton's and how Nevin would take time out to talk to each and every single one of those fans. I'm telling you, and I know I've said it in the past – there's just something different about hockey players. You rarely hear about a bad experience or interaction among a hockey player and a fan, something that I can't say is true with the other major sports in America.
In an effort to understand what Nevin was like away from the ice, I talked to Nevin's nephew, in the previously mentioned Ryan Ehrenworth.
When I asked Ryan if he had any cool stories about Nevin growing up, Ryan said:
"Bob was an absolute gentleman but he LOVED to compete. One night, when my brother and I were probably 13, we challenged him to a game of ping pong. He was probably in his early 70s. We were handily beating him, but he kept claiming he "forgot the score", such much so, that he managed to win by 10 points even though we probably won by 20!"
Hey, Nevin may have been retired as an NHL hockey player, but the competitive spirit never goes away!
Nevin, known in his playing days as a two-way forward who wasn't scared to make contact with whatever defenseman was gunning for him, leaves this world at 82 years old. Nevin was sick for several weeks, prior to passing away. At this time, the cause of his death hasn't been made available to the public.
RIP to Bob Nevin. A great hockey player, and from what people who knew him say, a great person as well.
I also want to share my condolences to Ryan Ehrenworth on the loss of his uncle and thank him for taking the time to share me some stories regarding Nevin.
---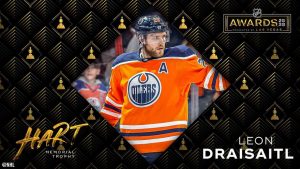 Usually on this site, I kick off each blog with the PLUGS segment. However, for this blog, I wanted to get straight into the Nevin story and not pimp my stuff before doing so.
Before getting into the rest of the NHL & NY Rangers news (and there isn't much), here are my last few blogs, in case you missed them:
---
---
---
---
On Monday night, the NHL finally wrapped up their Year-End awards. You can find out all of the voting results and nominees over at NHL.com.
For those who may have missed it, here were your winners:
Vezina Trophy: Connor Hellebuyck. (Well deserved, unlike the King Clancy, Jack Adams & Executive of the Year winners, which I've already covered on a past blog.)
Calder Trophy: Cale Makar. (This was a no-brainer.)
Norris Trophy: Roman Josi. (I will say, I saw some people complain that another offensive defenseman won this award for best defenseman. That's the way this award has always been done. Just look at all the years when Bobby Orr won it! That said, perhaps it's time for the NHL to create another year-end award, for the best defensive defenseman of the league. Dan Girardi would've won this type of suggested award in his prime!)
And in the two big ones, Leon Draisaitl won both the Hart Trophy (NHL MVP voted by the press) and the Ted Lindsay Award. (NHL MVP voted by the NHLPA.) Previously, Draisaitl won the Art Ross Trophy, making Draisaitl the 13th player in NHL history to clean sweep these three awards/trophies.
To me, I thought Nathan MacKinnon should've won the Hart Trophy. After all, in the past, players who qualified for the playoffs usually win this award. (See the McDavid/Hall voting of 2017.) I guess the NHL only allowed the post-season to effect their King Clancy voting. Gee, I wonder why?!?!?
Artemi Panarin finished third in the Hart Trophy voting. Ted Lindsay Award voting information wasn't released.
Of note, these awards were presented in Edmonton. Draisaitl, an Oiler, won both MVP awards. Hmm, is this EDMONTON COLLUSION here? (Russian collusion joke, for those who don't get it.)
I'm surprised that Draisaitl won both MVP's, because like Artemi Panarin, it's debatable if he's even the own MVP of his own team. (McDavid in Edmonton, Zibanejad in New York.) When it comes to MacKinnon, it's not even a question – MacKinnon is the MVP of that Colorado Avalanche team.
If there's anything truly surprising about the voting, it was the race for the Norris Trophy:
If you scroll down to the twelfth position, you'll see everyone's favorite player, in Tony DeAngelo, with five points! Again, go back to what I just said about the Norris Trophy. Maybe it is time for the NHL to give out an award to honor the best defensive defenseman, rather than just only applauding offensive defensemen. After all, forwards have a ton of awards available to them. Why not add a new award for a defenseman, rather than only having one award for these players?
I've talked about Tony DeAngelo's restricted free agent status on these blogs to the point of ad-nauseam. All I'll say here, while it's got to be a feather in TDA's cap right now, I doubt the result of this Norris voting will bear any weight on whatever contract he gets, whether it's with the Rangers or elsewhere.
While on DeAngelo, who is often a frequent topic on these blogs, since he's the most vocal New York Ranger out there today, he announced that a new episode of his "Watch Your Tone" podcast will be released on Wednesday. I'm sure Brother Lou, Huffnagle & Ron the Gambler will bring up the Norris voting results to him!
---
Moving forward on this site, I should be back later this week with a "Watch Your Tone" podcast recap. I'm hoping for an episode like last week. It looks we'll get a lot of NHL hot stove talk, based on the preview the WYT Twitter account tweeted out.
On Friday, September 25th, the NHL's first buy-out window opens up for all NHL teams. While the Rangers could wait until the very end of the window, which is the date of October 8th, perhaps the Rangers finally drop the hammer on the Lundqvist contract. Of course, the Rangers could opt to wait until the second buy-out window opens up, a window which opens after the Rangers settle all of their RFA deals. The last day of the second buy-out window is November 8th. It should be interesting to see if the Rangers wait that long or take care of business right away.
I'll reiterate this point one more time, before going home here. I don't envision the Rangers being able to trade Lundqvist, even if Lundqvist waives his NMC and if the Rangers assume half of his salary cap hit. There's just a ton of great goaltender options out there, and for significantly less money than $4.25M, the cap hit a team would have to assume for Lundqvist, providing the Rangers take on 50% of his contract. Plus, for a team needing a goaltender right now, why would you pay $4.25M for Lundqvist, when in the event that the Rangers buy Lundqvist out, you can get Lundqvist for much cheaper? (And as said on past blogs, I don't see Lundqvist retiring either. Why walk away from the last big pay day of your career?)
If you haven't already, subscribe to this blog for the next update:
In my final plug and preview of tonight's manifesto, as mentioned earlier, the "DeLorean" will return after the 2020 SCF is complete. In that blog, we'll go back to 2/27/89, in a game that featured a ton of Hall of Fame talent and interesting members of the NYR alumni. Plus, Donald Trump is in the crowd too, sitting right next to Carol Alt!
And hey, how about that Kevin Shattenkirk? A game winning goal tonight! Of note, Ryan McDonagh now has more Stanley Cup Final game victories than Henrik Lundqvist. You know who I would've kept and who I would've traded!
As always here, thanks for reading and…
LET'S GO RANGERS!
LET'S GO BOLTS!
LET'S GO MCDONAGH!
NYR WILL DRAFT LAFRENIERE!
KEEP POLITICS OUT OF SPORTS!
HI TRAVIS, I STILL HAVE TO DO A BLOG ABOUT THE STUFF YOU GAVE ME!
Sean McCaffrey
BULLSMC@aol.com
@NYCTHEMIC on Tweeter and on Parler