Greetings and salutations everyone and welcome to another blog here on BlueCollarBlueShirts.com. Let's start off tonight's blog with my deeply personal tribute and ode to the New York Islanders:
Islanders ball-breaking aside here, I have to admit, that despite the Bolts 2-1 overtime Game 6 series clinching victory on Thursday night, the Isles put up a hell of a fight. In fact, with the way Games 5 and 6 went, I somewhat expected the Islanders to push this series to seven games. Thankfully, I'm now talking about Game 1 of the Stanley Cup Final in tonight's blog, rather than talking about Game 7 of the Eastern Conference Final.
In tonight's blog, I'll have complete series recaps of both the Western & Eastern Conference Finals. I'll also have a Stanley Cup preview and prediction for you as well.
For those looking for straight Rangers news, in the second half of this blog, I'll have updates on both Barry Beck & Mark Pavelich. I also have a detailed recap of the latest episode of Tony DeAngelo's "Watch Your Tone" podcast for you. I'll then close this blog covering the recent interview Libor Hajek gave, where he talked about Henrik Lundqvist's (presumably) last game as a New York Ranger.
This blog is going to be a long one, so let's get out of the intro and get right into the PLUGS section of tonight's manifesto. After the PLUGS segment, I have a ton of stuff to get into tonight.
Say it with me – in case you missed them or need a refresher, here are my most recent Magna Carta's of hockey:
---
---
---
---
I start this blog tonight at midnight, on the date of September 18th. As I write these words, just minutes ago, the Tampa Bay Lightning defeated the New York Islanders in overtime, in Game 6 of their Eastern Conference Final series, to advance to the Stanley Cup Final. Needless to say, I'm ecstatic about this news and game result! However, not for nothing, for most of Game 6, it felt like Tampa was itching for a Game 7. That said, thankfully the Islanders bubble has now been popped. I heard MacArthur Airport is lovely this time of year!
While I'll always approve of kicking the Islanders when they are down, truth be told here, they had a hell of a run. They overachieved. Barry Trotz and his team put forth an amazing performance throughout these playoffs. In a series that I thought would be the "unstoppable force vs the immovable object", outside of Game 1, where the Islanders were bogged down and tired from travel, the Islanders were in every game of this series. The Islanders did hold their own, and if one bounce went the other way during Game 6 on Thursday night, I'd now be talking about a Game 7.
Before getting too deep into this Islanders vs Lightning Eastern Conference Final, let's talk about the Western Conference Final first, as I do my Conference Final recaps. From there, I'll give you my Stanley Cup preview and prediction. After all of that, I'll have all the latest NY Rangers news and notes for you.
And for those who have been following me during these Stanley Cup predictions, just to refresh your memory here, here is where I stand with my predictions during these playoffs:
NHL PLAYOFFS PREDICTION RECORD: 9-11.
QUALIFYING ROUND: 3-5
FIRST ROUND PREDICTION RECORD: 4-4.
SECOND ROUND PREDICTION RECORD: 2-2.
---
Going into this series, I thought Vegas would handle Dallas with ease. However, ever since Thatcher Demko showed up for Vancouver during the second round of the playoffs, the VGK were never the same team again. Vegas, who was snake-bit ever since Demko entered the playoffs, continued their scoring woes in this series.
After the Knights 3-0 Game 2 win over the Stars, Vegas would never score three goals in a game again. In fact, in two of the Knights losses, the Knights were shut-out in one game, and scored one goal in another. In the two overtime games of the series, the Stars won each overtime game, by the same final of 3-2. In fact, in every Stars win of the series, they beat the Knights by one goal, in all four of those victories.
For whatever reason, despite the Knights out-playing the Stars for the majority of the series, it were the Stars having their hand raised at the final buzzer. Most of the credit goes to Stars goaltender Anton Khudobin, who has elevated himself to not only as the Stars starting goalie for these playoffs and possibly beyond, but also as a favorite for the Conn Smythe Trophy.
In what stood out the most to me, aside from Khudobin, was how head coach Rick Bowness and his team changed their style of play in this series. After playing run and gun hockey with both the Flames & the Avalanche, the Stars pulled a complete 180 in this series, adapting a grueling defensive brand of hockey, similar to what we've seen from both the Blue Jackets & Islanders in these playoffs. While Dallas did get timely goals, from non-household name players like Gurianov & Kiviranta, the reason the Stars were even alive to score these goals, was because of their strong defensive style throughout the series.
In the three year history of the Vegas Golden Knights, the most successful expansion franchise in all of sports, of their three years in the league, I thought this was the year that not only that they'd make the Stanley Cup Final, but they'd have a strong shot of winning it too.
For VGK, especially after that heartbreak from a blown call in a Game 7 against the Sharks last year, I thought that loss would help propel them to the SCF, especially with the addition of Mark Stone. Instead, Vegas leaves these playoffs with a ton of questions, including what happens to the once face of the franchise, in Marc-Andre Fleury. (I bet agent Allan Walsh may have been happy about Lehner being on the wrong end of four losses in this series, despite Lehner playing well throughout the duration of the series. Whatever the case, it seems like Lehner will be the man between the pipes for Vegas, while Fleury will move on elsewhere.)
When you break it all down, Vegas just couldn't score. Dallas had them all fouled up. Khudobin helped carry the Stars. At the end of the day, it was Dallas, and not Vegas, advancing to the Stanley Cup Final.
Talk about being dead-wrong with a prediction. I had Vegas cake-walking and winning a run-and-gun series in five games. Instead, Dallas won this series in five games and will now play for the Stanley Cup.
NHL PLAYOFFS PREDICTION RECORD: 9-12.
QUALIFYING ROUND: 3-5
FIRST ROUND PREDICTION RECORD: 4-4.
SECOND ROUND PREDICTION RECORD: 2-2.
CONFERENCE FINAL ROUND PREDICTION RECORD: 0-1.
---
As a Rangers fan, it would be easy for me to talk shit here. Truth be told, I thought Tampa would edge out the Islanders and win this series in seven games. Instead, the Bolts won this series in six games. However, it wasn't an easy series for Tampa, outside of a 8-2 Game 1 blow-out, a Game 1 that Islander fans are still calling bullshit on.
Real quick on that Tampa Game 1 massacre of the Islanders. I saw many fans, both Islander and non-Islander fans alike, say how it wasn't fair how the Islanders had to fly from Toronto to Edmonton (crossing two time zones during that flight) and then have to play Tampa in Game 1, with only a day's rest after their Game 7 elimination of the Philadelphia Flyers. To me, that's pure rubbish and hogwash.
In my opinion, YOU SHOULD have an advantage and edge when you handle business early. After all, the Islanders had a 3-1 series lead over the Flyers, gave two games away, and then finished off the Flyers in the clinching seventh game of that second round series.
When you look at the other side of things, the Bolts handled their end of the deal against Boston, as the Bolts knocked off the Bruins in five games. While I understand the flight here is a factor for griping Islander fans, the fact of the matter is that if the Isles would've knocked off the Flyers earlier, Tampa wouldn't have had any rest. And of course, had the Islanders won Game 1, you'd have Tampa fans saying how "Tampa was rusty" and how the "Islanders had momentum." It's just a two-way street here, although admittedly, the Islanders were a different team after Game 1, a Game 1 where they did look tired and weary.
Like any sort of playoffs, no matter what the sport, I've always been of the opinion that if you win early, you should get an advantage. If you win late, you should be at a disadvantage. Had the Isles took care of business against the Flyers, like they had the chance to, perhaps they wouldn't have put themselves in an early hole in this Eastern Conference Final.
After Game 1, the next five games of this series went pretty much as I'd expected, as each team did what they did best, during different stretches of time. For most of this series, Tampa's offense out-played the Islanders, where at points, they were out-shooting the Isles at a 2:1 clip. However, the Isles also did what they do well, as their smothering defense kept Tampa off the board, especially during the last two games of this series.
While in my opinion, of all the Tampa Bay Lightning, I'd consider Andrei Vasilevskiy as the favorite to win the Conn Smythe (Victor Hedman a close second) there's also a strong case to be made for Brayden Point too, the new number 1 center of the team, during this 2020 Stanley Cup playoffs absence of Steven Stamkos. In the Isles two wins of this series, the two wins occurred when Point missed the entire game, due to a nagging injury.
Outside of Game 1, which I already recapped, the Isles put forth an admirable effort. In Game 2 of the series, the Bolts scored the game winning goal with only eight seconds left off the clock, in a somewhat fluke fashion, after a wild pass from Ryan McDonagh found the stick of Nikita Kucherov. In Game 6, Tampa squandered chance after chance, before winning the game in overtime, in another goal that was kind fluky, so fluky that everyone stood around for a second or two, until the ref signaled Cirelli's GWG was good. In other words, for all of Tampa's firepower, they had two one goal victories in this series. The Islanders held their own, despite this loss.
I thought most of this series saw the Islanders, who already play a defensive game under Trotz anyway, continue their style of play, a style of play that's reminiscent of the Blue Jackets. It almost worked. Of course, Tampa were their own worst enemy at times, as outside of Game 1, their power-play was down right awful. In fact, if Tampa's PP continues to produce no results, they could find themselves on the losing end of the 2020 SCF.
After losing in the Stanley Cup Final in 2015, prior to this series, the Bolts lost in their next two ECF appearances, in 2016 to the Penguins and in 2018 against the Capitals. In each of those ECF losses, the Bolts had a lead in the series, before losing in the seventh and deciding game. In the Bolts fourth ECF appearance since 2015, the Bolts will now play for the Cup. If they don't win it now, they'll never win it with this core, especially with salary cap trouble ahead.
I had the Bolts winning this series in seven games. It almost looked like the Bolts would have to play another Game 7 of an ECF series. Instead the Bolts lock this up in six games.
NHL PLAYOFFS PREDICTION RECORD: 10-12.
QUALIFYING ROUND: 3-5
FIRST ROUND PREDICTION RECORD: 4-4.
SECOND ROUND PREDICTION RECORD: 2-2.
CONFERENCE FINAL ROUND PREDICTION RECORD: 1-1.
---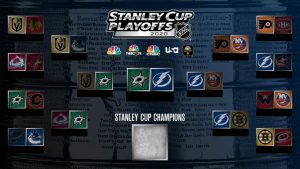 I don't care what anyone says or how anyone may try to take away from the unique circumstances of these Stanley Cup Playoffs. As I've said since day one, and as I'm saying again here, these playoffs have been great. In fact, I think these playoffs have been as unpredictable as ever, as no one knew how these teams would respond under these conditions. Once again, kudos to Bettman, the NHL, NBC and everyone else involved with these playoffs. And of course, my highest compliments to both the Dallas Stars & Tampa Bay Lightning, two franchises who have been away from their homes and families for nearly two months now.
(Of note, refer to my past blogs about these idiots who say these playoffs need an asterisk next to them. In short, that's bullshit, for reasons previously explained on this site.)
At this time, let's get into my last series preview of these 2020 Stanley Cup Playoffs – the Stanley Cup Final itself.
---
Let me give you my pick first and then take it from there. I see the Bolts winning this series in six games. That said, if you're a Stars fan, you should feel great about that. After all, I've picked against the Stars the whole way, as I picked the Flames, the Avalanche and the Golden Knights against them. Maybe I'll get the "Golden Sombrero" here, and go 0-4 when picking against Dallas.
Of course, as I've done in all of these preview/prediction blogs, I have to plug for the last time, what I said over a year ago, when I first predicted the 2020 Stanley Cup Champion, back on 9/3/2019. I had the Tampa Bay Lightning going all the way to the Stanley Cup Final. (You can read that blog here: https://bluecollarblueshirts.com/20192020/)
(And to be fair here, I guess I should admit that I didn't have the Stars making the playoffs at all. In fact, I had a Western Conference Final of Colorado vs Vegas, two teams that the Stars took down, in their eventual quest to the 2020 Stanley Cup Final.)
Maybe it's because I'm a NY Giants fan and hate all things Dallas, but for whatever reason, I never saw Dallas going this far. Now, they are four wins away from becoming the Stanley Cup champion.
When I look at the Stars prior to this run, I don't think anyone could've predicted the production & effort Anton Khudobin would give the Stars in net. After all, he's never gotten this volume of playing time or starts until these playoffs. (And he wouldn't have gotten this playing time if Bishop wasn't hurt as usual.)
Furthermore, I don't think anyone saw the Stars getting big time goals from their rookies either. I thought the Stars got "too old" a bit, when they signed all of these veterans, whose best days were behind them. Instead, guys like Perry & Pavelski have showed up for the Stars more times than not.
In addition, let's not forget, that back in December, it looked like the Stars were free-falling a bit, especially after the firing of coach Jim Montgomery. Fast-forward to today, and new head coach of the Stars, in Rick Bowness, the man who has more experience behind a bench than any other NHL or assistant coach COMBINED, in NHL history; Bowness now has these Stars ready to hoist the silver chalice.
In other words, I was wrong. The Stars are for real.
As I write these words, now an hour removed from Tampa's victory over the Islanders, I'm obviously riding the feel-good wave as an Islander hater and someone who is a huge fan of Ryan McDonagh. After all, I've shared this picture several times during these playoffs:
While I don't want to throw the words "destiny" or "fate" around here, for the Bolts, they have to win the Cup this year. If the Bolts don't win the Cup, the Bolts will become the latest version of the Emile Francis era of Rangers – "we did everything but win."
As of this writing, it's being reported that Steven Stamkos is skating, in an attempt to return to the Bolts for this SCF. Obviously, a healthy Steven Stamkos changes things a bit for the Bolts. However, without him, the Bolts have been handling the competition, knocking off both the Blue Jackets & Bruins in five games a piece, and taking care of biz against the Islanders in six games.
As a fan of goaltenders (I don't think I talk about any other position more on these blogs, as much as I talk about goaltenders) I think both Vasilevskiy & Khudobin are your favorites to win the Conn Smythe. Under any other circumstances, when talking about these two teams, I'd say Tampa has the edge in net. However, with the way Khudobin has been playing, you'd be out of your mind to say that right now. I think both goalies, as they are at the present time, are evenly matched.
(There is also the Ben Bishop story here, the man Vasilevskiy replaced in Tampa, the same Bishop that's currently on the Stars roster. Bishop was Tampa's goalie the last time Tampa won an ECF. However, unless Khudobin turns into Rick DiPietro, I doubt you'll see Bishop at all in this series.)
When I look at the line-ups, while Tampa does have the sexy names on offense, Dallas haven't been slouches either. In fact, the Stars are the highest scoring team of the playoffs. Defensively, while Tampa may have the best defenseman in the league, in Victor Hedman, when you look at each teams sextet of defensemen, the two teams are somewhat evenly matched in that department too.
As you go down the list a bit, and look at the coaches, Bowness has more experience behind an NHL bench than anyone else. However, Cooper is the longest tenured coach in the NHL today. That said, if Cooper loses this series, I don't think he'll have that distinction anymore, especially with Tampa being forced to blow things up next season, due to the salary cap.
When you look at Tampa during the last five years, you could sum up their finishes with this:
When you really look at the Bolts, if things had gone their way, and had they not choked year in and year out, they could've been an NHL dynasty team. They could've won 3 or 4 Cups in a row. They could've done what the Blackhawks did at the start of the 2010 decade, and win three Cups in a six year period. For whatever reason, whenever the pressure was on, the Bolts wilted.
While I feel the Bolts will win this series, (I'm batting two games under .500 with my predictions during these playoffs, so it's not like I'm a gambling guru here) what concerns me the most about the Bolts, is how bad their power-play has been.
What gives the Stars a definitive edge in this series, is that they've executed on special teams, while the Bolts have been absolutely putrid with their power-play. While the Stars did play run-and-gun hockey in the first two rounds of the playoffs, the Stars buckled down and played a defensive brand of hockey, in their five game Western Conference Final ousting of VGK.
While Tampa has won two series in five games and beat the Islanders in the ECF in six games, most of these games have been of the one goal variety. Tampa also has six overtime wins during these playoffs too. When you look at the three series that Tampa has won to get to this point, Tampa was just too talented this year to lose to the Blue Jackets. Tampa was too quick to lose to the Bruins. Tampa was just able to eke by the Islanders.
In Tampa's toughest test yet, they will play a Dallas team that not only can shut you down defensively and on special teams, but unlike the Blue Jackets or Islanders, Dallas can hang a five or six spot on you too.
What impresses me the most about Dallas, as a whole, is how they've bounced out two different Stanley Cup favorites, in both the Colorado Avalanche & Vegas Golden Knights. While Colorado was admittedly injured for most of their series with Dallas (Colorado used a third string goalie in the majority of games in that second round series with Dallas) Dallas was able to post goals like it was nobody's business. And when Dallas was asked to play shut-down hockey against Vegas, they did just that.
If Tampa has anything going for them (and it certainly isn't their power-play) it's the fact that they have knocked off two strong defensive teams already, in both the CBJ & NYI. However, based on what we saw from Dallas last series, Tampa is not going to be able to win games by just squeaking by with an abysmal power-play. Perhaps a returning Steven Stamkos will change that.
As you're reading this, it may sound like I'm favoring Dallas here. However, I think Stamkos returns for this series. I also think that Tampa, who has been so close so many times in the past, will use that experience to finally get over the hump here. Then again, I wouldn't be shocked if Dallas won this either, which really, is a great thing. The Stanley Cup Final is as unpredictable as ever. The only thing I'm somewhat sure about is this – I think a goalie win the Conn Smythe this year!
THE PICK: BOLTS IN 6.
Let's get into all of the Rangers news and notes.
---
In an update to the Barry Beck story, and the murder of his son Brock Cameron Beck, I once again want to plug the Go Fund Me for the Beck family. You can donate to Beck's family here:
https://www.gofundme.com/f/gofundmecomfBrockCBeck?utm_source=facebook&utm_medium=social&utm_campaign=m_pd+share-sheet&fbclid=IwAR1zJWd6YhY6so29n3CzHtzBJJeDAFy62VYyKNnWusxC6LzEJ0nyezdWam0
In addition, here is Barry Beck's latest statement, regarding this tragedy:
After spending time in Binbrook, Ontario and trying to get answers for my sons death..I got as far as I could. Now we must anxiously wait.

I then flew to Vancouver to meet with friends and family. On the Monday my good friends Trish and Ange had a memorial for my son at the top of their building. It was good to see everyone.

The next day 5 of us drove to Osoyoos to see my mother and friends. Was hard with social distancing and was only allowed to visit her one hour per day. At the end of our visit since we were in a secluded area I hugged my mother firmly. She tried to get away but I held her there before she then hugged me back. Her and my son had a special bond.
The following day we rented a pontoon boat to go out on Lake Osoyoos. It was a beautiful day..9:30 in the morning with no one on the lake. The sun strongly reflecting off of the water onto our bodies and faces. We finally came to a stop outside my mom and dads home where Brock used to swim. We weren't in too close as we wanted the clear water.
There we began the ceremony.

I picked up a few things at the hotel such as fruit, muffins and cereal. We cut up the fruit and muffins. Each one of my friends dropped some fruit into the water with a short prayer. This is for strength on my sons journey. When it was my turn I knelt down and put some fruit into the lake. That was followed by some money..then I took off my BC Hockey Hall of Fame ring and slowly dropped it over the side watching it disappear. Then I opened Brocks ashes and spread them over the side. This was the difficult part as I openly wept. Never before had I experienced such depths of sorrow or the significant beauty at the same time. I then unexpectedly dove into the water with my clothes and sneakers on managing to throw my phone onto the boat before going in. Then I just swam around for 15 minutes mesmerised before getting back in the boat. My friends Ange, Donny. Big R, Mitch and I all hugged one another before bringing the boat back in.

We left back for Vancouver the next day. Mitch Ponack and I have been friends since elementary school and he's now an experienced Seine fisherman. He and his wife Marcie asked if we would like to do another ceremony on his boat the 90 foot "Ocean Cloud."

It was a beautiful day in Vancouver heading out from False Creek marina out into the harbour. Then we cruised past lighthouse park around to Whytecliff Park before settling near Copper Cove where I once lived. There we slowed the boat down and began the second ceremony for my son.

I wanted to share this with my friends who could not be there. We now will get the reward money together to hopefully flush out the killers responsible for my sons murder.

God bless my saviour Jesus Christ
Despite just losing his son recently, Barry Beck is also giving us updates on his former teammate, in Mark Pavelich. If anyone has personified the adage of "once a captain, always a captain", it's been Barry Beck. Here's the latest update on Pavelich, from Barry Beck:
Mark Pavelich update:

Marks sister Jean has stated that Mark will be moved to a facility in Minnesota the "Eagles Healing Nest" which is suited for his recovery. This is great news.

Clint Marlachuck and Jean did a lot of trench work to make this happen. Marks case can seem complicated so we need to address the issues one by one. Clint and Jean, Tom Gorence, Chuck Thuss, Wanda LaRusso, Elise Rosenberg Starr make up our powerful team as we head in the direction of making "The Ranch" a reality.
Pete Carey who designed our logo is also involved with decision making and support.

Howard Ryan has also been very gracious in his efforts to kickstart our program.

I've talked with Mark several times over the past month. When I was in Canada for my sons death he phoned and we had heartfelt conversations. It felt good to be close to him again. He was worried more about me than his ongoing case. It has been difficult year for him locked up in the state facility.

We know that the "Eagles Healing Nest" will comfort him and provide the help he needs to integrate back into society.

We'll never stop fighting for him and will do whatever is necessary to make sure he's never forgotten.

Mark Pavelich: A NY Ranger and an American Hero
All I have to say here is all the best to both the Pavelich & Beck families. May Brock Cameron Beck's killer be found and jailed, sooner than later.
---
On Thursday, September 17th, Tony DeAngelo and crew returned with another episode of the "Watch Your Tone" podcast. Prior to releasing this episode, the "Watch Your Tone" crew promised interviews with Ryan Strome & Vladislav Namestnikov. For whatever reason, we didn't get these interviews on this show, nor were these two players even brought up. I'm assuming there must've been some sort of scheduling conflict or something, as we all know that Strome & DeAngelo are very close. (In other words, nothing "bad" happened here. Something else must've came up.)
In this latest episode, the tenth episode of the podcast, the podcast has now included YouTube as a platform to listen/watch the show. Previously, the podcast was only available through audio mediums, whether it be Apple Podcasts, Spotify or whatever else people use to get podcasts.
For me, I'm now going to follow this show through YouTube. After all, with four co-hosts, it's much easier to follow the show by watching these guys, rather than listening to the podcast through my phone and trying to figure out who's who at times.
For those of you who want to watch the show, you can do so by clicking the play button below:
I will say this, much like the "Blue Shirt Underground Show", it was much more enjoyable consuming this WYT podcast via YouTube, rather than just listening to the audio version. Let's get into the recap.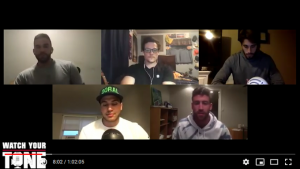 As usual, we kick off the show with some "New York, New York", by Frank Sinatra.
There are two new changes to the show – a new producer named Sean and Brother Lou's new dog. In something that was funny, Tony DeAngelo holds his mic for the whole show. This is something we learned with the show being on YouTube. You'd figure he'd have a mic stand or something.
To start off the news segment of the show, Tony DeAngelo talks about the Eric Staal to the Buffalo Sabres trade & the contract Joel Edmundson just received from the Montreal Canadiens. (If you don't know, on Wednesday, the Sabres traded away Marcus Johansson to the Minnesota Wild for Staal.) TDA's co-hosts chime in on the news, as they wonder what the future plans for the Sabres are.
DeAngelo feels that Buffalo won the trade with the Wild. As you'd expect, DeAngelo is also happy about Edmundson getting some money too. TDA's co-hosts also agree with Tony, feeling that this signing by the Habs was a smart one.
Of course, the contract defenseman Jonas Brodin received from the Wild is brought up. As mentioned last blog, this contract is great news for DeAngelo. Brother Lou says as much with his comments. (Check out my last blog for more on the Brodin deal and how it could effect DeAngelo.)
After talking player news, DeAngelo brings up the Capitals signing of head coach Peter Laviolette. As I said last blog, and as TDA feels and says on this podcast, this was a great signing for the Caps. Huffnagle also feels strongly about this move, saying how this makes the Caps so much better.
TDA brings up his interview with Trevor Letowski from last week and brings up how Letowski was highly complimentary about Laviolette's style & the way Laviolette can motivate players.
Ron the Gambler brings up what Scott Hartnell said about this move, saying how Hartnell proclaimed the Caps as the Cup favorite for 2021. TDA brings up that Hartnell and Laviolette are boys. Huffnagle feels that Caps have to at least be in the Eastern Conference Final next year.
After talking Laviolette, the crew talks about the Caps goaltending situation and if Caps goalie Braden Holtby will be back or not. TDA throws out the idea of the Caps acquiring Marc-Andre Fleury, under a cap retention type of trade.
It's also mentioned here that TDA feels that David Quinn is a great motivator, saying how he thinks Quinn was a better motivator than Alain Vigneault was.
The crew then talk about coach Jerry York and how he's one of the best coaches at the collegiate level. Co-host Ron the Gambler used to play for York, so there is some ball-busting among friends here.
The crew then bring up the current assistant coach of the Stars, in John Stevens. The whole crew has experience with Stevens and bring up how they used to watch Philadelphia Phantom & Philadelphia Flyers games, where Stevens coached. TDA is a huge fan of Stevens and is very complimentary of Stevens during this segment.
The talk then shifts to Stevens and the Stars making the Stanley Cup Final. The great play of Anton Khudobin is brought up. (To me, Khudobin has to be a Conn Smythe favorite right now.) TDA says he didn't think Vegas played bad, he just thought the Stars played better. Brother Lou brings up something I've said on these blogs before – he thinks the Stars are getting all the right bounces, something any Stanley Cup champion needs. Brother Lou also picks the Stars to win the Stanley Cup Final, no matter who comes out of the East.
The crew then breaks down the Stars and the roster moves they made going into this season, including the signings of Sekera, Perry and Pavelski. TDA says that before the season, he thought the Stars would win the Cup. (He never said that publicly, until now.)  TDA does admit, that as the season went along, he wavered from that opinion. However now, TDA feels that Dallas could win it. (No shit!)
The talk then goes to the upcoming Game 6 between the Bolts & the Isles. (This was recorded on Wednesday night, prior to Thursday night's Game 6.) TDA feels the Bolts should close out the Isles during Game 6. Brother Lou says it wasn't a bad thing that the Bolts lost Game 5, because it gives Stamkos more time to return. TDA shuts that take down and says you want to close out whenever you can. (Especially when you consider Tampa's recent history in these Eastern Conference Final games.)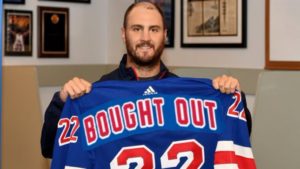 The talk then focuses on Kevin Shattenkirk. I talked about this last blog and the WYT crew basically said what I said. There are fans ripping on Shattenkirk for one bad play during Game 5 of the series. (It just happened to lead to the GWG, a goal which was scored in double overtime after the Bolts had a million chances to win the game.) TDA and company mention how great Shattenkirk has been in these playoffs. As the WYT crew should know by now, many Ranger fans on Twitter have a hard-on for Shattenkirk. As it has been since the beginning of social media, many Ranger fans hate on defensemen, for whatever reason.
As you'd expect, Tony DeAngelo, who was actually wearing a Kevin Shattenkirk shirt during the recording of this podcast, defends Shattenkirk. Let's not also forget how Ranger fans went after Tony DeAngelo during the qualifying round of the playoffs, after the Sebastion Aho play. (Of course, not mentioned by any of those fans, was how DeAngelo was injured during that series and still played anyway.)
Tony DeAngelo laughs a bit, when talking about the Eberle game winning goal from Game 5, saying that as a defenseman, sometimes you just hope that your goalie bails you out and makes the save. (Let's not forget, the other team is paid to play too!) That said, DeAngelo says you can never blame a goalie for a two vs one goal.
Ron the Gambler has the best take here – you can't blame Shattenkirk for a bang-bang play in double overtime. (Not mentioned here, was how Tampa blew a ton of power-plays in this game, including a double minor power-play, prior to the Isles GWG.)
The crew then rave about Hedman, where TDA says that Hedman deserves the Norris Trophy.
Up next on the podcast are Stanley Cup predictions. Brother Lou has Dallas over Tampa. Ron the Gambler has Tampa over Dallas. Huffnagle won't give a prediction until the ECF is over. TDA is taking Tampa over Dallas in 5. It's also amazing how TDA says stuff that I've previously said on these blogs. TDA feels that Tampa will win the Cup for the same reasons I do – they've had so much heartbreak over the years and that they are due. (I've also compared the 2020 Bolts to the 2018 Caps in the past, and that's why I feel the Bolts will finally get it done. It's just now or never.)
After a two week break, we have a return of the MANSCAPED ads. Unlike previous episodes, TDA doesn't close the ad with "take care of your ball hair".
Our next segment is the trivia segment. Just to recap, Huffnagle, Ron The Gambler and Brother Lou are all 0-1. (Check out my last WYT podcast recap for the details.)
TDA's first question is for Huffnagle. The question is what player's nickname was "The Golden Jet"? Huffnagle has no clue. This is SAD. A hockey podcast and these guys don't even know simple things. Obviously, the answer is Bobby Hull. Ron the Gambler says Selanne. As a result here, Huffnagle now goes to 0-2. And not for nothing, this question should've been a slam dunk (or hat trick) for any hockey fan. Again, go back to my Frank Boucher stuff and my affinity for history. As time goes on, history is forgotten. It's a shame the Rangers don't promote their history at all! (Again, check out my last blog for my thoughts on how the Rangers continue to ignore Emile "The Cat" Francis. And with that said, I wonder if the WYT crew would even know what nickname Emile Francis was known by!)
Ron the Gambler gets the next question. He's asked, what four NHL teams have won the Stanley Cup from 2009-2017? This was another gimmie. The answer is LA, Pittsburgh, Boston & Chicago. Ron gets the answer right, so he's now 1-1. If there's any trend here, these guys are better with recent and/or current events, than with historical events. I wonder if they even know about "THE GOAL" from 1970, scored by Bobby Orr against the St. Louis Blues?
Brother Lou gets the final question. To me, this was another easy question, as Lou is asked where did the New Jersey Devils relocate from? The answer is Colorado, as they were previously known as the Colorado Rockies. TDA makes things even easier for Brother Lou, posing the question via a multiple choice format. Brother Lou gets this wrong, and says Quebec. Minga. Brother Lou is now 0-2.
I think it might be time to can the trivia segment. Stan Fischler, these guys are not! Tony DeAngelo asks listeners to submit trivia questions. At this point, I think you could ask these guys, "what Ranger had their #2 jersey retired?" and I don't know if they would be able to answer with "Brian Leetch."
(And as mentioned on past blogs, I wonder if this is just an age and/or generational thing.)
Up next, we're back to gambling, a topic that wasn't brought up last episode. TDA wants everyone's NFL "Lock of the Week", using point-spreads. (In other words, this isn't a Knockout Pool.)
Huffnagle picks the Eagles. Ron takes the Broncos. Brother Lou takes the Vikings. TDA stays away, as I'm sure he's not allowed to talk about gambling. (He's said as much a few episodes back.) TDA seems excited about all of this, as he clutches his microphone with both hands.
At this point in the show, 35 minutes in, Ron the Gambler departs the show, as he has to go golfing. They record once a week and they decide to record during Ron's tee time? For shame! Who does Ron think he is? Matt Barnaby? (That Matt Barnaby reference is a BSU reference. And while on BSU, they are returning next week from hiatus, with an episode this coming Tuesday night.)
After Ron leaves, DeAngelo moves the topic of conversation to NHL off-season predictions. DeAngelo mentions that teams should still be able to sign guys to big deals, but the cash flow should (and will) be different. (Obviously, this effects DeAngelo tremendously.)
DeAngelo brings up Tampa's trouble with the salary cap and how if Tampa wins the Cup, they'll only have a few days to figure out what to do with their roster for next season, naming guys like Killorn, Cirelli and Palat. The WYT crew also bring up how Tampa's GM, in BriseBois, is rooting for his team to win the Cup right now; but three days later, BriseBois will have to kill all the great vibes and tell guys how he now has to trade them.
DeAngelo then brings up the situation with the Blues and Pietrangelo, mentioning how several teams will be interested in adding him.
DeAngelo gets more in-depth about the cap, bringing up escrow and front-loading or back-loading contracts. Again, this is interesting to hear, considering TDA's current situation. Even if you're not a Rangers fan, it's a great inside look at how an NHL free agent thinks about the salary cap right now, especially in this Age of Corona.
Huffnagle talks about Boston's Torey Krug (a defenseman for what it's worth) and says he feels Krug could land with Toronto. TDA says that Toronto needs a right-handed d-man. Huffnagle jokes, and says, "I know a guy." TDA laughed after that comment. The talk then goes to Taylor Hall, who may get the biggest deal of the off-season.
TDA and the crew talk about how for guys with families, it's important for players to have NMC's and how they want to establish roots in a city. TDA & Huffnagle mention that no one wants to bounce around, no matter how good you are.
Huffnagle mentions what I've said in the past – this off-season will be nuts. It's going to be a string of "July 1st's", as teams will make a flurry of moves during and after the Stanley Cup Final.
From here, TDA runs off a list of RFA's and feels that we'll see some offer-sheets soon. TDA includes himself as one of these RFA's who could be offer-sheeted. (On the last episode, TDA feels that someone should offer-sheet Mat Barzal. TDA doubles down on that opinion here too.)
TDA breaks down the differences between RFA's and UFA's and brings up his own situation. He uses Kevin Hayes, who was a UFA last year, to explain things from an UFA point-of-view. TDA also brings up how teams view RFA's and UFA's. As I'll say in my closing thoughts about this podcast, this talk is some of the best stuff WYT has ever done.
The WYT crew then talk about the contract status of Johnny "Hockey" Gaudreau and his current situation. It's brought up that Huffnagle actually played with Gaudreau years ago.
Brother Lou says that he hopes the Rangers pay Tony. Brother Lou also hopes that the Rangers sign Wayne Simmonds. (That's a deal I wanted years ago, but now, I don't think Simmonds fits in with this team anymore, as he's now many years past his prime. That said, I understand where Lou is coming from, as you need those tough sandpaper types to win a Cup. In his prime with the Flyers, it always felt like Simmonds was good for a Gordie Howe hat trick on any given night, at least whenever he played the Rangers!)
On Simmonds, TDA says he'd love to play with Simmonds. (TDA did grow up as a Flyers fan after all and brings this up here.) Speaking of guys out of their prime, TDA mentions how much Erik Karlsson has impressed him and what it was like playing against Karlsson for the first time. (When TDA was with Arizona.)
Brother Lou says, that as kids, that Tony DeAngelo was a huge fan of Chris Pronger and Peter Forsberg. TDA also says he was a huge fan of Jeremy Roenick. TDA brings up the Flyers last Cup appearance, in 2010, and how he was a kid enjoying it. This was a reminder that I'm 13 years older than DeAngelo & his WYT crew! (For TDA, the 2010 Flyers for him, were the 1994 Rangers for me, except the Rangers won the Cup in that Stanley Cup Final appearance!)
TDA brings up his charity games that he does on behalf of the Wounded Warriors Project and while it was canceled this year because of Covid, he can't wait to have the charity game next year.
TDA then plugs the latest WYT merchandise, including the new trucker hats they are now selling. After the plugs, the show concludes. No outro music this week!
When it comes to my final thoughts on this podcast, I thought the second half of this episode was the best stuff that this podcast has ever done. I really enjoyed the contract stuff, the salary cap stuff and how a current NHL player is viewing this upcoming period of craziness. I also enjoyed that the podcast got away from the "who's better than who" stuff and all those other fantasy bar-room debates.
In my opinion, the podcast is at its best when the guys stick to talking about current NHL events. While of course, I wouldn't mind hockey history discussed either, history is obviously not the forte of these guys, based on how terrible they are with easy trivia questions!
Of note, last week, Tony DeAngelo said he was no longer going to be using the Watch Your Tone social media channels anymore, as he said his co-hosts would be running the accounts. Not even less than a week later, Tony DeAngelo was tweeting from the Watch Your Tone twitter account, saying, "Anyone who thinks the Edmundson deal is bad is insane." While that tweet isn't offensive or anything (although I'm sure some TDA haters will find a way to twist TDA's words around) it's just another example of DeAngelo making a statement and then doing the complete opposite, in less than a week's time.
I only bring this up, because we've seen DeAngelo get in trouble because of social media before. I just hope he's more aware of what he puts out there, as I really hope he gets that big payday – from the New York Rangers.
All in all, the last 30 minutes of episode 10 was the best stuff WYT has done to date. Go out of your way to listen to it, especially if you're a salary cap fan.
One more news item and I'm out of here.
---
On Wednesday, September 16th, Libor Hajek found his name in the news again and in two different news stories.
When it comes to Hajek's playing career, as previously talked about on this site, it was reported that Hajek would play for his native home team of HC Kometa Brno, of the Czech Extraliga. (Czech League.) However, due to insurance reasons, Brno balked at this loan from the Rangers. Instead, the Rangers are now loaning Hajek to HC Olomouc, who also plays in the Czech Extraliga.
While Hajek will now be lent to HC Olomouc, rather than HC Kometa Brno, for all intents and purposes, everything that was previously discussed on this site remains the same. Hajek will be playing for a Czech team, while on loan from the Rangers, where the Rangers will be able to recall Hajek back to New York (or Hartford) whenever they see fit.
As you all know by now, several young European and Russian players, which the Rangers own rights to, are playing overseas, as they get rink time during this pandemic. With no one knowing when the NHL season will start, it behooves these young players to get ice time, as they await the start of the NHL season.
That said, what Czech Extraliga team Hajek will play for wasn't the top story concerning Hajek on Wednesday. Hajek's comments in a recent interview were.
On Wednesday, Libor Hajek pretty much confirmed what we all knew – Henrik Lundqvist has played his last game for the New York Rangers. In an interview with Isport, a sports website from the Czech Republic, Hajek talked about Lundqvist's last game with the Rangers. You can read Hajek's interview with Isport by visiting this link: https://isport.blesk.cz/clanek/hokej-tipsport-extraliga/384312/sok-v-komete-prichod-hajka-ne-obrance-bere-olomouc-mam-to-bliz.html?amp=1&__twitter_impression=true
Here's the key quote (translated) from Hajek during that interview: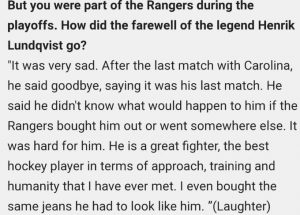 For whatever reason, this quote sent a shockwave across several sections of Rangerstown, USA. It's like these people didn't know that the marriage between Lundqvist and the Rangers was already over.
No joke, I saw people crying tears about this on social media. You had these twenty-something basement bozos responding to this news, by writing tweets that came off as something you'd read in a suicide note. Some of these young fans said that they needed an emotional support group. Some said they couldn't take this pain. To all of these people I say this – see if your parents medical coverage will cover therapy bills. I heard Dr. Frasier Crane is seeing patients right now.
I mean really, the writing has been on the wall for some time. Is an interview quote from Libor Hajek on Henrik Lundqvist really going to drive you over the edge? And let's not forget this either – the Rangers should've traded Lundqvist five years ago, after the 2015 playoffs, a point I've been saying ever since the Rangers lost that 2015 ECF series to Tampa.
And really, take a second and think here, even if you're the biggest Cult of Lundqvist fan in the world. Had the Rangers traded Lundqvist after 2015, they would've got a major haul in return. Fast-forward to today, the Rangers are most likely to buy out Henrik Lundqvist, eat dead cap space and get nothing in return. I know many Ranger fans hate this, but can we all admit that I've been dead-on accurate on this subject, since day one?
Seriously, as I've said redundantly and to a point of pure ad-nauseam on this site, you can't win a Stanley Cup with a Top 5 paid goaltender in this era of the salary cap. These 2020 Stanley Cup playoffs are just another example of my point, as neither Anton Khudobin (Dallas) nor Andrei Vasilevskiy (Tampa), are a Top 10 paid goaltender in this league. (Vasilevskiy will be next season, but because of that new contract that goes into effect next season, Tampa will have to shed parts to accommodate that contract, right after the 2020 SCF is complete. That's why if Tampa doesn't win the Cup here in 2020, they'll never win it with this core.)
To me, this Hajek quote is pretty much a non-story. It's not like we didn't know that the Lundqvist Error was over already. Hell, Larry Brooks already wrote the epitaph of Lundqvist's career, just two days after the Rangers were ousted from the Toronto bubble.
And here's a prediction: the Rangers win the Stanley Cup in their first year, post Lundqvist. Now wouldn't that be amazing Suzyn?
---
If you haven't already, subscribe to this blog for the next update:
Moving forward here, I'm taking the weekend off, barring anything major happening, like a buyout of Henrik Lundqvist.
I know that once the SCF is complete, there will be a flurry of moves made across the league. I'll recap all of them here.
I know that fans may be sick of old games, as fans watched a ton of them during the pause, but after the SCF is complete, I plan on doing a DELOREAN blog, where I will look at Guy LaFleur and the lone hat-trick he picked up while a Ranger. For whatever reason, that game feels like it's been forgotten, in the annals of Rangers history. (Then again, most history is forgotten by the Rangers to begin with!)
As always here, thanks for reading and…
LET'S GO RANGERS!
LET'S GO BOLTS!
LET'S GO MCDONAGH!
NYR WILL DRAFT LAFRENIERE!
KEEP POLITICS OUT OF SPORTS!
HI TRAVIS, I STILL HAVE TO DO A BLOG ABOUT THE STUFF YOU GAVE ME!
Sean McCaffrey
BULLSMC@aol.com
@NYCTHEMIC on Tweeter and on Parler