Greetings and salutations everyone and welcome to another blog here on BlueCollarBlueShirts.com. How about that Game 1 of the Eastern Conference Final?!?!
Speaking of the Eastern Conference Final, I am publishing this blog during Game 2 between the Bolts and the Isles. By the time you read these words, it's very likely that Game 2 will be over. Let's hope by then, that the Bolts quest to the Stanley Cup Final is half over as well! FTI!
EDIT: TWO HOURS AFTER PUBLISHING THIS BLOG, THE BOLTS BEAT THE ISLES! YES! YES! YES! AND HOW ABOUT THAT RYAN McDONAGH!?!?!?!?!
In tonight's blog, I have a full recap of Tony DeAngelo's "Watch Your Tone" podcast for you, where DeAngelo interviews Trevor Letowski, his former head coach of the Sarnia Sting. This interview was interesting, as you'll soon see below.
Elsewhere on tonight's blog, I have an update on the NHL draft for you. In addition, I also have news on the Rangers loaning out players to European leagues.
Closing out tonight's blog will be a topic that has political undertones behind it, as I'll talk about Matt Dumba winning the King Clancy Memorial Trophy. Since it is my belief that Dumba won this award for political reasons, (the NHL pretty much admitted as much in their press release) and not for hockey reasons, I have my rant on this at the end of the blog, for the people who don't want sports and politics mixed together.
However, as usual, before motoring into everything – the PLUGS segment of the blog!
For those who new here or for those who may have missed them, here are my most recent manifestos:
---
---
---
---
---
After taking a week off after their interview with Brendan Lemieux, the "Watch Your Tone" podcast returned on Wednesday. You can listen to the show by clicking the link below:
Episode 9 – The NHL or KHL is now available! Listen now https://t.co/Ea7wpzMDNo

— WatchYourTone_ (@WatchYourTone4) September 9, 2020
For those wondering, this episode, the ninth episode of the "Watch Your Tone" podcast, runs at just over an hour, with an official run time of 1:02:10. In other words, this is the longest episode of "Watch Your Tone" yet.
As usual, the podcast kicks off with Frank Sinatra's "New York, New York". Tony DeAngelo then opens up the show, welcoming everyone and thanking everyone for listening. TDA then introduces us to his three co-hosts, who are Brother Lou, Aaron Huffnagle and the returning Ron The Gambler. Ron is making his return after missing several episodes. Apparently, Ron must've hit some sort of bet because he now has a new microphone!
TDA previews what we'll hear on the episode, saying how he will have an interview with Trevor Letowski, a Letowski who is currently the head coach of the OHL Windsor Spitfires. For those who may have forgot or didn't know, this Letowski interview was plugged during episode 8, during TDA's interview with Brendan Lemieux. In that interview with Lemieux, it was mentioned that Letowski coached DeAngelo with the Sarnia Sting and how Letowski coached Lemieux with the Spitfires.
TDA welcomes back Ron the Gambler to the show. After that, TDA and the crew talk about Tampa's domination over the Islanders in Game 1 of the Eastern Conference Final. Brother Lou says Tampa looked like the Globetrotters. The Islanders Game 7 win over the Flyers and all the travel stuff is brought up. Brother Lou says Tampa isn't Philadelphia. Brother Lou also brings up Tampa's acquisition of Patrick Maroon. TDA adds to this, bringing up all the sandpaper types Tampa added to their team, after the disappointment from last year.
TDA continues to laud praise on Tampa and says he feels this roster is ready to win the Cup. TDA also brings up how Stamkos isn't even playing and how Tampa is racing through these playoffs. TDA brings up how the Flyers played into the Islanders hands, and how the Islanders probably should've finished off the Flyers in less than seven games. TDA feels the Isles will regroup, but Tampa will win the series. Brother Lou brings up Tampa's pin-point accuracy with their shots on net during Game 1.
After talking the bubble and what room service the crew would order, the talk of the podcast then goes to the Western Conference Final, currently being contested by Dallas and Vegas. (This podcast was recorded prior to the Game 2 win by Vegas.)
Brother Lou feels people are selling Dallas short and thinks that Dallas could make the SCF. Ron & Huffnagle feel the same. Everyone on the podcast is impressed with Dallas knocking off Colorado. However, Colorado's injuries aren't discussed as a reason for the Stars moving on. (I talked about all of this last blog – you can't blame the injuries as the sole reason for Colorado's loss, but all the injuries certainly didn't help. That said, I'm surprised a hockey podcast didn't bring up all of the Colorado injuries. After all, Colorado had a third-string goalie going the last three games of the series.)
Before moving on into the Letowski interview, TDA breaks down the key goal of the Dallas/Colorado series. After that, we get the Trevor Letowski interview.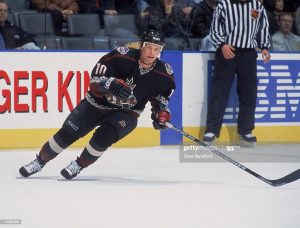 TDA welcomes Trevor Letowski and runs down Letowski's hockey accomplishments, accomplishments which include a 10 year NHL career, KHL service time and time spent at the head coaching ranks at the OHL level.
Letwoski feels that he was a versatile forward in his playing days. Letowski talks about his junior career and then being selected in the 1996 NHL Draft. Letowski mentions how his era is different than today's era. Letowski feels that smaller guys have more of a chance to be successful now, than they did 25 years ago.
Letowski then talks about the transition from junior hockey to professional hockey. Letowski talks about making it with the Phoenix Coyotes and some of the great names he got to play with, such as JR, Tkachuk and Tocchet. Letowski and TDA talk about one-year deals and the pressure of playing under those circumstances. Letowski mentions that he retired from the NHL at the age of 31, because of the salary cap and how older veterans get phased out for cheaper and younger talent.
Letowski says Vancouver was his favorite NHL city to play in, since he's a Canadian and since Vancouver is a Canadian city. Letowski mentions that he also played in three non-traditional hockey cities, in Phoenix, Arizona, Columbus, Ohio and Raleigh, North Carolina.
TDA and Letowski mention how great of a city Vancouver is and the nightlife there. The two also mention how great it is to live in Scottsdale, Arizona.
Letowski then talks about his KHL days and mentions how ex-NHLers are treated great in the KHL. Letowski says all the amenities and stuff off-the-ice in the KHL is top notch.
Letowski then says, that despite the great accommodations in the KHL, he had trouble adjusting and becoming coachable, due to the language barrier. (They don't have translators there?) Letowski says not many KHL people speak English, so he had trouble understanding systems, his coaches and bonding with his teammates. Letowski also talks about the schedule differences in Russia vs North America, including the extreme amount of practices in the KHL, to off-set the lack of games in the KHL. (The NHL has nearly 30 more games a season than the KHL season.)
Letowski wants to make clear that he isn't complaining or whining here, but just citing the differences. TDA then brings up the Russian players he plays with and how those guys are just used to the KHL, because that's what they grew up with.
Letowski talks about the differences between the first and second years of his KHL career and why NHLers usually wait before making the jump to the KHL. (The longer an ex-NHLer waits to sign with a KHL team, the less amount of heavy practices that ex-NHLer will have to endure, something which is huge for veteran players who don't need to be beat up during two-a-day practices.)
The talk then talks about Letowski's time with the Sarnia Sting and how he became the head coach there. Letowski talks about the transition from being an assistant coach to a head coach. Letowski feels he's a better coach now, with Windsor, than he was when Letowski coached TDA in Sarnia, only because of the experience Letowski has gained since that time.
Letowski talks about his coaching style and watching his players make it to the next level. Huffnagle asks Letowski if he's a player-friendly coach or a hard-ass coach, like a Mike Keenan. Letowski says he's more of a player-friendly coach and brings up examples of his style. Letowski mentions he has a constant stream of communication with his players, saying that if he has to scratch someone, he will tell that player why, rather than just scratching that player and ignoring him. Letowski says he takes a lot of pride in talking with his players.
TDA talks about how players view coaches and laughs about how players will always like coaches that they thrive under. Letowski talks about his days coaching TDA and mentions that TDA is an emotional guy. It's also brought up that Letowski ran the defense when he was the assistant coach of Sarnia and how he formed his bond with TDA, early into TDA's Sarnia career.
Letowski brings up TDA's reputation and debunks several of the negative rumors that some idiots can't get enough of. Letowski says TDA was a hard worker. Letowski added that DeAngelo would get frustrated if TDA wasn't playing well or if the team wasn't playing well. Letowski mentions how TDA would become an NHLer, so TDA's mind was more advanced than some of his Sarnia teammates, which was the root of TDA's frustration. TDA admits as much.
Quick tangent time.
(In something that was not brought up during this interview, is why did Letwoski suspend DeAngelo in 2014? The two talked about TDA's struggles on the podcast, but not this incident directly. And it's always been my opinion, regarding this incident that always seems to be a topic on Twitter, that TDA probably called someone a "fag"; a word that's been chirped by hockey players ever since the first time where two Canadians found a puck, a frozen pond and two sticks.
For those not aware of my background, I've read hundreds of autobiographies from hockey players, seen countless interviews and have consumed a ton of hockey related content in my time. The word "fag", as a chirp, was used a lot by players from eras ago. And I don't think it was ever intended as a homosexual slur either. Just like in an episode of "South Park", the word "fag" was tossed around in the same vein as calling someone an "asshole" or a "douchebag".
Furthermore, I only bring this DeAngelo/Sarnia incident up, because some of you (sometimes respectfully, sometimes without respect) have accused me of handling DeAngelo with kid gloves on this site. I'm just showing you I'm always fair here, by even bringing this up. After all, DeAngelo did have Letowski on and the two did talk about some of DeAngelo's downs with the team.
This is now a story, or in this case, a non-story, because the two talked about DeAngelo's time with the Sarnia Sting, without mentioning this incident that many still talk about to this very day. (If you don't know about this story, you can read the whole thing here: https://sports.yahoo.com/news/sarnia-s-anthony-deangelo-suspended-for-slur-directed-at-teammate-232527684.html In short, TDA was suspended for using a "slur", with many TDA haters assuming the "slur" in question was a racial slur. As said above, it is my opinion that TDA most likely used the word "fag", which is considered a slur, and not anything race-related.)
I don't want to go down this rabbit hole, nor wish to do a whole 10,000 word blog on this, but for all the idiots who accused DeAngelo of saying a racial slur during this incident in Sarnia, all I have to say to you is this – check out the complete Sarnia Sting team roster from that time. Unless DeAngelo was calling someone a "cracker", a "mother-canucker" or something along those lines, I don't see who he could've said a racial slur to, which is why it's always been my opinion that the word "fag" was used here and not anything racial.
Also of note here, as I close out on this tangent, this will be the last time I talk about this. As mentioned, I only bring this up here because I have people saying that I don't give the full story on DeAngelo on this site. To me, this has always been a non-story, because this story is six years old and had nothing to do with DeAngelo & NYR. Furthermore, as said, I never thought DeAngelo said anything racist to begin with, even if others may lead you to think that way.)
---
TDA then talks about his Sarnia days and how now, in hindsight, how he wishes he approached those days differently. TDA says looking back at it, he understands Letowski's point-of-view on things now. TDA says if he handled himself then, as he handles himself now, he thinks he could've been the captain of the Sting. It's brought up how Sarnia stunk and was the worst team in the league, which drove TDA nuts, because he was in his draft year. TDA certainly came off like he was expressing several regrets here, as he did say that he wishes he could go back and do it all over again.
The crew and Letowski then talk about how TDA could be a pain in the ass in those Sarnia days, because of TDA's competitive juices. It's also mentioned again that TDA was frustrated with losing & his teammates not being at his playing level. (Which is probably why DeAngelo called out a teammate in the first place!)
The name of Shane Doan is brought up and how Letowski & TDA both played with Doan. TDA said Doan was professional the whole way. TDA said that he learned a lot from Doan, even if Doan doesn't know it. (TDA played with Doan in Doan's last season, a season where the Coyotes stunk in. Letowski played with Doan at the beginning of Doan's career.)
Letowski says, as a coach, you have to be authentic. Letowski feels that if you try to play a role or come off phony, players will see right through it. Letowski credits Gallant, Laviolette and Crawford as inspirations for his own style of coaching. Letowski brings up how great these three names are at motivating players. If there is anything you get out of this Letowski interview, it's the fact that motivation is a key tool in success.
Letowski then compliments David Quinn and says if you're coaching at the NHL level, you're doing something right. Letowski then tells some Peter Laviolette stories and how Laviolette was fair to everyone, whether things were going good or going bad.
From there, the interview wraps up. Interesting stuff, as it's always cool to hear how a head coach thinks.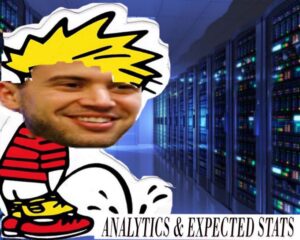 After thanking Letowski for his time, TDA introduces a new segment to the podcast. I guess this replaces the "Mean Tweets" segment, a segment which has gone away without a sound.
The new segment is hockey trivia. The first trivia question presented by TDA, was in what year and in what round was Brayden Point drafted in? The answer is 79th overall, in the third round, by the Tampa Bay Lightning, during the 2014 NHL Draft. Ron doesn't have the answer here, so he's now 0-1 on the year.
Up next was a question for Huffnagle, who had to name the three players that the Boston Bruins selected ahead of Mat Barzal, during the 2015 NHL Draft. Those three players are Jakub Zboril, Jake DeBrusk and Zachary Senyshyn, who the Bruins took with their 13th, 14th and 15th picks of the 2015 draft, respectively. (The Isles then took Barzal with their 16th overall pick.)
Huffnagle didn't get this trivia question right, so he joins Ron at 0-1. Not for nothing, but that's a pretty good trivia question. I would've never guessed Senyshyn either.
Brother Lou gets the easiest question of TDA's three co-hosts, as he's asked when was the last time that the Tampa Bay Lightning won the Stanley Cup? Brother Lou had no clue. Wow, that was pretty bad, especially since it's been recently mentioned a bunch of times, on the NBC broadcasts, that Tampa won their first and only Cup in 2004. To me, this question was a no-brainer, even if I wasn't such a huge fan of John Tortorella and the league in general! (I've also been to the Amalie Arena four times in my life and have seen that banner in person too!)
As a result, all of the co-hosts are now 0-1 during TDA's hockey trivia segment. As they say, better luck next time!
The three co-hosts then argue about who had the easiest question. Three guys on a hockey podcast not being able to answer easy recent trivia questions doesn't bode well for my dreams of ever seeing Frank Boucher get his #7 retired by the Rangers. It's a shame history isn't appreciated. After all, the New York Rangers themselves, ignore a ton of their own history, for who knows why.
The talk of the podcast then talks about who the best player in the league is. TDA wonders if Nate MacKinnon has took over the throne from Connor McDavid. The old "1 vs 1A" debate is brought up. One co-host wonders if McDavid would thrive with Colorado, as one co-host reminds the other that McDavid plays with Draisaitl.
TDA mentions how impressed he was with MacKinnon during the playoffs. TDA says he thinks McDavid is still the best player in the league.
TDA then says how he's become a huge fan of Mat Barzal, knowing that Ranger fans won't be happy with that praise! TDA then talks about other Islanders he likes, in what was pretty much a disgusting segment to listen to! That said, it was interesting to hear TDA break down plays.
TDA brings up the idea of offer-sheeting Mat Barzal and what team would do it. This again is interesting, considering TDA's current contract status as a restricted free agent. It's brought up that most offer sheets "are a piece of paper that you can wipe your ass with." This is true!
TDA then talks about how you could offer-sheet Barzal, in an attempt to mess with the Islanders salary cap. The podcast then turns into bar-room debates of "who is better than who", with names like Aho, Barzal and Point brought up. Another bar-room debate on the podcast is about what player you'd want on your team first, with a bunch of names as the options. This all comes off like fantasy football talk, or something you'd read in one of those old AOL Group chats. I'd rather hear these guys talk serious topics, rather than these debates that go nowhere and really serve no purpose.
As the episode winds down, a topic with substance is discussed, regarding the Toronto Maple Leafs and if they should do what Tampa did last off-season, by adding gritty and sandpaper types to their roster. Tony DeAngelo brings up what I've been saying on these blogs forever, even as recent as of two blogs ago, regarding the salary cap, and how it's easier for Tampa to sign players (no state income tax) than it is for Toronto (a heavily taxed province.) I'll save you my whole spiel here, as I know I recently said it again, for the 8678967896796796th time, just two blogs ago; but the NHL really needs a weighted cap system, to off-set the advantages the no-state income tax states have over the states & provinces that have state & provincial income taxes. Especially now, with the cap staying flat, here in this "Age of 'Rona". Why should the Florida Panthers have a cap advantage over the New York Rangers?
I will say, it was nice to hear TDA bring up the different tax rules around the league, especially since he's a RFA in a heavily taxed market. It would be ironic if a team that plays in a locale without a state income tax offer-sheets him!
The talk then diverts into how Toronto has now lost four straight series clinching games. TDA says he expects an overhaul to the bottom six, the defense and to the goaltender positions. TDA then says, that in the spirit of this conversation, that they'll do a trade-center segment next week. That should be a good segment
TDA wraps up the show and plugs the social media accounts of the podcast. TDA also casually drops the fact that he's no longer involved with any of the podcast's social media accounts, as presumably Brother Lou is running them all. That concludes the longest episode of "Watch Your Tone" yet.
As far as my final thoughts on the show, I liked the Letowski interview, as it was different. I didn't know much about Letowski going into the podcast, so I enjoyed learning something new.
When it comes to the debates or polls about "what player is better than who" and "what player would you draft first" stuff, I can do without all of that. Most of that talk feels like I'm reading a Facebook or Twitter debate out loud, sans the closing statements of "YOU'RE TRASH FOR NOT AGREEING WITH ME, YOU SMELLY POO-POO BOOGER HEAD!"
In the episodes since Tony DeAngelo received a talking to by the Rangers and his agent, regarding his social media presence (recapped a few blogs ago, check the archives of this site for more) the podcast has "Watched Their Tone" a bit. The "Mean Tweets" segment has vanished into thin air, which as a listener, I miss, but as a fan of DeAngelo & as someone possessing common sense, I get why that segment is gone. There was also no talk of gambling on this show, which was noticeable, especially with Ron back on the program. Also of note – no MANSCAPING ad either. Who is going to tell us to trim our ball hair now?
If there are any suggestions I have for the show, it's to keep on doing what's working, which are the interviews and the way DeAngelo will break down plays & talk about games. I'd like to see the guys talk about serious topics around the league, but again, due to DeAngelo's contract status and the heat magnet he's become, I can see why serious topics are now being avoided. (Dumba over Lundqvist for King Clancy would be one of those serious topics.) Due to the unfair and unwarranted hatred that DeAngelo receives from the basement bozos, whatever he says on a serious topic will be distorted and twisted, which is presumably and understandably why he's avoiding such topics on the podcast.
With the "Watch Your Tone" podcast recap now complete, let's get into the latest news and notes from Rangerstown, USA.
---
On Tuesday, September 8th, the NHL announced that they have moved the date of the 2020 NHL Draft. Originally scheduled to take place on October 9th and October 10th, the NHL Draft has been bumped up by three days, with the first round of the draft now scheduled for October 6th and the following rounds now scheduled to take place on October 7th.
As it stands right now, the Rangers have two first round picks of this year's draft, with everyone and their mother expecting the Rangers to select Alexis Lafreniere with the first overall pick of the draft. In addition, the Rangers also own the 22nd overall pick of the 2020 NHL Draft.
What does this all mean? All it means is that the Rangers will add Lafreniere to their ranks, 72 hours ahead of schedule!
In other roster news, following the announcements of Vitali Kravtsov being loaned to Traktor of the KHL and Lias Andersson being loaned to HV71 of the SHL for the 2020-2021 season, we learned of other Rangers crossing the pond to play hockey, as players await the delayed start of the 2020-2021 NHL season.
---
Following the news of the NHL moving their draft date, we also got word of both Libor Hajek & Adam Huska being loaned to European teams.
Libor Hajek, who is a Czech, will be returning to his native team of Brno, in the HC Kometa Brno of the Czech Extraliga. Like Kravtsov, the Rangers can recall Hajek at any time. It is speculated that once the NHL opens up camp for the 2020-2021 season, that Hajek will return to America, where he will either stay with the Rangers or be sent to Hartford.
In addition, Hartford goalie Adam Huska, who is of Slovakian descent, will re-join his native Slovakian team of HKM Zvolen, of the Slovak league.
Both Hajek & Huska had ups-and-downs this season, both figuratively and literally. Each player, who had some shine moments (Hajek for NYR, Huska for Hartford) both found themselves, as the season progressed, demoted by the Rangers. Hajek was sent from the Rangers to Hartford, while Huska was sent from Hartford to Maine, in the Maine Mariners of the ECHL, the Rangers ECHL affiliate.
For both of these players, and like Kravtsov and like Andersson, making use of this time when the NHL & AHL are trying to figure out when to start the 2020-2021 season seems like a wise choice. Good luck to them.
---
As we approach the NHL draft and the upcoming period of free agency, unless something is official, I'm not going to talk about it. At the present time, anytime when I visit a site or social media forum, there are about 78678678997896 trade rumors. And just like every year, 99% of these rumors will wind up being bullshit. I will not waste my time, or your time, by speculating on trade rumors and crazy fantasy scenarios for click-bait.
That all said, things will pop off soon enough. I'd expect a ton of news, trades, and free agent signings coming up soon, especially whenever the Stanley Cup Final is completed. Unlike any other time in NHL history, the window of time for NHL teams to get their rosters ready for next season is tighter than it has ever been. In the past, usually July 1st is the busiest day of the off-season. This year, we may have a couple of "July 1st's" on our hands, as teams quickly look to fill out their rosters.
And now, for those who don't want politics in their sports, and I don't blame you if you're one of these people, this is where I say good-bye to you. Up next, my thoughts on Matt Dumba winning the King Clancy Memorial Trophy.
---
On September 6th, it was announced that Matt Dumba had edged out Henrik Lundqvist (NYR) and PK Subban (NJD) to win the King Clancy Memorial Trophy for the 2019-2020 season. In the press release sent out by both the NHL and the Minnesota Wild, Dumba's work with the HDA, a group that is currently demanding $100M from the NHL, was heavily praised.
In addition, and this is a key thing to talk about here, GEORGE FLOYD was featured in Dumba's King Clancy Memorial Trophy graphic. The reason I bring that up, is that this King Clancy Memorial Trophy, LIKE EVERY OTHER NHL YEAR-END AWARD, is given to a player based on what happened in the regular season. The George Floyd murder occurred on May 25th, TWO MONTHS AFTER the NHL regular season was completed.
In other words, and as the press release states, whoever voted on this award used things that happened after the regular season, when voting for Dumba. If voters were allowed to change their voting based on what happened in the post-season, you could 100% expect to see different names win year-end awards, not just now, but throughout the history of these year-end awards. (For example, if I were allowed to use the playoffs, when doing my year-end awards for the 2019-2020 NHL season, I'd give Nate MacKinnon the Hart Trophy, over Panarin & Draisaitl, two players who didn't even make it out of the qualifying round.)
The second Dumba did his clown kneeling act during the United States National Anthem, (let's not forget that Dumba comes from a rich Calgary background) I figured he'd win this award. The NHL has adopted a "woke" policy, even if it's turned off TV viewers and fans. I know I talked about all the politics and the race stuff in the NHL previously, so I won't go long on this here. (You can read that political blog here: https://bluecollarblueshirts.com/82820/ )
Here's my biggest problem with Dumba winning – it felt like a participation trophy and the NHL trying to show us how politically correct they are, at the expense of two people who ACTUALLY DO A TON FOR THEIR COMMUNITIES! And let's not forget how the NHL conveniently changed the voting parameters too, citing Dumba's actions and statements during the NHL post-season.
Let's get into PK Subban first. The guy is one of the best advocates the NHL has. From day one, Subban has always tried to create positive change in whatever community he's playing in. That's a fact that's never changed, even as Subban reached superstardom heights with the Habs & Preds, to where he's presently at right now, with the Devils.
People in Montreal, years after his trade to Nashville and even now, after Subban's bad season in New Jersey, are still mad at the Canadiens for trading Subban. Subban still contributes to the Montreal community, where he routinely makes appearances and continues to donate millions of dollars to a local Montreal children's hospital. (More on this here: https://montreal.ctvnews.ca/three-years-after-trade-p-k-subban-s-tie-to-montreal-children-s-hospital-remains-strong-1.4561751)
No matter where Subban's career has taken him, Subban has made an immediate charitable impact on his community & surroundings. Of note, PK Subban, who may support HDA, isn't officially part of HDA either. Maybe Subban doesn't want to align himself with a player who put his hands on a woman and welshed on a gambling debt? (Evander Kane, google him if you don't know these stories already.)
If Dumba's crown achievement, which led him to winning this award, as the NHL press release would lead you to believe, is kneeling and starting a group that supports domestic terrorists, rapists and criminals, what is this trophy worth anymore? And again, refer to my past blog on HDA, which is linked above. I have no problem with diversity in hockey, but you have to accept that CLIMATE, CULTURE and ECONOMICS are the reasons why there are so many white faces in hockey. NOT RACISM. To promote the sport to non-white faces, you must invest at the youth level. Pandering statements and awards won't create an influx of black players – putting the time in with the kids will. Rome wasn't built in a day.
To me, Subban was screwed here. If you look at the real CHARITY being done here, which this King Clancy Memorial Trophy is designed to award, Subban did much more than Dumba did. Perhaps if Subban took a knee and said "Eff America", we would've had co-winners this year.
On July 15th, I talked about how Henrik Lundqvist was going around and visiting various NYPD precincts. You can read that blog here: https://bluecollarblueshirts.com/71520/
In the blogs following that blog linked above, I shared more stories of Lundqvist visiting with members of the NYPD and how the NYR lame-stream media, who are all liberal, refused to cover any of these stories. Two blogs ago, I told you about a recent exchange I had with NYR lame-stream media member Vince Mercogliano, and why he didn't think this story was worth covering. (However, as mentioned 78678686897 times, Jacob Trouba tweeting out "BLM" was a story worth Vince's time. Real actions and real donations by Lundqvist? Well that was a non-story for Vince!)
We all know my thoughts on Henrik Lundqvist and that contract. However, that doesn't change the fact that he does do a lot of charity work, much of it without the red camera light on. Lundqvist isn't making political grand-standings with his charity work either. It's a shame, had Lundqvist urinated on a cop car and threw a brick through a Macy's storefront window, he may have had a shot of challenging Dumba for this award.
And really, this is my only beef with this award. The award, like most things in sports, has turned political. It's no longer about the charity work you do, it's about what political causes you push with your charity work. That's not what this award has ever been about.
If I've said it once, I've said it a million times on this site – sports and politics don't mix. Need more proof? Check out this poll, where it was shown that public support for sports has plummeted, due to the mixture of politics and sports: https://nypost.com/2020/09/08/public-support-for-sports-plummets-amid-blm-protests-survey/
In closing, is Dumba worthy of this award? Perhaps. But when the lead story about Dumba winning is about Dumba kneeling during the National Anthem, coupled in with a picture of Dumba supporting a career criminal who put a gun on a pregnant woman, it diminishes the true intention of the award, intentions that both PK Subban and Henrik Lundqvist met and exceeded.
Oh, and let me leave you with this, especially for older fans or any fan who's smart enough to talk to their parents or grandparents – could you ever imagine a time in your life, where standing and supporting the American flag would be considered evil? Could you ever imagine making someone a hero over their refusal to support the American flag? All of this anti-American liberal sentiment is worse than this corona virus pandemic.
---
If you haven't already, subscribe to this blog for the next update:
When it comes to the next blog on this site, once there's something newsworthy to talk about, I'll be back. In the meantime, enjoy the NHL playoffs, your fantasy football drafts and trying to protect your manhood when taking a dump: https://nypost.com/2020/09/09/teen-hospitalized-after-snake-bite-to-penis-while-on-toilet/
As I was finishing this blog, the Jack Adams Award winner was announced. Bruce Cassidy of the Bruins is the winner, defeating John Tortorella & Alain Vigneault. What a joke. No one did more with less than Torts did this year. Furthermore, anyone could've coached that Bruins team to a playoff berth. Not everyone, and really, only a select few people, could've coached that Columbus team to the playoffs. Torts got screwed here. Perhaps if Torts pissed on a cop car or took a knee during the anthem, he would've won. That's how the NHL decides awards these days anyway, right?
Bruce Cassidy, get out of here. The freaking Bruins lose in Game 7 of the Stanley Cup Final last year and won the Presidents' Trophy this year, behind a great core that's been there for some time. What did he do to really improve that team? Vigneault, who would've been my first runner-up, transformed the Flyers into a winner. Torts dealt with a zillion injuries this year, after already losing three major players in the off-season, yet had his team as a playoff contender the whole way. I'd love to see this award explained by the people who voted on it. I'd assume that Torts, and his ornery personality to the media after losses, is what cost him.
Ugh!
As always here, thanks for reading and…
LET'S GO RANGERS!
LET'S GO BOLTS!
LET'S GO MCDONAGH!
NYR WILL DRAFT LAFRENIERE!
KEEP POLITICS OUT OF SPORTS!
HI TRAVIS, I STILL HAVE TO DO A BLOG ABOUT THE STUFF YOU GAVE ME!
Sean McCaffrey
BULLSMC@aol.com
@NYCTHEMIC on Tweeter and on Parler