Greetings and salutations everyone and welcome to another blog here on BlueCollarBlueShirts.com. Six down, zero to go. Let the regular season commence!
There's a lot to get into tonight (I'm going to cover the last three days of news from Rangerstown, USA during this blog), so let's start off with some quick game thoughts, followed by a few updates on the roster, two bits on the alumni, and then march our way into the GAME REVIEW – an abbreviated one (at least for me!) at that.
After all, I attended Saturday night's contest (thank you New York Mets for tanking the secondary market!), where my buddy Eddie S. and I found a new free parking area at IBS – at the construction site at the Belmont Race Track! (Five minute walk!) Take your prepaid parking & shuttle buses and shove it!
Of note: if you haven't already seen it, I posted over one hundred pictures from Saturday night's game. To view the photo gallery, click this link: https://bluecollarblueshirts.com/10822pix/
---
I do want to say the following, before motoring on like Rick James' jaw at 3:00AM inside of a Vegas nightclub.
In my previous writings, and on numerous occasions, I have voiced my displeasure in watching these adult cretins, especially grown men who wear their jersey backwards and carry homemade signs to games, who during pregame warm-ups, barrel their way to the glass and beg for free swag, whether it be sticks, pucks, DNA or whatever.
To me, these people are even worse than the grown adults who beg for free t-shirts during the "T-Shirt Toss" bits during commercial breaks.
After all, I'd venture to guess that 99% of these adults who are begging for these free t-shirts don't exactly wear medium-sized t-shirts – the size of choice whenever the arena staff is hoisting these $1 t-shirts to the crowd.
Whatever it is, for some adults, you'd think that Amazon gift cards were attached to these one-wash-and-destroy t-shirts.
It's always my belief that if I'm going to cover something negative, then in the same vein – I should always bring attention to whenever I see something positive.
And despite the final score from Saturday night at the IBS Arena at Belmont – I saw a whole lot of positivity – and from both sides of the ice.
Of course, this (Rangers) positivity took place before the game was even played, but hey – you take your wins when you can get them.
I am proud to report my pregame findings with you tonight.
During pregame warm-ups, where I was sitting six rows off of the ice (Rangers' end) while enjoying a $528 beer (check the photo gallery that's linked above for more), I saw nothing but KIDS (some accompanied by their parents – but not adults by themselves), trying to get the attention of their favorite players.
One little girl (6-10 years old – I'm horrible at guessing ages), who was decked in a #93 jersey, had a sign that read something akin to, "Mika is my favorite player. This is my first game. Can I please have a stick?"
I never have a problem when kids do this. It's when I see grown men with these signs that tick me off.
In fact, if you're a GROWN MAN, who can afford to sit decent at a hockey game – then go buy a freakin' stick if you need one so badly.
The pregame warm-ups, and this new ritual where everyone begs for free shit – should only be exclusive to kids. And if you disagree with me on this – I don't care! (This is my blog and I'll blog if I want to!)
Early into the warm-ups, Mika spotted this girl and her sign. He smiled and winked at her. However, he was also warming up. By the end of warm-ups, this little girl learned a valuable lesson – patience is a virtue!
Once Mika was done warming up and ready to head to the locker room, not only did he stop by the glass so this girl's father could take a picture of his daughter with her favorite player – Mika gave her his stick.
Without a shadow of a doubt – while Zibanejad will have probably forgotten about this gesture by the time you read these words – his act of generosity will be everlasting for this girl. He created a new fan, and even better for the Rangers – a new customer for life.
---
While Mika gave this girl a memory that she'll never forget; at the same time, Vincent Trocheck was trying to give pucks to little kids, but he kept on hitting the protective netting. However, he stayed determined, and by the end of it, he moved down the boards and flipped pucks to adults, adults who then caught these pucks for their children.
These two weren't the only Rangers who were giving out free stuff (and in the effort of being fair – I saw the Islanders doing this too), but these were the two stories that stuck with me the most.
And yes, I know this goes on before every game (you don't have to remind me) – but I wanted to bring attention to this – just because it was so cool to see the faces of these kids light up.
Unfortunately, this was the most "lighting up" I saw on this night, at least from a Rangers' perspective – unless you count the outdoor areas at the IBS Arena – where I'm still trying to overcome this "contact high."
(Check out my previous Rangers vs Islanders at IBS reviews for more, but simply put – not only is the IBS Arena "green" – that's also the preferred substance of choice for many. Personally? I'll always be a beer and whisky guy! My gut suggests as much!)
Before getting into the GAME REVIEW segment; at this time, let's cover all of the news that took place prior to Saturday night's preseason finale.
---
Following Wednesday night's loss to the Bruins, where the Rangers' effort in that game wasn't up to snuff; on Thursday, head coach Gerard Gallant held his most demanding practice yet.
According to Larry Brooks (New York Post), the practice was the most grueling of Turk's tenure as bench boss of the club. (Gallant also said as much during his post-practice interview, an interview which is linked below.)
While not exactly a practice from the Herb Brooks era; and suffice to say, not as strenuous and/or as shaming as a Phil Watson post-game bag skate ("Fiery Phil," when pissed-off at his team, would bag skate his team immediately after games – while the fans who stayed in the arena watched in shock) – Gallant made sure his team skated hard.
While the players didn't publicly say anything about this tough practice, I think this much was learnt – message received. I also think this is a story to file in the back of your brain – especially if when the team wins the Stanley Cup in June of 2023!
From an outsider's perspective (I'm not in the locker room – duh), this wasn't Gallant trying to punish a bad team, in order to whip them into shape. Instead, this was "The Turk" displaying tough love. He knows how good this team can be. Wednesday's effort wasn't acceptable.
You can't beat these guys up all the time, especially during the regular season where there are a ton of back-to-back games – but to send a message during the preseason – it's a way for the head coach to remind his players there are no easy nights in the NHL and that they are better than what they showed against the Bruins.
---
On Thursday morning, the Rangers announced that they assigned their Swedish import, Gustav Rydahl, to Hartford.
For the full press release on this transaction, check out: https://www.nhl.com/rangers/news/rangers-assign-gustav-rydahl-to-hartford/c-336111896?icmp=int_web_nyr_news_rightrail
As noted when Rangers' general manager, Chris Drury, first signed Rydahl – I didn't see the point in the deal. And if you don't remember what I said at the time, it really boils down to this – I believe this team is in "WIN NOW" mode.
The rebuild has been over for a while. Similar to my thoughts on Vitali Kravtsov – I just don't believe that time should be wasted on unknown projects. However, it's also true that you do need to find diamonds in the rough and develop new players. Need an example of this from last season? Look no further to Braden Schneider.
I guess what I'm getting at is this – for this Ranger team to win the Stanley Cup, I think they are better off with accomplished veterans and players that Gallant is comfortable with, rather than having players learn-on-the-job.
While the situations were different due to their ages (Rydahl is 28 years old, his fellow Swede, the now former Ranger, Nils Lundkvist, is 22 years old); what is the same is that both players aren't familiar with the North American game. It takes time to make the transition.
As I originally said about Lundkvist when he first arrived (blogs don't lie!), I think there is more value in Rydahl receiving more ice time in Hartford, rather than playing fourth line minutes in New York.
And who knows, maybe come the trade deadline, and should injuries become a factor too (and there are always injuries) – then you can call up Rydahl – a Rydahl who would then have about sixty or so games of North American experience under his belt.
The Metropolitan Division is a tough division. For a team that has their eyes on the prize, it's just better to develop players in Hartford, rather than waiting for these players to grow into their roles at the NHL level. Or so I say!
Simply stated, the Rangers just have better options than Rydahl.
---
In other roster news from Thursday, Jonny Brodzinksi was waived by the team. I don't think anyone was surprised by that.
And while I have two other alumni updates for you tonight, here's a bonus update – just like "JONNY HOCKEY," a few members of the Rangers' alumni were also waived on October 6th, including: Keith Kinkaid (Boston), Vinni Lettieri (Boston), Jayson Megna (Colorado) and "Crybaby" Lias Andersson (Los Angeles).
And as I say in my upcoming book, "Tricks of the Trade – A Century-Long Journey Through Every Trade Made In New York Rangers' History" – I think it's now fair to affix the "bust" label on Andersson.
And yep, while it won't happen, even if the team has some questions at the right wing position, I wouldn't mind Lettieri back! After all, just look at how well Jimmy Vesey is doing!
---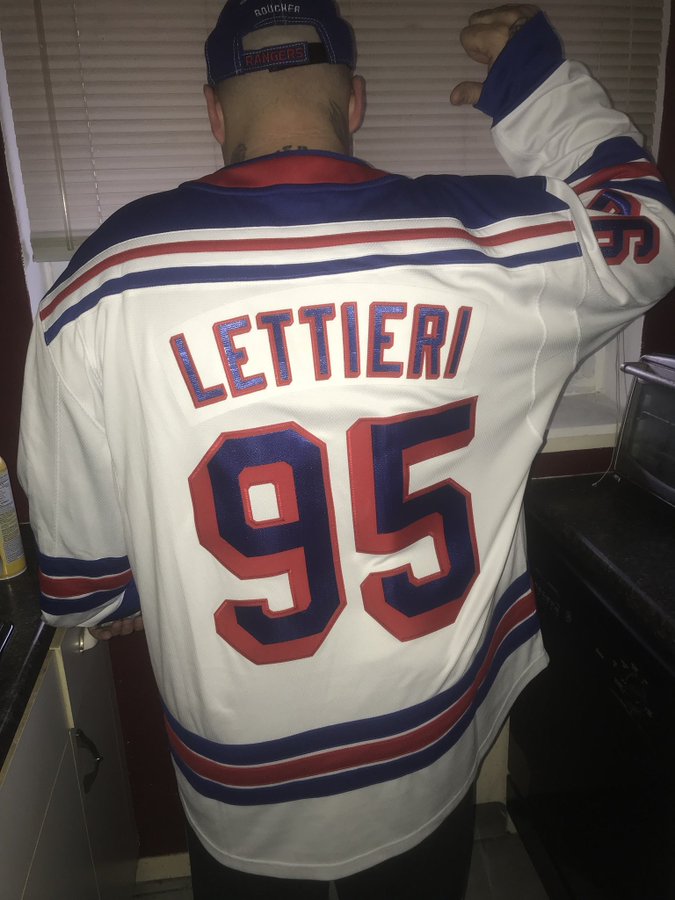 On Friday, a day following all of these moves – every player cleared waivers. In turn, all of these players were assigned to their club's respective AHL affiliates, including Brodzinski, who now returns to the Wolfpack.
For those unaware, friends of the site, Danny Mack and Rich M., both brought this to my attention – Brodzinski is the captain in Hartford.
In their own way, both Danny and Rich expressed that Hartford took a major hit last year when Brodzinski was promoted to the Rangers. It's believed that Brodzinski will continue to help the Wolfpack in his role as captain – where obviously, that's great for the Wolfpack – not so great for Brodzinski himself, who duh – would much rather be playing on Broadway.
Once Brodzinski cleared waivers and was assigned to Hartford, the Rangers issued a press release, one that you can find here: https://www.nhl.com/rangers/news/rangers-assign-jonny-brodzinski-to-hartford/c-336150144?icmp=int_web_nyr_news_rightrail
While I don't think anyone was surprised about Rydahl and Brodzinski starting the 2022-23 campaign with the 'Pack, this brings us to this, the most important news item from Friday – the updated roster/line-up.
---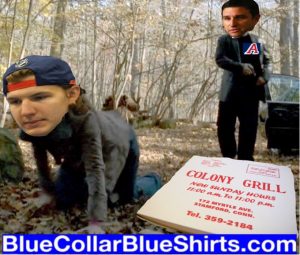 Following the two roster transactions, and the team's poor performance from Wednesday; come Thursday, Gallant tinkered around with his lines again.
As you know by now, I don't care about "PROPOZED LINEZ" and all of that junk. However, many others live-and-die by Gallant's moves, where his placement of Vitali Kravtsov really put a hair on the ass of some fans and beat writers.
On Thursday, Kravtsov was on the Rangers' "fifth line," where he joined the other players fighting for a roster spot, Dryden Hunt and Julien Gauthier. (Check out my last blog, from Wednesday night, as Gallant somewhat hinted that this was to come.)
I should also mention at this time that neither Jacob Trouba, nor Ryan Lindgren, practiced, as the two defensemen were being held out due to minor injury issues.
It's expected that both Trouba and Lindgren are green lights for Tuesday's home opener against Tampa.
Now back to Kravtsov and Gallant's lines.
In the two practices preceding Saturday night's game, Gallant used the same lines:
FIRST LINE: Kreider/Zibanejad/Kakko
SECOND LINE: Panarin/Trocheck/Vesey
THIRD LINE: Lafreniere/Chytil/Goodrow
FOURTH LINE: Blais/Carpenter/Reaves
FIFTH LINE/SPARE LINE: Hunt/Gauthier/Kravtsov
Due to the Lindgren and Trouba minor injuries, here is what Gallant went with defensively:
FIRST PAIR: Miller/Fox
SECOND PAIR: Jones/Schneider
THIRD PAIR: Bartowski/Tinordi
SPARE: Hajek
STARTING GOALIE: CZAR IGOR
BACK-UP GOALIE: HALAKNESS MONSTER
And yep, these were the lines that we saw on Saturday night too – Kravtsov be damned!
---
Following Thursday's practice, Gallant met with the media. You can watch his interview here:
---
The key things to come out of Thursday's "TURK TALK" were the following:
— Gallant said that management (Drury) influenced the shake-up to his lines, as collectively, they both wanted to see how these guys would play in different situations/roles.
— Gallant said they were happy with Rydahl, but since he was waiver-exempt, it was easier to send him down than demoting another fringe player. (Of note, "fringe player" is my description, not what Gallant said verbatim.)
— From the "NO SHIT SHERLOCK" department, Gallant said the two goals that Kakko scored on Wednesday night were huge for both him and his confidence. Gallant said had it been Kreider who scored two, it wouldn't have made a difference. (Gallant didn't say this, but Mika scored two goals on Wednesday night. Just like Kreider, no one is worried about Mika going into the season.)
---
A day later, Friday, Gallant met with the media again:
---
Here are the most newsworthy items from Friday's "TURK TALK":
— Since Lindgren is out, Fox spent some time skating with Miller. Gallant said don't read anything into that and confirmed that whenever his top four are healthy, it will always be Miller/Trouba and Lindgren/Fox. Gallant brought up the chemistry that the four have together and how there is no reason to break these pairs up. Smart man!
— Gallant confirmed that while Lindgren wouldn't play on Saturday, it's a precautionary measure. He will be with Fox on Tuesday. (Lindgren is skating on his own – he's just not making contact – nor should he.)
— Gallant said that the final roster cuts will take place on Monday, Columbus Day. So enjoy your Sunday football!
— Also taking place on Monday? The Rangers will officially announce their alternate captains.
(My bet? Nothing changes from last year, aside from the obvious stuff. With Trouba now as "C" and Strome gone too – I think we'll see Kreider, Zibanejad, Goodrow and Panarin return with the "A" on their sweaters. Taking the "A" away serves no positive purpose – or so I think. In addition, four alternate captains allows Gallant to do the road/home thing, where two players wear the "A" at MSG, while the other two wear the "A" on the road.)
— Gallant, just as was the case last year, seemed fed-up with some of the silly and annoying questions from the younger and clueless members of the beat. At times, you can hear his eyes roll. If you don't believe me, just watch all of these interviews, and you'll see how Gallant's tone is different whenever he's talking to Larry Brooks, as compared to the high-pitched "hyenaesque"shrills of the beat – inexperienced reporters who are too caught up in Gallant's preseason lines – aka clickbait material.
— Lastly (and yep, I'm so over the Kravtsov stuff to the point where I want him traded just so I don't have to talk about him again – plus, I'm in the "TRADE 4 KANE" camp), but here's what Gallant said about his entitled "yout" ("My Cousin Vinny" reference!):
"It's training camp. He's played a bunch of games so far. We want to get a look at the other players in training camp. Nothing's changed. He wasn't going to stay with that line every game. We're going to get looks at other players, he might not be there."
Gallant also praised Kravtsov for coming to camp earlier than expected and for having a good attitude.
And as stated ever since the Rangers brought Kravtsov back into the mix – I don't expect this regime to bury their own players, as Jeff Gorton previously did.
Even if both Drury and Gallant aren't pleased with Kravtsov's level of play, I think they'll always talk him up.
Simply stated – there's no reason to devalue an asset. And if Kane, or someone else, is the apple of Drury's eye – it's only in the best interest of the general manager and head coach to talk up all of their players.
A few notes on the Rangers' alumni before getting into this final preseason game.
---
If you're not aware about my efforts in petitioning the Rangers to retire Frank Boucher's #7 – then either you're new here or have been living under a rock! If this applies to you, then you can read all of my Boucher material here: https://bluecollarblueshirts.com/retire-frank-bouchers-7/
Furthermore, Boucher's name takes up a ton of space in my first book, "The New York Rangers Rink of Honor and the Rafters of Madison Square Garden." To purchase that book, check out the PLUGS segment of tonight's manifesto.
While I don't expect the Rangers to wish Boucher (who passed away in 1977) a happy birthday (however, I thought it was disappointing when the club ignored the recent 82nd birthdays of both Jean Ratelle and Vic Hadfield – although I wasn't surprised about this – the team just hates their own history for whatever reason); Friday, October 7th, marked the 121st birthday of the greatest Ranger that ever lived, Frank Boucher.
I won't bore you with another spiel of why the Rangers refusal of honoring Boucher in their rafters is one of their biggest mistakes; but yeah – I'm hoping that one day, Chris Drury (who is in charge of this as Team President), will rectify the wrongs of previous regimes, and honor the men who are responsible for three-quarters of the Rangers' Stanley Cup victories.
Spoiler Alert: This will be a topic covered in my space in Stan Fischler's column, for "TheHockeyNews.com," on Monday.
Heck, Stan even teased this himself on Friday:
One last alumni update and I promise – I'll then get into the GAME REVIEW of tonight's match!
---
For regular readers of this site, you know that I try to promote everyone else with Ranger endeavors whenever asked, whether it be blogs, podcasts, social media accounts, whatever. The more the merrier.
In the past, I've always plugged Ron Duguay's New York Post sponsored podcast, "Up in the Blue Seats." (Heck, during the pandemic, and with nothing going on, I used to recap them too – especially the excellent interviews with the alumni.)
Late Wednesday night/early Thursday morning, it was announced that Duguay wouldn't be returning to the podcast for a third season.
While you can check the archives of this site to read my thoughts about the podcast from a "real-time" perspective; as mentioned then, and as I'm saying again now – the podcast changed a lot during the latter episodes from last season.
Duguay, who started the podcast following his MSGN dismissal, was once a solo act. At the podcast's inception, he interviewed members of the Rangers' alumni and then chimed in his thoughts about the current team. During this time, his producer, Jake Brown, joined him for the ride – where Brown frequently admitted that he wasn't a hockey fan, doesn't watch hockey and doesn't know anything about Rangers' history.
Fast-forward to this past Thursday – Brown is now a co-host of the show, while Duguay was iced out, in what is being reported as "budgetary reasons."
For what it's worth, the Post, which also sponsors podcasts covering the Yankees, Mets, Knicks, Giants and Jets – didn't can any of the alumni hosts from those shows.
(Food for thought: look at the ages and experiences of the Post's NFL, MLB and NBA reporters. Now compare them to the two co-hosts of "Up in the Blue Seats.")
During the second season of "Up in the Blue Seats," Post reporter, Mollie Walker, became Duguay's regular co-host. Unlike Brown, she did grow up as a Rangers' fan, and her mother's fandom of Duguay was often a topic of discussion. However, like Brown, Walker also has no clue about Rangers' history, nor seems inclined/eager to learn about it, despite you know – this being her profession.
(It always amazes me how all of these beat reporters don't learn from Larry Brooks and his career. However, it's not surprising either, as reporting standards have dropped across the board – and this isn't just exclusive to hockey.)
During the final months of the podcast (and again – check the archives of his site – as I said this back then), it felt like Duguay was being muted on his own podcast.
Rather than talking hockey, more times than not, Brown and Walker dominated the show with their millennial talk, including covering such riveting topics as clothing, shopping, cheap cuisine and pop culture.
I also remember there was one episode where Duguay didn't say a word for 25 consecutive minutes, as Brown & Walker cackled like two hens at a hair salon. And when Duguay finally got in a word edge-wise (you know, on the show that he created), where he gave the two a history lesson? The two blew him off – just like when these two braying hyenas laughed off a Mark Messier quote ("beat 'em in the alley…") – a quote that #11 took from the first general manager of club history, Conn Smythe.
(Of course, neither Brown or Walker knew about the origination of the quote, nor do I suspect that they know who Smythe even was, outside of the Playoff MVP award being named after him.)
In essence, these two felt like two morning show hosts from Z-100. All that was missing was promotion for "Jingle Ball" concerts. And to show you how bad the first episode was without Duguay (Thursday's episode) – the two had a scintillating discussion about Harry Styles concerts.
And let me be clear for those who aren't aware of my previous comments – I realize that I'm outside of their target demographic. Others may enjoy this. It's just not for me.
During their first episode without Duguay, Walker & Brown said only that he wasn't going to be back. Duguay's absence was barely a blip on their radar. Here's Duguay's response:
I didn't leave!!
Budget cuts , they went in a different direction https://t.co/VpsjeMddyo

— Ron Duguay (@RonDuguay10) October 6, 2022
---
I know what the "conspiracy theory" is – politics were a part of this decision. However, it's not something I really want to bore you with, outside of saying that everyone knows about Duguay's relationship with Sarah Palin, while Walker has previously posted some political tweets from the left-leaning perspective. To all of that, I say – "to each their own." Everyone is entitled to their own opinions.
What's not an opinion is this – Brown isn't a hockey guy. And that's fine. However, he shouldn't be a co-host of a hockey podcast – and certainly not as a replacement for Duguay.
Sadly for Duguay (and full disclaimer in the effort of being honest with you – I talk to him, support his projects and enjoy getting his takes on hockey), I believe this is the second job that he's now lost (MSGN being the first), due to his employers wanting to get younger.
People like me (and maybe some of you too) are a rare breed. Not everyone cares about history, has a thirst for knowledge from the people who actually did it, and respects their elders.
Podcasts, much like television, skews to a younger demographic. In turn, an older generation is getting phased out. And it's not just Duguay – you see this all the time – it's just what the business is.
Fortunately for "Up in the Blue Seats," Larry Brooks, older than Duguay himself, still remains.
In my opinion, Brooks is the only reason to listen to the show, as no other reporter is as dialed in/has the sources that the Hall of Fame scribe has.
While I'll give Walker & Brown a chance, Thursday's episode wasn't encouraging. I feel that as time goes on, I'll just fast-forward to the Brooks' segments.
As far as Duguay goes, he told me that he has another project in the works. Once the project is announced, I'll share that information with you on this site.
GAME REVIEW TIME.
---
Since I attended Saturday's game – I didn't take notes like I normally do whenever watching at home on TV. And since this game wasn't much to write about anyway, I rather present to you my thoughts, rather than doing a blow-by-blow recap – a style of review which will return on Tuesday night.
(I don't think I'm going to the home opener this year, unless free ducats come my way. I just can't justify paying the high prices – especially to sit upstairs.)
(And despite this late hour – I am trying to get this blog done ASAP – after all, the New York Giants play at 9:30AM on Sunday morning!)
Of note: if you're looking for the full box score of the game, you can find ESPN's version here: https://www.espn.com/nhl/boxscore/_/gameId/401461534
---
As noted at the tippy-top of this blog, there are two ways to look at this game.
(And yes, you can "insert the preseason disclaimer here." I'm glad that's the last time I'll have to use that disclaimer until this time next year!)
Here's the glass half-empty version: after being bag-skated, called out by their head coach, and following their poor effort on Wednesday night – the Rangers didn't respond well.
Last season, and more times than not, whenever the Blueshirts dropped a disappointing game – in the game that followed, the Rangers responded – and they responded big-time.
There wasn't much of that at all tonight.
While the Rangers were able to put pucks on net – for the most part, they remained sloppier than Igor's diarrhea from Wednesday.
One issue I've brought up all preseason is the Rangers' lack of success while on the power-play. While I understand that during the earlier games of the preseason, you didn't have the complete first power-play unit out there; in these final two games, where the regulars were playing – the Rangers couldn't muster up a PPG.
Tonight, with the first power-play unit all playing together for the first time (Zibanejad/Kreider/Trocheck/Fox/Panarin) – the team went 0-4.
Conversely, throughout these six exhibition games, the Rangers' penalty kill has been flawless, where prior to tonight, the PK had a success rate of 100%. Tonight, they gave up a power-play goal – their first-and-only PPG allowed of the preseason.
With that said, here's the glass half-full version: it was the last preseason game.
Obviously, wins and losses don't matter. And with the regular season ahead, the number one goal was to get out of this game without suffering injury – but more on Sammy Blais in just a bit.
While there were two fights tonight (but only one five-minute major assessed to both teams), nobody was blocking shots and the defense was suspect. And for the regulars, like Fox and Miller – that's okay. You want them at 100% health for the regular season.
However, if I were Bartowski and Tinordi, both whose futures seem destined in Hartford – I think I'd try to do more to stand out. To his credit, Tinordi did try to do that, although in a losing effort, when he had his clock cleaned by Islanders' goon, Ross Johnston.
For what it's worth, in his post-game presser, Gallant didn't really voice any displeasure about this exhibition. Neither did the Rangers. Instead, they took on this glass half-full approach, where every single man interviewed said the same thing – "I'm glad the preseason is over."
And I totally get that, but truthfully, and at the same time – I was hoping for a better effort and I do have questions about the Rangers' power-play.
---
Here are a few more observations from the game, from a live perspective:
I thought that Kakko, Chytil and Vesey really stood out. I think you can argue that Chytil had the best preseason of any Ranger forward.
I've been down on Chytil in the past, and yes, ("insert preseason disclaimer here"); but from what I saw – he seems to be playing with a whole new level of confidence. I know that sounds cliche, but that's my story and I'm sticking to it!
Kakko, following his two goals from Wednesday night, and the "Lone Ranger" scorer of tonight too, had some extra pep in his step, now on the first line. During one Rangers' power-play, and I'm not sure if you could see this on TV, he was motioning/telling Lafreniere where to go, as he tried to set him up for shots on goal.
Vesey, a lock to make this team, was strong on the PK. He also broke up several Islander scoring attacks. Better than that, he also picked a fight with new Isles' tough guy, defenseman Alexander Romanov. You can see that #26 is doing everything possible to stand out.
While Vesey isn't exactly Bobby Carpenter, he reminded me of the player who once was involved in one of the worst trades in all of Rangers' history. (Read all about it in two weeks, when my new four-volume set of books come out! More information on these books at the end of this blog.)
Similar to Carpenter, Vesey entered the league with the hopes of becoming a prolific scorer. While Carpenter did have that success in Washington – he didn't have it in New York. Over time, Carpenter changed his game and became a defensive stalwart, most notably with the Devils.
Vesey, now in his second act on Broadway (and who like Carpenter – became more defensively-minded in New Jersey), is embracing his new role as a fourth-line checker/grinder/defensive forward. He may have finally found his niche in the league.
---
Defensively, the Fox and Miller pairing was lacking – but that didn't bother me one iota.
Very frequently throughout the game, the two kept bumping into each other and just didn't have any chemistry.
Of course, this was also their first game together, so that was to be expected.
Had the two men had their regular partners, it's a whole different story. However, and unlike Kakko who meshed well with his new linemates – the two Ranger rearguards, who may compete with each other for Norris votes this year – just didn't have much going tonight.
I thought CZAR IGOR was fine. He made some tough saves (including a breakaway save) and only turnovers & shoddy defense led to his three goals allowed.
And while speaking about turnovers, shoddy defense and chemistry – Vincent Trocheck, needless to say, just isn't there yet.
As talked about all month – it's going to take time for Trocheck to get acclimated. His chemistry with Panarin isn't there yet, and as I've been saying all along – you couldn't assume that Trocheck was going to waltz in and have the same chemistry with Panarin as Strome did. It's going to take time and repetition. It's just a shame these two didn't play together more during this preseason.
Prediction: Trocheck and Panarin will get off to a slow start, but come the playoffs, they'll be simpatico.
Also concerning? Of all Ranger centermen, only Zibanejad finished with a winning faceoff percentage (60%).
Trocheck, brought here for his ability to win puck drops at the dot, finished at 33%, while Goodrow finished at 25%. (Chytil also finished at 33%, but faceoffs have never been his strong suit to begin with. Plus, he has played well during all of his preseason games.)
---
I don't think I have to remind you of the whole P.K. Slewban incident from last season, so needless to say, it was concerning when Sammy Blais left the game during the first period.
Following the game, Gallant said, "he [Blais] should be fine."
One person rooting for Blais not to be fine, besides the petulant fans still crying about Pavel Buchnevich? Vitali Kravtsov.
I don't think anyone can say with 100% certainty what lines Gallant will go with on opening night.
Obviously, one topic of debate is should "The Turk" keep Lafreniere/Chytil/Kakko together or should he break them up, in order to better his top-six? This question is a reason why Gallant gets paid the big bucks!
Based on tonight, you would have to think that Kakko is your first-line right-winger. Following Kakko on the depth chart seems to be Vesey, Goodrow, Blais and Reaves – where outside of Reaves – these three forwards can play their off-wing too. (Goodrow can play all three positions. To a lesser extent, so can Vesey.)
Lost in the mix, and as mentioned earlier, is Kravtsov.
As they say in sports – injuries open up opportunities.
Should Blais not be able to go on Tuesday night, it could give Kravtsov another chance to prove himself. Then again, Gallant seems high on both Ryan Carpenter and Dryden Hunt. Since the head coach has a bunch of forwards who can play multiple positions – maybe Kravtsov remains boxed-out.
Of course, cuts will be made between now and Tuesday – so we won't know what will happen until Tuesday night!
---
I know I've gone on long enough, so I'll cut myself short here – and at the request of Stan Fischler – a man who says I've never met a piece of paper that I left blank! Just wait until you read his foreword to my new four-volume set!
My closing thoughts on the preseason? Much like the Rangers and Gallant – I'm also happy it's over with. While I do have concerns, all concerns can be erased as soon as Tuesday night.
Drop the puck.
PLUGS TIME!
---
My first plug of tonight's blog – the mandatory plug for my book, "The New York Rangers Rink of Honor and the Rafters of Madison Square Garden."
As mentioned previously, the book is now available in hardcover, in paperback and in Kindle formats. To purchase a copy of the book, visit this link:
https://www.amazon.com/Rangers-Rafters-Madison-Square-Garden-ebook/dp/B09CM5N2WD
For those still looking for signed paperback versions of the book, I have re-ordered more copies. I now have a few signed copies for sale at $25 a pop (includes shipping price) through me directly. Here is all the information on that:
---
My four-volume set of books, "One Game at a Time – A Season to Remember," is a game-by-game recount of the Rangers 2021-22 campaign.
My second title as an author, "One Game at a Time – A Season to Remember," is now available in eBook, paperback and hardcover formats.
To obtain signed copies, visit: https://bluecollarblueshirts.com/onegamebook/
To purchase all four volumes on Amazon, visit: Amazon.com – "One Game at a Time."
---
Here are my last few blogs, in case you missed them:
---
---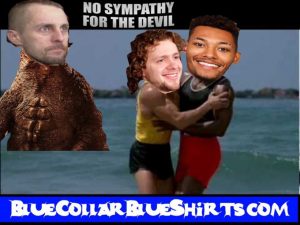 ---
---
If you haven't already, subscribe to this blog for the next update:
---
Don't forget to pre-order my new four-volume set of books, "Tricks of the Trade!"
If you don't pre-order through me, all four volumes will also be on sale over at Amazon.com
For more details, check out: https://bluecollarblueshirts.com/tricksofthetrade/
Thanks for reading.
LET'S GO RANGERS!
Sean McCaffrey
BULLSMC@aol.com
@NYCTHEMIC on the Tweeter machine