Greetings and salutations everyone and welcome to another blog here on BlueCollarBlueShirts.com. Well that was something else.
During the course of an NHL regular season (and the following remark applies to all 32-teams, as this isn't just exclusive to the Rangers), there's always one or two games on the schedule that winds up becoming batty, nutty and completely unorthodox.
For "Lavy's Lot," this took place in Game 11 of the 82-game season.
But I guess we should have expected this, at least somewhat – and especially following all of the frightening news from Friday.
(In case you missed it, I covered "General Hospital: The New York Rangers" last night. You can find that report here: https://bluecollarblueshirts.com/11323/)
However, and at the end of the day, and even in spite of how peculiar and perplexing these sixty plus minutes played on Saturday night truly were – aka the strangest one hour of Rangers' hockey this season – I'm reminded of my season-long daily disclaimer.
Say it with me:
"WHATEVER THE RANGERS DO IN THE REGULAR SEASON DOESN'T MATTER. THEY CAN ONLY BE JUDGED BY WHATEVER THEY DO IN THE 2024 STANLEY CUP PLAYOFFS!"
---
My immediate reaction/takeaway following the Rangers' 5-4 shoot-out loss to the desperate Wild, where without question, the Blueshirts let them off of the hook and then pissed two points away, was at least they got a point on the road.
When you consider what had taken place during the past 24-hours, then going into tonight's tilt, you would have signed up for a guaranteed point in the standings.
But then the puck dropped.
The Rangers, who rapidly raced out to a 3-0 lead before the seven-minute mark had even hit, and behind goals from Jimmy Vesey, Artemi Panarin and Erik Gustafsson – had this game in-hand – and seemingly the two points secured too – and just like when they blew out this same Wild franchise last season in a 7-3 romping.
For Minnesota Mild goalie Filip Gustavsson, his night was finished after the Blueshirts' third strike.
Enter Marc-Andre Fleury, who like someone trying to fight off a vampire, must've had wooden stakes, pounds of garlic and a pocket full of sunshine in his gear too – as the Blueshirts pulled a complete 180 once the future Hall of Famer took his place in the barrel.
Then again, perhaps the Wild pulled a 180 too.
Whatever the case, and officially starting at the 8:55 mark when one of the Rangers' multiple Minnesota hometown boys in tonight's line-up, K'Andre Miller, was boxed for high-sticking – the tables were not only turned – but they were smashed to smithereens too.
No joke, and from this point on, and which lasted until the end of the match – every fifteen seconds, M$GN announcer Sam Rosen blurted out, "And the Wild are now out-shooting the Rangers (insert totals here)."
By the end of the game, the home team had out-shot the visitors at an eye-popping total of 40-18 – and where even "wilder" (har-har-har) than that, was the fact that the Blueshirts, who were led by Jacob Trouba and Braden Schneider with six blocked shots a piece, finished with a team total of 32 blocked shots.
Between the 40 SOG and the 32 blocked shots, the Wild, who also sent about a dozen or so pucks wide, had to finish this game with nearly 100 shot attempts – if not more than that.
(I'm an eye test guy, so I don't need the official ANALytics or fancy stats. I know what I saw – and I'll let the heralded beat reporters do their NaturalStatTrick and MoneyPuck copy-and-paste routine.)
And since I'm an eye-test guy and "don't need no stinkin' analytics" neither – I'd reckon to guess that following the Rangers' 3-0 goal, the time of possession stats were something akin to 98% Minnesota, 2% New York – and while yes, I'm exaggerating for effect – I don't think that I'm that far off either.
Between three first period penalties which stunted all momentum (while the Blueshirts' penalty kill did finish flawless tonight, it also stalled their offense while keeping the Wild alive too), a lack of production from many of the regulars (more on Kaapo Kakko, Alexis Lafreniere and Mika Zibanejad to come), and maybe Wild coach Dean Evason too, who had to fire up his team during the initial intermission following their dreadful opening twenty minutes – the Rangers soon squandered their three-goal lead.
And that's the crux of the issue.
In a game where many conflicting things were both true, the Rangers not only blew "the dreaded three-goal lead," but they also fought back and stole a point too.
How often does that happen?
While not exactly on the same level as that horrible mess from last Sunday, the National Felony League game played between the Giants and the Jets; by the end of Saturday night, you had similar vibes.
In a way, this game was like hitting a scratch-off ticket for $1,000, and then being hit with $999 in taxes.
And while I understand that not every game is a Picasso (but we shouldn't have to be reminded of this fact at a frequent rate either), and that all teams have games like this too (but not that often) – I am content with the point netted in the standings.
I don't think that you can be pissed-off about the final score.
It is what it is.
However, and again when going back to two conflicting things being true – I think you CAN be pissed-off at some of these players.
---
Maybe I'll spend more time on this topic later on in the new week (although I do have a lot to say below), because as mentioned above, I just feel wiped after watching this mess – but seriously – if you're still making excuses for Kakko and Lafreniere, then you need your head examined.
This is an accountability league – and not a developmental league.
I get being a fan, I get being loyal, I get being optimistic, and I get the whole "rah rah" act too; but I also know the definition of the word "insanity."
I mean seriously, I had one person (of many) that I actually do like on Twitter (of not many!) tell me that Lafreniere has been "terrific" this season and that I should check out his analytics:
The more I read your negativity, the more I question what team you're watching! Lafreniere has been TERRIFIC! His forechecking/back checking have been excellent & he's creating chances.He's got 5 points now & could have had a bunch more. His analytics are excellent! (Cont'd)

— EvilLaf (@Jfc1Ranger) November 5, 2023
---
How about checking what he does on the ice with your own two eyes?
While Lafreniere isn't Nail Yakupov, he isn't exactly setting the world on fire either.
And can you imagine telling anyone with a functioning brain the following:
"YEAH, MY FAVORITE PLAYER DIDN'T SCORE ONE POINT IN THE PLAYOFFS, BUT THE ANALYTICS AND EXPECTED GOAL STATS WERE EXCELLENT! DO YOU WANT TO GO OUT GOLFING WITH ME LATER?"
---
To believe that these lotto pick tigers are going to change their stripes seems like wishful thinking.
(But a disclaimer – if they ever leave New York, then that's when they'll surpass their potential. That's just the way it goes – as some players just can't handle the big city – and that goes for professional athletes in all four major sports too, as this isn't just a Ranger problem.)
On Thursday night (https://bluecollarblueshirts.com/11223-2/ ), I wrote the following:
Rookie Will Cuylle: 2 goals, 0 assists, and absolutely killing it on the third line.

Fourth-Year Man Alexis Lafreniere: 4 goals, 0 assists and if you can believe it, taking away from Panarin's skyrocketing point totals.

Fifth-Year Man Kaapo Kakko: 1 goal, 1 assist and it's no wonder why Zibanejad and Kreider are struggling to score during 5 x 5 play these days.

Seventh-Year Man Filip Chytil: 0 goals and 6 assists – and where his apple totals are boosted and hollow, as most of them are secondary – and mainly because Panarin is hotter than Ranger fans are at Sebastion Asshole right now.
---
Now try this on for size, as I give you an update:
First line right-winger and the man who begged for power-play time Kaapo Kakko ($2,100,000 cap hit): 1 goal, 1 assist and like a little kid learning how to skate, afraid to leave the boards – as I now wonder if he sticks to the perimeter just so he doesn't lose his balance. (This strategy worked for me!)
Second line-right winger and second baseman of the Quebec Expos Softball League Alexis Lafreniere ($2,325,000 cap hit): 4 goals (mainly tap-ins that anyone could have scored, as Panarin set these scores up on a tee) and 0 assists.
Second line center Filip Brhytil, who is now on the IR with his fifth concussion in seven years ($4,437,500 cap hit): 0 goals and six assists – and who knows how long he'll be out for?
Third pair defenseman Erik Gustafsson, now with a new team ($825,000 cap hit): 3 goals and 3 assists for a total of 6 points.
Do I have to spell it out for you?
While it's great that the GUS BUS is powering its way down the highway; it's not great for the Rangers when the short bus, which Kakko, Lafreniere and Chytil have all been riding this season, is in a permanent stalled state.
To make matters worse, the Rangers' two lottery picks, Kakko and Lafreniere, COMBINED, have the same point totals as Gustafsson has accumulated.
And now, with Adam Fox out?
You'd have to think that Gustafsson's offensive numbers will only go up.
But wait, there's more.
Gustafsson, and this should be the case, is more responsible defensively.
Currently, the third-pair rearguard is second-best on the team in the plus/minus department (+6), as only K'Andre Miller has a better number (+8).
The three first-round picks?
Chytil (0), Lafreniere (0 – and this number would be significantly worse if he wasn't playing with Panarin) and Kakko (+2).
And yes – I know how the plus/minus stat has been diminished in recent years – but these numbers, real numbers/stats, DOES tell the story.
---
I really don't want to use the "b-word," as in "BUST" (unlike others – I haven't used it yet) – but there's another "b-word" that I'm thinking about right now – "BAIT" – as in cutting bait, aka trade bait.
For a team/franchise that's promoting a Stanley Cup or bust mentality – how long can you sit through this?
What's the definition of insanity again?
Sure, patience is a virtue, but it's not like these three first-rounders, two of the lotto pick variety, have small sample sizes anymore.
Heck, all three of these players in this disappointing trio have already had longer careers than most NHLers.
Maybe one day, and by the grace of God, one of these three, if not all of them, find their way.
But should that day ever come, will this current core be long gone?
If the mission is the Stanley Cup this season, and as they say it is – then I don't see how you can win with these three in your top-six.
And yes, while I could pepper you with the Patrick Kane talk for the 7895678585th time on this site (and that talk won't end until #88 makes his decision) – it doesn't have to be him either.
Kane is just the easiest right-winger to acquire at the present moment.
Whether it's Vladimir Tarasenko, Anthony Duclair, Frank Vatrano or another proven veteran – anything is better than what you're getting from Kakko and Lafreniere right now.
(And it's just a coincidence that these three names/examples, right-wingers, are former Rangers, as all three of them are currently on bad and rebuilding teams, teams that will be selling at the 2024 NHL Trade Deadline.)
Hell, and as another option, I'd like to see what Brennan Othmann could do too – even if he's better suited off in Hartford.
But then again, most Stanley Cup teams find some rookie on a team-friendly contract that helps them cross the finish line.
Kakko, Lafreniere and Chytil?
They feel like anchors bringing the ship down.
---
BLOG NOTE: Do you know how exhausted I was after writing the words above, a state of fatigue caused by these first-round failures?
This tired:
I think I will just finish tonight's #NYR v. Wild blog tomorrow morning. I just got sick and need to lay down after writing this! And for a cherry on top, the third pair d-man is second-best in plus/minus too (+6, Miller +8). Chytil (0), Lafreniere (0) and Kakko (2) – YUCK! pic.twitter.com/evskhqMGGA

— BlueCollarBlueShirts (@NYCTheMiC) November 5, 2023
---
And as you can see by the time that this blog was published (9:15AM, rather than from the usual hours of 2AM-4AM) – that's what happened.
Granted, I did want to watch the end of the Sharks/Penguins game, as David Quinn's winless club became the fourth NHL team in league history to give up ten goals in two consecutive games (Sieve Vagistat has singlehandedly done this once in his epic 46-game career, but for all of his never-ending stories from his non Toronto-bound career, you never hear about his ten goals allowed game to Dallas) – but as mentioned at the top of this – this game produced some heavy eye lids.
Heck, for the first time since my high school days, I slept as the world went "Back to the Future" – aka daylight savings time – where this archaic practice (it was created for farmers) is just as insane as telling me that Lafreniere and Kakko are "terrific."
I honestly don't know anyone who enjoys the sky going pitch black by 4:30PM.
But alas I digress.
Back to your normally scheduled GAME REVIEW blog.
---
Well that was some rant – but warRANTed too.
At this time, let's get into the pregame news and notes (where there isn't that much, as I covered all of it last night), followed by our main event segment, the GAME REVIEW.
---
Since Friday was a travel day, a flight to Minnesota devoid of practice; come Saturday morning, the Rangers held one of their branded-and-sponsored "RISE AND SHINE" skates.
Following the light pump, Laviolette spoke to the resident airhead of the Rangers' beat:
---
For a head coach that usually speaks for ten-to-fifteen minutes at a clip, it was odd that he barely spoke for three-minutes on Saturday morning.
I guess this was a preface of what was to come, as the whole day was queer. (Not Pride Night "queer," the other meaning/definition of the word!)
Since Laviolette wasn't asked any tough questions, he said what you'd expect him to say to the junior high level ace reporter – things were going to be tough in the interim, this was a good way to test his team, opportunities open up for others, and where he pretty much said "NEXT MAN UP" without using these three words verbatim.
And yes, losing Adam Fox sucks.
---
Here was Laviolette's line-up for the eleventh game of this 2023-24 season, the first time he was forced to change his line-up since Game 3 of the campaign:
FIRST LINE: Kreider/Zibanejad/Kakko
SECOND LINE: Panarin/Trocheck/Lafreniere
THIRD LINE: Cuylle/Brodzinski/Wheeler
FOURTH LINE: Vesey/Bonino/Pitlick
FIRST PAIR: Miller/Trouba
SECOND PAIR: Gustafsson/Lindgren
THIRD PAIR: Jones/Schneider
STARTER: Quick
BACK-UP: Domingue
HEALTHY SCRATCH: Mackey
DAY-TO-DAY: CZAR IGOR
WIFE'S LOWER BODY: Goodrow
INJURED RESERVE: Chytil
LONG TERM INJURED RESERVE: Fox
---
BOX SCORE time.
The following graphics and information come from ESPN.com:
SCORING:
SHOOTOUT: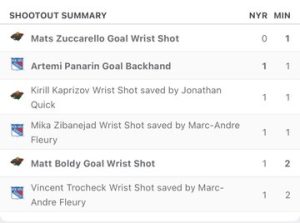 PENALTIES:
TEAM STATS:
GOALIES:
| | | | | | | | | | | |
| --- | --- | --- | --- | --- | --- | --- | --- | --- | --- | --- |
| SA | GA | SV | SV% | ESSV | PPSV | SHSV | SOSA | SOS | TOI | PIM |
| 4 | 3 | 1 | .250 | 1 | 0 | 0 | 0 | 0 | 6:53 | 0 |
| 14 | 1 | 13 | .929 | 13 | 0 | 0 | 0 | 0 | 57:19 | 0 |
| | | | | | | | | | | |
| --- | --- | --- | --- | --- | --- | --- | --- | --- | --- | --- |
| SA | GA | SV | SV% | ESSV | PPSV | SHSV | SOSA | SOS | TOI | PIM |
| 40 | 4 | 36 | .900 | 24 | 12 | 0 | 0 | 0 | 65:00 | 2 |
---
At around 7:28PM EST, I tuned into the M$GN, where that methed up freak from the M$GN gambling show was joined by his pal who looks like he could pass as a body double for Suge Knight.
After listening to these two despicable and atrocious human beings tell us to gamble on every game in the world for two-minutes, two-minutes that felt like an eternity; come 7:30PM, we went to a despicable and atrocious television analyst, Sieve Vagistat.
Since Henrik Lundqvist doesn't do Saturday night games (but I had to tune in to double-check); come 7:30:01PM, I left this broadcast and decided to watch some of the Hurricanes vs Islanders game, where wouldn't you know it – the Isles also blew a three-goal lead tonight – and for the "cherry on top" – Sebastion Asshole scored the walkoff 4-3 goal in overtime.
At 7:58PM, I returned to the Rangers' pregame show, where that smug seven-foot jackass was going on-and-on about his homemade arts & crafts, charts & graphs – and where I'm also led to assume that this moron has brainwashed some fans with his ANALytics into thinking that Lafreniere and Kakko are "terrific."
As I was waiting for Sam and Joe to grace my television, I tweeted out the following thought:
The perennial first-round exit Minnesota Mild may be the perfect NHL opponent for #NYR to employ their new line-up against. (I don't count the Sharks as an NHL team.)

— BlueCollarBlueShirts (@NYCTheMiC) November 4, 2023
---
For the first seven-minutes of tonight's game, those words could not be more true.
Then the rest of the game happened!
Ugh!
---
At the top of the hour, Sam Rosen greeted us by saying, "OH JOE, THE RANGER INJURIES ARE ALMOST AS BAD AS THAT TUFT OF HAIR ON YOUR FOREHEAD JOE!"
Okay he didn't really say that – but wouldn't it have been entertaining had he done so?
After Micheletti and Rosen called Vincent Trocheck "a great Ranger," which must've set off a fire alarm in the home of "2 Guys, 1 Cup" podcast host "Johnny Roc;" Minnesota man Micheletti went on-and-on about the Wild, while Rosen applied all of his black magic voodoo on the struggling club.
You see, when entering this game (and as Sam and Joe reminded us of no less than 95675656678565 times), the Wild, second-to-last place in the Central Division as a result of their woeful 3-5-2 record, had not only dropped their last two games to the Devils (and it is kind of crazy, and as it will be the case next week with the Rangers, that the Wild are already done with the Newarkians this season), but they were also losers in their last four games played.
But alas, enter the Rangers.
While it didn't feel like this would happen early into the match, but by the end of the game, what we saw last season took place tonight – and the head coaching change be damned too – as once again, the Rangers allowed a reeling and bottom of the barrel opponent to beat them.
Again, while we all know that the Blueshirts are beat-up right now – even so – there is really no excuse to blow a three-goal lead – and especially in this fashion – as the Wild pretty much played "keep away" with the puck for nearly sixty minutes.
Seriously, if the Rangers were to play the historically bad last-place San Jose Sharks right now (0-10-1, a goal differential of an astonishing -43) – then would it surprise you if the Blueshirts, and as they did tonight with the Wild, gave DQ's club their best (and only) win of the season?
After all, that's what happened last year, when the Rangers allowed the then 0-6 Sharks to beat them on M$G ice.
(The Blueshirts then lost to every other bad team in the league too, including losses to the Blackhawks, Ducks and Blue Jackets – where wouldn't you know it – these three teams ultimately finished 1-2-3 at the 2023 NHL Draft Lottery.)
---
What am I getting at here?
Similar to the loss against Nashville, which at this point, has to be considered an anomaly, you just hope that tonight's loss is an anomaly too.
However, and unlike the loss to Nashville – the Rangers' effort was never in question tonight.
They played hard, and as they have done in every game besides that fourth game of the season loss to the Predators.
You just don't want to see them blow leads, nor become "feel good moments" for bad teams who desperately need to pleasure themselves either.
In a way, this loss tonight, where again, you're happy with the loser's point in the standings, felt like it could be the start of a losing streak.
It's up to the Rangers to prevent that on Tuesday night, when they host the red-hot Red Wings on Tuesday night – a team that's much more formidable than the Minnesota Mild.
5,000 words later – GAME REVIEW time – and where since I have recapped most of this game already – just the highlights – and the lowlights too.
(For my complete play-by-play in real-time, then check out my Tweeter feed, https://twitter.com/NYCTheMiC )
---
FIRST PERIOD
Since JONNY HOCKEY is from Minnesota (along with several others, including Wheeler, Miller, Lindgren and Pitlick), his line, the third line, began the game.
Brodzinski won this opening draw and finished with a 62.5% success rate at the circles tonight, which I believe is 62.5% better than Chytil this season.
On Kakko's first shift of the game, he shot the puck wide. What a shock.
Not even three-minutes in, a sequence that pretty much summed up this whole period, as Panarin (who shockingly, has become one of the better defensively-minded forwards thus far – Selke Trophy anyone?) broke up a Wild 2 x 1 odd-man rush, and where right after it, Matt Boldy hammered the iron <DING>!
Right after that?
At just the 3:36 mark, the first of three Ranger goals scored within a time-span of 3:17:
On the board early!

(via @NYRangers) pic.twitter.com/fDqA0UwDKD

— Rangers Videos (@SNYRangers) November 5, 2023
---
1-0, GOOD GUYS, as a result of fourth-liner Jimmy Vesey (9 GP), who scored his first goal of the season tonight – and as the former Hobey Baker winner now has as many goals as Chytil and Kakko this season, combined.
And if you had Vesey, from Pitlick and Lindgren, as the first Rangers' goal of the game – then I hope that you bought a Powerball ticket tonight too.
Heck, this was the first time that Vesey and Pitlick had ever played in the same game this season (and in their careers too) – yet they felt more natural together on the ice than Kakko does with his linemates, the BFF duo, now in their eleventh game together.
Perhaps the craziest thing from this game, in a game that was as nutty as a fan telling me that Lafreniere is "terrific?"
The fact that the officials reviewed this goal – and then let it stand.
After having four goals called back this season, this fifth one broke that terrible trend.
---
As stated, this goal, and what took place prior to it, sums up this entire period.
For the remainder of the period, and despite taking three penalties – every puck-luck play, every bounce, anything that you can imagine – went the Rangers' way.
I believe that the Rangers' 100% success rate in PUCK-LUCK plays from this period was the first time that they've hit that number since the first game of the 1926-27 season – a 1-0 win over the Montreal Maroons.
Seriously, whether it was the Wild going wide, not being able to bang home the puck whenever Quick left his net vacated, or whatever else that you can conjure up – you name it, it was there – it was like the hockey gods were watching over the Rangers.
Of course, that would all change once this period concluded.
---
As the "POTVIN SUCKS" whistle rang out in Minnesota (as explained 95678567567576 times before on this site, and in my new book too – I hate this whistle, but I don't mind it as much on the road, as it's a rallying war-cry and an in-attendance roll-call if you will); at the 5:52 mark, this happened:
ARTEMI'S TURN! 🍞

(via @NYRangers) pic.twitter.com/UM3G7qIrx9

— Rangers Videos (@SNYRangers) November 5, 2023
---
2-0, GOOD GUYS, as Panarin extended his point streak to eleven straight games.
And what a hell of a goal too – one that not many could score.
"The Breadman" used three different opponents as a screen, swooped around to the top of the circle to the left of Gustavsson – and BOOM – deposited a wicked wrister right past the goalie.
What. A. Goal.
But the Blueshirts weren't done yet, as at the 6:53 mark, some GUSTAFSSON ON GUSTAVSSON violence:
ANOTHER ONE! KEEP 'EM COMING!

(via @NYRangers) pic.twitter.com/VGBqyb5bad

— Rangers Videos (@SNYRangers) November 5, 2023
---
3-0, GOOD GUYS – and the final goal that Gustavsson would surrender, as he was hooked from the contest after it.
I don't know how much you could blame Gustavsson for the trio of quick strikes, but the goalie change worked out for head coach Dean Evason.
As I was wondering if my OLD FRIEND, Vinni "Sam, he can't even live in his own house anymore" Lettieri, could be traded to the Blueshirts straight-up for Kaapo Kakko (the Wild may want a few draft picks too); the game began to turn with 11:05 remaining in this all gas, no brakes, first period.
At the time, Miller was boxed for high-sticking Ek.
As already mentioned, while the Rangers killed off all three of their first period penalties assessed – all of these infractions prevented the Blueshirts from going "four" the jugular – as their fourth goal wouldn't be scored until the third period – a goal that tied the game after allowing four unanswered.
This particular PK saw everyone block shots, while Ryan Lindgren also prevented another goal – as again – all of the puck luck was in the Rangers' favor.
Down to 8:35 remaining, and just freshly returned to full-strength; Jonathan Quick tripped Marco Rossi – a Wild rookie that induced cartoon hearts in the eyes of both Sam and Joe.
At one point, Sam would not stop gushing over Rossi, while Joe actually said, "Rossi gained a fabulous fifteen pounds in the offseason."
I know that Joe doesn't travel with a mirror these days (his hair tells me as much), but does he travel around with a scale?
After all, how does he know every player in the league that gained fifteen pounds in the offseason?
This was another successful, yet hairy, kill for the Rangers.
The Wild missed on a bunch of chances, while Quick made his best save of the game on Kirill "The Thrill" Kaprizov:
Quickiehttps://t.co/XF1iGgbL8u

— Danny Mack Sports (@DannyMackSport1) November 5, 2023
---
The officials reviewed this save too, where they tried to see if Quick's glove had crossed the goal line, but after this unnecessary replay, it was determined that this was a clean robbery save.
In other words, the Rangers were now 2-2 in video reviews – which feels like a first-time ever event.
Down to 5:55 remaining, it was Schneider's turn to sit in the box, after a blatant high-stick had found the grill of Marcus Foligno.
As the Rangers received their 20th "puck luck" occurrence of the period; with 19-seconds remaining on this Wild power-play, the Blueshirts' PK went 3-3, as one-time beloved Ranger, Mats Zuccarello, high-sticked a fellow recipient of the Steven McDonald Extra Effort Award, Ryan Lindgren.
The abbreviated 1:41 Rangers' power-play was dominated by the new PP1 unit (Gustafsson replacing Fox), but despite Panarin gunning for the net (two of his shots were blocked), the Wild survived.
Helping matters?
The Blueshirts didn't register one SOG during this man-advantage, which meant that once the power-play had expired, they were now twelve minutes without a SOG.
Kreider would eventually force MAF into making his first save of the period late, while the Wild almost scored again as the final horn went off, but once again – nothing went right for the home team in this first frame.
3-0, GOOD GUYS, after twenty.
Here's what I said at the time:
3-0, GOOD GUYS, after 20. 1P Thoughts:
— Yep, a WILD first frame.
— So wacky – three quick Ranger goals, don't get another SOG in forever, but kill three penalties too.
— Every puck luck/bounce has gone the Rangers' way – first time since 1926 against the Maroons.
— What…

— BlueCollarBlueShirts (@NYCTheMiC) November 5, 2023
---
SECOND PERIOD
Again, while you can't question the Rangers' effort tonight – you can question the execution – and you can also question the performances from the top-six regulars – as it can't just be Chris Kreider and Artemi Panarin showing up every night.
As noted earlier, this is when the game turned, as the Rangers could barely touch the puck, and as a result, you had many players, most notably the third defensive pair, getting caught out there for over two-minutes per shift.
Many of these shifts also led to icings, which only meant more tired legs for the Blueshirts.
As Sam would tell us the shots on goal differential from this point on, and for the remainder of the game too for that matter; Lafreniere, at around the 3:30 mark, shot a puck from the slot, and while three feet away from MAF, wide – aka – the usual.
As Sam and Joe then went on a tangent about college hockey for whatever reason – BOOM – two Wild goals scored in a time-span of 29-seconds.
At the 5:57 mark, the Wild hit the post, Quick lost his stick, Hartman shot the puck, and after initially making the stop – the puck then took a bad bounce, the first bad bounce of the game for the Blueshirts, off of the back of Quick and then went past the goal line.
3-1, good guys.
Joel Eriksson Ek scored 29-seconds later, as the not-ready-for-the-NHL Jones found himself out of position, while the terrific and Microsoft Excel inspired Lafreniere just watched this tap-in goal go into Quick's vacated net.
3-2, bad guys.
Lavy called for his timeout here, which was the right decision in my eyes, but nothing would change – as the Wild just continued to dominate this game.
(And while I will always stay true to my opinions, a reader, Jared B., asked me why do I bring up Gallant from time-to-time. I don't think that I have to explain myself, as after all, I always talk about the alumni, bring up Rangers' past and make comparisons too; but during the second intermission, Vagistat once again took a veiled shot at "THE TURK," when he said that Lavy's predecessor would always pocket his timeouts – something that isn't even true either.)
At the half-way mark of this period (and the game too), the Rangers were being out-shot 9-1.
But tell me more about Kakko's METRICS, as the Finn may as well paint his skates yellow these days, since he's always hanging out at the yellow paint at the bottom of the boards.
Again, check out https://twitter.com/NYCTheMiC for the complete play-by-play; but this period was a never-ending cycle of the Rangers looking like chickens running around with their heads lopped off.
However, I was impressed with 4:15 remaining, when the terrific Lafreniere was perfectly set-up by Panarin for a one-timer – but didn't even get a SOG off.
BUT, BUT, BUT LOOK AT THE ANALYTICS! IF YOU DON'T SHOOT, THEN IT'S NOT A MISSED SHOT! TERRIFIC!
I know that I've said this before, but what's one more time?
Like Mr. Belding said to Zack Morris in 1993 during Bayside High's graduation, I feel the same about Lafreniere and Kakko:
"I hope to be alive to see you realize your potential one day."
I just won't hold my breath.
3-2, GOOD GUYS, after 40 minutes, and where I'm downplaying the great work that Quick displayed in these middle minutes too – as arguably, the Wild could have put a touchdown on the board by this point.
Here's what I said at the time:
3-2, GOOD GUYS, after 40. 2P Thoughts:
— Despite how horrid that period was, going into this game, you'd be ecstatic about a one goal lead heading into the third.
— Swap Wheeler and Kakko, Kakko is not a first line guy. Pull the plug on the slug.
— Quick has been remarkably…

— BlueCollarBlueShirts (@NYCTheMiC) November 5, 2023
---
THIRD PERIOD
After using the Minnesota born line to start the first two periods; Lavy, now seeing the momentum turn, went with the Mika line to begin this final frame. As Mika won the draw, Rosen gave you every reverse curse stat imaginable – and yep, you know it – some thirty-five minutes in real-time later – the Rangers lost this game.
But of course, Rosen is not at fault for this loss – that's on the players – and not on the head coach either for that matter.
After all, and similar to his predecessor Gerard Gallant – Laviolette is not the one telling Mika, Kakko and Lafreniere to have a race to see who can go the longest without scoring a goal.
Just 1:41 into this period, the inevitable – the equalizer scored by who else, everyone's favorite Norwegian hobbit, Mats Zuccarello – as the now 36-year-old redirected a puck past Quick, Kreider style.
At least Lundqvist wasn't around for this one – and can't be blamed for the bad ju ju either – as previously, Hank's good pal had scored against the Rangers during every game that "THE KING OF COMMENTARY" had worked on for the M$GN – including his brief commentary that took place in the booth during his #30 jersey retirement ceremony from January of '22.
("Don't let that guy score!" One second later, Zucc scored!)
3-3.
---
Right after the goal, Trocheck and Kaprizov collided near center ice, where after the contact, Kaprizov busted himself open with his own high stick.
Kaprizov, now leaking blood, went to the locker room for repairs, but would soon return at 100%. (I think he only missed one shift.)
For what it's worth, the officials reviewed this too (and doesn't it feel like all of these reviews are now arbitrary, as now the officials are reviewing no calls), and saw the same thing – Kaprizov had cut himself.
In other words, the Rangers were now a perfect 3-3 in video reviews – so at least they had that going on for themselves.
Right after this, and in some "retribution" I suppose, Vesey was cross checked with 17:30 remaining.
No call – another continuous thread throughout this game, as outside of the 1:41 power-play that the Rangers had in the first period – that would be it – as they never had a full two-minute power-play.
I'm not blaming the refs for this loss, as the four penalties that were called against the Rangers were legit; but I am saying that the officials allowed the Wild to get away with a lot – and where it felt like four or five cross checks committed by the home team went ignored.
Down to 15:22 remaining, more "terrific" play from Lafreniere.
After failing to clear a puck, Schneider broke up a play down low, where had he not, then the go-ahead goal would have been scored here.
Right after that, and while on the same shift, Lafreniere failed to clear the puck again and Schneider broke up another sure-fire scoring play.
The Rangers then iced the puck.
Following the o-zone faceoff for the home team, with 14:40 remaining, and as Sam and Joe were reading off his blood type, his social security number, his astrological sign, his favorite teacher and what he ate for breakfast on April 3rd, 2009; there it was – the go-ahead goal as scored by Marco Rossi.
4-3, bad guys.
Micheletti's response as this game had now gone to shit?
He told us how Rossi's Austrian parents were in-attendance – and as if any Ranger fan gave a shit about that.
But the Blueshirts weren't done yet, as Kreider and Panarin, the only two forwards on the top six with a pulse these days, kept the team alive with 13:20 remaining:
KREIDER TIES THIS GAME UP

(via @NYRangers) pic.twitter.com/em0kfsA29a

— Rangers Videos (@SNYRangers) November 5, 2023
---
4-4 – following Kreider's historic goal:
Just take a look at those five names above – and just the fact that Kreider is not only in the same company as Andy Bathgate – but now has surpassed him too – well that says a lot.
Sure the eras are all different and blah-blah-blah; but what Kreider has done in his career is nothing short of impressive.
And arguably a late bloomer (I'd say that his game has evolved over the years, although he did have his "Casper" games too) – perhaps there is hope for Kakko and Lafreniere yet – but like Kreider – will they be 32-years-old one day and still seeking their first Stanley Cup too?
Down to 7:54 remaining, and where the Wild had over a minute of a delayed penalty attack before Mika was sent to the box for tripping Pat Maroon; the home team then enjoyed their fourth power-play of the game.
Again, while nothing was egregious about the officials tonight, 8:00 to 1:41 in power-play time was suspect and questionable.
The Rangers' penalty kill finished a perfect 4 of 4 tonight – and where Quick made twelve PK saves in these eight-minutes of hairiness too.
As we headed into crunch time, your asshole worked its way into your stomach and then into your throat, as the third pair were caught on the ice for three-minutes straight.
Quick stole a point.
4-4 after one of the most bizarre sixty minutes of regulation hockey that you'll ever see.
Overtime was needed.
Here's what I said at the time:
4-4 after 60. The Rangers, 2-0 in OT this season, will play their third bonus period. 3P Thoughts:
— Yeah they blew a three-goal lead, but to get a point, I'm happy about that.
— Just one of those games
— There has to be someone better than Jones in HFD, he's dragging down…

— BlueCollarBlueShirts (@NYCTheMiC) November 5, 2023
---
OVERTIME
This bonus period was one of the more boring overtimes, as the two teams didn't want to take any chances at all.
There were hardly any shot attempts either, as neither team didn't want to run the risk of missing the net, thus creating a two vs one odd-man rush the other way.
The only chances during these five minutes is when Gustafsson came an inch shy of scoring a highlight reel walkoff winner, while the Wild blew a two vs one odd-man rush late, as the puck took a bad hop on the pass.
For the first time this season, the Rangers were headed to a shootout.
---
SHOOTOUT
I'm not going to do a deep dive into the topic of the shootout itself, as it is what it is.
You love it when your team wins it, you hate it when your team loses it.
But don't get it twisted – every fan is standing during it – so it's exciting.
And suffice to say, no one wants to pay to see ties – and you can't have these regular season games going into double, triple, quadruple, etc, overtime.
And for all of the talk about extending the 3 x 3 overtime to ten-minutes – I'm not sure if it would have made a difference tonight, as both teams were carefully and conservatively getting through the bonus frame.
---
In the top of the first, Zuccarello sent Quick's shorts to the rafters, having deked out the Kings' legend ten ways to Sunday. I wish I saw that in 2014.
In the bottom of the first, Panarin, who can't do any wrong this season, deflowered Fleury.
In the top of the second, Quick, a fast-learner, stopped Kaprizov as Mr. Thrill did the same exact move as Zucc had just done.
In the bottom of the second, Fleury made a sprawling left pad save on Mika, where had the DJ spun this puck an inch higher, rather than leaving the puck on the surface, then he would have scored.
In the top of the third, and with the game on the line, Boldy hit the post – but as the puck ricocheted – it hit Quick's back and then went past the goal line. This was the second time this happened tonight – and you can't make it up.
In the bottom of the third, Trocheck, apparently not as quick of a learner as Quick himself, did the same thing as Zibanejad, and since he didn't lift the puck either, Fleury's toe save was good enough to get the Wild their much needed comeback victory.
2-1, in the shootout, 5-4, bad guys, your final.
And oh, do you know who is good in shootouts?
Patrick Kane <ducks!>
---
Here's the post game edition of "LAVY'S LOUNGE," where I wouldn't blame him for this loss, even if "TURK TRUTHERS" would have blamed Gallant for a loss like this:
---
Let me be clear as I wrap up.
It's one shootout loss – but most importantly, one point gained in the standings too.
And for a Rangers' team decimated by injuries; entering this game, you'd be happy about netting one point against a desperate Wild team.
But again, it's the individual performances for me.
This Tuesday marks the twelfth game of the season, so you can't say "it's still early."
What we are seeing now aren't aberrations, they are trends.
Wake up Mika.
Wake up Kakko.
Wake up Lafreniere.
And wake up Chris Drury – because your top two right-wingers aren't playoff material – no matter how much everyone would love to see that be the case.
---
I believe the Rangers have off on Sunday and will then return on Monday for practice.
While a loss wouldn't be the end of the world on Tuesday – you'd like to see the Rangers remove this defeat from themselves as fast as possible.
If not, then it's the first losing streak of the season, where if that happens, then you'll be looking at this game as the catalyst.
Let's hope for the opposite of that!
And if I sound negative to you – oh well.
In my eyes, I'm realistic, although one Stanley Cup in my 41-years on this planet (and one in the last 83-years) will cause some jadedness and pessimism.
(And how come these same people who now call me negative didn't have one word to say about my attitude during the last two seasons, when I preached a "glass half-full" mentality?)
Sorry folks, and especially for the faceless no-name strangers on the Tweeter – I remain true to myself – like it or not!
But don't get it twisted.
I want to see this team win a Stanley Cup more than anyone else.
And for anyone calling Lafreniere and Kakko "terrific?"
C U Next Tuesday for Rangers vs Wings.
PLUGS TIME! (Buy a book and support my Rangers' induced therapy bills. After all, I don't run ads on this site!)
---
My fourth title and tenth book is now available for preorder!
"The Top 100 Villains of New York Rangers History," is now available for preorder.
For complete information, please visit: https://bluecollarblueshirts.com/rangerkillers/
---
My second plug of tonight's blog – the mandatory plug for my book, "The New York Rangers Rink of Honor and the Rafters of Madison Square Garden."
As mentioned previously, the book is now available in hardcover, in paperback and in Kindle formats. To purchase a copy of the book, visit this link:
https://www.amazon.com/Rangers-Rafters-Madison-Square-Garden-ebook/dp/B09CM5N2WD
For those still looking for signed paperback versions of the book, I have re-ordered more copies. I now have a few signed copies for sale at $25 a pop (includes shipping price) through me directly. Here is all the information on that:
---
My four-volume set of books, "One Game at a Time – A Season to Remember," is a game-by-game recount of the Rangers 2021-22 campaign.
My second title as an author, "One Game at a Time – A Season to Remember," is now available in eBook, paperback and hardcover formats.
To obtain signed copies, visit: https://bluecollarblueshirts.com/onegamebook/
To purchase all four volumes on Amazon, visit: Amazon.com – "One Game at a Time."
---
The greatest volume-set of books on Rangers' history today!
"Tricks of the Trade – A Century-Long Journey Through Every Trade Made In New York Rangers' History," a four-volume set of books that meticulously covers every trade made in franchise history, is now on sale.
All four volumes of the title can be purchased on Amazon.com and are presented in three different formats – eBook, paperback and hardcover.
To purchase Volume I: Conn Smythe (1926) – Craig Patrick (1986), visit Amazon.com
To purchase Volume II: Phil Esposito (1986) – Neil Smith (2000), visit Amazon.com
To purchase Volume III: Glen Sather (2000-2015), visit Amazon.com
To purchase Volume IV: Jeff Gorton (2015) – Chris Drury (2022), visit Amazon.com
To purchase signed copies of all four volumes, visit https://bluecollarblueshirts.com/tricksofthetrade/
---
Here are my last few blogs, in case you missed them:
---
---
---
---
If you haven't already, subscribe to this blog for the next update:
---
Don't forget to order my recently released four-volume set of books, "Tricks of the Trade!"
If you don't order through me, all four volumes are now available on Amazon.com
For more details, check out: https://bluecollarblueshirts.com/tricksofthetrade/
Thanks for reading.
LET'S GO RANGERS!
Sean McCaffrey
BULLSMC@aol.com
@NYCTHEMIC on the Tweeter machine