Greetings and salutations everyone and welcome to another blog here on BlueCollarBlueShirts.com. In news you've probably heard of by now, the biggest story from Rangerstown, USA this week, is the fact that, yes indeed, the Rangers will be wearing the Statue of Liberty Heads on their chests during the 2021 season. (And what a way to start off this blog, with one huge run-on sentence!) While this news was expected for some time, it was nice to see this news become official this past Monday, as the Rangers and the rest of the NHL, released their "Reverse Retro" designs, for the upcoming 2021 season. That said, when attire is the top story of the week, you know there's not much else going on!
In tonight's blog, while I'll have all the details and my thoughts on the Rangers latest threads, one anniversary slipped through the cracks by the Rangers themselves this week. Truth be told, I'm not surprised. After all, for the last six plus years on this site, I've made it one of my missions to promote Rangers history as much as possible. Heck, I'm even working on a book right now, called "The New York Rangers Rink of Honor", where history is the major theme.
While everyone was going goo-goo ga-ga over a jersey that's being made in Indonesia, (more on that to come) this past November 16th marked the 94th anniversary of the first game ever played by the Rangers. That date is a huge date in hockey history, not only because it was the first game that the Rangers ever played, but due to the Rangers victory on November 16th, 1926, that Rangers win indirectly led to the creation of the Toronto Maple Leafs. (This Rangers win would also eventually end the tenure of the Toronto St. Pats as well.)
I know I've said the following in the past on this site, and I know I've said it on social media before, but if you do your research and look at the late days of the NHA/early days of the NHL, it's amazing how just one little action would lead to major stories; stories that would impact the NHL forever. Just think, if the innovative Eddie Livingstone wasn't around, and if he didn't rub his peers the wrong way, there would be no NHL today. Maybe this is nerdy of me, but I do get a thrill and a kick out of seeing how things came to be. In tonight's blog, I have a story from that first ever Rangers game, a story that I think most would enjoy. After all, in this era of gambling ads plastered all over the place, this story from November 16th, 1926, is centered on gambling.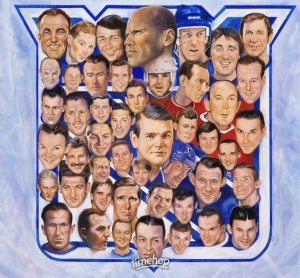 Aside from clothing and history talk, elsewhere in this blog, I'll take a look at the latest comments made by Henrik Lundqvist. Seriously, I can't wait until the puck is dropped, just to end these worthless filler stories! Then again, I guess these little stories do help pass the time! In other news items that I'll have for you tonight, I have an update on the 2021 season. I also have stuff for you on Barry Beck, Alexis Lafreniere and Mark Pavelich. And oh, if you want to leave a voice message for Tony DeAngelo, I got an update on that front for you too!
With this introduction out of the way, as usual before rocking and rolling here, the PLUGS segment!
Here are my last few blogs, in case you missed them:
---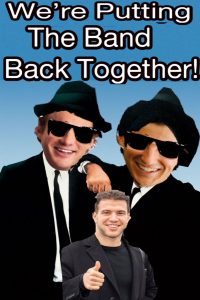 ---
---
---
---
On Monday November 16th, the NHL & Adidas (the official supplier of NHL gear) released the images of their long awaited "Reverse Retro" jerseys. As talked about on previous blogs, while new jerseys always creates fan excitement, these new threads are also a way for the NHL to generate revenue in a time where the NHL needs new revenue streams the most. Outside of these jerseys, expect the "Reverse Retro" line to include hats, shirts, hoodies and anything else that these teams can slap these logos on.
Of note, because I didn't see this mentioned anywhere else, these jerseys go on sale on December 1st. Why is the NHL, Fanatics and Adidas waiting until December 1st? Easy! To make sure none of these items are included in any sort of "Black Friday" or "Cyber Monday" sale! If you want the latest threads, you better pony up the bucks! (And as my buddy Louis G. reminded me, Fanatics/Shop.NHL.com are very militant when excluding new items from their daily 25% off sales.)
In what was funny and sad at the same time, before the news was made official, the Rangers & Adidas teased these images:
The funny part? Some Ranger fans, after putting on their Sherlock Holmes hat and acting like a "Cold Case" detective, deduced by just these images alone, that Mika Zibanejad was going to be the next captain of the New York Rangers. While Zibanejad as the next captain in Rangers franchise history could be the case, (I've talked about Mika Zibanejad vs Chris Kreider for captain on past blogs, check the archives) what isn't the case, is that these images provide any sort of insight into the next captain of the club.
You see, based on these teaser photos, fans saw long hair and what they thought was a "C" on a jersey. Obviously, this means Mika Zibanejad is the next captain of the Rangers! CASE CLOSED! Maybe these social media sleuths can solve the JFK assassination next! Then, when they are done, they can get to the bottom of the "Zodiac Killer" case too! Robert Graysmith awaits!
Of course, a day later, these Inspector Gadget's were foiled, when it was revealed that it was just a long-haired model wearing the jersey:
If you've been following this "Reverse Retro" jersey story, it was pretty much known that the Rangers would be bringing the Liberty Head back. I'm a fan of it. I'm glad it's back. That said, I think the Rangers & Adidas could've done a better job. Now let's get into the sad part.
If you look at collar, where it shows you where these jerseys are made, you'll see, that just like every other NHL jersey that's been made in the last 5+ years, this new Liberty Head jersey is made in Hockeytown, Indonesia.
Listen, I get it. All of these major companies, whether it's Apple or in this case, Adidas, have factories in third world countries, where they pay six year old kids pennies to make their products. The mark-up for these jerseys (and cell phones too) are insane. A good seamstress could make one of these jerseys for probably $20. However, with so many Americans out of work (and Canadians too for that matter) wouldn't it have been nice to have these Ranger Liberty Head jerseys made in America?
Maybe it's just me, but it would be easy for me to fork over $200 for a Liberty Head jersey, knowing that some of the high cost is because this product was made by American union workers. $200 for a LIBERTY jersey, as in you know, the STATUE OF LIBERTY, comes off as pure greed and exploitation in my eyes, when you consider the fact that some Indonesian child, who couldn't even tell you what the Rangers are, made this thing. Again, I know how the world works, but in these times, due to this pandemic, I thought it would've been a nice move if Adidas made these jerseys in America. (And in Canada, for the Canadian teams.)
And I'll freely admit this to you here too – I will definitely buy one of these Liberty Head jerseys, fully knowing how they are made and knowing that they aren't made in America. Unfortunately, I have to accept the fact that I can't force Adidas to change their business practices and I'm a hypocrite for buying one.
I know I won't second guess my decision to purchase one of these jerseys at all, considering that I'm also a huge animal lover, donate to the ASPCA and have never gone hunting in my life. (I could never shoot a defenseless animal.) That said, I'm not a vegetarian either and my favorite food is steak. I also like Swedish meatballs, but I wouldn't want one as a goalie either! Hello, my name is Sean McCaffrey and I'm a hypocrite that's no longer anonymous. "Hi Sean!"
Let's switch gears.
In news that won't shock anyone – I'm not a fashion major. I don't have a degree from FIT. I just know what I like. When it comes to these new Liberty jerseys, I like the original ones better. I'll take my Petr Nedved Liberty jersey over these new ones, any day of the week and twice on Sundays:
In addition, prior to the NHL and Adidas releasing the images of these "Reverse Retro" jerseys, I saw countless fans on social media, fans who have much better photoshop skills than I do, (granted, that's not saying much!) who put together better ideas than what was actually released. Here's just one fan, of many, that in my opinion, released a better design than what we got:
At the end of the day, all of this jersey talk is just that – talk. I could really care less what these guys wear. The Rangers can wear pink tutus for all I care, as long as they win. I've seen countless columns all over the internet about these jerseys, where people are dissecting every color scheme, every piping job, every sleeve and all this other bullshit, as if they are Lisa Turtle from "Saved By The Bell".
For more on the Rangers "Reverse Retro" jersey, check out the social media accounts of the team, where there are videos of several Rangers going bonkers over these jerseys. (Players included in these videos are Tony DeAngelo, Ryan Strome, Alexandar Georgiev & Brendan Smith.)
To me, while the return of the Liberty Head is a story, it's a story for a slow news week. While I do think the jersey looks like a practice jersey and is a bit "Plain Jane", it's also better than nothing. Whatever the event, I just want the puck to drop and see the players in these jerseys. After all, this looks pretty solid: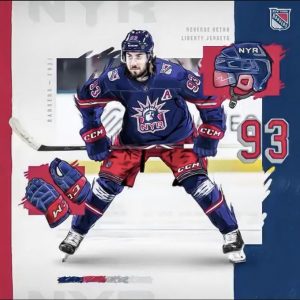 Lastly, when talking winter wear, NHL.com has a full story on all 31 "Reverse Retro" jerseys. The story also includes images of all 31 jerseys. You can view the article here: https://www.nhl.com/news/nhl-reveals-adidas-reverse-retro-jerseys/c-319633384
Of note, the popular consensus is that the Colorado Avalanche are the big winners here. I would be inclined to agree. Here's the design the Avalanche chose, in tribute to the Quebec Nordiques:
While I'm with the majority here, in believing that the Avalanche did the best job of the 31 teams, I gotta say, if you were a fan of the Quebec Nordiques, this jersey has to be a painful reminder of the past and what could've been.
For people who don't know, after being eliminated by the Rangers in the 1995 Stanley Cup Playoffs, the Nordiques, who had a long-lasting bond with Quebeckers, not only changed cities – they changed countries too. Come the following season, the 1995-1996 season, the Quebec Nordiques relocated to Denver and became the Colorado Avalanche. For Canadians, especially French-Canadians, losing a hockey team to America is the equivalent of taking a dump on someone's mother. It's blasphemous. It's heinous. It's treason.
To make the wound sting even more, in their first season out of Quebec and in their inaugural season in Denver, the Avalanche, formerly known as the Nordiques, went on to win the Stanley Cup. Talk about the ultimate kick in the gonads.
While I'm sure some fans of the Quebec Nordiques continued to root for the team in their new home, I know many who were pissed off. Yes, these jerseys look nice and I'm sure many people with a Denver zip code will buy them, but for some fans of the Quebec Nordiques, this jersey is like watching your bitch ex-wife live a happy life!
I can't believe I just wrote 2500 words on clothing. However, before abandoning the topic of clothing completely, let's talk about Henrik Lundqvist a second, a man who has always been known for his stylistic choices.
---
In a story that I didn't think was much of anything, until I saw it plastered all over the place, is the story of Henrik Lundqvist talking about his post-retirement plans. I feel like I'm forced to talk about this story, since I had many of you guys tag me on social media about it and email me about it.
As talked about on previous blogs, when it comes to European and Russian players, they are more open with reporters from their native counties than they are with American or Canadian reporters. Lundqvist is no different in this matter, as he gives Swedish reporter Johan Rylander juicy quotes from time-to-time. In a recent interview with Rylander, (which you can read in Swedish here: https://www.gp.se/sport/ishockey/henrik-lundqvist-avsl%C3%B6jar-%C3%A5terkomst-till-rangers-1.37137607 ) Lundqvist is already talking about his post Washington Capitals career. The guy hasn't played one game as a Capital, and he's already talking about what he's going to do after his Captials career! Caps fans must love that.
I won't rehash my "Greatest Hits on Henrik Lundqvist" here, but as usual, the interview showed off Lundqvist's egotist and narcissist side. I mean, before getting into the Rangers stuff, when Lundqvist was asked about Capitals goaltender Ilya Samsonov, Lundqvist said:
"He is a young and very promising goalkeeper. I will work with him and maybe help him a little. But at the same time we are both there to play."
"Maybe help him a little"? I'm cracking up! And for all the idiots that constantly blow up my social media with stupid shit such as "LUNDQVIST IS A MENTOR!", "LUNDQVIST SHOULD BE THE NEXT GOALIE COACH!" and "EVERY GOALIE CAN LEARN FROM LUNDQVIST", this stuff proves what I've been saying since day one. Lundqvist does not give one flying Father Fink about other goalies on his team. It's always been a "me-first" attitude from Lundqvist. And really, that's not a knock either. When you look at the All-Time Greats, and in this particular case – the "very good", most of these athletes are self driven. After all, you rather see someone always looking to prove himself, rather than just cashing the check.
For the Capitals, if Lundqvist becomes their starter, that means something really bad happened to Samsonov, whether it be injury or play-related. However, for anyone to think that Lundqvist is going to take Samsonov under his wing, you're out of your freaking mind. Make no bones about it, going into next season, it's Lundqvist's goal and dream to hoist the Stanley Cup – as the starting goalie of the Washington Capitals. And again, you can't blame him for this line of thinking.
In the piece of the interview that's Rangers related, Lundqvist told everyone that he will have a job with the Rangers, whenever he sees fit. Maybe it's the way the interview was translated, (there's always translation issues with these interviews) but the quotes published from this interview made Lundqvist look like a dick a bit, as if he can tell who to hire him and when to hire him. You got record unemployment rates in the country right now, and here is Henrik Lundqvist telling people he can command a job whenever he wants. Just bad optics, in my opinion. And to be fair, I doubt that was Lundqvist's intent either.
Anyway, here's the stuff about the Rangers, that Lundqvist said to Rylander:
"I'll be a part of the Rangers for the rest of my life, in one way or another. Both I and the Rangers have been clear about that. That's how it will be. I don't know if the role will be small or if there will be something more. It is further ahead. It's all about timing. It's just not now. I feel that I will somehow be connected to the Rangers forever after so many years and all the people I got to know in the club, from the owner on down."
Couple of things, and I'll move on.
I'm sure the Rangers do want Henrik Lundqvist tied to the organization once Lundqvist retires. In my opinion, I can see him in the Rod Gilbert role, doing charity events and making appearances. In no way, shape or form do I see Lundqvist as a coach. For starters, I don't see Lundqvist wanting to do all the travel, especially not now, with young kids. In addition, I don't think Lundqvist is the coach type. For many great and very good players, a lot of what makes them that way is natural instinct and talent. As both Wayne Gretzky and Larry Bird found out, two first ballot Hall of Famers in their respective sports, it's hard to teach and coach "normal" athletes. Usually, the best coaches are guys who spent most of their careers on the bench, watching the greats and watching their coaches.
Lundqvist, the Rangers ambassador? I definitely see that. It makes all the sense in the world. With his kids going to NYC private schools, it would be an easy job with no travel at all. Even without a Stanley Cup, in NYC, he will still be revered wherever he goes, like a Stephane Matteau.
I 100% believe that John Davidson, and perhaps James Dolan himself, told Lundqvist he can get a job with the Rangers whenever Lundqvist retires. I don't doubt that at all. However, by saying this now, Lundqvist did paint the Rangers into a corner here. While I doubt the Rangers would ever sever ties with Lundqvist, they are now on the hook to give him a job in the organization, come his retirement. Again, that might not be a battle, but Lundqvist is making this concrete.
As stated repeatedly during the course of this site's history, I'm a huge MMA fan. One of the old adages in MMA, and in the UFC particularly, is that when a fighter even hints or mentions retirement, that means retirement is coming. You never want to go into a fight with the idea of retirement on your mind. The only time a fighter does that, is if the fighter is 100% having his retirement fight. However, if you're on the fence about retirement and going into a fight, 99 out of 100 times, that fighter loses and yes, eventually retires.
I get that Rylander wants to play up the Lundqvist/Rangers angle in his story and I understand that Lundqvist wants to make his home in New York after retirement, but when I saw this interview, you would think Lundqvist would talk more about his immediate future, such as trying to win a Stanley Cup with the Capitals, rather than talk about his retirement.
One last thing on this and I'll go on to the next topic of this blog. Lundqvist has earned something like $100M in his hockey career. Who knows what else he made in endorsements, advertisements and other endeavors? While NYC taxes pretty much cuts his career earnings nearly in half; with $50M+, who would want a stressful job after retiring? Again, that's why I see him as a team ambassador, more than anything else.
This all said, this is just another story for a slow news day!
---
Trivia question: Who was the first general manager of the New York Rangers? Some may say Lester Patrick, but the answer is the legendary Conn Smythe, a Conn Smythe who would make his legacy in Toronto.
If you visit https://bluecollarblueshirts.com/book-reviews/ , you can check out the book reviews that I've done on this site. In stories told in both the autobiographies of Conn Smythe & Frank Boucher himself, and a story that's common knowledge among hockey historians, it was Conn Smythe's firing from the Rangers, which led Smythe to founding the Toronto Maple Leafs.
For the purpose of this blog, I'm giving you the quick version of this story. In my "New York Rangers Rink of Honor" book, I'll have this story fleshed out better. (Notice how I'm plugging this future book a lot now?  I might not do ads or ask for any sort of money from you guys on this site, but I will pester you to buy a book once it's complete!)
On November 16th, 1926, the expansion team, known as Tex Rickard's New York Rangers, played their first game. The Rangers would host the heavily favored Montreal Maroons, a Maroon squad that won the Stanley Cup earlier that year. Prior to this game being played, Conn Smythe was tasked to put the Original Rangers together. However, a fallout and clash of personalities with Colonel John S. Hammond, who Tex Rickard had overseeing his hockey operations, led to Smythe's dismissal.
When Smythe was originally hired, not only was he hired to be the team's general manager, he was also hired to be the team's head coach. (In those days, it was very common to see one person wear both hats, as both the team's GM and HC. Art Ross was the guy in Boston, Jack Adams was the guy in Detroit, etc.) However, while Smythe was in attendance for this Rangers vs Maroons game, instead of being behind the bench as originally planned, Smythe took in the game as a spectator. Replacing Smythe was the successful Lester Patrick, a Lester Patrick who was more charismatic than Smythe, and a Lester Patrick who also had success as an owner/operator of his own league. (The PCHA.)
As noted at the top of this blog, when you look at the annals of hockey history, it's just amazing how one decision led to a ton of subsequent events. Who knows what happens if the Rangers kept Smythe? Do the Rangers win the Cup in 1928? What we do know is this – if Smythe stayed with the Rangers, we wouldn't have one of the best stories in Stanley Cup history, when "The Silver Fox" himself, in Lester Patrick, took the net in Game 2 of the 1928 Stanley Cup Final, after an eye injury suffered by then Rangers goalie, Lorne Chabot. Furthermore, had Smythe stayed with the Rangers, would have Lester Patrick ever worked under the NHL banner? Would the Toronto Maple Leafs be in existence? No joke, when you look at this period of time, there are so many what-if's? For me, all of this stuff just fascinates me to no end.
Here's another what if – what would've happened, if Irene Smythe, Conn Smythe's wife, didn't force her husband to attend the first ever Rangers game at the old Madison Square Garden?
Upon Smythe's firing, Col. John S. Hammond paid Smythe $7500 to settle Smythe's contract. Smythe felt he was owed the whole kit and caboodle, which was $10,000. This obviously soured already poor relations between the two. When Tex Rickard invited Smythe to attend the Rangers home opener, Smythe did not want to attend, due to being fired and because of this dispute of $2500. However, Irene Smythe urged her husband to attend the game, and in turn, this would change the course of hockey history forever.
On November 16th, 1926, in a star-studded event, just like any gala of that era, (and keep in mind that Tex Rickard was a boxing promoter and knew how to sell entertainment) the Rangers took the ice for the first time. In that game, the underdog New York Rangers defeated the reigning and defending Stanley Cup Champions, in the Montreal Maroons, by a final of 1-0, with Rangers captain Bill Cook scoring the lone goal. (Bill Cook is another man that the Rangers ignore from their rafters to this very day, as the Rangers, like a drunk seeing snow, seem to enjoy pissing on their own history.)
After the Rangers upset victory, Tex Rickard sought out Smythe, and offered him a vice presidency role with the organization. Smythe, still pissed off about the $2500, refused the job. However, Rickard, who didn't know about how Hammond stiffed Smythe out of the $2500, ordered Hammond to pay Smythe the $2500. This $2500 would lead to the creation of the Toronto Maple Leafs.
On his way back home to Toronto, Smythe, with his new found money, bet the $2500 on a college football game. And just think about that, as $2500 was a ton of money in those days. Hell, it's a lot of money now! Smythe would win that bet. Now, with $5000 in his pocket, Smythe took that $5000 and bet it on his former team, and doubled his money to $10,000, when the Rangers beat the St. Pats team in Toronto. Very quickly, Smythe turned $2500 into a smooth $10,000.
With $10,000 now in his pocket, Smythe took that money, found some investors and bought the Toronto St. Pats, the team he just bet $5000 against. Once taking ownership of the team, Smythe rebranded the St. Pats as the Toronto Maple Leafs and changed their color scheme from green to blue and white, the same blue and white that were featured on Smythe's sand and gravel trucks. The rest was history. The Leafs would go on to become one of the most prominent teams of the pre-World War II and Original Six eras. Smythe, love him or hate him, would become one of hockey's biggest and most influential figures. More importantly, the Leafs would go on to win many Stanley Cups.
And to think, this would've never happened if the Rangers never fired Conn Smythe. In addition, isn't it nice to hear a positive gambling story? Maybe Draft Kings can sell Smythe's story in their advertising? BET $2500 TODAY AND WHO KNOWS, MAYBE YOU CAN BUY AN NHL FRANCHISE!
Anyway, Happy 94th Birthday to the New York Rangers. It's amazing how that number has always looked good on the Rangers!
Couple of quick shots, and I'll put a bow on this.
---
In an update to the Mark Pavelich story, Barry Beck, who has been helping Pavelich every step of the way, released the following statement on Facebook:
It's just amazing that Barry Beck is still fighting for Pavelich, after the personal tragedy that Beck just suffered with the murder of his son, Brock Cameron Beck. (Check the archives of this site for the full story and updates.)
In news related to Beck's son, Barry Beck shared a photo of his new tattoo, a tattoo that honors his son's memory:
As of this writing, no one has been arrested in connection with Brock Beck's murder. The investigation remains ongoing. Hopefully, justice will prevail sooner than later.
---
I wanted to make mention of a great story I read on the NY Post, written by one of Ron Duguay's "Up in the Blue Seats" contributors, in Mollie Walker.
While everyone is doing their silly "PROPOZED LINEZ", "WHAT COLORZ THE RANGERZ SHOULD'VE YOOSED AS PIPEING ON THERE LIBERTEE JERZEYS" and "I HAVE A WHITE MONITOR IN FRONT OF ME, PLEASE SEND ME MAILBAG QUESTIONS SO I CAN FILL UP SPACE" stuff, Mollie Walker is the first reporter to get an inside look at the Lafreniere family. In her article, Walker takes a look at the bond among the siblings Lafreniere. Walker also shares a picture of Lori-Jane's latest tattoo, a tattoo that simply reads "13".
To read Walker's article, check out https://nypost.com/2020/11/14/alexis-lafreniere-gets-assist-from-sister-in-journey-to-rangers/
With so many of the Ranger beat writers writing the same repetitive stuff, this article was refreshing and something new. I enjoyed it. Ever since Brett Crygalis stopped writing about hockey for the Post, Mollie Walker has stepped up and has become a low key MVP of the NYR beat scene. Plus, she has a fan in me, because I really enjoy her ongoing bits/comedy callbacks on the "Up in the Blue Seats" podcast. Unlike her co-worker, in Larry Brooks, I find a lot of Walker's stuff to be based on facts, rather than just making up scenarios for content. After all, how many times did Brooks say Strome, DeAngelo and Georgiev were goners this year?
---
As we head home here, an update on next season.
On November 13th, NHL.com ran another story about proposed ideas for the 2021 season. You can read the article here: https://www.nhl.com/news/bill-daly-update-on-nhl-schedule-format-for-2020-21/c-319627586
Quite frankly, there's not much in this article that we didn't know already. Everything still remains in a state of limbo. With the NHL still targeting a 1/1/21 date for the 2021 season, nothing is etched in stone yet.
As of this writing, there has been some chatter about some teams recalling their European players, as teams anticipate training camps. I would assume if these camps do commence anytime soon, it would be after Thanksgiving. After all, of the four major sports in America, it's usually the NHL that takes off on big holidays, whether it be Thanksgiving or Christmas. And looking ahead, with no vaccine coming this year, it should be interesting to see how the NHL handles Christmas. If guys are in camp, and if the season is a week away, I don't see how it's possible for some players to go home and come back, especially in New York, with an asshole as mayor and a douchebag as governor. As I currently type these words to you right now, you got Governor Cuomo trying to invade New Yorker's homes during Thanksgiving.
I have talked previously about the corona virus and its effect on the NHL. Refer to my last blog for more. Simply stated here, of the four major sports (and other sporting groups, such as UFC, NASCAR, WWE, etc) the NHL has the weakest TV deal of them all, which in turn, means that the NHL operates at the biggest deficit in a world with no fans in attendance. It's why the NHL, if they can, will alter their schedule mid-season, in the event that fans are allowed back in the arenas. That said, and as rumored, if there is no vaccine for the public coming until the third quarter of 2021, is it financially reasonable for the NHL to go on with the 2021 season at all? After all, "Reverse Retro" jersey sales won't cover the massive losses the NHL will incur by operating without fans.
It's going to be an interesting six weeks, as we approach the January 1st, 2021 target date. I wouldn't be shocked to see the NHL delay their start date. It would be fiscally better for the NHL to play a 36-48 game season in front of fans, rather than to play any games in an empty arena.
In stuff I've talked about previously on this site, and in stuff the NHL is talking about today, what we do know is this – the NHL wants to avoid the 2021 season effecting the 2021-2022 season. While no one can know for sure, it is thought that a vaccine will be in everyone's hands by Fall of 2021. If the NHL can't open the arenas for the 2021 season, they definitely don't want the 2021 season impacting the 2021-2022 season at all.
---
As we get to the end here, for those looking for more Rangers commentary, the BSU guys announced that they are returning Wednesday, 11/18, at 7PM. You can watch and comment on the show live, by visiting: https://www.youtube.com/channel/UCY7uJZRhIkM1iLKEdo6gmag/featured
As I always say on this site, if you like these blogs, you'll like BSU.
While I'm not 100% sure of it yet, I also believe that Tony DeAngelo and company are returning on Wednesday too, with another episode of "Watch Your Tone". As promoted on their last episode, fans can now leave voice messages for Tony DeAngelo & his WYT crew. To leave a message, dial 929-333-5428. Maybe Frank Rizzo, Jack Tors or Sol Rosenberg will leave a message!
If you haven't already, subscribe to this blog for the next update:
Moving forward, if "Watch Your Tone" drops a new episode tomorrow, I'll return with a recap. Those are usually fun to do. Until then, I shall painstakingly work on formatting this book and I look forward to the next episode of BSU.
As always here, thanks for reading and…
LET'S GO RANGERS!
Sean McCaffrey
BULLSMC@aol.com
@NYCTHEMIC on Tweeter and on Parler
Follow the BlueCollarBlueShirts.com Facebook Group by clicking this link: https://www.facebook.com/groups/1564026407193056/