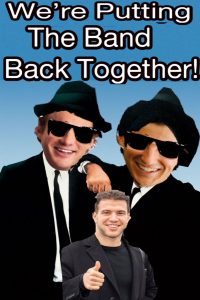 Greetings and salutations everyone and welcome to another blog here on BlueCollarBlueShirts.com. Ryan Strome and Brendan Lemieux are officially back! That said, it's not like they ever left in the first place!
In back-to-back days, on November 5th and November 6th, prior to the arbitration meetings of both Ryan Strome and Brendan Lemieux respectively; Rangers general manager Jeff Gorton reached deals with both men. Both Strome and Lemieux signed two-year deals with the club. As we'll soon get into, cap-hit wise, you know, the most important stat in hockey these days, both Strome & Lemieux signed fair deals, at least in my opinion. I'll have all the figures for you as we move on. That said, both players and the Rangers compromised from the figures I talked about last blog. In both cases, the Rangers met both Strome & Lemieux half-way.
If there's a true "NEWS" story here, (as I think all along that it was pretty obvious that both players would be re-signing with the team) it's the fact that like the two other "Core Four of The RFA Class of 2020", in both Tony DeAngelo & Alexandar Georgiev; both Strome & Lemieux re-signed for two more years.
Of the four major restricted free agents that the Rangers had this off-season, I thought Tony DeAngelo & Ryan Strome could've got more money and years elsewhere in the future, had they signed one-year deals during this go around. However, from day one, Strome & DeAngelo said they wanted to remain as Rangers. These deals echo that sentiment.
I think these two-year deals are telling of three things. One, the players, as they've been saying all along, want to be here. These guys weren't providing lip service. They want to play in New York and they love what they got going on here. Two, in this economy and in these times, the Rangers wanted to lock down their talent during this period of uncertainty. Who knows what happens next season and the season thereafter? What we do know is that all four of these players have team-friendly deals for the next two seasons.
Thirdly, and most importantly, in what we can take out of all of this, is the fact that Rangers management believe in this new core/era of Rangers. Rather than looking elsewhere, the Rangers are investing in their own talent. The Rangers front office feels good about the roster they've put together. Needless to say, I'm in full agreement!
Rather than going down the little used offer-sheet route or trying to make a major splash in free agency as they usually do, the Rangers front office are telling us that they feel they have the right soldiers for the battles yet to come. Sure, Alexis Lafreniere is a nice new weapon, but outside of ping-pong ball luck, the Rangers are pretty much going into next season with what they had last year, sans the three moves (Lundqvist buy-out & trades of Staal and Andersson) that are the textbook definition of "addition by subtraction."
With the off-season pretty much complete, at least from a Rangers roster end of things, Jeff Gorton & the front office are telling us that they are banking on growth and improvement during next season. The Rangers are essentially taking a leap of faith in their own guys and really, I don't see how anyone can have a problem with that. I know some fans may point out the debacle against Carolina, but it was arguable if the Rangers would've ever made the playoffs in the first place, had this pandemic never existed. (And let's not forget the injuries Shestyorkin & DeAngelo had either.)
If anything, the qualifying playoff round loss against Carolina, in hindsight, was a godsend for the Rangers, as it allowed the Rangers to land the number 1 overall pick of the 2020 NHL Draft. What can't be forgotten, is if moving forward, if all things work out swimmingly, the Rangers just landed an elite talent in Alexis Lafreniere. Even better for the Rangers, the team will retain Lafreniere for cheap, during these first three years of Lafreniere's deal. I'll save you from another one of my rants on the salary cap here!
In tonight's blog, aside from giving you all the breakdown on the new Strome & Lemieux deals, I'll have an update on the never-ending story of Tony DeAngelo & the losers on social media who have a hard-on for him. As I write these words, I'm sure somewhere in the "Twitterverse", someone is upset that DeAngelo left the toilet seat up in his own home. It really never ends. In addition, I have news on another Tony, in a Tony/Anthony Bitetto.
In the main event of tonight's blog, I'll give you the complete details of the Rangers current depth chart, as we approach the 2021 season. I won't do the "PROJECTED LINEZ" stuff here, because one, I hate that stuff and two, I don't even think NYR head coach David Quinn knows what he's doing yet. We can speculate on that stuff, but in my opinion, it's way too early for that. Plus, who knows what the Rangers will do with Lafreniere? Will the Rangers put Lafreniere with either the Mika or Panarin lines? Will Lafreniere get his own line? Or will the Rangers try to superman a line with all three of those players? I have no clue, and as said, I don't think the Rangers do either. We can only learn about line combinations and defensive pairings through practice, training camp & the preseason.
Lastly, and as usual here, before rocking and rolling tonight, the PLUGS segment! Here are my last few blogs in case you missed them:
---
---
---
---
---
Let's recap all the news in chronological order.
On Thursday, November 5th, Ryan Strome and the Rangers came to terms on a two-year deal, worth $9M overall. As a result, Strome will become a $4.5M salary cap hit for the Rangers, which truth be told, is not bad at all. Like all the other deals the Rangers (and other teams) have made during these times, the contract is back-loaded in real money.
In the 2021 season, Strome will be paid $4M. In the 2021-2022 season, Strome will be paid $5M.
My initial thoughts on this signing, thoughts that I still have, are here:
Welcome back (well he never left) @strome18 !!! Win for #NYR , win for a new parent and a win for the Rangers fan base. NYR retains a leader and strong talent. Now let's re-sign Lemieux and crack some beers. pic.twitter.com/NnGXeA4Of9

— BlueCollarBlueShirts (@NYCTheMiC) November 5, 2020
As I always like to do whenever the Rangers make news, let's take a look at what they are saying officially.
---
The following comes from https://www.nhl.com/rangers/news/rangers-agree-to-terms-with-ryan-strome/c-319586854?tid=283108314:
The New York Rangers announced today that the team has agreed to terms with restricted free agent forward Ryan Strome.

Strome, 27, skated in 70 games with the Rangers this past season, registering 18 goals and 41 assists for 59 points, along with a plus-21 rating and 48 penalty minutes. He established career-highs in several categories in 2019-20, including assists, points, and average ice time (19:35), and he was one goal away from tying his career-high. Strome was also one of only four Rangers who skated in each of the team's 70 regular season games this past season. He tied for 27th in the NHL in assists and tied for 18th in the NHL in primary assists (27) in 2019-20; he also tied for sixth among NHL centers in primary assists and tied for 12th among NHL centers in assists during the season. Strome was one of only two NHL forwards who logged at least 200:00 of power play ice time and at least 150:00 of shorthanded ice time this past season (along with Ryan O'Reilly), and he was one of three NHL centers who registered 59 or more points and a plus-20 rating or better during the season (along with Brayden Point and Sean Couturier). Strome also tallied two assists in three games during the 2020 Stanley Cup Qualifiers.

The 6-1, 193-pounder has skated in 491 career NHL games over parts of seven seasons (2013-14 – 2019-20) with the NY Islanders, Edmonton, and the Rangers, registering 95 goals and 159 assists for 254 points, along with a plus-19 rating and 268 penalty minutes. Strome has also skated in 133 games with the Rangers over parts of two seasons (2018-19 and 2019-20), recording 36 goals and 56 assists for 92 points, along with a plus-19 rating and 98 penalty minutes. Since he was acquired by the Rangers from Edmonton on November 16, 2018, he is the only player who has skated in each of the Blueshirts' 133 regular season games, and he ranks third on the team in goals and points over the span. Strome has also tallied 10 points (three goals, seven assists) in 18 career playoff games.

The Mississauga, Ontario native was originally selected by the NY Islanders in the first round, fifth overall, of the 2011 NHL Entry Draft.

---
Prior to both the Strome & Lemieux re-signings, on this site, I have talked a bountiful about both players. I really don't have much else to say here, except that I'm happy that this deal is finally done. The Rangers needed Strome, because as I've been saying all along – who else was out there that is better? Plus, as I just said last blog, Strome brings a ton of intangibles along with him, as he's well respected in the locker room, great for team chemistry and is thriving here.
I know what the Strome critics say – "RIAN STROAM ONLEE PLAYZ GOOD BCUZ HE PLAYZ WITH PANERAN!" While there is truth in the fact that Strome had a career year centering a line with Artemi Panarin on it, what's lost by those critics, is that STROME SHOULD BE HAVING CAREER YEARS BY PLAYING WITH PANARIN! After all, isn't that why the Rangers gave Panarin all that bread, pun intended, when they signed him in the first place? Panarin is supposed to make his teammates better, JUST LIKE EVERY OTHER SUPERSTAR IN THE LEAGUE DOES!
And as I've also been saying – Panarin never had a year like the one he just had. Perhaps Strome was the missing piece!
The fact of the matter is that not every player excels by playing with superstars, for one reason or the other. Strome did. What also can't be lost here either, is that Strome came into this league with high hopes. He played for two dead-end franchises, two franchises that were never true playoff contenders, in both the Islanders and the Oilers. While yes, playing with Panarin helps Strome immensely, Strome is also entering the prime of his career. He's putting it all together. For Islander and Oiler fans, they might not be happy, but for us Ranger fans, we should be ecstatic about Strome's progression.
Here's what Strome had to say after re-signing with NYR:
Very happy to back for 2 more years! No place I'd rather play than in front of our great fans at MSG. Thanks for the kind words…LGR!! @NYRangers

— Ryan Strome (@strome18) November 6, 2020
---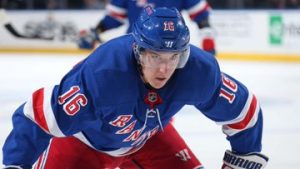 As fans, we should all be ingrained to root for the front of the jersey, and not the back of it. Players come and go, but the team will always be here. That said, how can you not root for the players and the humans wearing those jerseys too? Ryan Strome is one of the good guys, so at least for me, I'm happy to see him get paid and remain with a team that he wants to play for.
While the Derrick Brassard for Mika Zibanejad deal will always be the best trade that Jeff Gorton ever made as GM of NYR, the Ryan Spooner for Ryan Strome deal still remains as the second best trade, that Gorton ever made on behalf of the Rangers. Quite frankly, I guess you could argue that the Strome trade may have even been the best trade Gorton ever made, only if you consider that Brassard is still in the NHL and how fast Spooner flamed out of the NHL after the deal. (And yes, that would be the crux of your argument, especially after the season Zibanejad just had!)
Ryan Strome, in his short tenure in New York, has already become one of the team leaders. He's the guy in the post-game interviews. He's one of the guys the media flocks to before games. With Lundqvist gone, a Lundqvist who was always sought out by the media, expect Strome's role to continue to grow with the Rangers.
All the best to Ryan Strome.
Let's now get into Lemieux.
---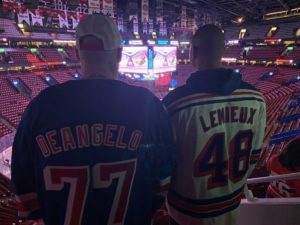 When the Rangers re-signed Strome on Thursday, as mentioned above, I said this: "Now let's re-sign Lemieux and crack some beers." Well let me heed my own advice:
Prior to Lemieux's arbitration case with the Rangers, reporter Elliotte Friedman broke the news – Brendan Lemieux had re-signed with the Rangers. (And this is example #76786896676789 of a Canadian reporter breaking real Rangers news before any of the Ranger beat writers. Funny how that always happens!)
In another "let's meet in the middle deal", Lemieux signed a two-year deal with the Rangers, worth $3.1M overall. Salary cap-wise, Lemieux will be a $1,550,000 hit for the Rangers, in both the 2021 and 2021-2022 seasons. And again, like nearly everyone else, the contract is back-loaded in real money, as Lemieux will earn $1,450,000 in the first year of his deal and $1,650,000 in the second year of his deal.
Just like the Strome deal, I think this is another win-win deal for both Lemieux & the Rangers. Like most arbitration cases go, the team low-balled the player, the player asked for money that no team would pay him and before it could get ugly, the two sides came to a fair accord. With an AAV of $1,550,000, Lemieux is actually getting $50,000 more than the $1.5M half-way figure, had the two sides gone to arbitration.
Here's what the Rangers had to say about the signing, courtesy of https://www.nhl.com/rangers/news/rangers-agree-to-terms-with-brendan-lemieux/c-319587468?tid=283108314:
The New York Rangers announced today that the team has agreed to terms with restricted free agent forward Brendan Lemieux.

Lemieux, 24, skated in 59 games with the Rangers this past season, registering six goals and 12 assists for 18 points, along with 111 penalty minutes. He established career-highs in several categories in 2019-20, including assists, points, penalty minutes, and hits (164). Lemieux ranked second in the NHL in penalty minutes and tied for fifth in the league in major penalties (five) this past season. In addition, he ranked third in the NHL (min. 30 games played) in penalties drawn per 60 minutes of ice time (2.53) and ranked seventh in the NHL in penalties drawn (32) in 2019-20. Lemieux led the Rangers in penalties drawn and ranked second on the team (led team forwards) in hits this past season, and the Rangers posted a 12-3-1 record in games which he registered a point in 2019-20. He also skated in one game during the 2020 Stanley Cup Qualifiers.

The 6-1, 213-pounder has skated in 131 career NHL games over parts of three seasons (2017-18 – 2019-20) with Winnipeg and the Rangers, registering 19 goals and 17 assists for 36 points, along with 240 penalty minutes. Lemieux is one of two NHL players who have recorded at least 100 penalty minutes in each of the last two seasons (along with Evander Kane). He ranked second in the NHL (min. 20 games played) in minor penalties drawn per 60 minutes of ice time in 2018-19 (2.63), and he leads the NHL (min. 20 games played) in penalties drawn per 60 minutes of ice time since the start of the 2018-19 season (2.84). Lemieux has skated in 78 games with the Rangers over parts of two seasons (2018-19 and 2019-20), registering nine goals and 15 assists for 24 points, along with 155 penalty minutes.

The Denver, Colorado native was originally selected by Buffalo in the second round, 31st overall, of the 2014 NHL Entry Draft. Lemieux was acquired by the Rangers from Winnipeg on February 25, 2019.

---
I've said my piece on Lemieux during previous blogs, so I won't go into repeat mode here. All I'll say here, is that in short, the Rangers needed to retain Lemieux. Lemieux's role and style of play can't be replicated by anyone else on the team. While Lemieux takes a bunch of penalties (arguably, the NHL had it out for him last season. In fact, as I write these words I think Lemieux just got a game misconduct for breathing!) Lemieux draws a ton of penalties too, with only Panarin drawing more penalties for the Rangers last season. (Of note, Lemieux also didn't play a full schedule, due to a hand injury.)
I've always championed the theory that team chemistry is crucial for teams competing for the Stanley Cup. You just can't win if you don't get along with your co-workers.
Throughout Rangers history, starting all the way back in 1926, in the days of Frank Boucher & the Cook Brothers, to the more recent Blueshirt bonds, which featured guys like Mats Zuccarello, Derrick Brassard and Carl Hagelin, the Rangers have always been able to put together rosters featuring strong team chemistry, even if these bonds didn't always result in a Stanley Cup victory. (The Bread Line, as you know by now, if you're a regular reader of these blogs, did win two Cups, while the Zucc trio made a SCF appearance & won a Presidents' Trophy.)
During the last season, a recent trio, a "Blueshirt Band of Brothers" if you will, had emerged, in Ryan Strome, Brendan Lemieux and Tony DeAngelo. While these guys aren't living together or even living in the same complex as the two aforementioned trios did, you can see that these guys got close real quick. If you need audio evidence of this, just listen to the "Watch Your Tone" podcast, where DeAngelo has had his buddies on the show. (DeAngelo and Lemieux mentioned how they travel together to practice, while it's mentioned that Strome sits with these two on various plane rides.)
It was, and has been, my opinion that keeping this new Rangers core was the right course of action. Jeff Gorton did just that on Friday. Each of these three players bring something different to the ice and all three men excelled in their roles last season.
Of course, while Lemieux doesn't have the gaudy stats that DeAngelo & Strome have, no one can deny Lemieux's worth to this team, a worth that Lemieux displayed when he first got here two seasons ago, in the Kevin Hayes trade. Also worth mentioning here, is that in the best game of the Rangers bubble run, it was Game 3 of the series, a Game 3 where Lemieux made his return in. (Lemieux was suspended for the first two games of the series.)
As of this writing, Lemieux hasn't made a public comment about his return just yet, but based on what he's previously said, I'm sure he's happy to be back.
In closing on Strome and Lemieux here, the last two dominoes to fall for the Rangers this off-season, let me say here – "WELCOME BACK!" Now go win the Cup!
All the best to Brendan Lemieux.
And now, to tie in all the DeAngelo/Strome/Lemieux stuff, an update on Tony DeAngelo & a graphic from "Watch Your Tone".
---
In an update to the Tony DeAngelo Twitter story that I talked about last blog, Tony DeAngelo has reactivated his Twitter account after a 16 hour period of being down. That said, since reactivating his account, Tony DeAngelo hasn't said or tweeted anything out. Some are suggesting that the Rangers basically told Tony DeAngelo to "cool it", but that has not been confirmed. Either way, I feel for the guy. DeAngelo is kind of forced to self-censor himself a bit, just for having opinions like anyone else. Unfortunately, since his opinions aren't of the liberal variety, he's been turned into a pariah.
As mentioned last blog, whatever Tony DeAngelo does on social media is really a non-story. Unfortunately for him, because he doesn't wear a pink pussy hat and doesn't want to give up half his salary to taxes, he's become an easy target for the liberal lynch mob on social media.
Even worse, are the professional, as in "paid" reporters, who also fan the flames and urge people to attack DeAngelo. After all, remember Sean Hacknett, the reporter from WFAN who I proved to you guys last year was plagairizing Rick Carpiniello articles? This is also the same Sean Hacknett who had his press pass revoked from MSG. When I mentioned that fact on this site last year, Hacknett admitted that fact & that my expose was true. Well here's what Hackett was saying after DeAngelo's latest debacle on social media:
This isn't the first time, and it probably won't be the last time, where Sean Hacknett of WFAN libels and slanders Tony DeAngelo. Not for nothing, but with Hacknett openly calling DeAngelo a racist and a bigot, DeAngelo could potentially have a nice lawsuit here. It might be something worth exploring for DeAngelo, as he could use Hacknett as a precedent, in an attempt to shut up fellow cellar-dwellers. (I stopped reading Hacknett articles a long time ago, but if he's saying this stuff on the WFAN website, WFAN could be open to a slander lawsuit too. You just can't go around calling people "racist", just because they vote differently than you.)
Unless there is proof of Tony DeAngelo not hiring someone over race or doing some sort of physical assault over race, it's safe to say that Tony DeAngelo isn't what these losers accuse him of. It's just a shame that these disgusting cretins, including plagiarizing reporters like Hacknett himself, can openly state such horrid things about DeAngelo as fact, and to do so without consequence. It's even worse when Hacknett does it, because he's supposed to be an unbiased reporter. However, Hacknett allows his own personal political beliefs to take over in his assessment of DeAngelo. Hacknett is so extreme, that he even uses his own political beliefs to slander DeAngelo whenever Hacknett sees fit. If Hacknett was to go after John Vanbiesbrouck for racism, I could at least see and understand that.
While Hacknett is the worst of the lot, DeAngelo deactivating & reactivating his account got mainstream press, including in reports filed by both ESPN & the NY Post. Listen, I get that some things become stories during slow news days, but I just don't get why everyone is obsessed with what a hockey player writes on Twitter. I guess for the reporters from the NY Post, ESPN and for Hacknett himself, it's easier for them to attack a player they disagree with politically, rather than you know, talk about the crimes that Evander Kane committed. Just imagine if DeAngelo (or any Republican athlete) did what Kane did? Think you'd hear more about it? I think so!
Sadly, it's just a double standard. Someone like Lebron James can say whatever he wants about politics, but the second DeAngelo says something, the liberal lynch mob comes out with their pitchforks and drool. To keep this to hockey, you have the Hockey Diversity Alliance currently demanding a $100M ransom from a cash-strapped NHL during a pandemic. Not a peep from any of these reporters on that though!
Hopefully, although I don't see this ever happening, these crybaby fans who judge players solely based on politics, will go the way of the dodo bird. Until then, everyone has to accept that Tony DeAngelo is a Ranger, and a good one at that. The DeAngelo/Strome/Lemieux "Rat Pack" of Rangers are here and here to stay, at least for two more years. Let's get four more!
Speaking of DeAngelo, if you recall back to last off-season, I talked about how he was the first player to reach out to Adam Fox, the same Adam Fox that played the same position as DeAngelo. Despite Fox and DeAngelo playing the same position and competing for minutes (and let's not forget money/contract/cap hit implications either) DeAngelo was the first Ranger to reach out to Fox and welcome Fox to the team.
In a story reported by Newsday, it was mentioned casually, by new Ranger Anthony Bitetto, how Tony DeAngelo reached out to him immediately, upon signing with the Rangers. Ironically, and as talked about on past blogs, there's some chatter by the Rangers & DeAngelo himself, that DeAngelo could potentially shift to the left side of the defense next season. What position does Bitetto play? Left defense.
While of course, DeAngelo's status with the Rangers is on better ground today than it was last off-season; considering the fact the Rangers just invested nearly $10M into DeAngelo, it just goes to show you, poor or rich, his own spot guaranteed or in peril, it doesn't matter – Tony DeAngelo is a team first guy. That's why his teammates always rave about him.
And to answer my own critics, yes, perhaps I defend DeAngelo too much on this site. However, like other topics that I constantly push on this site, like my stuff on Frank Boucher or Emile Francis, who else will?
---
Of note, while on the topic of Anthony Bitetto, you can read his interview with Newsday's Colin Stephenson here: https://www.newsday.com/sports/hockey/rangers/anthony-bitetto-rangers-1.50055872
I enjoyed this interview. Kudos to Stephenson for doing something different, rather than talking about the same stuff everyone else talks about. Stephenson did a good job of presenting interesting factoids about Bitetto.
If there was any truly newsworthy item from the article/interview, it was this:
Bitetto, who idolized Brian Leetch, can't have the No. 2 he prefers because, of course, that number is retired. Instead, Bitetto will wear 22, last worn by Kevin Shattenkirk. There's also the question of whether he'll be called Anthony or Tony in the Rangers locker room, with DeAngelo already there.

"Tony D and Tony B,'' he said with a laugh. "I've already spoken to him about it.''
Hmmm. During the Lafreniere hysteria, I was hoping for Lafreniere to wear #22, just for my own selfish desires. As someone who owns a #22 Kevin Shattenkirk jersey, I was hoping for Lafreniere to take #22, just so I could go to Cosby's, rip off that Shattenkirk nameplate and replace it with a Lafreniere nameplate. As we all know by now, Lafreniere will be wearing #13, as opposed to his Team Canada #22.
Do I dare get a Bitetto nameplate? After all, due to the fact that he lives five minutes away from me, we do have mutual friends! (I will say, I've heard some of my friends from Island Park rave about Bitetto for years. Today, it seems that everyone from Island Park has some sort of tie to Bitetto! That said, I know the real ones. Hi Double G, Jack V. & Evan D.!)
Truth be told, I'll probably turn this #22 Shattenkirk jersey into a Nick Fotiu throwback!
In either event, as I've been saying all along ever since the Bitetto signing was official, all the best to him. I know he really wants it and it's a life-long dream come true for him. At the very least, I hope he gets to play one game as a Ranger. Call me sappy, call me sympathetic, but I find joy in seeing people happy. Who wants to be miserable all the time?
And now, speaking of Bitetto and the Rangers, with Strome & Lemieux finally re-signed, we now have our first true look at the Rangers roster going into the 2021 season. Let's take a look.
---
When it comes to the Rangers roster, before beginning, I want to mention that I already talked about the captain and alternate captain stuff on a prior blog. I won't rehash all of that here. You can read my most recent blog on that topic here: https://bluecollarblueshirts.com/101320/
For the purpose of this writing, I'll just say this one more time – I see Mika Zibanejad or Chris Kreider as the next captain of the Rangers. I have no problem with either one of them getting the "C". And as we all know, whomever gets the "C", the other player will remain with the "A" on their sweater.
As mentioned earlier in this blog, and as mentioned on past blogs, we can ascertain several things about this Rangers roster that JD and Jeff Gorton have put together. The NYR front-office is banking on continued growth and development from this new core of Rangers, Rangers that include guys like Tony DeAngelo, Ryan Strome, Brendan Lemieux, Alexandar Georgiev, Igor Shestyorkin, Kaapo Kakko, Pavel Buchnevich, Filip Chytil, Adam Fox, Ryan Lindgren, Brett Howden, Julien Gauthier and the debuting Alexis Lafreniere.
We also know that the Rangers did a lot of addition by subtraction this season, as they bid adieu to the former two longest tenured players on the team, in both Henrik Lundqvist & Marc Staal. The Rangers also cut their losses on Lias Andersson and said goodbye to one-and-done Rangers in Micheal Haley & Greg McKegg. And let's not forget how the Rangers let fan-favorite Jesper Fast walk to a division rival too.
In addition, and in what has become a theme, the Rangers really went all-in on North American players during this off-season, both during the draft and through free agency. Outside of their own restricted free-agents, when it comes to unrestricted free agents, the Rangers only signed North American players. (And as I said then and I'll say it again here to be fair, this could be pandemic related too.)
Veteran-wise, the Rangers will be relying on guys like Artemi Panarin, Mika Zibanejad, Jacob Trouba and to a lesser extent, Brendan Smith. (Don't make me talk about the Smith/Kakko "Driving Miss Daisy" stuff again!)
Of course, the biggest veteran the Rangers will be relying on next season, is the now longest tenured Ranger on the team, in a one #20, Christopher James Kreider.
I may have said this before (these blogs are usually 10,000+ words, so it's easy for me to forget if I made this point on this site or on social media!) but this remains true – left winger Chris Kreider is one lucky SOB. By re-signing with the Rangers, PRIOR to the pandemic, Chris Kreider really maximized his earnings. Had Kreider waited, the pandemic would've wreaked havoc on his potential earning power. Not only would Kreider have less suitors during this flat cap era of free agency, the Rangers would've never given him the money, the NMC and the term he got to boot. (7 years/$45.5M overall/$6.5M AAV.)
In something that doesn't change due to the pandemic, it's the fact that Kreider is now the senior man of the club. As someone who did get that fat contract, it's time for Chris Kreider to step up now. Poor play won't be excused any longer.
We know the same old story on Kreider, a story that's as old as Kreider's NHL tenure itself. Kreider shows us why he's one of the best power forwards in the league for a 2-3 game stretch, and then goes ghost for the next dozen games. Simply stated, while no one is expected to be lights out every night, as the schedule will grind and wear you down, Kreider can ill-afford to have these long periods of time where you have to check the box score to see if he even played.
For Chris Kreider, while the stocks of Zibanejad & Panarin may have surpassed his own stock, and with this youth movement chomping at the bit, for all intents and purposes, due to Kreider's tenure with the Rangers, this is now Kreider's team. Not only does Kreider's tenure with the Rangers dwarf all of his teammates, Kreider has that seven year contract signed too. Just think – if Kreider remains a Ranger throughout this new deal, he will have logged 16 seasons with the Rangers. That's an incredible tenure! (Including the 2011-2012 season, where Kreider made his debut during the postseason, playing all 18 games.)
I don't want to harp on Kreider's past failures. I'm here to hope that Kreider embraces this new chapter of this career, as the last link from an old era.
Without question, I do think you can expect regression as Kreider gets into year six and year seven of that contract. However, as I stated in my stuff about Ryan McDonagh & Tampa Bay, if the Rangers win one Cup in these next seven years, wouldn't this contract have been worth it? I'd say so. And I'm still of the opinion that the Rangers will win a Cup with this new core, and that includes a Rangers core led by Chris Kreider!
When the Rangers re-signed Chris Kreider, back in February of 2020, a February that now seems like a lifetime ago, no one knew that the Rangers would wind up drafting left winger Alexis Lafreniere, with the number 1 overall pick of the 2020 NHL Draft. Of course, while David Quinn could tinker with his wings and see if guys can go from LW to RW and vice-versa, when it comes to the left wing position, I think it's clear who the top three are. Those top three left wingers are Chris Kreider, Artemi Panarin and Alexis Lafreniere. Of the three, because Panarin is a right-hand shot, he could potentially play the right wing, but for the purpose of this blog, we'll go by the position he's currently at. (Panarin also played some RW last season, especially on the power-play.)
Away from these three players, the Rangers also have Philipp DiGuiseppe, who as of right now, looks to be the defacto fourth line left winger. Again, I'm not doing the proposed lines stuff, because who knows what happens from now until Opening Night. DQ could flip positions, the Rangers could promote from within, Brendan Smith could be traded for cap relief, etc. That said, of these four left wingers, I think it's safe to say that Di Giuseppe, if he's on the team on Opening Night, won't be playing more minutes than Kreider, Panarin or Lafreniere. In the event that does happen, and it's not because of an injury, then I'll join the FIRE DQ train with the rest of the Twidiots!
Where it gets interesting for Chris Kreider, is that he now has the crown jewel of the organization playing the same position as he does. Kreider went from being the top left winger on the team two years ago, to seeing perhaps the best free agency signing in Rangers history, in Artemi Panarin, playing the same position as him. Come 2021, Kreider will also have this historic Rangers pick playing the same position as him too. For the Rangers, it's a good problem to have. You can never have enough depth!
In a perfect world, between the big fish in Panarin, and the hopeful one day face of the franchise in Lafreniere, these two talents will motivate Kreider to be even better – as if $45.5M wasn't enough of an incentive!
If there's one thing when we talk about the Rangers skaters, it is that they are most deep at left wing. Who gets what minutes and who plays where is all up for debate. What can't be debated, is the talent that Kreider, Panarin and Lafreniere all bring into the mix.
As far as any other true left wingers in the organization right now, the Rangers have Timothy Gettinger signed for one more season. I don't see a scenario where Gettinger breaks in, due to the abundance of wingers the Rangers already have signed.
To close up a bit on this left winger topic, one way or the other, I think Chris Kreider will be a pivotal part of Ranger headlines next season. However, if he can have a season like Mika Zibanejad had last season, then the Rangers should cruise into the playoffs.
Speaking of Mika, let's take a look at him and his position, the center position, which arguably lacks the most depth of all the forward positions.
---
When it comes to the Rangers centermen of 2021, we all know that Mika Zibanejad tops the depth chart. After Zibanejad, the recently re-signed Ryan Strome is second. After that, it's a crap-shoot. As I said at the time, and as I said throughout last season, losing Kevin Hayes was a mistake – at least in my opinion. Rather than paying Lundqvist, it would've made more sense to invest in Hayes.
If you were to go by last season, Filip Chytil and Brett Howden would round out this list of Rangers centers. That said, Chytil did dabble at the wing a bit last season and it's not a clear-cut thing that he can be a premier center in this league. Howden's case is even sketchier, with my belief that he gets a ton of chances because of what the Rangers gave up to acquire him.
Aside from the returning Rangers, the Rangers signed Colin Blackwell this off-season for center depth. Kevin Rooney could be another candidate, should Chytil or Howden not work out. Of the Rangers centermen in Hartford, Morgan Barron may present the most upside, but he may be a year or two away. The Rangers also have hopes for Patrick Khodorenko, but like Barron, he might not contend for a year or two either.
Other centermen in Hartford include Patrick Newell, Justin Richards, Gabriel Fontaine & Johnny Brodzinski. However, this collection of talent seem to be bigger long-shots than Barron & Khodorenko.
In what's positive for the Rangers, is the fact that Mika Zibanejad is coming off a career season, a season that we all hope is replicated in 2021 and in seasons beyond. Ryan Strome has gelled in his role. The real x-factor here is Filip Chytil, a Filip Chytil who will get time to develop and grow his game with this team. Unlike the two previous seasons, I doubt you will see a stint in Hartford for Chytil in 2021.
We all know the same talking point – "you need to be able to roll out four lines to win a Stanley Cup." While the Rangers do have a lack of center depth, which means they have a shaky fourth line, it is also apparent, with some cap room & with the expiring contract of Brendan Smith, perhaps the Rangers can find some veteran presence, in an attempt to bolster their center corps, should the Rangers be a contender at the trade deadline. (Holy run-on sentence Batman!)
While the Rangers are deep at left wing, and not so deep at center, at the right wing position, the Rangers have a ton of options going into 2021.
---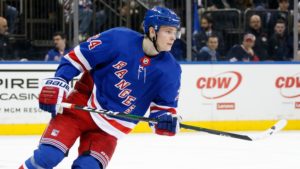 When it comes to the right wing position, Kaapo Kakko is the player the Rangers will have their eyes on the most. Perhaps the addition of Alexis Lafreniere will prevent a sophomore slump for Kakko. Then again, it's not like Kakko had a fantastic freshman year either, as Kakko wasn't even close to being the best rookie on his own team. (Fox was. Lindgren was better too. Ditto Shestyorkin, who won't officially be a rookie until 2021, providing he suffers no injuries.)
If there is anything to be positive about, regarding Kakko's rookie campaign, it's the fact that Kakko got better as the season went along. While it's tough to take anything good out of that miserable series with Carolina, it should be noted that Kakko was the most consistent, and arguably the best Ranger, of the lot.
It's funny, when I think of the Rangers going into 2021, despite all the hype that Kakko had coming into last season, he's kind of easy to forget about when you start rattling off the list of players on this current roster. When talking the 2021 Rangers, I think most fans would bring up Lafreniere, Panarin, Mika, Kreider, DeAngelo, Fox & CZAR IGOR, before getting to Kakko's name. This could be a good thing for Kakko, as he can fly under the radar a bit and perhaps continue his growth as a regular day NHLer.
Aside from Kakko, competing for top line right wing minutes in 2021 will be Pavel Buchnevich, a Buchnevich that becomes a RFA after this 2021 season. After many stop and go stints, 2021 will be the year for Buchnevich to either shit or get off the pot. Similar to Kreider a bit, Buchnevich is another player that is very streaky, featuring both good and bad streaks alike. Regardless, I think Kakko & Buchnevich are your 1-2 NYR RW punch in 2021.
Away from Kakko and Buchnevich, the Rangers will keep Lemieux as either a third or fourth line winger, depending on the match-up and how Lemieux is doing. Competing for those same minutes will be Julien Gauthier. This is where the Lafreniere stuff gets interesting, if you choose to look this deep.
Who knows what line Lafreniere will start at and who he will be paired with. Some will argue with a talent like Lafreniere, you should put him with Mika and/or Panarin, in order to jumpstart him. Some may say to take it slow. If you go the latter route, Lafreniere knows Gauthier and has played with him in the past.
As far as any other right wingers signed to the team, the aforementioned Kevin Rooney can log time here if needed. Of course, the one player that many fans are clamoring for is this guy:
In case you missed my previous writings, I'll say this one more time – the only way I see Kravtsov on the Rangers in 2021, is after Kravtsov's season in the KHL is complete. I don't see Kravtsov jumping to the Rangers, mid-KHL season. It just doesn't behoove either party, especially with Hartford not starting up, at the earliest, until 2/5/21. If Hartford is to play into the summer and should the Rangers be alive in playoff contention, once the KHL season is over, then I can see Kravtsov coming over. Either way, I don't think Kravtsov will call America home, the majority of the year, until at least the 2021-2022 season.
This being said, who knows where Kravtsov fits in right now? Are you bumping Gauthier? Do you trade Buchnevich? There's no way Kakko or Lemieux are being bumped or demoted to Hartford.
As it stands right now, there's no one ready to make the jump from Hartford to the main club. In Hartford, your right wingers are Ty Ronning (a name that many people are rooting for, due to his famous father), Austin Rueschhoff, Jacob "Uncle" Elmer, and Anthony Greco. It's hard to envision any of these guys suiting up for the big club, come 2021.
When it comes to the Rangers defense, similar to the left wing and right wing positions, there's obviously more depth on one side of the ice than the other.
---
When it comes to the Rangers blue line, the right side is obviously deeper than the left side. As it stands right now, going into 2021, the Rangers have the same RD as last season, with Jacob Trouba, Adam Fox & Tony DeAngelo. And again, as mentioned, JD & Gorton have talked about flipping Fox and/or DeAngelo to the left side. However, if we do see that flip, I don't think that will happen until the 2021-2022 season, unless the Rangers left side of the defense really falls apart in 2021.
The right side of the Rangers defense is something I've written about a lot during past blogs. In short, last season, Trouba was paid eight times as much as Fox and DeAngelo. Combined, Trouba was paid four times as much as his right side of the puck peers. In turn, Trouba was the least productive member of the right side of the defense. This can't be disputed.
If you're looking for an excuse, or an out for Trouba, it's this – he spent the bulk of the season playing with the dead weight known as Brady Skjei. Whenever Trouba was on the power-play, without Skjei, and after the trade of Skjei, Trouba seemed to improve and played better. That said, Adam Fox was a rookie, playing with a fellow rookie in Ryan Lindgren, while Tony DeAngelo was playing with a Marc Staal long past his prime.
I won't do my "greatest hits" here, but yeah, Fox & DeAngelo outplayed and outperformed Trouba at a significant level last season and for considerably less money. And save me the excuse about Trouba needing a year to adjust to his new surroundings. Fox adjusted just fine. Trouba's big name free agent signing peer, in Panarin, also adjusted fine. The "adjustment" excuse is just that – an excuse. It's not like Trouba joined the team mid-season. He was here from day one and was paid handsomely as well. Oh, and let's not forget Neal Pionk, who the Rangers traded for Trouba, and how he didn't need an "adjustment period" to get acclimated to the worst city in the NHL, (as voted by the NHL players) in Winnipeg.
It's up to Trouba to match the production of Fox and DeAngelo. It's not just an offensive stat thing either here. Trouba must become a shutdown defender, especially if he's going to get Top Two minutes. He must become a force to be reckoned with. He also needs to put those blasts from the point on net, rather than sending the puck to Timbuktu, whenever he lines up for a slapshot.
---
When it comes to depth, the left defenseman position is easily the weak point of this roster. This is why we're hearing scenarios of TDA and/or Fox being flipped to the left side. The Rangers may create a strong top four of defenseman, rather than being stacked at the right side and being weak at the left.
In a question that may produce more answers than "where in the world is Carmen Sandiego?", after Ryan Lindgren, who will be the Rangers two other LD on Opening Night? Fox? DeAngelo? Jack Johnson? Anthony Bitetto? K'Andre Miller? Libor Hajek? Tarmu Reunanen? Brandon Crawley? Darren Raddysh? Matthew Robertson? Yegor Rykov? Brendan Smith? The ghost of Ivan "Ching" Johnson?
Ryan Lindgren, barring injury, is your lock to be the number one LD for the NYR. After Lindgren, only training camp and preseason games will determine who will dress with him on Opening Night.
Purely speculating here, I would think that the Rangers would love if K'Andre Miller was ready to go. The Rangers are high on Miller and Miller was the one non-roster invite the Rangers brought into their training bubble during this past summer. With the contract Jack Johnson signed, I'm assuming that he is who the Rangers are eyeing to be the team's third left defenseman. That said, Anthony Bitetto could easily play into that spot as well. And then what do you do with Brendan Smith? Does he revert to the Rangers 7th D/13th F/healthy scratch or is he the incumbent of the second defensive pair?
If there's anything that's probable, I would rule the European players out for 2021, since they are already on loan and for cap & pandemic reasons, it makes no sense to bring them over. I would also think that Crawley, Robertson and Raddysh will remain in Hartford, should there be any Wolfpack games this season.
For anyone to tell you in concrete, that they know the three Rangers LD for Opening Night, well they will be lying to you. I don't even think the Rangers know this yet! What the Rangers do know is this – the goaltenders for the 2021 season!
---
I know I said I wouldn't give you line combinations or defensive pairings in this blog, but I'll give you this – your goaltenders for the 2021 season will feature Igor Shestyorkin as the starting goaltender and Alexandar Georgiev as the back-up goaltender. Need I say more?
The only thing I'll add here, is something I've said countless times already. Expect something like a 60/40 or 65/35 split between the two. If this season goes off without issue, the season will be condensed, meaning many back-to-back games, three games in five nights and four games in seven nights on the calendar. In a league that was becoming a two-goalie league even before the pandemic, teams will be leaning on their back-up goaltender more than ever before, come the 2021 season.
As far as the other goalies in the system, the Rangers have Keith Kinkaid signed, who is pretty much a goalie to expose during the 2021 Seattle expansion draft. Kinkaid is most likely the starting goaltender for the Wolfpack right now. The Rangers also have Tyler Wall signed, who may start his career in the ECHL, if there is an ECHL this season. The only other goalie in the system right now is Adam Huska, who is currently on loan, but he has made it clear that he will come to Hartford once Hartford opens for play.
---
All in all, I'm excited for next season to start. I really like this roster that's assembled. Sure, some fans will whine about the lack of centers and Jack Johnson, but no roster in the NHL is perfect. I believe in this young core (I feel like I've said the word "core" as much as that general did in that "Sopranos" episode where Tony tried to send AJ to military school) and I feel the Rangers also have a nice collection of veterans too. I've also put my faith in what Jeff Gorton is doing. The only thing left for me to do is sit back and crack that beer!
Before closing tonight's manifesto, some sad news.
---
"The Chief" Jim Neilson, a First Nations (Canada's equivalent of a U.S. Native American) player, who spent the bulk of his career as a defenseman of the New York Rangers, passed away on Friday. The best obituary that I saw for Neilson ran at NHL.com. You can read it here: https://www.nhl.com/news/jim-neilson-longtime-nhl-defenseman-dies-at-79/c-319588450
On social media, the Rangers posted the following:
Neilson joins Bob Nevin, as a prominent member of those Emile Francis Era of Ranger teams, to pass away this year. I'll say what I usually say at this time – it's a shame that the Rangers continue to ignore Emile Francis from their rafters. As these older men and players die off, Emile Francis is sniffing 100 years of age, yet the Rangers don't say a damn thing about him. Like Neilson, the Rangers will only mention his name after he passes.
Outside of a few DeLorean blogs, I can't profess to have ever seen Neilson play and I most certainly never saw him play live. In fact, when I think of the last name Neilson, and its place in Rangers history, the first name that comes to my mind is Roger Neilson.
I thought the obituary over on NHL.com was very well written and informative, especially since Jim Neilson, in those times and even to today, isn't as widely known as the other Rangers from that period. After all, in that era, most fans focused on the GAG line, Brad Park and Eddie Giacomin.
When you look at Neilson's Rangers tenure, he joined the Rangers in a dark time, where the team never made the playoffs. However, once Francis took over from Muzz Patrick, the Rangers became a perennial contender. Neilson would be part of all the heartbreak from that era, including the 1972 SCF loss to the Bruins.
Neilson was also one of the first Rangers the Rangers moved on from, in their eventual rebuild of that time, as Neilson was exposed and selected by the California Seals, during the 1974 Intraleague Draft. When it was all over, of the big name players of that era, only Rod Gilbert remained.
While Neilson never had the same fanfare that a Rod Gilbert or a Brad Park did, Neilson did have a strong allegiance of fans. Neilson was one of those fan-favorite types. While not exactly a Nick Fotiu, fans did rally behind Neilson and respected his game.
RIP JIM NEILSON and my condolences to his family, friends and fans.
---
If you haven't already, subscribe to this blog for the next update:
Moving forward, I think that's all for this off-season. The Rangers have their roster. Outside of podcast recaps, I don't envision much new news for the immediate future. It's book reviews and DeLorean blogs moving forward!
Enjoy the weekend. I know I will!
As always here, thanks for reading and…
LET'S GO RANGERS!
Sean McCaffrey
BULLSMC@aol.com
@NYCTHEMIC on Tweeter and on Parler
Follow the BlueCollarBlueShirts.com Facebook Group by clicking this link: https://www.facebook.com/groups/1564026407193056/