Greetings and salutations everyone and welcome to another blog here on BlueCollarBlueShirts.com. Anything new?
While most of us are following the U.S. Presidential Election results, results and talk that I'll only talk about tonight when covering the Tony DeAngelo story; over in Rangerstown, USA, as it stands right now, at the end of the week, the Rangers will be entering arbitration talks with both Ryan Strome and Brendan Lemieux. It should be stated here, that while last minute deals could be reached with each player, as of this writing, all signs are pointing towards arbitration.
In what's really been the top NYR story ever since the Rangers locked down Alexis Lafreniere and re-signed both Tony DeAngelo & Alexandar Georgiev; earlier this week, we finally found out what the Rangers are offering both Strome & Lemieux and what Strome & Lemieux are seeking, dollar-wise. I'll get into all of this in just a bit.
In other Rangers news, Tony DeAngelo, once again, is the talk of the town over the same tiresome subject – his social media account. I'll have more on this in tonight's blog as well.
Outside of arbitration talks and Tony DeAngelo, there's not much else going on in Rangerstown, USA. In the present, all we can do is sit back and await the start of the 2021 season, whenever that may be. In other words, this blog entry won't be as long as previous blogs on this site!
Before getting into everything, as usual – the PLUGS segment! Here are my last few blogs in case you missed them:
---
---
---
---
---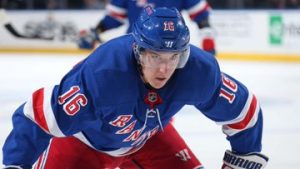 In an update to the Ryan Strome restricted free agency story/arbitration talks, on Tuesday, November 3rd, Elliotte Friedman reported that Strome is seeking a deal worth $5.7M annually, while the Rangers have put in a bid of $3.6M for Strome's services. For you math majors out there, that means the Rangers are offering over $2M less than what Strome is seeking.
As talked about on past blogs, Strome's case will be held in front of an arbitrator this Thursday, on 11/5. And again, as previously talked about, whatever number the arbitrator deems as fair, Strome has four days to make a decision, in the event the Rangers decline the number the arbitrator lands at. If the Rangers were to decline the arbitrator's number, Strome would become an unrestricted free agent for four days. If Strome can't find a suitor in that time, Strome could re-sign with the Rangers for their initial offer of $3.6M. (This is a rule to protect Strome, and other RFA's, during these times and because of the free agency market drying up.)

$4.65M is the half-way figure, should both sides agree to cave in equally. Obviously, the Rangers low-balled Strome here, offering Strome a $500,000 raise from what he got paid last season. ($3.1M.) Previously, during a recent zoom media call, both JD & Gorton said that Strome is due for a significant raise. $500,000, while an impressive financial figure, isn't that much of a raise, nor is it comparable to what other centers are getting for production similar and less than Strome's.
As far as Strome's ask of $5.7M, I can't envision him getting a number like that on the open market, especially not now. However, like most negotiations go, one party comes in low, the other party comes in high, and fingers crossed for the Rangers & Strome, they find compromise somewhere in the middle.
In a market that doesn't have many second line centers available (do you really want a return of Derrick Brassard, in the event the Rangers and Strome split?) Strome's worth is definitely higher than $3.6M a year. The issue from the Rangers point-of-view, as it has been this whole time, is if Strome is worth investing in long-term.
The Rangers have enough salary cap room to pay both Strome & Lemieux fairly. And if Jeff Gorton can find a way to move Brendan Smith, the Rangers would add even more cap room.
The bottom line, in regards to Strome, is that without question, he makes the Rangers better in 2021. Strome is a leader. He's beloved in that locker room. He's producing. He has great chemistry with his linemates. Outside of the "HE'S A PRODUCT OF PANARIN" stuff, there's no good reason for the Rangers to part ways with Strome, at least not for next season.
With a current market that lacks a true number one or number two center, the Rangers need Strome more than Strome needs the Rangers in 2021. Without Strome, the Rangers have Mika Zibanejad in the middle, and then a bunch of question marks. Is Filip Chytil ready for the 2C spot? And even if he is, are you really banking on Howden and other borderline NHLers for center depth?
The Rangers have put together a nice and exciting roster for 2021 thus far. Strome should be retained and be part of it.
Once we find out the final details of whatever Strome and the Rangers do, I'll be back with an update.
---
As noted on previous blogs on this site, of the Rangers "Big Four" RFA's of this off-season, (Georgiev, DeAngelo, Strome & Lemieux) I thought Lemieux would be the first domino to fall. Instead, he may very well be the last player the Rangers come to terms with, as Lemieux's arbitration date is set for this Friday, on November 6th.
After tweeting out news about Strome's arbitration case, a day later, on 11/4, reporter Elliotte Friedman tweeted out the following:
"NYR ask arbitrator for two-year deal in Brendan Lemieux's case at $950K & $1.075M. Player ask is $2M."
I was surprised to see that both Lemieux & NYR weren't close to terms here, as Lemieux is seeking double the money the Rangers are offering him. As talked about several blogs ago, recently, Brendan Lemieux, on the "Spittin' Chiclets" podcast, pretty much hinted that he had a done deal in hand. Instead, it looks like he will be going to arbitration, with both sides not being able to come terms, at least not yet. And again, when the Rangers had to negotiate with Georgiev, DeAngelo, Strome & Lemieux, the common consensus, my opinion included, was that Lemieux would've been the easiest to negotiate with, since his services will come cheaper than everyone else. And for what it's worth, Lemieux will be the least paid of this quartet, no matter what happens here.
I've been saying all along, that I think anywhere from $1.5M-$1.8M is fair for Lemieux. The Rangers need a player of his ability and the role he fills for their roster. I have no clue of what the talks have been like between the Rangers and Father Claude, who is his son's agent, but I wonder if the Rangers have offered Lemieux $1.5M or not? Is Lemieux haggling over $200,000-$300,000 or have the Rangers been firm with their offer, an offer that presents no raise from last season?
Claude Lemieux is no dummy and has been an agent for sometime. Perhaps he knows a team that will offer Lemieux more money on the open market, should the Rangers decline whatever number the arbitrator comes up with. Like Strome, I think & believe the Rangers will eventually come to terms with Lemieux. That said, if the Rangers walk and Lemieux can't find someone to pay him, returning to the Rangers for basically rookie money would have to burn his pride a bit.
Again, I have no way of knowing what Lemieux's mindset is like right now, but even if the arbitrator cuts it right down the middle, and comes up with a number of $1.5M or greater, I think it's a win-win for both parties.
Once a deal is done, I'll return here with all the details.
---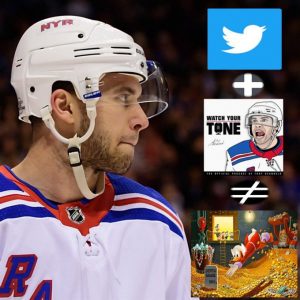 I know I sound like a broken record, but I feel like I have to say this again – there are two things I hate talking about on this site, and those two topics are politics and whatever Tony DeAngelo is doing on social media. Unfortunately, I'm forced to talk about both of those topics here tonight, as the name of Tony DeAngelo is once again making the news. And in the effort of full transparency here, I guess I owe some thanks to DeAngelo too, as his social media stuff and podcast have both provided me a ton of content for these blogs! (For the record, I much rather be recapping an episode of "Watch Your Tone", rather than covering this latest story.)
In case you've been living under a rock, Tony DeAngelo is the most active member of the Rangers on social media. Under his own personal account, Tony DeAngelo, among other topics, also tweets out his thoughts on politics, where TDA promotes Donald Trump daily. (TDA even posted a picture of himself in MAGA/KAG garb yesterday, as he shared a picture of himself after voting.)
I know I've gone down this path many times before, but it just always shocks me, how these liberal fans, who preach anti-bullying and will scream "#BELL LETS TALK" from the rooftops all day long, as they pretend to be advocates of positive mental health; but in their next breath, will spend an hour of their day harassing Tony DeAngelo and his family on social media. The hypocrisy from these people is as bright and strong as the sun during a hot summer day in Las Vegas. You see, according to these freaks, you can only be an online bully if someone isn't a liberal! The rationale of these mooks is just puzzling and mind-blowing.
Tony DeAngelo could cure cancer, end the corona virus and bring back loved ones from the dead, yet you would still have these vile cretins and nasty creatures on social media harassing DeAngelo & his family, just because DeAngelo has a different spin on politics than them. That's all what it boils down to.
The NYR lame-stream media, while they won't go to the lengths that these demented basement demons go to, will also talk about DeAngelo's politics disparagingly. Making things even funnier, is when a NYR lame-stream reporter, like a Vince Merogliano, pretty much has an orgasm whenever a Ranger tweets out a three letter abbreviation associated with burning, looting and murder. Oh, and let's not forget those "Tony DeAngelo will hate playing the LEFT side of the defense!" jokes, jokes that are amateur and poorly concocted. (Have some originality, MAN!)
Again, I know I've talked so much about Tony DeAngelo and what goes on with him on social media in the past. Once again, I'll plug this blog here, as I don't want to rehash everything and go into repeats: https://bluecollarblueshirts.com/82020/
I do want to make mention of this, before getting into the latest story. In the time since that mega blog linked above was posted, Tony DeAngelo re-signed with the Rangers, for a two-year deal worth $9.6M overall. ($4.8M AAV.) It was also reported that while the Rangers don't care about TDA's political affiliations or tweets, the Rangers did have a talking to with DeAngelo, in regards to DeAngelo challenging publicity seeking morons on social media to fist-fights.
And really, the Rangers had to tell DeAngelo to cool it there. While DeAngelo is allowed, like any one in this country, to discuss their views on politics, he also can't go around kicking the shit out of the intellectually challenged on social media. As I sit back and think about today's current DeAngelo story, just like the fan who actively baited & wanted to hurt DeAngelo's earnings & career, DeAngelo has to understand that people are trying to bait him and get him to fail. Simply put – DeAngelo, like a hungry fish seeing a juicy worm on the hook, needs to keep his mouth closed sometimes, and I say that as a fan of DeAngelo's.
All over the place, you have people suggesting that the corona virus and its eventual vaccine, is all politically motivated. I'm not here to discuss the merit of that argument, I'm just telling you that the argument is out there.
For whatever reason, Tony DeAngelo still interacts with his haters on social media, haters that were spawning like Gremlins during a rain storm, during Election Night on Tuesday and all the way into Wednesday afternoon. Unfortunately for DeAngelo, because he has an opinion that isn't popular with people who live with their parents, these people feel they have the right to harass him and his family, whenever they see fit. Of course, ignored by TDA's haters, is all the charity and philanthropy he's involved with, whether it be his work with the "Wounded Warriors Project", his benefit hockey games or even his donations to essential workers during these times. For these bozos, it's DEANGELO LIKES THE ORANGE MAN, HE IS BAD! WE MUST HARASS HIM NON-STOP. #BELLLETSTALK
For what it's worth, I also feel that some people just join in on the HATE DEANGELO parade, just because they want to gain acceptance and score brownie points with these trolls of DeAngelo's. I mean really, are people that sick, to the point that they are obsessed and need to harass TDA all day long over TDA's thoughts on politics? I feel that some of these losers are just in it for the "retweets" and "likes".
I don't hide my biases on this site. I like DeAngelo, the player. I like DeAngelo, the podcaster. From what I know of him and read, he seems like a fun guy to hang out with and shoot the shit with too. I can see why his teammates love being around him. And really, look at the other Rangers out there and DeAngelo's ex-teammates – they are always very complimentary of him. I truly feel that in a world dominated by liberal social media, a liberal social media that is so full of itself, that the heads of both Facebook & Twitter think they are above the President, thus censoring his messages on their platforms, that Tony DeAngelo is a victim.
Think about it. It would truly be easy for DeAngelo, like the majority of the NHL players, GM's, coaches and owners, that are all pro-Trump/Republican, to keep his mouth shut. However, it's just not in DeAngelo's DNA. For better or for worse, DeAngelo can't control himself and will sometimes find himself in hot water on social media. If there's anything truly SAD about this, it's that in 9/10 cases, it's because DeAngelo has a thought on politics. Just like a common Joe, or a Josephine, for you female readers, shouldn't DeAngelo be allowed to express his thoughts on politics, just like everyone else? Just because he's a hockey player, does that mean DeAngelo should remain silent? Unfortunately, that's what the world has come to, especially in this era of GOTCHA/Cancel Culture. As a society, this stuff is all terrible because it really kills the idea of civilized debate and the exchange of varying opinions.
On the afternoon of Wednesday, November 4th, Tony DeAngelo's Twitter account was deactivated. It's being suggested that DeAngelo deactivated the account himself, as opposed to getting a "permaban" by Twitter themselves. Why did DeAngelo's account go dark here? Easy – over politics and dealing with social media vultures.
I will say this, and this is coming from a DeAngelo fan, if you're going to be in the kitchen, sometimes you have to take the heat. I did laugh at the Tony "DeActivate" jokes. As noted, it seems that DeAngelo deactivated his own Twitter account, with Joe Biden cheating himself towards the Presidency of the United States. If there was something else that happened, I'm not aware of it. (In the past, "Ranger fans" have gone after DeAngelo & his family on social media, to the point where I once saw someone post DeAngelo's address on Twitter. Maybe something like that happened again. I don't know. I'm just saying that's something that may have happened.)
When it comes to DeAngelo, he does continue to play with the scumbags on social media, scumbags who relish in getting him in trouble. In other words, if a news story isn't going DeAngelo's way, all he's doing right now is giving these idiots more fire for their witch burning. Even other Ranger bloggers are taking immense joy and delight in this news – ALL BECAUSE DEANGELO HAS A DIFFERENT OPINION ON POLITICS THAN THEM. I'll never get this line of thinking. I don't care who any of these Rangers vote for or what religion they believe in, as long as they can help the Rangers win. Judging players based on political affiliations is just sickening to me.
And really, for the people who spend all day going after DeAngelo on Twitter, doesn't it ever get exhausting? At least I can understand people being upset about the Aho play from the playoffs, even if these losers omit the fact that DeAngelo was hurt & that Aho is one of the better players in the league. At least that's a hockey take. To get on a player over politics, that just seems like a waste of time to me.
Usually, during the Wednesday night blog here on this site, I have a recap of the "Watch Your Tone" podcast for you. There was no new episode this week, with my belief being that the guys were watching the election coverage on Tuesday and didn't want to be bothered with recording a new episode. For as good as WYT can be, as mentioned in my recaps, sometimes Ron The Gambler looks bored out of his mind. In addition, while the podcast does look to drop new episodes on Wednesdays, there are weeks where the podcast takes off for one reason or the other.
In my opinion, the WYT podcast has gotten better over the weeks, as the guys find their groove and show us their individual personalities. Unfortunately, for DeAngelo, perhaps recording a new podcast on Tuesday night would've been a better use of his time (he gets ad money from the podcast) than dealing with a bunch of losers on Twitter about the election.
At the end of the day, while this is a story for now, it's really a story for a slow news day. After all, gun to my head and channeling my inner "Ron the Gambler" here, I would bet cash money that DeAngelo will be back on Twitter eventually.
Take this how you want, because I know who I am, but perhaps DeAngelo is the stereotypical "hot-headed" Italian, meaning that when he gets fired up, he gets a really nasty temper. After all, DeAngelo and his buddies on WTY have admitted as much. It's that ability to get motivated and fired-up that has led to DeAngelo's success as an NHLer. (And to be fair here, especially when using the word "stereotypical", a no-no word in 2020, I'm of Irish descent and I'm currently enjoying some whisky while writing this blog. It goes well with my potatoes!)
This election has been unlike any other, with corruption, fraud and heated feelings coming from all parts of the country. It's easy to get caught up in it. I have made my opinions known on this site – I'm a Trump guy. (And for the record, I also voted for Obama twice, as I didn't like McCain because of his anti-UFC stuff and I didn't like Romney because of his anti-union and pro-magic underwear stuff!)
That said, had Biden won this election cleanly, while it wouldn't have been what I wanted, I'd still support him as an American. And even if Biden does win this thing, by hook and by crook, by February 2021, I'll be forced to support him regardless. I won't be tearing the guy down and wanting him impeached for the next four years. I just won't vote for him in 2024! In other words, unlike the other side, if my guy loses here, I won't be pillaging the streets. I'll accept it and move on.
I'm already talking too much on politics here, so I'll close with this – no matter who wins this election, America seems as divided as ever. Need proof? Just turn on one of the 6767896 TV channels or internet streams covering this election. It would've been best if either Trump or Biden won in a landslide, just so there could be no excuses or fighting.
Let's get into a lighter topic and wrap this up.
---
When it comes to the wide world of video games, the only games I play are whenever there is a new "Grand Theft Auto" game, and the latest EA Sports titles featuring the UFC, NHL & the NFL. ("Madden".) I used to do that "Call of Duty" shit too, but it was always more fun for me to play with my friends, rather than to play online with strangers. Plus, I suck at the game, and my temper would flare up like Tony DeAngelo's. No joke, I'd spawn somewhere and within seconds, some 12 year old kid was taunting me after killing me for the 78678967867896th time!
Included in the new version of the EA NHL game, "NHL 21", is a game called "NHL 94 Rewind". It's pretty much an updated tweak of the old "NHL 94" game from the Sega Genesis days, with players from the 2019-2020 roster replacing the guys from the 1993-1994 NHL roster. Nostalgia is king these days, so like most people my age who grew up with video games their whole life, I was excited to play this game. However, after playing it for 2-3 hours, I was left with this question – "was this game always this hard?"
As a casual gamer, who mainly plays sports titles, you can only play "NHL 94 Rewind" against the computer or against a friend at your home. (Playing with a real life human in your own home is now called "Couch Play". Ha!) In other words, you can't play "NHL 94 Rewind" online against friends, which kind of sucks, considering this pandemic we're in.
Playing "NHL 94 Rewind" was fun, but I found the replay value waning, as I continued to get dominated by the computer every game. There are no game play settings, meaning no "easy" or "rookie" mode, like you have with the Playstation 4 or X-BOX EA Sports NHL games.
As a kid, I played "NHL 94" and "NHL 95" with my brother and friends all the time. I also played against the computer. I never remembered those games being that hard, but as I played "NHL 94 Rewind", I found it impossible to score goals. The old wrap-around and one timer tricks are null and void in this game. Defensively, the controls in "NHL 94 Rewind" are extremely clunky too, as whenever I went to hit or check someone, I either missed the guy by a mile or was called for a penalty. However, for the computer, they had no problem stopping Panarin and Zibanejad, whenever I came close to sniffing the opponent's blue line!
While I'm not the best EA Sports NHL HUT mode player (I'm not spending hundreds of dollars for a stacked team like others do) at least I have a winning percentage of near .500. In "NHL 94 Rewind", I was lucky to win one of the five games I played, before getting frustrated and saying "Father Fink this, what's on Netflix?"
In a world where video games and their systems are known for automatic patches/fixes, I hope "NHL 94 Rewind" can add an easy mode and an online mode. Without it, I doubt I'll play much of the game again. I'm interested to hear what other video gamers think about this game, especially from people around my age group, who grew up with the old "NHL 94" game.
In closing, after playing "NHL 94 Rewind", I was left with this thought – bring back "BLADES OF STEEL" and "NES HOCKEY!"
---
On Wednesday night, "The Blueshirt Underground Show" filled up time, in this period of slow news, with a new episode. For co-hosts Eddie & Jim, who have been doing this show for something like 11 years now, their chemistry is always apparent and it's easy for them to banter back & forth while creating entertaining content, even when there's not much going on. You can listen/watch their latest episode here:
If you haven't already, subscribe to this blog for the next update:
---
Moving forward on this site, I'll be back once we know what's up with Strome & Lemieux. After that, more DeLorean and Book Review blogs.
As always here, thanks for reading and…
LET'S GO RANGERS!
Sean McCaffrey
BULLSMC@aol.com
@NYCTHEMIC on Tweeter and on Parler
Follow the BlueCollarBlueShirts.com Facebook Group by clicking this link: https://www.facebook.com/groups/1564026407193056/