Greetings and salutations everyone and welcome to another blog here on BlueCollarBlueShirts.com. Let me start off tonight's blog by saying this – it's the weekend, I'm taking my time writing this and we are going super-long tonight! I'd never break these manifestos up for cheap clicks! Read at your own pace!
The big topic heading into this weekend is this – will the NHL start their 2021 season on their targeted date of 1/1/2021?
I'll get into the above question, and in detail, as we move along tonight, but if you were to poll NHL fans today, I think most fans would be of the opinion that the NHL will NOT start on 1/1/2021. Previously, I have talked about this topic and topics related to this on past blogs. However, this topic continues to heat up, as we're now six weeks away from that 1/1/21 target date.
Of course, like any other business, MONEY is the issue here. Current league finances are preventing the NHL from announcing concrete plans for the 2021 season. And as I'll get into, in the never-ending battle between leagues and their unions and millionaires vs billionaires, it's tough to fault either party in these recent talks, as the uncertainty of this pandemic is unprecedented. To me, this is all a gray area. In the event the league doesn't start on 1/1/21, it's tough to finger-point or play the blame game. In other words, this isn't a lockout situation.
In a story that's somewhat a follow-up to the AHL delaying their start date, and related to the recent stuff going on with the NHL right now, on Wednesday, November 18th, the Maine Mariners, who are the Rangers ECHL affiliate, announced that they would not be taking part of the ECHL's 2021 season. As I'll soon get into, the Mariners are just planning to return for the 2021-2022 season. And really, at this point in time, who knows if the ECHL, as a whole, will even be able to have a season in 2021? There are just too many unknowns. More importantly, under current conditions, there are just too many financial hardships, should the ECHL have a 2021 season. I'm not here to be a "Debbie Downer" or anything, I'm just commenting on the world today.
Seriously, I'm not here to GLOOM and DOOM you all blog tonight. While I will cover all the latest delays and postponements in the hockey world for you tonight, elsewhere on this blog, I have a recap/review of the latest "Watch Your Tone" episode, as the podcast released their 17th episode on Friday, 11/20. I also have a few tidbits for you, regarding current Rangers making positive contributions to the community. In addition to all of this, I also have a feature for you regarding the 2014-2015 NY Rangers, in a "WHERE ARE THEY NOW?" segment, including information on how these ex-Blueshirts and their individual dismissals, led to the Rangers roster of today. (Spoiler alert: can anyone say Derrick Brassard for Mika Zibanejad?)
You know the steelo and credo of this site by now – 10,000 words, no ads and one click only. You also know that before I get into everything, I must bother you with my mandatory PLUGS segment! Say it with me, "in case you missed them or need a refresher, here are my most recent manifestos:"
---
---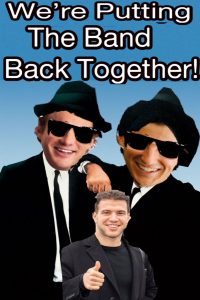 ---
---
---
We'll kick off tonight's blog with our first main event, the "Watch Your Tone" podcast recap.
For those looking to watch Episode #17 of "Watch Your Tone", click the play button below:
As usual, the episode kicks off with some of Frank Sinatra's "New York, New York". A good parody version of this song would include lyrics on Governor Cuomo and how I'm currently writing this recap on a Friday night from home, since all the bars by me are currently closed. No JOKER POKER tonight! Thankfully for yours truly, I have this blog to occupy all of this extra free time! I'm just glad that some of you enjoy these zany blogs, blogs that rival the length of the "Magna Carta"!
Tony DeAngelo welcomes us to the show and introduces us to his co-hosts for the week. DeAngelo mentions that Ron The Gambler is still missing in action. In fact, DeAngelo goes on to say that Ron The Gambler may have quit the show. That would be a shame if that's true, as Ron The Gambler's bits can be entertaining, even when he looks bored as hell!
I want to add this here too. I don't know how strong Sean The Producer is when it comes to video editing, but if Ron The Gambler is indeed gone, it would be funny to make a video, with a strong sappy song behind it, (think Adele or Enya here) with clips of Ron The Gambler to the music. Ron The Gambler on WYT – 2020-2020. 2020 claims another great one!
TDA then previews some of the topics for tonight's episode, and starts off the podcast by talking about the NBA Draft, a topic I know nothing about. (Once the NBA turned into a five vs five three-point contest, I checked out. Bring back the fundamentals and the true rivalries.)
TDA and the WYT crew talk about the NBA Draft and Obi-Wan Kenobi, the player the Knicks drafted. Apparently, there is some controversy about some NBA player (Anthony Edwards) who doesn't like to watch basketball. That makes two of us! TDA answers a question from Huff, and says that while at New York Rangers morning skates, the TV is usually tuned into the NHL Network. Brother Lou brings up, how as kids, Brother Lou would watch all the sports, while TDA was zoned in on hockey all the time.
Huff says that NBA Twitter is "ruthless." I don't think Huff needed to preface that comment with the word NBA. Huff says he likes to give players the benefit of the doubt, as people will look to twist around words/quotes all the time. Huff would be correct here.
The guys then talk about infamous rookie stories, as Huff tells the JaMarcus Russell story and how Russell lied about watching game film. (John Scott has a funny story about game film too, as he recently told a story on his "Droppin' The Gloves" podcast, about how the Sharks knew he wasn't watching any game film, as his team-issued iPad was only turned on for 30 minutes. And you thought "Big Tech", including Facebook, was bad!)
Brother Lou then brings up the money Alexis Lafreniere (number 1 pick of the NHL Draft) has guaranteed coming to him and the guaranteed money that Anthony Edwards (number 1 pick of the NBA draft) has coming to him. Needless to say, the figures are nowhere close. Before people have a chance to scream, "THE NBA GENERATES MORE REVENUE THAN THE NHL", Huff cuts that talk off at the legs, and says that everyone is aware of that fact.
The guys then bring up how college players can choose what team they want to sign with, if in the event that they wait long enough. The crew also talk about the bonuses that first round picks get in the NFL, NBA and the NHL. One thing not mentioned in all of this talk – how the NHLPA is the weakest players union in all of sports.
It's then brought up, how WOJ, the NBA reporter extraordinaire, was breaking information on draft picks and news before ESPN, which was the network airing the draft. Of note, and I only know this because I saw this in the NY Post, WOJ works for ESPN. However, he routinely scoops his own network, because there is competition among reporters of other outlets. Regardless, it does seem silly that a reporter has news/draft selection updates, before his own network, WHO PAID FOR THE RIGHTS TO AIR THIS THING, has it.
The WYT guys then talk about how they only knew 3-5 guys from the draft. That's 3-5 more guys than I know! TDA brings up how Lavar Ball's son was drafted and he only knew Ball's son because of all the noise Lavar Ball makes on a daily basis. Truth be told, while I don't know who Lavar Ball's son is, I do know the name of Lavar Ball and his BIG BALLER BUST brand.
The topic of conversation then goes to James Harden and how Harden turned down a $50M contract. That's 63% of an NHL's team payroll. Insanity. TDA brings up how the NBA is a player's league. That's for sure. And really, as a former NBA fan, I feel the NBA has been ruined because of that fact. There's just no balance and the players can determine what teams have a shot at a championship. If the top players don't want to play for a franchise, that franchise is buried.
I don't know much about James Harden, outside of the fact that once upon a time, OKC couldn't win a championship with Harden, Durant and Westbrook. TDA says Harden never wants help, as Harden wants to be the guy.
The guys continue to talk about the NBA and about random superstars around the league. This may interest others, but none of this stuff interests me. (And to be fair, I'm sure some people will enjoy this talk, but I'm mostly an NHL & MMA guy. The more variety of topics discussed can only increase viewership and interest for WYT.)
The guys then talk about a college basketball coach, named Gregg Marshall, who was fired for "verbal and physical abuse." The crew discuss the story and want to know what the physical abuse was. (This isn't a Jerry Sandusky thing.) The guys want to know if this coach whacked the back of the heads of his players or what. TDA brings up that he's never experienced anything like this in his 20 years of playing hockey. TDA goes to Huff for more on his experiences, since Huff played college hockey, while TDA never did. Huff said he never experienced physical abuse either.
Brother Lou brings up what could happen if a player ever hit a coach. I wonder if Brother Lou is familiar with the tale of Latrell Sprewell? Then again, most of this talk surrounds collegiate athletics and not professional sports, so I guess the Sprewell story may not apply here.
TDA says he hates verbal abuse from coaches. The guys say it's okay for a coach to scream "HUSTLE", but if a coach starts talking personally about a player, it's a different thing.
After talking basketball, we smoothly transition from one form of balls to another, as we get an ad read for MANSCAPED.
Up next, Watch Your Tone debuts their new fan question and answer segment. While WYT have done Q&A's before, this is the first time where WYT gave out a phone number, where fans could leave their questions on WYT's voicemail.
TDA says they aren't using any of the dumb voicemails and are only using genuine ones for this segment.
The first caller was perfect for this type of segment, as he wishes Brother Lou the best, after Brother Lou's recent appendix surgery. Of note here, let me say that I'm glad to see Brother Lou back too. Based on this episode, it looks like he's made a full recovery. That's good news. The caller then gets in some digs on Ron The Gambler, which had the crew cracking up:
The caller then wishes a successful return for Ron The Gambler and concludes his call. The WYT crew don't know who made the call, but they think it was an inside job. TDA says he hopes Ron The Gambler comes back. Huff says Ron The Gambler is too busy playing PGA Golf.
Our second call is up next, where the caller says he's a fan and asks TDA for his thoughts on the new NYR reverse retro jerseys. It's amazing how everyone has a degree from FIT whenever new NHL threads are released. TDA says he loves the new jerseys and how as a kid, while he wasn't a Ranger fan, he always liked the Liberty Head jerseys. TDA says the new Liberty Head jerseys could have more color, but overall, he loves them. Huff agrees with the caller. Brother Lou feels that as a whole, the NHL did a good job with these reverse retro jerseys.
In some great talk, the boys make fun of the crappy Islander jerseys. TDA feels that the majority of these NHL reverse retro jerseys look better than some of the regular jerseys.
The third caller has two questions. TDA is asked who does he model his game after. Huff quickly jumps in and says, "Aaron Huffnagle." That was pretty funny. TDA is also asked how does he communicate with non-English speaking teammates, like a Panarin. I thought that was a good question.
TDA says, while on the ice, speaking English is never an issue. TDA brings up how Buchnevich's English speaking skills are improving. TDA says Panarin's English is improving too. TDA says as you play, you form bonds and in turn, it's easier to communicate, no matter what the language barrier is.
TDA says he never really modeled his game after anyone. TDA mentions that he grew up as a big fan of Chris Pronger, but his game is a complete 180 from his. TDA also brings up that he was a huge fan of Erik Karlsson too. TDA also talks about being star-struck in the early stages of his career. TDA tells a funny story from his rookie year, while playing with Arizona, how Pittsburgh Penguins coach Mike Sullivan would always put Crosby & Malkin on the ice against TDA & his partner. TDA said his father was in the crowd that night and there wasn't much to write home about!
Of note, TDA & crew enjoyed Will's call.
Our last caller of the episode asks TDA if he'd rather fight a bear or Chara. Huff laughs at the ridiculousness of the question. Brother Lou says he would rather fight Ted the bear from the movie "Ted". TDA says yes, he'd rather fight Chara than a bear. This then spitballs into talk about Lou DeAngelo's elementary school career and how he missed a great NHL game full of fights, because of a grade that wasn't an "A".
While we all know that the DeAngelo's are Italian, when I heard Brother Lou's story, this meme came to mind:
From here, Huff talks about a fighting story from a game he saw. TDA then promises to bring this Q&A voicemail segment back next episode.
Up next is some UFC talk. Brother Lou talks about the upcoming McGregor vs Poirier fight, which takes place on 1/23/21, from Fight Island. Brother Lou believes if McGregor wins, that Khabib will come out of retirement, despite Khabib saying he's 100% done. (And really, Khabib has nothing to prove, as he already beat McGregor handily already.)
TDA then brings up the Robinson Cano suspension story, and how because of steroids, Cano just cost himself $24M. I've said this a million times – Cano's career tail-spinned the second he left the Yankees for the money. Huff gives a little credit to the MLB, bringing up how MLB were still testing guys for steroids during the pandemic.
TDA brings up a topic I dedicated a blog to six years ago, talking about NY fans and their allegiances, saying how the grouping is mostly Yankees/Giants/Rangers & Mets/Jets/Islanders. TDA says with the bankroll new Mets owner Steve Cohen has, that Cohen might just buy out Cano and move on.
TDA brings up a tragedy from a local player in his community. TDA says the kid is now paralyzed from the waist down, after suffering a hit. (Not malicious or dirty.) TDA says the links to donate to this kid's hospital bills are on his and WYT's social media pages.
In the final segment of the show, we go to the NFL Locks of the Week discussion. TDA is taking the Bengals over the Redskins. Brother Lou is taking the Titans over the Ravens. Huff is taking the Saints over the Falcons. I'm surprised no one is taking the Chargers over the classless Jets. Of note, these guys were talking about Jameis Winston being the starting QB of the Saints, which isn't the case, as Taysom Hill be under center for that game. (And even better for fantasy football players, you can start Hill as a TE in your fantasy line-ups.)
As the guys close the show, TDA says he won't be on the show next week, as he is getting his wisdom teeth taken out. TDA says Huff & Lou will man the dials next week. Huff says to edit that out, with the thinking that if there's no Tony DeAngelo, there will be no downloads. There will at least be one, because I'll tune in. After all, what else is there to do these days?
The guys then take some shots at politicians demanding people to limit their Thanksgiving Dinner guests and that takes us to the end of the episode.
---
All in all, this was an entertaining episode of "Watch Your Tone", but not one of the better ones. It wasn't bad or anything, but with not much to talk about, it's tough to call this one of the Top Five episodes of this podcast's run. In addition, and IN MY OPINION ONLY, as I do not care about basketball, the first 20 or so minutes were pretty much skippable. Again, others may enjoy the NBA stuff. Truthfully, it's good for the podcast to talk about a wide array of topics, in an attempt to gain more viewers/listeners. That said, the NBA stuff just isn't for me.
If anything, I was hoping to hear DeAngelo's thoughts on the NHL trying to renegotiate the current CBA. Then again, maybe that's a no-no topic. Perhaps Huff & Brother Lou can talk about that next week, now knowing that TDA won't be around for episode 18.
At the end of the day, with most of us cooped up in our homes, this was a fun distraction for a Friday night.
Continuing the theme of Rangers defensemen, let's now talk about two of DeAngelo's NYR peers of the blue line.
---
On November 15th, Adam Fox tweeted out the following:
$4,000,000+ going directly to groundbreaking research for ALS. Thank you to everyone who has donated over the past 2 years. Every dollar helps find a cure for this disease. Visit https://t.co/fj3T03CjXA to learn more or click here to donate https://t.co/N3ivi4ytZg #TackleALS pic.twitter.com/0bWDru3E8Z

— Adam Fox (@foxyclean) November 15, 2020
While this isn't a major story or anything like that, it's nice to see Adam Fox finding a cause and becoming an advocate of that said cause. Like another Rangers Adam, in Saint Adam Graves, it's always great to see a Ranger using his fame for the common good of the world/society.
Another Rangers defenseman, in Jacob Trouba, was also in the news, and in a positive way:
With hockey uncharacteristically in an off-season right now, the Rangers (and other teams) aren't idle and twiddling their thumbs. As reported by the Rangers social media accounts, Jacob Trouba has taken time out to make Zoom calls with sick children. While the Rangers, as a hockey team, may be on pause right now, it's nice to see that the Rangers, as individuals, are continuing their hard work with the Garden of Dreams. Kudos to Trouba for enriching the lives of sick kids during these dark times. Hopefully, one day in the future, Trouba can meet these kids face-to-face – at a game inside of Madison Square Garden.
I bring these two stories to you, because far too often, these stories get buried. If you have any positive stories of Rangers helping the community out right now, feel free to share them with me.
Switching gears now, let's talk about all the latest drama regarding the NHL and their target date. However, before getting to those rumors and speculation, let's talk about what we know for a fact – the cancellation of the 2020-2021 season by the Maine Mariners.
---
The following comes from https://marinersofmaine.com/news/echl-north-division-elects-suspension-of-play-mariners-issue-statement/ :
PORTLAND, ME – November 18, 2020 – In light of COVID-19's continued impact across the North East region, the ECHL announced Wednesday that each of the six teams in the North Division – Adirondack Thunder, Brampton Beast, Maine Mariners, Newfoundland Growlers, Reading Royals and Worcester Railers – will be suspending the 2020-2021 ECHL season under the league's policy for COVID-19. All teams are set to return in the 2021-2022 ECHL season.

"As we continue to navigate the continually changing regulations across North America, we recognize the difficult nature of this decision," said ECHL Commissioner Ryan Crelin. "While some of our teams' host cities have allowed upcoming plans to include fans inside arenas, we unfortunately do not see the same path for these highly-affected areas in the North East."

As announced today, the six ECHL teams in the North Division, including the Maine Mariners, have elected a suspension of play for the 2020-2021 ECHL Season under the League's policy for COVID-19. The Mariners will return to play in the 2021-2022 ECHL Season.

"We are saddened to have had to make this decision with our fellow division teams," said VP of Operations for the Maine Mariners, Danny Briere.

"With the uncertainties surrounding COVID-19, the increasing rates in our region, and after consulting with local officials, we did not see a clear path toward hosting fans at Mariners games. We want to thank our fans for their passion and loyalty as we continue to navigate returning to the ice. The future for this franchise is bright, and we are already making exciting plans for the 2021-22 season."

Under the terms of the ECHL/PHPA Collective Bargaining Agreement, all players from the Adirondack Thunder, Brampton Beast, Maine Mariners, Newfoundland Growlers, Reading Royals and Worcester Railers are free agents for the 2020-21 season immediately.

---
With the AHL previously announcing that they are now looking at 2/5/2021 for the start of their season, over in the ECHL, we are now seeing teams announcing that they won't be taking part of a 2021 season. The Maine Mariners, the Rangers ECHL affiliate, are one of those teams.
Granted, in the world today, hockey is not the most pressing concern. I get that. However, looking at this story with a narrow mind, this is bad news. For many aspiring NHLer's, they won't get a shot to prove their worth during this upcoming 2021 season. With travel restrictions, who knows if these guys can even hook up with European/Russian teams, European and Russian teams that are already in mid-season.
In the wide-world of sports, during this pandemic, the superstars, at least financially, are okay. It's everyone else that is not. You're already hearing stories about minor league baseball teams closing up shop left and right. For the players trying to make it to the big show, all of their dreams are on hold. For older players, looking for one last run, they are cheated out of another year; and pandemic or not, Father Time waits for no one.
Who knows what will happen next, regarding the players of these ECHL teams. Who knows if the ECHL will eventually just suspend all operations for all of their teams? Furthermore, as talked about in the past on this site, who knows if the AHL will even have a season, despite having a target date? After all, if the NHL is having problems right now, how is the AHL going to have games? While the television rights and merchandising deals of the NHL are small, when compared to the other major sports, the AHL non-gate/non-live attendance revenues are even more minuscule.
Unless the AHL and the ECHL are going to find a financial benefactor here (anyone have Steve Cohen's number?) it's tough to envision these leagues operating in the 2021 season. As the Mariners are doing, fiscally, it's more responsible to just take a powder and await the third quarter of 2021. If you listen to the rumors, by the fall of 2021, which would be the start of the 2021-2022 season, we should have a vaccine, which in turn, would help out all of the leagues.
At that point in time, world-wide, arenas should be able to re-open. And really, another thing to consider here, is even if we do get a vaccine, and all the politicians & scientists sign off on allowing arenas to re-open, there's going to be a large chunk of people who will still avoid mass public gatherings. As we all know, this is all just a mess.
As far as the NHL trying to save the ECHL (and/or the AHL), as mentioned, the NHL is already up to their elbows in financial problems, problems which saw the NHL try to renegotiate their deal with the NHLPA this week.
---
In a story NOT covered on NHL.com, but covered on every major prominent outlet that covers the NHL, such as TSN & Sportsnet, the NHL's 1/1/21 target date has hit a snag. Of course, that snag is money.
When the NHL & NHLPA agreed to a six-year extension of the CBA, during this past July; prior to the resumption of the 2019-2020 season/post-season, the NHLPA agreed to put extra money in escrow, in an attempt to help cash-strapped franchises during these times. While no one could ever 100% know for sure, at the time, the thinking was that the 2020-2021 season would be able to open up in front of fans. Nearly five months later, at least here in America, we seem further away from normalcy than we did back then. After all, in just these past few days alone, NYC has shuddered public schools, we're back to curfews, lockdowns are in effect and the term "second-wave" is in big bold print among many news sources. We even have Governor Cuomo coming after our Thanksgiving dinners.
It was first reported this week, by Larry Brooks of all people, in one of the rare cases where an American reporter had a scoop before a Canadian reporter, that the NHL is seeking an additional 13% in escrow from all NHL players. Previously, the NHLPA agreed to a 10% escrow figure. In other words, the NHL is seeking to more than double that amount. Of note, SportsNet has a ton of informative articles about all of this, with one of them being this article: https://www.sportsnet.ca/nhl/article/nhl-seeking-additional-deferment-player-salaries-raise-escrow-caps/
For regular fans, all of this escrow and deferral talk can come off as headache inducing mumbo-jumbo. To simplify all of it, basically, the NHL is trying to renegotiate, after just signing a deal with the NHLPA five months ago. From their perspective, the NHL thought they would be able to generate revenue through live attendance from game one of the 2020-2021 season. As of this writing, that won't be the case. For the players, players who already have the weakest union in all of pro sports, they've conceded so much already. And to throw a monkey wrench into the mix here, let's not forget that Artemi Panarin was grumbling earlier this past summer, when the topic of increased escrow was brought up.
Unlike past CBA talks, I don't think the NHL teams, or Bettman himself, are the villain here. We're all adjusting to these times, day-by-day and week-to-week. No one knows what the future will be. That said, the players have bills too. While the superstars will be okay, how about the guys who aren't making millions and millions of dollars? There are plenty of guys earning $750K-$2M. If 23% of that money is in escrow, and knowing that like us, these players also have to pay taxes, mortgages and everything else too, it's easy to understand why the players want to avoid anymore monies going into escrow.
It's a lose-lose situation here. It's not the fault of the owners or the league, that they can't have fans inside the arenas. It's not the fault of the players for wanting to be paid too. And by the time next season gets going, for most NHL teams, they will have been out of action longer than the teams that were out of work during the 2004-2005 lock-out season.
I'm of the opinion that the NHL will not start on 1/1/21. I could be wrong. After all, I've been wrong before! However, it's hard to envision the NHL commencing on 1/1/21, without the players bending over backwards even more.
As mentioned on prior blogs, the NHL wants fans inside of the arenas ASAP, but no one can predict when that date will be. And as mentioned in the AHL/ECHL segment, even when arenas do re-open, there will be a large portion of hockey fans that will avoid mass gatherings. While I do think fans, as a majority, will eventually return to games, with high priced tickets already in effect, (high priced tickets that were in effect prior to this pandemic) I do think it will be a while before fans feel safe and have disposable income to attend games again. And in the event these arenas re-open and a game becomes a super-spreader event, that hypothetical PR nightmare would be catastrophic.
(Something to also consider, at least from a NYR perspective, is that most fans attending games at M$G tend to be older. The pandemic effects older people the most. I can tell you this right now – my dad is  nearly 70 years old. He has no interest in attending NYR games in the near future. Many of you readers are older and have told me you won't attend games in the immediate future. With ticket prices at astronomical levels, and with people out of work, it's hard to see these arenas being filled to capacity.)
If there is anything we know to be 100% factual right now, it's this – the league, the teams and the players want the 2021 season to happen. Where these escrow talks go, well we don't know. How much should the players budge, after already making concessions? While bigger teams like the Rangers, the Canadiens, the Leafs and others can sustain losses, for many teams, both in America and in Canada, they can't afford to operate at a loss. It's murky waters to navigate right now, and without a clear docking site ahead.
In a perfect world, the NHL would love a vaccine by 1/1, and in attempt to bring fans back, it would be great if the NHL could give out free vaccines prior to puck drop at their arenas. However, we know that won't happen. What happens next is anyone's guess. All I can do is hope for the best.
Let's now get to the second main event of this weekend extravaganza of a blog – the "WHERE ARE THEY NOW" segment, featuring the 2014-2015 Rangers and how the 2021 Rangers came to be.
---
Recently this week, while bored out of my mind, I was watching clips and games from the 2014-2015 season. It is my opinion, that the 2014-2015 New York Rangers were the best Rangers team of this century. While some may argue for the 2013-2014 Rangers, due to the Stanley Cup Final run that team had, it's always been my belief that the 2013-2014 Rangers were a Cinderella team. It were the 2014-2015 New York Rangers that should've won the Stanley Cup. And if you need a reminder, it were those 2014-2015 New York Rangers that won the Presidents' Trophy that season. (And if that happened, this whole site's tone would've been different – I would've never had a reason or leg to stand on, when it came to my points on Lundqvist's contract.)
I won't rehash all the playoff misery from the Spring's of 2014 and 2015. All I'll say here, is that going into the 2014 SCF, I was just happy that the Rangers made it. Sure, I was disappointed when the Rangers lost in 2014 (Game 5, the elimination game, was on my birthday & we had a huge party with 50+ people at the bar while watching the game) but at the end of the day, I was proud of that team. In 2015, going into the playoffs, I felt that the Rangers HAD to win the Stanley Cup. When they didn't, it felt like one huge kick to the ball sack, a kick that I have never truly recovered from!
While the Rangers would dick around in the two seasons following the 2015 playoffs, including a decent, yet disappointing conclusion of their 2016-2017 season, if you look back at everything, and with the benefit of 20/20 hindsight, the Rangers Stanley Cup window was violently slammed shut after the 2015 series loss to Tampa. Senile Sather knew it at the time, which is why he stepped down and left Jeff Gorton to clean up the pieces of the shattered glass around him. While the rebuild wouldn't officially come until two and a half years after the 2015 playoff loss – for all intents and purposes, the Rangers, after 2015, with that core, were never going to win it all. Like the Emile Francis Era of Rangers, they failed.
With this Rangers rebuild now officially over, because really, if the Rangers are still playing for draft lottery positioning in 2021, it would be a sign of regression, I wanted to do a "WHERE ARE THEY NOW" feature on the 2014-2015 Rangers and how some of those ex-Rangers led to the current Rangers roster of today.
Two things before getting into all of this. First, Chris Kreider, as you all know by now, re-signed with the team for seven more years, back in February of this year. He's the "Lone Ranger" remaining from the 2014-2015 season, har-har-har. Secondly, for the purpose of this exercise, I'm looking at only Rangers who played 10 or more games from the 2014-2015 season. After all, it's not like moving on from Dylan McIlrath, Oscar Lindberg, Ryan Malone and Michael Kostka, did much for the Rangers of 2021! (And man oh man, was McIlrath born 20-30 years too late.)
With that all said, let's take a trip down memory lane, and see how these 2014-2015 players effected the current Rangers roster of today.
---
FORWARDS:
DERRICK BRASSARD – beloved by Ranger fans at the time, and known as "BIG GAME BRASS", in the current day, Brassard is now known as the guy that the Rangers traded to get Mika Zibanejad, back on July 18th, of 2016. To this day, this Brassard for Zibanejad trade, is arguably the greatest trade Rangers General Manager Jeff Gorton has ever made. While I'm doing this list alphabetically, what a way to start this list off!
After all, when you look at all of the players from that Rangers squad of 2014-2015, no trade has positively impacted the Rangers of today, more than when Gorton traded Brassard for Zibanejad. When you look at the Rangers of today, when you think of the best player on the team, it's either Artemi Panarin or Mika Zibanejad. No other ex-Ranger brought in a player of Zibanejad's value, than the trade of Brassard did.
In the current day, Brassard, who has about 767677969 different NHL jerseys in his closet in 2020, after a deep playoff run with the Islanders, is currently an unrestricted free agent. I've seen some fans suggest that the Rangers give him a PTO, whenever the 2021 season starts. I'll say this – if the Rangers make the playoffs in 2021, I'd rather Brassard as my fourth line center than Brett Howden.
---
JESPER FAST – Directly, the Rangers did not get a return on Jesper Fast, as Fast, as an unrestricted free agent, signed with the Carolina Hurricanes during this off-season. Fast, a recipient of five straight "Player's Player" awards, was a solid Ranger and a sure-fire candidate for my Rangers "Rink of Honor" list. Indirectly, letting Fast walk, opens up minutes for Rangers of the future, in guys like Vitali Kravtsov, Brendan Lemieux and others. Also worth noting here? The money saved on Fast, also allowed the Rangers to give Alexis Lafreniere all of his bonuses, that any first overall pick has coming to him.
---
TANNER GLASS – if you read my blogs from that 2014-2015 season, I was, and still am, a fan of Tanner Glass. He bought a lot of "oomph" to that team and gave the Rangers a tough guy that was needed. The Rangers would let Tanner Glass walk after the 2016-2017 season. Glass would finish up his NHL playing days with the Calgary Flames. While the Rangers did not get any players, directly, or indirectly, by allowing Glass to move on, in the current day, Glass is with the organization, as the current Assistant Director of Player Development, where Glass directly reports to Rangers GM Jeff Gorton.
---
CARL HAGELIN – while most people know me as the "TALBOT GUY", a label I accept and embrace; when Senile Sather traded Carl Hagelin to the Anaheim Ducks for Emerson "FUCKING" Etem (Yes, I'm using the f-bomb here, because that's how I've always referred to Etem) I was absolutely livid. Sather, who had a laundry list of bad moves during his tenure as NYR GM, this Hagelin for Etem trade is up there for one of the worst moves, both under Sather's watch and of the salary cap era.
Hagelin would go on to win two Stanley Cups with the Pittsburgh Penguins. Emerson Etem would flame out fast. (For more on Etem, read the archives of this site for my stories on Emerson Etem and those Steiner "Mystery Pucks" from that era.) Not even three months into his tenure with the Rangers, Etem would be shipped off to Vancouver, where the Rangers got Nicklas Jensen in return. Jensen would play seven games with the Rangers and then call it an NHL career. Jensen would then resume his playing career in the KHL. In other words, Sather, who traded Hagelin like a thief in the middle of the night, got NOTHING in return for this homegrown talent. Hagelin, unlike the players that followed him, still remains in the NHL today and continues to compete on a team that's in the Rangers division – the Washington Capitals.
In other words, nothing positive was attained from this Hagelin trade.
---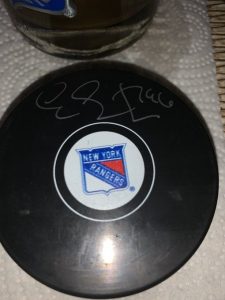 KEVIN HAYES – at the trade deadline of the 2018-2019 season, the Rangers flipped the pending unrestricted free agent Kevin Hayes to Winnipeg, in a deal where they acquired Brendan Lemieux. While you all know that I would've re-signed Hayes, (centers don't grow on trees and center depth is a major issue for the current Rangers) the money saved on Hayes indirectly led to the Rangers signing Artemi Panarin, in the off-season that followed.  (Of course, I would've shedded Lundqvist's contract/salary and in that scenario, the Rangers could've kept Hayes & signed Panarin.) In addition, Brendan Lemieux brings something to the club that no one else does.
When it comes to this current Rangers rebuild, Kevin Hayes is one of the players that the Rangers moved on from, in order to rebuild for 2020 and beyond. Today, Hayes is reunited with the coach of the 2014-2015 Rangers, in a one Alain Vigneault, with a Rangers nemesis – the Philadelphia Flyers.
---
JT MILLER – Miller was one of the players, along with Ryan McDonagh and Rick Nash, that the Rangers immediately moved on from, after releasing the infamous (and hopefully soon to be "famous") LETTER, stating the Rangers intentions to rebuild. Traded to Tampa, along with Ryan McDonagh, on February 26th, 2018, the Rangers received Vladislav Namestnikov, Brett Howden, Libor Hajek and two draft picks, draft picks that turned out to be Nils Lundkvist and Karl Henriksson.
Namestnikov would eventually be traded to Ottawa, where the Rangers got a fourth round pick, a pick that will be used during the 2021 NHL Draft. Also acquired was Nick Ebert, a Nick Ebert that has since moved on from the organization. Hajek had a bad 2019-2020 season, but there are hopes, that one day, fingers crossed, that he can crack into the Rangers top six defensemen one day.
Howden is a struggling center, who truth be told, may get more chances than other players, due to what the Rangers gave up to get him. Karl Henriksson is a year or two away from getting a real look from the club. Of everyone received in the Miller & McDonagh trade, it is thought that Lundkvist, a right handed defensemen, has the highest upside of all assets.
Miller, in the off-season following his trade, would sign a five-year, $26.25 million contract with Tampa. Tampa would then trade Miller a season later to Vancouver, where Miller just finished having one of the best seasons of his career.
Right now, it looks like the Rangers lost this trade, but strong future play from Lundkvist (and Henriksson) would change this sentiment. It can also be argued that the Rangers moved on from both Miller & McDonagh, in order to make cap room and to build their future.
---
DOMINIC MOORE – the strong fourth line center of the 2014-2015 Rangers, the Rangers would eventually allow Moore to continue his career elsewhere. On August 30th, 2016, as an unrestricted free agent, Moore would sign with the Bruins. To this day, the Rangers have never been able to replace Moore's production, fourth-line center wise. That said, Moore is currently 40 years old today, and the Rangers made the right move to move on at the time. In the present day, Moore has no NHL affiliation, last playing for the ZSC Lions of the Switzerland National League, during the 2019-2020 season.
---
RICK NASH – in one of the best trades that Jeff Gorton has ever made during his tenure, on February 25th, 2018, Gorton traded Nash to Boston, where the Rangers received Ryan Spooner, Matt Beleskey, Ryan Lindgren, and two draft picks; two draft picks that the Rangers later on traded. As a result of this Nash trade, the Rangers got two key pieces of their rebuild.
Obviously, the big name here is Ryan Lindgren, who ironically, only became a top pair defenseman during the 2019-2020 season, after Libor Hajek failed to grab the brass ring. To show you how important Lindgren has become, when you look at Ranger rookies from last season, Lindgren out-performed his own teammate, the number 2 pick of the 2019 NHL Draft, in Kaapo Kakko.
Elsewhere in this trade, the Rangers were able to flip Ryan Spooner to Edmonton, where the Rangers got Ryan Strome in return, a Ryan Strome who is currently the team's number two center. Conversely, Rick Nash, whose concussion issues plagued him his whole career, would retire at the end of the 2017-2018 season. In other words, the Rangers traded a retiring Rick Nash, and in return, got a second line center and a top pair defenseman. This is what we call a FLEECE JOB folks!
In the present day, Rick Nash remains retired and enjoys an affiliation, as an ambassador, with the Columbus Blue Jackets.
---
JAMES SHEPPARD – when you think of the 2014-2015 New York Rangers, hands-down, Sheppard is the most forgettable name from that period of time. However, how about this trivia question – how many playoff games did Sheppard play during the 2015 playoffs? If you answered 13, my hat goes off to you. (Sheppard's playing time increased after the injury suffered by Mats Zuccarello.)
The Rangers originally acquired Sheppard from the San Jose Sharks, during the trade deadline of the 2014-2015 season, in an effort to give the team some playoff roster depth. Needless to say, no one knew that he would be needed to do so. After filling in, due to the injury of Zuccarello, the Rangers moved on from Sheppard after the 2015 playoffs. Sheppard would never play in the NHL again.
In the current day, the 32 year old center plays for the Kolner Haie of the Deutsche Eishockey Liga. (DEL)
---
MARTIN ST. LOUIS – to this day, despite his limited tenure with the Rangers, I am still a huge fan of MSL. And spoiler alert, in my upcoming Rangers "RINK OF HONOR" book, MSL is the only player with less than two full seasons played, that I included on that ROH list. His impact, despite the short tenure, is unforgettable and undeniable.
MSL would retire after the 2015 playoffs, a playoffs where he wasn't able to replicate his success from the year prior. The Rangers didn't receive anything, indirectly or directly, for MSL, as he was a player for that time and for that period.
In the present day, after a short stint with the Columbus Blue Jackets, as a power-play consultant (MSL didn't travel with the team and did this as a favor for his ex-coach in John Tortorella) MSL now is an ambassador for the Tampa Bay Lightning.
---
LEE STEMPNIAK – Stempniak was basically a bottom six forward for the Rangers. Stempniak, who was versatile, as he finished his NHL career by playing for ten teams, was traded at the 2015 trade deadline, to Winnipeg, for Carl Klingberg, the weakest player of the brothers with the surname of Klingberg. Klingberg would never make it to the Rangers, while Stempniak would continue his NHL career, by playing limited minutes around the league, until his retirement after the 2018-2019 season.
---
DEREK STEPAN – after telling Henrik Lundqvist to "calm down" during the 2017 playoffs, after the Rangers 2017 series loss to the Ottawa Senators, Stepan, along with Antti Raanta, found himself going to Arizona. In exchange, the Rangers received Arizona's first round draft pick, who turned out to become the bust known as Lias Jessiman. And oh yeah, the Rangers also received Tony DeAngelo too!
While no one knew it at the time (it was thought that Lias Andersson would be the star of this deal) Tony DeAngelo has become the crown jewel of this 2017 NHL Draft day trade. Ironically, it would be DeAngelo replacing Stepan too, in all of the Rangers extra-circular media activities, as TDA currently serves as the host during these bits.
With hindsight being 20/20, the trade of Stepan unofficially marked the start of the Rangers rebuild. In the months that came after, Stepan's former long-time teammates, guys like Dan Girardi, Ryan McDonagh, Rick Nash and others, would become the next to go. While expectations were certainly much higher for Andersson, at least the Rangers got the fourth highest producing defenseman of 2019-2020 out of the deal.
---
MATS ZUCCARELLO – to this day, one can argue that had Zuccarello not been injured during the 2015 playoffs, then who knows? Zuccarello was a great Ranger and like a Edgar Laprade, Gump Worsley, Chief Jim Neilson, Nick Fotiu or a Sean Avery; Zuccarello quickly warmed his way into the hearts of Ranger fans.
Zuccarello, as you all know by now, upon his trade to Dallas, induced tears from not only Henrik Lundqvist, but among most of Rangerstown, USA. One can argue that the Rangers didn't receive enough in return for Zuccarello, as the Rangers got a pair of draft picks for Zuccarello, which turned out to be Matthew Robertson and Oliver Tarnstrom. There's no way to truly really assess this trade in the present day, as the these two draft picks are currently carving their path towards the NHL. That said, Zuccarello wouldn't last long in Dallas, and would eventually sign a big deal with the Minnesota Wild, in the off-season that followed.
Zuccarello was one of the last long-time Rangers to move on. While this trade may have been painful for some, it's hard to argue that it wasn't the right move. The Rangers freed up cap space and the jury is out on how these two draft picks will play out.
---
DEFENSEMEN:
DAN BOYLE – I have three memories of Dan Boyle and none of them are really about his play on the ice:
The Rangers, instead of signing Anton Stralman, let Stralman walk to Tampa, and in turn, signed Dan Boyle to be the quarterback of their power-play. Boyle went on to play like Mark Sanchez – turnover after turnover.


---

At a playoff game against Washington, my friend, the infamous JEFFREY/YOFFREY, got so freaking pissed off about how Boyle was playing, that while in a pure state of black-out drunkeness, JEFFREY stood up, let out an epic minute rant, full of four letter words, and in Boyle's direction. Boyle turned his head and looked at JEFFREY during all of this. To this day, I wish I filmed this. After his last F-bomb, JEFFREY marched out of the game at the beginning of the third period. Needless to say, I took the train home solo that night! (Of note, we were eight rows from the ice, so plenty of people saw JEFFREY in all of his glory. It was even better watching everyone watch JEFFREY walk up the stairs to the exits! To this day, I don't know why I'm friends with this guy! I kid, I kid! YOFFREY, aside from this moment in time, has always been a solid compadre! That said, he can still SMD!)


---

I saved the best for last:
Of my three memories, while #2 was hilarious, Boyle going off on Larry Brooks, while totally unprofessional and unwarranted, was something I'll never forget either!
Boyle is just another name, on a long list of names, that had a ton of success somewhere else, but couldn't replicate that success with the Rangers. Boyle would retire at the end of the 2015-2016 season, so for the purpose of this blog, the Rangers got nothing for him. At least we got the rant on Brooks!
In the present day, Boyle remains happily retired. JEFFREY remains happy that Boyle is no longer with the team.
---
DAN GIRARDI – a heart and soul Ranger, and a man who blocked more shots than any other Ranger in franchise history, the Rangers bought Girardi out of his contract in the summer of 2017. In other words, the Rangers got nothing back for Girardi and added dead cap space to their books.
Girardi, who was very underappreciated by Ranger fans at the tail-end of his Blueshirts career, would finish his playing days with the Tampa Bay Lightning, retiring after the 2018-2019 season. Sadly for Girardi, the Bolts would go on to win the Cup in Girardi's first year of retirement.
In the present day, Dan Girardi started the "BLOCK PARTY" podcast, which was a Tampa Bay Lightning sponsored project. However, due to the pandemic, Girardi moved from Tampa back to his native Ontario and ceased working on the podcast. That said, the podcast still records under the "BLOCK PARTY" name, with Girardi's former co-host, Seth Kush, currently leading the charge. Currently, there are rumors that when things return to normal, Girardi may work for the MSG Networks as a featured analyst.
---
MATT HUNWICK – Hunwick was a "one and done" Ranger, and after playing in 55 games for the Rangers during the 2014-2015 season, Hunwick would go on to play in six playoff games. The Rangers would let Hunwick walk after the 2015 playoffs, where Hunwick would then go on to sign nice free agent deals with both the Toronto Maple Leafs and Pittsburgh Penguins.
Neck injuries would cut Hunwick's NHL career short at the age of 34. Hunwick would be forced to retire after the 2018-2019 season. In the present day, Hunwick, a former Michigan Wolverine alum, is now an assistant coach of the team. For this blog, like Girardi, the Rangers received nothing for their future from Hunwick.
---
KEVIN KLEIN – In one of Sather's few shining moments, the trade of Michael Del Zotto to Nashville, in exchange for Kevin Klein, back on 1/22/2014, was one of the best things Sather ever did. Klein quickly endeared himself to Ranger fans and was a strong kick ass defenseman.
After an injury-plagued 2016-2017 season, Klein would retire from the NHL. The Rangers, as you'd expect, got nothing back in return.
Klein would finish up his playing days overseas, playing for the ZSC Lions, where he served as the team's alternate captain.
Klein, who retired from professional hockey on March 25th, 2019, remains retired and currently has no association with any hockey club as of this writing. While Klein did nothing for the 2021 Rangers, his contributions from his time are unheralded.
---
RYAN MCDONAGH – See my piece on JT Miller.
McDonagh, who unlike Miller, still remains with Tampa to this very day, and won the Stanley Cup in 2020. When "Captain Mac" was traded, it was thought that like Ryan Callahan, who also ironically was dealt to Tampa, that the Rangers didn't want to invest long-term with their captain.
As I said on blogs all summer, when recapping the 2020 playoffs, McDonagh's role with Tampa wasn't the same as his role with the Rangers. As the top dog with the Rangers, McDonagh was expected to be a bit of a two-way defenseman. With Tampa, and with Hedman taking care of all the offensive duties, McDonagh was allowed to focus on a strong defensive style.
While McDonagh will always be remembered fondly as a Ranger, he just had the biggest highlight of his career with Tampa. As I said in my Miller piece, the futures of Lundkvist & Henriksson will help us assess this trade one day.
---
MARC STAAL – one of the last pieces to go, and a player who actually suffered through this rebuild, only to now not be here to see the fruits of his labor; on September 26th, 2020, Marc Staal was traded to the Detroit Red Wings for nothing. As of this writing, the Red Wings, nor the Rangers, have announced "the player to be named later".
When it comes to Staal's contributions to this rebuild, it's this – his cap space was dealt to Detroit, cap space that was once a $5.7M albatross on the Rangers payroll. However you want to look at it, the money saved by trading Staal, led to the Rangers re-signing all four of their major restricted free agents of 2020, in Tony DeAngelo, Ryan Strome, Brendan Lemieux & Alexandar Georgiev.
Staal, who like many, was a great Ranger, is like many hockey players of his era – a victim of the hard NHL salary cap. Like Dan Girardi, it was Staal's physical style that led to regression at an early age. While Lundqvist reaped the rewards, Staal was wrongly hung by many Ranger fans.
For the purpose of this rebuild, when you talk Marc Staal, you talk about cap space saved, cap space that's important as any other stat on the back of a trading card.
---
KEITH YANDLE – I guess I should mention Anthony Duclair here, the once DUKE OF NY, who never panned out. Yandle was traded by Arizona to the Rangers at the 2015 trade deadline, in a move that many thought would put the Rangers over the top, in their quest to win the 2015 Stanley Cup. As you know, while Yandle was a productive Ranger, he never had the run that he had previously in Arizona, nor the run he currently enjoys now with the Florida Panthers.
The Rangers, not wanting to sign Yandle to a big money deal, traded Yandle's rights to Florida, where they received two draft picks. One of those picks was Tyler Wall, a goalie that the Rangers are high on, and a goalie that the Rangers may have backing up Igor Shestyorkin one day.
The Rangers would deal the second pick they received from Florida, for two selections in the 2017 NHL Draft. With those picks, the Rangers took Brendan "Don't Call me Mr." Crawley and Morgan Barron, a Morgan Barron who the Rangers are extremely high on.
While it's too early to assess this trade yet, with the Rangers not interested in retaining Yandle and the cap hit that he would incur, the Rangers got three promising prospects in Wall, Crawley & Barron.
---
GOALIES:
HENRIK LUNDQVIST – I think it's safe to assume that you know my feelings on Henrik Lundqvist by now. I'll save you all of my "greatest hits" here.
During this off-season, the Rangers bought Henrik Lundqvist, where in turn, the team received a cap space saving of $3M. Lundqvist, who has been long past his prime for some time now, as a free agent, signed a contract on the cheap with the Washington Capitals.
For the Rangers, if you look at the dollar-by-dollar savings of the Lundqvist buy-out, they essentially used the money saved on Lundqvist to re-sign Alexandar Georgiev and sign free agent Jack Johnson. More importantly, by moving on from The Lundqvist Error Era, this allows the Rangers to officially anoint CZAR IGOR SHESTYORKIN as the starting goaltender of the franchise.
---
CAM TALBOT – While many in the Cult of Lundqvist like to ignore this fact, here's a fact – in the Lundqvist Era, the Rangers were at their best when Lundqvist was out with his throat injury, an injury he received at the end of January of 2015.
Here's a fun sentence I donated to Wikipedia: "During Lundqvist's absence, Talbot performed better in net and went 17–4–3. In fact, Talbot ended the season with a lower GAA (2.21), and a higher save percentage (.926) than Lundqvist (2.25 GAA, .922 save percentage)." Of note, during this time, I attended nearly every one of these home starts with the aforementioned JEFFREY, a JEFFREY who would tell you that I was completely intolerable at this time!
Of note, Talbot also won the Steve McDonald Extra Effort Award, for his work during this season.
After the 2015 playoffs, and with Talbot outplaying Lundqvist for 1/8th the price, the Rangers dealt Talbot to the Oilers, where the Rangers received three picks in the 2015 NHL Draft. The most notable player the Rangers took from this 2015 draft was Adam Huska, a Huska that regressed last season and is currently playing overseas during this pandemic.
Today, Cam Talbot is coming off a solid comeback season with the Calgary Flames, which he then parlayed into a signing a mega deal with the Minnesota Wild, during this current off-season.
---
Being a fan of history, I always enjoy these trips down memory lane and looking how we got to where we are, whether it's with sports or something else. It's amazing when you look at it, how the 2014-2015 Rangers became the 2021 Rangers. All that's left to do now is drop the puck!
If you haven't already, subscribe to this blog for the next update:
Moving forward, my battle against my computer from 2007, as it constantly freezes on me whenever I work on this "New York Rangers Rink of Honor" book. No joke, it took me an extra hour to finish this blog, as I dealt with a computer that acted like a child going through "ice cream brain freeze." Maybe I need to talk to Costa "The Crazy Greek", from BSU, about getting more RAM on this POS computer.
Come next week, I should be back with something, even if it's a look at the next episode of "Watch Your Tone". I guess I could've saved this 2014-2015 Rangers bit for another blog, but Father Fink it, the more content for your one click, the better! In the event I'm not back before Thanksgiving, enjoy your day. As I've said in the past, Thanksgiving is my favorite holiday of the year.
As always here, thanks for reading and…
LET'S GO RANGERS!
Sean McCaffrey
BULLSMC@aol.com
@NYCTHEMIC on Tweeter and on Parler
Follow the BlueCollarBlueShirts.com Facebook Group by clicking this link: https://www.facebook.com/groups/1564026407193056/