Greetings and salutations everyone and welcome to another blog here on BlueCollarBlueShirts.com. If you didn't already know, now you know – the New York Rangers aren't allowed to have nice things.
Without ego and pride being involved – I do feel like I'm the most qualified person out there to talk about the latest doom in Rangerstown, USA.
After all, I just released a book entitled "The Top 100 Villains of New York Rangers History," which is available for purchase on either Amazon.com or by clicking this link.
As mentioned a few times throughout my new book, and in the recent podcast interviews that I've done since when promoting it (I just did another interview this past Tuesday night, for Matt Dibase's "The Packaged Tourist Show," and you can find that twenty-minute interview here: Spotify.com ) – it was extremely tough when limiting that book to just one-hundred different "Ranger Killers."
I could have come up with a hundred, if not a thousand, more.
In fact, many "quality" names and events were left on the proverbial "cutting room floor" – and where I now have more than enough material to write a second, third, fourth and fifth volume too!
And should I ever release another volume of this title, then a series?
Then yes, Sebastion Asshole, government name Sebastion Aho, will be included.
---
As talked about last night (https://bluecollarblueshirts.com/11223-2/ ), both the 2021 Norris Trophy winner Adam Fox and Fragile Filip Bryhtil (Chytil) left Thursday night's game against the Hurricanes due to injuries – and where both injuries received took place during the first period.
The Fox injury was clear as day – he was Tonya Harding'd by Sebastion Asshole.
While it originally looked like that Fox would be fine (he did skate off of the ice under his own power and his facial expression never suggested anything serious – and he did give Loser Luxemore a piece of his mind too – a bozo official who had the audacity to challenge Fox's gripes with the dirty play); we soon found out on Friday that the pride-and-joy of Jericho, NY is anything but fine.
The latest injury that Chytil incurred is not as clear.
Officially listed with the upper-body designation, Chytil, whose history with injuries comes in hard cover format, a never-ending list that's been talked about on this site plenty of times before; the second line center collided with former Ranger, his former teammate to boot, Jesper Fast, in what at the time, looked like a routine hit.
But as we all know, when it comes to contact, and the possible injuries that could come out of it, nothing is routine for the Czech center who can't win a faceoff, can't score goals and above all else, can't stay healthy.
It's being suggested, if not flat-out reported, by The Athletic's Arthur Staple (one of the two people on the Rangers' beat who breaks news from time-to-time, with only Larry Brooks out-scooping Staple) that Chytil received another concussion on Thursday night.
When you watch back the clean hit and contact that occurred between Fast and Chytil – it was a body-to-body collision, meaning that Chytil's head was never touched.
But of course, as someone prone to concussions (should this be the case, then this would be Chytil's fifth documented concussion in his seventh season as a Ranger – and who knows how many undocumented concussions that he's had to contend with in the past, both with and away from the Blueshirts during his hockey career?) – not only are you susceptible to receive another concussion once enduring your first – but the littlest thing could trigger your next one.
I didn't see anything to suggest a whiplash effect; but again, only Chytil knows what's going on with his body.
None of us can speak for him.
If that wasn't enough pain, both physically for the Rangers and mentally for the fans, then it was also announced that CZAR IGOR, following the awkward save that he made at the start of the second period, was ruled as day-to-day.
I'm telling you, the Rangers are cursed – and where following Sam Rosen's ultimate jinx that took place after the 1994 win was secured ("This one will last a lifetime" – which now seems to be a literal prophecy) – they just aren't allowed to have nice things.
You always have to look over your shoulder with this franchise.
After all, how else do you explain how this 2023-24 team, currently first-place in the Metropolitan Division with their 8-2 record, and presently riding a six-game winning streak, not only loses their second line center, but the two men with hardware too, arguably the two most important players on the club as well, Adam Fox (Norris) and CZAR IGOR (Vezina)?
What's next?
Tom Wilson and Andrei Nazarov shanking and kidnapping Artemi Panarin?
Or even worse than that?
Forcing Panarin to grow out his hair?
Ugh.
At this time, let's run through the list of the injuries – and the call-ups they induced – but before doing so, and when speaking of "induced" – the Rangers also lost another player on Friday – but because of a positive event.
---
I am using the photo above, not even a face shot, of Goodrow's wife Madison Goodrow – only because he shared it on his social media accounts.
While there are personal photos of the couple together floating around on the internet, I don't like to invade the privacy of the players, nor get into their personal lives, that is unless it has something to do with a major story (such as the nonsense from over two years ago concerning Panarin and the false allegations made in Russia).
That said, it were the Rangers themselves who also announced on Friday that Goodrow will be away from the team for the time being, as his wife is due to pop any day now.
Their soon-to-be born son (assuming that Mrs. Goodrow hasn't gone into labor by the time that you read these words) will be the couple's first child.
I know it doesn't sound "manly," especially when you hear the stories from old (Phil Esposito, in his own autobiography, said it was a badge of honor to be playing hockey when his wife was delivering his kids) – but I think it's a great thing that the Rangers, and just like any other NHL team, gives their players "paternity time."
While Goodrow isn't going to be out for weeks-and-weeks on end to be with his new baby boy (that's just part of the job); I do think that it's important that he's there with his wife and to greet his new son.
Unless you're a caveman, are you really going to disagree with me on this?
Congratulations to the Goodrows' – and where because of all of the other news from Friday – this story may slip through the cracks a bit, which is why I wanted to mention it first before getting into all of the bad news.
Speaking of the bad news?
<Deep breath>
And away we go.
---
The day from hell began promptly at 12:00PM EST, as the Rangers tweeted out the following:
UPDATE: The Rangers have recalled Jonny Brodzinski from the Hartford Wolf Pack.

— NY Rangers PR (@NYR_PR) November 3, 2023
---
At the time, this wasn't exactly the worst news in the world.
After all, it's not that hard to replace a center who can't win draws, can't hit, is prone to go twenty games at a time without scoring a goal, etc.
While this news told us that Chytil would be missing some time; at the time of this tweet, you were just hoping that since the Rangers didn't announce anything about calling up a defenseman too, that perhaps the club had averted a major crisis.
So much for that.
At 5PM, the Blueshirts, now in the air to Minnesota, tweeted out the following:
The Rangers have recalled Louis Domingue and Connor Mackey from the Hartford Wolf Pack. Barclay Goodrow will not play tomorrow so he could be with his wife for the birth of their son.

— NY Rangers PR (@NYR_PR) November 3, 2023
---
Once this tweet went out, this is when all of the Ranger beat reporters also tweeted out that Adam Fox was placed on the LTIR – something that the Blueshirts themselves didn't officially announce for whatever reason.
In a way, it was cute watching Mollie and Wince play real-life reporters, like little girls playing with a Fisher Price kitchen set and cooking up some plastic food for their parents, as both of these nitwits pretended that they had sources when talking about Fox's designation; but in reality, the club informed every reporter about the news. (I can't tell you who, but I saw the email that was sent.)
(Funny enough – prior to this tweet sent out by the Blueshirts, both of these red-nosed "reporters" said that they wouldn't know anything about Fox until Saturday, as the Rangers had Friday off, and as a result, Laviolette wasn't available to talk to the media and give an update.)
Furthermore?
CapFriendly.com had this story first, as they get their news straight from Toronto, the NHL's home city, and where all league news is filed.
Since Fox was placed on the LTIR – and not on the IR – this means that the defenseman won't be able to return at the earliest until November 29th.
A LTIR designation means that a player needs to miss either ten games or 24-days, whatever comes first, before returning.
In other words, and in a best case scenario, Fox won't be able to return until after American Thanksgiving – and where every Blueshirt backer will be thankful should he be able to return prior to the calendar reaching the last month of the year.
The belief is that this injury (no one knows if it's an ACL or MCL injury yet, nor the true severity of it either, but it's being suggested that it's a sprain – and not a tear – as a tear would knock him out for the season) will keep #23 sidelined for at least two-weeks, if not a month.
But of course, injury time-tables are independent to the individual involved, so whatever is being bantered about is all just speculation – and with some hope mixed in too.
---
Chytil, and unlike Fox, was placed on the injured reserve list, which means that he's out for at least the next seven days – and not for the rest of the month – at least on paper.
And since his injury is thought to be a concussion – there's no timetable on his return either, as everyone recovers differently from these head traumas.
As mentioned earlier, there's no way to predict when Chytil makes a full recovery since he's had so many concussions in the past.
For an example of how everyone recovers differently from concussions, Sidney Crosby, once concussion prone himself, lost nearly two years of his career because of them. Mika Zibanejad, who also endured a litany of concussions, was able to make a full return without missing any significant amount of time following his last one from several years back.
(Knock on wood.)
But for every Crosby and Mika, there's also your Eric Lindros', Patrick LaFontaine's and others of the world (and who can forget about the one-time thought-to-be Rangers' promising young star Michael Sauer?), where sadly – concussions did cut all of their careers short.
---
In what's thought to be the least concerning injury of the three, but still concerning nonetheless; CZAR IGOR is currently listed as day-to-day.
The fact that the Rangers even had to call up Louis Domingue on Friday is a situation worth monitoring, as at the very least, it tells us that the Blueshirts didn't want to risk Shestyorkin playing on Saturday night in Minny, in the (hopefully unlikely) event that Jonathan Quick was to go down with an injury.
While who knows if it was always the plan to go with Quick on Saturday (I'm sure we'll find out when Laviolette speaks next); prior to this news, I thought that JQ32 would start anyway (time stamps don't lie):
Not sure. Quick is 17-11-7, .904, 2.55 GAA lifetime vs Minny. But my beer gut feeling is Quick plays on the road, Igor then returns at home. #nyr https://t.co/wNaNblxIL1

— BlueCollarBlueShirts (@NYCTheMiC) November 3, 2023
---
Now?
Quick may go for the rest of the week too, as there's no reason to push Igor to play if he's not at 100%.
Let's just hope that Quick, who leads the league in GAA and save percentage in his two plus games worth of work (and with one shutout to his name to boot), can keep up his torrid pace.
---
So, and to recap, the Rangers will be without four of their regulars on Saturday night.
Moving forward, both Chytil and Fox will miss the rest of the week, and where for the latter, he's out for the remainder of the month.
Goodrow will be back soon enough, but even if he has to miss an extra game or two, you can understand that.
Family comes first.
After all, for the two-time Stanley Cup champion, what do you think he'll remember down the line?
Some meaningless November games or the birth of his son?
And for his wife?
She would remember, and would never let him forget about it either, had he not taken time away from the team!
CZAR IGOR?
His situation isn't as clear, but I guess it's somewhat encouraging that he's only day-to-day, rather than having the letters "IR" next to his name.
---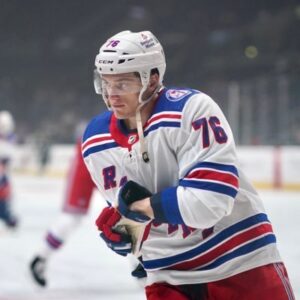 Since Fox is on the LTIR, the Rangers are now afforded some temporary cap relief, which is why they were able to call-up the six-figure men from Hartford – Jonny Brodzinski, Connor Mackey and Louis Domingue.
However, and if accruing salary cap space for the 2024 NHL Trade Deadline is the goal, then it does benefit the Rangers to get these veteran players back to the Wolfpack as fast as possible.
(And don't look into the fact that young players, Ranger "YOUTS," such as Brennan Othmann and Dylan Garand, remain howlin' with the Pack. It suits them best to play top minutes in the AHL, rather than play minimal minutes, if they play at all, once called-up. Their day will eventually come – but it's not today – nor should it be.)
And yep, while you never want to see any player receive an injury – it would have been better for Fox's injury to take place right before the trade deadline.
Had that been the case, then the Blueshirts could have pulled off a "Nikita Kucherov" – by having an extra $9.5M of cap room to play around with when preparing for the playoffs.
But it's the Blueshirts – and where they, and us fans, are just not allowed to have nice things or fortunate circumstances.
After all, the Rangers just made history with their five-game road-trip sweep and are currently riding a six-game winning streak – and then all of this hits us in the mouth like an overhand right from an in-his-prime Mike Tyson – who unlike the Rangers – probably would have bit off Aho's ear had he been on the ice on Thursday night – rather than talking about wanting to fight him.
Tom Wilson deja vu anyone?
---
As far as what line-up Laviolette uses on Saturday night, while we don't know with a 100% case of certainty yet; but using both the process of deduction and the facts available, my best guess is the following:
FIRST LINE: Kreider/Zibanejad/Kakko
SECOND LINE: Panarin/Trocheck/Lafreniere
THIRD LINE: Cuylle/Brodzinski/Wheeler
FOURTH LINE: Pitlick/Bonino/Vesey
FIRST PAIR: Miller/Trouba
SECOND PAIR: Lindgren/Schneider
THIRD PAIR: Gustafsson/Jones
STARTER: Quick
BACK-UP: Domingue
HEALTHY SCRATCH: Mackey
---
For Zac Jones and Tyler Pitlick, the two players who have been hanging out and making ass indents in the chairs at the press box these days – this is a huge opportunity for them – and most especially for Jones, since it's a fellow rear guard that's out for a month.
Libor Hajek never got a chance like this.
This will be put-up or shut-up time for Jones.
A successful month and he'll earn a rotation into the line-up.
Should the opposite play out?
Then the Rangers may cut bait from him once and for all, and whether it's Ben Harpur (who just got hurt in Hartford), Mackey (who feels like an insurance plan for now, especially with the team on the road) or somebody else, then Jones will no longer be a viable NHL option for the Rangers.
Another option that the Rangers will be considering this month?
I'll duck now, but I am going to share this graphic with you too:
This rash of recent Ranger injuries is a reminder of my season-long and daily disclaimer:
"WHATEVER THE RANGERS DO IN THE REGULAR SEASON DOESN'T MATTER. THEY CAN ONLY BE JUDGED BY WHATEVER THEY DO IN THE 2024 STANLEY CUP PLAYOFFS!"
Silver lining, the positive outlook?
Yes, this all sucks now – but think of the big picture.
The Rangers will just have to get through all of this in the interim and then hopefully get back to 100% as the calendar flips to the New Year.
The negative, the glass not just half-empty – but completely shattered and with 9875567 shards on the ceramic floor?
Fox is out for a long while – and whatever is plaguing CZAR IGOR gets worse.
Similar to my disclaimer, these injuries goes back to something that I've been saying since day one of the off-season and into this 2023-24 campaign – the Blueshirts need as many weapons as possible.
Yep, this is my 78956767567857856785785785855th time saying this, where I know it's now boring and redundant – BRING BACK PATRICK KANE!
Not only are the Rangers still weak at right wing (is there any other first line RW in the league with only one goal next to their name in ten-games played, or is that just exclusive to the second-overall pick of the 2019 NHL Entry Draft?), but one injury can overturn the entire apple cart.
And yep, this too, because I have to work this in:
The Rangers never had so many injuries, and especially this early, when Jim Ramsay was here under Gerard Gallant.
While I'm not blaming new trainer, Andy Hosler, for any of what has happened; I'm just mentioning it to mention it.
You do what you want with these facts.
In reality, the Fox, Chytil and CZAR IGOR injuries are all fluky, just as it was with Ryan Lindgren last season, and has nothing to do with the Rangers' trainer – you know – a topic that the Blueshirts' beat won't dare to touch!
In other injury news, the following:
Moving forward, the oldest cliche in sports:
NEXT MAN UP!
Every team battles injuries, and when you truly think about it – the Blueshirts have been very lucky in recent years when compared to their competition.
The fact that the Rangers are being pummeled by these injuries in November – rather than in April – is a good thing too, should you take the glass half-full approach.
For the remainder of the month, it will be a huge gut check period for the players who are not performing well, nor to their expectations either – and I don't need to run off the list of names – as you already know about Kakko and Lafreniere.
It's also a nice test for Braden Schneider too, where admittedly, it will be Jones who will have the most pressure on him.
In a way, a lot of the weight also falls on the shoulders of the leadership group.
Captain Trouba will look to get the best out of his troops, while the longest-tenured Ranger, Chris Kreider, tries to snap his BFF, Zibanejad, from another one of his usual cold starts to a season.
I'm also interested to see how the red-hot Panarin fares.
While Chytil has been more offensive to look at that rather than offensively-gifted this season; Panarin and Trocheck don't exactly go like bread-and-butter either – and as it was the case when Ryan Strome was in town.
For Laviolette, who had this motor humming like a beaut through the first ten games; the veteran head coach, who has been through all of this before, and multiple times at that (including last year in Washington), is tasked again to play with a short deck.
I think he'll be fine.
After all, it could be worse.
He could be David Quinn right now!
---
Up next, the walking wounded Rangers put their six-game winning streak on the line in Minnesota.
Should you care about such junk, the Blueshirts are a +100 even money underdog, while the home team is only a slight -120 favorite.
My point?
Despite everything that took place on Friday – Vegas, and hockey gamblers, still respect the Rangers.
It's up to the Blueshirts to respect themselves on Saturday – and not let things get wild (har-har-har) and out of control.
See ya tomorrow night.
PLUGS TIME! (Buy a book and support my Rangers' induced therapy bills. After all, I don't run ads on this site!)
---
On Wednesday, November 1st, our friends over at "The Blueshirt Underground Show" returned with a new episode. To check it out, click the play button below:
---
My fourth title and tenth book is now available for preorder!
"The Top 100 Villains of New York Rangers History," is now available for preorder.
For complete information, please visit: https://bluecollarblueshirts.com/rangerkillers/
---
My second plug of tonight's blog – the mandatory plug for my book, "The New York Rangers Rink of Honor and the Rafters of Madison Square Garden."
As mentioned previously, the book is now available in hardcover, in paperback and in Kindle formats. To purchase a copy of the book, visit this link:
https://www.amazon.com/Rangers-Rafters-Madison-Square-Garden-ebook/dp/B09CM5N2WD
For those still looking for signed paperback versions of the book, I have re-ordered more copies. I now have a few signed copies for sale at $25 a pop (includes shipping price) through me directly. Here is all the information on that:
---
My four-volume set of books, "One Game at a Time – A Season to Remember," is a game-by-game recount of the Rangers 2021-22 campaign.
My second title as an author, "One Game at a Time – A Season to Remember," is now available in eBook, paperback and hardcover formats.
To obtain signed copies, visit: https://bluecollarblueshirts.com/onegamebook/
To purchase all four volumes on Amazon, visit: Amazon.com – "One Game at a Time."
---
The greatest volume-set of books on Rangers' history today!
"Tricks of the Trade – A Century-Long Journey Through Every Trade Made In New York Rangers' History," a four-volume set of books that meticulously covers every trade made in franchise history, is now on sale.
All four volumes of the title can be purchased on Amazon.com and are presented in three different formats – eBook, paperback and hardcover.
To purchase Volume I: Conn Smythe (1926) – Craig Patrick (1986), visit Amazon.com
To purchase Volume II: Phil Esposito (1986) – Neil Smith (2000), visit Amazon.com
To purchase Volume III: Glen Sather (2000-2015), visit Amazon.com
To purchase Volume IV: Jeff Gorton (2015) – Chris Drury (2022), visit Amazon.com
To purchase signed copies of all four volumes, visit https://bluecollarblueshirts.com/tricksofthetrade/
---
Here are my last few blogs, in case you missed them:
---
---
---
If you haven't already, subscribe to this blog for the next update:
---
Don't forget to order my recently released four-volume set of books, "Tricks of the Trade!"
If you don't order through me, all four volumes are now available on Amazon.com
For more details, check out: https://bluecollarblueshirts.com/tricksofthetrade/
Thanks for reading.
LET'S GO RANGERS!
Sean McCaffrey
BULLSMC@aol.com
@NYCTHEMIC on the Tweeter machine