Greetings and salutations everyone and welcome to another blog here on BlueCollarBlueShirts.com. Like air escaping from a knifed tire, all the good feelings and vibes that circled around this team just 24 hours ago, have all been pissed away! The NHL season is back!
On Thursday night, in Game 1 of the Rangers 2021 season, a game that also served as the team's home opener; the Rangers were embarrassed by the New York Islanders, to a tune of 4-0. I'll say this once now and try to limit myself from getting too repetitive throughout the course of this blog – but yeah, "it's only one game." However, some of the stuff in this game was inexcusable. Furthermore, there was stuff in this game that fueled the fires that I predicted that would burn throughout Rangerstown, just as I stated in last night's blog.
In an attempt to segue-way into tonight's PLUGS segment of the blog; I told you last night that if the Rangers don't come out hot, you'll have fans screaming for the job of David Quinn. I also told you that Jack Johnson would have a red target painted on his back. In addition, I told you that if Tony DeAngelo does anything wrong, any infraction of his would be blown out of proportion, even if it was as simple as dropping his water bottle on the ice during a timeout. Of course, during and after this game, DQ, Johnson and DeAngelo all collectively joined the social media "Rangers Hit List".
Truth be told, outside of the "FIRE DQ" stuff you see online, there's merit in regards to complaining about Jack Johnson and Tony DeAngelo after this game with the Islanders. I'll get into all of that shortly. In addition, I have everything else covered for you tonight, including a full game recap. Plus, I also have a review of the latest episode of Ron Duguay's "Up in the Blue Seats" podcast. However, in case you're just returning to the wide and wacky world of Ranger blogs, here are my most recent manifestos, in case you missed them:
---
---
---
---
When it comes to American sports, the phrase "Opening Night" is largely associated with baseball. However, for fans of Canada's national pastime, the two words of "Opening Night" are almost as important as these few words – "The Stanley Cup".
By now, you all know what's happened. The last regular season game that the Rangers had played, prior to tonight, was on March 11th, 2020. That was over ten months ago! Eventually, the Rangers would go to Toronto, where they would play one exhibition game (a 2-1 loss to the Islanders) and would then be swept in the qualifying round of the 2020 Stanley Cup Playoffs, losing all three games to the Carolina Hurricanes. If you include tonight's game, the Rangers have now played five games since March 11th, 2020, and they have looked like "shit" (I believe that's the technical term) in all of them.
While of course, this five game sample size is as tainted as a piece of meat in the markets of Wuhan, China, the concerns are growing and the fears are warranted. That said, it is my belief that the "sky isn't falling" or everyone should be "doom and gloom" right now. However, at the same time, while a five game losing streak is tough to positively spin to begin with; it's tough to spin the fact that the Rangers have gotten their asses kicked in all five of these games.
In all five of these games, the Rangers have looked as lifeless as the empty crowd they are now playing in front of. Had the Rangers dropped some of these games in overtime or been outright screwed, it would've been easier to accept. However, in all five of these losses, the Rangers have no one to blame but themselves.
When sports fans hear the phrase "Opening Night", it invokes positive feelings. It's sunshine. It's fresh ice. It's hope. It's the feeling of starting anew. Everyone is happy. Everyone is excited. Everyone dreams of what could be. However, once Opening Night is over, and your team has a game like the Rangers had tonight, all of that blows up in your face, like a Wile E. Coyote attempt of using Acme TNT dynamite.
Prior to tonight's game, no matter where you went, whether it was online or if you happened to bump into a Ranger fan while on a beer run; there was an overwhelming feeling of pure joy. The ecstatic feeling for Ranger fans before puck drop tonight rivaled the feeling of becoming a parent for the first time, hitting your first little league homerun, getting married (and then getting divorced from your evil spouse!) and buying a new home, all rolled into one. Then the puck was dropped. Within four minutes of game time, the Islanders were up on the Rangers by a score of 2-0. All of the positivity surrounding the Rangers then evaporated like a red, white and blue popsicle on a hot summer day.
There were a lot of issues with the Rangers tonight. Despite an exciting, young and fresh roster, perhaps Ranger fans, including myself, underestimated the Islanders. It's like the two teams picked up exactly where they left off in the bubble during this past summer, when the Rangers were the worst team out of sixteen and the Islanders came within two wins of making it to the Stanley Cup Final. Tonight, the Rangers were mismatched and outplayed in every which way.
While I'll get into this more at the end of the review, if there's one thing that stood out to me particularly, it was the word "structure".
In last night's blog, when recapping David Quinn's comments in the Rangers Town Hall, I stressed how DQ said he didn't have enough time to give his team structure and employ systems. Conversely, the Islanders, who pretty much return to 2021 with the same roster they had during the 2020 Stanley Cup Playoffs, had structure and their systems in place, which were devised by future Hall of Famer Barry Trotz.
This should also be said – yes, the Islanders are more playoff ready than the Rangers. However, both teams had the same amount of time to get ready for this game and Trotz was light-years ahead of DQ tonight.
In DQ's post-game interview, he brought up the Rangers lack of structure, in what I took to be a self-admission of fault. I have been defending DQ on this site for some time now, but there will come a point when the Hall Pass is all punched out. That point of time isn't here just yet, at least not for me.
While it would be easy, and quite frankly lazy, of me to go on attack of David Quinn, it should be kept in mind that DQ has a lot of new and young players on his team. He has different lines and different defensive pairings too. The Islanders, sans a Johnny Boychuk retirement and moving on from Derrick Brassard, are pretty much the same team from the 2020 playoffs. For the Rangers, they have a bunch of excitable young kids, kids who are all learning the ropes. For the Islanders, they are a veteran team, and as much as I hate to say this as a Rangers fan, did what they were supposed to do tonight. The Islanders, the grizzled vets, not only took the Rangers to the cleaners, but they wrung them out to dry too.
This was a horrible performance from the Rangers tonight. There's not much from these 60 minutes to find a silver lining in. You can say Mika Zibanejad looked okay, but he took two penalties in this game. You can say Chris Kreider was okay, as he was great on the penalty kill, but once again, Kreider's score sheet had three goose eggs on it, as in no goals, no assists and no points. And if you want to throw in Artemi Panarin in here too, the Islanders were able to shut down the Hart Trophy candidate from last season as well.
If anyone shone brightest for the Rangers, in my opinion, it was second year defenseman Adam Fox, and even he had issues, between passing up on easy looks and giving up a terrible turnover to Mat Barzal. (And as I always say about defensemen and turnovers, the other team is paid to play hockey too. Similar to the Aho/DeAngelo play, where a Rangers defenseman was on the wrong end of, Fox was stripped of the puck by the best player on the other team. It happens. However, isn't it funny how the DeAngelo haters on social media are still talking about the Aho play, but didn't say one word about Fox's turnover tonight? Funny how that happens!)
During this blog, I will have a complete recap and review of this Rangers vs Islanders game, including comments on the broadcast, the box score and everything else. However, before getting into that, I wanted to share with you a review of the Season Two premiere of the Ron Duguay "Up in the Blue Seats" podcast. I am writing this Duguay segment first, as his podcast preceded this game.
I reviewed/recapped this podcast for you for several reasons. One, I have been reviewing this podcast from its inception, as there have been some good stories on it. Two, some of the stuff said by Mollie Walker, especially regarding the Islanders, rung true in this game. Three, Larry Brooks was still talking Brian Boyle, which after tonight, a return could happen. Four, I enjoy the show and if I have time, I want to plug it to everyone here, just as I do with "Watch Your Tone" and "The Blueshirt Underground Show"! I am a firm believer that it's always good to plug other endeavors and it's good to get as many opinions as possible. I would never proclaim myself and my writings as the end all, be all. After all, I'm just one fan with a beer in my hand!
For those of you not interested in the podcast review and just want to get to the rest of my thoughts on this Rangers/Islanders game, scroll down until you see the picture of Sam Rosen and Joe Micheletti! (And for you new readers who wonder why I just don't break all of this up into separate blogs, this site's credo has always been "10,000 words, one click and no ads!" You give me one click, I'll give you the Blueshirt world! I just couldn't imagine making you guys click 76786897676 links to get to my opinions on the Rangers.)
At this time, let's get into the "Up in the Blue Seats" podcast!
---
Ron Duguay and company returned to podcasting on Thursday morning, (prior to Thursday night's game) with the season two debut of "Up in the Blue Seats". For those who don't know, the New York Post sponsors this podcast, so the writers from the NY Post are always featured. For what it's worth, when it comes to New York, no other media outlet covers the Rangers like the Post does. After all, the Daily News doesn't even have a hockey reporter on their staff anymore!
For those looking to listen to the show, click the play button below:
Up In The Blue Seats Podcast: @RonDuguay10 returns for Season 2 of the show with new co-host @MollieeWalkerr. @NYP_Brooksie joins the pod to preview the Rangers season and make predictions

Apple: https://t.co/xNUQduqv4K
Spotify: https://t.co/VfdwXkCdW2 pic.twitter.com/inELNX4fKV

— New York Post (@nypost) January 14, 2021
---
For our first episode of season two, new co-host Mollie Walker introduces us to the show. Walker has been promoted from a contributor to a co-host this season.
After an ad, Jake Brown gives us a "Craig Cartonish" hello. Brown then introduces us to Ron Duguay.
Duguay comes out firing, saying he wants to present the best New York Rangers podcast possible. Duguay thanks the audience for listening. You're welcome! (And for my new readers/returning readers, I'll be upfront with you here – I am a fan of Duguay and appreciate all the charity work he does, both on behalf of the Rangers and in NYC. I also tend to agree with a lot of his hockey opinions too.)
Duguay says he wanted to improve the podcast and give another voice on the show. Duguay says it was Jake Brown's suggestion to add Mollie Walker as a co-host. Duguay says it's great to have Walker as a co-host, because she's there in the trenches, which is really important during this pandemic.
(As mentioned in all of my season one recaps of "Up in the Blue Seats", Walker also has an on-going bit on the show regarding her mother's fandom of Duguay. In turn, Walker is a perfect fit. She knows Duguay. She knows Brown. She's with the team. I don't know if Duguay is allowed in MSG right now or not because of the pandemic, so with Walker's access, it does help the podcast. And also as previously mentioned, I find Walker to be unique a bit, and in a good way, as she looks for different stories in her reporting. Far too often, everyone on the NYR beat scene writes the same stuff, where if you read one article, you've read them all. I don't find that true with Walker, including her stories where she covers the Islanders, which also featured a story about Barzal meeting a young fan on Zoom recently.)
Walker jokes and says the show is "half mine now". Brown brings up the recurring bit with Walker's mother and says he's looking forward to having Walker's mother back on the podcast. Walker brings up the old 1979 jeans commercial that Duguay did and how her mother was a big fan of that.
Duguay brings up the Islanders, who the Rangers will play twice to open the season. Walker talks about the Rangers off-season and the transactions/roster moves that were made. Walker brings up how it wasn't expected that K'Andre Miller would be on the Opening Night roster.
Duguay asks Walker about Islanders coach Barry Trotz. Walker brings up a quote that Trotz said, where he claimed that on his deathbed, he'll still be haunted by the Tampa Bay Lightning eliminating the Islanders in Game 6 of the 2020 Eastern Conference Final. Poor Barry! Walker says she feels the Islanders will have a chip on their shoulder this season. Walker praises Trotz a bit and then brings up the other Russian goalie in New York, in Ilya Sorokin.
Duguay brings up COVID-19 and asks Walker about the protocols for this season. Walker runs down everything about COVID-19 here and says that it's pretty much the same stuff that the NHL used while the playoff teams were in the bubble. Walker then brings up the recent issues with the Dallas Stars too. Walker also looks at the family factor, mentioning how the Islanders have a lot of young children and you never know who those kids have contact with.
Duguay brings up Henrik Lundqvist and his heart surgery. Walker runs down what the surgery was and how the surgery was successful. Walker says it's a shame that Lundqvist wasn't able to join the Capitals this season. Walker isn't sure if Lundqvist will ever return to the NHL again. Duguay says he wishes Lundqvist well.
Duguay goes back to Rangers vs Islanders. Duguay mentions that many fans (I'd be one of them) would love to see more passion and intensity in this rivalry. Walker, like everybody, feels that as the season goes along, we should see increased intensity and passion. Duguay then asks, what's the Islanders biggest weakness? Walker thinks the Islanders are built to go the distance and perhaps there will be a lot of pressure on them to win. Walker thinks the Islanders biggest weakness is their third line, as it doesn't have a true identity yet. Walker mentions that Oliver Wahlstrom may step up this season.
Duguay talks about the Rangers third line and brings up the names of Alexis Lafreniere and Filip Chytil. Duguay feels the two teams are evenly matched. Walker has the Capitals, Flyers, Bruins and Islanders as her four playoff teams. Walker says she knows she'll get heat from Ranger fans for saying that. Walker thinks the Rangers were dealt a crappy hand, due to being placed in this division. (For what it's worth, the Rangers have always been in the toughest division in hockey, and you could argue that Carolina and Columbus are better than Boston and Buffalo. In fact, I don't even think it's an argument!)
Walker adds that the schedule will be just as tough, since every game is a division game, as opposed to having games with the worst teams in the league. Walker thinks that youth and inexperience will hurt the Rangers this year. Walker says she'd love if both the Rangers and Islanders made the playoffs, as it's better for her job. Makes sense.
Duguay asks Walker for her 2021 NYR MVP. Walker says she thinks it will be Panarin. Duguay asks if there will be a drop-off from Panarin this season. Walker doesn't see a drop-off at all and thinks Panarin will continue to shine. Walker also brings up the strong chemistry that Panarin and Strome have. Walker also thinks that Kakko will have a great year by playing with Panarin.
Duguay goes back to the Islanders, asking who is their key player for 2021. Walker feels like it will have to be Sorokin. Walker jokes that she thought this was supposed to be a Rangers podcast here too, which was a comment I found funny. Walker also names Henrik Lundqvist killer JG Pageau as a major player for the Islanders.
Duguay gives out his predictions, with the Rangers making the playoffs as the fourth seed and with the Islanders finishing in fifth place. Duguay says injuries will play a major factor this season and brings up how one injury could cripple the depth of a roster. Duguay, like Walker, has Panarin as team MVP in 2021. Duguay feels that the defense and goaltending will be better this season for the Rangers too.
Jake Brown brings up a Twitter poll that the podcast ran, where it was asked, "What will be the season win/loss record between Rangers vs Islanders?" Brown runs down some of the picks. (I have NYR 6-2 and yes, there is some homerism there!) Brown and Walker laugh about some people picking either team to go 8-0, based on their fan allegiance.
Brown plugs a new segment starting with next episode, which will be a fan call-in segment. Basically, fans can call a number and leave a voicemail, and as long as it's not profane or obscene, they'll air the voice message on the show.
Jake Brown then starts talking about the white teeth that Mollie Walker and Ron Duguay have. Brown says he's going to have to see a dentist to step his teeth game up. I am not really familiar with the inner-workings of Jake Brown's mouth, but suffice to say, I am aware that he at least doesn't have a mouth like Al Trautwig! (And speaking of Trautwig, it seems that "mum's the word" on his whereabouts. MSG Networks have replaced Trautwig this season with Michelle Gingras.)
After another commercial, the president of the Henrik Lundqvist fan club joins the show, as Larry Brooks talks the Rangers.
Brooks jumps on the call and says he's pumped to see hockey back. Brooks brings up the long layoff the Rangers have had since their last home game in March of 2020.
Brooks feels that goaltending will be a major strength for the Rangers this season. Due to not being allowed at the practices and scrimmages, Brooks says he doesn't have a true pulse on the team, but based on the streams he saw, he thought the goalies stood out the most.
For the first time ever, Brooks admits that Henrik Lundqvist wasn't what he was over the last few seasons. And I'm the bad guy for saying that over the last few years on this site!
Duguay talks about the Rangers vs Islanders rivalry. Brooks thinks that the rivalry could be embellished this season. Brooks says the games will be meaningful. You don't say. Brooks then says not having fans in the arena will hurt these games a bit. Well, Brooks is dead-on accurate about that!
Duguay brings up leadership and the lack of a captain on the Rangers. Brooks says Chris Kreider stands out to him as the leader of this group. Brooks also says Trouba should stand out as a leader too. Brooks is interested to see what young guy stands up, mentioning guys like Adam Fox, Ryan Lindgren and Alexis Lafreniere. Brooks says this year will definitely be much different than seasons prior.
Brooks then compares this team to the Ron Duguay teams of the late 1970's and the Ranger teams of the early 2010's, when talking about youth and trying to find leaders. Duguay brings up how Esposito and Hodge were locker room leaders during the late 1970's. Duguay says that Espo would also sit back a bit, and let Dave Maloney and Don Murdoch step up too.
Duguay asks Brooks about the Brian Boyle rumor. Brooks feels that Boyle would be a perfect fit for the Rangers. Brooks reiterates what he previously wrote, saying the Rangers are taking a wait-and-see approach with Boyle. If the Rangers falter a bit on the fourth line, then perhaps the Rangers will make the call.
Walker asks Brooks about the expectations for Lafreniere, mentioning that Kakko didn't live up to expectations in his rookie year. Brooks feels that Lafreniere will adapt with no issues. Brooks says unlike Kakko, while Lafreniere is changing countries, he's always played the North American game. Brooks says the big question is when does Lafreniere break into the top six forwards? That's a good question.
Duguay says he talked to some of his French-Quebec friends, and how his friends raved about Lafreniere. Brooks and Duguay then talk about Lafreniere's speed, ability with the puck and how he's already becoming a great teammate. This is all music to my ears!
Duguay then brings up K'Andre Miller. Brooks says Miller has come along far and quickly. Brooks reiterates previous comments and says that no one had Miller on the Opening Night roster. Brooks talks about how great Miller has looked at camp. Brooks echoes David Quinn and says camp is one thing, NHL games are another. Brooks thinks the biggest issue for the Rangers defense is how they play the puck. Couldn't you say that about any defense in the league?
Brooks expands on the defense, saying that the Rangers defensemen don't always have to look for the perfect play and how sometimes you just need to clear the puck. Brooks brings up how Igor Shestyorkin can cover up a lot of mistakes.
Walker talks about the predictions Brooks made in his article in the NYP. Brooks feels the Rangers have a lot of talent. Brooks says he's down on the Penguins this year. Brooks also says that he feels Boston is on a decline too. Brooks says he hopes the Rangers have a good year. We all do Larry, we all do!
After a commercial, Walker closes off the show, saying the stuff that Duguay would usually say at the end of an episode. Walker also mentions that the podcast will be back every Thursday this season. I'm looking forward to it!
---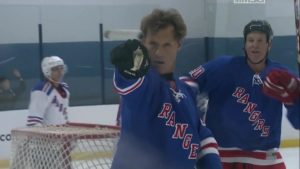 All in all, a solid return for the "Up in the Blue Seats" crew. Maybe this is being greedy, but I wouldn't mind two podcasts a week, as once a week, during a condensed season, could mean that some stories will come off as dated as the season moves along. Either way, this podcast has a nice mix of Duguay's takes and news from the reporters on the beat. For whatever you want to say about Larry Brooks, and everyone knows that I like to have my fun too, he's still the senior guy on the beat and the only reporter that the Rangers leak information to.
At this time, let's now get into the nuts and bolts of the Rangers home opener.
---
Similar to the Rangers themselves, this MSG Networks broadcast tonight was one huge mess. Between Vally talking about his own career as if that means anything in regards to the 2021 New York Rangers, the incessant ads for gambling (kind of sad to see a Hall of Famer like Sam Rosen pushing both DraftKings and Fanduel on the kids, like a heroin dealer giving a taste of his latest product to a junkie) and Rosen & Micheletti fawning over the Islanders for 60 minutes; this broadcast, if you let it, would drive you into a mental hospital.
If you've been following me either here or on social media, you already know that I was jacked about the return of the Rangers. Hell, I was happy to see Rosen and Micheletti too. While I expected Vally to be terrible as usual, I'm numb to it by now. And while I don't care about anyone's appearance, I do find it vain, that Vally, who is now 45 years old, dyes his hair blonde as if he's a teenage Zack Morris.
For the richest team in all of the NHL, this broadcast could use a makeover. I think what also hurts this broadcast is that it's pretty much the same as the Islander and Devil broadcasts, as all three teams use the same studio and production. We're talking about the New York Father Finkin' Rangers here, an Original Six team, and they have the same look as the barnyard hayseed Islanders and a team that once had a Stanley Cup celebration in a vacated "The Wiz" parking lot. I just think for the Rangers, they need to step it up. (Of note: do what I do. Watch other broadcasts around the league and you'll see what I mean here.)
Just like the referees and the Rangers, which I'll soon get into, this was a rusty performance for Rosen and Micheletti too. At one point in the third period, Kevin Rooney left the ice, presumably with a concussion, after taking an elbow from Ross Johnston. Two minutes later, Micheletti and Rosen wondered for thirty seconds why the Rangers bench were missing someone. After a producer got into their ear, the two got over their senility and said, "oh yeah, it's Kevin Rooney". To be fair though, perhaps the Rangers quicksand play lulled Sam and Joe into submission.
Maybe my opinions here are deep-rooted with a combination of the Rangers loss, the officiating and the play on the ice; but the broadcast was trash and a reset button is needed for Saturday night. It's Game One after a long break. At the end of the day, I'll give it all a pass.
---
When it comes to the line-up for tonight, it was pretty much what we've known since Monday, with one exception – Kevin Rooney was in for Phillip Di Giuseppe.
For those who need a reminder, here was the Rangers 2021 Opening Night Line-Up:
First Line: Kreider/Zibanejad/Buchnevich
Second Line: Panarin/Strome/Kakko
Third Line: Lafreniere/Chytil/Gauthier
Fourth Line: Lemieux/Rooney/Howden
First D: Lindgren/Fox
Second D: Miller/Trouba
Third D: Johnson/DeAngelo
Goalie: Shestyorkin
Of note Part I: – as predicted in all of my NYR preview blogs, DQ tinkered with his lines once things got bad. At times, it felt like DQ was just picking names out of a hat, as Gauthier was promoted to the second line and Kakko was demoted to the third line. While a line of Kakko and Lafreniere on it sounds interesting, it would be more interesting if Lafreniere was a top six forward, rather than Kakko being a Top 9 forward.

Of note Part II: Tony DeAngelo and K'Andre Miller both had their minutes slashed. I'll get more into this as we move along, but in the case of Tony DeAngelo, a player everyone knows I'm a fan of, I had no problem with it.
And oh, as I've been doing the last three seasons on this blog, the return of the GAMBLING segment! Here's what I said before the game:
The return of the over-under #nyr bet!
If you can get the game at -5.5, good for you. Most books have the o/u at -6. Based on all the high scoring from last night, I'll take the over in a 5-2 Rangers victory. LGR! pic.twitter.com/I0eTGTNdq3

— BlueCollarBlueShirts (@NYCTheMiC) January 14, 2021
The less said about my prediction the better! With only four goals, my over-under record for 2021, just like the Rangers themselves, starts off at 0-1.
And finally, before getting into the game recap, the box score, courtesy of ESPN.com:
SCORING:
PENALTIES:
GOALIES:
| | | | | | | | | | | |
| --- | --- | --- | --- | --- | --- | --- | --- | --- | --- | --- |
| SA | GA | SV | SV% | ESSV | PPSV | SHSV | SOSA | SOS | TOI | PIM |
| 24 | 0 | 24 | 1.000 | 19 | 1 | 4 | 0 | 0 | 60:00 | 0 |
| | | | | | | | | | | |
| --- | --- | --- | --- | --- | --- | --- | --- | --- | --- | --- |
| SA | GA | SV | SV% | ESSV | PPSV | SHSV | SOSA | SOS | TOI | PIM |
| 33 | 4 | 29 | .879 | 24 | 0 | 5 | 0 | 0 | 59:55 | 0 |
---
After introductions (which didn't include a camera wire in front of the skaters like last season) it was time for the National Anthem. With MSG pumping in fake crowd noise and other audio throughout the building, I thought we would've got John Amirante here. I was wrong. However, I was more wrong when I tweeted this out, seconds to puck drop:
Jack Johnson will have a chip on his shoulder I would think #NYR

— BlueCollarBlueShirts (@NYCTheMiC) January 15, 2021
Not even two minutes into the game, Jack Johnson would be called for holding Anders Lee and less than a minute after that, Brock Nelson scored on the Isles power-play, giving the Isles a quick 1-0 lead.
In my attempt to be an eternal optimist this season, as I got everything I ever wanted this off-season; I am approaching this season with a clean mind, not only with Jack Johnson, but with everyone. That said, Johnson did himself no favors tonight. In fact, I'd be shocked if Johnson starts on Saturday, because if I were David Quinn, I'm going back to my utility man from last season, in Brendan Smith.
I've seen the stuff on social media already – THIS LOSS IS ALL ON JOHNSON AND DAVID QUINN! FIRE THEM INTO THE SUN! INJECT THAT STATEMENT INTO MY VEINS! That's all happy horseshit to me. And if you're a grown male, and I don't care if you want throw an "-ist" at me here, as in sexist; if you say stuff like "FIRE SO-SO INTO THE SUN" or "INJECT THIS INTO MY VEINS", you're not a real man. You're a petulant child who shouldn't be allowed to have a sugary juice box after 5PM. I mean really, and maybe it's because of my lifestyle, but can you imagine being in a bar, and hearing a grown man say "INJECT THIS INTO MY VEINS!" I mean, the only way I can see that, is if in you're in a grunge bar in Seattle! Hello Kraken!
The sad thing about Johnson's penalty? Prior to taking the penalty, the Rangers first two lines had good shifts. As they say, a penalty can swing a game and once Johnson took this penalty, it was all downhill from here.
And while Johnson does deserve criticism tonight, let's also remember that the Islanders out-shot NYR 33-24. The Islanders also blocked more shots, to a tune of 20-11. The Islanders also won more faceoffs, by a final total of 30-21. In addition, in the first period, the Islanders were beating the Rangers at the dot 12-2. Lastly, and most importantly, the Rangers took nine penalties, which means that the Rangers were pretty much short-handed for nearly an entire period of play. So yes, while Jack Johnson had a forgettable debut, as a whole and in every which way; the team that almost made the Stanley Cup Final last year dominated a young and up & coming team.
Of course, with that said, people are still looking to inject stuff into their veins and fire people into the sun. Minga.
With the Isles quickly up 1-0, K'Andre Miller was then forced to defend an Islanders two-on-one. Miller took the shooter, who was Anders Lee. Lee then beat CZAR IGOR, putting the Islanders up 2-0, just 3:52 into the game. So yeah, this was not the start Ranger fans had in mind.
After this goal, Johnson made a turnover, when he wasn't able to clear a puck. Fortunately, Mika Zibanejad not only was able to break up another Islanders odd-man rush, but Mika was also able to get the puck and take it into the Islanders zone, where he put a shot on goal. On the next Rangers attack, Adam Fox razzled and dazzled, but perhaps missed a chance, where instead of shooting, he tried to feather a puck to Kakko, in a play that went nowhere. All of this stuff is bang-bang and hindsight is 20/20, but perhaps a shot/pass off the pads, with the idea of Kakko grabbing a rebound, would've been better here.
With 7:31 down in the first period, Sam Rosen gave us live gambling odds, where the Rangers, who were once a -108 favorite, were now a +310 dog. Oh Joe, they're dogs Joe! Woof!
At the 8:33 mark of the period, Pavel Buchnevich would draw his first of two penalties, with Josh Bailey called for holding. The Rangers power-play was awful here, with Mika Zibanejad soon forced to slash Anthony Beauvillier, in order to prevent an Islanders two-on-one jack in the box attempt.
Chris Kreider, who is somewhat like Rick Nash now, meaning that he's now playing on the first PP and PK units, due to his speed, was tremendous tonight on the PK. During this PK, Kreider, along with Strome, blocked shots and cleared pucks. This was the first successful NYR PK of the season.
At the 13:31 mark of the period, Barzal skated around Tony DeAngelo and beat CZAR IGOR in a shot that Igor probably should've saved. 3-0 BAD GUYS.
I know I've said this before, but this site is getting new readers and old readers now returning. Let me say this one more time and put this topic to bed.
I was tagged in about 8677867896789678967896 social media postings, whenever the Islanders scored. "HOW ABOUT THAT CZAR IGOR NOW?" was the common sentiment. As I've said in the past, until CZAR IGOR is taking up 12% of the Rangers payroll, I'm not going to get on a goalie who is in his rookie year and during a team rebuild. In addition, I'm rooting for every Ranger to do well and for the team to make the playoffs. No negativity here!
Fun fact: Lundqvist's NYR cap hit in this 2021 season, is nearly $3M more than CZAR IGOR and Georgiev, COMBINED!
I will say, I did notice how Micheletti and Valiquette threw away their excuse rolodex tonight, as they were quick to point out "bad" and "soft" goals allowed by Igor. And this goal was one of them. However, if Lundqvist was in net, we would've heard about moon landings, sun spots, aliens, deflections, the earth's axis, the glare off of Rosen's head and everything else as a reason for a goal allowed.
So yeah, 3-0 at this point.
---
With 5:37 remaining in the first period, the Rangers took their first "too many men on the ice" penalties of the season. As DQ himself has said, all of these penalties are on him and it's because he's constantly dicking around with his line-up, like a fantasy football junkie jacked up on ritalin.
The Rangers PK would come up big here, denying the Isles of another PPG. Of note, it was at this point in the game where the Isles were up 12-2 in face-offs. Hello Brian Boyle?
With under three minutes to go, we got our first glimpse of what Lafreniere could do, as he was moving around the ice where I wish Walt Frazier was calling it, as Lafreniere was "swishin' & dishin'", and like Ric Flair, was "stylin' and profilin'". While Lafreniere didn't score, this was where he showed off his potential for the first time as a Ranger.
After twenty minutes, the score remained 3-0, in favor of the bad guys.
---
Down 3-0, I wondered this at intermission – is this all still Lindy Ruff's fault? Heyyo!
The narrative from the MSG guys, and really, from many people here, were that the Rangers were young and jittery. While that might be true, it's an excuse. After all, the Islanders were able to shut down the Rangers power-play all game (0-4) and held veterans such as Zibanejad, Panarin and Kreider off the board too.
Four seconds into the second period, the Rangers got a break, when that monkey-faced goon Matt Martin hooked Buchnevich down to the ice. (And I say that with envy, as Martin, like other agitators, is a player you love on your team, but a player you hate if he's on the other team, like a Sean Avery, Wayne Simmonds and yes, a Brendan Lemieux.)
The Islanders easily killed the lackluster Rangers power-play here. Right after this, Ryan Lindgren was boxed for charging Jordan Eberle. I saw some NYR fans cry about this call, but to me, if this wasn't charging, it was interference.
To me, this is where the PK shined, at least from a goalie and Kreider perspective. The Rangers would lose the opening draw during this Isles PP. Igor made a great save on an all-alone Brock Nelson. Later on during the NYR PK, Kreider chased the Islanders in their own zone for 20+ seconds. If you want one positive takeaway from this game, it's this – Kreider, in his first game as a PKer for DQ, was as Joe Micheletti would say, "FABULOUS!"
As this period went along, you could see that CZAR IGOR was getting more comfortable. He was making big saves and started leaving his net a bit to play the puck.
While I don't know if this play would've swung the game, at the half-way mark of the period, the fourth line, who were fantastic tonight and arguably NYR's best line, charged Islanders goalie Seymon Varlamov. At the end of it, Trouba put the puck in the net. However, the refs ruled that they intended to blow a whistle, since they lost track of the puck.
This is all bullshit here. First, the "I intend to blow a whistle" rule is stupid. Hell, I intend to win the power-ball. However, my intention hasn't come through yet. Even worse, with the refs stating they wanted to stop play, DESPITE THE PUCK BEING LIVE, the refs reviewed the play, where IT WAS SHOWN THE PUCK HAD CROSSED THE GOAL LINE.
Here's how the ref reviewed this play:
After looking at a busted iPad, the ref came back and said no goal. Game on. No explanation, no nothing. What was the effing point?
Basically, the ref reviewed a play, that by rule, couldn't be reviewed. The ref reviewed it anyway, with an iPad that had the same WiFi strength as a cave in Pakistan.
No doubt about it – THIS WAS A GOAL. This would've made the game 3-1, and who knows what would've happened next? Instead, after the Rangers looking re-energized for a bit, Lafreniere was called for hooking Bellows at 14:13. 30 seconds later, and after another lost face-off, Anders Lee deflected a puck by CZAR IGOR. 4-0, with about 25 minutes of regulation remaining and against a stringy Islanders defense. The game had changed. This is not to say the Rangers would've won had Trouba's goal stood, it's just to say that these refs were horrible and the refs would showcase their inability to watch a video screen later on in the game.
I will say this – even with the lousy Islanders PPG, the Rangers were the better team in this period.
After DeAngelo & Lafreniere came close to scoring, Kakko, from five feet away, went Scott Norwood in front of Varlamov. The refs would get involved in the game again.
With CZAR IGOR making a save with .5 seconds remaining in the period (where even the horn went off) the refs brought the teams back to the ice, as they were trying to go to the locker room. Instead of just moving on to intermission, the puck was dropped and Jean Gabriel Pageau and Brendan Lemieux got into a war of words. Despite JGP CHEAP SHOTTING AND THROWING A PUNCH WITH LEMIEUX'S BACK TURNED, which got JGP a penalty, Lemieux was also boxed, for falling down, which the refs thought was embellishment. Perhaps someone should blindside one of these refs with a right hook and see how they react?
Ugh, 4-0 bad guys after two periods and it's getting late. Let's speed through this third period as best as possible.
---
With Lemieux and JGP in the box to start the third period, we opened up the final stanza with some four-on-four foreplay. Enter Tony DeAngelo.
A minute into the period, TDA was called for a questionable hold. Again, the refs were horrible all night. DeAngelo's reaction here was worse. With TDA putting the Isles on a power-play, TDA skated to the box where he slammed the door and may have had a few choice words for the officials. The refs then tacked on another two minutes on DeAngelo, giving the Islanders a four minute power-play.
I will say the following here, in defense of DeAngelo. I forget who did it, but I think it was during a Bolts/CBJ game in the playoffs last season, where a member of the Bolts took his stick, slammed the glass and the glass broke, thus delaying the game. No call. Tony DeAngelo slams a door like a pissed-off kid who just got grounded and he gets two minutes. There's just no consistency with these officials. Putting stress on a door hinge is worse than smashing glass out of frustration?
Thankfully, the Rangers would kill this four minutes of Islanders PP time, but down 4-0, the Rangers lost four minutes of even strength time to put a goal on the board.
Of note, after this penalty, Quinn, who previously stapled Miller to the bench for less than stellar play, also benched DeAngelo. However, both would eventually return, but the message was sent. (For whatever reason, DQ wasn't asked about this during his post-game presser, at least not from what I saw.)
Later on in the period saw the Johnston elbow on Rooney, where the refs didn't call a penalty. Slamming doors BAD, elbows GOOD!
Then, in another complete display of incompetence, the Islanders crashed the net, interfered with CZAR IGOR and the puck crossed the goal line. The refs reviewed the play, where DESPITE BLATANT GOALIE INTERFERENCE, the refs ruled the goal good. David Quinn immediately challenged for goalie interference, where upon another review, the refs ruled that it was goalie interference, thus negating the goal.
WHAT THE HELL IS GOING ON HERE? What is the point of replay, if these officials can't get it right on the first try? The refs made DQ waste a challenge and risk losing a timeout (I know, this would mean more in a tied or one goal game than in this particular game) because of some replay rule where they can't determine goalie interference on the first review?
This is just a bad look. Why make things harder? Why turn off casual fans with WWE-esque officiating? Get it right on the first time, you mooks!
After what felt like an eternity of Sam and Joe fellating the Islanders, Mika Zibanejad took an unnecessary penalty for slashing Mat Barzal, with under 90 seconds to go. The Islanders just skated out the scoreless period, giving the Islanders a 4-0 victory.
Again – "it's only one game, blah blah blah, etc." However, the Rangers just looked over-matched all game. However, I do think they'll get better as the season gets going, as they start to gel and the young kids start to get a hang of it. All we can hope is that this doesn't happen too late for them to make a playoff push.
I get it. This game SUUUUUUUCKKKKKKKKKKED. We waited forever for this and this is what we got. Everyone was so happy in their new Alexis Lafreniere jerseys too!
In the post-game, DQ, to his credit, didn't make excuses, but he did bring up a lack of structure. Whose fault is that? This is a win for my buddy Al D. The Third! In addition, and I hate to say this, but DQ just looked lost in his interview. I understand the circumstances, but I feel like DQ has been saying the same stuff after losses, for far too long now. At some point, and that point in time will come sooner than later, DQ needs this team to turn a corner.
The Rangers will get a chance to avenge this loss on Saturday night, when they host the Islanders again. I would expect the line-up to change, including Brendan Smith in on defense and Alexander Georgiev in net. As I said last blog, unless Shestyorkin posted a 50 save shutout in this game, I think the plan was to go to Georgiev anyway.
If you haven't already, subscribe to this blog for the next update:
---
One last time – "it's only one game." I remain ever faithful and still believe this team will make the playoffs. I know, it's weird to see me as a cock-eyed optimist!
If there was anything good to come out of this game, it's this – for over three hours, the topic of politics never crossed my mind. Thank you Rangers!
See ya Saturday night. My fingers are killing me after all this typing! I need some keyboard structure!
As always here, thanks for reading and…
LET'S GO RANGERS!
Sean McCaffrey
BULLSMC@aol.com
@NYCTHEMIC on Tweeter
Follow the BlueCollarBlueShirts.com Facebook Group by clicking this link: https://www.facebook.com/groups/1564026407193056/