Greetings and salutations everyone and welcome to another blog here on BlueCollarBlueShirts.com. In addition, this is the FINAL BLOG, prior to the start of the New York Rangers 2021 NHL season. I didn't think we'd ever get here!
That's right, by the time you read these words, it will be Thursday January 14th, and the Rangers will open up their 2021 season against the New York Islanders. Thursday night's game will be the first of two contests between the rivals, to kick off each team's 2021 campaign. After Thursday night, the two teams will reconvene on Saturday night at Madison Square Garden, where they will do battle again. After that, the teams will play each other six more times throughout the course of the season, in the Mass Mutual My Shiny Hiney Bluechew, Manscaped, New Amsterdam Vodka, Jolt Cola, 7-11 Sex Pills & Pizza East Division.
At this point in time, all the previews have been written and the line-ups are set for the Rangers vs Islanders game on Thursday night. Furthermore, everyone has their NHL predictions in, their apparel dusted off and their beverage of choice in the refrigerator. All that's left to do is drop the puck!
In tonight's blog, our final blog before Rangers puck drop, I'll have a few things for you. In a blog that I'm dedicating to one of my good buddies, the infamous and always lovable JEFFREY, (who recently just celebrated his 50th birthday) I'll take a look at the top ten Ranger story-lines of 2021, the Rangers front-office Town Hall meeting from Wednesday night, an update on the line-up and a quick preview of the Rangers home opener.
However, before getting into all of that, as usual at this point of any blog on this site, the PLUGS segment. Say it with me one more time, before the start of this 2021 New York Rangers season – here are my most recent blogs in case you missed them or need a refresher:
---
---
---
---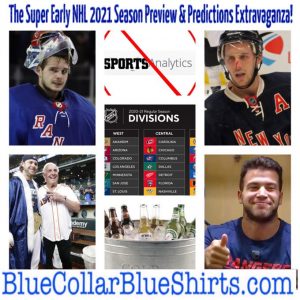 ---
In something that the Rangers have been doing a lot of recently, the Rangers held another Town Hall meeting on Wednesday night. We've seen several of these previously, as this idea started under the watch of John Davidson. While you really don't get much out of these things, at least it's an attempt from the front office to engage with the Rangers fan base. And give credit to JD here for being so open with the fans, as his predecessor, in Glen Sather, was more closed off than any other team president and/or general manager in franchise history.
It's funny, while both Sather and Davidson once played for the Rangers, it seems that of the two, only John Davidson understands Rangers fans. Glen Sather couldn't be more dismissive of Ranger fans during his horrible tenure in New York, while John Davidson has had a complete opposite approach. While JD won't show all of his cards, JD is very transparent with a lot of his comments and has no problems speaking openly. As a fan, you have to respect that.
Prior to the town hall, the Rangers announced that they would be going into this season without a captain again, as the team named Artemi Panarin, Mika Zibanejad, Chris Kreider and Jacob Trouba as the team's alternate captains. The topic of a future captain was discussed during the town hall and I'll have all of that for you shortly.
For what it's worth, while I think the team should have a captain, I'm fine with four alternates for now. However, Trouba seems a bit forced in my opinion, especially after the bad season he had last year.  To me, it kind of looks like the Rangers are putting the "A" on all of their big money deals. However, as I always say when arguing with myself (I'm a master debater don't you know, har-har-har) Quinn is there and with these guys all the time – I am not. I just have to trust in DQ that this is the right decision.
Below, I have a full recap of what was said on the Town Hall. Once finishing up the recap segment of the Town Hall, I'll chime in with a few comments and move on to the "Top 10 NYR Story-lines of 2021".
---
John Gianonne opened up the Town Hall, live from his home and presumably on Zoom. Giannone then introduced us to John Davidson, Jeff Gorton and David Quinn. The production value here wasn't the best, but it is what it is. After all, it's better than nothing.
Gianonne opens up the 2021 New York Rangers town hall by talking about an ex-Ranger, in Henrik Lundqvist. JD says that Lundqvist told him that "it's been a bumpy road". JD said Lundqvist's surgery went well and how thankful Lundqvist is right now. Gorton echoes the sentiment. David Quinn said last season was a tough season for everyone, especially for the goaltenders of the New York Rangers. (I guess you can take this as a catty remark about Lindy Ruff and the defense, although that's most likely an exaggeration. However, never let the truth get in the way of a good story!)
Gorton brings up again that the Rangers are in constant contact with Lundqvist and how the Rangers, organizationally, will do anything for him. (Besides let him play! My words, not what Gorton said!)
After talking Lundqvist, the topic of the pandemic is brought up. JD mentions how tough this has been for everyone and how hockey is really not that important in the grand scheme of things. JD says he has five grandchildren that he hasn't been able to see during this entire pandemic. Work-wise, JD says everything is different and brings up how the Rangers are testing all of their talent daily, including JD himself.
JD says that as a New York team and as an NHL team, they have to adhere to different sets of rules, rules that he has no problems with.
Giannone then asks Gorton what his job has been like during all of this. Gorton says it's tough to assess talent a bit and how a lot of guys haven't been on the ice for months. Gorton then adds that every team is in the same boat, so it's not really a disadvantage when compared to the entire league. Gorton says they have to do a lot in a really short window, but you have to do what you have to do.
Giannone brings up the new divisional alignment and asks DQ about it. DQ says he thinks they accomplished what they needed to accomplish, but admits that they didn't have time to cover everything. DQ mentions the stuff that was most important to him was "harped in on."
DQ says that the most important thing for his players was to be in shape. DQ says while you can't control a lot of things right now, being in shape is something his players can control. DQ says structure and employing systems was tough with the limited time at training camp, but the players need to be ready to play. (When I heard DQ speak like this, all I saw was my buddy Al D. II smacking his lips and getting ready to fire off comments on social media!)
JD then chimes in and talks about the upcoming 2021 NHL Draft. JD says this upcoming draft will be tougher than ever before for the Rangers scouts and how hard it will be to get a grasp on things, especially with 75% of prospects not playing right now.
Giannone then brings up Alexis Lafreniere. DQ says Lafreniere loves the game of hockey and always comes to the rink with a smile on his face. DQ admits, that despite the Rangers coyness at the time, everyone knew that Lafreniere was going to be the first pick of the 2020 NHL Draft. DQ says there will be a learning curve, but the future is bright.
Gorton says that Lafreniere "jumps off the page" and how he's found himself becoming a regular fan, as he tracks Lafreniere on the ice during various practices and scrimmages. Gorton brings up Lafreniere's excitement level and how eager Lafreniere is to play. Gorton also says that  Lafreniere has an "infectious personality".
JD says "come on and watch our kids grow". JD uses the "Laffy" nickname when talking about Lafreniere. JD says that Lafreniere has become a great teammate in a very short time. JD says Lafreniere is already a thick and strong kid, and he doesn't see Lafreniere being overwhelmed. JD also admits that he'd rather "under-promise and over-deliver", because he doesn't want to set the bar too high for Lafreniere in his rookie year. (JD has always been this way, in regards to not selling anything too high and trying to limit expectations.) JD says a good way to find out about a player's personality is to talk to the trainers. (Many hockey men have echoed that sentiment over the years.)
Gianonne brings up the vicious hit Lafreniere laid on Hajek during a recent Rangers practice. Quinn brings up that it's all about being consistent and he hopes to see Lafreniere continuing to lay the body during games.
Up next, are pre-recorded fan questions. It's hard to hear the first one. I think the question is "who looked best during practice?" DQ started praising Pavel Buchnevich as someone who has looked good in practice. Gorton said for him, it's been Kaapo Kakko. JD brings up K'Andre Miller and says how great Miller had also looked during the bubble practices from last summer. JD mentions again that young players will make mistakes, but it's all about progression.
As he's been doing throughout training camp, DQ once again praises Miller. DQ also stresses that this is a small sample size and not NHL games. DQ laughs and says Miller will be thrown right into the fire against the Islanders, but that he has high hopes for Miller. (Can you imagine if the 6'5″ Miller kicks the ass of the Islanders Ross Johnston on Thursday night? OH BABY!)
Giannone brings up the topic of leadership, especially with Lundqvist, Marc Staal and Jesper Fast no longer here. DQ said that Lundqvist and Staal were great leaders and personalities. DQ says with them gone, it now allows guys who may have been holding back to step up. DQ mentions Zibanejad, Kreider and Trouba as players who could be good leaders now. DQ thinks maybe it will be team effort, but says maybe there will be one person who steps up as the season gets rolling.
JD talks about the Rangers not having a captain. JD says the biggest key is to get the right guy, rather than just giving it to someone with seniority. (Hmm, are they waiting for Lafreniere to step up, as the Oilers once did with McDavid?) JD says you can take your time and that it's not an emergency to have a captain. Of course, Giannone doesn't mention that the last team to win a Stanley Cup without a captain were the 1972 Boston Bruins.
Giannone again brings up Henrik Lundqvist. Man, this is unbearable and a preview of what we'll see on the pregame show. He's gone. Let it go, let it go, let it goooooo! While talking about Lundqvist, I'm setting the over-under line at 8 minutes, regarding how many minutes Giannone and Steve Vagistat will spend talking about Lundqvist on the pregame show on Thursday night. Place your bets!
Jeff Gorton says he feels really comfortable with Igor Shestyorkin and Alexandar Georgiev. Gorton says draft positioning doesn't determine the talent of a goalie, bringing up the career paths that Lundqvist, Shestyorkin and Georgiev took to the NHL. Gorton says that both goalies will play a lot this season.
DQ praises Georgiev and mentions how Georgiev was a big part of the Rangers success from last season. DQ says Igor had the better numbers, but it still was a small sample size. DQ confirms what Gorton said, and said both goalies will play.
Giannone goes again to the topic of COVID-19. Okay, we get it, be safe, wear a mask, blah blah blah. I understand that COVID-19 is a topic, but they already talked about COVID-19 at the beginning of this town hall. There's no reason to slow down this call by going back to this topic, a topic everyone is long sick of already.
JD talks again about the pandemic and the testing the Rangers are doing. JD mentions how guys will travel to games. There is no talk about the Rangers hanging out in strip clubs like the NBA guys do! (My comment, not what JD said!)
We then go back to DQ. DQ says some routines have changed and that hockey players are creatures of habit. DQ mentions that all practices will be held in Westchester. There will be no game day practices at MSG as there have been in seasons prior.
Another season ticket holder gets face time and asks a question. The Miller family (not K'Andre's) wants to know what it's going to be like playing the same seven teams all the time? DQ jokes, and says it will make pregame scouting easier. DQ then gets serious and says he sees the intensity level rising with each game played.
Gorton says this will all be a grind and thinks it will be good hockey. Gorton says having a good start is key.
Giannone brings up JD's past, where JD did play many divisional games in a season. JD says every game counts all the way through the season. JD brings up how the Rangers will play the Devils in four consecutive games and how that will "breed contempt". JD sees some nastiness in the future and mentions that "discipline will be a factor".
JD mentions that it's important to get the young kids going and how they need to play. JD mentions Miller again. JD then brings up Morgan Barron and how he'll soon be in the line-up one day. (That doesn't sound good for Howden, my words, not JD's.)
JD thinks this season will also be a major learning experience for Igor Shestyorkin. JD loves his roster and says how the Rangers will be tested a lot with this tough division. JD says all teams have to go through all of these changes and he's excited to get this all started. Giannone then asks Gorton for his thoughts on all of this and Gorton says "I concur with JD". Okay then.
Gorton then expands and brings up Filip Chytil as someone who should grow this season.
When it comes to the topic of the playoffs, DQ says the playoffs are the goal. DQ brings up how injuries and outside factors will play into each team's schedule. DQ says roster depth will be huge. DQ says you need guys to do things that they aren't used to and how guys can't slip. DQ mentions Ryan Strome by name and says Strome needs to continue to pop. DQ feels that this team is a playoff team.
We then go to another season ticket holder. Steven gives us his life story before asking his question. Steve wants to know how hard is it for a winger to play on their off-wing and who has been most successful at it? DQ immediately answers with "Panarin". DQ says it's tough for off-wingers to get pucks off the wall and talks about the skill of the "back-hand". DQ says at the end of the day, it's all about the individual player and their desire.
JD brings up how many defensemen used to play their off-side in his day. JD mentions how tough it was as a goaltender to anticipate their shots. JD credits the European players for bringing this style of hockey into the NHL game.
Giannone asks Gorton if the topic of playing off-wing ever played into his decision to draft Kakko and Lafreniere? Gorton laughs and says "No, I was just happy to get them!" Gorton says JD and DQ hit everything that needed to be said about players playing on their off-wing. Gorton reiterates what DQ said, and how it's all about desire and how each player individually handles it.
We go to another season ticket holder, who gives out a shout-out to section 110. This fan wants to know more about Vitali Kravtsov.
Gorton says that Kravtsov has played really well in Russia. Gorton says they are excited to get him with the Rangers one day. Gorton says that Kravtsov will finish the KHL season in Russia. Once the KHL season is over, then Gorton will bring Kravtsov over.
Giannone brings up the names of Artemi Panarin and Mika Zibanejad, mentioning that he has failed to do so as we wrap up here. DQ hopes that these two can continue their play from last season. (What else do you expect DQ to say here?) DQ also brings up a Steve Yzerman/Scotty Bowman story, saying how sometimes you have to sacrifice individual scoring in order to win Stanley Cups. Good stuff here, even if DQ is comparing himself to Scotty Bowman! I can see the fake news headline now: "DAVID QUINN SAYS HE IS THE NEW SCOTTY BOWMAN OF HOCKEY!"
JD said he loves the Ranger fans and how it goes from generation to generation. (JD himself is a product of this, as a player, as an announcer and now as Team President.) JD once again says he's happy with the roster and he's excited to start the season. JD says there will be growing pains, but he's excited to see the young players grow. As JD always is during these things, he comes off as very likeable and it's easy to share his excitement.
John Giannone then wraps up this Rangers Town Hall. However, before doing so, Giannone puts on his pitchman hat and talks about the wonders and virtues of "Chase". That concludes the town hall.
---
All in all, when it comes to this Rangers Town Hall, it was pretty much skippable. Unless you haven't been following any of the news in recent weeks, there wasn't anything new or really newsworthy here.
I'll say this, during this entire Rangers training camp, the majority of Ranger fans have been clamoring for streams of the practices and scrimmages. Instead, we got this 47 minutes of fluff. While I like the idea of these town halls, and it's nice that the Rangers do them, it's tough to take anything of significance out of them.
While I understand that the K'Andre Miller zoom call from last year is probably the reason why the Rangers do not go to the live chat for questions anymore; what's the point of airing these things on social media, if none of it's going to be interactive? The Rangers aired this thing on all of their social media channels, under the guise that it was live. For all we know, due to all the fan question insertions, it was probably prerecorded. You're better off just airing this thing on the website or on YouTube, in an attempt to boost traffic. Then again, maybe the Rangers wanted to jump-start their social media traffic.
In addition, while this isn't a complaint or anything, I found it interesting that the Rangers decided to air this chat head-to-head with the NHL season opener between Philadelphia and Pittsburgh. If you're looking for league synergy here, perhaps it would've been better to have aired this at 4:30PM, as a lead in and plug for the start of the NHL season. Again, not a complaint, I'm just sayin'!
One blog segment down, two to go!
---
As we approach the start of the season, I've written countless words about the team. However, when browsing NYR social media today, I saw a lot of people expressing concerns, some which were valid and some that were silly.
Since I've addressed some of these topics in-depth previously (check the archives of this site) I'm just going to quickly hit these ten talking points that I've seen.
Without further ado, and in no specific order, let's get into it.
TOP 10 STORY-LINES TO EXPECT FOR THE 2021 NEW YORK RANGERS SEASON
— How many times will Brendan Smith be waived and when does he get into the line-up?
Not to pat myself on the back, or do a Diamond Dallas Page "Self High-Five" here, I believe I was the first Rangers blogger and/or reporter, to bring up the new salary cap rules, with the addition of the taxi-squad players this season. I talked about Smith's situation in-depth last blog, so I won't go into repeat mode here.
All I'll say here, is that unless Jack Johnson really falls off a cliff, I'd expect Smith to be the most waived player on the Rangers roster this season, especially on off-days, where the Rangers can load up and waive multiple players, in order to create salary cap space.
---
— The never-ending talk about David Quinn's job status.
Again, this is a topic I've discussed at length before. Simply stated, unless the Rangers start the season 0-10, 0-15 and 0-20, I see David Quinn remaining as the head coach of the team throughout this season and into the 2021-2022 season. I think people need to realize that this still is a rebuild, despite this rebuild being extremely accelerated, as the result of the Kaapo Kakko and Alexis Lafreniere drafts and the removal of Henrik Lundqvist and Marc Staal (and some of their salary cap hits) from this roster.
In addition, if the Rangers were to fire Quinn this season (again, I think Quinn is in good with both Jeff Gorton and John Davidson & is doing a good job anyway) who is replacing him in-season, especially in a season like this one? Plus, outside of Martin, all of Quinn's assistants are David Quinn guys, who have been with him in different stops. If the Rangers were to fire DQ, I think it would happen at the end of the season, where then the Rangers could wipe the slate clean and hire a new head coach, a head coach that would then in turn, bring in his own staff. However, as stated, I think DQ will be safe, despite the contrary opinions that are out there.
---
— The Rangers defense under Jacques Martin.
Staying with the coaches here, Jacques Martin will have a microscope on him this season. With Lindy Ruff often the target of many Rangers fans and media members during last season, Martin has the task of improving the Rangers defense. Of course, as DQ said in the town hall, time was limited during training camp. There were no preseason games. If we can expect anything, I think the defense will be better in the last weeks of the season than it will be in the first weeks of the season, as the team gels and understands Martin's new system.
---
— The already unbearable talk about Jack Johnson.
I saw something on Facebook today, talking about "who will be the new whipping boy of Ranger fans this season?" Obviously, Lundqvist and Staal, who got a lot of criticism from Ranger fans, are no longer here.
For me, I'll probably sit back a lot from really criticizing anyone, as I'm happy with where this team is going. I'll probably save all of my comedy and silly nonsense for Steve Vagistat this year. (Again, something I talked about previously.)
As far as who Ranger fans on social media will paint a red target on, I see it being a combination of Jacques Martin, Jacob Trouba (because of his contract and play from last season), Chris Kreider (contract), David Quinn (if the team is losing) and Jack Johnson, who many Ranger fans made public enemy number 1 after his signing.
As I've been saying all along, Johnson is a low-risk/high-reward signing. If he works out, great. If he doesn't, as Frasier Crane used to say – "off you go". Either way, I see him as a one-and-done Ranger.
---
— Tony DeAngelo.
For Tony DeAngelo's sake, I hope he has a Norris contending season, where he shuts all of his haters up. As mentioned previously, I see TDA's offensive numbers taking a hit, since he won't be playing with Staal and because TDA himself has said he's rededicating himself to his defensive game.
Whatever Tony DeAngelo does seems to make headlines. I know it's not fair and I know it's BS, but perhaps staying off social media, which can be a distraction, is the best thing for TDA.
During the season, expect fans of TDA to oversell anything great TDA does. In the same vein, and it could be as minor as TDA dropping his water bottle on the ice, expect his haters to continue their baffling and intensifying hatred of DeAngelo.
---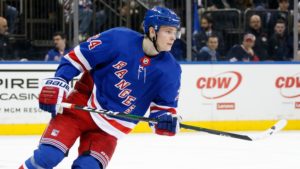 — Kaapo Kakko vs Alexis Lafreniere.
This will be a fun one. In a best case scenario, both Kakko and Lafreniere go hog-wild all season and positively push each other to see who's better. The two first round draft picks will be the talk of Rangerstown, USA this season, with perhaps Kakko having an easier go of it, due to most of the attention being focused on Alexis Lafreniere.
There are so many great players to talk about on this team, and so many young guns to look forward to watching, and these two should be at the cream of the crop.
---
— The never ending comparisons between CZAR IGOR and Henrik Lundqvist.
I think I've read about 675675675678567856565 times this week, how the Rangers will be starting a new goaltender, for the first time in 14 Opening Nights, when CZAR IGOR takes the ice on Thursday night. While I hope Henrik Lundqvist, the human recovers, I can't wait until he officially becomes a thing of the past, whenever discussing the Rangers in 2021.
Henrik Lundqvist was Henrik Lundqvist. CZAR IGOR is CZAR IGOR. As of right now, neither has won a Stanley Cup. Let's hope CZAR IGOR changes that fact sooner than later.
---
— Is this it for Brett Howden and Libor Hajek?
Two of the players that the Rangers received in their "Letter" trade of February of 2018, when the Rangers dealt JT Miller and Ryan McDonagh to the Tampa Bay Lightning, are nearing "shit or get off the pot" territory. I've argued on this site that I feel that both Howden and Hajek continue to get chances, because of what the Rangers gave up to acquire them. The 2021 season may be their last chance.
For Howden, he's in the line-up on opening night, kind of by default, due to the team's center depth issues. For Libor Hajek, the Rangers have more defensemen in the pipeline than centermen. As it stands right now, Hajek may have already played his last game as a Ranger, despite his current status on the taxi-squad.
When it comes to Howden, a slow start will bring Morgan Barron into the mix. I would expect more talk about Howden vs Barron as the season moves along.
---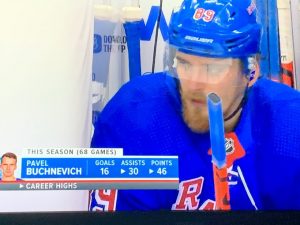 — Pavel Buchnevich's contract.
With Pavel Buchnevich set to be a restricted free agent at the end of this season, it's up to him to make himself as a no-brainer re-signing. Buchnevich, as a result of the rebuild, is now one of the longest tenured members on the roster. And hell, doesn't it feel just like yesterday, when Buchnevich and Jimmy Vesey were making their rookie debuts with the Rangers? I still wonder if Jimmy Vesey can get free drinks for life, as promised by several NYR bars at the time of his signing?
According to David Quinn, Buchnevich had a heck of a camp and DQ sees great things for "Captain Happy" in 2021. While Buchnevich will be in the NHL next season no matter what, will it be with the Rangers? Similar to the "TRADE RUMORZ" of Ryan Strome, Tony DeAngelo and Alexandar Georgiev from last season, expect Buchnevich's name to be linked to trades during the trade deadline. However, if things work out, like Strome, TDA & Georgiev, Buchnevich will re-sign with the Rangers.
---
— Will Mika Zibanejad and Artemi Panarin build off their career seasons from last year?
I have seen a lot of people discuss what to expect from Zibanejad and Panarin this season, as both had career years last season. If anything, it's easy to see why these two won't be able to hit the same scoring-per-game production totals as they had last year, as it seems like there is nowhere else to go but down.
As DQ said during the town hall, players can have great years, even if their scoring totals take a dip. It's about what they do for the team first, with everything else being secondary. Zibanejad, who will be on the team's first PK unit, should continue to prevent goals on the penalty kill. However, clearing pucks doesn't show up on the back of your trading card.
When it comes to scoring, I think it's more important for the offensively oriented Panarin to keep up his scoring more than Zibanejad needs to. For Zibanejad, Zibanejad must continue to shine on both ends of the ice. Without question, the Zibanejad-Panarin 1-2 punch is one of the best in the league and for the Rangers to make the playoffs in 2021, this punch needs to continue to pack a wallop.
Speaking of Zibanejad, let's talk about some quick news and notes, before looking at NYR vs NYI.
---
In an update to the Mika Zibanejad story, it looks like all systems are a go for Zibanejad to play in the home opener on Thursday. Obviously, this is great news.
In some news from the wide world of Rangers themed podcasts, Ron Duguay has announced that his "Up in the Blue Seats" podcast will return this season, with a new episode being released on Thursday. Usually, I try to recap these podcasts on this site, but with the Rangers back in play tomorrow night, that may not happen, due to time constraints. We'll see. Either way, I'll have a link of the podcast for you on this site tomorrow.
The Tony DeAngelo "Watch Your Tone" podcast has gone dark. Originally, there was supposed to be a new episode released this past Tuesday, but due to people blowing a story out of proportion, it's most likely not in the best interest for TDA to continue the podcast right now. And really, that's a shame and kind of sad at the same time. After all, prior to the nonsense from last weekend, on last week's episode, Tony DeAngelo said he'd be stepping away from the podcast for a while, with Brother Lou DeAngelo taking over the reins during the season.
The reigning and defending champions of all New York Ranger podcasts/video shows/whatever you want to call them, the Blueshirt Underground Show; during an exclusive podcast for their Patreon members on Tuesday night (it's a $1 a month to subscribe and it's more than worth your dollar to do so) have announced that they'll return with a free podcast/live YouTube show on Monday night. I'd assume that the two co-hosts, in Jim and Eddie, will then recap the first two games of the season and look at the schedule ahead.
At this time, let's close this manifesto off by looking at the Rangers vs Islanders game.
---
The last time these two teams played, was during an exhibition game in the bubble in Toronto. The Islanders won that game 2-1, in what perhaps was a sign of things to come. After that game, the Islanders then made it all the way to the Eastern Conference Final, while the Rangers continued their win-less ways, being swept by Carolina in the qualifying round of the 2020 Stanley Cup Playoffs. Of course, that was then and this is now.
To me, there are a lot of angles to look at here, with the goaltenders being the top story. As discussed previously, the new kid on Long Island, in Isles goaltender Ilya Sorokin, is a close friend of Igor Shestyorkin. If things go well for both franchises, Sorokin vs Shestyorkin could be the next big goaltender feud in the tri-state area, rivaling the days of Mike Richter vs Martin Brodeur.
On Wednesday, the Rangers, who have been tight-lipped about their starting goaltender in the past, didn't play any games – CZAR IGOR will be in net for the home opener. However, the Islanders won't be going with Sorokin, as they will start their star goaltender of their 2020 Stanley Cup Playoff run, in a one Seymon Varlamov. While we don't know this for a fact, we could either see these same goalies go on Saturday night, or perhaps see Georgiev vs Sorokin. If I were a betting man, and I am, I don't think we'll see Shestyorkin vs Sorokin in these first two games. Maybe we'll get this match-up later on in the season, in one of the six games that will be played between these two teams.
By now, everyone knows the roster and line-ups, with the Islanders having more question marks, with Dal Colle now out. Whatever the event, I expect some fireworks early, as Brendan Lemieux mixes it up with either Matt Martin or Ross Johnston.
While I think the Islanders did play well in the bubble, I'm not so sure if you can sustain that style of play during the course of a whole season. I think the Rangers are the better offensive team of the two, and in a game that may have some yips and giddiness, I see the Rangers making the Islanders pay.
For those interested, and really, who can really predict these things, especially now and without having seen these teams play, the Rangers are a -108 and -1.5 goal favorite. The Islanders a +1.5 dog. The over-under is six goals.
As far as my over-under pick, something I've been doing on this site for the last two seasons, I see this game going over. My reason for taking the over? My reason is simple – look at all the high scores from opening night. Perhaps the goalies need some time to get used to all the defensive breakdowns in front of them. I'll go with a 5-2 Rangers victory!
---
If you haven't already, subscribe to this blog for the next update:
---
SEE YA TOMORROW NIGHT!
As always here, thanks for reading and…
LET'S GO RANGERS!
Sean McCaffrey
BULLSMC@aol.com
@NYCTHEMIC on Tweeter and on Parler
Follow the BlueCollarBlueShirts.com Facebook Group by clicking this link: https://www.facebook.com/groups/1564026407193056/