Greetings and salutations everyone and welcome to another blog here on BlueCollarBlueShirts.com. Are the pitchforks and torches from the unruly mob, a mob who have been calling for David Quinn's head for nearly 48 consecutive hours, now all put away? While I'd expect those pitchforks sharpened and those torches re-lit, as the season progresses; for one night, here on January 16th, 2021, these people, like perhaps Tony DeAngelo himself, need a timeout.
After an embarrassing and pathetic home opener on Thursday night, where the Rangers fell to the Islanders by a final score of 4-0, two days later, with the teams back at Madison Square Garden, the Rangers got their revenge, demolishing the Islanders to a tune of 5-0. Once again, everything is now rainbows and gumdrops in Blueshirt Land.
While yes, "it's only one game and blah blah blah" (callback to Thursday night's blog) it's much better to write about a team-wide victory rather than a team-wide loss. Hell, it's much better to watch a team-wide victory than a team-wide loss too! On Saturday night, the Rangers purged themselves of their opening night loss, just like an underage drinker after a fraternity party, and bounced back 48 hours later, with a team-wide 5-0 smackdown of the New York Islanders.
There were many heroes after the Rangers 5-0 win over the Islanders. You can look at Artemi Panarin, who had two goals. You can look at Pavel Buchnevich, who had two goals and an assist. You can look at Alexandar Georgiev, who had a 23 save shutout win. You could even look at Brendan Smith (a pretty assist and drew two penalties) and Kaapo Kakko (one huge goal). However, if anyone deserves the most credit, it's most likely David Quinn himself – a David Quinn that many Ranger fans treated as if he wiped his ass with their stimulus check and pissed on the grave of one of their loved ones.
Let's recap the never-ending saga of David Quinn first, because there's a lot to talk about there and then get into tonight's game.
---
After the home opener debacle, where the Rangers were shut out for the fourth time in franchise history during a home opener, Rangerstown was burning. While I remained and continued with my optimistic approach to this team, (and perhaps a realistic one too) truth be told, I was in the minority in my support of David Quinn and his job status with the Rangers. The "FIRE DQ" stuff that you see all over the internet was ramped up into overdrive. Despite it being silly to think that the Rangers would fire their head coach after one game into the season, many supported that idea. (And to be fair to those ilk, these people have wanted Quinn gone for some time now.)
Ever since the "FIRE DQ" stuff started, which first really picked up during last season, I told you that I was not in that camp at all. In fact, I fall on the, "give DQ a chance and you can only really judge him after the 2021-2022 season", side of things. I've been saying this for a long time now. That said, for the first time in the DQ era, I did question some of his moves after Thursday night. As they say, to err is to be human! However, when it was all said and done, at around 9:45PM Saturday night, David Quinn came out looking like gold and squeaky clean. I guess that's why he's coaching the team and I'm writing this blog in sweats, while swigging a handle of "Proper 12" whisky.
Despite the Rangers win tonight, I'd be lying to you if I said I agreed with everything David Quinn did before this game. It all started on Friday morning, when Tony DeAngelo was forced to skate with the taxi-squad, rather than with the main roster. Of note, just to prevent questions about this, Tony DeAngelo wasn't officially placed with the taxi-squad. He would have to be waived in order for that to be a possibility. I would think that if the Rangers had waived DeAngelo, in order to save cap money and officially put him with the taxi-squad, that some team would pick him up, despite his high-end contract.
With Tony DeAngelo skating with the taxi-squad, Anthony Bitetto, who wasn't called up, skated with the varsity roster during Friday's practice. As I told you in my "Top 10 Things To Expect This Season" blog, after just one game, Ranger fans were already pummeling the names of Tony DeAngelo, Jack Johnson and David Quinn online. When it came to Quinn's decision to make DeAngelo a healthy scratch on Saturday night, the fan base that hates both DQ and TDA were conflicted. It was like throwing a toaster into a bathtub, as these people freaked out and flat-lined. Of course, because of DeAngelo's politics, for this sect of gremlins and cretins in the Rangers fan base; they sided with Quinn's decision, as they sided with their perceived lesser of two evils.
For someone like me (and many of you) I'm a fan of both TDA and DQ. As I've been saying all off-season, I'm a fan of this entire roster and root for everyone. I want to see everyone succeed. As far as my favorite players on this team, I think you guys all know by now who I root for the most – Alexandar Georgiev, Igor Shestyorkin, Tony DeAngelo and by default now, Alexis Lafreniere. That said, I root for everyone and want everyone to light it up. I don't root for any Ranger to be bad or to be off.
I didn't like the TDA scratching for one main reason – yes, he slammed a penalty box door in an empty arena, thus making the impact louder and more prevalent than had that game been played in front of a crowd; but that said, he was the only Ranger to show emotion, frustration and passion in that disgusting loss. And yes, I understand that TDA also gave the Islanders an extra two minutes of a power-play time, in a game that was long decided by the time TDA gave hell to some door hinges. However, at the end of the day, don't you want to see players pissed off at the idea of losing? I don't want to see smiles and "aw shucks" after a loss. I have NO problem with a player being riled up during a loss.
In interviews DQ gave out after the Rangers home opener loss, DQ singled out TDA, basically saying TDA was immature and can't be taking unsportsmanlike penalties. For what it's worth, I get what DQ is saying, but it's not like TDA took this penalty in a one goal game. He took it in a 4-0 loss, where the entire team looked bad.
I also found DQ to be hypocritical here. After all, remember this:
If you remember, on 12/31/2019, in a Rangers vs Oilers game in Edmonton, which was a 7-5 loss for the Rangers; David Quinn went bonkers, screaming at the referees. He took a two minute minor for his speech, a speech which included several f-bombs sprinkled into it. At the time, and I still believe this to this day, I thought this was good. DQ was fired up. After all, if DQ sat back and bottled his emotions, Ranger fans would've been upset at DQ for not showing any passion.
Sometimes, for both players and coaches, they are damned if they do, damned if they don't. This also applies to  Tony DeAngelo, who in recent weeks, reminds me of a Larry David, Jerry Seinfeld or a Frasier Crane type, meaning that no matter what TDA does, he's always portrayed as the bad guy, at least until the end of the episode. For TDA, let's hope he has similar ending as these TV stars, come the end of this season.
I had no problem with DQ doing his "rabbit ears" stuff, just like I have no problem with TDA slamming a door. However, I do have a problem with DQ singling out TDA as the reason for a loss. After all, if DQ can show signs of being pissed off while losing, what's the problem if his players do? And let's not forget this – last season, DQ said if the Rangers ever take a penalty for too many men on the ice again, it's on him. The game following that quote, the Rangers took such a penalty. Let's also not forget that in the Rangers home opener loss, the Rangers took another one of these penalties. Where's DQ to assume the blame for that transgression?
I understand what DQ is trying to do. I truly do. DQ is trying to hold TDA accountable. However, DQ is not as successful as John Tortorella and TDA is much more successful than Sean Avery. Had Tortorella done this to TDA, I would understand this better. After all, Torts has won a Cup and has a reputation as a successful coach. In this instance, I thought DQ treated TDA like a college player, a college player that DQ is more familiar with during his coaching career. This felt like "do as I say, not as I do", at least in my eyes.
At the end of the day, Tony DeAngelo, fresh off of signing a two-year contract that will pay him $9.6M, was a healthy scratch in game two of this season. You know he has to be furious. With DeAngelo out of the line-up on Saturday night, David Quinn was forced to tinker with the rest of his roster. Again, this is why I always say on this site that you can't really get obsessed with the "PROPOZED LINEZ & PAIRINGZ" stuff, because David Quinn always tinkers with his line-up like Ruxin from "The League". (And by the way, "The League" is a great series and worth going out of your way to see, in the event that you've never seen it.)
Prior to the game, DQ met with the media, where he answered questions on DeAngelo and his roster/line-up changes:
"We can't let one game turn into two bad ones, and that's going to be the challenge tonight. We can't let it linger." #NYR Coach Quinn's pregame update: pic.twitter.com/IM72Eo1jIE

— New York Rangers (@NYRangers) January 16, 2021
The Rangers, as you know by now, on Saturday night, went out and kicked the hell out of the Islanders. For this round, the scorecard reads David Quinn 1 – Tony DeAngelo 0. More on this shortly, as I want to recap the rest of the line-up changes.
While I'm on "Team DQ", and don't have any disdain for him like others do, I can admit that I was very questionable about DQ prior to this game. I'm starting to feel like DQ says all the same stuff recently after losses, stuff such as, "we cheated too much, we tried to make long passes instead of the short pass, being physical isn't hitting, we need to be smart, etc, etc, etc." At some point, all of this is just white noise and you have to turn the corner. The Rangers, at least for one game on this Saturday night, turned that corner, with their actions speaking much louder than DQ's words.
In the effort of full disclosure here, as I'm always open with you and will tell you when I predicted something right and when I predicted something wrong; DQ's line-up left me scratching my shaved head. Thankfully, I cut my nails before scratching my head!

While I could at least understand DQ's perspective, in his benching of DeAngelo, I was not a fan of DQ breaking up the most successful defensive pairing on the team, in Adam Fox and Ryan Lindgren. While I've been campaigning for Brendan Smith to be in this line-up, I thought Smith should've been in the line-up for Jack Johnson and not in steed of the fourth highest scoring defenseman of last season. In addition, despite the hatred DeAngelo receives from idiots on social media, he's uber popular in the Rangers locker room. I thought all these changes could be the beginning of DQ losing his locker room. However, for one night at least, I would be wrong with that last thought.
When all the dust had settled, here was DQ's line-up for this 5-0 victory:

Of note, when it comes to that graphic above, it was the Filip Chytil line that became the fourth line, with the Howden line playing third line minutes. Defensively, we had Lindgren/Trouba, Johnson/Fox and Miller/Smith. Of course, in net, we had Alexandar Georgiev, which I predicted would be the case, before the Rangers home opener. (I thought that unless CZAR IGOR had a 50 save shutout or something truly impressive, that Georgiev would get the start, as DQ would rotate his goalies. The 4-0 loss on Thursday just made it easier to go to Georgiev for this game.)
While perhaps saying "I had a problem" is too strong of a phrase, I did not like breaking up the Lindgren/Fox pairing. In a week's time, Trouba is now with this third defensive partner. Obviously, and as I stated previously, with Trouba having the huge contract, DQ and the Rangers want to give Trouba the best possible opportunity to get going. I guess the Trouba/Miller mentorship, which we all read/heard about, is now on ice, just like DeAngelo. (I guess on ice, in regards to DeAngelo, is the wrong phrase!) Also worth mentioning here, is the fact that Lindgren/Fox, not only live together, but have formed a successful chemistry on the ice as well.
When it comes to the forwards, I had no problem with DQ's tinkering. Lafreniere was better than Kakko on Thursday. Why not give Lafreniere more playing time, as many have been clamoring to see Lafreniere playing with Panarin to begin with. And as I always say, DQ changes his lines, where if someone isn't doing well and if someone else is doing great, DQ always promotes/demotes and flip-flops his forwards.
Maybe I'm getting too long-winded here, because after all, this is coming off as negative and who wants to be negative after a 5-0 bitch-slapping of the Islanders?
My point here? Not only were the DQ haters out in full-force to begin with, many people who support DQ, were also questioning DQ after all his line-up shuffling. In turn, DQ and the Rangers had one of their best games of the DQ era, even more so, when you consider what happened in the game prior to this one. (And I know some people will look at other games as "better" than this one, but really, after Thursday night, this win was as big as any.)
For all the hatred I see for DQ, I hope all of those people that despise DQ, all put that same energy into praising DQ after this game. EVERY MOVE DQ DID TONIGHT WORKED. If you were to nit-pick anything about the Rangers tonight, it was their power-play that went 1-8, with two of those power-plays including abbreviated time. However, to nit-pick that would be just that – nit-picking. After all, five on five, the Rangers outscored the Islanders 4-0 and controlled this game wire-to-wire. (Also worth mentioning here, in the final power-play of the game, which happened in the final seconds of the game, the Rangers were more than happy to sit back and let the clock run out, as they should've.)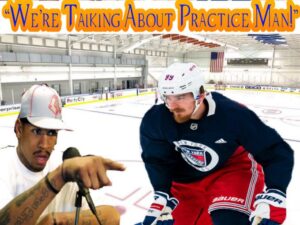 If you get anything out of this preamble, it's this – DQ had a lot of questions and cynics in his direction prior to this game. Once the game was concluded, DQ deserved a Broadway Hat himself. While yes, "one game, blah blah blah", DQ showed off the potential of this team. If the Rangers can keep this up throughout the course of the season, they'll be in the playoffs, just as I predicted on a previous blog!
Speaking of previous blogs, (what a segue-way) let's go to the PLUGS segment of tonight's blog and then recap/review tonight's thrilling victory.
Here are my last few blogs in case you missed them:
---
---
---
---
At this time, let's go to the GAMBLING segment of the blog, a segment that's not sponsored by DraftKings or Fanduel just yet!
Here's what I said before the game:
Season over-under record: 0-1

I'm using -6 here, as that's the number most books have.

Another tough one. NYR are a mess & Isles usually are low scoring. Will #nyr defense help #isles scoring again? I don't see the Rangers being shutout tho.

Gonna play the trends- under. pic.twitter.com/TzctrFTD5z

— BlueCollarBlueShirts (@NYCTheMiC) January 16, 2021
With a 5-0 score, the under hit! Just like the Rangers, I get my first win of the season and my record goes to 1-1. WINNING!
Finally, before getting into the nuts and bolts & goals and Sorokin's five hole; here was your box score, courtesy of ESPN.com, for this game:
SCORING:
PENALTIES:
GOALIES:
---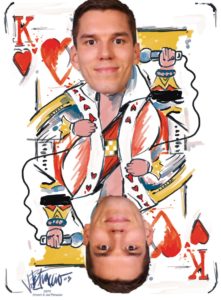 There are so many great things to talk about tonight, as while it may sound cliche, this was purely a "team-wide" victory. Yes, statistically, some Rangers stand out more than others, but everyone contributed. Everyone played hard. No one looked bad. Everything DQ did tonight, in regards to his line-up, was magic. And of course, Alexandar Georgiev was lights out. In fact, as I write these words, I'm listening to the official song of Alexandar Georgiev, "THE KING OF KINGS":
Outside of maybe Paul Cuthbert, and even then I'm being generous here, I don't think there's a bigger fan of Alexandar Georgiev in the New York Rangers fan base than yours truly. Speaking of Cuthbert, he teams up with Kevin Delury on the "Go Rangers Radio" podcast. Since I always plug other endeavors on this site, (because really, anyone can click any link, read any blog or listen to any podcast they want) such as "The Blueshirt Underground Show", "Watch Your Tone", "Up in the Blue Seats", "Battle of Hudson Blog", "View From the Penalty Box" and other such endeavors; here's a link to that podcast, where Cuthbert also routinely hails the KING OF KINGS:
On tonight's Rangers season preview episode of the @gorangersradio podcast (aka Jack Johnsonpalooza) we take a deep dive into Rangers opening night roster, expectations & a lot more. Listen here: https://t.co/w1uqSCcB5e #NYR

— Kevin DeLury (@kevindelury) January 14, 2021
And let me be clear here. While I have always advocated for Georgiev to get more work than Henrik Lundqvist during the past few seasons; I'm not saying that Shestyorkin should take a backseat to Georgiev here. All I'm saying right now is that the Rangers have two great goaltenders. I'm also of the opinion that DQ should ride whatever goaltender is hot. While this is probably CZAR IGOR's team, in the event that the Rangers make the playoffs; Georgiev is pretty impressive himself. After all, who will argue with me when I say this – Alexandar Georgiev should get the next start.
I want to stay positive from this point on. So the less said about Steve Vagistat and the MSG pregame show the better. However, we did get a few news and notes during the pregame show, including an injury to Seymon Varlamov, who was supposed to start this game for the Isles. We also got this video, of Lafreniere sitting by himself before the game, as this looks to be Lafreniere's new routine, akin to Panarin being the last off the ice after warm-ups:
Alexis Lafreniere's pregame routine

Getting locked in 😤 pic.twitter.com/tXUK6Usq1f

— Rangers on MSG (@RangersMSGN) January 16, 2021
When it comes to Varlamov, he was injured during warm-ups, after taking a puck to the throat from Cal Clutterbuck:
#Isles G Semyon Varlamov shaken up. (NHL/MSG+) pic.twitter.com/03hxex9kMv

— CordUp 🔌🍋 (@CordUpTime) January 16, 2021
Varlamov wouldn't be able to play after this. Instead, the heralded rookie and perhaps future franchise goaltender of the Islanders, in Ilya Sorokin, was forced to start. Let it be known, that in Sorokin's first ever NHL start, he was lit up and beaten by the Rangers, by a final of 5-0.
Lastly, on the near seven foot clown that must have pictures of someone, Steve Valiquette made excuses for Sorokin all game. Isn't it funny how Vally had no excuses for Shestyorkin on Thursday, but for nearly 15 minutes of air-time during tonight's game, Valiquette, who talks about his career every broadcast as if he were Terry Sawchuk, made every excuse in the book for Sorokin? Again, let me try to stay positive here and forget about Steve Vagistat and his terrible work for the remainder of this blog!
---
One last thing about the MSG Networks broadcast tonight and then I'll move on – if DQ is going to scratch TDA, they should've had TDA join Sam and Joe in the booth. I'm sure TDA could've worked in a "FABULOUS" or two!
After DQ kicked off the game with his third line, which then saw Sorokin making his first NHL save; the Rangers looked much better at this juncture than they did in the home opener. The Rangers just looked more energized and really seemed to be fired up, as they should have been.
Just two minutes and twelve seconds into the game, the Rangers first line showed up:
BUCH YOU BEAUTY!!

First goal of the new season 🤩@NYRangers | #NYR pic.twitter.com/Ig6cqioXNn

— Rangers on MSG (@RangersMSGN) January 17, 2021

1-0 GOOD GUYS!
On the goal, Zibanejad smartly found Buchnevich and Buchnevich beat Sorokin, a Sorokin who was perhaps screened by his own guy. Welcome to the NHL. For Buchnevich, this was huge, as there were so many times last season where Buchnevich faltered during similar situations.
After Georgiev made his first nice save of many, 4:50 into the period, Kreider took a dumb slashing penalty on Barzal. To Micheletti's credit, he called Kreider out for this bad penalty. Fortunately for Kreider, he didn't slam the door, so I would expect him not to be scratched on Tuesday. In other news, I heard DQ is advocating for self-closing penalty box doors, akin to what you see with those sliding mini-van doors!
The Rangers PK here, as they would be throughout this game, were flawless, killing the Isles power-play. All in all, the Rangers PK would finish 4-4 tonight. Worth noting, as this was also a trend last season – after a big momentum changing Rangers goal, within thirty seconds after scoring, the Rangers would take a penalty, thus putting the opponent on the power-play.
Brendan Smith, who made his presence known all game, got his first bit of camera time in this game, when he took on Brock Nelson, after Nelson tried to get too cute with Georgiev after a save. After a whistle, the Islanders PP resumed, where Ryan Lindgren put on an Emmy performance, as Lindgren fell down with Anders Lee in front of him. Lee was then called for a phantom trip, although in the box score, it reads as an unsportsmanlike misconduct for the Isles captain. Either way, Lee shouldn't have been penalized. That said, this officiating crew, which called the game on Thursday, owed the Rangers a call or two. This was it. As a result, the Islanders PP was nixed, and after four on four foreplay, we had a 1:03 worth of an NYR PP, a NYR PP, while showing signs of chemistry, struggled to score all game.
Nine minutes in, the Islanders were out-shooting the Rangers 7-2, but it never felt like the Islanders were dominating or anything like that. Of course, Georgiev making a bunch of key saves made it feel this way too.
After Clutterbuck got away with a crosscheck to the back of Fox, (maybe a no-call after the Lee call on Lindgren) Pulock took a puck to the side of the head. It looked like Pulock's ear took the brunt of it. In turn, Pulock was out for the period, but thankfully, despite being an Islander, wasn't injured too bad, as he returned to the game by the start of the second period.
At the 13:46 mark of the period, and with the Isles down a d-man, and despite David Quinn saying the Rangers need to get away from the Hail Mary long stretch pass, Brendan "Bobby Orr" Smith made this pass to Panarin:
PANARIN MAKES IT 2-0 @NYRangers !

Breadman is BACK everyone 🥖 pic.twitter.com/n5wirXPxxe

— Rangers on MSG (@RangersMSGN) January 17, 2021
While yes, Panarin made short work of Sorokin glove side, this goal doesn't happen without this perfect two line pass from Brendan Smith. 2-0 GOOD GUYS!
Later on in the period, the Rangers would get another power-play, after Dobson put his hand on the puck. The best shot the Rangers had here of scoring, is when Trouba, all alone, and in front of Sorokin, did one of his patented Scott Norwood shots, where he slaps the puck at 100MPH and it goes wide. After the failed PP, the Rangers were now 0-2 on the PP in the game and 0-5 on the season.
In what was an important save at the time and perhaps even more of an important save with hindsight, Georgiev, with under a minute left in regulation, made a save, while screened, on a seeing eye puck. This would be the first of several of these types of saves, as Georgiev's positioning was perfect all game. As we'd later see, Georgiev would be screened, blinded and forced to stop deflected pucks, pucks that he never saw. However, because he positioned himself correctly, and anticipated pucks in his direction, Georgiev was able to blank the filth known as the NY Islanders all game long.
After twenty solid minutes, the score remained 2-0, in favor of the GOOD GUYS.
---
Worth mentioning here – after losing the first period face-off battle on Thursday, after the first period tonight, the Rangers won 56% of the first period face-offs in this game.
Islanders superstar, Mat Barzal, was a complete shit-show tonight. Not only did he take three penalties in this game, at the 1:08 mark of the second period, Barzal would take his first of two Islander offensive zone penalties, thus bailing out the Rangers and their defense. However, despite Barzal taking another penalty, right after coming out of the box, the Rangers wouldn't make the Islanders pay on either Rangers power-play. In turn, the Rangers power-play was now 0-4 in the game, and 0-7 on the season. Also of note – Brendan Smith would draw his first of two penalties in this game. When you got Barzal committing penalties on Brendan Smith, you have to tip your hat to Smith for his hustle and hard work.
After two failed power-plays, at the 5:57 mark, Buchnevich scored a pure goal scorer's goal:
Buchnevich looking like a BEAST for the @NYRangers

That's 2 on the night for him now 🥅 pic.twitter.com/LRxCdtHnvM

— Rangers on MSG (@RangersMSGN) January 17, 2021
3-0, GOOD GUYS!
On the goal, while it would've been nice if Lafreniere was credited with an assist (it wasn't an assist) Buchnevich benefited from an Islanders turnover, streaked to the net and made Sorokin his bitch. You love to see it! And for the player known as "Captain Happy" and a Buchnevich who has had confidence issues over the years, what a game for Buchnevich, a player that's in a contract year. (Of note, DQ raved about Buchnevich in his post-game interview, even mentioning the ups and downs of his relationship with Buchnevich.)
After the goal, Kakko was boxed for slashing Jean-Gabriel Pageau. The Rangers PK made short work of the Islanders here, as it felt like this PK flew by.
Let me say this about all these NYR GIF makers, including the Rangers Twitter account. All you get from these people are offensive plays.
In the absolute SAVE OF THE GAME, after the Rangers PK, Georgiev absolutely stunned and sonned Henrik Lundqvist killer Jean-Gabriel Pageau, with a "child please" glove save. (And yes, "child please" is a reference to "The League", the series I talked about at the top of this blog.) I wish I could share the video of the save with you here, but I can't find one online and I don't know how to make one myself. However, this save was a work of art, especially knowing Pageau's past with the Rangers.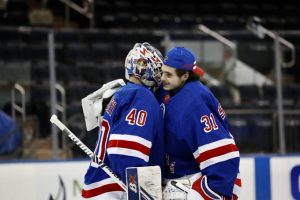 At the half-way mark of the game, this game remained all Rangers, as Georgiev continued to make saves. Gauthier would also get a shot at a goal, hitting the crossbar of Sorokin. Even better, despite sitting on two goals, where some players tend to get unselfish, Buchnevich continued to fire away.
At the 12:19 mark, Smith drew that goon, in Ross Johnston, into taking a penalty. However, the Rangers power-play came up empty handed again, as the PP was now 0-5 in this game and 0-8 in the season. Of note, Panarin was a bit unselfish here, passing up on a shot in order to feed Howden. I won't question Panarin's hockey IQ, and this is easier to say in hindsight and with the benefit of replay, but perhaps a pass off the pads/set up a rebound, would've been a better play here.
With under 4:30 to go, and if you open up your window on this cold winter night right now, you can still hear Ranger fans celebrating; Kaapo Kakko scored the best and most prettiest goal of the game:
UNREAL pressure from the @NYRangers capped off with a RIFLE by Kaapo Kakko 🚀

4-0 #NYR pic.twitter.com/hhxQ3Vn7mw

— Rangers on MSG (@RangersMSGN) January 17, 2021
While not exactly a tic-tac-toe goal in its purest form, the passing from Philipp Di Giuseppe and Filip Chytil set up this easy goal for Kaapo Kakko. And when I say the word easy, I'm not talking about Valiquette at a Swedish massage parlor after a few Bahama Mama's – I'm talking the Rangers quick offense and a lack of an Islanders defense, a defense which left Sorokin hanging in the wind like a plastic bag hanging off the Sears Tower.
Anyway, 4-0 GOOD GUYS, and really, a huge goal for Kakko. It's important to get him going.
With the second period winding down, and the Rangers up 4-0, the rout was on. The Rangers would kill a penalty that Smith took. Georgiev continued to be lights out. Sorokin even made a nice save himself, with perhaps a horseshoe up his hiney, as he stopped Brett Howden. After forty minutes, the score remained 4-0, in favor of the GOOD GUYS!
At this point in the game, I remarked the following:
This is a game that you wish just ended right now. Rangers are flying, everything is positive and you'd go to bed happy if that was the final horn. #nyr

— BlueCollarBlueShirts (@NYCTheMiC) January 17, 2021
I also said this:
Does everyone still want DQ fired to the sun and stuff injected into their veins? #NYR

— BlueCollarBlueShirts (@NYCTheMiC) January 17, 2021
While I didn't want to jinx anything, and mention the word "shut-out", Georgiev, the Rangers and the iron would eventually keep Georgiev's shutout in tact.
---
As you'd expect with a four goal lead, the third period was all about the Rangers playing well and closing out the Islanders. The Rangers would do just that.
Di Giuseppe would take a penalty just under two minutes into the period. Buchnevich, who had a phenomenal game, was great on the PK and helped clear a puck with Trouba. Kreider, who is now Rick Nash 2016, meaning that he's playing on both the first PP and PK units, also looked great on this PK.
A word that DQ uses a lot in his interviews is "swagger". Kakko, after his goal, displayed swagger, almost scoring his second goal of the game after the Rangers PK had expired.
With ten minutes to go and trying to run out the clock, the Rangers, in a role and reputation reversal, did a good job of grinding out the Islanders.
Once passing the FOXWOODS FINAL FIVE mark of the game, that goon Johnston couldn't control himself. Ryan Lindgren, who continues to have a face that personifies OLD TIME HOCKEY, would draw Johnston into taking a double-minor penalty and a game misconduct. Take a look at Lindgren's grill:
With the Rangers on another power-play, Artemi Panarin would score just seconds into the Rangers first power-play of the Islanders double-minor. The goal came after a sweet and deft backhand pass from Adam Fox. 5-0 GOOD GUYS! On the bench, Panarin was beaming ear-to-ear and you couldn't rub that smile off his face, even if you had a 10 year old Brillo pad in your hand.
At 5-0, the only thing left to do was protect the shut-out. After not scoring on the second power-play, as the Rangers PP finished up 1-8 on the night, both Lee and Leddy found iron. Maybe Georgiev got bailed out here, but then again, maybe the Islanders were trying to be perfect in trying to beat perhaps a Vezina candidate!
With under 90 seconds remaining, Barzal took another penalty, with Lindgren once again drawing an Islander into taking a penalty. While officially, the Rangers power-play came up without a goal here, that stat is tainted, as the Rangers were just trying to skate out the clock. The Rangers would do just that, giving Georgiev the shut-out and the team a 5-0 win. WHAT A TURNAROUND.
---
You can never use the term "must-win" after the second game of a season, but this was definitely a huge and much needed win. Had the Rangers lost this game, you would've had some fans taking headers off that new building in Manhattan. DQ even alluded to the craziness around Rangerstown himself, saying after the game: "I'm hoping everybody's off the George Washington Bridge by now."
Again, and I can't stress this enough – this was a team-wide victory. While Georgiev, Panarin, Buchnevich and others had great box scores, this doesn't happen without the support of the entire team and the head coach. And as my buddy @yells__ would say, "and don't you forget it!"
The biggest question right now, pertaining to the Rangers, is what's next? Of course, I'm also talking about Tony DeAngelo here too.
Based on DQ's history with the Rangers, he tends to go back to the same line-up after wins, especially after big wins, which this win was. When you look at this 5-0 team-wide victory, how can you take anyone out of the line-up for Tony DeAngelo? (And it's tough to add Kevin Rooney back into the line-up too for that matter, a Rooney who missed this game after the injury he suffered after the elbow from Ross Johnston on Thursday.)
My prediction? I expect the same exact line-up, including Georgiev in net, come Tuesday night against the Devils. Even Jack Johnson, who gets an insane amount of backlash from Ranger fans, had a good game. As I always say about defensive defensemen – if you're not talking about them after a game, that means they had a good game.
---
When it comes to the goaltenders, this isn't about Georgiev vs Igor. It's about whoever is hotter at any given time. Georgiev is that guy right now, a Georgiev who admittedly benefited from a stronger Rangers defensive effort than what CZAR IGOR got on Thursday night.
Enjoy this win Rangers fans, I know I will!
If you haven't already, subscribe to this blog for the next update:
---
Moving forward, unless something crazy happens between now and Tuesday night, I'll be back on Tuesday night, with a Rangers vs Devils review.
For those looking for more Rangers talk, check out "The Blueshirt Underground Show" on Monday night at 7PM, where they will provide their unique take on all the latest in Rangerstown, USA. Their show is interactive and live on YouTube, and you can watch it here: https://www.youtube.com/channel/UCY7uJZRhIkM1iLKEdo6gmag
In the meantime, I'm back to trying to finish my "New York Rangers Rink of Honor" book, as I'm now over 500 pages. I'm up to my last chapter – on old friend Henrik Lundqvist, where I'm writing about his eventual place in the rafters of Madison Square Garden. I have no clue when I'll release this book (I'm hoping to have it published by at least the summer) but I can't wait to share it with you. I can tell you this, as a savant and consumer of all things pertaining to Rangers content, there is no book like this one on the market today. After all, where else will you get 15 pages on former Rangers captain Art Coulter? (And really, if you want some entertaining reading material, google Coutler's interviews from his retirement.)
As always here, thanks for reading and…
LET'S GO RANGERS!
Sean McCaffrey
BULLSMC@aol.com
@NYCTHEMIC on Tweeter
Follow the BlueCollarBlueShirts.com Facebook Group by clicking this link: https://www.facebook.com/groups/1564026407193056/