"We have to play a full 60 minutes, not 48 minutes. You won't win many games like that." – David Quinn 1/19/2021
Greetings and salutations everyone and welcome to another blog here on BlueCollarBlueShirts.com. After the Rangers thorough trouncing of the Islanders this past Saturday night, for right now, it's all doom and gloom in Rangerstown, USA again. Unfortunately for the Rangers, they will now have to wait just a tad under 72 hours before getting a chance to redeem themselves.
On Tuesday night, the Rangers hosted the Devils, in the first of eight meetings between these two warring teams of this 2021 season. The Devils, coming off a horrid season in 2019-2020, now behind new bench boss and former Rangers defense coach Lindy Ruff, upset the Rangers, in a game that featured a final score of 4-3. For the Rangers, they played more than well enough to beat the Devils on Tuesday night. However, the first 15 minutes of this game wound up being the difference between a win and a loss and sadly, in favor of the Devils.
To demonstrate how well the Rangers played tonight, keep in mind of the fact that the Rangers had only two shots on goal after the first 14 or so minutes of the game. (The Rangers finished with seven SOG in the first period.) Now take a look at this:
Of course, after every Rangers loss, the attitude among Ranger fans is sour. However, this loss was particularly bad, because really, the Rangers should've won this game. Making matters worse, is that in this short season, where each team exclusively plays games against teams in their own division, is that every regulation loss is basically a four-point game. (Two points for the victor, two points not obtained from the loser.)
While this may be optimistic and looking too far ahead; should the Rangers find themselves a point or two out of the playoffs after the final game of the season, this will be one of the games we'll all look back on. This should've been a two-point victory for the Rangers.
For now, in the immediate future, what will really suck after this loss, is that we'll be subject to a million or so rants against David Quinn, Jacob Trouba, Jack Johnson, and to a lesser extent, Chris Kreider. In addition, as I write these words, Mika Zibanejad looked like he was concussed at the end of this game. As of this writing, there was no information about his health status. (As noted on previous blogs, Mika Zibanejad has a history with concussions.)
While I rather opine in full once we know more about Zibanejad, needless to say, if the Rangers are without Zibanejad for any significant period of time, the Rangers will be "Father Fink'd" beyond belief.
Going into this game, the Rangers were riding high. After Saturday night's win over the Isles, some fans left their perch from the various bridges that are scattered around in New York City. Rangers head coach David Quinn, who has kept his line-up close to the vest in the past, announced his full line-up 24 hours before this game. As predicted here last blog, for this game, David Quinn went with the same line-up from Saturday night, when the Rangers took care of business in their disposal of the Islanders, to a tune of a 5-0 victory.
As I said over the course of my last two game recaps on this site, I didn't like the scratching of Tony DeAngelo on Saturday night. However, I understood why Quinn scratched DeAngelo on Tuesday night. As noted, David Quinn has been consistent during his tenure as head coach of the Rangers, especially when it comes to his line-up after big wins. While obviously, in the hypothetical of if Panarin or Zibanejad were absent in the Rangers 5-0 win over the Islanders, then they would've played tonight; for the Rangers defensemen of Saturday night, how could you bench any one of them in the Rangers next game? That said, after Tuesday night's loss, expect Tony DeAngelo back in the line-up on Friday night against Pittsburgh, where I'd assume Jack Johnson won't get a chance to have his "revenge" game.
Goaltender-wise, I had no issue with Georgiev playing tonight. You should always reward a goalie after a shut-out with the next start. While Georgiev was pulled in this game after allowing four goals, I'd be hard-pressed to blame him for this loss. After all, of the goals Georgiev allowed, I thought that the only one he really had a chance on was during a Jack Hughes breakaway and even then, those types of plays are 50-50. It's hard to bury Georgiev for allowing a breakaway goal to a number 1 pick of an NHL draft. After all, think about it – had Alexis Lafreniere beaten MacKenzie Blackwood on a breakaway, would anyone be trashing Blackwood for giving up such a goal?
If there was a Rangers goat of this game, with the word goat implying the worst player of the game rather than the "Greatest Of All Time"; to me, it was Jacob Trouba. I'd have to really go back and look at every game from last season, but I can't remember a worse game from Jacob Trouba, than the one he had tonight, while as a Ranger.
To put it bluntly, Jacob Trouba was absolutely horrendous tonight. Trouba was a turnover machine, had the worst +/- stat on the team (-2), gave his partner Ryan Lindgren issues and continued to fire pucks that went nowhere near the net when the Rangers needed a shot on goal the most. Trouba was on-ice for most of the Devil goals and also took a senseless penalty, a penalty that the Devils then cashed in on. Had Trouba slammed the penalty box door on his penalty, I'd be advocating for David Quinn to be consistent, and bench Trouba on Friday night.
Of course, while the "FIRE DQ" crowd, scratch Jack Johnson people and the "Chris Kreider sucks and is overpaid" crew were out in full force tonight, I don't see how anyone could hang this loss solely on DQ, Johnson or Kreider. For my money, no one, and I mean absolutely no one, had a worse game than Jacob Trouba did tonight. More on all of this as we continue. However, before continuing and getting into the meat and potatoes of this horrid affair, let's get the PLUGS segment out of the way for tonight.
Here are my last few blogs, in case you missed them:
---
---
---
---
---
As mentioned earlier on this blog, David Quinn went with the same line-up from the win over the Islanders tonight. For those who need a refresher, here was your Rangers line-up for this game, a line-up that you can expect to change once again on Friday:
FIRST LINE: Chris Kreider/Mika Zibanejad/Pavel Buchnevich
SECOND LINE: Artemi Panarin/Ryan Strome/Alexis Lafreniere
THIRD LINE: Brendan Lemieux/Brett Howen/Julien Gauthier
FOURTH LINE: Phillip Di Giuseppe/Filip Chytil/Kaapo Kakko
FIRST D: Ryan Lindgren/Jacob Trouba
SECOND D: Jack Johnson/Adam Fox
THIRD D: K'Andre Miller/Brendan Smith
And of course, in net, Alexandar Georgiev.
---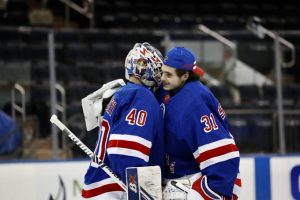 Two more segments and then I'll get into the game review and recap.
First, here's the GAMBLING segment of the blog. Here's what I said before the game:
#NYR over/under tweet:
-5.5 sounds about right for this game. While I expect Georgiev to keep this low scoring (SHUTOUT) I think the Rangers powerplay will explode. I'm taking the over! I also see LaFreniere picking up his first goal too. pic.twitter.com/PqU9NNe5VL

— BlueCollarBlueShirts (@NYCTheMiC) January 19, 2021
Of course, when it comes to the gambling segment, I'm only tracking my over/under predictions. With seven total goals, the OVER hit. I move to 2-1 on the season. That said, my other predictions were a mixed bag, as Georgiev didn't keep this game low scoring and Lafreniere didn't score. At least the Rangers power-play showed up tonight, albeit not when it mattered the most.
Finally, before getting into the entire game, here is your box score, courtesy of ESPN.com:
SCORING:
PENALTIES:
GOALIES:
| | | | | | | | | | | |
| --- | --- | --- | --- | --- | --- | --- | --- | --- | --- | --- |
| SA | GA | SV | SV% | ESSV | PPSV | SHSV | SOSA | SOS | TOI | PIM |
| 50 | 3 | 47 | .940 | 33 | 0 | 14 | 0 | 0 | 60:00 | 0 |
| | | | | | | | | | | |
| --- | --- | --- | --- | --- | --- | --- | --- | --- | --- | --- |
| SA | GA | SV | SV% | ESSV | PPSV | SHSV | SOSA | SOS | TOI | PIM |
| 20 | 4 | 16 | .800 | 16 | 0 | 0 | 0 | 0 | 40:00 | 0 |
| 8 | 0 | 8 | 1.000 | 8 | 0 | 0 | 0 | 0 | 17:44 | 0 |
---
The MSG Networks personalities remained embarrassingly bad tonight, with perhaps Bill Pidto distancing himself from everyone else. Within the first five minutes of the broadcast, Steve Vagistat was talking about his fake news stats, such as "chances". Maybe if these people can get their heads out of their foo-foo charts for one second, they'd realize that EVERY SHOT ON GOAL is a chance. Any analytical stat, including those ridiculous "EXPECTED" stats, are all made up in the eye of the beholder. Get lost. Seriously, does anyone take anything away from Valiquette and his worship of analytics?
Right after plugging his fake news propaganda, Vagistat, as he did all last season and as he's done in all three broadcasts during this season; started talking about his career again, comparing one of his games to the one Georgiev just had. I've never seen a pro athlete, who accomplished so little, talk about himself so much, as if he was a legend. Hell, I've never seen legends, no matter what the sport, talk about their careers as much as Valiquette talks about his own!
For comparison, when talking about all of Vally's self-praise for himself during these broadcasts, it would be like if the Rangers had Bryan Trottier in the studio and Trottier spent the entire broadcast talking about his legendary Rangers head coaching career.
After the mind-numbing babble out of the mouth of Vagistat, which may as well have been his five-hole; we got that Stranger Danger kid, the kid without his two front teeth, trying to sell us on watching this game. After seeing what happened with the Mets on Tuesday, I wish Vally and this Stranger Danger kid, named Gaten Matarazzo, would send dick pics to each other. That would boot both of them off the air!
And speaking of the controversy with the now former Mets General Manager in Jared Porter, is there any instance or any example in the world, where some guy sent out a dick pic to some unsuspecting female, and where the woman was so overwhelmed with joy, including experiencing the emotion of pure love and with hearts in her eyes, after seeing it?
Talk about a great, and definitely a fictional B-movie, idea for Netflix – a man sends out a picture of his weiner to some woman and the two fall in love, get married, have children and live happily ever after. Wait, wasn't that the plot of the recent Rangers-themed movie on the Hallmark channel, entitled "Taking a Shot At Love"?
And while I'm definitely stalling here, in an attempt to make you laugh before getting into the horror show that this game was, can you imagine if Joe Micheletti got caught sending dick pics to someone? "Oh Joe, the girth Joe. <ding> AND IT'S A SAVE BY BLACKWOOD!"
Two more things on this broadcast and I'll move on. Spoiler: I do have a positive thing to say here too!
First off, Sam and Joe need to stop telling us the ages of the players 789678967896968967 times during the game. We get it. At one point, I was expecting these two to tell us when these players lost their baby teeth. In fact, in one funny moment, while Sam and Joe were rattling on about how young the Rangers were, MSG pumped in "Smells Like Teen Spirit". I cracked up.
Secondly, I also have to tip my Rangers cap to the MSG Networks production crew. As I'll soon show you, there was a point in this game where Brendan Lemieux blocked a shot and continued to play despite being on one knee. The MSG Networks had an isolation camera on Lemieux and had Lemieux's entire shift covered. Great work.
Now, let's get into the on-ice stuff, you know, the reason why you probably clicked this link to begin with!
---
After posting a 23 save shutout in his last game, Georgiev's string of shut-out hockey didn't last long, as just 32 seconds into this game, the Devils scored. You can say this goal was partly on Georgiev, but the fact was that Jack Johnson made a bad change, giving the Devils an odd-man rush. Georgiev made an initial save on Miles Wood, but didn't glove the puck cleanly. On the rebound, Travis Zajac easily scored. Had the Rangers had a full crew on the ice, maybe this play doesn't happen, and in the event that if it did, maybe a defenseman clears the puck after the rebound. However, what actually happened was Georgiev made the first save and then allowed a Devil to slam home the rebound. 1-0 bad guys.
Just thirty seconds later, Chris Kreider tripped new Devils hero, in Yegor Sharangovich. The Devils then went on a power-play. So yeah, within 1:02, the Devils had a goal after a Johnson gaffe and a PP after a Kreider penalty. All the fans in Rangerstown who are down on Johnson and Kreider started to foam at the mouth, like a rabid dog looking at a piece of fresh meat, or like Steve Vagistat ogling over a chart.
With new penalty killer CK20 in the box, Brendan Lemieux got some PK time, where he made several positive plays. While I'll talk more about Lemieux later on, Lemieux had a great game tonight. All in all, the Rangers PK did a good job here, limiting the score to 1-0.
However, right after the Devils PP expired, Georgiev was forced to make a save on a Devils two-on-one, in what perhaps was the best save of the game:
A great look at the big Georgiev stop on the 2-on-1 down low pic.twitter.com/G2Cc6YEpY3

— Rangers on MSG (@RangersMSGN) January 20, 2021
Of note, since I mentioned it last blog, it was nice to see the Rangers twitter account post goaltender saves tonight, after not doing so last game.
The following ten or so minutes of the game saw the Devils slow down the Rangers, where after 16 minutes played, the Devils were out-shooting the Rangers  by a tally of 8-2. It was like the Rangers forgot who was in net for the Devils, although the Rangers would come out pummeling the rubber in the second and third periods.
In something that I said on social media at the time, during this shot-less stretch, the Rangers tried to find the long bomb/Hail Mary passes, rather than making the short and puck moving effective ones. I bring this up, just as I did last blog, as this has been a common criticism from David Quinn of his team after losses. In fact, after the game, DQ brought this up once again, stating how the Rangers were looking for the homerun pass very frequently, more frequent than to the liking of DQ.
At about the ten minute mark of the period, Lemieux, at this point in the game, had the best Rangers opportunity to score, as Blackwood stopped Lemieux from a foot away. While Lemieux didn't score a goal in this game, he constantly pressured Blackwood throughout this contest and was even better defensively.
In what wound up getting a lot of talk, we had the NYR #CadillacTrivia question of the game, which was, "what Russian played the most amount of games for the Rangers?" I thought it was Sergei Nemchinov. The answer wound up being Alexei Kovalev. (Nemchinov was second.) I bring this up, because I saw a lot of people talking about this trivia question. In fact, I have never seen a trivia question get as much buzz as this one, despite the fact that anyone could've answered this question in seconds, with the help of Google. (I never Google during the #CadillacTrivia segments, as I just guess & answer based on my knowledge.)
As the period progressed, it looked like the Rangers had slugged New Amsterdam Vodka, the label of vodka that's plugged throughout these broadcasts. That said, the Rangers fourth line, the PDG/Chytil/Kakko line, shone the brightest, as they had the best two Ranger shifts of this period.
For some reason, with the Rangers looking out of sorts a bit, Sam and Joe started raving about NJ Devils legends, including Scott Niedermayer. I'm not saying that these guys have to talk about NYR legends, like Frank Boucher, the Cook Brothers, Bryan Hextall or Davey Kerr here, I'm just asking here why are the Ranger broadcasters pumping the tires of members of the NJ Devils alumni? I mean, after all of this lovey-dovey talk of the Devils alumni, I'm surprised that Sam and Joe didn't invite Ken Daneyko to the booth, where they then could've given Daneyko a handy under the table!
In the final minutes of the period, behind the strong fourth line of the Rangers, who were on the ice with Adam Fox and Jack Johnson, the Rangers boosted their SOG total to seven. Blackwood wasn't tested much, but he made a decent save on Fox with about 84 seconds or so remaining.
After one period, 1-0, BAD GUYS, with the Devils possessing a 10-7 SOG advantage as well.
---
As we opened up the second period, we got the familiar phrase of – "SECOND PERIOD, WHAT DO YOU LOOK FOR HERE JOE?" As Micheletti was about to answer Rosen's timeless question, the Devils quickly won the faceoff and Georgiev made a huge save just 18 seconds into the period. Right after, we had a frantic stretch of play, where Lemieux showed us why he's a true blue hockey player:
Brendan Lemieux. Hockey player. pic.twitter.com/jka4j7WIcx

— Rangers on MSG (@RangersMSGN) January 20, 2021
Here, you have new millionaire Brendan Lemieux blocking two shots, blocking the second shot from one knee. Even more impressive, Lemieux cleared the puck after his second shot block. This my friends, is what you'd call "Dan Girardiesque!"
Perhaps being motivated by Lemieux's play, the Rangers would then rush the Devils net, where Blackwood would make a save. After the save, we had a scrum with Trouba and Strome taking on Devils and where even Artemi Panarin was grabbing Devils away from his teammates. Good stuff.
As a result of the said scrum, Michael McLeod was boxed for two minutes, as he was called for roughing Trouba. This would be Trouba's lone positive contribution to this game.
On the power-play, after Blackwood stopped a streaking Zibanejad, Chris Kreider would then put the Rangers on the board.
At the 2:50 mark of the period, Kreider took a loose puck from Panarin and bounced it off the skate of a Devils defender. The puck then dribbled past Blackwood. 1-1. While this may have been a "fluke" or a "puck-luck" goal, the truth of the matter is that Kreider was in position, right in front of Blackwood and made this play happen. Kreider did his job and was rewarded. Of course, while Kreider would be stopped on several good scoring opportunities later on in the game, shots that you'd like to see turn into goals, especially considering what Kreider is getting paid; in this one play, Kreider was at the right place and in the right position, and in turn, tied the game.
Here's the goal:
Say it Sam! #NYR pic.twitter.com/fIXGuNLnmZ

— Rangers on MSG (@RangersMSGN) January 20, 2021
After making several big saves, the Rangers, who were having face-off issues for the first forty minutes of this game, lost a face-off after an icing. Yegor Sharangovich then put a puck on Georgiev and the puck hung around the goal post to the left off Georgiev. For whatever reason, where I assume Ryan Lindgren and Jacob Trouba thought the puck was frozen, Jack Hughes skated right by these two and pushed in the loose puck behind Georgiev, a Georgiev who didn't know where the puck was. 2-1, BAD GUYS, at the 4:13 mark of the period.
You can kind of once again absolve some blame from Georgiev here, as his defenseman just stopped playing. However, if the initial save is made, this goal doesn't happen either. That said, Georgiev was fighting through screens all game, including on this play, and was routinely making saves during this time.
And in what's become a trend already, somewhat similar to last year, it seems that whenever the Rangers score a big goal, they either give up a quick one or take a penalty.
During a great shift from the Rangers third line, Brett Howden drew PK Subban into a holding penalty at the 6:02 mark. The Rangers PP looked good here, with Kreider hitting iron. However, the Devils held the Rangers off the score sheet.
Right after the Rangers power-play expired, Trouba turned the puck over, couldn't get back and Jack Hughes beat Georgiev all alone and while on a breakaway. 3-1, BAD GUYS. Again, Trouba was terrible tonight.
In a funny and perhaps a sad piece of business here, Sam and Joe started talking about Alexandar Georgiev's "Martin Luther King" mask, a mask which Georgiev auctioned off for charity during the off-season. While Sam and Joe were talking civil rights and stuff of that ilk, MSG played Snoop Dogg's single, which is entitled "Down For My N-'s", which includes inspiring and heart-warming lyrics such as:
(NOTE: SCROLL DOWN TO THE PICTURE OF SAM AND JOE IF YOU DON'T WANT TO READ PROFANITY AND/OR OBSCENE LANGUAGE!)
"Fuck them other niggas cause I'm down for my niggas, what
Fuck them other niggas cause I'm down for my niggas, what
Fuck them other niggas, I ride for my niggas, what
I die for my niggas, fuck them other niggas, what
Fuck them other niggas cause I'm down for my niggas, what
Fuck them other niggas cause I'm down for my niggas, what
Fuck them other niggas, I ride for my niggas, what
I die for my niggas, fuck them other niggas

What niggas, them niggas, yeah dawg, you with it
Fuck em, let's get em, do em, I did em
We gettin' nutty in this motherfucker (nutty in this motherfucker)
I got my buddy in this motherfucker
Leave a nigga bloody in this motherfucker
We in the cutty motherfucker
You done done too much, you got it comin motherfucker"
What a great song to salute MLK and Georgiev's mask with. And some people pretend to be outraged whenever a defenseman slams a penalty box door! And yes, I sound way too much like Phil Mushnick here, but I always talk about the MSG broadcasts on this site.
Of note, I'd love to see Sam and Joe sing a duet of this song. "Oh Joe, leave a n- bloody in this m-fer!" "Pardon me Sam, you got it comin' m-fer!"
---
With 8:40 left in the period, Damon Severson was busted for tripping Filip Chytil. Less than a minute later, Zibanejad took a pass from Adam Fox and buried this goal scorer's type of goal:
Mika's first of the year! pic.twitter.com/5HoLtKBDaf

— Rangers on MSG (@RangersMSGN) January 20, 2021
3-2, in favor of the bad guys. And what a snipe by Zibanejad, who despite the knuckleball puck, found the limited space that Blackwood offered to him.
Worth noting, both Ranger goals were PPG's, which meant that the Devils were keeping the Rangers off the board in the five vs five game.
With perhaps some mojo in their step, the Rangers kept firing away at Blackwood. Trouba would set up a one-timer that went nowhere. After that, Strome tried to deflect a puck from Lafreniere past Blackwood, only for Blackwood to make the save.
Of note, I said this in the second period, with Trouba and Lindgren struggling:
Fox two assists tonight. Lindgren, not his best game tonight. Might be time to put these two back together. #NYR

— BlueCollarBlueShirts (@NYCTheMiC) January 20, 2021
Remember that above tweet, once I start talking about the third period.
With the Rangers pressing to tie the game, Trouba high-sticked Jack Hughes right in the face. As a result, Trouba was sent to the box.
The Devils would win the face-off at the start of their powerplay and Jack Hughes would feed Miles Wood for the PPG. 4-2, bad guys.
On the goal, it looked like Wood may have kicked it in, but there was no real kicking motion. The puck pretty much bounced off his skate as Wood was skating to the puck. Some people (aka Ranger fans) wanted a review, but DQ declined to challenge. Again, I wouldn't blame Georgiev for this goal either, as Wood was all alone after receiving the pass from Hughes. I also didn't think Wood kicked it in, as I felt the puck just caught his skate as Wood was going to the net. In hindsight, it was a good thing that DQ didn't challenge this, because he most likely would've lost and it would've prevented him from challenging what soon came next.
With 2:15 remaining in the second period, PK Subban scored, or so we thought. On the replay, Kyle Palmieri went off-side. DQ took notice and challenged the call on the ice. With a 5-2 score and with the risk of putting the Devils on the PP to close out the period, the officials agreed with DQ and wiped the goal off the board. This was huge, as a 5-2 game at this point would've most likely put this game out of reach for the Rangers. Of note, Trouba and Lindgren were once again on the ice during all of this.
And oh, isn't it funny, that just 24 hours after Larry Brooks of the NYP dismissed the notion of either Kreider or Zibanejad for captain; two players who scored in this game no less, that Jacob Trouba, the player that Brooks was advocating for captain, had the worst game of his Rangers career? What a mush! That said, in defense of Larry Brooks here, he's probably right that the Rangers didn't feel comfortable with either Zibanejad or Kreider as captain, because if they did, they would've made the move to name one of these players as team captain.
After forty minutes of action, the score remained 4-2, bad guys. At this point in the game, the Rangers looked to be the better team, but the Devils were the ones making the Rangers pay for their brain farts on the ice.
---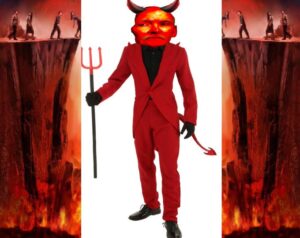 David Quinn would make two changes in the third period. First, DQ went back to the successful pairing of Lindgren and Fox, putting Trouba with Johnson. This is now Trouba's fourth partner in a week's time, after originally being paired with Tony DeAngelo in training camp and previously playing with both Miller and Lindgren this season. At some point, when is the problem Trouba himself, rather than his partners? With four partners in a week, Trouba seems pretty promiscuous, like Steve Vagistat in front of multiple spreadsheets!
Secondly, DQ pulled Georgiev and put CZAR IGOR into this game. While I don't blame Georgiev for this loss, I get the idea of trying to jump-start this team. In addition, with the Rangers having two days off, it doesn't hurt to give CZAR IGOR some work here. Even better, CZAR IGOR held the Devils off the board, making eight saves in the period, thus getting the taste of that terrible home opener out of his mouth. I fully expect CZAR IGOR to go on Friday night in Pittsburgh, as he should. (I only saw Georgiev playing Pittsburgh, in the the event that he had posted another shut-out or limited the Devils to one goal.)
For a goalie that came in ice cold, CZAR IGOR looked red hot, making two huge saves to open the period, including catching a pop fly – a pop fly save that looks much more difficult in reality than it looks like on TV.
Four minutes into the period, the Devils were busted for too many men on the ice. Strome, who had a pretty bad game himself, during an elongated NYR PP shift in the Devils zone, bailed the Devils out, after an errant pass that crossed the blue line.
After the Rangers failed on the PP, CZAR IGOR made a save on a Devils jack-in-the-box attempt, keeping this game at 4-2.
With 13 minutes remaining in the period, PDG, who had another strong game here tonight, as my buddy Ricky Otazu predicted he would, put a puck on Blackwood's pads, thus enabling Filip Chytil to slam dunk a rebound. 4-3 game and with more than enough time for the Rangers to tie it. Unfortunately, despite a ton of chances, the Rangers never would.
As we approached ten minutes remaining in regulation, Trouba checked Palmieri right into CZAR IGOR. Two things here – had the Devils scored, the goal would've counted as it wouldn't have been goalie interference, due to Trouba checking a Devil into his own goalie. In addition, had CZAR IGOR been injured, this would've been on Trouba. Again, this was a game that Trouba should never watch back, as he should just piss on the game tape and move on.
With nine minutes and change remaining, Brendan Lemieux streaked to the net, where Blackwood made a save on his attempt. While Lemieux was furious about being denied, he did draw Ty Smith into holding him. Of note, this was the first of two penalties that Lemieux drew in this game. In other words, Lemieux was the "anti-Trouba" in this game.
The Rangers had a good looking power-play here, with Mika Zibanejad playing "hero ball" and in a good way, as Zibanejad shot first and asked questions later. Unfortunately, the Rangers PP would be denied here.
As we got to the FOXWOODS FINAL FIVE mark of the game, the Devils looked gassed, as they were more than happy to dump the puck and cross their fingers that the Rangers wouldn't tie the game up. Kreider would then get a chance, but failed miserably in front of Blackwood.
With 3:24 remaining, Lemieux drew Nathan Bastian into hooking him, thus giving the Rangers another power-play. After stopping Panarin, Blackwood would get a free pass from Ryan Strome, when Strome, all home alone like a 1990 Macaulay Culkin, decided not to shoot. Instead, Strome passed the puck in a one goal game, and with time limited, with the end result being the puck going nowhere near the net. I like Strome, but this was a boneheaded play.
With 2:05 to go and the Rangers still on the PP, DQ pulled CZAR IGOR, to give the Rangers about a minute of 6 vs 4 play. The Rangers couldn't capitalize. Even worse, Mika Zibanejad fell down/lost an edge and went head first into the boards.
Now with 11.8 seconds remaining, and after the Devils icing the puck, DQ called a time-out. On the bench, we saw Mika Zibanejad, looking as concussed and glazed as Patrick Mahomes was this past Sunday in the Chiefs game with the Browns. Whatever happened to Zibanejad was severe enough to keep him from playing in the final seconds of the game, where if healthy, he would've took this face-off.
Again while talking about Zibanejad here, I don't know what his injury is. I assume we'll know more tomorrow. All I can say here is that this did not look good at all. As Rangers fans and as human beings, we can only hope that this isn't anything serious.
Also worth talking about here, with the Rangers having a man advantage in the final minutes of this game, Trouba just kept bombing shots from the point, shots that came nowhere close to reaching Blackwood. These shots were just the cherry on top of Trouba's horrendous showing tonight. (Also of note: I hope to be praising Trouba on Friday, as I take no joy in my disdain for his game tonight.)
The Devils would get a clear after the final face-off the game, thus preserving their 4-3 lead and their 4-3 victory.
---
This was a bad loss for the Rangers, because for 48 or minutes or so, and as DQ even said himself, the Rangers were the better team. Instead, they let MacKenzie Blackwood get a win after making 47 saves.
The Rangers had plenty of chances to win this game. After all, they had 50 SOG. While the power-play looked good and did score two goals tonight, the PP came up empty-handed when the Rangers needed a goal the most.
Moving forward, expect to hear a ton about Trouba, Johnson, DQ and Kreider, with all of the talk being in a negative manner. I'd also expect to hear the name of Tony DeAngelo, as without question, he'll be back in the Rangers line-up on Friday night. Of course, despite his horrendous game, because of his huge contract, it won't be Trouba being benched. I predict Jack Johnson to get this dishonor, because I don't see any reason to bench Brendan Smith at all.
I know some people will question DQ for not re-inserting TDA into the line-up tonight, but I'm not one of them. As I said earlier and as I said last blog, while I'm not a fan of scratching TDA on Saturday, I understood why DQ did so tonight.
For the Rangers in this DQ era, an era that admittedly is during a rebuild period; it's been tough for the Rangers to rip off a significant win streak. It's been one step forward, two steps back at times. That's part of the rebuild process. After all, Lafreniere doesn't even have a goal yet. Just wait until he gets going and finds his groove.
As far as the forwards go, while I always expect DQ to juggle things around, barring Zibanejad missing time, I wouldn't change a thing.
Couple of plugs here and then I'll talk about Friday night.
---
To follow up my "Up in the Blue Seats" season two episode one review from last week, "Up in the Blue Seats" are now accepting fan calls for episode two. Here's their press release/tweet:
#RANGERS FANS: Call into our Up In The Blue Seats Podcast voicemail & leave us your questions/comments. We will play/answer the best ones on the show dropping Thursday morning! Deadline is 6pm ET Wednesday.

(781) 691-0128
This should be a new and fun segment for the show, as "Up in the Blue Seats" tries to increase their range and fan interaction.
In other podcast news, the reigning and defending (and if I'm correct, the longest running as well, as I believe they've been doing this show for 11 years now) Rangers themed podcast, in "The Blueshirt Underground Show", dropped a new episode this past Monday night, where they recapped the first two games of the Rangers season. You can listen to it by clicking the play button below:
If you haven't already, subscribe to this blog for the next update:
---
Up next, the Rangers hit the road for four straight games, with two games in Pittsburgh, followed by two games in Buffalo. These games bring a tear to my eye, because last season, I was supposed to go to Pittsburgh and to Buffalo to see the Rangers play. During this trip, and perhaps more importantly, I was also going to cross the US-Canada border and restock my supply of Gretzky 99 Whisky! (You can only get Gretzky 99 Whisky in Canada, with Ontario being the largest supplier.)
However, and as you may have heard by now, COVID-19 happened and that was the end of that. In a perfect world, a world devoid of corona, a four-game road-trip in Pittsburgh and Buffalo would've been a blast. Of course, there are bigger problems in the world today than my cupboard that no longer has a full bottle of Gretzky 99 Whisky. Somehow, and some way, I have championed on, with Proper 12 Whisky now being my brown liquor of choice! (I also enjoy a nice bottle of Woodford Reserve from time-to-time too!)
I should be back on Thursday night, as I'll recap the new episode of "Up in the Blue Seats" and have all the latest Rangers news and notes prior to the game on Friday night. By then, we should also have an update on Mika Zibanejad too.
And lastly, in an update to my "New York Rangers Rink of Honor" book, I have 515 pages completed. (I'll have to edit that down, in an attempt to make the book more "readable".) I'm now up to the hard part – proofreading and doing my own revisions, before sending it off to the editor. I also have to get permissions to pictures, make a table of contents, have someone create cover art (because there is no way in hell I'm using one of my photoshops) and other such tedious tasks. However, this project is now becoming more of a reality with each passing day.
See ya Thursday night.
As always here, thanks for reading and…
LET'S GO RANGERS!
Sean McCaffrey
BULLSMC@aol.com
@NYCTHEMIC on Tweeter
Follow the BlueCollarBlueShirts.com Facebook Group by clicking this link: https://www.facebook.com/groups/1564026407193056/