Greetings and salutations everyone and welcome to another blog here on BlueCollarBlueShirts.com.
Off puck drop here, sorry if tonight's headline comes off as "click-baity". Very often, since these blogs routinely hit the 10,000 word mark, which in turn, means these blogs cover a wide-array of topics; I just never know how to title these things properly. Hell, some of these blog titles are longer than the content that you find on other Rangers blogs around the internet! If you get anything out of this, is that despite the fact that I'm wearing white socks right now, it's that I'm not Cliff Clavin from "Cheers" – I don't mail it in! (This "Cheers" reference is dedicated to Jim S. of BSU!)
All that said, everything in tonight's title will be talked about in full. However, to be clear, I'm not suggesting that you'll wake up tomorrow and Pierre Luc Dubois will be a Ranger or that David Quinn will be fired. In fact, if you're a regular reader of this site, you know that I'm in the "Team DQ" camp, meaning that I don't think he should be fired, despite the 7967895687968967896 postings on social media suggesting otherwise. (And for the record, I respect every fan who has that opinion, as that's what this blog is anyway – pure opinion.)
Quite frankly, when I read all the hatred for David Quinn, hatred from Ranger fans, where in the hatred there are a million suggestions about what David Quinn should do; I'm frequently reminded of a quote that Buddy Ryan once said to Bill Belichick – "If you listen to the fans, you'll be sitting up there with them." Maybe that's why the Rangers have ignored my pleas over the years, my pleas where I have begged the Rangers to honor all of their past legends, legends such as Frank Boucher, the Cook brothers, Bryan Hextall, Emile Francis, Lester Patrick, Ron Greschner, Ivan "Ching" Johnson and others.

In tonight's blog, I'll kick off with a detailed recap of the latest episode of Ron Duguay's "Up in the Blue Seats" podcast. While I've been very highly complimentary of this podcast during past reviews, I thought this most recent episode was lacking a bit. I'll explain why in the review.
After reviewing the podcast, I'll get into all the latest news and notes in Rangerstown, USA, including the rumors circling around stud center Pierre Luc Dubois. I'll also get into all the line-up news for tonight's game with Pittsburgh. And let me give you a positive spoiler alert at this time – Mika Zibanejad is healthy and will be playing. Whatever happened to him at the end of the Rangers vs Devils game wasn't severe enough to force him to miss time. Needless to say, this is major good news for both Zibanejad and the Rangers.
However, before getting this magic carpet ride started – the PLUGS segment.
Here are my last few blogs in case you missed them:
---
---
---
---
---
On Thursday morning, the "Up in the Blue Seats" podcast returned with their second episode of their second season. To listen to the show, click the play button below:
🎙Episode 40 of Up in the Blueseats is out now! 🏒

We recap the #NYR first 3 games, our You've got Mail 📬 segment debuts and #Isles fans will want to tune in to hear from the legendary Mike Bossy!

Apple: https://t.co/rrHcQmOygg
Spotify: https://t.co/VQgBOxW0GL pic.twitter.com/htgjvcue9F

— Mollie Walker (@MollieeWalkerr) January 21, 2021
At this time, let's now get into the review and recap of the latest episode of "Up in the Blue Seats".
Mollie Walker opens up the show, previewing all the topics and segments for this episode. After a commercial break, we get the familiar opening of the "Up in the Blue Seats" theme music, where producer Jake Brown asks people to share and rate the podcast. (Done and done – five stars from yours truly!) Brown also previews the Mike Bossy interview that will be heard later on in the show.
Once all the intros were completed, it's Mollie Walker's voice that kicked off the show and not Ron Duguay's. Walker talks about the last two Ranger games and then asks Duguay for his thoughts. Ron Duguay says before starting, he wanted to praise Walker, as all the feedback he got from the show's last episode, the first of this season, was positively overwhelming. I would be part of that feedback!
Duguay brings up Walker's start in reporting hockey and brings up the legendary Stan Fischler, aka The Maven, and the man who Walker apprenticed under. Duguay then plugs Fischler's new project, "Java Jive", which is a daily newsletter where Fischler talks about the latest events in the NHL. Duguay says he can't wait to have Fischler back on the show, as Fischler gave a great interview to the show last season. (Of note: I've read every "Java Jive" column, and it's a great read, especially for readers with short attention spans. Fischler hits the main points of every news story and briskly recaps the latest events of all 31 NHL teams. The guy is almost 90 years old and still kicking ass to this very day. Kudos to Fischler, a Stan Fischler that belongs in the Hockey Hall of Fame.)
Duguay and Walker then start talking about the 2021 New York Rangers. Duguay praises Lindy Ruff and the job he did in the Devils win over the Rangers on Tuesday night. Walker says the Devils looked spectacular and thought Blackwood really stood out. Walker says that Kreider, in the postgame, said "sometimes you have to tip your hat to the other team." (Of note, you can check out my full review of this game, in the PLUGS section. Needless to say, I thought the Rangers shot themselves in the foot more than anything else. Of course, I also hate the Devils, so maybe there is some bias there!)
Walker says the Rangers didn't get the start they wanted to get in the game against the Devils. You don't say! Walker then says that Jack Hughes looked phenomenal. Walker says Hughes looks like a much different and improved player from last season. Duguay thinks that Hughes can be a franchise player for the Devils. Is this a Rangers podcast or a Devils podcast? I kid, I kid!
Walker says the Rangers top six forwards let them down in the loss to the Devils, calling out Pavel Buchnevich by name. Duguay says fans need to keep in mind that there was no training camp this season. Duguay says there's nothing like the live game experience. Duguay thinks the Rangers have a solid work ethic, but the Rangers are prone to mistakes. Duguay feels that goaltending can swing games, bringing up the goaltending work in the first three games that the Rangers have played.
Walker goes back to the home opener, saying that game was perhaps the worst loss in the David Quinn era. Duguay said the game was "disappointing". Duguay says not having fans in the arenas hurts and it looked like the Rangers had no energy to feed off from. Duguay thought the Rangers just lost control in the game.
Walker then brings up the Rangers second game and the monster game that the Rangers & Georgiev had. Duguay says as a coach, that's what you want to see – how your team responds to adversity. Duguay says this win showed that the Rangers cared. Duguay says for the young Rangers, "it's all a learning experience." (Keep in mind, whenever Duguay talks coaching, he's talking from experience, as Duguay has been a coach at various levels.)
Walker and Duguay then talk about the Rangers next game, in Pittsburgh on Friday night. Walker then previews the Penguins roster a bit.
Producer Jake Brown chimes in, mentioning that Ron Duguay now has a cat. Brown brings up that co-producer Sarah McCrory recently had an altercation with her own cat, which left McCrory on the IR. McCrory, making her debut on this show, says she is also part of the NY Giants podcast that the NY Post produces. McCrory says she has two kittens in her home and recaps a recent incident with one of her kittens, where one of her cats accidentally scratched her in the eye, thus leaving McCrory with a shiner. As a cat person myself, I enjoyed this talk, although I'm sure some listeners may not!
I should mention this – stories about your own pets is kind of like fantasy football. If you don't have a pet or a fantasy football team, you usually don't care about someone else's stories about their pet or fantasy football team. However, if you do have a pet, like a fantasy football team, you're more inclined to enjoy someone else's story about them. Speaking of my own cat, here's an update on my soon-to-be 18 year old cat, named BOOGIE: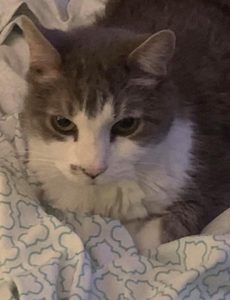 McCrory mentions that she grew up playing hockey and says her eye now looks like a "Brendan Lemieux shiner." Jake Brown says dogs are better than cats. Edgy! Duguay mentions that his new cat's name is "Thea", mentioning how his son Noah named the cat. Duguay says his cat is twelve weeks old and is a Maine coon, which is one of the smarter breeds of cats out there.
Mollie Walker lets it slip that she lives at home with her mother (like most of these reporters, which may tell you something, in regards to what these people are getting paid these days) and has been asking her mother to get her a cat. Walker brings up her mother's fandom of Duguay, saying how that now that Duguay has a cat, maybe her mother will let Mollie have one. Again, while some may not enjoy all this talk of the feline nature, as a person who has had cats for the last 30 years or so, I enjoyed it. This talk also allows these hosts to share their personalities too.
And for Jake Brown, and the cat haters like him – the best thing about a cat over a dog? Cats know how to go to the bathroom by themselves! I know several humans who can't even do that, especially after a few adult beverages!
After finishing the segment of cat chalk talk, we go to another commercial break. Of note, the podcast has more advertisers than last season, which is to assume that the podcast is taking off, hence people wanting to advertise on it.
The next segment of the show features Larry Brooks, who may have climbed out of a litter box himself.
Walker asks Brooks about David Quinn and the way DQ is giving out ice time. Brooks feels that the Rangers have many similar players, all with the same type of skill set. Brooks feels that DQ needs to pick and choose who to give more minutes to, based on what's going on in whatever particular game the Rangers are playing. Brooks talks about the situations of Kakko and Chytil. When it comes to the Rangers power-play, Brooks says that if the first PP unit is playing for 100 seconds, it's tough for the second PP unit to get time.
Brooks feels that Ryan Strome and Chris Kreider are struggling. Brooks says he expects Tony DeAngelo to return on Friday and that TDA will be paired up with Jack Johnson. Brooks then says Jacob Trouba had a bad game on Tuesday. Brooks then talks about Brendan Smith and how Jack Johnson has become the 2021 version of Brendan Smith. I don't know if I'd agree with that last statement at all. Brooks then defends Johnson more and says he thinks a lot of the negative talk on Johnson stems from his reputation from last season, where Johnson was horrendous. Brooks says it will all take time.
Walker thinks Ranger fans should "calm down". Well, she is somewhat new to the beat and I guess she is not aware of how rabid this fan base can be! That said, I think she's finding out about this quickly!
Walker brings up the Tony DeAngelo saga. Walker asks Brooks for more of his opinions on TDA. Brooks says that unless something crazy developed between TDA and DQ, then TDA should play on Friday. Brooks then adds that he's not aware of such a situation. Brooks says nothing TDA did warranted being benched for three straight games, but he did understand why TDA was benched after the Rangers big win over the Islanders. Brooks says he'll be stunned if TDA doesn't play on Friday.
Duguay brings up the leaders on the Rangers. Brooks mentions that DQ has singled out Trouba as a leader. (Refer to my last blog for more on this and the column where Brooks was campaigning for Trouba to be the next captain in franchise history.) Brooks says Trouba is an important voice, and that as an older player on this roster, he can really be a team leader. Brooks does admit that Trouba had a horrible game this past Tuesday night.
Duguay brings up Lindy Ruff to Brooks. Brooks says the Devils are a team worth paying attention to. Brooks says Hughes is playing at an elite level. Brooks laughs about the Devils giving up 50 shots on goal to the Rangers. Brooks mentions Mackenzie Blackwood and how Blackwood could be just as good or better than Carter Hart, Igor Shestyorkin and Ilya Sorokin. Ugh. Brooks says the Devils will be fun to watch if they keep playing like this.
Walker then asks Brooks about Kakko vs Hughes. Brooks says that Hughes is arguably two or three steps ahead of Kakko. Brooks says Kakko's progress is incremental and explains why. Brooks talks about the ice time that Kakko and Hughes get, mentioning that Hughes, because of each team's roster, will always get more opportunities. This then wraps things up with Brooks.
Of note, this is the first time in show history where Brooks didn't bring up Lundqvist. I also thought Brooks' assessment of Kakko was right on the money, especially the "his progress is incremental" line.
After another commercial, we then go to the Mike Bossy interview. Before bringing Bossy on, Walker gives Bossy an introduction that felt like it was 22 minutes long. I know this is a hockey podcast, but really, we're going to an Islanders legend in the second episode?
Bossy thanks Walker for the great introduction. Walker mentions how Bossy ruined her mother's life in the early 1980's, since Walker's mother was a diehard Rangers fan. (Walker doesn't bring up the 1977 NHL Draft though!) Bossy talks about what he's been doing during the pandemic. Bossy says everything is good and how his family has been Covid-19 free. Bossy also mentions that he's living in Quebec.
Duguay wishes Bossy a happy birthday, mentioning that Bossy is turning 64 years old. Duguay brings up how the two were drafted in the same NHL draft. Duguay asks Bossy what was it like joining the Islanders as a rookie. Bossy says how it was a new experience for him, as it was the first time that he left home and how he was just married at the time. Bossy said he was shy and lacking confidence while beginning his career. Bossy talks about a conversation that he had with Al Arbour and how Arbour changed his career for the best.
Bossy talks about how he was part of a new generation of Islanders, and how he and other young talent, started to take time away from the Islander veterans of that era. Duguay talks about how he also left home for the first time too in 1977, when he joined the Rangers. Duguay then slyly mentions, that unlike Bossy, he waited to get married. Bossy then chuckles and mentions that outside of scoring goals, how he and Duguay couldn't be more different off the ice!
Bossy brings up how Duguay was drafted before him and his first impressions on Duguay. Duguay brings up past episodes where he had Bossy's teammates on, naming Bryan Trottier and Clark Gillies by name, and how they both raved about Bossy. Bossy reciprocates, calling Trottier one of the best centers he ever played with. Bossy then compares Gillies to a modern day Tom Wilson of the Capitals. That's a good comparison.
Walker brings up the two recent games that the Rangers and Islanders just had. Bossy mentions how he called the game for whatever network he works for in Quebec. Bossy said the Rangers were lucky that there were no fans in the stands for the first game. Bossy says it's a great rivalry and how he enjoys it. Walker brings up Bossy's time during the rivalry. Bossy says the games will always be intense, although the games don't get out of hand like the way they used to.
Duguay asks Bossy for this thoughts on Alexis Lafreniere. Bossy says to keep in mind that Lafreniere is only 19 years old. Bossy says Lafreneire does everything the right way and it's all about him adapting to the NHL. Bossy feels that Lafreniere's ice time is important, talking about how Lafreniere is used to being the top guy and how his minutes aren't the same right now, especially on the power-play.
Jake Brown asks Bossy about Studio 54. Similar to the ongoing bit with Walker's mother & Duguay, it feels that Brown always has to ask any player from the 1970's and 1980's about Studio 54. Bossy says he went there once, but never with Ron Duguay. Bossy laughs and says he doesn't know if that's a good thing or a bad thing. Bossy says Studio 54 was something that he never saw before in his life. Bossy said he had no interest in being there and was happy to get out of there. Duguay laughed during this. This then concluded the interview.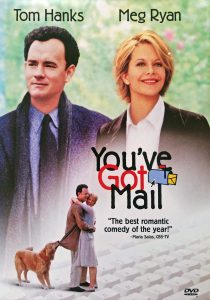 In our last segment of the podcast, we were treated to a mailbag segment, where listeners dialed a number and left a message for the hosts to respond to. "Up in the Blue Seats" is calling this segment "You've Got Mail", in ode to AOL and perhaps that Tom Hanks & Meg Ryan movie from the late 1990's. (Of note, I'm still loyal to AOL, hence my AOL email address which you can find at the end of this blog! Sadly, I don't use AOL Instant Messaging anymore! Remember those days?)
The first listener question concerns the Rangers slow start and why that's been the case. Walker says an early goal allowed and early penalty hurt the Rangers in the game against the Devils, thus restating what the caller said. Duguay said bad bounces are part of the game and it's about how you respond. Duguay then expands on his point. Walker says what group starts the game is also important. Duguay says sometimes you just have to credit the other team too. As I always say on this site – the other team is being paid to play hockey too.
After answering the question, Jake Brown wraps up the show.
---
All in all, as a big fan of "Up in the Blue Seats", I thought this was one of the weaker episodes. After all, the show has the byline of "hosted by Ron Duguay", and in this episode, Duguay was kind of an afterthought on his own show a bit. While I do think Walker is a good addition to the show and I understand that they are trying to push her, in order for fans to get familiar with her, this show felt more like 75-25, in favor of Mollie, than a 50/50 split.
This is a small gripe, but I also thought that there were just too much talk of the Devils and Islanders on this episode. This kind of goes hand-in-hand with what I said in my last review – it would be great if this podcast released two episodes a week. The Bossy interview was fun for what it was, but it was only an eight minute interview. With two episodes a week, you would've got a lengthier interview with him and you wouldn't have minded an interview with an ex-Islander on a Rangers-themed podcast.
After the three games we saw this week, I was hoping for more analysis from Duguay than what we got. I thought Larry Brooks, during his segment, gave more analysis about the current Rangers than anyone else. While I really enjoyed all the unique stuff "Up in the Blue Seats" did when there was no hockey during the pandemic, for right now, I just want to hear all current Rangers stuff in the 40 or so minutes this podcast has a week.
Again, with only one episode a week, with this one featuring an interview with an ex-Islander, we didn't hear anything about Mika Zibanejad, Artemi Panarin, Brendan Lemieux, K'Andre Miller, Adam Fox, Ryan Lindgren, and others. And outside of asking Bossy about Lafreniere, we didn't get Duguay's opinion of Lafreniere's first three games either. (And speaking of Bossy, I was surprised that Brown and Walker didn't really get into that 1977 NHL Draft, a draft that changed the course of hockey in New York. Then again, and this isn't a knock on him, but Brown isn't a hockey guy and probably didn't even know about this.)
I don't want all of this to come off as complaining, because I do enjoy the show. In fact, I want more of it! And hell, if I didn't, I wouldn't waste an hour here writing this review/recap!
I just hope that moving on, we'll get more out of Duguay, as he analyzes and breaks down the players, the games and the key calls & plays. I mean, even with the Tony DeAngelo scratching, we didn't get Duguay's opinion of it. If I were Walker or Brown, I'd ask Duguay something like – "You had some issues with Herb Brooks, which led to the Rangers trading you. Do you feel what's going on with DeAngelo is somewhat similar to your situation with Brooks?"
Similar to perhaps the Rangers themselves, "Up in the Blue Seats" needs to figure out their minutes!
Speaking of the current Rangers, let's talk about them!
---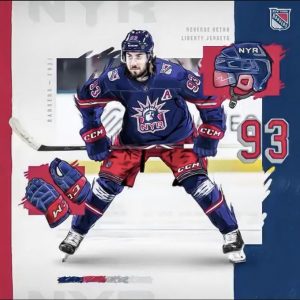 Let's talk about the current Rangers first and then close with the PLD stuff.
After the loss to the Devils on Tuesday night, on Wednesday morning, the Rangers held practice where both Brendan Lemieux and Mika Zibanejad took the day off. When it comes to Lemieux, this was expected, after Lemieux blocked two ferocious shots on Tuesday night. While we didn't get the entire story, it's assumed that Lemieux's ankle was swollen and sore and he just needed time to recover. His status for Friday night's game was never in question.
When it comes to Zibanejad, knowing his history with concussions, myself and others were concerned. Thankfully, it was much ado about nothing, because on Thursday morning, Zibanejad was back at practice. In addition, knowing how fans were concerned, the Rangers tweeted this out after Wednesday's practice: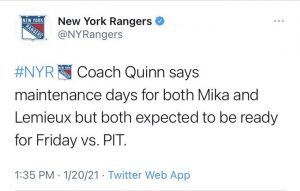 True to their word, Zibanejad (and Lemieux) was back on the ice for Rangers practice on Thursday. Crisis averted.
As I predicted prior to this season, and in stuff that both Duguay and Brooks said on "Up in the Blue Seats", David Quinn will always tinker with his lines. It's a young team, and a team that has a lot of players with similar skill sets competing for minutes. Due to the team being young and not having much experience together, DQ will continue to play master chef, as he tries to serve a five star dinner to Ranger fans.
Of course, while all of this is subject to change due to DQ's tendencies to always play around with his line-up, it looks like on Friday night in Pittsburgh, the Rangers will once again put out a new forward group.
Based on what DQ did during Thursday's practice and what he said to the media after the practice, it looks like we'll see the following lines against Pittsburgh:
FIRST LINE: Chris Kreider/Mika Zibanejad/Alexis Lafreniere
SECOND LINE: Artemi Panarin/Ryan Strome/Pavel Buchnevich
THIRD LINE: Phillip Di Giuseppe/Filip Chytil/Kaapo Kakko
FOURTH LINE: Brendan Lemieux/Brett Howden and either Julien Gauthier or the returning Kevin Rooney.
Of course, the big news here is that Lafreniere, just four games into the season, is not only in the top six, but now on the first line. After one so-so game, which followed up a two goal performance the game prior, Pavel Buchnevich has been downshifted to the second line, where admittedly, he's still playing with one of the best players on the team, in Artemi Panarin. In addition, in recent interviews, we've seen both Panarin and Buchnevich be complimentary of one another and showing off their new budding friendship. Perhaps their bond off the ice will translate on the ice.
When it comes to DQ, while these may be the lines, you never know what he'll do in-game. However, Lafreniere will get a chance to run with the big boys and will also be on the ice against another #1 draft pick, in Sidney Crosby. (And perhaps Kakko will be on the ice with another #2 draft pick, in Evgeny Malkin.)
Lafreniere's status on the first line is obviously the biggest thing here. All we can hope is that he has a great game.
In lesser news, DQ hinted that Gauthier may be a healthy scratch on Friday night, with Quinn going with a fourth line of Lemieux/Rooney/Howden. I think it's tough to go bonkers about that, but because Rooney is most likely a "one-and-done" Ranger, expect people to call for DQ's head as they usually do whenever DQ takes time from a younger player, which in this case, would be Gauthier.
Let's now get into the defensemen.
---
During practice, we saw these defensive pairings:
FIRST PAIR: Ryan Lindgren/Adam Fox
SECOND PAIR: K'Andre Miller/Jacob Trouba
THIRD PAIR: Jack Johnson/Tony DeAngelo
Of note, Brendan Smith, along with Anthony Bitetto and Libor Hajek (remember him?) skated as extras.
For whatever reason, in two post-practice interviews, and despite Tony DeAngelo slotted as the the team's third right-handed defenseman in these recent practices, David Quinn wouldn't commit and out-right say that TDA would be playing against Pittsburgh. I don't get it.
I have to go back to what Brooks said on Duguay's podcast – unless there is something that we're unaware of, DeAngelo should 100% be in the line-up against Pittsburgh. While that's most likely the case, why is DQ playing games with TDA? What is the point in trying to rattle your now second highest paid defenseman on the team?
I've already talked about the TDA/DQ stuff, from the first three games on the blogs that were previously linked in the PLUGS segment, of this tome. In short here, while I thought it was hypocritical of DQ to scratch TDA in game 2, but understood why DQ went with the same line-up in game 3; I just don't understand not giving TDA a vote of confidence right now. I know I'm not a coach or privy to what goes on in that locker room, but as an outsider looking in, it is my opinion that it would be better for DQ to back up his player, rather than leave a black cloud hanging over the situation.
 Jack Johnson time.

Very rarely, am I ever one to have an opinion that is the same of the chart nerds on Rangers social media. In fact, if you read my Tweets or blogs when the Rangers first signed Jack Johnson, I supported him. My good friend of nearly twenty years, in "EL SHOES" aka Joe D., who is a Pittsburgh Penguins fan, mocked me (and still mocks me) for supporting Johnson. I will expect this mocking to continue.
As I've said a million times – the signing of Jack Johnson was a low risk/high reward type of deal. Three games in, I don't see the high reward coming to the Rangers.
While I don't want to come off as sounding like the "SKY IS FALLING", "HOARD TOILET PAPER AND MILK" and "BUILD A CEMENT BUNKER RIGHT NOW!", because after all, it's only three games; but without question, it feels like Jack Johnson is getting a pass right now, a free pass which is being issued due to Jack Johnson's relationship with new Rangers defense coach, Jacques Martin.
I feel like I've already worn out the skin of the Brendan Smith drum I've been pounding on during these last two weeks, but that said – what has anyone seen, that constitutes Johnson playing while Smith sits upstairs in a suit? Is there any evidence contrary to the opinion that Johnson is only playing over Smith because of his relationship with Martin? If there is, I'd love to see it.
If Johnson's poor play continues and if Smith continues to be a healthy scratch, it will be a detriment to the Rangers. While I understand DQ's commitment and new found loyalty to his new defense coach in Jacques Martin, there has to be a point where DQ overrules Martin or else the Rangers will have their own Adam Gase/Gregg Williams "zero blitz" situation. If you recall, Gase allowed Williams to run a stupid play at the end of a Jets/Raiders game during this NFL season, which in turn, allowed the Raiders to win the game after a last second Hail Mary pass. Rather than playing prevent defense, the Jets blitzed, leaving a Raiders receiver wide open to win the game.
Of course – DQ, despite what fans may say, is not in the hot seat like Adam Gase was this season. However, the situations are similar, when you look at how DQ is giving Martin leeway in his usage of Jack Johnson. (Of note: the Tony DeAngelo stuff is a DQ thing and not a Martin thing.)
As previously mentioned on past blogs, the Rangers are paying DeAngelo handsomely this season. While I predicted that TDA would have a down season (at least offensively) due to Marc Staal no longer being here, putting him with Jack Johnson just makes the situation even worse. Despite TDA having the better season than Trouba, it's Trouba who the Rangers are coddling right now, as the Rangers have given Trouba four different partners in a week's time, in order to get him going.
Saddling TDA with Johnson is not a way to get TDA going. Playing with Smith would help TDA, knowing that there is no good reason to break up the Fox/Lindgren pairing at all. (In my opinion, Lindgren is the best LD on the team, a Lindgren that DQ took away from Fox, in an effort to get Trouba going. In turn, Lindgren had the worst game of his career playing with Trouba on Tuesday night. Thankfully, DQ came to his senses and will be going back with Lindgren/Fox on Friday.)
With Johnson being a complete mess right now, it will force Tony DeAngelo to cover more ice, get away from his offensive game and just like in the home opener, leave him frustrated. Let's just hope the penalty box in Pittsburgh has a self-closing door.
---
Finally, when it comes to the Rangers line-up, DQ confirmed that CZAR IGOR Shestyorkin will be starting on Friday night. I don't think this was ever in question.
Call me a dreamer, but wouldn't it be great if we got Lafreniere's first goal and CZAR IGOR's first shutout of the season, in the same game, in a thrashing of the Penguins? Sign me up for that!
Lastly, when it comes to Rangers news in general, the team officially announced the following on Thursday:
This isn't really a big deal, as this news was expected. Both Barron and Robertson will get ice time in Hartford, ice time that they won't get right now with the Rangers. This move also frees up salary cap dollars, even if the savings with these two players are minimal. I hope to get updates from these two in Hartford from my buddies @WHALEPACK and Rich M., and when I do, I'll share them here with you.
Let's close out this blog with the Pierre Luc Dubois talk.
---
If you haven't heard by now, Pierre Luc Dubois, the third overall pick of the 2016 NHL Draft and the 22 year old number one center for the Columbus Blue Jackets, wants out. Whether PLD's displeasure is John Tortorella related or something else, he's made it clear – he wants out of town and as soon as possible.
For starters, for whatever reason, Columbus has turned into America's Winnipeg, which means that players don't like playing in that city. In recent NHL player polls, Winnipeg was voted as the worst city to play and to live in. When it comes to Columbus, I feel that despite their decent showings in recent NHL playoffs, due to being in a stacked division, it's tough for them to win a Cup. Whenever someone gets hot in Columbus, whether it be Sergei Bobrovsky or Artemi Panarin, they have no interest in staying in Columbus, despite having the best years of their career there. (When it comes to Panarin, he wound up having the best year of his career with the Rangers last season.)
To expand even more here, and while this is because of JD's long-lasting relationship with the Rangers more than JD wanting to bolt out of town, JD himself even left Columbus, once the team president job of the Rangers became available. (JD, forever a Ranger, had a clause in his contract with CBJ that he could leave, no strings attached, if the Rangers team president job ever opened up. When it did, JD immediately left CBJ for NYR.)
There are a few things certain in life, like death and taxes. Another certainty? The Rangers, no matter where they are in franchise history, will always be all-in on a top player, no matter what the circumstance is. In recent years, we've seen the Rangers land Kevin Shattenkirk, Artemi Panarin and Jacob Trouba. Prior to that, it's been a who's who of names, Hall of Fame names such as Mark Messier, Wayne Gretzky, Jacques Plante, Phil Esposito, Jaromir Jagr, Brendan Shanahan, Martin St. Louis and the list goes on and on.
The Rangers and Columbus, despite being in the same division since the inception of the Metropolitan division, have been frequent trading partners. Of course the biggest trade between the two teams was on July 23, 2012, where the Rangers landed the greatest Blue Jacket of all-time in Rick Nash, in exchange for Brandon Dubinsky, who was the key Rangers principle player of that trade.
Less than a year later, on April 3, 2013, the Rangers acquired three role players of their eventual 2014 Stanley Cup Finalist run from Columbus, in Derrick Brassard, John Moore and Derek Dorsett, when the Rangers sent fan favorite Marian Gaborik to Columbus. The Rangers would also trade away Adam McQuaid on February 25, 2019, in a trade that landed the Rangers two late round draft picks and Julius Bergman.
Now, as we sit here in the middle of January 2021, in what could be a deal similar to the Rick Nash deal and the Rangers signing Panarin as a free agent, the Rangers can once again land one of the top current stars of the Blue Jackets.
When the Rangers let Kevin Hayes walk in the 2018-2019 season, when they traded him away to Winnipeg in a rental deal; the Rangers, as I said at the time and still say now, shot themselves in the foot a bit. After all, top centers don't grow on trees. Had the Rangers retained Hayes then, the Rangers wouldn't be forced to sacrifice parts right now, in the event that they now try to land Dubois.
I should also mention here, that half the teams in the league are trying to land Dubois right now, with Montreal and New York rumored to be the top contenders. However, knowing the Rangers/CBJ history, John Davidson's past and the fact that the Rangers are always in during these types of things, I'm assuming that the Rangers are trying to make a play for Dubois despite no concrete proof as of this writing. That said, when do you ever hear teams talking about players that they are trying to trade for?
If you've heard it once, you've heard it a trillion times – the biggest weaknesses on this Rangers team are at center and at left defense. Landing Dubois would boost the Rangers profile considerably, especially in a stacked division that has elite centers up and down and throughout it.
As I've been saying, and as Brooks said during the Duguay podcast, the Rangers have a glut of wingers, wingers all fighting for ice time. What the Rangers don't have is center depth. While Zibanejad is one of the best in the league, consider the fact that the Rangers, in recent years, have walked away from centers nearing the age of 30, which Zibanejad will be once his current contract runs out. While I'm not saying Zibanejad will be a goner then, it's just something to think about.
Currently, behind Zibanejad, you have Ryan Strome who is currently struggling. You also have question marks, like Filip Chytil, Brett Howden and the future one-and-done Ranger Kevin Rooney. You also have Morgan Barron, but even he is nowhere at the level that PLD is currently at.
With a cubby of wingers and prospects, the Rangers have enough players to entice Columbus into a deal. The only two things holding back a trade would be if CBJ gets cold feet about dealing a player to a division rival (although we don't know for a fact if CBJ will ever return to the Rangers division) and/or CBJ wants too much in return.
That said, PLD may have reduced his trade value a bit (a value that was dropping as is, as everyone knows Columbus is dealing from a point of weakness here, due to PLD's comments) on Thursday night.
Check out this first period clip of CBJ vs TBL, where afterwards, John Tortorella stapled PLD to the bench for the rest of the game:
Here's an iso of Pierre-Luc Dubois' final shift for the Blue Jackets tonight. The center saw 3:55 of ice time for the night and did not take a shift after the first period.#CBJ

More: https://t.co/dkWp3poyVI pic.twitter.com/BcGQgJwheP

— 1st Ohio Battery (@1stOhioBattery) January 22, 2021
After the game, Tortorella said the following:
"I've coached Luc like this for a couple of years, as far as trying to get him to get some growth in his game and growth as a pro. Nothing changes here. There's more spotlight on that, and I get why you guys have to ask the questions. But you're asking the wrong guy. I'm just the coach. I try to make it work with a hockey club, try to win games. The person that you're talking about, you should ask him."
As friend of the blog Derek Felix said to me, PLD acted like an NBA player here, (James Harden would be the most recent NBA example) as PLD looked like he wanted to take his ball and go home. Playing and giving up like this doesn't help his stock. After all, CBJ is going to want something nice back in return. Playing like you don't give a shit doesn't help that. In fact, playing like this may prolong a trade.
With the Rangers linked as a team interested in PLD, what could they give up for him? I've seen about 677655567 different scenarios, and the majority of them have merit. However, I just don't see Columbus interested in veterans, who like many others, may just opt to bolt out of town once their contract is up. I'm talking Ryan Strome and Tony DeAngelo here, two players who are making money which would make such a trade work, from a salary cap point of view.
When it comes to DeAngelo, I don't see him fitting in Torts' system to begin with, as Torts likes his defensemen to block shots rather than shooting. I could see why Strome would work, (cap reasons/same position) but again, Strome could bolt after his contract runs out. In addition, while PLD would be an upgrade over Strome, the Rangers would still be left with the center depth issues, if the Rangers do send Strome the other way.
I could be talking out of my ass here, (wouldn't be the first time!) because really, I have no clue what the general managers are thinking right now. However, to take an educated guess, I would think Columbus would want young talent, talent that would be eager to get ice time and talent that Tortorella could mold. That's why I think Columbus would be looking at wingers like Kaapo Kakko and Vitali Kratvsov. While I know a trade of Kakko would set off waves, at the end of the day, you're trading a #2 pick, a winger that's been struggling, for a bonafide number 1 center and a former #3 pick. Of course, because of Zibanejad, PLD would be a #2 center on this Rangers team, and a #2 center who would be playing with his ex-teammate in Artemi Panarin.
I think you could also look into the Rangers pipeline, where Nils Lundkvist could be trade bait. With Trouba locked up, Fox looking to be locked up one day and Tony DeAngelo most likely not meshing with Torts, why not dangle an unproven right handed defenseman like Lundkvist, for a premier and proven centerman?
The only trade scenarios that I completely dismiss are any that include Brendan Smith and/or Jack Johnson. I get being a fan, but when it comes to trades, the other team has to get something of quality in return too. Anytime I see fans linking Johnson in such a trade, it reminds me of the stupid "MARK STAHL FOR CONNER MCDAVED" trade suggestions from previous seasons. This is why I feel that Kakko, despite his status, could go the other way. And yes, I solely feel this way because of Alexis Lafreniere. Had the Rangers not landed Lafreniere, in my opinion, the Rangers would be much more invested in Kakko than they are right now. The short of it? Lafreniere makes Kakko expendable in this proposed trade.
At the end of the day, who knows what happens? All we know is this – the Rangers will be in the mix, even if they don't land PLD.
---
If you haven't already, subscribe to this blog for the next update:
---
Up next, Rangers vs Penguins, Friday night. I'll be back tomorrow night with a game review/recap.
As always here, thanks for reading and…
LET'S GO RANGERS!
Sean McCaffrey
BULLSMC@aol.com
@NYCTHEMIC on Tweeter
Follow the BlueCollarBlueShirts.com Facebook Group by clicking this link: https://www.facebook.com/groups/1564026407193056/