Greetings and salutations everyone and welcome to another blog here on BlueCollarBlueShirts.com. This is the last game recap blog for ten days, as after tonight's 4-2 loss to the Islanders, the Rangers won't play again until January 31st, during the first game of a home & home set with the Detroit Red Wings. I'll look at the schedule at the end of this blog.
On Tuesday night, the Rangers, who previously won their first two decisions with the Islanders, once again showed great effort and the will to win against their most fiercest of rivals, in the nomadic NY Islanders. However, without Artemi Panarin, it just felt like the Rangers never had a chance. As usual, the same two things that always doom the Rangers reared their ugly head in this game – the Rangers inability to win defensive zone face-offs and special team units that couldn't produce, until the decision of this game was already decided.
The biggest news prior to this game, was obviously the news about Artemi Panarin. According to David Quinn, Panarin has been struggling with an upper-body injury for the last week. That vague description could mean anything from chapped lips, a broken clavicle, a bad pimple or a concussion. For a league that's now in bed with the gambling industry, you would think teams would be forced to disclose injury information. While that applies to the NFL, this principle does not apply in the archaic NHL.
As I write these words, there is no update on Panarin's status and if he will play in the All-Star Game. To me, the ASG is such a minor and small thing to talk about. If he plays, he plays. If he doesn't, he doesn't. I will say, I 100% believe that both Panarin and Quinn wanted Panarin in this game with the Islanders tonight. Whatever Panarin is dealing with must be somewhat serious, because to miss this game with nine days off afterwards; it just wouldn't make sense to pull Panarin from this game over a bruise or a scrape.
CONSPIRACY THEORY ALERT: maybe the Rangers care what my buddy Al "SMD" Demauro says. Maybe they want to tank and want a crack at the number 1 pick of the 2020 NHL Draft? Do you know how you attain that goal? By not playing Panarin!
Of course, I'm being facetious here and I'm joking. There is no conspiracy. Panarin will be back. However, tonight's game was proof of everything I've been saying this season. The Rangers are basically as bad as Detroit without Panarin. Ryan Strome, who I'm a fan of and who I defend all the time on these blogs, didn't have a good game without Panarin flanking him. The Rangers couldn't pick up an even-strength goal in this game without Panarin. And to my biggest point – if there was ever a game to highlight the reason why Panarin should get a Hart Trophy nomination, it's this game. While the Rangers effort was there, they couldn't buy a goal in this game. This game really showcased how important Panarin is to the Rangers this season. I don't think I'm shedding any new light here!
Before getting into all the nooks and crannies of this game and getting into all the pregame news, here are my last few blogs, in case you missed them:
---
---
---
---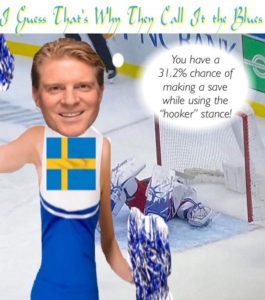 ---
---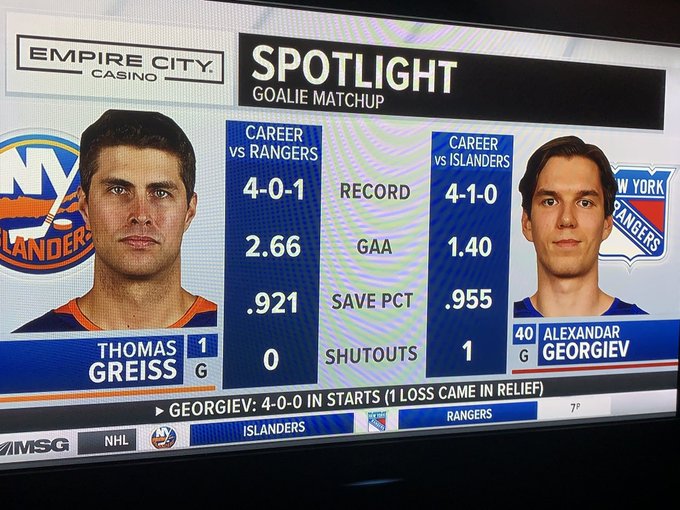 Let's get into the news section first, as there a few items to quickly talk about. To help rinse this nasty Islanders loss out of your mouth, let's talk about some great news, in a one Vinni Lettieri!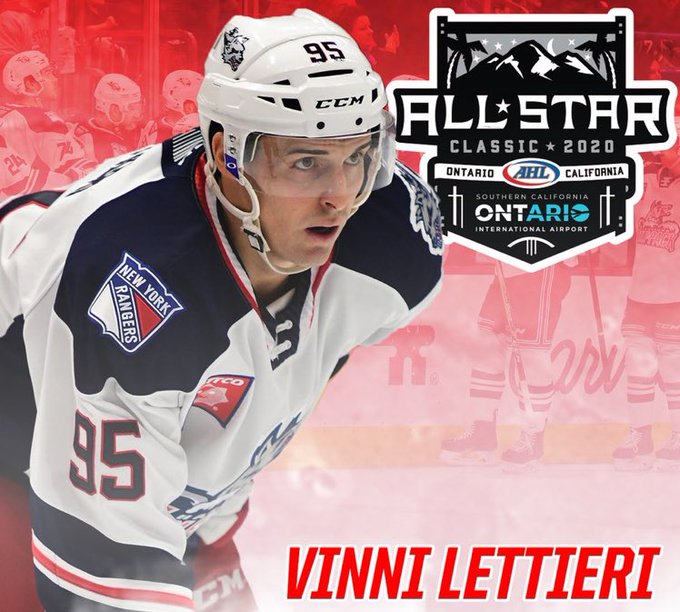 BREAKING NEWS: I wrote the following before the news the Rangers announced after tonight's game. Keep on reading or go to the bottom of this blog for the breaking news update about Igor Shestyorkin going to Hartford & Chris Kreider replacing Artemi Panarin in the NHL ASG.
The following comes from HartfordWolpack.com:
The American Hockey League announced today that Wolf Pack forward Vinni Lettieri has been named to the Atlantic Division roster for the upcoming 2020 AHL All-Star Classic presented by Ontario International Airport.

Lettieri will take the place of Igor Shesterkin, who will be unavailable for the event.

Lettieri, a third-year pro out of the University of Minnesota, leads the Wolf Pack team in points and goals, with 18 goals and 17 assists for 35 points in 42 games.  The 5-11, 191-pound native of Excelsior, MN also has put 128 shots on net, which is tied for fifth-most in the AHL.

The 24-year-old Lettieri, who was signed as a free agent by the parent New York Rangers March 27, 2017, led the Wolf Pack team in goals in both of his first two full pro seasons.  As a rookie in 2017-18, Lettieri tallied 23 goals and 13 assists for 36 points in 55 games, and he matched that goal total last season, scoring at a point-per-game pace in AHL action with 23 goals and 25 assists for 48 points in 48 games.

Lettieri has also seen action in 46 NHL games with the Rangers since turning pro, posting two goals and six assists for eight points.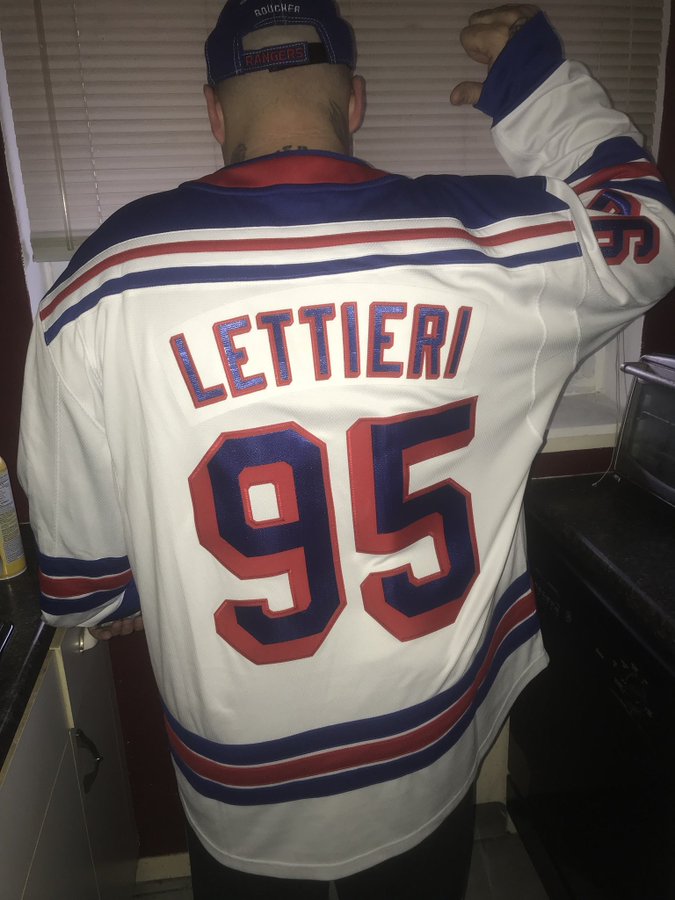 Before doing my Lettieri rah-rah stuff, I want to mention that this blog has been doing great traffic of late. I don't really care about website numbers. If I did, I would break up these blogs into 79856679556675678 different blogs, like you see everywhere else. I don't click-bait you. When you come here, you know for your one click, you get 10,000+ words and no ads!
If I really wanted to monetize this, I would break up these blogs, artificially boost my website traffic by doing that, and then bury with you ads. I don't do any of that nonsense like other sites/blogs. This has always been a blog based out of passion. It's a hobby. That said, if you ever wanted to donate a few scheckels, feel free! (And as always, a big thanks to many of you, even for doing something as simple as getting me a beer. Of course, another big thanks to Marc G., who actually surprised my father and I with great seats to a game too. You don't forget that stuff.)
I bring this all up, because many of you have told me, both online and in-person, how you like this blog and how you have shared it with others. I can tell from the website traffic that you guys aren't bullshitting me, as I do see the numbers are up. Thanks for spreading the word!
I also bring this stuff up, because for my regular long-time readers, I'm sorry if I come off repetitive at times. With an influx of new readers, I sometimes feel that I need to reiterate or say the same things over and over, as this blog gets new eyeballs. Thanks for bearing with me!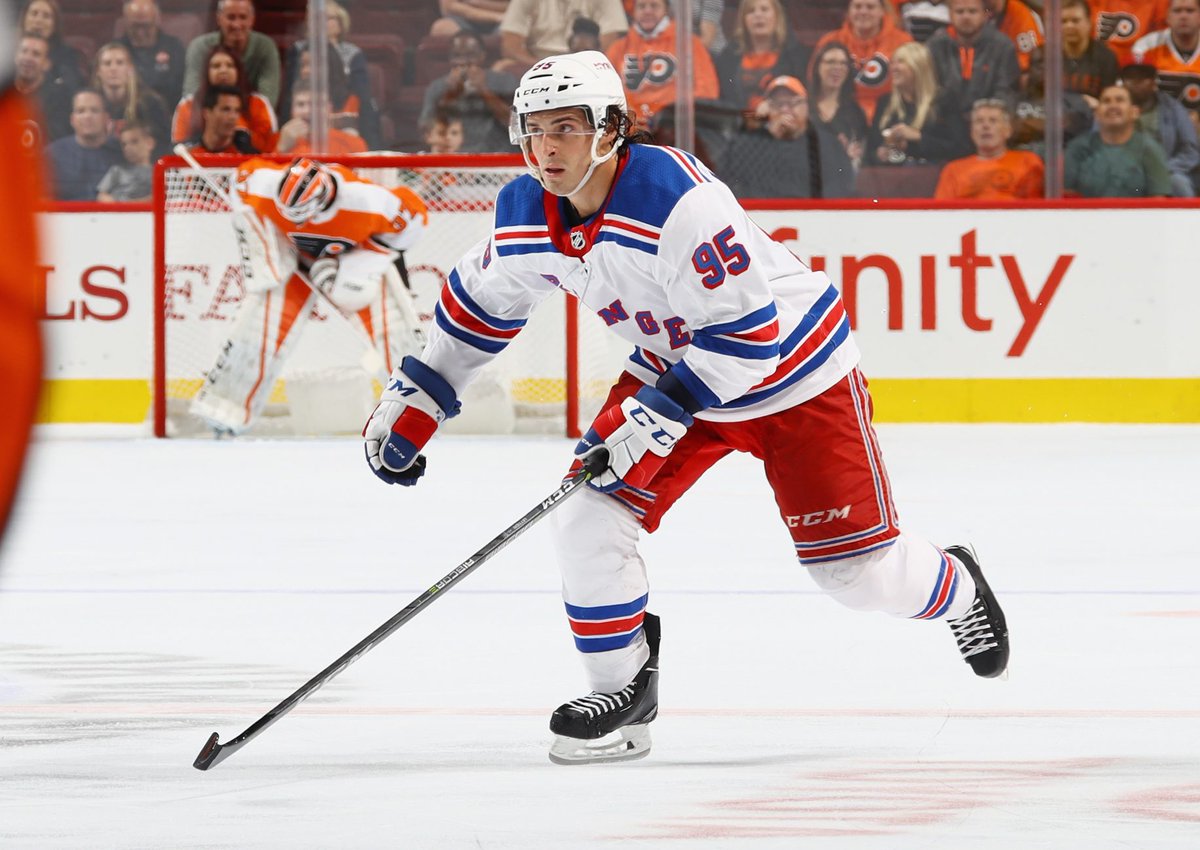 I'll explain my Vinni Lettieri fandom one more time and I'll try to do it quickly.
I first saw Lettieri play during the 2017-2018 preseason. I attended two of those games and in each game, I was impressed with Lettieri. What drew me to Lettieri, was the fact that he always shot the puck, which is very rare for the New York Rangers. Sometimes, when you watch Ranger games, you think that shooting the puck will led to malaria or some sort of disease from "The Oregon Trail."
Watching Lettieri play a "shoot first, ask questions later" type of game, I really enjoyed what I saw. And in a bonus for me personally, (and the real reason why I bought his jersey) my nieces, sister and my brother-in-law all share the same surname. So even if Lettieri never panned out, for my family, it's a funny thing that the Rangers have a guy with their last name on the roster. It's also why I got a McCaffrey #81 Giants jersey. Ed McCaffrey, a guy with the same last name as me, actually played for my favorite team! (To be fair, McCaffrey had better years with the Broncos, but hey, he still played for the G-MEN!)
Last names aside, as I started following Lettieri and watched him in Hartford, I really liked what I saw. Unfortunately, he was never able to translate his game from the AHL level to the NHL level.
And please – there are many times during the year, where I say on social media, "I hope Lettieri gets a chance" or "I really want to see Lettieri get a call-up." 99% of the time, unless your name is Jim Schmiedeberg (who loves the comic aspect of Lettieri and does his funny Lettieri as a "Sopranos" extra goombah bits) I'm met with the same response – "VINNI IS A FOUR-A PLAYER! HE IS NOT AN NHLER! HE'S ONLY GOOD IN AHL! 4A 4A 4A! I AM SMART, I KNOW WHAT 4A IS!"
For newer readers, who don't know what a "4A" player is, it basically means that Vinni is too good for the minors, but not good enough for the pros. This term comes from baseball, in describing players who kill it at AAA, but barely make a peep at the MLB level.
As mentioned on prior blogs, what really hurts Lettieri with the Rangers, is the fact that he's not a draft pick. He was a player undrafted, who was signed by the team, like Alexandar Georgiev.
As we've seen during this rebuild, the Rangers will give chances, time and time again, to guys they have drafted or young players they have acquired through a trade. The Rangers will not give the same level of attention or focus to their undrafted players. This is why you see Buchnevich, Andersson, Kravtsov, Hajek, Kakko and others, get opportunity after opportunity, even when they are struggling. It's why you see Georgiev's name in trade talks, and not Igor Shestyorkin's.
When it comes to undrafted players, it doesn't "hurt" the Rangers to be wrong about them. It "hurts" the Rangers, optically, when their draft picks and players acquired by trades, flame out. It makes the front office look bad.
In defense of Vinni Lettieri, during his stints with the Rangers, he didn't produce. He had ample opportunity, especially last year, when he was on the second line and on the power-play. He didn't score. I am not arguing otherwise – he did get chances last year, and he previously got chances under Alain Vigneault too. However, this is now a new year and we may be seeing Lettieri developing to the next level.
When it comes to this 2019-2020 New York Rangers season, we've seen the Rangers try out guys like Steve Fogarty, Timothy Gettinger and Boo Nieves, with all three of them not producing. To be fair, they were all buried on the fourth line and didn't have much of a chance either. Even now, the Rangers have called up Phillip Di Giuseppe, and despite illnesses and injuries, the Rangers won't play this kid, opting to go with Haley & McKegg instead. I don't get it.
During this last off-season, the Rangers gave Lettieri a one-year deal. Unlike Lias Andersson or Vitali Kravtsov, Lettieri isn't coddled. He's also not a crybaby. Lettieri, who like everyone else, wants to be in the NHL, has accepted his assignment. In turn, like Filip Chytil (who does get preferential treatment because of his draft selection) Lettieri has lit it up in the AHL. (And let me be clear, this is not a knock on Chytil. I'm just saying that Chytil is the more valued asset.)
Vinni Lettieri is now an AHL All-Star. I hope that with the Rangers out of the playoff mix, that come the trade deadline, Lettieri gets a final crack with the Rangers. He's better now than he was a year ago. If he flames out, he flames out. All I want to see is him get the opportunity. At this stage of the game – what do you have to lose? He's done more to deserve a chance this season. If the Calder Cup is not a goal, and I don't think it is (and as I'll get into in the next segment of this blog) give Lettieri a call-up.
In my last blog, I mentioned how I thought maybe it would be a good idea to send CZAR IGOR back to the AHL during the NHL all-star weekend & Rangers bye week. With 9 days off, and with Lundqvist assumingly going to play against another last place team when the Rangers return, as he always does this time of the year, I thought it might've been a good idea to let Igor get some games in. I also thought it would've been a nice reward for Igor, just to play in the AHL ASG.
As we found out today, the Rangers will not be sending CZAR IGOR back to the AHL for work. That is why Vinni Lettieri got the nod to the AHL ASG, as just like the NHL, every team needs a representative at the AHL ASG.
I don't know how Igor feels about this, but I would imagine he isn't losing any sleep over this. After all, by being on the Rangers roster, he makes 10 times as much money a day in New York, versus being in Hartford. So financially, for Igor, staying with the Rangers is the much better option, over an individual AHL milestone.
It also tells you, bearing a Georgiev trade or Lundqvist waiving his NMC, that the Rangers will continue their three goalie system.
I just spent 2000 words talking about Vinni Lettieri. Talk about not breaking up these blogs for extra web traffic! NEXT!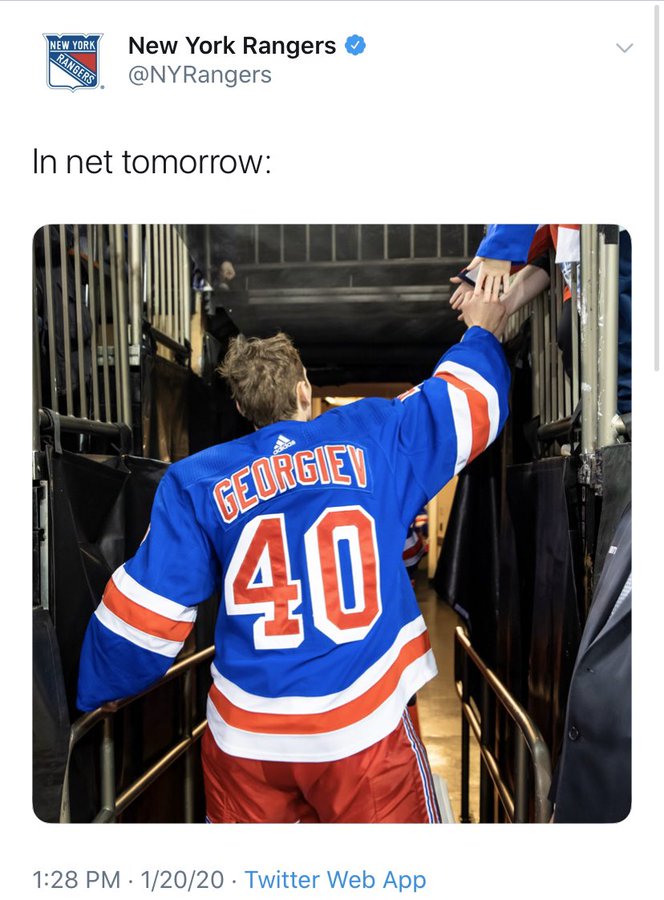 After announcing Georgiev as the starter against the Islanders, as all of us thought would happen, I saw some people in the Cult of Lundswiss cry about how Lundqvist wasn't getting any time in net.
Once again, this is why Lundqvist doesn't play against the Islanders: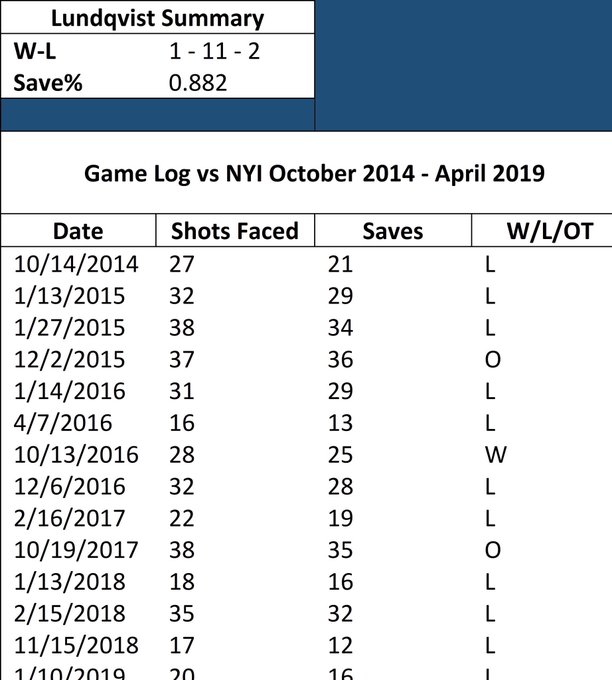 In December of 2013, Lundqvist signed his disgusting contract, making him the highest paid goalie in the NHL, beginning with the 2014-2015 season. Since that time, the Islanders are 13-1 against Lundqvist. What a big game goalie.
In other Lundqvist news, after reporting what Howie Wirth said in my last blog, the Rangers put out their spin. The new spin, concerning Lundqvist never being a healthy scratch, is that keeping Lundqvist dressed every game, and I quote David Quinn here, "is that it's good for the locker room." Sorry Charlie. The only good thing Lundqvist could do for this locker room is to go on the LITR, retire or waive his NMC. Sitting around, while stealing cap space and time from Georgiev and Igor; well doesn't help the team, the rebuild or the locker room. Keeping Lundqvist dressed every game is only good for Lundqvist's ego. It doesn't help the team at all.
With all his recent time off from playing in games, Lundqvist, to his credit, has done more charity events. Here he is doing something with Screech from "Saved By The Bell":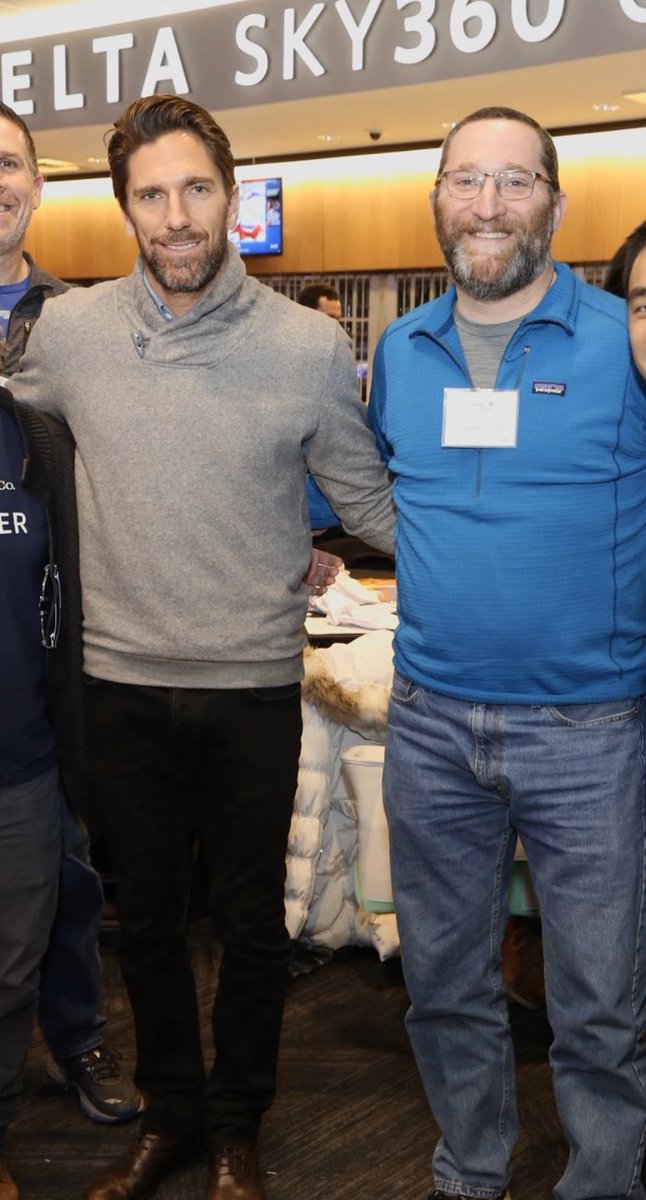 Okay, okay, okay – I don't really know if that guy pictured to the left of Lundqvist is Dustin Diamond or not. However, if he's not, he is one hell of a Screech doppleganger:
Of note, Lundqvist was on the bench tonight, while CZAR IGOR collected 10 times his AHL salary in street clothes, by sitting in the press box as a healthy scratch.
3000 words in already! I promise you, I'll eventually get to this game tonight! NEXT!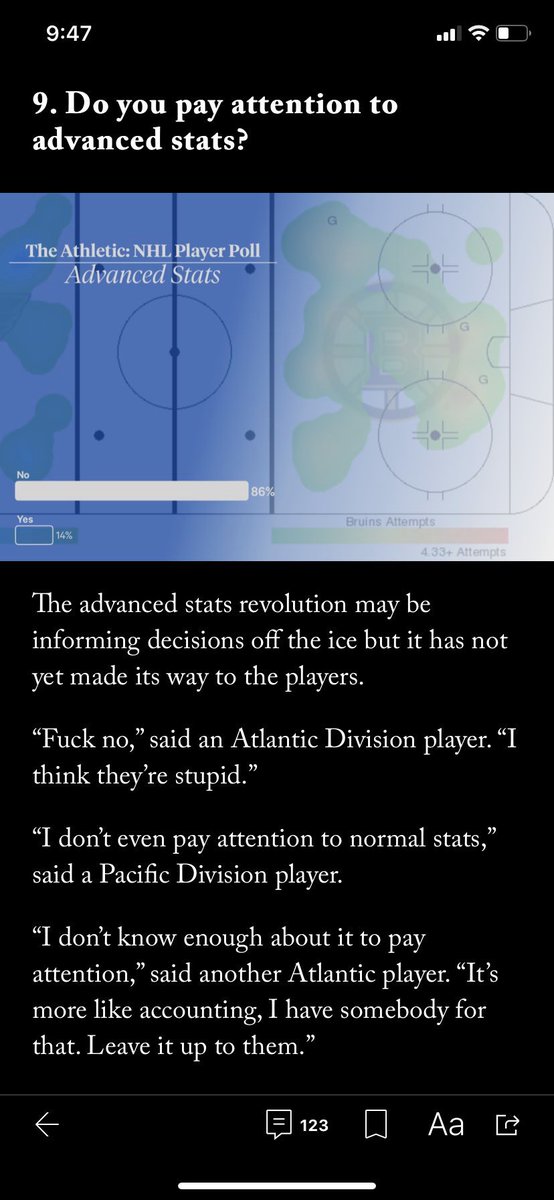 As you can see from the graphic above, NHLers of today, just like their counterparts from eras ago, could give two shits less about fancy boy stats.
As I always say, ANALytics are the biggest white noise/distraction in sports today. These stats mean ABSOLUTELY NOTHING. If they did, someone would be cashing out in Vegas. Salary cap hits are more important than this nerd foo foo bullshit.
Furthermore, ANALytics started off as a hobby created by nerds. As time progressed, what started off as a hobby turned into a real job, as these geeks bumped off real hockey men from their jobs.
We even saw this happen in a major hockey hotbed in Toronto, with their front office, you know, the same Toronto club that hasn't won a Cup since 1967. In addition, you see it here today with the Rangers, as M$G Networks President, Jeff Filippi, got rid of a real hockey man in Ron Duguay, so MSGN could focus on a broadcast led by Steve Statiquette.
What's funny, is that if you look at some of the "real" stats, (SOG & TOP for instance) and fancy boy foo foo ANALytic stats from tonight's loss to the Islanders, everything favored the Rangers tonight. Instead, the Rangers got smoked tonight.
REAL stats, not bullshit stats that frequently use the word "expected", did the Rangers in tonight, such as faceoff losses and special team production.
If you really want to know how meaningless fancy boy stats are, most of these basement nerds that use them, will try to sell you on Pavel Buchnevich being the second coming of Wayne Gretzky. I don't even think Buchnevich is the second coming of Manny Mahlotra. SAD!
Oh, and as mentioned a million times on this blog, if any of these fancy boy stats could predict anything, the Vegas sports books would go broke.
Speaking of Vegas sports books, let's go to the GAMBLING segment of tonight's manifesto.
Here's what I said before the game:
Season over-under record: 24-22-1

Tough game tonight. #nyr has been playing well defensively & #isles don't score much. NYR usually follow up crushing losses w/big wins. Last game saw 5 total goals.

I'll go UNDER & NYR win tonight.

This is a ginormous & YUGE game for both. pic.twitter.com/cDHF2LVB6i

— BlueCollarBlueShirts (@NYCTheMiC) January 21, 2020
As you'll see below, Scott Mayfield effed me tonight. With the over-under at 6 and with 6 total goals tonight, I push my bet. My over-under record is now 24-22-2, as we hit the All-Star break & Rangers bye week. A push is like kissing your sister. While my sister has the same last name as Lettieri, I am not looking to kiss either! (CALLBACK!)
On the bright side, at least an empty net goal didn't turn my bet into a loss tonight.
Line-up time!
With Artemi Panarin out, here's what David Quinn rolled out for this game: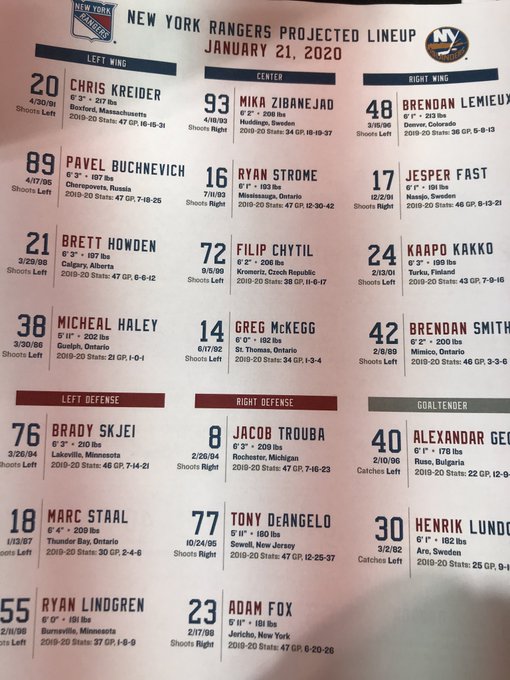 I want to be clear here. While not having Panarin obviously hurt the Rangers, that's not 100% the reason why they lost tonight. The Rangers had no puck luck. Of the four the Islander goals in this game, Ryan Lindgren knocked two of them in. The Islanders were perfect on their power-play tonight. The Rangers PK batted a whopping zero percent. Then, in what seems to happen in every game, the Rangers gave up two goals tonight; immediately after losing a defensive zone face-off.
The Rangers did indeed break their ass in game. Effort wasn't an issue here. They didn't give up because Panarin wasn't dressed. However, in the biggest plays of the game, the Islanders just had the puck luck, while the Rangers couldn't buy a bounce to go their way.
Finally, at this time, let's go to the official box score, courtesy of ESPN.com:
SCORING SUMMARY: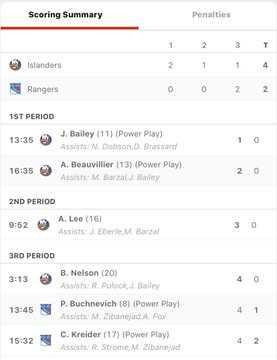 PENALTIES: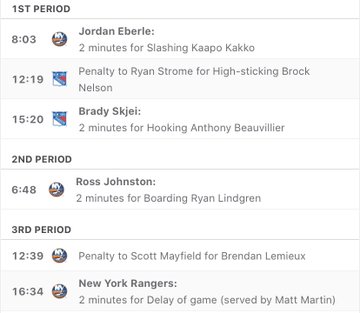 TEAM STATS: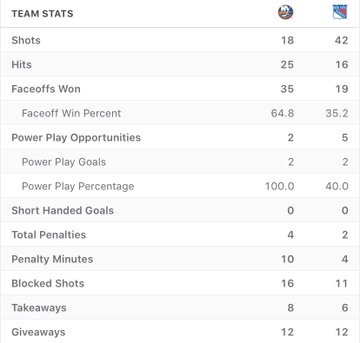 GOALIES:
| | | | | | | | | | | |
| --- | --- | --- | --- | --- | --- | --- | --- | --- | --- | --- |
| SA | GA | SV | SV% | ESSV | PPSV | SHSV | SOSA | SOS | TOI | PIM |
| 42 | 2 | 40 | .952 | 31 | 2 | 7 | 0 | 0 | 59:23 | 0 |
| | | | | | | | | | | |
| --- | --- | --- | --- | --- | --- | --- | --- | --- | --- | --- |
| SA | GA | SV | SV% | ESSV | PPSV | SHSV | SOSA | SOS | TOI | PIM |
| 18 | 4 | 14 | .778 | 12 | 0 | 2 | 0 | 0 | 55:17 | 0 |
I'm not even going to waste my time on the "Montefiore Rangers Pregame Show" tonight. It was once again horrible. If the Rangers really want to rebuild, they would boot Vally to the Islander broadcasts. In what's becoming a trend, I thought Joe Micheletti and Sam Rosen provided more content and value in their five minutes, than Valiquette did in his 30 minutes. The only thing worth of note during all of this, is this is when we found out about Panarin not playing.
When I look at this game as a whole, I thought Ryan Lindgren and Kaapo Kakko had some "Jekyll and Hyde" to their games. Ryan Lindgren was involved early, laying the body, but he also accidentally and unfortunately had two pucks go off him for Islander goals.
Kakko, who I thought played his best game since the overtime game winning goal he had against the Penguins, from a game that seems like it's from many moons ago now, had a strong game. He was even bumped up to the first line as the game went on. However, there were several times in this game, during odd-man rushes, where Kakko refused to shoot the puck.
Instead of taking a point blank shot, as we've seen so often, Kakko would skate behind the net, skate towards the blue line and then would settle for a 20 foot shot. That said, I thought both Lindgren & Kakko played well tonight, although you have to say "BUT" right after. At least you saw some bright spots from these two developing players.
Thomas Greiss, while stopping 40 shots tonight, wasn't challenged as much as Georgiev was tonight. At least in my opinion. This was a "quiet" 40 save game for Greiss. I don't want to discredit Greiss or anything, but it's not like Greiss was facing breakaways or anything in this game. I thought we saw the best of Greiss during the Rangers first power-play, where they logged four shots on goal. In addition, during the Rangers best chance at net, Brett Howden airmailed a puck when two feet away from Greiss and with the net virtually empty.
To start this game, Greiss made a good save on Trouba. Right after this, the Rangers would have a three vs two odd-man rush, with the Rangers third line leading the way. This is where Kakko opted not to shoot. However, the third line kept at it, and Kakko would set up Howden all alone in front of Greiss. This is where Howden decided to shoot the puck into the fourth row.
At the 8:03 mark of the period, in a period where the Rangers were dominating in, Kakko drew Jordan Eberle for a slash. The Rangers power-play was great here, but didn't finish. Let's put it this way, with the chances the Rangers got here on this power-play, it's amazing these guys have kids. This Rangers power-play would never make it in porno films, as they couldn't finish. Just no scoring here, despite some GOOD LOOKS. Buchnevich had the best go of it, as he got a great shot off, but the puck just dribbled to the left of Greiss.
At around the half-way mark of the game, and after the Islanders PK stopped the Rangers PP, the shots on goal were Rangers 9, Islanders 1. However, at the same time, the Islanders were winning the battle at the dot, 9-1. Face-offs have killed the Rangers this year.
In the Islanders lone shot up to this point in the game, Barzal made a play between his legs. Save for Georgiev. Then, on an Islanders two on one chance, Barzal hit the post.
Despite the losses at the face-off circles, the Rangers were dominating this game. They dictated the pace. They had the momentum. They had the Isles on their heels. However, it would all change with 7:41 remaining in the first period.
It's been a tough two games in a row for Ryan Strome. No one bats 1.000, and these are 60 minute games. That said, in the last two games, Strome's game has led to crushing back-breaking goals the other way.
In the loss to Columbus, Strome changed early, thus giving CBJ an odd-man rush. In turn, Columbus scored a game winning goal with 26 seconds left on the clock.
In this game, the Rangers were the aggressors and just giving it to the Isles. While in the Rangers offensive zone, Strome pulled a "Benoit Pouliot" and took a penalty with the Rangers attacking. Strome blatantly high-sticked Brock Nelson.
On the Isles PP, Georgiev would make a good save on Eberle. Then, 75 seconds into the Isles PP, the Islanders would break up the nil-nil tie:
Josh Bailey (not sick) gives the #Isles a 1-0 lead. Oh, on the power play too. pic.twitter.com/PZzkoQPmcW

— Rob Taub (@RTaub_) January 22, 2020
Oh, big thanks to Rob Taub. He's a useful resource during NYR/NYI games, as his twitter account is one-stop shop gif shopping!
On the goal, Josh Bailey blasts a puck and Lindgren kicks it in past Georgiev. 1-0, bad guys. As I always say, I rarely bury a goalie for a PPG allowed. And how can you blame a goalie when your own defenseman knocks it in?
To me, and as I said it at the time, this swung the game. The Rangers were the better team at this point, despite the face-off issues, but one dumb penalty and BOOM – this game goes the other way.
With 4:40 remaining in the first, Brady Skjei decided to have a vacation in the penalty box, as he decided to hook a Crylander. His two minute vacation was cut short, as Anthony Beauvillier doubled up the Islanders lead, once again, 75 seconds into the Isles PP:
Barzal to Beauvillier. Power play snipe. #Isles pic.twitter.com/0ZuqeFXhHr

— Rob Taub (@RTaub_) January 22, 2020
2-0, bad guys and another Isles PPG.
Do you want to know the SAD thing about this, as a Rangers fan? Prior to this game, the Islanders had the worst PP in the league and had only two goals since Christmas. In turn, the Isles doubled up their PP production tonight.
At this point in the game, the Islanders were 2-2 on the PP and 1-1 on their PK. The Rangers were 0-3 on their special teams. Another game lost because of special teams for the Blueshirts.
On this goal, prior to Beauvillier scoring, Ryan Strome tried to set up Trouba on a tip-pass for a goal. Greiss made a great save here, the Islanders go up the ice and Beauvillier snipes one all alone. Could've Georgiev made this save? It's a 50/50 thing. Again, I don't bury goalies for PPG's allowed.
With 6 seconds left in the period, Zibanejad, who is not an All-Star, as you'll see in BREAKING NEWS below, almost had a goal. Denied.
After twenty minutes, and in a period that suggested the Rangers should be dominating the scoreboard in, it was the Islanders, and not the Rangers, leading 2-0.
If there was anything to take out of the first period, it was that Howden missed an easy goal, the Islanders did their job on special teams and the Rangers couldn't win a face-off to save their lives.
Oh, and if someone has it, I would love to see the stat for the most goals given up after a defensive face-off loss this season. It has to be the Rangers.
The second period started off with the Rangers playing well for a minute. Sam Rosen immediately said how great the Rangers looked. After that, the Isles dominated the puck for a good minute and then the Rangers took an icing. Jinx.
Adam Fox, who was a little bit "Jekyll & Hyde" himself in this game, would then get the puck and drop pass it for a turnover. Right after this, the Islanders got a shot off and Strome almost deflected the puck past Georgiev. Strome would've been crucified on social media if that puck went in.
At the 6:48 mark of the period, Islanders goon Ross Johnston boarded Lindgren, sending Lindgren head first into the boards:
Johnston boards Lindgren #Isles #NYR pic.twitter.com/A3mwIhYf4c

— Rob Taub (@RTaub_) January 22, 2020
This was a two minute minor for Johnston. I'm done trying to figure out these officials. As you'll see later on in this game, sending someone head first into the boards, in a league that swears they are trying to limit concussions, is a two minute minor. A simple spear to the leg is a double-minor.
Between this boarding call and the elbow Buchnevich took from Ryan Ellis against Nashville, why does the league even bother to pretend that they care about concussions?
Want to know the funniest thing about this? If during a game, you call someone a "fag", in the same vein that you would call someone an "asshole" or a "douchebag", that's a 10 game suspension, fake social justice warrior outrage and "sensitivity training". Send someone head-first into the boards? Two minutes. I guess the old adage applies here. You know, the one that goes something like "sticks and stones may break my bones, but words turn me into a limp-wristed puddle."
On this Rangers PP, it basically sucked, with Fox getting the lone shot of the PP with only 16 seconds remaining. Once again, the Isles special teams were flawless here, while the Ranger special teams were abysmal.
With 10:08 remaining in the period, the Rangers lost the individual battles behind Georgiev. Due to these losses, the Islanders were able to squirt the puck to an all alone Anders "Who are you again? – Shannon Hogan" Lee, and boom, Lee takes a shot and Lindgren boots it past Georgiev. 3-0, bad guys. Lindgren is trying to do the right things here, but no puck luck at all. It felt that every bounce went the Islanders way tonight.
As the period progressed, Barzal would get a breakaway chance. However, Lundqvist wasn't in net, so Georgiev made the save.
Right after this, perhaps in a display of frustration, Adam Fox lazily but aggressively, tried to clear the puck, by slapping it out of the zone. The puck then went to the Islanders and Georgiev would have to make another big save.
With Morgue $quare Garden as quiet as the funeral of a small child, Micheletti imparted some wisdom, as he said – "The Rangers really need a goal here." No shit. Then again, sometimes the KISS theory, you know "Keep It Simple Stupid", is the theory that applies best.
This game was like watching death. It was at this point in the game, where my buddy/neighbor, in TEN O'CLOCK TOMMY, started doing this:
The game was boring and it was being played in front of a crowd that looked as lively as an internment camp.
The Rangers, down 3-0, didn't give up, as their effort was there. Greiss would stop Fast, Zibanejad, Kakko and Kreider.
With two minutes remaining, Ryan Strome, who needed a goal more than anyone, took a puck and put it past a sprawled out Greiss. 3-1, or so we thought.
Barry Trotz would review this goal for offside. Upon the review, we saw this:
Wes McCauley is the best. What a legend. pic.twitter.com/40EERMocQt

— Rob Taub (@RTaub_) January 22, 2020
If I said it once, I've said it a million times –  I hate these offside reviews. This was example number 7678456726478956242349 of a player being offside by a hair (this time, because Fast's foot wasn't on the blue line, as his foot was off the ice) and a goal coming off the board. I did this rant last time, when a call went the Rangers way.
Fast's foot not being on the blue line had nothing to do with this goal. In turn, because of the rule, this Strome goal is erased. It was the right call, but this rule needs to be wiped off the books. It hurts the game. If someone is blatantly offside I get it, but this wasn't that.
After two periods, and in a game where the Rangers were out-shooting the Islanders 30-13, it was the Islanders with the 3-0 lead. Special teams, special teams, special teams.
As the third period kicked off, it looked like half the building emptied out during intermission. Sam Rosen kept up bringing up the crowd. Micheletti, even with 8 minutes left in the game, talked about how a Rangers goal would motivate the crowd. While the crowds at these games are as lively as a crash test dummy, the crowd's noise level shouldn't be the predominant factor between a win and a loss.
Three minutes and change into the third period, Brock Nelson scored. This made the game 4-0, bad guys.
Stop me if you heard this before. On this goal, the Rangers iced the puck, lost a defensive zone face-off, the opponent gets the puck deep and it's an easy goal the other way. 4-0.
As I've said on these blogs, I don't mind Georgiev or Shestyorkin taking their lumps during this rebuild, but this game wasn't a lump for Georgiev. All four Islander goals came off either a bad defensive zone face-off loss or a Ranger scoring on their own goalie. And don't get me started on Brady Skjei this season, who has been absolutely horrible this season.
Oh, and after this goal, the Rangers played crappy 90's dance music. I'm sure that's what the crowd wanted to hear. They may as well play the "oh shit, you suck and lost" jingle from "The Price is Right."
At this point in the broadcast, the Rangers started talking about "FAN'S CHOICE NIGHT", where fans voted for the Rangers to add a $25 beef brisket sandwich to the concession stands at M$G, starting on 1/31. That is what these broadcasts have become – a shill for overpriced food. I'm sure $25 for stale meat will pack the fans into the overpriced Garden.
This third period was a slow death march. This period was almost as sad as that movie "Life is Beautiful", with Roberto Benigni.
During this period, the Sam & Joe brought up Gilles Villemure, and how he started off his Rangers career against the Islanders at 5-0. Of course, these two didn't bring up how Villemure was doing in the present day. I've done past blogs on Villemure (check the archives) and I told you how he was really sick. We couldn't get an update on Villemure though here. Talking about $25 sandwiches was more important. Between the Subway commercials and this, these guys are obsessed with meat.
With under 8 minutes to go in regulation, the Islanders were up 4-0 and Thomas Greiss was approaching a shut-out. Fortunately for the Rangers and unfortunate for Greiss, Scott Mayfield decided to be a stupid dickhead. At the 12:39 mark of the period, Mayfield blatantly speared Brendan Lemieux:
Mayfield spears Lemieux. Um? pic.twitter.com/NuGZyueXc0

— Rob Taub (@RTaub_) January 22, 2020
What a stupid Father Finkin' move by Mayfield. Your team is up 4-0 and your goalie has a shutout going in a big game. This is how you reward him? And as mentioned earlier, how is this a four minute double-minor, while sending someone head first into the boards is only two minutes?
With the score 4-0, and the over-under at 6, here's what I said at the time:
Here come the late ranger ppg's to fuck my under bet lol #nyr #PlayLikeANewYorker

— BlueCollarBlueShirts (@NYCTheMiC) January 22, 2020
How prophetic.
Just a minute into the Rangers four-minute power-play, Adam Fox blasted a puck, Kreider screened Greiss and Buchnevich deflected the puck into the net, via the short-hop. 4-1, bad guys. I guess it was nice to see Stinknevich get a goal, even if it was lucky.
With the first power-play successful, the Rangers would score again. With 5:20 remaining in the game, DQ pulled Georgiev, to give the Rangers a 6 vs 4 attack. Holy PATRICK ROY Batman! This wound up working, as Kreider scored on a rebound, after a deep shot from Zibanejad. 4-2, bad guys! Under bet ruined. Thanks a lot Mayfield!
It was also at this point in the game where Sam & Joe were doing their back and forth apologizing act, before finally agreeing on something. My buddy, "KING OF THE HYJINX", in a Greg R. aka FIXXSER, recapped it best:
#NYR #PlayLikeANewYorker Joe agrees with Sam! That's rare. It's usually, "Sorry, Sam", "Sorry, Joe", "No, you go.", "No, what were you saying?", "I appologize, Joe." "Sam, I'm sorry.", "What did you say, Sam?" "I said, 'Sorry'.", "Okay, Sam.", "Thanks, Joe."

— Fixxser (@Fixxser) January 22, 2020
After this goal, Kreider would get another chance to score, but his stick broke on a shot. The Rangers would take a timeout with 3:26 remaining, after an Islanders icing.
Upon returning to play, Trotz put out different men on the ice, men who weren't on the ice during the icing. The refs called a delay of penalty on the Isles here, which is a call I've rarely seen.
At this point in the game, Quinn pulled Georgiev, as the Rangers tried to pick up another 6 vs 4 extra attacker PPG. The Rangers wouldn't be so lucky this time, as the Isles held the Rangers off the board.
With the Isles killing the penalty and with Georgiev still on the bench, Tony DeAngelo made two empty net saves here. I'll spare you my "four-goalie system" jokes or how TDA has a better save percentage than Lundswiss this year.
Scott Mayfield would then miss an empty net, but it didn't matter. The Rangers, like in previous games, ran out of time. Too little, too late. 4-2 Islanders, your final, from Morgue $quare Garden.
This was game 48 and the Rangers now have a nine-day break, with the All-Star game on Sunday and the bye week after that. The Rangers are now 10 points out from the second wild card seed. For anyone still clinging to the hopes of the playoffs, you have to hope that this team, that has only one three game winning streak this season, to rip off wins, 5,6,7+ games in a row, while hoping every other team fails to pick up a point in the same time. I don't see that happening. With 34 games left on the docket, just like many games this season, even if the Rangers do rip off some wins, it could be too little, too late.
As I was proof-reading this blog, the Rangers made two announcements. Here they are, in no particular order: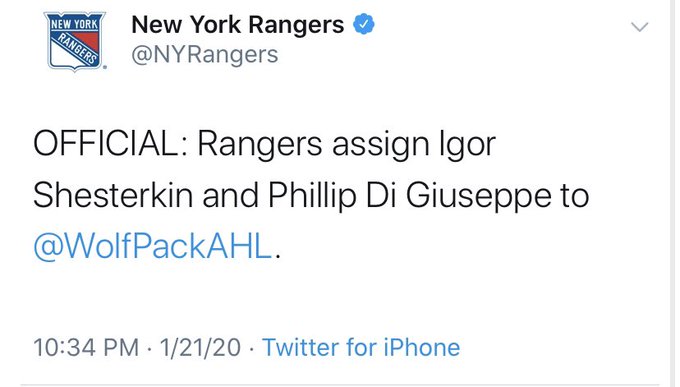 So, as I originally predicted, Igor Shestyorkin is GOING back to Hartford after all. I assume this demotion is only to get him some work. It has nothing to do with his play or production. This makes the AHL All-Star Game interesting. Does Lettieri go now, or does Igor reclaim his spot as the Wolfpack All-Star? While I know the AHL All-Star Game is meaningless in the grand scheme of things, I do wonder what happens here. As I write this, nothing has been announced on this front.
I would be shocked if Igor isn't called up again, once the Rangers resume action. I assume Lundswiss will take a start against last place Detroit when the Rangers come back. I would hope that Igor gets one of those starts too, before returning to Georgiev. And really, I'm hoping JD gets Hank to waive his NMC during these next 9 days.
As mentioned at the top of this blog, when I thought the Rangers were keeping Igor up here, this does affect Igor's bank account. Maybe the Rangers will throw him a bone. Ha.
If you're Phillip Di Giuseppe, you have to be pulling the hair out of your head. He has been called up twice this season, but hasn't played at all. Even with the Rangers hurt and ailing, he couldn't get a shift. You know all he wants is a chance.
In the other news item, we got the answer to the Artemi Panarin situation, as the NHL announced the following after tonight's Rangers loss:
#NHLAllStar Update: @NYRangers forward Chris Kreider will replace teammate Artemi Panarin at the 2020 Honda NHL All-Star Game. pic.twitter.com/XbWIeIuhJb

— NHL Public Relations (@PR_NHL) January 22, 2020
While we don't know how serious Panarin's injury is, or what the injury even is, it looks like the Rangers and Panarin are taking no chances. He's out of the All-Star Game and Chris Kreider is in.
I've seen many fans cry on social media, saying that Zibanejad deserved to go in. I won't argue that, but maybe Mika already has vacation plans. He could have a flight booked back home to Sweden for all I know. If that's the case, and that's the way I'm leaning, what's the point in ruining vacation plans for a meaningless All-Star Game? If anything, if the Rangers needed a replacement, I would've went with Tony DeAngelo. He's done more at his position than the other Ranger candidates, on a day-to-day basis, including Chris Kreider.
I had some people say to me on social media, how this All-Star nomination will drive up CK20's trade value. Fat chance. These GM's aren't stupid. They know what this All-Star nomination is. While Kreider is perhaps the top prize, during the rental period, which is the NHL trade deadline; being named for the All-Star Game does nothing for his perceived value. Even before this  ASG announcement, CK20 was already the top name bandied about as a deadline rental.
Moving ahead, blog-wise, I will definitely be back between now and the Rangers next game, which takes place on 1/31. I kind of expect some sort of major roster transaction between now and the game with Detroit. If I have the time, maybe I'll do a blog on a Hartford game. There are other topics to discuss too. I'm also sitting on a Dave Kerr blog as well.
If the playoff dream wasn't already shot to shit before, it definitely is now. Even with four points up for grabs with Detroit, in back-to-back games, it's a tall order to make a real run of it.
And really, would it shock anyone if the Rangers came out flat against Detroit? The Rangers aren't getting the worst team in the league when the Rangers are hot. They are getting Detroit after a nine day layoff.
I'll also warn you one more time again. Be prepared for the click-bait blogs and social media postings about all these rumored trades. I even expect a "MARK STAHL FOUR CONER MCDAVED" rumor too!
I don't know when I'll be back, but I'll be back.
Until next time, thanks for reading and…
"LET'S GO RANGERS!"
"CONGRATS DEREK JETER!"
Sean McCaffrey
BULLSMC@aol.com
@NYCTHEMIC on twitter