Greetings and salutations everyone and welcome to another blog here on BlueCollarBlueShirts.com. Today's blog will be a different one, as we sit idle during the Rangers nine day break.
During this site's 6+ year run, I have shared with you many stories about the Rangers past. I have always been a fan of history, no matter what the subject, whether it be American history, world history or in this case, Rangers history.
I've mentioned on many past blogs, how the Rangers are not only the worst team in New York sports to honor or promote their history, they are also the worst team in the NHL when it comes to enriching fans about their epic history. While many of us are aware that four Stanley Cup victories, in 93+ seasons, isn't anything to write home about, I think many fans are aware of the troubles and obstacles that the Rangers have faced during the years.
After all, it wasn't until the Emile Francis era, which started in 1964, that the Rangers played every home playoff game at Madison Square Garden. Prior to that, the Rangers played many Stanley Cup Finals and playoff series at "neutral" sites. During Davey Kerr's time with the Rangers, he was a victim of this practice, as the circus always trumped the Rangers.
In one case, after the Kerr era, during the 1950 Stanley Cup Final, the Rangers had to play four straight games in Detroit, in a series where Detroit won in seven games, with the seventh game being decided in double over-time. Maybe a home game at M$G, where home ice really made a difference in during those days, would've swung that series for the Rangers.
Prior to that 1950 Stanley Cup Final and the Emile Francis Era, the Rangers also had to deal with World War II and the aftermath, which just crippled the franchise for a 20 year span. I've talked about this in-depth on past blogs. Check the archives of this blog for more.
That said, in short, the Rangers, as the most "southern" team in the NHL, of the Original 6 and pre-Original 6 era, didn't have first crack at top talent. Back in those days, teams had draft rights based on a 100 mile radius. There weren't many great hockey players coming up in NY. That is why teams like Montreal and Toronto dominated so much, until things changed, with the advent of the NHL draft, free agency and later on, the bidding war that the WHA created.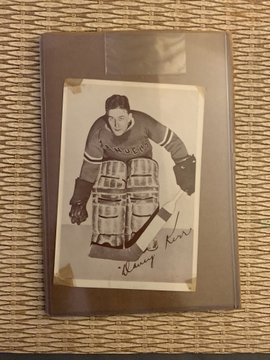 What brings upon this blog about Davey Kerr today, is you guys, the readers of this site. If you're new here, I started blogging about the legendary Frank Boucher a few years ago and how I wanted to see the Rangers honor him in their rafters. As time went on, that one blog, and the many updates thereafter, turned into a meeting between myself and the family of Frank Boucher. I recapped my time with the Boucher's here:
In addition, if you want to read all my stuff about Frank Boucher, check out: https://bluecollarblueshirts.com/retire-frank-bouchers-7/
Furthermore, during this past summer, I wrote a blog on the 1940 Stanley Cup Rangers that was well received. You can read that blog here:
I bring up Frank Boucher here for several reasons. One, I can't stop talking about the guy and my mission to see him get honored by the Rangers. Two, just like the blogs I did on Boucher, when I did my blog on the 1940 Rangers, a member of the Dave Kerr family found it and I have been interacting with that relative. I'll get more into in that as I continue.
And, finally, last but not least, I used a lot of Frank Boucher interviews and his book as an aide, when doing this blog. Frank Boucher coached Dave Kerr and the Rangers to the 1940 Stanley Cup. Prior to that season, Frank Boucher was a teammate of Dave Kerr. In other words, Boucher knew Kerr well, from both a player and coach perspective.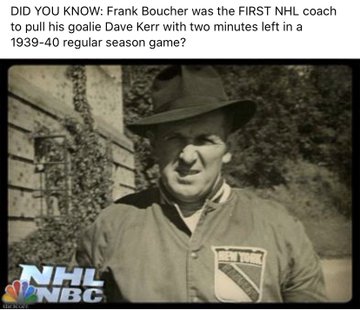 After this Dave Kerr blog, keep on reading, as I'll have updates on all the current on-goings in Rangerstown, USA.
As I always say, yes, I can break up these blogs into 675678565678 separate updates, but I'm not looking to artificially boost site traffic. You know my mantra here – one click, 10,000 words and no ads! I mean after all, some of my headlines are longer than other "full-length" blogs that are out there!
And lastly, before getting into everything Dave Kerr, here are my last few blogs, in case you missed them:
---
---
---
---
---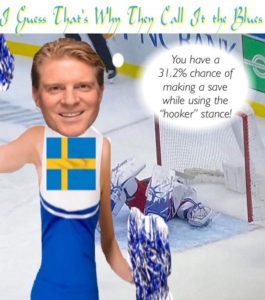 ---
---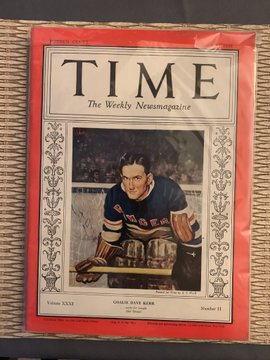 The term "franchise goaltender" is a term often bandied about by hockey fans these days. Today, whether you use the term to describe Carey Price, Pekka Rinne, Marc-Andre Fleury, or in the Rangers case, Henrik Lundqvist; when it comes to the New York Rangers, Dave Kerr was the first ever "franchise goaltender" in team/club/franchise history.
Prior to the Rangers acquiring Dave Kerr in the middle of the 1934-1935 season, the Rangers won the Stanley Cup in the years of 1928 and 1933. The Rangers were also on the losing end of the 1929 and 1932 Stanley Cup Finals. (Again, no Stanley Cup home games for the Rangers then, so who knows how things would've played out, had the Rangers had home games?)
In the 1928 Stanley Cup Final, the Rangers had Lorne Chabot on the roster. This was the famous series where Chabot got hurt, and then-Rangers head coach & general manager, in Lester Patrick, won a Stanley Cup Final game for the Rangers in net. Lost in that series, due to the epic tale of "The Silver Fox" Lester Patrick,  is how Frank Boucher scored every game winning goal for the Rangers.
After the 1928 Stanley Cup Final, and in an era of only one goalie on a roster, it was thought that Chabot was injury prone and maybe didn't have what it took to endure a full NHL schedule anymore. The Rangers would trade Chabot. Of course, the Rangers, in this case, GM Lester Patrick; were wrong on Chabot, as Chabot would go on to win another Stanley Cup Final and a Vezina, with the Toronto Maple Leafs.
For more on the history of NY Ranger goaltenders, check out this blog that I did several years ago: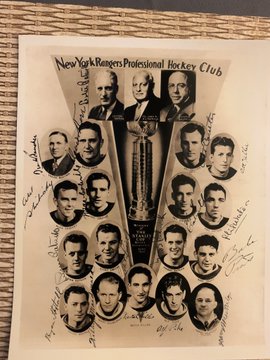 After moving on from Chabot, the Rangers used John Ross Roach in net for four seasons. While not as strong as Chabot, Roach was serviceable, but he couldn't get the Rangers over the hump. The Rangers would then move on from Roach, as Roach would finish up his playing days in Detroit.
Replacing Roach, as the starting goalie, beginning with the 1932-1933 season, was Andy Aitkenhead. In his first year as a starter, Aitkenhead helped the Rangers win the 1933 Stanley Cup Final. Things were looking bright, as the Rangers finally reclaimed the Cup, after coming close twice with Roach.
As time went on, the pressure of being a starting goalie eventually got to Aitkenhead. In an era where the starting goalie played every game of the season, and in an era of no masks and goalie padding being as flimsy as cardboard, Aitkenhead would "crack". Aitkenhead wouldn't be the first goalie to suffer mentally. In fact, mental breakdowns were common place by NHL goaltenders of this time. Mental breakdowns for goaltenders would happen all the time, until the two goalie system came around. However, the two goalie system wasn't common until the mid 1960's.
In an era where there wasn't much knowledge about mental health and where there were no such things as "sports psychiatrists", the Rangers had to move on from Aitkenhead. In fact, while still a young man, after the Rangers moved on from Aitkenhead, Aitkenhead would never play in the NHL again. Aitkenhead would finish his career in different minor leagues around the Pacific Northwest; territory that ironically, were once 100% owned by Lester Patrick, the man who gave Aitkenhead his Rangers pink slip.
(For more on Lester Patrick, check out this book review: https://bluecollarblueshirts.com/patricks/ )
Dave Kerr was born on January 11th, 1910. 110 years ago. How time flies.
Born in Toronto, Dave Kerr spent his pre-Ranger professional hockey days in Montreal. While Kerr bounced around a bit, prior to signing with the Rangers, Kerr plied his wares with now the soon-to-be (at that time) defunct Montreal Maroons of the NHL.
On December 14th, 1934, the cash-strapped Montreal Maroons would trade Dave Kerr to the Rangers, for straight cash. Obviously, this trade was done in the non-salary cap era! In turn, this is probably the best player-for-cash trade in Rangers history. I should mention, prior to the mid-1960's, these types of trades were common place around the league.
Also of note, the Maroons didn't want to trade Kerr, but due to poor finances, they had to make the deal. Ironically, the Maroons would win the Stanley Cup during this 1934-1935 season, but would fold three years later in 1938. The "Original Six" era was still four years away.
With Kerr now as a Ranger, it didn't take him long to supplant Aitkenhead as the starter. Prior to the 1935-1936 season, Dave Kerr was asked about Aitkenhead. At the time, Kerr pretty much confirmed the stories about Aitkenhead mentally cracking, by saying "Aitkenhead became too obsessed with the game."
Now all alone, as the lone Rangers goalie on the roster, Kerr would be in net for every Rangers game, for the next six seasons straight, sans one game in 1936, where Bert Gardiner started and played for the full 60 minutes. (Kerr was injured and unable to play in that game, during that 1935-1936 season.)
I include this picture above, as proof of what I'm about to say. It's something I've said a million times over the years – the Rangers are terrible with their history. I mean, even something "as recent", even if it was over 40 years ago now, as the Eddie Giacomin return game; the Rangers don't share that game in its entirety with us. There is so much lost Rangers history, through the gaping cracks that the Rangers create themselves. It's why I like doing blogs like this one – to keep the stories and alumni alive.
This picture of Dave Kerr, released in a Montreal publication in the 1930's, is in color. You can rarely find any color pictures of the Rangers from this time. To be fair, when Dave Kerr came to the Rangers, the Rangers weren't even 10 years old yet. Hockey was a new sport and a new attraction for Madison Square Garden. As you know, hockey has its roots in Montreal, (and Canada in general) where it took some time for hockey to really catch on in New York.
I also want to preface what I'm going to say later on in this blog with this – there isn't much information about Dave Kerr, the individual. You can find all of Kerr's stats, but you can't find much on the man's personal life.
Before starting this blog, a reader named Eric, whose grandfather (Gerald Kerr) was brothers with Dave Kerr, reached out to me. As we chatted, even he, despite having a celebrity in the family, didn't know much about Dave Kerr. He told me that his family has the same Time Magazine that I shared with you above and some random press clippings. When I asked him if he had any "inside" type of stories, Eric said he really didn't have much. He said most of those stories went to the grave when his grandfather Gerald passed away in 2014.
I will say, this is why I'm so fortunate with all my stuff on Frank Boucher. As shared over the years on this blog, the Frank Boucher family did a wonderful job of maintaining pictures, stories and other artifacts from Boucher's career. The only stuff that they don't have, is the stuff that was lost during a fire in Boucher's own home in the late 1960's. Everything else, Frankie Baird (Boucher's granddaughter) has in the most pristine of conditions. That's another thing that drives me up a wall too – the Rangers could be sharing all of this stuff at a much bigger level than Frankie or I can, but they choose not to.
When I talked to Eric, he didn't have much to share, when it came to personal stories about Dave Kerr. Again, this is why I think these history blogs are important and why I cherish the writings of Stan Fischler. It's another pet peeve of mine, how the Rangers have dropped the ball with Stan Fischler. Fischler has all this first-hand recollection of the Rangers, dating to the 1950's, yet the Rangers don't take advantage of that. A lot of stories will go to the grave with Fischler, which is truly unfortunate. It's why I try to pump Fischler up, as I think it's important to get Fischler to tell us anything he can from the past.
Newspaper and magazine clippings can only tell you so much. The Rangers (MSG Networks weren't around in Kerr's day) don't share Kerr's footage for us commoners. There is footage of Kerr's games, especially the 1940 Stanley Cup Final, as that was a nationally broadcast series in America, through NBC, but none of that stuff is available to the public. It is why blogs like these are important, to give these past faces some burn and to tell their stories.
Unfortunately, with limited access, you can only do so much. If the relatives aren't like the Boucher family, it's tough to really illustrate a player off-ice. Let's face it, I hit a homerun with the Boucher stuff and Boucher had a much longer career in the NHL, spanning 29 years. Kerr was only around for 25% of that time, wrapping up his career at 31 years old. He's been out of the NHL for 79 years now. It's tough to find some real personal stories about him. Plus, it's not like Kerr wrote a book, like Boucher did.
When getting information about Dave Kerr, what hurts is that hockey wasn't big in New York. Despite winning a championship, if you scroll through newspaper archives, most of the sports stories of Kerr's era surround the New York Yankees. There wasn't much print, from the NY media, dedicated to hockey. Even when scrolling around the internet, when it came to the Rangers, the only true blurb I could find about them at this time, was this: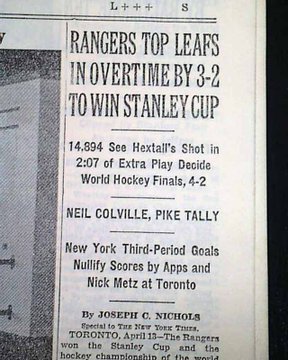 When it comes to this blog, I really couldn't find anything about Dave Kerr growing up or what Dave Kerr did after his abrupt retirement. All that's known, about his post-playing days, is that he retired to Belleville Ontario, where he flipped, ran and invested in hotels. According to family members and the players that played with him, Kerr was a classy guy and perhaps smarter than most of his peers. He was kind of like a Jacques Plante, where he kind of kept to himself, but didn't have the overwhelming eccentricities or boorish behavior that Plante displayed at times.
From all my research, in what is known, is what led to Kerr's retirement. Kerr, who won a Cup and the Vezina in 1940, would retire at the young age of 31 in 1941, after a contract dispute with then Rangers GM Lester Patrick. Patrick only offered Kerr a one year, $10,000 contract for the 1941-1942 season. Kerr thought the money was too low, as other players were making more money at the time. Rather than accept a low-ball offer, Kerr packed it in and moved back to Belleville.
While I can't 100% prove this, I can't find any evidence of Dave Kerr ever returning to Madison Square Garden, a Rangers game or any other NHL affiliated event after 1941. In an era where the owners and GM had all the power, in what was about to become a six team league, Kerr opted to buck the system and to never return. It seemed that with the players having no power (no player union existed at this time either) Kerr was sour on the NHL. It seemed that he took his bitterness about the NHL to his grave. (Again, I can't 100% prove this, I'm just speculating here.)
Using deduction, you would think that if Kerr ever returned to MSG or to an NHL event, there would be press clippings recounting that event. I spent a ton of hours researching Dave Kerr and I can't find the existence of Kerr ever returning to any sort of hockey related event or game.
Of course, with no internet and the lack of alumni reporting during Kerr's days, it doesn't seem like many reporters ever followed up with Kerr after retirement. All that's known is that he was in the hotel business and was a huge family man.
Everything that I'm now about to share with you, comes from Frank Boucher's writings, Stan Fischler, the NY Times, NHL archives and random press clippings from Toronto.
When it comes to Dave Kerr, the goalie, there is the famous story about what he did in practice.
The following comes from Stan Fischler:
One of his favorite practice maneuvers was to lay his stick across the goalmouth in front of the goal line. Then he'd prop his left skate against the right post, thus spread-eagling his body across much of the net. This would leave his hands free to catch the puck and his stick to deflect pucks along the ice. Kerr would then dare his teammates to beat him.
When it comes to Dave Kerr, one person who knew him really well, as mentioned, was Frank Boucher. Boucher said the following in his autobiography, "When the Rangers Were Young":
"In a commanding way, Davey was able to shout at his defensemen, giving them guidance without offending them, and getting them to do the job he wanted in front of him, talking continually when the puck was in our end. I don't ever remember Dave accusing a defenseman for [making] a mistake when a goal was scored against him. He always assumed the blame."
As time went on in the NHL, other goalies would start being generals and give out instructions to their defensemen. One of those goalies, was Jacques Plante. However, unlike Plante (and later on, unlike Henrik Lundqvist) Kerr took responsibility for everything. Kerr, in an interview from this era, would say "it's the goalie's job to stop clear shots." That's how Kerr approached games. While Kerr was extremely confident in his abilities, he didn't allow his talent give him an ego.
Muzz Patrick, who played with Kerr and would later go on coach and be the GM of the Rangers, said the following about Kerr:
"Dave Kerr was a very low‐key type of man, very polite and didn't swear like the rest of us athletes. He was great guy and a great goaltender."
When Muzz Patrick said this, Patrick was alluding to how Kerr handled himself. On road-trips, with trains being the traveling medium of the time, Kerr was known to sit by himself, and wear sunglasses. Kerr didn't want the white snow reflecting and hurting his eyes. Kerr was also known to take his pregame meals by himself, where he would later admit that he would have some wine with those meals. While not a big drinker like players of his era, Kerr thought that a little bit of wine helped him get relaxed and ready.
In the first full season of Kerr as the starting goalie of the NY Rangers, during the 1935-1936 season, the Rangers failed to make the playoffs. Kerr went 18-17-12 that year and had a GAA of 1.91, a tiny GAA which was boosted by 8 shutouts.
What hurt the Rangers this season, was the arthritis that Bun Cook, of the famous and best line in Rangers history, The Bread Line (and now the Rangers have the "Breadman" in Panarin, go figure) was going through. Bun Cook would miss half the season. When that season was over, the Rangers dealt Bun Cook to Boston, breaking up the greatest line in franchise history, something that still applies to even this day. In a way, this was an end of an era, as the triumvirate of Bill Cook, Bun Cook and Frank Boucher had peaked and with the trio all heading towards retirement.
In the following season, the first season without Bun Cook, the 1936-1937 season, Dave Kerr finished 19-20-9, with four shutouts and a GAA of 2.11. Statistically, this would be Kerr's worst regular season as a Ranger. Furthermore, keep in mind, the Rangers during this time were always at a disadvantage, as hockey wasn't a focus in NY and the Canadian markets had the first crack at the best players of this era.
1936-1937 would mark the end of the career of one of the greatest Rangers of all time, in Bill Cook, who was the franchise's first ever captain. Bill Cook, at 41 years of age, would miss over 50% of the season, as he battled injuries and ailments. Despite not having their rock and captain around, the Rangers would make it the Stanley Cup Final this season, behind Dave Kerr.
In a record that has now been tied since by Mike Richter, although Dave Kerr played less games than Richter did when Richter tied it, Kerr would record four shutouts during this playoff run. However, in the Stanley Cup Final, against the Wings, the Rangers would lose the Best of 5 series, 3-2. Once again, the Rangers were kicked out of M$G for the circus, and the Rangers had to play four straight games in Detroit.
And I've said it it a few times here and I'll explain it better now – home ice was huge in those days. Not every arena had the same dimensions, as you see today. The boards played different. The ice was different. Traveling wasn't as easy as it is today. When you look at the Rangers, and their four Cups in 93 years, this was a series that the Rangers may have won if MSG didn't favor the circus over hockey.
In the 1937-1938 season, fresh off their Stanley Cup Final run, the Rangers were a different team. Both Cooks were now gone. Frank Boucher would also hang up the skates during this season, as all three bread line members were now at the end of their playing careers. (Boucher, then the Rangers coach, would later return during war time, to help his decimated roster.)
New and some now developed names were now the stars on Broadway, with Dave Kerr leading the way, with a roster with guys like the Colville brothers, Ott Heller, Cecil Dillon, Bryan Hextall, the Patrick brothers and Phil Watson.
In this season, Dave Kerr went 27-15-6, with a GAA of 1.95, bolstered by 8 shutouts. Just think, Kerr had 8 shutouts in a 48 game season. Henrik Lundqvist hasn't had a shutout in over two years.
With a transitioning roster, the Rangers would qualify for the playoffs this season, but would be eliminated by their then-arch rivals, in the NY Americans, in three games, during the 1938 quarterfinals.
In the following season, the 1938-1939 season, this new core of Rangers had more success. During the regular season, Kerr finished with a 26-16-6 record, with a 2.12 GAA and 6 shutouts. In those 1939 playoffs, the Rangers dropped three straight overtime games to the Bruins. The Rangers would fight back, winning the next three games. However, in Game 7 of that semifinal series, the Bruins would win the fourth overtime game of the series, defeating the Rangers 4-3 in the series. It was a crushing blow for the Rangers. It was also a blow they would recover from in the following year.
The 1939-1940 Rangers were a special team. With all of the original Rangers of 1926 all retired, we were in a new era of Ranger hockey. Prior to this season, Lester Patrick relinquished his coaching duties, naming Frank Boucher the head coach of the team. If I haven't mentioned it already, check the archives of this blog for all my Boucher material.
With Frank Boucher at the helm, the Rangers had a magical run. In Boucher's autobiography, which was printed in 1973, Frank Boucher called this team the greatest Rangers team in franchise history. (This book was released after the Rangers Cup run of 1972, behind the GAG line, Brad Park and Eddie Giacomin.) Boucher also called Dave Kerr one of the greatest goalies he ever saw. Call me biased, and I'll accept that accusation, but I'll take Boucher's word over anyone's. That said, I do wonder how Boucher would've viewed the 1994 team.
In this 1939-1940 season, Dave Kerr accomplished something no Ranger goalie did before him, or has done since, some 80 years later – he won the Stanley Cup and the Vezina. Kerr did both during this same season. Even if you go up and down Rangers history, while other goalies have Stanley Cups for the Rangers and while other goalies have won the Vezina for the Rangers, no other goalie, besides Dave Kerr, has done both. And as mentioned – he did it in the same season!
In this amazing season, Kerr went 27-11-10, with a GAA of 1.54, coupled with 8 shutouts. To this day, this is the most impressive season of any Ranger goalie in team history.
In the semifinals of the Stanley Cup playoffs, the Rangers would extract revenge on the Bruins, ousting the Bruins in six games. In the Stanley Cup Final, in a 2-2 series, the Rangers would win Games 5 & 6 in overtime, with a Bryan Hextall OT game winning goal being the final goal of the series. (And talk about another Ranger the Rangers have poo-pooed. Hextall deserves his number in the rafters of M$G too.)
In the 1940 playoffs, Kerr went 8-4, with a 1.56 GAA. This was Kerr's best year of his career. Little did anyone know, he would be retired a year later.
I linked my 1939-1940 Stanley Cup Rangers blog at the top of this blog. I talked about this team in-depth previously, but I want to say this. As you may know, the Rangers didn't win a Cup again until 1994. The Rangers had many Hall of Famers and great players on this team. However, the Rangers ignore them all. I think what happened, is that over time, with the Rangers futility, the word "1940" became a black mark. Ranger fans were trolled with "19-40" chants for years. Rather than celebrating this team's success, the Rangers deemed 1940 as a "dirty word".
After winning the Cup, the world changed. While World War II was going on during 1940, it wasn't until the Pearl Harbor bombing, which took place on 12/7/1941, where America entered the war. (Canada had already declared war on Germany.) The war and the aftermath of the war, would effect the NHL, with the Rangers taking the biggest hit of them all.
(And please, don't make this come off as me trivializing WWII and our great soldiers & people who died for their countries during this time. All I'm saying is that WWII hurt the Rangers. It would also hurt the NY/Brooklyn Americans, who would close shop during this time too. In essence, WWII ushered in the Original 6 era of hockey.)
In war-time, and prior to Pearl Harbor, during the 1940-1941 season, Kerr finished with a 21-19-8 record, with a GAA of 2.49. He "only" had two shutouts this season. Obviously, the Rangers, America and Canada, were all effected during this time, as Adolf Hitler was rising in power. In fact, Canada entered World War 2 first, as they joined the Allied efforts in September of 1939.
In the 1941 playoffs, the Rangers tried to defend their championship, only to be bounced out in the first round, in a three game series with Detroit. Detroit would win the third and final game of the series, by a final of 3-2. This wound up being the final game of Dave Kerr's career, a career which included seven seasons with the Rangers.
One year removed from the Stanley Cup Final victory, after the 1941 playoffs, Lester Patrick offered Dave Kerr a measly $10,000 to return to the Rangers, for the 1941-1942 season. As mentioned above, Kerr was insulted by this offer, in a league where lesser skilled/talented players were making more money. And really, at least from public knowledge, that's where the story of Davey Kerr ends.
On Thursday, May 11th, 1978, at the age of 68, Dave Kerr passed away, after a long battle with cancer. Even in Kerr obituaries from that time, there isn't anything mentioned about his post hockey days. Kerr also has the distinction, of being the first Rangers player to pass away from that 1940 Stanley Cup Championship team. And for those interested, Clint Smith was the last living Ranger of that 1940 Stanley Cup team, as he would be the last to pass away, when he died on May 19th, 2009, at the age of 95.
What is Dave Kerr's legacy to the Rangers? At the present time, he's not a Hall of Famer. During Kerr's days, while he never commented or advocated for it, there were large pockets of fans and media politicking for Kerr to make the Hockey Hall of Fame. However, as time went along, and the people who knew, watched, played with and covered Kerr's career died off, there hasn't been any support for Kerr's HHOF bid. Like many victims of time, Kerr's career has slipped through the cracks from Hall of Fame contention. In the present day, all we know about Kerr are from pictures and from blogs like this. There is no film. There isn't anyone who saw him play making noise for Kerr. Kerr is now just a blip in hockey history.
And really, time and death are a huge factor here. As I was scouring the internet and talking to Ranger fans that are over 70 years old, these fans can recount great tales about Chuck Rayner and Gump Worsley. None of them remember Kerr. I even asked one 73 year old fan who reads this blog, what he remembers about Kerr. He told me he doesn't remember a thing. When I asked if his parents ever said anything about Kerr, he said he can't remember one Kerr story ever coming up. It's like Kerr has become a ghost, which is truly unfortunate.
In the present day, it's hard to fight for a Davey Kerr HHOF induction. Too much time has passed and the talking points we now have are stat-based only.
In Kerr's 7 years with the Rangers (his short time with the Maroons would have no bearing on a HHOF bid) Kerr had impressive numbers. He was one of the greatest goalies of his era. The only true knock on Kerr is the brevity of his career. Can one have a Hall of Fame legacy, with only seven great years? I think you can make that argument, especially when you consider the Vezina and Stanley Cup win, but would the Hall really buckle down to this type of pressure? After all, Kerr's contemporary and comparable, in Lorne Chabot, who has the same hardware and more years in the league, is not in the HHOF. However, maybe Chabot and Kerr both deserve this accolade, especially Chabot.
If there is anything that is deserved, like Frank Boucher, the Cook brothers and several others, you can make the case that Dave Kerr belongs in the rafters of MSG. In fact, one idea I would suggest, is that the Rangers just hang a #1 banner, celebrating and honoring guys like Kerr, Rayner and Worsley. Of course, the #1 jersey would eventually be retired, by Eddie Giacomin. However, one can not overlook the great careers that Kerr, Rayner and Worsley had with the Rangers.
When Kerr retired, he held every single pertinent Rangers goaltending record, records that would later be broken by goaltenders who had better equipment, more games and by goalies who didn't play in the tie era. I mean, even to this day, despite only playing in 48 game seasons, with no mask or the advantages that the goalies of today have, Kerr is still third on the all-time Ranger records for Most Shutouts, with 40. (Leader Henrik Lundqvist has 63, with nearly 10 more seasons played than Kerr, in 82 game seasons, with better equipment and playing in the no-tie era.)
I think because of what he did in his short career, you can argue for Kerr for the HHOF, even though I don't see it happening. If anything, it would be nice to see the Rangers at least acknowledge Kerr.
The Rangers have been blessed with great goaltending over the years. Dave Kerr was the first franchise goalie this team ever had. After Kerr, Chuck Rayner, Gump Worsley, Eddie Giacomin, Mike Richter and Henrik Lundqvist would all get the franchise tags. Those guys became the star player of their eras. However, out of all of them, Kerr was the only one to win a Cup and a Vezina, as a Ranger. (Worsley would do it with Montreal, after his Ranger career.)
It's truly a shame when you look at the career of Davey Kerr. He essentially retired in his prime. Unlike his peers of his time, he didn't retire because of World War II. He retired over contract talks and money. It was a different era then, where the owners and GM had 100% of the power over their players. Now, in this era, as we see with Lundqvist, the player with the no movement clause has more power than the franchise.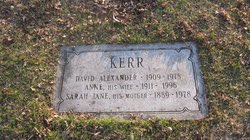 As mentioned a few times, the Rangers hate their history and refuse to honor it. 1940 is still kind of a curse word for the Rangers. They've only won two Cups in 80 years, with that 1940 team being the start of that streak. After all, you have relatives of Bryan Hextall (Ron Hextall) and Lester Patrick (Craig Patrick) involved in hockey today, yet the Rangers ignore those families, just as they ignore Kerr, Frank Boucher and the countless others of names I've mentioned in the past.
If you take anything out of this blog today, it is that Dave Kerr was a great Ranger, a Ranger that's somewhat forgotten. His HHOF candidacy is marred by him being a victim of his era. Kerr was virtually quiet in his post-playing days, focusing on family. He didn't coach. He stayed away from hockey after being burnt by it.
While there have been great Ranger goalies after Davey Kerr, none of them did what Kerr did. It is important, as fans, if the Rangers are going to thumb their nose at these legendary Rangers, that we keep their names alive. I hope, just like Davey Kerr's number 1 jersey, this is the number 1 thing you take out of this blog today.
Thank you Davey Kerr!
(Oh and moving along, I have been fortunate to talk to members of both the Rayner & the Worsley families. If you liked this type of blog, feel free to hit me up. In the future, I plan on doing this style of blog on on both Rayner & Worsley. I will say, it will be easier to write about these two, because the relatives are still around, there's plenty of info out there and in Worsley's case, he wrote a book.)
---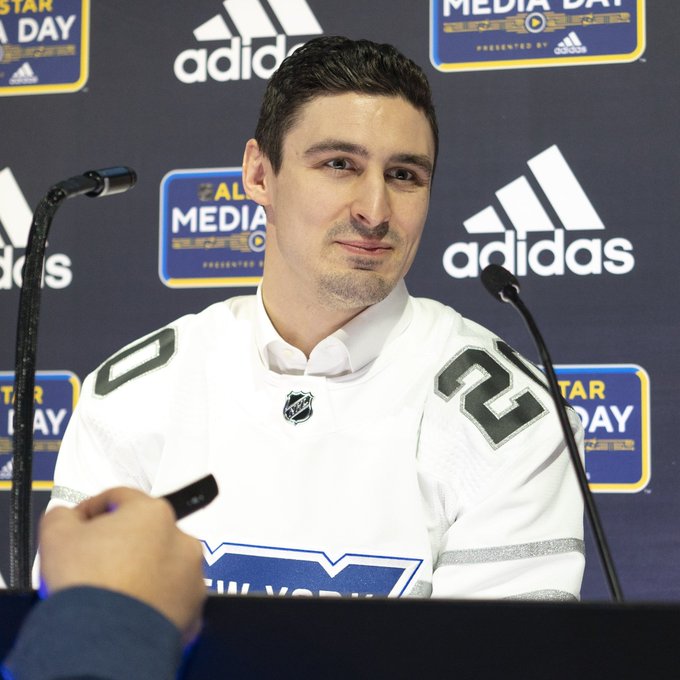 What other blog would do 7500 words on Dave Kerr, and then follow that up with some more Ranger news? Welcome to BlueCollarBlueShirts.com.
Seriously speaking, I just wanted to hit a few subjects and then I'm out.
On Thursday, January 23rd, Chris Kreider took the podium at the NHL All Star Game press conference. The two "biggest" things, about Kreider and this press conference, aside for him looking as happy as if he won a big scratch-off lottery ticket, is that Kreider has entered the NHL All-Star fastest skater competition.
I don't know why this is, but some fans think that if Kreider can win this skills competition, it will help his trade value. Newsflash: going into this All-Star break, CK20 was already the top rental prize of this trade deadline. NHL GM's don't care about the ASG. In fact, NHL players don't even care about this ASG, as many would rather avoid it, than be a part of it!
The other news item, is that Chris Kreider told reporters that he wants to stay with the Rangers and considers himself a Ranger until that fact is no longer true. I've talked about CK20's status plenty on these blogs, and I'll say this one more time – give me Kreider & Georgiev, over a bunch of AHLer's from Toronto.
Plus, how many more guys do you want to sell off on? I get that this is a rebuild, but when do you focus on a new core? Do you want to get rid of everyone not named Henrik Lundqvist, who is the person who should be moved the most?
I understand getting younger and all that, but when do you say we have a core, we have our veterans, and let's do this? After all, the Rangers already have the youngest team in the league, with plenty of prospects in the pipe-line.
In addition, as we've seen with McDonagh – Hajek & Skjei can't replace him. Who is going to replace Kreider? Kravtsov?
It's funny, I've been so pro-trading Kreider over the last 18 months, but I see the other side of it too. Part of me wants to see a trade happen, but the other side of me says no, no, no! For someone as opinionated as yours truly, I really don't have a strong opinion on Kreider. I see both sides of it.
I will say, as I write these words on January 23rd, 2020, I hope the Rangers hold on to him. I just think, if the Rangers are able to compete for the Cup in 2-4 years, Kreider can be a big part of it. Yes, a long-term deal may suck in the later years, but if the Rangers can win a Cup with him in years 1-4, I don't care if the contract sucks in years 5, 6 and 7.
And really, if Kreider is traded for a first round pick, do you really think the Rangers will hit a home run? Andersson and Kravtsov, plus everyone from years prior, should you have nervous about that.
Good luck to Kreider during All-Star weekend. I'm glad he's happy. He deserves it.
Oh and real quick – for those crying about Mika Zibanejad. As mentioned in my last blog, Zibanejad had vacation plans, and like nearly everyone else in the league, didn't want to waste a weekend in St. Louis, playing in a garbage game. I don't blame him.
Speaking of guys who don't give a Father Fink about the All-Star game, let's talk Ron Duguay!
Since Ron Duguay started his NY Post affiliated "Up in the Blueseats" podcast, I've recapped every single one of them. That wasn't my original goal here, but in every podcast, Duguay has always provided some sort of news or interesting human interest story. On Thursday, 1/23, Duguay continued just that.
In his latest episode of "Up in the Blueseats", Ron Duguay talked about his relationship with this sexpot:
If you're older than me (37, about to be 38), I don't need to explain to you who Farrah Fawcett is. If you're younger than me, in the 1970's and 1980's, Farrah Fawcett is basically today's version of Jennifer Aniston, J-Lo, Kim Kardashian, Brittney Spears, Kate Upton, Mila Kunis, Jennifer Lawrence, Megan Fox or whoever is the hottest female celebrity of 2020.
In her prime, Farrah Fawcett was the reason why many teenage boys had their bedroom doors locked. Shit, she's also the reason why many adult males had their bedroom doors locked!  During the 1982-1983 season, despite a 12 year age difference, Ron Duguay would hook up with Farrah Fawcett. He tells some of the story in his new podcast, which you can listen to here:
'Up In The Blue Seats' Episode 8: All-Star Break, Farrah Fawcett feat. Tom Laidlaw https://t.co/2cvQ9D1uq6

— Ron Duguay (@RonDuguay10) January 23, 2020
Of note, if you do what I do, you can also find the podcast by searching "Ron Duguay" or "Up in the Blue Seats" on iTunes. I prefer that way, as I can listen to the podcast while doing other things on my phone.
I won't steal Duguay's thunder here, but for five minutes or so, Duguay talks about one night with Farrah Fawcett, which included a drug deal in Harlem and a sleepover. Duguay also said he had more nights with Fawcett, but I guess he's saving those stories for another time.
As I've said a bunch of times on this blog – Duguay needs to write a book. Shit, I'll ghostwrite it, if that's what it's going to take to make it happen! (If there are any two books I want to see these days, it's autobiographies from both Ron Duguay and Rod Gilbert.)
Elsewhere on the podcast, Duguay talks with Tom Laidlaw. Duguay also talks with Brett Crygalis of the NYP, as they discuss the All-Star Game. Both Duguay and Brett say how much they hate the All Star Game and what it's become. Crygalis says that it's for the fans. I get what Crygalis means here, but really, is it for the fans?
Outside of the John Scott year, I don't know anyone who likes the ASG. As we've seen over the years, the players want nothing to do with it and play at 10% speed. The NHL needs to come up with better incentives for the players to play in this game. As it stands right now, the NHL ASG is worthless and just a chore.
At this rate, the NHL is just better off naming All-Stars, and not even having a game. However, this is a business predicated on financial gains, so the game will always be played; no matter how bad it is. That said, this 3 vs 3 divisional format has grown tiresome, kills goalies and a change is needed.
Anyway, in conclusion on this, if you listen to one Duguay podcast this year, it's this one. And really, my biases aside for Duguay (everyone know I'm a huge fan of his) the guy is a tremendous human being. The charity work (a lot of it non-publicized) he does, rivals the work that Adam Graves does. It's worth your time supporting Ron Duguay.
And speaking of podcasts, as mentioned on previous blogs, check out the Cam Connor "View from the Penalty Box" podcast, which you can find here:
Episode 39 is up where we remember my mom & the time she tried to help me in a street fight with a wooden spoon; the Kassian/Tkachuk fight & why I'm disappointed in Parros; is there cheating in hockey; & playing outdoor hockey in freezing conditions. https://t.co/NjXTygGujN

— Cam Connor (@CamConnorNHL) January 22, 2020
Cam Connor is a great story teller and his podcasts are always a great listen. I'd also like to share my condolences to him, on the loss of his mother.
One more thing and I'm done.
In the latest Ranger news, it's been announced that CZAR IGOR SHESTYORKIN will play in both Hartford games this weekend, as they play the minor league teams of the Islanders & Flyers. Both games are in Hartford.
I'll say this, if I had the time and a few extra bucks (all of my Ranger trips budget money has been spent this season, as I have one more weekend planned this season, when I go to Pittsburgh and Buffalo in March) I would make a weekend of it in Hartford. I would like to see how the team is doing. I'll also say this, if I get the time, I'll try to do a game review of one of these games. It's all about finding a stream, hint hint. (My email address is BULLSMC@aol.com)
It's a shame. For a franchise where money is the only thing that matters, I'm surprised the Rangers aren't sponsoring or promoting a weekend getaway to lovely Hartford, Connecticut. Seriously speaking here, if the Rangers charged something like $200-$300, where you get free transportation, one night in a hotel, tickets to both games, a meal, a meet & greet with a player, from MSG to Hartford, don't you think at least 100 people would sign up for it?
The Lundqvist Contract Trickle Down Effect has now effected Adam Huska. With Igor now back in Hartford, however as short as this stint may be, Adam Huska has been sent to the ECHL. In both the Shestyorkin and Huska demotions, both players aren't being demoted because of their play. It's just a way for both goalies to get games during this Rangers timeout on the season. Shestyorkin will get games in Hartford, while Huska will get games in Maine. Neither are being demoted because of what they are doing. They are being demoted because Lundqvist is selfishly clogging up a roster spot on the Rangers.
Oh, and for all this bullshit about Lundqvist being a mentor, do you think Shestyorkin and Huska are smiling about their pay cuts right now, because of Lundqvist being on this roster? I mean, I doubt JD is leaving these two an envelope of cash at their locker. (And because of the salary cap, JD can't throw these guys a few bones on the side!)
As it stands right now, the Hartford Wolfpack are in first place in their division. Conversely, the Bridgeport Sound Tigers (Islanders) and Lehigh Valley Phantoms (Flyers) are the bottom two teams in the AHL Atlantic division. If Igor & the 'Pack can sweep the weekend, it will help them keep their status as the number 1 seed in the AHL Eastern Conference.
Again, if I can, I'll try to do a game review of one of these games.
As far as the AHL All-Star Game goes, nothing has been announced. It looks like Lettieri will remain an All-Star and Igor will forfeit his All-Star status. Again, as I said last blog, there are bigger fish for Igor to fry right now.
In other Ranger news, there are currently stories out there, with both Lias Andersson and Vitali Kravtsov, and how both don't want to be associated with the "crybaby" label. I've had enough talking about these two for one season, so unless something major breaks, I'm just not going to waste my time on these two anymore. I rather talk about a true hero, like Davey Kerr, than worry about what millennial hockey player is upset this week. And really, I much rather talk about Ron Duguay hooking up with Farrah Fawcett, than how Lias Andersson needs his mommy in Sweden!
As predicted in my last blog, everyone is going nuts with Ranger trade rumors right now. Lyin' Larry Brooks is currently doing his best to push the Rangers to trade Georgiev. Of course, buying out or trading Lundqvist, which is the best option for the Rangers, is not something Larry is pushing for. Also not mentioned by Larry – how not one team has traded a young potential starting goalie, NOT ONCE, or NOT EVER, during this salary cap era. But hey, never let the truth get in the way of a good click-bait story! Let's trade Georgiev for the cotton candy vendor in Toronto! That will help the rebuild!
Whew, this was a long one.
I hope you enjoyed the Kerr stuff and as mentioned, if I can, I'll try to do a Hartford Wolfpack game review blog. No promises, but I do promise to come back between now and the Rangers return game with Detroit.
As always, thanks for reading and…
"LET'S GO RANGERS!"
Sean McCaffrey
BULLSMC@aol.com
@NYCTHEMIC on twitter