"We were abysmal on face-offs tonight. It was incredible how bad we were on draws… I think we were 30%, and it felt like we were 10%. We're [also] not getting enough from our top six." – David Quinn, 1/26/21, minutes after another Rangers one-goal loss, the team's fourth one goal loss in a row. (And if you notice, recently, I've been opening up these blogs with "Quotes From Quinn" for a reason…)

NOTE: Give this blog a second to load, there are a lot of media clips in this one!
Ugh.
Greetings and salutations everyone and welcome to another blog here on BlueCollarBlueShirts.com. On Tuesday night in Buffalo, the Rangers once again found a new way to lose a one goal game, this time dropping a 3-2 decision to the Buffalo Sabres.
There's a lot to dissect tonight, when speaking of the latest Rangers futility on the ice. Buckle in folks!
To me, the biggest issue, when trying to explain this losing streak, is that the Rangers have a bunch of negative trends going on right now, where it seems that there's just no way to reverse any of them. It's one thing for a player to slump, it's another thing to have the entire team, with the exception of maybe 3-4 players, to slump. (Adam Fox, Ryan Lindgren, K'Andre Miller & Pavel Buchnevich would be the exceptions here.)
When you look at the Rangers, here is a list of their team-wide slumps:
Face-offs
Special Teams
Inability to score a late goal with the game on the line
Fat Cats continue to lick wounds and play like the contents inside of a litter box
Losing puck battles
Blowing every lead imaginable
Coaching/line-up decisions
Of note, I've been in the "Team DQ" camp for some time now, even writing manifestos defending him. For the first time in the DQ era, while I haven't thrown my David Quinn jersey into the bonfire that's raging in Rangerstown, USA just yet; I am no longer going to challenge people who have the opinion that DQ should be fired. I'll get more into this, and in detail, as I recap tonight's game. However, before getting into DQ and everything else, let's get into the pregame news, the PLUGS, the gambling segment and everything else in-between.
---
On Monday, following the Penguins two-game sweep of the Rangers, the Rangers held practice in Buffalo, where David Quinn recapped the poor 1-3-1 Rangers start. In addition, Quinn gave on update on CZAR IGOR. You can listen to DQ's comments by clicking the play button on these two videos below:
"Statistically, it looks we should have a much better record than we do"

David Quinn breaks down the topsy-turvy start to the season for the Rangers: pic.twitter.com/KMJ9nf4GFP

— Rangers Videos (@SNYRangers) January 25, 2021
David Quinn on Igor Shesterkin:

"He was a little bit dejected after the last two games" pic.twitter.com/J9ar6kryOn

— Rangers Videos (@SNYRangers) January 25, 2021
Unfortunately, despite DQ's meeting with the media, no one asked DQ about that second goal that Igor gave up on Sunday night, which was the Jared McCann goal. With the media not allowed in locker-rooms right now, no reporter was able to ask CZAR IGOR about this.
That said, wondering what happened on that McCann goal was secondary. Going into Tuesday night's game with Buffalo, the most pressing topic was the health status of Filip Chytil, something I'll get into after hitting the PLUGS segment of tonight's blog.
If you haven't read them already, here are my most recent blogs, where all the latest misery in Rangerstown is recapped:
---
---
---
---
---
In addition to the statements that DQ made to the media on Monday, DQ also announced the following:
As I said during my last blog, I had no problem with Alexandar Georgiev going tonight. After all, as I predicted before this season started, and as DQ kind of hinted at himself during training camp, I thought both of these goalies would get a ton of playing time this season. I didn't see CZAR IGOR, the presumed starter, playing 75%+ of the schedule, as I saw the playing time being doled out 60-40 or 55-45, among the two goalies.
24 hours after his press conference on Monday, David Quinn spoke to the media again on Tuesday, where the following was announced:
In his post-practice press conference, DQ wouldn't announce what Chytil's injury was. It's assumed to be shoulder related, although I can't state that with 100% certainty. As talked about last blog, this Chytil injury was a freak thing, so I wasn't upset about the Rangers not going after the Penguins after the accidental hit. Plus, Evan Rodrigues, the Penguin who collided with Chytil, is hurt and out too. This collision was purely accidental, with an unfortunate aftermath for both teams. Simply put here – there was no intention. Shit happens.
With Chytil out, DQ, who always shuffles his lines like a meth-riddled fantasy football general manager, had more shuffling around to do. However, DQ wouldn't tilt his hand to the media, in either one of his two interactions with the media on Tuesday.
Here's DQ's statement to the media, on Chytil: "It's really disappointing. I feel for Fil, big time. As for lineup changes? We are going to make some moves today. I'd rather hold off on telling you what they're going to be."
Of note, NHL head coaches meet with the media 90 minutes before puck drop of every game, where the media then reports on the lines, the goaltenders and everything else. DQ wouldn't give the media his line-up for tonight. Of course, right after, both the NHL and the Rangers had 67895678955676767557685 gambling ads prior (and during) tonight's broadcast.
I know I've talked about this in-depth before, but seriously, if the NHL is going to jump into bed with gambling outfits, just like the NFL, the NHL needs to make it mandatory that all teams release their line-up information as soon as possible. Waiting one minute before game time to make the line-up official is a disservice to both gamblers and the NHL's gambling partners. Then again, I suppose gambling degenerates will bet on these games anyway!
At 6:45PM, and with Chytil now out for the next 4-6 weeks, an injury that will bring Brian Boyle's name back to the forefront; (more on Boyle as we continue) the MSG Network (on channel 206, as tennis was more important to MSG tonight) reported on the Rangers line-up, based on the line rushes during warm-ups.
While of course, like usual, DQ would tinker with his lines all game, here's what DQ put out there at the start of this contest:
If you're a regular reader of these Rangers tomes on this site, you know that I don't go crazy about the line-up. After all, on most nights, DQ plays with his line-up in-game anyway. However, what I can't understand as of late, (and as talked about in-depth on past blogs) are DQ's recent scratchings of both Brendan Lemieux and Tony DeAngelo. Of course, another thing that will leave your head itching, like an elementary school kid with a severe case of lice, is DQ's constant insistence of using Jack Johnson as frequently as possible. The usage of Johnson just defies common sense and logic.
As talked about on this site already – I get that DQ wants to be loyal to Jacques Martin, but unless DQ wants Martin to "zero blitz" him out of town, enough is enough when it comes to Jack Johnson in this line-up. Watching Jack Johnson play hockey this season is like watching an old episode of "Home Improvement", where Tim "The Tool Man" Taylor creates chaos while doing his job, only for Al Borland to come in and save him. Unfortunately, there is no Al Borland next to Jack Johnson. Quite frankly, Jack Johnson needs to hide his face, as if he were Wilson from "Home Improvement"!
You know that I always plug "The Blueshirt Underground Show" on these blogs. No other program does what they do in the Rangers podcast world. Plus, they've been around for 11 years or so, which means they got to be doing something right. Needless to say, I'm a fan.
Usually, my thinking on the team and the roster are similar to the thoughts of the two BSU hosts, in Jim S. & Eddie G. The majority of the time, my opinions and their opinions are echoed on these two different mediums. (And if they come up with something better than me, such as their "Quinn Bin" over my "List of Quinn", I'll give them, just like anyone else, full credit. If there's anything that bothers me in this Rangers blog/podcast world, it's plagiarism, and the inability to credit someone else for coming up with something. After all, anyone can click/listen to whatever they want, so what's the harm in promoting other endeavors? For more Ranger endeavors, check out: https://bluecollarblueshirts.com/ranger-links/)
Also of note, another Rangers fan podcast I enjoy is Go Rangers Radio. You can listen to their new episode here:
On tonight's all new episode of the @gorangersradio we attempt to talk Rangers fans off the ledge while breaking down the first 3 games of the season. Listen here: https://t.co/DpPL8CDQ1Q #NYR

— Kevin DeLury (@kevindelury) January 21, 2021
---
I bring all of this up, because last night, BSU host Jim S. said exactly what I was going to say tonight. He said it first, so I'll give him credit here – but that said, sometimes great minds think alike! Maybe that's why I like BSU so much, I tend to agree with a majority of their opinions!
When the Rangers first signed Jack Johnson, Jim S. was like me – while the signing didn't really make much sense, it was a low risk/high reward type of deal. At least that was my rationalization. However, as Jim said first just last night – I didn't expect Jack Johnson to start the season during opening night, much less play in the first five of the six Ranger games this season! It's one thing to have Johnson signed as an insurance policy, it's another thing to make Johnson a Rangers liability every game. And let's be clear here, that's exactly what Johnson is – a liability.
Going into this season, I thought Smith would be in the line-up every game, at least until he gave DQ a reason not to use him. That hasn't happened yet. I thought that both Johnson and/or Bitetto would get a look in the event that Smith was terrible or if K'Andre Miller wasn't up to snuff. However, six games in, while you would need to swallow a boatload of radioactive matter in order to have enough fingers to point the blame for the Rangers failure so far this season, Johnson is one of the team's weak links, if not the weakest. (I would argue that Jacob Trouba is a bigger liability than Johnson, due to their respective contracts and salary cap hits. After all, you can just send Johnson to the taxi squad or to Hartford, and wash your hands of him. You can't do the same with Trouba.)
I know, I know, I know – I'm not a coach, I'm not there every day, I don't have the hockey IQ that the Rangers brain-trust have and I don't know what goes on in the locker room. However, I beg any of you – can anyone explain why Jack Johnson is playing in these games over Brendan Smith, or over anyone else for that matter?
Seriously, I've been doing this blog/site for nearly seven years now, and have seen this Rangers fan base divided, and in a million different ways, over a billion different topics. Outside of wanting to see the team win the Stanley Cup, I have never seen the fan base put forth a 100% united front, concerning their displeasure of the usage of Jack Johnson.
And also worth plugging here, before moving on to the next segment of this missive, is that you can watch the latest episode of BSU by clicking the play button below:
Let's get the GAMBLING segment out of the way, and then go to the box score.
Here's what I said before the game:
Season over-under record: 3-2.

You can shop around tonight with -6 & -6.5 as your options.

Gotta play the trends – bad producing PPG, no Chytil & a great Georgiev keeps this as a 2-1 #nyr victory! I'm taking the under & the -6.5 line for insurance. pic.twitter.com/4QDquzz8Bu

— BlueCollarBlueShirts (@NYCTheMiC) January 26, 2021
While the under hit, thus pushing my record to 4-2 on the season, my optimism for a Rangers win was not rewarded. Ugh.
At this time, let's go the box score, courtesy of ESPN.com. If there is anything you should be looking at here, it's the TEAM STATS graphic.
SCORING:
PENALTIES: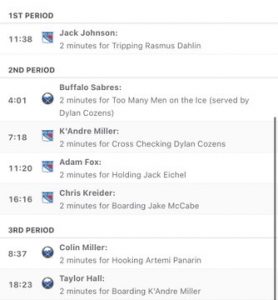 GOALIES:
| | | | | | | | | | | |
| --- | --- | --- | --- | --- | --- | --- | --- | --- | --- | --- |
| SA | GA | SV | SV% | ESSV | PPSV | SHSV | SOSA | SOS | TOI | PIM |
| 24 | 3 | 21 | .875 | 14 | 0 | 7 | 0 | 0 | 57:41 | 0 |
| | | | | | | | | | | |
| --- | --- | --- | --- | --- | --- | --- | --- | --- | --- | --- |
| SA | GA | SV | SV% | ESSV | PPSV | SHSV | SOSA | SOS | TOI | PIM |
| 30 | 2 | 28 | .933 | 21 | 0 | 7 | 0 | 0 | 60:00 | 0 |
TEAM STATS (Just look at the face-offs and special team numbers here. NO EXCUSES!)
---
I said the following on Twitter, prior to puck drop of this shit-show:
Might be time for #NYR to send Johnson & his cap hit to Hartford and make a play for Brian Boyle.

— BlueCollarBlueShirts (@NYCTheMiC) January 26, 2021
While I have no way of knowing what Brian Boyle is thinking or how he may do, I rather give him a shot than seeing Jack Johnson in a Rangers jersey ever again.
On the Rangers MSGN broadcast, Steve Vagistat continued to remain horrible, making up all sorts of charts and stats. It's amazing he can routinely pull all of these things out of his ass, considering the fact that his head takes up a lot of room up there.
Seriously, do you need charts or ANALytics to explain this Rangers loss or their issues? Just look at the black and white stats from this game, such as these:
Face-offs – Sabres 39, Rangers 17
Sabres Power-Play – 2-4
Rangers Power-Play – 0-3
Artemi Panarin and Mika Zibanejad – 0 points.
Jacob Trouba SOG – 0.
These are the stats that matter. Vally's "EXPECTED" this and "EXPECTED" that stats are bullshit – just like anytime Vally talks about his "legendary" 46 game career, a career that consisted of him finding what hand to carry Lundqvist's Louis Vuitton bags with. Hell, I "EXPECTED" the Rangers to win tonight. How did that work out?
Also of note – during the pregame show, Valiquette called this a "MUST-WIN" game. Now that the Rangers have lost, now what? Is the season over? Is it now time to pack it in and go home? Should fans/viewers no longer watch?
I'll get into this more throughout the blog, but while Sam Rosen continued to sound as befuddled as a middle school drop-out trying to attempt brain surgery, I thought Joe Micheletti was great tonight. Micheletti gave most of these guys a tongue-lashing and ripped more assholes than a certain former back-up goalie visiting a Swedish bathhouse for men.
If this was pro wrestling and/or an old Western movie, Micheletti would have a full grown beard right now and with a matching black hat on top of his head. Micheletti's performance tonight rivaled a 1980's wrestler going up against Hulk Hogan or a cowboy gunning for John Wayne. Unfortunately, Micheletti would never be vanquished, as the good guys in this scenario, which would be the Rangers, had as much life in this game as Whitney Houston in a bathtub. (It's a bad joke, I know, I make them all the time here. I'm just trying to make you guys laugh and take your mind off of this disgusting loss. In other words – settle down SJW's!)
I've often accused the MSGN guys of sweeping everything negative under the rug on this site, (not Rosen's toupee) but Micheletti not only threw the rug out the window tonight – he also threw the broom at the Rangers too. It was well deserved criticism from Micheletti. Even better, it was refreshing to hear someone from MSGN to speak so candidly about the team, rather than offering a fresh cup of Blueshirt BS.
After all, if I'm going to bury the MSGN guys on this site from time-to-time, I will also give equal praise when warranted. I thought Micheletti, even if it was negative, had one of the best calls of his career tonight. (It was even better when you consider that Micheletti is doing Rosen's job too these days.)
After 3500 or so words, let's finally get to this game and finish my Rodney Dangerfield routine; which yes, was an effort to delay the inevitable – talking about this warm pile of dog poo.
---
In what's unfortunately become an on-going bit on this site, now, for the fourth straight game, I've had a bad photoshop of K'Andre Miller on a Praying Mantis body roaring and ready to go. However, once again, a Rangers one-goal loss is the lede story here. While Miller once again had a FABULOUS (Credit: Joe Micheletti) game tonight, that story is now buried by the Rangers current failures to win games.
Hopefully one day, I can use that picture of Miller. Of course, the Rangers will need to win a game for that to happen!
When it comes to this game, it wasn't all that bad, at least not in the first period.
In a game featuring goaltenders Alexandar Georgiev vs Linus Ullmark; once again, the Rangers made the opposing goalie look like the second coming of Terry Sawchuk, a Sawchuk that I'm surprised Valiquette hasn't compared himself to yet on these broadcasts. (I was going to make a where's a Ron Stewart joke here, but even I am not that cruel. After all, I really don't wish anything bad to happen to Valiquette. I do think he's a nice guy and very fan-friendly to the fans who enjoy his nonsense. I just think that ever since he became a solo-act, he's been terrible. I liked him better in doses and when he had someone to play off of. Saying "Johnny" or "Billy", a few times a broadcast isn't that entertaining. If you get anything out of this, this is what I want your takeaway to be – I use Vally as comic relief on these blogs. As a human being, he's a great guy and a guy who does a lot of charity work, work that should be commended. However, as a broadcaster these days, in my opinion, he stinks as much as the Rangers did tonight.)
In what was noticeable, but eventually was lightened as the game went along, was all the fake crowd noise pumped into the speakers in Buffalo. Georgiev would pass on his first test of the game, denying the Sabres on their first shot on goal.
The Sabres did a good job of limiting Ranger chances in this game. Lemieux would get the first Rangers opportunity at Ullmark, but shot wide. At least he shot the puck, unlike the majority of these guys these days.
Jack Johnson, who would soon kill the Rangers momentum in this game, put a good shot on Ullmark, only for Ullmark to make the save. As the period progressed, neither team were getting shots on goal, as each team would skate the puck into the zone, a defensive play would be made and rinse, wash, repeat.
After a period of time of feeling each other out, the Rangers would get on the board first, at the 6:28 mark, after an excellent pass made by Pavel Buchnevich:
KREIDS!!🚨 What a pass from Buch! #NYR pic.twitter.com/zbayw5UR1f

— Rangers on MSG (@RangersMSGN) January 27, 2021
1-0, GOOD GUYS! Even Kreider couldn't louse this pass from Buchnevich up!
In a rare instance of a fat cat goal this season, Buchnevich made a beautiful pass from behind Ullmark's net and found CK20, all alone and in front of Ullmark. Bam. 1-0 just like that. With the goal, Kreider now has as many five-on-five goals as Colin Blackwell has this season. As David Spade once said, "isn't that special?"
When Kreider scored, I had two immediate thoughts – one, Buchnevich has been playing great. Two, I was hoping that this would be the goal that would get Kreider going. While Buchnevich wound up being the best Rangers forward tonight, at least in my opinion; Kreider went ghost for the rest of the game.
While the tone of this blog is extremely negative tonight, despite my extreme optimism going into this season; how can I not be negative right now? There's just nothing great to say about the team right now, but if there is something good to say I'll say it. Here's your positivity talk of the night -Buchnevich continues to play well, just like K'Andre Miller, Adam Fox and Ryan Lindgren.
The Rangers got sloppy a bit after the Kreider goal, as after Fox was denied, Georgiev would make two quick saves on the other end of the ice. Tony DeAngelo and Jack Johnson would then get caught during a long shift, where TDA was most noticeably gassed. However, the Rangers eventually cleared the puck and Fox & Lindgren were able to relieve TDA & Johnson.
In an instance where I had to open my window to see if pigs were flying, Jacob Trouba put a puck on net! However, Ullmark made the denial.
Kaapo Kakko, in my opinion, had another decent game tonight, although he's nowhere at the level where I thought he'd be at this current moment in time. He put a hard and heavy shot on Ullmark, that Ullmark had trouble with, even though Ullmark made the save.
If you recall, in the Rangers first game without Jack Johnson, which was the game previous to this one; the Rangers played a clean game, where they took no penalties. In Johnson's return, he would take a penalty, as Johnson tripped Dahlin with 8 minutes and change remaining in the first period. Needless to say, I was hoping he would slam the penalty box to kingdom come, to the point where shards of wood of the penalty box door were sent flying all over the ice, thus forcing DQ to scratch him in the next game. Sadly, Johnson meekly and quietly closed the door, which pretty much sums up his season thus far.
After a short-handed save (Georgiev finished with seven SH saves tonight) the Sabres would win another face-off in the Rangers defensive zone. With under 50 seconds left on the Rangers penalty kill, Dylan Cozens beat Georgiev to the right side of Georgiev. 1-1. This was a sign of things to come, as the Rangers were absolutely the drizzling shits on special teams in this game. In addition, the Rangers couldn't win a face-off if their lives depended on it, no matter where the face-off took place.
Of course, after this Sabres PPG, fans were going nuts about Jack Johnson, as they should've.
After an Ullmark save on Adam Fox, on the other end, K'Andre Miller broke up a chance by Jack Eichel. It doesn't matter who it is – Miller is stopping the top players on the other team all season.
Later on, Georgiev would make a stick save on an Eichel blast.
In a rare tweet where it came off where I knew what I was talking about, I said this:
DeAngelo is never going to get a point playing with Johnson #NYR

— BlueCollarBlueShirts (@NYCTheMiC) January 27, 2021
Right after tweeting that, this happened:
K'Andre Miller with the 🚀 for his 1st career goal #NYR pic.twitter.com/pPhfbTrQ1x

— Rangers on MSG (@RangersMSGN) January 27, 2021
2-1, GOOD GUYS, with 6.1 seconds left, as K'Andre Miller scored his first NHL goal. If there's another thing that all Ranger fans are united on right now, it's the fact that Miller has exceeded all expectations thus far and that Miller has been a beast on the ice.
Of note, this also happened:
Tony D making sure K'Andre gets that puck 👏 #NYR pic.twitter.com/fafi4yA93s

— Rangers on MSG (@RangersMSGN) January 27, 2021
A few things here.
First off, WHAT A SHOT from K'Andre Miller. This goal not only gave the Rangers some momentum, it was great to see Miller's hard work get paid off. The Rangers needed this goal, after blowing the lead (another negative trend) earlier in the game.
Secondly, every day, you got these DeAngelo haters, where they make up all sorts of rubbish about him, where it's to the point that I'm surprised that they aren't examining his stool sample, in an attempt to throw some "-ism" or "-ist" at him. (Yes this is my shot at people like Adam Hermtrans, Sean Hacknett and frauds like them.) However, here's THE BIG BAD AND EVIL TONY DEANGELO, scooping up Miller's puck, ensuring Miller of his monumental keepsake. Of course, these turds on social media will continue their hatred and fake news about DeAngelo, going even as far as making up stories about burner accounts.
Thirdly, and I have talked about this a lot on this site – DQ is doing everything he can do to coddle Wade Redden Jacob Trouba. Bluntly, Trouba has sucked this season. If DQ is going to throw his line-up into a blender and do the dart board stuff, how about giving DeAngelo and Miller some time together? At this point, what do you have to lose? Let the $8M man Trouba screw around with the Jack Johnson's of the world. Let's see if TDA & Miller can get some chemistry and offense going together.
2-1, GOOD GUYS, after twenty minutes.
---
It's amazing how one period can drastically differ from another. At this point in the game, the Rangers were losing the face-off battle to a tune of 8-7. That tune would expand like Lynyrd Skynyrd's "Freebird" for the remainder of the game.
While the home opener against the Islanders surely sucked the most biggest of asses, this second period may have been the worst Rangers period of the season. The Rangers not only got their ass kicked, but the Sabres left their foot inside of the Rangers ass too. Maybe the Rangers use "Dr. Sausage Fingers", the official proctologist of the NY Rangers, to help remove that foot.
After our customary "SECOND PERIOD, WHAT DO YOU LOOK FOR HERE JOE?" line by Sam Rosen, this period quickly became all Buffalo.
While Miller continued to play well, forcing turnovers, clearing pucks and breaking up chances by the Sabres, and while Kakko showed glimpses of being an aggressive forechecker; ultimately, the Rangers just couldn't get out of their own way, as they "Plaxico'd" themselves all period.
Just 4:01 into the period, the Sabres took a too many men on the ice penalty, thus giving the Rangers their first power-play of the game. The Rangers now had a chance to extend their lead. The Rangers would win a rare face-off here, where Ullmark made a save on a Fox-Zibanejad deflection attempt. (Fox was deft and skilled here, putting the puck on Zibanejad's stick, thus looking for the deflection.)
Fox then tried to feed Panarin twice for a potential PPG, but Panarin failed. If you get anything out of this, it's that Fox continues to shine in his new role as the QB of the PP1 unit.
As I've said during the last three game reviews, the Rangers continued failure on the power-play have cost them wins. It cost them again tonight.
On social media, right after the Rangers power-play came up empty-handed, and as I was about to remark, "will the Rangers crappy power-play doom them again tonight?", the Sabres scored.
On the Sabres goal, which occurred right after the Rangers power-play expired; Trouba screwed up, misplayed a loose puck on a bad pinch and Tobias Rieder was off to the races, leaving Trouba's PP2 partner, in Tony DeAngelo, looking like yours truly attempting to chase a Kenyan in a foot-race. 2-2, just 6:03 into the period. Once again, the Rangers had blown another lead, their second blown lead of the game.
Ever observant, I said this at the time:
Four straight games where a failed #NYR PP may cost them.

— BlueCollarBlueShirts (@NYCTheMiC) January 27, 2021
And Part I: as noted in the past, I use Twitter as a "notebook" during games, as I refer to my old tweets when typing up these manifestos.
And Part II: Jacob Trouba is starting to swim in "Henrik Lundqvist Waters" with me, meaning that his contract is always on my mind. I wish that wasn't the case. That said, at least Lundqvist had a few good years in there! Seriously, Adam Fox gets paid 1/8 the money as Trouba and produces 8 times as much! Unlike Lundqvist, at least the Rangers coaching staff have promoted Fox to the number one RD position on the team. Again, I rather see TDA with Miller for a few games, because Trouba is sinking all of Miller's great work.
With 12:42 to go in the period, Miller was boxed for pushing Cozens, a push which was called a cross-check. This seemed ticky-tacky to me.
On the Sabres power-play, once again, the Sabres won another quick face-off, and BAM, 3-2, bad guys, as a result of Jack Eichel making Jacob Trouba look like a fool.
3-2 would be your final score, meaning that there were no more goals scored in this game after this. Real quick here, let's talk about Georgiev for a second.
Georgiev gave up two power-play goals tonight. It's tough to hang a goalie for that. The second goal of this game, which came after Trouba flubbed at the end of a Rangers power-play, led to a breakaway goal for Rieder. While I thought Georgiev misplayed the breakaway, as he was way out of net, look at these three goals as a sum of their parts – two PPG's and a breakaway. When it came to everything else, Georgiev was a rock, denying the Sabres on pretty much every five-on-five attempt. I thought Georgiev was solid tonight, but I will concede that he could've played the Rieder attempt differently.
That said, this was the story of the game – face-offs and special teams, where the Sabres dropped a bomb like Nagasaki on the Rangers.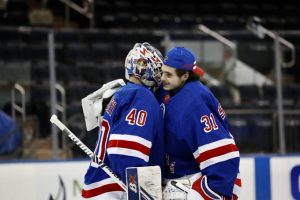 As it's sadly been the case for the entire season, the Rangers once again provided game tape for the agent of the opposing goalie.
With the Sabres special teams somewhat 3-3 (an NYR PP officially expired as Rieder went on his breakaway) and the Rangers special teams officially 0-3, the Rangers couldn't do much of anything for the rest of the game.
As the game approached the half-way mark, it looked like the Rangers just gave up. I'll give Vally some credit here, because after the game, he echoed my sentiment – you just never thought that the Rangers would come back.
If anything was truly disturbing in the final thirty minutes of action; it's the idea that Artemi Panarin didn't look like he gave two shits from here on in. There were three noticeable times (I think Vally said four during the postgame show and he may be right) where Panarin just gave up on the puck. Zibanejad also isn't the same player from last season, and I do believe his "Corona Hangover" is real, even if he won't say so himself. That said, what's Panarin's excuse? Is Panarin still worried about escrow?
And really, to skip ahead for a second, this is why the Rangers are doomed so far. They are not getting the same production and play out of their top stars, stars such as Panarin, Zibanejad, Kreider, Strome, DeAngelo, Trouba (who stunk last season too) and to a lesser extent, their two goaltenders.
With 8:40 remaining in this second period, Fox took a penalty for holding Eichel. The Sabres would then win nearly every face-off imaginable and Georgiev would make a save, freeze the puck and this cycle would just repeat itself.
After killing the penalty, TDA tried to hook-up with Strome. No dice.
With under four minutes to go in the period, Kreider, while on a Rangers possession in the Buffalo defensive zone, blatantly cross-checked and boarded Jake McCabe. Let me say the following in CAPS LOCK, for the purpose of emphasis:
IF DAVID QUINN IS GOING TO BENCH TONY DEANGELO AND BRENDAN LEMIEUX FOR BAD PENALTIES, THEN CHRIS KREIDER, ACCORDING TO DQ'S LOGIC, SHOULD ALSO BE BENCHED/SCRATCHED NEXT GAME. I doubt that will happen though!
I don't care that Kreider was able to capitalize on a gift from Buchnevich tonight. If you're going to make an example out of TDA and Lemieux, have some consistency and employ the same tough love on Kreider too.
Also of note – I guess we know now why Kreider and/or Zibanejad didn't get the "C" on their sweater this season. To add on top of that – neither of these two have the excuse of "the captaincy is weighing me down" either.
Credit to Micheletti – everything I said about Kreider above? He said the same exact thing on the broadcast.
Georgiev would make four saves on this Rangers PK, as again, it was the same old shit – Rangers lose a face-off, Georgiev makes a save, and press the repeat button.
After two periods of play, we remained at 3-2, in favor of the bad guys.
Remember how I said the face-off battle was 8-7, in favor of Buffalo after the first period? At the end of this disastrous second period, the dot game was now 27-13, in favor of the Rangers WINTER CLASSIC RIVAL! The Sabres had more than doubled-up the Rangers in this most pertinent of stats, a stat that trumps any "EXPECTED" analytic stat.
---
It's getting late as I write this and I already feel my heart fluttering, just like a lazy shot from Artemi Panarin in this game.
To start off the third period, my new BFF (Best Friend Forever, for my older readers who aren't hip to this hipster lingo) in Joe Micheletti, called out every single one of the Ranger fat cats by name. While Micheletti didn't use the "fat cat" terminology, he went right after every single one of them. Man, this post-Lundqvist Era has been crazy, as Micheletti never did this in seasons prior.
And really, do you know what the root of all of this is? I think Micheletti is like me. He's like you. All of us waited so long for the Rangers to return and this is the shit we get. We all want positive vibes. We all want wins. We all want this team to shine, like the sun bouncing off of the fake teeth of Mike Francesa. However, instead, we all get amped and pumped for these games and this is the end result.
Let's face it – this team has absolutely sucked since the pandemic started. They got smacked by the Islanders during the exhibition game in the bubble. They got swept in their series with Carolina in the bubble. After this loss, the team is now 1-4-1 this season. Even worse, as a result of all games played tonight, the Rangers have the worst record in the NHL! That's right, the Rangers are in DEAD-LAST PLACE out of all 31 teams in the league.
I think Micheletti is as pissed off as us. I also think Vally feels it too, as he looked miserable in the postgame.
---
Let's breeze through this third period, because it's painful to re-live.
The whole period was basically the Sabres winning every face-off imaginable and Ullmark making every stop when challenged.
At the 8:37 mark, Colin Miller was boxed for hooking Panarin. The Rangers would get another power-play, in another attempt to swing this one-goal game.
On the Rangers power-play, after the Sabres won every face-off known to man; a Panarin one-timer was shut down, Ullmark stopped Zibanejad from his door-step, and Trouba missed a sure-fire goal. Once the Rangers power-play concluded, for good measure, Trouba iced the puck.
Once the Sabres realized that the Rangers couldn't win a face-off, as the period progressed, the Sabres would just ice the puck whenever there was any sort of pressure on them, knowing that the Rangers wouldn't make them pay.
In Lafreniere's best scoring chance of the game, Ullmark robbed him point-blank. Right after that, Kreider, like a quarterback overthrowing a wide-open wide receiver, just missed a streaking Kakko. Had Kreider made a half-way decent pass here, Kakko would've scored on the portion of the net Ullmark left vacated.
The Sabres would continue to ice the puck as we got under the FOXWOODS FINAL FIVE mark of the game. Trouba would also continue to make turnovers left and right, like it was nobody's business.
As we hit the two minute warning, DQ pulled Georgiev. The Rangers would then get a PP with 97 seconds remaining in regulation, as Hall cheap-shotted Miller, thus getting a boarding call. Of note, I hope Miller is okay, because that hit was nasty.
Let me set the table for you now.
With 97 seconds left, with a power-play and the goalie pulled, DQ took a timeout. That was the right move, as you want to get your top stars time to get their breath back and set up a play.
Once the game resumed after DQ's time-out, not only did the Rangers have a 6 vs 4 power-play, a Sabre broke his stick as the Rangers put forth their attack. In other words, you had six Ranger skaters and three Sabre skaters with a twig in their hands. However, this wouldn't phase the Sabres.
With only three Sabre skaters with sticks in their grubby hands, the Rangers had SIX freaking chances to tie this effing game. With 32.7 seconds left, Ullmark would deflect a Buchnevich shot into the tarp covering the seats, thus allowing the Sabres to regroup on their penalty kill. In other words, the Rangers had over a minute to tie this game up, and with only three Sabres with sticks in their hands on the ice. However, the Rangers failed to do so.
In what pretty much illustrates the Rangers futility this season, Ullmark would make saves on both Zibanejad and Panarin to conclude the game. 3-2, bad guys. Not only did the Rangers shit the bed, they left diarrhea stains all over it.
Another one goal loss. Another horrendous loss.
---
If you look at all the Ranger post-game interviews, it's the same old shit – "we have to be better, we have to do this, we have to do that, blah blah blah". With four straight similar one-goal losses, all of this talk is white noise. At this point, at least in my opinion – actions speak louder than words.
David Quinn himself is in repeats, and that's not a good thing. DQ's post-game interview was infuriating, because despite after calling out his top six fat cats, DQ said this, regarding the Rieder breakaway goal: "You are not going to win games like that." DQ also added that the team had no life after that goal. To that, I respond with this: WHOSE JOB IS IT TO PUT LIFE INTO THIS TEAM?
Listen, I don't absolve the top six, Trouba and DeAngelo here at all. However, if the Rangers were losing with those fat cats producing, and with the kids struggling; I could at least understand that scenario. Instead, it's the young pups carrying this team and out-performing the fat cats, fat cats that look like they should be Old Yeller'd behind a barn.
Without question, your best Rangers this season are Adam Fox, Ryan Lindgren and K'Andre Miller; three players who have a season or less of experience. In other words, the veterans are stinking out the joint every game.
I said this DAY ONE, when the Rangers fired Alain Vigneault, in a move that I hated and still detest – DQ was brought in to grow young talent. Once the Rangers became good again, if they couldn't get over the hump, then you bring in a veteran coach to make the push to the Stanley Cup.
Whether it's Quinn himself or the young players doing their own thing, we can say this – the young guns are hitting bullseyes. The veterans are imploding like a Frasier Crane dinner party. (For those of you who never watched "Frasier", that means they stink.)
Yes, it's early, six games, blah blah blah, but if DQ can't get his veterans to deliver now, how can one expect him to get his veterans to deliver once this team is ready to become a perennial playoff contender again? When it comes to the top six, there are no growing pains here, outside of Lafreniere. This is purely a case of the fat cats cashing their checks and not cashing in on their opportunities on the ice.
Again, when it comes to bloggers, social media jerk-offs, podcasters, or whoever; I don't think anyone has defended DQ as much as I have. While I'm not ready to throw in the towel just yet, three more consecutive losses like this, and I'm considering if the Rangers need a new coach behind the bench.
What scares me the most – the Rangers now look accepting of losing and are now used to it. Whatever happened after the pandemic pause, the Rangers just aren't the same team. Maybe I'm over-reacting here, but at 1-4-1, and now as the WORST TEAM in the league, it's time for DQ to take some accountability for himself. You just can't blow every lead imaginable and then blame your veterans after every loss. You don't want a losing culture like the Oilers or the Sabres themselves here. Losing can become contagious.
And I don't care who you are – no one said the Rangers should be in the mix during the 2021 NHL Draft Lottery. That's where they are heading.
---
If you haven't already, subscribe to this blog for the next update:
---
As always here, thanks for reading and…
LET'S GO RANGERS!
Sean McCaffrey
BULLSMC@aol.com
@NYCTHEMIC on Tweeter
Follow the BlueCollarBlueShirts.com Facebook Group by clicking this link: https://www.facebook.com/groups/1564026407193056/