"It's part of our learning curve. We have to understand situational hockey. You're up 3-1 and a lot of good things are happening. We just – we didn't really understand the moment. With six minutes to go, we're still doing things like without 3-1 and it came back to bite us." – David Quinn, 1/22/2021, minutes after the Rangers depressing 4-3 shootout loss to the Pittsburgh Penguins, a game which the Rangers pissed away.

Greetings and salutations everyone and welcome to another blog here on BlueCollarBlueShirts.com. If there was ever a game to illustrate the words "disgust", "frustration" and "misfortune", it was this Rangers 4-3 loss to the Pittsburgh Penguins on Friday night. And if you're a Penguins fan, you have every right to pump your chest out and be happy about the resiliency of your team.
In a game that the Rangers had in the bag, the Rangers allowed Pittsburgh to march back and tie the game in the third period. After having numerous opportunities to put the Penguins away, in both the third period and in the five minutes of overtime that followed, the Rangers let the Penguins off the hook.
As I write these words to you now, there is mass hysteria in Rangerstown, USA, with fans calling for everyone to be fired, players to be tarred & feathered and for a complete tear-down of this roster. If anything, you can't question the passion of this fan base, even if some feelings are too extreme. (Of note, credit Mickey & Geo for the "mass hysteria" phrase!)
Of course, had the Rangers scored at the end of overtime (they had plenty of chances) or had a puck bounced a different way in the shoot-out; instead of the misery everyone is enduring, as Ranger fans, we'd all be doing cartwheels and back-flips right now, all while shouting, "WE WANT THE CUP!" Instead, Rangerstown, USA, and fans on Rangers social media pages, are now all collectively as giddy as a client of Jack Kevorkian.
I've said enough about Jack Johnson on prior blogs, including in the blog I wrote last night. I'm in agreement with the majority here – enough is enough and Smith should be playing instead of Johnson. Johnson had another bad game tonight, but at the end of the day, this Rangers loss can't be pinned solely on him. If you're looking to play the blame game here, take a look at the highest paid Rangers.
David Quinn, as I predicted before the first puck was even dropped for this season, is now the whipping boy of many Ranger fans, as many Ranger fans scream stupid stuff, stuff which could be equated to murder, such as "FIRE DQ INTO THE SUN!" To these fans who watched this game, I wonder if they think that DQ told Ryan Lindgren to put a puck into his own net, lose every face-off imaginable, hit the iron repeatedly, go 1-4 on the power-play and start doing the fancy pass stuff when nervous and with the game on the line?
If I find any fault in David Quinn tonight, outside of DQ's decision to allow Jacques Martin to continue to "zero blitz" him with his usage of Jack Johnson; it's the quote at the top of this blog. If David Quinn saw things were going haywire and saw his team self-destructing with a lead in the third period, then why not take a timeout and slow things down? And for what it's worth, Quinn was right. His team did start shaking like Michael J. Fox on a rickety rollercoaster in the third period. Rather than watch his team get ripped up like a losing ticket at a horsetrack, why not press the pause button for a second and try to regroup?
A game like this one always brings you to the sad debate of – "is it better to be blown out or lose a game that you should've won?" While that home opener loss to the Islanders flat-out sucked, I was more disgusted and pissed off about this loss. The Rangers absolutely should've won this game. While the Rangers do get a point in the standings tonight, they let Pittsburgh get two free points.
To me, the worst part about this loss was not the fact that CZAR IGOR gets another loss and four goals (if you count the shoot-out) hung against him. To me, the worst part of this loss was that there was so much good stuff and positivity throughout the majority of this game, especially from the young talent, only for the big money talent not to show up.
Phillip Di Giuseppe had the best game of his career. His linemates, in Kaapo Kakko and Filip Chytil, both scored goals off of PDG's assists and also had great games. The birthday boy, in K'Andre Miller, should've been featured tonight in my blog headline photo, as the "PRAYING MANTIS" also had the best game of his short career tonight. Instead, after this game, the following three topics were trending on Twitter – "Jack Johnson", "Tony DeAngelo" and "David Quinn", and all for negative reasons, rather than Filip Chytil, Phillip Di Giuseppe and K'Andre Miller. Like anything in the news, negativity always sells.
And I'll get into this once I reach the end of the game in this review and recap, but to go bonkers and bat-shit over who DQ used in a shoot-out is pointless to me. The Rangers should've won this game long before the shoot-out even occurred.
Last night, I wrote another 10,000 word manifesto, talking about David Quinn's line-up and other topics, so I'm not going to use a fine-tooth comb to go over what DQ deployed tonight. In case you missed that blog, here it is, along with my other most recent Ranger tomes:
---
---
---
---
---
---
Here was the line-up that DQ used tonight:
And as talked about last night, CZAR IGOR was your goaltender tonight.
When it comes to DQ's forwards, the third line absolutely carried the Rangers tonight. I don't know how much of that is because Pittsburgh's third line isn't that great or what, but once again, the Rangers top six forwards didn't deliver. If you're looking to say anything positive about the top six forwards, it's that Pavel Buchnevich drew two penalties. (Panarin also picked up an assist, but that assist now seems minor, considering Panarin had two chances to beat Jarry and give the Rangers a win tonight.)
Defensively, this game went as predicted. Jack Johnson was a mess and held Tony DeAngelo down as well. If it wasn't for Lindgren's monumental gaffe in the second period, the reunited Fox/Lindgren pairing would be praised big time tonight. While I thought Adam Fox was the best Rangers defenseman in this game, K'Andre Miller was a close second. Trouba, who had the worst game of his life on Tuesday night, rebounded a bit here, but for the most part, was barely noticeable and not in a good way.
Of course, one of the top topics going into tonight was Alexis Lafreniere.
---
Prior to the game, the Rangers released the following video, where Alexis Lafreniere talked about another #1 pick of an NHL draft, in a one Sidney Crosby:
"Obviously, one of my idols growing up. Big role model for me. It's really special"

– Alexis Lafrenière on going up against Sidney Crosby for the first time in the NHL tonight pic.twitter.com/7aui941tgo

— Rangers Videos (@SNYRangers) January 22, 2021
Of note here, doesn't this make you feel old a bit? Here is Lafreniere talking about Sid (Not) "The Kid" (Anymore) as if Crosby is an elder statesman in the league. However, Lafreniere is right – Sidney Crosby is now a legend, akin to the days when players like Wayne Gretzky and Mario Lemieux were still playing. For a new generation, a generation that Lafreniere is part of, Crosby is their role model. We're getting old folks!
While I'll get into this during the recap/review too, everyone was talking about Lafreniere being placed with the first line. There were about four times in this game where Lafreniere was obviously in the right place and at the right time for a scoring opportunity, but Lafreniere conceded to his veteran teammates, rather than going for a goal himself. Of course, Lafreniere is a rookie, young and all that other jazz, but after tonight, David Quinn needs to sit down with his potential future star player and give him the Bill Chadwick/Barry Beck treatment – SHOOT THE PUCK!
There were just too many times where Lafreniere, perhaps looking to be unselfish, deferred to his elders rather than trying to achieve personal glory. Instead of taking shots when wide-open, Lafreniere dished off the puck, where the puck was then turned over. I get that Lafreniere doesn't want a "puck hog" reputation and wants to be respectful of his veteran teammates, but no one is going to get upset with a #1 pick of an NHL draft shooting when he has the chance. Again, success for Lafreniere will come with time, but DQ needs to nip this in the bud now, and let Lafreniere know that it's okay to shoot the puck. After all, the Rangers didn't make him the #1 pick of the 2020 NHL draft for his passing.
---
Let's get the GAMBLING and BOX SCORE segments out of the way, and then I'll get into the nuts and bolts of this game.
Here was my over-under prediction, which I tweeted out prior to puck drop:
Season over-under record: 2-1

-6.5 sounds high for this #nyr #LetsGoPens game despite Jarry's early struggles & a questionable Rangers defense. I think CZAR IGOR rebounds after a tough 2021 debut. I can see a 3-0, 3-1 or 4-2 Rangers win. I'm going with the UNDER. pic.twitter.com/9Q6cyyYLcI

— BlueCollarBlueShirts (@NYCTheMiC) January 22, 2021
This could've been a 3-1 Rangers win. At the very least, it should've been a 4-2 Rangers win. However, as they say, "shoulda, woulda, coulda." The Rangers choked away this game, the Penguins forced overtime and a shoot-out pushed this game to seven goals, meaning this game went OVER. I take the loss here, as my record now drops to 2-2.
---
Here was your box score for tonight's game, courtesy of ESPN.com. I also included the team stats, because for all the bellyaching I'm reading about David Quinn, Jack Johnson and Tony DeAngelo right now, the fact of the matter is that the Rangers once again got killed at the dot and went 1-4 on their power-play. A face-off win here and another power-play goal there, the Rangers win this game.
SCORING:
PENALTIES:
GOALIES:
| | | | | | | | | | | |
| --- | --- | --- | --- | --- | --- | --- | --- | --- | --- | --- |
| SA | GA | SV | SV% | ESSV | PPSV | SHSV | SOSA | SOS | TOI | PIM |
| 34 | 3 | 31 | .912 | 27 | 0 | 4 | 0 | 0 | 65:00 | 0 |
| | | | | | | | | | | |
| --- | --- | --- | --- | --- | --- | --- | --- | --- | --- | --- |
| SA | GA | SV | SV% | ESSV | PPSV | SHSV | SOSA | SOS | TOI | PIM |
| 29 | 3 | 26 | .897 | 23 | 1 | 2 | 0 | 0 | 64:53 | 0 |
TEAM STATS:
---
Before starting this game recap/review, please MSG Networks, I beg of you – please remove Steve Vagistat from the air. No joke, as usual, Valiquette brought up his 46 game career three separate times during this broadcast. What once felt like a parody is now nauseating. I have never heard an athlete who accomplished so little, talk about themselves so much. I also find it humorous how every goal the Ranger goaltenders give up this season is on them, after years of blaming everything else under the sun for a goal allowed by a Rangers goaltender. Funny how that works. I guess Valiquette needs to hold your bags to make excuses for you these days.
While on the topic of the broadcast, Sam Rosen and Joe Micheletti called this game from the studio, as they are not going on the road this season, at least not yet. Once again, Micheletti remained as Rosen's faithful seeing eye dog. It's at the point where Micheletti should be collecting two checks from the MSG Networks, as he's doing two jobs. While Rosen is a Hall of Famer and a Rangers institution, it's gotten to the point where his commentary is the equivalent of a ranting senile man feeding birds from a local park bench. Rosen once said, "I'll leave the booth when my family tells me I'm slipping." Not only has Rosen slipped, he's at the bottom of the slope. Sometimes it's comedic, but really, it's sad to watch the decline of one of the all-time greats. It's time to let Kenny Albert take over.
---
In a game featuring two goalies in Tristan Jarry and CZAR IGOR, who were both looking to bounce back with strong performances, it would be Jarry coming out with the "W" here, despite Igor playing a pretty solid game himself. Once again, the Rangers just allow goalies to have the best games of their seasons. Without question, this game had a loss written all over it for Jarry. The Rangers just have this knack for allowing struggling goalies to get a confidence boost.
On the first play of the game after the face-off, Jarry iced the puck. After losing what felt like their first of 50 face-offs in the period, Phillip Di Giuseppe (PDG for the remainder of this blog) got the Rangers first shot on goal. While PDG didn't score here, he was one of the best offensive players for the Rangers tonight. (Two assists, with both of them being primary assists.)
Tony DeAngelo, back in the line-up, would get the Rangers second shot on goal. If there was anything noticeable in the first five minutes of a nicely paced game, it was the fact that the Rangers kept making the short and effective passes, rather than looking for those old school "MTV Rock & Jock Eight-Ball Homerun" type of passes. That would continue throughout the game, until Jacob Trouba later bombed a pass for an icing.
Also returning to the line-up tonight was Kevin Rooney, who was playing in place for Julien Gauthier. For whatever reason, some Ranger fans lost their shit about Rooney playing over Gauthier tonight. I thought Rooney had a decent game tonight, as early in the first period, he forced a Pittsburgh turnover in the Rangers d-zone and then flew up ice, where he put a shot on goal.
As the first period progressed, both Lafreniere and Crosby covered each other on defense, giving shutterbugs their first picture of Lafreniere and Crosby in the same shot. As my buddy EL SHOES aka Joe D. said, "NOW AVAILABLE AT THE MERCHANDISE STANDS AT INTERMISSION, EXCLUSIVELY THROUGH STEINER SPORTS!" While Steiner Sports is no longer in existence, you get the joke. And hell, if Steiner Sports was still around, they'd be selling this photograph of these two number one draft picks for the low price of four quarterly installments of $299.99.
Ryan Strome, who you know I'm a fan of, continued his terrible start in this 2021 season. After receiving a pass from Artemi Panarin, Strome went on a breakaway, where he looked as lost as a young child separated from their mother in a mall during Christmas season. It felt like Strome was shocked that he was so wide-open and alone with Jarry. Rather than making the struggling Jarry pay, Strome coughed up a harmless shot, that had the power of a dainty fart.
After Strome failed to put the Rangers on the board, Sid, no longer the Kid, tried a wraparound shot on CZAR IGOR, only to be denied as bad as Valiquette trying to make the Hockey Hall of Fame for his broadcasting ability.
Ten minutes into this game, the Rangers looked to be the better team. I even said this on social media, but because I am a Father Finking mush, just two seconds after tweeting "The Rangers look to be the better team here, but not by much", the Penguins scored.
With 9:31 remaining, Cody Ceci bombed a shot and Bryan Rust deflected it in. Rather than trying to break up the play and tie up his man, who was Bryan Rust, Johnson watched the puck float by his goaltender. 1-0 bad guys and no revenge game for Jack Johnson here either for that matter. This was an unfortunate goal for the Rangers to give up, because they were playing better than the Penguins at this point.
Thirty seconds after the Penguins goal, Kris Letang tripped Pavel Buchnevich, thus giving the Rangers their first power-play of the game. This power-play was infuriating, as Kreider missed a chance at a wide open net and Strome whiffed on a sure-fire goal. Needless to say, the Rangers money guys aren't cashing in goals at this point into the season.
Lafreniere, who previously passed up an opportunity to put a shot on goal, by making an awkward drop pass to Zibanejad that went nowhere; would get another chance at one of those "high quality" shots that the analytic people tell you about. Instead, Lafreniere opted to pass the puck again, a pass which wound up becoming another turnover. Micheletti, to his credit, called out Lafreniere for being too unselfish, even saying "you want to help your team out, you shoot the puck and score a goal." Again, as said earlier, I can understand Lafreniere's mindset, but DQ needs to tell his stud rookie to not worry about looking selfish.
In a quick moving first period, the score remained 1-0 bad guys after twenty minutes. The Rangers were nearly out-shooting the Penguins 2:1, but Johnson's lapse, despite the fact that the Penguins were winning face-offs at 7:1 rate, (14-2) was the difference.
---
If you read my last blog, you saw a rare instance where I agreed with Larry Brooks. As Brooks said during his spot on Ron Duguay's "Up in the Blue Seats", the Rangers have a lot of talent with similar skill-sets. That means, that game-by-game, DQ needs to divvy up minutes based on whoever has the hot hand. Filip Chytil had the hot hand tonight, and in turn, got a ton of ice time.
The Rangers would get a power-play 32 seconds into the period after Guentzel was boxed for tossing the puck over the glass. In turn, the Rangers had a dreadful power-play, where they didn't even muster up one shot on goal. However, after the power-play expired, the Rangers then just tore the ass out of the Penguins, scoring three straight goals in 3:01 of game time. Here are the three goals in one short clip:
1,2,3 give them to meeeeee pic.twitter.com/BklJzZE9xn

— Rangers on MSG (@RangersMSGN) January 23, 2021
On the first Rangers goal, PDG forced a turnover, out-muscled his man and pushed the puck to Chytil, a Filip Chytil who then put on one of the best razzle dazzle shows you'll ever see, where he looked like the second coming of Patrick Kane. Both PDG and Chytil deserve all the props in the world here, as PDG made this play happen and Chytil went all Harlem Globetrotter on Jarry. 1-1.
With 15:44 remaining in the period, Crosby went to the box after slashing Buchnevich, which meant that Buchnevich drew half the Ranger power-plays in this game.
On the Rangers power-play, Adam Fox loaded up and fired the puck from the point, slap-shotting home a Rangers power-play goal. 2-1, GOOD GUYS.
24 seconds after Fox's PPG, PDG took the puck, and in a play that I've been talking about during the last three game recaps on this site, went for a puck-on-pads shot/pass, with Kaapo Kakko slamming home the loose puck into the vacated portion of the net. 3-1, GOOD GUYS. (Of note, Steve Vagistat said he predicted this play would happen, but seriously, go check out my last three game recaps, where I said the Rangers needed to try to pull off this type of play more often. I don't need no stinkin' charts!)
Right after making the score 3-1, and with the Rangers cooking with gas, Trouba took an icing after making one of those homerun passes to nowhere. This would lead to another Penguins face-off in the Rangers d-zone, where after CZAR IGOR made saves to keep the Rangers lead at two, Pierre-Olivier Joseph was tripped up by Brendan Lemieux at the 9:23 mark.
On the PK, CZAR IGOR stopped Crosby and Guentzel. Eventually, Zibanejad, who really doesn't get enough credit for his work on the PK, made one last clear, thus killing off the Penguins power-play.
As the period started to wind down, K'Andre Miller got caught on the ice for a two minute shift, where you could see him huffing and puffing a bit. However, he would blow the Penguins house down, using his PRAYING MANTIS abilities and his long stick, to get a clear which then allowed him to change. Again, this is why I'm so pissed off about this loss – we should be raving about Miller, PDG and Chytil right now, and not talking about a chokejob that rivals David Carradine.
With about three minutes and change to go in the period, Kevin Rooney was caught tripping Evgeni Malkin. The Rangers went back on the penalty kill, where this happened:
.@NYRangers Ryan Lindgren scores on his own net… that's a Dang-It. 🤦‍♂️

cc: @Steve_Dangle #NHLonSN #ItsOn pic.twitter.com/KYAt6IPXwY

— Sportsnet (@Sportsnet) January 23, 2021
On the play, Jared McCann, looking to find a teammate, tried to feather a cross ice pass. Instead, Ryan Lindgren went to break it up. Once blocking the puck, Lindgren tried to feed the puck to Igor in an attempt to get Igor to freeze it. Instead, the puck squirted past Igor and the Penguins got a PPG. 3-2, good guys.
With the game result being what it is, this play obviously hurts. Had the Rangers won this game, you'd be able to laugh this off. Instead, this mistake made this a one goal game and gave the Penguins confidence going into the third period.
In example #7867867896 of me being a mush, here's what I said at the end of the period, with the score still at 3-2:
3-2 #NYR after forty minutes. Rangers remain the better team. Rangers have to win this one or it will be a major heartbreaker.

— BlueCollarBlueShirts (@NYCTheMiC) January 23, 2021
Father Fink!
---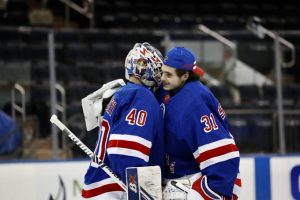 During the intermission, Valiquette started rambling on about his career again. I thought this tweet was pretty good:
So if Valiquette remembers every goal he ever gave up, that Dallas game from years ago must make for many sleepless nights. #NYR

— Dave (@DarthFlaves) January 23, 2021
The Rangers, as noted repeatedly on this blog, had many chances to close out the Penguins.
Right off puck drop to start the third period, the Rangers got a 3 vs 2 chance, where Strome had his best shift of the game. Strome fed Miller who then fed Buchnevich. Buchnevich rang a puck off the post. If the puck was shot a millimeter to the left, then it's back to a two goal Rangers lead.
After this near-goal, the Penguins got sloppy in front of Jarry, where they almost put a puck past their own goalie. Jarry bailed out his team.
With 12:59 left in regulation, Jason Zucker hooked Ryan Lindgren. The Rangers got another power-play chance and another chance to push this back to a two goal margin. Instead, Jarry stopped Fox and TDA and squashed the Rangers power-play. In hindsight, this was kind of like the loss to the Devils, where if the Rangers could score a PPG when it mattered most, they could've won the game.
Also of note here, Miller, who as stated had a tremendous game, continued to make his presence felt all game. He was breaking up Penguin scoring threats all game, including in this period with the game hanging in the balance.
With under nine minutes to go, Pittsburgh rushed up the ice, where similar to the goal Kakko scored, Teddy Blueger was the beneficiary of a puck-on-pads shot, with Blueger slamming home the rebound. Of note, Johnson and DeAngelo were on the ice for this one too, although this goal wasn't as egregious as the first goal this pair allowed.
As the period started to find its way to triple zeroes, the Rangers had more opportunities to win. Zibanejad tried to hook up with Kreider. No dice. Right after, Artemi Panarin had two prime chances to beat Jarry but couldn't get the job done. Last year's Panarin would've scored here, at least that's what I choose to believe.
Johnson and Strome gave the Penguins a chance to win the game late, as Johnson took forever to clear a puck, allowing the Penguins to make a full change. Strome then took the puck and flailed it down the ice, thus giving the Penguins another face-off in a game where the Rangers had little-to-no success at the dot.
With both teams pushing, the score remained 3-3 after sixty minutes. Up next was a heart-attack inducing overtime.
---
The Rangers, in overtime, once again had many chances to put this game away. It was also here where the DQ haters continued to shout from the rooftops, as DQ opted to use Filip Chytil and PDG over Lafreniere. "WAAAAAA, LAFRENIERE IS A NUMBER ONE PICK AND NOT ON THE ICE! DQ DOESN'T KNOW WHAT HE'S DOING!" Of course, Chytil and PDG were the best forwards in this game and DQ was riding his hot hands. I don't see why anyone thought Lafreniere, who passed every puck on his stick, sans one shot where his stick broke, should've got time over Chytil & PDG here, as Chytil and PDG looked amazing all game.
I'll say this, and you guys know I'm a staunch Tony DeAngelo fan, but he was almost the goat here, as Malkin beat TDA and somehow, CZAR IGOR made a save. Put it this way, this was a lucky save because right after Malkin's shot, Igor was looking into his own net. Fortunately, the puck hit the back of his skate and dribbled to the boards.
Chytil almost rewarded DQ's decision to play him in the three vs three, as he almost won the game. However, he hit the post. Again, how can fans blame DQ for this loss? Did DQ tell Chytil to hit the post here?
PDG would then get a chance to score, but instead of trying for one more puck on pads pass, PDG tried to make a blind pass to Adam Fox. The pass led to a turnover, where on the other end, Igor stopped Guentzel on a breakaway. This overtime was wild I tell you!
(And I saw some people getting on PDG here. While this play wasn't great, how quick we are to forget the two assists he had in this game.)
On the next Penguins possession, with Tony DeAngelo draped all over him, Rust got to Igor where Igor made another save. Right after, Jarry then stopped Strome and DeAngelo.
In the Rangers last chance in overtime, Jarry once again stopped Chytil.
Also of note here, before getting into the shoot-out, let me share this:
Filip Chytil & PDG finished with a +/- of +2. Kreider, Lafreniere and Zibanejad all finished with a -2. I know the plus/minus stat doesn't mean what it used to, but for tonight, that stat reflects this game & why PDG and Chytil got ice time in OT.
---
In the shoot-out, Guentzel beat Igor. Jarry then stopped Zibanejad. After one round, the Pens had the edge. In the second round, Igor stopped Crosby. Panarin then beat Jarry. We were now tied going into the third round.
In the third round, Letang beat Igor. In a decision that's still drawing ire from some fans as I write these words, Quinn gave TDA a chance to keep this game going. Instead, Jarry stopped TDA. The Pens won the shoot-out 2-1, thus winning the game 4-3.
From what I see out there, the majority of hockey fans hate the shoot-out, where they say it's the equivalent of settling a tied baseball game with a homerun derby. I get that. Of course, fans usually say this after their team loses in a shoot-out.
I can't get into a mass hysteria like others about this shoot-out loss, because after all, the Rangers had 675675679 chances to win this game before this point.
As far as TDA being the third skater, Quinn used Zibanejad, Panarin and TDA in shoot-outs last season. In his post-game interview, Quinn reiterated that fact, citing he wanted to go with what's worked in the past. Some fans were crying that Chytil should've been the third shooter. I can understand that, but for what it's worth, DQ said Chytil was going to follow TDA. Again, DQ was going with what worked last year, so I can't blame who he used in a shoot-out as the reason for this Rangers loss.
In addition, and you guys know I've been singing the praises of CZAR IGOR for four years now, but Igor looked terrible in the shoot-out, where it looked like facing backhanded shots is a weakness of his.
If there is anything I truly got out of this loss, and with the loss to the Devils, it's this – good teams win these types of games. Perhaps the Rangers aren't good yet and we will just have to suck it up and live through these growing pains.
---
When it comes to the Rangers in these first four games, where are the big money players? Panarin and Zibanejad are off to slow starts and are not producing like they did last season. Jacob Trouba has been a mess. Chris Kreider is giving every single one of his doubters more ammo with each game. Ryan Strome is having a fiasco of a start. Tony DeAngelo can't get it going, and that probably will be the case as long as he's paired up with Jack Johnson.
When you look at who's thriving so far, it's Filip Chytil. It's PDG. It's K'Andre Miller. It's Adam Fox. To a lesser extent, it's Kaapo Kakko.
50 years ago, the Rangers were known as the "FAT CAT" Rangers, due to the contracts they had under Emile Francis. Right now, here in 2021, the fat cats on the Rangers, which means the highest paid players, aren't doing their job. While it's not all about scoring, because defense is part of it too, the fact of the matter is that the guys who are being paid to produce points aren't doing so.
You can live with a rebuild if the highest paid players are pulling their weight while the kids learn. Instead, it's the younger guys who are doing the majority of the rowing here. In addition, for all the money on the first Rangers power-play unit, they can't score a PPG when it's most needed. Where is the CLUTCH factor with these guys? After all, it's not like they don't get chances – they just don't score on those chances.
Quite frankly, there's no excuse for this loss. The highest paid players let the team down. We've now seen two straight one goal losses from the Rangers. Had the highest paid players showed up in crunch time, the Rangers would be on a three game win streak right now. Instead, the Rangers are now 1-2-1 and quickly sinking in the standings, in a season where there isn't that much room for error.
And really, can you blame David Quinn if Panarin, Zibanejad and Kreider are held off the score sheet?
---
If you haven't already, subscribe to this blog for the next update:
---
As always here, thanks for reading and…
LET'S GO RANGERS!
Sean McCaffrey
BULLSMC@aol.com
@NYCTHEMIC on Tweeter
Follow the BlueCollarBlueShirts.com Facebook Group by clicking this link: https://www.facebook.com/groups/1564026407193056/