Greetings and salutations everyone and welcome to another blog here on BlueCollarBlueShirts.com. As you read these words, the Rangers return tonight, at home, for their first game of a home & home series with the last place Detroit Red Wings.
There are couple of news and notes to get into tonight. By doing this blog today, it will save me from having to recap everything in tomorrow night's game review blog.
Real quick, before rocking and rolling here – has anyone else had issues with the comments section of this site? I know I rarely promote the comments section, as I usually talk with many of you over email or on social media, but I have received a few emails saying the comments section wasn't working. While writing these 10,000 word missives comes easy to me, web design, web-mastering, computer code, HTML and all that other stuff doesn't come as easy. I just uploaded a new update/patch, so I'm hoping that fixes whatever issues there were with the comments section.
And of course, as usual, before jumping into everything, here are the last few blogs I've written, in case you took a bye week yourself or missed them:
---
---
---
---
---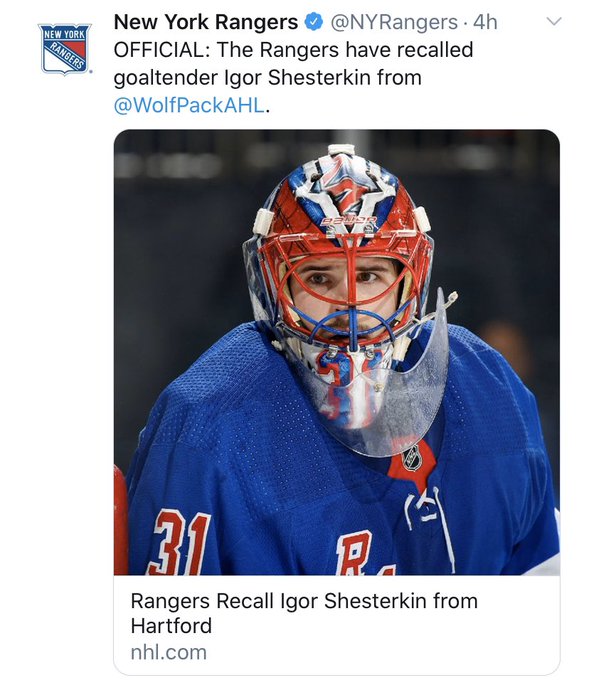 On Wednesday, 24 hours before the Rangers reconvened, the Rangers recalled Igor Shestyorkin to the main roster. As I said on the last few blogs, this move was pretty much well known and expected. Shestyorkin, while in Hartford, got some time/work over the break, by downing the Bridgeport Sound Tigers and Lehigh Valley Phantoms in back-to-back games last weekend. I covered those games, in-depth, in the blogs linked above.
Furthermore, with the Rangers recalling Adam Huska from Maine back to Hartford, as he too got some work over the break, it was elementary that Shestyorkin was coming back. The three-headed dragon of Ranger goaltending will continue.
And as mentioned several blogs ago, during this past week, both Huska and Shestyorkin were financially effected by Lundqvist's refusal to waive his no-move clause. We'll get more into Lundqvist and that NMC as we continue, as Lundqvist somewhat talked about his current status with the franchise today.
There are a few news and notes coming out of Rangers practice today, which was the first practice since the All-Star break and bye week. It was reported, by the various Rangers beat reporters that cover this team, that this was one of the longest practices of the season. Part of that is because the Rangers won't practice before their game on Friday night, against the Dead Wings. Of course, the other part of it is because the Rangers haven't practiced in 10 days.
Here's what the Rangers, through Twitter, reported after their practice on Thursday: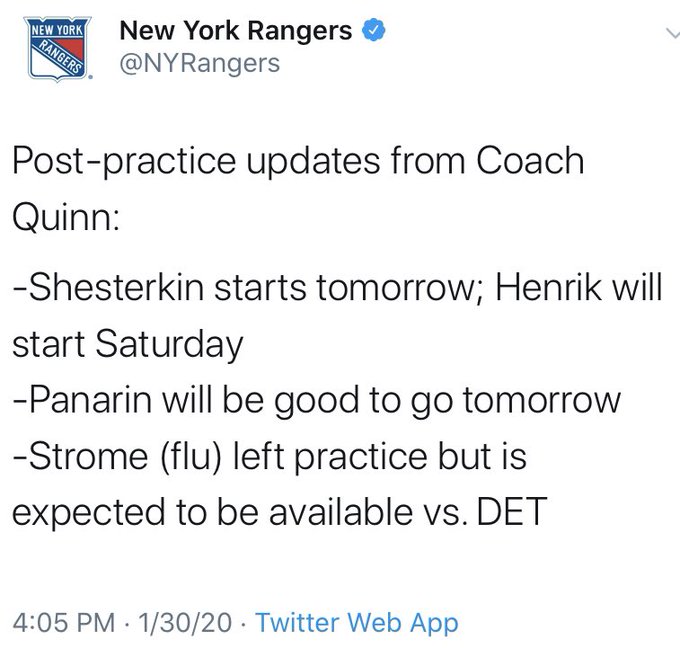 Prior to tweeting out the above announcement, at the practice, David Quinn shook up his lines and defensive pairings a bit, with the new defensive pairs being the biggest of news.
While these lines and pairings could change for the game at M$G on Friday night, here's what it looks like:
FIRST LINE: Kreider/Zibanejad/Buchnevich (This has been normal, although Buchnevich has been bounced around lately. To be fair, Buchnevich was battling the flu and was not 100%.)
SECOND LINE: Panarin/Strome/Fast (This stays the same, as it should. More on Strome later on.)
THIRD LINE: Lemieux/Chytil/Kakko (With Lemieux now 100% back, Howden has been demoted. It should be interesting to see what happens if Buchnevich struggles again. Will Lemieux get more time with the first line?)
FOURTH LINE: Howden/McKegg/Smith (Howden, as mentioned, is now with the fourth line.)
Of note about the forwards, Micheal Haley remains the lone scratch. Di Giuseppe, who was called up and then sent down, remains in Hartford. The Rangers haven't recalled any forwards for this weekend.
Defensively, here are the new pairs:
FIRST PAIRING: Staal/DeAngelo
(These two have been together all season and have been the best pairing for the team. As mentioned plenty of times on this blog, these two complement each other nicely.)
SECOND PAIRING: Lindgren/Trouba
(I truly think this new pairing will benefit Trouba. Skjei has been dead weight and a turnover machine more times than not. In turn, Trouba hasn't been able to play his game, as he tries to make up for Skjei's shortcomings. By playing with Lindgren, this is like DeAngelo playing with Staal. Trouba can play his game and have a defensive defenseman as his partner. If you have noticed, most of Trouba's best work as a Ranger this year, has come on the power-play unit, where Skjei isn't around to anchor him.)
THIRD PAIRING: Skjei/Fox
(While no reporter asked Quinn about these new pairings, at least not concerning who is being "punished" here, to me, it's Brady Skjei. This is going to be tough for Adam Fox, who like Trouba before him, may have to sit back more, rather than getting involved as much as he has been offensively. And if you're Brady Skjei, I think you have to look at this as a wake-up call. After all, if his pair was doing well, Quinn wouldn't be breaking them up.)
Also worth mentioning here – Libor Hajek remains in Hartford. The Rangers will stick with carrying these six defensemen for the time being. (Don't forget, Brendan Smith can sub-in as a defenseman, in the event of an injury/game misconduct penalty.)
During practice on Thursday, Ryan Strome left the ice early. It has since been reported that he was battling the flu and should be okay to go on Friday. How unfortunate. You have nine days off and get sick now.
Artemi Panarin, who missed the final regular season game before the All-Star Game, was practicing on Thursday. He will be back on Friday.
I do want to say, I had several people write-in questioning Panarin's injury. Even my buddy SPIGGY is questionable on Panarin. SPIGGY, and several of you, are wondering if Panarin skipped the game with the Islanders, so he wouldn't have to play in the All-Star Game. By having an injury excuse, Panarin wouldn't get fined for missing the ASG, as many other players were, who just opted to skip the All-Star Game completely. (Like Ovechkin, MAF, etc.)
To me, I don't think that's the case. While yes, it wouldn't look good if Panarin skipped his first ever All-Star Game, especially in a season where the Rangers have no playoff hopes in, would Panarin really pull a stunt like this, just to avoid a one-game suspension and being fined a couple of bucks?
Maybe Panarin has me fooled, but I truly believe he wanted to play in the ASG. It's good for his brand. That said, it seemed like he had vacation plans too:
While it looks like Panarin was able to make quick reservations somewhere, to me, I doubt he would fake an injury. And really, why would he do that against the Islanders? If Panarin really wanted to skip the ASG, not one Ranger fan would've cared if he took the suspension & fine against Detroit. Everyone wanted to see him play the Islanders. Plus, as mentioned, the ASG would've been Panarin's maiden voyage. It's not like Panarin is an Ovechkin or MAF, a long-time veteran, getting up in the years and focused on a deep playoff run.
So yeah, let me dispel the rumors here – Panarin was hurt, couldn't go against the Islanders, who cares about the All-Star Game and I'm glad to see Panarin back.
---
After the game with the Islanders and in my blogs since, I've been saying the same thing – CZAR IGOR SHESTYORKIN should start the first game out of the break. If he does well, I'd then run him back-to-back. After seeing him in Hartford this past weekend, he has proven that he can go in back-to-back games. With last place Detroit on the docket in the next two consecutive games, these two games would be a perfect match for the rookie net-minder.
In his press conference on Thursday, after practice, David Quinn announced Igor as his goaltender on Friday and Lundqvist as his goaltender on Saturday. I don't get it. Why limit Igor? What happened to Quinn's quote of "riding the hot goalie"?
I just don't get how Quinn can set his goaltenders games in advance. I will say, I get going with Georgiev a lot during the last two weeks, because of Georgiev's history with the Islanders. However, why limit or cap Shestyorkin, who should be the goalie of the future? What does giving Lundqvist last place Detroit do for this rebuild? It's just another game, against a last place team, for Lundqvist to pad his career stats in.
And really, even if Quinn announced Georgiev as the goalie for Saturday, while I wouldn't be as bothered, I would still question the move. I get that Quinn is around these guys all the time and has the unenviable task of trying to placate three goalies, but in this scenario, against a tanking Detroit team; for this rebuild, I rather Shestyorkin get the work in both of these games. Then, starting on Monday with Dallas, you can start looking at Lundqvist or Georgiev.
I mean, seriously – what if Shestyorkin throws together a 40+ save shutout on Friday? You're going to put him in street clothes on Saturday? This is just another example of Lundqvist, his ego and that horrible contract, just stunting this rebuild.
The @SNYRangers twitter account uploaded several snippets of the David Quinn press conference on Thursday. Here are two of them:
"We feel good about the direction we're going"

🏒 Rangers HC David Quinn pic.twitter.com/eKydqDukSH

— Rangers Videos (@SNYRangers) January 30, 2020
How does David Quinn juggle playing time with the goalies?

"Obviously it's not an ideal situation for the goalies or the coach" pic.twitter.com/QLBCIUZD9d

— Rangers Videos (@SNYRangers) January 30, 2020
It's funny, if you watch these DQ interviews, as opposed to DQ interviews from 2-4 weeks ago, it sounds like David Quinn has been gelded. Quinn, who just two weeks ago, was full of vim & vigor, as he thought his team had a shot at the playoffs, now seems resigned to the fact that his playoff dream for the 2019-2020 season is over.
For a coach, a player and even a fan, it just sucks knowing you have no shot at the playoffs. While not truly a "wasted year", at least not when you look at this through the eyes of "they are rebuilding", it sucks as a human being. I talked about this last blog, specifically with Kobe Bryant's untimely passing. Life is short. Nothing is guaranteed.
For a guy like David Quinn, who really wants to win, while you're aware of the rebuild, you want to qualify for the tournament too. Instead of playing hockey in mid-April, Quinn will be watching the tournament from home, while having to listen to people yammer on about European teenage boys. That's not the life to live for Quinn.
While I said the dream of the playoffs was dead after the Western Canada road-trip, the brutal losses to the Blue Jackets & Islanders sealed the deal. And I've said this before too – the Rangers have had only one win streak of three games this season. The Rangers are now 10+ points back of a playoff spot and have several teams to leap-frog. For the Rangers to make the playoffs at this stage, the Rangers need a win streak of 10+ games and then hope for everyone else to lose too. Not going to happen.
I've defended Quinn a lot on these blogs and I hate the "FIRE DQ" crap. (Check the archives for my response the "FIRE DQ" idiots.) I still stay true to this – while I didn't think AV should've been fired (I would've never fired Torts either) and while I didn't want Quinn as coach (I wanted Patrick Roy) this still isn't his team, at least not 100% his team. He has the youngest team in the league. He's saddled with bad contracts he didn't ask for. I still say you won't be able to judge Quinn until the 2021-2022 season, when all the bad contracts are gone, this team gets older and the roster is what he wants.
For David Quinn, no one said the road out of hell is an easy one. It's a long hard road out of hell. All we can do is hope that Quinn and the Rangers are better, once they get out of this hell, which are these non-playoff years.
Speaking of bad contracts and hell, let's talk about the King of Bad Contracts, in a one Henrik Lundqvist.
And finally, when covering all the news out of Rangers practice on Thursday, is the interview Henrik Lundqvist gave to the media. Once again, @SNYRangers clipped all the best stuff:
"It's been fun to watch him"

Henrik Lundqvist reflects on his career and Eli Manning's career pic.twitter.com/rpE6NPXEh4

— Rangers Videos (@SNYRangers) January 30, 2020
"I will always feel like a Ranger" pic.twitter.com/DEbETN5Csw

— Rangers Videos (@SNYRangers) January 30, 2020
Henrik Lundqvist says he's starting on Saturday

"It's been awhile" pic.twitter.com/g6kaDIHfj2

— Rangers Videos (@SNYRangers) January 30, 2020
When I listen to Lundqvist speak in those clips posted above, and yes this is me and yes this is maybe what I want to hear, I hear a guy who may be up for waiving his no move clause. Based on what I saw on social media, I saw others feel this way, and that includes people in the Cult of Lundswiss too.
If you haven't already, check out my last blog, where I talked the Eli Manning vs Henrik Lundqvist comparisons in-depth.
What made me laugh about these clips and the whole interview with Lundqvist in general, is you have these reporters just tip-toeing around. It's like these reporters are playing "Battleship". They have a few hits, but refuse to go for the kill shot and sink the Swedish boat.
These reporters bring up Eli's retirement and how he wanted to stick to one team. (Of course, what isn't mentioned is how, you know, Eli Manning won a championship twice.) When doing this line of questioning, the last question should have been – "are you willing to waive your no-move clause?" Instead, they are talking about split-ends, bangs and dandruff shampoo.
Seriously speaking here, none of these frightened reporters, with the spines of a jellyfish, have the balls to ask Lundqvist point-blank – "Do you want to win a Stanley Cup or do you want to be Dan Marino?" I mean, even Patrick Ewing, one of the greatest and longest tenured athletes in NY to not win a championship, eventually went ring chasing in his later years.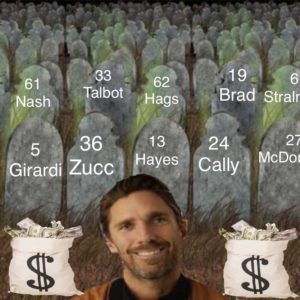 I don't think Lundqvist is a stupid guy. After all, look at the contract he got out of Senile Sather. He's not oblivious. He knows that his time is up. He sees the writing on the wall. That said, I do challenge him when he says he wants to win a Cup. If he wants to win a Cup, what is he doing here?
Lundqvist was first asked to waive his NMC in 2018. He said no. Lundqvist was then again asked about waiving his NMC in 2019. He said no again. That's two separate years, towards the end of Lundqvist's career, where he gave up two cracks at trying to win a Cup. And really, as I wrote last blog, I think a Cup gets him into the HOF. Without it, I don't see him as HOFer, unless the Hall is going to open their doors to about twelve other goalies too. After all, how is Lundqvist a HOFer if Tom Barrasso isn't?
Here in 2020, with the playoffs pretty much gone from the equation, is Lundqvist going to deny himself a shot at the Cup for the third year in a row? I get he doesn't want to uproot his family, but it would only be for just over a year. Plus, that's the nature of his profession. I think, simply put – Lundqvist fears change.
In the event that Lundqvist ever leaves NY, he will not be coddled anymore. People would expect immediate results, since whatever team he went to, would be competing for the Cup. In the event of a trade, fans wouldn't have an attachment to him. There won't be any excuses or people giving him passes anymore. I think that's his biggest fear. The blaming the defense crap, the temper tantrums and burying his teammates in post-game interviews? That stuff wouldn't fly anywhere else.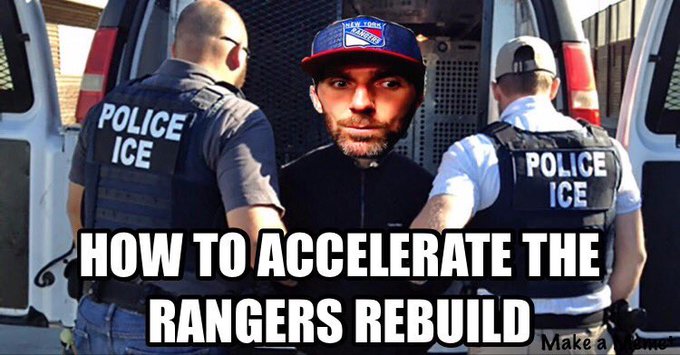 There is an old adage, an old saying, of "leave them wanting more." Lundqvist has done anything but that in his final years. Rather than leaving a hero, like Eli Manning just did, Lundqvist has become the villain to this rebuild.
As time passes, and Lundqvist remains here and if the Rangers give up another great goalie, this time in Alexandar Georgiev, so we can suffer through another season of mediocre goaltending for $8.5M during a rebuild, Lundqvist will receive more derision from the Rangers fan base. The best thing Lundqvist can do for his legacy is to retire. The best thing Lundqvist can do for his quest for the Cup is to waive the NMC. Staying with the Rangers for another season helps neither Lundqvist or the Rangers. All good things must come to an end.
Few more tidbits here!
In my last blog, I recapped the latest saga on Tony DeAngelo's Twitter page, my DeAngelo/Lemieux 2020 shirt and how Tony DeAngelo wanted one of these shirts. Turns out, the T-shirt company I Am Blue York, is taking credit for these shirts. I have no way of proving if these guys came up with this idea first or not. All I know is I saw about five different companies selling this shirt. I got mine from Monteefe: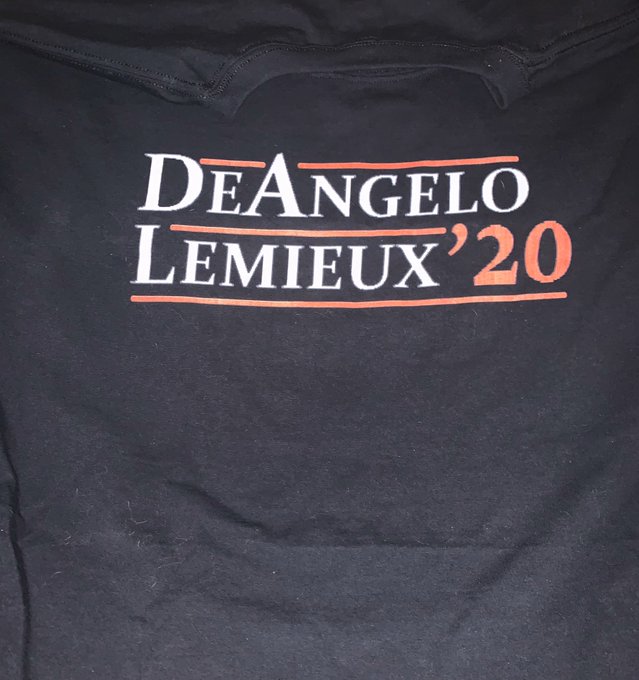 As I said last blog and I'll say again here – throwing two names together and slapping a Presidential Election Year after it (in this case 2020) isn't that original. I've seen shirts, bumper stickers, pins and numerous photoshops of multiple celebrities and a Presidential Election Year right after their names. This is not a new phenomenon.
However, to their credit, I Am Blue York does look to have come up with this DeAngelo/Lemieux 2020 t-shirt idea first. It also looks like they have struck up a deal with Tony DeAngelo, as both DeAngelo & Brendan Lemieux, are pushing these shirts and IAmBlueYork.com on Twitter.
Like anything else in the land of Rangers social media, this led to two warring sides, going to battle. If you check Tony DeAngelo's twitter account, @TonyDee07, you can see WeBleedBlue, which is the more popular and established Ranger fan T-Shirt company, involved in a verbal sparring bout with James Louis, who must have some sort of affiliation with I Am Blue York.
(And yes, I can't believe I'm recapping all this, but this is a bye week, it's a slow news day and people love this bullshit drama. I won't lie, I was chuckling when reading all of this.)
In this 12 round fight of the Blueshirt Cotton Moguls, James Louis fired off the first jab, when he said: "WBB will try and sell this shirt next week."
We Bleed Blue, who does have a business relationship with Madison Square Garden (which is also why they can never say anything negative about the Rangers and why would they, as it would hurt their pocketbook) didn't take this jab sitting down. They quickly replied to Mr. Louis with:
Would you like to see side by sides of their blatant rips over the years? Please say yes.
To WBB's credit, as someone who has purchased some of their stuff over the years, I remember their Cam Talbot shirts of 2015. They came up with a cool design. As a Talbot and Rangers fan, I bought it. Then, two weeks later, I Am Blue York started selling a similar shirt. In what's really funny, at the time, I called out  I Am Blue York for ripping off the idea. In turn, that I Am Blue York twitter account blocked me! Oh well, they won't be the first account to block me and they won't be the last!
And in the effort of full disclosure, I stopped buying WBB shirts years ago. You just get to the point of how many blue T-shirts and how many Ranger T-shirts can you have in your closets and dressers? To each their own!
After another shot fired by Mr. Louis, WBB came back with a haymaker, when they tweeted this:
Here ya go pal. Everything on the left (WBB) was done well in advance of everything on the right (BY). Plenty more where this came from. pic.twitter.com/NBM3psl16U

— WeBleedBlue (@WeBleedBlueNYC) January 30, 2020
Mr. Louis, who I don't know if he makes any money with I Am Blue York, responded with:
I just said I don't give a crap, and I have my own opinion and know what I know. Don't act all high and mighty because the Rangers picked you up. I also know more than you think about your scamming acts so relax with this buddy.

— James Louis (@JvCx7) January 30, 2020
Not to interject here, because I really don't give a crap about these T-Shirt companies or their business (Unless they make a "CZAR IGOR" shirt, a term I should've trademarked three years ago when I first started using it!) it does look like Mr. Louis was the aggressor here. I'm not knocking him, because I enjoy a good twitter beef as much as the next guy, but when I look at all of this, WBB comes from a defensive position in their replies. After all, Louis is accusing them of plagiarizing IBNY in the future and alleging that WBB employs "scamming acts."
It gets better!
After these tweets, Mr. Louis started tweeting bad stuff about We Bleed Blue, off of his burner account. For those who don't know what a burner account is, it's a dummy account used by someone, usually used to say vile shit, so if that account gets banned by Twitter, it doesn't matter to that user. Here are some of the tweets off of the burner of Mr. Louis:
Damn you guys remember similar designs from years ago (assuming years ago considering the players on the shirts). Kinda sad but I get it, I'd be scared of a couple of kids threatening my only source of income (T-shirt business) as well.

— Mark McChart (@MMcchart) January 30, 2020
The "real ones" like it up their ass

— Mark McChart (@MMcchart) January 30, 2020
Fagjacker. That's you

— Mark McChart (@MMcchart) January 31, 2020
I'd bet WBB would lose in a chug race over that beer. Pussies drink like pussies

— Mark McChart (@MMcchart) January 30, 2020
When I see tweets accusing someone of being a homosexual and the term "fagjacker" used, I assume the person doing it is a kid or a very immature young adult. Mr. Louis should've added a mother joke here too, just for good measure!
If there's anything I took out of those burner account tweets, it was this: "I'd be scared of a couple of kids threatening my only source of income (T-shirt business) as well." That's all I need to know right there. These IBNY guys and Mr. Louis are kids. While I don't know the WBB guy personally, I do know that the head honcho there went to high school with one of my good & close friends, which means the guy running WBB is around 38-40 years old. When I look at all of this nonsense, I'm thinking that there is a 15-20 year age difference between these Purveyors of Polyester.
In this final round of T-Shirt supremacy, WBB offered to buy Mr. Louis a beer:
Let me buy you a beer tomorrow night and you can tell me all about it instead of acting like a know it all behind your keyboard?

— WeBleedBlue (@WeBleedBlueNYC) January 30, 2020
I think WBB's quest to quench a thirst was in vain. After all, who knows if Mr. Louis is even old enough to drink?
In the last comment before the bell, in a response to share ales together, Mr. Louis replied to WBB with "It's alright, I'm good."
Of note – no fagjackers were hurt in the making of this segment.
I can't believe I just wasted 15 minutes on this! We're almost home here!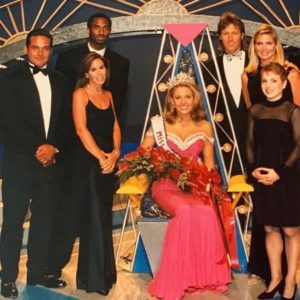 On Thursday, Ron Duguay released the latest episode of his podcast, "Up in the Blue Seats".  You can listen to the podcast by clicking either link below:
— Ron Duguay (@RonDuguay10) January 30, 2020
#UpInTheBlueSeats new episode with @RonDuguay10 out now @nypost w/@NYP_Brooksie & former Ranger Chris Kotsopoulos.

Ron tells the story of being a judge with Kobe Bryant at the 1997 Miss Teen USA pageant & @realDonaldTrump introducing them.

SUBSCRIBE: https://t.co/smYAT2tDAU pic.twitter.com/ffXBa5Cq44

— Jake Brown (@JakeBrownRadio) January 30, 2020
In the latest episode of "Up in the Blue Seats", a podcast which has provided this blog tons of material to talk about, Duguay brings up his meeting with Kobe Bryant, which took place after Kobe's rookie year. Ironically, it was Donald Trump who introduced Duguay and Bryant. What a small world. And I won't get political here, but I think that's what makes Trump so amazing and interesting – you can link him to nearly any celebrity of the last 40 years.
On the podcast, Duguay, and his producer Jake Brown, talk about their memories with Kobe and about the tragic accident. After talking about Kobe, Duguay spends most of the podcast talking about Wayne Gretzky, as Gretzky just celebrated his 59th birthday on January 26th. Another recurring theme of the episode was Ovechkin's chase of Gretzky's all-time goals record, of 894 NHL goals.
Duguay discusses Gretzky and Ovechkin with Larry Brooks and ex-Ranger/NHLer, Chris Kotsopoulos. Duguay also mentions how he's the answer to a trivia question. The trivia question is, who is the only player to have played with both Wayne Gretzky and Keith Gretzky? The answer is number 10 himself, in Ron Duguay.
As mentioned a few blogs ago, Ron Duguay talks about how much he hates the All-Star Game. Like Brett Crygalis, Larry Brooks, who is the peer of Crygalis with the NY Post, also finds the All-Star Game to be "offensive". While I don't know if "offensive" is the word I'd use in describing the ASG, I do agree with the sentiment – the ASG, in its current format, needs to go.
If it were up to me, I would just make the ASG an international thing. Go back to North America vs the World. Put some pride and nationality supremacy themes behind it. It would make for a better game. To up the stakes, I'd add this proviso – whoever wins the ASG gets to play in the Olympics. That's one way to get Ovechkin to play in these games!
For more on Duguay, check out his podcast. As always, it's worth your time.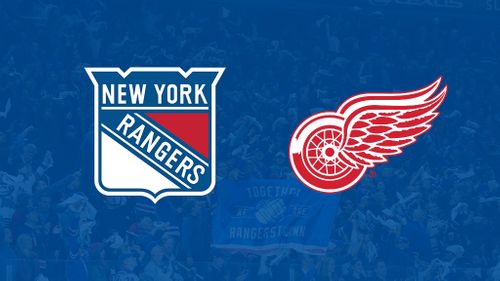 That about wraps up this manifesto. The Rangers and Red Wings will now do battle in two straight nights, with two games between these Original 6 teams. I wonder if we'll get any Eddie Giacomin stuff on the broadcasts?
For the Rangers, if you're the eternal optimist, clinging on to a shred of hope for the playoffs, the Rangers MUST win these two games. I know I've said in the past that I hate using the term "must-win" until it's mathematically applicable, but really, lose a game to the last place Wings, and you can kiss the season goodbye.
Conversely, if you're one of these "tank" fans, like my buddy Al "SMD" Demauro, two losses to the Wings is great for the 2020 NHL Draft.
It should be interesting to see what the Wings do with their goaltenders. The Wings, like the Rangers, are coming off a bye week. Do the Wings go with Jonathan Bernier against Igor and save Jimmy Howard for home against Lundqvist? Or do they go with Howard out the gate?
Furthermore, for the Wings, Andreas Athanasiou is out. On Thursday, the Wings called up Givani Smith, heralded draft pick Filip Zadina (same 2018 draft as Kravtsov) and defenseman Dennis Cholowski. In other words, the Rangers will get a team nearly as young as them and a team that's at the bottom of the barrel.
I'll be back Friday night to recap all the action.
Until then, as always, thanks for reading and…
"LET'S GO RANGERS!"
Sean McCaffrey
BULLSMC@aol.com
@NYCTHEMIC on Twitter