Greetings and salutations everyone and welcome to another blog here on BlueCollarBlueShirts.com. With the Rangers in the middle of their nine day break, on Friday, January 24th, I decided to do some split-screen action in the man-cave. Tonight, I checked out the Hartford Wolfpack vs Bridgeport Sound Tigers on one TV and the NHL All Star Skills Competition on my other TV.
Getting a stream of the Hartford Wolfpack game wasn't easy and it wasn't cheap. I couldn't find a stream of the game anywhere, from my usual places where I get streams of games. While I'm not advocating piracy, it's ridiculous that the AHL charges you $7.99 to watch one game. Their prices, even when discounted, are through the roof and actually higher than the prices the NHL charges for their season packages.
I guess the AHL figures that since they are so niche, that if you really want to see a game, you will pay more money to do so. Of course, this line of thinking will turn off any sort of casual fan possible, even if the AHL does line their pockets with a few extra bucks from the hardcores.
With the Rangers on a break and Hartford having several games before the Rangers return, I paid $20 for a month's worth of AHL games. That price tag is way too high. After all, you can get two months of Netflix for that price.
However, the way I looked at it tonight, is that by staying home and watching the Hartford game, I saved myself from a $200 bar tab and whatever money that I would've donated to a joker poker machine and Quick Draw, had I went out!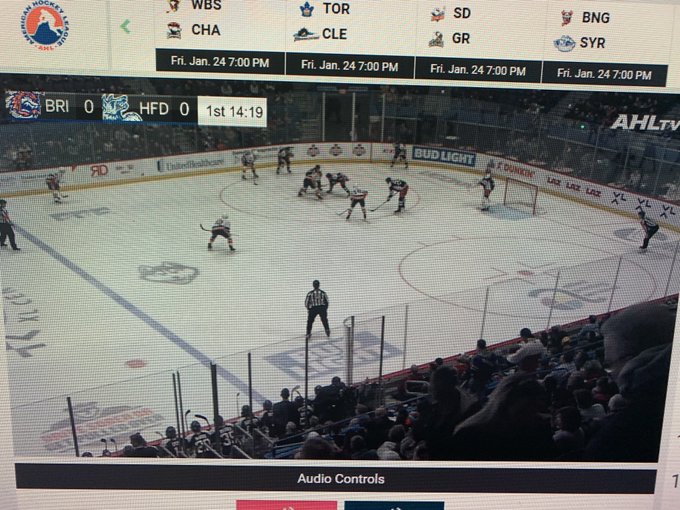 For those who haven't sampled the AHL streaming service, let me give you some details. I can only talk about what I saw tonight, as I've been told by others who follow the AHL regularly, that broadcasts and production values vary from team-to-team. Of course, despite being the most profitable and richest franchise in the NHL, the Rangers AHL affiliate, in the Hartford Wolfpack, have the least amount of money dedicated to their broadcasts.
The stream that I had of tonight's game was perfect. There were no buffering issues, no audio issues and everything looked smooth and pristine. However, you only get a one camera shot and there are no replays. In addition, there are no lower thirds, no zoom-in's, no graphics and there is no clock when a power-play is going on.
In what really made the broadcast look bootleg, was the fact that during the pregame show, intermission segments and post-game show, the camera is just focused on the Wolfpack logo at center ice. During tonight's broadcast, they had an interview with Tanner Glass during the second intermission. Unfortunately, I couldn't see him, as while he was talking, all I saw was the Wolfpack logo. No joke, the production value of tonight's game made the footage from a mall parking lot security camera, look like something out of a Steven Spielberg movie.
I will say, the visual of this game was much better than the 1980's handheld Panasonic camera, that we were treated to during the Ranger games at the Traverse City Tournament. However, in 2020 and for the crazy prices the AHL charges, it's ridiculous that they only have one camera and no replays.
On the bright side of things, at least you could watch this game clearly and in HD. Plus, for you stat geeks, the AHL tracks live stats as the game goes on. If you look to the side of your screen during the broadcast, the AHL streaming package also shares with you line changes and stuff like that. That said, during special team play, there is no power-play clock on the broadcast. You have to scroll around to find the time left on a power-play. It's a bit of work for the viewer, as who wants to be clicking and scrolling around while watching this?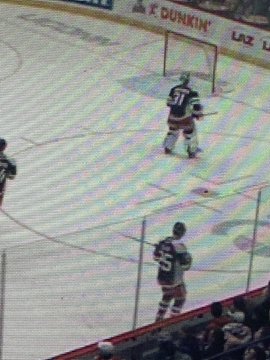 While I'm happy I was able to watch this game tonight, as I really wanted to see how Igor Shestyorkin would do, for the money the AHL charges, the AHL should demand uniform production values across the board. I was told by other fans, and I even witnessed this myself first-hand, during the Traverse City Tournament, where the Minnesota Wild treated their games as if they were Stanley Cup Final Games, that other team broadcasts are much better. On other AHL broadcasts, you get replays, multiple camera shots, zoom-ins and all the other stuff we take for granted today.
As a consumer, and don't take this as whining, for the money the AHL charges for these games, the AHL should demand the Wolfpack to step it up. It's a shame that regular & hardcore Wolfpack fans look forward to road games over home games, because the production values are much better during road games. And really, you can't even say that the Wolfpack skimp a bit, because they want you in the rink, since the other teams in the league go all-out.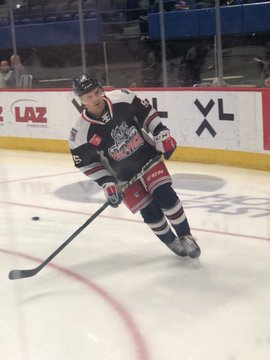 Before getting into everything Hartford and talking about Chris Kreider's time at the NHL All Star Skills Competition, here are my last few blogs, in case you missed them:
---
---
---
---
---
---
Off puck drop here, I want to thank everyone for their emails that I received after my Dave Kerr blog from last night. I'm glad you guys enjoyed that. That was really fun to write.
I also want to say this. Prior to tonight's Hartford game and NHL All-Star Skills Competition, I saw countless Ranger fans, Ranger bloggers and Ranger beat writers, all talk about Vitali Kravtsov today. For some reason, Kravtsov was the hot topic, as both Rick Carpiniello of the Athletic & Vince Mercogliano of LoHud, had feature stories on him. I found all of this SAD!
I mean really, Ron Duguay, just yesterday on his podcast, told a salacious and steamy story about one of the hottest women of all time, in Farrah Fawcett. (I recapped this entire story in last night's blog, so check it out if you missed it.)
On the podcast, Duguay brought up a drug deal with Ms. Fawcett and about a sleepover he had with her. Instead of talking about that, what is the majority of Rangerstown, USA talking about? The Father Finkin' Corsi of Vitali Kravtsov.
Really, I don't know about some of you people. I rather hear Ron Duguay talk about his time with Farrah Fawcett, than worry about some geek stat about a young socialist. I guess that's just me. After all, I'm more into history, than trying to predict the future. I think you can tell that by my writings on this site.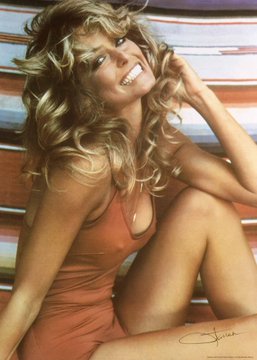 For my straight male readers and my lesbian readers, I mean really, what would you rather look at? The picture above or this:
I'm telling you, with the way some people were talking about Kravtsov today, I have to wonder if they are even allowed 1000 feet from a school, an ice-cream shop or wherever else young children congregate at.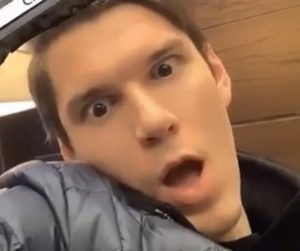 Let me be clear here, I love watching hockey and I love writing about it, but I don't know how anyone could sit there and have these heated arguments about Kravtsov's Corsi or some other foo-foo stat, than talk about Farrah Fawcett!
MOVING ALONG!
In the past, I have attended Hartford Wolfpack games. As I wrote last night, it's a shame that with the Rangers off and the Wolfpack having back-to-back games at home, that the Rangers, or someone affiliated with the Rangers, didn't try to run some sort of fan bus-trip to Hartford. I think you could've bolstered attendance tonight this way and I think you could've created some new fans.
That said, during "Pucks & Paws Pet Adoption Night", the Wolfpack claimed their highest attendance of the season in this game with Bridgeport. I wonder how much of that has to do with the gimmick night and how much of that has to do with the Rangers being off. I also wonder if the Wolfpack were counting the dogs in attendance tonight as paying customers!
And oh yeah – helping the attendance tonight was that Hartford were playing their biggest rivals, in the Bridgeport Sound Tigers, who are the AHL affiliate of the Islanders. And as I've said on past blogs, what the hell is a Sound Tiger? Don't all tigers make sounds?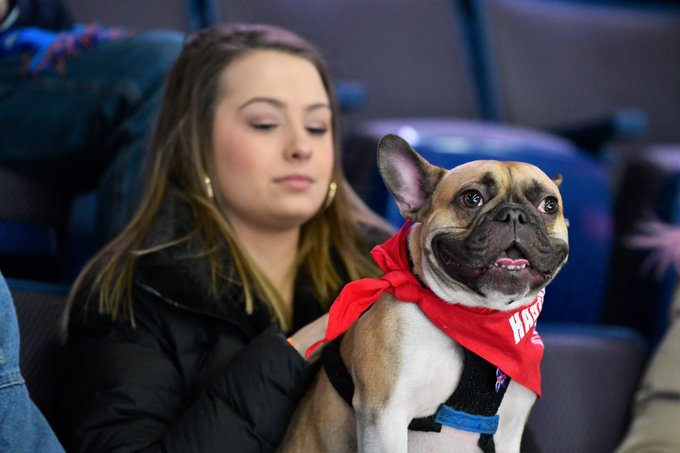 Going into this game, and without Igor for the last two weeks, the Hartford Wolfpack were 0-2-2 in their last four games. The Wolfpack and Sound Tigers play 12 times per season. Tonight was the sixth game between the two warring clubs, with the Wolfpack having a 4-1 series lead, prior to tonight's victory. Furthermore, Hartford, going into this game, were first place in the Eastern Conference. However, a loss tonight would've had the 'Pack stumble down the standings, as several teams are hot on their heels.
With the Wolfpack looking to maintain the first seed in the Calder Cup Playoffs, it was announced that CZAR IGOR SHESTYORKIN would start in back-to-back games this weekend. After tonight, that's one down and one to go, as the Pack will host the second-to-last-place Lehigh Valley Phantoms on Saturday night. And really, these two games were perfect for Igor to get some work in, as heading into tonight, the Bridgeport Sound Tigers are the worst team in the AHL Eastern Conference.
There's no GAMBLING segment tonight, as I couldn't find a book giving out lines for this game. That said, I would've took the UNDER with CZAR IGOR in net. With most over-under lines at -6 or -6.5, I would've hit! What optimist thinking here!
Here were your Hartford Wolfpack lines tonight:
FIRST LINE: Kravtsov/O'Regan/Fogarty
(This was a great line tonight. I thought Kravtsov made some good moves to the net. Fogarty, the captain of the 'Pack, looks like a different player here. As mentioned on past blogs, these Ranger fourth line stints with guys like McKegg, Smith and/or Haley, doesn't do any of these Wolfpack call-ups any favors.)
SECOND LINE: Di Giuseppe/Nieves/Lettieri
(I thought these three also looked well. To be honest, the whole team looked great tonight. However, that said, I'm only watching a one game sample here. I wonder how much of the team looking fantastic tonight has to do with the Sound Tigers being a bad team and the Wolfpack being a good team? Again, just like Fogarty, it's amazing that Di Giuseppe didn't get a chance with the Rangers during his two call-ups.)
THIRD LINE: Gettinger/Jones/Newell
(I have high hopes for Gettinger. I would like to see him take advantage of his size more. I thought he had a good nose for the puck tonight.)
FOURTH LINE: Beleskey/McBride/Gropp
(Matt Beleskey has been banished to Hartford, even being told in September of 2019 that he will remain in the AHL for the entire season. He had two goals tonight. Even with his two goals tonight, I don't see how Beleskey would ever fit with the Rangers, during this rebuild.)
Defensively, we had this:
FIRST PAIR: Hajek/Raddysh
(I thought Raddysh was better than Hajek tonight. I'm not really sold on Hajek at all. As mentioned on past blogs, he may get lost in the shuffle next year, especially with Rykov & Miller competing for a spot.)
SECOND PAIR: Rykov/LoVerde
(I thought LoVerde was solid tonight. I thought he was better than Rykov. Again, when you read this stuff, keep in mind I'm going off this one game sample here. None of what I'm saying applies for this entire Wolfpack season.)
THIRD PAIR: Geersten/Keane
(I've always heard Keane's name tossed around a lot, but I really thought Geersten shone more than Keane tonight. I thought Geersten was great on both sides of the puck.)
And of course, in net, was your CZAR and mine, in a one CZAR IGOR SHESTYORKIN!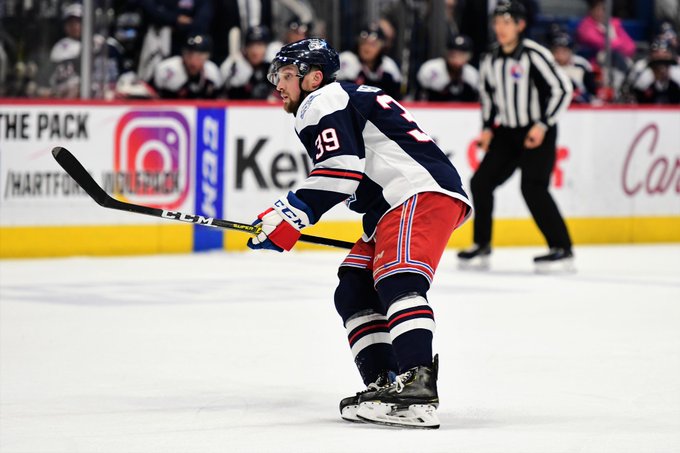 As I always like to do on these game recap blogs, I like to share with you the box score. I'll tell you what, the Hartford Wolfpack and the AHL in general, really go balls-to-the-wall with their box scores. They had four different versions of the box score on their websites. Here's the most professional looking box score of the four:
American Hockey League Game #654
Bridgeport 1 at

Hartford 4


XL Center
Jan 24, 2020

Referee:
Reid Anderson (49)
Brandon Biggers (33)
Linesmen: 
Nick Briganti (58)
Brent Colby (7)

Three Stars:
1. HFD - I. Shesterkin
2. HFD - M. Beleskey
3. HFD - D. Raddysh

| | |
| --- | --- |
| Game Start:  | 7:16 PM EST |
| Game End:  | 9:26 PM |
| Game Length:  | 2:10 |
| Attendance:  | 5707 |

| | | | | |
| --- | --- | --- | --- | --- |
| SCORING | 1 | 2 | 3 | T |
| Bridgeport | 0 | 0 | 1 | 1 |
| Hartford | 1 | 3 | 0 | 4 |

| | | | | |
| --- | --- | --- | --- | --- |
| SHOTS | 1 | 2 | 3 | T |
| Bridgeport | 12 | 10 | 10 | 32 |
| Hartford | 9 | 10 | 9 | 28 |

| | | | |
| --- | --- | --- | --- |
|   | PP | PIM | PTS |
| Bridgeport | 0 / 3 | 8 min / 4 inf | 1 G + 2 A = 3 Pts |
| Hartford | 2 / 3 | 8 min / 4 inf | 4 G + 5 A = 9 Pts |

V-H
#
Per
Team
Time
Goals
Assists
Type
On Ice (+/-)
0 - 1
1
1st
HFD
16:42
P. Di Giuseppe (12)
D. Raddysh, Y. Rykov
PP
V
  13 21 27 28
H
  9 15 24 39 57
0 - 2
2
2nd
HFD
5:22
S. Fogarty (11)
SH
V
  7 13 16 21 28
H
  19 24 25 65
0 - 3
3
2nd
HFD
15:20
M. Beleskey (12)
B. Nieves, D. Raddysh
PP
V
  6 16 21 27
H
  9 15 24 39 57
0 - 4
4
2nd
HFD
17:24
M. Beleskey (13)
M. Geertsen
V
  2 25 27 36 37
H
  11 20 39 44 57
1 - 4
5
3rd
BRI
15:06
T. St. Denis (7)
S. Bernier, S. Aho
V
  2 24 28 36 37
H
  11 20 24 25 39

BRIDGEPORT ROSTER
No
Name
G
A
+/-
Sh
PIM
G
33
C. Gibson
0
0
0
0
0
G
35
J. Skarek
0
0
0
0
0
D
2
S. Helgeson
0
0
0
5
2
D
6
M. Cornell
0
0
0
2
2
D
7
G. Hutton
0
0
-1
2
0
LW
12
O. Koivula
0
0
0
1
2
RW
13
C. McDonald
0
0
-1
1
0
RW
14
M. Lorito
0
0
0
0
0
F
15
S. Holmstrom
0
0
0
1
2
LW
16
A. Ladd
0
0
-1
3
0
LW
20
K. Bellows
0
0
0
1
0
C
21
C. Bardreau
0
0
-1
0
0
C
24
T. St. Denis
1
0
+1
3
0
C
25
M. Jobst
0
0
-1
2
0
RW
26
O. Wahlstrom
0
0
0
3
0
D
27
P. Wotherspoon
0
0
-1
1
0
D
28
S. Aho
0
1
0
3
0
C
36
J. Kubiak
0
0
0
0
0
RW
37
S. Bernier
0
1
0
3
0
D
46
B. Wilde
0
0
0
1
0
Team:
Totals:
1
2
-5
32
8

BRIDGEPORT GOALIES
No
Name
Min
SH
SVS
GA
33
C. Gibson (L)
59:42
28
24
4
Totals:
59:42
28
24
4

HARTFORD ROSTER
No
Name
G
A
+/-
Sh
PIM
G
31
I. Shesterkin
0
0
0
0
0
G
33
T. McCollum
0
0
0
0
0
D
4
J. Keane
0
0
0
0
2
D
5
V. LoVerde
0
0
0
0
0
C
8
N. Jones
0
0
0
1
2
LW
9
P. Di Giuseppe
1
0
0
3
0
LW
11
R. Gropp
0
0
0
0
0
RW
13
P. Newell
0
0
0
1
0
C
15
B. Nieves
0
1
0
0
2
C
19
S. Fogarty
1
0
+1
4
0
C
20
S. McBride
0
0
0
0
0
D
24
D. Raddysh
0
2
0
2
0
D
25
L. Hajek
0
0
0
4
0
LW
26
T. Gettinger
0
0
0
1
0
LW
39
M. Beleskey
2
0
0
4
0
D
44
M. Geertsen
0
1
+1
1
0
D
57
Y. Rykov
0
1
+1
1
0
C
65
D. O'Regan
0
0
+1
2
2
LW
91
V. Kravtsov
0
0
0
1
0
RW
95
V. Lettieri
0
0
0
3
0
Team:
Totals:
4
5
4
28
8

HARTFORD GOALIES
No
Name
Min
SH
SVS
GA
31
I. Shesterkin (W)
60:00
32
31
1
Totals:
60:00
32
31
1

PENALTIES
P
T
Player
M
Offense
Time
1st
H
B. Nieves
2.00
Slashing
5:41
1st
V
S. Helgeson
2.00
Cross-checking
15:34
1st
H
D. O'Regan
2.00
Goaltender interference
18:03
2nd
H
N. Jones
2.00
Hooking
3:33
2nd
V
M. Cornell
2.00
Roughing
9:12
2nd
H
J. Keane
2.00
Roughing
9:12
2nd
V
S. Holmstrom
2.00
High-sticking
13:30
3rd
V
O. Koivula
2.00
Hooking
18:16

CERTIFIED CORRECT
This report has been checked and verified.
---
Oh, in case you're looking for a box score that's easier to follow and more user-friendly, check out: https://theahl.com/stats/game-center/1020271
The first five minutes of this game kind of showed us how this game would go. Hartford would lead the shots on goal stat early, by a tally of 4-0. However, quickly thereafter, Boo Nieves took a slashing penalty, giving the Sound Tigers the first power-play of the game.
Also worth mentioning, and this isn't something I would've known, unless Bob Crawford, the man handling the play-by-play of this game, said on-air, is that only one referee called every penalty in this game. That is, until the final 90 seconds or so, when one of the other referees decided to call a penalty. Just interesting how one ref had his arm up all game, like an over-eager kiss-ass student, while the other referee buried his whistle in his pocket.
CZAR IGOR would make a few saves during this Hartford PK, enroute to killing the Sound Tiger PP.
While I wouldn't call this first period "boring", there wasn't much going on, as two the teams felt each other out. The Wolfpack looked like the better team, but some sluggish icing and offside calls halted the pace of the game, in the final ten minutes of the first stanza.
With 4:26 remaining in the first period, Seth Helgeson cross-checked Kravtsov. Hartford PP.
Hartford had a good looking power-play here. While they didn't score immediately, with seconds remaining on the 'Pack PP, Phillip Di Giuseppe rifled one past Bridgeport goaltender Christopher Gibson. 1-0, GOOD GUYS. (I can't find any gifs or videos of this game, so I can't share these goals with you.)
As I said on Twitter when watching this, why didn't the Rangers give Di Giuseppe a chance, especially with Buchnevich being sick this past week?
With just under two minutes remaining in the period, Danny O'Regan, you know, an Asian feller, was boxed for goaltender interference. Once again, Hartford would kill off this Sound Tiger PP, meaning that at this time, Hartford were 3-3 on their special teams, with two kills and one PPG.
At the end of one period, 1-0 GOOD GUYS. Bridgeport had the SOG advantage, at 12-9. 12 saves for CZAR IGOR!
To start the second period, the Wolfpack killed the final three seconds of the O'Regan penalty. Then, at 3:33, Nick Jones took a hooking penalty. The 'Pack PK would have to go to work for the third time.
While on the penalty kill, with some time remaining, Steve Fogarty, got the puck all alone, got through the Sound Tiger defense and backhanded one by Gibson. 2-0, GOOD GUYS. Shorty!
And stay with me here, Hartford's PK would stay true. They were 3-3 here and with one goal. Their power-play was also 1-1. Just imagine if the Rangers could have numbers like this? These are real stats that matter! Not that foo-foo ANALytic BS!
Oh and because there are no replays during these broadcasts, this is how the official Twitter account of the Hartford Wolfpack handles these big scoring plays:
🚨Shorthanded and unassisted goal from the captain!! 2-0 Wolf Pack#BRIvsHFD pic.twitter.com/x2lNLOXFCs

— Hartford Wolf Pack (@WolfPackAHL) January 25, 2020
On the bright side, if you didn't know what Fogarty looked like, because of the limited two minutes and change he averaged with the Rangers during his call-up, now you know what he looks like!
As the period progressed and approached the half-way mark, Joey Keane and Mike Cornell had an altercation. This led to four vs four foreplay.
During this time with eight skaters on the ice, we had no goals. We then went to even strength, where at the 13:30 mark, Simon Holmstrom was banged for high-sticking. Hartford would go on the PP for the second time in the contest.
Let me say this here, and I hope he's reading this - Ricky Milliner, who covers these games all the time, is a godsend here. He does great work covering the Wolfpack. Give him a follow @Milliner06.
I bring up Ricky here, because he is the only person that I saw that had a video of what I'm about to describe next. Even the Hartford twitter account didn't have this replay.
At the 15:20 mark of the period, and while on the power-play, CZAR IGOR SHESTYORKIN made a huge stretch pass, which led to a tic-tac-toe goal. Take a look:
Here's the play that Igor Shesterkin started on the sequence. 🔥🔥🔥🔥#NYR #HWP #PlayLikeANewYorker https://t.co/ywNIyVrE11 pic.twitter.com/Zru8KFABYI

— Ricky Milliner (@Milliner06) January 25, 2020
What a Father Finkin' pass! Sorry Cult of Lundswiss fans, this is a pass that Lundqvist is unable to make. Previously, I've seen a lot of Igor's offensive wizardry in the KHL & AHL. As Ranger fans, we saw him make a pass similar to this one, to Kaapo Kakko, in his first game as a Ranger. Sweet times are ahead.
On this play, Igor makes this 50-60 foot pass, Raddysh gets the puck, dishes it to Nieves and Nieves feeds Beleskey for the easy "wham, bam, thank you ma'am" goal. WOW WOW WOW.
3-0, GOOD GUYS!
And oh yeah, this is now two PPG's for the Wolfpack here. They were perfect on special teams, with just minutes remaining in the second period.
Two minutes after this goal, Geersten, who again, who I thought played well tonight, fed Beleskey and this time, Beleskey wristed a puck past Gibson. 4-0, GOOD GUYS!  The rout was on!
As the second period came to an end, the Wolfpack were up 4-0. To me, this game was in the bag. This was now about if Igor could post another shut-out here.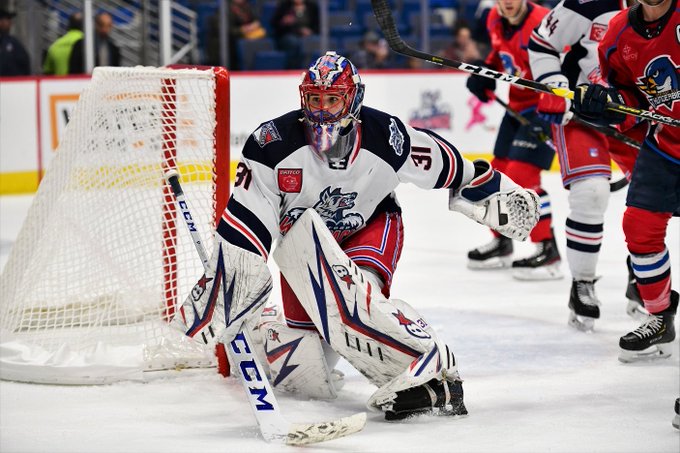 The third period was kind of a slow race to the finish line, as the Wolfpack wanted to protect their four goal lead. It also looked like that they didn't want to run up the score. Plus, with 0 goals against, there were no reasons for the Wolfpack to take any crazy chances, in a game they pretty much had locked up.
The Wolfpack sat back in this period, as Igor Shestyorkin just made big save after big save.
In what was weird, the Wolfpack announcer was kind of hoping for a Bridgeport goal and was sympathetic to the Sound Tigers. This would be like Sam Rosen begging for the Islanders to light up Lundqvist.
This announcer would get his wish, as with 4:54 remaining in the game, Travis St. Denis pushed a loose puck in front of Shestyorkin, during a huge scramble one foot in front of him. I was hoping for a goalie interference call here or something, but to be honest, with no replay, it was tough to see if any contact was made. I thought there was, but I could be wrong here. Again, no replay to confirm my suspicions.
4-1, good guys.
With just over two minutes left in the game, the Sound Tigers pulled their goalie. However, seconds later, Sound Tiger Otto Koivula was nailed for hooking. This pretty much sealed the deal and as the clock wound down to triple zero, the score remained 4-1, for your winners, the Hartford Wolfpack. As my friend Ten O'Clock Tommy likes to say after hearing good news about the Wolfpack.... "HOOOOOOOOOOOOOWL!"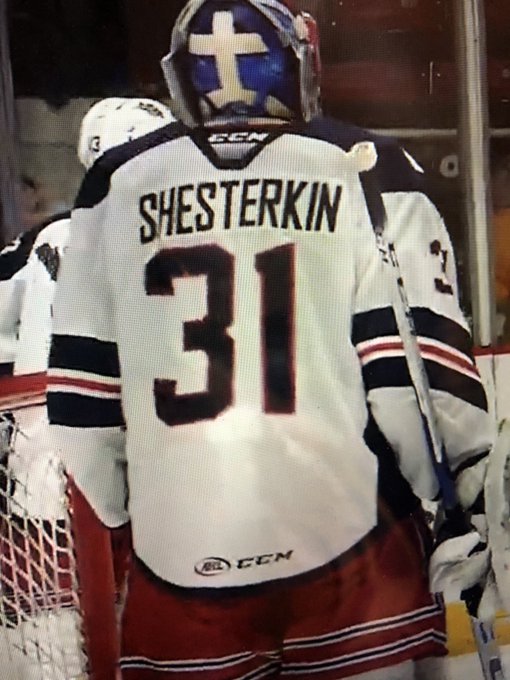 To be honest, and this sounds fan-boyish, I thought everyone on the Wolfpack looked great tonight. Special teams were amazing. The team was well coached. Igor came through big time. The Wolfpack moved the puck well. The team was solid defensively. I will say, you have to look at the opponent also, as the Sound Tigers suck. However, good teams are supposed to be smash bad teams, and the Wolfpack took care of business. Kudos.
If there is anything negative to say, it's just about how bad the production values were. It's one thing if this game is for free. It's another thing when the AHL charges $7.99 per game.
When you look at the Wolfpack roster, there are some "sexy" names there. Obviously, we all know about Igor. Away from him, you have Kravtsov, who will get attention from Ranger fans. I thought he was good tonight. Put it this way, I noticed Kravtsov more tonight, than I do from Kakko in most Ranger games.
Defensively, I liked what I saw. Again, the competition, but I really enjoyed what I saw from these guys.
With the Rangers chances at making the playoffs pretty much shot to shit right now, it's going to be interesting to see what happens at the trade deadline. Will the Rangers cherry pick & reward players from Hartford, thus hurting their chances at the Calder Cup? How much importance do the Rangers have, when it comes to winning in Hartford?
That said, with the Rangers playoff chances nearly nil and with Hartford in first place, the Rangers could call-up some guys and then return them to Hartford for the AHL playoffs. In fact, I think that's what will happen. I can see Igor rolling his eyes from the press box, as Lundqvist pretends that he's 1/100th of the athlete that Eli Manning and Derek Jeter were, only to return to Hartford for the Calder Cup playoffs.
In any event, at least things are interesting. There's promise and hope for this franchise yet.
Let's switch gears to the NHL event tonight.
While the Wolfpack were decimating the Sound Tigers on Friday, the NHL held their Skills Competition. To me, the skills competition is better than the All-Star game itself.
As talked about recently, many idiotic Ranger fans thought that if Kreider could win the fastest skater competition, it would sky rocket his trade value. I went in-depth on this in last night's blog.
As I joked on Twitter, to some fans, if Kreider won this competition, that meant the Rangers would get 76786789 first round picks, 78667896789689 prospects, the Ghost of Gordie Howe, a lock of Mario Lemieux's hair and a signed Rocket Richard jersey, as the return, in a potential trade of Kreider.
If there was anything that interested me about this fastest skater competition, it were the gambling odds. Here's what they were, minutes before the competition started:
NHL All-Star Competition Fastest Skater Odds
Travis Konecny +1200
---
In the event, Kreider went first and set the benchmark at 13.509 seconds. MacKinnon, Duclair, Eichel, Hughes and Konecny would fail to touch Kreider. However, Mat Barzal would finish four tenths of a second quicker. That would hold, as the previous reigning and defending three time champion of this event, in Connor McDavid, couldn't catch Barzal.
Here's Kreider's reaction to Barzal beating his time:
THAT'S QUICK! pic.twitter.com/ctp5C6xqrn

— #NHLAllStar on NBC (@NHLonNBCSports) January 25, 2020
Here were the final results:
Jack Eichel, Buffalo Sabres — 13.540 seconds
Nathan MacKinnon, Colorado Avalanche — 13.895 seconds
Connor McDavid, Edmonton Oilers — 13.215 seconds
Mathew Barzal, New York Islanders — 13.175 seconds
Chris Kreider, New York Rangers — 13.509 seconds
Anthony Duclair, Ottawa Senators — 14.005 seconds
Travis Konecny, Philadelphia Flyers — 14.113 seconds
Quinn Hughes, Vancouver Canucks — 14.263 seconds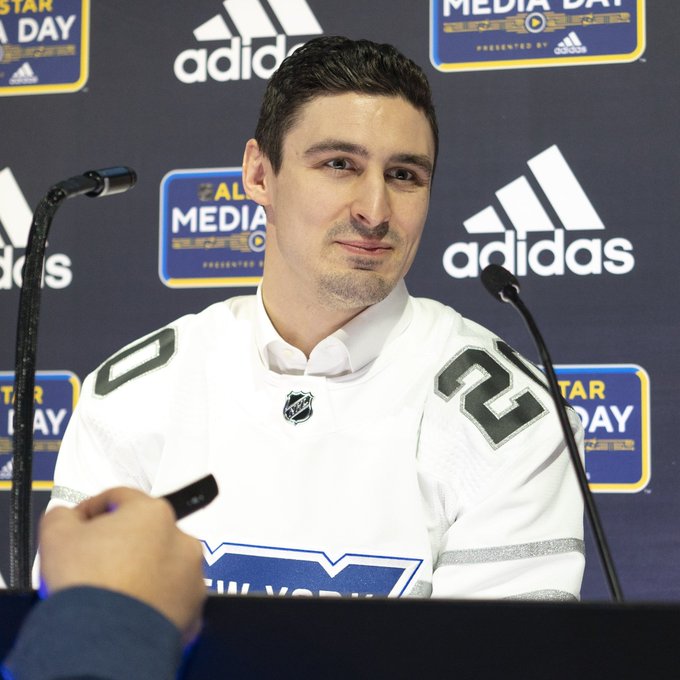 You can check NHL.com for the rest of the results.
The biggest thing to me, was the waste of time the women's hockey portion of the broadcast was.
Let me preface what I'm about to say, by sharing you my blog on women's hockey, which I wrote in May of 2019:
Before you accuse me of being a misogynist, sexist or whatever -ist you want to use, I have to say this - for all the talk about the Leafs, Georgiev and goaltender trades, if the Leafs want a back-up goalie, they should sign Ann-Renee Desbien. She was amazing tonight, making multiple breath-taking saves, during the women's 3 vs 3 hockey game.
I thought the women's hockey game tonight was a huge waste of time. I get that the NHL wants to be "woke" and look progressive here, but what did these women do to deserve a spot during this NHL Skills Competition?
I talked about women's hockey in-depth in the blog I linked above, so I won't go too crazy here. However, the same problems remain with women's hockey. And keep in mind, I used to run women's wrestling shows for six years. I am not against women's sports. I just think the women, whoever is running these leagues and the players themselves, are doing this all wrong.
To me, while the goaltending was exciting tonight in this women's hockey game, I thought this game served no purpose. After the game, I thought the women came off as gimmicks, akin to midgets in pro wrestling. It's an attraction, but it's not something you'll go out of your way to see. Even more importantly for the women, after watching this display tonight, I have no interest in paying to see them play either.
For starters, if you want to promote women's hockey, why are you doing it under 3 vs 3 rules? 3 vs 3 rules are played out and now dated. In fact, people hate the NHL All-Star Game format. It's tired. It's getting old. And really, you also have a large portion of hockey fans, who want the 3 vs 3 overtime format eliminated from regular season games too. By putting the women in this type of game, it's a gimmick. It's not hockey in its purest form.
What I think also hurts the women is that their game hasn't evolved. Look at the other sports. In MMA, women fight under the same rules as the men do. Ditto tennis, basketball, etc. When you watch a women's hockey game, there is no hitting or fighting. Furthermore, their faces are covered up by these ginormous cages. Keep in mind, prior to the helmet & mask era in the NHL, NHL owners didn't want helmets or masks, as they thought it hurt when it came to developing stars that people would pay to see.
While these women do need some sort of head protection, it's hard to relate to them with these oversized collegiate cages. You can't see their facials after a big play - good or bad. With the rules still pansified, the women come off as second rate. I truly believe the women need to play under the same rules as the men. The game must evolve. By having them play under pee-wee rules, that's what their game comes off like. Who wants to pay to see that?
Another big issue, and this also applies to the NHL too, is that women's hockey has done a horrible job of marketing their stars. You have to be a real hardcore puckhead to know what Hilary Knight or Amanda Kessel look like. Again, the cages around the faces don't help, when it comes to marketing stars and creating facial brand name recognition.
In women's hockey, there's no Ronda Rousey. There's no Serena Williams. There is no Danica Patrick, Mia Hamm or Lindsey Vonn either. None of these women hockey players are stars. Just like any form of entertainment, whether it be sports, the cinema or even cable news channels, you need personalities and stars for fans to connect with. Who wants to pay to see a bunch of nobodies? And who wants to see these bunch of nobodies playing under sissy rules? It all comes off as second-rate.
The biggest argument for the women hockey players, when they look to promote their sport, is how the American women finished in the most recent Olympics. NEWSFLASH: unless you're the NBA dream team, no one remembers Olympians. It's something you talk about at the time, but forget about a day later.
I mean even to this day, who's the most famous Gold Medal Olympian in America today? The guy who became a woman, in Bruce Jenner. The majority of people just don't care about the Olympics in America. There are just too many other forms of entertainment, and the Olympics are quickly forgotten about today, especially in this era of 24/7 news.
As it stands right now, it's not the NHL's job to promote and worry about the finances of women's hockey. The NHL has their own problems and have bigger fish to fry.
While I don't know if women's hockey can ever be successful as women's MMA or women's tennis, the way to try to make positive change, in an effort to get more eyeballs to the sport, is by adopting NHL rules and by getting rid of the cages.
And let's face it - sex sells too. This is a two-way street. Many (NOT ALL) female hockey fans watch hockey for the good looking male athletes. The same principle would apply for male fans when watching women's hockey. If you want to bury your head in the sand on this fact, so be it. All I'll say to you is this - everyone knew who Anna Kournikova was in her prime. No one knew who actually won the tournaments that she was in.
Two long blogs in two straight days now! Whew!
Depending on my schedule, maybe I'll return tomorrow night, with a recap of the Hartford/Lehigh game, plus news on whatever Kreider does in the All-Star Game. I also like that the NHL is using Saturday night to host their ASG, rather than on Sunday afternoon. I think that will bring more eyeballs to the sport. That said, just like the women's 3 vs 3 game tonight, like many other fans, players, ex-players and media members, I'm just not a fan of the current format. I hope the format changes next season.
As always, thanks for reading and...
"LET'S GO RANGERS!"
"THANK YOU ELI, A TRUE KING OF NY!"
Sean McCaffrey
BULLSMC@aol.com
@NYCTHEMIC on twitter