Greetings and salutations everyone and welcome to another blog here on BlueCollarBlueShirts.com.
After being idle for nine days, due to the NHL All-Star Game and their scheduled bye week, the Rangers finally returned to action on Friday, January 31st. In the last game of the month, the Rangers doubled-up the down-and-out Detroit Red Wings, by a final score of 4-2. Of note, with the month now complete, Henrik Lundqvist finishes up the month winless, while rookie goaltender CZAR IGOR SHESTYORKIN, now has three wins. Have I ever mentioned what these guys get paid before? (Shout-out to my buddy Bob, @Bozfirstsince81, who said the same thing too!)
During the nine day Rangers sabbatical, I pumped out five blogs. In last night's blog, I previewed this game and talked about all the line-up changes. You can read that blog, and all my most recent blogs, by checking out the links below:
---
---
---
---
---
---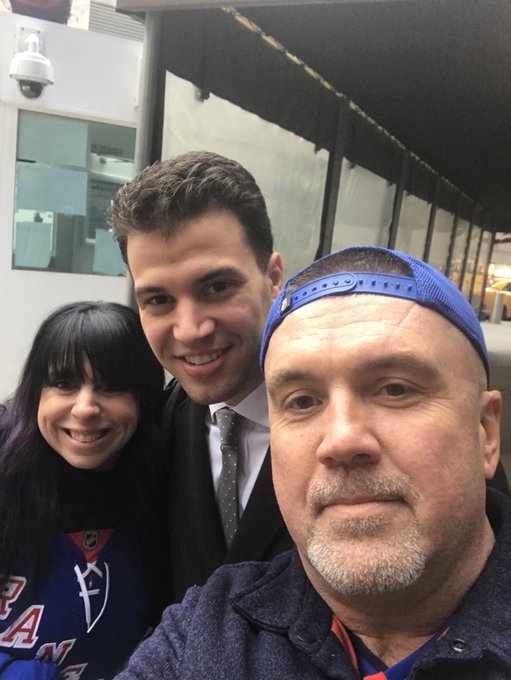 With nine days off, going into this game, I didn't know what to expect. It wouldn't have shocked me if the Rangers came out flat and a little slow. I bring up Jim here, because he felt the opposite. He wound up being right. I was fortunately wrong! (And really, I read some of the other Ranger blogs that are out there during this past week. Do any of them ever admit when they are wrong? By reading some of these guys, you would think they bat 1.000 all the time!)
Now I don't know if it's how bad Detroit is or what, but the Rangers, for the first 40 minutes of this game, just came out flying. This game could've easily been 6-0 after two periods, but Ranger killer, in Detroit goalie Jimmy Howard, once again came to play.
While Jimmy Howard has horrible numbers this season, due to being on one of the worst teams in recent NHL history, he always comes up big against the Rangers. After one period of play, this looked like another "vintage" game out of Howard. However, the Rangers would break through in the second period, add another goal in the third and somewhat cruised in the third period, to their 4-2 victory. While four goals may sound like Howard took a beating tonight, once again, stats and charts can lie to you. The eye test never does. Howard was great all game and the Rangers would finally capitalize on the porous Detroit defense, enroute to their win.
I don't want to come off like I'm pissing on anyone's parade tonight, because a win is a win. However, you also have to take into account who the Rangers beat tonight. The Rangers smashed the worst team in the league, at home and a Detroit team that was also coming off a huge break, due to the ASG and their bye week.
Put it this way – if the Rangers lost this game, there would be fans all over the place screaming for the Rangers to blow it all up. Fans would be protesting like the cowards that are currently protesting in NYC right now. To be clear here, the Rangers did what they should've done – slam a bad team at home. A loss here would've been dreadful.
I recapped all the major news and notes going into this game in last night's blog. Let's take a look at all of the shenanigans from Friday, which is the stuff that happened before tonight's game.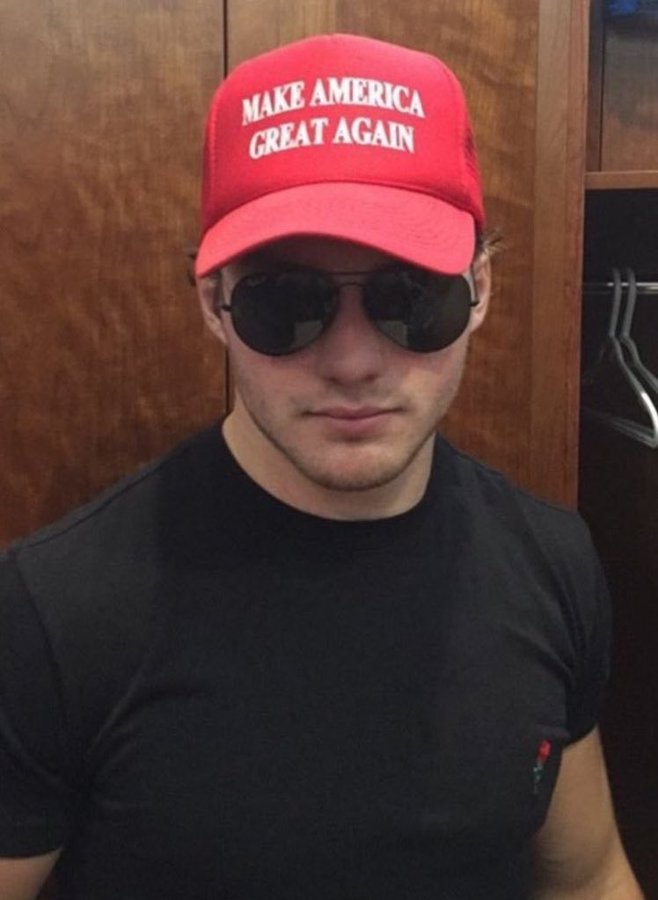 As usual, the political beliefs of some of the Rangers were a major topic on social media today. I know I sound like a broken record here – who cares who these guys vote for? Tony DeAngelo could flip-flop tomorrow and declare his undying love for AOC, Bernie Sanders and Hillary Clinton, and that wouldn't change my fandom of him. The guy plays well. That's all I care about.
For some of these liberal lunatics, because guys like Ryan Strome, Brendan Lemieux and Tony DeAngelo support Donald Trump, these "Ranger fans" hate to see these guys perform well. And really, I don't care if you're an extreme liberal and are the biggest Trump hater in the world, if you're a Ranger fan, I just don't see how you can hate these three guys, three guys who are all having career years.
I just want to be clear here, because I know I have people who side with the left that read these blogs. However, those people aren't like these extremists, who hate players based on politics. I want to be fully transparent here – support whatever and whoever you want politically. I just dislike the Ranger fans who hate players based on politics. That's all. Hope this message lands successfully!
In tonight's game, in game 49 of the season, Tony DeAngelo picked up two assists, giving him 27 apples on the season. That's a career high, as he continues to have the best offensive season of any Rangers defenseman since the days of Brian Leetch. And as I'll get into in a bit, the locker room loves him.
Brendan Lemieux, who is somewhat this generation's version of Sean Avery, continues to be one of the best agitators in the league, if not the whole league in general. (I guess you could say Brad Marchand is a better agitator, if you consider Marchand as a pure agitator. To me, Marchand is more than that.)
In tonight's game, Brendan Lemieux drew two penalties. Do you know that Lemieux leads the league in drawing penalties per game?
In fact, during this game, I wondered on Twitter what Ranger drew the most amount of penalties per game this season. To me, it had to be Brendan Lemieux or Artemi Panarin. Turns out, Lemieux is crushing Panarin, when it comes to drawing penalties: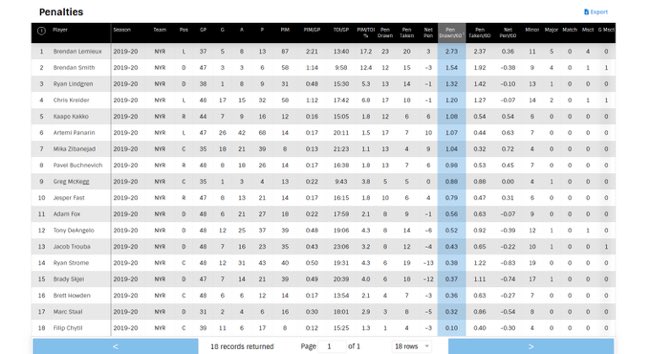 A big thank you to my number 1 ball breaker, in Timpa aka @TimRangers for this graphic/stat. Tim always tries to keep me honest with my tweets and with this blog. He's a huge Lundqvist fan that likes to get on me at times, but also knows that it's time for the Rangers to move on.
Lemieux currently has drawn the most amount of penalties per game and has drawn the most amount of penalty minutes in the league. Sure, those numbers are propped up because of fights and five minute majors, but the man is doing his job. He breaks his ass and in turn, helps put the Rangers on the power-play.
Listen, as we all know, not every player is going to be Artemi Panarin. After all, few in the league are. Some players aren't even going to be a Chris Kreider type either. However, you need solid role players to win a Cup. While the Rangers won't be competing for the Cup this season, you're seeing some of these role players find their way. Whether it's Ryan Lindgren on the defense, Filip Chytil becoming a sniper or in this case Lemieux and his ability to draw penalties; you're seeing these role players become part of the foundation.
When it comes to the Rangers and role-players, one person who has shed the label of "role-player" and is becoming a bonafide threat, is Tony DeAngelo. However, because of his politics, some fans won't give DeAngelo any credit at all.
(And isn't it funny how none of these raging mental nutcases cry about Lundqvist supporting Trump? In fact, these same people ignore how Lundqvist bruised up that Islander girl 10+ years ago. Imagine the outcry if DeAngelo roughed up a female? And do you want to know something even crazier – I saw fans on Twitter today, literally cry tears about Panarin supporting Trump. How do these morons allow player political beliefs to effect the way they watch and enjoy games? What's the word for this? Oh yeah – SAD!)
Let me give you an example of one bat-shit crazy fan and her take on DeAngelo:

To me, this is textbook TDS. You know – TONY DERANGEMENT SYNDROME! After all, the locker room sure looked in danger today, when the Rangers posted a funny video of DeAngelo interviewing the Rangers locker room. In the video, which is posted on the Rangers website and on their social media accounts, DeAngelo interviewed various Rangers, as he was getting their Super Bowl pick. If you didn't see the video, DeAngelo was pretty much playing the role that Derek Stepan used to have here, when Stepan would do these bits for social media and the scoreboard at games. And ironically, DeAngelo and Stepan were traded for each other. Say it with me – ISN'T THAT AMAZING SUYZN?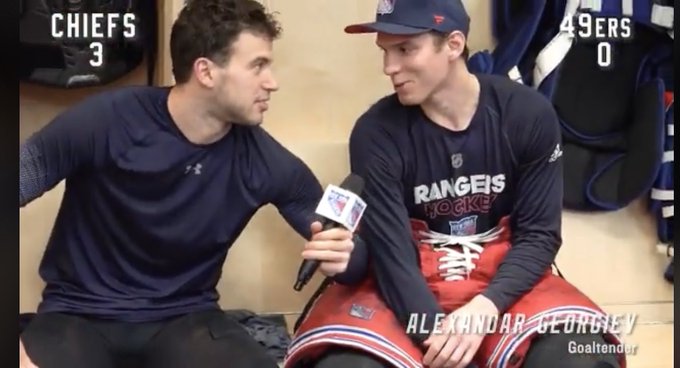 I'll have another DeAngelo story, once I get into the game review portion of the blog. However, to wrap this segment up, these fans who hate on players because of politics, well they all need a life. If they can't get a life, maybe they should stay in the safe space of their basement and have the door locked on them from the outside!
NEXT!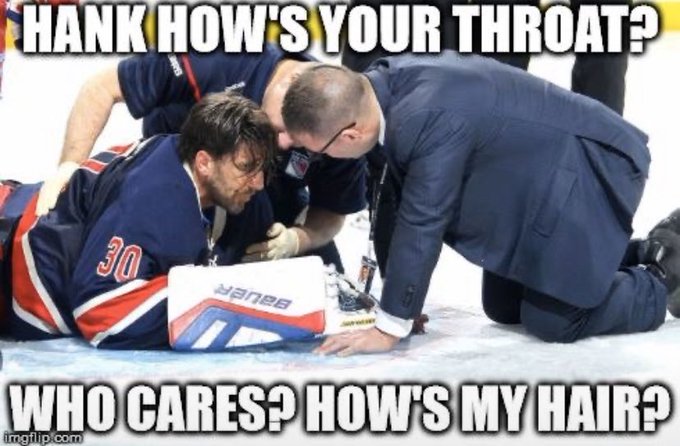 In this day in Rangers history, today marked the five year anniversary of Henrik Lundqvist taking a puck to the throat, thus missing 30% of the 2014-2015 season. I bring this up, because I will go to my grave believing that if Lundqvist was out for that whole season, that the Rangers would've won the Stanley Cup that year. I've talked about this a ton in the past and during the time. (Check out the 2014-2015 blogs or the archives of this site.)
If I ever get to live long enough, I hope to one day see "Back to the Future" technology become a reality. I would love to see an Alternate 2015, just like the "Back to the Future" movies had with an Alternate 1985! I would love to see what would've happened if Cam Talbot remained the starting goalie in those 2015 playoffs. Seeing what Matt Murray and Jordan Binnington did after 2015, well to me, that just gives my theory more weight.
Moving along, let's get back to 2020 and go to the GAMBLING segment of tonight's manifesto.
Here's what I said before the game:
Season o/u record: 24-22-2

We have Howard v Shestyorkin tonight. Howard is having a bad season but usually plays well at M$G.

Both NYR & DET are coming off their bye weeks. Could be a sloppy & rusty game.

I'll go UNDER -6. I wouldn't touch a winner. 2:1 is too high for NYR. pic.twitter.com/IGHxeYayNK

— BlueCollarBlueShirts (@NYCTheMiC) January 31, 2020
With six total goals scored, my under bet pushes tonight. I should've hopped in when the line opened at -6.5! My record now moves to 24-22-3.
As far as my predictions go, I had a mixed bag of results. Howard did have a good game at MSG. The Rangers played well, but missed a lot of scoring chances in the first period. Was that rust or was that the Rangers being the Rangers?
And while the Rangers did win the game, I would never bet on any hockey game, where the favorite is -200 or above. That's too much juice for a hockey game, especially a hockey game featuring two teams that haven't played in nearly two weeks.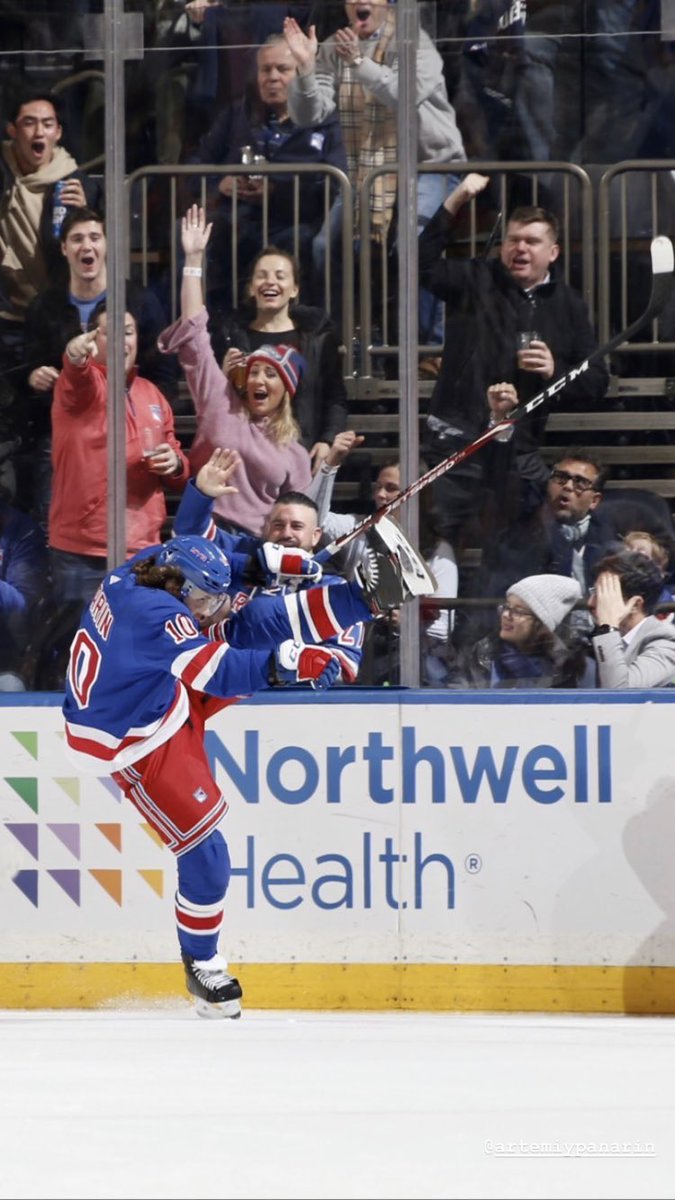 As usual, let's go to the official box score of the game, courtesy of ESPN.com:
SCORING SUMMARY: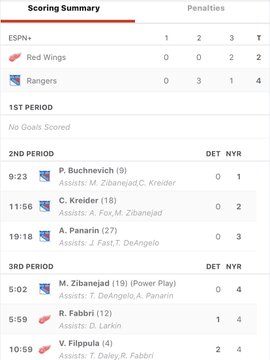 PENALTIES: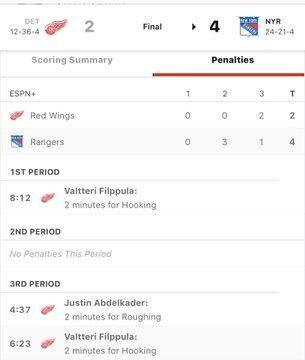 Of note, when it comes to the penalties tonight, how about this stat, courtesy of @NYRSTATSINFO:
The Rangers were not assessed a penalty in tonight's contest. Prior to tonight's game, the last time the Blueshirts played a game in which they were not assessed a penalty was on Apr. 9, 2017 vs. Pittsburgh. #NYR

— NYR Stats & Info (@NYRStatsInfo) February 1, 2020
TEAM STATS: (The biggest thing here – despite Detroit being the worst team in the league, Detroit killed the Rangers at the dot. The Rangers faceoff issues have been an Achilles heel all season.)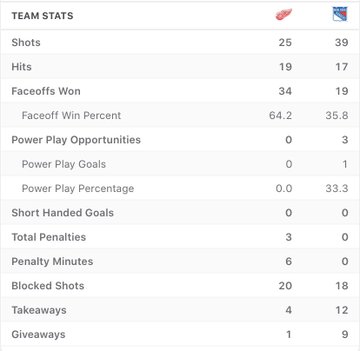 GOALTENDERS:
| | | | | | | | | | | |
| --- | --- | --- | --- | --- | --- | --- | --- | --- | --- | --- |
| SA | GA | SV | SV% | ESSV | PPSV | SHSV | SOSA | SOS | TOI | PIM |
| 39 | 4 | 35 | .897 | 31 | 0 | 4 | 0 | 0 | 58:25 | 0 |
| | | | | | | | | | | |
| --- | --- | --- | --- | --- | --- | --- | --- | --- | --- | --- |
| SA | GA | SV | SV% | ESSV | PPSV | SHSV | SOSA | SOS | TOI | PIM |
| 25 | 2 | 23 | .920 | 23 | 0 | 0 | 0 | 0 | 59:29 | 0 |
Speaking of CZAR IGOR, who almost had a shutout and a goal tonight (more on that as we continue) how about these updated Ranger goaltending stats after tonight's win: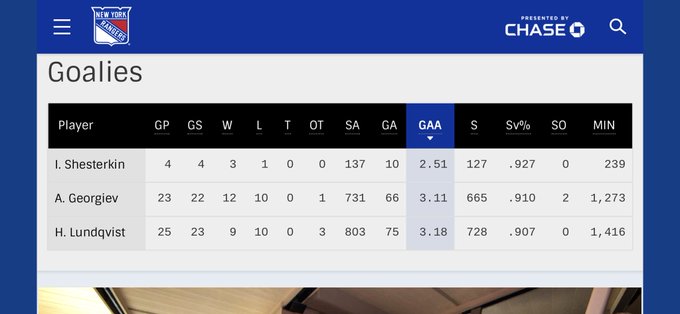 And people think Henrik Lundqvist should not only be the starter, but should get an extension after next season. Of course, these are the same lunatics that hate Tony DeAngelo because he's a patriot that supports the sitting American President. SAD SAD SAD!
With nine days off between games, I was excited for the Rangers to return. That is, until I saw this guy: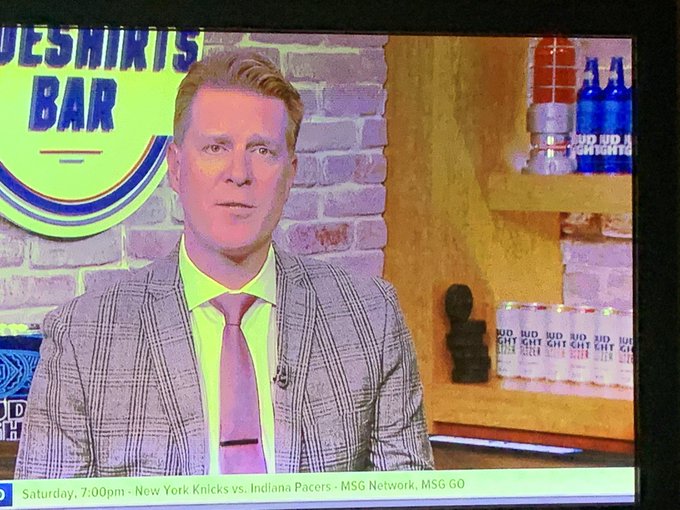 Of note here, "Bud Light Flavored Seltzer" is now on set at the "Bud Light Bar". You can notice the Bud Light Seltzer to the right of the "Bud Light Douchebag."
Seriously, the second I saw Vally on the broadcast, I got a case of the meat sweats. How nauseating!
Once again, I thought Joe Micheletti and Sam Rosen did a better job, in their five minutes, than Vally did in his thirty minutes, when it came to previewing this game. After all, Sam & Joe gave us these stats: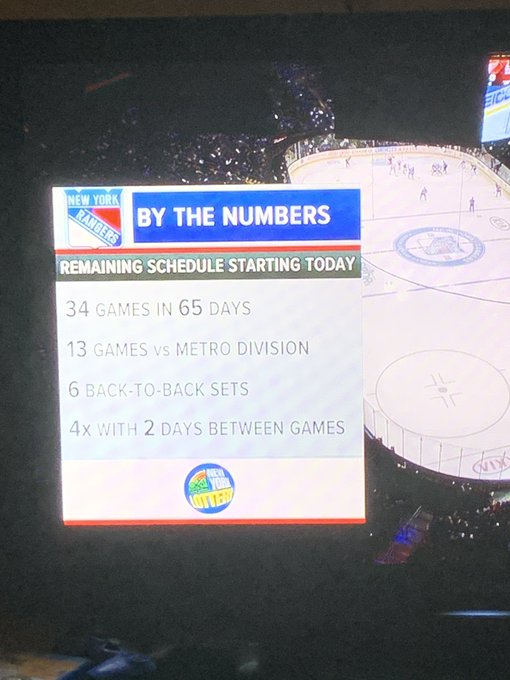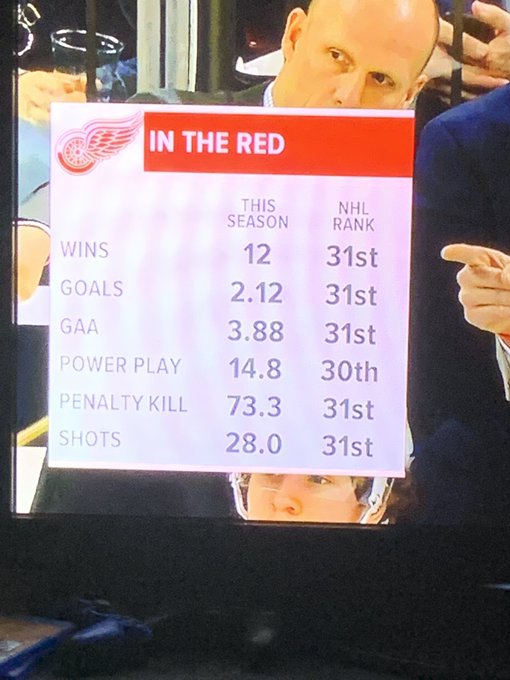 I'm not going to recap all the lines and pairings tonight, because I did that in last night's blog. However, in case you don't have the time to read last night's blog, here are the lines, courtesy of Colin Stephenson: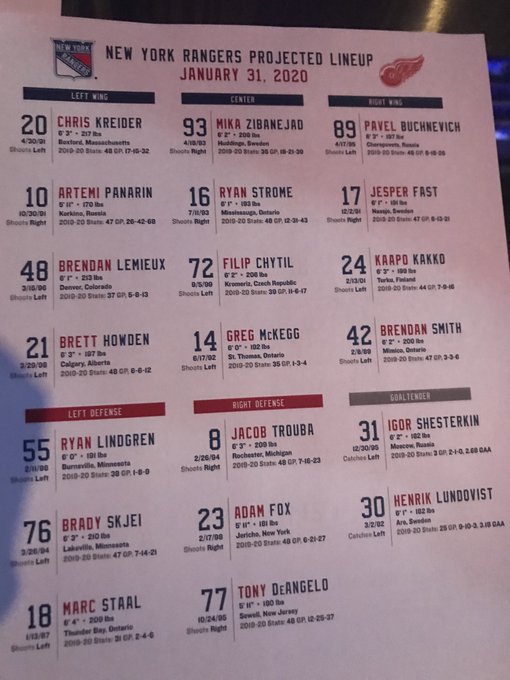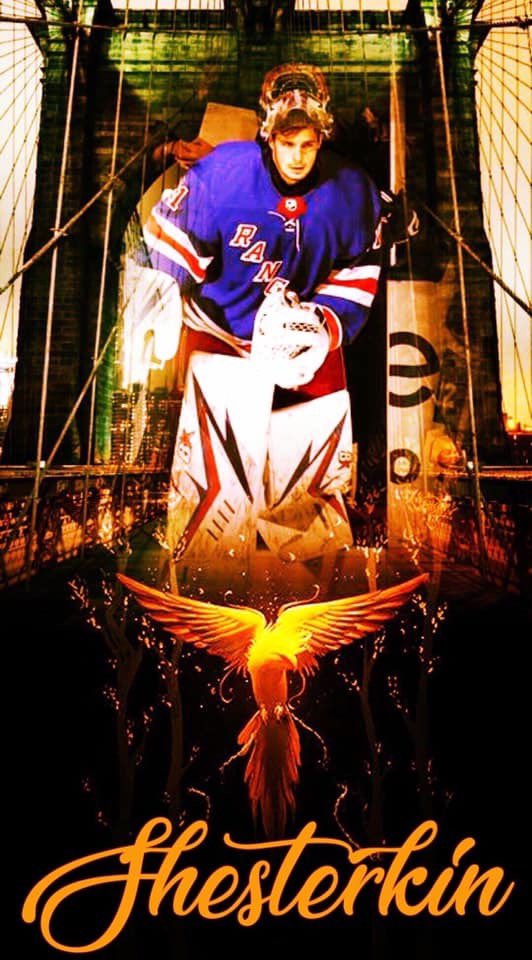 The Rangers came out like gangbusters to start this game, with Panarin immediately trying to set up Strome for a goal. Buchnevich, who wound up having one of his best games of the season, took a point-blank shot at Howard for the save.
After the initial onslaught at Howard, things settled down for a bit, and CZAR IGOR made his first big save of the game, stopping Erne from two feet away. This gave us a "fabulous" out of Micheletti, which was the third time he said that word. The broadcast wasn't even three minutes old! And don't take this me as knocking Micheletti. You know when I'm doing that. I truly think Micheletti has been "FABULOUS" this season. He's really been an asset to the games this year. He's toned down the Lundqvist hyperbole and is covering the gaffes of Sam Rosen every game too.
Panarin, who as you may have heard, missed the game with the Islanders before break, was a monster in this game. He was setting up his teammates and getting GOOD LOOKS all game. While he wouldn't score in this first period, the scoring would come. I know I've said it before and I know you probably know this too, but he's the best Ranger skater since Jaromir Jagr.
With 11:48 remaining in the first period, Filip Chytil made some fancy moves to the net, but lost the puck. However, he lost the puck because Valtteri Filppula hooked him, which led to the first Rangers power-play of the game.
On the Rangers PP, the PP started off slow, but in the final 40 seconds or so, behind the top PP unit, the Rangers got some chances. However, they didn't convert. The PP didn't look bad here, but this is a results-based business. This isn't horseshoes. At the time, it was concerning that the Rangers didn't score here, as they were all over Howard.
Micheletti would cover for Rosen as this period continued, as while on a rebound chance, Jimmy Howard made a "FABULOUS" save on Filip Chytil. This was so fabulous, that Michletti said the word "fabulous", three times in succession. Of course, Sam Rosen said Chytil hit the post. Give credit to Micheletti here – he has no issues with correcting the legendary institution of these broadcasts, which is Sam Rosen.
As the period progressed, Kakko, who had a good game, shot wide. Then Trouba, without the albatross of Brady Skjei weighing him down, went wide. This was frustrating at the time, because the Rangers were just buzzing here. They just couldn't beat Howard. At the time, it just felt like Detroit would score a late fluke goal, which is something we've seen so often during Ranger games of this season. Fortunately, behind CZAR IGOR, that never happened.
As mentioned earlier, what was really killing the Rangers here, were their inability to win draws. Detroit owned them at the dot. Luckily, that wouldn't bite the Rangers in the ass. Ironically, later on in the game, the Rangers would score in a way that other teams always score against them – off an offensive zone faceoff!
Away from the face-offs, it felt like Detroit couldn't do anything right. On one play, Fabbri was screening CZAR IGOR. Daley then shot the puck and Fabbri ate the puck. He blocked the shot of his own teammate, and had a black & blue bruise after doing so.
In the final minutes of the period, Buchnevich would get two good shots off on Howard. Two more saves. To Buchnevich's credit here, he wasn't doing the crying and the grimacing that we've become accustomed to with him.
In the last 60 seconds of the first period, Panarin would hit a post and then Howard would stop a Panarin to Strome one-timer chance.
After one period, we remained scoreless, at 0-0. The Rangers were the better team and they are lucky that Detroit didn't sneak in that late fluke goal.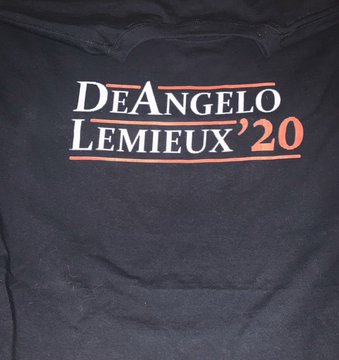 To start off the second period, Artemi Panarin went just inches wide on Howard. While the shot went wide, this would be a good sign of things to come – the Rangers were picking up exactly where they left off. While the goals weren't coming yet, the Rangers were dominating the puck and firing away on Howard. Something would have to give.
After Panarin's shot, Kakko would get a good chance to score, but Howard stopped him. Kakko has been better lately. Just keep on shooting and trust your skills! On the next Detroit possession, after this save on Kakko, CZAR IGOR, who may have the fastest glove in the league, flashed some cow and made a big glove save.
25:00 into this game, the Rangers were out-shooting Detroit 18-9. Once again, just like the Islander game, the Rangers were the better team, but the goals weren't coming. That wouldn't last long.
As the period progressed, DQ altered his lines, putting Howden back with Kakko and Chytil, while putting Lemieux with Smith and McKegg. Micheletti said that this made sense, since this wasn't a physical game, and Lemieux wasn't needed to protect Kakko. Great analysis, if I say so myself. Totally makes sense.
37 seconds before the half-way mark of the period and the game, Pavel Buchnevich would break up this scoreless affair. 1-0, GOOD GUYS. Then, two minutes later, CK20 scored, making the score 2-0, GOOD GUYS! Here's a look at both goals:
🚨 Buch and Kreider back to back to give us the 2-0 lead 🚨 pic.twitter.com/jWGtapnfaJ

— Rangers on MSG (@RangersMSGN) February 1, 2020
On the first goal, Kreider dishes the puck to Zibanejad. Zibanejad and Buchnevich were flying to the net, creating a two vs one opportunity. At the last second, Zibanejad made a cross ice pass and even Buchnevich couldn't mess this one up! Bang, Rangers goal. This looked like something out of a video game. Howard had no shot in hell here.
On the second goal, the Rangers scored a goal in a fashion that always happens to them. The Rangers won a faceoff in the Detroit defensive zone. Adam Fox immediately takes a shot. Kreider gets in front and tips/deflects the puck by Howard. 2-0, just like that.
Just go look at my blogs this season – I've been saying how the Rangers always get killed on these defensive zone face-offs for goals, and here in this game, the Rangers do what always happens to them! Love it!
Prior to the Kreider goal, Bertuzzi fired a shot at CZAR IGOR. The puck found the back of the leg of Dylan Larkin. Larkin would have to go to the locker room, but would return in the third period. That was now two shots in Igor's direction, that were broken up by a Red Wing. Bad teams have bad luck.
Speaking of Kreider, how about this: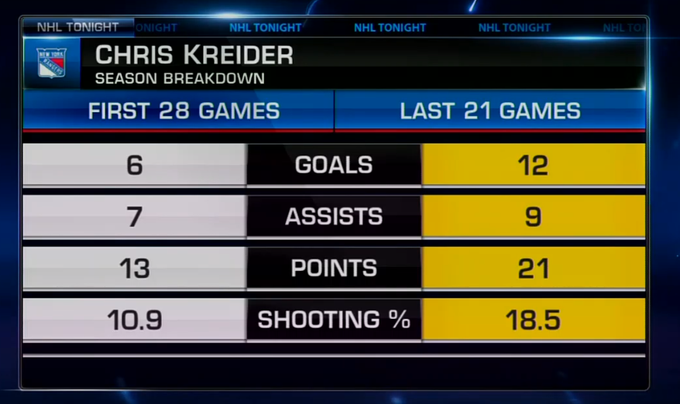 After the two goals, Jesper Fast would make two great plays on one shift, blocking one shot and using his stick to break up another chance. The strong and silent Jesper Fast has been great defensively this season, but because he's not a league-wide star, he will never get any Selke attention.
With 41 seconds left in the period, Panarin put the Rangers up 3-0:
What was better: the goal or the leg kick?@artemiypanarin pic.twitter.com/st2ro8gsxn

— Rangers on MSG (@RangersMSGN) February 1, 2020
This is a goal that really, maybe outside of Mika Zibanejad, that only Artemi Panarin can score, on behalf of the Rangers. Panarin gets the puck, streaks to the net, makes a move and backhands the puck off the front of the blade, and squeaks the puck past the formidable Jimmy Howard. 3-0, GOOD GUYS. This is why Panarin is an All-Star and why Panarin deserves a nomination for the Hart Trophy. Without him, the Rangers would be worse than this Detroit team.
At the end of two periods, the score remained 3-0, GOOD GUYS. Not going to lie, I was trying to suppress my brain from the "CZAR IGOR HAS A SHUTOUT" stuff. However, that's all that was on my mind. I couldn't turn it off!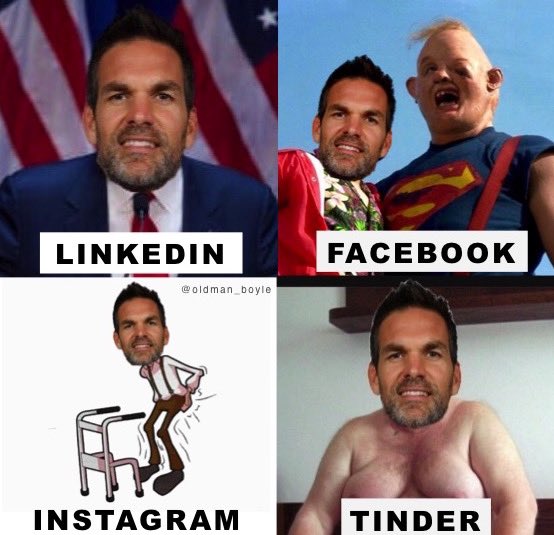 In one of the biggest news items of the broadcast, with his "FABULOUS" count at ten, Micheletti wouldn't utter the word once in the third period. If you're interested, maybe I'll start taking over-under bets on how many times Micheletti says "FABULOUS" on a broadcast!
The third period opened up with CZAR IGOR making a huge glove save on Zadina. How this didn't get a fabulous out of Big Joe, I don't know.
Then, after this save, McKegg and Smith would go on a two-on-one. Rather than passing to Smith, like Zibanejad did with Buchnevich for a goal, McKegg went to the net himself, made a move and was stoned by Howard. McKegg would get the puck back and would be stopped again. I guess he wants that goal, because after all, as you'll see at the end of this blog, CZAR IGOR may wind up with more goals for this season than McKegg. I still think McKegg should've dished here, regardless. It was a clean pass and the net was wide open for Smith.
At the 4:37 mark, Brendan Lemieux was tackled by Justin Abdelkader. This drew a roughing call. And yes, every time I hear the last name of "Abdelkader", it makes me think of a tampon "applicator". My sick mind!
On the Rangers power-play, Tony DeAngelo would feed Mika Zibanejad, for the PPG snipe:
*Mika Zibanejad has entered the chat*

…with a SNIPE pic.twitter.com/vMi9boWzVO

— Rangers on MSG (@RangersMSGN) February 1, 2020
4-0, GOOD GUYS!
And hey, let's take a look at a nasty thing, that has tweeted out death threats against Dancin' Larry, Tony DeAngelo, myself and others:
#NYR #PlayLikeANewYorker #NoseRings this idiot is back in action. Let's start a Venmo account and donate a dollar for a good cause and get her a can of WD40 so she can release that rusty ring in her nose and finally kick that infection. pic.twitter.com/GXKe1z32tr

— Fixxser (@Fixxser) February 1, 2020
Thanks Fixxser for finding this ridiculous tweet for this blog! Two assists for this guy:
Imagine hating Tony DeAngelo? Couldn't be me!
Unfortunately, after making the score 4-0, the Rangers may have gotten too comfortable and lax with the lead. Seconds after the Mika goal, Robby Fabbri was left all alone in front of Igor Shestyorkin. 4-1, GOOD GUYS.
As usual, whenever I see the other team score, I check to see if Brady Skjei was on the ice. Of course he was here, as he was fiddling around near the side boards. At this point, the Rangers have to know that they made a mistake with this Skjei contract. They have to try to move him and use his ginormous salary to keep Tony DeAngelo here. Just a shame for CZAR IGOR, as he had no chance here and this ruined his shutout bid.
After this goal allowed, Sam and Joe did the obligatory Lundswiss propaganda spiel. In a news item that wasn't reported previously, Joe and Sam said that Lundqvist campaigned to start tonight and it took some time for him to agree with David Quinn. Are you kidding me? Who is Lundqvist to fight and argue with the coach? I'm telling you, there is no way DQ wants Lundqvist on this team, as it undermines his power. It's also hilarious that Lundqvist is crying to start against last place Detroit, after being fed every bottom feeding team last year, in starts that he lost in the majority of the time. SAD SAD SAD SAD SAD!
With around nine minutes remaining in regulation, Valtteri Filppula, who will play his 1000th NHL game tomorrow, beat Shestyorkin while left all alone. Guess who was on the ice? Of course it was Brady Skjei. Skjei helped add a minus to Fox's stat sheet tonight too. What more can you say about Skjei? He has to go.
4-2.
As we hit the FOXWOODS FINAL FIVE, the Rangers tightened up a bit, after perhaps getting too loosey goosey with a four goal lead.
I also want to mention, because they weren't part of any of the goals tonight, that I thought Howden, Fast and Kakko had good games. Howden and Fast were especially strong, defensively.
With 1:40 left to go in regulation, Jimmy Howard went to the bench. Then, on two different occasions, CZAR IGOR tried to score an empty net goal. I was jumping up and down during this, and my downstairs neighbor was going all broom-to-ceiling!
On the first try, Detroit got the puck by their blue line. Then on the second try, with the final horn about to go off, Igor's puck went just wide.
I'm telling you, if this team can shed themselves of the dead weight that is Henrik Lundqvist and that awful contract, CZAR IGOR will get more starts and he will score an empty net goal sooner than later. His stick handling and ability to handle the puck is something Ranger fans aren't used to.
For what it's worth, CZAR IGOR did score an empty net goal for SKA, while playing in the KHL. I'm telling you, it will happen for him one day with the Rangers! That is, if the Rangers don't keep Lundqvist as the starting goalie here, until he's 100 years old.
4-2, your final, from Morgue $quare Garden. A great team win for the Rangers!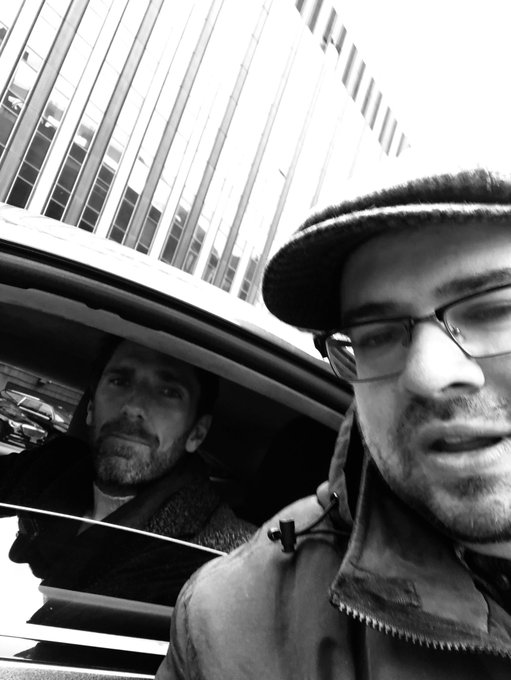 All in all, this was a great win for the Rangers, but really, the Rangers should've won like this. A loss to the Wings would've been inexcusable.
As I write these words, I assume the Rangers are in the air and on their way to smelly Detroit. My poor friend Freddie Pickles – he will have to watch Lundqvist attempt to win his first game all year on Saturday night.
As talked about in my last blog, I hate hate hate, that David Quinn announced the goaltenders for this weekend in advance. Igor Shestyorkin wasn't challenged too much tonight, but he did have a great game. In turn, he's going to be in street clothes in Mo-Town, rather than trying to win two in a row. Placating the anchor of this rebuild is more important than letting Igor play against bad teams.
And really – this is how you get Igor some confidence. Let him play all the shitty teams. Let Georgiev (and Lundqvist, if he has to play rather than being exiled to the press box) play the tougher teams.
For David Quinn, who has talked about the playoffs all season and has said he wants to "ride the hot goalie", starting Lundqvist on Saturday, AGAINST LAST PLACE DETROIT, does not exemplify those statements.
Personally, I hope Lundqvist gets lit up on Saturday, and then Georgiev or Igor, whoever isn't the scratch, comes in and the Rangers rally back to win. (I think Igor is the scratch on Saturday, just because Quinn is rotating here.)
You don't have to agree with here, and that's fine, because at the end of the day, we all want the same thing (NYR winning the Cup) but to me, Lundqvist playing against last place Detroit is cowardly. It serves the rebuild no purpose. If he has to play, let him play Dallas on Monday, as I assume Georgiev takes the game against the Leafs on Wednesday, due to his favorable history with Toronto.

I haven't watched the game yet (I'm about to watch it after I publish this blog) but the Hartford Wolfpack beat the Springfield Thunderbirds, by a final of 6-3 on Friday night. My man and yours, in a one VINNI LETTIERI, had a goal and an assist in the game. The Wolfpack continue to roll and I can't wait to see what players come up after the trade deadline.
I'll be back tomorrow night, looking at the Rangers/Wings rematch. With no call-ups and after a win, I expect Quinn to use the same line-up. We'll see. We already know Lundqvist is in net and for him, despite the terrible competition, he needs this win. A loss to Detroit will even have the Cult of Lundswiss second-guessing him.
As always, thanks for reading and…
"LET'S GO RANGERS!"
Sean McCaffrey
BULLSMC@aol.com
@NYCTHEMIC on twitter