Greetings and salutations everyone and welcome to another blog here on BlueCollarBlueShirts.com. It's "heave-ho, three in a row" here, as this is the third straight blog in as many nights.
In tonight's blog, I'll be looking at the Hartford Wolfpack game from Saturday, Chris Kreider, the NHL All-Star Game, Laila Anderson, Lundqvist vs Fleury and I'll be providing an update on the health of Gilles Villemure.
In case you missed my Davey Kerr blog or my recap of last night's Hartford Wolfpack game, you can find those blogs, and my most recent blogs, linked below:
---
---
---
---
---
---
On Saturday night, January 25th, following up their rout of the Bridgeport Sound Tigers, the Hartford Wolfpack hosted the Lehigh Valley Phantoms. For those who don't know, the Phantoms are the AHL affiliate of the Philadelphia Flyers.
As it stands right now, after tonight's games, the Wolfpack and the Hershey Bears are in a neck-and-neck race for the number 1 seed in the AHL Eastern Conference. With the Wolfpack downing the Phantoms 4-2 and the Bears defeating the Providence Bruins by a final of 3-2 (in a shoot-out), the teams remain in a virtual tie for first place, with 59 points each. However, due to the Wolfpack having more ROW's & less losses, the Wolfpack have the tie-breaker for first place.
I said this last night and I'll say it again here – with the Rangers pretty much out of the playoffs, it will be interesting to see what type of approach they take, come the trade deadline. If the Rangers do move some pieces and do call-up/reward some Wolfpack players, this would hurt the Wolfpack's status as the number 1 team in the AHL Eastern Conference. That said, the Rangers could always return all of these players to Hartford, for the AHL playoffs. I would be shocked if Igor isn't playing for the Wolfpack in the playoffs, come the end of the NHL regular season.
Of course, CZAR IGOR SHESTYORKIN remains the focus to me. I think he's the big story of the weekend, as after having several days off, Igor started both games for the Wolfpack this weekend and won them both. In the first game, which I recapped last night (blog linked above), Igor gave up 1 goal and made 31 saves. In tonight's game, Igor gave up two quick goals, buckled down and that was that, making 28 saves in the Wolfpack victory over the Phantoms.
If you're the Rangers, Wolfpack and CZAR IGOR, things couldn't have gone more perfectly. Igor was returned to Hartford to get work and in turn, went 2-0 and only gave up three goals in two games.
From this point, it will be interesting to see what the Rangers will do here. The Wolfpack, just like the Rangers, don't return until January 31st. The Rangers kick off the post All-Star Game & bye week break, with a back-to-back home & home set, against the worst team in the league, in the Detroit Red Wings.
If it were up to me, I would come right out the gate with Igor. However, Lundswiss hasn't played in a while and we know how this Rangers team likes to kowtow to him. While it would be pathetic if one of the highest paid goalies in the NHL is getting work against the league's worst teams, it wouldn't shock me either.
That said, if I were running things, I would call-up Igor, let him go Friday and see how he does. If he plays well, I would go right back with Igor on Saturday, in Detroit. Shestyorkin, by virtue of these games this weekend, has shown us that he can handle back-to-back games.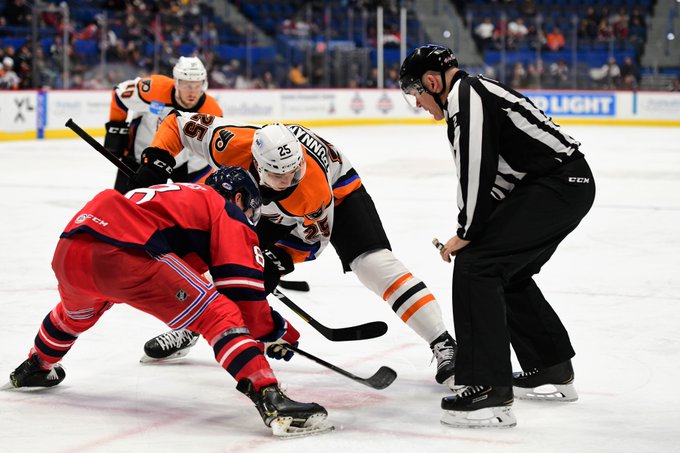 As far as any Rangers or Wolfpack news & notes, there isn't anything to update you about, outside of the Gilles Villemure news & Chris Kreider at the NHL All-Star Game, which I'll get into after this game review.
Since I have been feeling under the weather a bit, for the second straight night in a row, I sought refuge in my man-cave. I fired up the AHL Streaming Network on my Playstation 4 on my big TV and turned on the NHL All-Star Game on my small TV. It was hockey night on Long Island, live from my humble abode!
In Year One as head coach of the Hartford Wolfpack, Chuck Kris Knoblauch has done a tremendous job. Sure, the roster in Hartford is different than it has been in recent years, but you have to credit Knoblauch for the job he's done. He has the team in first place. He's had to deal with the Rangers taking talent from him, including his All-Star goalie in CZAR IGOR Shestyorkin. He's under a new regime. Despite it all, he has his team well-disciplined and heading in the right direction.
As an AHL head coach, you're constantly dealing with roster moves all the time. In Knoblauch's case, he has to worry about who is getting sent up to the Rangers, who is being sent down from the Rangers and who is being sent down to Maine and who is being called-up from Maine.
The AHL schedule also isn't the same as an NHL one, as sometimes, you'll play three games in a row. With the AHL being a minor league operation, the league tries to play every Friday, Saturday and Sunday, with an occasional weekday game mixed in. For AHL coaches, they have to find the right balance when juggling their line-up and filling out their roster cards.
We saw a little bit of roster shuffling from last night's game to this game. What made things a little easier for Knoblauch and the 'Pack, is that after tonight's game, the Wolfpack are off the next six days, as the AHL now enters their All-Star break.
Scratched for tonight's game, were the following players:
— Gabriel Fontaine (Who is out for season)
— Francois Brassard
— Jeff Taylor
—Nick Ebert
— Patrick Newell
Here's what Kris Knoblauch went with for tonight's game:
FIRST LINE: Di Giuseppe/O'Regan/Fogarty
(I thought these three played well. Once again, I thought Di Giuseppe really stood out. In fact, he led the team with SOG, with six. To be fair, one of those shots recorded turned into an empty net goal.)
SECOND LINE: Gettinger/Nieves/Lettieri
(I don't think the AHL records time on ice. However, from just watching, it felt like Lettieri was out there for 30 minutes. In the third period alone, it felt like he was on the ice every other shift. He had the second most amount of shots on goal, with 5. He was also winning face-offs all game, which gave the Wolfpack the luxury of icing the puck, whenever they were in trouble.)
THIRD LINE: Beleskey/Jones/Kravtsov
(I didn't notice Kravtsov at all in this game. In fact, he didn't even get a shot on goal. I talked about this last night, the production values of these games stink. However, even so, unless I missed something, Kravtsov didn't much of anything tonight. This was like watching most Kakko games, where you hope for something to happen but nothing ever does.)
FOURTH LINE: Dmowski/McBridge/Gropp
(Gropp was your star tonight. In fact, he was named first star of the game tonight too. This fourth line looked better than the Rangers fourth line on most nights. It was also nice to see Dmowski again, as I liked the little I saw from him at the Traverse City Tournament.)
Defensively, we had the same pairings as last night:
FIRST PAIR: Hajek/Raddysh
(Once again, I thought Raddysh was better than the heralded Hajek. Raddysh would also be named the second star of the game too.)
SECOND PAIR: Geersten/Keane
(Again, same as last night. I thought Geersten was better than his partner and Geersten was noticeable on his shifts.)
THIRD PAIR: Rykov/LoVerde
(I know, I'm a broken record. One last time – just like last night, I thought LoVerde was better than Rykov.)
I do want to say this, because I didn't say this last night. The Rangers do have a logjam of defensemen right now. However, if someone on NYR should get hurt or if David Quinn finally has enough of Brady Skjei, I would give Raddysh and Geersten a look.
And of course, in net, we had CZAR IGOR SHESTYORKIN!
At this time, here is the one of the four official box scores that you can find from this game, courtesy of the AHL:
American Hockey League Game #671
Lehigh Valley 2 at

Hartford 4


XL Center
Jan 25, 2020

Referee:
Conor O'Donnell (41)
Mike Dietrich (15)
Linesmen: 
Nick Briganti (58)
Glen Cooke (6)

Three Stars:
1. HFD - R. Gropp
2. HFD - D. Raddysh
3. LV - A. Lyon

| | |
| --- | --- |
| Game Start:  | 7:00 PM EST |
| Game End:  | 9:14 PM |
| Game Length:  | 2:14 |
| Attendance:  | 6617 |

| | | | | |
| --- | --- | --- | --- | --- |
| SCORING | 1 | 2 | 3 | T |
| Lehigh Valley | 2 | 0 | 0 | 2 |
| Hartford | 2 | 0 | 2 | 4 |

| | | | | |
| --- | --- | --- | --- | --- |
| SHOTS | 1 | 2 | 3 | T |
| Lehigh Valley | 13 | 7 | 10 | 30 |
| Hartford | 6 | 12 | 8 | 26 |

| | | | |
| --- | --- | --- | --- |
|   | PP | PIM | PTS |
| Lehigh Valley | 0 / 1 | 2 min / 1 inf | 2 G + 4 A = 6 Pts |
| Hartford | 0 / 1 | 2 min / 1 inf | 4 G + 7 A = 11 Pts |

V-H
#
Per
Team
Time
Goals
Assists
Type
On Ice (+/-)
1 - 0
1
1st
LV
5:39
M. Willman (3)
J. de Haas, R. Willcox
V
  2 12 20 23 44
H
  4 8 39 57 95
2 - 0
2
1st
LV
6:10
G. Carey (13)
C. O'Reilly, D. Kase
V
  9 10 27 38 39
H
  9 11 15 24 25
2 - 1
3
1st
HFD
7:49
D. Raddysh (6)
P. Di Giuseppe, D. O'Regan
V
  2 15 19 24 44
H
  4 9 19 24 65
2 - 2
4
1st
HFD
10:58
R. Gropp (2)
S. McBride
V
  5 15 19 24 27
H
  4 11 16 20 44
2 - 3
5
3rd
HFD
9:01
R. Gropp (3)
R. Dmowski, B. Nieves
V
  10 27 38 39 51
H
  11 16 20 24 25
2 - 4
6
3rd
HFD
19:52
P. Di Giuseppe (13)
N. Jones, D. O'Regan
EN
V
  9 17 23 25 27 38
H
  8 9 24 25 65

LEHIGH VALLEY ROSTER
No
Name
G
A
+/-
Sh
PIM
G
34
A. Lyon
0
0
0
0
0
G
35
J. Berube
0
0
0
0
0
D
2
J. de Haas
0
1
0
3
0
D
5
T. Wotherspoon
0
0
-1
1
0
C
9
C. O'Reilly
0
1
0
1
0
LW
10
G. Carey
1
0
0
2
0
LW
12
A. Andreoff
0
0
+1
3
0
D
14
M. Friedman
0
0
0
1
0
F
15
M. Sushko
0
0
-2
1
0
F
17
G. Rubtsov
0
0
-1
1
0
F
19
I. Ratcliffe
0
0
-2
2
0
LW
20
M. Willman
1
0
+1
3
0
F
23
M. Frost
0
0
0
2
0
F
24
M. Vorobyev
0
0
-2
0
0
F
25
C. Bunnaman
0
0
-1
0
2
D
27
C. Bigras
0
0
-2
3
0
F
38
D. Kase
0
1
-1
0
0
D
39
N. Prosser
0
0
0
3
0
D
44
R. Willcox
0
1
0
1
0
C
51
K. Criscuolo
0
0
-1
3
0
Team:
Totals:
2
4
-11
30
2

LEHIGH VALLEY GOALIES
No
Name
Min
SH
SVS
GA
35
J. Berube
10:43
4
2
2
34
A. Lyon (L)
46:39
21
20
1
Empty Net
1
1
Totals:
57:22
26
22
4

HARTFORD ROSTER
No
Name
G
A
+/-
Sh
PIM
G
31
I. Shesterkin
0
0
0
0
0
G
33
T. McCollum
0
0
0
0
0
D
4
J. Keane
0
0
+1
1
0
D
5
V. LoVerde
0
0
0
0
0
C
8
N. Jones
0
1
0
0
0
LW
9
P. Di Giuseppe
1
1
+1
6
0
LW
11
R. Gropp
2
0
+1
2
0
C
15
B. Nieves
0
1
-1
0
0
LW
16
R. Dmowski
0
1
+2
1
0
C
19
S. Fogarty
0
0
+1
2
2
C
20
S. McBride
0
1
+2
0
0
D
24
D. Raddysh
1
0
+2
2
0
D
25
L. Hajek
0
0
+1
1
0
LW
26
T. Gettinger
0
0
0
2
0
LW
39
M. Beleskey
0
0
-1
0
0
D
44
M. Geertsen
0
0
+1
0
0
D
57
Y. Rykov
0
0
-1
1
0
C
65
D. O'Regan
0
2
+2
3
0
LW
91
V. Kravtsov
0
0
0
0
0
RW
95
V. Lettieri
0
0
-1
5
0
Team:
Totals:
4
7
10
26
2

HARTFORD GOALIES
No
Name
Min
SH
SVS
GA
31
I. Shesterkin (W)
60:00
30
28
2
Totals:
60:00
30
28
2

PENALTIES
P
T
Player
M
Offense
Time
1st
H
S. Fogarty
2.00
Tripping
1:50
2nd
V
C. Bunnaman
2.00
Tripping
13:55

CERTIFIED CORRECT
This report has been checked and verified.
---
I talked about the production values of these games in my last blog. Refer to that blog for the whole experience of watching these games. And speaking of last night's blog, just like last night, if you want to see a "cleaner" and more user-friendly version of the box score, here you go: https://theahl.com/stats/game-center/1020288
Unlike yesterday's game, which was heavily based on special team success, each team would only get one power-play in this game. The Phantoms would get the first PP of the game, 1:50 into the period, when Fogarty was boxed for tripping. Hartford, who has been excellent with their PK of late, would kill this penalty, with CZAR IGOR making a few saves here. Of note, I also thought Geersten shone on this Hartford PK.
After this kill, we had Lettieri, O'Regan, Rykov, LoVerde and Kravtsov on the ice here. They moved the puck well, but no dice.
Immediately after this, the Phantoms would score two quick goals.
At the 5:39 mark, Max Willman scored. The puck took a freaky bounce off the back boards, the puck found itself in front of Igor and Willman was able to beat Igor. Again, I have no replays here, but this wasn't on Igor. This was just one of those things. 1-0, bad guys.
Thirty seconds later, Greg Carey made the game 2-0, bad guys. This goal was more on Igor than the first one, as Igor was out of position a bit, the defense broke and Carey had the puck all alone in the slot. This wasn't a good start. Fortunately, this would be the last Phantom goal of the game.
Just over 90 seconds later, the Wolfpack would cut the deficit to one, as Darren Raddysh took what looked like a meaningless shot from the far boards, to beat Phantom goalie Jean Berube. 2-1, bad guys.
Again, since there are no replays provided on the broadcast, here's how the Wolfpack Twitter account celebrates goals:
🚨Raddysh gets the Pack on the board! DiGiuseppe and O'Regan with the 🍎's

2-1 in favor of the Phantoms#LVvsHFD pic.twitter.com/pVx0Wz2TZ7

— Hartford Wolf Pack (@WolfPackAHL) January 26, 2020
Fortunately, Ricky Milliner (@Milliner06, and who I talked about last night) was at the game and got a replay off the scoreboard of the goal. As mentioned, Ricky does a fantastic job covering these games. His twitter account is an asset for Wolfpack fans. Here's the Raddysh goal:
A look at the 1st #HWP tally! https://t.co/XYoUyW1Efb pic.twitter.com/qYu6VXZ25X

— Ricky Milliner (@Milliner06) January 26, 2020
As the game progressed, Igor did look a little shaky, as he almost scored on himself. Luckily, like Alexandar Georgiev, Shestyorkin shook off the bad goal allowed and was cool, calm and collected the rest of the way.
Three minutes after the Raddysh goal, at 10:58, Ryan Gropp tied the game at two goals a piece. Again, I go to Ricky Milliner here for the replay:
A look at the tying goal for the #HWP. https://t.co/ps8nVnSQ0r pic.twitter.com/CujMF5fX3a

— Ricky Milliner (@Milliner06) January 26, 2020
2-2, as the Pack killed the two goal Phantom lead.
After this goal, Phantom head coach Scott Gordon pulled Berube from the game. Replacing Berube was Alex Lyon. If you don't remember Alex Lyon, like every rookie goaltender ever, he beat the Rangers in his NHL debut two years ago. Henrik Lundqvist gave up seven goals in that game, in a game where the Flyers & the rookie Alex Lyon won. In tonight's game, with two more years of experience under his belt, Lyon would lose to Shestyorkin tonight. CZAR BEATS KING every time!
At around the 6:58 mark of the period, the Phantoms blew a 3 vs 2 chance, but would get off a SOG during this time in the Hartford defensive zone. Save by Igor.
After Igor made a big save on Isaac Ratcliffe, the Wolfpack started dictating the pace a little. However, and what would continue all game, especially in the third period, the Wolfpack just kept icing the puck. I don't watch enough Wolfpack games to know if that's a strategy of theirs or not. Maybe, because the Wolfpack are so good on face-offs (much better than the Rangers at least, although that doesn't say much) they rather ice the puck than give up a SOG. Whatever the case, the 'Pack iced the puck a lot tonight. I don't have the stat, but it felt like every other play, especially in the third period, led to an icing.
With 4:24 remaining in the period, Igor made another big save. This took us to the "TV Timeout".
Before the period came to an end, Boo Nieves would have a good chance to shoot the puck point blank. Instead, he went for a backward pass. Turnover. Call him up, he'll fit right in with Kakko and Buchnevich!
At the end of the first period, we remained tied at 2-2. The Phantoms had the SOG advantage, at 13-6.
About 2:30 into the second period, you could notice Knoblauch changing up his lines, as you saw a lot of Lettieri and Di Giuseppe together. They wanted to make the Phantoms sleep with the fishes. (Yes that was forced and corny.)
What wasn't forced or corny, was how Lettieri blazed through the zone here, and set-up Di Giuseppe, who was in front of Lyon. Lyon made a huge save here. Great offensive chance though, and again, with 11 combined shots between these two EYE-TALIANS, these two led the way.
Everyone knows I'm a Lettieri guy anyway (check my spiel from a few blogs ago) but despite no points tonight, he really stood out. You can see why he's an All-Star. He was great on both sides of the puck tonight. While not exactly Artemi Panarin here, he was all over the place like Panarin is in most Ranger games.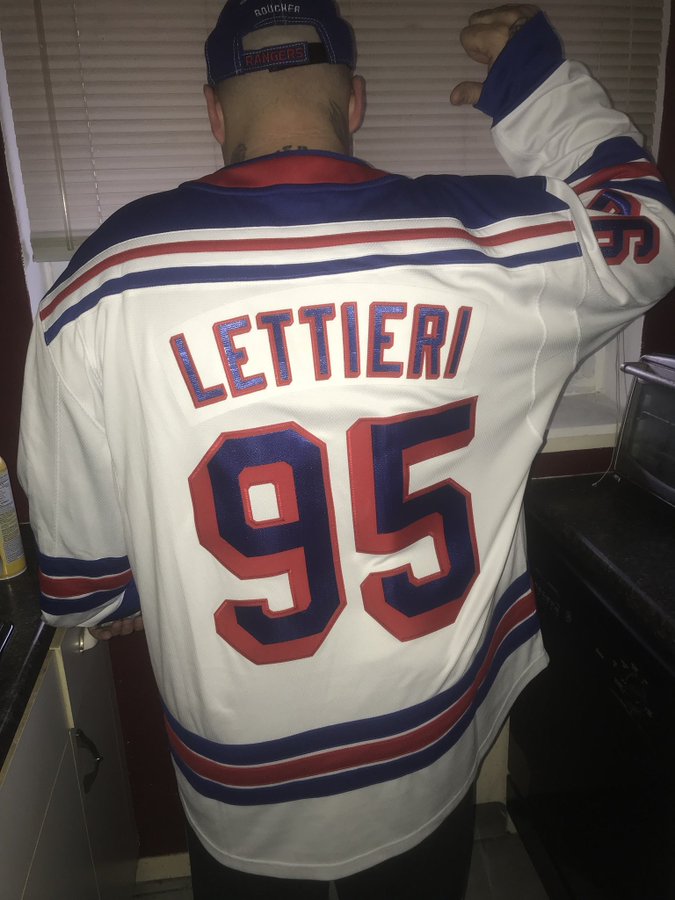 With 16:14 remaining in the period, CZAR IGOR had to make a tricky save, at a puck shot right at his chin.
Oh and worth mentioning, Bob Crawford, the man on the play-by-play, does a real good job with these games. It's got to be tough calling these games with no replays. It's tough to see deflections, stick infractions, blown coverage and other things, when you're focused on calling the puck. Plus his partner, Mark Bailey (I think that's his name) is downstairs, while Crawford is all alone upstairs. While they kid around and banter a bit, it's obviously an easier night when your broadcast partner is right next to you.
Most of this second period, and really this game after Lyon entered it, was a goalie's duel. From the second Lyon entered the game, we would only have one more goal scored in this game. In fact, Lyon, and not Igor, was named the third star of the game. While "star of the game" doesn't mean much in the grand scheme of things, I thought Lyon deserved it.
Again, I'm going off a one game sample tonight and what I saw from Lyon in his start against the Rangers, but who knows, maybe Carter Hart and Alex Lyon could bring stability to a Flyers net, a net that hasn't had stability since the days of Ron Hextall.
Where else would you get a blurb about Bryan Hextall, during an AHL game recap? Only here folks, only here!
As we moved past the half-way mark of the period and the game, this is when the NHL All-Star Game started. Fortunately, by the time the NHL All-Star introductions were over, this Wolfpack game went into intermission. Even better, the first 3 vs 3 game featured Chris Kreider, as Kreider & the Metro All-Stars took on the Atlantic All-Stars.
While Igor faced his least amount of work in this second period, Igor would make seven saves on all seven shots faced. Lyon would go 12-12 here, as this goalie duel continued. While this wasn't a true classic goalie's duel, and hardly the best goalie duel I've ever seen, both goalies were outstanding in this game.
With 6:05 left in the period, Connor Bunnaman was boxed for tripping Ryan Gropp. I don't know much about what Gropp has done this season for the 'Pack, but I do know at one point, he was sent to the ECHL in Maine and was suspended for not reporting there. However, in this game, he already had a goal, drew this penalty and would eventually go on to score the game winning goal. If this wasn't his best game of the season, I'd like to see the game that was.
Lettieri would win the face-off on the 'Pack PP and Di Giuseppe quickly got a shot on goal, just four seconds into the power-play. How often have we seen these types of goals go against the Rangers this year? Great work from the Wolfpack here and solid work from Lyon.
Then, later on during this PP, the Wolfpack bumbled the puck, and Igor would make a breakaway save on a Phantom short-handed attempt. SAVE OF THE GAME.
If the Phantoms scored here, short-handed mind you, this would've changed the game. Igor made a tremendous save, bailing out the 'Pack.
The Wolfpack would regroup, and with Lettieri's unit back on the ice, Lettieri camped at the dot, as if he was Ovechkin. Unfortunately, he wouldn't get the puck here. The Phantoms would kill the 'Pack PP.
As the period was winding down, Lettieri would get alone with Lyon. However, Lettieri fanned on the puck. He was fuming here, as if he was Sonny Corleone.
This period then came to an end, a scoreless period, as we remained at 2-2 after two. This is when the NHL All-Star game started, and I'll get into that in a bit.
I want to mention this here, because I'm not going to get too crazy on the All-Star game tonight. What the St. Louis Blues have done for that girl Laila Anderson, well it's nothing short of incredible. The Blues organization deserve to go into some sort of humanitarian Hall of Fame or something.
Here's Anderson at the ASG, introducing her beloved Blues:
Laila Anderson introduces the @StLouisBlues #NHLAllStar Game starters. ❤️ pic.twitter.com/7s5XWPbpz2

— #NHLAllStar on NBC (@NHLonNBCSports) January 26, 2020
I have no clue what the future holds for Laila Anderson, but if she wants it, she has a job as a public address announcer. What a great job. Again, as a hockey fan, I have to commend the Blues and their people, from the front office to the players. I hope stories like this, get more burn than whatever Antonio Brown is doing.
The third period was a lot of back and forth hockey, as both teams tried to limit chances. In fact, this period saw 18 shots combined, with the Phantoms with 10 and the 'Pack with 8.
Once again, LoVerde really stuck out to me during this period. Ditto Lettieri, who seemed to be on the ice all game. This is also where the Wolfpack continued to ice the puck repeatedly.
Lyon, as mentioned, who changed this game, would stop O'Regan on a breakaway and then stop Di Giuseppe on the rebound.
At the 9:01 mark of the period, the Wolfpack finally got Lyon to break, even if this goal is totally not on Lyon:
Here's a look at Gropp's 2nd of the game! https://t.co/R2vcaQCnZw pic.twitter.com/tWQxHeiTGZ

— Ricky Milliner (@Milliner06) January 26, 2020
3-2, GOOD GUYS!
What a goal here.
On this goal, Dmowski draws three defenders, while near the side boards, and then finds an all alone and streaking Ryan Gropp. BANG. Pretty pass, pretty shot and perfect execution.
As we got under 10 minutes to go, Igor would be challenged, making two quick saves in succession.
Knoblauch also continued to roll out four lines here, with his fourth line absolutely kicking ass.
Right around the 14 minute mark of the period, Raddysh and Hajek had a really good shift. Hajek hit the post and during all of this, the Wolfpack had the puck in the Phantom zone for 35 seconds or so.
During a "TV Timeout", it was announced that the Wolfpack broke their season attendance record, with 6617 fans. The Wolfpack just set their attendance record the night before, so people really came out this weekend. Whether it's the weekend, the opponents, the team playing well or no NHL hockey, the Wolfpack had a good weekend at the gate.
In the final five minutes of the game, the Wolfpack kept icing the puck. The Wolfpack won the majority of these face-offs, but on one of them, the Phantoms won the draw and nearly scored. This was a scary save for Igor here. During all of these icings, it felt like Lettieri was on the ice for three minutes straight.
With 2:30 remaining, the Phantoms pulled Lyon for the extra skater. Gettinger would block a huge slap shot, as the Phantoms continued their attack. The Wolfpack would eventually get a clear and with eight seconds left on the clock, Nick Jones unselfishly gave up the puck to Di Giuseppe, who scored the empty net goal. 4-2, GOOD GUYS and that would be your final from Hartford.
In conclusion on this game, the Wolfpack found themselves in a two goal hole, rallied back for three straight goals, fought off a Phantoms 6 vs 5 attack and scored their fourth straight goal of the game, an empty netter, to seal the deal. This game wasn't as easy as the game against Bridgeport 24 hours prior, but the Wolfpack, a good team, did what they were supposed to do - rally back and beat this bad Phantoms team.
And really, this is the biggest difference between the Rangers and the Wolfpack this season. The Rangers usually find a way to lose. The Wolfpack find a way to win.
I really enjoyed these two games this weekend and I liked what I saw. I don't know what the future holds for these guys. We all know what the expectation level is for Igor. Away from him, I thought Di Giuseppe, Lettieri, Raddysh, Meersten, LoVerde and Fogarty all stood out. Not all of these guys will be NHLers; obviously, but these guys all played hard and looked good.
Gropp had a nice game tonight, but I'm not sold on him in the long-term. Hopefully I'm wrong. When it comes to Kravstov, I didn't see much from him. Ditto Rykov. However, this is where you learn and all you can hope for are big returns down the line.
The Wolfpack are now done until Friday, as they enter the All-Star break on a nice two game winning streak. It's much better than the way the Rangers entered their All-Star break.
Let's talk Kreider, Hank vs Fleury and Villemure, and then I'm out.
---
The All-Star Game has now come and gone. I already talked about the ASG in past blogs and how I'm not a fan of the format, so I'll spare you that spiel.
When it comes to Kreider, he seemed to be all smiles. He played in the first game tonight, where the Atlantic Division beat the Metro division by a final of 9-5. Kreider didn't pick up a point during any of this and was paired with two defensemen most of the time.
If anything, these three separate 3 vs 3 games confirmed my thoughts. If I were an NHL goalie, I would want nothing to do with this All-Star Game. You're better off using house goalies for this, rather than having a star goalie facing a billion shots from up close. These games are goalie psyche killers.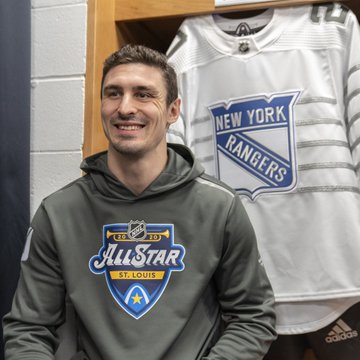 I guess with Kreider not picking up a point tonight, in a game where many idiots thought "WAS A SHOWCASE TO THE LEAGUE" game for him, I assume the Rangers will no longer get back 6655678 first round picks, 374637349 prospects, the Ghost of Gordie Howe, a lock of Mario Lemieux's hair, a signed Rocket Richard jersey and a DNA sample from Bobby Orr, in a potential Rangers trade of Kreider.
As mentioned previously, no matter what Kreider did tonight, wouldn't have made a difference on his standing. He's still the top rental prize of this season's NHL Trade Deadline.
Oh, and for those who care, the Pacific division defeated the Atlantic division, to win All-Star weekend. No one will remember this in 24 hours from now.
To me, the best thing about All-Star weekend. is when the NHL and NBC Sports announced their All-Decade Team: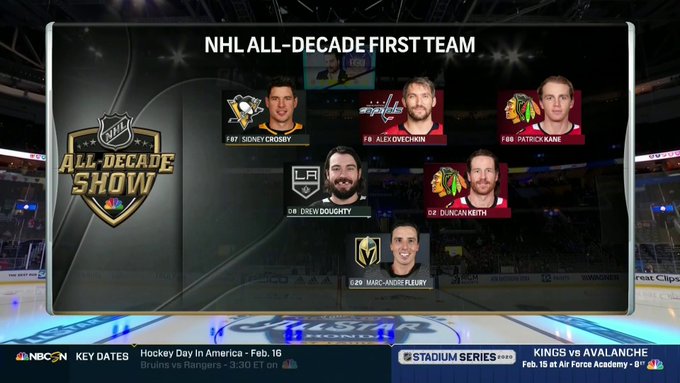 The best thing about Marc-Andre Fleury, getting the nod over Lundqvist, for Top Goalie of the Decade? The amount of tears shed by the Cult of Lundswiss, especially from people like this guy: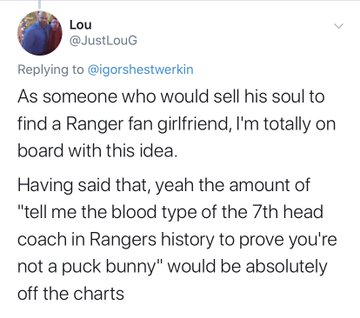 Even funnier - this same guy announced on Twitter, that on behalf of the NYR fanbase, he "doesn't claim me as part of NYR Twitter." Do I really have to break down how silly that is? What's NYR Twitter anyway? A bunch of virginal emo thirty-something's, who all live with their mother? The same people who obsess over charts and foo-foo stats? If that's NYR twitter, I'm happy to be my own man and do my own thing! I will always march to the beat of my own drum. All revolutions start with one voice!
As I've always said, once you get out of the NY bubble, you will see how everyone else views Lundqvist. He's overpaid, he's overrated, he has a massive ego; and as I first said six years ago, he will never win a Stanley Cup.
While these All-Decade lists are just something designed to drive attention and are purely clickbait, the Cult of Lundswiss has ignored the following, concerning the argument of Fleury vs Lundqvist, for top goalie of the decade:
Wins: Fleury 310 wins in 519 Games. Lundqvist 281 wins in 535 Games.
GAA: Fleury 2.43. Lundqvist 2.50.
Save Percentage: Fleury .916. Lundqvist .918.
Shutouts: Fleury 42. Lundqvist 39.
Stanley Cup Wins: Fleury 2. Lundqvist 0.
All-Star Nominations: Fleury 5. Lundqvist 4.
And in the only thing that gives Lundqvist talking point:
Vezinas: Fleury 0. Lundqvist 1.
Let's not also forget, that Fleury has been a class act, a professional and has been beloved by his teammates, no matter where he plays. Lundqvist has been anything but, burying his teammates after games, bruising that Islander girl, having sissy fits, flipping nets (something Fleury laughed about and called "babyish") and oh yeah - LED AN EXPANSION TEAM TO A STANLEY CUP FINAL. Let's face it, Lundqvist could never do that. It's partly why he doesn't want to waive his NMC. After all - he's scared of change and scared of winning. Fleury did what he had to do.
And for the people who talk about how Fleury had Crosby, let's not forget how, in the salary cap era, Lundqvist demanded the most amount of money at his position and got the coach who helped get him a Vezina fired. And oh yeah - ever since Lundqvist signed a contract that made him the highest paid goalie in the NHL, all of his back-ups, sans Pavelec, posted better stats than Lundqvist and all for $8M less.
Oh and just one more thing - in the best year of the Lundqvist Error, when the Rangers won the Presidents' Trophy in 2015, Lundqvist missed 30% of the season. Cam Talbot out-played Lundqvist ($8M less too) and dominated. The Rangers were actually better without Lundqvist, which has been the case for the back half of this decade, with guys like Raanta and Georgiev.
One big difference between Lundqvist and Fleury? The Penguins understood that they had to move on, because of the salary cap. The Rangers don't understand this concept. In turn, Vegas, behind Fleury, went to SCF in their first year.
In 15+ seasons of Lundqvist, the Rangers only went to the SCF once, in 2014, and that was due to Martin St. Louis in the semifinal of those playoffs and Chris Kreider taking out Carey Price in the ECF. If anything, the guy that beat Lundqvist in the 2014 Stanley Cup Final, even has had a better decade than Lundqvist too, in Jonathan Quick. In fact, when you look at the decade, no goalie had a better Stanley Cup playoff run, than the one Quick had in 2012. (Tim Thomas was close.)
As I talked about at the end of last year, I don't care much for these All Decade things, just because it's all click-bait to me. That said, the rest of the hockey world knows that Fleury is better than Lundqvist. Lundqvist is more comparable to Roberto Luongo. However, Lundqvist gets more attention than Luongo, because Lundqvist was in a bigger market than the markets Luongo played in during his career.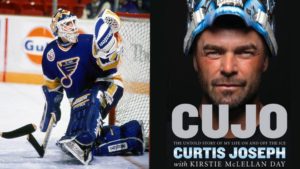 Last but not least on this, is that Lundqvist isn't a Hall of Famer either. I'll save that blog for a rainy day. All I'll say on this topic is this - if Lorne Chabot (2 Cups, 1 Vezina) and CuJo aren't in, Lundqvist isn't getting in. Conversely, MAF is a first ballot Hall of Famer. If Lundqvist does get in some day, that means you also have to add guys like Corey Crawford, Jonathan Quick (who maybe a HOFer anyway), Braden Holtby, Carey Price, Sergei Bobrovsky, Roberto Luongo, Mike Richter and countless others.
And now, let's talk about a guy, that despite playing for a third of the time Lundqvist did, has the same Vezina and Stanley Cup appearance to his name, in a one Gilles Villemure.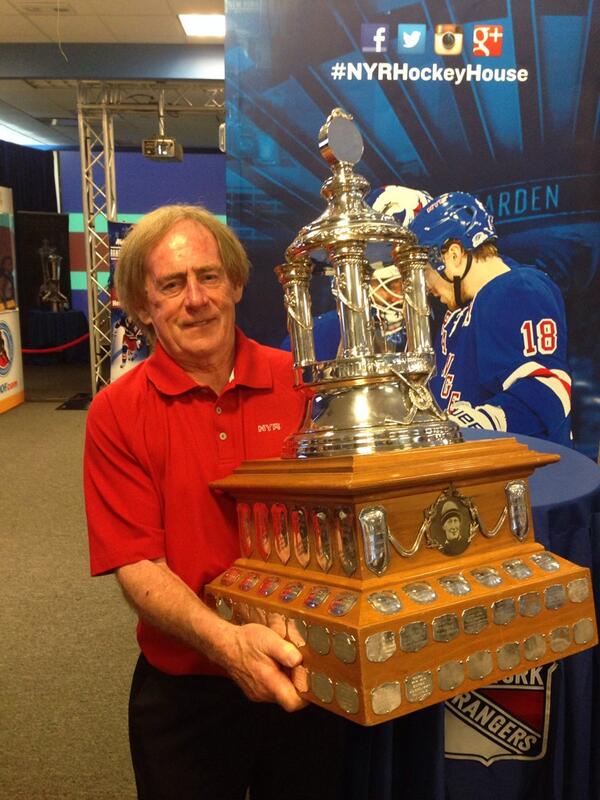 As many of you regular readers know, I love Rangers history. I appreciate the alumni, especially the guys who didn't have the best hands during their career here. One of those players is Gilles Villemure.
If you haven't already, check out the book review that I did of his book, which you can find here:
https://bluecollarblueshirts.com/gv/
I say that Gilles Villemure didn't have a good hand because truth be told, he was probably born ten years too early. During Villemure's peak years, the NHL was a six team league, with only one goalie per roster. That means if you weren't one of the lucky six, you toiled around various minor leagues. In a later era, Villemure would've been a starting goalie in his own right.
Once Villemure turned 30, the league had changed. The league would expand to 12 teams, and then expand to 14 teams. By the time Villemure was 32 years old, the WHA also came around, which opened up more money and starting goalie jobs.
Villemure would become a full-time Ranger during the 1970-1971 season, at the age of 30. He would wind up winning the Vezina Trophy that year, with his partner Eddie Giacomin. A year later, the Rangers were in the Stanley Cup Final.
For three consecutive years, starting in 1971, Villemure would become an NHL All-Star. Eventually, he would supplant Giacomin as the starting goaltender in NY. However, Villemure was getting older, and he was one of the many names traded by Emile Francis, during the rebuild of the mid-1970's. In limited action, Villemure would finish the final two years of his career with Chicago.
After Villemure's hockey career was over, Villemure would continue to race horses, as he did while a player. Villemure kept his home in Long Island and would become a frequent face at nearly every Rangers charity and alumni event possible.
Very recently, I told you how Villemure was really sick. Unfortunately, when asking the Rangers and people affiliated with the Rangers, I couldn't get a health update on Villemure.  In case you didn't know, towards the end of 2018, it was announced that Villemure was battling cancer and tumors. However, you just couldn't find out anything after that and how he was doing.
Wanting to know about Villemure, I reached out to Villemure's daughter, in Therese Villemure. I explained who I was and told her I was hoping her father was doing well.
Here's an update on Villemure's condition, from Therese:
"He (Gilles) is hanging in there! He is on hospice because of the nature of the tumor and he was in very bad shape when was in the hospital/rehab.
However, he is now actually able to go out now, to dinner and things like that. Thank God."
Therese would later tell me, that the Rangers have been very good to Villemure and the Villemure family, during all of this. I was really happy to hear that, as it seems, at least from an on-air and public perspective, that Villemure was forgotten like many Ranger legends. Fortunately, that isn't the case here with Villemure. Kudos to the Rangers for helping with one of their own.
Gilles Villemure will turn 80 years old this year, as his birthday is on May 30th. Let's hope he celebrates this birthday and many more.
I would like to thank Therese Villemure for giving us an update. I hope she knows that many Ranger fans are pulling for her father.
Well that about wraps up this blog. I'm sure I'll have something else between now and the Friday night return game with Detroit.
As always, thanks for reading and...
"LET'S GO RANGERS!"
Sean McCaffrey
BULLSMC@aol.com