Greetings and salutations everyone and welcome to another blog here on BlueCollarBlueShirts.com. These are the games that are easy to write about!
With a late puck drop of about 8:18PM tonight, I am starting this blog at 11PM, despite an early alarm clock in my future tomorrow. However, who can go to sleep after this win?
On Tuesday night, in the first ever road start for CZAR IGOR SHESTYORKIN, the Rangers defeated the Winnipeg Jets, by a final of 4-1. Make no bones about it – this was the hardest start in CZAR IGOR's young NHL career.
Going into this game tonight, not only was Igor facing a playoff team on the road, he was facing a Jets team that were honoring several players tonight. Prior to puck drop tonight, the Winnipeg Jets honored Randy Carlyle and Thomas Steen, as both players had their numbers go into the rafters of the "Bell MTS Place". What a catchy name for an arena!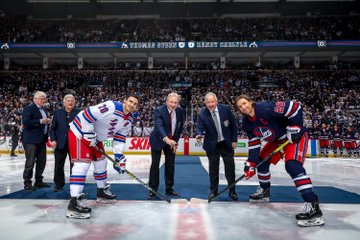 Of course, it's always nice to see a team honor their past, even if the Rangers continue to spit on their own past. One of these days my friends, I hope to see Frank Boucher's #7 go into the rafters of Morgue $quare Garden. You may have heard my opinions on this topic already!
With Steen & Carlyle being honored, the Jets also brought back several of their alumni tonight, including the controversial Bobby Hull. I don't want to go into a whole spiel on Bobby Hull here, but needless to say, it does surprise me that the NHL continues to honor and promote Hull.
If you're not familiar with Hull's past, where he beat his own wife repeatedly, do your homework. I don't want to focus on this story tonight. I am just surprised that the NHL continues to lionize Hull, all while the NHL continues to be overly politically correct and supporting many causes, of the "liberal woke" variety. And that's all I have to say about that.
I bring all of this up, because for CZAR IGOR and the Rangers, not only were they playing a Jets team competing for a playoff spot, they were also playing in front of a crowd full of emotion. Not only did you have the Trouba return angle going into this game, you had the Jets honoring and celebrating their alumni. Usually, in games like these, the home team has an extra pep in their step, as they want to impress the legends of the past. Instead, in tonight's game, CZAR IGOR and the Rangers held the Jets to one goal, and pretty much dominated, in their 4-1 victory.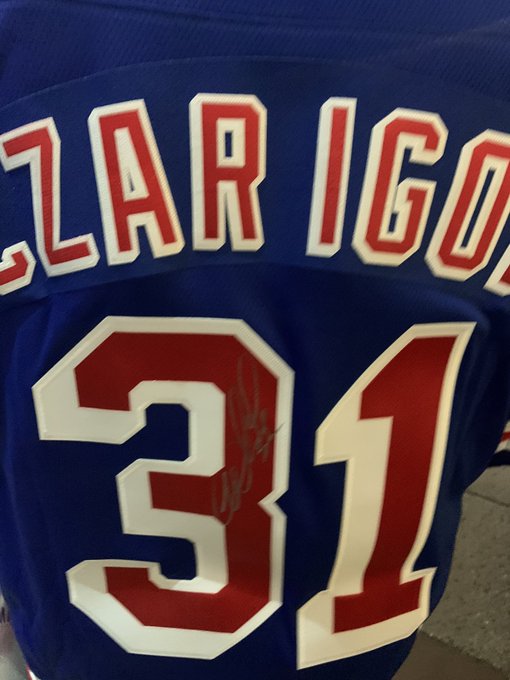 Before rocking and rolling, and getting into everything tonight, I want to share with you some post-game stats.
The following information comes from @NYRSTATSINFO , the official Twitter account of New York Ranger statistics:
— According to NHL Stats and Information, Igor Shesterkin is the first goaltender in NHL history (since saves were first tracked in 1955-56) to post three 40-save wins in his first seven career NHL appearances.
— According to NHL Stats and Information, Igor Shesterkin is the first goaltender in Rangers history who has earned a win in six of his first seven career NHL appearances.
— Igor Shesterkin is the third Rangers rookie goaltender in franchise history who has made at least 40 saves in two consecutive personal appearances (Dan Blackburn – Nov. 23, 2001 and Dec. 1, 2001; John Vanbiesbrouck – Dec. 1, 1984 and Dec. 5, 1984).
— Igor Shesterkin is the first rookie goaltender in NYR history who has made at least 40 saves in two consecutive team games and is the first rookie goaltender who has earned a 40-save win in two consecutive personal appearances (as well as two consecutive team games) in NYR history.
If those stats weren't enough for you, how about this one:
Shesterkin is the 1st goalie in @NHL history to have three 40-save wins in his 1st 7 games. WOW! pic.twitter.com/c6OaBeCc7T

— Rangers on MSG (@RangersMSGN) February 12, 2020
When you look at all this information, all you have to say here is "WOW!" Not only did CZAR IGOR break 90+ year old records in NY Ranger history tonight, CZAR IGOR also created NHL history, history which is over 100+ years old.
And oh yeah – Igor has only played in seven NHL games this season. Furthermore, Igor's NHL career is barely a month old, a month which also included a nine day break, where of course, Igor also won two games in the AHL, during said break.
For the Winnipeg Jets, who were celebrating history tonight, their fans got to see some NHL history in this game. Unfortunately for them, but fortunate for us Ranger fans, it was CZAR IGOR creating history, in this 4-1 Rangers win!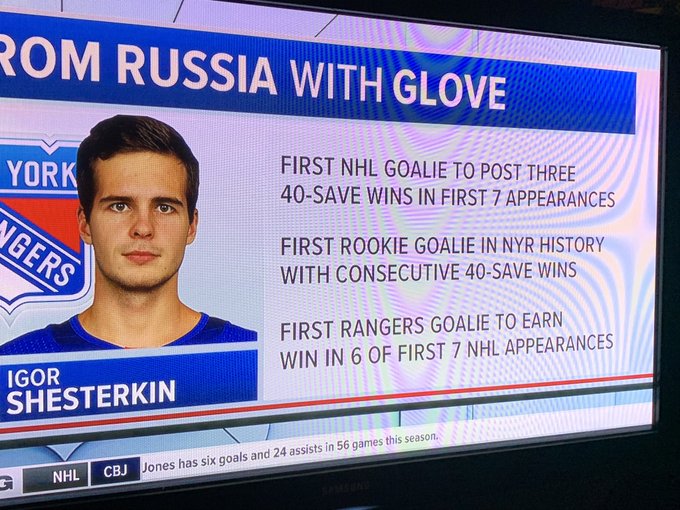 At this time, here are my last few blogs, in case you missed them:
---
---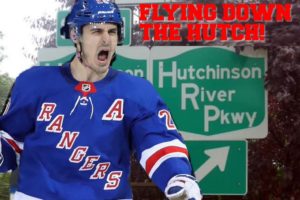 ---
---
---
If you read my last two blogs, the blogs covering the loss to Buffalo and the win over LA, you could feel my disappointment in the loss to Buffalo and my nonchalant attitude about the win over LA. After all, LA sucks. The Rangers should've handled LA.
In tonight's win over Winnipeg, I found this victory to be very impressive. It's arguably the Rangers best win of 2020, with maybe the victories over the Islanders being the exceptions. The Rangers had the deck pretty much stacked against them tonight, and in turn, the Rangers put forth a team-wide victory. For CZAR IGOR, in his first ever road-start, he looked like he's done this already, 100 times over.
As far as Ranger news prior to tonight's game, there wasn't anything to talk about. As NYR head coach David Quinn usually does after wins, DQ kept the same lines from the win over LA, in this game with the Jets tonight.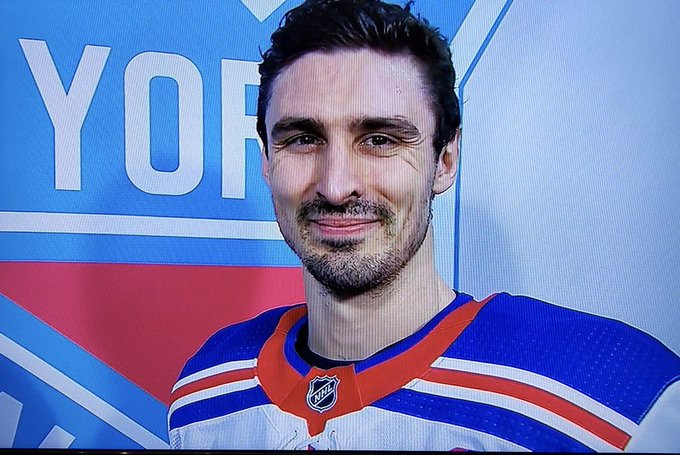 For those who need a refresher, here were the lines DQ used tonight:
FIRST LINE: Kreider/Zibanejad/Buchnevich (Due to their production, this was the best Rangers line of the game. I think you could make a case for the Panarin line, as it seemed like they set up more chances, but it was the first line topping the score sheet tonight.)
SECOND LINE: Panarin/Strome/Fast (Panarin was a wizard tonight. While not all his passes went for goals, he was constantly driving the offense tonight. I saw some fans on social media whine about Fast, but I think those fans forget that the defensive-minded Fast is here to complement this line. Fast will never be a powerhouse offensively, and that's fine for this line.)
THIRD LINE: Di Giuseppe/Chytil/Kakko (As the calendar continues to advance, so does the progression of these three players. In their short time together, Chytil & Kakko have shown a ton of chemistry together.)
FOURTH LINE: Lemieux/McKegg/Howden (With the Rangers rolling right now, we might not see Brendan Smith for a while. With all the trade rumors currently surrounding the Rangers, it would be nice if the Rangers could move Smith at the deadline. I'm sure a playoff team could use him. Smith, while overpaid and prone to being a major liability in the past, really hasn't been bad this season. He just doesn't fit on this team.)
Defensively, we had the same pairs:
FIRST PAIR: Skjei/Trouba (This duo started the game on the ice, due to this being Trouba's homecoming. I was shocked DQ had the balls to let Skjei start a game!)
SECOND PAIR: Staal/DeAngelo (Another stellar showing tonight.)
THIRD PAIR: Lindgren/Fox (Hands down, the best pairing of the game. These two have made Skjei & Trouba look grossly overpaid, ever since being put together. While he won't get it, Adam Fox deserves Calder consideration.)
And of course, in net, after saying he wants to go with the best goaltender for every game, David Quinn started CZAR IGOR SHESTYORKIN tonight. No complaints from me! And really, it's only a matter of time before this guy is never mentioned on these blogs again: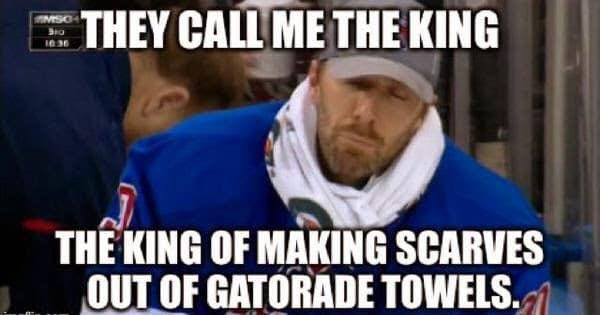 I'll get more into Lundqvist's playing time as this blog continues. That said, during M$G Fashion Week, a week that the M$G Networks promoted 78678567567544556795 times tonight, I thought the Rangers were better off leaving Hank in NY, during this three game road-trip, rather than flying him around Canada and middle America this week! After all, at this stage in his career, Lundqvist does fashion much better than he does hockey!
Without further ado, let's get into the GAMBLING segment of tonight's manifesto. Here's what I said before the game:
Season over-under record: 27-24-3

Big game for both #NYR & #NHLJets

WPG is on a 3 game win streak & now has a WC spot. #PlayLikeANewYorker needs a miracle for WC.

Both number 1 goalies going tonight, Hellebuyck v IGOR. Line seems way high to me.

TAKE THE UNDER, in a g's duel pic.twitter.com/YaAxVEIfAu

— BlueCollarBlueShirts (@NYCTheMiC) February 11, 2020
Another win for the good guy! With only five total goals scored, the under hit tonight. That improves my record to 28-24-3 on the season. I'm on a heater!
And really, until the third period, this was a goalie's duel tonight too.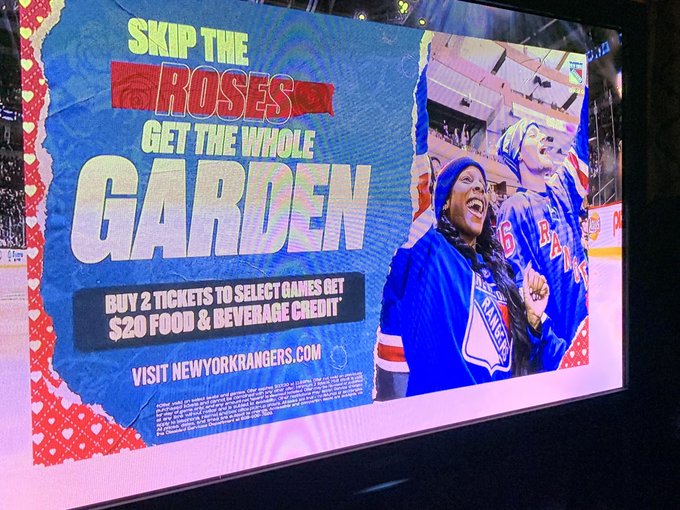 At this time, let's go to the official box score, courtesy of ESPN.com: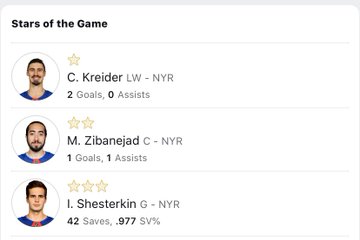 SCORING SUMMARY: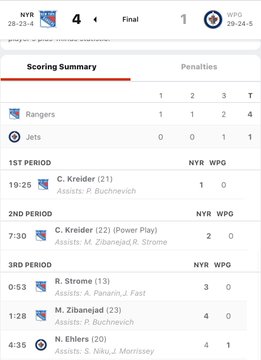 PENALTIES: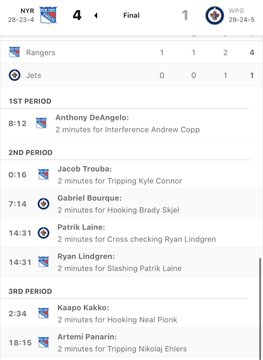 TEAM STATS: (If anything is bothersome, and I'll get into this more as we continue, NYR gave up a ton of shots to WPG tonight. A turning point in this game was the Rangers power-play. The lone PPG of the game wound up being the game winning goal.)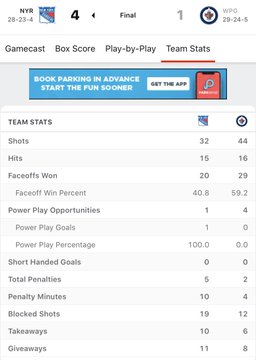 GOALIES:
| | | | | | | | | | | |
| --- | --- | --- | --- | --- | --- | --- | --- | --- | --- | --- |
| SA | GA | SV | SV% | ESSV | PPSV | SHSV | SOSA | SOS | TOI | PIM |
| 32 | 4 | 28 | .875 | 25 | 2 | 1 | 0 | 0 | 56:59 | 0 |
| | | | | | | | | | | |
| --- | --- | --- | --- | --- | --- | --- | --- | --- | --- | --- |
| SA | GA | SV | SV% | ESSV | PPSV | SHSV | SOSA | SOS | TOI | PIM |
| 43 | 1 | 42 | .977 | 31 | 0 | 11 | 0 | 0 | 53:56 | 0 |
| 1 | 0 | 1 | 1.000 | 1 | 0 | 0 | 0 | 0 | 6:04 | 0 |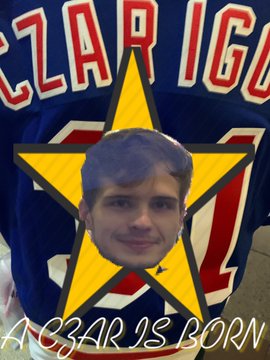 After attending the game on Sunday, where I didn't see the TV broadcast of the game, I was quickly reminded of how horrible these MSG Network pregame shows are.
Right before we went to the ding-ding-ding music of the "Welcome to Montefiore Rangers Game Night", we had a M$G Shorts segment with ex-WWE wrestler, Nikki Bella. In the segment, Nikki Bella was buying $2000 worth of sneakers. Talk about being tone-deaf with Ranger fans. I turn 38 years old this year. I don't think I've spent $1000 on footwear in my life!
Once we went to the M$G studio, Steve Statiquette was trying to relate the Rangers to the madness that goes on at Penn Station during rush hour. His joke bombed like a Taco Bell fart. Vally then wasted a segment talking about how Mika Zibanejad hits the post a lot. Riveting stuff here. Of course, not mentioned during this pregame show were the opponent, the Rangers line-up or the ceremony the Jets were having.
After more white noise, we went to the Bud Light Bar: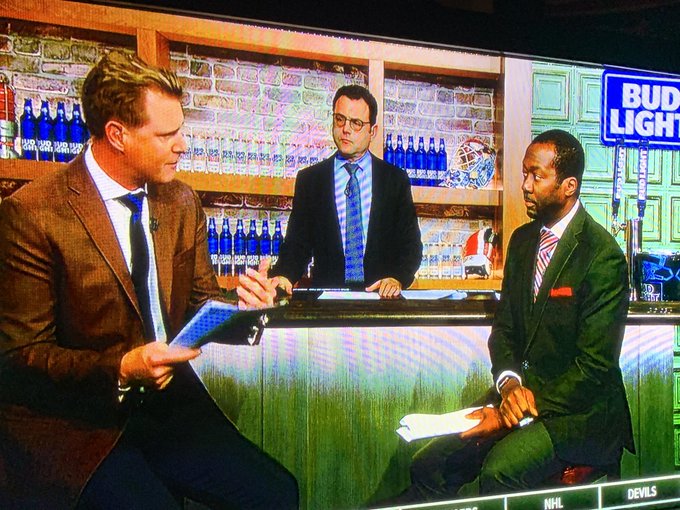 As Valiquette was yammering on about "expected" stats or some other garbage, Anson Carter had a look on his face, that looked like he was saying to himself: "What the Father Fink is this Bud Light honky talking about? You can expect this foot up your ass!"
And as usual, during this segment, all three of these guys were talking all over each other. This is often the case, because Vally won't shut up.
Oh, I'll mention this again, since I got a lot of feedback on this the first time I mentioned it. Vally wasn't wearing a wedding ring again tonight. Anson Carter was. Ironically, in the last segment between Pidto, Vally & Carter, Vally literally said how much he "loves getting behind". He talked about getting "behind" three times in thirty seconds. Don't believe me? Go back and watch. I'm not implying anything here though!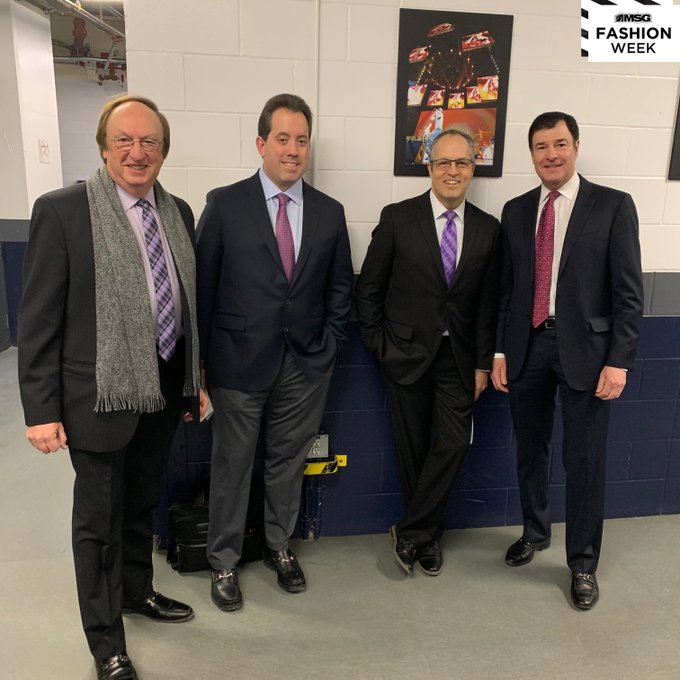 Take a look at the pic above. How about that stylish scarf of Sam Rosen? While it's not as stylish as Lundqvist's scarf of a Gatorade Towel, it is quite snazzy!
And I'll say it again here on these blogs part one – Joe Micheletti has been the MVP of the M$G Networks this season. I know, I know, I know what I've said in the past, but once the Rangers moved away from Lundqvist, Micheletti has been that much better. That said, that didn't stop some of the Lundqvist hyperbole, as I'll get into below.
And I'll say it again here on these blogs part two – the day Sam Rosen retires, M$G should back-up a truck of cash to Kenny Albert and ask him to give up his other obligations/jobs. To me, there is no better play-by-play guy in the league.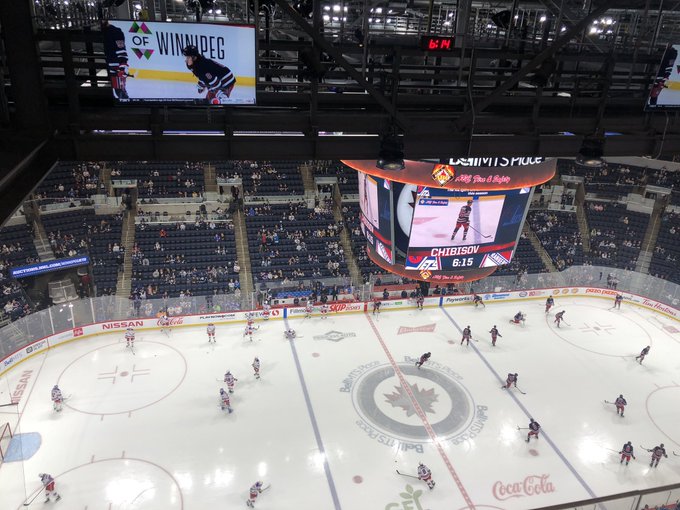 After Joe Micheletti said the word "fabulous" three times, we then went to the game. Unfortunately, we didn't get to see any of the Jets ceremony on M$G Networks. Again, if the Rangers don't honor their own history, why would they care about their opponent's history?
If you were worried about how Igor would do on the road, he settled your nerves early, as he quickly tossed up his right shoulder, when stopping a blast from Patrik Laine. This was the first of Igor's 42 saves tonight.
In a scary moment early for the Rangers, Igor would lose his stick. He would then make a glove save and the Rangers would get the clear. I'll try to limit my comparisons to Lundqvist on this blog, but really, in the same situation, we've seen Lundqvist do his "stop, drop and roll" drill, as he rolls around the ice like a fish out of water. Here, Igor remained calm, made the save and the Rangers moved the puck up ice.
The Rangers weren't too hot out the gate, as Igor already had 6 saves in the first 2:30 of action.
With tonight being Trouba's return to Winnipeg, we had a lot of stuff about Trouba tonight. Early on, and really, until the Rangers pulled ahead & took the crowd out of it, there were "BOOS" and "TROUBS" chants whenever Trouba touched the puck. Sam & Joe said the crowd was saying "TROUBS". Colin Stephenson, the Newsday reporter, said that the crowd were booing.
From a television viewer perspective, in regards to "BOOS" vs "TROUBS", it was tough to say. I'm inclined to go with what Stephenson was saying, because after all, I have seen many pucks this season that have hit the post, where Sam is screaming about a save. I'll trust Colin's hearing over Sam's!
While CZAR IGOR was doing his thing on his end, Vezina candidate Connor Hellebuyck was doing his thing too. He would make a nice glove save on Kreider. After that, Hellebuyck stopped a good chance, after a Fox to Buchnevich deflection.
As the period went along, Trouba would make a big block, eating a point blank shot. This set up the Rangers on the other end, where Panarin fed Trouba for a GOOD LOOK, a shot that Hellebuyck masterfully denied. After this, Roslovic had a clean and point-blank shot. Igor made this save look easy.
And I'll repeat myself from prior blogs here – Igor makes hard save attempts look pedestrian. Even tonight, with the Rangers having a shut-out going, no one cared about saying the word "shut-out" on social media. Everyone kind of expected it. SEVEN GAMES FOLKS, SEVEN GAMES. Seven games and Ranger fans have insane expectation levels for Igor already. In his small NHL sample size, Ranger fans have been accustomed to seeing the amazing out of their new CZAR!
After this save from Igor, Kreider turned on the jets (pun intended) and burned old friend Neal Pionk. Save for Hellebuyck. Then, after a line change, the Panarin line, with Fox & Lindgren on the D, put together an elongated shift in the Winnipeg defensive zone. No goal here, but it was a good shift.
Winnipeg, after getting the clear on the Rangers first line, marched up the ice. This then led to a moment, where the entire Rangers fan-base gasped a deep breath of air, as if they were Artie Lange (or myself!) running the NYC marathon. Check out this play, which happened with about eleven or so minutes left in the first period:
Here is the hit on Shestyorkin. He stayed in the game. #NYR pic.twitter.com/rzNPjZZHJ3

— Rangers Town (@NYRangersTown_) February 12, 2020
As you can see from the above clip, Tony DeAngelo, in an attempt to break up a Winnipeg screen on Igor, shoved Copp. Copp then unintentionally collided with Igor. Igor went down like a bag of potatoes here. No joke, this looked really scary, as Igor didn't get up right away. Immediately, Rangers trainer, the great Jim Ramsay, ran out on ice.
It would take a minute or two, but with Ramsay there, Igor got to his feet and did the old "throw a little dirt on it." He was fine. Again, watch the clip. Igor had a leg issue here, and that's what he was favoring.
Due to this collision, TDA was called for interference. This put Winnipeg on the power-play.
Once again, if you had any concerns about CZAR IGOR here, he negated all of them. Winnipeg had the puck for the first minute of the PP. Winnipeg shot wide a lot. Then, in the final stages of the WPG PP, Mark Schefeile received a cross ice pass and went for the one-timer. Igor, who looked like he had a leg issue, immediately showed off his cross-ice lateral movement and was there to gobble up the shot for the save. He looked 100% here.
After the PP, Trouba would break up a WPG 3 vs 2 chance. On the next possession, Blake Wheeler deked Skjei out of his shorts, but couldn't get the SOG off.
After a stoppage, with six minutes and four seconds remaining, Jim Ramsay came on the ice. Turns out, the NHL concussion spotters wanted to take a look at Igor. I don't think Igor knew what was going on here.
To me, this was absolute bullshit. If you were so worried about Igor's well-being, why did you let him play for five minutes after the initial collision? Why not pull him and look at him after the collision? WHY ARE YOU WAITING?
Due to the NHL rules, Igor had to leave the game, despite looking 100% in the five minutes that eclipsed since the collision. If you're into individual stats, while yes it was early, this ruined Igor's chance at a shut-out bid tonight.
With Igor going to the locker room, Henrik Lundqvist had to come out of the tunnel and come onto the ice. Within seconds, he would be forced to make a save. For the next 5:45 left in the period, Lundqvist wouldn't have to see another shot, as he would wind up finishing with one save on one shot, for a save percentage of 1.000. That's pretty good for his Games Played GAA and Save Percentage averages!
After that one shot allowed, the Rangers kicked it into high gear and barely let Winnipeg touch the puck. Of note here, Buchnevich got a great shot off, but ate a huge hit. No concussion protocol for Buchnevich though!
In the defensive play of the game, if not the season, Adam Fox single-handedly broke up a Winnipeg three on one chance. I think Lundqvist sharted on this, as he was already flopping around in net.
Listen, I know goal scorers and impressive goaltender performances will always get the headlines and stars of the game, but to me, Fox deserved headlines and a star of the game for this.
And let me say this too – from a TV and story-line perspective, the Rangers & MSG Networks pushed Trouba & his WPG return. Like my old enemy/new buddy Michael Silvers said, during the latest episode of Blueshirt Underground Video/Audio – Adam Fox is the cornerstone of this defense. Trouba got all the burn tonight, but it was Fox doing all the heavy lifting. This is not to discount Trouba here. This is to say that Fox was the best defenseman, AND BY FAR, in this game.
And to even pile on the Fox love, my dad, the person who gave me the term "FATHER FINK" for these blogs, and a Ranger fan for over 65+ years and former season ticket holder, texted me this tonight: "Fox is just as good as Trouba, but much better offensively." Who can argue with that?
With 34 seconds left in the period, Chris Kreider kicked off the scoring:
CHRIS KREIDER! That is all. #NYR #LGR pic.twitter.com/0h7KMJeACk

— Rangers on MSG (@RangersMSGN) February 12, 2020
1-0, GOOD GUYS.
This goal is all Chris Kreider, who took a pass from Buchnevich and looked impressive in putting the puck past Hellebuyck.
I know I sound like a broken record here. I hope the Rangers retain Kreider. Refer to my past blogs for more on this topic. However, I have to look at the whole story here. If you're one of these people who think the Rangers should trade Kreider (and your argument certainly has merit) he's been having a phenomenal 2020. His trade value has never been higher than what it is right now. For a guy who kicked off the season extremely slow, it's all about what you're doing now, in regards to the trade deadline and his upcoming new contract. Whether it's with the Rangers or not, Kreider is going to get PAID.
After one period, the score remained 1-0, Rangers.
Here's where things get interesting.
Of course, since CZAR IGOR was fine, David Quinn returned Igor to the net, where Igor would remain for the rest of the game.
With the Rangers winning 1-0, and with the Rangers goal occurring while Lundqvist was in net; if Igor was able to continue his shut-out the rest of the way, Lundqvist, despite only playing six minutes, would get the win.
Let's say the Rangers had a team shut-out of the Jets tonight. Igor could've had his 40+ saves in 54 minutes, but it would be Lundqvist, and his one save in six minutes, picking up the victory.
Honestly, we've seen Lundqvist wiggle out of losses before. We've seen games where Lundqvist gets pulled after four or five goals allowed, only for the Rangers to rally back behind Georgiev. Despite giving up one goal in some of these situations, Georgiev, and not Lundqvist, would take the loss on his record.
This was a reverse situation here, where Lundqvist, in limited time, could've stolen a win tonight. And really, that's what looked like was going to happen!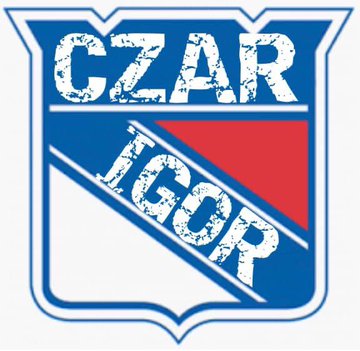 After Joe Micheletti said the word "fabulous" a few more times, Sam Rosen kicked off the second period with his usual, "WHAT DO YOU LOOK FOR HERE JOE?" As Micheletti was about to say no more penalties, Jacob Trouba was boxed for hooking, just 16 seconds into the period.
Once again, if you were worried about Igor, he immediately stoned Scheifele on the Jets PP. Fox would make the biggest clear during this Rangers PK, as the Rangers PK was successful. The NYR PK was 2-2 at this point and the Jets PP were 0-2.
The second period was mostly all Rangers, due to great goaltending from Shestyorkin and Panarin trying to set everyone and their mother up for goals.
As the period progressed, Igor looked like a cheat code. It was like playing "Madden" on PlayStation on Pro Bowl mode, where the computer goes into "Father Fink Mode" and won't let you score. Igor was stopping everything, making poke checks and of course, clearing pucks all by himself.
In what's become the norm these days, we had a Sam Rosen folly, at the 7:14 mark of the period. Rosen was going on and on about a Rangers penalty and Jets power-play. Instead, Gabriel Bourque, of the Jets, was called for hooking, which put the Rangers on the power-play.
15 seconds into the Rangers power-play, Chris Kreider picked up his second goal of the game:
Kreids scoring all over the place tonight.#NYR | @NYRangers pic.twitter.com/hbkUxiA3Cp

— Rangers on MSG (@RangersMSGN) February 12, 2020
2-0, GOOD GUYS.
From the repeating myself files: HOW IMPORTANT ARE OFFENSIVE ZONE FACE-OFFS?
The Rangers win the face-off here, and Kreider picks up a rebound for the goal.
After this goal, Winnipeg won the next face-off, where Igor stopped Appleton. Pionk collided into Igor here. Igor was fine, but man, what a beating he took tonight. However, remember how Igor said, "I want to face a ton of shots"? Well he had his wish tonight. He also had to deal with stopping bodies too!
Near the half-way mark of the period, Panarin continued to press the attack. Then after Panarin's line went off, Kakko got a good shot off, only to be denied by Hellebuyck.
As we hit the final 30 minutes of the game, with the way Igor was playing, he was doing himself a disservice with his shut-out. If he kept this shut-out alive, Lundqvist would've got the win!
Later on in the period, Hellebuyck stopped Panarin on a point-blank shot. While Panarin would eventually pick up an assist tonight, if you just watched him play and didn't look to see if pucks went in the net, you would've thought he had a five point game tonight. Panarin was just all over the place and creating offense where ever he went.
At the 14:31 mark, after another big save by Igor, Lindgren and Laine had a post-whistle scuffle. Lindgren looked ready to go. Laine didn't oblige, as he kept the gloves on. This led to off-setting penalties, giving us some four vs four foreplay.
During the 4 vs 4, Kreider had two chances to get his hat-trick. Hellebuyck denied him. Once the teams returned back to the traditional 5 vs 5 even-strength play, Igor would stop Laine again. Igor then denied a perfect goal scoring opportunity from Connor. Again, Igor makes tough saves look elementary.
After forty minutes, the game remained 2-0, in favor of the Rangers.
I'm not going to lie, at this point in the game, I was wishing for the Rangers to give up a goal, for the first time in my life! I wanted Igor to get that win!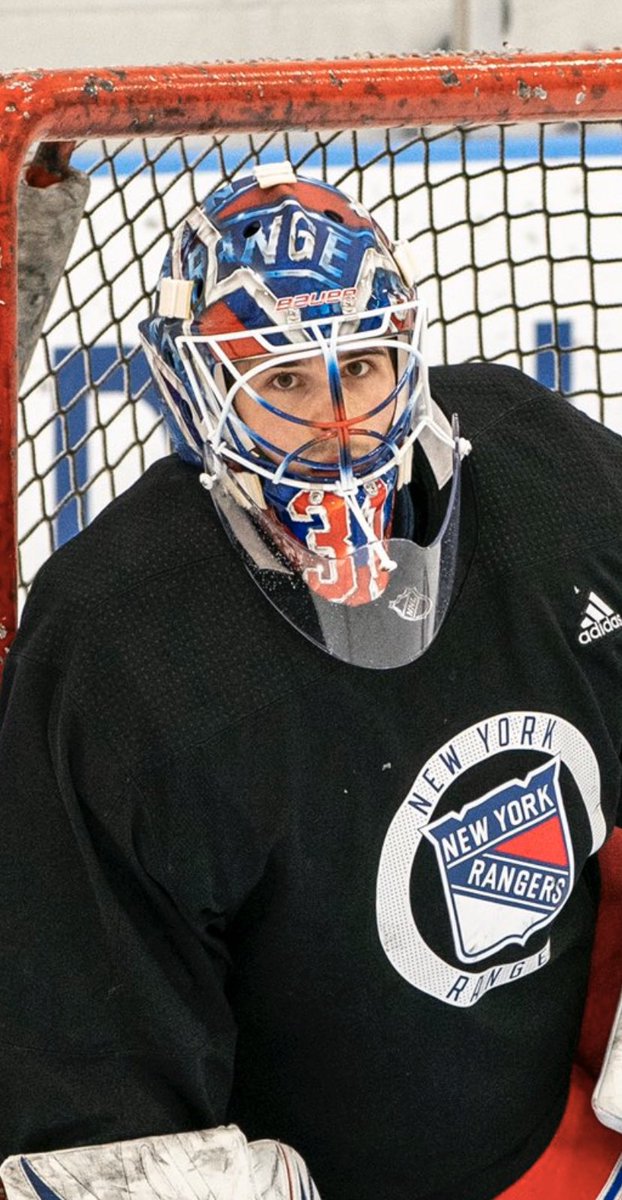 No joke, during the intermission, Vally was raving about Lundqvist's one save and how it was huge to come in cold and pick up a save. In related news, Vally is an idiot.
In the third period, the Rangers put away Winnipeg in the first 90 seconds:
Stromer and Mika light it 35 seconds apart. #NYR #LGR pic.twitter.com/gB5HuSx6lc

— Rangers on MSG (@RangersMSGN) February 12, 2020
53 seconds into the period, all of Panarin's hard work paid off. Panarin got a pass from Fox, Panarin makes a blind drop-pass to Fast, Fast puts the puck on net and there is Strome for the spinorama. 3-0, GOOD GUYS. Of note, it's a shame that Fox doesn't get an assist here, as he kicked off this scoring play.
35 seconds later, after a Winnipeg turnover, Buchnevich, from behind Hellebuyck, feeds Zibanejad. No post there Vally! 4-0, GOOD GUYS, with 18:30 remaining in the game.
A minute after these pair of Ranger goals, Kakko turned over the puck, and in trying to make a defensive play, was banged for tripping. This put the Jets on the power-play.
ONE SECOND after the Jets power-play expired, Nikolaj Ehlers scored. 4-1, good guys.
Couple of things here.
Since the power-play just expired, even if this was pretty much a WPG power-play goal, the Rangers special teams were 4-4 here, with three kills and a goal.
On this goal, you can NOT blame Igor. The puck bounced of Lindgren's skate and went past Igor. Nothing Igor could do. And again, this was pretty much a PPG, even if it won't read that way on the box score.
And most important – because of the goal allowed, Lundqvist was no longer the goalie on the record anymore! Due to the fact that Igor lost his shut-out (a team shut-out, as it wouldn't have been recorded as a lone shut-out for Igor) Igor was now eligible for the win again!
Needless to say, this was the best Rangers goal allowed of the year!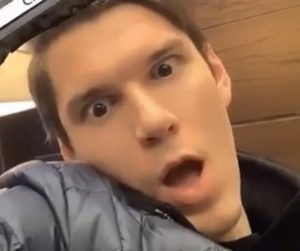 I have to say this too – I wasn't the only one talking about Igor and Lundqvist here. I saw all the NYR beat reporters doing this as well.
Furthermore, I saw many members of the Cult of Lundswiss tonight, saying, "I WONDER WHAT WOULD'VE HAPPENED IF IGOR WAS HERE AT THE START OF THE SEASON?" Sorry guys, you guys made your bed with Lundqvist. Don't jump on our train now, right Travis?
With the score at 4-1 and with Igor on record as the potential winning goalie, there were one of two things to root for here. Kreider getting the ENG for the hat trick or Igor getting an empty net goal. I know some of you will say, "what about both?" However, if Kreider made the score 5-1, I doubt Winnipeg would've pulled Hellebuyck, thus denying Igor a shot at the ENG.
As the period progressed, in a rare shot, Joe Micheletti called Paul Maurice, HC of WPG, "pathetic." I thought I wanted to hear this, but I saw my buddy Greg aka FIXXSER, and others, confirm this on social media too. I couldn't find the clip to share this with you though. SAD!
Igor would continue to remain lights out as the clock went tick-tick-tick. Panarin continued to push the offense, as if he was a running back picking up first downs.
After another solid shift from this new Rangers third line, the Jets would get the puck back, where Pionk took a frustration shot from the blue line. Easy save for the CZAR of CZARS!
With under 10 minutes remaining in regulation, Igor would make a few more saves, while the Panarin line had one hell of a forecheck. Igor would then stop Laine again.
As we hit the FOXWOODS FINAL FIVE mark, WPG was banged for going offside.
With under four minutes to go, Hellebuyck denied Strome on a good attempt. On the ensuing WPG rush, Laine rang one off the iron. The puck clearly hit the iron so hard, that even Sam Rosen realized it!
During a stoppage, Sam and Joe raved about Lundqvist's one save. I'll give Micheletti a pass here, because he's been good this season and he's still getting the Lundqvist propaganda out of his system!
With three minutes to go, Hellebuyck was pulled, giving Winnipeg the extra skater. At this point, I was wondering about this – has any goalie in NHL history finished with 40+ saves and a goal? Maybe Marty?
In what's now becoming a tradition on these broadcasts, once the other team pulls their goalie, Sam & Joe pull for Igor to get the puck, as they hope for an Igor ENG. I LOVE TO HEAR THIS!
With 1:45 remaining, in a rare gaffe, Panarin was boxed for tripping. This gave WPG a 6 v 4 attack, but it also allowed the Rangers to ice the puck at will.
During the WPG power-play, Igor would finally get his 40th save, after making three rapid fire saves. Winnipeg would then take a timeout, as if they were going to mount a three goal come back with under a minute left.
Igor would pick up two more saves in the final minute, thus finishing up with 42 saves. As the final horn went off, Rangers 4 – Jets 1. The Rangers sweep the two-game season series, as they previously beat Winnipeg in the home-opener, at M$G.
This was a great team-wide win for the Rangers, albeit with superb goaltending being the main focus of tonight.
I've been told so many times from the Cult of Lundswiss, how poor Lundqvist, you know, the guy making $8.5M, has to face so many shots and how it's not fair. In half of Igor's wins this season, he's stopped 40+ pucks. What's Hank's excuse now?
One criticism I saw from Ranger fans tonight, because as you know, everything has to be criticized to kingdom come, was that the Rangers once again gave up 40+ shots. I think many fans forget that the other team is paid to play hockey too and that on some nights, this stuff will happen. Thankfully, we have a real starting goalie now, who can prevent the bleeding. Plus, in most of these games where the Rangers give up obscene shot totals, they are scoring 4+ goals a game. If the Rangers are going to score 4+ goals a game and give up 40 shots, I'll take that trade-off, especially with CZAR IGOR in net!
Of course, after every Rangers win, there are some fans, and I'm not knocking them, who talk about playoffs. I still say the uphill battle is too tough, because you have so many teams in front of the Rangers, teams who are also picking up points every night. I think the Rangers are "too little, too late", in regards to giving Igor the number 1 job.
We are now 12 days until the NHL trade deadline. Rumors will continue to fly.
I will say, I do once again wonder about Lundqvist. With 27 games remaining on the schedule, Igor's performances and with what Quinn recently said about his goalies, how many games do you think Lundqvist starts the rest of the way, providing he doesn't waive his NMC? 3? 4? 5 at most?
As I've been saying from day one, outside of putting Lundqvist in the press box, the only way you can make him change his mind about waiving is by taking his playing time. At this stage of his career, and with the way Rangers are going, he might not catch Luongo, on the All-Time Wins list. Marc-Andre Fleury will easily finish his career with more wins than Lundqvist too.
Up next for the Rangers, a dance with the Minnesota Wild, in Minnesota.
For the Rangers, they will see old friend and Al "SMD" Demauro's favorite player, in Mats Zuccarello. As we all know, Zuccarello was once part of the three Ranger amigos, alongside with Carl Hagelin and Derrick Brassard. After the Rangers dealt Hags and Brass, Zuccarello & Lundqvist, the most prominent Europeans on the team at the time, forged a BFF relationship.
I'm sure Lundqvist would love to play against his old friend on Thursday. However, you would have to be the biggest Father Finking moron in the world, to think that Lundqvist (or Georgiev too for that matter) gets the start on Thursday.
TAKE THIS TO THE BANK – CZAR IGOR starts on Thursday, assuming he is 100% and has no lingering effects of the collisions he endured tonight.
Since predicting Ranger goalie starts has become all the rage these days, I see Igor on Thursday and Georgiev on Friday. I'm not sold on DQ going back-to-back with any goalie right now. I would then go right back to Igor on Sunday, at home, against Boston. I really don't see where Lundqvist gets a spot start right now. As long as Igor keeps this up, you got to ride him the whole way. This is Igor's team now. He will be treated as the number one goalie from this point on.
My new buddy, in Seth Kush, released the following on Tuesday:
"Be the best at getting better"- MSL

The @mstlouis_26 episode of the #BlockParty is out tomorrow!

We cover the 16 game Barry Melrose Era, "The Trade" and he names his ultimate @TBLightning starting line up. This is my personal fav so far #GoBolts ⚡️ pic.twitter.com/CP3bYEfEsF

— Seth (@SethKush) February 11, 2020
When I think about recent success with the New York Rangers, one player that always comes to my mind is Martin St. Louis, who was part of that Cinderella 2014 NY Rangers team. Another Ranger on that team was Dan Girardi.
On Wednesday, Girardi will release a new episode of his podcast with MSL.
Barring anything major happening on Wednesday, I'll be back Thursday night, with a recap of the Rangers/Wild game. In that blog, I'll recap the Girardi podcast and the latest Ron Duguay "Up in the Blue Seats" podcast. If something "WILD" (har har har) happens tomorrow, I'll come back tomorrow night.
Oh, and I should mention this too, as I go home here – if the Rangers win on Thursday, it will be their second three game win streak of the season. Another reason why Igor has to start on Thursday.
Until then, as always, thanks for reading and…
"LET'S GO RANGERS!"
Sean McCaffrey
BULLSMC@aol.com
@NYCTHEMIC on twitter