Greetings and salutations everyone and welcome to another blog here on BlueCollarBlueShirts.com.
After watching the Rangers 5-3 loss to the Dallas Stars on Monday night, I had one thought on my mind – I hate to say "I told you so", but yeah, I told you so.
What did I tell you exactly? Well, check out my last few blogs, in case you missed them:
---
---
---
---
---
---
---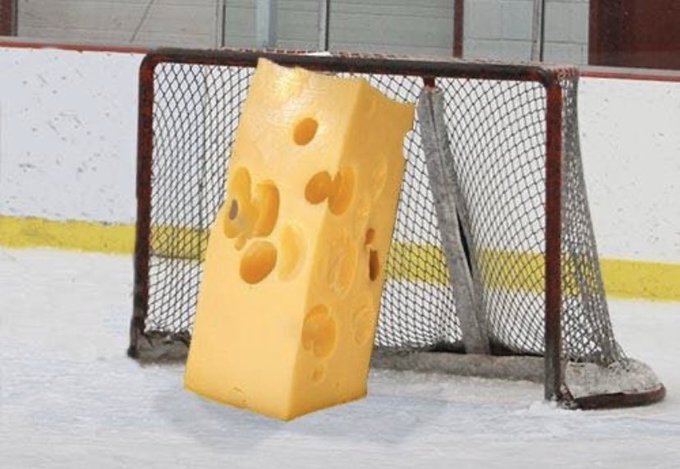 When it comes to the shellacking the Rangers received from the Stars on Monday night, everything I said in my last two blogs, and on social media, over the past few days, all came to fruition tonight. To simplify everything I said – the wins over Detroit were hollow victories.
In the two Ranger wins out of the break, the two victories over the worst team of the salary cap era, in the 2019-2020 Detroit Red Wings, while the Rangers were able to sweep the Dead Wings, I didn't think the Rangers looked that great. After all, in the game from Saturday, Mika Zibanejad scored a flukish power-play goal, and that would be the only goal of the game.
In tonight's game with the Stars, the Rangers scored three power-play goals. That means that for two consecutive games, the Rangers are without an even-strength goal. While scoring on special teams is essential when it comes to winning and losing, you do need to be able to score while playing the traditional five vs five game too.
I said this in my last blog and on social media. While everyone was going nuts about Lundqvist getting his first shut-out in 27 months, over a team missing Andreas Anthanasiou and a team full of recent AHL call-ups, I thought the big story was that the Rangers only scored one goal in the game. If the Rangers had lost that game 2-1, the Rangers lack of scoring would've been the bigger story. Even my buddy Al "SMD" Demauro knew this! (Fun chat tonight by the way! He's one of the few people who breaks my balls constantly and does it in a fashion where I have to tip my hat to him.)
However, with the Cult of Lundswiss around and a NY beat reporting scene that will fawn over Lundqvist at the drop of a Broadway Hat, the focus after the win over Detroit was Lundqvist. Outside of this blog, I didn't see a peep about the lack of scoring.
During the last two game blogs, I said verbatim, that "I didn't want to piss on anyone's parade, but let's take this win for what it is." In tonight's game with the Stars, we were shown how hollow those Ranger victories were against Detroit.
Playing a Dallas team contending for a playoff berth right now, the Rangers, while they did have glimpses of hope throughout the game, had two distinct moments where the momentum was changed in this game. The Rangers could just never rally back. Once Dallas got their fourth goal, it seemed like the life was sucked out of both the Rangers and the usual lackluster crowd at Morgue $quare Garden. The Rangers just seemed too willing to accept their fate, after that fourth goal allowed by King Lundswiss.
After the Lundqvist shut-out from Saturday night, I was tagged on social media, both on Facebook and on Twitter, from a million Cult of Lundswiss fans, talking about how "Hank was back", "You don't know what you're talking about", "Lundqvist is still one of the best goalies of the league", and in one of my favorites Cult of Lundswiss-ism's, "LUNDQVIST PROVED HE'S A FIRST BALLOT HALL OF FAMER!" (Refer to the links above, where I broke down why Lundqvist is NOT a Hall of Famer.)
Fast-forward 48 hours later and Lundqvist started off the third period on the bench, after giving up four goals on fifteen shots, for a save percentage of .733. As I always say, $8.5M doesn't get you what it used to!
While surely, this loss isn't 100% on Lundqvist (but it's not like he helped matters either) the Rangers were exposed against a Cup contending team. And let's face it – in Lundqvist's shut-out of Detroit, Detroit fanned or badly missed on four vacated nets by Lundqvist. That's how bad Detroit is. In this game with Dallas, when the Rangers made a mistake, Dallas made the Rangers and Lundqvist pay.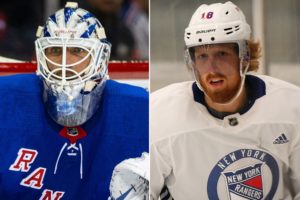 I'll get more into all of the Lundqvist crap as this blog continues, especially in light of the injury Toronto goalie Frederik Andersen suffered tonight and with the interview Marty Brodeur gave to Larry Brooks of the NY Post. However, before doing all that, and the game recap itself, let's get into the pregame news.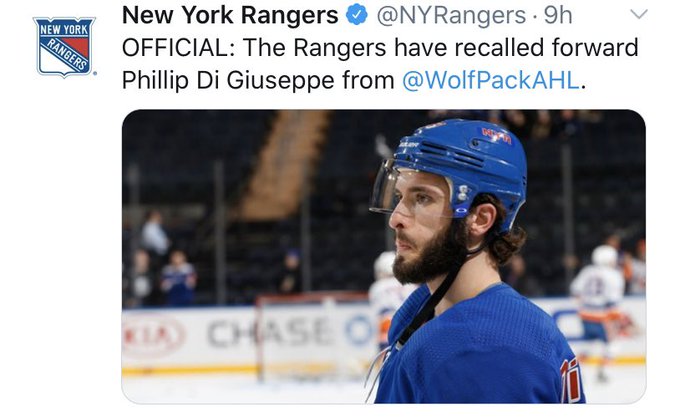 In my two Hartford Wolfpack game review blogs, which are linked above, I talked a lot about Di Giuseppe and how I liked what I saw from him. On Super Bowl Sunday, the Rangers recalled Di Giuseppe. To me, when I saw this news, I figured Di Giuseppe was called up, just in case Chris Kreider couldn't go for the game. That's what wound up happening. And as a bonus, Di Giuseppe wound up replacing Kreider on the first line, rather than playing three minutes and change, on the fourth line, with Brendan Smith and Gregg McKeg.
When it comes to Di Giuseppe, as I predicted to my ball-breaking buddy Artie Sintef, I thought he would have a good game tonight. In my opinion, I thought Di Giuseppe did just that tonight. He had four good shots on goal and had a "shoot-first, ask questions later" mentality. While Di Giuseppe didn't exactly light the world on fire, what Ranger did in this game? I thought Di Giuseppe did well and should play again.
That said, if CK20 is healthy to go on Wednesday, if Di Giuseppe is to play, I don't see who you could bump to the press box, outside of Greg McKegg. That would mean fourth line work for Di Giuseppe, but for his financial situation and career, he's better off with the Rangers than with the Wolfpack. (And like I've said in the past, when regarding CZAR IGOR SHESTYORKIN, I see all of these guys being returned to Hartford, once the NHL season ends and the AHL playoffs commence.)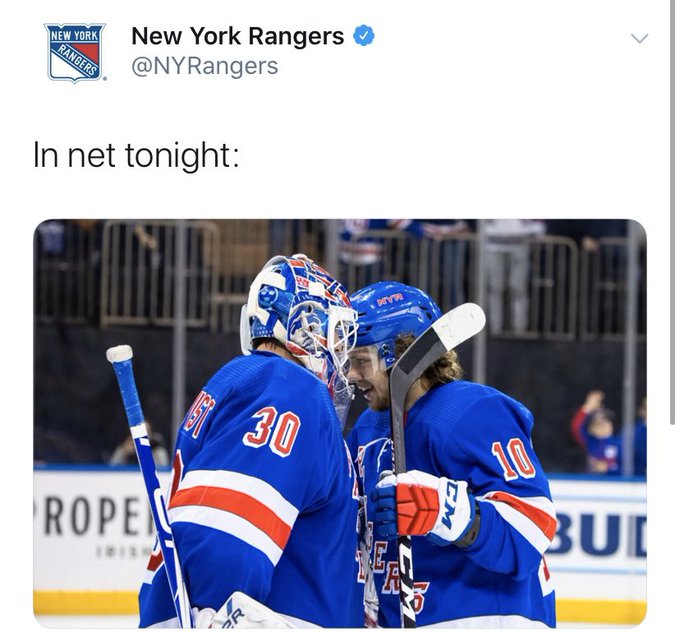 It wasn't until Monday's morning skate where Henrik Lundqvist was announced as the starting goalie for tonight's game. I had no problems with that. In case you forgot, this is what I said at the end of my last blog, after the win with Detroit: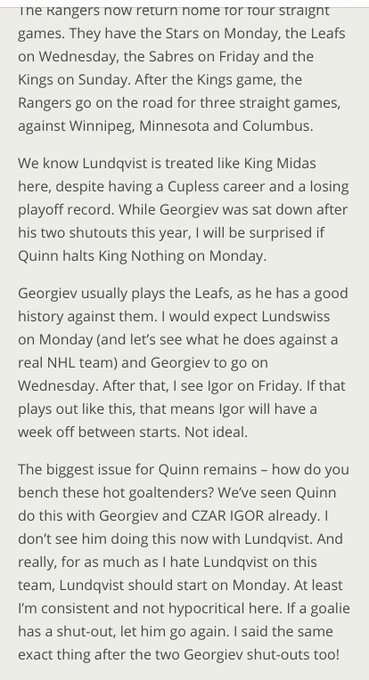 My only bone of contention with Lundqvist starting tonight, is that I wanted head coach David Quinn to explain why he benched Georgiev after his two shut-outs, only to allow Lundqvist play tonight. When I asked NYR beat reporter, Vincent Mercogliano, about this, he called me "salty". Who's salty now? (And a memo to Mr. Mercogliano, who I do think does great work, I never hide, despite his false accusations!)
And to be clear, I have no issues with Mr. Mercogliano, as I find him to be the hardest working reporter on the beat today. However, when push comes to shove, 9/10 times, he won't ask the tough questions. Even during a goalie controversy, Mercogliano is asking David Quinn about Larry David, as if Larry David's opinions on Kaapo Kakko has anything to do with this Rangers team. (That said, I get why he asked DQ about LD. Larry David's name will bring clicks to his column.)
My point to Mercogliano was this – isn't this a question that should be asked? Isn't that the job of the reporter, to ask the tough questions? Aren't asking tough questions the sign of a good reporter? After all, if you're reporter, do you want to be known as tough hard-nosed reporter or do you want to be known as a cream puff, who asks cotton candy type of questions?
In conclusion on this topic, all I'm saying is that it would've been nice to know why David Quinn thought he had to bench Georgiev after his shut-outs, but had to go with Lundqvist tonight, just because he shut-out the worst team of the salary cap era.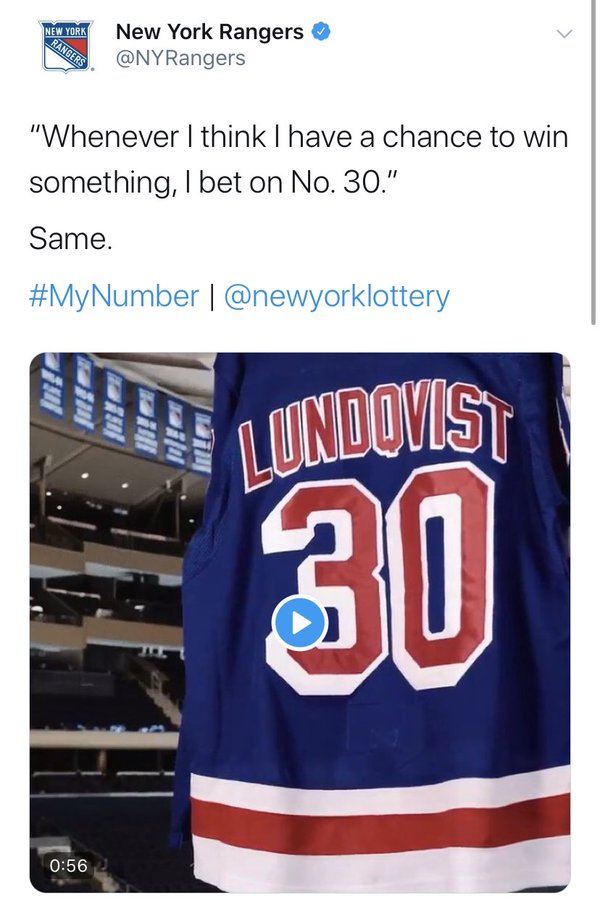 I'll be honest, when I see number 30 in net, I always see a chance to win something. That's why I bet the over whenever he starts! Let's go to the GAMBLING segment of tonight's manifesto.
Here's what I said before the game:
Season over-under record: 24-23-3

A super rare low o/u line of -5.5!

Rangers have had trouble scoring lately, but can score 5 in any game. Bishop isn't playing for Dallas.

Lundswiss faces a playoff team tonight.

This is easy – take the over! pic.twitter.com/hf8HwzEqip

— BlueCollarBlueShirts (@NYCTheMiC) February 3, 2020
The over easily hit tonight in this game, by the mid-way point of the second period. With 8 total goals scored, this was one of the easiest over victories of the season.
With the win, my record now improves to 25-23-3 on the season.
If you read these blogs last season, my over/under predictions hit a lot more last year than this year. What's been killing me this year, is the never-ending goalie rotations, the Rangers being streaky and the fact that over-under lines are 99% of the time at -6.5. That's when I saw a line of -5.5 tonight, my eyes lit up like a red lamp behind Henrik Lundqvist.
And finally, in the last morsel of pregame news, here was the line-up for tonight's game: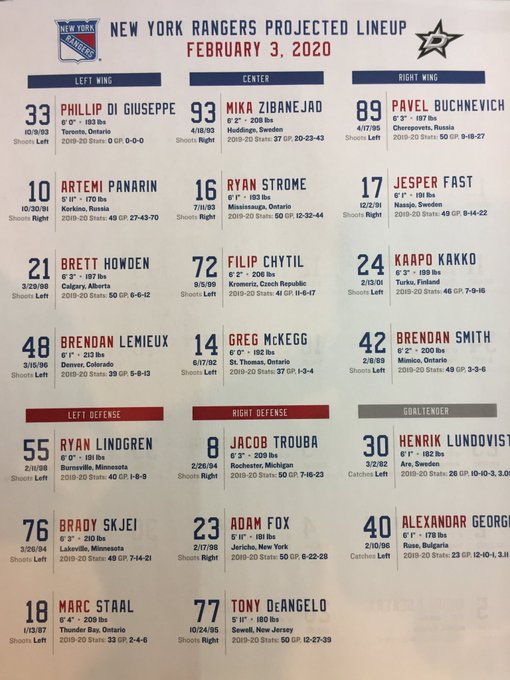 As you can see from the line-up, Di Giuseppe playing for CK20 was the big news. The only other thing worth noting was that Quinn kept Skjei and Trouba apart again. And oh yeah – CZAR IGOR was in street clothes again.
At this time, let's go to the official box score of the game, courtesy of ESPN.com:
SCORING SUMMARY: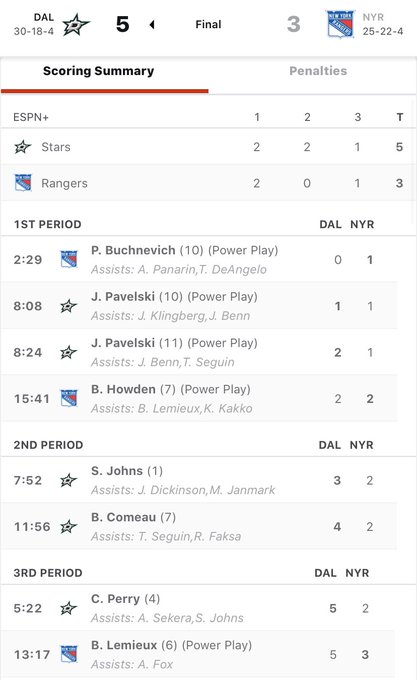 PENALTIES: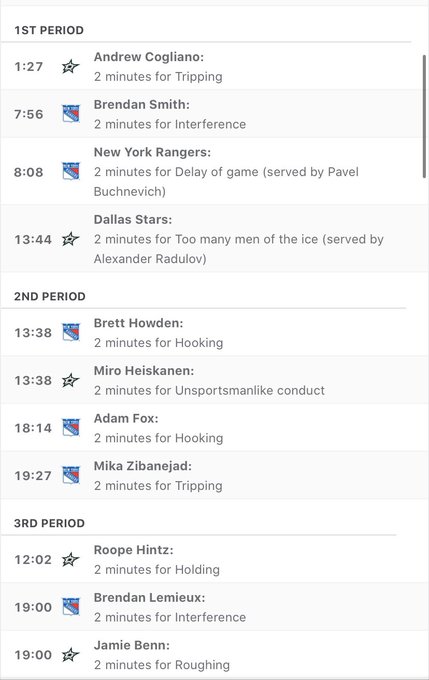 TEAM STATS: (Rangers went 3-3 on the PP, had more SOG and won the battle at the dot. Lundqvist killed them tonight.)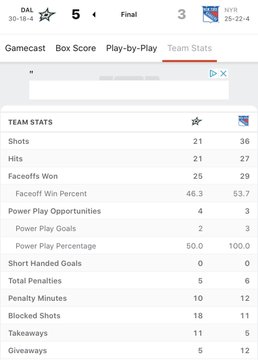 GOALIES:
| | | | | | | | | | | |
| --- | --- | --- | --- | --- | --- | --- | --- | --- | --- | --- |
| SA | GA | SV | SV% | ESSV | PPSV | SHSV | SOSA | SOS | TOI | PIM |
| 36 | 3 | 33 | .917 | 29 | 1 | 3 | 0 | 0 | 60:00 | 0 |
| | | | | | | | | | | |
| --- | --- | --- | --- | --- | --- | --- | --- | --- | --- | --- |
| SA | GA | SV | SV% | ESSV | PPSV | SHSV | SOSA | SOS | TOI | PIM |
| 6 | 1 | 5 | .833 | 4 | 0 | 1 | 0 | 0 | 17:27 | 0 |
| 15 | 4 | 11 | .733 | 9 | 1 | 1 | 0 | 0 | 40:00 | 0 |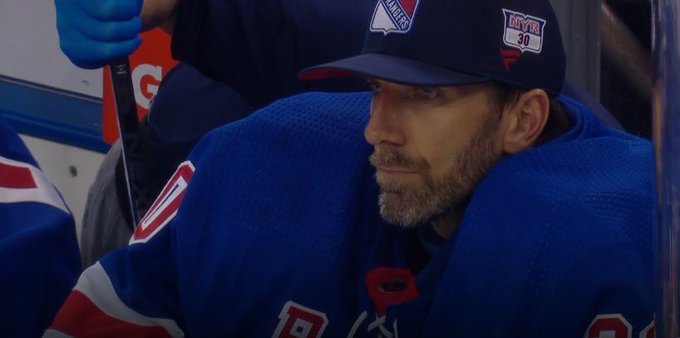 In the pregame show, I can't lie – Steve Valiquette has become white noise to me. I was checking my phone rather than paying attention to him. The Rangers, as they always do this time of the year, then ran their usual woke Black History Month segment. I guess this was nicely done, but it all comes across as a PR segment. It's nice that the Rangers try to promote hockey in Harlem, but in the 20 years that the Rangers have been doing this, has any hockey player come out of Harlem?
Of course, right after promoting hockey to poverty areas, the Rangers pushed their Casino Night. They went from one end of the spectrum to the other here. I believe Casino Night tickets start somewhere in the $600 price range, where you're afforded the opportunity for the right to gamble at games rigged in favor of the house. (And let me remind you, tickets START at $600. $600 to shake Micheal Haley's hand and talk mani-pedi's & anal bleaching with Henrik Lundqvist.)
If you watched these two segments, neither segment favored the middle class. And really, that's pretty much how M$G runs their arena these days too, hence all the dead crowds.
After all, it wouldn't it be nice if the Rangers & M$G had "Middle Class Night", where a working family of four could attend a game, without having to donate organs and limbs?
I will say, as far as the M$G Networks broadcast goes, Steve Valiquette did stun me in the post-game, which I did watch in full. More on that as we get there.
And before closing on the pregame show, I thought Sammy The Schnozz and Jumpin' Joe did a good job of setting the table. Micheletti chose Filip Chytil as his "TACO BELL TAKE" player of the game. While Chytil wouldn't score in this game, I thought Chytil and his line played really well.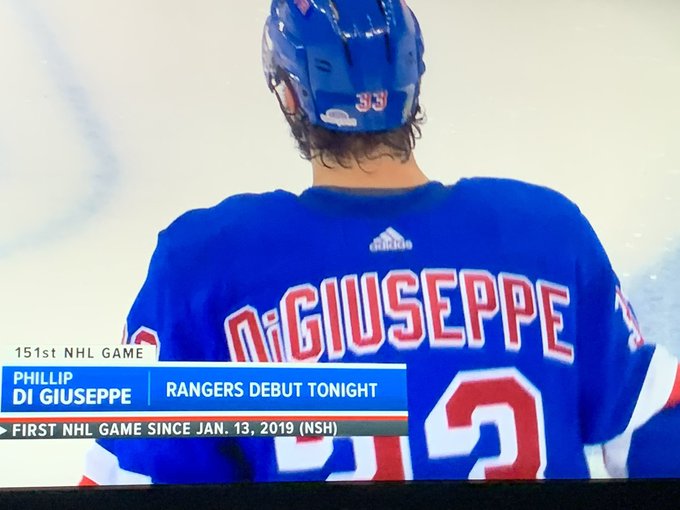 The Rangers really did look good in this game and for long stretches at a time. However, as I'll get into, two different moments changed the flow of the game.
87 seconds into the game, Andrew Cogliano tripped up Artemi Panarin. This immediately put the Rangers on the power-play.
While on the power-play, Buchnevich filled in for Chris Kreider, as he was screening Dallas goalie, Anton Khudobin, who hasn't played in over two weeks. (Starter Ben Bishop had a rest tonight.) After making a few saves on the Dallas PK, Buchnevich caught Khudobin over-playing/cheating a pass. (More on the word cheating at the first intermission!)
A minute into the power-play, Buchnevich put the Rangers on the board:
Putting the puck on net! #NYR pic.twitter.com/y9exOMXXo1

— Rangers on MSG (@RangersMSGN) February 4, 2020
1-0, GOOD GUYS.
On the goal, Buchnevich, from near the side boards, takes a shot. Khudobin was looking for the cross-ice tap-in goal from Zibanejad. Instead, the puck hugged the post and went in. This was a bad goal for Khudobin to allow, even if it was of the power-play variety.
On the goal, Panarin (of course) and Tony DeAngelo had the assists. For TDA, it's his 40th point of the season – a career high. Of note, according to @NYRSTATSINFO , was this little tidbit:
Over the last 25 seasons (since 1994-95), DeAngelo is one of only two Rangers defensemen who have registered 40 or more points in the team's first 51 games of a season (Brian Leetch – 1994-95, 1995-96, 1996-97, 2000-01).
And some idiots want TDA traded, only because of his political beliefs! SAD!
Right after this, TDA juggled a puck at the blue line. Sammy The Schnozz thought the puck was onside. Micheletti thought it was offside. To me, it looked onside. Micheletti was vehemently saying the puck was offside. More on Micheletti as we go along.
As the period progressed, Di Giuseppe ripped his first nice SOG of the game. Save by Khudobin. At this point, the SOG were 8-1, in favor of NYR. So when you look at this game, the Rangers were dominating at the early onset.
I also want to mention this. The crowd was deader and lighter than usual tonight. That's because of this: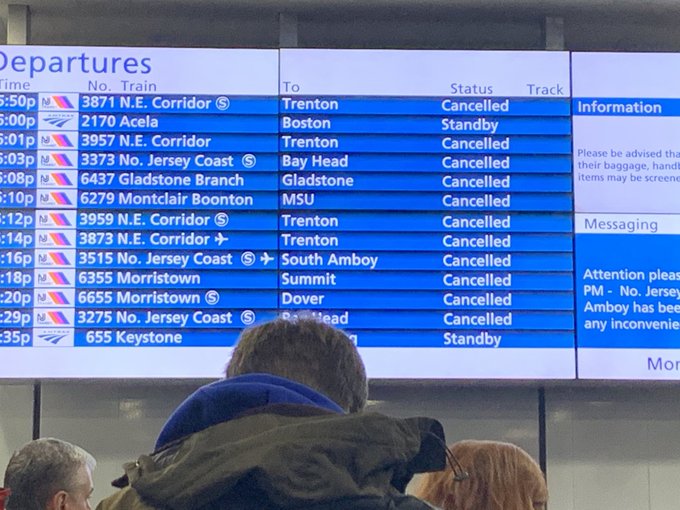 I saw on social media, from numerous Ranger fans, how their plans to attend this game were thrown off, as New Jersey Transit had a bunch of trains canceled. In one case, one train, nearing Penn Station, actually stopped and went back to Newark Penn Station. I feel bad for these fans.
I'll say this and we'll see what happens, should these fans who were screwed tonight read this.
A few years ago, I was going to a Rangers/Devils game in Newark. When I got to Penn Station, via the LIRR, I found out that NJT canceled a ton of trains. I forget the reason, but it wasn't weather related, because after all, I got to Penn fine with the LIRR. When it was all said and done, I couldn't make the game.
When I tweeted at NJT and the Devils about this, in turn, the Devils offered me free tickets to another Devil game of my choosing, with the exception of another Ranger/Devil game. While it wasn't a full refund, a free ticket was better than nothing. I believe I eventually used the ducat to see a Talbot Oilers game with the Devils.
I'll say this  – I wouldn't hold my breath on the Rangers doing the same thing.
7:56 into the period, Brendan Smith took a stupid away-from-the-puck penalty, when he interfered with Corey Perry. This put Dallas on the power-play. This was the beginning of an ugly sequence.
After winning the draw in the Rangers defensive zone, Dallas hit the cross-bar. The puck flew up right to the glass and about an inch away from the netting. Right after this shot, Joe Pavelski tipped in a puck through the five-hole of Lundswiss:
Pavs with the redirect in front of the net! 😍#DALvsNYR | #GoStars pic.twitter.com/6Ez8MJYNNY

— Dallas Stars (@DallasStars) February 4, 2020
1-1.
After this goal, David Quinn challenged the goal, saying that the shot that hit the cross-bar actually hit the netting, which means that play should've been whistled dead. Joe Micheletti swore up-and-down that the puck hit the netting, despite no visual or concrete proof of this. This may have been one of those plays that if the play was ruled dead immediately, you wouldn't argue with. However, when you look at the replay, there was no evidence of the netting being touched by the puck. To Micheletti's credit, he admitted he was wrong. I admire that. Far too often, people will be adamant about something, but won't say when they are wrong. Micheletti manned up here. Kudos.
Due to losing the challenge, this put Dallas back on the PP, as the Rangers took a delay of game penalty.
Just seconds into the Dallas power-play, Pavelski scored again:
.@jpav8 get his second PPG in 16 seconds!#DALvsNYR | #GoStars pic.twitter.com/kGevOu4Z70

— Dallas Stars (@DallasStars) February 4, 2020
2-1, BAD GUYS. For those counting at home, Lundqvist gave up two goals off of three shots. To be fair, both were PPG's and I rarely go after the goalies after PPG's.
I think it was at this time in the game, where Lundqvist, Quinn and the Rangers realized that they weren't playing Detroit anymore. And hey, that is now two goals scored after Ranger defensive zone face-off losses. A common theme this season, as I've talked about plenty of times, in-depth, during previous blogs.
To me, this was the first momentum changing moment of the game. There was no evidence of the puck off the cross-bar hitting the net. However, Quinn, early into the game, decided to use his challenge. He failed here and in turn, Dallas got another goal off of this failed challenge. And yes, this nasty cycle starts with the bad penalty that Smith took. Of note, Quinn was fuming here, while Brendan Smith was smiling on the bench. I won't lie, that peeved me a bit.
It was also at this point in the game, where Rosen said that Dave Maloney's brother, ex-Ranger Don Maloney, was at the game, as Don Maloney was scouting this game for Calgary.
Really, these two goals changed the game. The Rangers were dominating up until Smith's penalty. From here, it was all Dallas. That said, you couldn't knock the Rangers effort.
The Rangers would get a break, when at the 13:44 mark, Dallas took one of those famous "too many men on the ice" penalties. This put the Rangers back on the PP.
With just seconds remaining on the power-play, the Rangers tied it up:
Now that's some ✋/ 👁️ coordination from Brett Howden right there!!!! #NYR pic.twitter.com/0ey2ZG2rPO

— Rangers on MSG (@RangersMSGN) February 4, 2020
2-2.
On the goal, Kakko fires a shot, the puck bounces off of Lemieux, the puck dribbles down, Brett Howden bats the puck down and then pushes the puck past Khudobin.
At the time, this goal was waved off, as the refs thought Howden batted the puck in with his mitt. After a super-quick review, it was ruled that Howden batted the puck down and scored the goal with his stick: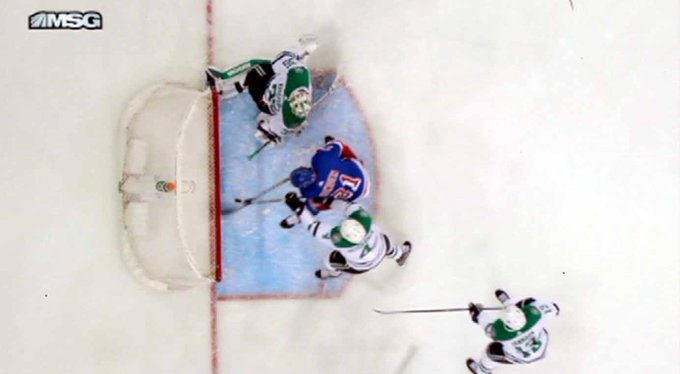 While Lemieux was on the fourth line, how about Kakko and Howden getting an assist and a goal respectively here? Good for them. Really, I thought the third line was the best line of the game tonight. (And keep in mind, that means they play against the third line of the Stars. The Stars did a good job of trying to contain Zibanejad and Panarin, on the first and second lines respectively.)
With the goal, the Rangers found new life. However, Buchnevich was absolutely horrible here. He kept turning over the puck and looked lost. It was so weird. Buchnevich caught Khudobin to start the game, but by the time the third period started, like Lundqvist, Buchnevich was stapled to the bench. In his post-game interview, David Quinn said that he wasn't thrilled with Buchnevich at all. Again, so weird and conflicting. For Buchnevich fans, you got a goal from him. For the people who think Buchnevich is overrated and stinks, Quinn backed you up.
As the clock came down to 78 seconds remaining in the period, Di Giuseppe had another good look. Save by Khudobin. Then, in the final Dallas rush of the period, Ryan Lindgren, who as mentioned on past blogs, has been great in his role, blocked a big shot.
2-2 after twenty. SOG favored the Rangers, by a tally of 13-7. And while all four goals scored were of the PP variety, I thought the Rangers were the better team of the period.
During intermission, Valiquette had his usual laundry list of excuses for any goal scored on Henrik Lundqvist. That tune would change at the end of the game, as I'll get into later on.
It was during this part of the broadcast that Valiquette admitted that he used to cheat when he was a player. He admitted to stuffing his pads and gear with illegal items, such as player gloves. Not that it helped him. After all, he once gave up 10 goals to this Dallas Stars franchise!
Speaking of cheating, as mentioned previously, I didn't notice Valiquette with a wedding ring on his hand, during this broadcast. Hmmmm. As @KimSundback said on twitter, "maybe he cheated on his wife with a player." No comment!

As the second period kicked off, Khudobin made two great saves on Di Giuseppe. Then, Tyler Seguin would get a chance at Lundqvist. Lundqvist made a kick save. Seguin messed up here, as if he lifted the puck, he probably scores here. Sam Rosen was doing back-flips over this save. Ironically, later on in the game, with Lundqvist sulking on the bench, this was called the "Save of the Game". Talk about some hometown cooking here.
Of note here, McKegg had a painful game. He went to the locker room in the first period, but would return in this period. As the game progressed, he was grimacing and looked hurt all game. Give him credit, he was playing hurt and trying to do whatever he could for this team.
Just like the early minutes of the first period, the Rangers dominated the second period. They wouldn't let Dallas touch the puck. At one point, the SOG favored the Rangers, by a tally of 20-10, meaning the Rangers were out-shooting the Stars, by a 2:1 ratio.
However, the second momentum changing moment of the period occurred here.
At the 7:52 mark of the period, Stephen Johns, who hasn't had a goal in two years, beat Lundqvist with a shot from the blue line:
CANNON. @stjohns28 | #GoStars pic.twitter.com/TBK9JSQBTa

— Dallas Stars (@DallasStars) February 4, 2020
You know what they say – "those 60 foot one-timers are a bitch."
This was a horrendous goal for Lundqvist to give up. Micheletti, and later on Valiquette, would say as much. 3-2, bad guys. This goal changed the game, as the Rangers were dominating, but this harmless shot goes in.
After DeAngelo broke up a Radulov attempt from close, Dallas would double-up the Rangers:
You're a baaad man, Blake Comeau. #DALvsNYR | #GoStars pic.twitter.com/6aKuerSiyW

— Dallas Stars (@DallasStars) February 4, 2020
4-2, bad guys.
On this goal, which came with 8 minutes remaining in the period, Lundqvist was simply too slow and got beat. During the live-shot of the broadcast, David Quinn was shaking his head in disgust. Of course, there is no gif or video replay of that available! Gee, I wonder why!
For whatever reason, Blake Comeau remains a Lundqvist killer: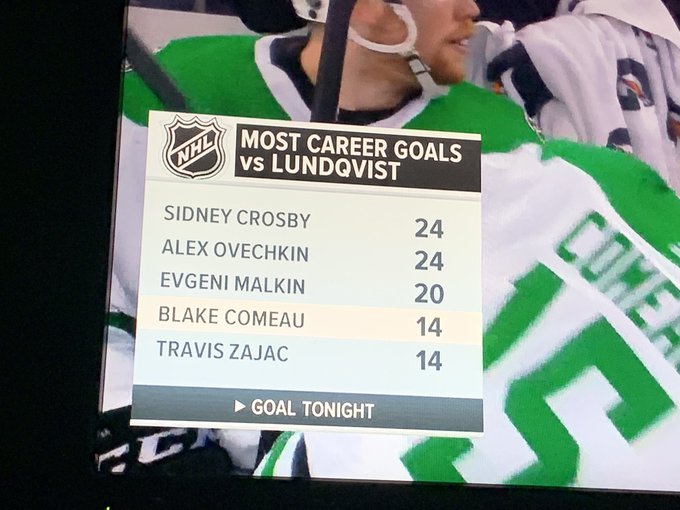 This wound up being the game winning goal, putting more salt in the wound. Lundqvist has to stop this. To jump ahead a second, if you watch the David Quinn post-game, he said this was one of the reasons he pulled Lundqvist. DQ also said that Lundqvist didn't have the mojo.
A minute or so later, Howden hooked Miro Heiskanen. Howden was boxed here, but so was Heiskanen, as he was boxed for embellishing. I call it as I see it here. I don't see how this was embellishment, as Howden hooked and tripped Heiskanen. He fell down. That's going to happen when you're assaulted and skating at a fast speed. Whatever the case, four on four foreplay here.
After returning to full strength, Adam Fox was called for hooking, at 18:14, after hooking Gurianov on a breakaway. Rosen was ecstatic about Lundqvist for making the save after the penalty occurred. Micheletti bit his tongue and let the old man have his moment.
73 seconds into the Stars PP, Zibanejad was sent to the sin bin for tripping. To give you the moment here, there were 46 seconds left on the original power-play. This gave Dallas a 5×3 power-play for 46 seconds. At this point in the game, there were 32 seconds left in the second period, so if Dallas didn't score, they would have 14 seconds of a 5×3 PP to start the third period.
Right after Zibanejad was sent to the box, Dallas won a face-off and Radulov rang one off of the post. More iron helping Hank out here.
The period would then come to a conclusion, meaning Dallas would open the third period on a five vs three power-play. 4-2 Dallas.
David Quinn put Lundswiss on the bench to start the third period. While I'm sure you could scour the annals of hockey history to find another example of this, I can't remember, in recent memory, where a goalie was thrown in cold into a game, during a five vs three power-play.
Lundqvist politicks for playing time. He says he wants to play every minute of every game on the schedule. This is when he gets a breather? During a five vs three power-play? To me, David Quinn was setting up Georgiev to fail.
Oh, and before this period started, Rosen and Micheletti went into the Lundqvist Excuse 101 Rolodex, saying Lundqvist must've been injured, hence the benching. Sorry guys, he was benched because he sucked. Quinn said as much in his post-game. There was no injury here, no matter how much the MSGN guys were trying to sell that theory.
Fortunately, the Rangers would kill both penalties here, as Georgiev and the Rangers got out of this without allowing Dallas to score. During the kill, Staal would get banged up tripping over a stick and McKegg was wincing after a blocked shot.
In perhaps the Rangers best chance of making this a one goal game again, Khudobin stopped Zibanejad. It looked like Zibanejad lost the handle, at the last second.
With 14:38 remaining in the period, Andrej Sekera bombed a shot on Georgiev. Georgiev kicked the puck to the side, where it found Corey Perry, for the easy rebound goal. 5-2, bad guys. After this goal, Sam Rosen was doing his best in trying to sell a Rangers comeback.
On the next few Ranger chances, Di Giuseppe just missed a one timer. Then Staal & Strome flubbed a two-on-one opportunity.
During the TV timeout that occurred here, the guy in the studio (it wasn't Bill Pidto, as he was doing the Knicks game) talked with Vally. The guy said, "You know Dallas Steve." No mention of Vally's 10 goals allowed against Dallas though!
As we hit ten minutes left in regulation, the Rangers just looked down and out & defeated.
With 7:58 left, Roope Hintz was called for holding. 77 seconds into the power-play, Adam Fox blasted a puck and Brendan Lemieux tipped it in. 5-3, bad guys. A two point game for Lemieux though.
At this point in the game, with five minutes left and the score at 5-3, I was cracking up. If the Rangers were to score another goal, Georgiev would've got the loss for giving up the game winning goal. This happened to him once previously this season, in the game with Boston. Lundqvist gets torched, Georgiev gives up one goal and because the Rangers rallied back, Georgiev got the loss. In the case of Georgiev, fortunately for him, that's not what happened here.
To entertain myself during this dreadful moment of this eventual Rangers loss, I was thinking of funny Hank jokes. It looked like he was on the bench, singing, "I wish all games could be like Detroit girls…." In a better joke, Jim Schmiedeberg, of Blueshirt Underground Radio/Video, said, "Hank is a Comeau-phobe!"
The Rangers had a few chances, at 5-3, to make this a one goal game again. Strome would just miss, after a one-timer pass from DeAngelo.
With 2:17 left, Georgiev would go to the bench, as the Rangers employed their extra skater empty net attack. Dallas would immediately hit a post on an EN attempt.
After a Rangers timeout, with 1:16 remaining, the Rangers looked to have scored their fourth goal, which would've gotten Hank off the hook for the loss. However, before Lemieux's snipe, which would've given him two goals in the match, Lemieux was called for interference. This then led to a scrum with Jamie Benn, who took a roughing call.
For the final minute of the game, the Rangers kept their net empty, as we had a 5 vs 4 attack. No matter. Khudobin stopped everything in the final minute, and as the final horn went off, it was Dallas 5, NY 3. For the Rangers, who had a two game winning streak going into this, they failed to put together a three-game win streak here. As mentioned, the Rangers only have one three game win streak this season. You're not going to the playoffs like that!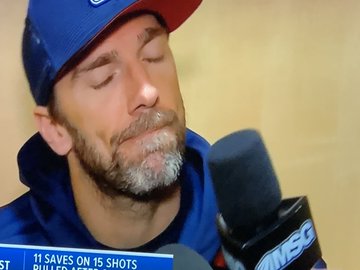 All in all, this was a brutal loss for the Rangers and maybe a loss, where fans who thought the Rangers might have a shot at the playoffs, just gave up on that dream. It could also be a loss that will eventually lead to the Rangers selling off talent. After all, with this loss, the Rangers are now 10 points out of a playoff spot, with 31 games left to go and five teams to leap-frog.
And to Artie and Al, if you're still here, you guys are probably right with your "tank" theory. However, it's impossible for me to root for the team to lose. I don't discount people who want to "tank"; it's just not for me. I'm not saying the "tankers" are wrong though. After all, I don't dedicate thousands of hours and dollars to this blog and to this team, just to root for losing. That said, I understand the thinking behind it.
Furthermore, while speaking of winning vs tanking, the Rangers are nearly closer to a draft lottery pick at this stage, than a shot at the playoffs. They trail the Islanders by 10 points for the second wild card seed. Conversely, they are only 11 points better than the second-to-last place team in the conference, in the NJ Devils, a NJ Devils team that has already blown their team up this season.
The big news out of the league tonight, was Frederik Andersen, the goalie of the Toronto Maple Leafs, who ironically are the next team up for the Rangers on Wednesday night, was hurt tonight. Andersen was taken out of tonight's TML's 5-3 loss to the Florida Panthers. However, after the game, TML HC, Sheldon Keefe, said that Andersen was fine after the game and may practice tomorrow. Of course, Toronto is one of the teams in the playoff hunt.
When it comes to the playoffs, the Leafs are currently outside looking in, but they are a point away from having the second wild card. Obviously, with the money spent in Toronto, missing the playoffs would be a huge and epic failure for them. Previously, Georgiev has been linked as a potential player to be traded to the Leafs. However, if Andersen is to miss time, maybe they would be desperate enough to take Henrik Lundqvist and that horrible contract off of the Rangers hands.
And let's face it. If you're JD or Jeff Gorton, what's better for the Rangers? Georgiev or Lundqvist? If Toronto offered anything for Lundqvist, even if it was a case of Molson beer, wouldn't you take it, just to get out of this contract?
Leapin' Larry Brooks had an interesting article before puck drop tonight. If you haven't seen it already, you can read it here: https://nypost.com/2020/02/03/martin-brodeur-knows-henrik-lundqvists-rangers-struggle-all-too-well/
I think this tells you all you need to know between a winner and a loser: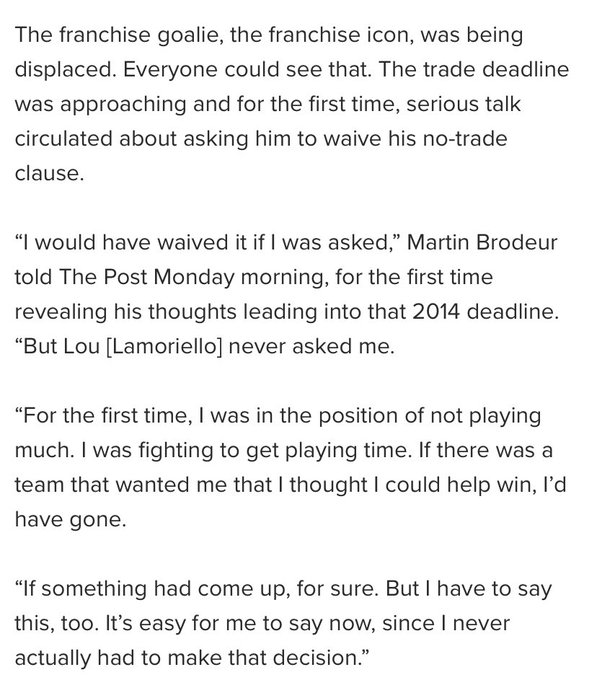 If you read the article, it describes the difference between a winner looking to win even more; and a loser happy to keep on losing.
I know. We're Ranger fans. However, I'm a hockey fan too. When it comes to the best goalie of all-time, Brodeur is in the conversation. You could also argue Terry Sawchuk or Patrick Roy here, and that's fine. However you may feel though, Marty is in the conversation.
When Marty aged out and the Devils were moving on, Marty was already one of the greatest goalies of all time and had won three Stanley Cups. However, he still wanted to win and would've waived his NMC to chase a Cup somewhere.
When it comes to Lundqvist, he's no Ray Bourque. If things continue, as mentioned on previous blogs, this will be the third straight season where the Rangers have no shot at the playoffs, yet Lundqvist won't waive his NMC to chase a Cup. Lundqvist is putting family, familiarity and being adored over WINNING. For Marty, and yes, there are plenty of family jokes to make here, he was willing to sacrifice family life and familairity, for one last crack at the Cup.
As of this writing, we don't know how serious the Andersen injury is in Toronto. We know that maybe Carolina or Colorado, both playoff teams as of press time, could use some goaltending insurance. If Lundqvist is as good as he thinks he is, and if winning a Cup is important to him, he would waive the NMC. Instead, as Ranger fans, we are forced to watch this rebuild be stunted. After all, after winning his last game, CZAR IGOR was in street clothes these last two games. This helps a rebuild how?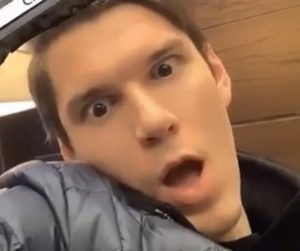 Up next for the Rangers, an Original 6 match-up with the Toronto Maple Leafs. Be advised of the later than usual start time, as this game goes off at 7:30PM.
As I've been saying since the break, I expect Georgiev to start this game. He has the numbers and recent winning history over Toronto. Even if Georgiev is able to record 55 saves or shut Toronto out, I think no matter what, CZAR IGOR gets Friday's game with Buffalo. I just don't see how it's good to keep Igor out for 7+ days again, and a start with Buffalo would be his first start in a week.
I had some people say to me after tonight's game, that this may have been Lundqvist's last game as a Ranger. I even had an ex-pro hockey player, in Joe L. say this to me too. I hope so, but I wouldn't bet on it. This franchise would rather lose with Lundqvist, than try to win without him. I could really see Lundqvist politicking to start against last place LA on Sunday. Would you really be shocked if that happened?
I also must say here, after the game, Vally offered no excuses for Lundqvist. That is a first. For all the shit-talk I have for Vally on these blogs, I have to be fair here. Vally said Lundqvist failed tonight. While Vally had some excuses, he bottom lined this game as a game that didn't help Lundqvist in this three goalie rotation. However, we all know that it's Georgiev's name in the trade rumor mill and not Lundqvist's. A Georgiev trade does nothing good for the franchise. After all, if Lundqvist didn't have a NMC, who would be clamoring for the Rangers to trade Georgiev right now?
As I go home here, and look at Toronto, I would be shocked if Andersen plays that game. After all, he was banged up last night and to most teams around the league, the Rangers are their version of a "trap game." I could see Michael Hutchinson, who has been terrible this season, getting the nod.
And wouldn't it be something, if the Rangers dealt Lundqvist tomorrow, and we had a Giacomin 2.0 return game on Wednesday? Talk about drama!
See ya Wednesday.
Oh and P.S.: I would shake my ass like Shakira and J-Lo, should the Rangers trade Lundqvist to Toronto tomorrow!
As always, thanks for reading and…
"LET'S GO RANGERS!"
Sean McCaffrey
BULLSMC@aol.com
@NYCTHEMIC on twitter