Greetings and salutations everyone and welcome to another blog here on BlueCollarBlueShirts.com.
Early Friday morning, about 12 hours before puck drop of this New York Rangers vs Buffalo Sabres game tonight, I said the following on social media:
Two big winnable games for the Rangers. Rangers get Buffalo tonight and LA Sunday, with both opponents on the second half of a back-to-back. As long as we don't see Lundqvist, we might have our second three game win streak of the season. #nyr #PlayLikeANewYorker

— BlueCollarBlueShirts (@NYCTheMiC) February 7, 2020
I would later follow up this social media posting, by saying how Buffalo lost an overtime game to Detroit on Thursday night and then I talked about how bad Buffalo has been. Furthermore, in this game tonight, the Rangers would be seeing Buffalo's back-up goalie, in Carter Hutton. The Vegas bookmakers also favored the Rangers, as prior to puck drop, the Rangers were just under 2:1 favorites. That means you had to bet nearly $200 on the Rangers, just to win $100.
In turn, the perpetual "one-step forward, two steps back" New York Rangers played one of their worst games of the season on Friday night, as the team were embarrassed on home ice. The Sabres would win the game 3-2. And don't let the one goal final score fool you. This game was 3-0 Sabres, up until the final three minutes of the third period. The Rangers would get two "garbage" goals at the end of this game, but as often is the case with this team – it was too little, too late.
To put more salt in the wound, with the two Ranger goals at the end of this game, the only thing these two goals amassed to, was the fact that Jimmy Vesey went down as having the game winning goal in tonight's contest. What a way to start the weekend!
There's not anything nice to say about this game tonight. Trying to find a silver lining is useless. Finding a way to sugarcoat this game would just be polishing a turd, and you would need a boat-load of polish just to shine this turd up.
Often on these blogs, I've said I hate using the term "must-win", until that term is mathematically applicable. As it stands right now, despite this loss, the Rangers still have a shot at the playoffs. They aren't mathematically eliminated yet from playoff contention. However, everyone can see the writing on the wall. It's only a matter of when at this point. That said, although I thought the Rangers shot at the playoffs went up in smoke after the Christmas Eve eve game against the Flyers, this loss cements my thoughts on the playoffs & the Rangers chances of qualifying for them.
I don't know how I, a viewer of every game this season, thought that the Rangers could somehow win three games in a row again. After the huge win against Toronto on Wednesday night, the Rangers had favorable games with the Sabres and the LA Kings. Of course, as they always do, the Rangers found a way to stop their own momentum and just pissed another easy two points away. And I wouldn't even call this a "trap game" for the Rangers; because really, who are they to "trap game" any team in this league? If anything, the Rangers are the "trap game" for many teams in the league.
Going into this season, we knew what the Rangers were. The youngest team in the league. However, when you look at the team now, as opposed to a year ago, there isn't much improvement. The future does look bright for upcoming seasons, with young talent like Igor Shestyorkin, Tony DeAngelo, Adam Fox, Filip Chytil and others; but when compared to last season, this team, at least record-wise, is no better than last year or even the season prior.
I'll get into all the Artemi Panarin stuff as we move along here, but as I've said in countless blogs before – take Panarin off this team and this team would have a record like the Detroit Red Wings.
If David Quinn and this front office could figure out why this team can't win three games in a row, they would've rectified this issue by now. What makes this loss more frustrating than the others, is that this was a very winnable game. The Rangers were playing a rotten team tonight, but they were the ones looking like a rotten egg at the end of it. It's one thing to get beat by the Boston's, Tampa's and Washington's of the league, it's another thing to lose to a down-and-out Buffalo team, a Buffalo team that looked like complete dog shit 24 hours prior. And let's not forget, just 24 hours prior, the Sabres lost to the worst team of the salary cap era, in the Detroit Red Wings!
For as great as the win over Toronto was, all that momentum has now been thrown away. If there is one thing about this Rangers team, it is that during this season, more times than not, they usually rebound after a bad loss. It wouldn't surprise me if the Rangers blew out the LA Kings on Sunday. However, a win over the last place and selling off everyone Kings; well that won't erase this loss to the Sabres tonight.
At this time, before getting into everything, here are my last few blogs, in case you missed them: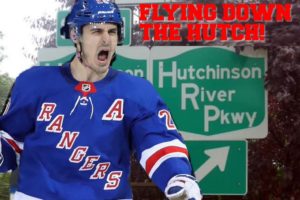 ---
---
---
---
---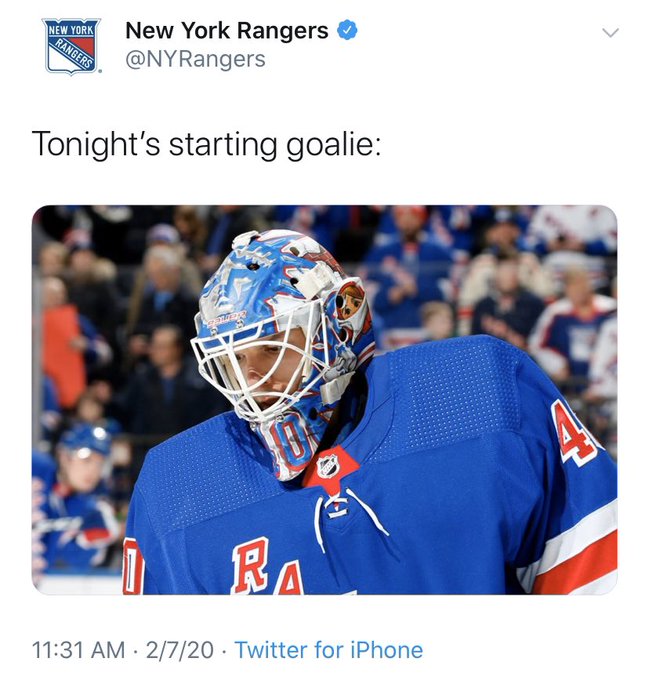 As usual, goaltending remains one of the hottest topics in Rangerstown, USA right now. After avoiding a trade to Toronto on Wednesday night, Georgiev got his first start in 17 days tonight. Was he rusty? I didn't think so. After all, he made some tremendous saves in this game, especially during a huge Rangers penalty kill.
As I'll get into the game review, Georgiev didn't give up any soft goals tonight. All three goals came from broken coverage, which led to a Sabre getting a one-on-one chance with Georgiev. That said, we've seen him save these types of shots before, especially the backhanded shots. That didn't happen tonight. It's not like he was being beat from the blue line, like we saw from Lundqvist on Monday.
Speaking of Lundqvist, his name was in the news, once again, on Thursday.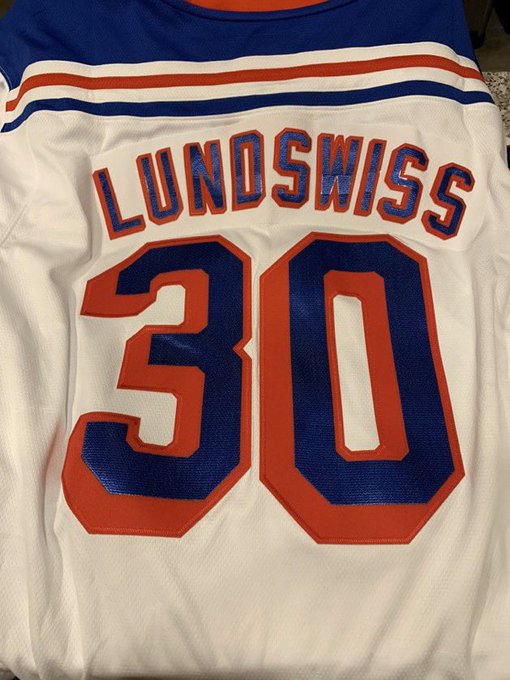 In a funny story, on Twitter, my buddy Greg made a bet on the Saturday game with Detroit, that Henrik Lundqvist wouldn't get a shut-out. He said if Lundqvist got a shut-out, he would buy a Lundqvist jersey. Come Thursday, Greg was sharing his latest piece of Rangers merchandise on Twitter! I gotta give kudos to Greg for not welshing on a bet! Now, if he can only get this jersey autographed, that would be something!
Oh, and for your information, since Lundqvist's shut-out of Detroit last Saturday, the Red Wings have been shut-out two more times this week, as the Wings were shut-out by Philly earlier in the week and were just shut-out by Columbus tonight. Just shows you how right I was at the time, when it comes to the topic of Detroit's futility. You can't put much stock into that Rangers win or Lundqvist shut-out; which again, is why I would've started Igor in that game.
While this Lundswiss jersey is something for comedic effect, in real news, Leapin' Larry Brooks, the number 1 messenger pigeon of the Rangers and the man that's fed information to spread by the Rangers, said the following on Thursday: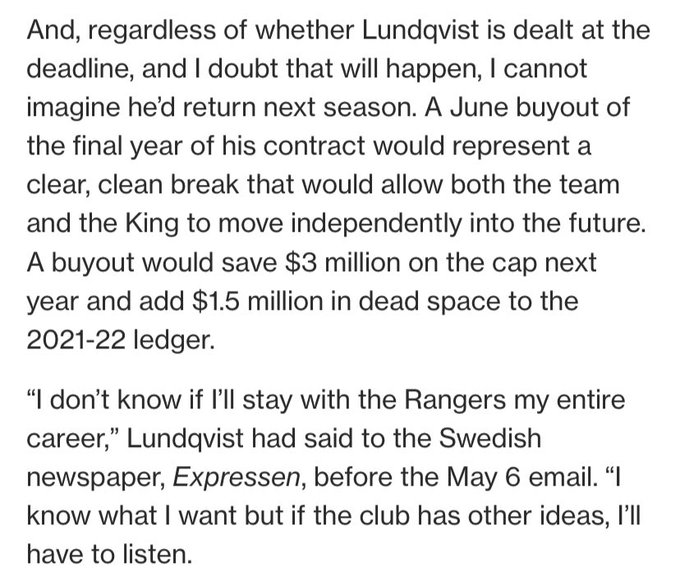 Larry Brooks was a busy man on Thursday. As I'll get into at the end of this blog, Larry Brooks was a guest on the "Up in the Blue Seats" podcast with Ron Duguay. On the podcast, he pretty much talked about what he would go on to write in the NY Post. You can find Larry's article, in full, by visiting: https://nypost.com/2020/02/06/henrik-lundqvists-rangers-prophecy-is-on-the-brink-of-coming-true/
In the article, Larry Brooks basically wrote what I said last year. While it's no secret that I have wanted Lundqvist off this team since 2015; during the last off-season, I talked about a Lundqvist buy-out and all the numbers that went along with it. Furthermore, I argued that the Rangers should be looking to buy-out Lundqvist, and not Kevin Shattenkirk. Instead, as we all know, the Rangers decided to buy-out Shattenkirk instead. I'll save you the 20/20 hindsight stuff, when looking at the contracts of Shattenkirk and Jacob Trouba. That said, if you check the archives of this site, I wrote many blogs talking about buying Lundqvist out.
When it comes to Larry Brooks, someone who I've covered plenty of times on this blog, while he does flip-flop more than Mitt Romney, while sitting on a top, (not that kind of top, you know the tops that Valiquette may or may not see) Larry doesn't write anything controversial unless he's asked to by the Rangers. For Larry to suggest a Lundqvist buy-out, that's not Larry coming up with that idea on his own. That's an idea fed to him by the Rangers.
If you haven't read the article, the key piece of information is this:
A June buyout of the final year of his contract would represent a clear, clean break that would allow both the team and the King to move independently into the future. A buyout would save $3 million on the cap next year and add $1.5 million in dead space to the 2021-22 ledger.
Again, while I've argued for the Rangers to move Lundqvist since 2015, then argued for the Rangers to buy him out in 2019, what Larry is saying here makes complete sense.
By not trading Georgiev (that trade could still happen, but Toronto was always the team linked to Georgiev) that leaves the Rangers with this three headed dragon of goaltenders. Larry is arguing that CZAR IGOR SHESTYORKIN, despite only five starts, is already the number 1 goalie. That news didn't sit well with these people: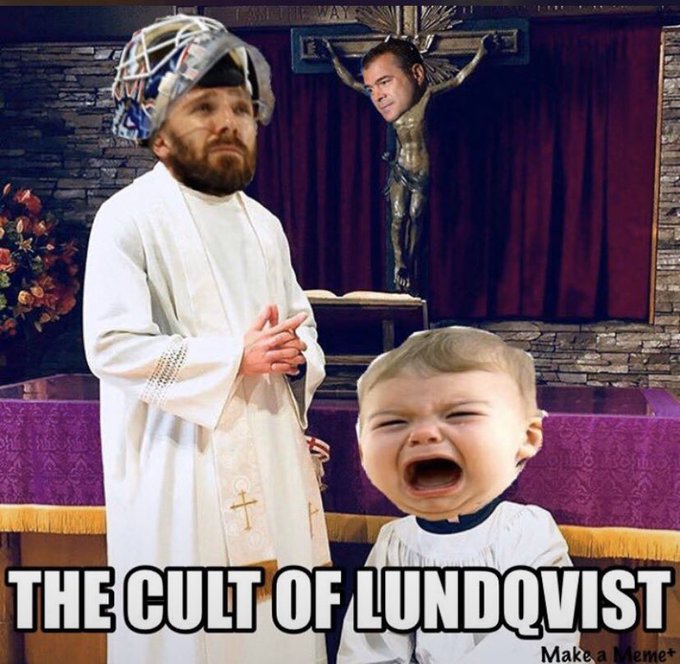 We all know that the plan is for Igor to become the number 1 starting goalie for the Rangers. We all thought that would take place in 2020-2021. However, Larry feels that day is here now. And really, he's right. At this point in the season, you might as well keep feeding Igor the starts. Let him get as much NHL experience now, so he's even more prepared for his first full season as a New York Ranger, come next season.
You know my take and opinions on this topic of Ranger goaltending. I want CZAR IGOR SHESTYORKIN & THE KING OF KINGS ALEXANDAR GEORGIEV as my goalie tandem of the next 5-8 years. I think these two can become the next power-duo of the pipes, similar to Vanbiesbrouck/Richter or Giacomin/Villemure.
We are 16 days away from the NHL trade deadline. Anything can happen between now and February 24th. Maybe Lundqvist waives his NMC. Maybe the Rangers do shop Georgiev, although their best return would've came from Toronto & the Rangers have already passed on that.
I'll get more into this at the end of the blog, but if the Rangers were to ride this season out with all three goalies and then buy-out Lundqvist, that would open up a ton of money for the Rangers to spend. That's how you keep DeAngelo. That's how you keep Lemieux. And of course, that could be money to retain Chris Kreider.
While on the topic of money, let's go to the GAMBLING segment of tonight's manifesto. Here's what I said before the game:
Season over-under record: 25-24-3

This is a tough one tonight. Buffalo stinks. Rangers could score 5+ tonight. I expect Panarin to have a huge game, maybe 3+ points.

I'll go UNDER w/Georgiev in net, but not confident. Rangers offense is the wild card. Can they keep scoring? pic.twitter.com/XNHb1HTVfA

— BlueCollarBlueShirts (@NYCTheMiC) February 7, 2020
I pretty much did a 180 here from the last Rangers game. If you recall from my last blog, I got all my predictions right, except the one that mattered the most – my over/under bet!
In tonight's predictions, I got everything wrong, but I did get my bet right. With only five goals scored in this game, the UNDER hit, bringing my record to 26-24-3 on the season.
One last news item, and it's off to the box score, my rant on the M$G Networks and the game itself.
Here was the line-up for tonight's game and eventual loss: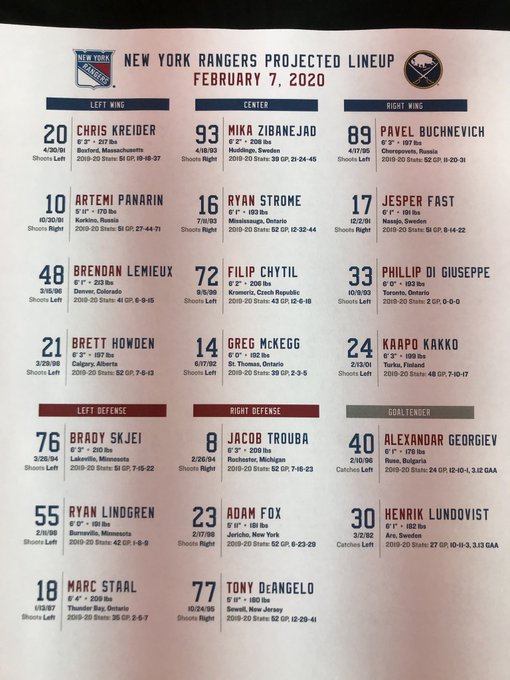 As you can tell from above, skater wise, Brendan Smith was scratched for the second game in a row. He joined Micheal Haley in the press box. Also in the press box tonight was CZAR IGOR, because as we know, Lundqvist's mani-pedi tips are too valuable to waste on the NYR beat reporters sitting upstairs on the M$G bridges.
Defensively, everything stayed the same.
When it comes to the forwards, Quinn tinkered with the line-up, as if he was playing fantasy football. While Quinn returned to the same top two lines that he's been using for the majority of the season, Quinn inserted Di Giuseppe on the third line and bumped Kakko down to the fourth line. Of course, this news set off the diehard Kakko fans, who want this kid to be a Hall of Famer right now, rather than realizing that Kakko is 18 years old and it's going to take time.
The best thing about these Kakko nut fans, is that they are the people who over-react and go bat shit about these lines. If you know anything about Quinn, it's the fact that he changes his lines as the game goes along. And guess what? Out of the bottom 6 forwards tonight, it was Kaapo Kakko, who received the most time on ice in this game, with 14:29 of total time logged on the ice. The other five forwards, of the bottom six, in Lemieux, McKegg, Di Giuseppe, Howden and Chytil, didn't even log 14 minutes on ice, individually.
So yeah, if you're one of these people who goes bonkers over pregame line-ups, get your head checked.
At this time, let's go to the ESPN.com box score of this fiasco:
SCORING SUMMARY: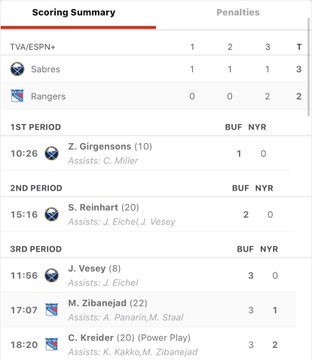 PENALTIES: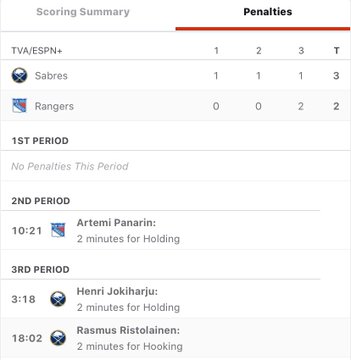 TEAM STATS: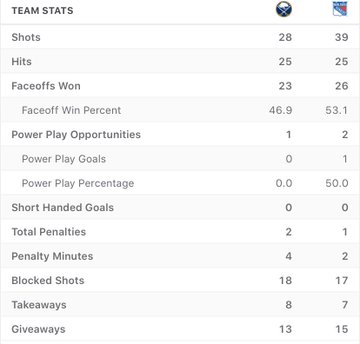 GOALIES:
| | | | | | | | | | | |
| --- | --- | --- | --- | --- | --- | --- | --- | --- | --- | --- |
| SA | GA | SV | SV% | ESSV | PPSV | SHSV | SOSA | SOS | TOI | PIM |
| 39 | 2 | 37 | .949 | 34 | 0 | 3 | 0 | 0 | 60:00 | 0 |
| | | | | | | | | | | |
| --- | --- | --- | --- | --- | --- | --- | --- | --- | --- | --- |
| SA | GA | SV | SV% | ESSV | PPSV | SHSV | SOSA | SOS | TOI | PIM |
| 28 | 3 | 25 | .893 | 22 | 0 | 3 | 0 | 0 | 57:57 | 0 |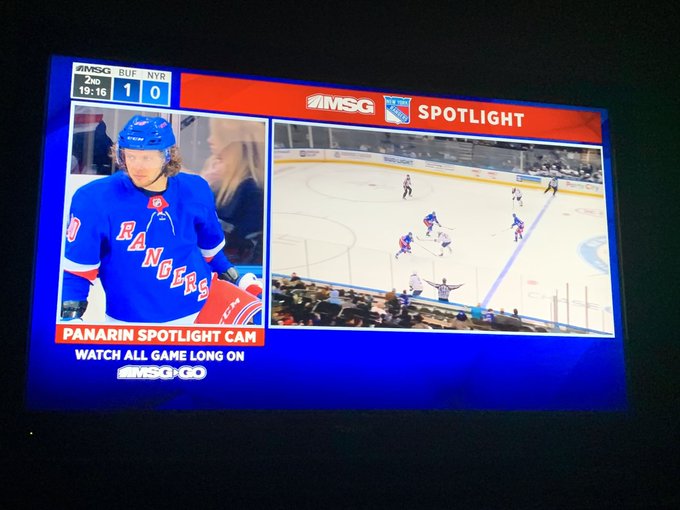 On these blogs, I always talk about the M$G Networks and their broadcasts. So what I'm about to say here isn't me piling on. I always talk about the M$G Networks, good, bad or indifferent. Let me get this out of my system first and then explain:
THIS WAS THE ABSOLUTE WORST RANGERS MSG NETWORKS BROADCAST OF THE ENTIRE SEASON. IT WAS FATHER FINKIN' AWFUL AND A HUGE PILE OF STEAMY HOT SHIT!
Ahem.
From the time the ding-ding-ding music of "Welcome to the Montefiore's Rangers pregame show" hit, this broadcast was a complete shit show, all the way to the final seconds of the post-game show.
This game was dubbed as the "Artemi Panarin Spotlight" game. What that meant, was for the next three hours, this broadcast was all Panarin, all the time. Normally I wouldn't have a problem by that, but just 15 minutes into the pregame show, all the Panarin stuff became redundant. Even as the game went along, Sam Rosen was in repeats, mentioning Panarin's grandparents and dog for the 789676796689th time.
If anything, this broadcast was perhaps having too much of a good thing. Most of the game showed us a split-screen of Panarin on an isolation camera, thus reducing the size of the live game screen. 99% of these shots were either Panarin on the bench or skating to the bench. HOW FATHER FINKIN' RIVETING!
For the M$G Networks, I think they wanted to show off their technology. However, sometimes in television, less is more. I don't need 786786789698 graphics. In this case, I don't need a dedicated feed of Panarin blowing snot rockets in the penalty box. And holy crap Batman, I sound like Phil Mushnick here!
We all know this – Panarin is the greatest Ranger skater since Jaromir Jagr. He's the MVP of this team. He's the All-Star. He's carried this team. He's making Ranger history. You know the rest, blah blah blah. However, with the way the M$G Networks overdosed us with Panarin tonight, I couldn't stand seeing him. Of course, I'm exaggerating here, as I want to see Panarin all the time with the Rangers. I just don't need to see it in this fashion.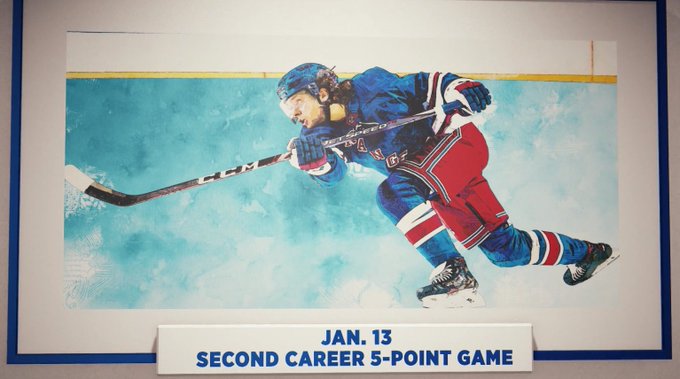 I can't overstate this enough – this broadcast was all Panarin, all the time.
In the pregame show, not one non-Panarin thing was mentioned. If you went into this game cold, you didn't know the line-ups, the goaltenders and shit – you didn't even know who the Rangers were playing tonight!
Let's run down this pregame show, as I got notes people!
The broadcast opened up with Steve Valiquette, who looked like he was dressed for a funeral. He even had watery and glassed over eyes, as if he had been crying at a funeral. In hindsight, maybe he was dressed appropriately for this game!
Vally's first big take on the pregame show – "JD KNEW PANARIN BEFORE HE SIGNED HIM HERE." Breaking news here. Go make a chart you douche!
After Vally's major breaking news on JD and Panarin, we had about a million bread puns. Then we had a new geek stat to talk about – EXPECTED ASSISTS! These chart freaks have too much time on their hands. After all, couldn't any pass in the offensive zone be an "expected" assist? Seriously, put down the Father Finkin' protractors and scientific calculators for one game, and try a beer and a pretzel. You might enjoy it.
If there was any highlight, thus far of this pregame show, it was a shot of Panarin giving out sticks to young kids. Kudos to Panarin. I always like seeing stuff like this. It's the grown men that push little kids out of the way and make cardboard signs like "I LUV U MIKA, PLEAZE GIVE ME A STICK, A PUCK, A KISS, YOUR URINE SAMPLE AND WILL U VISIT MY MOM'S BASEMENT?" that I can't stand. You know who I'm talking about. You've seen these creeps. They are worse than the chart people.
As we went down this Panarin love-fest, mind you, during a mid-season game, where the Rangers aren't even sniffing the playoffs in, we were told that Panarin loves Russian rap music. This made me wonder. Do Russian rappers use racial slurs in their music, like American rappers do? I can see it now:
"ROLLIN' DOWN THE COLD STREETS, SIPPIN' ON VODKA AND VODKA
LAID BACK!
WITH MY MIND ON MY COMMIES AND MY COMMIES ON MY MIND!"
After talking about Panarin's affinity for Russian rap music, which I'm sure flows off the tongue eloquently, and with grace, we spent about 10 minutes talking about Panarin's Instagram account. WHO GIVES A FLYING FATHER FINK?
In the lone non-Panarin thing of the pregame show, we were told that next week's games will be part of the MSG Networks & Rangers FASHION WEEK!
Let's break that down, shall we?
In the spot for Fashion Week, you know, because when you look at the demographics who watch these games, nothing screams cross-over like FASHION, we were shown Henrik Lundqvist all dressed up. That's fine. I don't know many people who watch hockey for fashion, but maybe this attracts female and homosexual viewers.
When I look at fashion week as a gimmick promotion, it's not for me. However, I can equate this to Shakira & J-Lo at the Superbowl. You got over 100 million straight males and lesbians watching the Superbowl. I'm sure most of these people did not give one Father Fink about their music, but did enjoy all the ass-jiggling and stripper pole acts. So yeah, fashion week can attract new eyeballs. It's not for me, but I get it.
From the limited knowledge that I have of fashion, because after all, 99% of my clothing attire are jerseys, hoodies, cheap t-shirts, hats and Wrangler denim jeans; I am of the thinking that NY is one of the biggest fashion capitals in all of the world. So again, maybe fashion week does make sense, since after all, the Rangers play in a city known to be as a fashion capital.
However, fashion week isn't being held during this four game Rangers home stand. Instead, fashion week is being held when the Rangers visit the ritzy and elite cities of freaking Winnipeg, Minneapolis and Columbus! FASHION WEEK IN WINNIPEG, MANITOBA! Learn how to get the right flair and style, as you put on your third winter jacket, in an effort to combat the -30 degree temperatures!
This team does everything ass backwards.
After the fashion week plug, we went to the Bud Light Bar, presented by Bud Light Seltzer, with the Bud Light Douche, in Steve Valiquette.
From here, and I shit you not, Vally spent a whole segment breaking down Panarin's leg kicks. I'm surprised we didn't get a patented Vally "EXPECTED LEG KICK" stat. I'll tell you what I'd like to kick! I'd like to kick Vally right off these freaking broadcasts!
Eventually, after 30 minutes of Panarin propaganda, which left your head spinning, we went to Sam & Joe, where they continued pumping up Panarin. As if Panarin needs any pumping this season. We know he's great.
Not mentioned once on the pregame or during Sam & Joe's stuff:
The starting goalies
The line-ups
Jimmy Vesey's return
The Toronto/LA trade aka the non Georgiev trade
Buffalo's loss to Detroit last night
Anything of relevance
As you read this blog, I'm going to keep bringing up the Panarin stuff, as MSG Networks did all game. That said, I'll say this once and won't repeat myself throughout this blog:
THIS STUFF WOULD'VE BEEN PERFECT FOR MSG SHORTS OR SOMETHING FROM 6PM-6:30PM. THIS WOULD'VE BEEN A PERFECT ONLINE SEGMENT. IT WAS TOO MUCH THROUGHOUT THE GAME AND IT RUINED THE BROADCAST. NO OTHER PLAYER WAS TALKED ABOUT. EVEN WORSE, THE RANGERS WERE GETTING THEIR ASS KICKED AND YOU HAVE SAM & JOE TALKING ABOUT FATHER FINKIN' RIZIY, WHICH IS THE NAME OF PANARIN'S DOG!
Again, this was MSG flaunting their technology, at the EXPENSE of their viewers. This didn't ENHANCE the broadcast at all.
I'll also say this – the only time I think this kind of stuff would ever work, live, in-game, is if Ovechkin is sitting on 893 goals one day, and looking to tie Gretzky's 894 total goals record. For this game, this idea failed, BIG-TIME. Even worse, the Rangers played like trash, so all this force-fed and non-organic stuff came off more infuriating.
4500 words. Maybe I should talk the game.
The first line and Lindgren/Fox, once again started off tonight's game. Quinn isn't letting Skjei out there to start games anymore. Immediately after seeing who was on the ice, we flashed to Panarin sitting on the bench for a good 15 seconds. How this is supposed to enrich the broadcast, I don't know.
If there was any theme about the first 50 or so minutes of this game, it was that Buffalo, despite playing the night before, made the Rangers look like the team that played 24 hours previous. The Rangers couldn't get any tape-to-tape passes going and the Sabres back-checked the hell out of the Rangers.
In the early moments of the game, Di Giuseppe would block two shots. Lindgren would pick up two big hits in one shift. We didn't see any replays of Di Giuseppe or Lindgren here, as we went to another shot of Panarin sitting on the bench. Exhilarating!
In an early chance for the Rangers, Di Giuseppe got the puck to Lemieux. Lemieux took a shot, Chytil got the puck and a shot off, but Buffalo would clear the loose puck. Carter Hutton, who like every scrub goalie in the league that comes into M$G, had a great game tonight. That said, there were about 5-6 times in this game, where he gave up a juicy rebound or bobbled a puck and there was no Ranger to tap the loose puck home.
While not standing out as much as they did against Toronto, I thought the third line played well enough tonight. That said, Lemieux wasn't as noticeable as he was against Toronto. Di Giuseppe did stand out though, and that was the result of more minutes.
After Adam Fox broke up a chance from Eichel, Panarin tried to set-up TDA for a one-timer. No dice. We were then treated to an elongated shot of Panarin skating and then sitting on the bench. Give the MSG Networks an Emmy!
The refs were extremely lenient all game, with the first example being when the refs ignored Kakko being tripped. If Kakko fell, he probably draws the penalty. Instead, because Kakko acted like a man instead of an NBA player, flailing their arms when taking a weak charge, there was no call here.
As the period progressed, Georgiev would stop Dahlin on a big shot. We then went to Panarin, who was just standing around. Great camera work!
At the half-way mark of the period, Zemgus Girgensons kicked off the scoring. Staal turned over the puck. Girgensons got the puck, deked out Georgiev and easily beat Georgiev for the goal. Of course, while this was going on, instead of focusing on the scoring play, M$G Networks decided to go split-screen:
Zemgus Girgensons gives the Sabres a 1-0 lead. #Sabres50 #NYR pic.twitter.com/F8UrN6v3ms

— Rob Taub (@RTaub_) February 8, 2020
1-0, bad guys. As you can tell from the video clip, there is Panarin, with one leg over the boards, on the split-screen. Even if this wasn't a scoring play, can you tell me what any Ranger fan, or hockey fan too for that matter, gained by seeing Panarin dangling his leg over the ice?
At this point in the game, I wasn't the only one complaining about these non-stop Panarin shots. I saw complaints all over social media.
After the goal, Strome left a drop pass for Panarin, which turned into a save by Hutton. At this point in the game, the Rangers only had 5 shots on goal. They weren't challenging a sieve, in Hutton at all.
Oh – and you can imagine if the Rangers and MSGN ever did a Tony DeAngelo Spotlight game? For as bad as this Panarin broadcast was, I would pay for M$GN to do that, just to piss off all the liberal crybabies that hate TDA.
The Rangers tried to pick up their game in the final minutes of the period. Buchnevich had two shot attempts. I'm happy to see Captain Happy himself, shoot the disc. Then, Panarin tried to set up Strome, but once again, no dice. We were then shown Panarin skating to the bench again, while live play was going on. Insane.
In one of the best Ranger scoring chances of the game, the Rangers failed on four vs three rush. Fox would get so mad, that when the puck came back to him, he had one of his "EFF YOU, HULK ANGRY" frustration shots, that went nowhere. For as good as Fox is, and he's been really good, he's done this a few times this season. He'll get mad about something and just slap the hell out of the puck, all the way to kingdom come.
It was at this time, that Ranger fans, who subscribe to MSGN, got this text alert from MSGN:
In the final minute of the period, the Rangers would have the puck in the offensive zone a bit, but wouldn't get a SOG off. The Rangers then cleared the puck for the Sabres themselves, due to errant passing.
After one period, the score remained 1-0, in favor of the Rangers WINTER CLASSIC RIVALS, in the Buffalo Sabres.
If I ever wanted a Panarin iso cam, it was at this moment. I wanted to hear DQ's first period intermission speech.
After Sam did his usual, "SECOND PERIOD. WHAT DO YOU LOOK FOR HERE JOE?" spiel, Georgiev opened up the period by stoning Jack Eichel again. Of course, we then went to a shot of Panarin on the bench. INTOXICATING!
If all the isolated camera shots of Panarin weren't enough for you, on a clear sighted shot, Panarin uncharacteristically shot wide. No matter, Sam & Joe rubbed Panarin's nuts for him and gave him a great oral fellatio.
And listen – this is what just killed this broadcast. We know Panarin is great and what he is. However, nothing came off organic. They were just shoving this shit down your throats. As you were watching and listening to this, it felt like you were Joey Chestnut in the Nathan's July 4th Hot Dog Eating Contest. You were just gorged by Panarin tonight. Hopefully, for my anti-gluten readers, all this bread didn't eff you up tonight. (My lone bread pun of the blog!)
And how about this tweet from BSU Radio/Video host, Jim Schmiedeberg:
Coming up, spotlight on Panarin as he takes his second intermission dump @MSGNetworks

— Jim Schmiedeberg (@BSUShowJim) February 8, 2020
Not for nothing, I wouldn't have minded seeing Panarin do a leg kick, as he grunted out the last piece of poo!
While Buffalo did a good job of stifling the Rangers, the Rangers had more chances in this period. Panarin set up Trouba. Save by Hutton. Di Giuseppe tried to go five-hole. Save by Hutton. As a Ranger fan, this was infuriating. Carter Father Finkin' Hutton!
At this point in the game, after his SOG, Di Giuseppe would go to the locker room for repairs. (He would be back later on in the period.) However, we didn't see any of this or were told what was ailing him. Instead, we saw Panarin just standing on the ice. FASCINATING!
Right after this award-winning shot, Micheletti said Panarin's dog is taking the city by storm. This broadcast certainly was not tonight.
And I should be clear here. I don't blame Sam, Joe or even Vally tonight, for the never-ending Panarin jerk-off fest. This was a MSG Networks mandated idea, straight from the demented mind of MSG Networks head honcho, Jeff Filippi, the same Filippi that wouldn't re-new Ron Duguay's contract. (And if you're promoting fashion week, how do you ignore Ron Duguay? That would be like the Knicks ignoring Walt Frazier.)
At the halfway mark of the second period/game, Artemi Panarin was called for a blatant hold. This put the Sabres on the power-play, where Georgiev made three huge short-handed saves, none bigger than this robbery on Reinhart:
Good thing Georgie stretched before the game 🤯 #LGR | @NYRangers pic.twitter.com/9MYgS1BMMz

— Rangers on MSG (@RangersMSGN) February 8, 2020
As I said earlier, it's tough for me to say Georgiev was rusty tonight. All three goals allowed were of the high quality variety, as all three goals came from skaters all alone with Georgiev. Of course, 17 days off between starts isn't ideal, which really makes this save even more impressive.
Of note, Georgiev would also rob Dahlin and Vesey on this Rangers successful PK.
Of note part deux, the refs stopped play to see if Reinhart's shot crossed the goal line. Of course it didn't. This was a waste of time. Poor time for a review.
After the kill, Kreider was hooked. No call.
With 4:44 remaining in the second period, a line of Kakko, Di Giuseppe and Chytil sustained some time in the offensive zone. They had GOOD LOOKS, but no SOG here. During this, Lindgren turned over the puck. Reinhart went on the breakaway and then backhanded one by Georgiev. 2-0 bad guys. Reinhart gets his revenge.
On this goal, Chytil looked tired and couldn't break up this play defensively. This is a shot we've seen Georgiev stop before, but I really can't kill him for a breakaway goal allowed either.
After this, Panarin would get the puck after the face-off and bounce a puck off a Sabre skate, which then went in Hutton's direction. This shot was intentional. However, the puck landed in Hutton's gear. Hutton didn't even know he had the save here. This then led to a scrum between Strome and Lazar. No penalties called here, which I liked.
With the Rangers looking like melting poo, on fresh pavement, during a hot summer's day, Sam Rosen giggled as he read off some Russian words. He didn't read off the Russian phrase for "getting our asses kicked."
After five Rangers watched Skinner take a shot all alone on Georgiev, which Georgiev saved, Buchnevich had one of the best Ranger scoring chances of the game, yet went wide from one foot away. I don't need to tell you, how in a two goal game, how going wide here was not ideal.
Kakko would close the period by making some nice moves, but he got too fancy and this led to a turnover. As the horn went off, signaling the end of forty minutes, the score remained Sabres 2 – Rangers 0. Sometimes I get too invested in these games. I had a pit in my stomach at this point. It could've been from all the Panarin stuff too.
During intermission, I saw some fans cry about Igor not starting tonight. In case you're new here, and this is no humble brag, but I was the first person to sing the praises of CZAR IGOR. I've been talking Igor for three years here. My buddy Travis can back me up:
This is what I said at the end of my last blog on Wednesday:

As far as the goalies go, prior to this game, DQ said he wanted to go with Georgiev. Don't let the three goals allowed on Igor's record tonight fool you – he was great tonight!

When it comes to predicting goalie starts, I've been wrong once this season, and that was on Georgiev starting tonight. All I can 100% say here, is that Lundqvist will NOT play in the next two games.

I'm of the opinion of riding the hot hand, which means Igor for Friday vs Buffalo. However, I could see Georgiev getting Friday and then going right back to Igor on Sunday. However, if Georgiev plays well on Friday, could you sit him for Igor on Sunday? I'm glad it's not my decision!

Gun to the head? Igor on Friday, Georgiev against shitty LA on Sunday, which would give AG40 an easy start in his first start since the break.
Listen, I thought Igor should've started tonight too. That said, I had no issues with Georgiev going. My issue with Ranger fans here, is people going nuts about Georgiev starting, when the Rangers are down 2-0. YOU CAN'T WIN IF YOU DON'T SCORE and both goals allowed were one-on-one. There were no soft goals.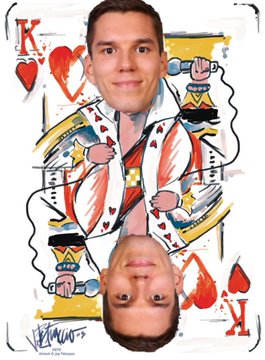 The third period opened up with Zibanejad being hooked. No call. Kakko then got a shot off. Save by Hutton, the three dirtiest words of this game.
3:18 into the period, Henri Jokiharju held Zibanejad. Finally, a call!
Oh, and by the way, this is what I said during intermission. Don't believe me? Check the time stamp!
I'll try to stay positive here and say a rangers three goal third, with Mika picking up two points #nyr #PlayLikeANewYorker

— BlueCollarBlueShirts (@NYCTheMiC) February 8, 2020
Well, I would get the second half right. However, I didn't get the thing that mattered the most right, and that was three goals.
The Rangers wouldn't do anything on the PP. We then went to a commercial break, where Valiquette was rambling on about 0.4% chances. White Noise Vally.
In a third period where the Sabres really tried to hang back and let the Rangers come to them, Sam and Joe were continuing the Panarin Parade. Unnecessary, especially with the score 2-0 and ten minutes to go.
As the period continued, DQ shuffled the lines again, promoting Kakko to the third line and going with the three top scorers, in Panarin, Zibanejad and Kreider.
As we crossed into the final ten minutes of regulation, Hutton stopped TDA. Eichel would then get the puck and ring one off the iron.
With 8 minutes or so remaining, Jimmy Vesey split Trouba and Lemieux and backhanded one by Georgiev. 3-0, bad guys. Sam and Joe talked Panarin.
This goal sealed the deal. Again, it was a one-on-one deal, but if I'm Allaire, I know I'm working on backhanded shots with Georgiev tomorrow. I also thought that Trouba seemed too resigned on this play.
As we hit the FOXWOODS FINAL FIVE, Sam and Joe were as happy as two drunks on New Year's Eve, swashbuckling beers, as they talked about Panarin, despite the Rangers being blanked 3-0.
With 2:53 remaining, the Rangers finally got on the board:
A clean look from Breadman finds Mika for the goal 🏹 pic.twitter.com/XY2EeIDe4g

— Rangers on MSG (@RangersMSGN) February 8, 2020
3-1, bad guys. At the time, this felt like a garbage goal. However, I guess it wasn't, even if it came too little too late. Of course, the talk was about Panarin's assist.
After the goal, DQ took a timeout.
After the timeout, Georgiev made a huge save. This was kind of big, considering what happened next.
With 2:08 remaining, Georgiev went to the bench for the extra attacker. Ten seconds later, Kakko was hooked by Rasmus Ristolainen. This gave the Rangers a PP. With the extra attacker, this meant the Rangers employed a 6 x 4 attack. It also meant that Buffalo could go for empty net goals and not worry about icing.
Just 18 seconds into the power-play, the Rangers made this a one goal game, courtesy of CK20:
Tight margins!

Kreider gets one by, and it's 3-2 Sabres pic.twitter.com/y3NaBjmpL2

— Rangers on MSG (@RangersMSGN) February 8, 2020
3-2, bad guys.
Once again, in a play that favored the Rangers, the refs reviewed the call, despite the puck clearly going past the goal line. To their credit, for the second time in the game, the refs got this right. I just don't know why they needed a review.
In what was perhaps the biggest face-off the game, and with Georgiev pulled, the Rangers won a face-off after a Buffalo icing, with 55 seconds remaining. Hutton did his job here.
The Rangers would get one last chance, with another face-off in Buffalo's defensive zone, with 9 seconds left. Buffalo got the puck to the boards, dicked around and the clock wound down to triple zero. 3-2, Buffalo, your final, from the World's Most Depressed Arena.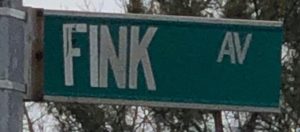 What more can I say about this game? It sucked. If you want a bright spot, the Rangers played well for three minutes. Woo-hoo. Kakko also looked good throughout. But really, this is me grasping at straws. This game was horrible and inexcusable. I mean, I get what the Rangers are, but really, losing this game was a sledgehammer to the frank and beans.
Let's talk Kreider for a second.
Prior to the game, this was announced:
Rangers GM Jeff Gorton and Chris Kreider's agent Matt Keator expected to finally talk over next few days. Can both sides find common ground on a new contract or does it cement the decision to trade him? That plus other items coming up on Insider Trading this evening @DarrenDreger

— Pierre LeBrun (@PierreVLeBrun) February 6, 2020
Pierre McGuire just told @HunterZThompson on @TSN690 that #PlayLikeANewYorker F Chris Kreider/agent are trying to get a deal done to stay with the Rangers but if not #NHLBruins #STLBlues #GoAvsGo will be amongst a list of teams interested in acquiring Kreider.@BOSHockeyNow

— Jimmy Murphy (@MurphysLaw74) February 6, 2020
I don't doubt what the Pierre's are saying here. Sign me up for a Kreider renewal. That said, knowing what happened to Shattenkirk and now being four months away from free agency, does it behoove Kreider to re-sign (Hi Nick Adams!) with the Rangers?
From a business aspect, it seems like CK20 could get more money and more years, by waiting until June. Of course, if that happens, that means Kreider won't be a Ranger from March until free agency. Could Kreider chase a Cup elsewhere, and then return to the Rangers, ala Aroldis Chapman with the Yankees? It's possible, but it's not something you really see in the NHL. In fact, Chapman is really one of the few rare examples where you've seen this happen, in all of sports.
On Thursday, Larry Brooks talked a ton about Kreider and his status. This leads me to the Ron Duguay "Up in the Blue Seats" podcast news:
— Ron Duguay (@RonDuguay10) February 6, 2020
In Ron Duguay's latest podcast, Duguay opens up about family for the first time, even talking about how he named his daughter. He then talks about that said daughter, whose name is Shay Duguay, and how she got a tattoo of Ron on her arm. Ron admits, it took him ten years to accept this tattoo.
As someone with two full sleeves and about 75% of their body tattooed, I don't think my mother still has accepted mine, despite my tattoos being over 20 years old. (I had half a sleeve by the time I was 16!) And to be fair I get it. My mother is a great person and at 16, her eldest son looked like a coloring book! I will say, 22 years later after my first tattoo, my eldest niece seems to get a kick out of them. In fact, during one weekend, my niece took a marker, and drew on my skin, thinking it was the same thing as a tattoo!
In the newsworthy stuff of the podcast, while there were no salacious sex stories this go around, Duguay had Larry Brooks on, where he talked about Igor being the number 1 goalie on the team. Brooks then talked about Kreider and how it makes the most sense, from CK20's perspective, to wait until free agency, before signing a long-term deal here or elsewhere. I agree with Brooks when he said – "Kreider has all the power and leverage here."
Also on the podcast, Duguay's producer, Jake Brown (Happy Birthday and keep up the good work) talked about perhaps the worst bad beat in the history of Super Bowl prop bets. (Spoiler alert: the over-under on Mahomes rushing yards, which went under, after kneel downs.)
The podcast concluded with an interview with 1994 Stanley Cup Champion, Eddie Olcyzk. Eddie talked his battle with cancer, his new book, the state of the NHL and gambling the ponies.
With 10 episodes now complete, Ron Duguay's podcast is a must and regular listen for me. When it comes to hockey podcasts, and I listen to a lot of them, Blueshirt Underground, Cam Connor, Dan Girardi, John Scott and Ron Duguay's podcasts are always on my "must-listen" list.
Depending on what I do tomorrow (I may go out for the UFC PPV) I may return with a Hartford Wolfpack game review tomorrow night. If I don't, I'll be back Sunday, recapping the Kings/Rangers game. Starting goalie wise for that game? I think you have to go with Igor Shestyorkin. It might be Hank's turn in the rotation, but Igor should be gaining confidence and experience against weaker teams and not the $8.5M man.
And isn't it amazing Suzyn, how the Rangers had all these head-to-head 1PM games with the Giants & Jets this season, but now, with the NFL over, the Rangers are having games on Sunday nights? Poor scheduling, as has been the case all season. Then again, this is perfect for all you new XFL NY Guardian fans!
Brutal night at M$G.
See ya Sunday, if not tomorrow.
As always, thanks for reading and…
"LET'S GO RANGERS!"
Sean McCaffrey
BULLSMC@aol.com
@NYCTHEMIC on twitter