Greetings and salutations everyone and welcome to another blog here on BlueCollarBlueShirts.com.
Off of puck drop here, I attended tonight's game. In other words, unlike most game review blogs, I didn't take any notes tonight. I'm doing this blog off of memory. I also didn't see the MSG Networks broadcast, so I don't have any smart-ass remarks to add about the broadcast either. (That said, as you'll see below, I do have a funny Steve Valiquette story!) And lastly, when it comes to my disclosures here, I'm extremely tired as I write this blog. I can tell you that I don't see this blog going long, but every time I say that, this blog winds up going 10,000 words anyway!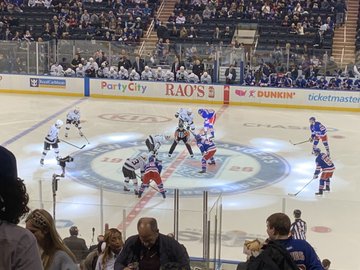 On Sunday night, live at Morgue $quare Garden, the Rangers defeated one of their newest arch-rivals, in the LA Kings, by a final score of 4-1. Of course, when I say the Kings are a new arch-rival, you know what I'm referring to. If you don't, glance back at the 2014 Stanley Cup Final.
When it comes to this victory, a lot of what I've been saying recently all rang true tonight.
In fact, this is what I said in my last blog, after the loss to Buffalo:
For as great as the win over Toronto was, all that momentum has now been thrown away. If there is one thing about this Rangers team, it is that during this season, more times than not, they usually rebound after a bad loss. It wouldn't surprise me if the Rangers blew out the LA Kings on Sunday. However, a win over the last place and selling off everyone Kings; well that won't erase this loss to the Sabres tonight.
Oh, and when speaking about my last blog, here's that blog, plus my my most recent blogs, in case you missed them:
---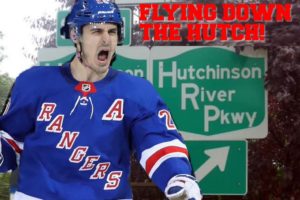 ---
---
---
---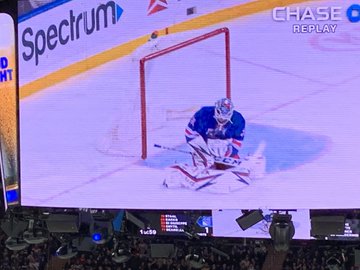 As talked about in my last blog, I expected the Rangers to trounce the Kings tonight. While the 4-1 score isn't truly indicative of the 60 minutes of hockey played, the Rangers did handle business on Sunday. I will say, while the vibes and emotions are positive right now, in my opinion, this should've been the third straight win in a row. However, the Rangers choked against Buffalo on Friday.
In a common theme that I've been pointing out all season, the Rangers usually rebound after a bad loss. In their last 22 games after a loss, the Rangers are 16-6 in their next game played. What that tells you, is that recently, the Rangers usually do a good job of stopping the bleeding after a bad loss. While there are a few multi-game losing streaks this season, lately, more times than not, the Rangers are able to get back on track. However, in the same vein, the Rangers have only one three game winning streak this season. Due to the Rangers not being able to sustain success for stretches at a time, it's been an up-and-down affair this season.
As I was on the LIRR on my way home, while I didn't watch any of the post-game, I read some of David Quinn's quotes. If any of these quotes were the most telling, it were these two, in regards to the three-headed dragon of Ranger goaltenders:
"The best guy is going to continue to play. Keeping people sharp is no longer a high priority of ours. It's going to be winning hockey games, and the guy who plays well is going to keep playing."
DQ also added, while talking about Igor:
"If you're going to be great, you better know you're great- and he knows he's great. And for good reason. He's got a track record that's pretty impressive at a high level. Thinking you're great isn't ego. That's confidence & that's swagger, and he's got all of that."
These quotes can be interpreted in a myriad of ways. There's no question about it – CZAR IGOR SHESTYORKIN, despite his limited NHL experience, is the best goalie on the team right now. The Rangers should ride him until he has a bad game; then go back to Georgiev for a game or two, and then go right back to CZAR IGOR.
It also tells you, that despite his ridiculous contract and ability to manipulate this franchise, Henrik Lundqvist and getting him work; well that is no longer the top priority anymore. Ever since the Rangers allowed Lundqvist to bend them over during Lundqvist's last contract negotiation, despite Cam Talbot, Antti Raanta and Alexandar Georgiev out-playing Lundqvist, and for much less money, these three goalies never had a chance of supplanting him as the number one goalie. When it comes to CZAR IGOR, he's getting the keys. The crease now belongs to him.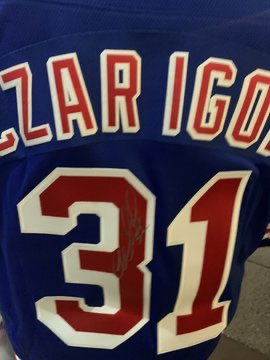 After tonight's Rangers victory, which saw CZAR IGOR go 5-1 on the season, a lot of what I've been saying on these blogs was validated. I will say here, I admit going back and forth on the topic of Chris Kreider & his status (I originally thought the Rangers should move on from him. Now, I feel the Rangers should keep him. At least I admit when I flip-flop, unlike the other bloggers who just put out headlines for click-bait!)
Going into this game, here is some of the stuff I've been saying on these blogs, both at the start of the season and as recent as my last blog:
— CZAR IGOR should've started the season in NY.
People forget this – Igor isn't some 18 or 19 year old rookie. He's been playing pro hockey in Russia for years. If anything, during a rebuild, Igor should've been here from day one, gaining experience. Of course, this maddening love affair with Cupless Henrik prevented Igor from starting with the team, that is, until now. As I said last blog, you look at Lundqvist's terrible record. If Igor was able to win just half of the games Lundqvist choked, who knows, maybe the Rangers are a playoff team today, rather than being eight points away from last place in the division.
— A win over LA, while nice, is to be expected.
I saw many fans go nuts about this win tonight, and for some reason, bring up the word "playoffs". Let's face it – a loss to the Kings would've been pathetic and dreadful. Prior to this game tonight, the Kings played 23 hours previous, as they were blanked by the NJ Devils, by a final of 3-0. The Rangers had a full day of rest before this game. Furthermore, LA is selling off their team and quite frankly, stinks. The Rangers should handle last place LA. They did just that, although I thought the Rangers left some goals on the table tonight.
— It's going to take some time for Kakko to figure it out.
As we've seen recently, ever since coming back from the NHL All-Star break and bye week, Kakko has put forth his best consecutive performances of the season. In tonight's game, he got the game winning goal, his second of the season. (Kakko had an OT GWG over Pittsburgh earlier this season.) I've seen people get red in the face arguing Kakko and what is never mentioned is that he's 18 years old, battling through Celiac disease and learning a new country & language. While it would be nice if Kakko was a Calder candidate, there are bigger fish to fry. I'll take a Rangers Cup victory, in 2-5 years, than a Kakko Calder trophy.
— The Rangers should've given DeAngelo a deal this off-season.
While TDA's goal tonight was of the empty net variety, it was a goal nonetheless. Every point TDA scores is a career high, as he continues to have the best offensive season as a Rangers defenseman, since the days of Brian Leetch.
— And of course, the Rangers should've moved on from Henrik Lundqvist this off-season.
Do I really need to say more on this? I think you know my opinions on this already! That said, I think you could argue, that if Igor was made the number 1 goalie in October, rather than in February, this team may have been a playoff team this season. I know some fans don't care about the playoffs, but let's face it – to these players and to these coaches, they want the playoffs. This could be why DQ said what he said tonight.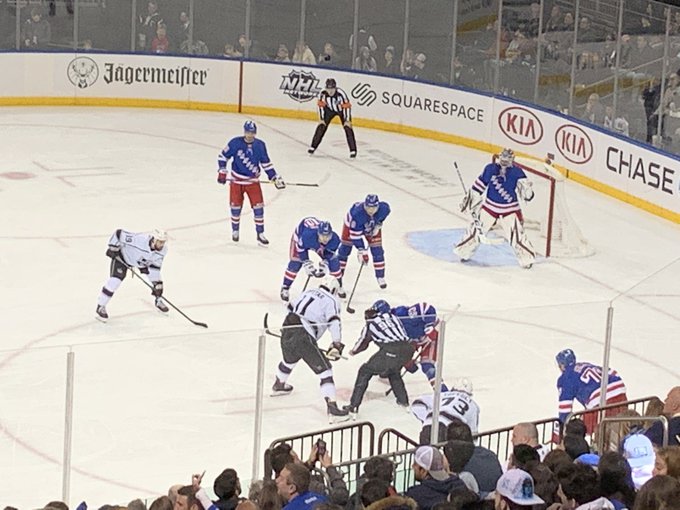 I have a couple of news items to relay to you here.
On Saturday, the Rangers announced the following: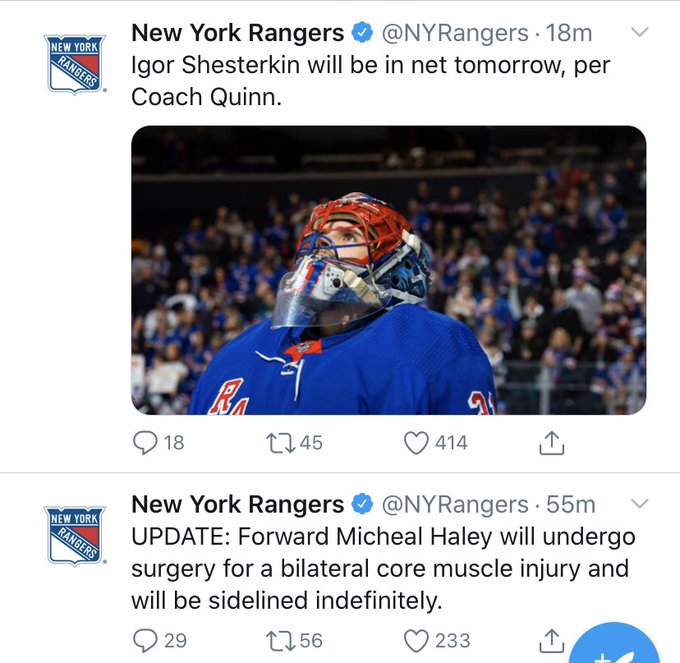 As reported first by the Rangers, Micheal Haley is going under the knife. In the grand scheme of things, this is no big loss and doesn't affect the Rangers at all. In fact, it helps them. While no one is rooting for injuries or wants to see anyone out, let's face it – Haley doesn't have a future with this franchise. In fact, in light of this news, he may have played his last game as a Ranger.
And of course, CZAR IGOR was named the starting goalie tonight. If you were looking at the three Ranger goalies, as if they were a starting pitching rotation, it was Lundqvist's turn to start tonight. Instead, Quinn went with his best option, and that is CZAR IGOR.
I'll save you an "end of the blog" teaser here – CZAR IGOR should be starting on Tuesday night, against the Jets, in Winnipeg. Again, I haven't seen the broadcast or the post-game, but I imagine Quinn has announced this already. In fact, he kind of did, without saying it directly, in that quote I posted above.
I'll also add here, after the game with Winnipeg, the Rangers have two back-to-back road games, with Minnesota on Thursday and Columbus on Friday. I would let Georgiev start one of those games (most likely Thursday) and then go right back to Igor on Friday. Of course, I'd also pressure Lundqvist to waive his NMC, and really, this is how you do it – by taking away his playing time. If only the Rangers would send him to the press box, then we'd really be cooking with gas!
I also want to say this, before motoring into the game review and everything else. As a Ranger fan, you had to love the outcome and the result. Your highest scoring defenseman, in Tony DeAngelo, scored a goal. Your top free agent and the new face of the franchise, in Artemi Panarin, picked up a goal. Your crown jewel of the franchise, in Kaapo Kakko, scored the game winning goal. And of course, CZAR IGOR had his best game of his young NHL career.
However, and once again, I don't mean to piss on anyone's parade here, you also have to take this win for what it is – a win over one of the worst teams in the NHL. The Rangers should have won this game. This victory shouldn't have come as hard as it did.
At this time, let's go to the GAMBLING segment of tonight's blog. Here's what I said before the game:
Season over-under record: 26-24-3

Igor in net and LA sucks. Under all the way!

Rangers are -120 on the 60 minute line. #nyr usually rebounds after crushing losses. That's the best bet. #PlayLikeANewYorker pic.twitter.com/wG7sgzIxtz

— BlueCollarBlueShirts (@NYCTheMiC) February 9, 2020
Winner, winner, chicken dinner all around! The under hit tonight, improving my record to 27-24-3 on the season. And hey, for people who played my best bet, you cashed out too! You're welcome!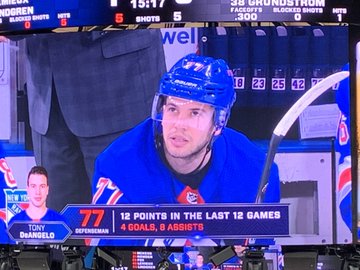 As always, I include personal stories on this blog.
I originally had no plans of attending tonight's game. However, a blog reader and friend of mine, the infamous @FIXXSER aka Greg, wanted to go to this game with me. That's the best thing about this blog – I've created a lot of good friendships with you guys. To this day, I consider Greg a close friend, and it all started because of this blog.
And oh, of course, if you don't remember @FIXXSER from prior blogs, he is the man who has this jersey: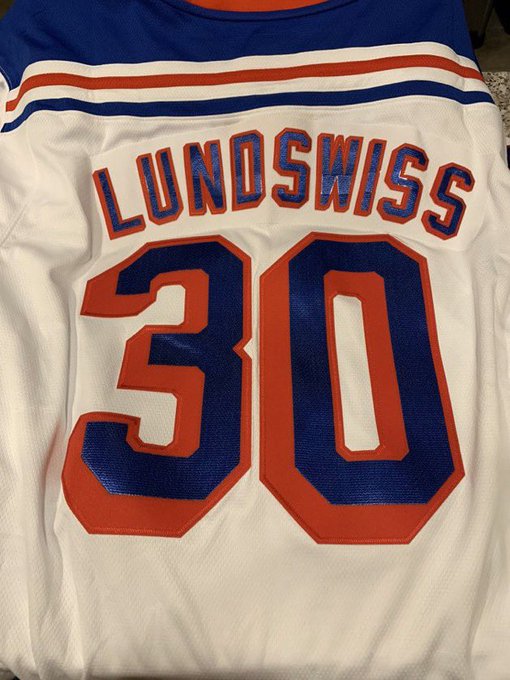 I have to thank Greg publicly here. I told him I had no plans of going to this game, as I'm saving my Ranger budget money for my road-trip to Pittsburgh and Buffalo. In turn, Greg bought us a pair of tickets, in section 118, which is center ice. As reciprocation, I covered the beer tab for tonight, but I'm sure Greg spent more on these tickets than I did on Budweiser tall-boys: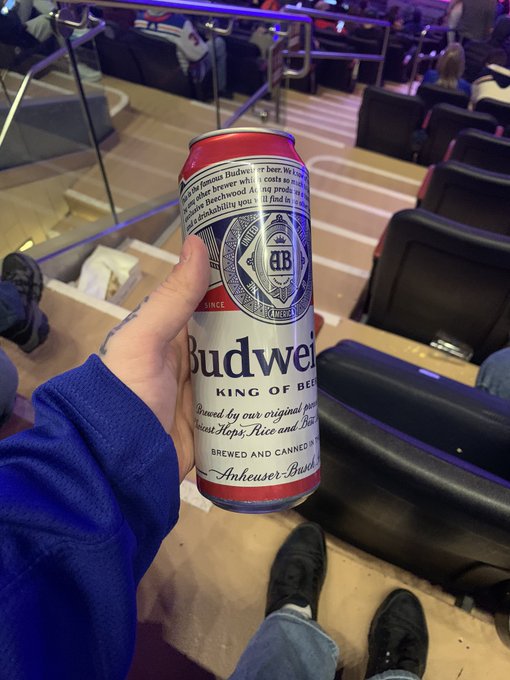 We had really great seats tonight, as we were literally center ice. Even better, the bathroom was right next to our section. More importantly – so was the beer stand! Again, thanks to Greg for the ducat.
Prior to tonight's game, Greg & I met up with Dancin' Larry at the Molly Wee, where our happy trio pummeled several beers. We also were able to catch the second half of the NY Guardians XFL home win. FINALLY, AFTER FIVE YEARS, A WINNING FOOTBALL TEAM IN NEW YORK!
And isn't it amazing Suzyn, that after a bunch of Ranger 1PM Sunday games this year, head-to-head with the Giants & Jets, that this Rangers game had the weird start game of 6PM? I guess the Rangers were worried about their attendance and going head-to-head with the Guardians! I kid, I kid!
Oh, and quick thoughts about the three XFL games I saw this weekend? The football was much better than the first XFL go around. That said, I don't know if this league can sustain profitability long-term. And let's face it – the talent level is nowhere near the NFL. As time goes on, and if this league can last past one season (Vince McMahon has said he's willing to invest $375M over three years) the league will lose their top talent, as the NFL cherry picks it. Long live Tommy Maddox!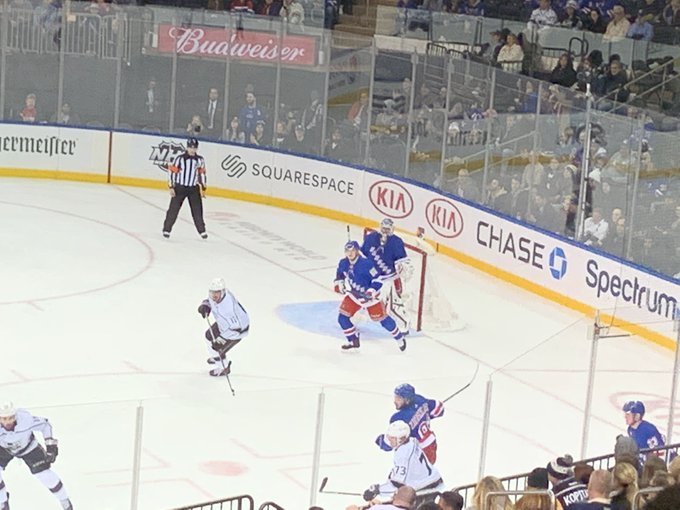 At this time, let's go to the box score, courtesy of ESPN.com:
STARS OF THE GAME: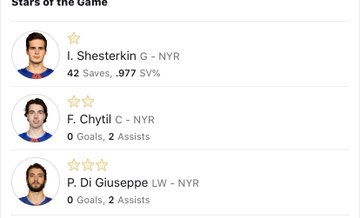 SCORING SUMMARY: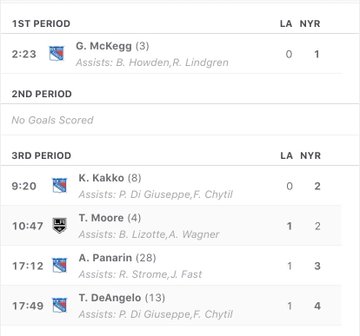 PENALTIES: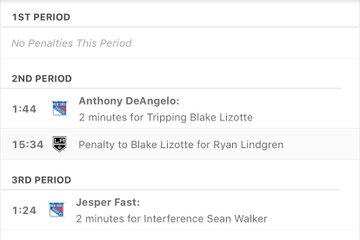 TEAM STATS: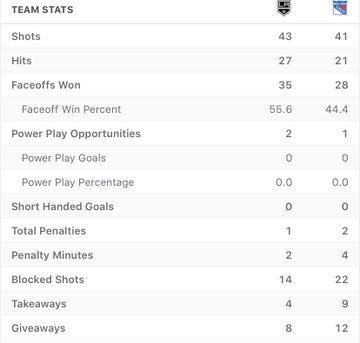 GOALIES:
| | | | | | | | | | | |
| --- | --- | --- | --- | --- | --- | --- | --- | --- | --- | --- |
| SA | GA | SV | SV% | ESSV | PPSV | SHSV | SOSA | SOS | TOI | PIM |
| 40 | 3 | 37 | .925 | 35 | 1 | 1 | 0 | 0 | 59:39 | 0 |
| | | | | | | | | | | |
| --- | --- | --- | --- | --- | --- | --- | --- | --- | --- | --- |
| SA | GA | SV | SV% | ESSV | PPSV | SHSV | SOSA | SOS | TOI | PIM |
| 43 | 1 | 42 | .977 | 38 | 0 | 4 | 0 | 0 | 60:00 | 0 |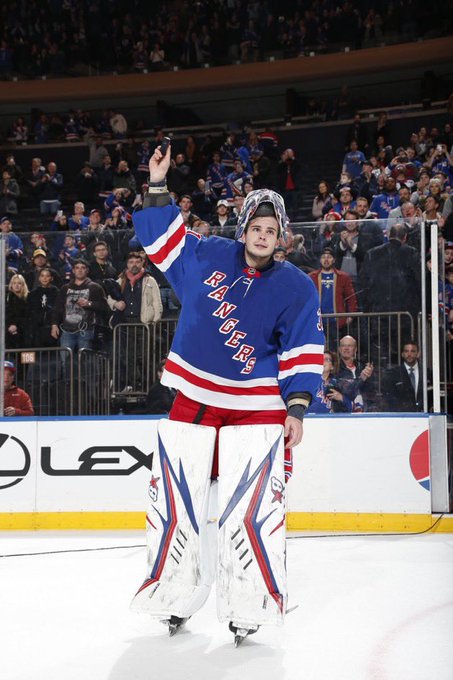 One more time – no notes or thoughts on the broadcast tonight, since I was at the game. And as I feel like I usually do with these games that I attend live – I apologize for not meeting up with several of you tonight. I never check the notifications on my phone when I'm at a game. I'll post stuff, so I can refer back to it later for the purpose of this blog, but I'm not scrolling through my phone when I'm at a game.
Here was tonight's line-up, courtesy of Colin Stephenson: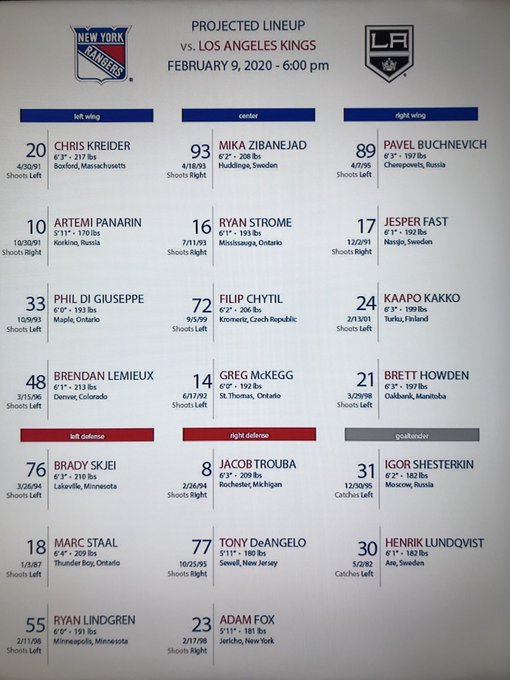 As you can see, everything was pretty much the same from the game with the Sabres. The only exception, besides the goaltender, was Kakko back on the third line and with Howden returned to the fourth line. Like I said last blog, you can't go crazy about DQ's lines, because he changes them in-game, all the time. And of course, as usual, while listed as the third pair, Ryan Lindgren & Adam Fox, once again, started the game with the first line. Quinn won't let Skjei near the ice for an opening face-off anymore and I don't blame him.
Let me get this stupid Vally story out of the way, and then I'll get into the game.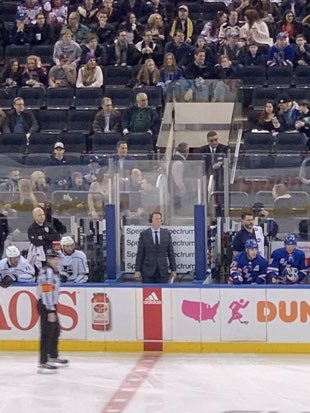 As I was settling into my seat and working on a $15 beer, I got a message from Jim Schmiedeberg, of Blueshirt Underground Audio/Video, saying, "Look who is in between the benches." Ironically, after seeing Bud Light Seltzer for sale at M$G, I saw the Bud Light Bar Douche himself, in Steve Valiquette. I later found out that Maloney was on the radio. With a Knicks game tonight, Bill Pidto wasn't in studio, as John Giannone held that fort down. (Like Al Trautwig in the past, the Knicks come first for Pidto, while Giannone will always do the M$G Network Ranger broadcasts.)
Greg aka @FIXXSER, found Vally in-between the benches to be amusing. We were both hoping for a puck to be sent his way, so we could say that Vally didn't make a save. However, that never happened. Despite no puck Vally's way, that didn't stop Greg from recording Vally tonight:
All Vally was doing was fumbling through stats and paperwork during both goals. pic.twitter.com/qkC0LVymCi

— Fixxser (@Fixxser) February 10, 2020
Steve McStatsAndStuff pic.twitter.com/IouePwwd04

— Fixxser (@Fixxser) February 10, 2020
I'll say this – I wasn't paying much attention to Valiquette, unless Greg said something to me. I watched these above clips after the game.
All I do know, is that at one point, Vally was tugging at his pants and fiddling around. I guess he had frog nuts or something, as it looked like he was re-adjusting the boys for a bit. Then again, for all I know, he was playing pocket pool, since he was standing so close to his hero, in Henrik Lundqvist.
The funniest and perhaps saddest thing about Vally – during goals and CZAR IGOR saves, Vally was playing around with a notebook, not even watching the plays. I can only assume that he was too damn busy making charts, to pay attention to what was actually going on in front of him.
This is what's great about drinking a beer vs making charts when at a game. When I drink a beer at a game, my eyes never leave the ice. When you're making a chart, you miss the action. Beer > Charts. Case closed.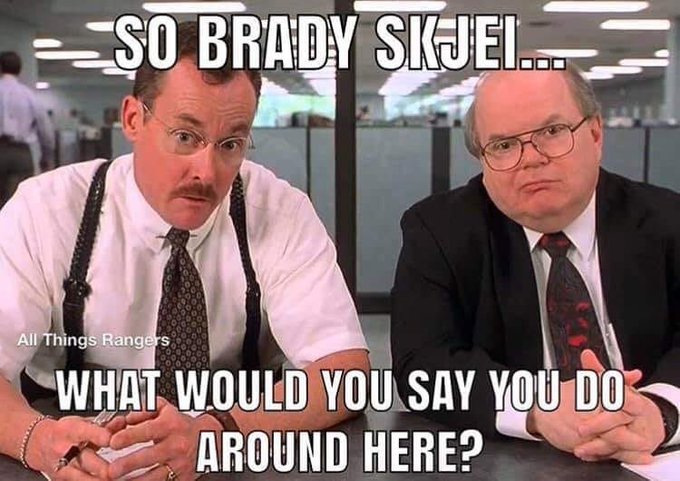 If there were any concerns about Igor tonight, he made you relax early into this game, after two big saves, including one huge save on Brown. Then, 2:23 into the first period, Greg McKegg put the Rangers on the board:
4th line getting it done 🚨 #NYR pic.twitter.com/wXXcz9Kuyt

— Rangers on MSG (@RangersMSGN) February 9, 2020
1-0, GOOD GUYS.
On the goal, LA turns over the puck, Howden feeds McKegg perfectly, and despite shooting right at Jonathan Quick, McKegg's puck bounced off Quick and into the net.
Funny thing about this goal, on the scoreboard, including this goal scored, they talked about McKegg having two goals in his last three games. Not mentioned, how the other goal was an empty net goal. That said, any goal scored looks good on the back of a trading card!
I really thought the Rangers were going to blow out the Kings tonight. When McKegg, of the fourth line, with the entire line playing extremely well tonight, scored, I thought the goals would keep on coming. Little did we know, we wouldn't see another goal until 50 or so minutes later.
As the game progressed, this reminded me of the 1-0 win over Detroit. The Rangers allowed a very bad team, under not ideal circumstances, to hang in there all game. And really, this game wasn't a done deal until there were two minutes and change remaining in regulation. If not for Igor's sorcery in net, who knows how this game goes? This could've been a 5-1 loss with Lundqvist.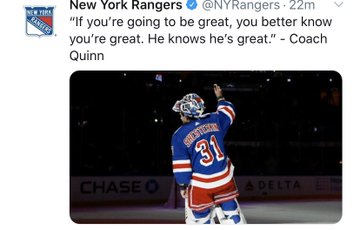 After McKegg's goal, and as the game progressed, Filip Chytil nearly made it 2-0. However, Quick made a desperation toe-save, to keep the game at 1-0. If Chytil lifted the puck an inch, he would've had the goal here.
During the TV timeout, we were treated to a segment, where it looked like the Rangers want the nickname of "THE TROUBINATOR" to stick, in regards to Jacob Trouba.
In a scary and hairy LA attack, it would be Ryan Lindgren breaking up the LA offense and perhaps saving a goal allowed on Igor's record tonight. Lindgren gets better with every game.
After this, LA would get the puck again, where Igor continued to keep LA off the board. After a huge glove save, I believe on Toffoli, we had our first "EE-GORE" chant of the game. This chant, unlike the Panarin broadcast from Friday, was organic. There was no loud bass beat to get the crowd into it. The crowd did this on their own.
In a period that lacked scoring, but featured excellent goaltending, the Rangers remained up 1-0 after twenty minutes.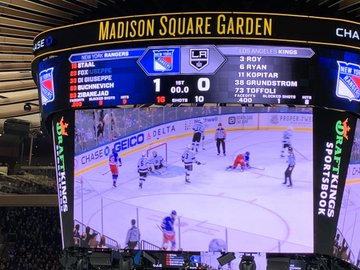 While I don't have play-by-play notes like I usually do, I want to mention that I thought Di Giuseppe really stood out tonight. I've been singing his praises for a while now; really, ever since I did those Hartford Wolfpack game review blogs. Once again, I thought he played well. With Haley no longer an option for this line-up and with DQ seemingly phasing out Brendan Smith (Smith was scratched again tonight), I think we'll see more of Di Giuseppe. If you're not down with that, I got two words for you – BA FONGOOL! (Or should I say, BA FATHER FINK?!)
For most of this game, the referees let a lot of stuff go. I'm fine with that, as long as it's called both ways. However, at 1:44 into the second period, Tony DeAngelo was called for tripping. I'm not debating that TDA was innocent here, all I'm saying is that we saw the Kings hook and hold Zibanejad and Panarin, yet no call was made.
The second period remained the CZAR IGOR show. While on the PK, Igor was making saves like this:
IGOR 👏👏 IGOR 👏👏 IGOR 👏👏 pic.twitter.com/U9XuMkJIsc

— Rangers on MSG (@RangersMSGN) February 10, 2020
As I remarked to Greg repeatedly throughout the game – Igor is already making big saves and we're taking him for granted! Six games in and Igor is stopping shots that routinely go for goals throughout the league.
The second period mostly saw the Rangers give up 7343789378 shots (okay, I'm exaggerating) and Igor saving every single one of them.
If there was anything truly noticeable about Quinn's lines, aside from some light shuffling, it was the fact that Quinn was rolling out all four lines. For the purpose of this blog, I just checked the time on ice for everyone. I could be wrong on this, but based off of memory, I think in tonight's game, the fourth line had their most time on the ice this season. Of course, this is a new fourth line, which of course tells you that Quinn has confidence in this new line. Just something to keep an eye on.
Speaking of the fourth line, Di Giuseppe had a good chance around this time, as he hit the post. As Igor kept everything locked down, with about five minutes left in the second period, Blake Lizotte was boxed for high-sticking Ryan Lindgren. No blood, so this was only a two minute power-play for the Rangers.
Just like Igor, Jonathan Quick looked great on his penalty kill, even robbing Artemi Panarin. The LA PK would prove to be successful here.
At the end of two periods, the score remained 1-0, GOOD GUYS. Here were the SOG: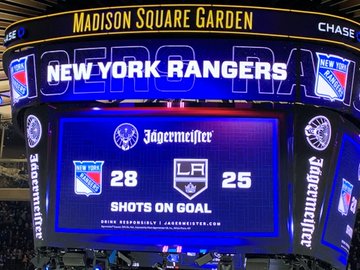 Funny story here. During the game, for the first forty minutes, Greg & I had a gaggle of kids sitting in front of us, while the parents of these kids sat at the end of the row. There were about 7-8 kids all sitting together. Since they are minors, I won't post pictures of these kids on this blog.
These kids were out of control, most likely due to the fact that their parents were at the other end of the row, and not paying attention. These kids really got out of hand, here in this second period. They were jumping up and down. If it was an adult, I would've said something. When it comes to kids, I get they are excited, so I'm not going to scold them. Not my place.
While jumping up and down, like a "Price is Right" contestant on speed, is normal for kids, getting into mischief is also normal. During this second period, these kids were throwing popcorn, peanuts and whatever else they could get their little grubby hands on, at people sitting in the lower rows. As the game went on, one kid would throw some popcorn at some fans. Whenever a fan was hit, he or she would turn around. The parents didn't seem to notice, as they were either engrossed in the game, their drink or their conversations.
Eventually, after pegging people with food for minutes on end, these kids hit a woman and her young daughter. These kids also landed some popcorn on a Jewish man's yamaka/kippah. That was all she wrote. The woman and this Jewish man complained to security. Security then talked to the parents and right before second intermission, these kids and the parents left the arena. One father said to his kid, "I've never been more embarrassed." When that father said that, I was thinking – "you should've seen Lundqvist against the Kings!"
Listen, they are kids, so I get it, but you can't have your kid throwing shit at people all game!
However, it was nice to have a clear view for the remainder of the game: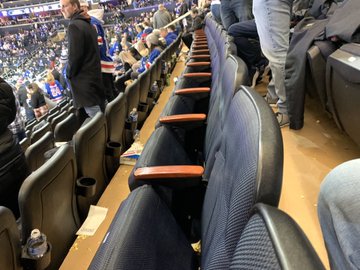 Worth mentioning – these kids and father's weren't the only ones to leave after the second period.
In a 1-0 tight game, a duel among goaltenders, it felt like half of M$G emptied out. I don't know if it were the Oscar's or what, but once the final horn of the second period went off, you saw hundreds and hundreds of people toss on their winter jackets and hit the exits. I wonder how many people had free or corporate seats tonight? I just don't know how you invest time going to M$G and to watch the Rangers play, only to leave with an important third period coming up. And oh yeah – the Rangers goaltender had a shut-out going!
And people wonder why M$G is dead these days. Most "real" fans can't afford to go and the people who can afford to go, well they leave in the middle of the game. SAD!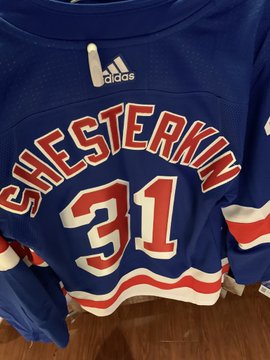 As we got into the third period, the battle of these two goalies continued. Quick would also get some help, as Mika rang one off the crossbar. A different bounce, and the Rangers would've had the insurance goal here.
The Rangers would also have to kill an early penalty in this period, as Fast was boxed at 1:24 for interference. I didn't know about that call, as it looked like Fast was playing the puck. Questionable officiating here, especially since they were letting so much go.
At around the half-way mark of the third period, Kaapo Kakko would get the Rangers the insurance goal. Little did we know, this would also become the game winning goal:
Don't leave Kaapo Kakko alone in the slot. #NYR | @NYRangers pic.twitter.com/GOtBlEE74A

— Rangers on MSG (@RangersMSGN) February 10, 2020
2-0, GOOD GUYS!
Di Giuseppe, to Chytil, to Kakko. You love to see it! And really, what a feed from Chytil here. It was also great to see Kakko bury this puck, as he really was due for a goal.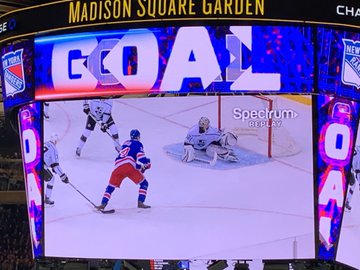 As we crossed the half-way mark of the third period, CZAR IGOR still had a shut-out going. However, at the 10:47 mark, Trevor Moore, who ironically was just here a few nights ago with Toronto, broke up Igor's no-no. 2-1, good guys.
On the goal, Brady Skjei was on the ice. Need I say more? This goal wasn't on Igor at all, as it was the result of shoddy defense and hectic play right in front of Igor.
As we got under eight minutes to go, we went to Dancin' Larry:
It's @TheDancinLarry time #nyr #PlayLikeANewYorker pic.twitter.com/QsimvV6kSl

— BlueCollarBlueShirts (@NYCTheMiC) February 10, 2020
For a guy who can put the beers away like I can, it's amazing that Larry always nails his dances. I've never seen him trip once! Always great to see Larry before the game too!
With under three minutes to go, I said to Greg, "when do they pull Quick?" Immediately after, Strome & Panarin broke out on an odd-man rush:
Don't you just love Sam Rosen's "ARTEMI PANARIN" after a goal?!?! 🚨 #NYR pic.twitter.com/ZY8Rq3Zg5e

— Rangers on MSG (@RangersMSGN) February 10, 2020
3-1, GOOD GUYS, courtesy of Artemi Panarin!
On this goal, I don't know if this was a set play or not. Strome fires the puck at Quick, Quick gives up a bad rebound and Panarin sends it home. Whatever the case, the Rangers got back their insurance goal.
30 seconds later, with Quick pulled, Tony DeAngelo sealed the deal with an empty net goal. 4-1, GOOD GUYS and that would be your final, here from Morgue $quare Garden.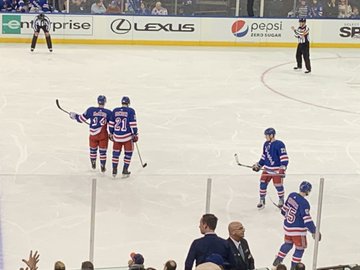 For once, it was nice to see a goalie hold a two goal lead against the Kings tonight! "Give me two goals and I got this!"
In closing on tonight's game, I pretty much said everything that I wanted to say. This was a good win for the Rangers, but a win that should be expected out of this team against crappy LA.
Moving ahead, it's got to be Igor against Winnipeg on Tuesday. Barring any major breaking news on Monday, I'll be back Tuesday night, after that game with the Jets. Since I'll be watching on TV, as I won't be in Winnipeg, this game recap will return to its usual blow-by-blow rundown.
Until then, thanks for reading, and as always…
"LET'S GO RANGERS!"
Sean McCaffrey
BULLSMC@aol.com
@NYCTHEMIC on Twitter
P.S. While I think Fanatics.com does a great job with getting orders out (they made my CZAR IGOR jersey), I can do without the 786786768967896 emails a day. The new thing from Fanatics? Emailing you right after your team wins a regular season game: