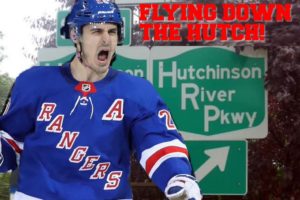 Greetings and salutations everyone and welcome to another blog here on BlueCollarBlueShirts.com.
On Wednesday night, reeling from their loss to the Dallas Stars on Monday, the New York Rangers, behind CZAR IGOR Shestyorkin, defeated the Toronto Maple Leafs, at home, by a final score of 5-3. For the Rangers, this was another one of those team-wide victories.
Very often, when watching games and when thinking about doing these blogs in advance, I usually have a grasp of who the three stars of the game will be and what player I'm going to highlight with these silly blog headline graphics. As the third period made its way to the final horn, I wasn't 100% sure on who the three stars would be or what player I could make a bad photoshop of. The reason for this? It was because the Rangers, collectively as a team unit, were so great tonight. It was hard to single out any one player for their efforts, as I thought the entire team produced. This game, as a fan, was one of those games where you just beam from ear-to-ear with.
If you look at the box score of tonight's game, the three stars of the game, in Pavel Buchnevich, Chris Kreider and Mika Zibanejad (ironically, or maybe not ironically, the Rangers first line) all had impressive outings. All three of these Ranger first liners had multi-point games. However, this win was more than about these three. Of course, CZAR IGOR had another impressive game, moving to 4-1 on the season. Outside of the top line and the goalie, the young blood of the Rangers, guys like Tony DeAngelo, Brendan Lemieux, Filip Chytil, Ryan Lindgren and Adam Fox; well they all had great games too.
When you look at the veterans on this roster, both Jesper Fast and Jacob Trouba had solid games. Standing out the most was Jesper Fast, who had one of the best defensive games out of a NYR forward of the entire season. Ryan Strome also played well; the same Ryan Strome that was demoted before the game, only to play his way back to the Panarin line. (More on that as we continue.)
If you wanted to finger-point at anyone or criticize anything in this game, it was once again Brady Skjei, the same Brady Skjei who always seems to be on the ice for any goal allowed by the Rangers. That said, this game wasn't about Brady Skjei's inability to earn his money. This game was more than that. When you look up-and-down this roster tonight, everyone pitched in and played their part.
If box scores are really deceiving as I'm saying here, how about Artemi Panarin, who finished with no points and a plus/minus of -1? Hopefully Panarin gets out of this slump soon!
Seriously speaking on Panarin here, this was now two games since the break, where the Rangers won the game, without Panarin picking up a point. Prior to the break, the Rangers had only won one game where Panarin didn't log a point in.
Obviously, Panarin is having the best individual season as a Ranger since the days of Jaromir Jagr. However, (and yes, you can discount the win over Detroit a bit, since they are the worst single-season team of the salary cap era) tonight's game was a big step in the right direction. Just like a wide receiver in football, an elite shooting guard in basketball or a clean-up hitter in baseball, teams have made Panarin their priority. He gets more attention than anyone. In games where this happens, the other Rangers need to pick up the slack. The Rangers just did that tonight.
After all, after having two straight games without an even strength goal, the Rangers picked up four separate five vs five goals tonight. The Rangers would later add an empty netter, for their fifth and final goal of the contest.
There's a lot of pregame news to get into tonight. However, before getting there, as always, here are my last few blogs in case you missed them:
---
---
---
---
---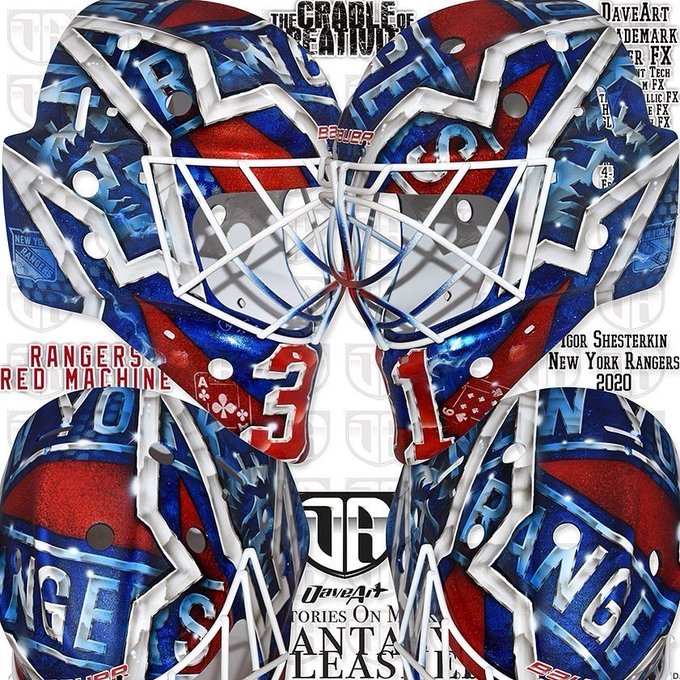 In my last blog, and really, in all my blogs during the break, I pegged Alexandar Georgiev as the starting goalie for tonight's game. Instead, CZAR IGOR started, which truth be told, I obviously have no problem with. Anyone but Lundswiss!
I will say, despite this win and despite Igor getting playing time, this is where David Quinn comes off hypocritical and talking out of both sides of his mouth again. As recent as Monday, when talking about the lack of playing time Lundqvist got in January, Quinn said he had to go with Georgiev because he has the winning history against the Islanders. Since the Rangers played the Islanders three times in nine days, Georgiev got the most of the work, in the games before the break.
Just like the Islanders, Georgiev has a winning history over Toronto. Whether it was the 55 save game or the shutout, Georgiev has always played Toronto well. For whatever the reason, it was Georgiev in the press box tonight, because as we know – LUNDSWISS MUST DRESS. His hair tips are just too valuable in that locker room to waste.
There could be a few reasons why DQ opted to go with Igor over Georgiev tonight. Those reasons are:
— Georgiev is on the trade block, to ironically Toronto, and the Rangers didn't want to showcase or hurt him against the Leafs. (NOTE: looks like that Georgiev to Toronto rumor has been killed, as you'll see below.)
— If Igor didn't play today, he would be a week without starts.
— Quinn wanted to see how Igor would hold up against a potent offense.
— Georgiev had to play mop-up duty on Monday, thus getting ice time, in the game where Lundqvist was blown out in.
— Quinn feels that Georgiev can bounce back better with more time between starts than Igor.
Of course, none of the NY Ranger beat reporters pressed Quinn on this at all. The reporters just accepted the fact that Igor was starting. That said, prior to tonight's game, DQ hinted at Georgiev playing against Buffalo on Friday. More on that once we get to the end of this blog.
Here's how the Rangers broke the news of Igor's start on Tuesday, the day between the game with Dallas and tonight's game: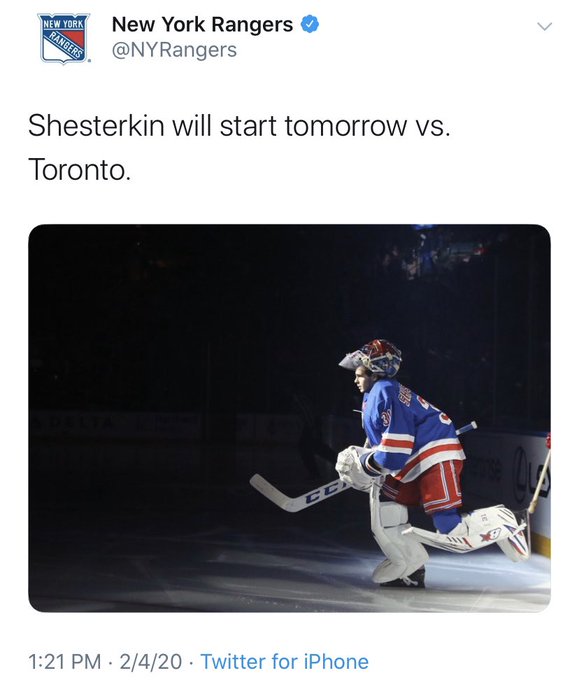 Whatever the case, Igor did start tonight and he was, to quote Joe Micheletti here, "FABULOUS". For a guy playing his fifth NHL game, against one of the best offenses in the league, Shestyorkin was stellar throughout.
The other big news prior to tonight's game, besides Chris Kreider returning after a game off, were the new lines.
Here was the new line-up used for tonight's affair: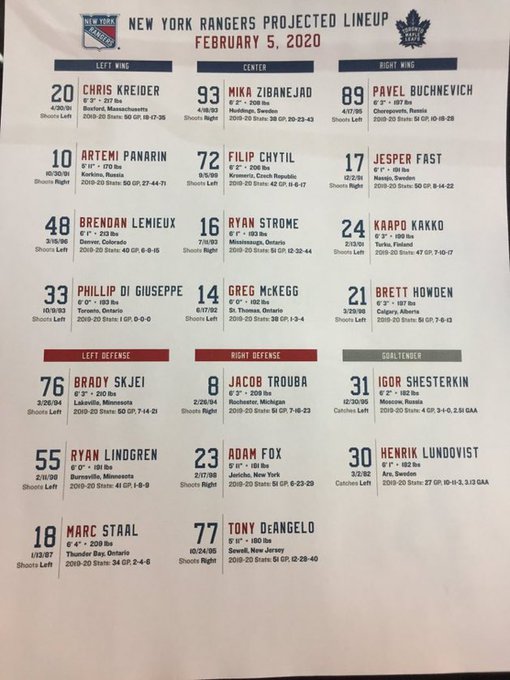 As you can see, DQ kept his top line in-tact, despite criticizing Buchnevich after the game against Dallas. To fast-forward a bit here, after tonight's game, I watched the post-game show. DQ was more than complimentary about Buchnevich tonight. As we've seen many times this season, sometimes DQ calls out his players in the media as a motivational tactic. That tactic worked tonight. And to DQ's credit here, he made sure to pour on the praise for Buchnevich after the game. For a young player, that's positive reinforcement.
The biggest change to the line-up came from the center position, as Filip Chytil was promoted to the second line, while Ryan Strome was demoted from the second line to the third line. To me, while others suggested this, I didn't take this as "let's see what Strome can do without Panarin." To me, it was more of "let's see what Chytil can do with Panarin." However, by the final minutes of the second period, DQ flip-flopped these two back to their normal lines. After the game, DQ said Strome was doing the stuff he wanted to see and he deserved to be back with his regular linemates. Again, another example of positive reinforcement from DQ, both in-game and post-game.
While Micheal Haley has been the regular scratch in these four games since the break, for the first time in a long time, Brendan Smith took a seat upstairs in the press-box. While Quinn didn't outright say it, to me, I think this was DQ's way of punishing Smith after the bad penalty on Monday, which snowballed into two straight Dallas PPG's. Furthermore, as I've been campaigning for all season, I think this was a way to get a look at a new face, in this case, Phillip Di Giuseppe.
I said on my last blog, I wanted to see more of Di Giuseppe and I was happy to see him get first line minutes in the game with Dallas. In that game with Dallas, you noticed Di Giuseppe. However, in what I feared would happen, happened in this game, in regards to Di Giuseppe.
Playing on the fourth line, Di Giuseppe only played six minutes and change. Due to playing on the fourth line, Di Giuseppe's role changed in this game. Rather than focusing on offense, as you do as a first liner, Di Giuseppe was on a line that usually grinds and eats up time, while the top lines rest.  In turn, Di Giuseppe didn't log a shot on goal tonight, after putting forth four great shots on Monday.
That all said, what can you do if you're DQ? Who are you bumping out of the Top 9 for Di Giuseppe right now?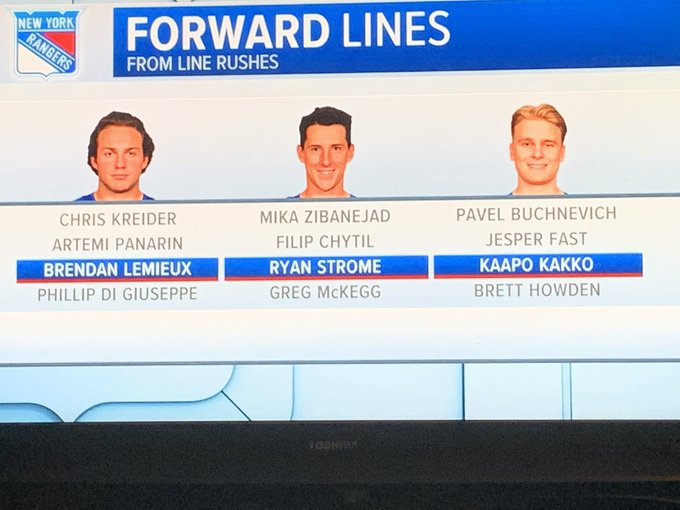 And lastly, while speaking about the lines, as I'm not going to mention every time Quinn changed his lines in the game recap, by the mid-way point of the second period, DQ was juggling his bottom six. Kakko would drop to the fourth line. Howden would play with Chytil and Lemieux on the third line. It was a never ending mixed-bag of shuffling; and fortunately, the Rangers didn't take a too many men on the ice penalty during all of this.
Defensively tonight, DQ went back to his normal pairs, ending the Trouba/Lindgren and Fox/Skjei experiments. Trouba was back with Skjei. Skjei was brutal for most of this game.
To rip off and paraphrase an old Gump Worsely quote, who once said "the Rangers", when asked what team gives him the most trouble in the NHL; I think if you asked Igor Shestyorkin, Alexandar Georgiev or Henrik Lundqvist, "what player in the league gives you the most trouble in the league?", I think their answer, collectively, would be "Brady Skjei!"
Few more things, before we get to the game recap.
Guys, I think I came up with a way to get out of the Henrik Lundqvist albatross of a contract! Here's my idea: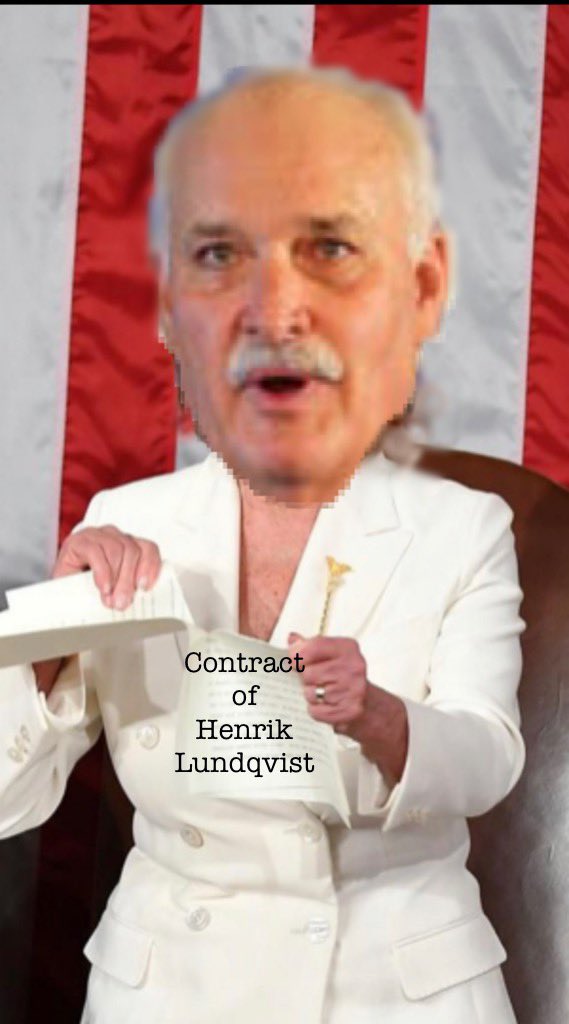 I kid, I kid.
I bring up this picture, which obviously was inspired by the political State of the Union address from Tuesday night, as I still see crybaby and deranged Ranger fans on Twitter, crying about the players that don't agree with them politically.
As I've said 7867896786785675675 times on these blogs, I don't care how you vote, who you support or your political beliefs. I don't care how the Rangers, individually, think on politics either. As long as you're not a terrorist, I don't care how you lean or think. Just win!
I will admit though, I do like to rile it up and I'll ham it up with the players that I know that get a kick out of the nonsense. After all, how about these pictures of yours truly and Trump supporter Ryan Strome, who signed my MAGA hat:
Let's hope @strome18 has a good day in light of all this great Trump news! #nyr #PlayLikeANewYorker pic.twitter.com/ShpVTp5M3V

— BlueCollarBlueShirts (@NYCTheMiC) February 5, 2020
I 100% admit to this – I only took this picture to rattle up these crybaby soyboy basement banter pissants, who hate any player that supports the American sitting President. Seriously, I just don't get the rage and hostility for a stranger's political beliefs. Furthermore, how can you "HATE" a player on your own team, over politics? As I've said in the past, Tony DeAngelo can flip-flop tomorrow, denounce Trump and start wearing Bernie Sanders gear and that wouldn't change my opinion on him one iota – RE-SIGN DEANGELO!
However, there's one thing to hate a player over politics. It's another thing for a fan, who is a liberal Democrat, you know, the party of peace and tolerance, to say shit like this: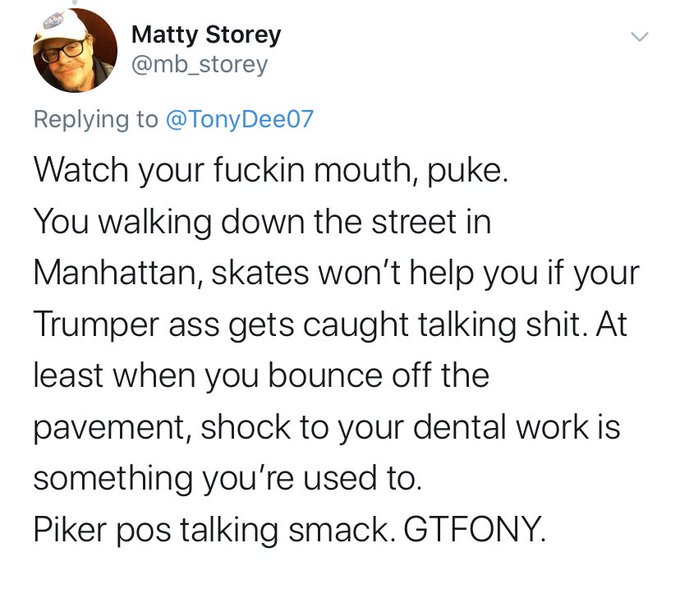 Can you imagine being this deranged? Seriously, Matty Storey may be mentally retarded and doesn't realize what he's saying. However, as mentioned in the past, Tony DeAngelo may be able to laugh at crap like this. However, his family, such as his sisters, brother and cousins, may not take this in stride. All it takes is one nut.
Who in their right mind would tweet death threats at players? You have to be seriously touched in the head. No joke, the police should investigate this guy, or at the very least, take his Twitter account away.
It's one thing to joke around (like when I say "DEPORT LUNDSWISS") but it's another thing to make a death threat. If this moron is brazen enough to publicly tell the world how he wants to physically attack DeAngelo, who knows how crazy he is to actually follow up on those threats?
While this Matty Storey should be locked up, you also have the frightened little crybabies on social media, who tweet stuff like this out: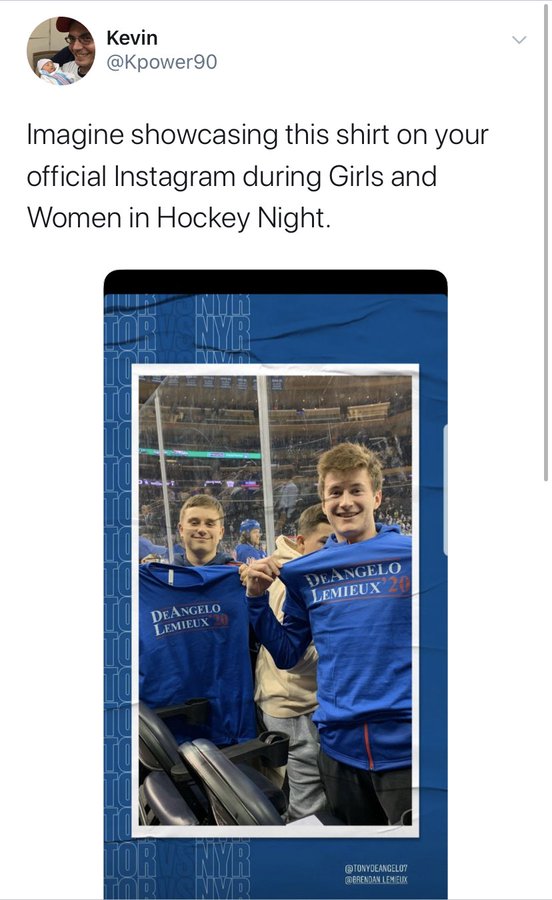 In the above tweet, Mr. @KPower90, is upset and needs a safe space, because the Rangers promoted a DeAngelo & Lemieux T-Shirt. I've previously discussed this T-Shirt in past blogs.
In fact, instead of sharing the picture of me in the DeAngelo/Lemieux shirt again, let's go to @NYRKELSMADS , who first originally coined the term "DeMAGAngelo":
What does Female Night at M$G have to do with DeAngelo & Lemieux? Does this babbling bozo think that DeAngelo and Lemieux are against women? After all, both of these guys have a mother, and in TDA's case, have sisters too. And as you can see by @NYRKELSMADS picture above, female Ranger fans actually support the players on this team, despite whatever Kevin wants you to think!
As I've said in the past, Tony DeAngelo Derangement Syndrome is real. Of course, as always, Lundqvist and Panarin supporting Trump is ignored. Ironically, Kevin also didn't have a peep to say about Lundqvist attacking an innocent female at that Rangers/Islanders game from years ago. DeAngelo gets this loony liberal's wrath, all because <GASP> DeAngelo supports America! What a shitheel!
I'm telling you folks, I'm just pulling these two examples for this blog. There are hundreds more of these types of social media postings. I just don't have the time to expose every moron on this blog. I only used these two public postings, because these seemed to be the most popular simpleton tweets.
We're almost at the game recap portion of the blog. However, at this time, let's go to the GAMBLING segment.
Here's what I said before the game:
Season over-under record: 25-23-3

We have our highest over-under of the season with 7! Hutchinson stinks, Igor is a rookie, Rangers can score 5 at any time & Toronto are an offensive machine.

All signs point to the over, but I think #nyr rebounds after a bad loss. I'll go UNDER pic.twitter.com/SYR6VHq1Na

— BlueCollarBlueShirts (@NYCTheMiC) February 5, 2020
In my predictions, I got everything right, except the thing that mattered the most – the total goals. With an empty net goal pushing the game to 5-3 Rangers and the total goals at 8, the over hits. As a result, my record drops to 25-24-3 on the season.
I mean, look at what I said. Hutchinson did stink. The Rangers did put up five goals. Toronto were an offensive machine. The Rangers did rebound after a bad loss. All signs did point to the over. Those damn empty net goals are killers!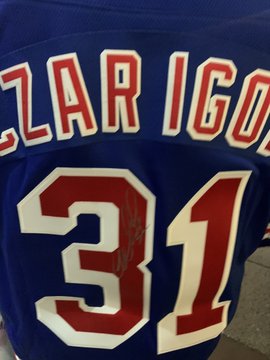 3000 words in, and I haven't even got to the game itself. Minga. Let's roll.
As always, here's the official box score of this game, courtesy of ESPN.com:
SCORING SUMMARY: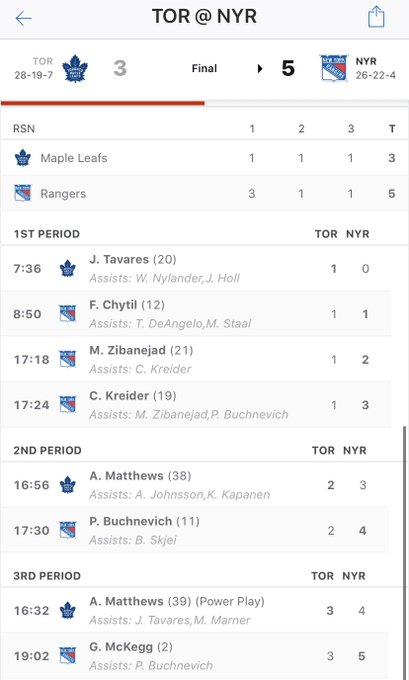 PENALTIES: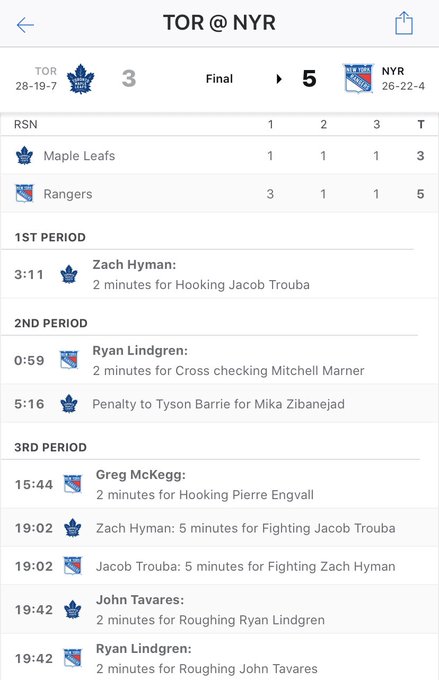 TEAM STATS: (Look at the blocked shots and turnovers!)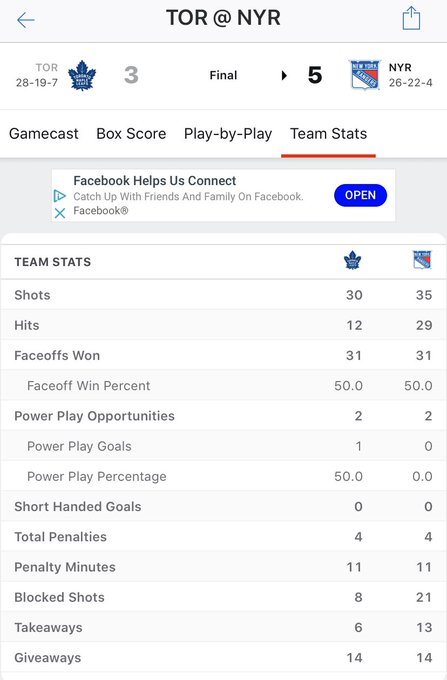 GOALIES:
| | | | | | | | | | | |
| --- | --- | --- | --- | --- | --- | --- | --- | --- | --- | --- |
| SA | GA | SV | SV% | ESSV | PPSV | SHSV | SOSA | SOS | TOI | PIM |
| 0 | 0 | 0 | .000 | 0 | 0 | 0 | 0 | 0 | 0:00 | 0 |
| 34 | 4 | 30 | .882 | 27 | 0 | 3 | 0 | 0 | 58:28 | 0 |
| | | | | | | | | | | |
| --- | --- | --- | --- | --- | --- | --- | --- | --- | --- | --- |
| SA | GA | SV | SV% | ESSV | PPSV | SHSV | SOSA | SOS | TOI | PIM |
| 30 | 3 | 27 | .900 | 27 | 0 | 0 | 0 | 0 | 60:00 | 0 |
| 0 | 0 | 0 | .000 | 0 | 0 | 0 | 0 | 0 | 0:00 | 0 |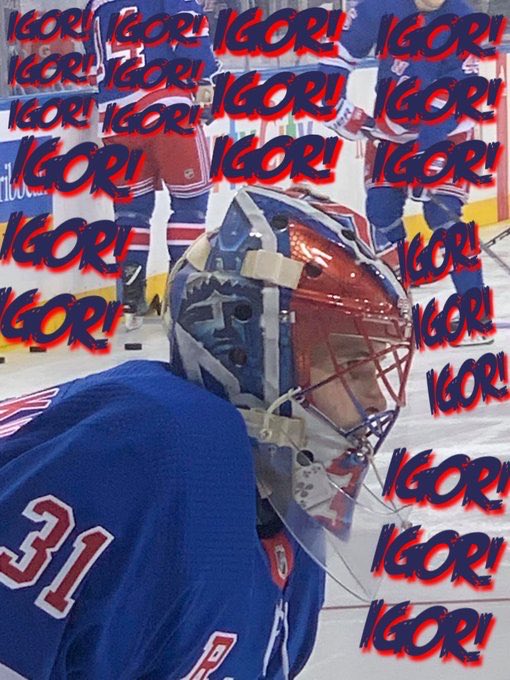 I couldn't be bothered by Vally tonight. After all, he wasted a TV segment with this: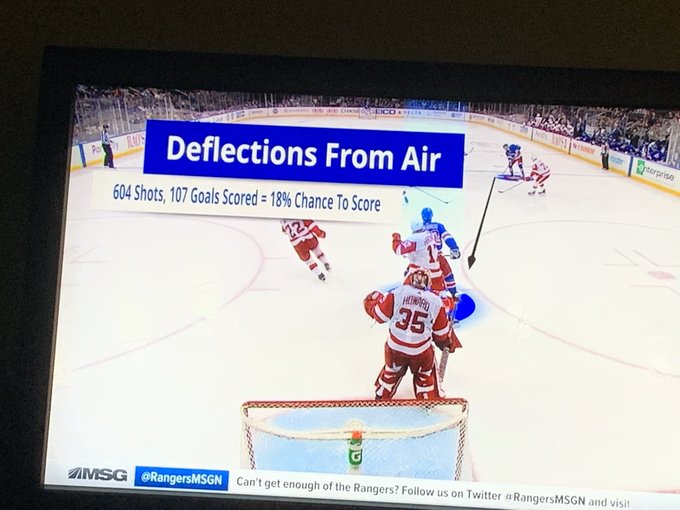 As usual, Vally wasted our time during the pre-game show. In real news, Sam and Joe told us this:
As mentioned on my last blog, Toronto starting goalie, in Frederik Andersen, didn't make the trip to NY for this game. In his steed, was Michael Hutchinson, who in Toronto, they jokingly call "Mr. Saturday Night." All four of Hutch's wins are on Saturday night. And truth be told, this may have been another reason to start Igor – he was going head-to-head with one of the worst goalies in the league. (Not named Henrik Lundqvist.)
I want to say this once and get it out of the way. This game was much bigger for Toronto tonight, than it was for the Rangers. Toronto is outside-looking-in on the playoffs and with this loss, it gives them a bigger hole to climb out of. Ironically or in a case of the blah's, this Rangers win did help the Islanders playoff chances too. If you look at national or Canadian recaps of this game, the focus will be on Toronto choking to a weak Rangers team and not the Rangers knocking off the Leafs.
Starting the game tonight was the first line and the Lindgren/Fox pair. I think DQ is hesitant to start Skjei in games, as the Rangers have given up many goals on the opening faceoff with Skjei on the ice.
CK20 showed us he was 100% healthy off the bat, as at the start of this game, he forced a Toronto turnover, took a hit and gave a hit. This then led to Mika & Buchnevich trying to set-up a goal, but they came up just short.
CZAR IGOR would get his feet wet early, as he would make a glove save, as if he was a shortstop handling a grounder that hopped up in front of him.
In what may have been a turning point of the game, even for as minute as it was, Jake Muzzin steamrolled Kaapo Kakko. Keep your head up kid. However, immediately after this hit, both Tony DeAngelo and Lemieux (DeAngelo/Lemieux 2020 bitches) went after Muzzin. After this hit, Toronto seemed scared to lay the body or play any sort of defense resembling physicality. (I know reader Howie Wirth will appreciate this! And thank you Howie for all your insight!)
Just look at the hits stat tonight. The Rangers hit the Leafs 29 times. The Leafs hit the Rangers only 12 times. The Leafs were phony little frauds and scared of any sort of contact, until the game result was decided.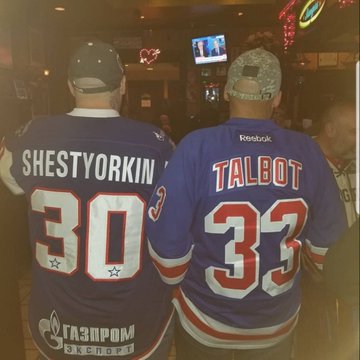 After Muzzin cowardly ran away from TDA & BL48, Di Giuseppe tried to set up McKegg for a one-timer. No go.
At the 3:11 mark, Zach Hyman hooked Jacob Trouba. More on these two at the end of the blog.
After a string of impressive games on the power-play, the Rangers came up scoreless here. In fact, Engvall, of the Leafs, had the best chance, a chance which was broken up by that Trump lovin' son-of-a-bitch, in a one Tony DeAngelo!
On the two Ranger PP shots here, you could see Hutch struggling. In my mind, at this time, all I wanted to see were the Rangers shoot, shoot, shoot, as if they were in Compton, CA in the mid-1990's. There was just no way Hutch would be able to handle the workload.
In what would be the eventual save of the game, CZAR IGOR stunned Auston Matthews with a big save here, keeping the game nil-nil.
At the 7:36 mark of the first period, John Tavares would draw first blood. Igor stopped Nylander on a shot. Brady Skjei had his head in the clouds and who knows what he was thinking. On the rebound, all alone, Tavares deposited the puck past Igor. 1-0, bad guys.
Another goal allowed, another play where Skjei is out of position and clueless. We're used to this by now. However, once again, for the second straight Igor start in a row, Skjei broke up an Igor no-no.
About a minute later, the Rangers would tie the game, after a beautiful pass from the Keeping America Great Tony DeAngelo:
Career-high 12th goal for Fil#NYR | @NYRangers pic.twitter.com/asV7pKsjoz

— Rangers on MSG (@RangersMSGN) February 6, 2020
What a pass.
On the goal, TDA makes a cross ice pass from the dot and finds Filip Chytil for the easy goal. As a result of the play, TDA continues to set a career high in points, while Chytil sets a career high in goals. WINNING!
1-1.
After this play, in our first "Rosen-ism" of the game, in something that will give the BlueShirt Underground Video/Audio guys some material, Mika Zibanejad rung a puck off the post. It sounded like someone hit a big ass hollow pipe with a sledgehammer. Rosen shrieked out, "SAVE BY HUTCHINSON." Micheletti calmly responded, "it hit the post Sam." I am loving Micheletti these days!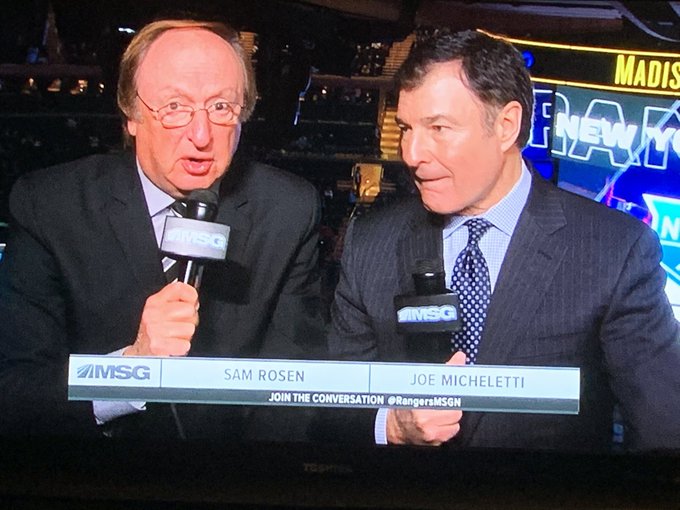 As the game got into the second half of the first period, the Rangers were hanging and banging with this desperate Toronto team, which needed to win tonight.
One player that really shone tonight, was Brendan Lemieux. While Lemieux didn't pick up any points tonight, after his two point game in Dallas, Lemieux was a monster tonight. He was hitting anything that moved. He was clearing pucks. He was clogging lanes. He was screening the goalie. He had a hockey player's hockey game tonight. Again, the box score doesn't tell you anything about Lemieux tonight, but he was arguably one of the most important Rangers tonight. Right with him here, were also Adam Fox and Jesper Fast.
Before a commercial break, Sam Rosen told us we had a scoreless game, before correcting himself and saying it was 1-1. The plagiarizer Sean Hacknett said Sam Rosen was 100% perfect tonight. FAKE NEWS. And I won't even get started on the company fed lines, where Rosen had to try to sell us on the Rangers making the playoffs this season.
With under three minutes remaining in the period, we had two quick goals. Both were similar:
Mika ⏩ Kreids – 2 goals in 6 seconds!!!!!#NYR | #LGR | @NYRangers pic.twitter.com/nMMAlad6sG

— Rangers on MSG (@RangersMSGN) February 6, 2020
2-1, GOOD GUYS. Six seconds later, 3-1 GOOD GUYS!
Both of these goals were scored by the top line. Even more impressively and in a rarity, both of these goals were scored immediately after the Rangers won a face-off. So many times, as illustrated on past blogs, have these goals gone the other way for the Rangers.
On the goal that made the score 2-1, Kreider wins a face-off and Zibanejad puts the puck behind Hutchinson's right shoulder. BANG. Six seconds later, after Mika wins a face-off, Kreider flies down the ice and doubles up the lead. WOW, WOW and did I say WOW!
And if you haven't heard it before, this game upped Kreider's trade value. However to me, as talked about on past blogs, you have to keep Kreider. After all, who is going to replace Kreider? Why sign Panarin and Zibanejad to long term deals and take CK20 away from them? I know I've always been on the fence on CK20, but at this point, because of the "who would replace him factor", I would keep Kreider. This isn't a Zuccarello situation either. Kreider is better and does more. He's also younger than Zucc too.
As the final horn went off, Hutch stopped a blast from Zibanejad. 3-1 after twenty minutes.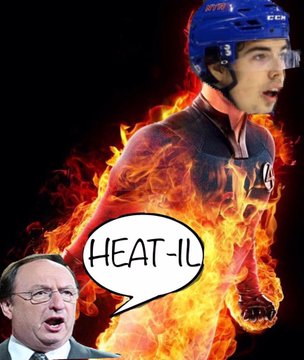 This is what I said at intermission:
If you're Toronto, you should try to get Lundswiss to waive at intermission & put him out there for the 2nd period- NYR are flying down the Hutch.

I think this is also the first time this season where NYR scored two immediate goals after face off wins.#NYR #PLAYLIKEANEWYORKER

— BlueCollarBlueShirts (@NYCTheMiC) February 6, 2020
More on Toronto's goaltender situation at the end of this. Spoiler: GEORGIEV ISN'T GOING TO TORONTO. (Or at the very least, those odds were diminished.)
Toronto came out with a little fire to start the second period. CZAR IGOR had to make three quick saves. Then, at the 59 second mark, Ryan Lindgren took a cross checking penalty, giving Toronto their first power-play of the game.
Jesper Fast was the star of this Rangers PK, breaking up two separate Toronto chances. In fact, because of Fast, Toronto didn't a SOG during this PP, despite how quick and effortlessly Toronto was dishing the disc. No joke, in a 3-1 game, Toronto failed on a big chance here.
While the first period was an offensive onslaught for the Rangers, the second period was pretty much the CZAR IGOR show. Here are some of his saves from the game:
Another big night for Igor. That's 4 wins in 5 games.🔥🔥 #NYR pic.twitter.com/XD6xawXMZX

— Rangers on MSG (@RangersMSGN) February 6, 2020
4:16 into the period, Tyson Barrie was boxed for high-sticking Zibanejad. The Rangers PP didn't come up with a goal here, but we did see Lemieux put a good screen on Hutch, which set up a blast from Fox.
As I said earlier about Panarin and the box score, after the PP expired, Panarin would take a great shot at Hutch. Save. Panarin went for the rebound. Another save. Two good saves from Hutch here to keep Panarin scoreless. However, Panarin, even if he was the focus of the Toronto defense, played extremely well.
After this Igor stopped Kapenen. Then Hutch stopped Kreider. Then, in another huge save, CZAR IGOR denied a Toronto two-on-one breakaway. (Skjei was on the ice for this, shocker.)
As Igor continued to rack up the saves, saves that he made look easy, with just 3:04 remaining in the period, Auston Matthews received a pass from the back of Igor's net and backhanded a puck. The puck bounced off Igor's chest and trickled in. 3-2, GOOD GUYS.
On the goal, it's something we're used to seeing Igor save, especially with the way he was playing tonight. I don't know how much you can fault Igor for allowing a goal from Matthews, at point blank range and all alone, but we've seen Igor make these saves. That said, this is his 5th NHL game too and Matthews is one of the NHL elite.
Also of note here, Sam screamed "SAVE!" Micheletti had to tell Sam that the puck went in!
With just under 40 seconds after Matthews goal, Captain Happy, in Pavel Buchnevich, regained the Rangers insurance goal:
Buch getting in on the fun. #NYR pic.twitter.com/STkwjl4TSq

— Rangers on MSG (@RangersMSGN) February 6, 2020
4-2, GOOD GUYS!
On this goal, Hutchinson lost his stick and was out of position. This was a BAD BAD BAD goal for Hutch to give up here. Oh well, I'm not a Leaf fan. Great for Buchnevich! It also took some wind out of Toronto's sails.
Right after this, Fox set-up Chytil for a goal, but Chytil's shot, from the doorstep, was kicked out by Chytil's own blade. Hutch got a break here.
In the final minute, the Rangers first line came at Hutch, giving him no rest. Hutch had four or five saves in the final minute of the period. Again, Toronto's defense was iffy at best and were scared to hit the Rangers. Wusses!
At the end of two periods, the score remained Rangers 4, Leafs 2. For those betting the over-under, we were at six goals, in a game of a line of seven total goals.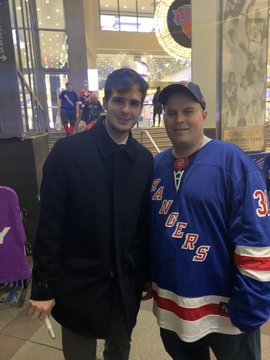 With this game starting a half hour later than usual at 7:30PM, I checked in on the Wolfpack. The Wolfpack won 7-4 tonight, behind two goals from VINNI FATHER FINKIN' LETTIERI! I really hope he gets one more chance here. You may have heard me say that before! (And with no Rangers game on Saturday, maybe I'll do another Hartford Wolfpack game review on this site. We'll see.)
As the third period started, I couldn't keep up with DQ's lines anymore. Strome was back as 2C, while the bottom six forwards were changing constantly.
In a rare sighting, David Quinn was actually smiling on the bench!
Early into the period, that patriot Tony DeAngelo went for a video game wraparound goal. The puck would hit Lemieux and then go off the post. Man, I really wanted that TDA to Lemieux goal! Hutch got bailed out by the iron again.
After the two goalies traded saves, we saw a play where Trouba fed Panarin and Panarin set up Strome for a deflection. The puck just missed.
In a strange sequence, the Rangers iced the puck four times in a row. During this time, the Leafs changed lines four times. Eventually, after saves from Igor, Brendan Lemieux, who is becoming that Paul O'Neill warrior player for the Rangers; got the clear, setting up the Rangers change of lines.
During this action, I saw some fans on social media cry about Toronto having the puck here, despite the Rangers 4-2 lead. I'll say this in caps lock to stress my point:
EVERY TEAM IS PAID TO PLAY HOCKEY. NO TEAM PLAYS TURNOVER FREE HOCKEY. NO TEAM LIMITS ANOTHER TEAM TO NO SHOTS ON GOAL. AT THE NHL LEVEL, YOU HAVE TO LIMIT CHANCES, YOU WILL NEVER NEGATE EVERY CHANCE.
Whew.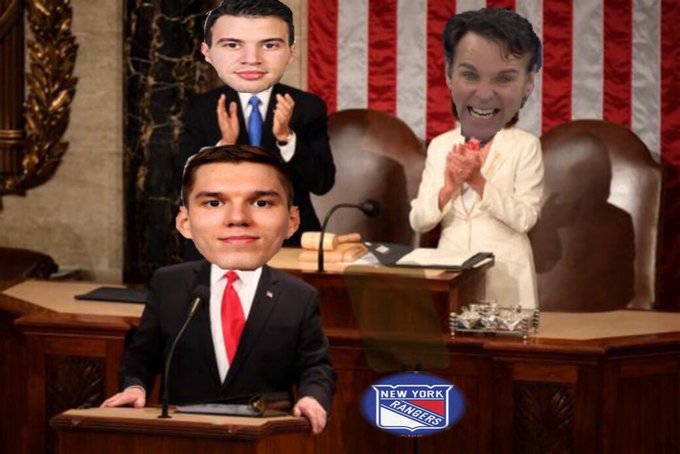 After getting out of this hairy situation, the Rangers regrouped. As we hit 9:46 remaining, two blog readers and buddies of mine were featured on the scoreboard.
Here's our first person:
I won designated driver @TheGarden @NYRangers game!!! #NYR

— HappyToBeMimi (@LoongIslandGal) February 6, 2020
"I won designated driver." Those are four words you'll never hear me say in my life. Personally, I bought a car brand new in 2008. Just the other day, here in 2020, I hit 50,000 miles. When it comes to going out socially or to a Rangers game, I'm an Uber, train or "can you give me a ride" type of guy!
The other news of note, not that it's big, is that Dancin' Larry, a great American and person, did his dance. Usually, he's featured with five minutes remaining in regulation of games. I don't know why I mention this, but hey, what other blog will? You get everything on these manifestos!
As play resumed, Hutchinson stopped a streaking Kreider. It looked like CK20 lost the puck at the last second.
With 6:24 remaining in regulation, Hutchinson robbed Buchnevich after a feed from Mika. To say the top line played extremely well tonight, well that would be an understatement.
As we hit the FOXWOODS FINAL FIVE (I know, they don't use this anymore, but it's ingrained in the brain) Trevor Moore made one of the most god-awful passes for a turnover, that I've ever seen in my life. More on Moore (hey now) at the end of this blog.
With under four minutes to go, CZAR IGOR made three rapid fire saves. However, McKegg got banged for hooking here, putting Toronto on the power-play. (Of course, right before this, Sam Rosen jinxed the Father Fink out of the Rangers, by saying, "Toronto has only had one PP in this game.)
As the clock hit 3:28 left in regulation, Auston Matthews scored a PPG on a bang bang play. Igor had no chance here. 4-3, GOOD GUYS.
Right after this goal, once again, the first line had a dominating shift, this time led by Mika Zibanejad, who should be the Father Finkin' captain already.
With 2:03 remaining in the game, DQ used his timeout. I liked this. One goal game. Let's reset and get everyone ready. Smart coaching from the Mighty Quinn, if I say so myself.
As we hit 1:50 left in the game, Sheldon Keefe, HC of TML, pulled Hutchinson. I saw everyone go nuts about Igor maybe trying to go for an empty net goal here. However, in a one goal game, I didn't see that happening. After all, you can't risk icing the puck here, here in a one goal game.
Eventually, with 58 seconds left on the clock, Pavel Buchnevich, who could've been selfish here, sauced the puck to McKegg and McKegg got the empty net goal. 5-3, GOOD GUYS. Kudos to Buchnevich, who yes, while scoring tonight, could've padded his goal total by taking this to the house himself. Shit, I'm surprised McKegg didn't miss the net either!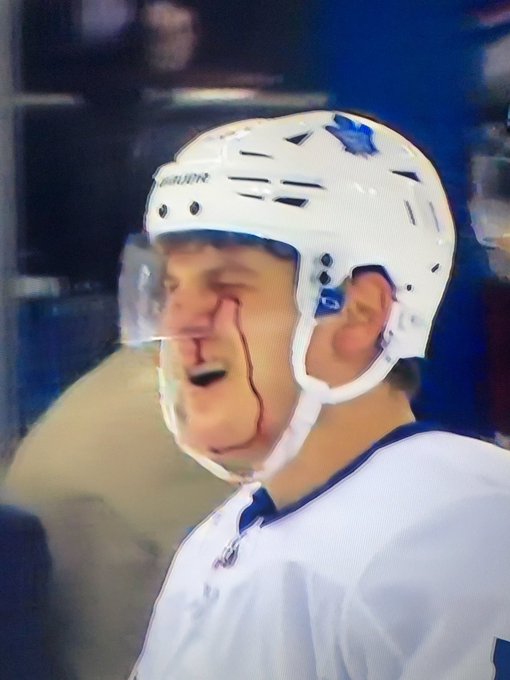 As McKegg was polishing off the Leafs, Hyman put a dirty hit on Trouba. On the replay, you could see Trouba looking up, waiting for McKegg to score and then he retaliated.
Two things here.
This goal was reviewed, as it was thought the refs blew the whistle, before the goal, due to the Trouba vs Hyman fight. However, as you could clearly see on the replay which I'm about to post below, was that Trouba waited for the goal to be scored. Then Trouba kicked the shit out of Hyman:
Here's what happened between #LeafsForever Zack Hyman and #PlayLikeANewYorker's Jacob Trouba.

Disgusting, dangerous play from Hyman. pic.twitter.com/UN4Sn1u4fy

— Here's Your Replay ⬇️ (@HeresYourReplay) February 6, 2020
What is Hyman thinking? Trouba is 6'4″, 6'6″ on skates. I've met Trouba. I'm 5'11". I felt like a midget next to him. Why Hyman, a former teammate of Trouba, would do something dirty like this, is beyond me. It was nice to see Trouba be tough here and kick the absolute snot out of Hyman.
Forty seconds later, John Tavares tried to get cute with Ryan Lindgren. As Lindgen was pounding on the ex-Islander twunt, the refs immediately broke it up. I hated this. JT91 started this. Let them go. If JT wants to be a tough guy, let him be a tough guy. The refs saved JT's bacon here.
As the final horn went off, we had Rangers 5, Leafs 3. A complete team win for NYR.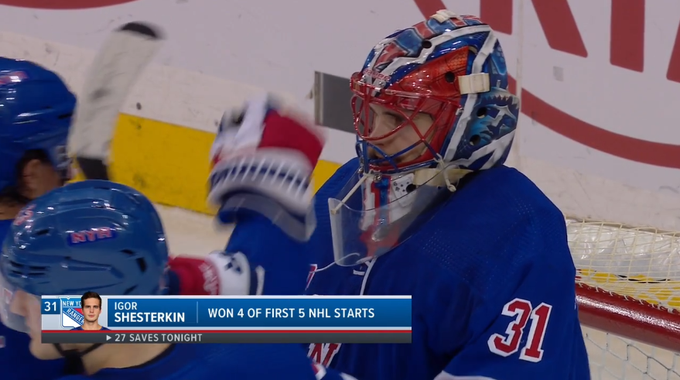 I know I've said it so many times tonight, but I'll give it to you one last time – WHAT A TEAM WIN FOR YOUR BOYS IN BLUE.
I think if you take anything out of these blogs, and for all you new readers here, it's that these blogs are much better after the team wins. I'm more into it. I know what this team is and how the playoff hopes are slim-to-none, but when I see games like this, it makes me feel like there is light at the end of the tunnel. With the way the Rangers won this game tonight, fans should be clapping like the Republicans at the State of the Union address!
Let's get into the post-game news, that is somewhat Rangers related: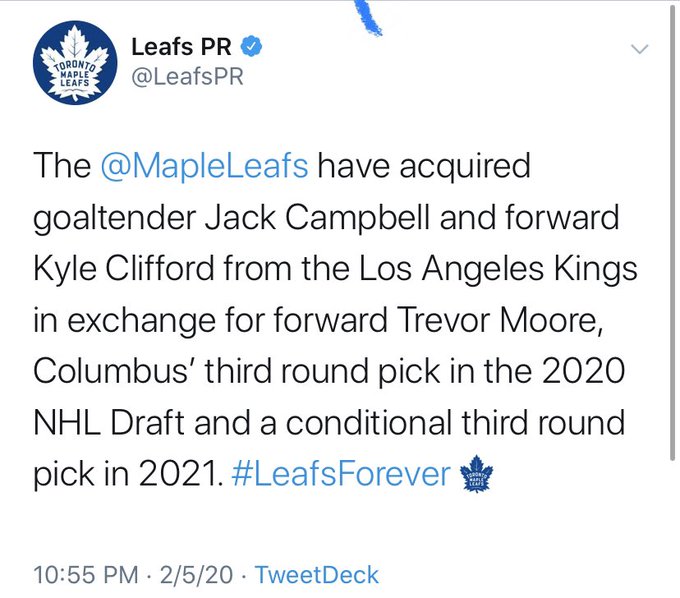 After the Rangers win/Toronto loss tonight, Toronto traded for a goalie. However, it wasn't Georgiev! It was for Jake Campbell of the LA Kings!
What does this mean for the Rangers? Well it means that Georgiev isn't going to Toronto, at least not yet. There's still some time before the deadline. However, Georgiev has been linked to Toronto for so long. Hopefully this trade will cool down my social media mentions, concerning Georgiev being traded.
Making things even better, was this tweet from ex-Hurricane scout and reporter, in Roger Dicklund:
Carolina showing serious interest in Henrik Lundqvist, while Philadelphia is still talking about the potential of bringing back Jeff Carter. Things are getting interesting folks! #LetsGoCanes #FlyOrDie

— Roger Dicklund (@Dicklund1) February 5, 2020
I don't want to get too happy and ahead of myself here, but from all reports, Jeff Gorton and John Davidson needed a real "WOW" package to move Georgiev. They didn't get that offer. Instead, Toronto got Jake Campbell on the cheap.
I will say, I didn't see Georgiev going to Toronto. I thought Toronto could've got Jonathan Bernier (DET) or Craig Anderson (OTT) for less. If anything, I thought moving Lundqvist to Toronto would make sense for both NYR and TML, providing Lundqvist would waive the NMC.
In regards to the Carolina talk, I don't know. Any team has a shot if they make the playoffs. Carolina made the ECF last season. I just don't know if I see Lundqvist waiving his NMC, if he ever does, just to play in redneck Raleigh. After all, I've been to Raleigh. I didn't see many mani-pedi salons out there. However, if Lundqvist wants a SHEETZ sandwich, Raleigh is the place to get one!
As I write these words very late, here on Thursday morning, as much as I want Lundqvist off this team, I just don't see Carolina. I've never hoped to be more wrong though!
If Lundqvist was to ever value winning over being coddled, I thought he would go to Toronto or Colorado, or another big market. I just don't know about Carolina, which is such a small market, despite their recent success.
I will say, what this all tells me, is that the Rangers value Georgiev. They could've dumped Georgiev to Toronto for something. They didn't.
Moving ahead, if you're still one of those people clinging to the playoffs, this game was a step in the right direction. However, there is much ground to make up, as you know.
Up next, the Rangers have two winnable home games, in Buffalo and LA. I would like to get to one of those, but I already have my money budgeted for a future trip this March, to Pittsburgh and to Buffalo. I rather see Buffalo than see M$G again!
As far as the goalies go, prior to this game, DQ said he wanted to go with Georgiev. Don't let the three goals allowed on Igor's record tonight fool you – he was great tonight!
When it comes to predicting goalie starts, I've been wrong once this season, and that was on Georgiev starting tonight. All I can 100% say here, is that Lundqvist will NOT play in the next two games.
I'm of the opinion of riding the hot hand, which means Igor for Friday vs Buffalo. However, I could see Georgiev getting Friday and then going right back to Igor on Sunday. However, if Georgiev plays well on Friday, could you sit him for Igor on Sunday? I'm glad it's not my decision!
Gun to the head? Igor on Friday, Georgiev against shitty LA on Sunday, which would give AG40 an easy start in his first start since the break.
I can also say this, in regards to Georgiev still a Ranger – Al DeMauro, you can SMD! (It's all fun, for people who don't know!)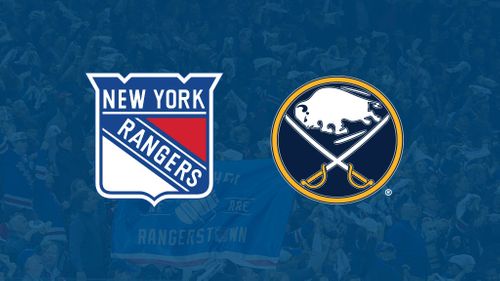 Unless something super major happens, like Lundqvist waiving or Valiquette being caught in a Swedish rub & tug joint in the Village, I'll be back Friday night, instead of Thursday night.
Until then, as always, thanks for reading and…
"LET'S GO RANGERS!"
"LONG LIVE THE CZAR!"
"KEEP KREIDER!"
"DON'T TRADE THE KING OF KINGS!"
"TRADE LUNDQVIST TO CAROLINA FOR A CARTON OF $40 MARLBORO REDS & a 16 OUNCER OF PBR!"
Sean McCaffrey
BULLSMC@aol.com
@NYCTHEMIC on twitter
P.S.: Happy birthday to Ron Duguay "Up in the Blue Seats" producer Jake Brown. Check out iTunes or the NY Post on Thursday for an all new podcast, a podcast that is always news worthy!