Greetings and salutations everyone and welcome to another blog here on BlueCollarBlueShirts.com. The Rangers have finally won four games in a row!
On Friday night, the Rangers traveled to Columbus, Ohio, for their final game of their current three game road-trip. After previously downing Winnipeg on Tuesday and knocking off Minnesota in a shoot-out on Thursday, the Rangers were looking to sweep this road-trip. The Rangers would go on to do just that, defeating the Blue Jackets by a final of 3-1.
For the Rangers, of the three teams on this road trip, Columbus was the best opponent on the docket. Going into this game and even after this game tonight, despite losing all their stars in the off-season and having a roster decimated by injuries, Columbus currently holds the second wild card berth in the Eastern Conference. Despite nearly everyone having Columbus written off this season, Columbus has shocked the league this season, largely due to superior goaltending and a potential Jack Adams award season, from head coach John Tortorella.
In the case of the Rangers, this was a "four-point" game, meaning that the Rangers needed to win this game to grab two points in the standings, while at the same time, taking two points away from Columbus. As a result of tonight's Rangers victory, the Rangers are now 7 points away from a playoff spot. With the trade deadline now less than 10 days away, what the Rangers do next week, starting on Sunday against Boston, will determine their future for the remainder of the season.
I know I've written off the Rangers playoff chances already on this site, but I've never hoped to be more wrong. I'm rooting for the playoffs all the way!  In a league where one good win streak can get you a playoff berth, who knows, maybe the Rangers have a shot. As it stands right now, mathematically speaking, the Rangers are still in the hunt. However, if this Rangers squad wants to make the playoffs, this win streak can't be the pinnacle of the season. This win streak needs to be the start of something special.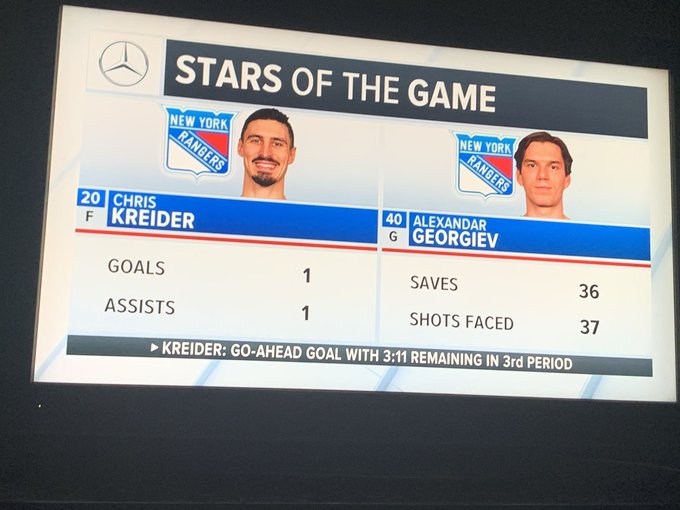 A few blogs ago, you could feel my rage, as I wrote about the Rangers depressing and disgusting loss to the Buffalo Sabres. Had the Rangers won that game, and had everything played out just like this, the Rangers would currently be on a six game winning streak. That said, there's no use crying about spilled milk here.
Since the loss to the Sabres, the Rangers handled the Kings at home. After that, the Rangers knocked off the Jets, the Wild and now the Blue Jackets. If you're an optimist, you have to be happy about the Rangers playing their best hockey at this point in the season. Can the Rangers keep this up? Time will tell. However, you have to like what you're seeing right now from the team.
Speaking of the previous games, what a way to segue-way into the PLUGS section of tonight's blog!
In case you missed them, here are my most recent blogs: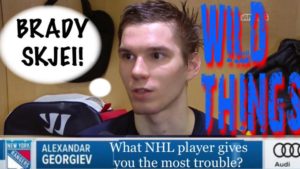 ---
---
---
---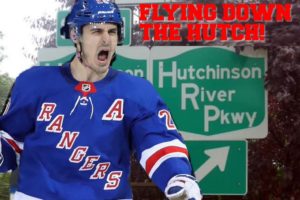 ---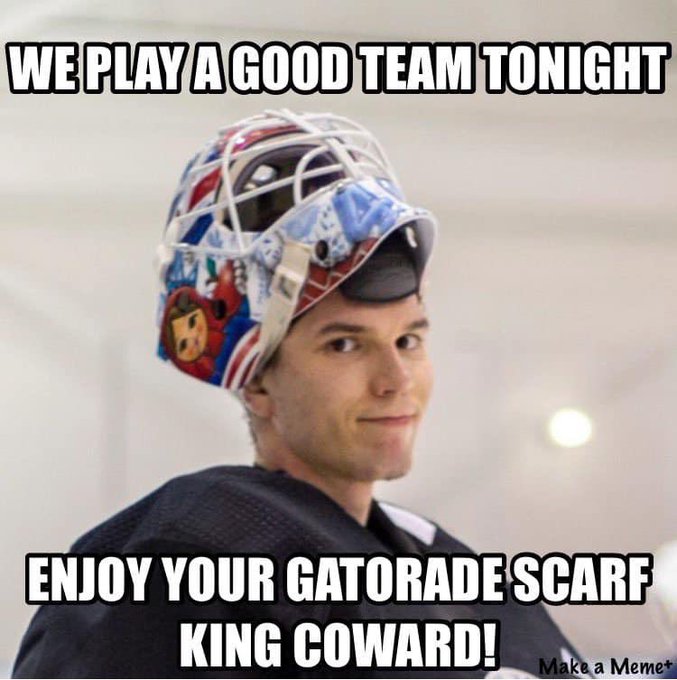 Despite the Rangers playing 23 hours previous (the game with Minnesota started at 8PM, while tonight's game started at 7PM) there were several news items that took place on Friday, prior to puck drop. Let's take a look: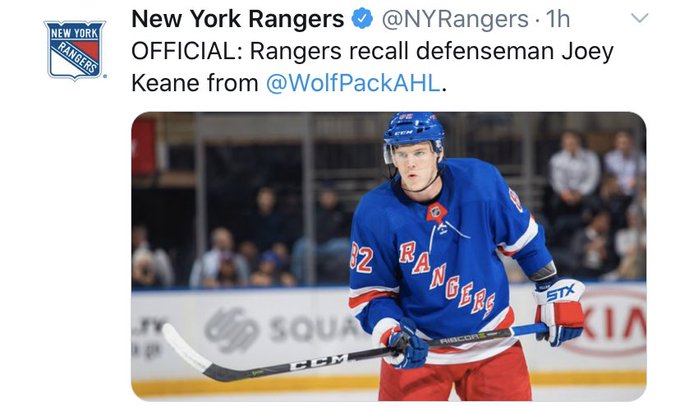 On Friday morning, the Rangers announced that they had recalled Joey Keane from Hartford. While I was hoping that the reason for this call-up was for Keane to replace Brady Skjei, that obviously was not the case.
As I mentioned in last night's game review blog, Tony DeAngelo made a big hit on Kevin Fiala, towards the end of regulation. Turns out that DeAngelo was nicked up a bit. With Marc Staal not playing last night due to the flu, Joey Keane was flown to Columbus, just in case Staal couldn't go tonight. As it turns out, Staal was able to play tonight, thus Keane watched the game from the press box.
Despite announcing Keane's call-up on Friday morning, it wouldn't be until 5:30PM, when David Quinn met with the media, where all the news and roster information was made official.
Here's how the Rangers announced the news on Twitter: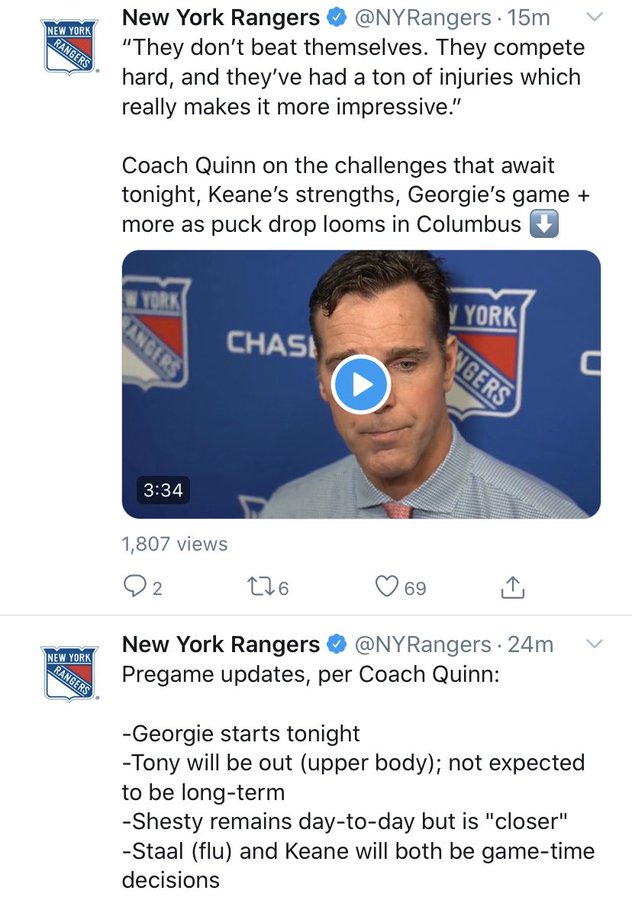 As mentioned above, Tony DeAngelo was still aching after the hit on Fiala. He was 100% ruled out for tonight's game with Columbus. Staal did play tonight. Also playing tonight was Brendan Smith, as Smith played his second game in a row as a defenseman, rather than the dual fourth wing forward/penalty killing defenseman role that he's been playing for the majority of the season.
The biggest news out of everything announced, was the state of the Rangers goaltenders. CZAR IGOR, who was just anointed as the number 1 goalie three days ago, was ruled out for this game, as he still recovers from his minor ankle injury. Like Tony DeAngelo, Igor is expected back soon.
With Igor ruled out, David Quinn went to Alexandar Georgiev tonight, meaning that Georgiev would play again, after playing the night prior. This was Georgiev's first back-to-back starts of the season. In turn, Georgiev awarded Quinn's vote of confidence, as Georgiev won both of these starts.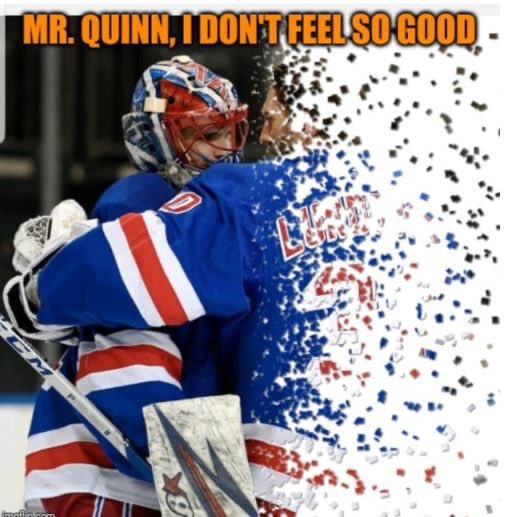 I can't say that I'm shocked about Georgiev getting the nod in net tonight. After all, Quinn said he wants to go with the goalie who gives him the best chance to win. With Igor out, when it comes to Lundqvist vs Georgiev, Georgiev has been much better this season. That said, this call from Quinn has to be a major knock to Lundqvist's pride.
Whether or not this is the Rangers passive-aggressive way of forcing Lundqvist to waive his No Move Clause, I don't know. You know by now what I would've done – put Lundqvist in the press box & don't let him dress for games. However, with Igor unable to play these last two games, Lundqvist had to dress. That said, who would've banked on Georgiev starting on back-to-back consecutive nights?
Obviously, this news didn't sit well with the Cult of Lundswiss. Let's take a look at their "Tweets of Tears":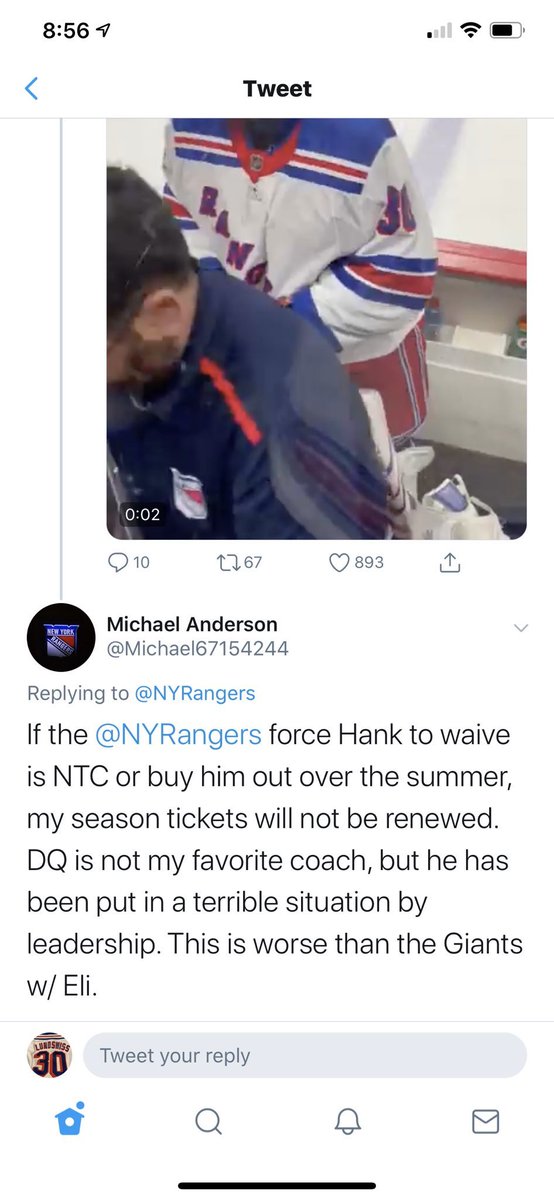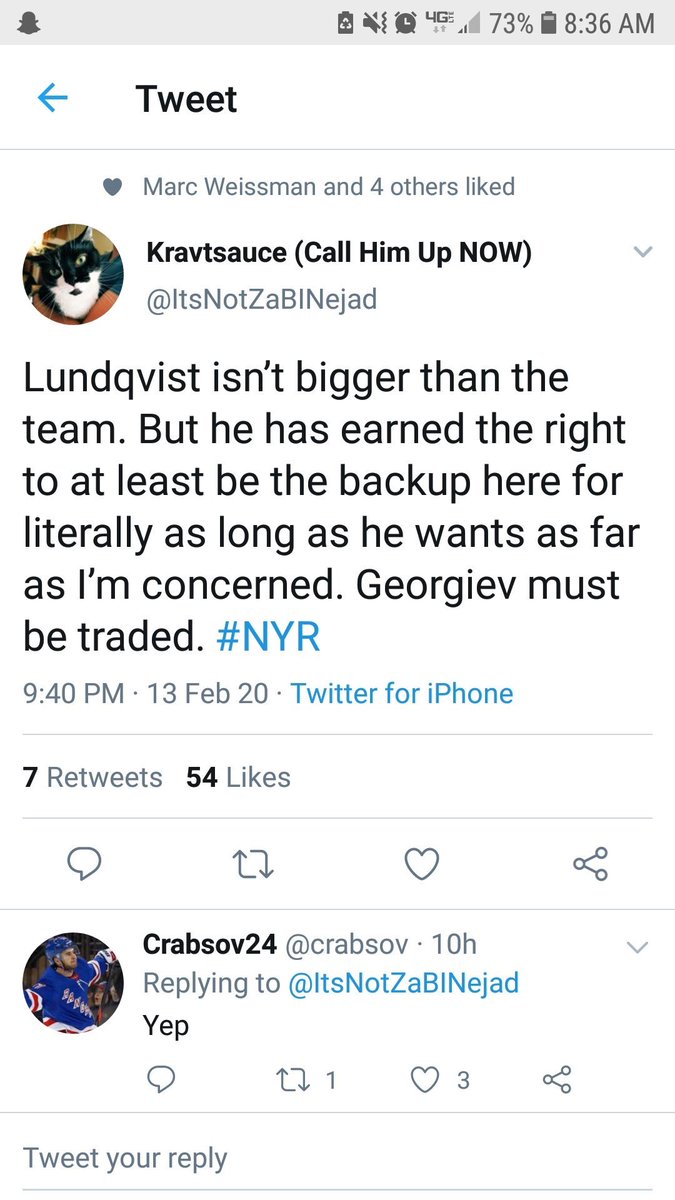 These are just two tweets I'm sharing with you here, as I was sent many of them. I don't want to inundate you with this stuff, but trust me – the Cult of Lundswiss were crying their eyes out tonight. Even after Georgiev won this game, these fans were still crying about Lundqvist not starting.
By now, you know my take and opinions on the goaltender situation here. I won't do my "Greatest Hits" right now. That said, David Quinn really showed off his balls tonight, by sitting the $8.5M hair man, and going with his $792K goalie, in Alexandar Georgiev, in back-to-back, "must-win" games.
By going with Georgiev tonight, David Quinn told everyone that he feels that Georgiev, on no day's rest, gives the Rangers a better chance to win, than a fresh and healthy Henrik Lundqvist. That speaks volumes.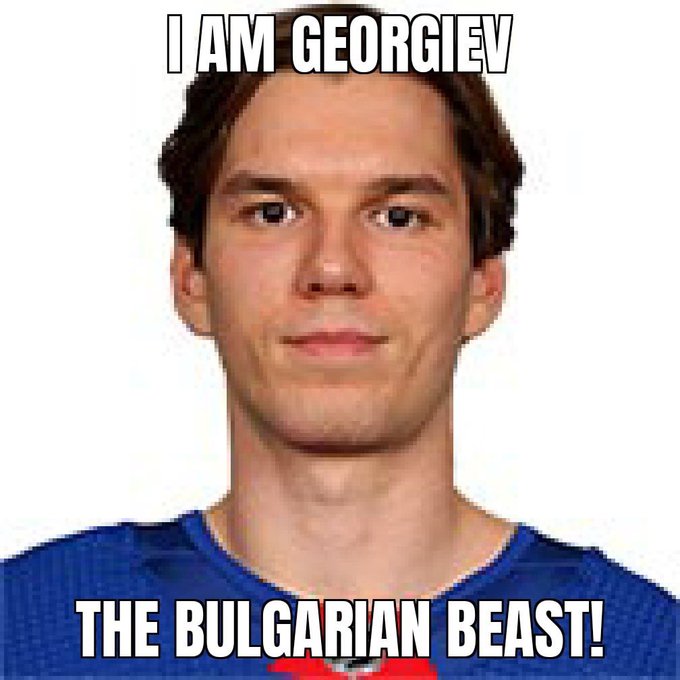 As we approach this trade deadline, while Chris Kreider's status will get all the headlines until something is done, it will be interesting to see if the Rangers ask Henrik Lundqvist about waiving his NMC again.
Let's face it – in no world, does it make sense to pay a back-up goalie, much less a third string goalie, $8.5M. Why would the Rangers deal Georgiev, when they can keep him at a team-friendly deal next season? We are in a rebuild, with the light at the end of the tunnel in eyesight. Lundqvist's presence here just shadows that light. While it's been a dream of mine for a while, I think my dream becomes a reality next season, if not sooner – Lundqvist's days are coming to an end with the Rangers.
As I said last blog, truth be told, it's hard to envision where Lundqvist fits in with this team right now. If Igor is 100% healthy by Sunday, he should go against Boston. If he's not healthy, Georgiev should go. After all, right now, Georgiev is the hot hand.
If Lundqvist, somehow, someway, starts on Sunday, against the league's best team in the Boston Bruins, I think that's DQ setting him up to fail. However, I just don't see Lundqvist starting that game in any event.  After all, DQ said he wants to win and will do what's best for winning. Lundqvist doesn't fit into that equation at all. And really, furthermore, Igor & Georgiev could be your tandem for the next 5, 6, 7+ years. You might as well give them all the playing time now, to get them their experience.
Couple of more things and I'll get into the game review!
Despite DeAngelo not being able to play today, that didn't stop the Rangers from releasing a funny Valentine's Day video package with DeAngelo. You can find the video on the Rangers website or on their social media channels.
Here are a few pics from the video:
These @TonyDee07 bits are better than the old Stepan ones #nyr #PlayLikeANewYorker pic.twitter.com/pCdzIdu5El

— BlueCollarBlueShirts (@NYCTheMiC) February 14, 2020
Just like the days with "Mic'd Up with Derek Stepan", Tony DeAngelo is the latest Ranger to go around the Rangers locker room and interview the team about current event topics, such as the Superbowl, or in this case – Valentine's Day. What these silly videos show you, is that DeAngelo has a ton of character and is beloved by his teammates. In the videos the Rangers have released, you have TDA cracking jokes and having a good time with the locker room.
In the grand scheme of things, while these videos really amount to nothing, it does show you the chemistry between the team and it's a nice team bonding thing. And people say that "TDA is bad for the Rangers locker room." Get lost.
Again, I've talked about this topic in-depth plenty of times, but the Rangers must re-sign Tony DeAngelo. Not only is he having the best offensive season of any Rangers defenseman since the days of Brian Leetch, he's also an important asset for that Rangers locker room.
Speaking of DeAngelo, with DeAngelo ruled out for this game, let's take a look at the line-up Quinn used for tonight's victory, over the Columbus Blue Jackets.
FIRST LINE: Kreider/Zibanejad/Buchnevich (Once again, the top line was the best line for the Rangers in this game. I thought Buchnevich played extremely well. Kreider had a two-point game tonight, and because of his offense & Georgiev's stellar goaltending, the Rangers were able to pick up this huge win.)
SECOND LINE: Panarin/Strome/Fast (Columbus did a good job of limiting Panarin tonight. They were all over his cross-ice passes in this game.)
THIRD LINE: Di Giuseppe/Chytil/Kakko (This line put together several good shifts tonight.)
FOURTH LINE: Lemieux/McKegg/Howden (I thought this line played better tonight, than they did the night prior.)
Defensively, we had this:
FIRST PAIR: Skjei/Trouba (Georgiev gave up only one goal tonight. Guess who was on the ice for that goal? While of course, it was Brady Skjei!)
SECOND PAIR: Staal/Smith (This is the first time we've seen this pair this season. I thought both of these guys played well. After all, they didn't have any goals against. This pairing also shows you how versatile Smith is for the Rangers. He can play the wing and either side on defense. In fact, this may be the first game this season, where the Rangers had two left-handed shots on the same pairing.)
THIRD PAIR: Fox/Lindgren (Once again, I thought this was the top pair for the Rangers. While Kreider & Georgiev will get all the headlines because of their box scores, to me, both Lindgren & Fox had monster games tonight. The Rangers don't win this game without these two.)
And of course, in net, was the KING OF KINGS, in Alexandar Georgiev!

And now, at this time, let's go to the GAMBLING segment of tonight's blog.
Here's what I said before the game:
Season over-under record: 28-25-3

This is tough one w/a super low line of -5.5. Columbus is beat up badly, but has one of the hottest goalies in the league.

I think #nyr rides last night's momentum, Skjei is good for a goal allowed and this game goes OVER. #PlayLikeANewYorker pic.twitter.com/gxH16KXnDl

— BlueCollarBlueShirts (@NYCTheMiC) February 14, 2020
Well, we only had four goals in this game, so I take the loss tonight. My record now moves to 28-26-3. But hey, I did get the Brady Skjei thing right! You can always count on Skjei to screw the Rangers!
I know I said it last night, but it bears repeating again – Columbus was without their two best players tonight, in Cam Atkinson and Seth Jones.
Box score time!
Here's the official box score from tonight's game, courtesy of ESPN.com:
SCORING SUMMARY: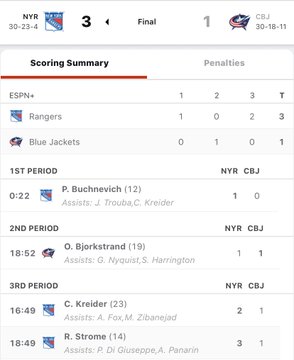 PENALTIES: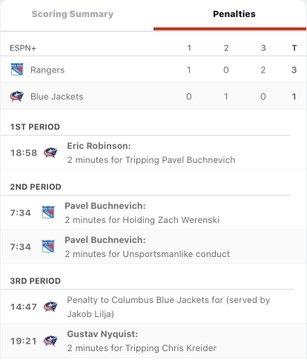 TEAM STATS: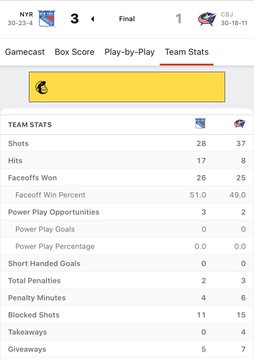 GOALIES:
| | | | | | | | | | | |
| --- | --- | --- | --- | --- | --- | --- | --- | --- | --- | --- |
| SA | GA | SV | SV% | ESSV | PPSV | SHSV | SOSA | SOS | TOI | PIM |
| 0 | 0 | 0 | .000 | 0 | 0 | 0 | 0 | 0 | 0:00 | 0 |
| 27 | 2 | 25 | .926 | 22 | 1 | 2 | 0 | 0 | 58:35 | 0 |
| | | | | | | | | | | |
| --- | --- | --- | --- | --- | --- | --- | --- | --- | --- | --- |
| SA | GA | SV | SV% | ESSV | PPSV | SHSV | SOSA | SOS | TOI | PIM |
| 37 | 1 | 36 | .973 | 30 | 2 | 4 | 0 | 0 | 59:34 | 0 |
| 0 | 0 | 0 | .000 | 0 | 0 | 0 | 0 | 0 | 0:00 | 0 |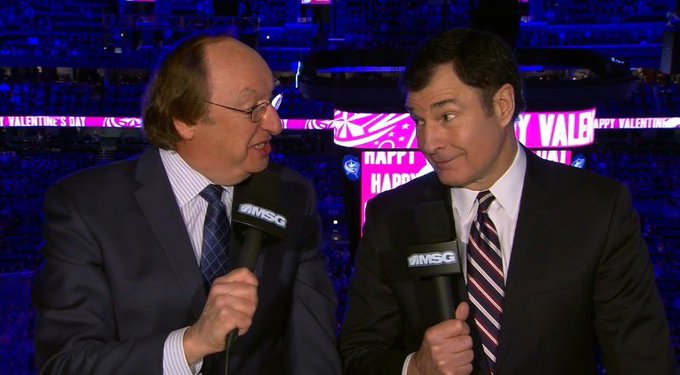 When it comes to the pregame show tonight, it was absolutely dreadful. I've never seen someone just yammer on about nothing, like the way Steve Statiquette does. As usual, Joe Micheletti did more in his five minutes than Statiquette did in his half hour.
And I'll say it here again, because he deserves it and because of how I slammed him in the past and want to be fair here – Micheletti remains the MVP of these broadcasts. Sure, Micheletti still has the urge to play pocket-pool when talking Lundqvist, but for the most part, Micheletti has been absolutely "FABULOUS" this season. I used to cringe seeing him on TV. Now I enjoy seeing him.
Last, but not least, before getting into the game review portion of the blog, how about this poem from my good buddy Greg aka @Fixxser:
Roses are red,
Violets are blue,
I cannot wait until Lundswiss is gone,
And, secretly, you all do too!

— Fixxser (@Fixxser) February 15, 2020
The Rangers started off tonight's game by doing something that they rarely do –  winning a face-off. Even rarer, the Rangers got the first shot on goal off! Then, in a moment where pigs flew, hell froze over and Henrik Lundqvist was considered a Hall of Famer – the Rangers actually scored!
After Columbus goalie Elvis Merzlikins (Elvis for the rest of this blog) froze the first Rangers shot of the game, the Rangers would quickly score after winning an offensive zone face-off. How much have I gone off on the topic about offensive zone draws this season!?!? Furthermore, how great is it when the Rangers score off one!?
Here's Pavel Buchnevich scoring the first goal of the game, at the 22 second mark:
Our favorite type of valentine … a @NYRangers goal! pic.twitter.com/YirRBnj2fu

— Rangers on MSG (@RangersMSGN) February 15, 2020
1-0, GOOD GUYS!
On this goal, the Rangers win the face-off as noted, Jacob Trouba absolutely jackhammers puck in the direction of Elvis and Buchnevich tips it home. What a blast from Trouba. What deft stick work from Buchnevich! And really, Buchnevich has really been coming on as of late. Sorry for those Stinknevich cracks!
As the Rangers took the lead before Columbus fans could take their seat, it looked like the Rangers were carrying over their momentum from last night's thrilling comeback win. I should also mention here, that just like the Rangers, Columbus played the night before. For whatever reason, while the Rangers were the much better team in the first period, Columbus would eventually rebound and were the much better team of the second period. By the time the third period hit the mid-way point, I felt the teams were evenly matched.
Little did we know here, after this Buchnevich goal, the Rangers wouldn't score again for another 56 or so minutes.
Columbus, perhaps a tad frustrated with the Rangers getting on the board so early, would take two wide shots on their next possession, thus clearing the puck for the Rangers. Then, on the next CBJ possession, Adam Fox picked up exactly where he left off last night, making a huge steal in the Rangers defensive zone. I know I've raved about them already, but I can't say enough good things about Fox & Lindgren tonight.
As the period progressed and in the early minutes of this game, Lindgren would block a blast from a Blue Jacket. Lindgren, as I'll get into later, just reminds me of Dan Girardi a lot. I know it's early to make such a comparison like that, but I think you know what I mean.
Of course, once this pair went off the ice, Skjei came back on. He was quickly burnt by a Blue Jacket. Save by Georgiev.
After another Georgiev save, a deflection save, Kreider and Buchnevich would try to hook up, but would come up short. As we hit the first TV timeout of the game, this was mostly all Rangers, with Tortorella's team doing what they always do – sit back and wait for you to make a mistake.
As the game went along, every time Panarin touched the puck, he was booed by CBJ fans. I get it.
After Georgiev made an easy save on Riley Nash, Phil Di Giuseppe would get the puck. Di Giuseppe has been a breath of fresh air since getting here. He really works hard and breaks his hole out there.
On the next CBJ possession, Georgiev made a huge save on Long Island native, Sonny Milano.
If anyone stood out for Columbus at this time, it was once again Oliver Bjorkstrand. He's become almost a bigger Ranger killer than Brady Skjei.
As this game moved along, every time you saw Lindgren & Fox on the ice, all they did was clear pucks and push the offense. It brings a tear to your eye! You have to love what you're seeing from this duo. Fox would continue his great play around this point in the game, blocking a shot and then preventing a turnover in the Rangers offensive zone.
While Georgiev wasn't challenged much in the first period, as he only had to face six shots, he did make two great saves in this period. You could see he was feeling it, as he was getting out of his net more and playing every loose puck near him.
In a good Rangers scoring chance, Mika Zibanejad whipped around the back of the net and went for a wraparound. Elvis just got his foot out for the save. Then, in the biggest Georgiev save of the period, Georgiev would stop Nyquist from just inches away. We were really seeing a goalie's duel develop here.
With 1:02 left in the first period, Eric Robinson was boxed for tripping Buchnevich. At the time, live, this looked blatant to me. However, with the benefit of replay, this is what really happened: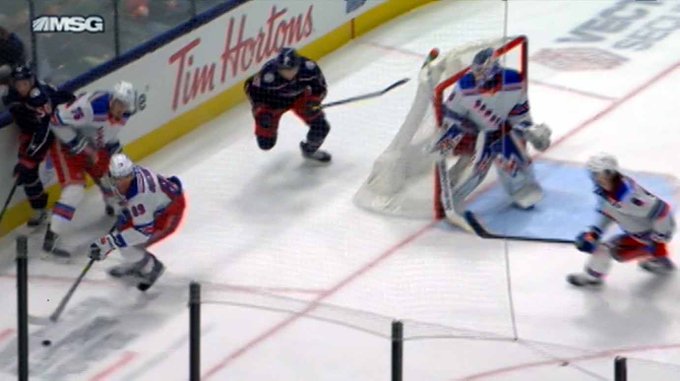 Turns out, Robinson didn't do anything. Skjei tripped Buchnevich, but since Robinson was right there, it looked like he did it. Power-play for the Rangers and as everyone and their mother said at the time – we all knew a make-up call would be coming. And that's what happened, as I'll get into as we move along.
As talked about 7867866967 times on these blogs, these wraparound period power-plays are usually tough to score on. The Rangers wouldn't score here, here at the close of the period. After one period, the score remained 1-0, GOOD GUYS. The Rangers also had a 11-6 SOG advantage to boot.
After Sam Rosen did his usual, "SECOND PERIOD, WHAT DO YOU LOOK FOR HERE JOE" routine, Columbus would kill the final 58 seconds of the Rangers power-play. The biggest play during this, was when Savard was able to take down Kreider, thus preventing a PP SOG.
From here, the goaltender's duel really revved up, as Georgiev would make 21 consecutive saves in the period.
After Elvis stopped Fox, CBJ marched down the ice. It was apparent that the Rangers were a bit gassed here. Georgiev would then stop Robinson on his doorstep. Then, right after, Georgiev made a glove save, while 100% screened. I don't know how he tracked that puck, but man oh man, was Georgiev dialed in tonight.
As the period continued, Columbus had an extended shift in the Rangers zone. Georgiev would pick up three more saves here. Oh and guess what pair was on the ice during this long CBJ shift? Do I even have to tell you it was Skjei & Trouba? (And to be clear, I don't blame Trouba. He's saddled with Skjei.)
At the 7:34 mark of the period, we had a major turning point in the game, when Pavel Buchnevich received a double-minor for this:
Buchnevich gets two for holding Werenski and an additional two for unsportsmanlike conduct. #CBJ #NYR pic.twitter.com/10r89Bd98Q

— Alison (@AlisonL) February 15, 2020
You have to be kidding me.
Okay, listen I understand the hold on Buchnevich. That's your make-up call from the first period. Fine. Understandable. However, what was the "unsportsmanlike conduct" call for? Of course, the refs didn't explain the penalty.
I SAW NOTHING live and on the replay, where Buchnevich did anything to deserve an extra two minutes in the box.
According to Jennifer Eberhart, the moderator of the NY Rangers Bleed Blue Crew Facebook Group, (which you can join by clicking the following link: https://www.facebook.com/groups/NYRangersTrueBlueCrew/) Buchnevich had a potty mouth. Supposedly, he was saying "FATHER FINK" left and right. I didn't see it, but I'm inclined to believe Jen. Plus, what else could've Buchnevich done to get the extra two minutes? It's not like he did anything physical here, so I guess his dirty mouth got him an extended stay in the sin bin.
And real quick, while on the topic of the word FATHER FINK, you heard a ton of that on the broadcast tonight. You could hear it from the players. You could hear it from the crowd. Then, during a few close-up shots of Torts, you could read the lips of Torts, where he was singing the praises of FATHER FINK. When I think about this game now, if this was 25-30 years ago, this would've been a perfect game for my dad and me to watch!
Immediately into the Rangers four minute penalty kill, Strome would get the puck and Elvis would be forced to make a big save. After this, it was all Georgiev.
Georgiev would make four huge saves on this penalty kill, including robbing Foligno and Bemstrom. Once the first half of the CBJ PP expired, the Rangers penalty killers kicked it into a higher gear. Mika would intercept a puck and get a clear. Then, as he always does, Fast would make plays on the PK, stifling the CBJ offense. The Rangers would go on to kill all four minutes of this CBJ PP. This was a turning point in the game to me, because you have to score when you have a four minute power-play. Columbus didn't. With the way this game ended, special teams were all the difference in the world in this game.
Right after this kill, the M$G cameras showed Buchnevich on the bench. Buchnevich was shown thanking every single one of his teammates for the successful kill. I loved this. This is some great team shit right here. ALL FOR ONE, ONE FOR ALL!
At this time, let me foreshadow what happened next, by showing a tweet I made, as this game was going along, in real-time: (Check the time stamp)
Every time Bjorkstrand gets the puck , my asshole tightens #nyr #PlayLikeANewYorker

— BlueCollarBlueShirts (@NYCTheMiC) February 15, 2020
I'm telling you, Bjorkstrand is a new Ranger killer…
Georgiev continued to shut down Columbus, as he made his 16th save of the period.
Then, in a crazy sequence of events, during a CBJ attack, Lindgren would get hit by a puck, right in the kisser. Lindgren then lost his stick. Kakko, alert, would give his stick to Lindgren. While this was all going on, CBJ was dishing the puck while Lindgren was profusely bleeding. This all led to a huge save by Georgiev and a clear from Zibanejad.
After the stoppage, we were shown Jim Ramsay working on Lindgren while sitting on the bench. Lindgren didn't miss a shift. HOCKEY PLAYERS!
Right after the shot of Lindgren on the bench, Micheletti went crazy in praising Lindgren. Well deserved.
With 3:56 remaining in the period, Georgiev had 19 saves, just in the period alone.
Micheletti had some good fortune tonight, as whenever he was praising someone, that player would then go on to make a good play. Micheletti brought up at this point in the game, how Staal had the flu last night but was playing great tonight. Guess what happened after Micheletti was raving about Staal? Staal created a turnover. Staal has been solid this season, and really, he has been, ever since Mac & DG left.
After Georgiev made his 21st consecutive save of the period, this time on Nyquist, Bjorkstrand would take the rebound and break up Georgiev's no-no, with 1:08 remaining. See if you notice Brady Skjei here:
🔥12 goals in the last 16 games for Ollie 🔥 pic.twitter.com/EztEWfbxhU

— Columbus Blue Jackets (@BlueJacketsNHL) February 15, 2020
1-1.
Prior to this goal, Trouba had a chance to clear the puck but failed. Still, here's Skjei just letting this shot happen. And as mentioned on previous blogs, backhanded shots seem to be Georgiev's kryptonite. That should be a focus during practice with Allaire.
The final 68 seconds would then roll off the clock. At the end of two periods, the score remained 1-1. After dominating the first period, the Rangers got dominated in this period, being out-shot by a tally of 22-6. Not good.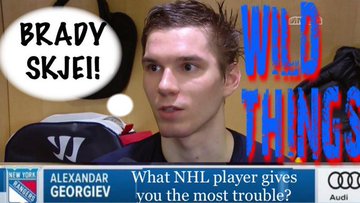 If there was anything noticeable after the first forty minutes, it is that Columbus limited the Rangers from having any type of breakaways or odd-man rushes. They also prevented passes from behind Elvis too. Keep that in mind.
To begin the third period, Georgiev was immediately challenged. Save. Then, right after, Skjei screwed up again and Georgiev would have to make another big time denial.
Most of this third period continued a theme from the first two periods – a goalie's duel. In some non-stop action, Buch/McKegg/Lemieux would have a good chance. Elvis gobbled up a loose puck, as if it were a banana covered in peanut butter.
The Rangers would then get a rare odd-man 3 vs 2 rush here, but couldn't get a SOG off. Immediately after, Columbus marched down the ice and Georgiev would have to make three quick saves.
The Rangers would then buzz around for a bit here. I thought Panarin, who I could never really criticize, was perhaps being too unselfish. Panarin kept trying to set-up teammates, rather than shooting himself. One chance saw him have an open look, but he went to Strome. The pass didn't connect. However, on the next possession, Trouba got a shot off and Elvis made a good right shoulder save.
As both goalies continued to deny the opposition, here in this tied 1-1- game, we were left with only 8:20 on the clock, with a face-off in the Columbus D-zone, after a CBJ icing. Skjei would shoot the softest puck you've ever seen here.
On the next CBJ possession, Bjorkstrand would deke out Georgiev and get Georgiev to over commit. Georgiev left the net open, but CBJ couldn't hook up for a SOG. Crisis averted.
With 5:13 remaining, Columbus was called for a too many men on the ice penalty. Here's what I said on Twitter at the time:
YES!!!!! Rangers pp coming up, 5:13 to go, CBJ too many men on ice. We need a poetic justice PPG here!!!! #nyr #PlayLikeANewYorker

— BlueCollarBlueShirts (@NYCTheMiC) February 15, 2020
While we didn't get a Rangers PPG here, at least on paper, we got the next best thing – a goal right after the Rangers PP expired!
During the Rangers power-play, the Rangers would pass the puck around, trying to find the perfect shot. That shot never happened. CBJ would get a few loose sticks on the puck, but could never clear it. The Rangers pretty much controlled the puck for the entire two minute power-play, leaving CBJ's PK tired and flat-footed.
As the Rangers power-play expired, for the first time all game, the Rangers got a blind pass from behind the net, as Mika Zibanejad fed Chris Kreider, for what would be the game winning goal:
A very happy Valentine's Day to us all 💙 ❤️ #NYR | @NYRangers pic.twitter.com/NniJmuHLhY

— Rangers on MSG (@RangersMSGN) February 15, 2020
2-1, GOOD GUYS! OH BABY!
With only 3:11 to go, the Rangers, as they have been lately, were on the right end of things!
I'll save you another KEEP KREIDER spiel here, because it's been redundant lately, but man oh man – RE-SIGN KREIDER. I don't give a Father Fink if you have to give him an extra year or two, because I firmly believe that this team can win a Cup within five years. There's no reason to strip CK20 from this team, only to look for a high priced rental next season. Plus, CK20 is a leader and huge locker room guy for this team.
And yes, to you cynical douchebags, I am not in the locker room. I don't have access to these guys at a personal level. However, all you have to do is watch these games, watch the interviews and watch the way these guys talk about each other – this team loves Kreider and he's someone these young guys look up to. If you think otherwise, I'm not going to waste my breath on you.
With 2:06 remaining in regulation, in this now one goal game, Torts pulled Elvis. With 1:20 remaining, after a NYR icing, Torts called a time-out. I was shocked here. I know Torts wanted to set something up, but you had tired Rangers on the ice and you just gave them a breather as a result of this timeout. I guess great minds think alike, as Micheletti said the same thing on the broadcast.
Right after the timeout, the Rangers would get the puck. Phil Di Giuseppe had the puck. Let's review Di Giuseppe real quick. While playing well, Di Giuseppe doesn't have an NHL goal for the Rangers yet. His box scores aren't gaudy. However, despite having a chance at an empty net goal, Di Giuseppe unselfishly gave the puck to Ryan Strome and Strome buried it for the ENG, with 1:11 remaining. 3-1 GOOD GUYS.
From Buchnevich thanking his team for a great PK to Di Giuseppe giving up a chance to score here, I loved this. TEAM GAME, TEAM WIN, TEAM EFFORT.
As the clock rolled down, the 3-1 score would hold. 3-1, GOOD GUYS, as the Rangers win this game. Even better, as a cherry on top, the Hartford Wolfpack won tonight, after a goal from first star of the game, VINNI FATHER FINKIN' LETTIERI! WHAT A NIGHT!
I don't know if this was the biggest win for the Rangers this season, but it certainly was the most important. However, this game, despite how great it was for the Rangers, will be quickly forgotten, come Sunday. If the Rangers can beat the Bruins, in an Original 6 battle at Morgue $quare Garden on Sunday, that game will be the biggest and most important win of the season.
I don't want to get your hopes up here, but I got to give you all the facts.
The Rangers are now 7 points away from a playoff spot. When it comes to the wild card, Philly, the first WC, has 71 points in 58 games played. CBJ, the second WC, has 71 points in 59 games played. As it stands, the Rangers currently have 64 points, in 57 games played. In other words, the Rangers have games in hand over the teams they are chasing. If the Rangers can knock off Boston, that would put them five points back and with a game in hand.
For those of you not too slick with the math, the Rangers have 25 games left, meaning there are still 50 points available. The playoff dream isn't dead yet. The Rangers also have a bunch of games left with the Eastern Conference and the teams they are chasing, so we'll have several four point games coming up too.
However, for the playoffs to happen, this has to be the start of it. This four game win streak can't be the highlight of the season.
I know I get giddy after big wins on these blogs, but really, with Lundqvist pretty much on the outs, I really believe in Igor and Georgiev. If the Rangers keep Kreider at the deadline, I can't lie – I have a good feeling. Deadline wise, if the Rangers could move anyone, I'm hoping it's Skjei. I also think the Rangers might be able to move Brendan Smith, as he could be a valuable role player for a playoff team.
Quick post-game update and I'm out.
After the game, the Rangers announced the following:

This was to be expected. With Staal healthy, the Rangers can still use Smith as d-man, until TDA gets back. We all know DQ and this locker room wants the playoffs. They aren't going to toy around with Keane, until the playoff dream is officially done. I'm fine with it.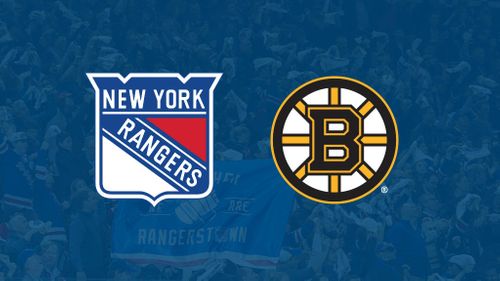 Moving forward, we will have two Vally-free broadcasts coming up, as the Rangers host the Bruins during an NBC broadcast on Sunday, at 3:30PM. Of course, I'll be back for a recap of that game. After the Bruins, the Rangers travel to Chicago, for another Original 6 game, for the Wednesday Night NBC Game of the Week.
Goaltending wise, if he's healthy, it's got to be Igor on Sunday. If not, go with Georgiev.
I have one last road-trip booked for this season, when I go to Pittsburgh and Buffalo during the last week of March. All I'm hoping for is that the Rangers are still alive in the playoff hunt at that time. If the Rangers can win these next two games, and make it a six pack of wins, who knows – maybe we'll get that RANGERSTOWN tent on 33rd street, come the second week of April.
Unless something crazy breaks tomorrow, I'll be back Sunday night.
Until then, as always, thanks for reading and…
"LET'S GO RANGERS!"
Sean McCaffrey
BULLSMC@aol.com
@NYCTHEMIC on tweeter