Greetings and salutations everyone and welcome to another blog here on BlueCollarBlueShirts.com. Off of puck drop here, I apologize for taking so long to get this blog done. As I write these words, I'm writing them seven hours after this game ended. There are several reasons for this:
— I didn't watch this game at home, as I watched it with my brother, mother & dad. (The same dad who gave us the term "FATHER FINK!" for these blogs.) Whether it was the combination of Bud Heavy's, my mother's tryptohphanesque chicken pot pie, a Rangers loss or what, I don't know. All I know is that once I got home from my parents house, I was doing the dope nod. I needed a nap! All these days of sleeping three hours a night finally caught up with me!
— As I'll get into below, with the Devils making trades during this Rangers/Bruins game, I wanted to wait a bit, just in case the Rangers did something.
— I feel my best work comes after the Rangers win a game. While you truly can't be "crushed" after losing to the best team in the league; once this game ended, I had no motivation to write 10,000 words about it!
— I'm a night owl. I enjoy writing late into the night, in peace and quiet!
Truth be told, while this was a huge and important game for the Rangers; and don't let anyone else tell you otherwise, in the grand scheme of things, it wasn't the worst loss of this season. Not even close. The earlier losses to teams like the Sabres, the Kings, the Senators, and other bottom-of-the-barrel teams, were way worse than losing to the best team in the league, in the Boston Bruins. And let's face it, while the Rangers failed in several aspects during this game, this was really a one goal game against the best team in the NHL.
However, the facts remain the facts – if the Rangers had won this game, the adrenaline level would've been through the roof right now. Personally, had the Rangers won this game, there would've been smoke coming out of my keyboard immediately after the final horn went off. Instead, once the Rangers lost this game, I decided to take a nap before writing this. If I had one of those old 1970's mood rings on, my mood after this game was dark and gray, like clouds before a storm.
Going into today's game with the Bruins, everything was going the Rangers way. The Rangers were on a season high four game win streak, even sweeping a three game road-trip. On Saturday, with the team being idle, in the league, everything that could go the Rangers way went the Rangers way. The three teams the Rangers are trying to leap-frog, in their quest for the playoffs, in the Philadelphia Flyers, Florida Panthers and Montreal Canadiens, all lost on Saturday. Even better, as the cherry on top, in the final game of the NHL evening, the Islanders were blanked by Marc-Andre Fleury and the Vegas Golden Knights.
Furthermore, the Rangers opponent today, in the Boston Bruins, played the day before and used their starting goalie in Tuukka Rask. The Rangers, in theory, would get Boston at their worst, with a tired Bruins team & Jaroslav Halak in net. After all, it was just last week, where the Bruins had a home game, then lost the next night on the road, to the worst team in the NHL, in the Detroit Red Wings.
It just felt like all the stars were aligned for the Rangers to pick up a huge win today. Instead, the Rangers laid an egg.
Prior to puck drop, the Rangers sat 7 points out of a playoff spot and with games in hand. Had the Rangers won this game, they would've been 5 points out of a playoff spot and on a season high five game win streak. During this season, we've seen the Rangers play really well and we've seen them play really bad. While I wouldn't say the Rangers played "bad" today, they also didn't help their cause. Some air was taken out of the tires with this loss and really, you have to tip your hat to the opponent too.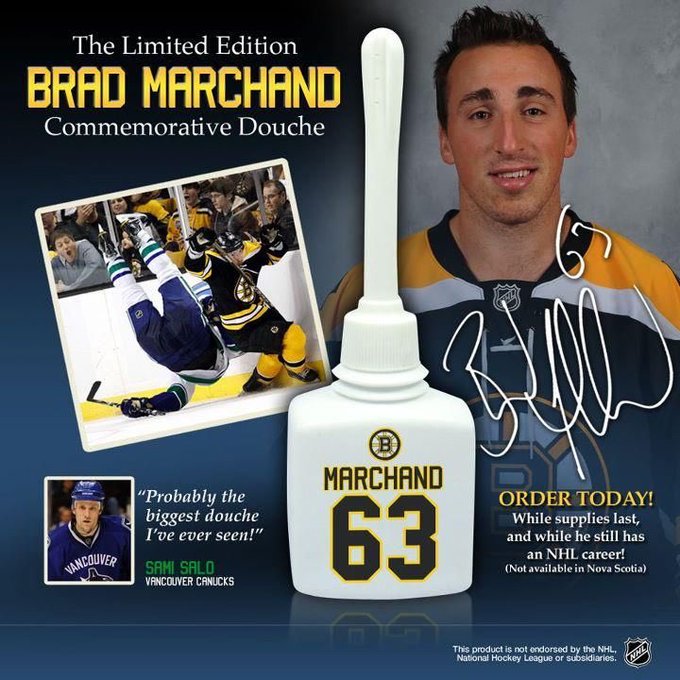 In today's 3-1 Rangers loss to the Bruins of Boston, despite not having one of their best efforts of the season, the Rangers did hang in there for most of the game. As I'll get into during the game recap portion of this blog, this was essentially a one goal game, as the third Bruins goal was of the empty net variety.
When you break down this game, look at how the Bruins scored their goals. They got a fluke goal at the end of the first period. They scored a short-handed goal in the second period. For the majority of the game, Alexandar Georgiev stopped everything. While Boston did a great job of stifling the Rangers offense, limiting chances and not allowing odd-man rushes, the biggest thing that hurt the Rangers today were the Rangers themselves, as the Rangers power-play was completely awful.
I'll get into this more when I do the line-up section of the blog, but if there was ever a game for Tony DeAngelo's agent to say "See, see, see, I told you so!", it was this one. With DeAngelo still out with an upper-body injury, the Rangers severely missed his presence on the power-play in this game.
In a league where many games are swung by special teams, the Rangers power-play basically Plaxico'd themselves in the foot.
And oh, if any player in this game did his job as expected today, it was once again Brad Marchand. Talk about predicting this game. This is what I tweeted out before puck drop today:
I want to see Lindgren v Marchand #nyr #PlayLikeANewYorker

— BlueCollarBlueShirts (@NYCTheMiC) February 16, 2020
More on Lindgren vs Marchand as I continue. However, before getting to Lindgren vs Marchand, as usual, here are my last few blogs, in case you missed them:
---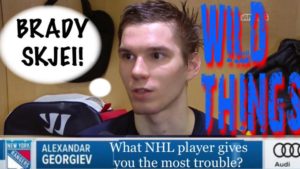 ---
---
---
---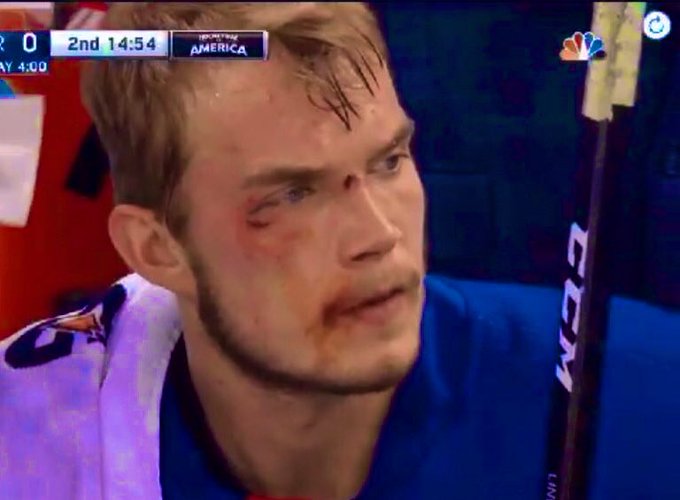 When it comes to pregame news & notes, I have a few. Let's talk about the obscene prices for ducats to this game.
I've talked about the "Stubhub Trick" on past blogs. In fact, I dedicated a blog on this topic, which you can read here: https://bluecollarblueshirts.com/the-stubhub-trick/
For people looking to do the Stubhub Trick today, you were out of luck. This game was a sellers market. Between a combination of the Rangers playing their best hockey of the season, a matinee game on a day before a holiday and a large traveling contingent of Boston fans, ticket prices were through the roof.
Take a look: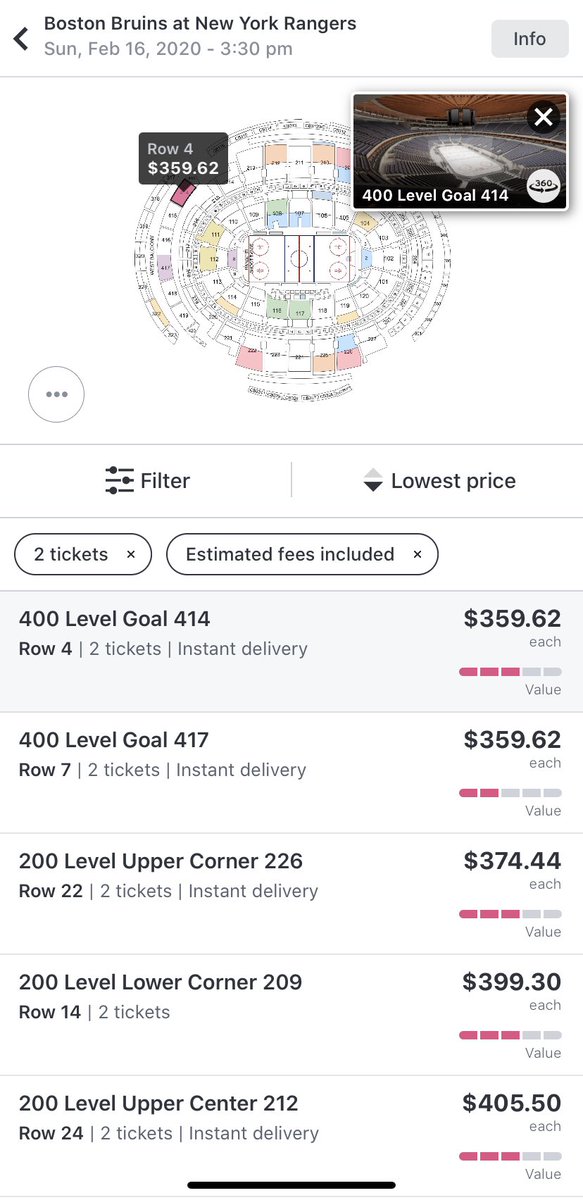 If you woke up Sunday morning and wanted to go to this game last second, it would've ran you $360 just to walk into the door. Talk about a family friendly sport. $360. INSANE.
Put it this way – just under six years ago, I spent $400 on a center ice 200 level ticket, to Game Four of the 2014 Stanley Cup Final. And I spent that money before the series started. (The Rangers were down 3-0 in that series, when that game was played.)
If you wanted to sit good for this game, it was going to run you four figures: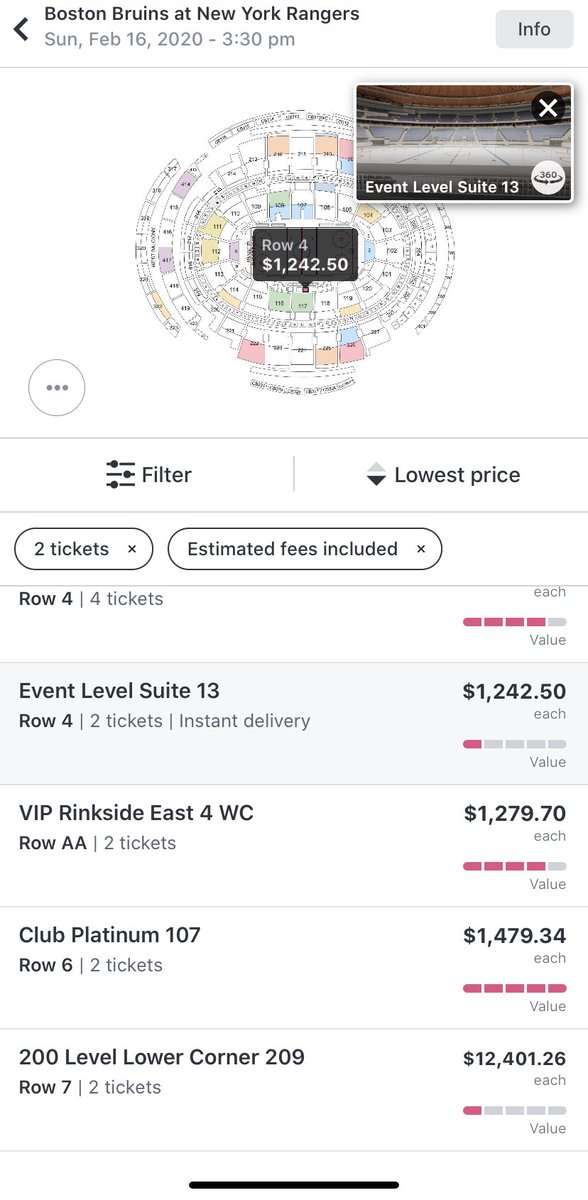 Look at the above graphic. Someone was asking for nearly $12,500 for a 200 level corner seat! To me, this is a case of a wife telling their husband, "Sell the tickets, I need you at home." The husband then says, "No problem, I'll try to sell the tickets, but if they don't sell, I'm not eating these tickets, I'm going." In turn, the husband puts the seats up for sale at an ungodly price. "Sorry honey, no one is buying! I guess I have to go!"
Just imagine – while you had a perfect scenario for sellers today, this was the most expensive game of the season. What's going to happen once this Rangers club is a playoff team again? For many fans who want to see the Rangers live, they may as well start now cashing out their annuities, robbing Grandma's purse or holding up a bank, just to see the Rangers play a preseason game!
With no practice on Saturday and with this early matinee start of 3:30PM today, David Quinn didn't announce his line-up or goalie until 2PM today. Here's how the Rangers Twitter account covered the news: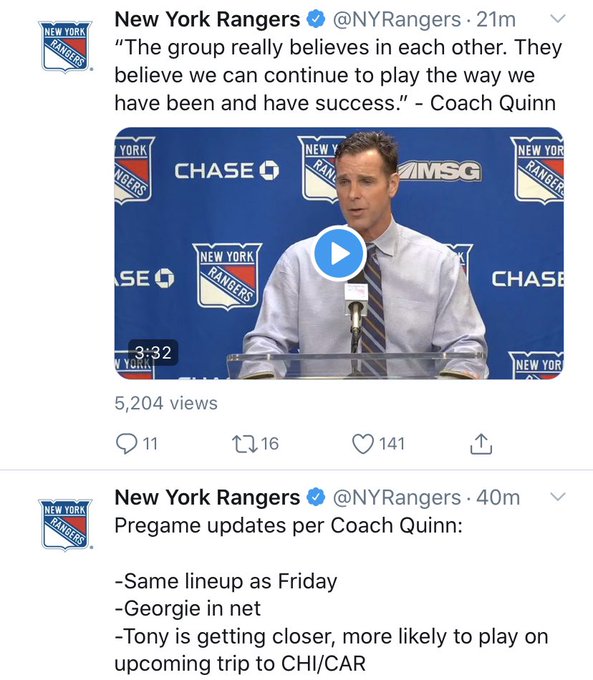 I covered the line-up from Friday in my last blog, so refer to that blog for the full rundown.
The two big news items from Quinn here was the fact that Tony DeAngelo was still out and that Igor Shestyorkin still isn't 100%.
To cover the easiest thing first here, just like Igor, DeAngelo was held out as a precautionary measure. While the Rangers definitely missed DeAngelo today, there's no point in rushing any of these young talents on the ice if they aren't 100%. Let's hope TDA is ready to go on Wednesday.
Of course, the biggest news item here, as it always is, is the state of the Rangers goaltenders.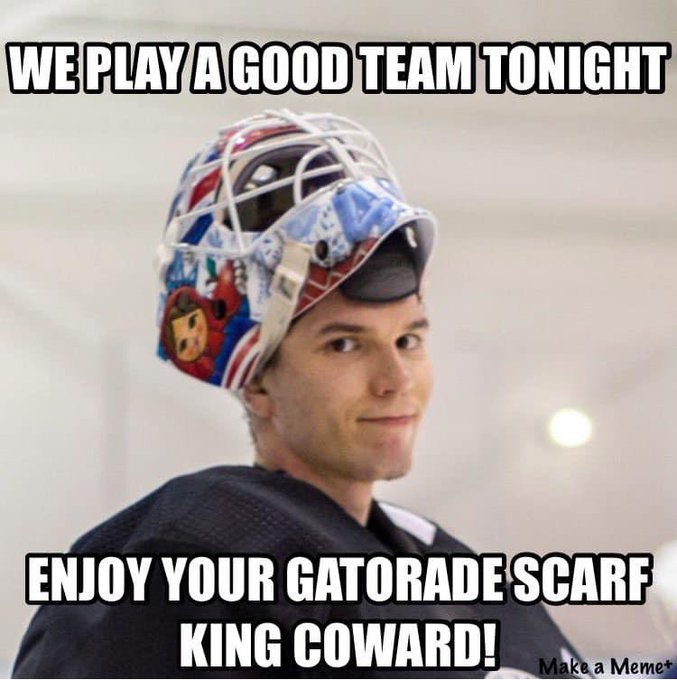 With CZAR IGOR unable to play today, David Quinn went right back to Alexandar Georgiev today. This made sense to me. Georgiev is the hot hand, better than Lundqvist and part of this team's future. After the game, when speaking about starting Georgiev, DQ said with Igor out, he wanted to reward Georgiev, since Georgiev has been playing well. I got no issues about that!
I do want to say this, and I know I said this already on social media today too:
I think David Quinn deserves more appreciation for the way he's handling his goalies. Not once have we heard from Jeff Gorton or JD on the topic of this three-headed dragon goaltender system. DQ is taking all the heat and making the tough decisions. Since this three-goalie system has started, DQ hasn't gotten any public backing from the front office. I think kudos are in order for David Quinn. (And a big shout-out to Joe L., who basically said the same thing to me today as well. His insights as a former player are always valuable. Oh, and his last name is hidden to protect the innocent!)

Just think, David Quinn is still a new coach in this league, as he's in his second year. (Ironically, he's now the 12th longest tenured coach in the league, due to all the recent head coach firings of this season. Crazy when you think about it!) When it comes to DQ's goaltenders, he has a goalie that's been anointed as the next franchise goalie, in Igor Shestyorkin. The Rangers started Igor off in Hartford, due to a terrible albatross of a contract, that they've been unable to get rid of, with the old guard, in Henrik Lundqvist.
Sandwiched in the middle, is Alexandar Georgiev, who has played so well that the Rangers don't want to move him. As mentioned 848377373737383484838382 times this season, Georgiev is between a rock and a hard contract place, with Igor nipping at his heels and Lundqvist refusing to leave. At the start of this season, and even up to very recently, every Georgiev start is much more magnified than the starts that Igor & Lundqvist have. Of the three, Georgiev once looked the most likely of the three to be moved. Instead, maybe there is a chance that the Rangers tell Hank "toodles". (And to be clear here – Igor was never on any sort of trading block. He's the future.)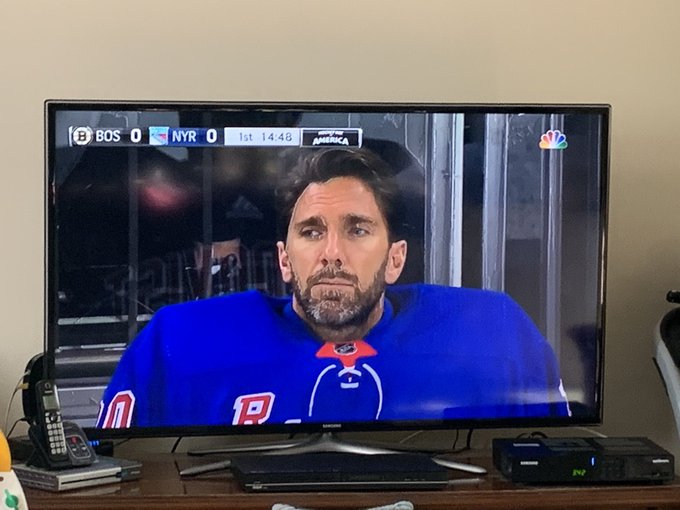 When Georgiev was announced as the starter today, there were thousands of tweets from the Cult of Lundswiss, as these morons were crying their eyes out. I'm not going to recap all these tweets. Just take my word for it – the tears were real.
What is lost on the "Legion of Losers" is that Lundqvist's time is up. In no world does it make sense to pay a back-up goalie $8.5M, much less a third string goalie. We'll see what happens between now and the deadline, but time is running out on Lundswiss. While Lundswiss may make it past the deadline, I don't see him here past this season in any event.
Oh and let's face it, whether you're a fan of mine or hate-read these blogs, you know you're all looking forward to the day when I write about the Rangers moving on from Lundqvist!
I will say, what made this NBC broadcast refreshing today, as opposed to M$G Network broadcasts, were the announcers and commentators openly talking about trading Lundqvist, buying out Lundqvist or Lundqvist retiring. YOU WOULD NEVER HEAR THE M$G NETWORK GUYS TALK LIKE THIS, EVER!
Of course, to the Cult of Lundqvist, the NBC crew were the anti-Christ today. How dare they talk sense!
I said it on my last blog – if Igor was unable to go today, I would've went with Georgiev for this start. Quinn did just that and he made the right move. While perhaps you can pin some blame on Georgiev for the first goal allowed today, it was a flukish play. (Georgiev didn't handle a pop-fly well. Then again, do they even have baseball in Russia?)
And really, you're not going to win many games where you only score one goal in, especially against the best team in the league.
In addition, do I really need to run down Lundqvist's history with Halak, where Halak has completely owned Lundqvist throughout the years?
Starting Georgiev, despite the loss today, was the right choice. My big point here, is that Quinn, even if there are some private talks between he, Gorton and JD, is the face behind all of these decisions, at least in the eyes of public perception.
It's Quinn talking to the media. It's the fans talking about Quinn. While Quinn navigates these goalie waters, Gorton & JD haven't said one word. Quinn is in an unenviable position of telling a long-time pillar of this franchise to take a seat. It can't be easy for Quinn.
In closing on this topic, I want to make the following clear, as people always love to twist my words around. I don't fault Gorton or Davidson here for not saying anything. To me, this is their way of showing Quinn that they have faith in him. By not saying anything, perhaps they are telling us that they believe in Quinn to handle this. Perhaps this is their way of saying this is DQ's locker room and DQ's team. However, because Lundqvist has had this jedi-mind trick on this franchise for so long, it does put DQ in a tough position. I think DQ is handling it very well and should get some praise here.
DQ for Jack Adams!
We're getting closer to the game review.
At this time, let's go to the GAMBLING segment of this blog. Here's what I said before the game:
Season over-under record: 28-26-3

I'm shocked they have lines up for this game without a Rangers lineup or goalie announced. Won't know what's what until 2pm.

Call me optimistic, but I think #nyr comes out flying against Halak. I see a 5-2 win, so I'll go over. pic.twitter.com/9L6chIALxE

— BlueCollarBlueShirts (@NYCTheMiC) February 16, 2020
Um, so about that. Wrong and wrong. My over/under record now drops to 28-27-3. But hey, at least I predicted the Marchand/Lindgren stuff correctly!
At this time, let's go to the box score of this game, courtesy of ESPN.com:
SCORING SUMMARY: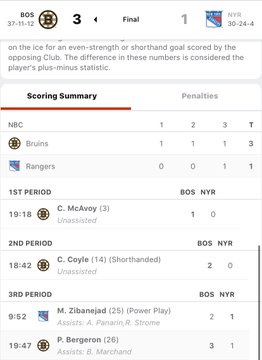 PENALTIES: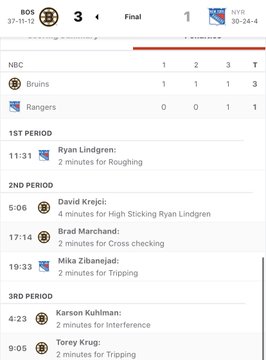 TEAM STATS: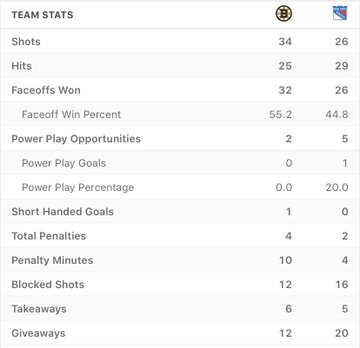 GOALIES:
| | | | | | | | | | | |
| --- | --- | --- | --- | --- | --- | --- | --- | --- | --- | --- |
| SA | GA | SV | SV% | ESSV | PPSV | SHSV | SOSA | SOS | TOI | PIM |
| 26 | 1 | 25 | .962 | 21 | 0 | 4 | 0 | 0 | 60:00 | 0 |
| | | | | | | | | | | |
| --- | --- | --- | --- | --- | --- | --- | --- | --- | --- | --- |
| SA | GA | SV | SV% | ESSV | PPSV | SHSV | SOSA | SOS | TOI | PIM |
| 33 | 2 | 31 | .939 | 21 | 3 | 7 | 0 | 0 | 58:45 | 0 |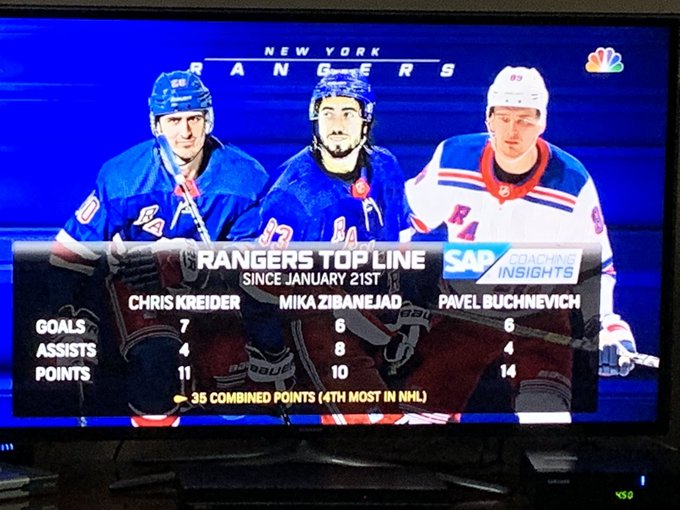 Two quick things before motoring into the game review.
One, this was an NBC game. No Vally! However, for some reason, with Joe Micheletti being an NBC employee, NBC had Micheletti covering the Penguins/Red Wings game. Why not have Micheletti cover this game, since he actually knows the Rangers inside and out? Instead, we had to suffer with Mike Milbury, a known Ranger hater. (And what a sign of the apocalypse – I'm politicking for more Micheletti!)
Two, this was the third game since the NHL All Star break, where the Rangers didn't get a 5 vs 5 goal in. While the special teams were horrendous, so bad that I mentioned them in the headline & at the top of this blog, what can't be ignored is that the Rangers couldn't put together an even strength goal today. So yeah, while the power-play left much to be desired today, an even strength goal would've at least got you a point in the standings.
With this being an NBC game, there was no pregame show really. We had a good national anthem and by 3:33PM, the puck was dropped. No 10-15 minutes of unnecessary pregame bullshit.
This game started off with Kreider getting the puck and putting a shot on Halak. Save. From here, the Bruins iced the puck. Little did we know, this would be some of the Ranger highlights from this game.
After a long shift in the Rangers defensive zone, where we saw Georgiev make some saves, the Rangers got a clear and a stoppage. This is where the NBC guys talked about moving Lundqvist. This is also where, on social media, we saw the tears go into overdrive:
Oh, and a big thanks to Mel, who went after every single one of these Lundqvist hair doll collectors:
The Hank fanboys bitches are out in full force today…..the amount of grown men about to cry because the rangers are moving on from this guy is baffling and embarrassing. Get a fuckin grip my dudes….

— mel1994 (@mel19944) February 16, 2020
If you were worried about the worst defensive pairing on this team, in Brady Skjei & Jacob Trouba, Brady Skjei heightened your fears early, as he stupidly passed the puck right in front of Georgiev, with several Bruins close by. Luckily, no goal against here.
Right after this, after a stoppage, the Bruins would win an offensive zone face-off & Georgiev would make a save on Carlo. At this point in the game, the announcers were still going on about the Rangers and how they should get rid of Lundswiss. Wow – people who talk more about getting rid of Lundqvist than me! You don't see that often!
I will say this – Milbury loves to troll Lundqvist more than I do. That's a fact.
On the next Rangers rush, Lemieux would get a good shot off on goal and Howden's rebound would be stopped. Halak was playing well here. I also thought the Rangers fourth line, for the majority of the game, was the best Rangers line. A huge part of that is who the Rangers fourth line was up against, as opposed to the lines that the Rangers top two lines had to see.
At around 6:30 into the period, Georgiev had six saves, with most of those saves occurring with Skjei & Trouba on the ice. These two couldn't get a clear. After those two came off the ice, Fox & Lindgren would come on and handle business. And also kudos to Staal & Smith, who once again played well defensively.
After a TV timeout, the Bruins came right back at Georgiev. Georgiev stopped Debrusk and then stopped him again, as Debrusk went crashing into the net.
At this time, I want to remind you of something, and I'll use Wikipedia.com to share this fact with you again:
"On February 25, 2018, the New York Rangers acquired Ryan Lindgren along with a first-round pick in the 2018 NHL Entry Draft, forwards Ryan Spooner and Matt Beleskey, and a seventh-round pick in the 2019 NHL Entry Draft from the Boston Bruins in a exchange for forward Rick Nash."
Look at that 2018 NHL Trade Deadline move. Now fast forward to today. As it stands right now, Ryan Lindgren has been the most impactful player of the people involved in that trade. While Lindgren never played with the Bruins & the Bruins players aren't overly familiar with him, the Bruins front office is familiar with him. And after today's game, every Bruins and every Bruins fan now knows the name of Ryan Lindgren.
(And let's not forget that Gorton turned Spooner into Ryan Strome. Value-wise, this may be the second best trade of the Gorton era, with Brassard for Zibanejad being the best trade.)
I bring up Lindgren here, because it was around this point in the game where you really started to notice him. He was shutting down Boston a bit here and rattling them, as you'll see next.
At the 11:31 mark of the period, Ryan Lindgren took a roughing penalty for defending himself:
While I can't find a video of this penalty to share with you, what happened here was that as Lindgren was going to the bench, Marchand knocked Lindgren over the bench. As Lindgren tried to get up, Marchand was trying to hold him down. In turn, Lindgren retaliated and defended himself. The refs, instead of either ignoring this or just calling off-setting penalties here, called Lindgren for a two minute roughing minor, thus giving the Bruins an absolute bullshit of a power-play.
This was just horrendous officiating. This should've been off-setting penalties, but instead, despite Marchand having a reputation worse than Lemieux's, it's Lindgren getting boxed. BS.
Georgiev would make two saves on the Bruins PP and the Rangers PK would get out of trouble here. Once returned to even strength, Panarin would whizz around and find Fox for an open blast, a shot that Halak saved.
As this game moved along, despite the crowd being blah, this game did have a playoff vibe to it. This was mostly a defensive game and a physical game too.
With both goalies at ten saves each, with 41 seconds left on the clock in the first period, the Bruins would get on the score sheet:
You don't see goals like this everyday. 🚨

ICEBREAKER @NHLBruins. #HDIA pic.twitter.com/msF4EbqF3S

— NHL on NBC (@NHLonNBCSports) February 16, 2020
1-0, bad guys.
This was a fluke goal. On the play, Charlie McAvoy tosses a puck at the net, the puck takes a weird bounce off of Trouba, the puck goes high, Georgiev does some Jose Canseco-ish centerfielding, and the puck goes past him. To say this goal was a killer would be an understatement. It's just one of those things, and it's also one of those things that happen for good teams during a magical season.
Of course, Skjei & Trouba are on the ice for this. This pairing was on for both Bruin goals in this game. What a surprise. (And again, I don't really blame Trouba, although I didn't think he played well today. Most of Trouba's game here was taking shots 767786 feet wide and watching the puck go around the boards.)
Instead of going into the locker room scoreless, the Bruins took a 1-0 lead after twenty. DQ, after the game, said his team was down, emotionally. That's fine to say, but this team has come back from bigger and worse things. No excuse.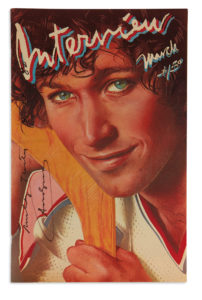 Prior to this second period, it was announced that the Devils traded Andy Greene. More on that later.
The second period was mostly all Boston. Georgiev made a save to start the period. Boston then would open up their shooting gallery, with Georgiev denying all comers. Ironically, Georgiev would then make a pop fly save. At least he learned from the first time.
The Rangers couldn't get anything going here. Georgiev would then make a good save on Pastrnak. As this game and period were going along, you had to wonder – who played yesterday, the Rangers or the Bruins?
Five minutes and change into the period, Dave Krejci high-sticked Lindgren, about a few centimeters away from his right eye ball. Lindgren, for the second game in a row, was leaking blood here. Lindgren has been taking a beating recently, but he just keeps coming back for more. That's what you call a hockey's player hockey player.
Due to the blood, the Rangers got a double-minor power-play out of this. For some reason, despite Lindgren bleeding like Ric Flair (without the razor) the referees reviewed this play. Did they think Lindgren busted himself open like a wrestler? It was 100% obvious he was caught with a high stick to the face. I don't know why this was reviewed.
This four minute power-play was the worst freaking Rangers power-play of the season. The Rangers did absolutely nothing here. In fact, Boston had more offensive chances than the Rangers here. This was absolutely horrible to watch.
I've said this before and it applies again – if you can't score on a double-minor or five minute major power-play, you don't deserve to win. And that's what would happen for the Rangers, as this power-play failure cost them a chance at points in the standings. I will say, once again, give some credit to the opposition too. Boston is the best team in the league and their penalty kill was perfection here.
After the Rangers had the epic fail of all epic fails on the power-play here, the idiots in the stands did the Potvin whistle. Yes, singing along about Potvin is what these idiots were worried about.
As we crossed the half-way mark of the game, I thought the third and fourth line were playing well for the Rangers. However, the difference is the fourth line would shoot, while the third line, especially Kakko & Chytil, seemed too happy to skate around with the puck. In fact, Kakko & Chytil would have some "GOOD LOOKS" here, but wouldn't shoot. The only person to shoot during this good shift from the third line? Marc Staal.
With just about three minutes to go in the period, we had a turning point in the game, when Brad Marchand once again got dirty: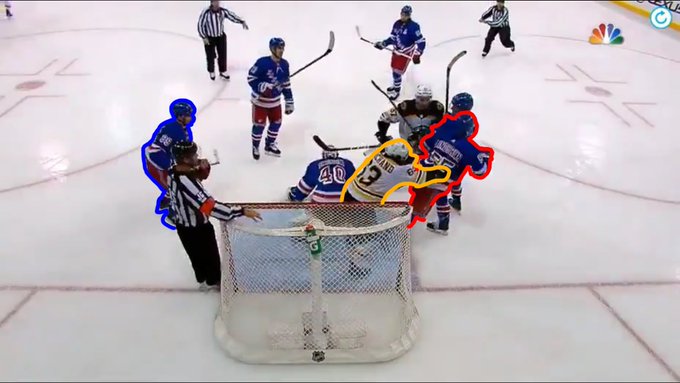 After a save and freeze by Georgiev, Marchand would cowardly come from behind and cross-checked Lindgren. However, of all freaking people, Pavel FATHER FINKIN' Buchnevich wasn't having any of that shit:
Brad Marchand cross checked Lindgren then got dropped 💥 pic.twitter.com/yRX79sOHej

— Sports ReUp (@SportsReUp) February 16, 2020
Let's all give a huge round of applause to Pavel Buchnevich here: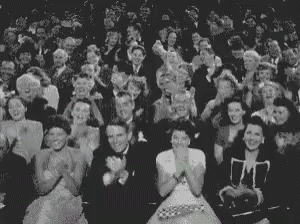 While Buchnevich has been on fire offensively as of late, this was the best play he's made all season!
With Lindgren being attacked by that rat-faced fink Brad Marchand, Buchnevich said "EFF THIS" and flattened Marchand out. Buchnevich hit the rodent in the #63 jersey so hard, that Marchand's bucket went flying off.
That's a TEAM play.
In perhaps a make-up call from ealier or the refs just doing the right thing, Marchand was called for the cross-check. Buchnevich wasn't penalized here for retaliating. I have said a lot of things about Buchnevich on this blog, but I'll tell ya – this play won me over. I never saw this type of emotion or physicality out of him before.
How did the Rangers reward Lindgren for drawing the penalty and Buchnevich going after Marchand? With this short-handed goal allowed:
Penalty Kill?

No problem for the @NHLBruins. Charlie Coyle with the SHORTY. 🚨

📺: NBC
💻: https://t.co/Ox6hFPcrkU pic.twitter.com/oMyq8W1jm7

— NHL on NBC (@NHLonNBCSports) February 16, 2020
2-0, bad guys.
Trouba turnover, Coyle the other way, all alone, on the breakaway. Bing, bam, boom.
After failing on this power-play, with 27 seconds left in the period the Rangers would then put the Bruins on the power-play, when Zibanejad was called for a questionable interference penalty. With all the stuff the refs allowed in this game, to call this penalty on Zibanejad here was rubbish, at best.
The Bruins wouldn't score here, as the two teams remained at 2-0, in favor of the Bruins, after forty minutes.
When it comes to Rangers alumni, no one is more dialed in on the Rangers right now than Ron Duguay, formerly of the M$G Networks and now a podcaster for the NY Post. Here's what he said, at this point in the game (second intermission):
This can possibly be the worst period & half for the @NYRangers of the season

— Ron Duguay (@RonDuguay10) February 16, 2020
Painful to watch

— Ron Duguay (@RonDuguay10) February 16, 2020
Prior to the game, Duguay was like me – optimistic and hoping for the playoffs. Forty minutes later, he was as displeased with this Rangers power-play as everyone else.
Again, give credit to Boston too, but that Trouba turnover for the short-handed goal was brutal.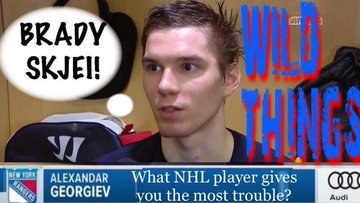 At this stage of the game, all I was thinking was this – imagine paying $360 for this?
To open the third period, the Rangers PK would come up big and kill the remaining 1:33 of the Boston PP. For as bad as the Rangers PP was today, the Rangers PK did their job. I wonder if Ruff gets any credit?
4:23 into the period, Karson Kuhlman would be boxed for interference. Another Rangers power-play, and another scoreless effort. The Rangers really missed Tony DeAngelo today. The Rangers were even icing the puck on their own PP here.
With 10:55 remaining, the Rangers would get another power-play, this time, after a tripping call on Krug.
A couple of seconds into the power-play, Mika Zibanejad would finally get the Rangers on the board:
The SWEET SWEET sound of the post. 🚨

One. Goal. Game. #HDIA

📺: NBC
💻: https://t.co/Ox6hFPcrkU pic.twitter.com/WzNGt3zOXl

— NHL on NBC (@NHLonNBCSports) February 16, 2020
2-1 bad guys, one goal game, with ten minutes and change to go.
And keep this in mind, for as bad as the Rangers were and for as good as the Bruins were in this game, this was a one goal game. The loss hurts, but the Rangers, at least scoreboard wise, were in this game the whole way. However as mentioned, failing on the four minute PP, giving up a shorty and not scoring while 5 vs 5 again, hurt the Rangers. That said, despite all of that, this was still a one goal game.
To be fair here too, it's not like any individual Ranger sucked or stuck out like a sore thumb. Yeah, Trouba will get some blame, but the effort was there. The bottom line is that the Bruins are the best team in the league and for many reasons. I hope this doesn't come off as me making excuses, but the facts are the facts. The Bruins are the best team in the league and the Rangers, despite their recent success, are still a team in a rebuild.
As the game progressed into the final ten minutes of regulation, Kakko was tripped. No call. After this, Chytil would have a good shift and forechecked well. With 5:48 to go, the Bruins iced the puck, setting up the Rangers for an offensive zone face-off. The Rangers couldn't capitalize.
As got into FOXWOODS territory, Georgiev would stop Marchand, keeping the Rangers alive in this one goal affair.
With 1:38 to go, Georgiev was pulled for the extra skater. Would we have Minnesota magic again? The answer – no.
During their extra skater attack, the Rangers tried to find the perfect shot and didn't challenge Halak at all.
With 35 seconds left on the clock, and after a Boston icing, the Rangers called a timeout. This was a role reversal from the Rangers last game with CBJ.
Despite the Bruins looking to be gassed in the final five minutes of this game, the Bruins held on. Bergeron would seal the deal with 13 seconds left on the clock, scoring the empty net goal. 3-1 bad guys, which was your final from Morgue $quare Garden, the World's Most Quietest Arena.
(And isn't it funny, that whenever NBC does one of these games at M$G, they always bring up how "polite" & quiet the crowd is? It's to be expected though. You're not going to get diehard lunatics going to these games with a $360 price tag, just for the right to sit in the worst seats in the house.)
Let's take a look at the post-game theatrics and news. First off, here are the current wild card standings: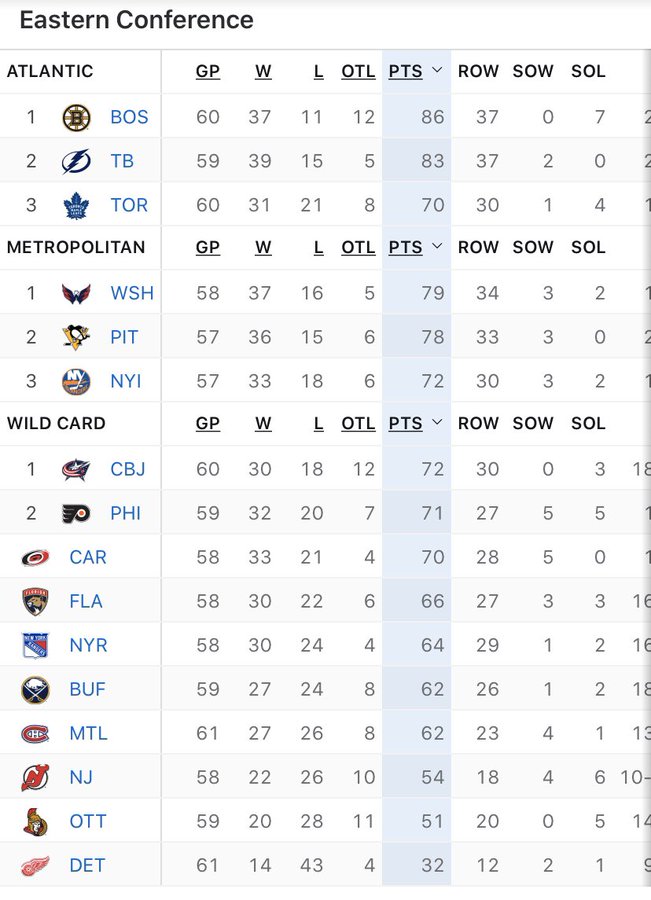 The Rangers, who yes, needed to win today to gain ground, saw the Hurricanes and Blue Jackets lose today. However, Carolina & Columbus both lost in overtime, meaning they gained a point in the standings. If there is any consolation, the Rangers still have two games in hand over Columbus.
The biggest news after the game, were the comments Brad Marchand made:
Shots fired 👀pic.twitter.com/riTuIZg388

— Mollie Walker (@MollieeWalkerr) February 17, 2020
In case that video doesn't work for you, here's a transcript of what Marchand said about Lindgren:
"He's not going to be a player there that's going to have a very long career. I'm not overly concerned with him."
Tony DeAngelo, a man who is never shy to defend his teammates publicly, responded with this:
Lindgren will be in the league for a long time actually. Save your cold blooded BS. https://t.co/F7jNxIYTB3

— Tony DeAngelo (@TonyDee07) February 17, 2020
While I think the future captaincy of this team has Mika's name on it (or maybe CK20, if he stays) if anyone deserves the "A" on their jersey, it's Tony DeAngelo. Social media wise or post-game wise, there isn't another player that defends and props up his teammates after games.
When it comes to Marchand's comments, to me, again, he's a player you love to hate if he's on the other team, but a player you love if he's on your team. If you were a Sean Avery fan, you have to appreciate Marchand. If you're a fan of Lemieux today, you have to appreciate Marchand. Marchand is basically Avery & Lemieux, but on steroids. Marchand is a future Hall of Famer and no one does their role in the NHL better than he. He embraces the heel role and knows how to instigate and help his team win. I'll say this – as a Ranger fan, Father Fink Brad Marchand! However, as a hockey fan, I love watching the guy. He's so good at what he does.
While I find Marchand's comments to be cowardly, since the Bruins & Rangers don't play again this season, perhaps these comments will fuel Lindgren to a new level. I'm sure come next season, Lindgren will be aware of Marchand.
Before winding down and looking ahead with the Rangers, let's take a detour into the lovely confines of Newark, NJ:
Heading into this season, many thought the Devils would compete for a playoff spot. Instead, they are competing for the first pick of the 2020 NHL draft.
During this season, the Devils sent their starting goalie, in Corey Schneider, to their AHL affiliate. The Devils also fired their head coach in John Hynes, and later on, fired GM Ray Shero. Prior to Shero's firing, the Devils also traded away former MVP, in Taylor Hall, to Arizona. The biggest free agent that the Devils signed during the off-season, in PK Subban, is having the worst season of his career. As it stands right now, the Devils are looking to ship PU Subban elsewhere.
Today, the Devils announced two enormous trades:
TRADE ALERT: The #NJDevils have acquired a 2021 second-round pick and defenseman David Quenneville in exchange for Andy Greene.https://t.co/ugEDmyvTlL

— New Jersey Devils (@NJDevils) February 16, 2020
TRADE ALERT: The #NJDevils have acquired Nolan Foote and a first-round pick from Tampa Bay, in exchange for Blake Coleman.https://t.co/SjslAGr1Bg

— New Jersey Devils (@NJDevils) February 17, 2020
For Devils fans, losing the 37 year old captain of their team, and a career-long Devil, is a major blow. Previously, even as recent as a few weeks ago, Andy Greene said he wouldn't waive his NMC. However, Greene decided to waive it for the Islanders, as he reunites with Lou Lamoriello. It also gives Greene a shot at the playoffs. I wonder if Henrik Lundqvist will take note of this?
In the other trade, the Devils shipped off another career Devil, in the 28 year old Blake Coleman. If you're a Ranger fan who wants a haul in a return, in a potential trade of Kreider, this is something you should be aware of. The Devils got back a decent prospect in Nolan Foote and also got a first round pick to go along with Foote. If Coleman is bringing back a solid prospect and a first rounder, what is Kreider worth to the league now?
While it's not my intention to break down the state of the Devils here, I don't think anyone saw them blowing up their team and front office, in the way they have done this season.
If anything, if you look at the Devils and the Rangers, the Rangers rebuild looks 6786789678967896789678967896 times better than what the Devils have done during their rebuild. And let's face it, the Devils are take major steps backwards this year, while you can see the Rangers progression this season. The Devils are becoming Edmontonish now, with all these draft lottery picks.
Enough of the Devils. Let's look ahead with the Rangers.
Moving ahead, the Rangers have Monday and Tuesday off. They then travel to Chicago for a game on Wednesday night on NBC. After Chicago, the Rangers fly back east, to Raleigh, where they play a four-point game with the Carolina Hurricanes. After that game, the Rangers host San Jose. After that it's the NHL Trade Deadline. First game after the deadline? The NY Islanders.
This schedule is very favorable for the Rangers, at least on paper. Chicago is in last place in their division. If Igor is healthy, I would expect him to play there. I thought Georgiev was great during these past three games. If Igor can't go, I would go right back to Georgiev on Wednesday.
When looking at Friday, in the game with Carolina, Lundqvist owns the Hurricanes. He's had their number not only during his entire career, but during games of this season too. (I even saw one of these games live. Thanks again to Marc G.) I don't know if the Rangers will ever play Lundqvist again this season or if there are even talks about moving him at the deadline. I'll say this – if the Rangers asked him to waive his NMC, we would've heard about it by now. Maybe that talk is coming.
Even with Lundqvist's history against Carolina, if Igor is healthy, I think you run him back-to-back against Chicago and Carolina. It's about the future and going with what's best. That said, Quinn has used goalies based on previous history, with Georgiev vs the Islanders as the most recent example. Then again, Quinn used Igor vs the last game with Toronto, a team that Georgiev usually plays against.
While Carolina will be the toughest opponent in the next three games, after Carolina, the Rangers host a beat-up San Jose Sharks, a Sharks team that is now without Erik Karlsson for the remainder of the season. The Sharks are free-falling right now.
I know what I've said about the playoffs before on these blogs, but for the Rangers to make them, they have to handle these bad teams, like Chicago and San Jose. They also need to win these four-point games too.
No one has any idea of what the Rangers are going to do at the deadline. Don't read all those other bullshit sites that report speculation and opinions as facts. Unless you read a report from a Canadian reporter, like McKenzie, Dreger or Friedman, 99.9% of the time, when it comes to trade rumors, it's all BS and click-bait.
Will these three games determine Kreider's fate here? Time will tell.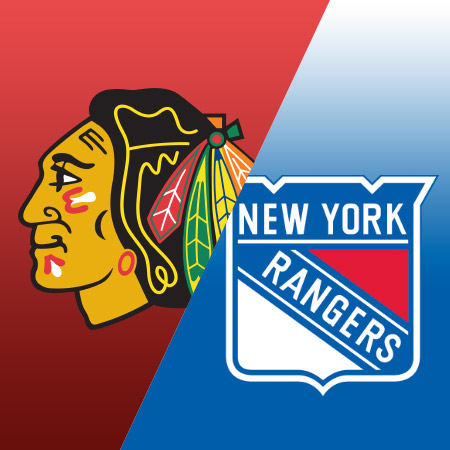 Unless something crazy happens between now and Wednesday, I'll be back Wednesday night with a recap of the Hawks and Rangers.
Keep the faith.
For a blog I didn't want to write, I can't believe how long this went tonight!
As always, thanks for reading and win or lose…
"LET'S GO RANGERS!"
Sean McCaffrey
BULLSMC@aol.com
@NYCTHEMIC on twittah