Greetings and salutations everyone and welcome to another blog here on BlueCollarBlueShirts.com. After the Rangers loss to the Boston Bruins on Sunday, I said bearing anything crazy, I would be back on Wednesday night. However, I'm here now, 24 hours before Rangers/Blackhawks puck drop, as the Rangers made some news on Tuesday afternoon. While the Rangers didn't make a "crazy" trade, they did make an interesting trade.
As usual here, just in case you missed that Rangers/Bruins game recap blog, you can find that blog, and my most recent blogs, right here below:
---
---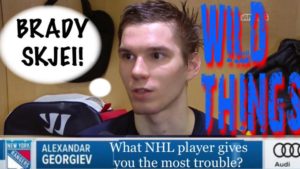 ---
---
---
Early Tuesday afternoon, the Rangers announced the following trade on Twitter: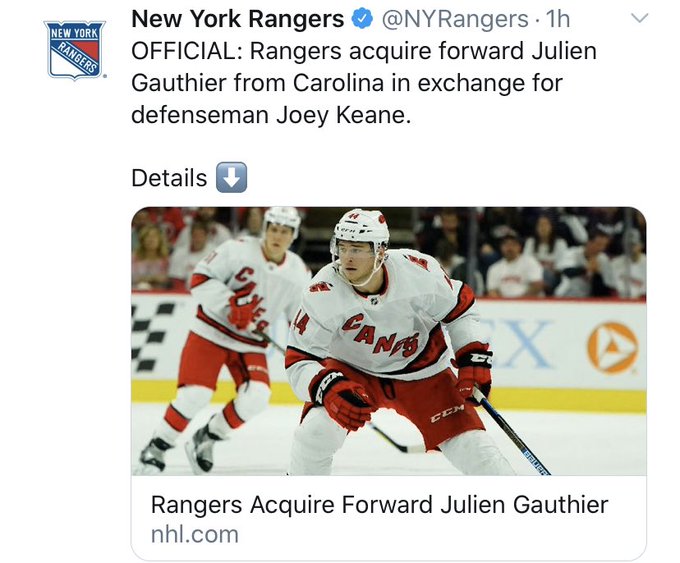 Before opining on this trade, let me share with you the official press release, in regards to this trade, courtesy of NYRangers.com:
The New York Rangers announced today that the team has acquired forward Julien Gauthier from the Carolina Hurricanes in exchange for Joey Keane.

Gauthier, 22, has skated in 44 games with the Charlotte Checkers of the American Hockey League (AHL) this season, registering 26 goals and 11 assists for 37 points, along with 34 penalty minutes. He ranks fourth in the AHL in goals in 2019-20. In addition, Gauthier leads the Checkers in goals, power play goals (eight), and shots on goal (126), and is tied for third on the team in points this season. Gauthier has recorded at least one goal in 22 of the 44 AHL games he has played thus far in 2019-20. He has also skated in five NHL games with the Hurricanes this season, registering one assist and a plus-two rating. Gauthier made his NHL debut on Oct. 11, 2019 against the NY Islanders, and he tallied his first career NHL assist/point on Dec. 14, 2019 at Calgary.

The 6-4, 227-pounder has skated in 184 career AHL games over three seasons (2017-18 – 2019-20), all with Charlotte, registering 69 goals and 34 assists for 103 points, along with 115 penalty minutes. Gauthier ranks fourth in the AHL in goals over the last two seasons (53), and he established AHL career-highs in games played (75), goals (27), assists (14), and points (41) in 2018-19. Gauthier also helped Charlotte win the Calder Cup as AHL Champions in 2018-19, as he tallied eight points (five goals, three assists) and posted a plus-seven rating in 17 playoff games.
Gauthier played four seasons in the Quebec Major Junior Hockey League (QMJHL) prior to beginning his professional career (2013-14 – 2016-17), and he registered 211 points (105 goals, 106 assists) in 227 games with Val-d'Or and Saint John. He helped his team win the QMJHL Championship twice in his junior career (2013-14 with Val-d'Or and 2016-17 with Saint John). Gauthier tallied 17 points (11 goals, six assists) in 16 games during the 2017 QMJHL Playoffs with Saint John, and he also recorded six points (two goals, four assists) in four games during the 2017 Memorial Cup.

A native of Pointe-aux-Trembles, Quebec, Gauthier has represented Canada in several tournaments. Most recently, he helped Canada earn a silver medal at the 2017 IIHF World Junior Championship, recording seven points (five goals, two assists) in seven games during the tournament.

Gauthier was selected by Carolina in the first round, 21st overall, in the 2016 NHL Entry Draft.

Keane has skated in 49 games with the Wolf Pack this season, registering eight goals and 22 assists for 30 points, along with 32 penalty minutes. He was selected by the Rangers in the third round, 88th overall, of the 2018 NHL Entry Draft.
---
There's a lot to break down here, even if this is basically a prospect for prospect swap.
For starters, I found it surprising that the Rangers traded Joey Keane. While I found this trade to make sense, I was more surprised that Keane was dealt today, as it came out of the blue.
Joey Keane, who made the AHL All Star Game this year, as a member of the Hartford Wolfpack, has been having a good season. During this past season, there have been talks about Joey Keane and how he fits into the future with the Rangers.
Very recently, as recent as this past three game road-trip, Keane was an emergency call-up, during the Rangers tilt with Columbus. Keane never played in the game, as Marc Staal, who missed the previous game with the flu, was able to play.
Furthermore, even with Tony DeAngelo out for that game, head coach David Quinn opted to use Brendan Smith to fill the slot, rather than using Keane. I didn't find these moves that shocking, because after all, DQ wants to win and he's comfortable with Smith. While perhaps you could argue that it would've made sense to use Keane to replace TDA, instead of Smith, due to the fact that Keane is a right-handed shot like DeAngelo; DQ has been very high on Brendan Smith all year. Say what you want about Brendan Smith, but he's well-liked and he has been very versatile for the Rangers this season.
Before breaking down this trade, my initial reaction to this trade was that perhaps Jeff Gorton tipped his hat on what he thinks about Tony DeAngelo.
While I am 100% of the thinking that the Rangers should re-sign Tony DeAngelo and pay him, there are many people out there that think the Rangers should trade DeAngelo. While some of that comes from the snowflakes who are offended that Tony DeAngelo has political beliefs that are not theirs; some of it is also due to the fact that the Rangers have a plethora of defensemen in their ranks.
All season long on this site, I have been an advocate of trading Brady Skjei. His contract stinks. You all know the deal there. Most importantly, in regards to Skjei, he's arguably the weakest link on this team. Some may argue that Haley or McKegg are the weakest link, but think about it. No player plays more minutes and gives you less production than Skjei.
Moving on from Skjei, if possible, would help the Rangers in a few ways. For starters, it would open up cap room, money that could go to DeAngelo. Plus, with left-handed shots like K'Andre Miller, Yegor Rykov and Libor Hajek in the system, you could move on from Skjei & have options.
When you look at the right-handed defensemen on the Rangers & in the system, Jacob Trouba has a long-term deal and is getting tons of bucks. I know some people are politicking for a Trouba trade, but I don't see that happening. As I've been saying all season, while Trouba could be better, I do think Skjei as his partner is a detriment to Trouba's game. In any event, I don't see the Rangers moving on from Trouba.
When it comes to the other two right-handed defensemen on the Rangers, you have Adam Fox and Tony DeAngelo. Fox, under a team-friendly deal and at a younger age than Trouba & TDA, isn't going anywhere. You can argue that Fox is the best defenseman on the team right now. He's staying put.
As mentioned about 786789678967896 times on this site, Tony DeAngelo is having the best offensive season of any Rangers defenseman, since the days of Brian Leetch. Furthermore, TDA is beloved by his teammates and a good locker room guy. And while this might not mean a lot to some people, it does mean a lot to others – when it comes to defending his teammates on social media, no one is louder & prouder about his boys in blue than Tony DeAngelo. I've shown several examples of this on past blogs, even as most recent as my last blog, where I showed you what Tony DeAngelo said about Ryan Lindgren.
With Trouba, Fox & TDA all young, these three should be staples of the Rangers blue line for years to come. At least that's my opinion on this trio.
Operating under the theory that Tony DeAngelo will be re-signed, Trouba isn't getting dealt and Fox is the future – there isn't any room for an aspiring right-handed defenseman right now. When it comes to right-handed defensemen, the two best prospects that the Rangers have right now are Joey Keane & Nils Lundkvist.
By trading Joey Keane today, it tells me that the Rangers will look to re-sign TDA. It also tells me that the Rangers may value Nils Lundkvist more than Keane. That said, Carolina may have desired Keane more, as he seems further ahead and is more NHL-ready at the current moment.
Who knows how Joey Keane's career will pan out? All that we know now, is that the Rangers have three formidable right-handed defensemen and Keane isn't good enough to bump Trouba, Fox or DeAngelo out of a job.
When it comes to Julien Gauthier, unlike the 7678686896 social media experts, who just now today, are telling you how they've seen every Gauthier game ever, I'm here to tell you that I'm not familiar with Gauthier at all. I've heard his name before, but I've never seen him play.
I always find it funny how people are desperate to look like experts during times like these. When I said that same sentence on Twitter on Tuesday, I thought my buddy Howie Wirthheim had a perfect response:
"I love it. It's amazing how these same phonies can see all these NHL AHL CHL games at the same time. NHL teams need a team of 15 guys. Must have no life or jobs. Oh wait last part is actually true. NHL teams barely can keep track. That's why they have a software that keeps track of players, their bios internal and external scouting reports. Video clips. News clips. Takes a scout 2 hrs to report on a game. Insults their hard work."
Once this trade was announced, this clip from a month ago, was shared all over NYR social media outlets:
Julien Gauthier did THIS last night. He's 6'4 230lbs and he moves like that👀

CAR better find him a spot in the line-up next year. On pace for over 40 goals in the AHL. Reminds me a LOT of Denis Gurianov pic.twitter.com/iXwFzMDkDA

— Alex Ohári 🇭🇺🔴⚪️ (@FutureCanes) February 2, 2020
Listen, this is a great zone-to-zone play from Gauthier. However, highlights are just that – highlights. I'm sure if you wanted to, you could make a Brady Skjei highlight reel and make him look like the second coming of Bobby Orr.
While I don't mean to be pessimistic here, what does concern me about Gauthier, is the fact that Carolina is bailing on their first round draft pick after only three years. Why was Carolina so eager to move Gauthier, especially since there is no one blocking Gauthier from making the Hurricanes roster? I get why the Rangers moved Keane. You have Trouba, Fox and DeAngelo. Gauthier did not have that same situation in Carolina.
It feels like every time the Rangers make a trade and when there is a highlight reel clip attached to it, everyone likes to go nuts. I'm just here to show all sides of the story.
Gauthier played in five games for the Hurricanes this year, before being sent down to their AHL affiliate. How come he didn't stick with the club? Is he their version of Boo Nieves, Vinni Lettieri or Timothy Gettinger?
However, I will shine some light here. As I usually do after trades, I like to see what the other team's beat reporters and fan base are saying. Based on scouring Twitter & Facebook, from a Carolina fan perspective, I found the response to this trade to be 80% negative, meaning that Cane reporters & fans felt that the Canes lost this trade. Again, as someone who has never seen Gauthier play, I can't tell you who won or lost this trade. Only time will answer that.
For Carolina, who wants to compete for the Cup, they feel they need defense. I don't know if Keane can do that on a Cup contending team right now. For the Rangers, they want forward help and had too many right-handed defensemen. I can see why they made this trade.
I can't break down Gauthier's game for you, because I've never seen him play. However, the Rangers must think highly of him, because from all reports, he will be with the Rangers tomorrow night in Chicago, wearing his #12 jersey.
And yes, once I saw that Gauthier wouldn't be going to Hartford, my first reaction was – "WHAT THE HELL DOES VINNI LETTIERI HAVE TO DO TO GET A CRACK THIS SEASON?"
I assume that Gauthier will either play tomorrow, or ironically enough, against Carolina on Friday. After all, why keep him up with the Rangers if you're not going to play him?
When it comes to the Rangers lines, and assuming Tony DeAngelo is now 100% (DQ all but said this today) the Rangers have two expendable forwards to me. Those two players are Brendan Smith & Gregg McKegg. If Gauthier does play tomorrow, I would expect him to play in place of one of those two players. Gun to head, I would say scratch McKegg, since Smith is nice to have as a d-man on the PK and in the event of a d-man getting injured or receiving a game misconduct.
Speaking of McKegg, since the trade deadline is all the rage, and since I keep getting questions about my opinion on the deadline, I wanted to do some Ranger rapid-fire on this topic.
Very quickly, because after all, we have no clue what Gorton is thinking (who had Joey Keane being traded this season?) let's take a look at this Rangers roster. Of course, the following are my opinions only:
— Chris Kreider – We all know the deal. I've written about CK20 extensively on these blogs. One talking point about the Gauthier trade, is that he could be a "poor-man's" Chris Kreider, as he has the size and speed. However, if he's that great, why would Carolina bail on him so quickly? Furthermore, if size is such a big deal, why isn't anyone talking Tim Gettinger?
While I've flip-flopped on Kreider so much, I do want him to stay. However, I don't see it happening now. With all the injuries around the league and with what teams like the Devils, Kings & other franchises have gotten back in their recent trades, Jeff Gorton is holding the golden ticket here. If you look at the other recent trades that have gone down this week & knowing that some teams will be dealing from a point of weakness (Colorado and Boston) Kreider could return a package of picks, prospects and maybe an NHL ready player too.
I will say this on Kreider, if the Rangers deal him, I don't see him coming back in the off-season. It very rarely works out that way at the NHL level. Truth be told, you never really see this happen in pro sports ever, with Aroldis Chapman being the exception to the rule and not the rule itself.
---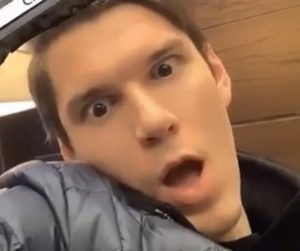 — Alexandar Georgiev – I don't see Georgiev going anywhere. I truly want and truly believe, that the Rangers re-sign him in the off-season. During this current season, Georgiev's name has been linked to two teams – the Maple Leafs & the Sharks. The Leafs already made their goalie trade, when they acquired Jake Campbell of the Kings. Today, the Sharks showed us they are in sell-off mode, as they dealt Brenden Dillon to Washington. The Sharks aren't looking to trade for a goalie now. Their season is over.
The only playoff team in the Western Conference right now, that could be looking for a goalie, are the Colorado Avalanche. That said, there are more experienced playoff goalies out there. In addition, I think the Rangers know that their future is with a Shestyorkin/Georgiev 1-2 punch. Speaking of goalies, how about our old friend?
— Henrik Lundqvist – I talked to Adrian Dater, the 25+ year beat reporter of the Colorado Avalanche. Simply put, he said that the Av's are interested in Kreider, but have no interest in Lundqvist. Plus, for the money, if the Av's were going to spend big cash on a big name goalie, they would be better off going with Carey Price for a few more extra bucks. And hey let's not forget – a Habs franchise goalie worked out for Colorado last time, when they dealt for Patrick Roy!
As much as I want Lundqvist off this team, even if he does waive, I don't see what team would want him. The only option I see is maybe Carolina, but like Colorado, they could get a better back-up goalie and for less money too. Reimer and Lehner would be better and cheaper options. I think a buy-out over the summer is Lundqvist's future and not a trade at the deadline. I hope I'm wrong on the latter!
---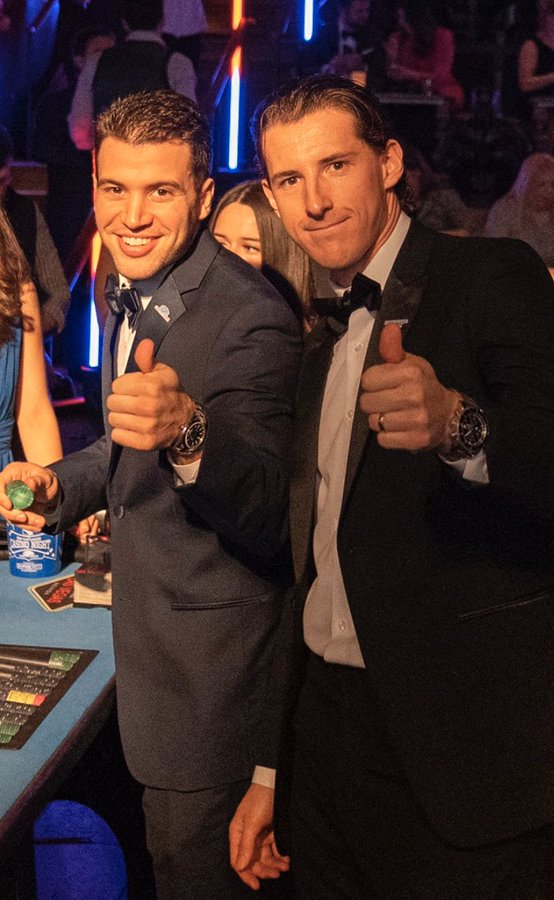 — Tony DeAngelo – As mentioned earlier, I think the Rangers re-sign TDA in the off-season. They would be stupid not to.
---
— Ryan Strome – Blah blah blah, he plays with Panarin, blah blah blah! That said, Strome is successful with Panarin. Why fix something that's not broken? Furthermore, look at the center depth on this team. You have Mika as your number 1. You have Chytil. After that, there's not much. Lias Andersson was a bust. McKegg won't be here next season. Who else do you have? If you can keep Strome for the same money he's making this season, I say re-sign him. In case you haven't noticed, he's also becoming a team leader and someone the media goes to after every game for interviews.
---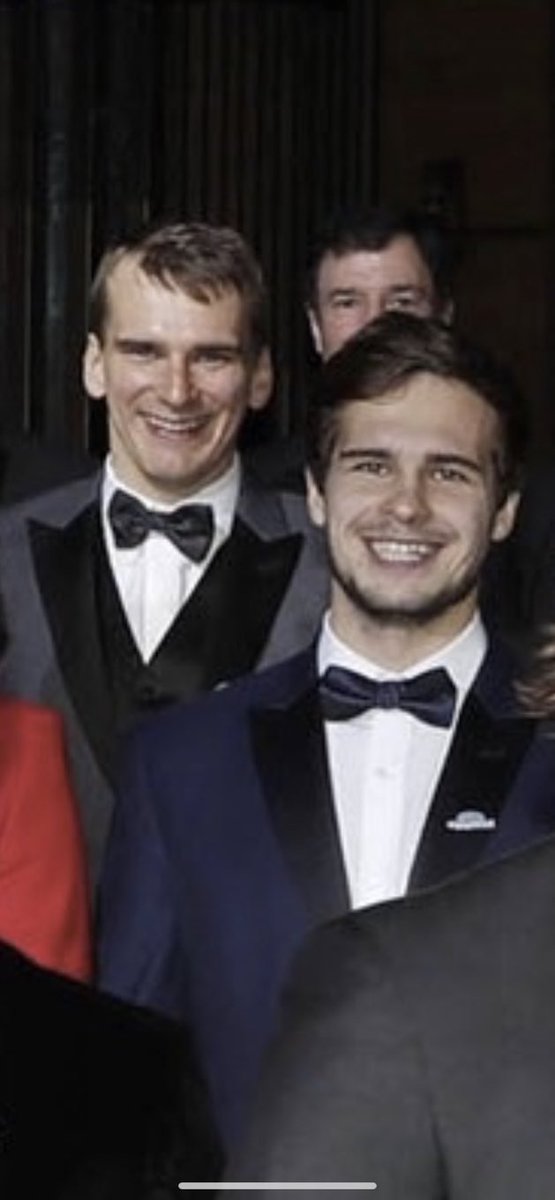 — Pavel Buchnevich – unless the Rangers are getting a blow away return, I don't see the need to move on from Buchnevich. Admittedly, Buchnevich won me over big time, after that hit he put on Marchand on Sunday! That said, while Buchnevich may need a kick in the pants once a week, he's still young and he's showing signs of progression. For as mopey and dopey as he is at times, I don't think we've seen him at his peak or in his prime yet. If you can keep him at $3M-$3.5M a year, I say do it. If you take anything out of this, it is this – I don't think there is a sense of urgency to move him, as there is with the next name on this list.
---
— Brady Skjei – TRADE, TRADE, TRADE BRADY SKJEI! I already talked about this in this blog and I have talked a lot about moving on from Skjei in past blogs. The Rangers need to create cap room, have enough left-handed d-men and you can only get stronger by ridding yourself of your weakest link.
---
— Jesper Fast – Fast will be relatively easy and cheap for the Rangers to re-sign. That said, if Fast hit the free agency market tomorrow, I think all 30 NHL teams would talk to his agent. As long as Fast doesn't want crazy money or a 6-7 year deal, I think the Rangers retain him. It would be the wise move. There's a reason why he wins the player's player of the year award every season. Fast will never be flashy, but he's a good component for a playoff team.
---
Greg McKegg – like Micheal Haley, there's no reason to keep him here. Unfortunately for Haley, he's out for the rest of the season. McKegg still has a chance at playing for a Cup contending team. While McKegg might become a "black ace" for a playoff team, he could also provide fourth line depth or be an insurance policy in case someone gets hurt. There's no reason for the Rangers to finish this season with McKegg on the roster, so they might as well get something back.
---
Brendan Smith – while we all know how Smith's contract has been bad, would it really be that bad for a playoff team, with some cap room? Smith is having a solid season this year. He has been a team player, bounced up-and-down the line-up and unlike past years, has had a great attitude. He would be a great depth player for any playoff team. If I was a GM of a playoff team, I would rather Smith than Skjei.
---
Lias Andersson – last but not least, when it comes to players who the Rangers could say toodles to, I'm hoping Anderson gets dealt at the deadline. I'm sick of talking about him. Be gone, be ridden and see ya.
---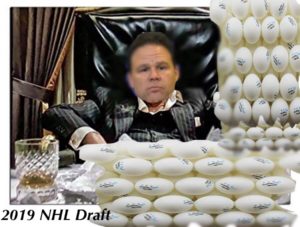 Lastly, on the topic of the trade deadline. I can't wait for it to be all over. If you're a social media user, all over social media you have 367463733 people talking about 83674634774 different rumors. Then you have the 37837893474733784 fake twitter accounts, accounts that pretend to be teams or prominent Canadian reporters, like a Darren Dreger or a Bob McKenzie. Check for those blue check-marks folks!
Let today be an example of how at the end of the day, no one knows what any of these NHL GM's will do. Not one person had Joey Keane, as the first Ranger domino to fall, of this trade deadline season!
Moving along.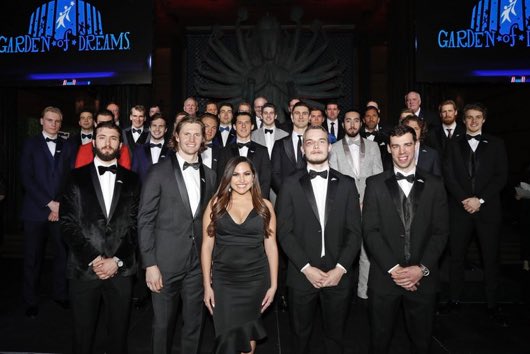 Last night, the Rangers held their annual casino night for the super elite, where fans had to pay $650 to walk into the door, so they could have the right to take a picture with Greg McKegg. By all accounts, the night was successful, as the Rangers raised money for the Garden of Dreams charity.
To me, the only newsworthy thing to come out of this night, was this picture above. If you believe in the old adage of "a picture can tell a thousand words", this picture is it.
Take a deep look at this picture and zoom in on the various Rangers.
For starters, you got Ryan Lindgren, whose #55 jersey I expect fans to start wearing at M$G in the upcoming weeks, standing front and center. Three rows back, you have the longest tenured Rangers, in Lundqvist & Staal. That's a first.
If you go around this picture, you see Kaapo Kakko, standing beside his driver, in Brendan Smith. Right next to them, you have Igor Shestyorkin and Pavel Buchnevich, just beaming from ear-to-ear. Pavel Buchnevich!
And how about Alexandar Georgiev, who looks like he's posing for a jail-house mug shot?
It's also funny how dated this picture may be in a year or two from now. After all, how about Casino Night from 2014, the season the Rangers made the Stanley Cup Final in:
Six years later, only Chris Kreider, Henrik Lundqvist, Marc Staal & Jesper Fast remain from that 2014 Stanley Cup team. How many of these guys will be here for Casino Night in 2021?
As the Rangers approach these next three games before the deadline, in Chicago, Carolina and at home against San Jose respectively, the Rangers are hosting their annual mom's trip.
Talk about impeccable timing! This trip is being held during one of the most stressful times of the season, with the trade deadline just days away.
I mean, just imagine being Kreider's mother right now: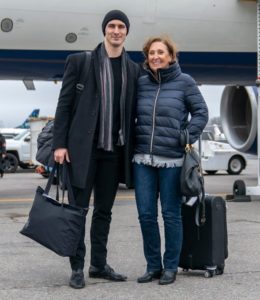 I'm not really going to breakdown and dissect the mother's road-trip here. All I'll say, it's gotta be nerve-wracking for people like Mrs. Kreider & the other mom's, in regards to the future of their sons. I mean, let's say the Rangers don't re-sign Kreider, which seems to be likely. That could mean that Kreider doesn't play on Friday & Saturday, as the Rangers "bubble-wrap" Kreider as an insurance measure. I mean, call this bad timing or what, but even at "Casino Night", Kreider didn't seem to be smiley: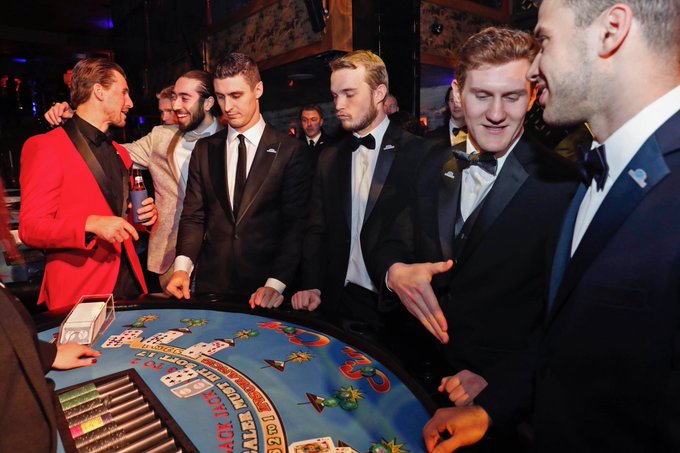 In the future, for the sake of the parents, it might be easier if these trips were held earlier in the season!
Almost home here!
I was going to fully recap all the Tony DeAngelo vs Twitter Cretin stuff from last night, but I think those stories are getting redundant. In short, if you are going to talk shit about DeAngelo on social media, expect to be blasted for it:
I see my name coming out of this guys mouth every other day. I think he has a little too much time on his hands! Tom keep hiding behind that computer my friend! #DeAngeloDerangementSyndrome https://t.co/vOO9rUl56f

— Tony DeAngelo (@TonyDee07) February 18, 2020
Of course, when you defend DeAngelo to these basement bungholes, your response is always met with this: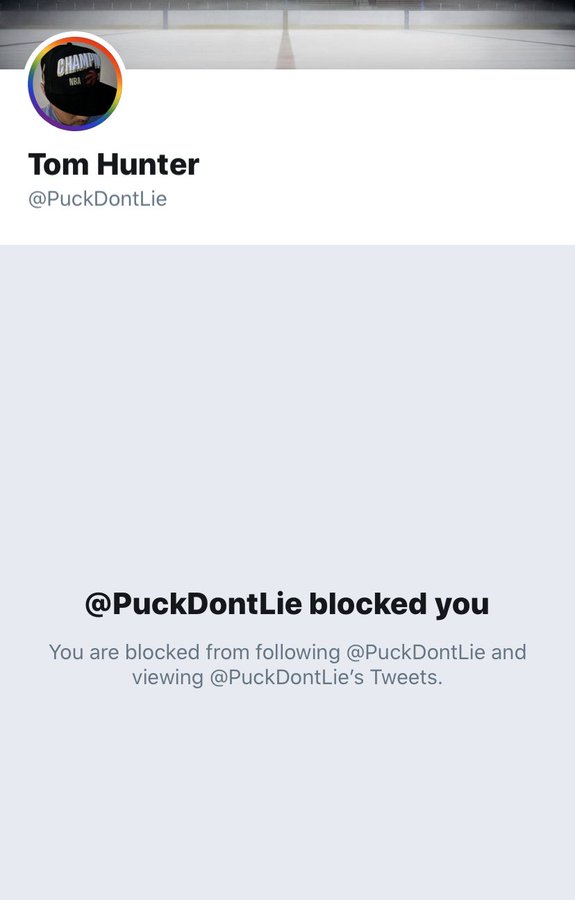 It's just amazing, how some people can give it, but can't take it. It's okay for Mr. Hunter to disparage, libel, slander, bury and talk all sorts of shit about DeAngelo, but if you defend the good name of Tony DeAngelo to this snowflake, you get a "block" for your efforts. Damn snowflakes!
In my last blog, I talked about how DeAngelo defended and spoke up for Ryan Lindgren, in response to Marchand's comments about Lindgren.
Here's Lindgren on Marchand today:
"He's a competitive guy, I'm a competitive guy. We're competing against each other. I like to just leave it out on the ice. I'm not a guy who's going to talk about it after. That's what he wants to do, go ahead. He's got a reputation in this league for – it is what it is… He said what he said & that's fine. I've got a little more integrity. Just going to keep quiet & let him do the talking."

Lindgren also added:
"He is a good player and I like playing against top players. I try to be physical on guys. Obviously, he didn't like it. But that just means I'm doing my job."
My take on all of this? The fact that Marchand is spending time talking about Lindgren speaks volumes. If Lindgren was a nobody, as Marchand trolled/suggested, he wouldn't be wasting his time talking about him.
One last thing!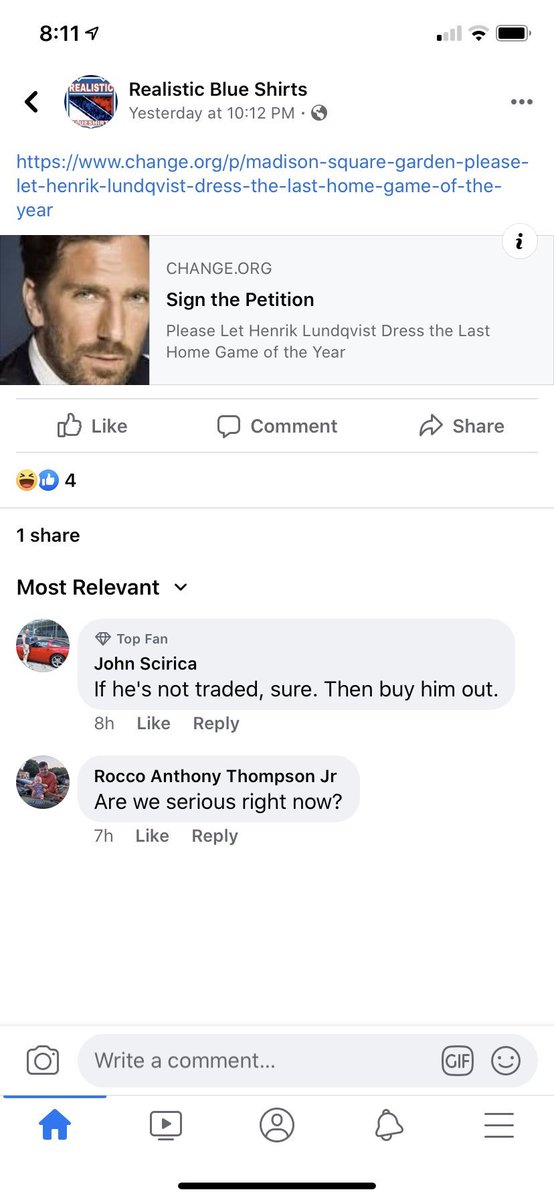 Yep folks, people are actually running a petition to get Lundqvist to play in the last home game of the season! That's where we are at. Somehow, I don't see myself signing this petition!
Finally, the Rangers will be in Chicago on Wednesday night. While the Rangers practiced today, there isn't much news to report, outside of DeAngelo being likely to return to the line-up. That means we didn't get a peep about the starting goaltender for this game. However, if Igor Shestyorkin is able to go, expect Igor to go.
I'll be back tomorrow night, recapping this Original 6 match-up.
Until next time, don't believe all these TRADE RUMORZ, until you see them reported by a Canadian reporter. Oh, and once again, a Rangers trade was broken by a Canadian reporter today. Not one NYR beat reporter even had an inkling of Keane being traded today.
See ya tomorrow. As always, thanks for reading and…
"LET'S GO RANGERS!"
Sean McCaffrey
BULLSMC@aol.com
@NYCTHEMIC on twitter