Greetings and salutations everyone and welcome to another blog here on BlueCollarBlueShirts.com. WHAT A WIN!
As will be the case as long as the Rangers are alive for the playoffs, each victory during this period of time will be considered the biggest win of the season. However, a win like the Rangers 5-2 victory over Carolina tonight is bigger than your average victory, as this was a "four-point" win for the Rangers. With the win tonight, the Rangers creep up in the standings. When you look at the games remaining on the schedule, the Rangers control their own destiny. I'll get more into that at the end of tonight's manifesto.
While I'm sure many of you share the same feeling of elation that I'm experiencing right now, I don't think I've been more excited about this team since the 2017 playoff series win over Montreal. It's been a roller-coaster of a season, here during this 2019-2020 season, and really, the most exciting season since the 2014-2015 run.
While the Rangers won't win the Presidents' Trophy this year or be the odd-on favorite to win the Stanley Cup Final, like they were in 2015, should they qualify for the playoffs, you never know what will happen. After all, look at CBJ vs Tampa last year. Hell, who had St. Louis winning the Cup last year? While I'm not saying the Rangers will win the Stanley Cup (although I'm rooting for that) all I'm saying here, is that right now, in this moment of time, the Rangers are very exciting and giving us hope for a playoff run.
For the first time since the "letter" of February 2018, you can see the light at the end of the tunnel. You can see the new core emerging. While it remains to be seen what the Rangers do at the trade deadline, even if they do move Chris Kreider (more on him as we continue) you can see this new nucleus forming, around guys like Panarin, Zibanejad, DeAngelo, Fox, Lindgren, Chytil and Strome. And let's not forget about Kaapo Kakko, who has all the makings of being a special player one day.
I'll get more into these idiotic and moronic fans that want to see the Rangers lose/tank, for the right to get an unknown draft pick. For me, as I've been saying all season, I hope the Rangers make the playoffs. To me, with the way this team is playing and with all the youth on this roster, who knows, maybe they can be like the young 2017 New York Yankees? Plus, unlike those Yankees, the Rangers won't have to worry about trash cans either, especially with Henrik Lundqvist now relegated to the press box!
Yes, you read that right, Henrik Lundqvist was in the press box tonight, for the first time in his career! And yes, I'll get into that, with full details, as we move along here!
There are tons of pregame news & notes to get into. However, as usual, here are my last few blogs, in case you missed them:
---
---
---
---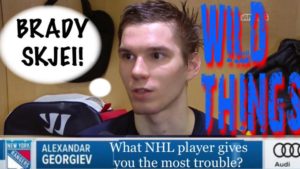 ---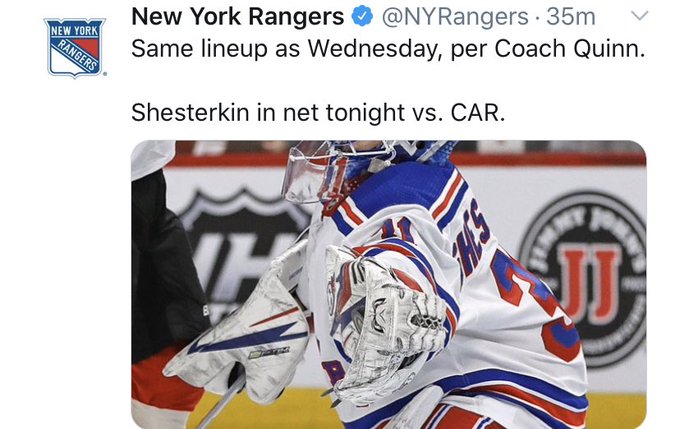 Where to start, where to start, where to start?
I guess off puck drop here, it is easy to start with the news that the Rangers announced at 11:30AM Friday morning, nearly 8 hours before game time.
As David Quinn usually does after big wins, David Quinn used the same line-up tonight as he did in the win over Chicago. However, there was one change, as I'll get into below, and that was the back-up goalie.
Ever since Igor Shestyorkin was first called up, creating this three-goalie system, David Quinn has held the news of his starting goalie, close to his vest. In fact, until today, Quinn usually waits until 90 minutes before game time, to announce his starting goalie.
As I talked about last blog, if there ever was a start for Henrik Lundqvist to make, it was this game with Carolina. After all, Lundqvist is 3-0 against Carolina this year and averaged 40+ saves in those three wins. In addition, during the course of his career, Lundqvist has insane numbers against Carolina. That said, Quinn wasn't fooling around, nor was he going to let the talk of who would be in net marinate all day. Before practice even started today, David Quinn announced Igor Shestyorkin as his starting goaltender.
According to Quinn, and as predicted by everyone with a brain, Igor Shestyorkin had to start tonight. He's the hot hand. He's the number one goalie. Plus, how could you ignore these stats: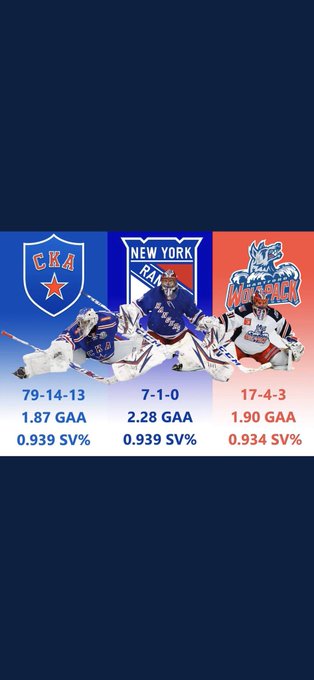 Regardless of Lundqvist's past history with Carolina, as Quinn previously said, he's going with the goalie that gives the team the best chance to win. On February 21st, 2020, Igor Shestyorkin is that guy. With this game being the biggest game of the schedule, up to this point in time, it was a no-brainer to go with Igor tonight. In what's becoming the norm, Igor rewarded DQ once again tonight, as Igor won his 8th game of the season. And really, one goal the other way in Igor's one loss to Columbus; Igor could've been sitting on a 9-0 record right now.
Line-up wise, as mentioned previously, everything stayed the same. Check my last blog for the line-up.
After the Rangers practice on Friday morning, David Quinn met with the media again, where he said the following:
David Quinn says the Rangers won't be sitting anyone ahead of the deadline:

"We're trying to win a game and make the playoffs…there's a good feeling in our room" pic.twitter.com/s6YuMMmTRW

— Rangers Videos (@SNYRangers) February 21, 2020
Same 🤣 pic.twitter.com/feEvnCHiF6

— Rangers Videos (@SNYRangers) February 21, 2020
After looking down-and-out and depressed there for a bit, especially after the Xmas Eve Eve loss to the Flyers & the three consecutive losses on the Western Canada road-trip, David Quinn has pepped up again and has as much energy as the Energizer Bunny. He's also cracking jokes, as if he's politicking for his own one-hour stand-up comedy special on Netflix.
Despite the trade deadline several days away, DQ, while not using these words exactly, said no one was being bubble-wrapped. Everyone is playing. Whatever happens at the deadline happens. However, for right now, the Rangers are about trying to win games and DQ is going to use the best line-up and goaltender possible.
As you can also see above, David Quinn was looking forward to a post-game victory beer tonight. He would later tell the media that he had one of those beers in the locker room after the game and was looking forward to a few more. I knew I liked DQ!
If there was ever a person to beat a drum for David Quinn or take a bullet (or maybe a Coors Light Silver Bullet) for David Quinn right now, it's yours truly! Not only is DQ talking about slamming beers, as if he's me during every one of these freaking games, DQ had the balls to bench Lundqvist today. And yes, I'm promoting my thoughts on this benching, as I'll get into that in a few segments!
Remember how earlier this season, I wrote two long-ass blogs, in defense of David Quinn and burying the mooks who screamed "FIRE DQ" from the roof-tops? How about this news, courtesy of @NYRStatsInfo:
#NYR rankings in the NHL since Jan. 7:

T-3rd in wins (12), T-2nd in regulation wins (11), T-4th in points (24) and point% (.667), T-4th in goals per game (3.39), T-5th in goals against per game (2.56), 1st in PP% (34.0), and 8th in PK% (83.7).

— NYR Stats & Info (@NYRStatsInfo) February 20, 2020
Yeah, "Fire Quinn". Morons. David Quinn currently has the youngest team in the league four points away from a playoff spot and playing their best hockey, right now, at the right time of the season.
If you go back in the archives of this site, in my Rangers season preview blog, I said the biggest thing that mattered to me was this – "All I want is for the Rangers to be significantly better in February, March & April than they are in October, November and December." Ever since the calendar flipped years, we've seen just that, with a large part of it being due to this guy:
Let's switch gears a second, as we take a look at the latest trade deadline news. As mentioned 67679667955485955485 times on these blogs, all the real big Rangers news is broken out of Canada. That said, that still doesn't stop Larry Brooks, of the NY Post, from pumping out click-bait every day.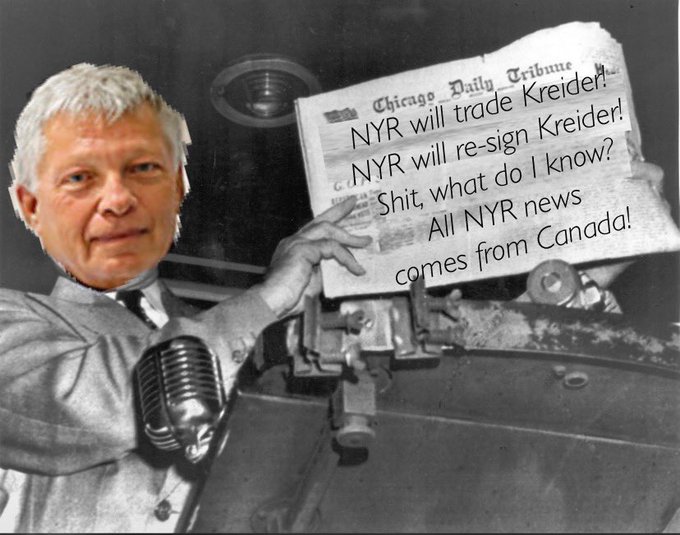 On Friday afternoon, Larry Brooks, who for all my pot-shots here, is still the number 1 messenger pigeon of the NY Rangers, tweeted out the following: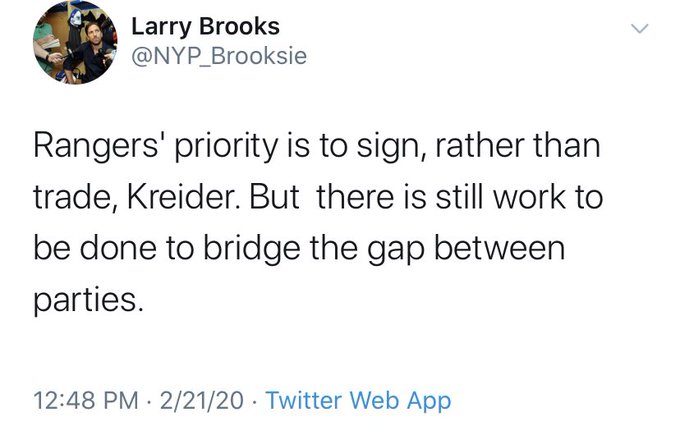 When it comes to Kreider's status, nothing has changed. Reportedly, Colorado and Boston are still interested and are the front-runners, if a trade should happen. Behind those two teams, are teams like Washington, Pittsburgh, St. Louis and the Islanders. However, even if the Rangers do trade CK20, I don't think there is a shot in hell the Rangers trade him to the orphans of Nassau County. With three games left to play against Pittsburgh, I can't see the Rangers sending CK20 there either. Just like NYI & Pitt, if a CK20 trade does happen, I can't see the Rangers sending Kreider to a divisional rival, in Washington, either.
For all my flip-flopping on Kreider during the last two years (I openly admit that I've never had a strong opinion on this topic and see both sides of the argument. That said, I hope the Rangers keep him) it's nice to see Larry put out there that the Rangers are negotiating with Kreider. After all, it's the Rangers themselves feeding Larry that information. Furthermore, the Rangers played Kreider tonight, so if they were worried about a trade, they ran the risk of Kreider getting hurt tonight, thus negating a potential trade.
Ryan Strome said it best after the win over Chicago. "We want to make it tough for the general manager." With a win tomorrow, the Rangers could potentially be two points away from a playoff spot. How do you strip Kreider from this team now, especially a team that owner James Dolan wants to see playoff games from?
Let's face it. When you look at the M$G teams, the Knicks are Father Finkin' awful and are complete bottom of the worn out dumpster trash. Their games smell like sewage. They will never make the playoffs. In this century, the Rangers, not the Knicks, have been the M$G perennial playoff team. It's the Rangers who have the shot at the playoffs. Playoff games means more money for Dolan. It also means that Dolan can raise season ticket prices next year, should the Rangers qualify for the tournament.
Think about the economics here. If you are to overpay Chris Kreider a bit, wouldn't you recoup those costs in playoff games and raised ticket prices for next season? Furthermore, this isn't a Lundqvist situation. The teams that win Cups have high-priced forwards. They don't have high-priced goalies. Furthermore, if you think you can win the Cup within five years, isn't it worth the risk of paying Kreider now, even if the last year or two of his contract would suck? I'll take the Cup and be happy with that.
And lastly, if you are one of these morons who want to tank and strip Kreider from this team, thus lessening the playoff chances of the team NOW, for a gamble in the future, what does that tell the rest of the team? And seriously, say the Rangers are a playoff team next year or the year after that. What do you think they will be doing during those deadlines? They will be trying to find someone to fill Kreider's role and they will most likely take a bad contract to do so.
NEXT.
On Thursday afternoon, Ron Duguay & his producer Jake Brown released the latest episode of "Up in the Blueseats". You can listen to the episode here:
— Ron Duguay (@RonDuguay10) February 20, 2020
On the podcast, Duguay interviewed former Ranger Bernie Nicholls. A big topic of conversation was Wayne Gretzky, who both players played with. However, in the case of Nicholls, he was actually on the same line as Gretzky.
In what's the norm on the podcast, Duguay opened up again with one of his personal stories, talking about his time meeting legendary actor Jack Nicholson. You have to hear the story for yourself, but Duguay's time with the man known as JACK, does feature a "Here's Johnny!" story.
In the news section of the podcast, before interviewing Larry Brooks, Ron & Jake bantered about the Rangers & their future. Duguay said the team needed to get rid of some bad contracts. Duguay didn't name names. However, when pressed by Jake Brown, Ron Duguay eventually named names, saying it was time to move on from Henrik Lundqvist, Marc Staal & Brendan Smith.
In what was interesting, in regards to this game tonight, Larry Brooks brought up all the stuff I shared with you on Lundqvist and his history vs Carolina. However, Larry was like me – he felt Igor was going to start tonight. Obviously, this news didn't well with the Cult of Lundswiss, as I'll get into.
Give Duguay's podcast a listen. It's really entertaining and has something for everyone.
And now, let's talk about your favorite topic, in Henrik Lundswiss.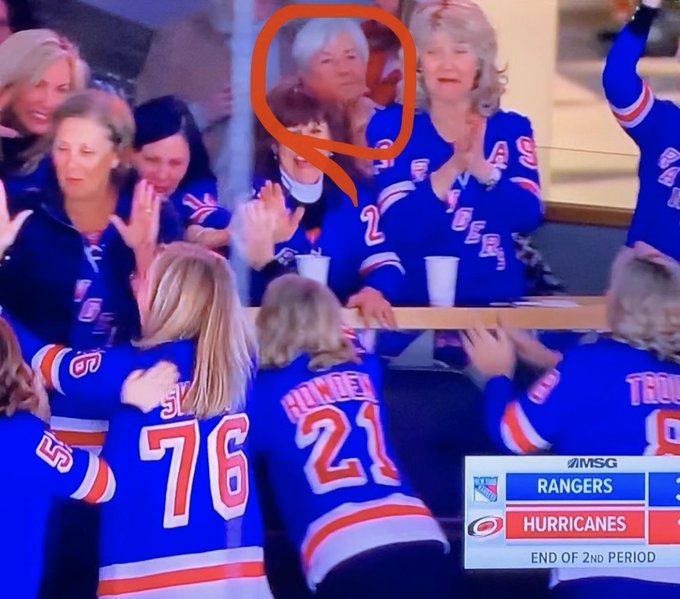 Let's take a look at the tank nutjobs and Cult of Lundswiss fans, shall we? Here are a few tweets that were forwarded to me today: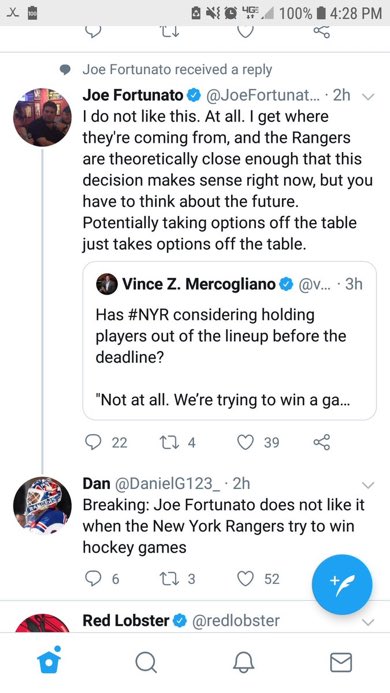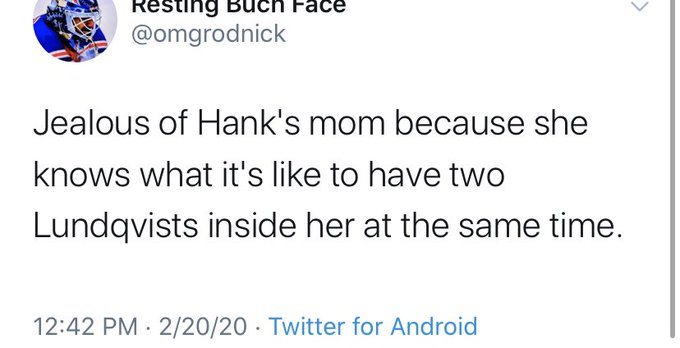 To paraphrase an old wrestling great and one of Cam Connor's best friends, in "Rowdy" Roddy Piper, whenever the NYR beat reporters think they have all the answers, David Quinn changes the questions.
The NYR beat reporters, and Ranger fans for that matter too, all thought they knew everything about this line-up at 11:30AM. However, thirty minutes before puck drop, David Quinn dropped a bombshell, as Henrik Lundqvist was sent to the press box for this game. For the first time all season, we had the Igor Shestyorkin/Alexandar Georgiev tandem dressed for this game.
Of course, David Quinn and the Rangers can't flat out say – "Lundqvist stinks, he gives us the least chance to win, his time is up and we're moving on."
Instead, the Rangers told the NYR beat reporters this, as the Rangers were warming up prior to tonight's game:
"Lundqvist stayed late for extra work at the morning skate, since the team hasn't been practicing a lot lately. DQ and Lundqvist talked, and THEY decided to use Georgiev as the back-up, since Lundqvist had a heavy work day."
Talk about a spin job! However, you're at BlueCollarBlueShirts.com and you'll only get this here:

How can anyone read that above quote and take it for face value? Put it this way, in the 100+ years of the NHL (and I know it was a one-goalie league until the 1960's) when have you ever seen a coach say something like this about a back-up goalie, much less a third-string goalie?
IT IS THE JOB OF THE BACK-UP GOALIE TO TAKE A BEATING IN PRACTICE! THAT IS WHY THEY ARE THE BACK-UP GOALIE!
To me, what the Rangers told the beat writers was their verbal version of polishing a turd. It's like the Catholic Church or Boy Scouts saying after a lawsuit, that they were trying to teach little boys about sex & trying to enrich their sexuality.
Sorry sweet Charlie, the truth of the matter is that the Rangers know Lundqvist's time has passed. They are just doing lip-service here and trying to handle this situation with some grace.
David Quinn, who as mentioned in recent blogs, is the face of this phasing out Lundqvist period. During all of this, we still haven't heard from Gorton or JD on this issue. This is all David Quinn here, who will get all the credit or take all the blame. And let's face it – had the Rangers lost tonight or had Igor had a bad game, the Cult of Lundswiss would be up-in-arms right now. Instead, DQ coached a great game, the Rangers played well and Igor once again did his magic. As a result, all Lundqvist can do is pout like a scolded dog.
There were several messages sent out by the Rangers tonight. If there was any game Lundqvist would ever start this year, it was this one with Carolina, based on his history. Not only did Lundqvist not start this game, he wasn't even dressed for it. That speaks volumes. Lundqvist hasn't played since getting blown out by Dallas several weeks back, so the silly notion of him being over-worked is just a poor excuse.
To me, if Lundqvist isn't dealt by the deadline and the Rangers are involved in the playoffs, you won't see Lundqvist again for the rest of the season. I think that the only way you'll see this loser again, is if & when the Rangers are officially eliminated from playoff contention. However, if the Rangers are still involved in the playoff hunt, come Game 82, I don't think you'll see Lundqvist again.
And to look a tad further ahead here, in the event the Rangers make the playoffs, I don't even think the Rangers would carry Lundqvist on the playoff roster. How could you bench Georgiev? And for these brain-dead drooling Cult of Lundswiss slow bus riders, were any of you people clamoring for Kevin Weekes to return, when Lundqvist was a rookie and tearing it up?
To be a shit-stirrer here, imagine if the Rangers, somehow, someway, won the Stanley Cup this year? In an ironic twist, it could be the future of the Rangers, in Igor Shestyorkin, helping Lundqvist get that Cup on his resume. Say it with me – "ISN'T THAT AMAZING SUZYN!"
I'm telling you, it's only a matter of time before Lundqvist is a goner, and I can be "Free at last, free at last, good god almighty, free at last" of ever having to talk about this guy ever again!
Moving along.
GAMBLING segment time. Here's what I said before the game:
Season over-under record 28-28-3

This line tonight you can get for -6 or -6.5. Igor in net and usually, these two teams play low scoring games. Shop around, get the -6.5 line and take the UNDER.

Best bet is #NYR +1.5, as these games are usually tight. #playlikeanewyorker pic.twitter.com/R6xR8KvrDm

— BlueCollarBlueShirts (@NYCTheMiC) February 21, 2020
A swing and a miss, as with a 5-2 score, this game goes over. Those damn empty net goals are a killer! My record goes to a season low of one game under .500, at 28-29-3. But hey, at least I got the best bet right.
Minga – 4000 words in and I haven't even talked about this game yet. Thankfully, the Rangers play tomorrow night and there shouldn't be as much news to recap!
Box score time.
As usual, the following information comes from ESPN.com:
SCORING SUMMARY: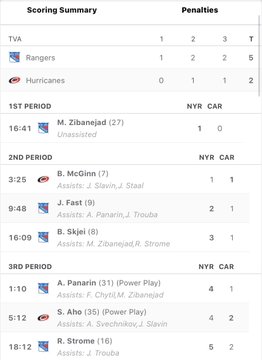 PENALTIES: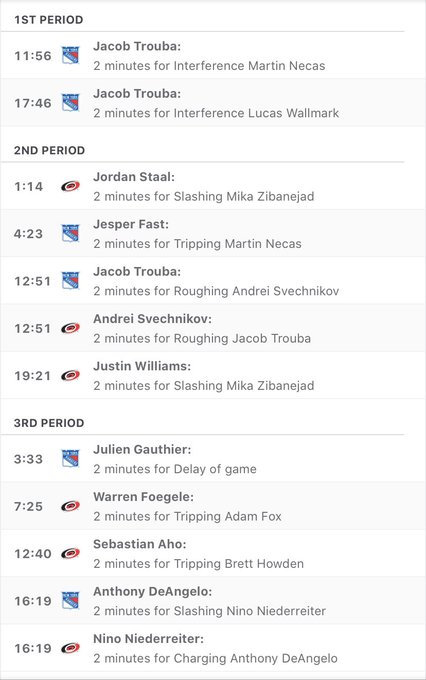 TEAM STATS: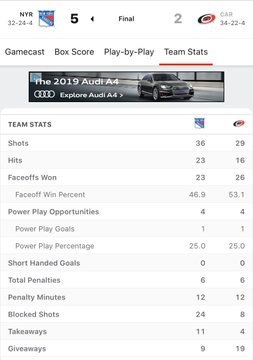 GOALIES:
| | | | | | | | | | | |
| --- | --- | --- | --- | --- | --- | --- | --- | --- | --- | --- |
| SA | GA | SV | SV% | ESSV | PPSV | SHSV | SOSA | SOS | TOI | PIM |
| 35 | 4 | 31 | .886 | 23 | 1 | 7 | 0 | 0 | 58:25 | 0 |
| | | | | | | | | | | |
| --- | --- | --- | --- | --- | --- | --- | --- | --- | --- | --- |
| SA | GA | SV | SV% | ESSV | PPSV | SHSV | SOSA | SOS | TOI | PIM |
| 29 | 2 | 27 | .931 | 18 | 1 | 8 | 0 | 0 | 60:00 | 0 |
The MSG Networks pregame show tonight was absolutely useless and terrible. Guess what wasn't mentioned on the broadcast? Lundqvist being benched! You can bet your bottom dollar that NBC would've mentioned that news item. Furthermore, making the broadcast look really terrible, were that the line-ups for this game weren't announced either. Seriously, who runs this shit?
For 30 minutes, all you had was Vally yammering on about absolutely nothing. They then showed us clips from the Mom's Trip. That's cool I guess, but wouldn't it be nice to talk about the Lundqvist story and you know, the line-up for the game? I guess Vally finger-blasting himself with a can of Bud Light Seltzer is more important.
If there was anything of note on the pregame show, it was when Vally was talking about a "soft dump", which is a polite way to sum up his NHL career.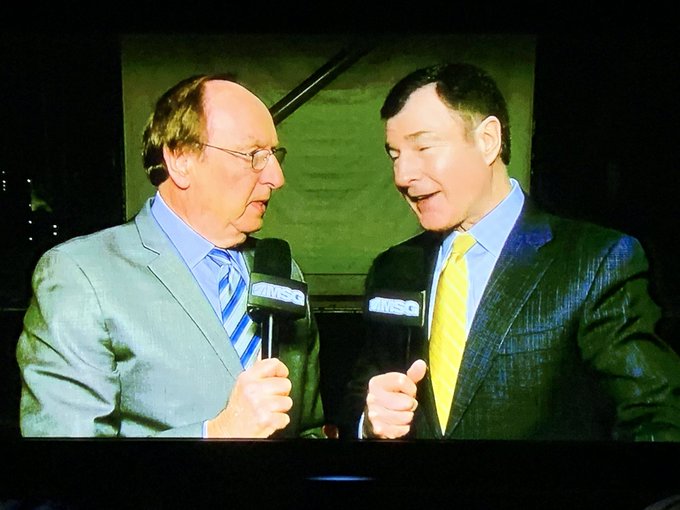 During the Sam & Joe pregame spot, they interviewed Tammy Fox & Gina DeAngelo. If you can't figure out who their sons are, you must be as dumb as a Cult of Lundswiss member. Neither woman said anything of interest, outside of talking about how great the Rangers organization has been during this trip. Give the Rangers kudos here. Stuff like this is why everyone wants to play here and why not one free agent chooses the Islanders over the Rangers. The Rangers do everything first class and spare no expense, while doing things or events like this.
Right before puck drop, for the first time on the broadcast, we were told that Petr Mrazek was the goalie for the Canes tonight. We were never told the four lines and pairings. But hey, Bud Light Seltzer Joe!
Of note, unlike the previous few games, Lindgren & Fox were the opening pair on the ice. DQ wasn't chancing anything with Skjei and Trouba here! And let's talk about Skjei & Trouba for a second. Skjei couldn't stay upright all game, falling down something like 5 times, even on a play where he scored a goal in this game. To be fair, lots of guys were falling down, so maybe we had bad ice in Carolina tonight. Jacob Trouba, who I've defended all season, had one of his worst games of the year tonight.
Oh, and for those who like the Joe Micheletti "Fabulous" Meter, Micheletti said the word "fabulous" 9 times tonight.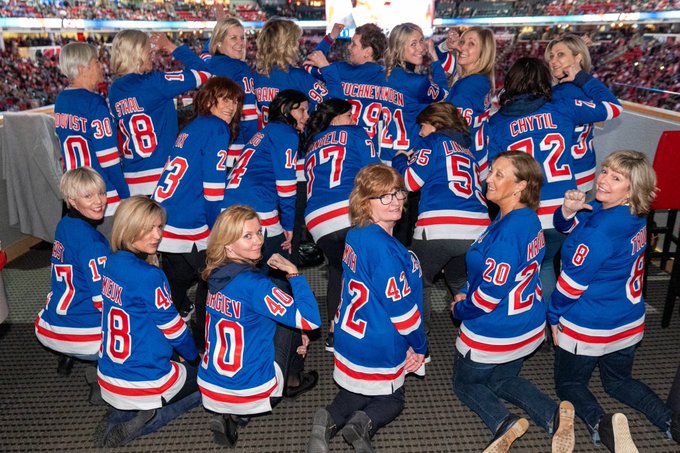 I don't know how much more I can rave about Adam Fox and Ryan Lindgren.  You notice them right away, even from the start of this game. As Micheletti would later say on the broadcast, you forget sometimes that these two are rookies. They look like a seasoned pair out there. It's like watching the Girardi/McDonagh pairing in their prime again.
Another person who I haven't been able to stop raving about, obviously, is CZAR IGOR. As a goalie, he does so many little things. Throughout this game, not only was he stopping pucks, but he was clearing pucks, kicking pucks straight to his defensemen and able to create offense for the Rangers. What more can I say about this guy?
Ever since he learned how to smile, Pavel Buchnevich has really come on. While the goals are nice, what I've also noticed is that he's not afraid of contact anymore. From destroying Marchand on Sunday, if you tracked Buchnevich in this game, you saw him getting to the dirty areas, grinding and not shying away from contact. He was playing a big dick style, which is probably why he pulled a Kevin Shattenkirk during the first intermission: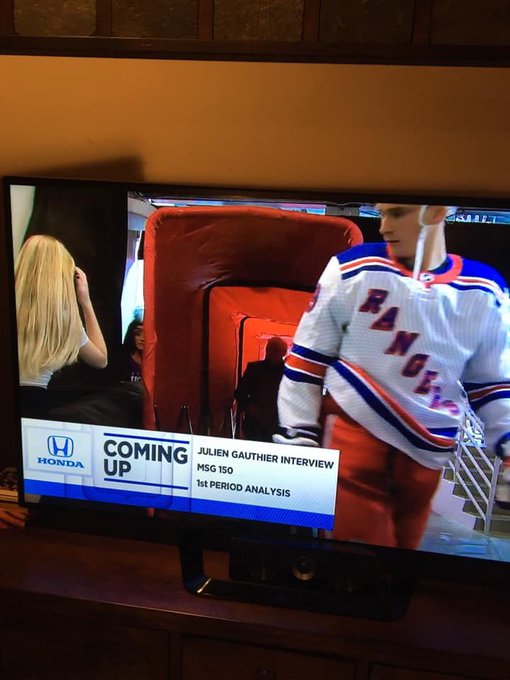 While the Rangers would eventually make up the difference, early on in this game, the Rangers were getting killed at the dot. In the first Rangers offensive zone face-off of the game, Carolina won the draw and two seconds later, were right in front of Igor.
New Ranger, the former Hurricane, in Julien Gauthier, obviously wanted a big performance tonight. While he wouldn't score, you saw him breaking his hole out there. Howden almost set-up Gauthier for a goal, early in this first period, but the pass just missed. After this tape-to-tape miscommunication, Carolina went the other way, where Igor made a save on a Carolina two-on-one breakaway. Of the three Ranger goalies, Igor handles these odd-man rushes the best of the three.
The Rangers didn't get much offense early. In fact, Ryan Strome would toss a "are you still awake?" shot at Mrazek, which Mrazek easily stopped. After this and a TV timeout, out of the break, Mika would soar to the net, only for TVR to break up the shot attempt. Then, on the next Rangers attack, Mika would drive again and would get tackled down by Jordan Staal. No call. Right after this, on the next Carolina rush, Jacob Trouba would be called for interference at the 11:56 mark. I don't know about that. You either call everything or call nothing. How do you allow Mika to be molested, as if he's a young kid at the Neverland Ranch, then call a ticky-tack interference call on Trouba?
This Carolina PP would be the CZAR IGOR show, as made three quick saves in succession, including stopping two rebound attempts from the returned-to-Carolina Justin Williams. (If you recall, and you can check the archives of this blog, he's the player I wanted in the 2015 off-season. I wanted Lundqvist gone then and wanted the Rangers to sign Justin Williams, who has been a stud for both Washington and Carolina, in the time since.)
It wouldn't be until there were 45 seconds remaining in the Carolina PP, where the Rangers would get their first clear, courtesy of Ryan Lindgren.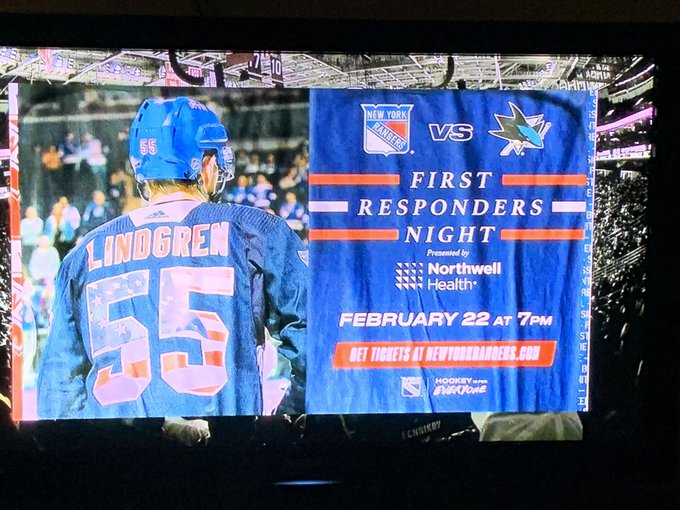 The Rangers would eventually kill this Carolina PP, with Igor making five saves. Right after this, Igor would gobble up a shot from Jordan Staal.
In a back-and-forth period, Mika Zibanejad would kick off the scoring, with under four minutes to go in the first period:
1 period down, 1 goal in. All @NYRangers right now! #LGR #PlayLikeANewYorker pic.twitter.com/pckkPZyd0x

— Rangers on MSG (@RangersMSGN) February 22, 2020
1-0, GOOD GUYS!
On the goal, Jordan Staal turns over the puck, Mika streaks to the net, gets to Mrazek and backhands the puck by him. What an individual effort, from the man many fans want to see be the next captain of NYR. This was a huge goal here, obviously, as the Rangers took advantage of a Carolina miscue.
I forget who said it on Twitter first, but how many times in the past, have we seen guys, such as Rick Nash or Zuccarello, fail on these chances? I don't have the exact number, but I would venture to say that Mika has a 75% or higher success rate on these chances. He's been burying these types of puck all season long.
About a minute after Mika's goal, Trouba was boxed for interference again. This time, this penalty was clear as day. Horrible penalty for Trouba to take too.
Thankfully, the Rangers PK was much better here, limiting Carolina to no shots on goal on their PP. The Rangers PK was now 2-2 here. And for all the Lindy Ruff haters, the Rangers PK has been absolutely dominating of late.
With the Trouba penalty killed, the clock got down to triple 0. After one period, Rangers 1, Canes 0. Shots on goal were 11-10, in favor of the home team. And of note, of the 11 Carolina shots, I would say only three of those shots, were "elementary" saves for Igor.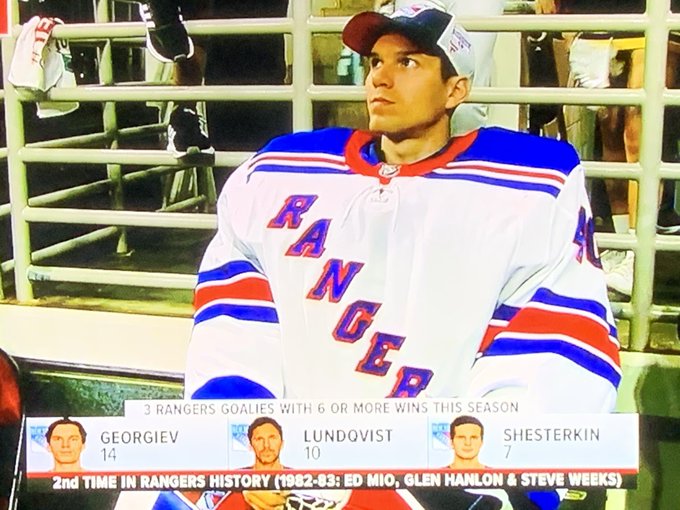 As mentioned, this is the point of the broadcast where the Rangers were checking out tail. Here's Tony D: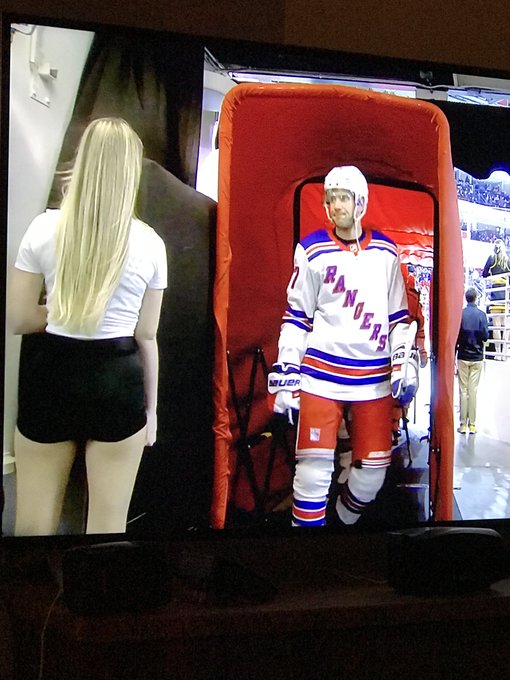 After our usual "Second period, what do you look for here Joe?" spiel from Sam Rosen, Igor immediately made a save, kicked the puck to Adam Fox and Fox was able to push the puck up ice. The little things man.
1:14 into the period, Jordan Staal was finally called for a penalty, after slashing Zibanejad. This Rangers PP wasn't really that great, with the best chance being a Kreider tip-in attempt, which was denied by Mrazek.
Making matters worse, is that immediately after the Rangers PP expired, Jordan Staal got out of the box. He would find Brock McGinn, and McGinn roofed a puck past Shestyorkin. 1-1.
On the goal, Micheletti was blaming Kakko for not shooting the puck, late into the power-play. However, to me, this was more on Trouba, as he was just standing there and watching. Plus, the puck may have gone off of him too. We never got a full replay here to see if that's what happened. In any event, while not a true jack-in-the-box goal here, Carolina got the same result, as if it were one.
With the game now 1-1, things looked hairy, as Jesper Fast was boxed for tripping a minute after McGinn's goal. Just like the game with Chicago, Howden had trouble clearing the puck here. Fortunately though, the Rangers would kill this Carolina PP, thus going 3-3 on the PK up to this point in the game.
Of note, Trouba, due to all his penalties and being on the ice for the goal allowed, looked to have no confidence here.
After the Fast penalty expired, the Rangers first line would have an odd-man rush towards Mrazek. However, Mika got too fancy with the passing, and this led to a Rangers turnover. Missed opportunity.
With the first line changing for the Panarin line, you could see Panarin's line, especially Fast, step it up. You can see Fast was pissed about the penalty he took and wanted to make up for it. I even said the following on Twitter at the time:
Fast kicking it into a high gear after the penalty #nyr #PlayLikeANewYorker

— BlueCollarBlueShirts (@NYCTheMiC) February 22, 2020
What happened next? Fast would score a goal, even if it was fluky:
It's always a good night when 🍞 comes to the party with an 🍎 @NYRangers | #PlayLikeANewYorker pic.twitter.com/IYevJxE4Xv

— Rangers on MSG (@RangersMSGN) February 22, 2020
In a rarity, and as you'll see again below, the Rangers had the puck luck in this game. Hey, puck luck doesn't happen though, unless you set yourself up correctly.
2-1 GOOD GUYS.
On this goal, Panarin strips the puck near the blue line, makes an individual move at the net and gets the puck to Fast. Fast shoots the puck, the puck bounces off the skate of a Cane and the puck goes in. Originally, I thought Panarin got a piece of this, but on the replay, it was a Hurricane kicking the puck into the net.
Admittedly, this was a gift of a goal here, because of the deflection and because of how Mrazek misplayed the puck. However, who cares! Father Fink Carolina!
With 7:09 remaining in the period, Trouba once again was sent to the box. Fortunately, so was Svechnikov, as the two took off-setting minors. What happened here was that Svechnikov was kicking the shit out of Brady Skjei, checking him and bodying him bad at will. Trouba eventually stepped up for his buddy and this led to some four vs four foreplay.
During the four vs four, Igor would make two good saves, stopping Gardiner and TVR. The two teams would then return to full strength, with 5:09 remaining in the second period.
From here, Adam Fox had a monstrous shift, leading to something like three or four Ranger shots on goal. We saw some great goaltending from Mrazek during this.
Just like the first period, with under four minutes to go, the Rangers picked up a goal:
The genuine shock from Sam and Joe that this goal went in just makes it that much better 😜 @NYRangers | #PlayLikeANewYorker pic.twitter.com/u1GWb8ExuS

— Rangers on MSG (@RangersMSGN) February 22, 2020
Talk about being lucky! 3-1, GOOD GUYS!
On this goal, Brady Skjei goes for an "NHL '94" video game wraparound goal. Instead, he falls down for the fourth time in the contest. However, as he was falling down, the puck left his blade and bounced off a Carolina defender and right past Mrazek. Live, we didn't even see this puck go in, as it happened so awkwardly and quickly.
Talk about two bad beats for Mrazek, as the Rangers got two puck luck goals. But hey, good teams get puck luck. Dare I say it? The Rangers are a good team!
With two minutes left in the period, the Rangers were out-shooting the Canes in the period, by a tally of 19-7. How impressive, as usually, the Rangers are on the wrong end of this stat in second periods this season.
With a minute left to go in the period, Igor stopped Haula. Then, right after, Trouba absolutely crushed Haula, sending Haula to the trainer's room. Then, with just 38.6 seconds on the clock, Justin Williams was boxed for slashing Zibanejad. That was the second penalty #93 drew in this game.
The Rangers wouldn't score on the power-play here. With two periods complete, the Rangers maintained their insurance goal lead, with a score of 3-1. The Rangers would open the third and final stanza with a 1:21 of PP time.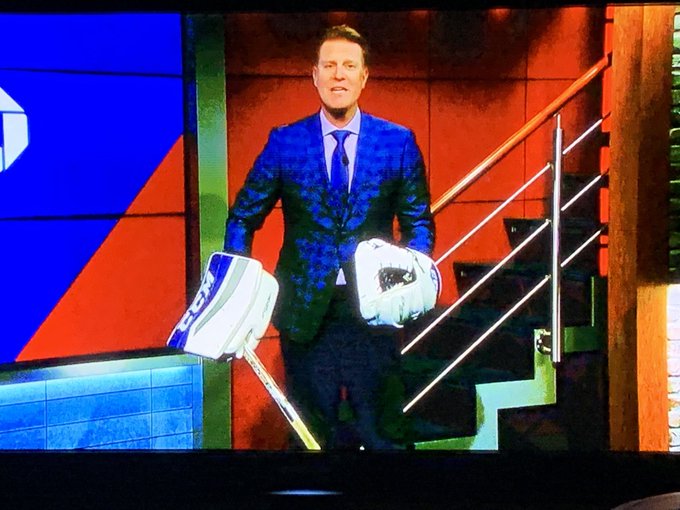 As a Ranger fan, and knowing the magnitude of this four-point game, I was clock-watching this entire period.
Just 70 seconds into the period, and while on the end of their power-play, Artemi Panarin got a loose puck, similar to his goal in Chicago and buried the puck past Mrazek. 4-1 GOOD GUYS. 18:50 remaining and a three goal lead in this all-important game!
From this point on, this game got extremely chippy and physical, with Carolina looking obviously frustrated and furious.
Oh, of note, this was Panarin's 31st goal of the season, tying a career high. I think it's safe to say he sets a career high in goals scored this season!
Despite Lindgren taking a stick to the face, as Lindgren remains more battered this year than a 1920's Irish house-wife (I'm waiting for someone to call me a racist for this joke! But hey, while I consider myself American, I have Irish blood!) new Ranger, in Gauthier, was called for a delay of game, for putting a puck over the glass, 3:33 into the period.
The Rangers PK, who as mentioned, have been great lately, couldn't find their mojo here. Carolina completely dominated the puck during their PP. The Rangers would never be able to clear the puck. With the PP nearly 20 seconds away from expiring, Aho tapped in a puck, putting the score to 4-2, good guys. Nothing Igor could do here.
Of note, this is when I was getting bombarded with tweets, concerning another Ranger fan/blogger, in Joe "Elastic Waistband Mom Jeans" Unfortunato. Apparently, he was crying about the Rangers winning this game, as a potential playoff run would cost the Rangers a draft pick, from the #12-#15 slots, in the upcoming 2020 NHL draft. I think that tells you all you need to know about tanking. If Joe Unfortunato wants to tank, and you agree with him, maybe the elastic waistband on your "Osh Kosh B'Gosh" denim mom jeans are too tight.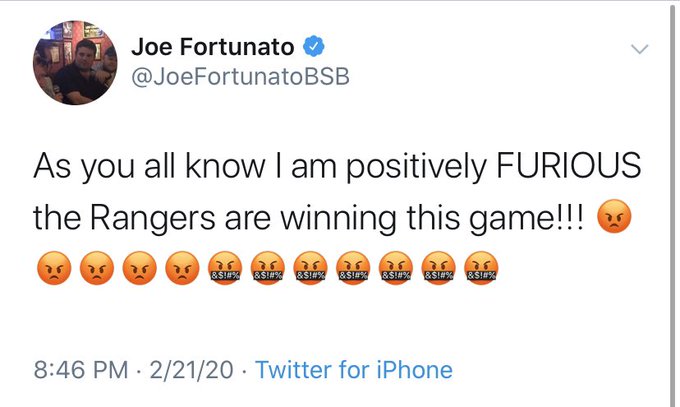 7:25 into the period, Warren Foegele slew-footed Adam Fox. This penalty, with hindsight being 20/20 here, a slew-foot is the equivalent of a two minute minor for tripping. A slew-foot (kicking the legs out from a player) is much more dangerous than a trip. And let's face it, 9/10 times, a trip is unintentional. A slew-foot is 100% intentional. If I were to amend the NHL rule book, I would make a slew-foot an automatic four minute double-minor, in an attempt to discourage players from doing this.
It was also at this point in the game, where Filip Chytil got banged up. He would never return to the game. His current status is day-to-day, as of this writing.
We would see the save of the game during this Rangers power-play, when Mrazek absolutely robbed Mika Zibanejad from his left side, ski-mask on and all. Hell of a save. The Rangers PP looked good here, but couldn't find a goal.
Truth be told here, Mrazek was nowhere as bad as his box score reads. Two of the Ranger goals were flukes. Another goal came off a PP, while the first Rangers goal came off a breakaway. That's why stats and charts are bullshit. Only the eye test and watching these games, are what matters.
As the game progressed, Igor would make several more saves, keeping this at a two goal game.
With 7:20 remaining, Aho went to the sin bin for tripping. While the Rangers PP failed here, the best part of this PP is when Adam Fox absolutely leveled Brock McGinn with a Brock Lesnar like hit. Holy shit that had to hurt.
With 5:00 on the clock, we perfectly hit the FOXWOODS moment of the game, with a stoppage.
As we got under five minutes, with 3:41 to go in regulation, Tony DeAngelo & Nico Niederreiter took off-setting penalties. TDA was charged and responded by slashing Nico. The best part of this, was that in the penalty box, Tony DeAngelo was cutting the promo of all promos on Nico. This wouldn't be the end of it though!
As the two teams engaged in four on four foreplay again, Mrazek was pulled, giving the Canes a 5 vs 4 skater advantage. As always, with a two goal lead, I was hoping for the Rangers to feed Igor for the empty net goal. No dice tonight, but you know it's coming.
With 1:48 remaining, the Rangers would seal the deal when Trouba found Strome all alone. Strome easily deposited the puck in the net, for his 16th goal of the season, matching his jersey number.
5-2, GOOD GUYS.
Say what you want about ENG's, but I'll take them every time. That means you did your job and finished the game.
After the Strome goal, the TDA & Nico penalties expired. Here's Tony still going off on Nico, courtesy of Jennifer Eberhart, who I heard loves "live" Facebook chats:
I do have a thing for the yappers😆 @TonyDee07 Haven't had a yapper like this since @MattBarnaby3636 and I'm loving it. #NYR #nyrvscar pic.twitter.com/X6NvXqYo3n

— Jennifer Eberhart (@sinbin_36) February 22, 2020
It seems that Tony DeAngelo is a fan of saying "Father Fink!"
Despite the 5-2 score and limited time remaining, Carolina was itching for a fight. The Rangers wouldn't play along with these losers.
As the final horn went off, 5-2 Rangers, your final score.
However, the fun didn't end there. While you might not be able to tell from this blog headline photo picture, here's Lemieux, trolling the ever-living shit out the Hurricanes and their NYC Halloween parade like celebrations:
#PlayLikeANewYorker Brendan Lemieux mocks the #LetsGoCanes fans by doing his own Storm Surge. 🤣 pic.twitter.com/FagIluL3xR

— Here's Your Replay ⬇️ (@HeresYourReplay) February 22, 2020
Have I mentioned before, how much I want the Rangers to re-sign Brendan Lemieux before on these blogs? Here's your 986384673874th reminder! LOVE IT! Stick it to them!
What a win for the Rangers. I hate to use the term "must-win" when it's not mathematically applicable, but the Rangers needed this one. What a statement win and a win that makes Jeff Gorton's job that much harder. Even better, all these wins are coming without Lundqvist; as we are seeing the future of the Rangers win much faster than anyone could've ever dreamed of.
I know Vally & Carter said this in the post-game, but I was thinking this before they even said it. The Rangers were 11 points back just a few weeks ago. Now look at them: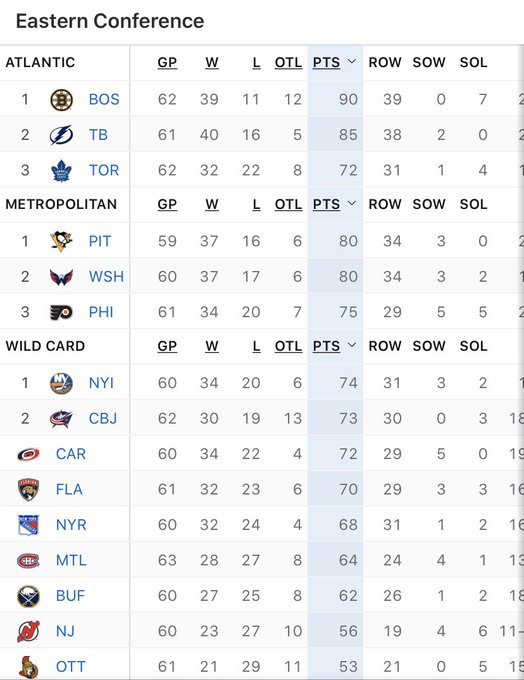 As mentioned at the top of this blog, due to all the upcoming games against teams ahead of them in the standings, the Rangers own their own destiny. And really, that's all you could ever want from this team, at this stage of the season.
Looking ahead, the Rangers host the Sharks tomorrow, a Sharks team that is reeling badly. I watched the post-game interviews of Strome and Kreider after this game. Both brought up the idea of the Sharks & a trap game. The Rangers know what those two points against the Sharks mean.
I don't care if the Rangers are going back-to-back here, I believe this team will be ready to kick some ass on Saturday night, at the World's Most Quietest Arena.
Goalie wise for tomorrow, I'm split. I don't think there is a wrong decision, outside if Lundqvist plays. That said, I don't see Lundqvist playing. After all, the poor baby had too much of a workload in practice today.
While Igor was big tonight, he wasn't as tested as he's been in past games. I would have no problem with him playing back-to-back games, and then going with Georgiev, who has a good history against the Islanders, on Tuesday, at the dump in Uniondale.
I will say this too – I don't think past history matters anymore. I wouldn't mind Georgiev starting tomorrow either, and then letting Igor play what would be the biggest game of the season (yet again) on Tuesday, vs the Isles.
Gun to head, I think Georgiev goes tomorrow, give Igor a rest, and then let Igor play the better team in the Isles on Tuesday. That said, if I'm wrong, and Igor goes tomorrow & Georgiev goes Tuesday; I wouldn't have a problem with that either. IT'S GREAT TO FINALLY HAVE TWO GOALTENDERS THAT YOU CAN HAVE FAITH IN!
This was another long one tonight, which is going to happen after a big win. I'm loving what I'm seeing from this team right now, as should any Ranger fan.
Of note for tomorrow, roster wise, will be the status of Filip Chytil. If he's unable to go, I would expect Brendan Smith back in the line-up, rather than Greg McKegg.
A win tomorrow could have the Rangers two points out of playoff spot, with plenty of games & points ahead. From there, it's the trade deadline. I still don't think the Rangers know what they are going to do yet!
I'll be back tomorrow night, same bat time, same bat channel.
As always, thanks for all the great feedback, thanks for reading and…
"LET'S GO RANGERS!"
Sean McCaffrey
BULLSMC@aol.com
@NYCTHEMIC on tweeter