Greetings and salutations everyone and welcome to another blog here on BlueCollarBlueShirts.com.
WHAT A DAY, a day that was extended by several hours, due to a broken promise by the Rangers & the M$G Networks! More on that as we continue!
If you're looking for just the short & skinny of today's Rangers events; well you're in the wrong place! After all, I don't post 677867896976796978 three paragraph updates. It's always one big ass blog for your one click! And hey, no ads either!
That said, for the attention deficit order crowd, I'll bullet-point everything for you right now. Then, for the people with an attention span, I'll dissect everything in detail below!
Here's what happened today:
— CZAR IGOR & Pavel Buchnevich were involved in a car crash on Sunday night. As a result, Buchnevich is day-to-day. However, things are more severe for CZAR IGOR, as he may now be out for the rest of the season.
— The Rangers re-signed Chris Kreider to a seven year deal, where Kreider will make $6.5M a year.
— Alexandar Georgiev and Henrik Lundqvist, as a result of the injuries suffered by CZAR IGOR in his car accident, remain with the team.
— While on the goalies, Georgiev was announced as the starter for tomorrow night's game with the Islanders.
— At the last minute of the NHL trade deadline, with it looking like the Rangers would not make a move, the Rangers dealt Brady Skjei & his horrible contract to the Carolina Hurricanes. Somehow, the Rangers even got a first round pick out of this, in this salary cap dump trade.
— If you're Tony DeAngelo, an American or a Ranger fan, outside of the CZAR IGOR news, today was a good day for you!
At this time, just to give you a frame of reference of where the Rangers were at, prior to Monday's 3PM NHL Trade Deadline, here are my last few blogs, in case you missed them: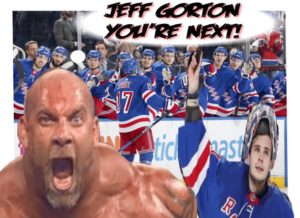 ---
---
---
---
---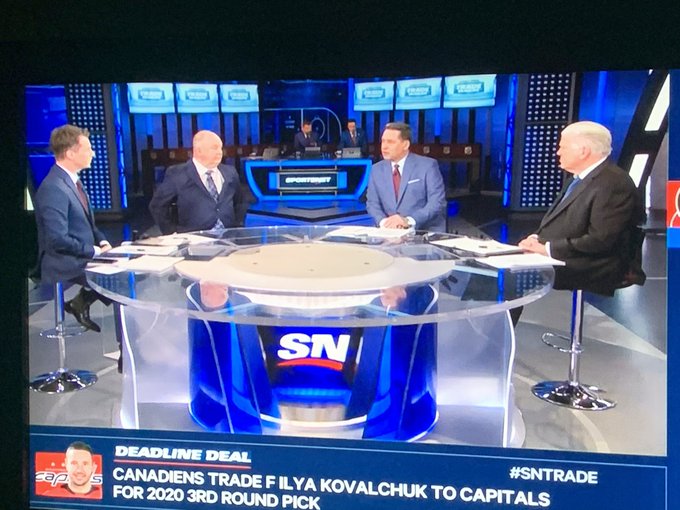 Let's try to rundown today's events in a chronological order, shall we?
After waking up early Monday morning, and catching up on last night's episode of "Curb Your Enthusiasm", at around 8:45AM, I turned on the NHL Network. For the next 6+ plus hours, I watched the madness unfold. For the sake of this blog, I'm going to cover all the Rangers stuff first and then I'll hit you with the other news around the league.
Going into today, as mentioned on past blogs, I didn't know what to expect. When I checked my Twitter messages, I got a message from a reader & NHL source, who told me that the Rangers talked to Lundqvist on Sunday, about waiving his no-move clause. This person then clarified to me that Lundqvist never waived his NMC, but the Rangers tested the waters and felt him out about it. More on that as we continue.
Away from Lundqvist, Lyin' Larry Brooks was doing his usual flip-flop job. As he's been doing all season, one day he has the Rangers trading Kreider, the next day he has the Rangers retaining Kreider.
I mean, here's Larry Brooks, in his last set of tweets, right before the Rangers announced that they re-signed Kreider: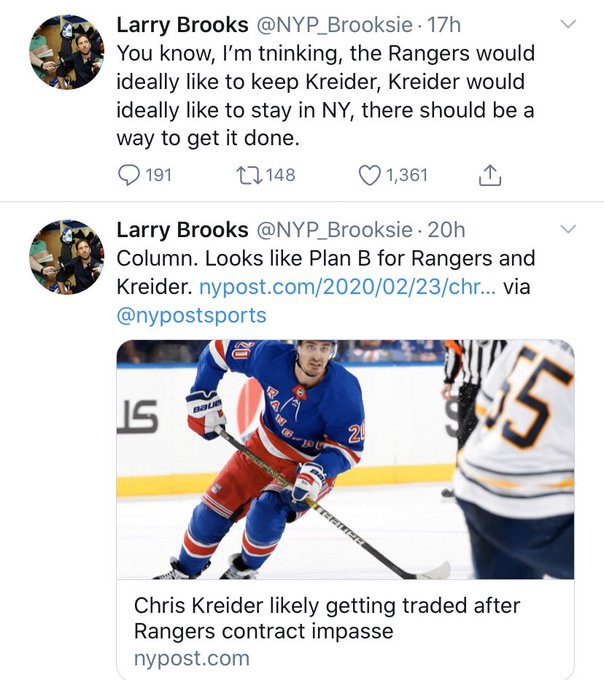 After writing a whole column about the Rangers moving on from Kreider, the "master debater" himself, in Larry Brooks, then started tweeting why the Rangers should keep Kreider. If you recall, Brooks did the same exact thing last year, in regards to Kevin Hayes and his situation. Never change Larry, never change. It's just sad to see a Hall of Fame writer morph into a thirsty man, desperate for click bait. And let's face it, however you feel about Larry Brooks, he is above this. He's the established guy and longest tenured man on the beat. He shouldn't have to do all this click-bait bullshit.
As the morning progressed, news broke that the Rangers were going to hold an immediate and emergency press conference, which would air live on the M$G Networks. This news was announced about 45 minutes before the press conference, a press conference that was held around 11:30AM.
Let's face it – the Rangers never hold press conferences in this fashion, unless something major happens. Furthermore, no matter what happened with Kreider, it's not like the Rangers were going to hold a press conference about it, until after the trade deadline. After all, why waste valuable trade deadline minutes talking to the media, when you could be working the phones?
During this period of time, social media was in a frenzy. The news had to be big. Did the Rangers finally have that "come to Jesus" talk with Lundqvist? Was this a press conference to announce the end of Lundqvist's career here? Did the Rangers make such a huge trade, a trade so big, that they were done with deals for the rest of the day?
As speculation and rumors flew, no one knew what was going to be said at the press conference. Then, about 30 minutes before the press conference, a little known Twitter account tweeted out the following:
Some New York Rangers news that is not #TradeDeadline related and probably why they are having a press conference. Pavel Buchnevich and Igor Shesterkin were in a car accident last night and Buch is banged up and Igor might have broken ribs #nyr #PlayLikeANewYorker #TradeCentre

— Fantasy Lens Podcast (@Fantasy_Lens) February 24, 2020
The second after the Fantasy Lens Podcast tweeted the above tweet out, he was crucified and raked over the coals. Everyone thought he was trolling and making up bullshit. Even the Ranger beat reporters, in Rick Carpiniello and Vince Mercogliano, called this stupid and disparaged this guy. The beat reporters also blew off and insulted anyone who asked them about this tweet. That's how stupid this tweet looked.
And not to absolve myself from any blame here, this is what I said when I read it, "I'm always for some good riling people up action, but this is just stupid."
As we'd find out, Mr. Fantasy Lens Podcast was 100% accurate. Credit where credit is due. He had this story right. Everyone else had it wrong. I will say this – I saw many people apologize to Fantasy Lens Podcast once the Rangers confirmed this news. The tweet seemed so made up. After all – how do two prominent hockey players in New York get into a car accident, yet no one heard about it, except for some unknown guy on Twitter? NOBODY had this story besides this guy.
While everyone was blowing off this car accident tweet, a heralded reporter, in Darren Dreger, despite his error about an Islander trade earlier this week, tweeted out the following, just ten minutes before the Rangers press conference:
Expectation is Chris Kreider will extend with the New York Rangers.

— Darren Dreger (@DarrenDreger) February 24, 2020
At this time, despite it being unprecedented, everyone now figured that the press conference was going to be about Chris Kreider. Others, including me, still held hope that we would also get an announcement on a Lundqvist trade too. Instead, the upcoming news was the polar opposite of that.
At around 11:30AM or so, John Davidson took the podium. Kudos to the M$G Networks for breaking up a poker game from a year ago, to give us this live coverage. And as I'll get into later – how can anyone possibly watch the M$G Networks during non-game days? The programming is absolutely dreadful. However, to be an optimist here, at least I found the cure to my insomnia. Nothing will make you pass out faster than watching third world soccer in the middle of the afternoon. Again, more on that below.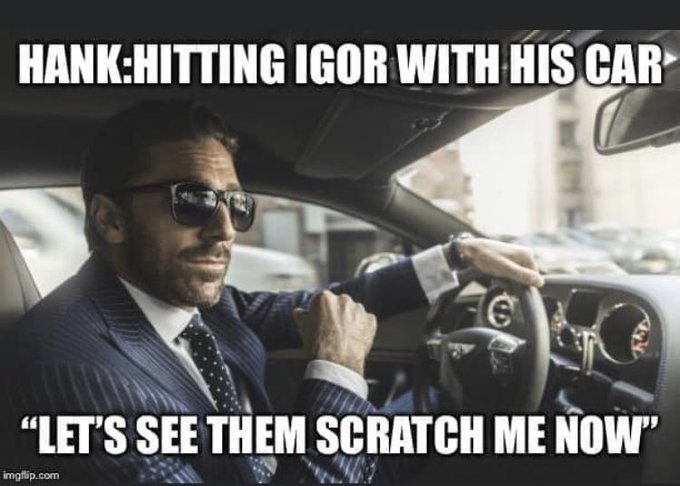 With JD about to speak, Ranger fans expected to rejoice (well some Ranger fans, depending on your feelings about Chris Kreider) in the news of the Rangers re-signing Kreider. Instead, JD dropped a bombshell. The car accident story, involving Pavel Buchnevich and Igor Shestyorkin, was true.
Apparently, on Sunday night, Buchnevich & Shestyorkin were driving around in Brooklyn. It wasn't mentioned where in Brooklyn this accident was, but I assume the two were traveling either to or from Brighton Beach, or another Russian hot spot in Brooklyn. With Igor behind the wheel, and with both men buckled up, some car cut Igor off with an illegal U-turn and Igor slammed into the car.
JD said that both men were rushed to the hospital, where members of the Rangers medical team met up with them. It was determined that Pavel Buchnevich, the passenger, was fine. He was shaken up and he's sore today, but status wise, he's day-to-day. He's not expected to miss any significant amount of time.
The news wasn't as fortunate for CZAR IGOR. Igor suffered a fractured rib. JD said it would be a couple of weeks before the Rangers could evaluate Igor's medical condition. With only 21 games left in the season, and in the midst of a playoff push, this obviously may spell the end of Igor's 2019-2020 season. More on Igor as I continue.
I do want to say this quickly. As anyone who has ever had a rib injury would know, rib injuries are extremely painful. It effects your breathing. It effects your movement. Even a cough to clear your throat will give you tremendous agony with this type of injury.
Outside of the car accident news, JD also confirmed that the Rangers re-signed Chris Kreider to a seven year deal. While he didn't disclose the money, it was eventually revealed by the reporters on the NHL Network, that Kreider got a 7 year/$45.5M deal, where he will be paid $6.5M annually.
JD only spoke for three minutes here, as he said he had to go back to the war room and work the phones.
In case you didn't see it, here is JD's press conference:
Full statement from John Davidson on Shesterkin, Buchnevich and Kreider's extension: pic.twitter.com/dfV9fUanT2

— New York Rangers (@NYRangers) February 24, 2020
After the press conference, the Rangers tweeted out the following:
Done deal. #Extended pic.twitter.com/mSLuFz8Ypd

— New York Rangers (@NYRangers) February 24, 2020
This is a lot of news to take in and I haven't even scratched the surface yet. Let's take a look at Igor first.
When I heard JD confirm the news about Igor's car accident, the first thing I thought was – "how is a guy, who has only been in New York for less than two months, driving around in one of the worst driving cities in the world?"
Listen, I get it. These players are ordinary humans like anyone else. They put their pants on one leg at a time. They drive cars. They do every day tasks. However, for a guy who doesn't speak English, which leads me to assume that he also doesn't read English either, it has to be a difficult task to drive around in crazy New York City and its boroughs. And let's not even get into the horrible drivers in NY & the terrible traffic.
We don't know all the details, but I'm surprised of the two players, that Pavel Buchnevich, who does speak some English and has lived in New York for the last few years, wasn't the one driving. Maybe Buchnevich was "INTOXICATING" once again? (That's a joke!)
And because I saw people mention this on Twitter, there was no reports about alcohol being involved. This was just an unfortunate car accident, a car accident you read about every day in NY. This one just happened to involve one of the best goalies in the world today.
With Igor now out for the inconceivable future, there's several things to take in here.
For starters, with Igor injured, the Rangers weren't going to be trading Henrik Lundqvist or Alexandar Georgiev. While obviously, the front office is going to keep all trade talks to themselves, as it does none of these players any favors to hear about how the team was looking to trade them, it was rumored that both Lundqvist & Georgiev could've been traded. With Igor's accident on Sunday night, that wiped out any chances of either Lundqvist or Georgiev being traded on Monday.
And for as much as I want Hank out of town, there was no Father Finkin' way that the Rangers were going to trade either of these guys, and call up Adam Huska or JF Berube. As we'd later hear from JD, he is hoping that this team makes the playoffs. He's going to stick with Lundqvist & Georgiev.
As a fan, and as a day one fan of Igor (I've been pumping up this guy for three years on these blogs) this news was crushing. The Rangers are in the thick of things here, as they chase a playoff spot. We saw one hell of a run from Igor here, as he is 9-1 on the season and is making video game saves routinely. He's the number 1 goalie. He's the best goalie on the team. He gives the team the best chance to win.
While I do have faith in Georgiev, Lundqvist is a question mark. When you compare both of these goalies to Igor, you can't argue with recent success – Igor is the guy. Moving ahead, the Rangers won't have their best option in net, for what could be the remainder of the season.
If there is any silver lining here, or any way to spin this, Igor has played 10 games this season. If he plays one more, the Rangers would've burnt the first year of Igor's rookie contract. If Igor doesn't play again, the Rangers got these ten games "for free", for lack of a better phrase.
In the event that Igor is able to play again, and if the Rangers are out of the playoff hunt, I can't see the Rangers wasting a year of Igor's rookie contract. If Igor is able to go, and the Rangers are out of the playoff mix, I think the Rangers would send him to Hartford for the work. Business wise, and this is a business, it just makes no sense to burn this year if you don't have to.
It just feels this Igor injury is just another Rangers curse. Whether it's Ratelle's ankle, Leetch slipping on ice, Zuccarello taking that freak puck to the dome in the 2015 playoffs; it just feels that whenever something is going good, something crazy out of left field happens. This is just the latest incident in a long line of Ranger misfortunes.
With Igor out, we must keep the faith and rely on the old adage of, "it's a team game." However, we all know this a major blow. There is no way to positively spin this news. All you can do is accept it and move ahead.
Moving ahead, we will see Alexandar Georgiev and Henrik Lundqvist. Let's speak on them now.
After JD's press conference, the Rangers held practice. After practice, it was announced that Georgiev would get the start tomorrow night, at Nassau Coliseum, against the Islanders.
Before Igor's injury, I predicted that Georgiev would start this game. After all, he has the recent history and great numbers against the Isles. In Lundqvist's last few games against the Islanders, he's been absolutely abused and he hasn't beat them in years.
I'll also say this now, and get this out of the way – barring a disgusting game against the Islanders, I expect Georgiev to play on Thursday night in Montreal. If there is any arena where Lundqvist struggles the most, it's in Montreal, a place where Lundqvist himself has said has been hell for him.
What I'm saying here, is while Lundqvist will soon play again, I think Quinn will go with Georgiev in these next two road games, just because of the history these two goalies have against these two teams. I would then expect Lundqvist to get the next start, on Friday, in Philadelphia. After that, I would assume that the hot hand/better goalie, would get the start after that, on Sunday, against Philly, in M$G.
To me, Georgiev is now the number 1 goalie here, but if he has a bad game here and there, Lundqvist could supplant Georgiev & regain his number 1 starting goaltender job. However, even if Lundqvist does that, I think it will only be temporary. After all, Lundqvist himself, and his future in NY, was a topic today too. Here's Lundqvist talking to the media for five minutes today:
Hear from Henrik after today's practice: pic.twitter.com/BfEYtOsunQ

— New York Rangers (@NYRangers) February 24, 2020
If any quote from this media scrum tells you anything, it's this one:
"If there comes a day when they feel like I'm not a good solution, let's talk about it and let's be open about it."
Basically, Lundqvist is telling the media that he's open to leaving, should the Rangers feel this way. JD would later comment on this, as I'll soon get into.
Going into today, and before the news about Igor, I had a feeling that Lundqvist was going to get moved. I heard many rumors about this and as mentioned, had a good source bring this up to me. While we won't know until the season is over – who knows, maybe the Rangers did ask Lundqvist if he'd be agreeable to leaving at the deadline. Mum's the word on that one for now.
If you watch the whole interview, you can hear from Lundqvist's tone and from what he said, that he knows his days are numbered here. However, he also knows he's getting a huge second chance here.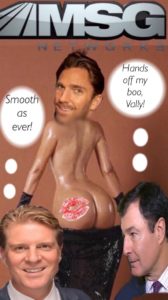 For Henrik Lundqvist, Igor's injury gives him a chance at redemption. Lundqvist is extremely fresh and extremely well-rested right now. If he can get going, and have some "vintage" games, he can possibly have one last hurrah here. However, if he gets blown out of the water, you know what the reaction will be – "IF ONLY IGOR WASN'T INJURED!"
For Lundqvist, here in the twilight of his career, it's now do-or-die time. He can either go out a hero, or go out limping to the finish line. And he can't do his usual bullshit of blaming the defense – Igor was making 40+ saves routinely in his victories. In addition, Lundqvist won't have to worry about Brady Skjei anymore either!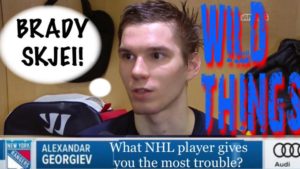 3500 words in and I still haven't gotten in-depth about the biggest name at the trade deadline, in a one Chris Kreider!
Can you believe this? As I'm working on this blog, 8 hours after the Rangers re-signed Kreider, there isn't one press release about this! Of course, the headline and first story on the NYRangers.com website? The Lundqvist interview! Some things will never change!
When it comes to the Rangers re-signing Chris Kreider, if you're not familiar with my past blogs, I was for it. While I've always seen both sides of the story, and agree with the points made from the anti-Kreider fans, such as Michael Broderick, Al "SMD" Demauro, Jeff "LMN" Delmauro and the many others, I truly found myself siding with fans like the great TR Nick Adams! (#KreiderDidIt)
I 100% get both sides of the story. I'm not going to do my "Greatest Hits" here on Chris Kreider, because I've talked so much about him recently. Just check the archives for all of my opinions on Kreider.
For the people who wanted the Rangers to trade Kreider, I understand. I'm not arguing with you guys. You guys all have valid points. Kreider goes ghost for games on end. I mean, it was only a few months ago, where I posted this graphic:
For as good as Kreider can be, he does have games where you have to check the box score to see if he even played. While he's playing some of his best hockey of his career right now, you can't forget the past either.
That all said, I do think this Rangers team is better with Kreider. If the goal is to win the Stanley Cup within five years, I think Kreider can be a part of that.
I saw a ton of negativity about the Rangers re-signing Kreider, and I want to address all of it. Here's what the people who wanted the Rangers to trade Kreider, were saying:
— "WE COULD'VE GOT A HUGE HAUL FOR KREIDER!"
Is this even true? From all reports, the Rangers did want a huge haul, but no team was offering such a haul for a rental. A rental, who by these fans own admission, has been bad for long stretches. Why would any team wreck their future for a maybe?
Furthermore, I've always subscribed to the theory that you're better off with a proven player, which Kreider is, than taking a risk on an unproven player. Plus, it's not like the Rangers have hit many drafts out of the park. While there have been a few decent players to come out of the draft, it's not like Brady Skjei, Lias Andersson or Vitali Kravtsov (at least not yet) have been aces in the hole. I rather a known player like Kreider, who can dominate games when he's on a roll, than take a chance on another soft European bust.
---
— SEVEN YEARS IS TOO LONG! $6.5M IS TOO MUCH!
On the open market, Kreider was going to get paid and he was going to get six or seven years. Let's take a look at the money first. Kreider is getting a raise of $1,875,000M a season. In the grand scheme of things, that's not much at all. Plus as time goes on, the salary cap will go up and $6.5M will be on the low side of things, especially when compared to what other players get paid.
On the open market, who knows, maybe Kreider would've got a deal bigger than Kevin Hayes, with a contract in excess of $7M. So, when you look at the money, it's exactly where it should be at, for a player of Kreider's caliber. To add on this, while not a true hometown discount or anything of that nature, Kreider perhaps could've got more money, had he entered free agency.
When it comes to the years, you knew Kreider was going to at least get six years. Is a seventh year really going to kill the Rangers? Plus, again, if the Rangers can win a Cup within five years, wouldn't you sign up for this? And again, who knows where the NHL will be in seven years? We know the cap will go up. Who knows if the topic of amnesty will return too?
This then leads me to this…
---
— KREIDER WILL BE TOO OLD AND WILL BE 36 IN THE FINAL YEAR OF HIS DEAL!
If you've been following the league and Kreider himself, forwards are playing deep and well into their 30's. This isn't a different era, where guys played with crappy equipment, didn't train and didn't have access to top of the line trainers/doctors. In addition, when it comes to Kreider, the guy is a physical freak.
After all, how many people can do this:

Kreider isn't some beer-bellied chain-smoking player, from eras ago. The guy is in pristine peak condition, which allows him to play a physical style, without giving up any speed. With all the advantages of the era he plays in, Kreider should be able to maintain his form and style of play.
---
As someone who wants to see the Rangers make the playoffs this year, retaining Kreider gives this team a better chance to attain that goal. Kreider is also a valuable asset for the locker room, as he's one of the leaders of the team. In addition, moving forward, when Lundqvist and Staal go, Kreider will be the longest tenured Ranger on the roster. While guys like Panarin, Shestyorkin and Zibanejad may grab the most headlines in the future, Kreider will still be one of the biggest faces of the franchise. Plus, with all the Russians on the team, it's good to have an American player who knows NY & can also speak Russian.
When the Rangers signed Artemi Panarin, it told you that the Rangers, while rebuilding, also wanted to win. While the Rangers will stay true to rebuilding and won't do anything outrageous, going after Panarin tells you that the organization wants to win soon, rather than much later. There's no point in giving Panarin a huge contract, only to start selling off proven pieces.
Let's say the Rangers traded Kreider, which would've been a step back, rather than a step forward. Do you really want to waste another year, two years, three years plus, on waiting on a "maybe" draft pick or prospect? Kreider is at his peak now. Panarin is in his prime now. Zibanejad is having a career season. Why would you want to throw that all away on an unknown draft pick, that would've been 16th overall or worse?
And as I've said in the past, what happens next year, should the Rangers make the playoffs? You would be looking to find someone to replace Kreider and you would have to overpay to get a player like that.
When you look at Kreider's game, his talent, his intangibles and what he brings overall to the table, the Rangers are much better with him than they would be without him. Can you say the same about Brady Skjei?
Of course, as stated, this news has the fan-base split. I'm sure over the course of the next seven years, hell seven days, any time Kreider has a bad game, you will hear about it! However, when I think of where the Rangers will be seven years from now, I think Kreider would have earned his money. I also think he will hoist the Cup!
By the time all the Kreider news was made official, we had about three hours and change left with the trade deadline. While re-signing Kreider was a big story, several questions were left to be answered. Would the Rangers look to add anyone to help this upcoming playoff push? Would the Rangers keep any of their impending UFA's and RFA's? After weeks on end, with everyone questioning the future of Georgiev, DeAngelo, Strome and Fast, would this quartet remain with the Rangers?
As the trade deadline neared 3PM, it looked like the Rangers were going to stay put. Personally, as written on this site many times over, I thought the Rangers were going to do some "tidy-work" and maybe move someone like a Greg McKegg. Of course, as I've been saying for a while now, I was hoping for the Rangers to trade Skjei. However it didn't look like it was going to happen.
In fact, as I joked on social media, the Rangers at the trade deadline made me feel like getting a T-Shirt, with the following printed on it: "I took off of work to watch the Rangers at the trade deadline and all I got was a Keane/Gauthier trade last week!"
However, with just seconds remaining before the 3PM deadline, it was reported that the Rangers & the Hurricanes reached a deal, with Brady Skjei going to Carolina for a first round draft pick.
With Rangerstown rumbling with this Skjei trade rumor, it would eventually be confirmed, after 3PM. (As reporters always like to say, trades can always trickle in after the 3PM deadline, as teams wait to call in their trades and make it official.)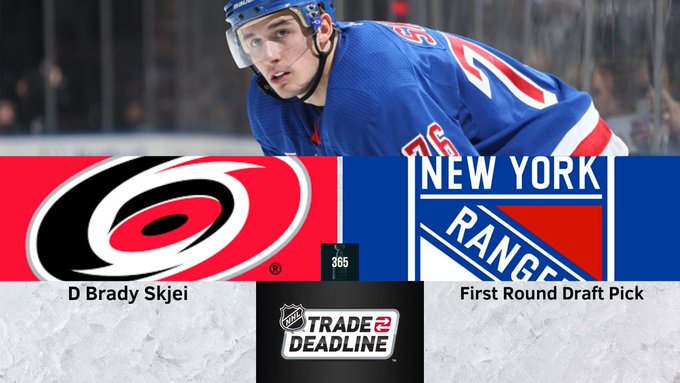 Want to know something? This blog is taking forever for me to write, as I've had plenty of distractions. (One of them being the live episode of The Blueshirt Underground, which I'm watching as I write this.) That said, as mentioned earlier, the Rangers have nothing on their website about Chris Kreider. However, they do have a press release about this Brady Skjei trade.
For the sake of posterity, here's the press release on the Skjei trade, courtesy of NYRangers.com:
The New York Rangers announced today that the team has acquired a first-round pick in the 2020 NHL Entry Draft from the Carolina Hurricanes in exchange for Brady Skjei. The first-round pick the Rangers receive from Carolina will be the later selection of the two first-round picks that the Hurricanes own (either Carolina's own first-round pick or Toronto's first-round pick).

The Rangers currently own 10 picks in the 2020 NHL Entry Draft (their own-first round pick, the first-round pick they will receive from Carolina, their own third-round pick, Dallas' third-round pick, their own fourth-round pick, their own fifth-round pick, their own sixth-round pick, their own seventh-round pick, Nashville's seventh-round pick, and Vancouver's seventh-round pick).

Skjei skated in 307 games with the Rangers over parts of five seasons (2015-16 – 2019-20), registering 25 goals and 87 assists for 112 points.
Two things here.
Number 1. Carolina should just bend over like Steve Valiquette in a Swedish bath house and ask the Rangers if they need anything else. I've never been in prison, nor have I ever been sexually violated, but with the way the Rangers have treated Carolina lately, it reminds me of those old prison rape scenes from that show "Oz."
Just think about it. Let's forget that the Rangers went 4-0 against Carolina this year. Let's even forget that the Rangers are something like 22-3 in their last 25 games with Carolina. Let's forget that the Rangers have ABSOLUTELY owned the Canes in the last decade.
In less than one full calendar year, the Rangers got Adam Fox, a first round draft pick and Julien Gauthier, for a freaking second round pick, Joey Keane and one of the worst contracts of the Jeff Gorton era, in Mr. Skjei. Maybe for an encore, Carolina can trade for the dead cap hit of Kevin Shattenkirk!
WHAT IS CAROLINA DOING? Even worse, Carolina doesn't have an NHL caliber goalie right now, after the injuries suffered this past Saturday in Toronto. If I was Carolina, and I was dealing a first round pick, wouldn't you much rather Robin Lehner than Brady Father Finkin' Skjei? (Lehner wound up going to Vegas today.)
Number 2. There is no better trade, in Rangers history, that exemplifies the old adage of "ADDITION BY SUBTRACTION!" than this trade of Skjei. And it gets better.
If I were running this Rangers team, I would've been ecstatic just to get Brady Skjei and his contract off the books.  You know, that contract that pays Skjei $5.25M a year, for the next four years. I would've taken a puck, a loose cigarette, a pack of Winterfresh gum or a paper clip, just to get Skjei & his contract off of my hands.
No joke, if I saw the Rangers traded Skjei for a seventh round pick, I would've been thrilled. Instead, the Rangers got a first round pick for Brady Skjei and his albatross of a deal. WHAT IS CAROLINA THINKING? Are they smoking that whacky tabacky on Tobacco road?
I know this blog is going long, so I won't do another Skjei burial here. You know the deal. His contract stinks. He was the weak link of this team. It just wasn't working out. It was just time to "Skjei goodbye."
This move of Skjei does the Rangers a wonder of greatness. Not only do they get a bad contract off the books, and for a first round pick nonetheless, they also freed up $5.25M of cap space, money that could directly go to Tony DeAngelo. You know, the same TDA who is having the best offensive season of any Rangers defenseman since the days of Brian Leetch.
Speaking of TDA, who as mentioned 766785867896 times on this blog, has been the team's most vocal supporter of his own teammates on social media, said the following about Skjei:
Very sad to see @BradySkjei leave today. One of the best possible guys inside and outside the rink you can find.. will be missed in NY by all the players and fans. Goodluck brother ❤️

— Tony DeAngelo (@TonyDee07) February 25, 2020
Whether TDA knows this or not (I assume he does and I know his agent does) this trade of Skjei, in addition to the aforementioned trade of Joey Keane, points to the Rangers giving TDA a bag of cash this summer. And that money will be well deserved and will help the future of this franchise. From all accounts and from what we see as fans from TDA's comments, TDA want to be a Ranger. While I don't expect TDA to give the Rangers a major discount or anything, I think shifting Skjei's money to TDA is a winnable deal for both parties.
This Skjei trade is the trade that never stops spreading sunshine. Not only is a bad contract off the books, the weak link gone and money now freed up for Tony DeAngelo; with Skjei off this team, come next season, you will have K'Andre Miller, Yegor Rykov, Libor Hajek and Nils Lundkvist all competing for a spot on the blue line.
In essence, this Skjei trade is another "rebuild" trade, as the Rangers get rid of Skjei for a homegrown defenseman. Even better, whoever takes Skjei's spot next season, that player will be 5 years or so younger than Skjei. Plus, whoever wins that job next season, will also be on a rookie contract. Then, come 2021-2022, the Rangers will be swimming like Scrooge McDuck in cap money.
To sum up this Skjei trade in one word? WINNING!
And oh, as far as who replaces Skjei right now and pairs up with Trouba? Jeff Gorton pretty much said it would be Brendan Smith; just as I thought, once I heard Skjei was being dealt. It makes all the sense in the world. Smith has had a good season and DQ wants to go with what gives him the best chance to win. As it stands right now, Smith, not Hajek or someone else in Hartford, is the best option for the remainder of this season.
As the trade deadline came and went, no other Ranger was moved. I was surprised to see the Rangers retain McKegg. While I thought Brendan Smith may have been dealt, with the trade of Skjei, it makes sense to keep Smith here. Of the two, Smith provides much more value. Whether or not Smith is here next year, I don't know. I would put money on McKegg not being here though.
The only other Ranger transactions from today, were "paper transactions", where the Rangers, ON PAPER, sent Gauthier and Howden to Hartford. Neither man will report to Hartford, as they will be called up tomorrow. By doing this, these two players are now eligible to play in the AHL playoffs, should the Rangers not make the playoffs. This also leaves the Rangers with only two of four possible recalls left for the season, barring an injury.
As we almost get to the end of this Rangers day, after the trade of Skjei, the Rangers & MSG Networks announced that we would go to press conference at 3PM, with JD & Gorton. Immediately, like most of you, I got the clicker and turned on the M$G Networks. In turn, I was sickened, sleepy and pissed off for the next two hours, as all we saw was this: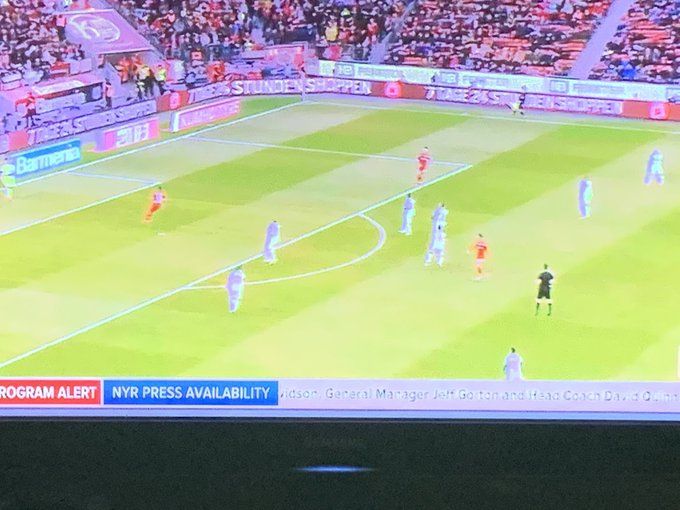 To me, soccer is the way to cure insomnia in America.
I get that the Rangers had to dot all the i's and cross all the t's, but why promise a press conference at 3PM, when you knew it wasn't going to happen? This damn thing delayed this blog by two hours and thirty minutes! To quote Stephanie Tanner from "Full House", "HOW RUDE!"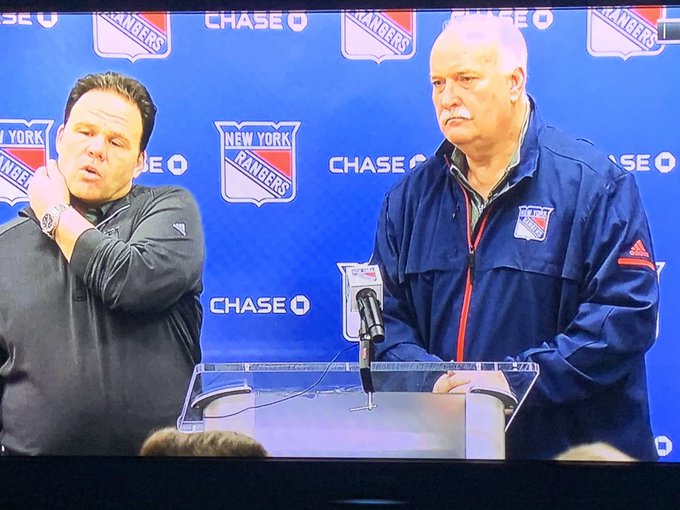 In a short press conference, this is what we got:
— Gorton and JD said the salary cap played part in the Skjei trade and they were happy with getting a first round pick back. No shit.
— Both men said that retaining Kreider was important and mentioned his leadership qualities and overall skill set.
— The duo admitted that they explored the options of trading Kreider, as they did their due diligence. JD credited Kreider's agent and NYR assistant GM, Chris Drury, for helping to put the contract together.
— Gorton & JD were both overly complimentary of Kreider here, as you'd expect. They said they looked all the pluses and minuses of keeping Kreider and said the positives overwhelmingly dominated the negatives. They also mentioned the chemistry between Mika and CK20. They also brought up Kreider's contributions on the power-play.
— The jerkoffs in the media then started asking hypothetical questions about what if Kreider were traded and would've it led to a Jesper Fast trade too? Gorton basically shut this line of questioning down, saying the equivalent of why waste time with hypotheticals?
— Gorton said the car accident had no effect on the deadline.
— Gorton said they felt keeping Fast was the right move for the team.
— On the topic of Lundqvist and his horrible contract, JD & Gorton looked at each other, as both were eying the other to speak. JD took the question and complimented Lundqvist's professionalism. Like Lundqvist said earlier in the day, JD said they would talk with Lundqvist about the future in the off-season. You could really see the seeds for Lundqvist's departure being planted here. This was the first time that JD and Gorton have commented on Lundqvist publicly, as Quinn has been the face of all of this.
— JD did mention, in regards to Hank, that while they want to be fair to Lundqvist, they have to be fair & do what's best for the Rangers too. MUSIC TO MY EARS!
— On Hank's playing time, Gorton and JD said it was up to Quinn.
— JD said while he wants the team to win, there are curveballs in this business (mentioning the car accident again) and yes, trading Skjei gave the Rangers cap flexibility for next season.
— JD said signing Panarin didn't mean the Rangers were scrapping the rebuild, they were bettering the rebuild. Why these reporters are even questioning JD about signing Panarin, I don't know. Morons. They should've asked JD about retiring Frank Boucher's #7 jersey!
— JD, as he said earlier in the day, said Buchnevich was still sore and it's going to be a wait and see thing.
To watch JD talk about winning, check out this clip:
"We want our club to keep winning. We want them to go through the experience of a chase down the stretch." @NYRangers | #LGR pic.twitter.com/NUkYuX8bi6

— MSG Networks (@MSGNetworks) February 24, 2020
Almost at the end here. Trust me, I want to be done too – my fingers are killing me and "Better Call Saul" is about to start!
If you want a recap of every trade made today, check out: https://www.tsn.ca/tradecentre/trade-tracker
Let me just hit the big ones, at least the trades that effect the Rangers the most, real quick:
— Jean Gabriel Pageau, the Ranger killer, is now with the Islanders, where he signed a 6 year/$30M contract. Of course, the Rangers play the Islanders on Tuesday night. However, Lundqvist isn't in net, so maybe Pageau won't score 34838383483434 goals tomorrow.
— Ilya Kovalchuk, traded to the Caps yesterday, now creates an Ovi/Kovy connection for one of favorite teams to win the Stanley Cup this year. That's now two huge moves in the division. The funny thing about Kovy? I think this is a first – four teams have his contract on their books this season, in the Devils, Kings, Canadiens and now Capitals.
— Patrick Marleau shockingly went to Pittsburgh today. Everyone thought he'd finish his career in San Jose. The Penguins also traded back for Conor Sheary as well.
— The Devils may not even have enough players to field an NHL roster right now. They traded off Wayne Simmonds (Buffalo), Louis Domingue (Vancouver) and Sami Vatenen (Carolina). Previously last week, the Devils traded off Coleman (TB) and Greene (NYI).
On the Devils, do you know what sucks? The Rangers have to play the Penguins & Flyers, two teams trying to chase Washington for first place in the division, three more times each this season. The Rangers only have one more game with the Devils this season.
— Carolina acquired Vincent Trocheck from Florida. Ironically, another Rangers blog reported fake news, and how the Rangers were going to trade Skjei for Trocheck. Ironically, Skjei & Trocheck are now on the same team in Carolina. ISN'T THAT AMAZING SUZYN?
— Old friend Vladislav Namestnikov is now on the Avalanche, as Ottawa, like NJ & Detroit, were in complete sell mode.
Again, for more trades, as these were the ones that effected the Rangers the most, check out the TSN link above.
Whew, this was a long one.
I'll be back tomorrow night, as Alexandar Georgiev and the Rangers go to Nassau Coliseum, where they will take on the Islanders in a "four-point" game. Of note, Jean Gabriel Pageau will be playing in the game, as he announced on social media.
I need to ice my fingers after this trade deadline! Today was a non stop social media and blog affair!
One last thing here. If this trade deadline blog wasn't enough for you, and if you haven't already, check out the new episode of "The Blueshirt Underground Show". They even went super-long tonight, with a two hour plus show:
When I look at this blog, the BSU show and other stuff out there today, it seems anyone whose hobby is to talk the Rangers – everyone went long tonight. To me, that shows me that the excitement level is high right now.
Obviously, you can't control what happened with Igor. However, as far as the deadline and the stuff the franchise did today – A+ from me. Sure, maybe they could've added a player or something or got rid of dead weight like McKegg or Andersson, but that's the smallest of potatoes. Keeping Kreider & dealing Skjei for a first round pick? I don't see how it gets better than that!
See ya tomorrow!
As always, thanks for reading and…
"LET'S GO RANGERS!"
Sean McCaffrey
BULLSMC@aol.com
@NYCTHEMIC on twitter