Greetings and salutations everyone and welcome to another blog here on BlueCollarBlueShirts.com. WHAT A WIN FOR YOUR NEW YORK RANGERS!
Oh, and I guess I should explain the female in tonight's blog headline photo.
The woman above, named Kim, whose twitter account is @IslesGirl3, is a very prominent member of the Islanders fan base. While I'm not here to recap all of her history, she is known for two things. She was one of the featured crybabies, in an Islander fan video, when John Tavares bailed on the Nassau Nomads.
While Kim is a diehard Islander fan, and I appreciate her loyalty to her team, just yesterday, she chirped the Rangers & Igor Shestyorkin, once the news about Igor's car accident was made public. She trolled the Rangers, Ranger fans and Igor Shestyorkin, as she made fun of Igor's car accident on twitter. That said, once she got blasted by Ranger fans (and some Islander fans too) she quickly apologized and deleted her tweet.
I'll say this – if you're going to chirp and talk smack, stick with it. Don't back pedal or back down. If you're going to say something, stand by it. All of these deleted tweets and crocodile tear apologies makes you look weak. Plus, she's an Islander fan. She's supposed to troll Ranger fans. As Ranger fans, how can anyone criticize this woman? This is the same fan base that once made fun of Pelle Lindbergh's death. Plus, we still have morons chanting about Denis Potvin to this very day.
The only reason I'm using her picture tonight, is because when I was looking to make a blog headline photo, I wanted to use Jacob Trouba, as a Mack Truck Driver, after his monster hit on Michael Dal Colle tonight. I wanted to show him steamrolling over Islander fans. When I googled "crybaby Islander fans", I shit you not, and I 100% swear to you and attest to this – this picture of Kim crying about Tavares was the first thing that came up! If you don't believe me, do the Google search yourself!
As they say, an eye-for-an-eye and a troll-for-a-troll. Let's Go Rangers! Father Fink the Islanders!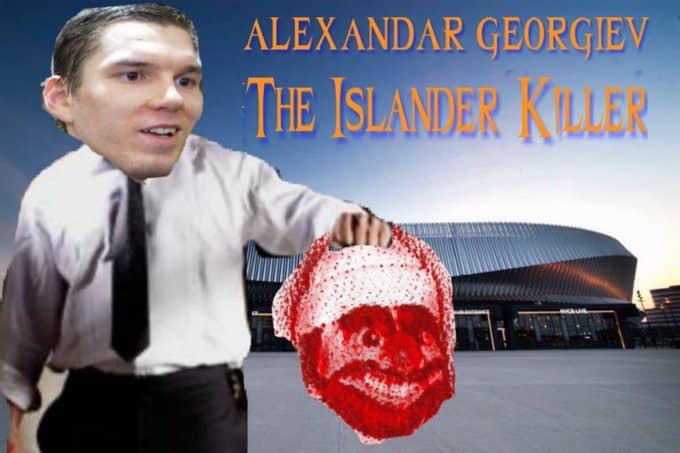 Despite going over 10,000 words last night, in recapping all the Rangers news from the trade deadline yesterday, the Rangers continued to make the news today. There's so much to get into with this game tonight, as the Rangers set milestones, created history and continued their chase for the playoffs.
However, before recapping everything tonight, here are my last few blogs, (and if you missed last night's blog, you'll want to read that one) in case you missed them:
---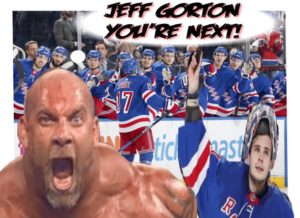 ---
---
---
---
As usual here, let's recap all the news in chronological order.
First up, an update on the Chris Kreider contract: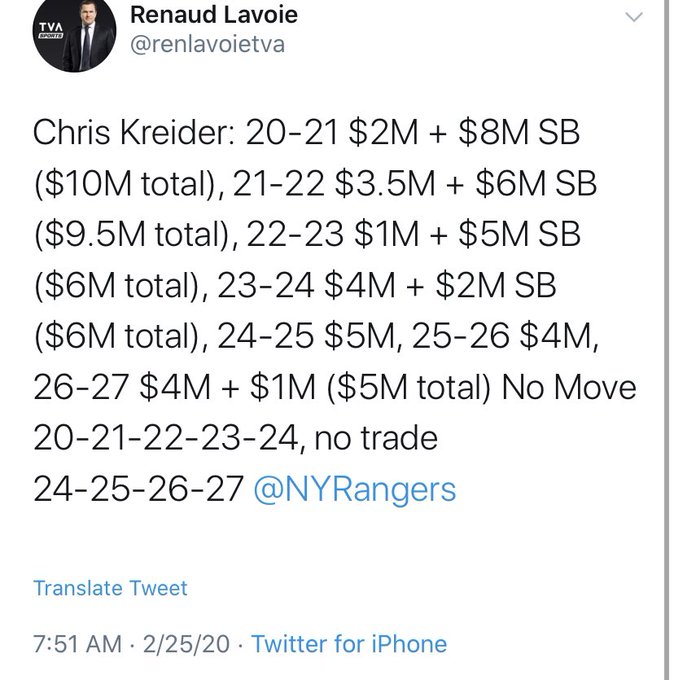 As you can see, as many expected, Chris Kreider did indeed receive a No Move Clause in his new contract with the Rangers. I recapped everything Chris Kreider related yesterday, so check out last night's blog for everything.
When it comes to the NMC, while obviously, you hate to see these clauses from the perspective of a team, they are the norm and a necessary evil when locking down players to long-term deals. After all, have you seen my stuff on Henrik Lundqvist and his contract over the last six years on this site!?!?
Again, I don't mind this contract at all. I think keeping Kreider gives the Rangers the best chance to win in the future. If the deal stinks in year seven, you could always buy him out or hope he waives. However, I think Kreider will be fine for the Rangers. Plus, if they do win a Cup within five years, I could care less if his contract stinks in year 7. And as I said last night, come seven years from now, $6.5M will be a low percentage, in regards to the team's overall salary cap budget.
Moving along.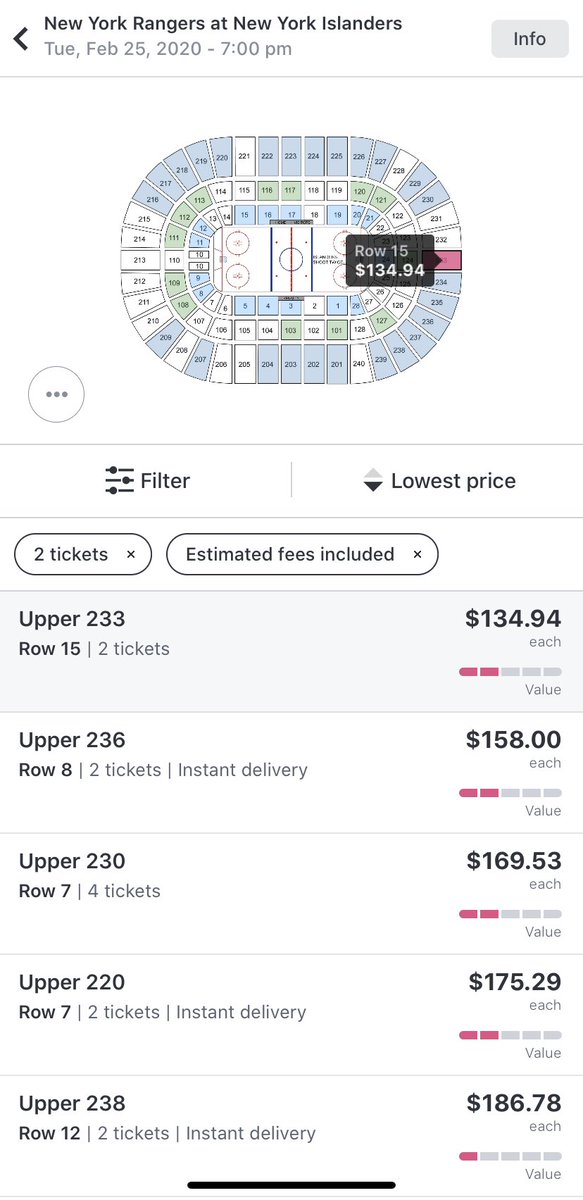 As we've seen recently with the Rangers, the prices for ducats at M$G this season are now surpassing the price point of playoff games, from previous seasons. It's getting really expensive again to attend games at M$G.
When it comes to the Islanders, the only games they ever sell out (The Islanders have had the worst attendance in the league for the last few years now & that includes markets like Arizona and Florida) are the games where the Isles host the Rangers. While $134 for the worst seat in the house, a house where the roof drips water on you all game, is nothing to sneeze at, for the most part, $134 is much cheaper than tickets at M$G.
Of course, as it has been ever since the Islanders were established, Ranger fans come out to attend these games. With Ranger fans used to having their wallet raped to attend hockey games at M$G, they will overpay to attend Ranger/Islander games, no matter where the Isles call home. It's a supply & demand market, so as long as Ranger fans will pay these insane prices, this practice will always continue. And I'm not above it either – I've overpaid plenty of times to see Ranger vs Islander games in my life.
That all said, this all goes back to what I've been saying for years. I wonder where the next generation of hockey fans will come from. The Rangers can promote all the family games they want, but if it costs the average family of four $1000 to attend a game, it's all for naught.
When it comes to selling hockey, the live experience is the NHL's best drawing card. Nothing beats a hockey game live. In the NFL, you can't see shit and it's much better on TV. Baseball is boring. Basketball takes forever to play the final five minutes and is full of whistles. When it comes to the live experience, of the four major sports in America, the NHL experience is the best. Of the four major sports, it's the only sport that's better live than on TV. However, if young fans aren't attending these games NOW, due to families being priced out, who will be sitting in these seats in 20, 25, 30+ years from now? Just something to think about.
I'll say this too – if you're one of the Ranger fans who spent obscene money tonight, you have to feel like you got your monies worth. WHAT A VICTORY!
Let's quickly switch gears to another Rangers rival, in the NJ Devils. I received the following email on Tuesday afternoon: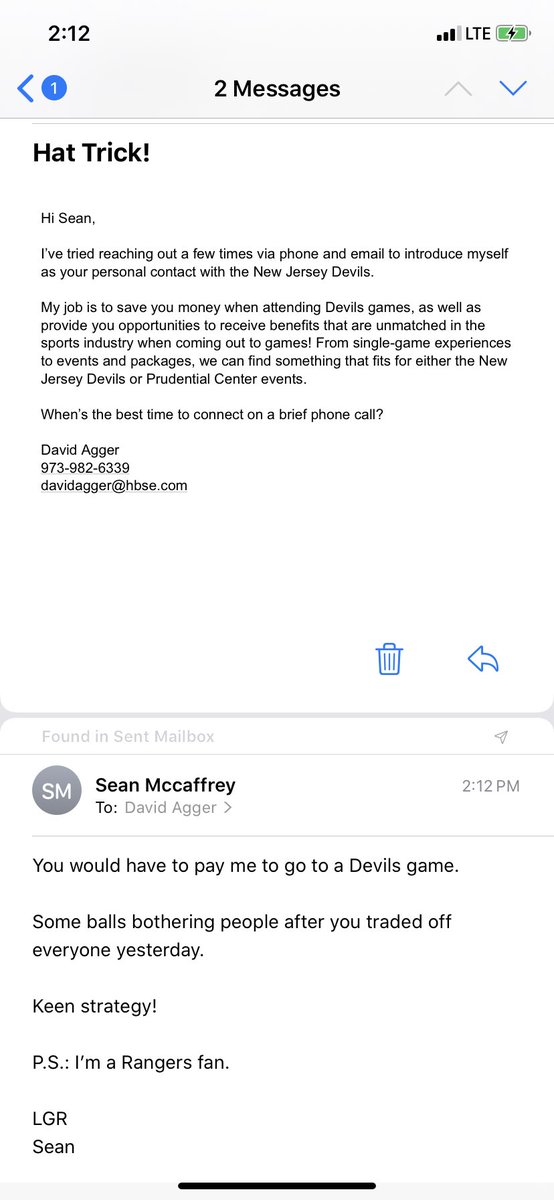 Over the years, because I've purchased tickets to see the Rangers play the Devils at The Rock in Newark, I'm on their mailing, phone and everything else cold-call list. For years, despite me telling these vultures that I'm a Rangers fan and have no interest in buying non Ranger vs Devil game tickets, they continue to hound and hound at me.
Living on Long Island, I have nothing to do with Newark, NJ. Whenever I get a phone call from that (973) area code and my phone displays the caller as being from Newark, I automatically send the call to voicemail. I know it's the damn Devils bothering me!
After sending about 10 calls from the Devils to voicemail in the last week, I got the email above sent to me. As you can see, I responded politely. After all, Mr. Aggers is just doing his job. No reason to get nutty!
Do you know what I truly found SAD about this? It's the fact that this guy is probably contacting 67863746376373679463 people, as he tries to find a sucker to purchase Devils tickets. Can you imagine the team you work for being in last place, trading off your entire team in the last week and having to drum up attendance & ticket sales? I don't envy the job Mr. Aggers has. I'm sure he's getting an earful from all over the place.
It's one thing when the Rangers contact me 7676996 times to buy season tickets, it's another when the Devils are doing it, especially with the timing of their calls & emails.
If anything, it should be interesting to track the Devils attendance, as we hit the home stretch of the season here. Will they crack 3000 fans a game?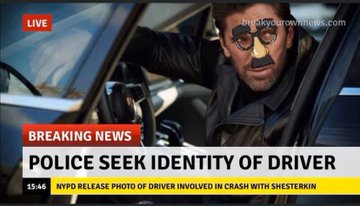 When it comes to the Rangers line-up tonight, it was announced yesterday that Georgiev was going to get this start. David Quinn would later confirm, that before the Igor injury, Georgiev was slated for this game, hence Igor going back-to-back over the weekend.
Lundqvist was never considered for this start. You would have to be a Father Finkin' moron if you thought Lundqvist was going to start this game. After all, as a reminder (I have posted this graphic several times this season) here are Lundqvist's stats against the Islanders, ever since signing his ridiculous contract, which went into effect in the 2014-2015 season: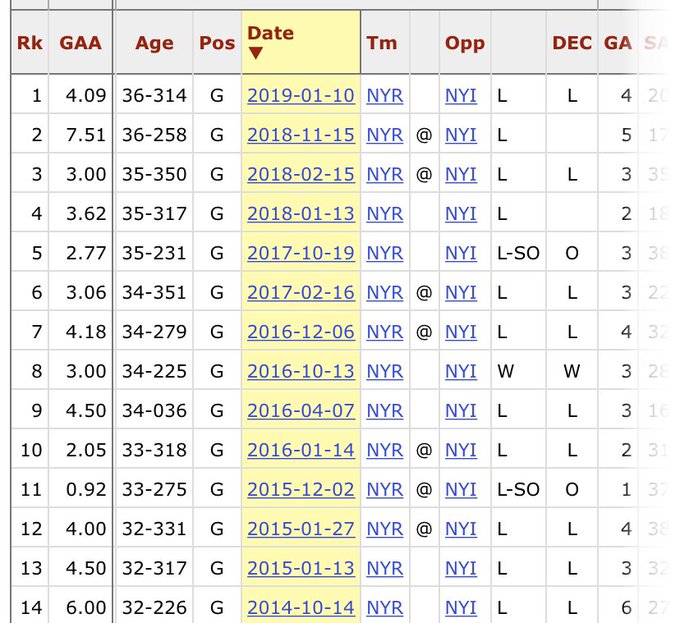 Even if you ignore Lundqvist's terrible GAA & Save Percentage numbers against the Islanders, you can't ignore this – he's 1-13 against them, in his last 14 starts. NOT GOOD! PATHETIC! And some people call this guy a "King". He can't even beat his number 1 rival. All he can do is bruise up an innocent female employee of the Islanders. (I've talked about this story 373737388838834 times on this site. I'm not doing my "Greatest Hits" here. Just google "Lundqvist and Kelli Higgins" or "Lundqvist Islander Girl", for the full story, if you don't know it by now.)
So yeah, despite the tears that the "Cult of Lundswiss" were pouring out of their eye sockets tonight, there was just no way Lundqvist was playing in this game, a game that the Rangers had to win. Quinn was going with his best goalie and going with the goalie with the winning history against the Islanders. That's what good coaches do.
Prior to tonight's game, the Rangers tweeted out the following: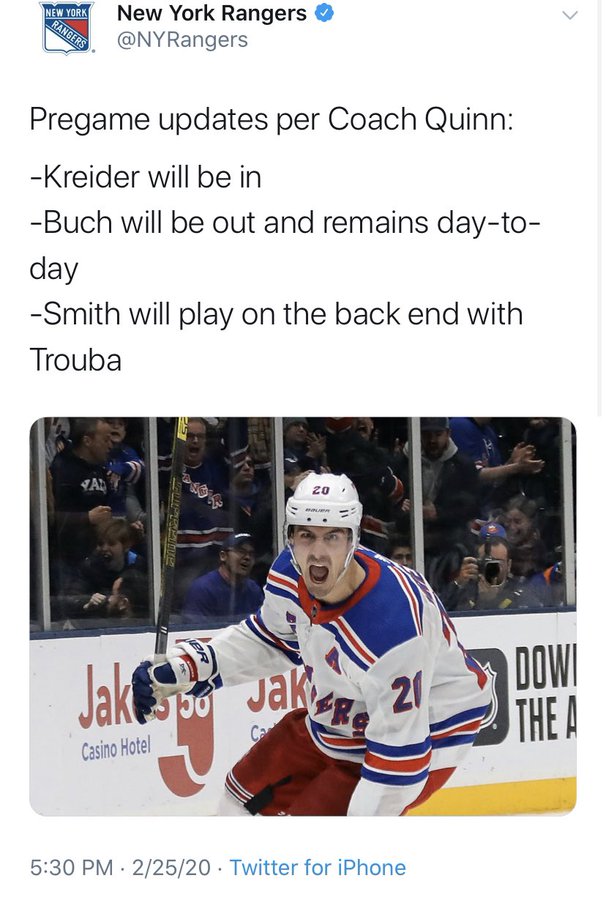 Of the news the Rangers tweeted out, Chris Kreider, despite signing his contract yesterday, missed practice on Monday, as he was battling the flu. Despite being ill, Kreider played tonight. He knows the deal and how big this game was. While no one would've blamed him if didn't play tonight, as he recovers from the flu, I guess you can say some people would think the optics of Kreider not playing tonight, the day after he signed a huge contract, wouldn't have been good.
Buchnevich, Igor's passenger in the car accident from Sunday, is still sore and banged-up. While he's expected to return soon, he didn't play tonight. This allowed Greg McKegg, the 13th forward on the team, to play.
Of course, as talked about last night, with Skjei gone, Brendan Smith now returns to his role as the 6th Rangers defenseman.
Real quick on Brendan Smith here. While I've been critical about him during previous seasons, due to the fact he came into camp out of shape & had that stupid fight with Vinni Lettieri in Hartford, this season has been Smith's best season with the Rangers. As I've been saying all season, I rather see him on the ice than Skjei.
Smith has been absolutely versatile this season and successfully playing in any role David Quinn has plugged him into. Whether it's on the PK, a fourth line forward or even doing little things off the ice, such as helping out Kaapo Kakko acclimate to America, Smith has been a huge asset for the Rangers this year. While I'm aware Skjei makes more money, I always felt that when it came to Smith vs Skjei at the trade deadline, the Rangers would look to move Skjei over Smith. Smith just brings more to the table.
I bring up Smith here, as I'm about to get into Quinn's line-up tonight. It seems that moving forward, as we are now in the final 25% of the season, Smith, barring any other injury on the roster, will no longer be on the fourth line anymore. He will now be paired up with Trouba on the defense.
Prior to tonight, very recently, when Marc Staal was sick and Tony DeAngelo was hurt, Smith went back to playing defense. It's like he never left the position. In this post Brady Skjei era, Smith is now back as a defenseman, and in tonight's game, I didn't think he missed a beat. I thought he was good. It can't be easy to switch positions and have a different mindset & approach, but Smith is handling his role on the team superbly.
Here was tonight's line-up:
FIRST LINE: Kreider/Zibanejad/Chytil
(Chytil replaced Buchnevich tonight. I thought Chytil was hit-or-miss tonight. Kreider obviously wasn't himself. As usual, Zibanejad had a great game.)
SECOND LINE: Panarin/Strome/Fast
(Panarin was the player of the game in my eyes. Is that new?)
THIRD LINE: Di Giuseppe/Howden/Kakko
(Di Giuseppe continues to put pucks on net, as he looks for his first goal as a Ranger. Howden had a great game defensively. Kakko still isn't there yet.)
FOURTH LINE: Lemieux/McKegg/Gauthier
(While they would get stuck in the latter stages of the game, I thought this line put forth a great effort. I thought this game wasn't that great for Gauthier though, as compared to his other games here. Lemieux stepped up big tonight.)
Defensively, we had the following:
FIRST PAIR: Lindgren/Fox
(While not listed as the first pair all season, we all knew the deal. They are the top pair. Finally, they are now being listed as the top pair. Once again, how many times can you say it – this rookie duo is exceeding all expectations.)
SECOND PAIR: Staal/DeAngelo
(Solid as usual.)
THIRD PAIR: Smith/Trouba
(I said this during the game and David Quinn said it himself after the game – this was one of Trouba's best games as a Ranger. Smith was also solid tonight.)
And of course, as mentioned a few times already, in net was Alexandar Georgiev, your KING OF KINGS!
---
Gambling segment time!
Here's what I said before the game:
Season over-under record: 28-30-3

Beware: I'm on a cold snap here!

Georgiev v Varly tonight.

With a line of -6, I see this as a close game, but with both teams scoring.

I like 4-3, Rangers so I'm taking the over. #nyr +1.5 best bet. pic.twitter.com/xL3sGUQLA4

— BlueCollarBlueShirts (@NYCTheMiC) February 25, 2020
I'm off the schneid! I hit everything tonight and even had the final score right! BOOM! Do I get bonus points for that?
With the win tonight, I snap my losing streak. When it comes to the over-under bets, I'm now 29-30-3 on the season. It's time to get back to .500!
At this time, let's go to the box score of this game, courtesy of ESPN.com:
SCORING SUMMARY: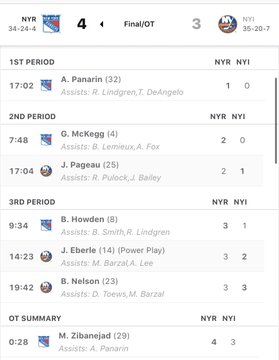 PENALTIES: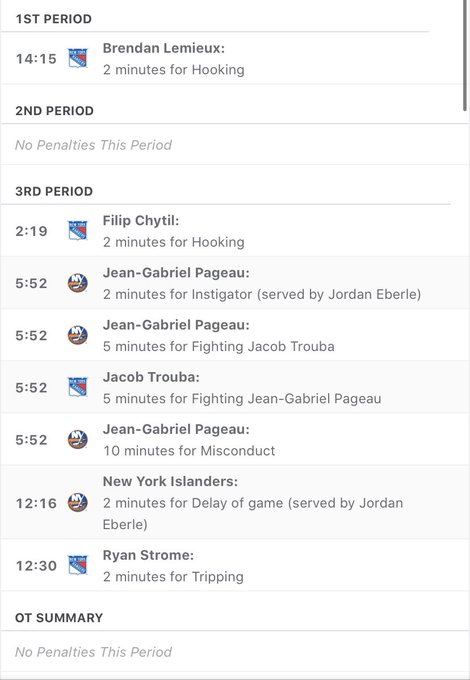 TEAM STATS: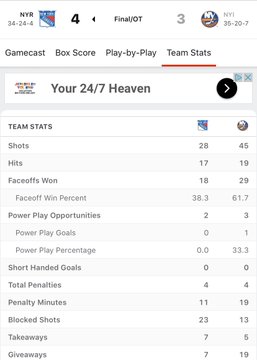 GOALIES:
| | | | | | | | | | | |
| --- | --- | --- | --- | --- | --- | --- | --- | --- | --- | --- |
| SA | GA | SV | SV% | ESSV | PPSV | SHSV | SOSA | SOS | TOI | PIM |
| 28 | 4 | 24 | .857 | 21 | 1 | 2 | 0 | 0 | 58:28 | 0 |
| | | | | | | | | | | |
| --- | --- | --- | --- | --- | --- | --- | --- | --- | --- | --- |
| SA | GA | SV | SV% | ESSV | PPSV | SHSV | SOSA | SOS | TOI | PIM |
| 45 | 3 | 42 | .933 | 37 | 1 | 4 | 0 | 0 | 60:28 | 0 |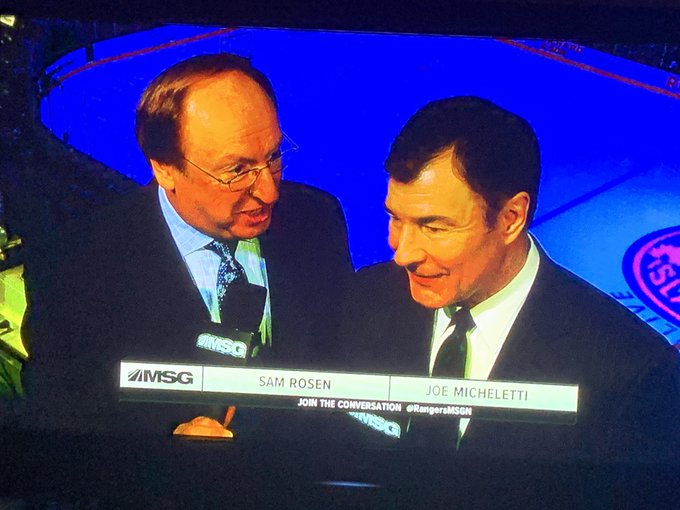 As usual, the 30 minutes of the M$G Networks pregame show was horrible, sans an interview that Dave Maloney conducted with John Davidson.
Away from Maloney's interview, Anson Carter told us how tonight was a big game. Hard hitting info. Then, Steve Valiquette, when asked about tonight's goalie, didn't bring up the histories of Lundqvist & Georgiev against the Islanders. You know NBC would've.
In something that no longer surprises me anymore, Valiquette talked about fisting, while naming five Rangers. Vally can't keep his personal life off of these broadcasts. He's either talking about his terrible career of under 30 games or about the stuff that I assume he does in Swedish bathhouses around the Village in NYC.
After the terrible Bud Light Bar segment, we had Maloney's interview with JD. Despite Maloney recklessly injuring JD 40 years ago, almost to today's date, in an act of frustration, these two seem to be good friends in 2020.
If you saw the stuff with JD yesterday, he pretty much said the same stuff to Maloney. He's happy about Kreider. Skjei is a nice guy, but NYR has to think about their future, the guys in the system and the cap.
This interview was good, but after yesterday, you didn't get anything new out of this. All I truly got out of this is that JD says the word "curveball", as much as Micheletti says the word "fabulous."
In our last segment before kicking it off to Sam & Joe, Vally told us that scoring the first goal in games is important. I guess since he let up so many of these goals in his short time in the NHL, he's speaking from experience here.
And I don't mean to do the "gang up" on Vally stuff all blog, but he's seriously horrible. It's all about him and not anyone else.
Despite Georgiev playing fantastic again tonight, Vally once again, for the 6763789634893th time this season, was going on and on about how you need to be a tall goalie in the NHL. Vally is about 9 feet tall on skates and wasn't that great during his crappy career, where the bulk of his playing days centered around carrying around Lundqvist's hair products. Georgiev is short and playing tremendous. With all the shade thrown to back-up goalies this year by Vally, in his comments that reek of envy, I wish Vally would choke on one of his stupid charts. Even worse, he should be forced to drink a Bud Light Seltzer!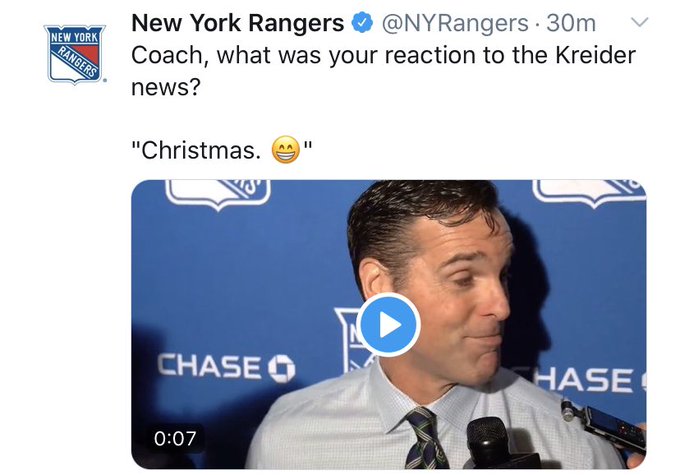 When it comes to this game tonight, there were several recurring themes:
— Georgiev was out of this world, once again.
— Charts mean absolutely nothing. The Islanders DOMINATED the Rangers for the majority of the game, winning the battle at the dot and puck possession. However, just like CZAR IGOR recently, Georgiev weathered the storm early, and it allowed the Rangers to amass a two goal lead.
— Joe Micheletti and his usage of the word "fabulous", is now as contagious as the corona virus. During the broadcast, Rosen, Pidto and Giannone were all saying "fabulous" too. Joe has ingrained this word in their brain!
And lastly, before getting into the game recap portion of the blog, the crowd tonight made this game seem like a playoff game. While I don't get why the Islander fans sing so much, as if they were trying to book a gig at the Apollo, they brought the noise and the energy. It's just a shame they don't do this during non Ranger/Islander games.
As a Ranger fan who watches every game, the Islander fans made the home crowd at M$G look like a joke. I don't know what's sadder – the lack of crowd noise at M$G or Lundqvist's stats against the Isles.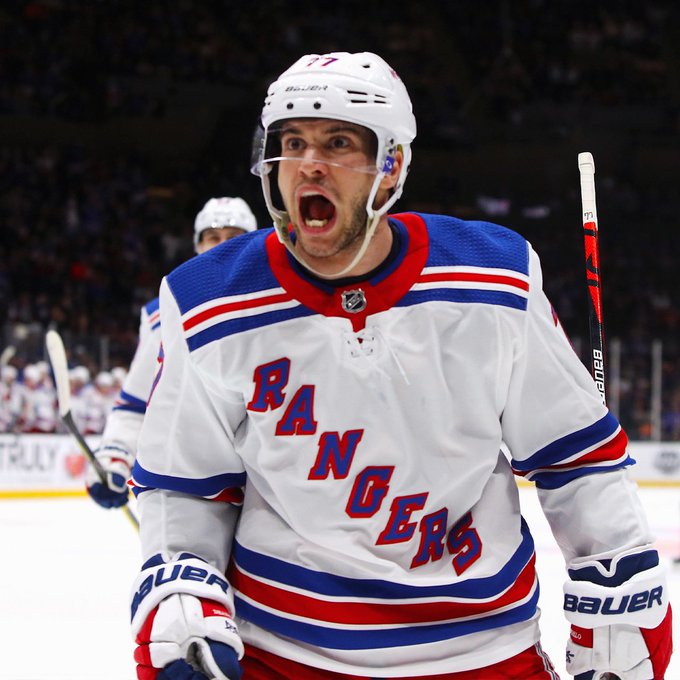 With Panarin's line and the newly minted official top defensive pair on the ice, the game commenced. The crowd was white-hot here. You had to love this. This is what it's all about. Again, while I don't get all the singing, as the Isle fans all come off as fairies to me, they certainly create a raucous environment.
After Varly made his first save of the game on Strome, Georgiev would make his first of 42 saves on Boychuck.
Real quick on Georgiev tonight. This was another big balls performance from him. You might see three goals allowed and how the Rangers blew a two goal lead tonight. Call me a Georgiev guy, and I am, but I wouldn't pin any of the goals on him tonight. One goal happened after a fluke play. Another goal was off a power-play. The tying goal occurred during an extra skater attack from the Isles, and was the result of the Islanders holding the puck for the final six minutes of regulation. I'll get into all of that as we roll along.
The first period of this game was very familiar. It was like the Sharks game all over again, as the Islanders dominated the puck and the Rangers goalie had to be lights out. Georgiev would stop Eberle on two consecutive Islander possessions. The first five minutes of this game was all Islanders, as they quickly jumped out to a 6-0 SOG advantage.
New Islander, in Ranger killer Jean Gabriel Pageau, was well received by Islander fans tonight. He made his presence felt early, after he laid a big hit on Ryan Lindgren. This then started the first of many "Ole, Ole, Ole" style of chants for Pageau. Again, the Islander fans love to sing and finger-blast each other.
In what could've been huge, after surviving a fast-paced Islander attack, Brendan Lemieux came so close to getting a tap-in goal. No dice. While it was early, the fourth line of the Rangers were the best line for NYR. To be fair, the Isles fourth line is all banged up right now.
After a wild shot from Strome that went wide, the Isles would get the puck and Georgiev would make a huge save on Barzal:
Georgie lookin' sharp. #NYR pic.twitter.com/f4sLyRuRFr

— Rangers on MSG (@RangersMSGN) February 26, 2020
The crowd was jacked here. Right after this, while screened, Georgiev stopped Mayfield.
As hit the ten minute mark of the first, this game continued its frantic pace. In fact, there were only six face-offs all period, as this game was all bang-bang in this first period.
Georgiev would be the stand-out Ranger here, making three saves in a row and then stopping Eberle. I don't know if the Rangers were gassed or what, but the Isles looked like 1972 Team Canada here.
On the other end, in a rare offensive chance thus far for the Rangers, Di Giuseppe got a shot off on Varly. Save. Then Di Giuseppe got his own rebound. Save again for Varly.
With 5:45 remaining in the period, Brendan Lemieux was booked for hooking. This may have been a reputation call.
The Rangers, who lost the first period battle at the dot by a score of 5-1, in favor of the Islanders, lost the opening face-off of this Isles PP. The Isles would control the puck for the next 80 seconds, before Howden prevented a cross-ice pass, thus leading to a Lindgren clear.
On the next Islander possession on their PP, their final possession of this PP, as we've seen so many times this season, Mika Zibanejad created a turnover and cleared the puck. At times this year, Mika has been a one man show on the Rangers PK. Georgiev would wind up with two short-handed saves here, as the Rangers PK went 1-1.
Chytil, who I didn't think was as good as he has been in previous games, would get a chance all alone with Varly. Instead of shooting, he passed the puck. Turnover. However, on the next Rangers possession, it was the BREADMAN, once again, coming up big in a game against the Islanders:
🍞 with the new career-high 32nd goal!!!! #NYR pic.twitter.com/4of4dxmQom

— Rangers on MSG (@RangersMSGN) February 26, 2020
1-0, GOOD GUYS!
With just 2:58 remaining in the period, the Rangers put forth their best piece of offense here. Tony DeAngelo feeds Ryan Lindgren. Lindgren then sets up Panarin with a perfect east-west pass and Panarin, as he always does, finished the job. BANG!
And how about Ryan Lindgren here? This pass was on the money. I guess playing with Fox and watching TDA has rubbed off on him! This was easily the best pass of Lindgren's NHL career. Furthermore, with the goal, Panarin scored his 32nd goal of the season, which is a new career high for him. I think he'll hit 40+, don't you?
With under a minute to go in the period, Howden displayed some good forechecking. The Isles would get the puck, but couldn't get anything going. With about 12 seconds left in the period, Adam Fox got the puck, sat behind Georgiev and allowed the clock to wind down. After twenty minutes, and in a period that the Islanders dominated in, it was the Rangers up on the scoreboard, by a score of 1-0.
Of note, the Isles out-shot the Rangers, by a tally of 15-7. In other words, the Isles doubled up the Rangers on SOG, but the Rangers had the lead. Good teams find a way to win when they aren't playing at their best.
During intermission, I checked in on old friend Brady Skjei, who was making his debut with Carolina tonight:
Brady Skjei, 51 seconds into his Hurricanes debut. pic.twitter.com/9uVbnRbXdE

— drizzy (@slimeman_) February 26, 2020
In Skjei's first shift for the Canes, just 51 seconds into his debut, he lazily misplays a puck and Dallas scores a goal.  You can't make this up. Even better, with the Canes one of the teams that the Rangers need to leap-frog in the standings, Skjei should help sink them.
Of course, because it wasn't Lundqvist, during the intermission, Vally said Georgiev had an easy first period, due to great defensive structure. I guess 15 saves and the robbery on Barzal wasn't enough for Vally. He should get an expected foot to his ass from Red Foreman, of "That 70's Show".
As we opened the second period from the Asbestos Arena in Uniondale, we had our usual spiel from Sam Rosen – "SECOND PERIOD. WHAT DO YOU LOOK FOR HERE JOE?" As Joe was about to say less shots at Georgiev, the Islanders quickly got another shot off. Save by Georgiev.
On the first Rangers possession of the period, Varly would make a nifty save on Smith. Then, while we didn't see it live, towards the end of the first period, Andy Greene, when trying to make a play on Lemieux, skated, tripped and went crashing into the boards head-first. Micheletti had the replay ready here. This looked nasty. I've seen it reported elsewhere that Greene may miss the rest of the season. However, I haven't seen this 100% confirmed yet.
Here's the play:
This is how Andy Greene hurt his shoulder #Isles pic.twitter.com/PLzSfBlIaS

— IslesBlog (@IslesBlog) February 26, 2020
Greene wouldn't return to the game after this. What an unfortunate turn of events for the ex-Devil captain.
As the period was in its early stages, Georgiev would make short work of monkey faced Matt Martin, flashing the glove. On the next Isles possession, Georgiev would make a "BITCH PLEASE" glove save on Eberle, with Georgiev's glove looking like Derek Jeter in his prime.
With 16 minutes to go in the period, Georgiev was already up to 20 saves. Varly had 9.
From here, Sam & Joe raved about Lindgren & Fox again, using the word "fabulous" 5 times. I guess I gotta give them a pass – this duo is indeed FABULOUS!
Of note here, after a high octane pace in the first period, the pace of this second period came to a screeching halt. There were tons of stoppages. It felt like the Islanders either went offside or iced the puck over 10 times in the period.
As we got under 15 minutes to go in the period, Georgiev was just stopping everything. He was very quickly up to 24 saves. Many of these saves were the results of Isles shots after Ranger face-off losses. After a failed Rangers 3 vs 2 attempt, from the Panarin line, Georgiev would log his 25th save, after a blast from Pulock.
At the 7:48 mark of the period, the Rangers added another goal:
Give it to Greg McKegg with the deflection in front#NYR | @NYRangers pic.twitter.com/uNZv9O3D7D

— Rangers on MSG (@RangersMSGN) February 26, 2020
2-0, GOOD GUYS!
This was a special goal here. Brendan Lemieux hammers the puck at Varly. The puck was going to go a foot or so wide. However, McKegg, of all people, who wouldn't have been playing in this game if Buchnevich was healthy, deflects the puck right past Varly, with extreme precision.
If the Rangers want to make a playoff bid, there are going to be games where Mika & Panarin will be contained and shut down. The scoring has to come from elsewhere in some games too. To see the Rangers fourth line pick up this goal was a treat. And hey, another point for Adam Fox here too, as he got the secondary assist.
At the half-way mark of the period/game, the Islanders looked to be the better team, but it were the Rangers up 2-0. It just goes to show you how meaningless charts are. It's all about playing the game.
It was also at this point in the game, where the following tweet was sent to me: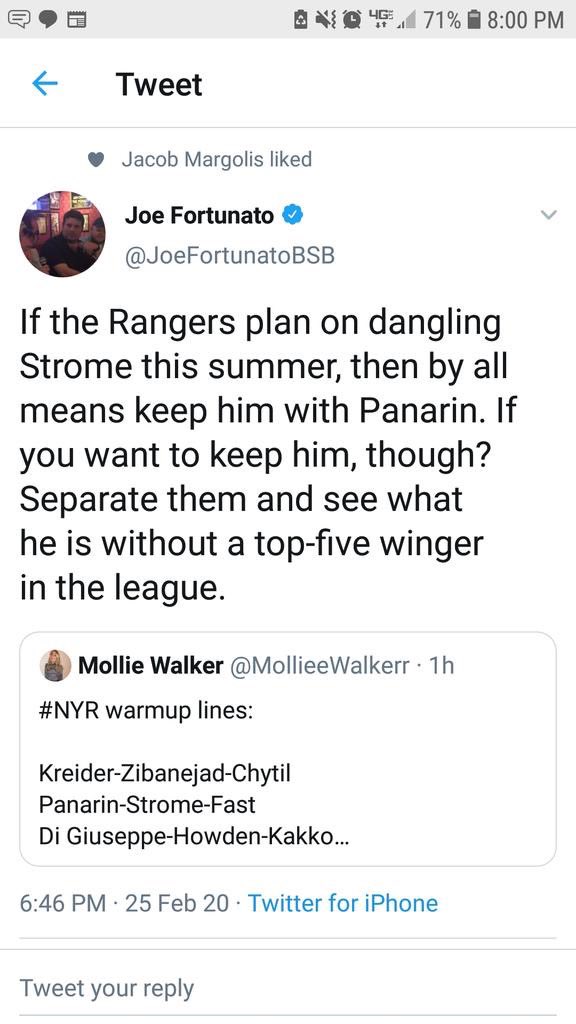 I couldn't imagine being Joey "Mom Jeans" Unfortunato. Ryan Strome and Panarin have chemistry. This guy is complaining about that? Ryan Strome is doing exactly what he's supposed to do and is having a career season. As mentioned 56567569767854 times on these blogs, you signed Panarin to better the team and his teammates. Now you want to break that up, just to prove a hypothetical? Dickhead.
The Rangers are chasing the playoffs and this moron wants to take a timeout. From all accounts, Strome is having a great season and beloved in that locker room. I just don't the way other bloggers think.
As this game continued, old enemy/new friend (it's amazing when you have a conversation with someone and can find common ground) Ranger fan Michael Silvers was proven correct again. Adam Fox is the CORNERSTONE of this Rangers defense. He was breaking up Isle scoring chances left and right. And let's not forget about his assist from earlier either.
With five minutes to go in the period, Georgiev picked up save number 30. I'll get more into this at the end of the blog.
As the game got under thee minutes to go in the period, the Islanders got some puck luck and got their first goal of the game:
Welcome to the Islanders J.G. Pageau! #Isles pic.twitter.com/tv8aBv4ezg

— Rob Taub (@RTaub_) February 26, 2020
2-1, good guys.
I rarely show the opponent's goals on these blogs, unless something crazy happened. That's what happened here.
Unfortunately for Georgiev, his shut-out was ruined on a fluke play.
Pulock blasts a puck. The puck hits the stanchion, that little piece of hardware that separates the boards from the glass. Instead of taking a routine bounce around the boards, the puck took a fortunate Islander bounce. With everyone besides one player, in Pageau, standing around, either looking to find the puck or thinking the play was dead, Pageau easily scored on Georgiev, as Georgiev was looking the other way.
I think some players may have felt the puck hit the netting or something, as several players, both Rangers & Islanders, stood around, including Marc Staal. Georgiev didn't know where the puck was either.
Of course, it's Ranger killer Pageau getting the goal here, but give him credit – he had the offensive awareness to realize the play was still live and he capitalized. That said, you couldn't really blame Georgiev for this fluke goal and it's a shame his no-no got axed over it.
The Rangers would challenge Varly in the final 20 seconds of the period, but no dice. At the end of two periods, and in a tightly contest game, in front of a manic crowd, the Rangers were still up a goal, by a score of 2-1. All the Rangers had to do was hold the Isles off the board to win the game.
From this point on in the game, if this game wasn't a roller-coaster already, no matter what team you were rooting for here, your emotion level went up and down, as if you were on an elevator. (Hi Eddie S.! JAJAJAJAJAJA!)
The Rangers opened up the third period better than the starts they had in the previous periods. However, early into the period, Chytil, who could've cleared a puck, decided to pass the puck in the middle. Turnover. Then, when trying to break up the Isles attack as a result of his turnover, Chytil took a hooking penalty. While this penalty was debatable, he did make contact and the refs are going to call this 9/10 times.
On the Islanders PP, their second of the game; Fast & Zibanejad, as usual, were making big clears. Georgiev would pick up two more short-handed saves here, even denying Nelson on a wraparound. The Rangers PK would prove to be successful here, as they moved to 2-2 on the evening.
At this point in the game, Sam Rosen read a plug for Rangers Gay Pride night. He said, "come celebrate acceptance and respect on Pride Night". Of course, if you don't want your kids exposed to sexuality, if you're a devout Christian or if you don't want politics mixed in with your sports, no one cares about your feelings. YOU MUST BE WOKE IN TODAY'S WORLD! YOU MUST EAT THIS LIBERAL SHIT UP WITH A PAPER FORK AND SPOON!
I've talked about these Pride Nights before, so I won't go into this topic full boar here. However, I find it Father Finkin' sickening, when some freak who turns their genitals inside out, is celebrated as a "hero". It demeans the good work when these teams honor actual heroes, in the men & women who serve in the armed forces. Trying to equate someone who got an expensive operation on the same level as a war hero, is something I don't accept and something I don't respect. That's right, I said it. I'm allowed to have my opinions too. Respect that. Accept that!
And as I've said in the past, I still don't get how people with mental problems, who have these sex change operations, get lumped in with the homosexuals. Homosexuality is natural. You're born with that. You see homosexuality in other species and mammals. However, you don't see a dog needing to have their red rocket turned into vagina.
Lastly on this, to me, this night is just the NHL trying to score liberal brownie points. It's just not needed. After all, when has a Jew, a homosexual, a transgender, an Asian, an Irishman, an African-American, a Latino, a woman, an Islander fan opera singer or anyone else, ever been denied entry to a hockey game? The only color and thing the NHL cares about is GREEN. That's why they pump out all that rainbow bullshit; it's just away to put more cash in the bank.
(Oh and before you screen shot all of this and say "Look, he's being homophobic!", I have many gay & lesbian friends, several who read this blog. I just don't think promoting sexuality belongs in sports and I find this all to be a huge cash grab & a self-serving pat on the back, on behalf of the NHL.)
Let's go back to this game here!
With the teams at full-strength, we had the turning point in the game, at least in my eyes. Jacob Trouba just opened a can of whoop ass, Stone Cold Steve Austin style:
Trouba just killed a guy pic.twitter.com/h0ZDqLuvna

— The Morning Skate (@Morning_Skate) February 26, 2020
On this play, Michael Dal Colle gets caught skating with his head down, and unfortunately for him, runs into a player a foot taller than him, in Jacob Trouba. This was a clean hit, but this is hit that absolutely rocked Dal Colle's world. If Dal Colle was a cartoon character, there would be little birdies floating around his head.
To Pageau's credit, he immediately defended his new teammate. However, Trouba promptly kicked his ass too.
To recap this fight in UFC terms, let's go to my boy Gideon Dabi:
Trouba by TKO. 0:07 round 1. #LGR

— Gideon Dabi / גידעון דבי (@gideondabi) February 26, 2020
As a result of Trouba laying the smackdown on the Islanders, Dal Colle was done for the game. Pageau would take 17 minutes worth of penalties here, for instigating a fight and for the fight itself. Pageau also received a 10 minute game misconduct too. For his role in the fight that Pageau started, Trouba got a five minute major for fighting.
And yes, I know the Isles would outscore the Rangers in this period, but Trouba did take Dal Colle out of the game. With Pageau's retaliation, this play also took Pageau out of this game for the rest of regulation. With the early Rangers GWG OT goal, it also took Pageau out of the OT as well.
With all the penalties sorted out, this led to a Rangers power-play, their first of the game. The Rangers wouldn't score here, but they dominated the puck for a long period of time. Credit to Varly for keeping NYR off the board here.
Just before the game hit 10 minutes remaining, the Rangers got their insurance goal:
Another sick deflection, this time by Brett Howden. #NYR #LGR pic.twitter.com/Va0vT7SRsY

— Rangers on MSG (@RangersMSGN) February 26, 2020
3-1, GOOD GUYS, courtesy of a Brett Howden deflection off of a shot from Brendan Smith. Two things here. Lindgren had the secondary assist here, giving him two assists in this game. This Rangers blueline is just racking points this season!
Secondly, before this game, I saw these chart geeks whining about players like Lemieux, Howden, Smith and McKegg. In turn, all of these guys picked up points tonight. ISN'T THAT AMAZING SUZYN?
Also of note here during this period of time? Trouba was having a monster game, while Skjei was struggling & Carolina was getting blown out of the water. Funny how that worked out. Who could've predicted that Trouba would be better without Skjei around? Hmmmmm…… Spoiler: It's the same guy who predicted the final score for this game!
As we got into crunch time, with just 7 minutes and change left to play, it looked like the Isles had a goal. However, Anders Lee was all over Georgiev. Once the puck went in, the refs immediately waved the goal off, citing Lee for interference. The call was decisive, as the refs wasted no time tossing the goal.
Barry Trotz, the Isles HC, immediately challenged the goal. In a two goal game and late into the third period, it was the right call. However, the refs stood by their original call. This gave the Rangers another power-play, after the delay of game, called on Trotz & the Isles, for wasting time with the review.
The Rangers PP would never get a chance to get going here, as just 14 seconds into the Rangers power-play, Ryan Strome was boxed for tripping. This then led to four on four foreplay.
With Eberle serving the penalty, the biggest play during the 4×4, was when Georgiev absolutely robbed Anders "Who are you again?" Lee, from point blank range.
However, the Rangers weren't out of the woods yet.
With Eberle coming out of the box and with the Islanders on a tiny 14 second power-play, Eberle backhanded a puck by Georgiev, going top shelf, to make the score 3-2 good guys, with 5:37 remaining in regulation.
I've talked about this before, in regards to Georgiev. While I know backhanded shots are the hardest shot for a goalie to stop, backhanded shots have been Georgiev's kryptonite. It once was again here. The Isles get a PPG here. This game wasn't over by a longshot yet.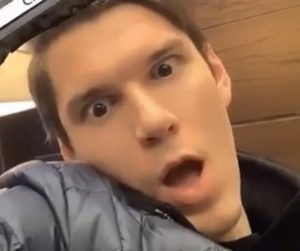 From the time Eberle returned to the ice, after the delay of game penalty, the rest of the game was all Islanders.
No joke – the Rangers barely touched the puck here. The Islanders owned the Rangers in these last six minutes. In the Rangers rare touches here, all they did was dump the puck and change, as they were so tired from defending.
During one particular shift, the Rangers fourth line was on the ice for 90 seconds. They were done, but fortunately, the Isles couldn't put it together.
With 1:40 left in regulation, Varly headed to the bench, giving the Isles an extra skater.
Twenty seconds later, after a save by Georgiev on Barzal, the Isles, not the Rangers, took a timeout. I thought this was a blessing, as I thought DQ should've been asking for the timeout. His team was gassed to shit. It's like the whole team was Dutch Oven'd. The Isles just wouldn't give in and the Rangers looked as helpless as an altar boy in a room full of priests.
As we got under a minute to go, Georgiev picked up his 40th save. Then, with just 17 seconds left to go, and with the Rangers chasing the Isles for six minutes, the Isles finally broke through on their 6 x 5 attack, when Brock Nelson beat Georgiev.
3-3.
I don't have to tell you. This goal was crushing. The Rangers were 17 seconds away from winning this four point game. Even if they were to win (as they did) the Rangers allowed the Isles to gain a point in the standings too. On the bright side, at least the Rangers gained two.
The two teams would finish the third period, and the game, tied at 3-3. Up next – overtime.
I can't lie. I was extremely nervous here, biting my fingernails all the way to the skin. The Isles had all the momentum in the world. My fears were increased, when as usual for this game, the Islanders won the opening face-off in the overtime. However, you can never rule out the Rangers with Artemi Panarin here.
In the overtime, and in a pure individual effort, Artemi Panarin forced a turnover. Panarin then raced down the other end, where he was triple teamed by the Islanders. However, before the three Islanders could swallow him up, Panarin pushed the puck to Zibanejad, which then led to this:
Panarin's pass.
Mika's blast.
Sam's call.
CHILLS. #NYR #LGR pic.twitter.com/45EbUPhPvn

— Rangers on MSG (@RangersMSGN) February 26, 2020
ARE YOU NOT ENTERTAINED?
ZIBANEJAD, GAME WINNING GOAL, OFF A BOMB, 28 SECONDS INTO THE OVERTIME.
4-3 GOOD GUYS.
THE RANGERS WIN…… THHHHHHHHHHHHEEEEEEEEE RANGERS WIN!
Listen, Zibanejad gets all the credit in the world for trailing properly and blasting this shot past Varly. However, this goal does not happen without Panarin's individual effort here.
Did you hear that roar from the crowd in the clip above?
Can you imagine, if somehow, someway, these two teams meet in the playoffs? This game was as electric as a playoff game.
Earlier in the season, these are the types of games the Rangers lose. Ever since the turn of the calendar, which also coincided with Lundqvist being demoted to the third string goalie, the Rangers have found a way to win these types of games. In turn, as a result of the Rangers win tonight, let's now take a look at the updated standings: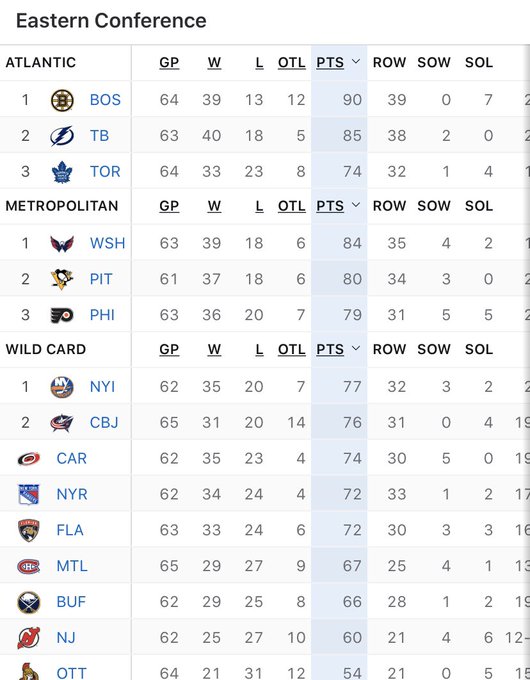 As a result of tonight's Rangers win and the losses suffered by Carolina & Columbus, the Rangers are now four points out of a playoff spot. BONUS: The Rangers have three games in hand over Columbus. Win those three games, the Rangers have a playoff spot.
And while I don't want to get ahead of myself or get anyone's hopes up, Columbus and Carolina are reeling. Columbus is the walking wounded, as they may as well put a fragile sign on the whole team. Carolina doesn't have an NHL caliber goalie right now and Brady Skjei sucks.
I know I wrote the Rangers off after the Flyers loss on Xmas Eve Eve & after the team got swept during the Western Canada road-trip, but due to the Rangers catching fire and behind Shestyorkin & Georgiev, this team controls their own destiny, especially with three games a piece against the Flyers & Penguins.
This blog is going super-long, but how can I leave anything out? I still got more things to share.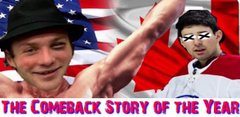 Before getting into the Rangers next game with Montreal, I want to share with you some stats & milestones.
All of the following comes from @NYRSTATSINFO:
— Per NHL Stats and Information, Artemi Panarin is the 7th #NYR in franchise history to have multiple 10+ game point streaks in one season (Gilbert, Rogers, Leetch, Messier, Gretzky, Jagr).
---
— Ryan Lindgren has posted the first multi-assist/point game of his NHL career. He has been on the ice for each of the Rangers' three goals thus far in the contest.
---
— Mika Zibanejad's game-winning goal in OT was his 100th career goal as a Ranger. He extended his point streak to eight games (new career-high) and his goal streak to five games (tying his career-high).
---
— Artemi Panarin has tallied a point in 31 of the Rangers' 34 wins this season, including a goal in 20 of the team's wins.
---
Adam Fox leads NHL rookies in takeaways (54) and plus/minus rating (plus-17) this season. His 54 takeaways are tied for the second-most an NHL rookie defenseman has recorded in one season since the league began tracking the statistic in 2005-06.
---
And here's the big one:
The Rangers' eight-game road winning streak is now the longest in franchise history and is also the longest road winning streak in the NHL in 2019-20. #NYR

— NYR Stats & Info (@NYRStatsInfo) February 26, 2020
The Rangers debuted during the 1926-1927 season. It took 93 years for the Rangers to win 8 games in a row on the road! What the hell was Lundqvist doing these last 15 years? Blaming his defensemen?
Like every historical stat, this stat is skewed a bit. After all, we aren't even 20 years past the tie era yet. So when you look at Ranger teams from previous generations, whether it be the Boucher/Cook years, the Kerr/Hextall years, the Rayner/Laprade years, the Gump years, the GAG Line years, the Rock & Sock Ranger years, or the Messier/1994 years, they all had ties to contend with. Not every game was a win or a loss.
That said, in the Lundswiss Era, an era where ties were eliminated from the NHL and which has now hit 15 years, no Lundswiss team ever won 8 games on the road before. Even more telling, while Lundqvist is stealing money from the Rangers now, he didn't play in any of these road wins during this eight game road win streak.
And to put some gas on the fire, since Lundqvist signed that ridiculous contract in December of 2013, the Rangers have never won a season series over the Islanders since that contract went into effect. In this 2019-2020 season, the Rangers, the youngest and greenest team in the league, have finally won a season series over the Islanders, with Georgiev playing in all four games and going 3-1 in those games.
Of course, none of this stuff will be brought up to Lundqvist, on the M$G Networks or by any NYR beat reporter. Heaven forbid they mention this stuff!
Moving forward, as mentioned, the Rangers control their own destiny.
Georgiev was great tonight. Knowing Lundqvist's horrible history in Montreal and with Georgiev as the hot hand, I 100% believe Quinn goes with Georgiev on Thursday. Then, on the second half of the back-to-back, you can let Lundqvist cosplay as an NHL starting goalie, in the Friday night game in Philly.
I'll tell you this – if Lundqvist has a bad game or if the Rangers lose, the excuses of "facing too many shots" and "Brady Skjei" won't fly anymore. In 2020, both Igor & Georgiev have routinely stopped 40+ shots in any given game. The excuse rolodex won't be open for business anymore.
While Quinn did let Georgiev go back-to-back recently, when Igor was hurt with the ankle injury, I think Lundqvist gets that game with Philly on Friday. However, before even thinking about Philly, the Rangers must handle business in Montreal again, come Thursday night.
Of note, this will be one of the rare times where I don't go to Montreal for a Rangers game! Man, I'm going to miss not being there, as I love that city. However, my road-trip money is already budgeted for Pittsburgh and Buffalo at the end of March. I just hope the Rangers are still in the playoff mix by then. Lundqvist better not Father Fink this up for me!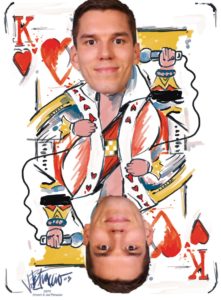 This was a doozy tonight, but you gotta love it!
We no longer have to worry about trades. No blog tomorrow. See ya Thursday night, as the Rangers try to kick the poutine out of the lowly Habs!
As always, thanks for reading and…
"LET'S GO RANGERS!"
"FATHER FINK THE ISLES!"
Sean McCaffrey
BULLSMC@aol.com
@NYCTHEMIC on twitter