Greetings and salutations everyone and welcome to another blog here on BlueCollarBlueShirts.com. WHAT A WIN!
Where to start, where to start, where to start?!?!?
I guess let me start with the biggest news first. As a result of the Rangers 5-2 victory over the Montreal Canadiens on Thursday night, with 19 games now remaining in this 2019-2020 season, the Rangers are now two points away from a playoff spot. Even better, the Rangers have two games in hand over the current second wild card of the Eastern Conference, in the Columbus Blue Jackets. As it stands, the Rangers also own all the tie-breakers over Columbus too.
Furthermore, with this Rangers victory behind Alexandar Georgiev, Georgiev once again did something that Henrik Lundqvist has never done in his 15+ seasons – sweep Montreal in a season series. And oh yeah – Georgiev even picked up an assist in this win too!
Just last blog, I was telling you about Lundqvist's horrific numbers against the Islanders, where he's 1-13 since signing that disgusting contract, back in December of 2013. Want to see something just as bad? Here is Lundqvist's numbers against Montreal, in Montreal, for his career: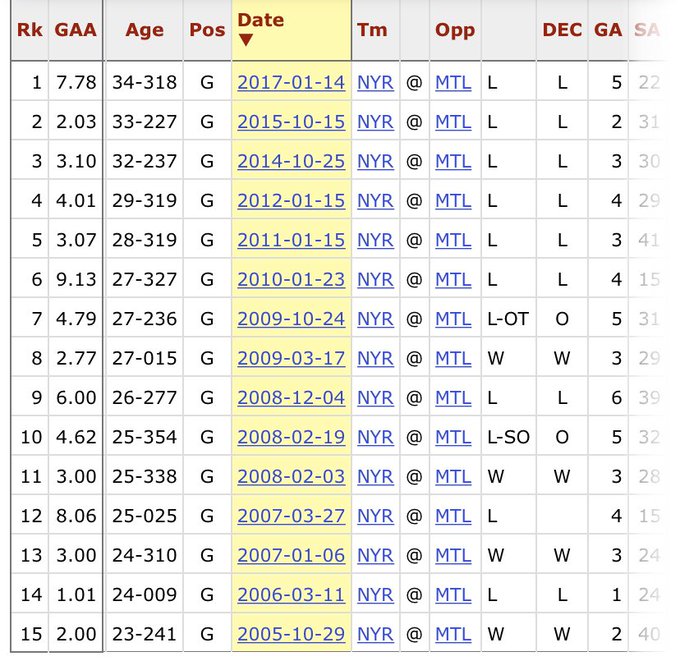 Let's face it. Lundqvist has been so bad against Montreal, that he hasn't even played there in three years! What's the word? Oh yeah – SCARED!
Behind Alexandar Georgiev, during this season, the Rangers, in two thrilling comeback victories, have now swept Montreal, in what used to be a House of Horrors during the Lundswiss Error.
The House of Horrors, known as the Bell Centre, has now been burnt. Let's go to the "Talking Heads":
However, while it's very easy for yours truly to do one of my patented "Greatest Hits" on Henrik Lundswiss here, and do a rant & rave party for Alexandar Georgiev, the truth of the matter is this – these two wins in Montreal this year were complete team efforts. After all, the Rangers scored 11 combined goals in these two victories.
While not as severe or as dramatic as the last time these two teams played here in Montreal (I was at that game, and you can read the live experience of that game here: https://bluecollarblueshirts.com/112419/) this game was a fierce reminder of that Rangers 6-5 win, back in November.
Both wins in Montreal this season were similar. The Rangers didn't have a stellar start. While Georgiev was much better this go around; for the first two periods, the Rangers were not. However, as we've seen so many times in 2020, and really, ever since CZAR IGOR was called up, the Rangers got great goaltending while the Rangers were flat. As a result, the Rangers goaltender was rewarded, as the Rangers woke up late & put away the opposition.
After the Rangers first win in Montreal this season, David Quinn called it a huge statement game. As this roller-coaster season has progressed, DQ has gone back to this game, calling it the catalyst for the recent success his team has had. He feels that night in November united the team. And really, you can see it. The Rangers don't hide their feelings. The team chemistry has never been better. The team unity has never been tighter. These guys defend each other. These guys don't give up.
Obviously, this team isn't as good as the 2014-2015 Rangers, the team that won the Presidents' Trophy, as best team in the league. However these Rangers are just as exciting as that 2014-2015 team and pretty much have the same tagline as that team – "the find-a-way-to-win Rangers." As has been the case lately, as the Rangers have now won nine of their last ten games and nine straight games on the road. This team just finds a way to win.
And how ironic is it, that these nine straight road wins haven't featured Henrik Lundqvist. Hmmm, who could've thought that? Oh yeah, me!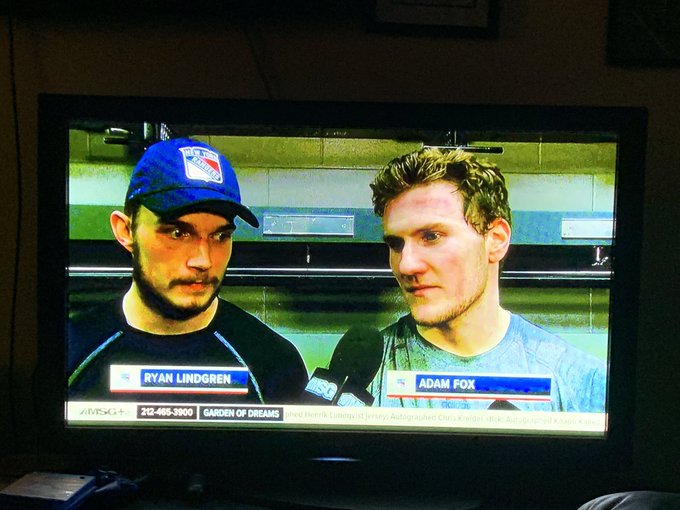 There's so much positivity to get into tonight. However, as usual, in case you missed them, here are my most recent blogs:
---
---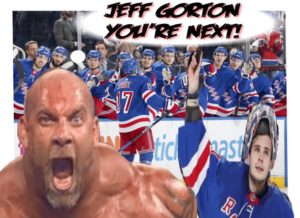 ---
---
---
At this time, let's run down the news in chronological order: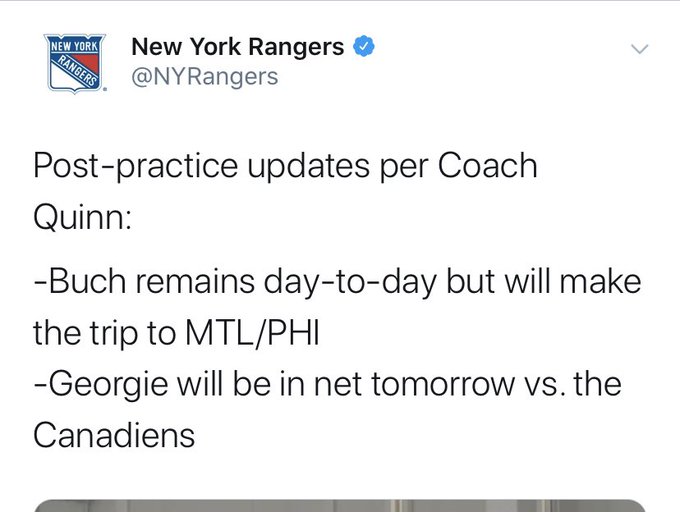 For the first time in about three seasons, it feels like the Rangers news never stops. There's always something to talk about. Seriously speaking, if I wanted to, I could do 20 different blogs tonight, talking about each player on this roster. That's how much stuff is going on right now. Even with most of these blogs hitting the 10,000 word range, I still feel like I miss some news. There's just that much stuff going on around this team.
On Wednesday, David Quinn wasted no time in telling us his starting goalie. He was going with Georgiev. I liked this. Let Georgiev get into a routine. Let him have the mindset of being the starter. Let him get into a rhythm. And spoiler alert, as I'll get into a the end of this blog, as announced by DQ after tonight's win over the Habs, Georgiev is going again on Friday night, in Philly. After all, why not? Ride the hot hand. Plus, in Lundqvist's last game with Philly, at M$G, Lundswiss gave up five goals and had a save percentage of .833. Ride the hot hand!
Line-up wise for this game, we had the same exact line-up as the line-up from the win over the Islanders. The biggest thing of note here, is that this meant Buchnevich was still out. If Buchnevich was able to play, he would've played and McKegg would've gone to the press box.
Here's your quick refresher of the new lines & pairings:
FIRST LINE: Kreider/Zibanejad/Chytil
SECOND LINE: Panarin/Strome/Fast
THIRD LINE: Di Giuseppe/Howden/Kakko
FOURTH LINE: Lemieux/McKegg/Gauthier
Defensively, more of the same:
FIRST PAIR: Lindgren/Fox
SECOND PAIR: Staal/DeAngelo
THIRD PAIR: Smith/Trouba
With Buchnevich out tonight, as he still recovers from the car accident, Buchnevich, prior to puck drop tonight, addressed fans on social media, using Instagram as his medium of choice: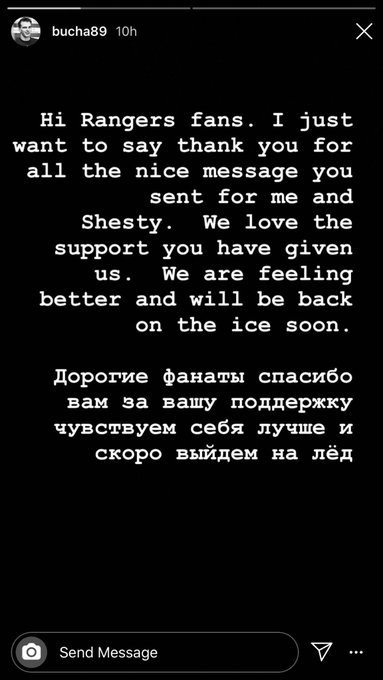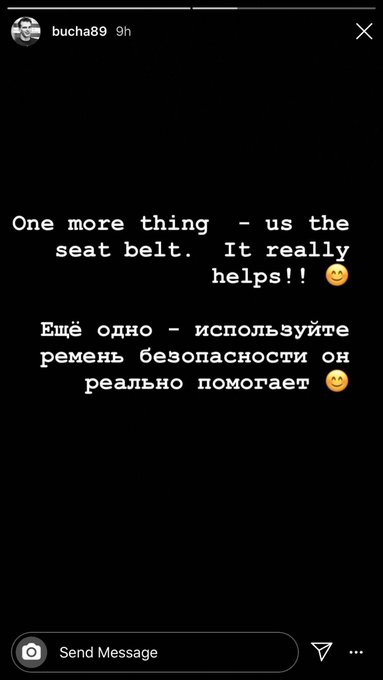 Igor Shestyorkin would also comment on the accident too, when he too used Instagram to release a statement: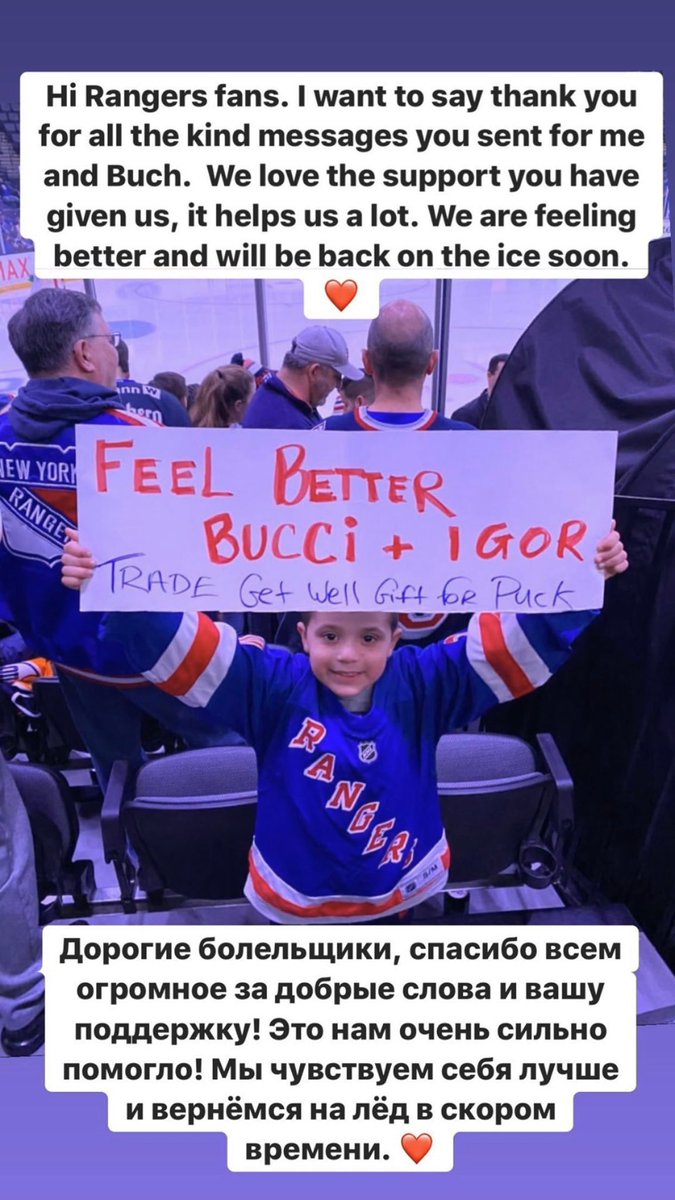 In other news, news that shouldn't shock anyone, Tony DeAngelo once again took to Twitter, in his latest praise of a teammate: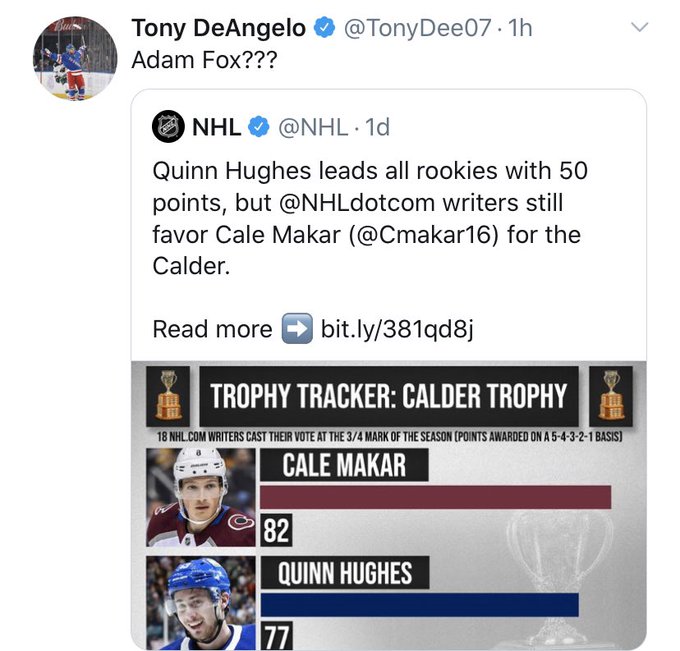 Seriously, I get the seasons Cale Makar and Quinn Hughes are having, but how is Adam Fox not getting any burn at all for the Calder? I'm not saying Fox should win the Calder, but he should be one of the candidates.
I've been talking about Fox as a Calder (Rookie of the Year) candidate for a while now. As I recently said on social media, I also think that RIGHT NOW, David Quinn deserves some Jack Adams (Coach of the Year) talk too. While I'm not saying DQ should win it, if the Rangers make the playoffs, you know, the youngest team in the NHL, Quinn should be one of the three candidates. Some Ranger fans found this talk prosperous when I said it, but really, how do you not give a second year coach, behind the youngest team in the NHL, some credit? More on Quinn as we continue.
And lastly, from the world of social media, Brady Skjei went to Instagram to talk about his time with NYR: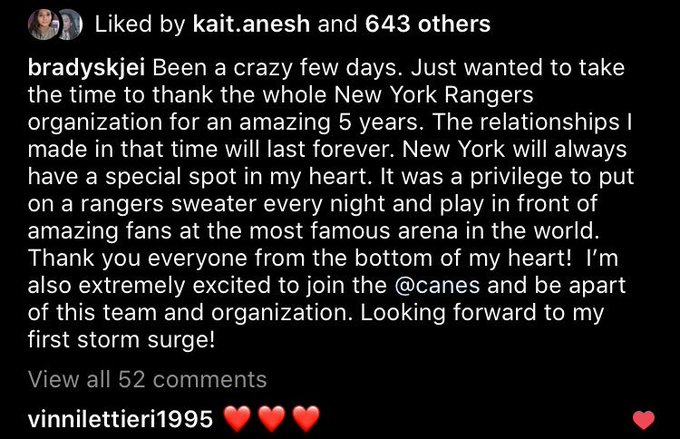 With the current Rangers now covered, let's take a quick look at the latest from Ron Duguay and his "Up in the Blueseats" podcast:
— Ron Duguay (@RonDuguay10) February 27, 2020
In the latest episode of Ron Duguay's "Up in the Blueseats" podcast, Ron Duguay & producer Jake Brown talked about everything that's going on in Rangerstown, USA. Duguay was thrilled about Kreider being re-signed by the Rangers. On the topic of the Skjei deal, Duguay's only concern was about Brady Skjei remaining in the division. Jake Brown then brought up that Ranger fans were euphoric about that news! Smart man!
Elsewhere on the podcast, Duguay talks to Larry Brooks & Chris Kotsopolous. Larry did his usual news segment, while Duguay & Kotsy talked charity work, Duguay's friendship with Cuba Gooding Jr. & about fighting in the NHL.
As usual, a good 30 minute listen, and well worth your time.
Of note, on the podcast, Ron Duguay talked about how he doesn't like gambling. However, if he followed my picks in these last two Ranger games, he would've banked. After all, for the second straight game in a row, I predicted the final score correctly!
That now brings me to the GAMBLING segment of tonight's blog. Here's what I said before puck drop:
Season over-under record: 29-30-3

You can get different o/u liked for this game. I got it at -6.

We all know about the 11 goals last time these 2 teams played. While I don't see another game like that, I do see a 5-2 Rangers win.

I'm taking the OVER! #nyr #PlayLikeANewYorker pic.twitter.com/rLf4QrHN6s

— BlueCollarBlueShirts (@NYCTheMiC) February 27, 2020
I'm now back to .500 on my over-under picks, as my record now sits at 30-30-3. For the first time ever, since running these gambling predictions on this site, I have now predicted the final score correctly in two straight games! Just like Georgiev and the Rangers, I'm on a heater!
Speaking of the Rangers and their heater, let's now go to the official box score of this game, courtesy of ESPN.com:
SCORING SUMMARY: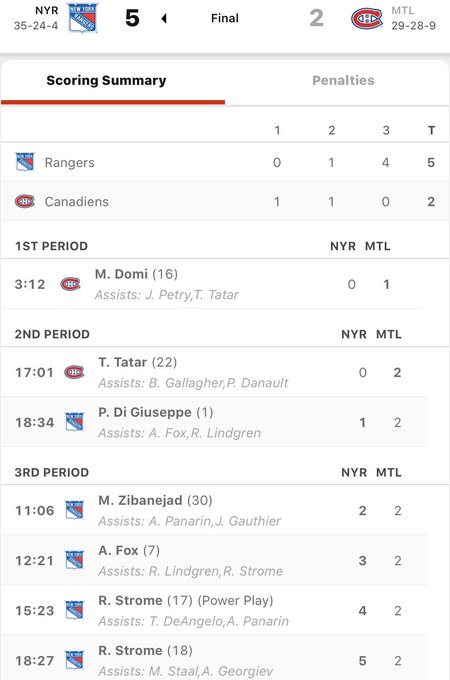 PENALTIES: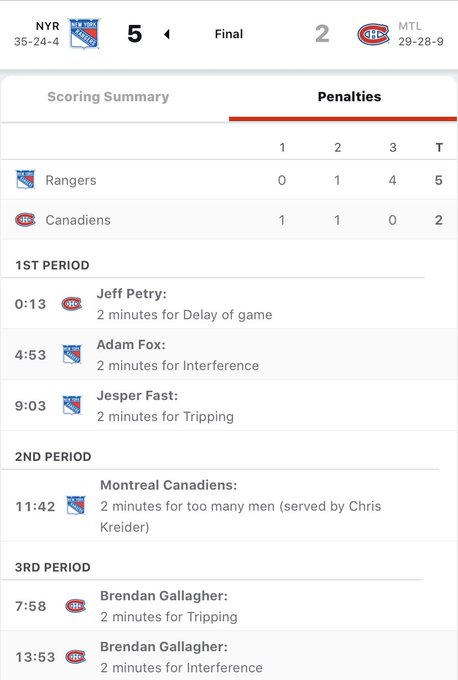 TEAM STATS: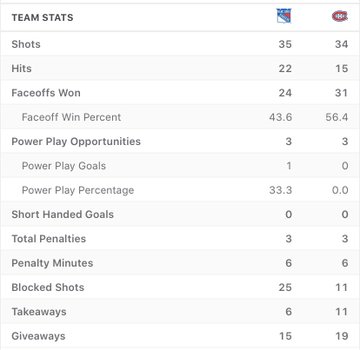 GOALIES:
| | | | | | | | | | | |
| --- | --- | --- | --- | --- | --- | --- | --- | --- | --- | --- |
| SA | GA | SV | SV% | ESSV | PPSV | SHSV | SOSA | SOS | TOI | PIM |
| 34 | 4 | 30 | .882 | 25 | 1 | 4 | 0 | 0 | 58:57 | 0 |
| | | | | | | | | | | |
| --- | --- | --- | --- | --- | --- | --- | --- | --- | --- | --- |
| SA | GA | SV | SV% | ESSV | PPSV | SHSV | SOSA | SOS | TOI | PIM |
| 34 | 2 | 32 | .941 | 29 | 0 | 3 | 0 | 0 | 60:00 | 0 |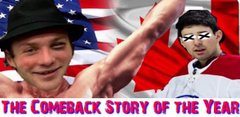 As usual, let's start off with the M$G Networks.
Prior to tonight's broadcast, the NY Emmy nominations were announced. You can find the full list here: https://t.co/oDxKQNkNaT?amp=1
I bring up the NY Emmy's here, because these nominations go hand-in-hand with everything I've been saying for nearly two years now – these broadcasts suck. They have gone downhill ever since Ron Duguay was not renewed by MSGN. Steve Valiquette, Statiquette or Vagistat; whatever you want to call him, is completely terrible. He was good as a complementary piece, but can't carry these broadcasts on his own.
The Rangers pregame show did not receive a NY Emmy nomination. Neither did Vally, Rosen or Micheletti. I thought Micheletti should've been nominated, as he's been great this season, as not only is he analyzing these games, he also has to correct Sam Rosen every other minute.
The only two people with Rangers affiliation to be nominated for a NY Emmy? Bill Pidto and Al Trautwig, the same Trautwig that has only appeared on TV once, during this season. I should mention, Duguay has previously won two of these awards.
I guess the Bud Light Bar isn't racking in the nominations, eh?
Truth be told, just like my stuff on Lundqvist, the M$G Networks, the goalies, David Quinn and nearly everything else this season – this game validated everything I've been saying for a while, as I'll expand on more as we continue.
I guess no pregame show tonight. Thankfully, we have dirt bikes on instead of the Rangers. @MSGNetworks @RangersMSGN #nyr #PlayLikeANewYorker pic.twitter.com/EWKZTyzIA0

— BlueCollarBlueShirts (@NYCTheMiC) February 27, 2020
As you can tell from my tweet above, I didn't get any of the M$G Networks pregame show today. Despite paying obscene money to Optimum TV, where Optimum gives me three different M$G channels (71, 72 and 73) due to the Knicks playing on M$G1, I didn't get the Rangers pregame show until 6:52PM on M$G 3. (Channel 73.)
That said, I guess I was fortunate. After all, I rather watch a blank screen, or dirt bikes over dirt bag Vally, any day of the week, twice on Sundays!
I was told by several fans, that the pregame show aired in full on the MSG GO app. However, I wasn't going to go through all of that, just to watch Vally finger-blast himself over charts. I was also told that the pregame show didn't feature much, as it was mostly a Casino Night recap. The pregame show also featured tons of talk about the Garden of Dreams fundraiser that the Rangers & M$GN were promoting tonight.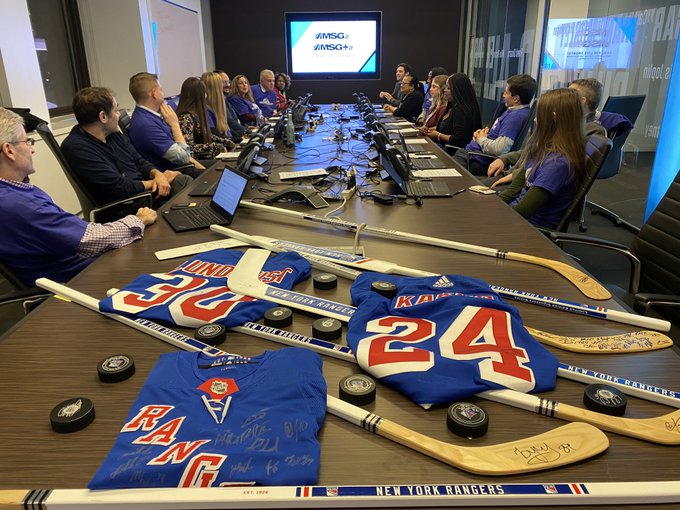 I would be remiss if I didn't mention this. I was tagged on social media 38438388383 times, about how great it would be if I won the Henrik Lundqvist signed stick or a "Pizza Party" (yes, this is a real thing) with Steve Vagistat. As mentioned years ago on this blog, I once won a signed Zuccarello stick during one of these fundraisers/raffles.
Honestly, there was only one prize I wanted to win tonight and it wasn't the signed stick from Alexandar Georgiev. I wanted to win the "Sam Rosen personalizes your voicemail" prize. I would've had Sam Rosen butcher my name, just for the authenticity of it all!
I also wouldn't have minded a tour with MEAN STREETS MICHELETTI:
A BEAUTIFUL day for a @NYRangers road trip in Montreal!

(Presented by @CheapOair, compare & book cheap flights: https://t.co/kKtCh7RgQ4) pic.twitter.com/76Rm4yv7P6

— MSG Networks (@MSGNetworks) February 27, 2020
Maybe I should talk this game now?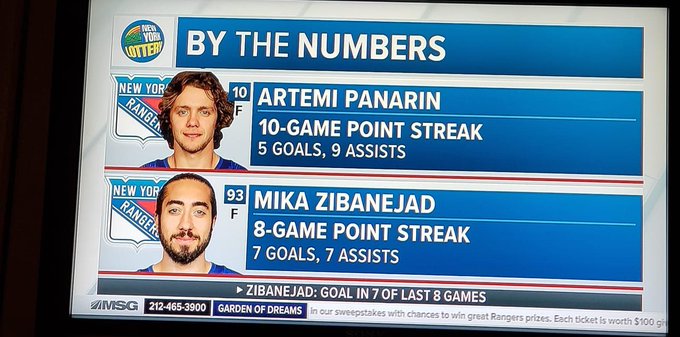 When it comes to tonight's game, I go back to a point I always make – "GOOD TEAMS FIND A WAY TO BEAT BAD TEAMS." This is what you saw tonight, as the Rangers weren't good in the first two periods. However, Georgiev kept them alive and then the Rangers exploded with a four goal third period, to blow Montreal out of the water.
Funny stat of note here? With this game tonight, Carey Price has given up field goals to the Rangers, in back-to-back third periods. Price gave up three goals in the second and third period of the November game with the Rangers and then gave up four goals in the third period tonight. Hmmm…. has anyone ever mentioned that high priced goaltenders aren't worth it? Let me know!
If you didn't see tonight's game, you might see the 5-2 score and think the Rangers opened up a can of whoop-ass for 60 minutes. That wasn't the case.
During this game, after two periods, live on Twitter, I was talking about how the top two Ranger lines didn't look good. I said that Lemieux looked like the best of the Ranger skaters, something that even Duguay agreed with me on:
If only they had another 2 guys like that !!!!!! https://t.co/bSer2T3uaE

— Ron Duguay (@RonDuguay10) February 28, 2020
Listen, as a fan and as a bullshit beer-bellied blogger, my opinions don't matter. I don't take myself seriously here. I just enjoy celebrating after wins, and venting after losses, with these blogs. If you enjoy what I write, I'm happy to hear that. If you hate what I write and get bent out of shape about it, I enjoy that too. That means you care about what I say.
That said, at the end of the day, I don't know hockey like the way an ex-NHLer or NHL coach does. Sad thing here? I openly admit and know that. Other bloggers, of the basement variety, think they know more than the people involved in the game or who played the game. SAD!
When I see Duguay agree with my opinion on Lemieux, it makes me feel like maybe I know a thing or two. However, when I see David Quinn saying exactly what I said all game, it makes me feel like I'm in sync with his thinking.
For most of this game, I said that the Rangers top two lines didn't look hot tonight. In his post-game, DQ said that the top two lines stunk and how he called them out. DQ praised his bottom six forwards.
While I will never say these top two lines "stink", especially with the way Panarin & Zibanejad are playing this season, I thought that maybe Montreal played them tough. DQ said they stunk. However, I did say that the bottom 6 forwards were carrying the Rangers, something DQ confirmed in his post-game. And as I'll get into at the end of this, DQ confirmed my thinking once again, when he announced Georgiev as the starting goalie tomorrow. (One more time – RIDE THE HOT HAND!)
Want to know something even more frightening, while on this? I feel like I'm sharing the same mind as Joe Micheletti. While I don't say the word "fabulous" 7654786278427862525426289646246727642678 times on these blogs, I do agree with "Jumpin' Joe", on the fact that Fox & Quinn deserve heavy praise. I also thought Micheletti was right on the money with all of his analysis tonight too. Call it bizarro world or call it something else, but I think Micheletti has been FABULOUS this season. It's amazing what happens when Lundqvist is no longer the focus of this team or on the broadcast.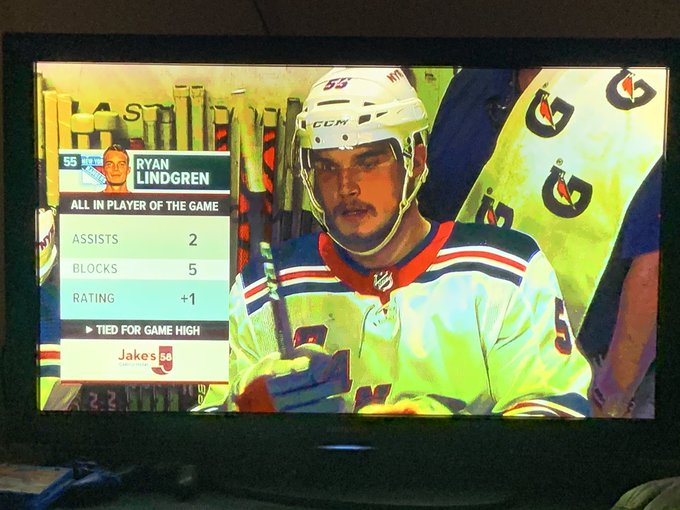 Before I could even comment about how sacrilege it looked to see a COORS LIGHT ad on Montreal ice, 13 seconds into the game, Montreal took a penalty, for a delay of game, as a puck went over the glass. Neither Sam or Joe realized this, as they were going on and on about Ryan Lindgren's brother, Charlie, and his role as the back-up goalie on the Habs. One thing will always remain true on these broadcasts – Sam & Joe love family, especially brothers. OH REILLY SMITH JOE!
Oh, and as it's been the case lately, the Panarin line & the Fox/Lindgren duo started off the game for NYR.
In a sign of things to come, the Rangers didn't do much with this gift of an early PP here. The best look came off a Lemieux wraparound, but even so, Price had it well scouted. After blowing this opportunity to go up 1-0, once returning to full strength, Montreal, who were bringing it, made it 1-0, bad guys:
🚨 Max Domi 1-0 #Habs pic.twitter.com/zQztiEKwDq

— Here's Your Replay ⬇️ (@HeresYourReplay) February 28, 2020
As you know, I rarely show opposing goals on this blog, unless it's something fluky or egregious.
Just 3:12 into the game, Montreal was already up 1-0, courtesy of Fox kicking in a puck into his own net. To be fair, even if Fox didn't boot this one, Tatar probably slams it home anyway. This goal was a result of bad defense. Nothing Georgiev could've done here. However, this was a rare Fox gaffe and the Fox gaffes continue. (These gaffes would later on be redeemed and forgotten about too! Talk about never giving up. Fox had his worst start of the season tonight, but by the time game was over, he was a key star in the victory.)
Montreal, who just came at the Rangers after their PK, would then see Georgiev make a point-blank save on Byron. Could've been 2-0 real quick. Take a look:
Georgiev with the hands pic.twitter.com/AtlD3jtjzR

— Rangers on MSG (@RangersMSGN) February 28, 2020
Less than 90 seconds after the Domi goal, Fox took a penalty; a blatant interference call. So within the first five minutes, Fox scored on his own goalie and took a bad penalty. Like I said on social media at the time, you can't get on Fox here. Yes, this was a rare bad start, but he's been so good this season. No one plays perfect, in 82 straight games. Plus, people forget he's a rookie. He just plays like a grizzled NHL veteran. (And as mentioned, he would do more than redeem himself as this game continued.)
The Rangers & Georgiev would hold off Montreal here on their power-play. Even early into this game, it felt like Montreal was deflecting every puck possible. Howden would also get a chance on this Rangers PK, but nothing that great. The biggest thing here was that the Rangers PK went 1-1.
This game just felt like another slow-start game for the Rangers, something they've been prone to, even with this winning streak.
My thoughts at the time were:
12:13 left, first TV timeout. I'm not worried. How can you be? NYR won 8 of their last 9. However, just too many slow starts for whatever reason. #NYR #playlikeanewyorker

— BlueCollarBlueShirts (@NYCTheMiC) February 28, 2020
After the TV timeout, the Rangers would win the face-off and Kakko put forth a good shot. Save by Price, something we would see a lot of in the first two periods. After this, Fox made a bad turnover. This would be his last bad play of the game.
With 10:57 left to go, as voted by the NHL players and Howie Sussman himself, the worst referee in the league, in Justin St. Pierre, called a fugazi tripping call on Jesper Fast. This was horrific. How JSP still has a job in the NHL, I don't know. I wouldn't want this guy reffing a beer league game.
As mentioned a zillion times this season, and really in something we don't talk much about as Ranger fans, Mika Zibanejad was absolutely, and to quote Micheletti here, "FABULOUS" on this PK. Once again, while on the PK, Mika made a huge intercept and created offense the other way.
During this Rangers PK, Georgiev would make two hairy saves and kept the Habs from adding to the lead. The Rangers PK went 2-2 here.
Lemieux, who was a beast all game, jaw-jacking with Dale Weise & any member of the "Bleu Blanc Rouge" that came his way, made a huge hit, which then led to the Rangers best offense of the game thus far. Price would stop Chytil on a shot and then stop old friend CK20 on the rebound. On Kreider real quick, I didn't think he looked too hot tonight. That said, he was involved in the GWG. As mentioned last blog, Kreider is currently battling the flu, so I wouldn't read too much into his play besides that.
After these saves, Sam & Joe went on & on about Julien Gauthier and his uncle Denis Gauthier. Apparently, Gauthier has the Dave Maloney role during Hab broadcasts. Despite 7866757 relations in the league, Sam & Joe really enjoyed that Julien Gauthier has an uncle in hockey happy Montreal. Can you imagine Sam & Joe if a Sutter brother was a Ranger today? OH JOE!
Speaking of Montreal, a big shout-out to Lee-Ann, my favorite bartender in Montreal. She messaged me tonight, looking for me and my crew. This was one of the few Ranger road games in Montreal that I didn't go to, as I've been to most of them in the last seven years. Montreal remains my favorite city to visit. The bar scene is epic! As Lee-Ann likes to say, "I think all your beer bottles have holes in them, I've never seen beer disappear so quickly." When it comes to drinking beer, unlike Lundqvist, I'm the true KING!
As we got under 8 or so minutes to go in this first period, the SOG were tied at 8-8, but all of Montreal's shots were from a foot or two away.
As the two teams went back and forth, we got under three minutes to play. Lemieux continued his agitation of the Habitants.
After a big save by Georgiev on Gallagher, Max Domi broke up a Kreider pass to Kakko. Had this pass connected, Kakko would've had a breakaway attempt.
Once the clock hit triple zeroes on the period, we remained at 1-0, in favor of the Habs. The Habs also had the SOG advantage, at 13-9.
After our "SECOND PERIOD, WHAT DO YOU LOOK FOR HERE JOE?" spiel from Sam Rosen, the Rangers opened up the period by challenging Price. However, the Rangers would quickly revert to the sledge and muck from the first period.
I never like to call hockey boring, but this second period had a tryptophan feel to it. Price would make two good saves early, on both DeAngelo and Zibanejad. Of the struggling top 6 Ranger forwards, Zibanejad had the most shot attempts. The only issue was that not many of them were on goal, as many shots went wide.
The Montreal Canadiens did a great job of making the Rangers look sluggish. The Habs prevented any sort of Ranger breakaway or odd-man rush attempts.
In a period full of stoppages and whistles, only the Rangers fourth line seemed to be bringing any type of "oomph" to this game.
In the lone Rangers odd-man rush up to this point in the game, Strome would go high and wide on a GOOD LOOK. Like many of the top 6 Ranger forwards, he would redeem himself in the third period.
At this point in the game, we had the M$G Networks "SAVE OF THE GAME":
Georgiev with the hands pt. 2 pic.twitter.com/DwhVayidkz

— Rangers on MSG (@RangersMSGN) February 28, 2020
Listen, no one rah-rah's harder for Georgiev than me. After all, can you name anyone else that has given Georgiev a million nicknames, such as "THE KING OF KINGS" or makes 76676669 terrible photoshops of him? That said, Georgiev saved his own ass here. While yes, this was a great save, it was the result of Georgiev's own turnover.
Georgiev came out of his net, Gallagher forced a turnover and Georgiev fortunately saved his own bacon, when he stopped Danault. Great save for sure, but had this gone in, this would've been all on Georgiev.
And for my buddy TEN O'CLOCK TOMMY, here you go:
No joke, on one of our many road-trips, Tommy and I sang this song about 7678696 times after a great game from Georgiev. I think it was against Nashville. Alas, I digress.
At the 11:42 mark of the period, Sam Rosen talked about how the Canadiens took a "too many men on the ice" penalty. We didn't see this on the broadcast, so I just believed him. After all, it made sense – the Habs had the puck and the whistle was blown. However, for whatever reason, and which was never explained on the broadcast, it were the Rangers who had too many men on the ice. Habs PP. I just didn't get why the whistle was blown, since Montreal had the puck and they should've got a chance to get an extra attacker on.
After a TV timeout, Micheletti had the still shot of the Rangers having too many men on the ice. Still, no explanation of why the Rangers got a free stoppage.
I'll give Quinn a pass here, but anyone else remember how he said, "if we take another too many men on the ice penalty again this season, it's on me?" Fortunately, the Rangers PK came up huge again, as they were now 3-3 on the game.
Georgiev just continued to roll in the period, as did Lemieux, who picked up a big shot block in the final five minutes of the period.
Then, with just 2:59 remaining and with Trouba & Smith burnt, Tomas Tatar was left all alone on a breakaway, where he took his time and put some tartar sauce on a backhanded shot. Tatar beats Georgiev one-on-one here. 2-0 bad guys.
On the goal, it's a 50-50 play. Either you make the breakaway save or you don't. Georgiev didn't.
With under three minutes to go now, here in the second period, I'll admit, I was concerned about the deficit, but never did the idea of losing ever cross my mind.
As we got under two minutes, with just 1:26 left in the period, Fox redeemed himself, as Phillip Di Giuseppe gave a big BA FUNGUL to Carey Price:
Di Giuseppe gets us within 1 😤 😤 pic.twitter.com/sNGZN99XlG

— Rangers on MSG (@RangersMSGN) February 28, 2020
2-1, bad guys.
In hockey, sometimes assists can be better looking than the goals themselves. That's what I saw here.
Adam Fox gets the puck, does a spinorama behind the right of Price and finds Di Giuseppe. I have talked about Di Giuseppe a lot, ever since the NHL All Star break, when I covered those two games in Hartford. If anyone deserves a goal, it's Di Giuseppe, as he's been a shooting machine. Of course, instead of his first Rangers goal coming off of a rip, it's an easy, "right place, right time" goal for Di Giuseppe. However a goal is a goal and this was a huge one here. Instead of being down by two goals after two periods, the Rangers got this back to a one goal game.
In what was even bigger than this goal, right before Di Giuseppe's tally here, was the ROBBERY Georgiev made on Dale Weise. It could've been 3-0 Habs. Instead, Georgiev makes a huge game-changing save and this allowed the Rangers to march up the other end of the ice and score.
After two periods, the score remained 2-1, Habs. However, little did we know, that Di Giuseppe goal would be the first of five straight Ranger goals.
Quinn, after the game, would tell us how he called out the locker room. Down 2-1 against a bad team, the Rangers couldn't afford to throw two easy points away. Whatever DQ said during the intermission, it paid off and in gangbusters, as the Rangers went hog-wild.
With a lot of gloom and doom on NYR social media, here's how I felt, going into this third period:
Never give up – Rangers will win this!

— BlueCollarBlueShirts (@NYCTheMiC) February 28, 2020
The Rangers came out with some pep in their step in this period. Fox would get a shot off. Then Trouba, on the next rush, would break up a Habs east-west chance. After that, Price made a stick save on Kakko. Of note, DQ shook up his lines, putting Panarin with Zibanejad and Fast. This move would soon pay dividends.
During a timeout, Sam started ranting and raving about "KIDS DAY" and "PRIDE DAY". I did my rants on those nights in my last blog.
With the Rangers teeing off a bit, they couldn't get over the hump. I said this at the time:
Rangers need to get a PP here or something #NYR #playlikeanewyorker

— BlueCollarBlueShirts (@NYCTheMiC) February 28, 2020
Immediately after, Gallagher took a tripping call, 7:58 into the period. The Rangers were their own worst enemy on this PP. Panarin would shoot wide. Montreal clear. Zibanejad would shoot wide. Montreal clear. When the second PP unit came on the ice, they couldn't get anything going. The only shot on goal came from Fox, just as the PP expired.
With under ten minutes left, the Rangers were still down a goal. That would all change quickly:
Three. Straight. Goals.

The boys can't be stopped 🗣️ 🗣️ pic.twitter.com/NZ9TXdwm48

— Rangers on MSG (@RangersMSGN) February 28, 2020
2-2!
3-2 GOOD GUYS!
4-2 GOOD GUYS!
BADA BING, BADA BOOM, THE RANGERS WERE THE HOTTEST TEAM IN THE ROOM! HOW YOU DOIN'?
With 8:54 remaining in regulation, Panarin, the hottest Ranger on the team and a potential Hart Trophy candidate, finds himself alone with the puck. Panarin hesitated for a bit, as he must've felt the world freeze, kind of like one of those old Zack Morris "TIME-OUT's", from "Saved By The Bell". Panarin then dished the puck to Zibanejad, this newly formed line here in this third period, featuring the best 1-2 punch the Rangers have, and Mika picked up a goal. After what felt like 67867896789 wide shots from Zibanejad tonight, he sure as hell didn't miss here. 2-2!
Less than 90 seconds later, Adam Fox, who struggled earlier as mentioned, floats a shot at Price. 3-2, GOOD GUYS. While Lindgren and Strome get assists here, Kreider deserved an assist too, as it was his screen on Price that allowed this goal to happen. Price had no chance at this one.

From here, the Rangers continued to block shots. Brett Howden, of all people, led the team with 6 blocked shots. Behind him was Lindgren, warrior, with 5 blocked shots. Remember when Libor Hajek was projected to be better than Lindgren? As it looks now, this Fox/Lindgren, pairing, providing they stay healthy, might play 400+ games in a row together!
Speaking of Lindgren, at the 13:53 mark of the period, Gallagher cowardly attacked him from behind with a cross-check, sending Lindgren right into the goal post. I thought Gallagher should've been kicked out of the game, for this yellow on the back attack.
I don't know how, but Lindgren didn't show an ounce of pain on the bench here. In fact, it looked like he was smiling. He's like Mick Foley out there, a guy who thrives on pain!
At this time, on social media, I said I really wanted this insurance PPG, especially after the way Lindgren was jihaded & Pearl Harbor'd by that asshole Gallagher. Sure enough, with just under five minutes to go, you know the Adam FOXwoods Final Five, Ryan Strome gets the PPG!
With the Rangers now up 4-2, the Hab fans were hitting the exits. With 2:15 to go, Carey Price, who has been completely owned by the Rangers over the years, was pulled. With under 90 seconds remaining, Strome sealed the deal, with a long distance empty net goal. 5-2 Rangers and that would be your final from the Poutine Palace.
WHAT A WIN!
WHAT A COMEBACK!
Do you believe in the playoffs now?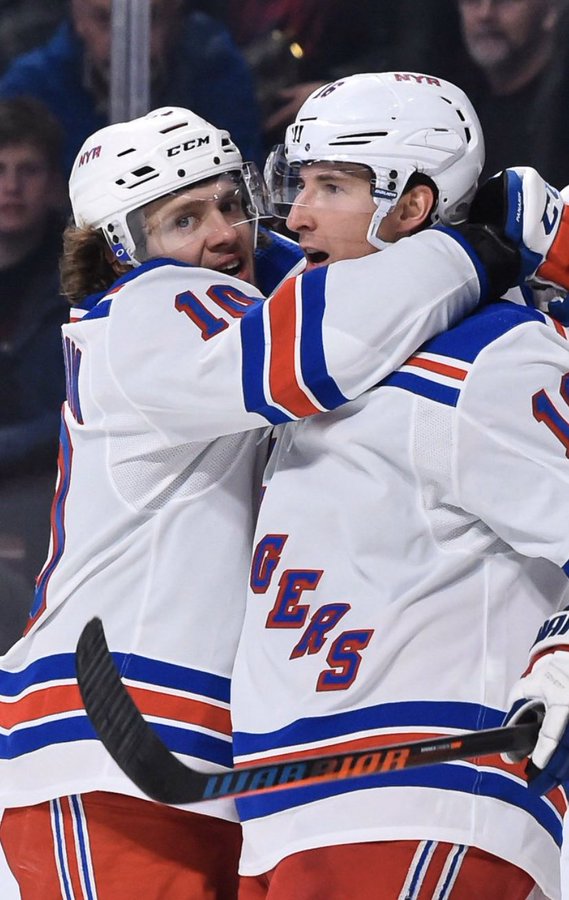 When you break down this game as a whole, Georgiev was once again fantastic, picking up his fourth win in five games. Once again too, no soft goals allowed either. Like Igor, Georgiev keeps the team in games, as he waits for the team in front of him to pop off.
Skater wise, Lemieux had the best effort of the bunch, but when you look at the box score, due to their four goal third period, we have some gaudy stats:
— Strome had a three point game, with 2 goals and an assist. He picked up his 18th goal of the season.
— On Strome, how about this point from @HWIRTH: "Here's the reality of Ryan Strome. Kid was Top 5 pick and talent. Drafted by Isles when they were poorly ran and managed. Then traded to the Western disaster at the time the Oilers. Is now finally playing in a stable environment and is playing to his ability. It's not a fluke."
— Panarin had a two point game, a two point game that somewhat felt ho-hum, or old hat for him.
— Fox had a goal and an assist. His partner, in Ryan Lindgren, had two assists.
— Zibanejad had a big goal, as he continues to score game changing goals.
— And hell, Georgiev had an assist, to go along with his 32 saves on 34 shots and .941 save percentage.
The biggest post-game news was that Quinn wasn't waiting or Father Finkin' around – he immediately named Georgiev as the starter for the game tomorrow night in Philly. This obviously led to major crying from the Cult of Lundswiss, as these losers care more about one player than team success.
Throughout all of the Rangers winning and success this season, do you know what the one constant is – Lundswiss isn't playing.
While three games in four nights isn't ideal for any goalie, you have to ride the hot hand. Georgiev is young. He's pretty much rested. It's not like he's been playing a full schedule here, especially after the Igor recall.
And let's face it, why would you fix something that's not broken? In addition, look at the updated standings: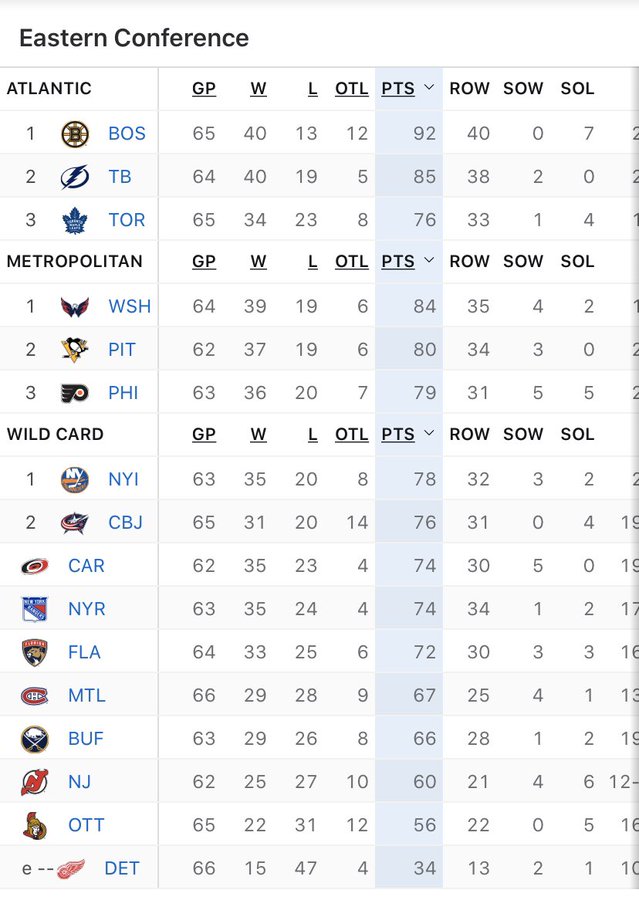 The Rangers have the Flyers tomorrow, in a four-point game. With a win tomorrow, the Rangers could be three points from third place in the division!
As far as the teams the Rangers are trying to leap-frog to get a wild card spot, the Blue Jackets, who are decimated by injuries, host a Wild team that's trying to make a playoff run. Over in Carolina, the Canes, with no goalie, host one of the best teams in the league, in the Avalanche.
If the Rangers handle business tomorrow and everything else goes right, the Rangers will have a playoff spot tomorrow, come 10PM Friday night. Who thought this would be possible after the Western Canada road-trip? Unlike others, I can admit that I was wrong. I did not see this coming. (To be fair, I didn't think Igor would be called up either, and Igor is part of this winning streak as much as anyone.)
And just imagine the help the Rangers could've had this season, had the Rangers listened to me, and got rid of the $8.5M piece of trash, in the overrated, overpaid and can't beat anyone, besides Detroit, Henrik Lundswiss. And this isn't hindsight being 20/20. I've wanted Lundswiss off this team since 2015!
Few more notes and I'm out.
Apparently, Lias Andersson had a big game in Sweden today and grown men who stalk teenagers are going nuts about it. Not brought up by anyone besides me – Andersson is now a big fish in a small pond. He couldn't hack it here. Too bad the Rangers didn't deport his ass out of NY at the deadline. I will never be a fan of these whiners and "woe is me" players. Give me Ryan Lindgren over any of these crybabies!
The following news, historic news at that, comes from @NYRSTATSINFO:
— Mika Zibanejad is the first Ranger who has tallied at least 11 goals in the month of February in one season since Adam Graves in February of the 1993-94 season (13)
— The Blueshirts have outscored opponents, 81-56, in the third period this season, and their plus-25 goal differential in the third period this season is the best in the NHL.
— As of the conclusion of tonight's game, the Rangers' 30 regulation wins this season are tied for the fourth-most in the NHL and are the most among teams in the Metropolitan Division.
— The Rangers have posted an 11-3-0 record in February this season. The Blueshirts' 11 wins in February in 2019-20 are the most the team has earned in the month in one season in franchise history.
— The Rangers are the first NHL team that has posted a nine-game road winning streak since Nashville during the 2017-18 season, and the nine-game road winning streak is tied for the eighth-longest in NHL history.
Listen, I'm well aware about how great Georgiev & CZAR IGOR have been during this season. You can say they are stealing wins or whatever, but the Rangers are also winning games too. They find a way to win.
When you look at the numbers the team is putting up and the history this team is making, how can anyone argue with me when I say this – if the Rangers make the playoffs, DQ should get Jack Adams consideration.
Up next, once again, the biggest game of the season! A win tomorrow could mean a playoff berth.
I'll be back tomorrow night.
Once again, this team really is fun to watch right now. We're seeing history unfold with every game.
As always, thanks for reading (traffic is through the roof right now, which has to do with the Rangers hot right now) and don't forget…
"LET'S GO RANGERS!"
"PHUCK PHATHER PHINK PHILLY!"
Sean McCaffrey
BULLSMC@aol.com
@NYCTHEMIC on tweeter